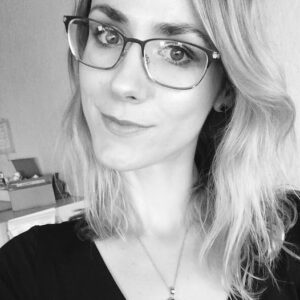 Latest posts by Karyl Trejo
(see all)
There's nothing quite like finding your favorite comfy and great-looking pair of sandals — do you know, the ones that suit multiple occasions?
These sandals are something that you can wear to work in the afternoon and rock at a party in the evening, quickly allowing them to become your go-to pair of footwear. 
It's kind of amazing how sandals manage to successfully toe the line between comfort and style. Nobody likes to have to sacrifice looking cute for painful squeezing and chafing on their feet, and yet, that's exactly what many of us did.
In the past, sandals were rarely the first choice for many women, and we often chose instead to wear either sensible (albeit boring!) shoes or those impractical mile-high heels (that also happened to both cramps and pinch our tootsies). 
Fortunately, the new lineup of fashionable sandals that we are sharing with you today will not only change your outlook on footwear, but they'll also introduce you to some unique fashion trends for your feet. As an added bonus, we'll throw in some easy-to-do style tips on how to wear them. 
Let's face it: Sandals won't often cut it for some occasions or outfits, but that doesn't mean you shouldn't consider getting yourself a comfortable pair. A cute pair of sandals will give your feet some breathing room and are the perfect alternatives to sneakers or your go-to walking shoes in the summertime.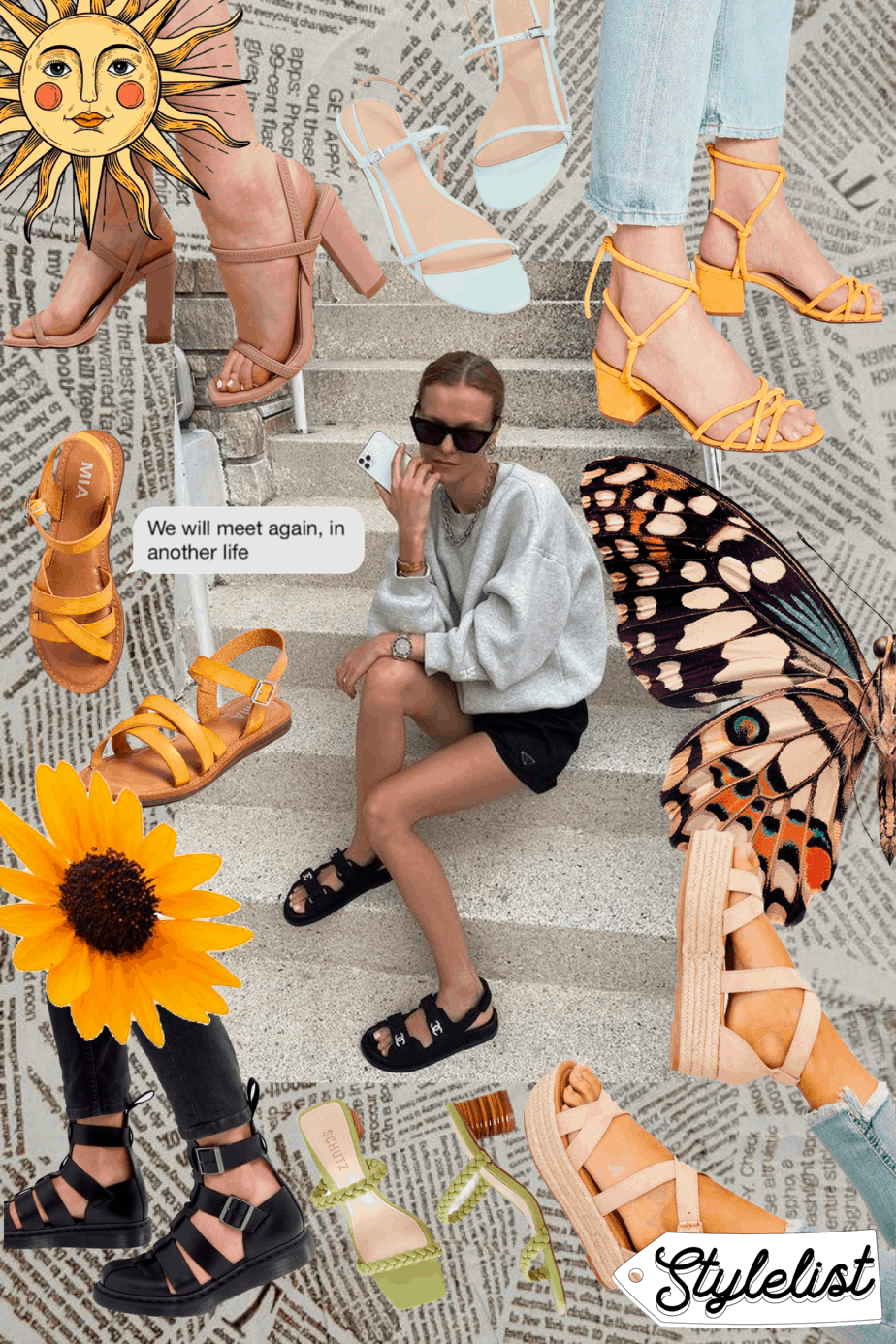 Which Sandals are Hot for This Summer Season
Floral and knotted strap on sandals have always caught the eye of fashion-forward people, and this year's trends are no different.
The possibilities with embroidery, printed, and even other handmade designs are pretty much endless. These sandals can be the perfect addition to a sundress or a formal outfit to add a bit of whimsical, playful flair. 
On the other hand, there is something about the appeal of an athletic sandal that never goes out of fashion. Seasoned travelers know for a fact that their travel kit is incomplete without a comfortable pair of sandals. With their sturdy bottoms and flexible strap, the decent pair of sandals can easily outlast many seasons. 
Leather sandals have easily earned the coveted spot as being one of the most popular footwear types around the world. They look classy and are often used for glamorizing a memorable dress.
Your favorite pair of leather sandals will never let you down, whether you're wearing them to a party or on a long-term vacation to the beach. The formal line of fashion wear is simply incomplete without leather archetypes of sandals. 
The Main Difference Between Sandals and an Espadrille
When many people think about sandals, one of the styles that come up is the woven, almost gladiator-type footwear that's popular in Mediterranean climates.
However, this type of shoe isn't even a type of sandal at all — in fact, what you're thinking about is probably the humble espadrille, a totally different type of footwear altogether.
Espadrilles are typically recognized as a casual and comfort-focused type of footwear and, like sandals, can easily be dressed up or down. On the other hand, sandals more lean towards adding style and fashion without compromising comfort.
Espadrilles are rope-soled shoes , whereas sandals are created out of synthetic materials like leather, rubber, and even cotton. Furthermore, sandals and espadrilles originated both in different parts of the world and have been influenced by vastly different cultures. 
Once considered as a kind of footwear for peasants, espadrilles took off in popularity as more and more urban workers started making it their mainstream footwear of choice for summers and spring.
Sandals are more ubiquitous, though, because they can be seamlessly incorporated with many styles of outfits — be it casual, formal, a party dress, or even beachwear.
Some of the most notable differences we spotted between sandals and espadrilles are:
While popularized in Greece and Egypt, Sandals

originated from Oregon

(yes, you read that right!), whereas

espadrilles

come from France and Spain. 

Sandals can be made from a variety of materials, but espadrilles need to be made of

jute

.

Espadrilles became more common in the United States, travelers brought them back from their vacations abroad, whereas sandals have been a vital

part of our culture

for more than 10,000 years now. 
What Should You Look for in a Sandal?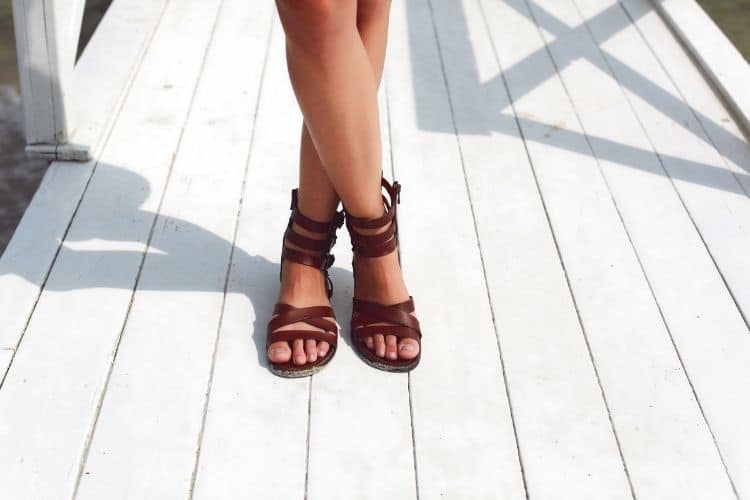 Buying a good pair of sandals can be a daunting task, especially if this is your first foray into this type of footwear. This is doubly true if you are looking for a pair that is long-lasting, comfortable, and good-looking. 
Expert podiatrists recommend taking extra time when picking out a new pair of sandals, as the wrong kind can lead to poor arch support, foot pain, and even blisters and bunions . Here are four important considerations to keep in mind when shopping for sandals: 
By keeping these considerations in mind, you can be sure you'll be walking out of your local shoe store with your next favorite pair of sandals in tow!
The Size of the Sandal
It's important to consider both the size of your feet and the size of your sandal when picking out a pair. If they are too small, the straps will dig into your skin and may cause rashes, bruises, or blisters. If you pick out a sandal with too much headroom, though, it may inadvertently lead you to trip or fall while walking. 
The perfect size for sandals is something that fits comfortably leaving just enough room for your feet to adjust while moving. Your toes want to almost reach the edge of the front of the sandal, but you don't want them peeking over the side.
The Straps on the Sandal
Depending on what kind of activities you will be doing, the size of straps can make a huge difference. The best sandal for you will be not only cute, but they'll also nice and comfortable when you're wearing them.
If you plan on moving around a lot, then the thinner strap will feel uncomfortable, wobbly, and might even dig in, leaving red marks on your feet. Thicker straps will offer more durability and comfort in such scenarios, but the tradeoff is they won't look as graceful or dainty. 
If it's a visit to the beach or a family get-together, then something with thinner straps can be your choice of sandals. If you plan on using your sandals for outdoor activities (like hiking), then you'll definitely want to choose a pair with thicker straps.
Choosing the Right Color for Your Sandal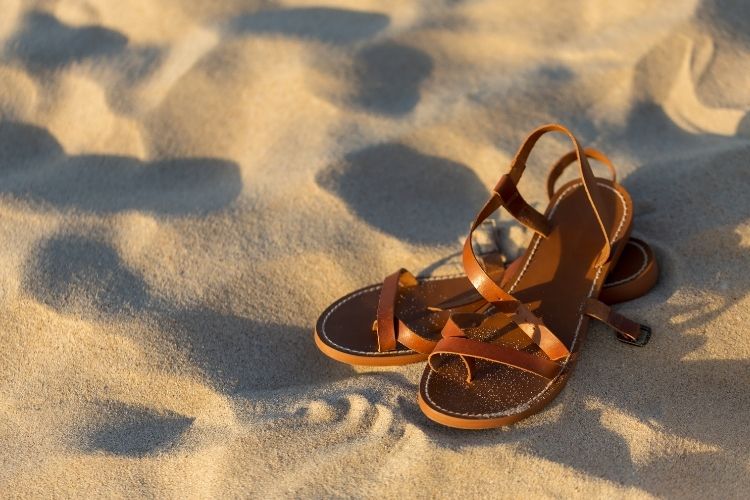 Narrowing your color choice is very important to get the best out of your sandals. Unless you have a lot of room for different color variations in your wardrobe, we'd suggest sticking to a neutral palette that can suit multiple occasions. 
Colors like black, white, brown, or beige are usually considered neutral , which makes them easy to pair with a variety of outfits and color variations. These neutral-colored shades make them the perfect addition to your closet, allowing you to wear them with virtually anything.
We know that a pair of bright red or shiny rose gold sandals may look very appealing in the box, but it's not the most prudent choice for a sandal.
Trying to mix and match with overly bold colors or patterns can leave you only wearing your sandals with specific wardrobe pieces, instead of being able to just slip them on and go.
The Best Sole for Your Sandal
The weather and terrain have a massive role to play when picking out a practical pair of sandals. If you are going to be hiking or running, a thick sole on your sandals will provide longevity to their life and a sufficient amount of cushioning for your feet. 
For more casual needs, like a run to the supermarket or gardening in your backyard, the sandal with thin soles will do just fine. That said, it's still important to make sure there's enough traction and tread on the bottom, as nobody wants to experience a painful and embarrassing slip when out and about.
Our Evaluation Criteria
While coming up with a list of the most appropriate women's sandals, we made sure to include every factor that can affect your choice of purchase.
Depending on whether you are a soccer mom, a college student who is always on the go, or a professional working forty hours a week, your window of choices and needs can vary drastically. 
The most driving factors for us when we were coming up with this list were:
Comfort
This is by far the most crucial and guiding factor that can affect your choice of sandals. No one wants to compromise with comfort when it comes to footwear, so we made sure to include only the most reliable and popular choices that guaranteed comfort. 
Style
We went with a lot of diversity when it came to style. We wanted to include options for women from every corner of life as we know. Style is very important when it comes to your image, so we made sure to leave nothing behind. 
Customer reviews
Lastly, we had to make sure what we are including in this article is highly backed by loyal customers. We have carefully picked sandals which were rated high by not only the customers, but also the manufacturers, as well. 
With that in mind, let's go ahead and take a peek at our top picks!
Which are the Best Women's Sandals This Season?
Ann Taylor Hailey Floral Sandals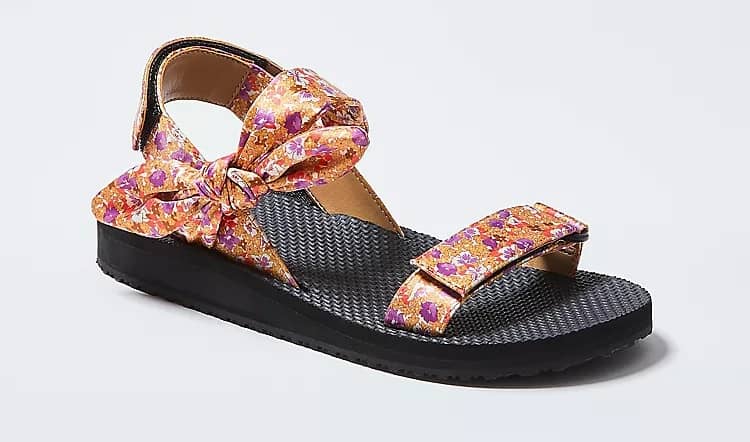 This floral print sandal will carry you through every season without any regrets. They have 1-inch thick rubber soles, which will provide ample support and comfort to your aching feet. Perfect for a sunny day out, you can pair these versatile sandals up with your favorite sundress or beachwear. 
Pros
Easy to pair up with many outlooks

Beautiful design and print quality

Athletic feel and support
Cons
The finish and edges can feel rough sometimes 

Not the best choice to go with formal wear 
Banana Republic Leather Gladiator Sandals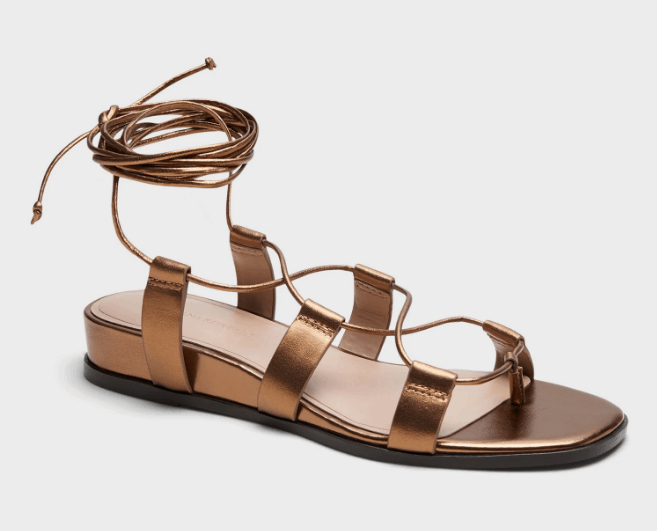 These cute sandals are simple at their best. Minimalistic art lovers will instantly fall in love with these gorgeous pairs of sandals. These expertly crafted sandals with delicate leather straps will add a subtle definition to any of your outfits. 
Pros
Good compatibility with formal wear and party dresses

Adjustable straps 

good arch support
Cons
Not suitable for walking long distances

Straps can feel uncomfortable on people with bigger feet sizes
Gita Strappy Croc-Embossed Kitten-Heel Sandals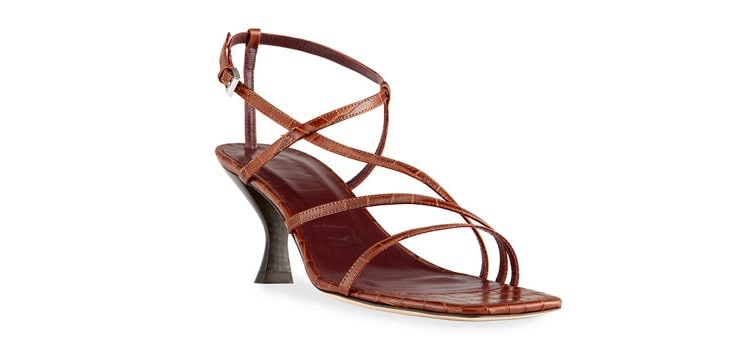 These fun, unique sandals will certainly get many eyes turning around to get another look at them. Jazz up your ensemble with these knotted, animal-print sandals that come with a strappy kitten heel. Be it a party or a Sunday brunch, you can never go wrong with these sandals. 
Pros
Flawlessly pairable with jeans, long skirts, and most formalwear

A very unique and feminine design

classy and timeless 
Cons
Lacks ample support to the ankles

Not appropriate for daily use

only comes in brown
Calvin Klein Willo Strappy Dress Sandals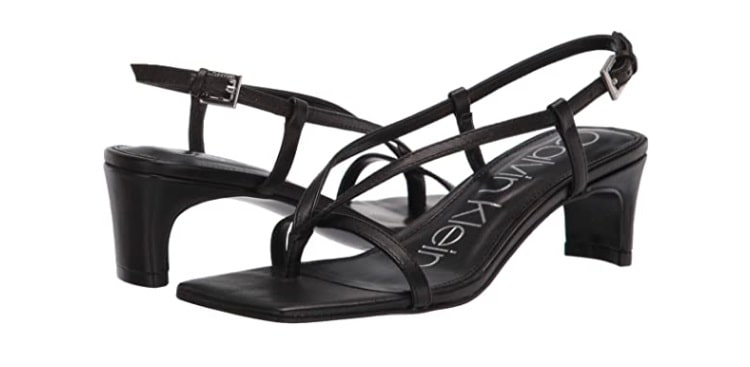 Enthusiasts of brightly-hued leather are going to love this combination that we have for you next. The luxe leather provides a seamless finish and texture to this beautiful pair of sandals. With a heel that is two and a three-quarter inches high, they will help you bring out the best of your party dresses. 
Pros
These sandals

are laced with plenty of style and appeal

Comes with a very comfortable flat padded footbed

Optimum ankle support

Comes in a wide variety of fun colors
Cons
Strap and buckle can dig into heel

Brighter colors are harder to match with outfits

Square shaped heels can be hard to walk with on some surfaces (for instance, like tarmac) 
Steve Madden Key's Sandal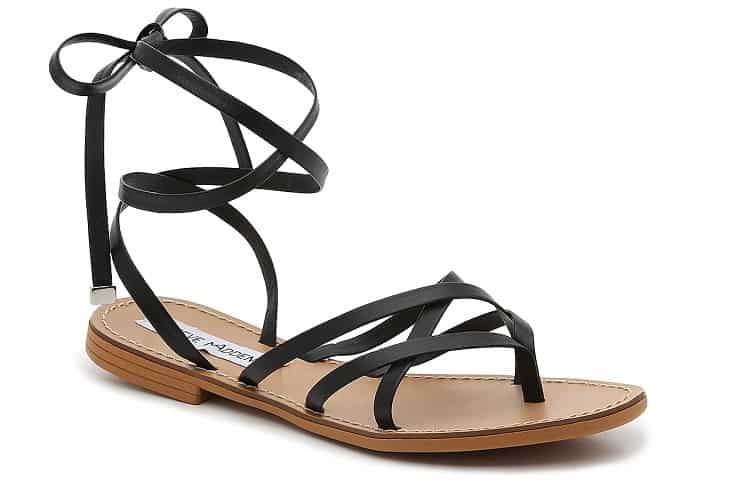 These sandals sport a contemporary look with plenty of support and breathing room for your feet. If you are looking for something long-lasting and comfortable, you will never go wrong with the leather gladiator sandals. An adjustable ankle lacing lets you secure the best fit they have to offer. 
They are capable of providing durability without compromising the style or look of the sandals. You'll want to pair them with your favorite summer skirt or denim shorts.
Pros
Perfect build quality and finish

Durable and long-lasting

modern looking
Cons
Like other long toes shoes, these can feel unsteady sometimes, especially if you are accustomed to small shoes

Needs more arch support

Only comes in three colors
Plaka Flat Sandals for Women Palm Leaf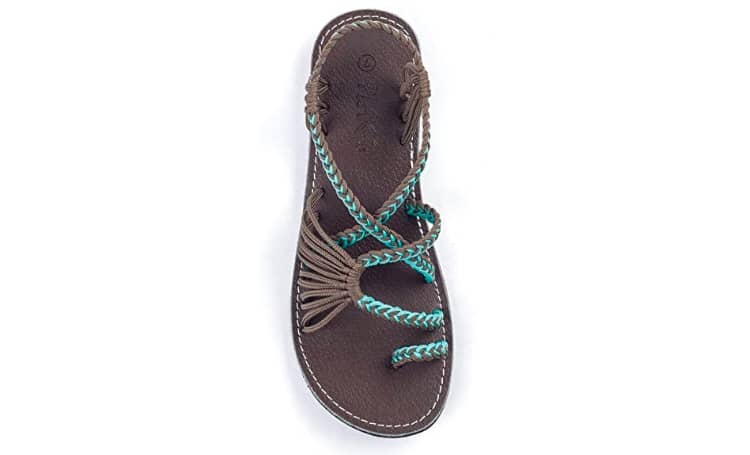 This beautiful pair of sandals should definitely be on your vacation essential list. The perfectly crafted cloth strap on this pair offers an exceptional fit, comfort, and style that will compliment your outlook very well.
These handwoven sandals will quickly mark their place in your footwear collection, given the color combination is very practical.
Pros
Perfect for almost any occasion or outfit

Due to being handmade, the level of fitness and flexibility are its top qualities
Cons
If worn too tightly, the strap can cause pain and discomfort

Not suitable for formal wear
Crocs Women's LiteRide Stretch Sandals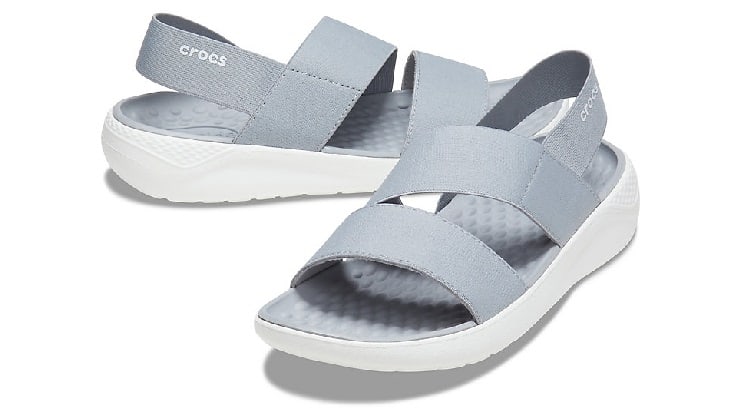 You will never run out of reasons to keep going back to these sandals. This pair is built for some of the most intensive physical activities you can put them through. Made with crocs Croslite™ foam and thick straps, they will never fail to provide the utmost comfort and fit. 
Pros
Multiple color variations available 

A good choice for daily use

Long-lasting and ultra-comfy sandals
Cons
Not for formal wear

Elastic straps can stretch and become wriggly over time
Riley Leopard Print Flat Slide Sandals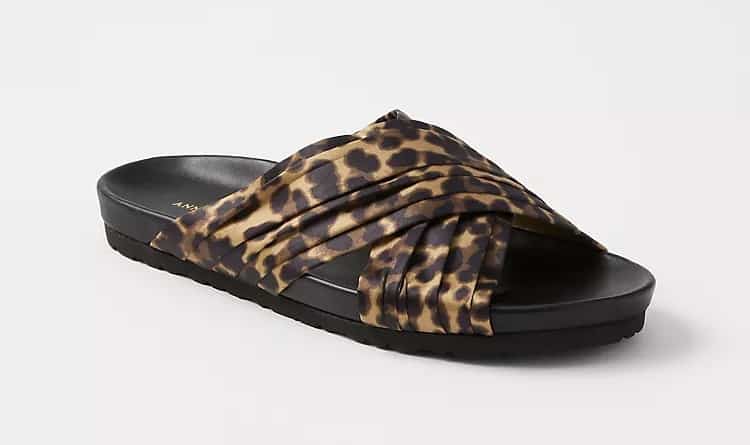 The best pair of sandals when you need something easy-going but eloquently appealing. These slide sandals are easy to break in and will be the best companion along with your daily activities.
The leopard print in brown never gets too old or blah, and can easily go along with any outfit combination you throw in with them. 
Pros
Seamless build quality 

exceptional support

Good for daily use
Cons
Print may be too loud for some styles

Its flat footbed can use some extra arch support
Best Women's Sandals Under $100
Because we know that a good pair of sandals can be more pricey, we don't want you to feel like you have to break the bank when picking your next pair of sandals.
With that in mind, we've accumulated a small list of upbeat and fashionable sandals — that won't be too heavy on your wallet!
DREAM PAIRS Women Rhinestone Casual Wear Cut Out Flat Sandals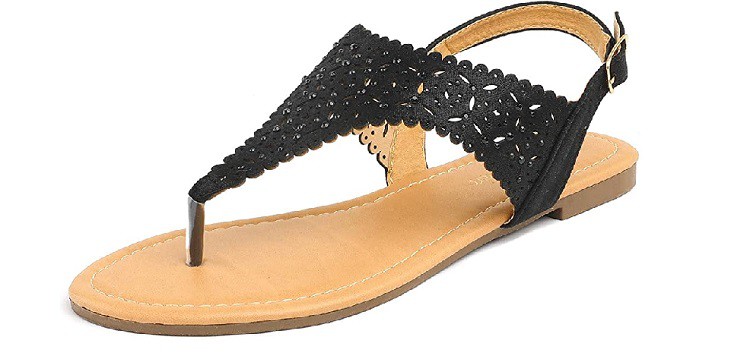 If you are in the market for something edgy, pragmatic, and inexpensive, then this pair of sandals is just for you. These flat sandals with a T strap are 100% handmade. It will certainly add a subtle hint of progressiveness and professionalism to your outlook. 
Pros
A wide and diverse variety of color variations available

Lots of room for your feet to move and adjust for the most optimum fit. 
Cons
Like many other single strap sandals, there are chances of abrasions or bruises over extended periods of usage are high

Long toes can be easy for people with small foot sizes
Steve Madden Women's Donddi Flat Sandal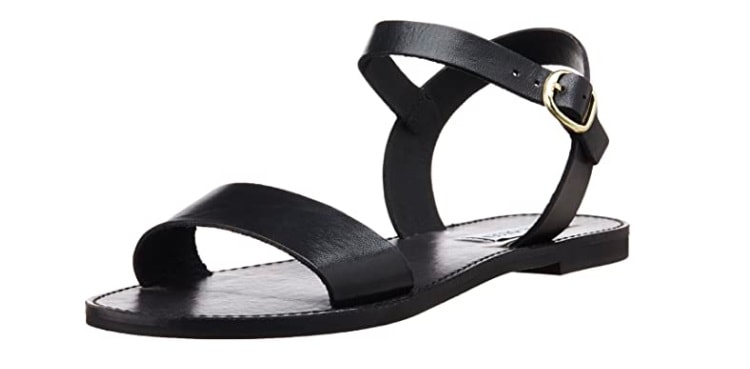 These are a true dose of nostalgia for those who are familiar with Steve Madden's original lineup of women's sandals.
These sandals are made out of 100% leather upper and come with a synthetic flat sole. You can never go wrong with these sandals, which sport rock-solid build quality and adjustable ankle straps. 
Pros
Fantastic build quality and leather

Durable 

Easily worn with formal, casual, and beachwear. 
Cons
Not suitable for long-term or athletic use

The leather will lose some of its polish and vibrancy after a few weeks. 
DREAM PAIRS Women's Jewel Rhinestones Design Ankle-High Flat Sandals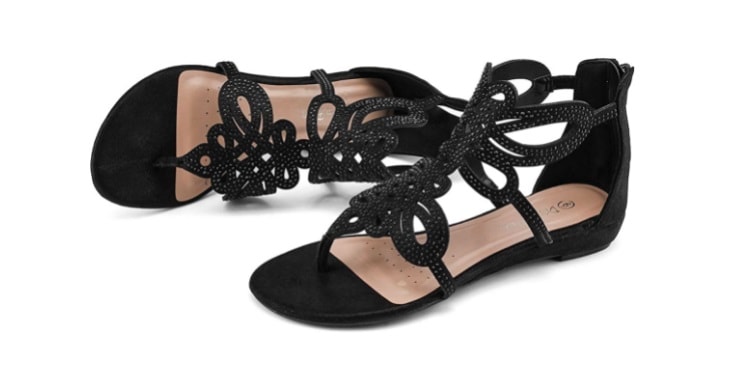 The thong-inspired construction and rhinestone detail on this cute pair of sandals is very eye-catching. A black zipper in the back allows for ease of access.
With plenty of cushioning in the sole padding and straps, you will forget that you even had them on. This pair brings style and comfort together in the right proportion for an everyday user. 
Pros
Stylish

Offer plenty of support

very affordable
Cons
Ankle padding can use a bit more cushioning as many customer reviews pointed out. 

Straps can become loose or unhinge in some cases after a few weeks of intensive use
Naturalizer Women's Taimi Dress Sandal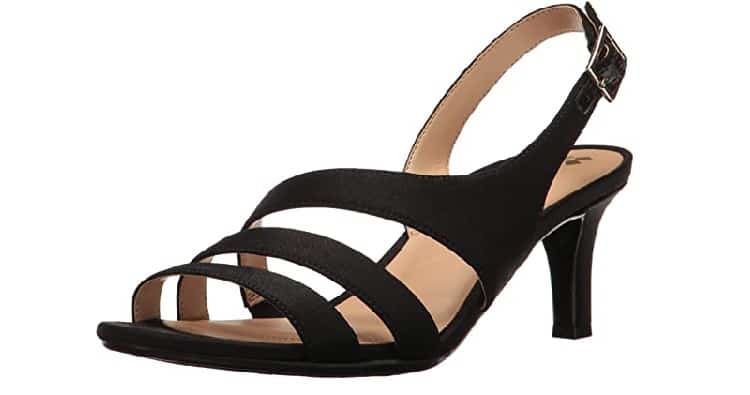 With over 2,500 positive user reviews, this is one of the most highly rated pairs of sandals on our list. Double straps for the toe offer plenty of clearance, support, and protection.
These are high heels, which makes them a reliable accessory for a date night or party. They are made of 100% leather and come with an adjustable ankle strap. 
Pros
Top-notch comfort 

Extensive color options available in the manufacturer's catalog

Stylish and contemporary design
Cons
Straps can use more inner padding for additional support

Ankle strap could have been thicker and more padded
The Very Best Sandals: Our Top Recommendations
Hailey Floral Sandals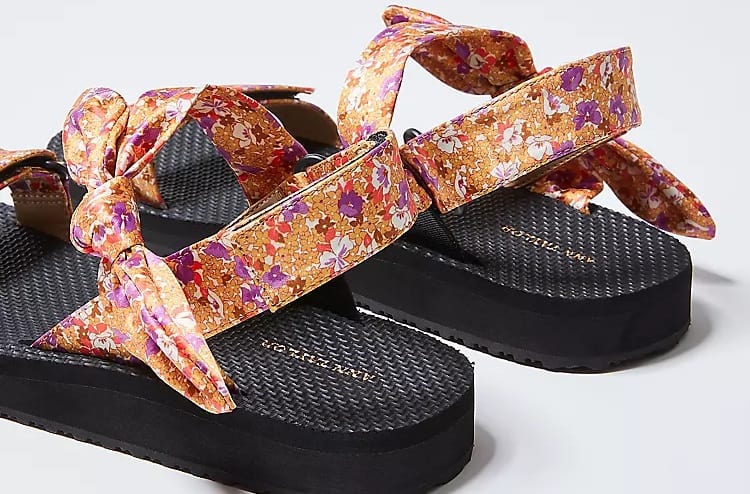 The moment we first saw this cute pair of sandals, they left us quite impressed. The cute floral bow on the sides truly makes it one of our favorites on this list.
These are the perfect sandals to break out during summers and spring. Whether you'd like to chill on the beach sand or go for a jog, these sandals will never let you down. 
The thick synthetic soles and impressive arch design on these sandals will make sure to keep your feet at proper angles and avoid tilting while walking. The color combination is feminine and vibrant, making it easy to dress up with any casual or beach outfits. 
Steve Madden Women's Donddi Flat Sandal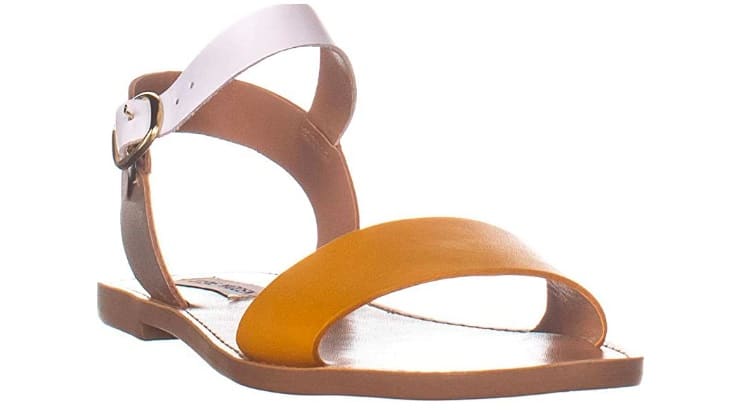 Steve Madden is one of the most renowned names in the women's footwear industry. They have revolutionized the market with their innovative contours and design elements that women have loved since 1990.
The Dondddi flat sandal brilliantly showcases how simplicity can be your best weapon sometimes. 
The cushioning, height of the heels, and strap lengths have been peculiarly designed to offer the best fit and feel. Whether you want to hike the rocky mountains or take them to the beach, they will reliably serve your feet and keep them safe. 
Plaka Flat Sandals for Women Palm Leaf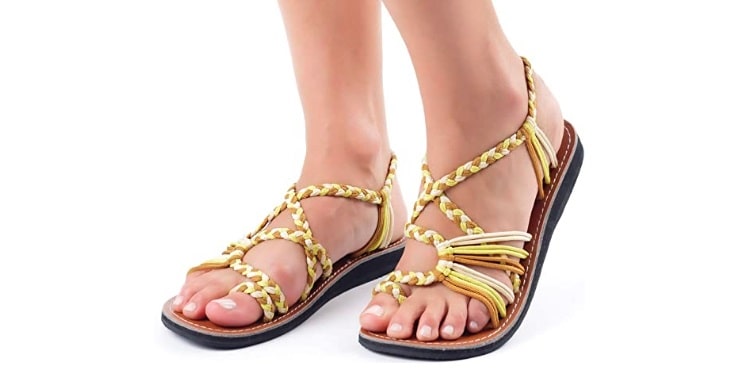 We had to include the Plaka flat sandals simply because of their usefulness and rational design elements. These handcrafted sandals will offer support from multiple directions to your feet. The separate strap for your thumb will keep your feet in the right posture and provide added grip. 
When dressing them up, they will rarely run out of ideas because of their innovative design and color palette. In our mind, these are the perfect sandals to take to the beach. Everyday rough use should not be a challenge for the Plaka flat sandals because of their rigid and well-built soles. 
Gita Strappy Croc-Embossed Kitten-Heel Sandals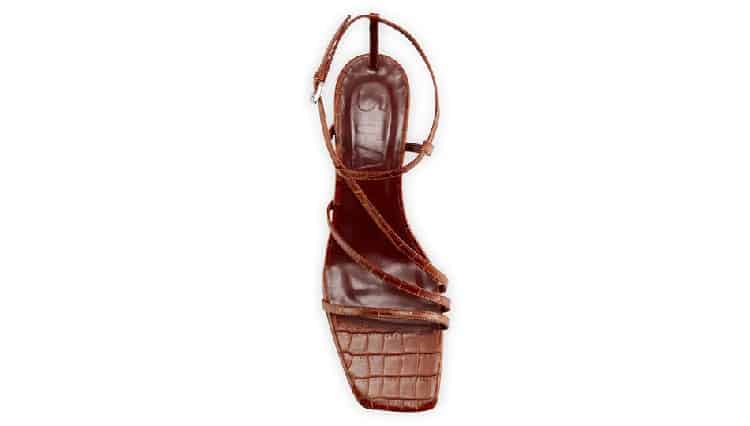 When it comes to looking good at a party, you know you have to think outside the box. These knotted strap sandals will add a unique flair to your party dresses. We really loved the attention to detail and the geometry of these sandals. 
These strappy sandals are definitely a good bang for your buck. 
How to Style Your Sandals: Our Best Use Tips
Here are some quick and easy tips from our experts to help you incorporate sandals into your outlook:
Dress them up with long skirts for an impeccable finish.
Leather sandals with a shiny finish can spruce up the look of anything you throw over them. 
Make your date night even more special with a jazzy knotted strappy sandal that makes your feet stand out in the crowd.
Your date will secretly appreciate you for that. 
Going on a run or an extended vacation and don't know what to bring along?

Athletic sandals will do you good.
They are medically recommended by podiatrists all over the world to athletes because of the level of robustness and comfort they offer. 
Frequently Asked Questions
Question: Can wearing high heels or stilettos cause bunions?
Answer: The answer to this question is totally Subjective and depends on the size, arch design, and height of heels you choose to go with. If your sandals are hurting you, check with your podiatrist to know if the size of your sandals is not too big or small. 

Although sandals rarely cause bunions , they will certainly aggravate the situation if you have one already. Heels can put a substantial amount of stress on your joints and ligaments, especially if you are wearing them every day.

This is the reason podiatrists suggest to keep switching between easy-going shoes and heels from time to time. 
Question: Should I buy a size up or down for sandals?
Answer: Most manufactures will specify easy guidelines on how to choose the size for their sandals when buying online. Depending on the material, shape, and usability of the sandals, you may need to one up or down the size of your sandals. 

A general rule of thumb when buying leather sandals is to stick to your original size, because they rarely stretch over time. In the case of elastic or flexible sandals, you can go down to size because they take a while to break in and after a week or so, they will stretch to the size of your feet. 
Question: Are thong straps a good choice for your feet?
Answer: In general, flip flops and thong strap sandals offer much better grip and visual appeal in comparison to other straps. But you have to be careful with them, because walking long distances in these sandals can hurt your feet and lead to blisters forming (in extreme cases). 

Thong straps are an optimum choice for the beach and close door occasions. 
Question: Will flat sandals make my feet flat?
Answer: Although your feet will not flatter than Become already They are, in some cases flat sandals can strain your ankles and hip joints. Which brand you choose, will make a lot of difference in this case. Many brands have perfected their arch support designs and footbed cushioning, providing a seamless flat sandal experience. 

If you think your flat sandals are hurting you or making you feel uncomfortable while walking, try using an insole supplement. These can be easily purchased online or bought from your nearest shoe store.
Question: Are sandals better than casual walking shoes or espadrilles?
Answer: The answer to this question will eventually boil down to the personal preferences of people. The visual aspect can also create a huge difference for people, since everybody has a variable fashion sense. A well-crafted espadrille or sandal can optimally take care of comfort, style, and other aesthetic features easily.  
Our Final Thoughts
When summer is around the corner, you know it is time to break out your favorite pair of sandals and let your feet breathe. Sandals, be it leather, cloth, jute, or synthetic, all serve different purposes and roles.
If we had to pick our favorite one out of all the listed ones, we'd go with the Hailey Floral Sandals . Be it looks, comfort level, or longevity, these sandals have it all covered. 
When so many options are on the deck, it can become confusing to decide which pair of sandals are good for a certain occasion and which ones are not. Your fun on the beach can be easily ruined by a bad pair of sandals, so we made sure to include all the necessary details in our recommendations.