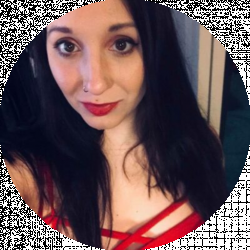 Latest posts by Stephanie Jensen
(see all)
The global footwear market is a multi-billion dollar industry. This is especially true for women's footwear; women wear several types of shoes, from boots all the way to stilettos.
Why is it important to know these different shoe styles? The type of shoe you wear depends on the occasion, from going to the store all the way to the office. With so many trends and style preferences, you'll find certain women prefer specific types of shoes.
Here's an overview of the different types of shoes.
The Evolution of Shoes
When reading about these different types of shoes, you'll see that these shoe types have been passed down throughout history. Here's the evolution of shoes and why they influenced the way we wear shoes today.
It Started With the Ancient Times
Our oldest ancestors were the first to wear shoes. The oldest pair of shoes was founded in a cave in modern-day Armenia. They're closed-toe leather shoes and are thought to date back to 5,500 years ago.
Ever since then, we found many examples of various ancient civilizations wearing shoes. The concept of the flip flop originated in ancient Egypt, gladiator sandals were worn in battle during ancient Greece, and the ancient Romans had a variety of shoe styles.
However, archaeologists believe that we started wearing shoes 40,000 years ago!
Footwear only became more fashionable during the Middle Ages. This is where the pointed toe shoe originated. The Middle Ages also introduced the pointed heel, which inspired the heels we wear on our shoes today.
In addition, shoes during this period started featuring buttons, laces, and straps. Don't worry, the slip-on shoe was also popular during this time period!
However, the Middle Ages didn't produce the most colorful shoes. This changed with the Renaissance era. They were made in vibrant colors, such as green, purple, yellow, and blue. Colorful shoes were especially popular among the wealthy.
Shoes Today
All of this paved the way for the modern shoe. There are a variety of shoe styles and are all featured with embellishments and more. You'll also find several types of footwear, and many of these examples have evolved throughout history.
Take a look at these different shoes!
Types of Casual Shoes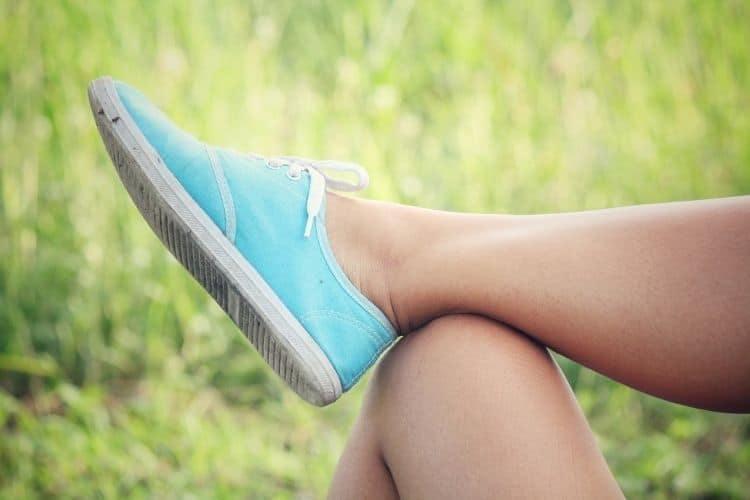 Casual shoes are some of the most versatile. You can wear these shoes on a day-to-day basis, whether you're running errands or are going out with friends. These shoes are perfect for these occasions.
Flats
Flats, often called ballet flats, are exactly what they sound like — shoes that are flat on the bottom or have a very small heel, just like ballerina flats. Most flats have rounded toes, though you can some varieties with a pointed toe.
Flats are not only pretty, but they're very practical and most women see them as an essential item for all wardrobes. They're extremely comfortable and are easy to slip on and off.
You can wear them just about everywhere. Designers make flats in a myriad of different styles. You can find flats in just about every color and there are flats made in a variety of prints and patterns. Wear a neutral-colored flat at the office and wild prints and colors when going out with friends.
I especially love these basic black flats. They're a staple in my shoe wardrobe and they're usually very affordable. These black ballet flats from Shoes8teen are the perfect example. You can buy them on Amazon.
Wedges
Wedges are identifiable by the wedge heel. A wedge heel is a blocky and solid heel. They're elevated at the back and taper down to the toe, which is flat on the ground.
Wedges are the perfect option for women who want a little extra height while wearing more comfortable shoes, in comparison to stilettos. You can find wedges in a variety of heights, from short wedges to extremely tall ones.
Even though wedges are technically considered casual shoes, they have a more polished look. Wear wedges when you're going out shopping or are at the beach.
Sneakers
Sneakers are shoes that offer more comfort than your average shoe. Most sneakers are worn for physical exercise and sports, though certain sneakers are designed for specific functions. However, there are some sneakers that are better for everyday style.
There are a variety of different types of women's sneakers. Most sneakers are referred to as "lace-up," which means you have to tie the shoelaces to secure them. Some lace-up shoes are better for daily wear while others are best for certain activities, such as basketball or running.
As far as sneakers go, Puma sneakers are my go-to. They're comfortable, perfect for running or the gym, and are extremely affordable. These are similar to the Puma sneakers that I own, but the Puma website has a ton more options.
Canvas shoes are another popular type of sneaker. They're sporty yet lightweight, but they're better as everyday sneakers rather than the gym.
Flip Flops
Flip flops are best known as summer shoes because they're perfect for the beach and other hot-weather activities. Flip flops feature a sole with a strap that goes between your big toe and the one next to it.
You can find flip flops in a variety of different colors and patterns. The style is very basic but different designers accentuate flip flops in various ways, such as adding gems and other embellishments to the straps.
While flip flops are generally comfortable, you can find flip flops in different materials. Most flip flops are made of foam, but other common materials include rubber, leather, plastic, fabric, and suede.
Loafers
Like flats, loafers are casual shoes that you simply slip on. However, loafers are fancier than flats.
They're popular shoes worn by both men and women and are popular shoes for the office. Some loafers have no heels, but most loafers have a very low heel. Most loafers are made of either suede or leather.
Types of Heels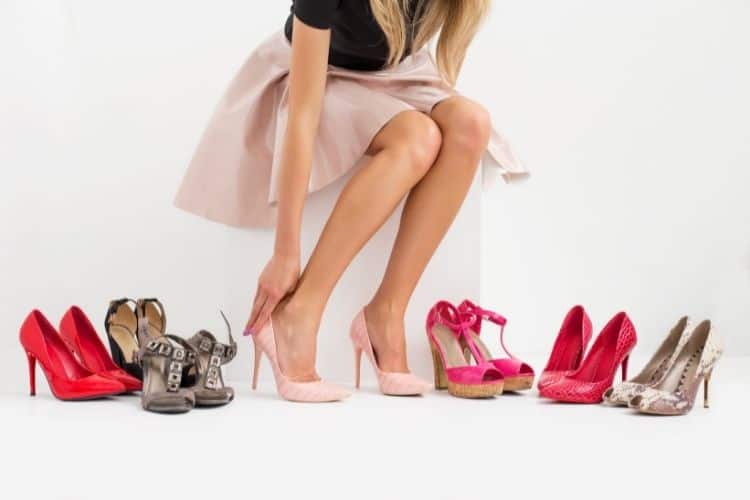 Heels are the quintessential feminine type of footwear. But heels are more complex than you think. There are different types of heels as well as different heel heights. Some heels are also better for certain occasions than others.
Kitten
Kitten heels are very thin and short. Most kitten heels are only an inch tall, usually not surpassing two inches. You can find kitten heels on a variety of different shoes, from pumps all the way to sandals.
Me personally, I'm a huge fan of kitten heels. They're sleek and classy, yet they're extremely comfortable. I'm also not a fan of high heels, even though I'm petite, so the small kitten heel is perfect for me. This is an example of a kitten-heeled shoe I would wear. I love the color blocking going on here, especially the design on the sides.
Medium
Medium-height heels are usually between two and three inches tall. They're the second-most popular type of heel and are commonly worn to the office. Women love these shoes because they give ample height yet are easy to walk in.
High Heels
High heels have a heel taller than 3 inches. These heels are typically seen in either stilettos or pumps; we'll cover these types of shoes in next. However, you can see high heels on more shoes than these.
Stiletto
Stiletto heels are a form of high heels that are spiky. They're very thin and tall, resulting in an ultra-fancy look. They're often worn to exquisite events or when you're out having fun. Most women also wear high heels to the club or out on a date.
Pumps
Pumps are slightly different than stilettos. While they have a high heel, the toe is usually close-toed and pointed. Most pumps are also enclosed all around the foot. Pumps come in all different designs and can be worn on a variety of occasions, even to the office.
d'Orsay Pump
The d'Orsay pump is one of the most individualistic types of pumps. While the toe and ankle parts are enclosed, the middle part is completely open. While d'Orsay shoes are commonly seen with a heel, there are also d'Orsay flats. The open middle part is what makes d'Orsay shoes stand out.
d'Orsay pumps have surprising historical implications. They were created in France during the 1800s but were originally worn by men. The Count of d'Orsay, Alfred Guillaume Gabriel, made the design for men in the military.
Eventually, female aristocrats caught onto the shoe style and adopted it. From here, the heeled d'Orsay pumps were born.
Why are these shoes popular? They're very vampy, perfect for a night out on the town.
Mule
Mule heels are backless and have a pointed toe. They're popular because they're easy to slip on. The pointed toe and heel are also favored by short women; this combination elongates the legs.
Don't be fooled by their simple design. They're stylish shoes and are always trendy. The backless design also makes them comfortable. They're also perfect to wear to the office and when you're out with friends.
I like mule shoes because of the versatility. Take these shoes as an example. The quilt-inspired design on these shoes is extremely striking. The heel is also the perfect size for me. That, and you can't go wrong with black shoes. You can buy these shoes on Nasty Gal.
Types of Boots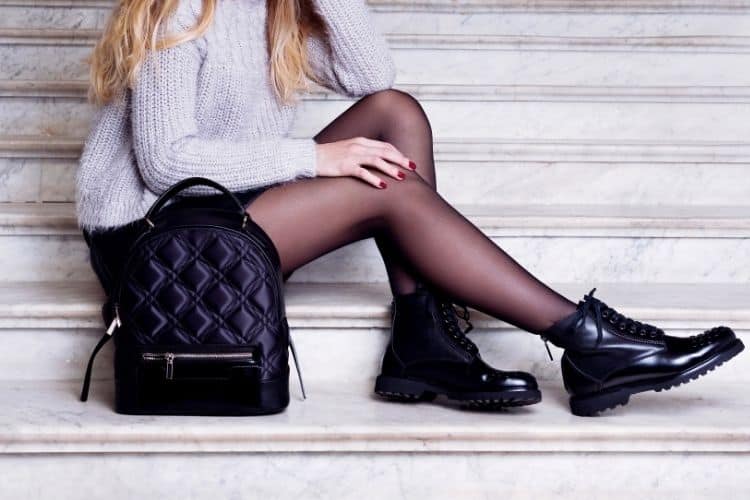 Boots have become one of the most popular types of shoes. There's a boot type perfect for all seasons. Their practical functions and stylish design make them a staple in any woman's foot wardrobe. You can find boots in a variety of colors and patterns to complete any look.
Ankle Boots
Ankle boots have a classic shape and appeal. Their simple design makes them great with a variety of outfits, from your favorite dress to tailored slacks. They're perfect for everyday wear, even to the office. There are a variety of types of ankle boots and they make a cute addition to any outfit.
Calf Boots
Calf boots are commonly worn when it's cold. Even though they only reach your calf, they offer plenty of coverage and warmth. This is why most snow boots are available as calf boots.
However, there are plenty of types of calf boots; as long as you buy them in a good quality fabric and you take care of them, they're sure to last.
Knee-High Boots
Knee-high boots are very versatile, as well. They come in a variety of styles and even materials. Knee-high boots are mainly meant for fashion. For example, cowboy boots are a popular stylish boot option and usually come up below the knee.
Knee-high boots can also be functional. For example, most rain boots and Wellingtons go up to the knee, as well as horse riding boots.
Thigh-High Boots
Also known as over-the-knee boots, thigh-high boots are also a popular and stylish piece.
You can find them available in a variety of colors, styles, materials. Choose a soft suede thigh-high boot when wearing them with a cute dress and seriously awesome vinyl boots when going to the club or even when you're having an intimate night with your partner.
Many thigh-hoot boots also have a heel, helping elongate your legs while not sacrificing comfort.
They're ideal for all seasons; wear a pair of thigh-high boots with your favorite dress in the summer or with jeans and a sweater when it's chilly outside.
Military Boots
Also called combat boots, these boots are inspired by what military personnel wear. They're sturdy boots with a chunky design. Most military boots reach your calves and lace all the way up. While these boots are mainly for fashion, they add a bit of edge to any outfit.
99% of the time, you'll catch me wearing combat/military boots. I love how stylish and comfy they are. That and they give a unique edge to just about any outfit. I usually wear black combat boots, but I have so many different pairs. I found these brown ones on Amazon, and I may be tempted to buy them!
Outfit Ideas
Here's the fun part! Now that you know all of the various types of footwear, here's some outfit inspiration to put together the best outfit!
Dresses and Skirts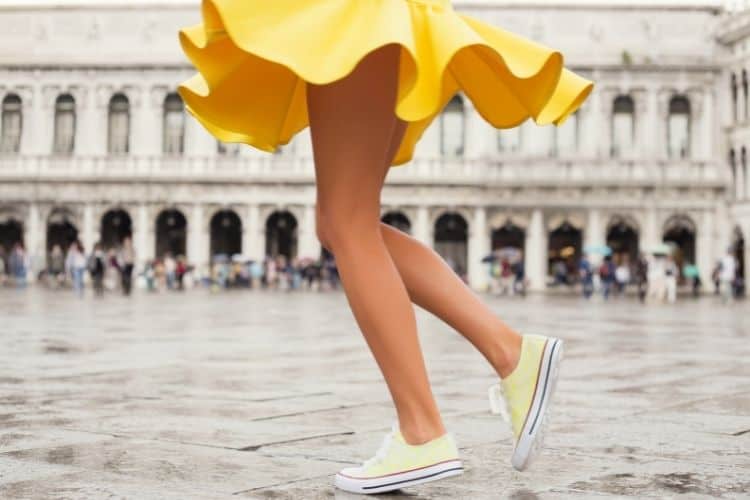 Which shoes do you wear with dresses and skirts? It depends on the type of dress or skirt and the occasion.
If you're simply running errands or don't want to dress up, choose sandals or ankle boots with your skirt or dress.
Sandals are best with skirts. Wear a maxi skirt and sandals when you're out running errands. If it's a chilly day, wear a midi or maxi skirt with ankle boots. Maxi dresses and ankle boots are also a great combination when running errands.
You can wear sandals with a dress, but be mindful of the sandal you wear. Opt for a more exquisite style, such as heeled sandals, as opposed to basic flip flops.
What if you're seeing friends and want to look cute, but you're not going out anywhere fancy? Choose your favorite knee-length skirt with a pair of simple pumps.
What if you're going out? Dresses and heels are the classic combination!
If you don't want to wear heels, knee or thigh-high boots look amazing with a dress on a night out. If you're seeing friends, a skirt with boots will also look cute. Make sure your dress or skirt is short enough to show off your boots.
Dressy flats are also ideal when you're out for a night. Wear an above-the-knee dress with a pair of flats or a midi skirt with a blouse and flats.
Shorts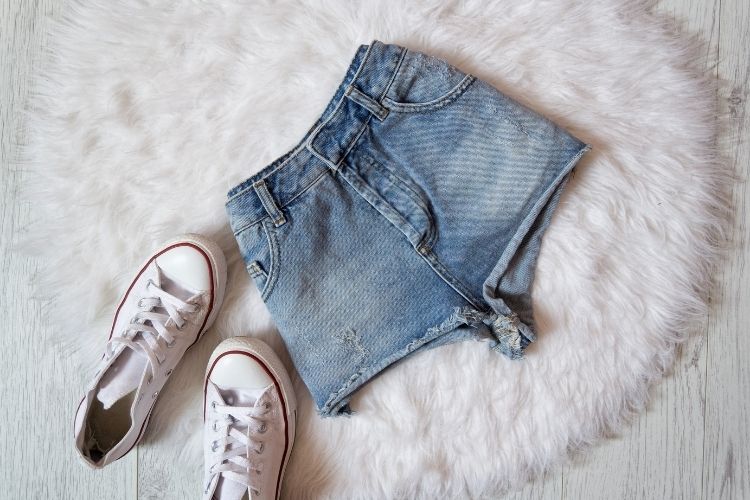 Do you prefer shorts over dresses and skirts? What shoes look best with shorts? Take out the sandals! Sandals and shorts are the ultimate summer staples. Jeans shorts with strappy sandals and a floral summer top scream beach and warm weather.
What if you want something more stylish? Boots also look great with shorts! For a country chic look, wear a pair of denim shorts with a belt, neutral-colored blouse, and rustic jacket with your favorite pair of cowgirl boots.
Ankle boots and shorts are also ideal for a long day of running errands. Jeans shorts and a t-shirt or light sweater with ankle boots will keep you comfortable all day.
Don't have ankle boots? Knee and thigh-high boots also look great with shorts. Wear thigh-high boots, jean shorts, and a sweater if you're out and about on a chilly day. Knee-high boots also look great with shorts and this is the perfect outfit for a night out.
Flats are versatile shoes and can be worn during a relaxing day with friends or on a night out on the town. Choose a stylish pair of shorts with a blouse and super cute flats.
And who said you can't wear your favorite pair of heels with shorts? For a night out, wear stylish pumps with denim shorts, a blouse, and a blazer.
Jeans and Tights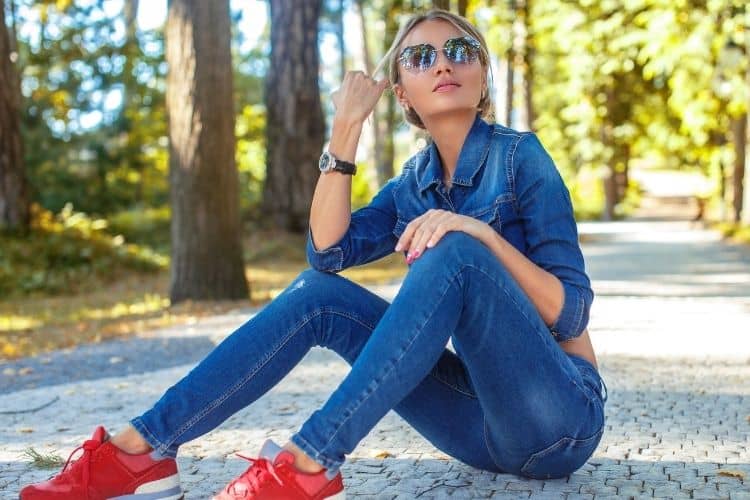 What shoes look best with jeans and tights? It depends on the occasion.
If you're running errands, choose a long-sleeved comfortable blouse with bootcut jeans and a comfortable pair of sandals is also a classic. Sneakers with straight-leg jeans are also great for running errands.
If you prefer leggings, wear neutral-colored leggings with sandals and a sweater. Flats are also great for running errands. A comfy pair of flats with straight-leg or skinny jeans with a jean jacket and sweater is comfortable and chic.
Boots and jeans or leggings are also perfect for the colder weather. For the chicest fall outfit, wear leggings with a sweater and ankle boots. Ankle boots also look great with skinny jeans. Pair them with your favorite blouse.
As an alternative, you can wear knee or thigh-high boots over leggings and skinny jeans. Finish this outfit with a sweater and scarf for the perfect fall night-out look.
Want to wear skinny jeans or leggings on a night out? Take out those high-heels! Choose a fashionable pair of leggings or skinny jeans with pumps and a blouse.
Fall and Winter Wear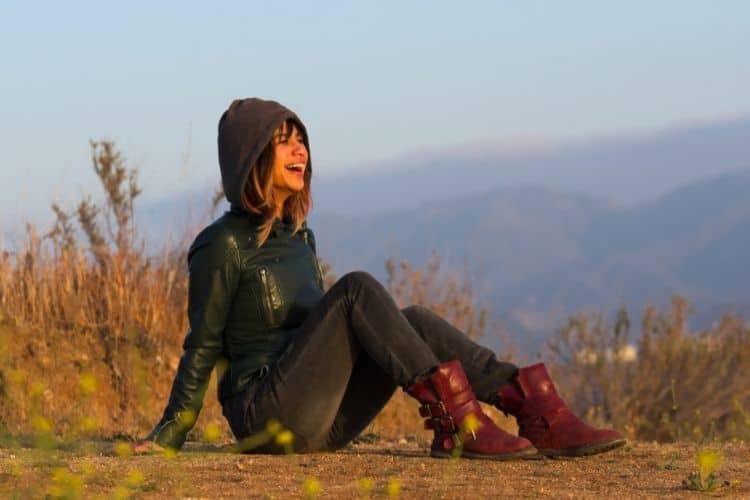 Even when the temperature dips, you'll want to look stylish. How should you wear your warm clothes with shoes? First, you'll need a trusty pair of boots. Next, the outfit you wear depends on the season.
Depending on how chilly it is, fall wardrobes are flexible. While you'll often need a jacket, you may be able to get away with wearing a long skirt instead of pants. But if it's cold, a cute sweater or jacket and jeans will always work. Be sure to wear a cute pair of boots or sneakers. Ankle boots look especially stylish during the fall.
What about winter? A warm coat, jeans or warm leggings, and snow or military boots always work. Finish off your look with a warm beanie.
Vintage Chic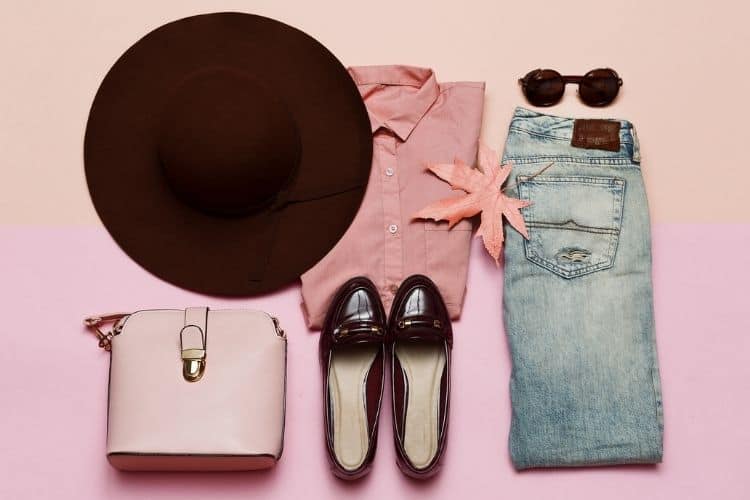 For a themed outfit, choose a vintage or rustic chic look with combat or hiking boots. Bootcut jeans with a pair of combat boots and crop top will make you look like you just walked out of 1975.
Corporate and Office Fashion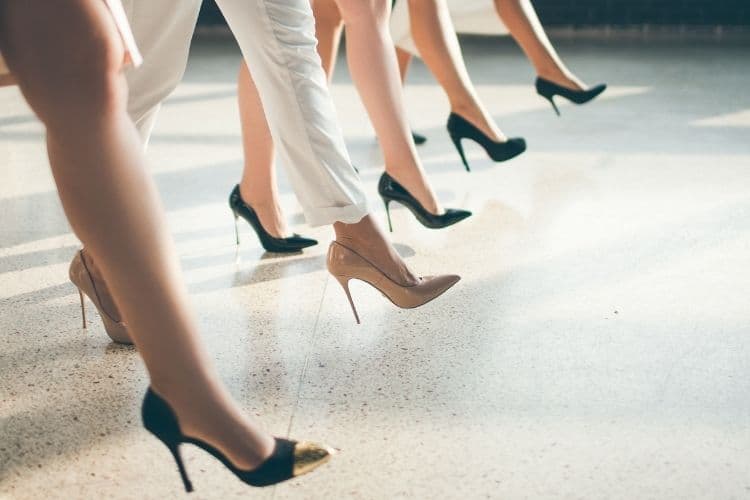 Which shoes are ideal in corporate settings, such as the office? Take out those loafers! Find a pair of loafers with work-appropriate pants (you may even be able to get away with fashionable leggings here) with a nice blouse and blazer. For best results, keep it all neutral-colored.
Flats also look perfect at the office! Wear them with a similar outfit, except you should choose tailored pants since flats look more casual. Depending on your office environment, flats are subtle enough to dress up. Wear colorful or patterned flats. Leopard print flats are especially cute!
Gym and Athletic Attire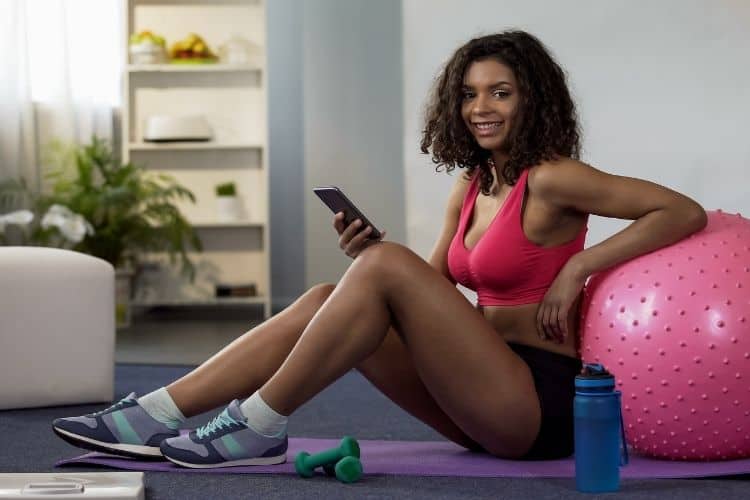 How do you use these shoe ideas when out at the gym? First, stick to sneakers. Sneakers, leggings, and a crop top is the ultimate sexy and chic outfit to wear to the gym. Running errands after the gym? Throw a sweater or jacket over the outfit for the cutest athleisure look.
FAQs
Question: What Shoes Are Trending?
Question: What Shoes Should Every Woman Own?
Answer: This is subjective, but every woman should own a pair of sandals, a pair of pumps, combat or hiking boots, sneakers, and loafers or mules for the office. If you're unsure about colors, always choose black. They match for virtually anything.
Question: What Are Different Shoe Materials?
Answer: One of the most underlooked aspects of shoe shopping is choosing the right materials. However, there are a variety of shoe materials out there. Some of the most common ones include:
Textiles
Leather
Rubber
Synthetic
Plastic
Foam
Question:Which shoe material is best for what purpose?
Answer: Textiles and foam are most common for sneakers. Leather, plastic, and rubber are some of the best materials for boots. Synthetic materials are great for loafers.
Question: What Is Considered a Dress Shoe?
Answer: Are you attending a formal event but aren't sure what a dress shoe is? It's easier to know what to avoid.
For example, sneakers are too casual for formal events. Some boots are acceptable but others, such as combat boots, aren't ideal for formal events.
If you're ever unsure, stick to a pair of well-polished loafers.
Question: What Shoes Are Trending?
Answer: If you're buying new shoes, you should pay attention to the hottest shoe trends! Buy these shoes if you want to be in style:
Leather sandals
"Flatforms" (a combination of flats and platform shoes)
Strappy sandals
Sandal heels
Ballet flats
Choose the Best Shoes Today
Are diamonds a girl's best friend? It seems like shoes are the true BFF here! From the office to the beach, there's a pair of shoes for every occasion. As you can see here, there are multiple types of shoes out there. Try wearing them all! It's easy to build a massive shoe wardrobe.
Continue reading our footwear section for more outfit ideas, brand recommendations, buying advice, and more.