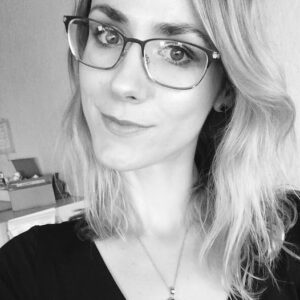 Latest posts by Karyl Trejo
(see all)
Jackets are the all-weather wardrobe staple most women own. Shorter than a coat and thicker than a cardigan, it can either shield you from the heat or keep the cold at bay. If you are looking for the perfect one to complement your style or want to switch up your wardrobe choices, a jacket can be a great addition that will keep you cozy. 
How did this clothing item come about? When did it become fashionable to wear it? Does it hold up compared to other outerwear? If wearing jackets tickles your fancy and you want to know how different styles can provide variety in your OOTDs, we have your back with this article.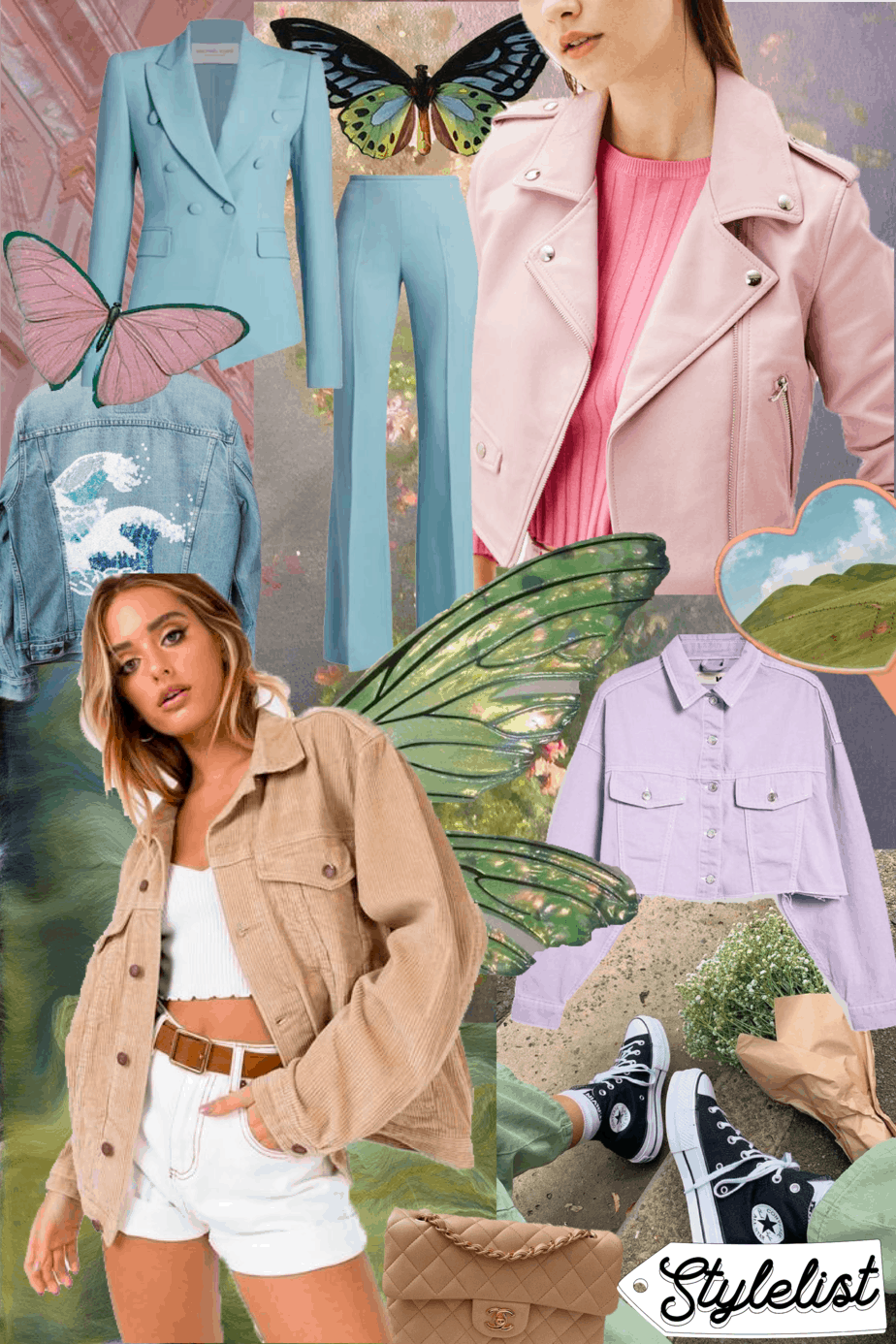 A Brief History of Women's Jackets
It was men, instead of women, who had the earliest access to jackets. Jackets are first thought to have been worn as shorter versions of coats, which allowed more mobility to the user. The jerkin, a more fitted version of a shorter tunic, served as the precursor of the modern jacket. Men in the Middle Ages or Renaissance were the first to wear these items with their breeches.
Soon women's fashion followed suit, with riding habits for women moving from full-length to go-over skirts, knee-length, and finally to hip-length that resemble modern jackets of today. People of the era also started creating styles worn outside dresses and blouses, though they did not consider it outerwear as much as coats are.
Among the notable pieces created for women in the 18th century is the caraco, which is a long-sleeved, lowcut jacket with a fitted waist and flares to the waist. It is meant to be worn with an inner ruffled shirt. Another popular one is the spencer jacket, which reaches up to the waist, or the bust (much like a modern cropped jacket).
The jacket was first introduced in April 1857 by the French magazine Corriere delle dame, as a shorter version of a morning coat. Another magazine, the Adam Magazine, described the jacket in its 1935 issue as "a type of coat…that barely covers the buttocks and shaped like a sack." Not all modern-day jackets look essentially sack-like, though — tailored styles flatter one's silhouette nowadays. 
As women began having jobs, jackets became a less cumbersome way to keep warm during cold months. Typically worn with dresses and blouses, soon women wore jackets under different pants and trousers as it is today. Some jackets are even suitable to wear over gowns!
Many options are now available for women in choosing their jackets. Many slim and free-flowing choices cater to the needs of the modern woman and compliment her wardrobe staples.
Jackets Versus Other Outerwear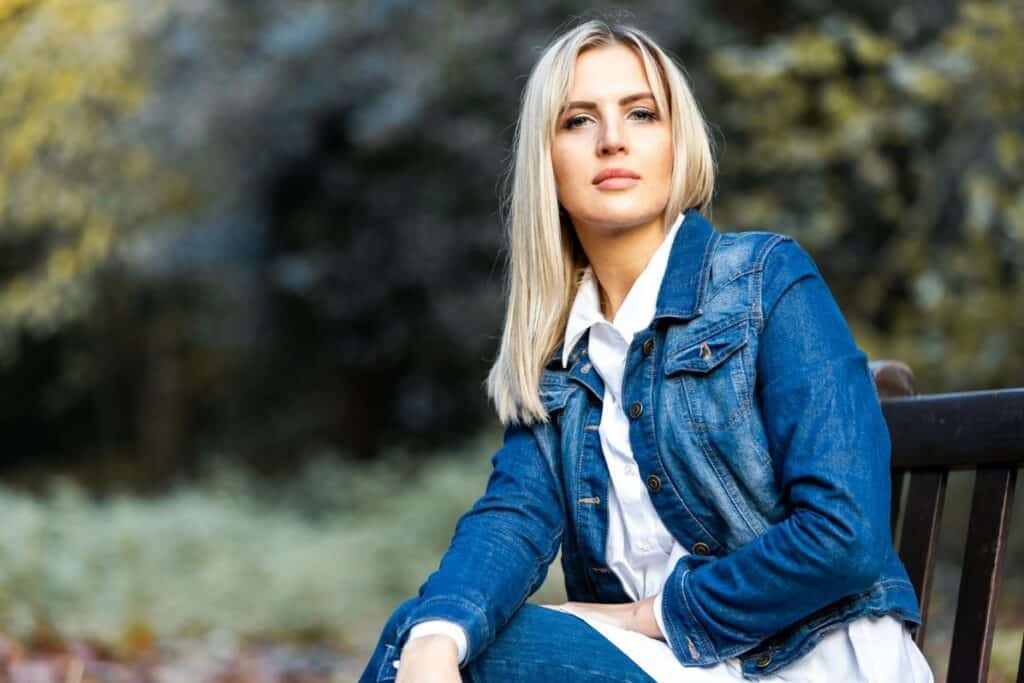 So what sets jackets apart from coats, capes, and other women's outerwear? Here are some of the distinctions.
The length
Jackets rarely reach to the knees, whereas coats mostly come above the knee or much lower.
The sleeves
Jackets share sleeves alongside coats, whereas capes lack them.
The coverage
Jackets provide just enough coverage for the upper body, whereas others may not.
The fitting
Jackets fit more snugly to the body, whereas coats and capes are usually a little less insulating than coats. Jackets are less bulky, too. However, women also favor men's oversized jackets nowadays.
Common Materials for Women's Jackets
The material used in jackets usually depends on where the item is worn (particularly formal ones). Nevertheless, the following are some of the popular materials for women's jackets:
Leather/Faux Leather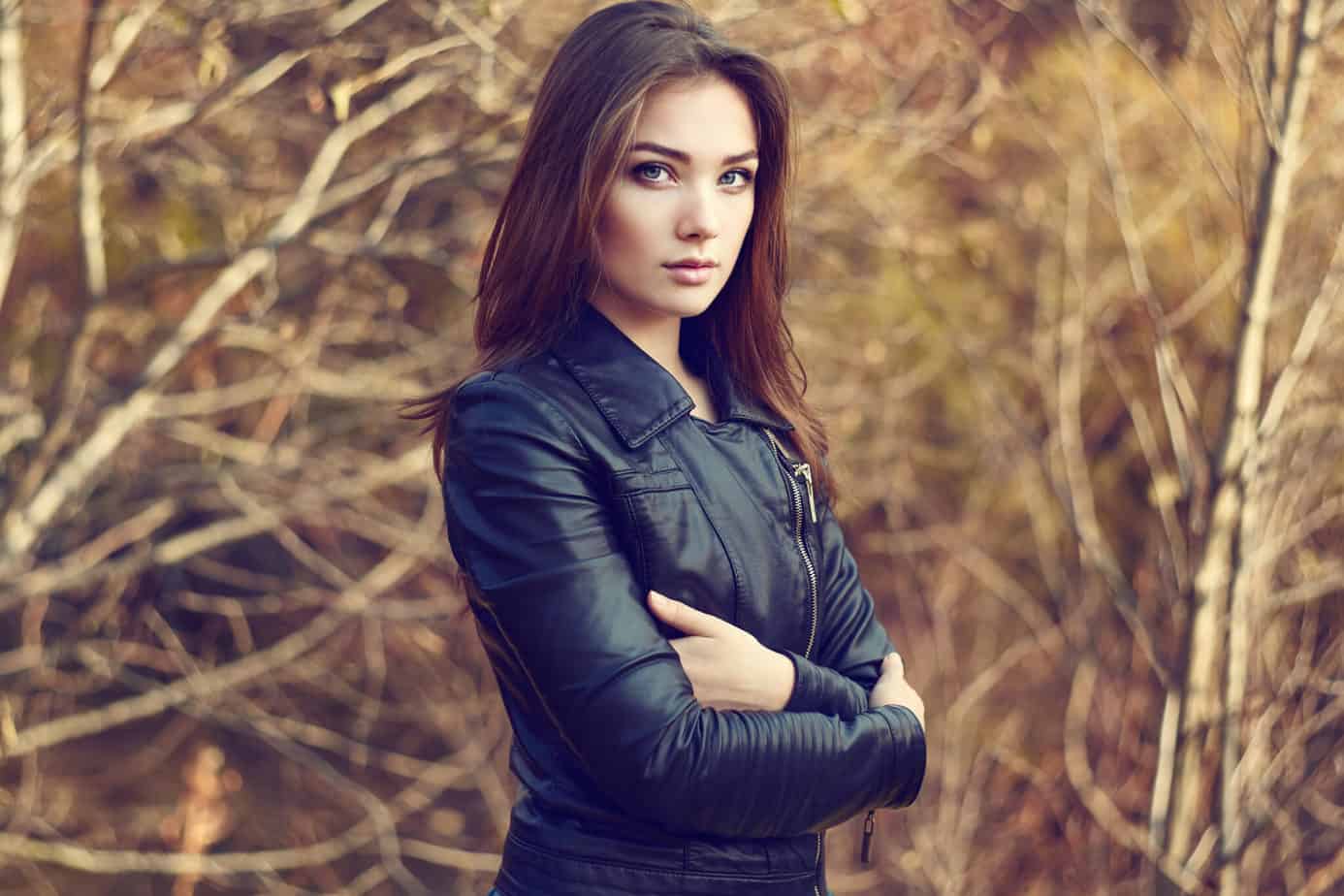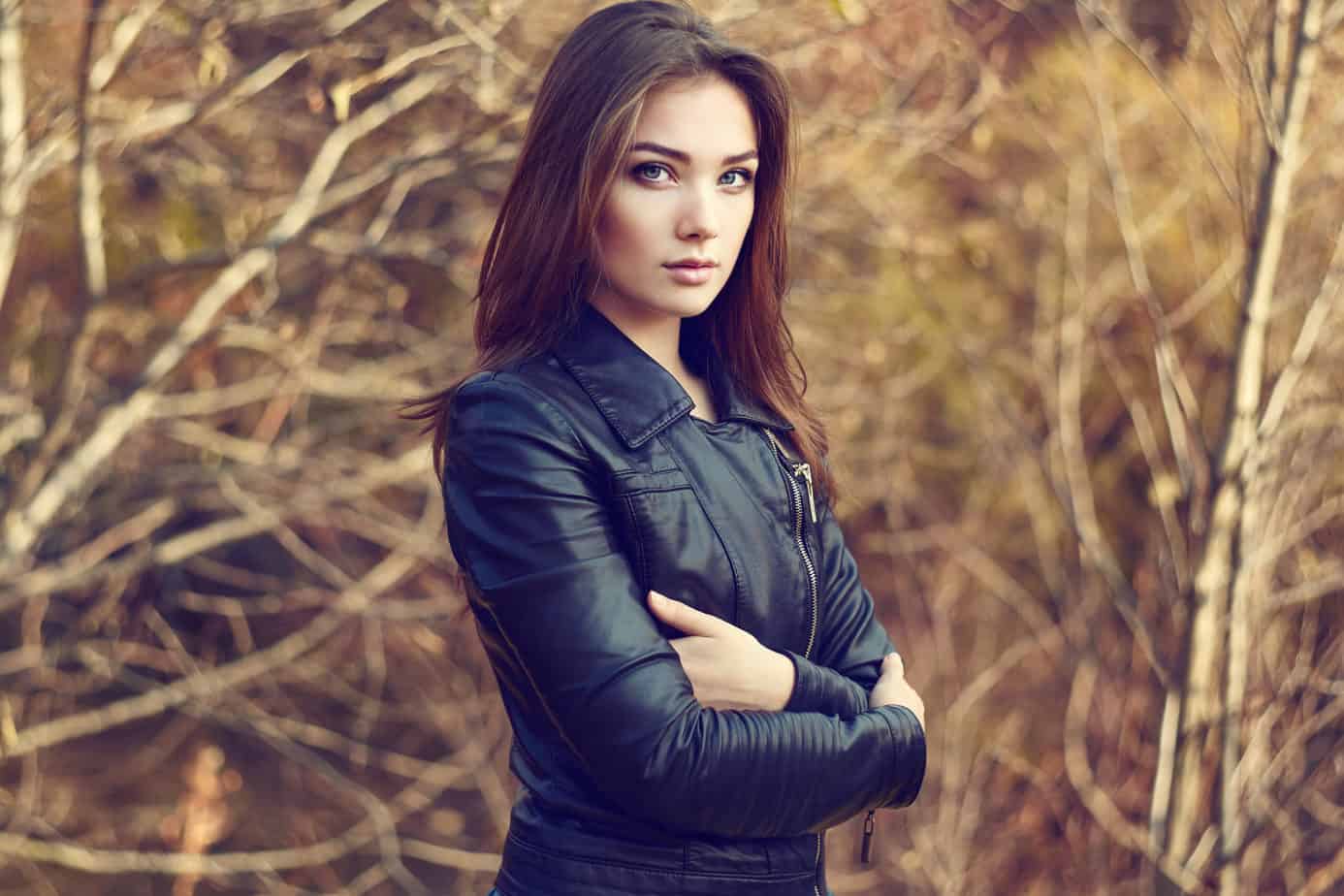 This material is durable and warm. They come in different kinds and grains. For a more budget-friendly and cruelty-free alternative, faux leather is the best to replace leather for jackets.
Wool/Wool Blends
Wool is warm and ideal for colder climates. It might not be suitable for warmer regions since it retains heat. Coarser wool is mixed with other natural and synthetic fibers to produce wool blends that are softer and more durable.
Cashmere
Cashmere is a fine, soft wool that comes not from a sheep but cashmere, pashmina, and other goat breeds. This material is costly as the goats are typically bred for this purpose, and most of the production processes are handmade.
Denim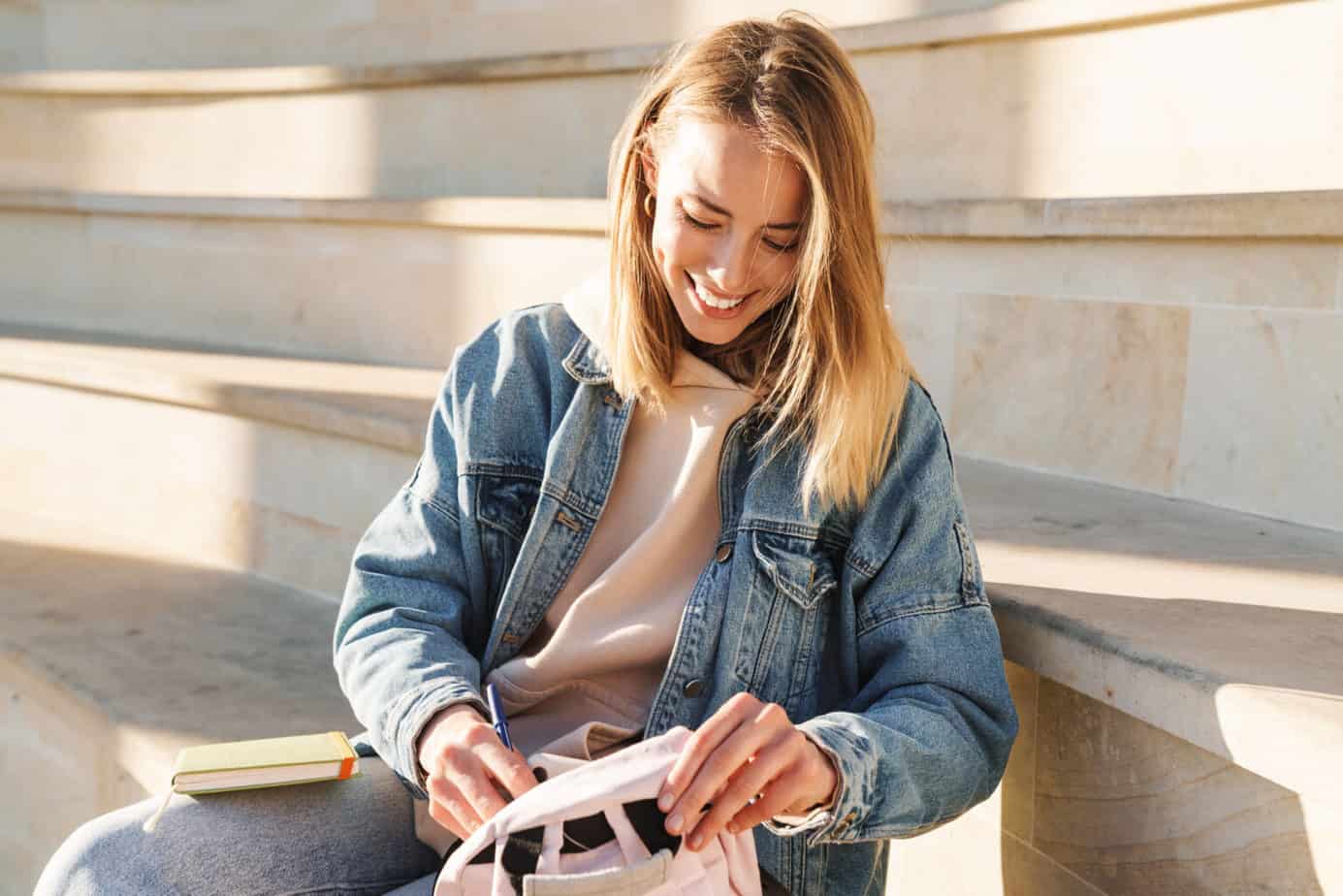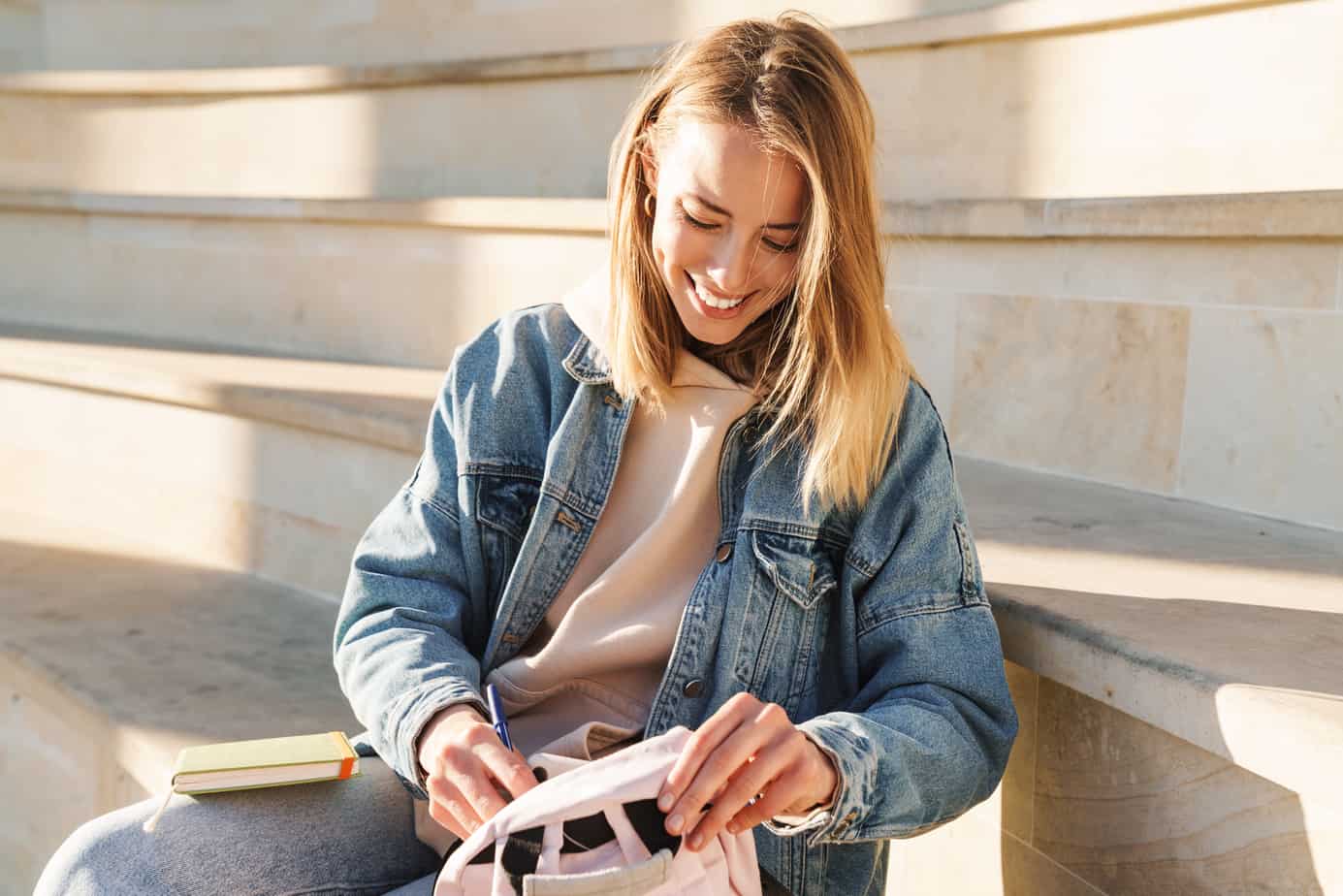 Denim is a durable material and is often used in making work jackets. 
Cotton
Cotton is one of the best materials for track jackets since it wicks away sweat from the skin, offering comfort, especially in humid climates. 
Linen
For more structured and formal jackets, linen is the fabric of choice. 
Polyester
Polyester is often combined with cotton or wool to make fabric blends. On its own, polyester makes a suitable material for sturdy yet light jackets.
Types of Women's Jackets
Jackets are essential wardrobe pieces, and knowing when to wear one certainly puts you on the top of your fashion game. Here are the most popular types of women's jackets and some style tips on when and how to wear them.
Inclusion Criteria
Before we dive in, we wanted to let you know what our inclusion criteria were for the jackets and coats we chose. To be included on our list, they had to be:
Fashionable. We wanted to choose coats that were cute and functional.
Well-reviewed. If the coat was panned by reviewers, it didn't make the cut.
Versatile. The coats we selected had to perform the function it was designed to do.
Inclusive. Each of the coats we chose had a wide range of sizes, meaning no women will be left out when wanting one.
Without further ado, let's take a closer look at our top favorites!
Waistcoats and Gilets
These clothing items are sleeveless but are still considered jackets as they are less bulky than coats and keep the upper body warm.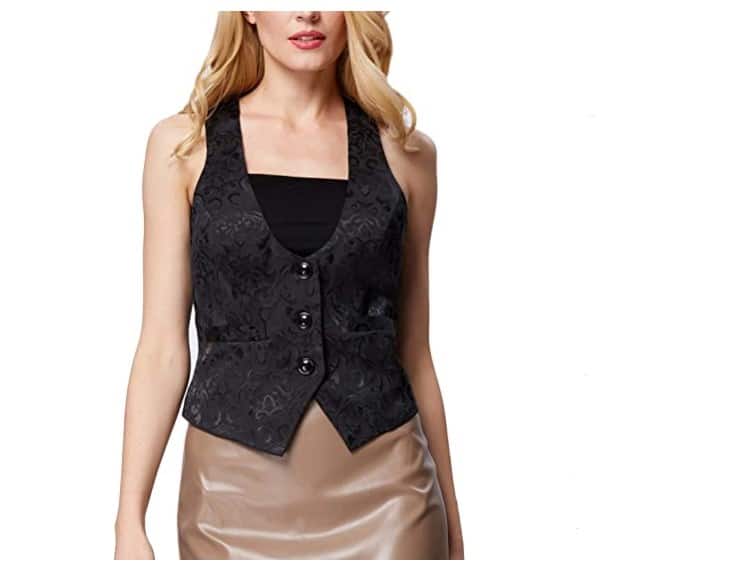 A waistcoat, an original component of a traditional three-piece men's suit, has begun to venture into women's clothing as well, in a more casual manner. Like its male counterpart, women's waistcoats are usually paired with a button-down shirt and either buttoned up or left loose, like a vest. 
Although sleeveless, the waistcoat is also considered a jacket since it is worn outside other items of clothing (or worn alone) and used to keep warm or add interesting detail to one's outfit. Waistcoats tend to draw attention to the chest; they are worn with a skirt, trousers, or jeans. 
Wearing a waistcoat as a part of a ladies' three-piece suit (whether skirt or pants) is a more formal way of dressing for the office or other professional gatherings. This waistcoat adds a vintage feel to your outfit and comes in many colors. This piece highlights the chest and the waistline when worn as a blouse (with a tank top/tube top underneath).
Style suggestions:
Pair one with a tank top and skinny distressed jeans. Ensure that the armholes are not so big so that the tank top will not show from under the arm. You can either tuck the tank top into the jeans or leave it loose.

Wear your waistcoat with a plain short or long-sleeved shirt of contrasting color.

Wear it alone, as a top, with wide-legged pants and heels.

Go all out and wear it as a part of a three-piece suit for women. We love this pastel pink three-piece suit from

Le Style Parfait

.
Pros:
Adds an interesting detail to one's outfit

Plaid ones add a preppy chic feel. Get one in neutrals and pair it with a pastel shirt for a subtle pop of color.

A great way to add core warmth-and fits nicely in a small bag or purse should you wish to take it off.
Cons:
It might not be suitable for big-busted women who want attention away from their chest.

Not warm enough to wear alone in colder temperatures

It makes one look thicker, especially when buttoned all the way.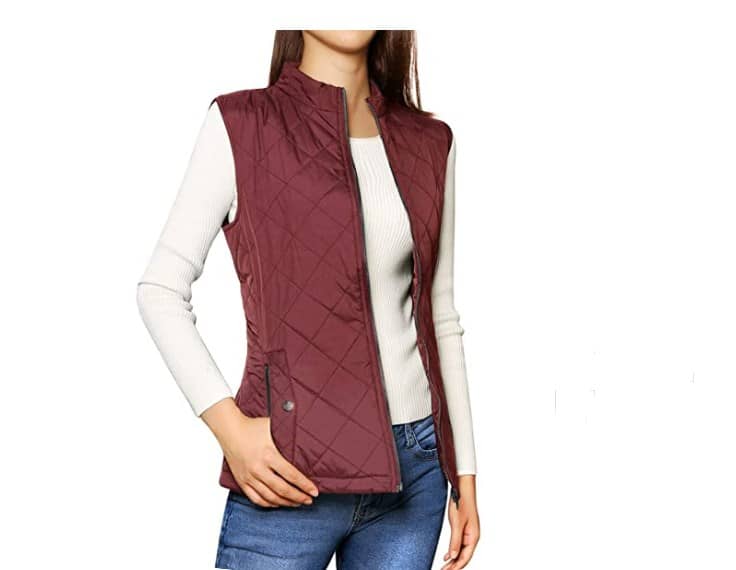 Women's gilets keep the wearer warm without the additional bulk of sleeves. Gilets are often padded and resemble a blouse and may reach up to one's hip. Quilted gilets are also common, and ones without any padding are for wearing during milder seasons. 
A gilet is also known as a bodywarmer, with the latter often referring to fleeced ones. Gilets generally give an outdoorsy vibe, but with different materials and fabrics available to make this style, women can wear them with almost anything.
The diamond-quilted design on this gilet adds a unique texture to this gilet, making it look less bulky yet still suitable for warming the body.
Style suggestions: 
Sporty-wear a padded gilet with a hoodie or sweatshirt inside, and then finish off with leggings and white sneakers for that athletic yet subtly sexy getup.

Crisp and polished-don a long-line belted gilet with a crisp button-down and tailored trousers, and complete the look with animal-print pumps. 

Relaxed casual-Dress up in a striped sweater, skinny jeans, and ballet flats with a gilet for an off-duty yet polished look.
Pros:
Adds enough warmth to your outfit during mornings and evenings.

Allows your arms movement when working with tasks like carrying stuff and lifting.

It can be taken off quickly and rolled into your bag when you feel too hot.
Cons:
It is harder to dress up, especially the padded ones.

Adds bulk to the upper body.

It may look dowdy if not matched with the right accessories.
Casual Jackets
Meant to worn in informal or semi-formal gatherings (when styled accordingly), casual jackets provide comfortable options for daily use and specific functions. No matter which one you choose, it indeed goes on with most items from your wardrobe.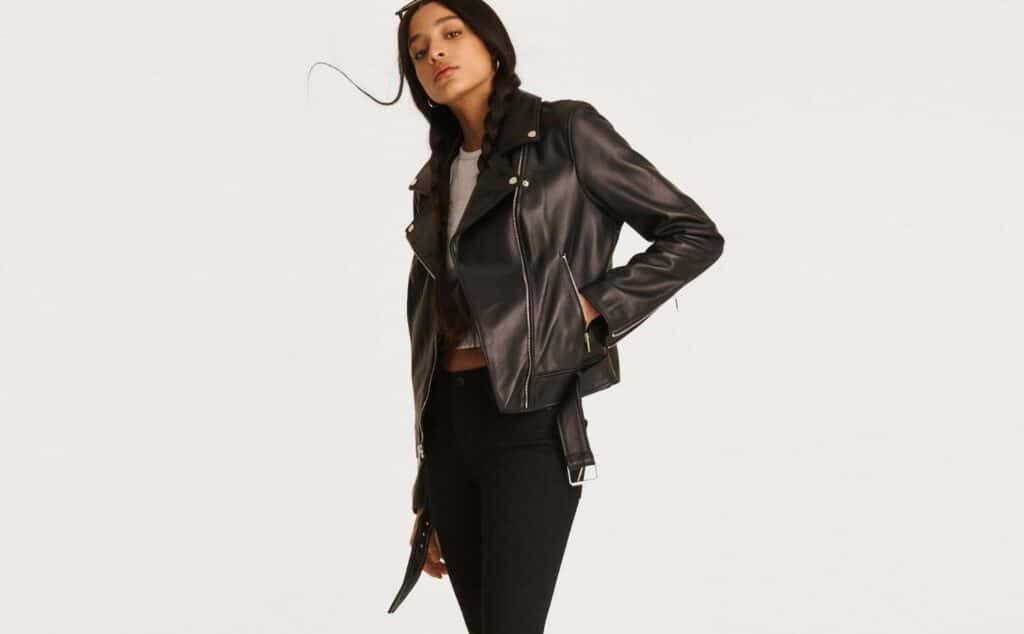 Otherwise formally known as a motorcycle jacket, this style is no longer limited to motorcycle enthusiasts-they can certainly add an edge to an otherwise too girly, frilly outfit. Motorcycle jackets for women come in leather; this fitted jacket style generally helps to avoid windburn while driving.
Motorcycle jackets .come in many variations, but the classic cut has longer sleeves compared to other jackets to cover the length of the arm while driving, a double collar that one can open to the chest, asymmetrical zippers, hip pockets on both sides, and silver metalware. 
Leather is the most common material for this type of jacket, but the use of synthetic fibers has also been on the rise. The belted hem in this leather jacket is classy and edgy at the same time.
Style suggestions:
A pretty pink wide-legged midi jumpsuit gains a modern edge with a black leather motorcycle jacket. 

Drape it on like you would a cape jacket and look fashion-forward.

Need to feel extra-cozy? Layer it with a hoodie and some boyfriend jeans for a relaxed look.

Wear it over a glittery mini-dress and finish it with ankle boots.
Pros:
It's timeless and edgy.

They add toughness to an otherwise too-girly outfit.

It protects the wearer from the sun and the wind when driving.
Cons:
It can be pretty expensive.

Some styles can make you look dated.

Odors are harder to remove in a leather jacket and are dry cleaned only.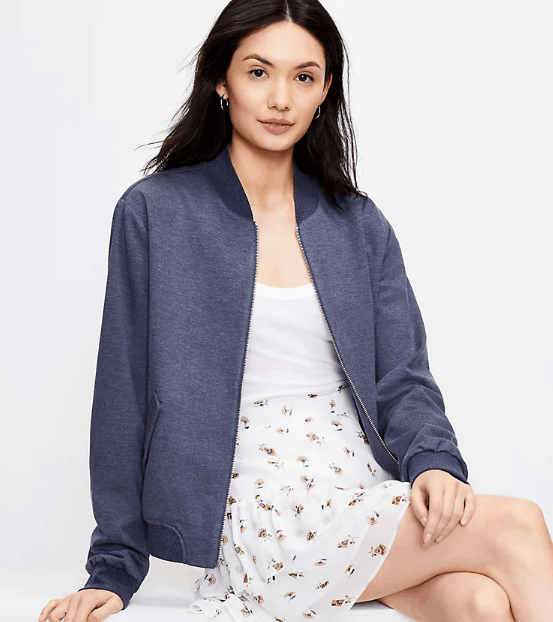 A bomber jacket is both a classic and trendy jacket style for men and women alike. It is characterized by a gathered, often ribbed waistband and matching cuffs. Bomber jackets are zipped up in front and may have a flat round collar. 
Introduced initially as uniforms for pilots in the US Army in the First World War, bomber jackets found their way into fashion in Europe in the '60s and '80s, when they became a part of civilian clothing up to the present. 
This jacket comes in navy and dark chocolate and is an excellent neutral addition to your wardrobe. Pair it with pastels for a pretty look.
Style suggestions:
Wear a bomber jacket on top of a white shirt tucked into a

denim mini-skir

t that reaches above the knee. This look is youthful and fresh, best for school and hanging out.

A

printed bomber jacket

is a welcome addition to the basic white tank top and skinny jeans combo. Add flats in jewel tones and costume jewelry for a modern office look or a cafe meeting with friends.

A bomber jacket with a scarf and your usual skinny jeans makes for a great beginning of winter outfit. This ensemble works well for your autumn look, too!
Pros:
Bomber jackets are durable.

They are good at keeping ample warmth during winter.

It's easy to style for smart casual wear.
Cons:
They can make your torso look shorter. To avoid this, look for styles that go down to the hip.

They are limited to casual and smart-casual looks.

They can call attention to a large belly, particularly when zipped.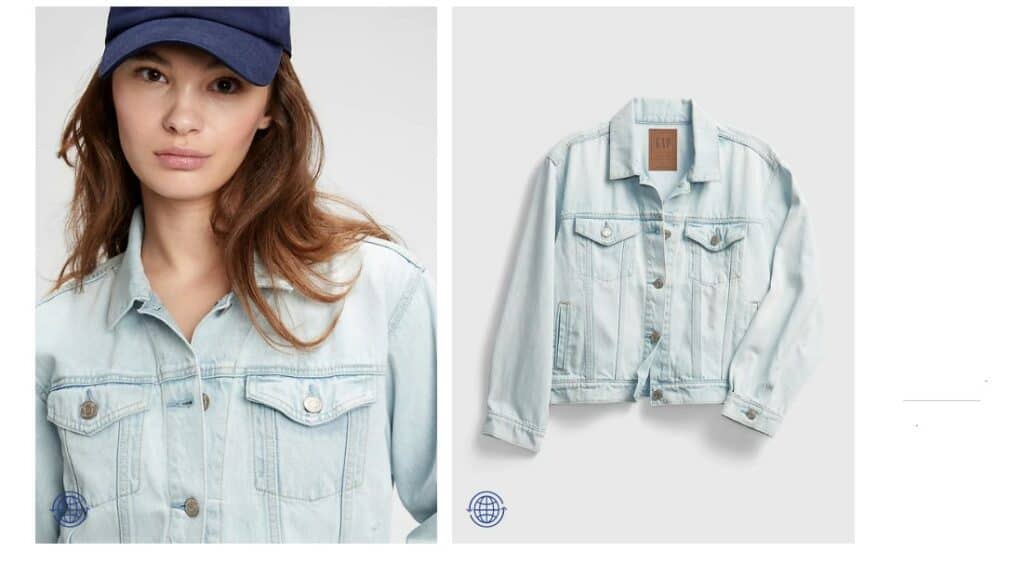 The denim jacket originated in the United States and was worn by cowboys, railroad workers, and miners due to its durability. Now a casual wardrobe staple, denim jackets for women provide comfort and protection to their wearer for cold and slightly warmer climates. 
Denim jackets can be lined with fleece or wool and be zippered instead of buttoned to provide ample warmth during winter, while in the summer, unlined jean jackets, as this style is also known, provide cover that is not too hot. 
Look fresh and youthful with this cropped number from GAP. Perfect for dresses and pants!
Style suggestions:
A

floral dress

with suede ankle boots in a neutral color gets a fresh twist when worn with a denim jacket.

Cop the denim-on-denim trend with a black tank top underneath your denim jacket and high-waist skinny jeans. You can either choose boots, pumps, or sneakers to make the look complete!

Go for the preppy casual look and wear an oversized white button-down and slim black trousers with an acid-grey denim jacket.
Pros:
Denim jackets are durable, and if taken care of well, you can even hand them to the next generation!

They are easy to wash and maintain. Dry-cleaning is not necessary, even if the jacket is soiled. Just toss it in the washing machine with the appropriate detergent, and you'll have it looking new in no time.

They look good with many clothing styles.
Cons:
Some styles look outdated. Choose one that has a vintage-modern look instead.

Denim jackets are somehow heavy. If you want the look sans the weight, look for ones in blended denim. 

They tend to be too hot to wear in summer and too cold to wear in winter alone.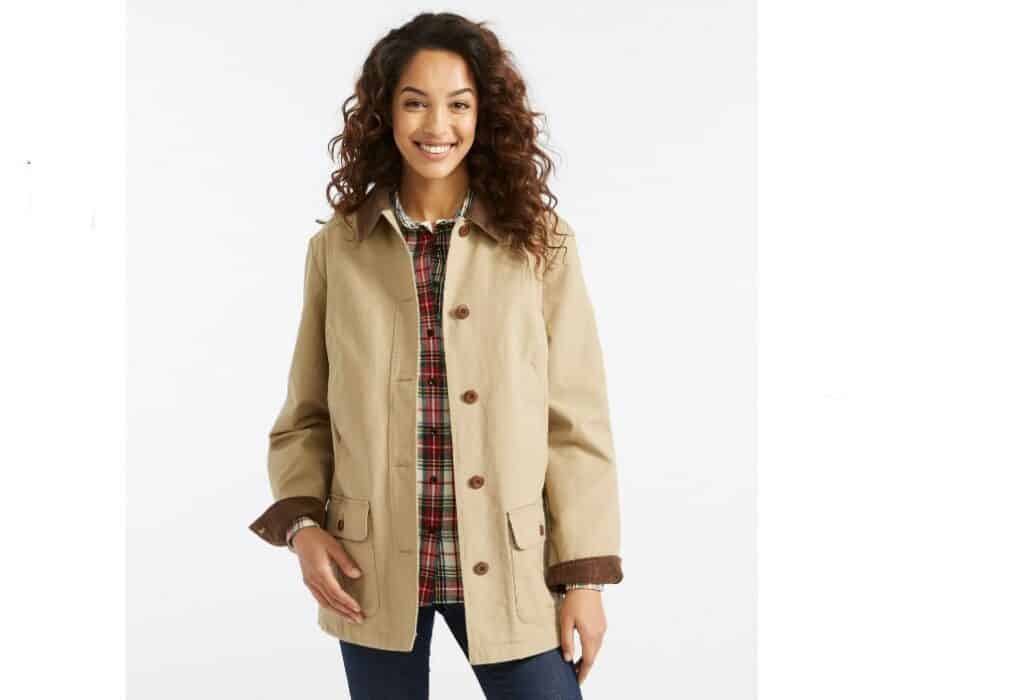 The field jacket shares origins with the bomber jacket as a standard military-issue clothing item. Now worn by ordinary people, field jackets provide an alternative edge when you don't want to wear a motorcycle or a bomber jacket. 
This casual piece looks like a button-down shirt with four pockets and often paired with jeans. It may be lined for colder weather, or unlined, for warmer areas. Altogether, this style is versatile enough for casual wear. 
Style suggestions:
Pros:
They look edgy, but not too much.

These jackets are one tough piece of clothing that can stand repeated wash and wear.

Field jackets are suitable when you are in the outdoors a lot.
Cons:
They do not accentuate curves unless belted.

It may look boring if not accessorized well.

A bit harder to dress up for semi-formal occasions.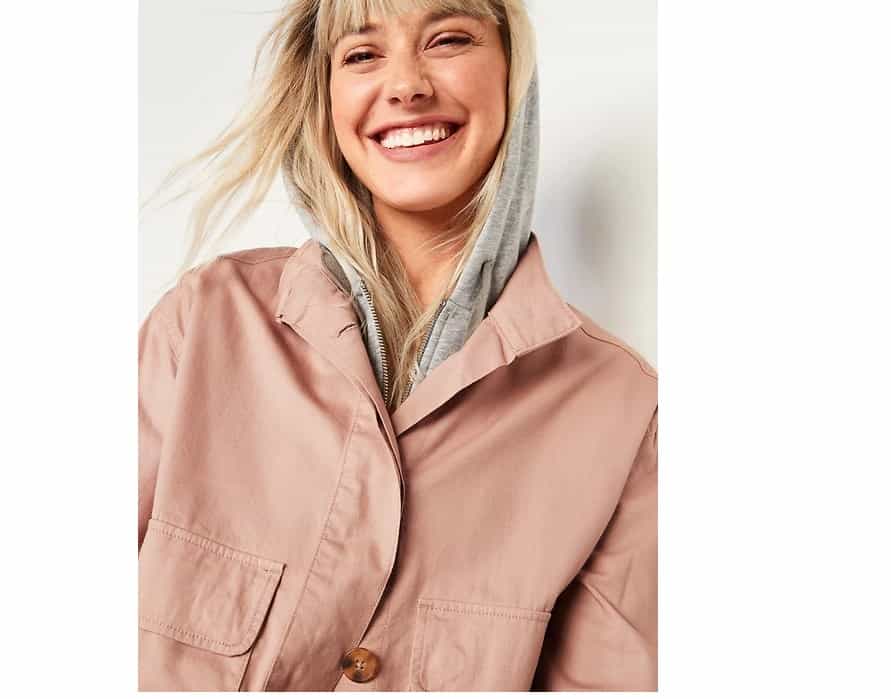 The utility jacket originated as something that farmhands would wear and has many pockets to keep things inside. Now, the modern utility jacket is a staple for women who are always on the go. It's very versatile as one can wear it with almost anything. Look for neutral-colored pieces to add to your wardrobe.
Some utility jackets have removable hoods and are generally more form-fitting than a field jacket, and others have double collars like a motorcycle jacket. This utility jacket's peach color helps you look sweet and warm while running your errands or going out for coffee.
Style suggestions:
A

floral pastel A-line dress

looks extra cute when paired with a utility jacket cinched at the waist with a black or camel-colored belt.

For a military-inspired look, don a camouflage utility jacket under a white shirt and high-waist jeans.

A tank top plus an eyelet mini skirt looks more youthful with an olive-green military jacket.
Pros:
Many pockets mean more space to put coins, your phone, etc., especially if you don't fancy carrying a purse all the time.

A no-nonsense clothing item for daily wear. Wear it to the park while fetching the kids, practically almost anywhere.

It keeps the chill effectively at bay.
Cons:
It makes your body look straight, with no curves.

It may look plain if not paired with other interesting items of clothing.

Most come in somber colors, so it is important to pair them with more cheery colored tops and bottoms to balance the effect.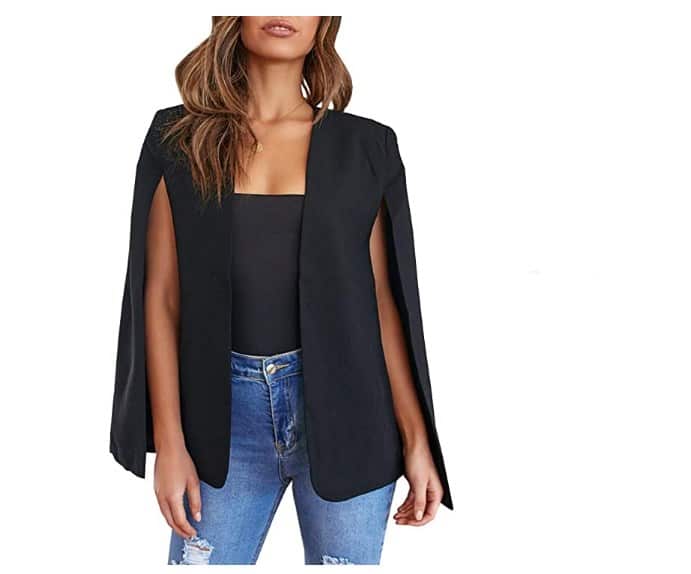 Cape blazers are fashionable pieces that are in-trend as of today. They look like a blazer with sleeves that seem to have been cut lengthwise, allowing the arms more freedom of movement. Cape blazers usually have padded shoulders and a more structured fitting. However, they are versatile enough to be worn in formal and casual events, with the right clothing choices and accessories.
If you're looking for an easy way to look effortlessly chic, then a cape blazer is for you. It's versatile too; you can wear it with tailored trousers and a sleek top with your favorite heels or your trusty sneakers and jeans. Cape blazers blur the line between casual and formal, so have fun choosing your look!
Style suggestions:
Wear a

cape jacket

with a strapless, sweetheart peplum top underneath and a pencil skirt. Match it with sexy ankle boots, and you're ready for a party.

A cami top with shorts gives a buttoned cape jacket sweet and sexy vibes. Choose an inner top with a contrasting color.

Take long jumpsuits to the next level with this jacket style. Choose a darker color jacket over

a neutral-colored jumpsuit,

or go monochrome!
Pros:
Instantly elevates your outfit.

One can wear it for formal, semi-formal, and casual events.

Looks dramatic and polished.
Cons: 
Adds bulk to women who have an apple-shaped body type.

It might not keep you warm enough as the sleeves are not entirely closed.

It is impractical to wear in an event with lots of activity (like a field trip or children's game).
Formal Jackets
These classic business favorites complete your professional look; however, paired with casual pieces and accessories, you can still safely toe the line between casual and formal wear without committing a fashion crime.
Formal jackets/blazers look deceptively similar to women's suit jackets. They share the same cut, except that blazers are for wearing with mismatched bottoms. Suit jackets match with pants and skirts of the same fabric. Here. We'll be talking about blazers instead of suit jackets for women. There's more fun in choosing blazers because they for mixing and matching!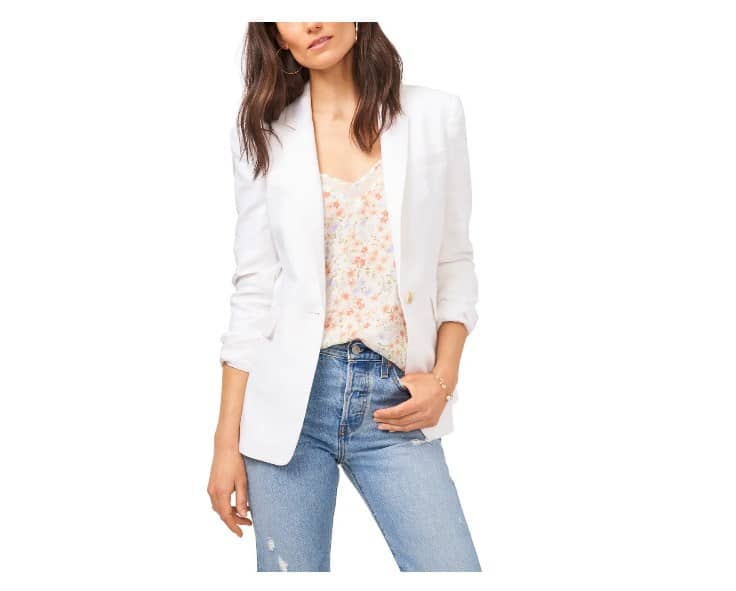 This office staple is typically worn with pants and pencil skirts. With a single button placed in the narrowest area of the waist, this piece can be tricky as too tight will make you look like you're about to burst. Wear one too loose, and you defeat its purpose of keeping its shape. 
The fit is essential with this style, but you don't need to go to a bespoke tailor to get one that fits you right. You can keep them buttoned to elongate your torso, show off subtle curves, or keep it open for a more relaxed look. Classy and fresh, you can wear this for the office or a day at the mall.
Style suggestions:
An inner blouse in

jewel tones

elevates a one-button blazer jacket to sophistication. Pair with either slim or wide-legged pants and t-strap sandals.

A pastel one-button blazer with pinstripe button-down, white jeans, and neutral pumps makes for a fresh business casual outfit.

Dress down your blazer in a fun way by pairing it with a black blouse or tank top and a fringed mini-skirt.
Pros:
A one-button blazer instantly makes you look professional.

It gives any outfit a classy finish.

It streamlines the body.
Cons:
When buttoned, a one-blazer jacket might look unflattering, especially to women with ample bosoms.

It is slightly more constricting than other jacket types.

It can bunch up while being buttoned.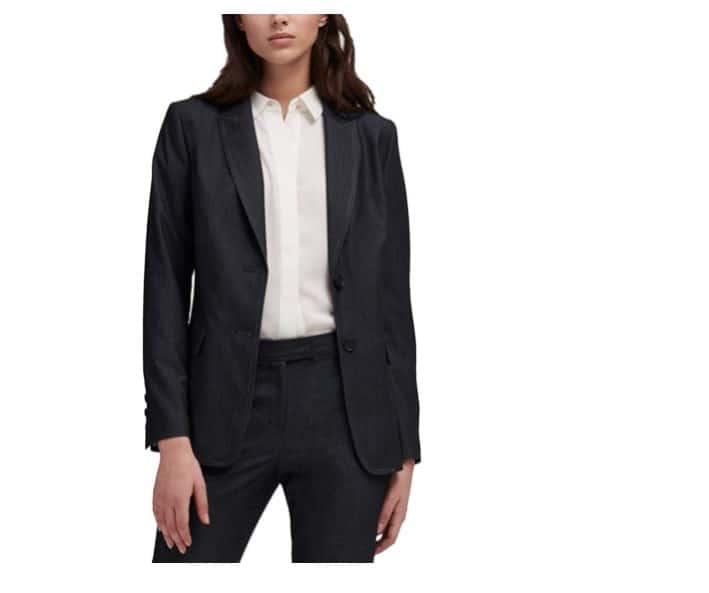 Two-buttoned blazer jackets are not as restrictive in cinching the waist, as you don't need to button it in the narrowest part of your waist. It falls more smoothly and evenly.
This item is best for your work outfits or styled for wearing to more casual events. You can choose which of the two buttons to button up or leave it unbuttoned for complete freedom of movement.
Look smart with this jacket, which looks nice with a white button-down underneath, and tell them you mean all business. 
Style suggestions:
Tailored shorts that skim just above the knee look good with this piece. Pair it off with strappy sandals and a button-down for a casual look.

A sheath dress looks fabulous with a two-button blazer. Choose a dress in the same color family as your

blazer

or one in neon for a shocking but welcome pop of color.
Pros: 
It's an excellent item to dress up any casual clothing.

It pulls an outfit together quite nicely.

It gives the wearer a polished vibe.
Cons: 
Tailored versions might not be suitable to fit women with larger busts and broader shoulders.

May look uptight and unapproachable.

Hard to wear under a coat.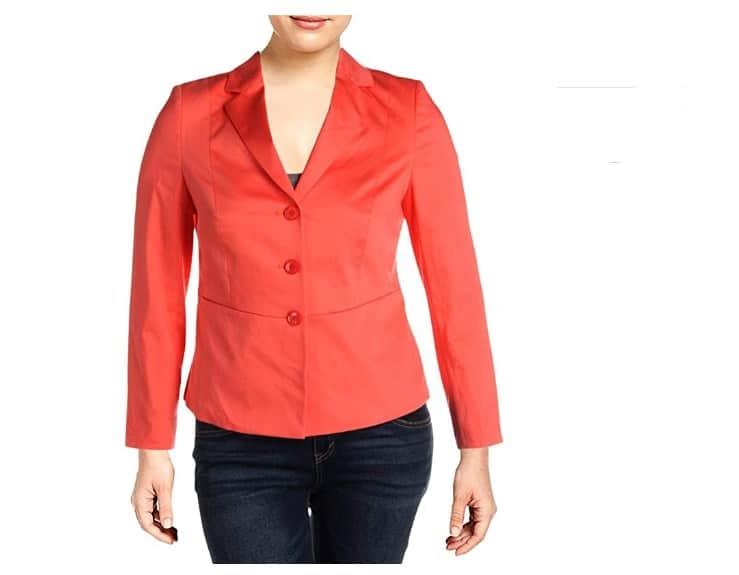 This blazer jacket favors women who have a lean, long physique. This formal piece may not be for anyone, but it is a great way to look professional if you have the body for this jacket. It is best to wear with all buttons closed to maximize its silhouette-enhancing cut. 
This classic cut does spell business, but add some flair with a scarf, colored pants or skirt, and other accessories, and you can go straight from the office to a party.
Style suggestions:
Want to take it from the boardroom to a stroll in the city? Pair it with

palazzo pants

in dark colors to look more formal, or in a bright shade, for a runway-ready yet business casual look.

Long pencil skirts that end below the knee look good with this piece. Spice up your outfit by pairing your dark blazer with a glittery skirt in champagne or silver.
Pros:
Preferable when you want a long, streamlined look.

It is less constricting than a one-button blazer jacket.

It gives one a conservative appeal.
Cons:
It may not fit everyone's climate or lifestyle.

May not be forgiving for women who have broad shoulders.

It tends to look stuffy when worn on casual occasions.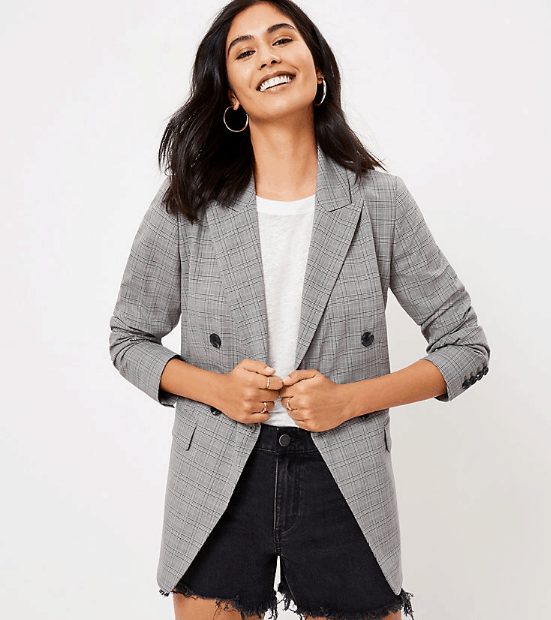 A double-breasted jacket is chic and looks good with just about anything. It differs from the others by having a double layer of buttons that you can choose to button for more formal looks or opened for a more easygoing style. 
You can never go wrong with a plaid blazer. Its gray color makes it a fantastic match for brighter colors like red and maroon.
Style suggestions:
Tuck your white shirt into

black bike shorts

and throw on a double-breasted jacket in warm neutrals for an unusual but stylish athleisure look. Finish with sneakers of choice or sandals.

Culottes

and a fitted double-breasted jacket look good together. A light-colored ruffled inner top provides interest to the ensemble.
Pros:
Instantly gives "power" to your outfit.

It is classic and professional.

Looks good with casual pieces of clothing.
Cons:
It makes one look wider.

It can look quite boxy and shapeless, especially oversized ones.

It might come across as overly formal in some events.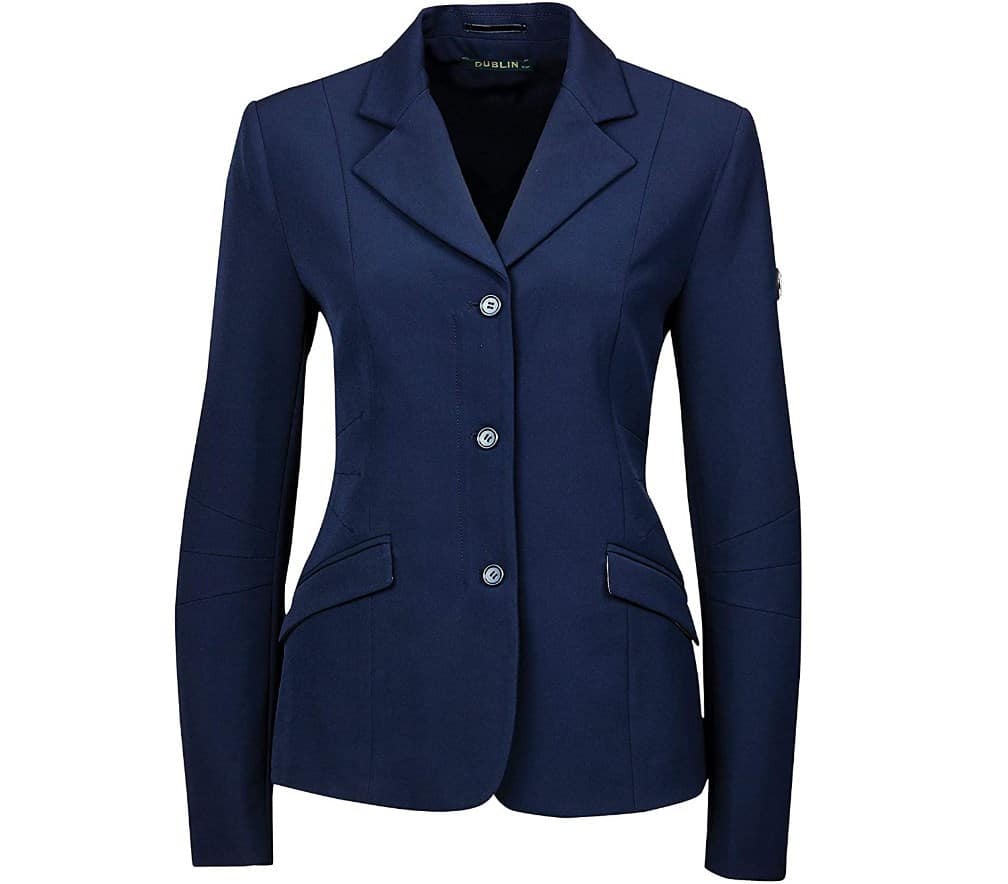 Modern equestrian jackets, or riding jackets, for women, have a fitted waist that flares very slightly to the hip. They usually have a vent at the back. Though this jacket is worn mainly in horse-riding events, you can still don one away from the racetrack without looking awkwardly out of place. 
An equestrian jacket is technically a sporty one but is way more elegant than a track or a varsity jacket. It evolved from the long, coat-like riding habit designed for women in the 17th century. As time went by, it became shorter and shorter until it reached the length it has today.
From the office to the racetrack? No problem. This item can take you there — and fashionably, at that!
Style suggestions:
An equestrian jacket perfectly complements a

princess-cut dress

as the slight flare draws attention to the hips. 

A country-chic feel is achieved easily by wearing a

silk blouse

over an equestrian jacket. Leather boots and accessories perfect the look.
Pros:
An equestrian jacket can give life to an otherwise boring casual outfit.

It is a classy alternative to the usual office blazer.

It highlights the waist and hips.
Cons:
It may not look good for women who want attention away from their hips.

It is harder to style compared with other blazer jackets.

Equestrian jackets can get quite heavy; choose one in a lightweight yet warm material instead.
Frequently Asked Questions
Question: What is the difference between a gilet and a vest?
Answer: Gilets cover the whole of the upper body, while vests may be lowcut or high-neck.
Question: Can I wear waistcoats alone, without an inner shirt?
Answer: Yes, provided it gives you the coverage you want.
Question: Which jackets look suitable for elongating the torso?
Answer: Two-button, three-button, and double-breasted jackets help make your upper body look slim and lean.
Question: What are the similarities and differences between a bomber jacket and a varsity jacket?
Answer: Bomber and varsity jackets share the same structure. However, varsity jackets have the school logo emblazoned in the front as a patch or back. Bomber jackets don't have different colored sleeves and stripes on the cuffs and collars. They are generally the same color throughout.
Question: I can't afford a good leather jacket right now, but I love its style and structure. What's the best alternative I can get?
Answer: You can get faux leather jackets. They certainly can fool most people and give you a look you want to achieve for less. Plus, you don't need to have these jackets dry-cleaned; they can be either hand or machine-washed.
Question: How do I extend my jacket's lifespan?
Answer: Always follow the care label instructions. It helps to air it out after wearing, too, in a padded hanger. Ordinary hangers and thin ones might not support the jackets' shoulder line as well as padded ones.
Final Thoughts
Of all the jackets on this list, our favorite is the DKNY Women's Two-Button Denim Blazer Jacket. We prefer this style unbuttoned and love it as it is, a no-fuss way of adding appeal to one's outfit. We love how it neither makes us underdressed nor overdressed. It's an excellent choice to look extra polished even in jeans and sneakers and suitably professional with office skirts and pants.
Picking out jackets might cause you confusion or make you doubt your choices. Luckily, many jacket choices offer warmth and protection and give you plus points in fashion, whatever you choose to wear with them. 
Jackets add variation to your fashion style. Our picks and suggestions will generally help you resolve your fashion dilemmas when it comes to jackets. Don't feel restricted by the recommendations, though; remember that today's fashion faux pas might be tomorrow's trend. Enjoy picking your jackets!