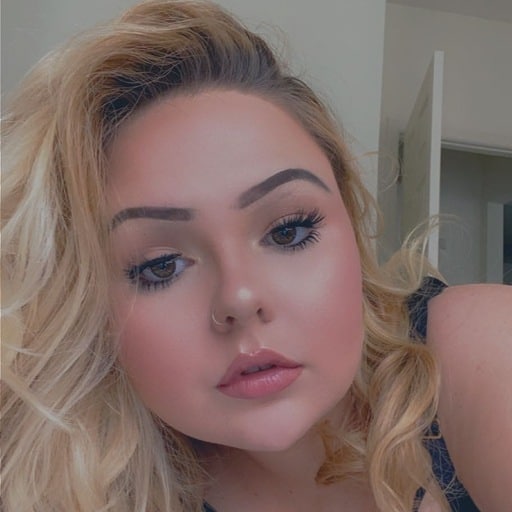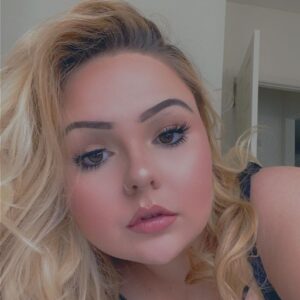 Latest posts by Annalise Swain
(see all)
Ask any fashionista, and they'll tell you that finding the right tee is a never-ending search. Finding the right T-shirt sounds practically impossible, whether you want something tissue-thin with a lived-in feel or something durable enough to go through nearly an endless number of washes.
But don't worry, we're here to help you find the perfect tee!
We went through and decided what the best t-shirt brands are according to their fit, prices, and range in sizes. We are also here to provide useful tips on how to find the perfect fit for you and how to properly take care of your shirts to keep them clean without shrinking or fading them. Let's get to it!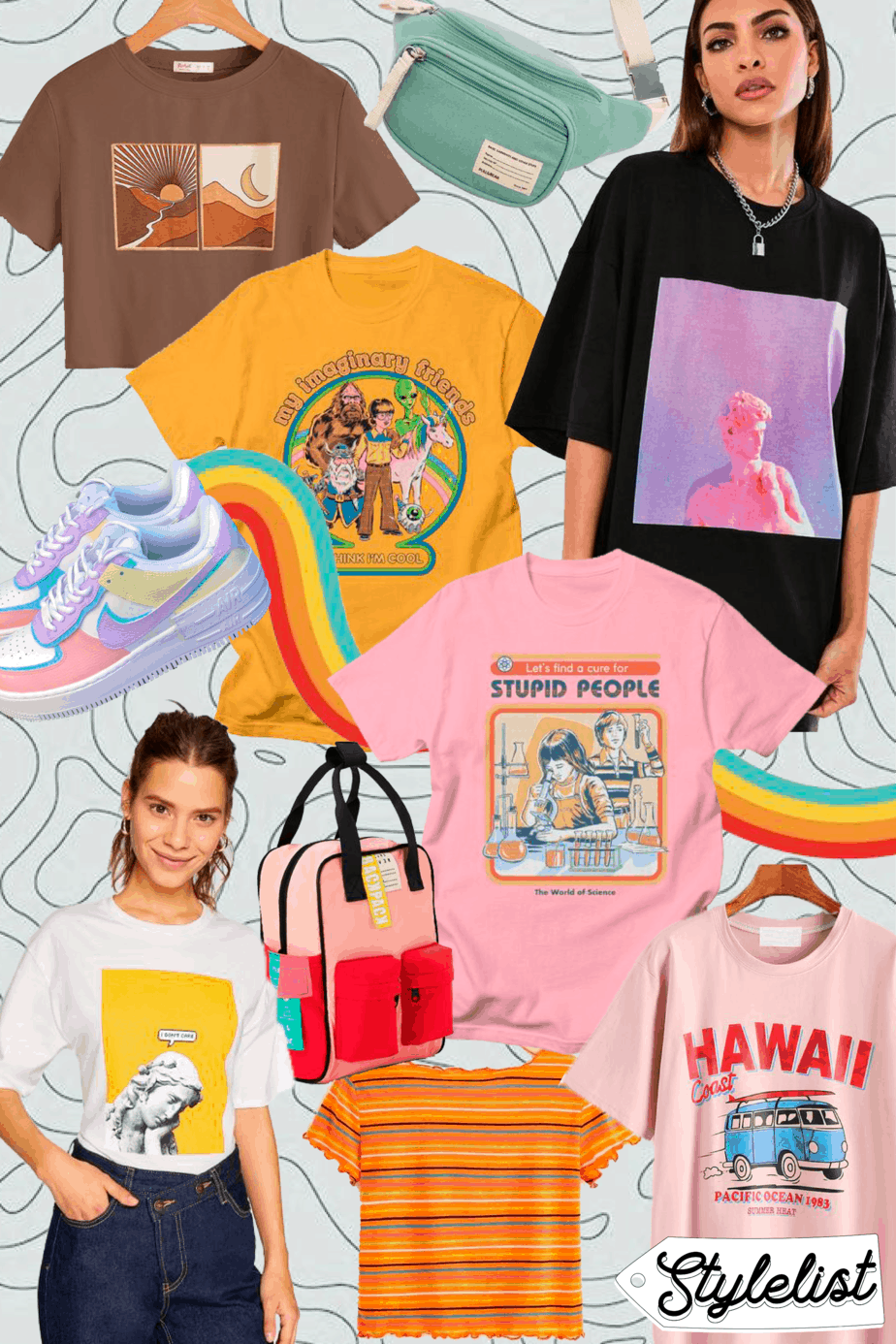 How to Find the Perfect T-shirt
When it comes to picking a  style and fit t-shirt, women have a lot more choices than men.
Unlike men's t-shirts, which come in just three sizes, women's t-shirts come in such a wide range of sizes and cuts that there are no need for names for each model. So, when picking a t-shirt that would fit you, think of what will look better by how it will be worn.
Your Body Type
You should pick a t-shirt that compliments your body style without overexposing yourself, regardless of your size. However, you must be frank with yourself and accept your body form. Do not believe there are any beauty ideals you must follow. Find out what fits best for you and put it to good use.
What to Compliment
Women's t-shirts come with such a wide range of cuts that you can still find one that compliments your favorite part of your body while concealing others.
If you like the way your arms look but are self-conscious about your upper chest, for example, look for a top with shorter than normal sleeves and a standard cut collar. If you think your legs are the most attractive feature on your body, go for a baggier top that emphasizes your bare legs.
Choosing One According to Style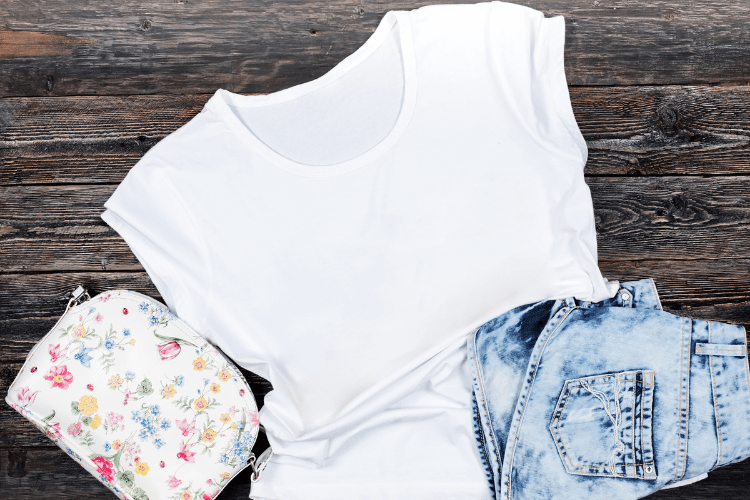 Slim-style shirts are ideal for those looking for a more athletic, "muscled," or hugging shape. This is a cut that will embrace the body more closely and have tighter sleeves across the sides.
Choose t-shirts with a more elasticized material that allows the sleeves to spread over your arm muscle while keeping the rest of the shirt close to the body for a truly sporty look.
With fitted shoulders and sleeves that provide a more comfortable amount of room across your arms, the traditional cut is clever and flattering. It should lay straight and without any extra material below the waist.
In recent years, the oversize tee has become increasingly fashionable. You could select the t-shirt that is specially cut for this purpose – so it would fit best over your upper body – or go up a size or two.
Although the baggy shirt has long been synonymous with the skater or hip hop theme, it's recently evolved into a smarter style as well; a crisp oversized t-shirt  in black or white will look almost as sophisticated when worn with a pair of slacks.
The F
There are several different fabrics to choose from, but 100% cotton is usually a good bet. It's soft, heavy, and breathable, which we like.
You may want to try different cotton blends, which are less likely to shrink or wrinkle in the wash, but this shouldn't be a problem with a nice, pre-washed cotton shirt. You want the t-shirt to stay in shape even after several washes.
Affordable Brands
When it comes to shopping for the perfect t-shirt, the last thing you want is cheap quality.We've compiled a list with product recommendations for those ladies on a budget.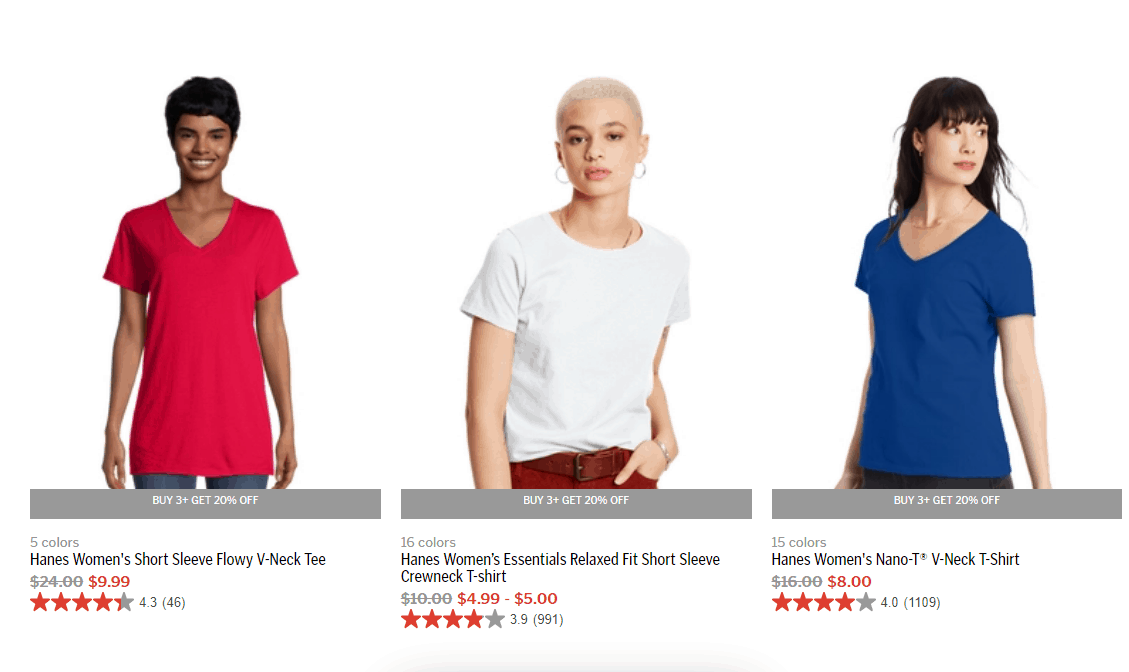 For the no-fuss reliability and affordable prices, Hanes t-shirts are wonderful if you are looking to stock up a range of tees. They have a wide range of sizes and variations of colors. The fabric is soft and durable.
Our Product Recommendations for

 
This shirt has easily become one of my favorites. It is soft right out of the bag, which some pieces of clothing take a few washes to become soft.
The V-neck version of Hanes ' most famous T-shirt would undoubtedly become a favorite wardrobe.
Madewell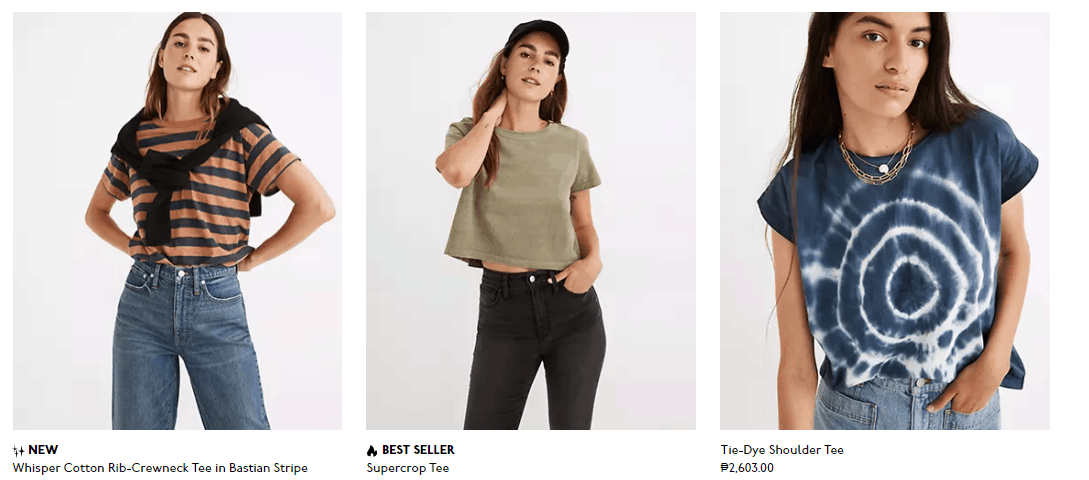 Madewell is one of the best-selling t-shirts out there. Thanks to the lightweight feel and breathable fabric , Madewell's t-shirts are perfect for a summer day. Their t-shirts are easy to style for everyday wear, workwear, or evening wear.
Our Product Recommendations for Madewell:
Madewell Whisper

Ribbed Crewneck T-Shirt

 ($20)
Fans rave over this t-shirt due to the lightweight feel and the hem. It's perfect to pair with leggings on a casual day.
You can style this tee with everything you own, from sweats to a laid-back look, to a high-waisted skirt for more to a dressy appearance.
Everlane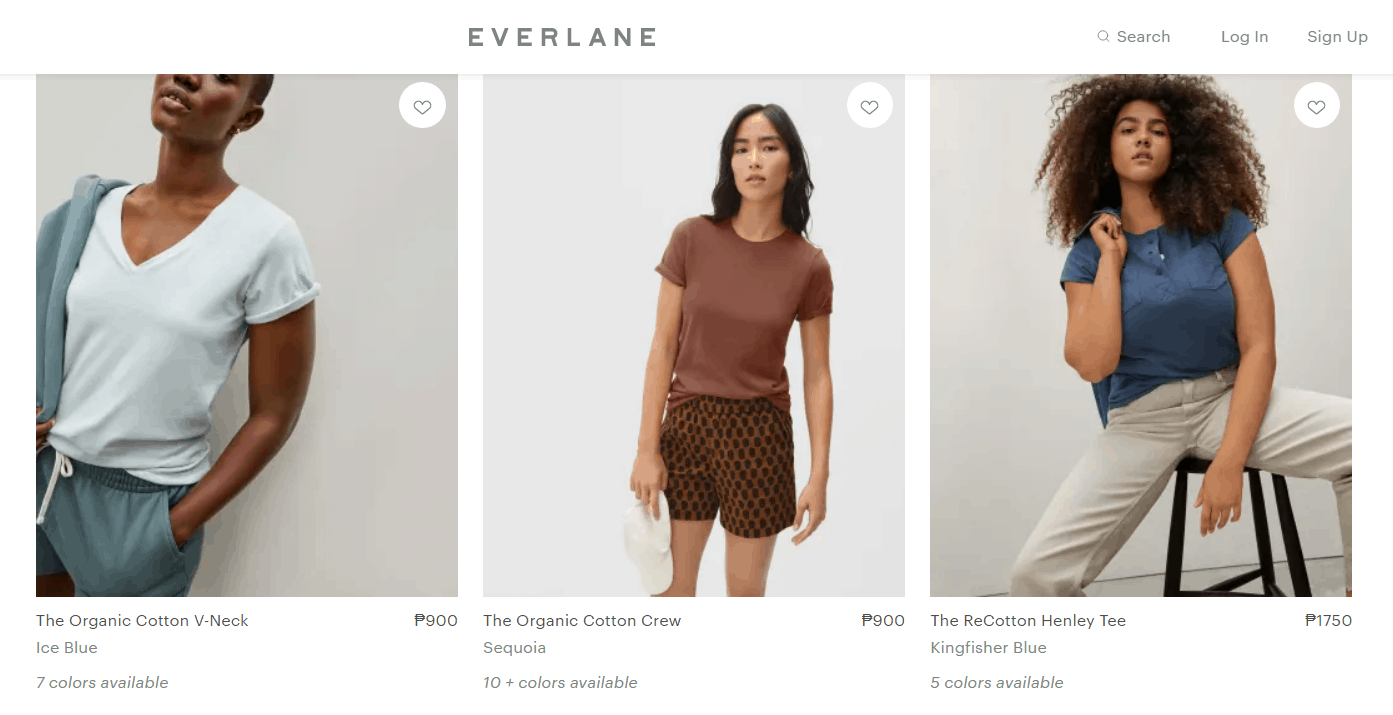 Everlane has taken the clothing line to a new level with its minimalist designs. Everlane is about high-quality material and modern looks all at a reasonable price. They offer v-neck, crew neck, short sleeve, long sleeve, and cropped styles for a sustainable wear.
Our Product Recommendations for Everlane:
There's nothing like a good old-fashioned V-neck. The Organic Cotton V-Neck Tee is designed with a relaxed fit and a deep, open neckline. It's also made of light organic cotton, which is both breathable and gentle to the touch. Don't be afraid to spruce up the basics.
This is an all-time gamine masterpiece. The Organic Cotton Crew has a lean, feminine fit and a boyish cut. It's also made of light organic cotton , which is both breathable and gentle to the touch.
Pact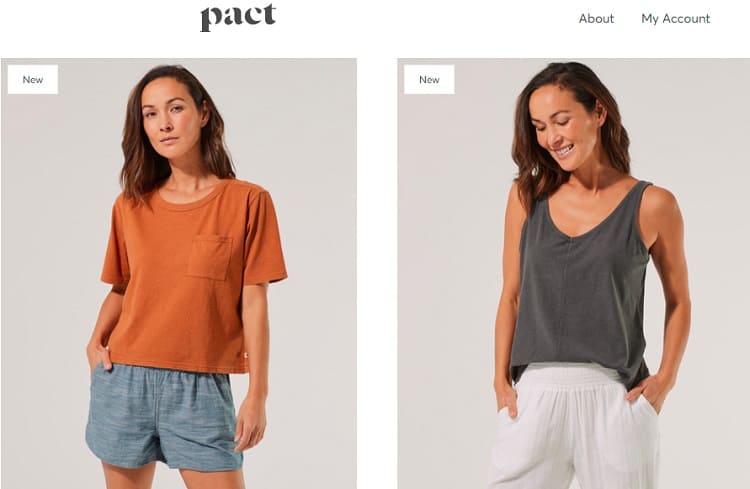 Pact's products are fantastic, and I highly recommend them. The brand caters to both men and women, with a focus on basics made from certified organic cotton that are both soft and affordable.
Pact also doesn't expect its customers to be supermodels, so the models showcasing the clothing on its website are real women, which is refreshing.
Our Product Recommendations for Pact:
This tee is a new addition to their stretch fit collection. The material is lightweight and made for a slim fitting so it is perfect for layering, it is made of organic cotton for the soft feel.
Although this tee is on the pricer side, you can size up for an oversized feel or size down for a slim-fit cropped style. It is made with organic cotton and a hemp blend for a sturdy yet soft feel (bye sweat stains!) This shirt comes in five beautiful colors of white, pink, orange, blue, and black.
Including Brands
For the plus-size ladies, it can be hard to tee- shirts that complement your curves. Some brands make you look boxy, some show off too much, and some are way too thin. So let's get down to the list we've put together for our curvy women.
Universal Standard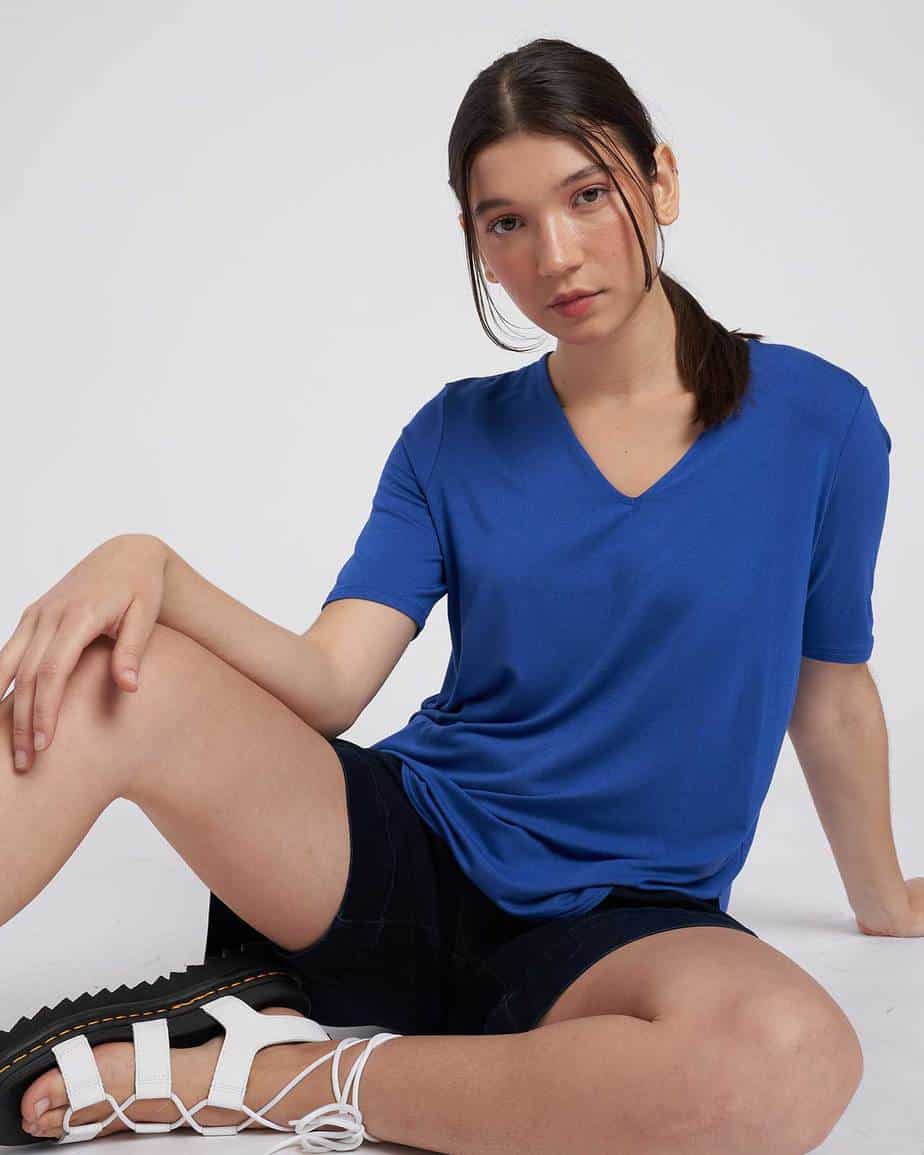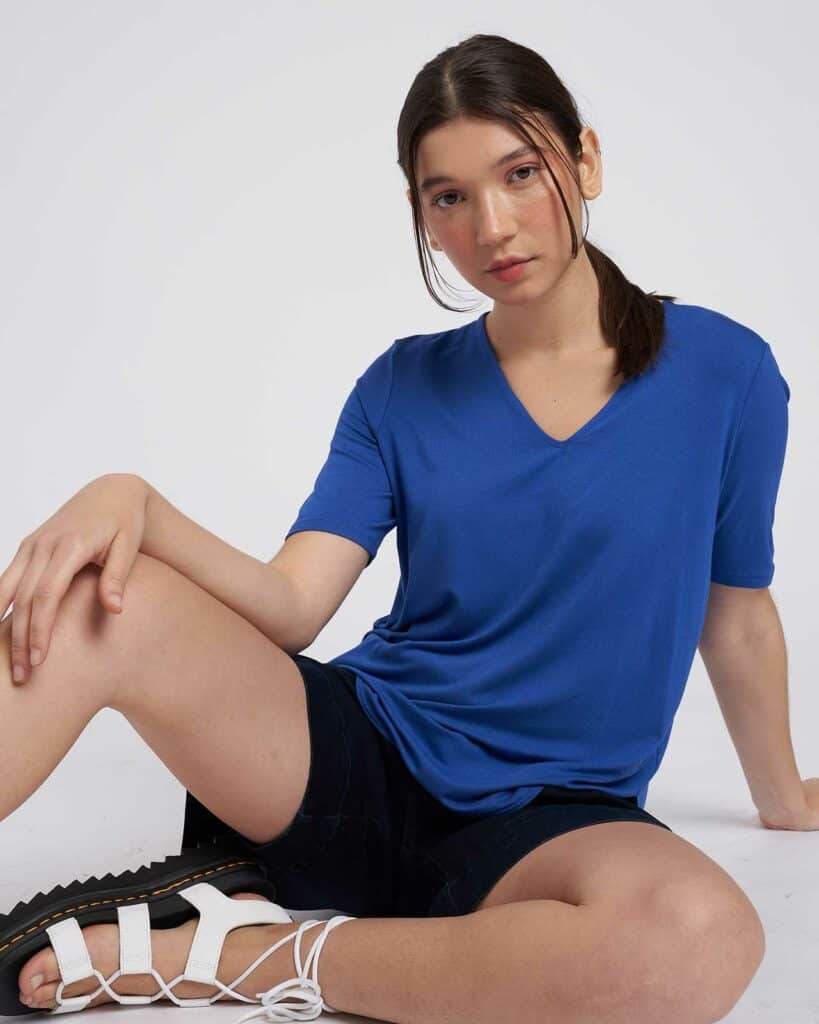 Universal Standard has the widest size range. T-shirts in sizes double zero to forty are available in the brand's collection for women. If you buy something from the Fit Liberty collection, the company will supplant your clothes for free if your size changes within a year after payment.
Our Product Recommendations for Universal Standard:
Fit Liberty's Tee Rex has it all: an oversized fit, super soft fabric , a simple and well-designed silhouette, and enough comfort for all-day wear. Thanks to the blend of modal, Peruvian cotton , and elastane, the shirt is stretchy and soft.
The shirt has a drapey shape thanks to the lengthened sleeves, curved hem, and crew neck , which allow you to breathe without losing your shape.
Lily Liquid Jersey

Stovepipe

($50)
The Lily Liquid Jersey Crew Neck Stovepipe Tee is comfortable and stylish. This stovepipe sleeve shirt will become a staple in your everyday outfit.
Made from our premium liquid jersey, which feels buttery-smooth and is meticulously created for an ideal fit. This shirt has a crew neck and a fitted stovepipe sleeve that meets your elbow.
Bella and Canvas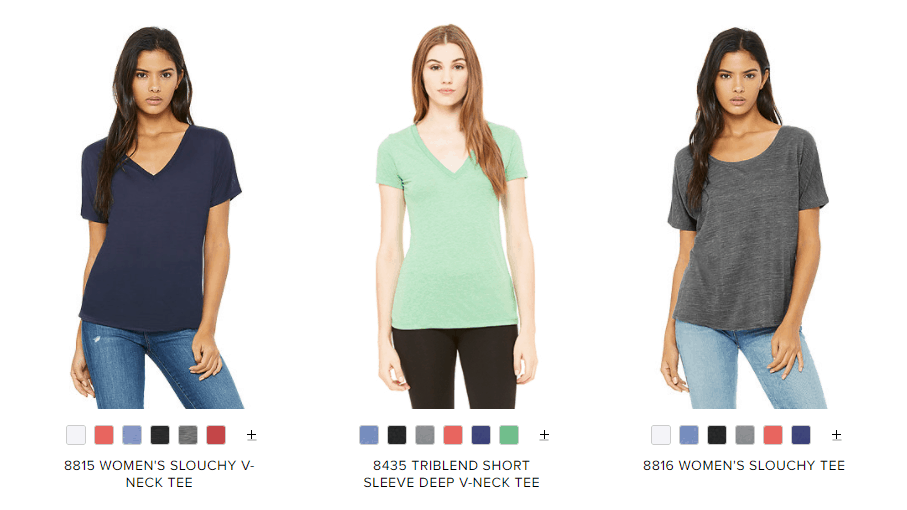 Bella + Canvas offers high-quality, extremely soft t-shirts at an affordable price. They provide a large selection of trendy styles to suit your desire for various t-shirts.
Bella + Canvas blank shirts for unisex fit are made with pre-washed combed ringspun cotton or poly- cotton mix fabric que Usually costs less, with an average cost in the mid-five to ten dollar range.
Our Product Recommendations for Bella and Canvas:
Unisex Short

Jersey

($ 5- $ 10 depending on size)
The body-conscious jersey comes in 54 different hues and is customized for a unique contoured fit. The Bella + Canvas Unisex Short Sleeve Jersey T- Shirt is a body-conscious jersey with a contoured fit.
Unisex Heavyweight Crew T-Shirt

 ($5-$10 depending on size)
This essential unisex heavyweight crew neck t- shirt has been revamped to fit like an old favorite. Premium heavyweight combed and ring-spun cotton airlume serves as an essential for those workout days.
Onno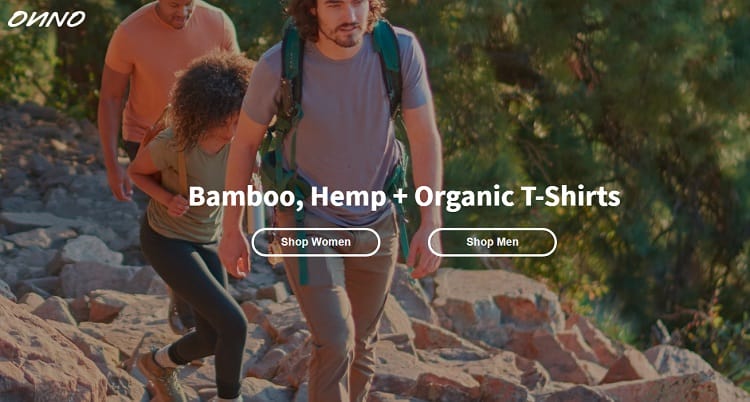 If you have sensitive skin and need to find natural textiles, then look no further! Onno creates shirts that are durable yet gentle on the skin. Fans love the way the shirts fit their figure, they aren't too big or too small.
Our Product Recommendations for Onno:
The hemp t-shirt from ONNO is warm, durable, and softens over time – a well-made hemp t-shirt! Our advice is that you get at least one.
Fans rave over the quality of this shirt. After a few washings, the shirts don't shrink or stretch out like others do. If you're looking for a shirt to simply lay upon your skin (not too loose but not slim fitting) then this is the shirt for you.
Eloquii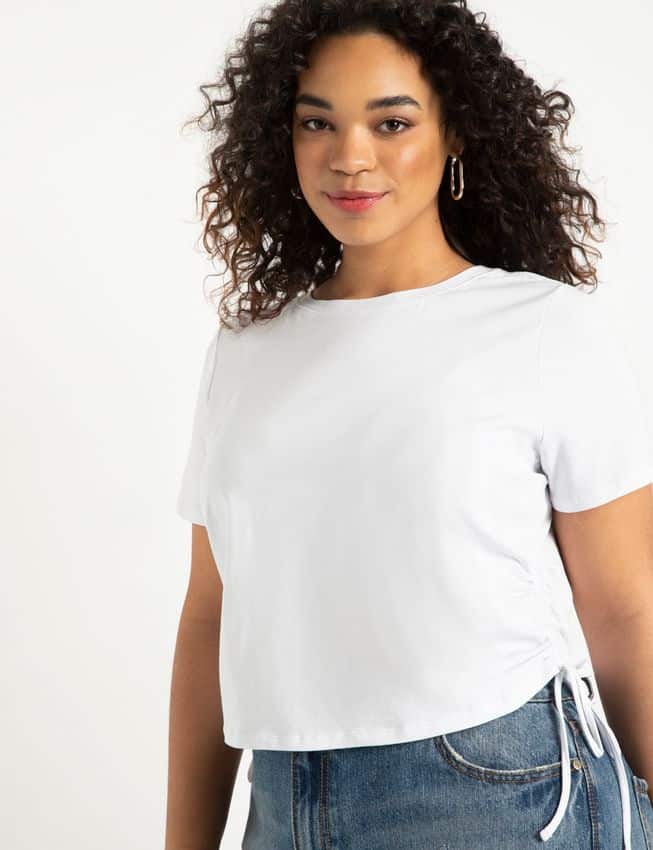 Eloquii is pure fast-fashion, as we like to call it. They're also more sophisticated and trend-conscious than most other companies. Every two weeks, new designs and collections are added to the site.
Our Product Recommendations for Eloquii:
Trends are cyclical, as the 1980s us. This shirt ups the ante on the basic muscle silhouette by preserving the loose fit but adding softly padded shoulders for more drama.
This stylish shirt is ideal for the summer. With the split sides and breathable fabric, you can nearly guarantee that if you have this in your closet, you won't be too hot.
Luxury Brands
This list will satisfy nearly everyone's criteria. Soft fabric, durable, breathable, perfectly sized. You may be wondering why you would spend a pretty penny on a t-shirt, but here's why. These shirts will last you years, they never stretch out when you wash them, they will harden the cold and heat with you, and they never fail you.
Goldie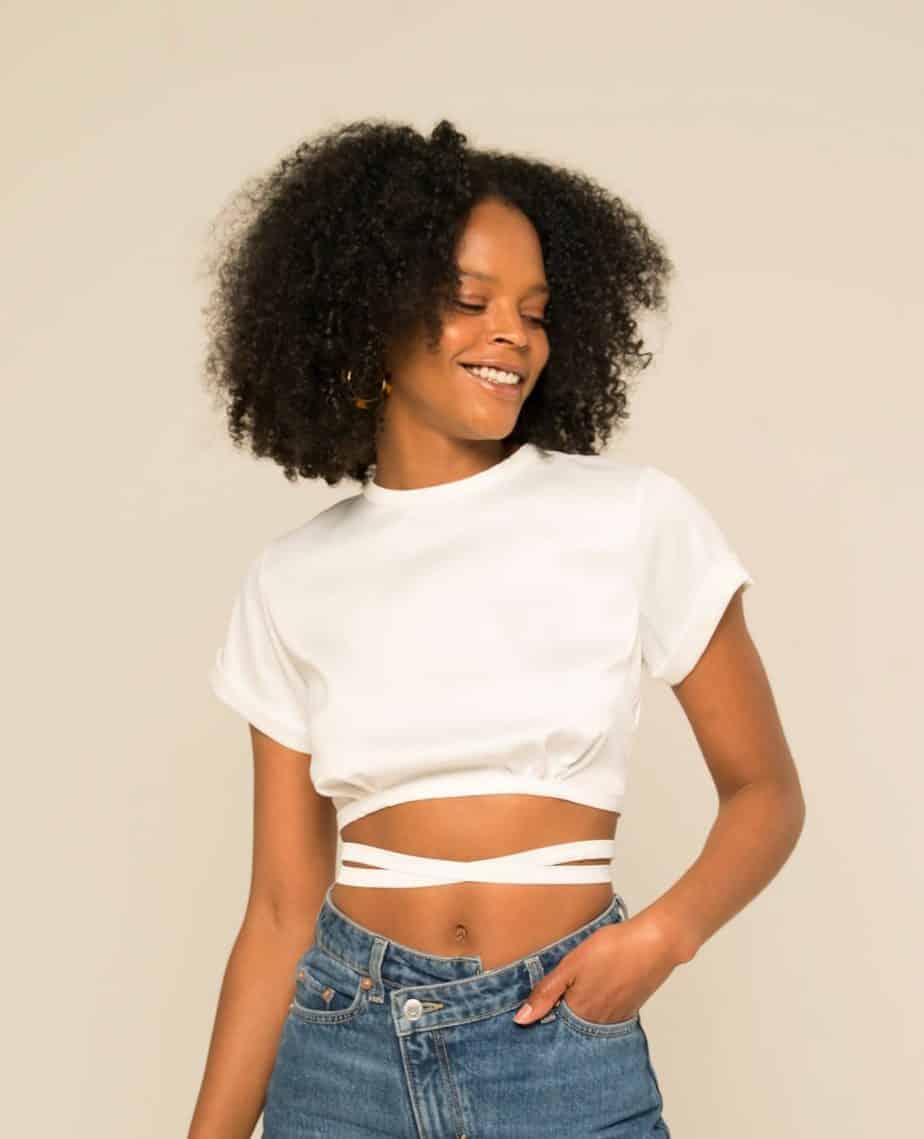 Look no farther than Goldie if you're looking for an under-the-radar business that manufactures ultra-soft T-shirts in styles ranging from classic basics to trendy designs. You'll never want to take these shirts off since they're so comfy.
Our Product Recommendations for Goldie:
The classic white of this shirt is a need for your closet. It is a thick yet breathable material. This tee isn't see-through which is perfect if you don't have the right color bra.
Ribbed Elbow

T-Shirt

 ($80)
Who wouldn't want this tee? It is perfect for every style, whether you dress casually, wear it to work or dress it up for a night out. With the knit ribbed, it feels almost polished compared to a standard cotton t-shirt.
X Karla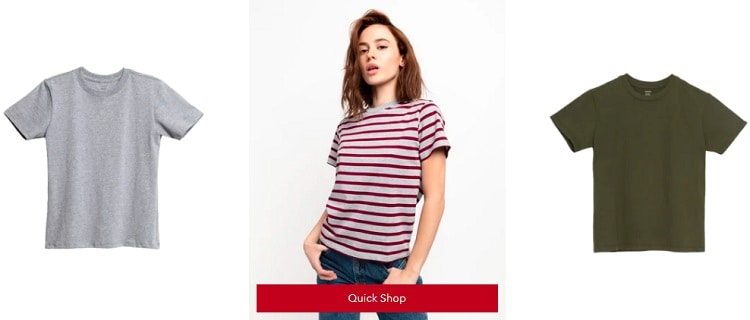 The fashion industry went crazy when renowned stylist Karla Welch launched her own T-shirt brand, X Karla, and for good cause. The stylist has applied her skills to the world of T-shirts, creating designs with distinctive and universal fits that consumers can't seem to get enough of.
Our Product Recommendations for X-Karla:
The X-Karla Crew Tees is a true closet essential with their excellent fit. The cloth is thick and of excellent quality! It shouldn't be too tight or too baggy. Don't be hesitant to purchase it.
Baby shirts from the 1990s are making a comeback, and this shrunken shirt is the ideal way to get back into the style. With the quality of this shirt , you should really have it in your closet.
Bloomingdale's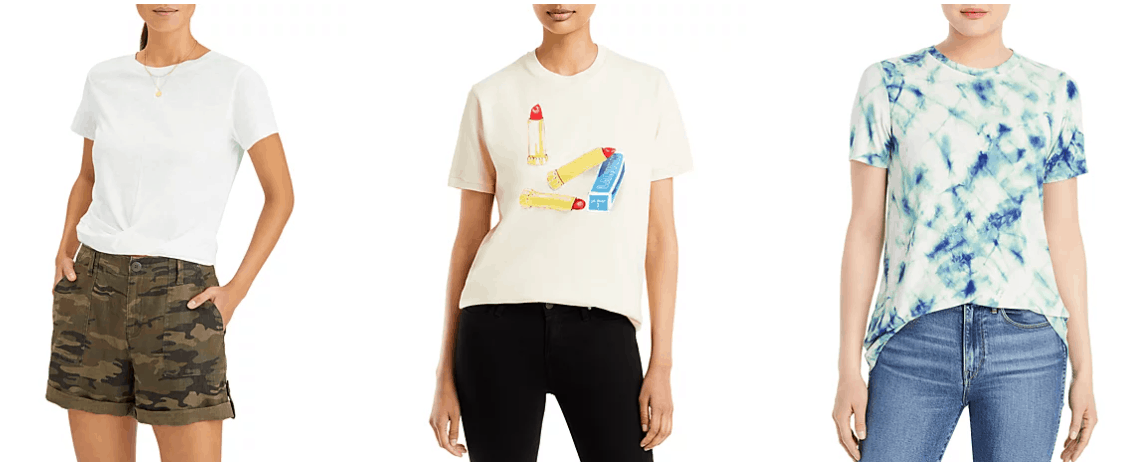 Bloomingdale's has been one of the most well-known department stores in the United States for more than three decades. They sell high-end merchandise in a variety of departments. The range of apparel alternatives they provide, particularly their shirts, is praised by fans.
Our Product Recommendations for Bloomingdale's:
Frame Le Mid Rise Muscle

($85)
If you love your arms and want to show them off, then this shirt is a must for you. Made from prima cotton, allowing for the shirt to be breathable and lightweight with a banded crewneck and cap sleeves that are available in white, black, and olive.
This lovely tee will liven up your t-shirt collection. Wear this to a business meeting or a night out, and you'll never leave the house feeling more confident. The Rebecca Taylor runs true to size, so don't be afraid you will have to go up or down.
Eddie Bauer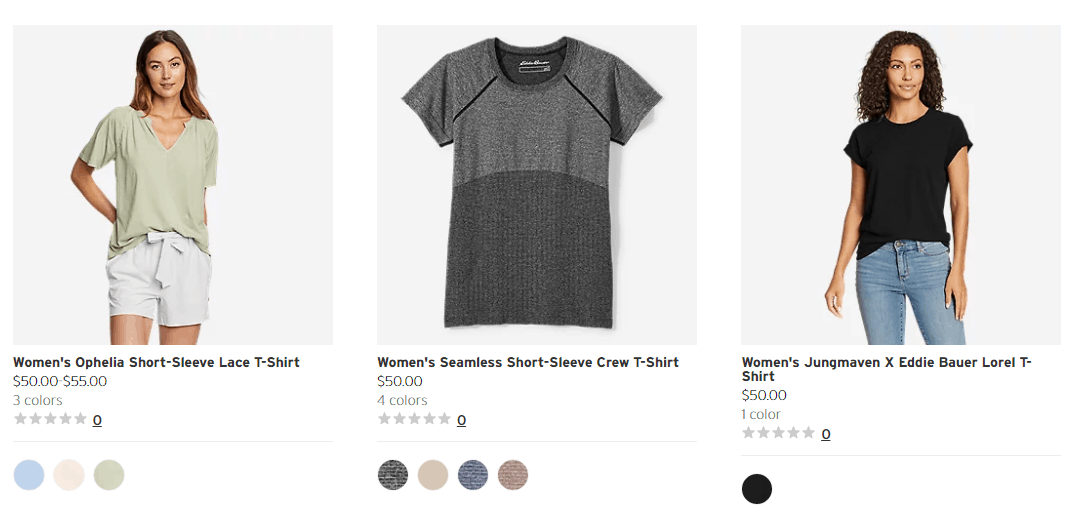 Eddie Bauer's shirts are of excellent quality, and the pricing is reasonable given the high quality of their items. The color pattern is outdoorsy with blues and tans, yet the apparel is of exceptional quality and built to last.
Our Product Recommendations for Eddie Bauer:
Favorite Short

V-Neck T-

($25)
Our Favorite T-Shirts will persuade you that they are more than ordinary after only one wear. The proof begins with the excellent cotton we use, which has been combined with the smooth out of the yarn and then treated with a silicone finish to make it ultra-soft. It's polished to minimize pilling whether used alone or in a blend with polyester. These are shirts you'll want to wear all year.
Myriad Short

Crew-Print ($35-$40)
These laid-back styles aren't only for lounging about. In these soft-to-the-touch shirts, you can sit back and relax or take it up a level with our unique sun-protection technology and naturally breathable cotton.
How to Properly Wash Your T-shirts
When you do your laundry, you probably have a process of sorting your colors and your jeans from shirts. But I'm here to tell you how to properly wash your shirts so the colors don't fade and there is a smaller risk of them shrinking or loosening up on you.
Most companies will tell you to just throw them in the washing machines and that's it. The question is, do you wash them in hot water? Or cold water? The answer to that is simple. Wash them in cold water.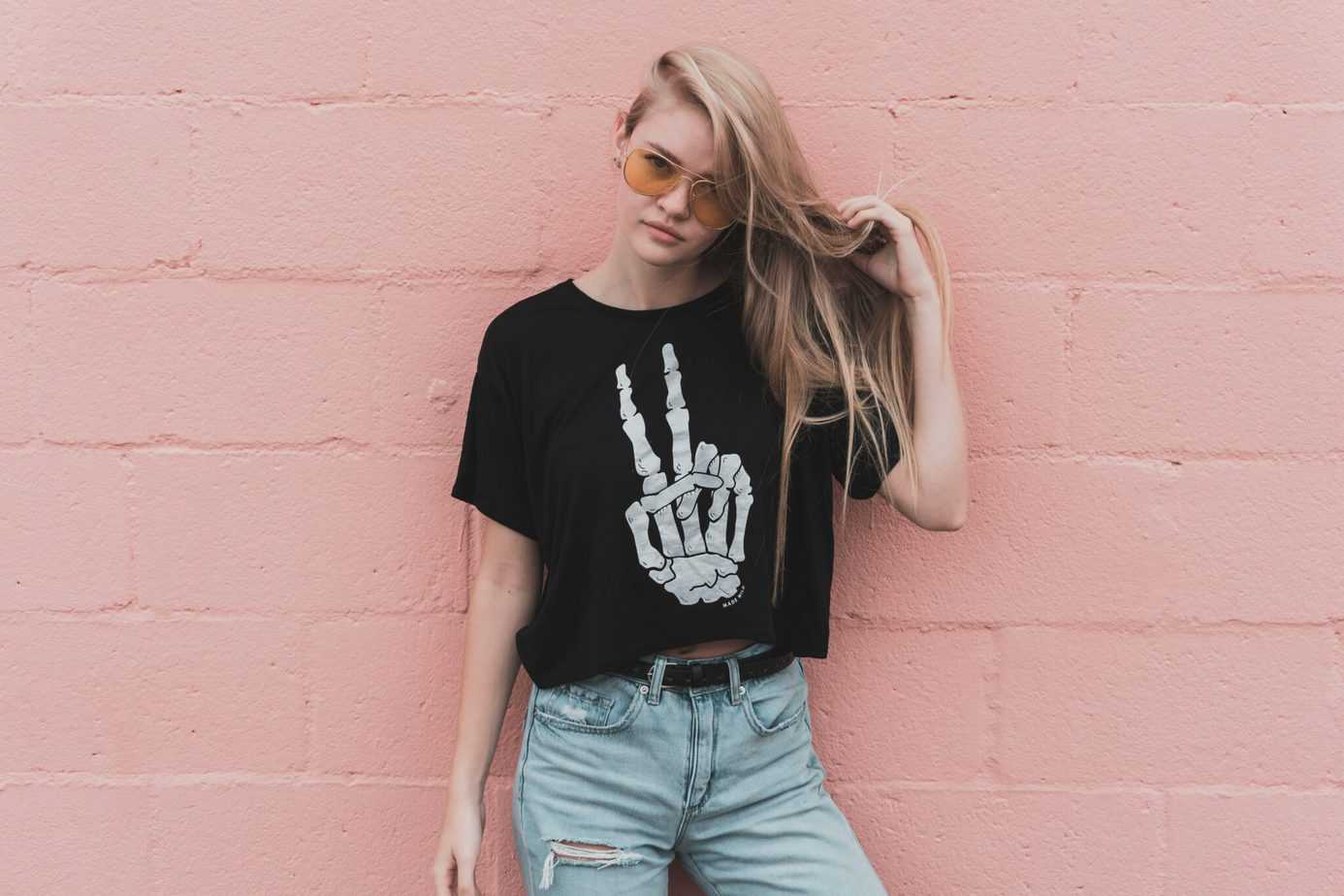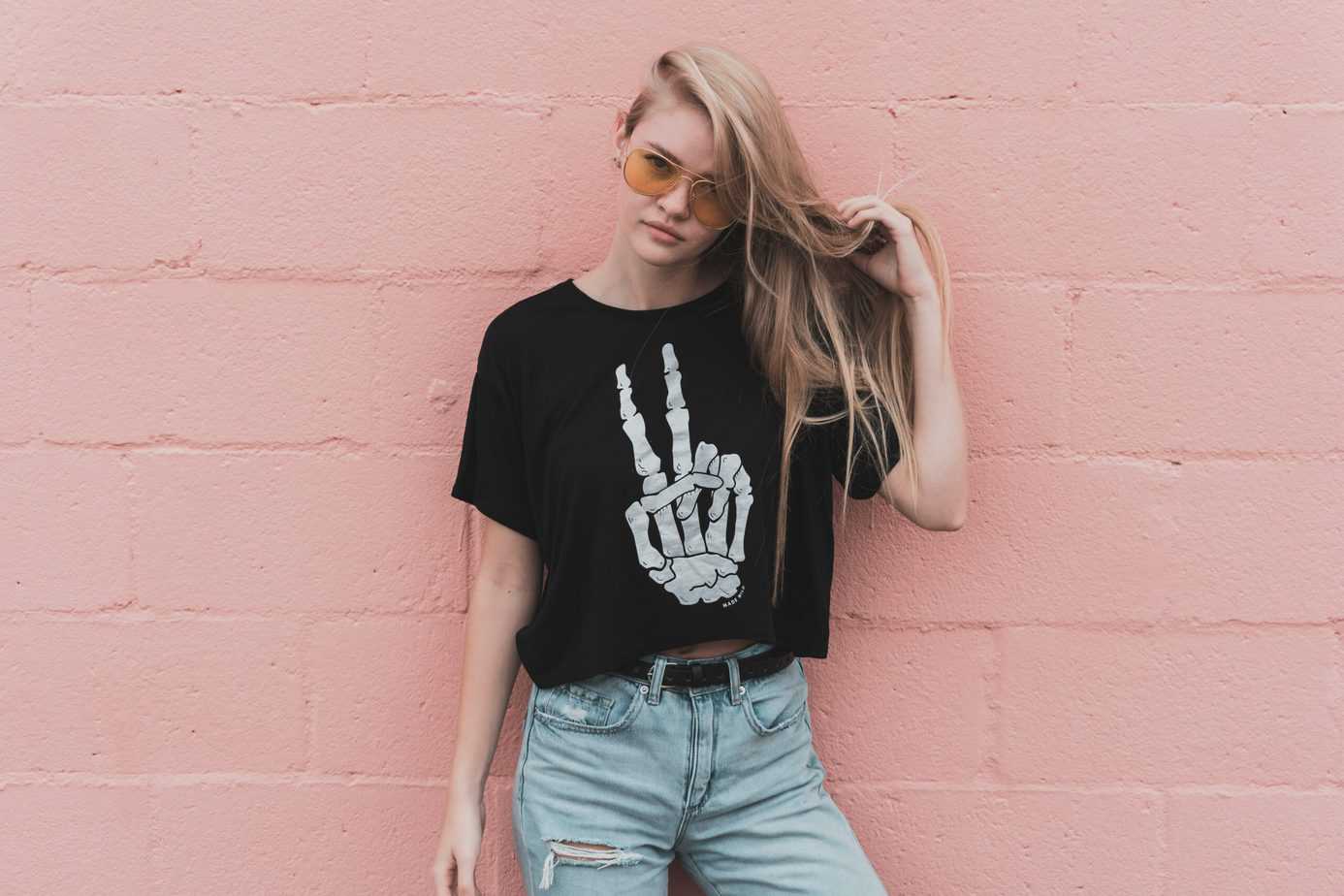 The reason behind this is because most shirts have some type of elastic in them, the hot water will then expand this elastic cause the shirt to become bigger.
With washing your shirts in cold water the elastic won't expand. The hot water also encourages your shirts to bleed their colors when your shirts expand.
What about drying them? Good question. You have two options when it comes to drying your shirts. Option one is to let them air dry. If you have any wrinkles that you don't want, simply cool iron the shirt until you're happy with it.
Option two is to throw them in your dryer. Go ahead and put your dryer in the normal cycle setting, set your heat to a medium-low and vola! No wrongly sized or faded shirts today!
FAQs
Shopping for t-shirts can be hard, and that's okay. We all go online or in a store with some ideal image of a shirt that we want but can't seem to find. Do you still have more questions? That's okay, we're here to help!
Question: What is the softest t-shirt material?
Answer: Tri-blend fabric is the softest t-shirt material. This material combines three types of fibers to create a soft, smooth texture that feels great against the skin. In a tri-blend fabric, the most typical fiber mixture is 50 percent polyester, 25 percent rayon, and 25 percent cotton.
Question: What material is the most comfortable for t-shirts?
Answer: Organic cotton is a popular choice since it is softer, more comfortable, and more environmentally friendly. It costs more than conventional cotton, as it is farmed without the use of heavy fertilizers or pesticides.

Pima cotton is selected for being the greatest quality cotton can buy, with exceptionally long filaments that assure the t-shirt fabric's softness.
Question: How can you tell if a t-shirt is of good quality?
Answer: Simply touching it is the quickest test. A high-quality T-shirt will never feel bulky or plasticky. If the cloth feels soft but solid at the same time, it is likely to be of high quality.

Another easy test is to put your hand in a fist and stretch the shirt over your fist, if you see the outlines of your fingers the shirt is not high quality due to it being see-through.
Question: Is fifty-fifty blend or one hundred blend better?
Answer: A 50/50 mix is ​​​​airy as well as tear-resistant. It is less costly than 100% cotton and provides similar comfort. Cotton that has not been preshrunk is prone to shrinking, thus the 50/50 mixture keeps the fabric from shrinking.
Final Thoughts: Choosing The Best Women's T-Shirt Brands
You want your t-shirts to fit how you envision them, the best way to do that is to follow your body shape. Remember when you're purchasing your t-shirts that you want them to compliment certain areas of your body that you love and hide others you aren't so fond of.
Fabric plays a big role in choosing the perfect t-shirt. Being comfortable in a t-shirt is what matters especially if you plan on wearing it all day. Happy skin, happy you.
Try to wash your shirts in cold water so they don't shrink, stretch out, or fade on you. And always remember, no matter your size, you will find plenty of companies out there that sell your size and more. What do you think?
Check out these other wardrobe choices: