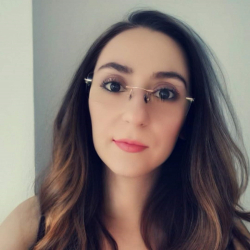 Latest posts by Alexandra Gavrilescu
(see all)
Wearing high heels makes me feel confident, attractive, and elegant, plus I feel they change my entire posture and the way I hold my body. However, at the same time, I cannot stand wearing heels for long periods because they make my feet sore, and, sometimes, I experience knee or back pain.
I am sure that many of you are wondering how you can find the best heels that are also comfortable. Wearing heels that are too high every single day might lead to several orthopedic problems. But once in a while, especially at an event, you should definitely wear heels if they make you feel great.
In today's guide, I have tackled different aspects regarding how to find the best heels, the different types of heels, the mistakes that many women make when buying high-heel shoes, and more.
Choosing Chic and Comfy High Heels
I will detail as many insights as possible about how to find the best heels that suit your foot size and shape. Feel free to browse through this guide and pick the ones that matter to you, however, my recommendation would be careful to go through every single section if you want to make a well-informed purchasing decision.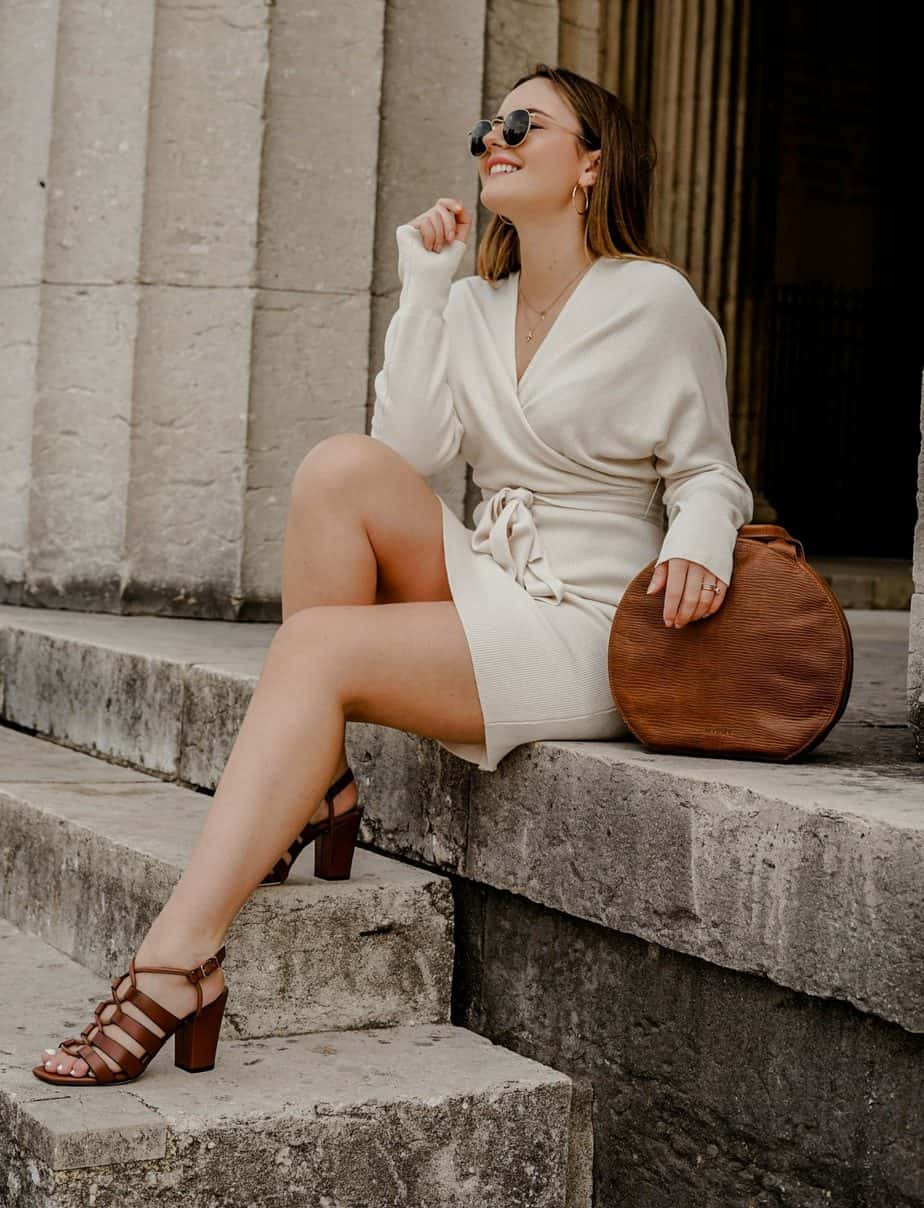 How to Find the Best Heels – Main Types of Heels
Here are the main types of heels you should know about:
Kitten heels

– these are low heels that are made for comfort, but they are also great shoes that can be worn to different events, including parties;

Pump heels

– these are your standard high heels.

These shoes have a wider structure and the heels have a height of 2-3 inches.

The front part is usually low-cut;

Stilettos

– these shoes have very high heels that can have a maximum height of 8 inches.

They will make your legs look long and slim and many of these shoes also have a platform in the front part to balance their height;

Ankle-strap heels

– these heels are elegant and stylish but the length of the heel might vary.

Due to the straps that wrap around your ankles, these high heels are more stable than other models;

Wedge shoes

– there are two main types of wedge footwear: wedge sandals and wedge heels.

There's a gap that separates the heel from the shoe's sole;

Cone heels

– this type of heel has a wider circumference close to the shoe's sole and it becomes gradually narrower to its base;

Cork high heels

– in this case, the heels are manufactured from cork which is a lightweight material;

Chunky heels

– unlike stilettos, these heels are chunky and they almost create the shape of a square.

They're more comfortable and stable than other types of heels;

Comma heels

– as the name suggests, these heels have the shape of the well-known punctuation mark;

Fantasy heels

– this category consists of all those nonconformist shapes that are seen as crazy or out of this world.

Think about Lady Gaga and you will know what I mean.
How to Choose the Best Heels – Based on the Anatomy of the Shoe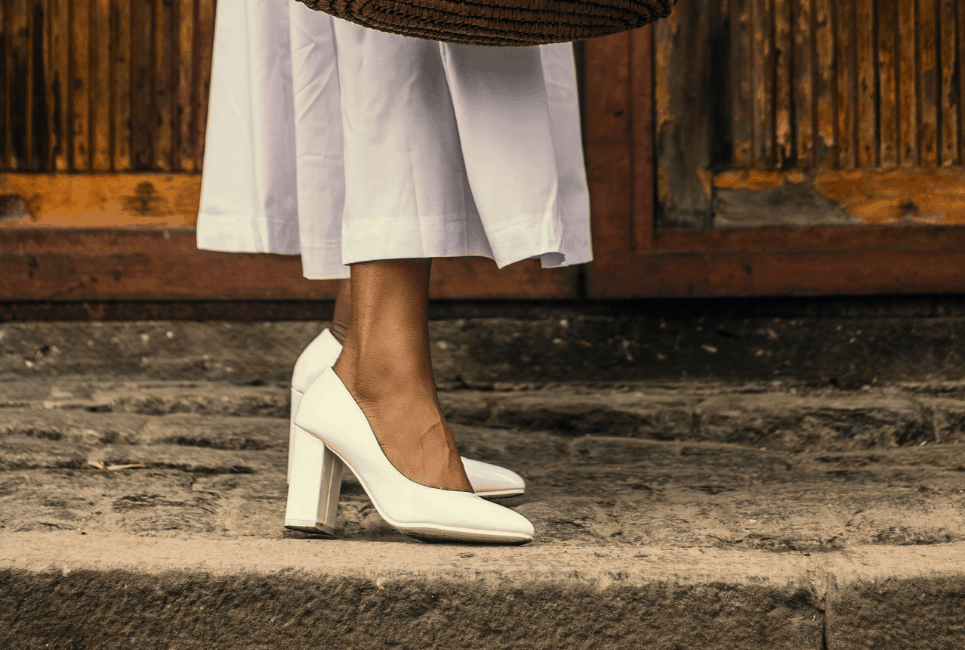 A typical shoe is made of certain parts and each part has a name. In this section, you will understand how to opt for the right shoe and heel that suits your toes, foot shape, and more.
Toe Box
The front part of the shoe is called the toe box because this is the area where your toes will be. Toe boxes have different shapes, from round and square to pointy and almond. When it comes to high heels, the shape of the front part of the shoes is extremely important.
The chicest and most professional heels are the ones that have a pointy toe box, but that means they're also less comfortable. Here are some tips and tricks on how you could wear pointed toe high heels without dealing with foot pain:
Search for heels that feature a gradual pointed toe box rather than a sharp one;

Opt for brands that market various width options;

this is essential for women who have bunions.
Heel Height
From low to high, there are numerous available heel heights:
Heels that measure

1-2 inches

are called kitten heels;

A height of

2-3 inches

is a mid-height heel;

Really high heels measure between

3 and 5 inches

.
I agree with people who say that flats are definitely more comfortable; I frequently wear them. However, wearing heels could completely change your look for the better by elongating your legs.
Here's how you can work your way towards higher heels:
Don't wear flat shoes that have low arch support or that feature very thin soles;

Opt for mid-height heels at first because these shoes will provide you with the proper amount of elevation and will help you avoid putting a lot of pressure on your feet;

Once you start wearing high heels, you should buy shoes that have built-in arch support.
Heel Shape
Now, let's see the shapes available that a heel can have. Different shapes offer different aesthetics.
Block Heels vs. stilettos
The classic version of high heels is represented by stilettos. They're sexy, elegant, slick, and classy. Therefore, if you are about to attend a special event such as a cocktail party, an important client presentation, or a speaking engagement, you should opt for stilettos.
On the other hand, pumps are more comfortable, especially when you're commuting a lot. By comparison, stilettos might get stuck in gridlocks. So, for those occasions where the required outfit isn't extremely formal, you can wear block heels instead.
Curved Heels vs. Straight Heels
If you're already decided that you're going to wear stilettos, you should also consider the type of heel you want to have. From a visual point of view, straight heels will make you look taller. Nevertheless, curved or indented heels are better for your spine because they create increased stability.
Strap Style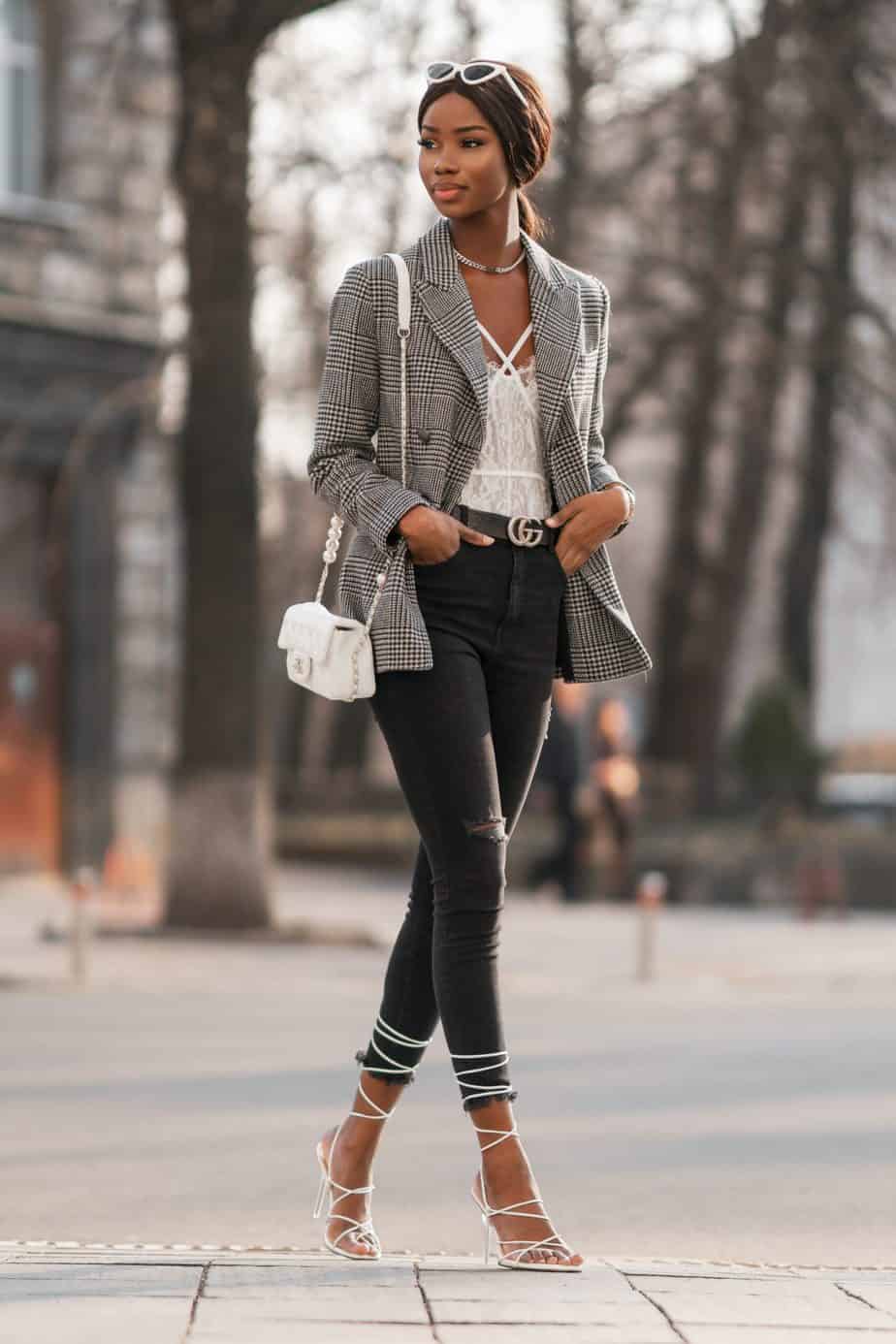 Which style would you prefer between plain pumps, Mary Jane straps, or ankle straps? The first type of heels are timeless and clean. For that reason, plain pumps are still one of the most popular styles out there. For increased security, you should opt for heels with an ankle strap.
Ankle-strap heels can be very versatile. They go perfectly with A-line skirts and dresses . Another possibility is to opt for a removable strap.
The Mary Jane look is classic and retro. This vintage shoe features a strap that's placed right across your foot, in the front part of the shoe. The strap adds more support for your footbed and foot arch.
Mistakes You Might Make When Purchasing Heels
Here are some of the most common mistakes you should become aware of.
You Buy the Wrong Fit
There shouldn't be a gap between your heel and your shoe's edge as well as between your heel and your foot's arches. If there's a gap like the ones I just mentioned, it means you bought too wide or too long. This will further lead to discomfort and pain because your feet will have too much space to shift around inside the footwear .
The size and shape of your feet change throughout the years so you should also pay attention to that when searching for a new pair of heels. Foot sizes can also vary due to hormonal changes and other types of modifications, such as aging soft tissue.
Before purchasing new shoes, you should always measure both the width and length of your feet. Try several different shoe styles if you want to find the most comfortable heels.
You Choose a Very High Heel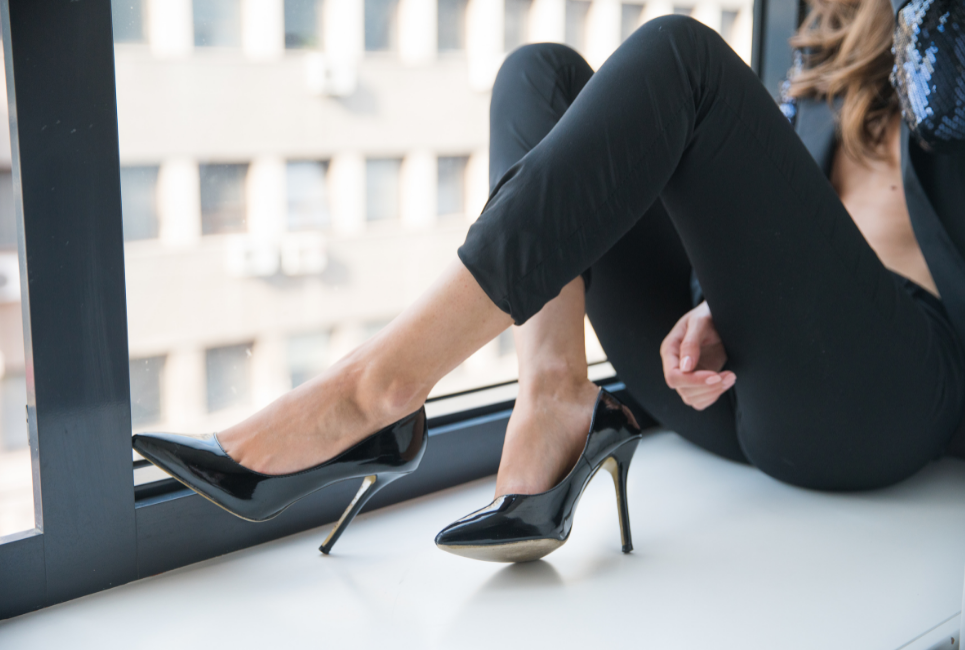 Extreme height when it comes to high heels isn't always the answer because it will lead to pain. The pain usually occurs right under the ball of your foot. The higher the heel is, the more stressed your foot will be. Pressure is also put on other areas of your leg such as ankles, knees, etc.
If you want to wear very high heels, you should at least pick shoes that have a thicker sole or platform under the ball of your feet. The heel should be chunkier too for increased stability. If you would rather wear stilettos, you should opt for a smaller height when it comes to the length of the heel.
You Pick Shoes without Enough Coverage
High heels with tiny straps will be so hard to wear and they will create a lot of discomfort for the wearer. If you know you don't really feel comfortable in high heels, you should choose a pair of shoes that have enough material that covers most of your toes. Otherwise, you may lack the right level of support.
Elevated heels are already a bit unsteady, so if you wear some with tiny straps, you will experience too much motion. The best style of shoes is the one that suits your foot the right way.
You Wear Shoes that Have a Narrow Toe Space
Stilettos with pointy toes look gorgeous, I admit. However, in my opinion, they are torture for the toes. I tried to squeeze my toes in this style of heels a few times before but I couldn't wear them for more than one hour. It's painful even to remember the sensation.
Pointy toes and not enough material to cover the front part of your feet will force your legs, feet, and especially toes to work harder in order to maintain your body's stability. This is how hammertoes occur. Shoes with rounded toe boxes would be a wiser choice.
The Best Heels Available on the Market – Top 7 Choices
A great pair of heels will elevate your entire outfit but you should pay attention to the way you walk in them. Otherwise, if you're constantly trying hard to keep your balance, you might look a bit silly. So, stick to the heel height that makes you feel stylish yet comfortable.
Here are some of the best and most comfortable heels that you should consider.
M.Gemi the Esatto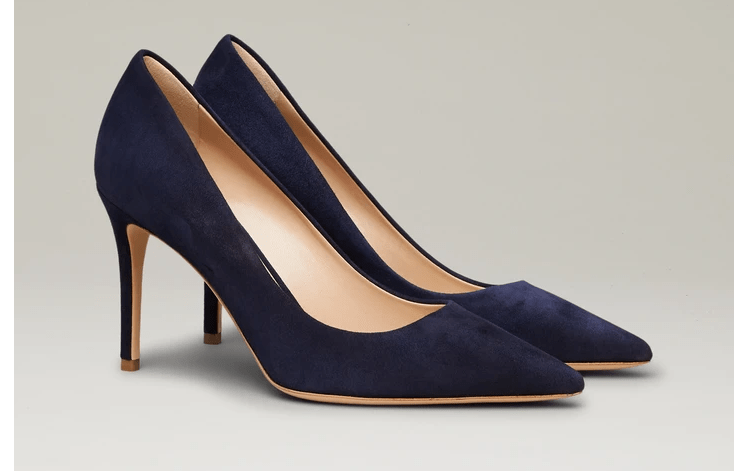 These heels are very comfortable. The height of the heel measures 90mm. Wearing a dazzling pair of M.Gemi the Esatto shoes will help you achieve an elegant look. The design of these shoes is classic and timeless. Besides their attention-grabbing style, these heels also have a very soft sole.
The pointed toe box paired with the 3.5-inch heel makes it the ideal choice that will complete many day or night outfits. The insole is padded for boosted comfort. There are five different colors to choose from: navy suede, black patent, sage, cappuccino suede, and black leather.
Clare Suede Pumps by Christian Louboutin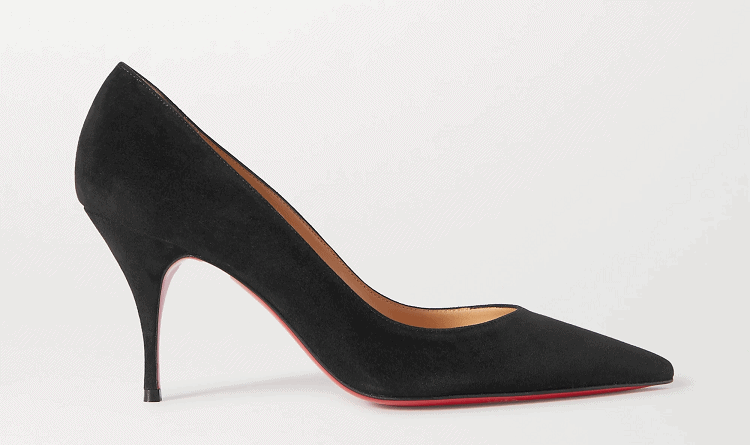 If you want a luxurious product and the price tag isn't a problem for your budget, then you should take a look at these gorgeous Louboutin high heels . They are to die for! So stylish and elegant, these pumps will definitely draw the attention of those whom you meet during your activities.
The style of these shoes are an iconic way to showcase the well-known sexy red sole. These shoes are made in Italy and the height of the heel measures 3.1 inches. The toe part is pointy and the upper shoe is made of premium velvety suede leather. You can pair these shoes with almost anything from your wardrobe.
Gianvito Rossi Pumps
This is another stylish and incredibly elegant high heeled shoe that's also very comfortable. The Gianvito Rossi pumps have a heel height of 3.35 inches. Shoes like these ones should become a staple of your wardrobe. Not only will you look good in these shoes, but you will also feel comfy.
They are seen as mid-high stilettos. The design of these shoes features timeless elegance and the materials used in manufacturing them are of premium quality. These Italian-crafted shoes are made of high-quality suede leather. They feature a pointed-toe box that completes the sexy look.
Olympia Natalie Pumps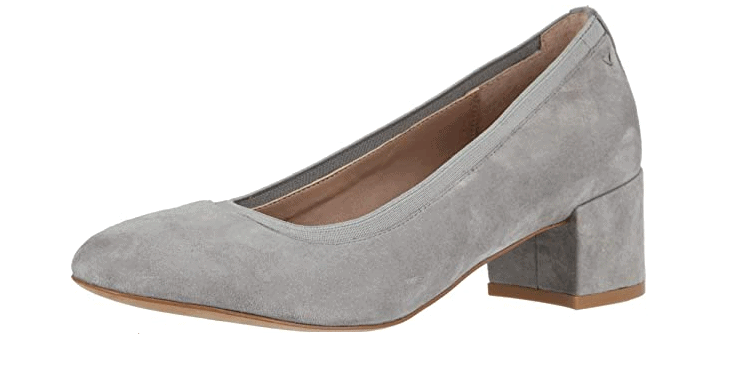 The Olympia Natalie Shoes Are So Comfy Due To Their Thick 2-inch Heel. You could walk in these all day long. The edge of the shoe that touches your feet is elasticized, yet subtle but it will provide you with an optimal fit. There's built-in arch support on the footbed that makes these heels a great choice for those of you who have heel pain or flat feet.
These shoes are made of microfiber that mimics suede leather. For some of you, however, the toe box might be a bit narrow. Also, there aren't many colors available to choose from; you can only opt for the black tortoise or the slate gray varieties.
Vera Heeled Sandal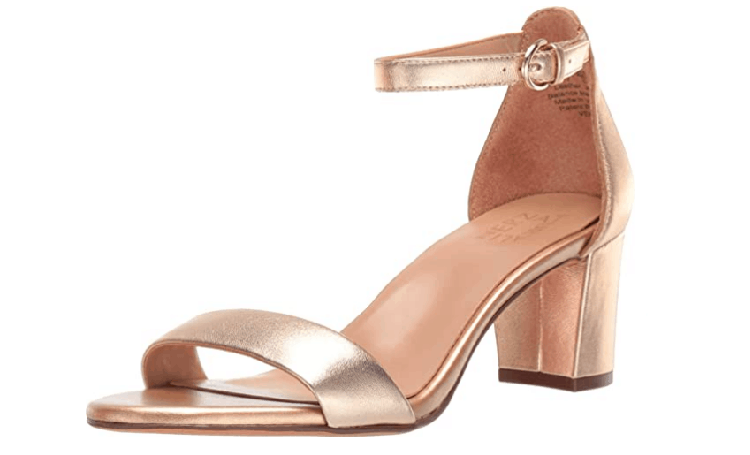 The Vera Heeled sandals are the ideal choice for a special occasion. You can wear them at your wedding or at someone else's wedding party. These sandals are marketed by Naturalizer and they feature a mid-low heel that's very comfortable. Many clients love these heels due to how great they look and how easy it is to wear them.
They're made of soft materials and their heel is wide and sturdy. The open-toe design makes these sandals a good choice for summer events. Vera sandals are very popular and they're ideal for more formal occasions.
Lifestride Parigi Pumps
Most pairs of heels are pretty expensive, but the Parigi pumps are very affordable and they were created with comfort in mind. Faux fabrics are what keep the price of these heels down and the manufacturer doesn't compromise on arch support, foam cushioning, flexible outsoles, or heel support.
The heel is manageable and measures around 2.5 inches. Thousands of satisfied customers have positively reviewed this product on Amazon. They are available in four different width-related varieties, from narrow all the way up to extra-wide.
At the same time, if you're used to wearing natural materials such as leather, you might not like synthetic fabrics because they don't look as luxurious.
Sole Bliss Ingrid Pumps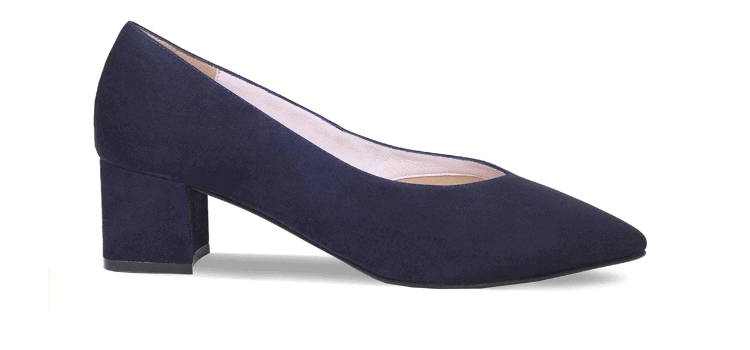 The Ingrid Pumps are the best choice if you want comfortable heels and a wider structure. I am well aware of how annoying issues like hammertoes and bunions are and so is the manufacturer of these heels. The shoes have plenty of space in the front, which will make you feel very comfy when you're wearing them.
These pumps are marketed by the British brand and they feature bunion cushions that can relieve pain and pressure. The cushioning interior is made from memory foam and the footbed has great arch support. The low block heel can be easily paired with anoffice outfit.
The potential downside is the price of these heels. They are pretty expensive but totally worth the money. You can choose from the following colors and patterns: black suede, black leather, navy leather, red suede, brown python, navy suede, pale gray suede, and nude leather.
H.

Total Motion Pointy Pumps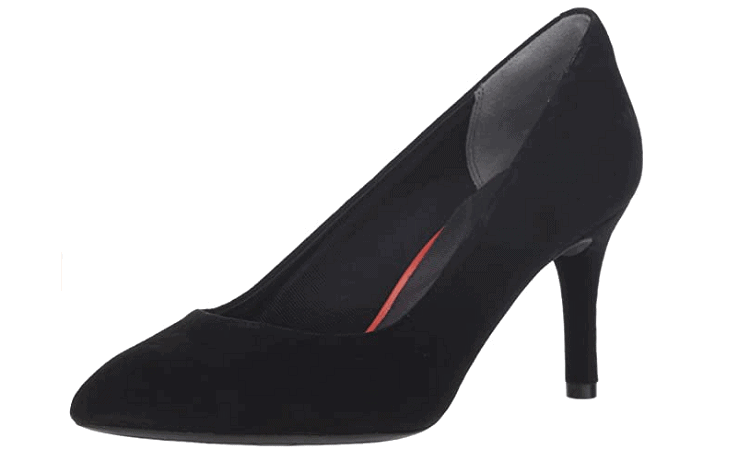 These Rockport pointy pumps have heels that measure 75 mm which equals to around 3 inches.They are very spacious inside and won't put pressure on your feet. These shoes aren't constricting at all and the material is soft and quite flexible.
They come with a built-in stability plate for increased comfort. The only thing that might bother those who aren't really used to heels is the fact that the height of the Total Motion pumps is a tad on the higher side. You can purchase these heels in a wide range of available materials and colors: black leather, warm taupe patent, dark vino patent, black kid suede, and more.
How to Find the Best Heels – Frequently Asked Questions
Question: Are High Heels Bad for Your Legs' Health?
Answer: It depends on numerous factors. If, for instance, you have a back problem or you're suffering from a knee or leg injury, you should definitely avoid wearing heels. High heels should also be avoided by pregnant women.If you're not used to walking with high heels but you still need to look elegant, you should try a mid-low block heel because it's more stable than stilettos.

Experts say that, if you wear high heels every single day, for many hours at a time, you might deal with arthritis later on. Wearing heels all the time will put a lot of pressure on your joints.So, make sure you alternate wearing heels with flats.
Question: What's the Best Shoe Style for Your Foot Type?
Answer: Based on your foot type, size, shape, and other aspects, there are certain heels that will meet your needs the best:
– A wider fit and a rounded toe box will work best if you have wide feet or bunions;
– Great arch support, wider toe boxes, and a low-mid heel are your go-to characteristics if you have flat feet;
– Mid-high heels, block heels, and curved-in heels are the types of classy shoes you should look for if you have high arches;
– Ankle straps are a must for those who have thin heels.
Question: What Height Should Your Chosen Heels Have?
Answer: There's no ideal heel height. One size doesn't fit all and it also depends on your needs, preferences, and experience when it comes to walking in heels.On average, a heel measures around 3 inches in height.

A 3-inch heel is considered a mid-height option. Mid-height heels are usually comfortable to wear at the office if you pick the right fit and size for your feet.
Question: How Often Are You Allowed to Wear Heels to Stay on the Safe Side?
Answer: It depends on the type of heel and its height. For example, very high heels shouldn't be worn every day and not for more than one hour at a time. Medium-height heels can be worn more often, even on a daily basis, but not more than three hours at a time.
But, the most important thing to remember is to always get a comprehensive, complete, and accurate measurement of your feet. Otherwise, you will struggle whenever you wear the shoes and don't feel comfortable.
How to Find the Best Heels – Bottomline
You should always remember that choosing the right kind of heels must involve careful consideration of all the aspects I've detailed above. The heels should fit your needs and preferences in terms of structure, height, style, padding, and more.
Although trends may change over time, you should always have a couple of evergreen pairs of heels in your wardrobe. If you cannot wear very high heels, don't fret about it! Just opt ​​for the style that makes you feel confident and attractive, without making you feel uncomfortable.