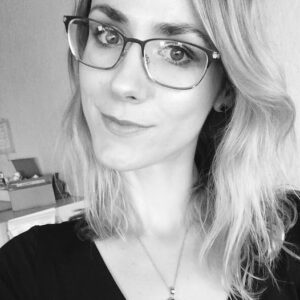 Latest posts by Karyl Trejo
(see all)
As anyone who's ever tried to go shoe shopping can attest, the modern woman is spoiled for choice in terms of footwear. From the ubiquitous flip-flop to designer heels, there is a dizzying variety of shoes to choose from. We've certainly come a long way from when the first shoe was made 40,000 years ago, a humble leather slip-on that bears a striking resemblance to the modern moccasin.
Shoes started off as a purely practical invention: the sole keep our feet safe from hard rocks, dirt, and other undesirable elements, while the uppers fasten around our feet to keep them on. Wearing shoes helps us avoid foot problems such as fungal infections, harmful germs, and other nasty organisms, such as parasitic worms. 
As a physical barrier, they also protect our feet from hot asphalt pavements and icy concrete and keep our soles safe from twigs, broken glass, and other potentially harmful objects.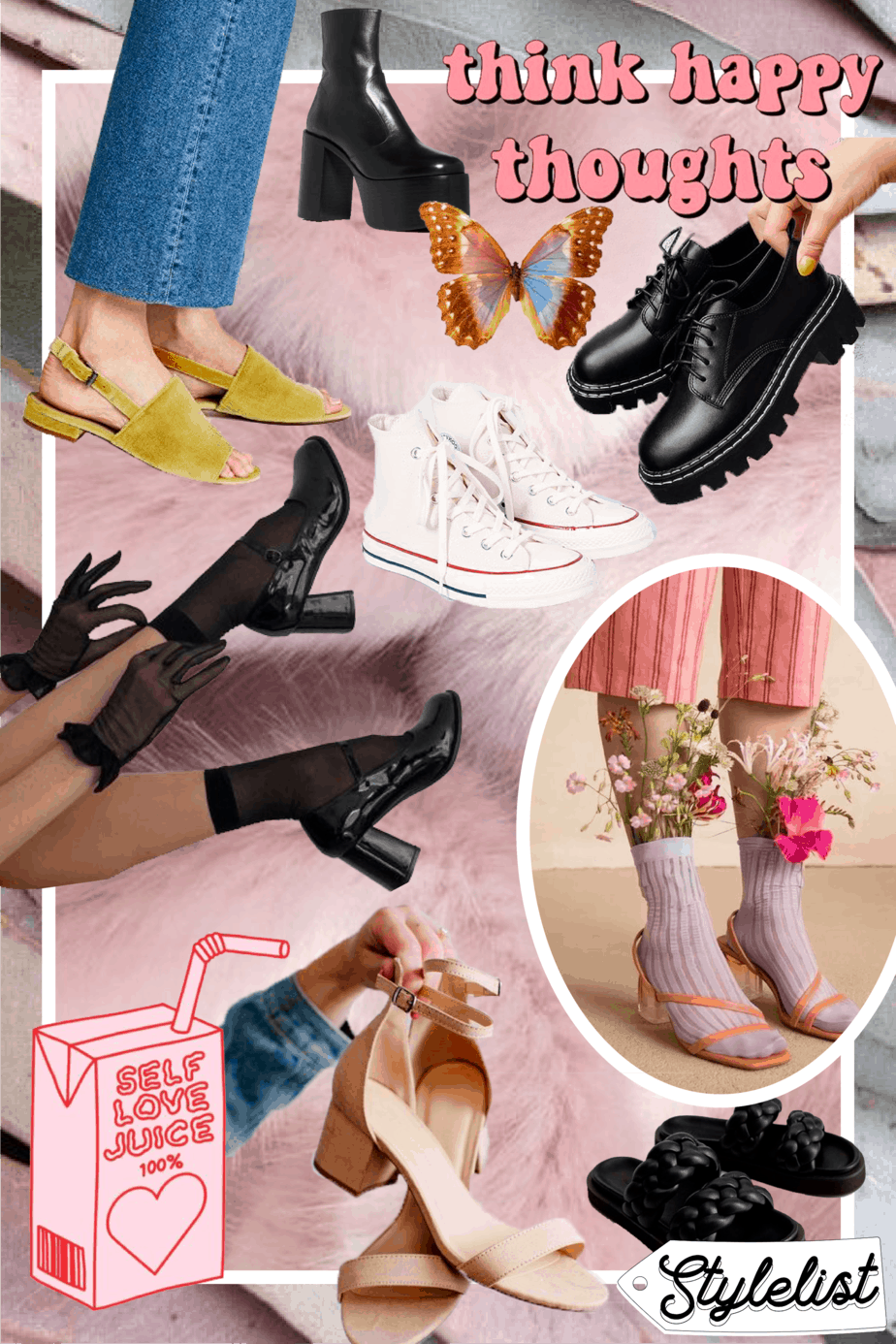 No Longer Just for Protection
Shoes are no longer just mere armor for your feet. We express our personality through our choice of footwear, and they're a vital part of how we present ourselves to the world. Shoes are also a fashion statement and an integral part of every outfit, no matter how dressed up or dressed down. A jarring, unsuitable shoe choice can ruin an entire look — think rhinestone-studded heels paired with a cute athleisure top and yoga pants. 
There are numerous unspoken rules regarding what types of footwear are appropriate in different situations. We even have preconceptions about certain brands or types of shoes. A person who chooses to wear flip-flops to a job interview, for example, will hardly be likely to hear back from HR, compared to if they showed up in a pair of sensible ballet flats.
What to Look for in a Shoe
We have shoes on nearly every second we're not in bed or the shower. That's a lot of time: you'd have spent nearly ⅔ of your life with some form of footwear on. While we may spend a few hours in a day sitting, we're on our feet for a significant portion of that time.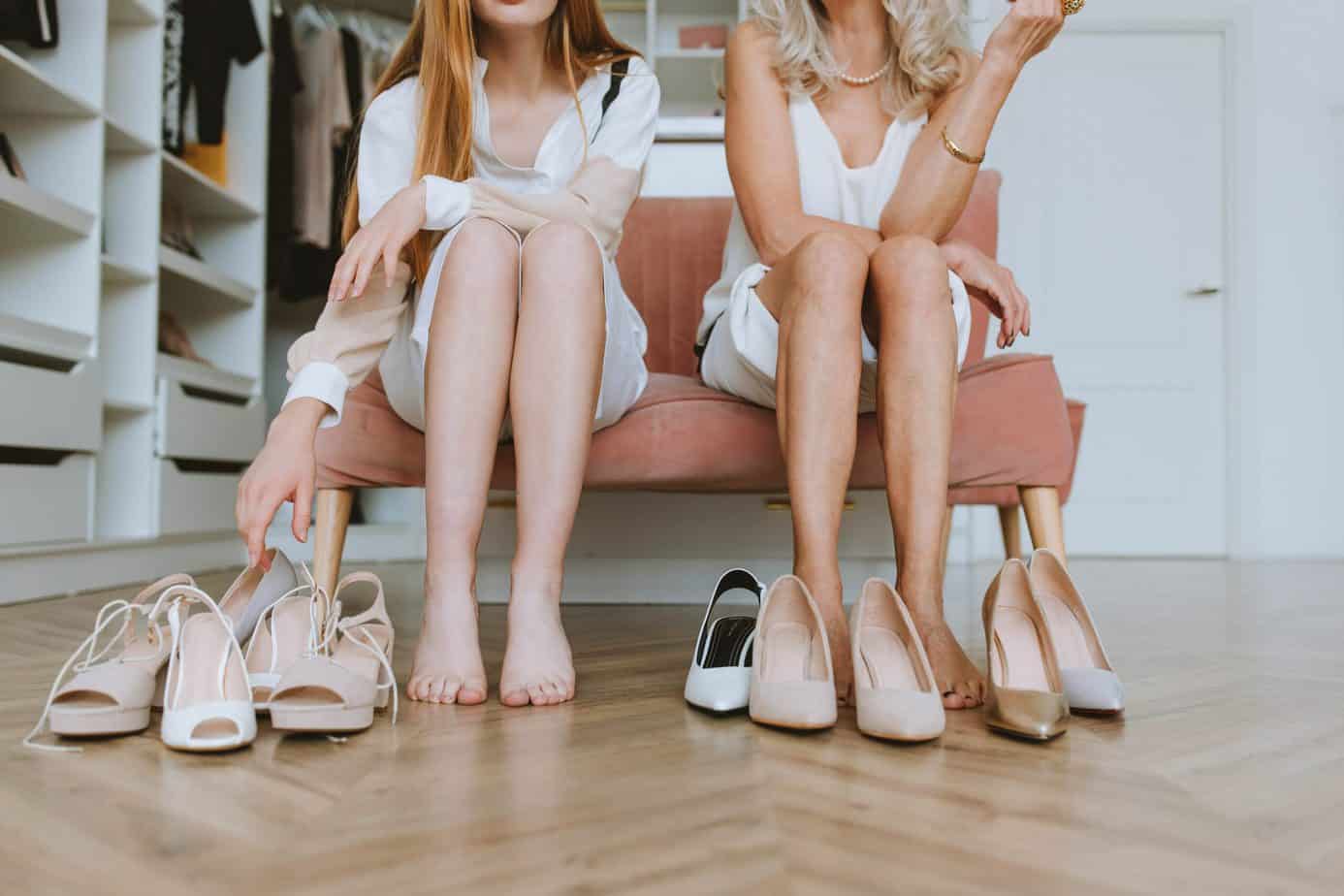 Poor-fitting and unsupportive shoes will put more stress on the feet. What's worse, the issues don't end there. As our feet are the base of our body, this can cause injuries, musculoskeletal issues, and postural problems with time. 
Before walking out of the store with your next pair of shoes, be sure to consider the following:
Stability

Comfort

Materials
All three of these will play into how much your feet like your new pair of shoes!
Stability
It is important that shoes be constructed to prevent the foot from moving beyond the safe range of motion. Stable shoes will help prevent twisted ankles and assist in walking.
Comfort
Cushioning will lessen the impact of movements such as walking, running, and jumping on our joints. Flexible materials also allow for a greater range of movement. A shoe that couldn't bend at all would be near-impossible to walk in. 
Materials
The materials that uppers and soles are made of ultimately determine the durability and cost of the finished shoe. Each material has a different level of flexibility, stretchiness, and breathability, as well as its own unique look. Here are the materials your shoes are made of:
Leather

Canvas

Textiles

PU/Vegan Leather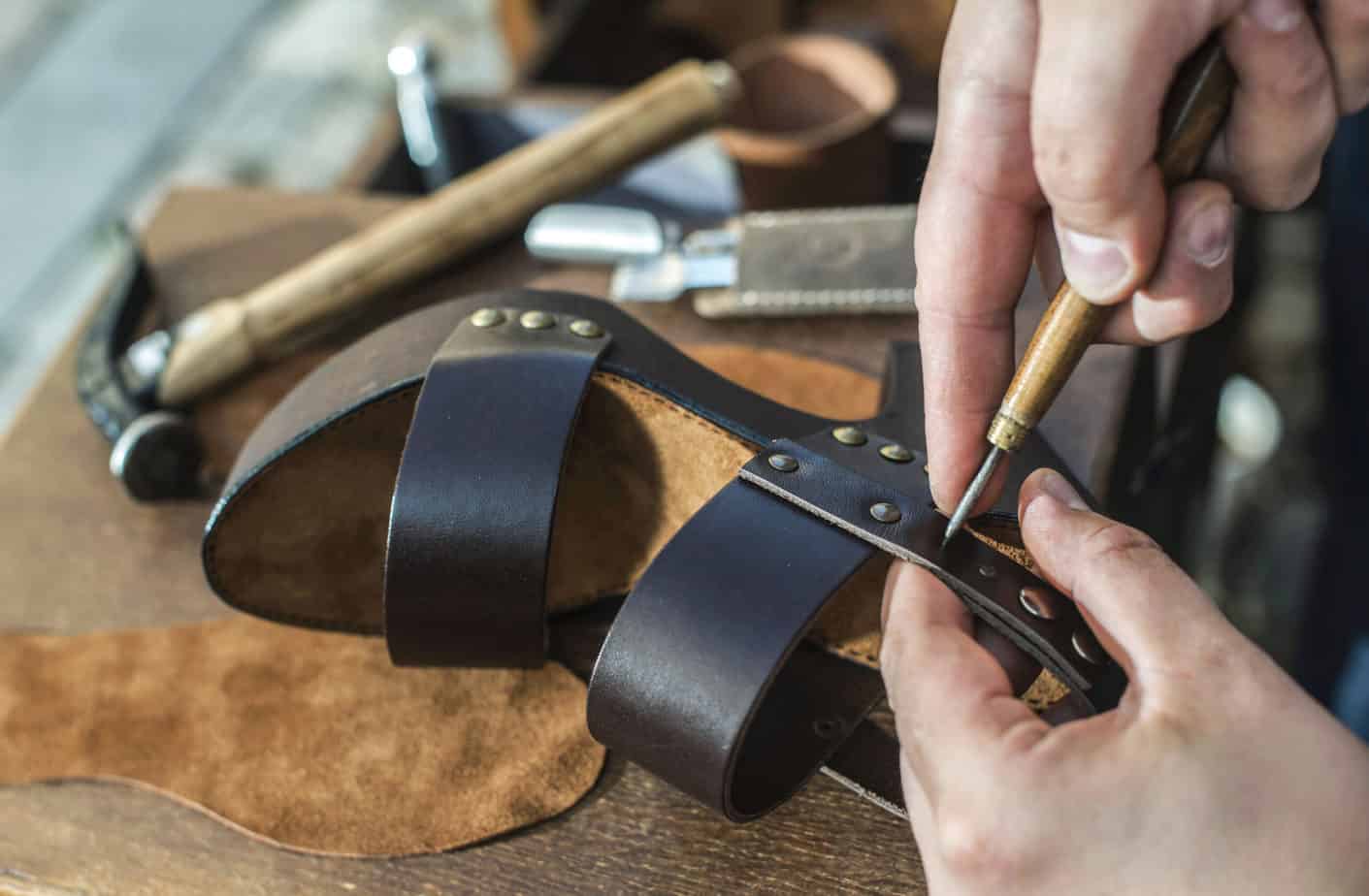 Leather
Leather is a type of animal hide that has been specially treated and can come in a variety of dyed colors. It can be damaged by water, mold, or get scratched up. Treatments such as mink oil or suede spray can keep leather shoes waterproofed and easy to clean.
Durable and beautiful, leather will stretch and mold to your feet with wear, and it develops its own character as it ages. However, leather can be heavy and hot — as well as being more expensive — compared to other common shoe materials. 
Canvas
A woven material made from hemp or cotton fibers, the canvas is commonly used for casual shoes such as sneakers and plimsolls. Canvas is washable and can be cleaned with soap or special sprays. Since it is a woven material, it lends itself well to dyes and paint, great for those who love to customize their footwear.
Canvas is extremely breathable and light, making it ideal for casual shoes. Since canvas does not stretch, shoes made of canvas can keep their shape well, despite repeated wear. 
Textiles
Found mainly in athletic shoes and as a vegan substitute for suede, textiles are used both inside and out shoes, being used on insoles and uppers and even bottoms.

Synthetic polymer fibers (such as nylon and polyester) are light yet hardy, while lycra gives great stretch for athletic shoes.
PU/Vegan Leather
With the rise of veganism, many have been looking for a cruelty-free alternative to leather that will still let them keep the same look. Enter polyurethane, a synthetic resin or polymer which dries clear, hard, and both water and scratch-resistant. 
Some leathers are polyurethane-coated leather or PU leathers made of an animal hide that has been split into thinner sheets than usual and then dipped into PU resin to create a water-resistant material that has the look of leather. But there are vegan PU leathers too where the base is fabric brushed with polyurethane resin to mimic the look of real leather.
PU leather is significantly cheaper than genuine leather, and since it is naturally water-resistant and scratch-resistant, it's also easier to care for. Much lighter than genuine leather, PU leather can be used to make light versions of shoes that would normally be very heavy, such as a combat boot. 
Choosing Comfortable Footwear
The earliest shoes were more about function than looking good, and they were far from ergonomic, as both the right and left shoe in a pair would be completely identical. This probably made putting on shoes a much simpler and easier affair, as it eliminated the need to match each shoe to the correct foot. 
While this doesn't sound like a con at all, the fact that both the right and left shoes were interchangeable meant that neither one was a good fit. Thankfully, nowadays shoes are far more foot-friendly and are made to mimic and support the actual shape of our feet.
Advances in materials, design, and ergonomics mean that we currently have the most comfortable shoes in the history of footwear. 
To Heel or Not to Heel
Longer legs are a universally attractive trait, and a higher heel can create an illusion of more length, hence the enduring popularity of heeled shoes. Did you know that the first high heels were actually made for men? In the 10th century Persia, heels on shoes had a practical function as they helped mounted archers and cavalrymen keep their feet in their stirrups.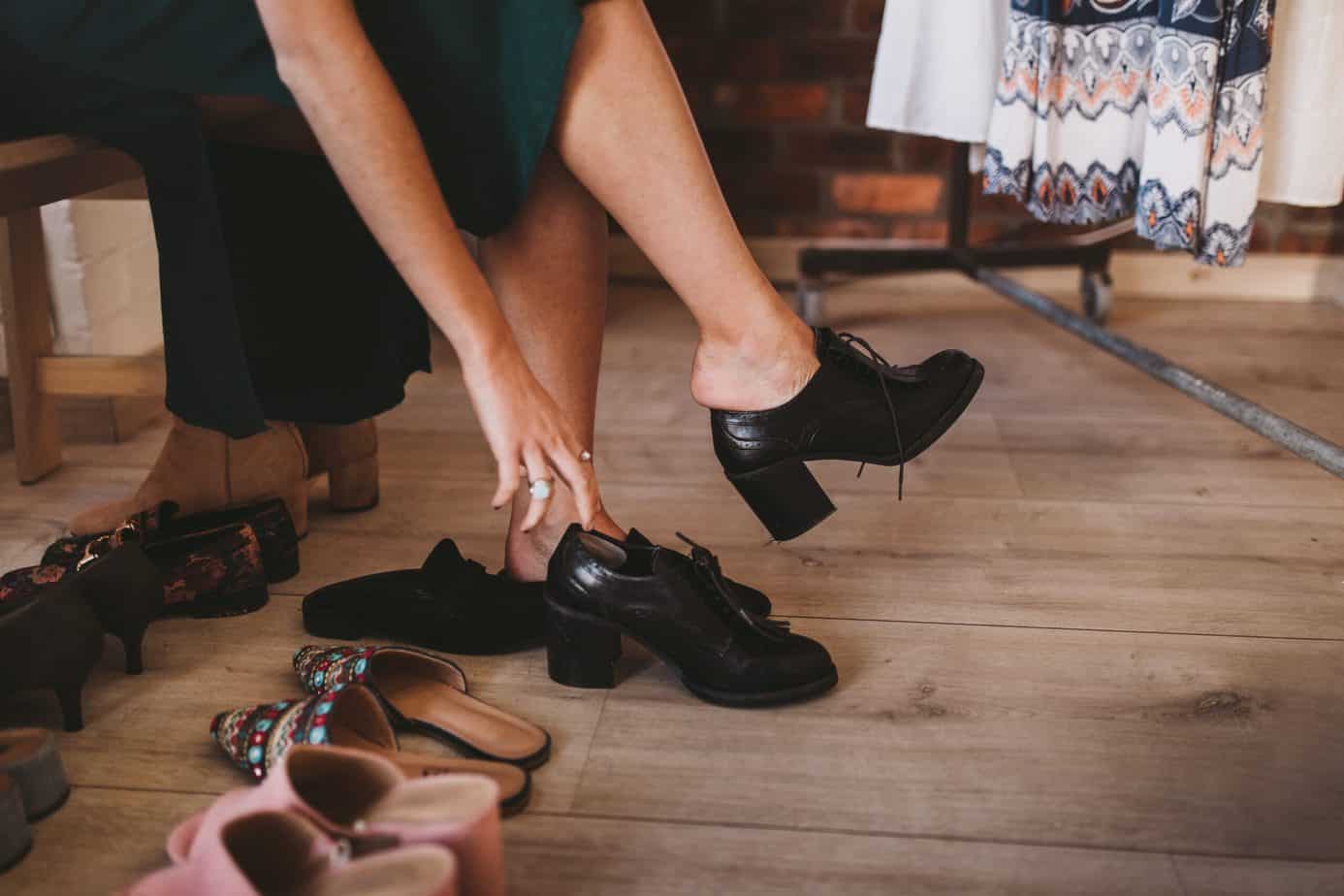 This Persian association with wealth and military prowess gave the heeled shoe cachet amongst European nobility, and centuries later, they became a ubiquitous form of footwear for monarchs and their court. 
They also had a firming effect on the calves, which was a much-displayed portion of the male anatomy at that time. Their popularity amongst the male population soon bled into women's fashion, and women's shoes also started sporting ever-narrower, ever-higher, and ever more ornamental heels. By the late 18th century, the transition was fully complete, and the high heel was abandoned by fashionable men and worn solely by women.
Nowadays, women still wear high heels as they lengthen the legs, exaggerate the arch of the back, and change their wearer's walking pattern in a way that's meant to be more attractive. However, all this comes at a cost. 
Those who wear heels take shorter and more forceful steps due to the shift in their center of gravity, putting more pressure on their knee and ankle joints. This can lead to the cushioning cartilage between bones to erode more quickly. They also shorten the muscles at the back of our feet and legs, causing an imbalance in the body's musculoskeletal system.
Types of Heels
The most popular types of high-heeled shoes include:
Stiletto.

Named after a long, slender dagger with a needle-like point, stiletto heels are thin and sky-high, with wonderful leg-lengthening properties. The narrow point of these heels, coupled with their extreme height, makes them difficult to walk in, but they remain a perenially popular heel choice for women.

Kitten Heel.

Like stilettos with training wheels, kitten heels are a shorter, often thicker version that offers the same elegant look as a stiletto but with increased walkability. 

Block Heel.

As the name implies, block heels are thick and chunky in contrast to other types of heels. The wider surface area means that block heels provide a more stable base when you walk, making it a good choice for days when you have to be on your feet.

Wedge.

The thickest type of heel, wedges spans the entire sole of a shoe before narrowing down to an elegant taper. Popular in summer shoes such as espadrille sandals, they offer the same leg-extending properties as stilettos but with more comfort and practicality.
More Heel, More Damage
Unfortunately, looking good doesn't always mean feeling good. Higher heels mean a higher chance of hip, back, and feet issues. Even just wearing modest heels — of around two inches, a common height for office pumps — has been shown to warp the Achilles tendon and cause it to shorten. Calf muscles can also stiffen and get reshaped, causing pain in the lower extremities.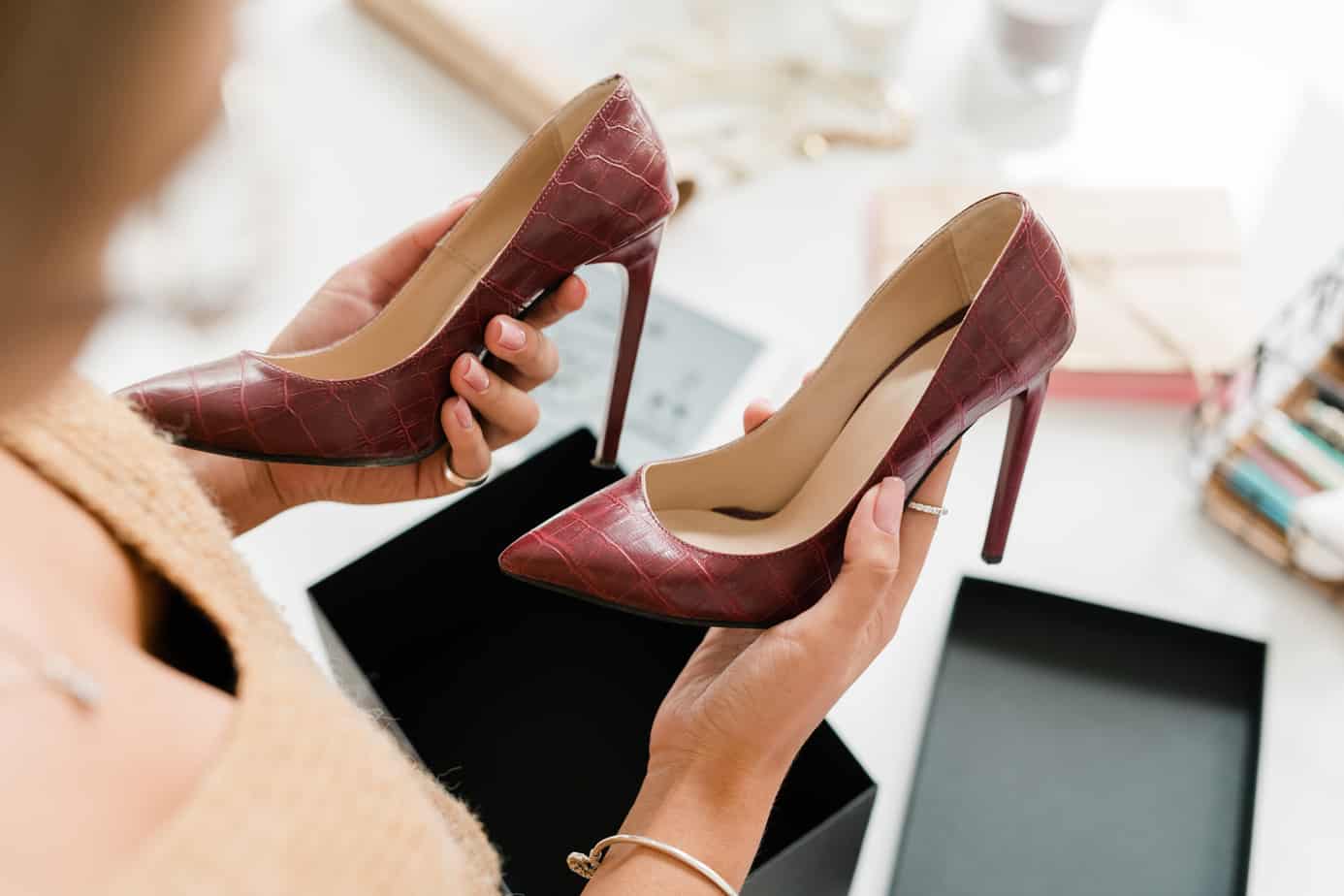 This effect is most pronounced in those who have been wearing heels every day for years, with long-time stiletto-lovers finding flat shoes or going barefoot uncomfortable or even painful, as their bodies have become accustomed to extra height in the heel area while walking.
A Closer Look at Toe Shapes
The toe is the first thing you see when you look at a pair of shoes, and it has a huge influence on the overall profile and looks of the shoe. Let's learn about the 4 toe shapes seen on shoes today.
Round Toes.

The default shape for most shoes, the rounded shape allows for more space in the toe box, perfect for those who suffer from bunions or have wider feet. This toe shape makes the foot look shorter and gives a shoe a more casual feel. Common shoe types with round toes are ballet flats and sneakers.

Almond Toes.

A longer and narrower version of the round toe, it has an elegant oval shape that elongates the foot. Commonly found in dressier shoes such as loafers and pumps, this shape can be a bit restrictive as the toebox tapers off to a narrow end, leaving your toes with less room.

Pointed Toe.

A toe shape that resembles a triangle, is frequently seen in heeled shoes such as stilettos or dressy bejeweled sandals. Since the toe box tapers off to an extremely narrow point at the end, these shoes have very little space in the toe box and are therefore not recommended for those with foot problems such as corns and bunions.

Square Toe.

A boxy toe shape with beveled or sharp edges, square toes are the toe shape of the season, courtesy of Bottega Veneta's

square-toed sandals

. 
Shoe Types
From a sensible pair of black pumps for work, the latest cutting-edge running shoes for your daily gym workouts, to a glamorous pair of patent leather heels for a hot date, there's a pair for every purpose and occasion. You only have to browse any shoe retail site to see the huge variety available today. 
But what's really the difference between all these types of shoes? From open shoes to closed shoes, casual to formal, heels to flats, let's look at the variations in construction, material, and design in modern women's footwear.
Sandals
A summer staple, sandals are an open type of shoe where the sole is attached to the wearer's foot with straps. Did you know that the oldest footwear ever found was a pair of sandals made from sagebrush bark? This is probably because sandals are a simple shoe to construct, and their popularity endures to this day, with hundreds of styles to choose from. Thankfully, they're now made of more comfortable materials than woven tree bark.
Sandal types vary depending on the configuration of the straps and their heel height. But no matter which type you choose to wear, these open shoes are always going to be in style.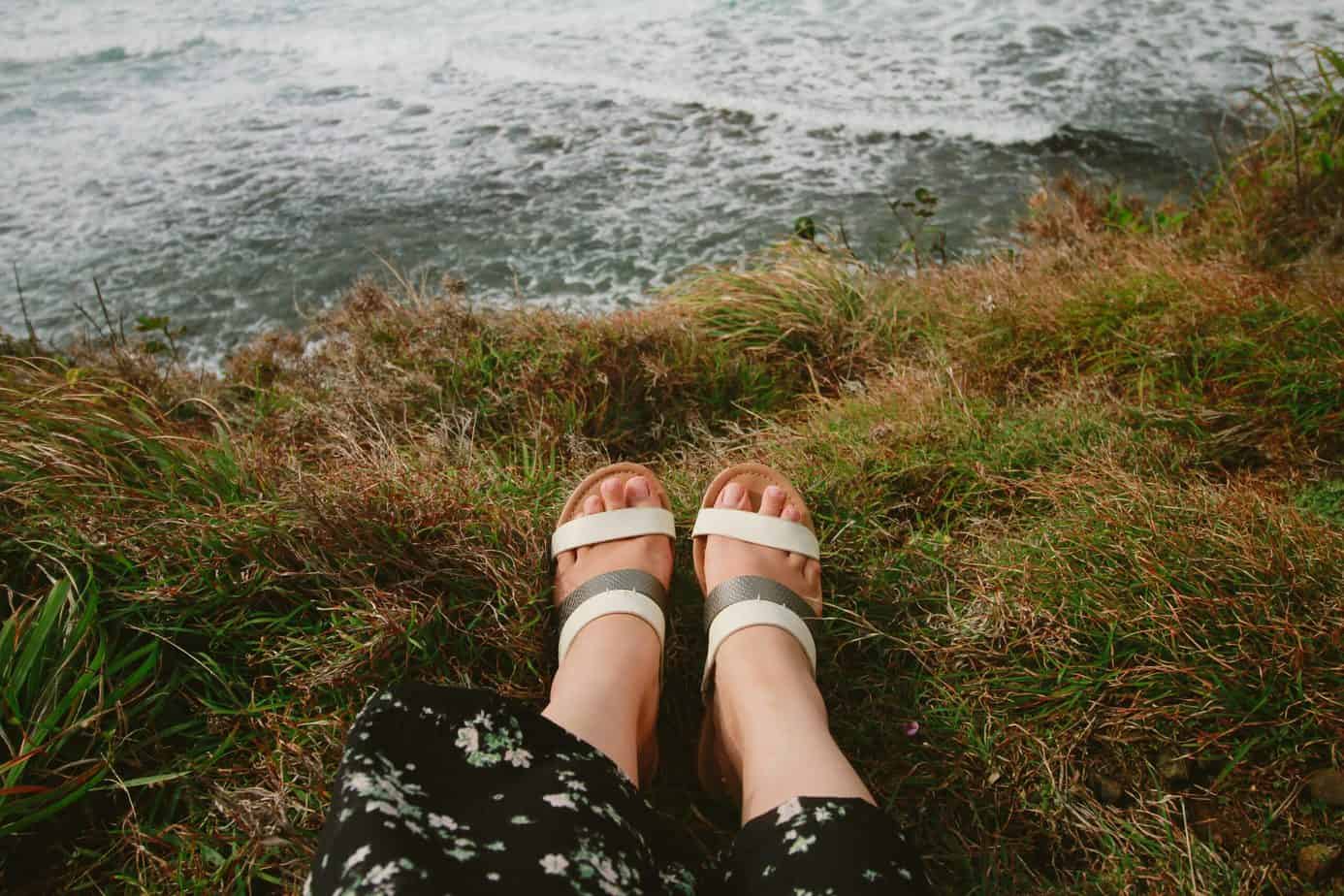 Pros: 
Allows for airflow and prevents fungal infections such as athlete's foot

Open design lets you show off your summer pedicure

Easy to just slip on and slip off, so they make a great shoe for the beach

Casual and easy to pair with any outfit.
Cons:
Lack of arch support

Due to their simplistic construction, they're hard to walk in for long periods of time.

Open toe area leaves your feet with no protection, as anybody who's ever worn sandals in public transport can attest to. Trampled toes and dirty feet, anyone?
Types of Sandals
Gladiator Sandals.

Inspired by Grecian and Roman sandals, these strappy shoes are

virtually unchanged

from ancient times, making them a true throwback.
Slides.

The ultimate poolside footwear has a single thick strap that goes across the top and is attached directly to the sole. 
Sport Sandals.

Reminiscent of sneakers but secured with straps instead of a full upper, these comfy sandals boast a sneaker-inspired rubber or foam sole and velcro straps that allow for a great fit.
Heeled Sandals.

The perfect footwear for date nights, these sandals can easily be dressed up or down.
Chunky Sandals.

Similar to the popular platform sandals that are now back in style, these offer better arch support than thinner-soled sandals.
Flip flops.

This simple sandal has a Y-shaped thong anchored directly to the sole. Most flip flops are made out of water-resistant rubber, but heeled versions made of leather are also popular for a dressier take.
Sneakers
With the rise of athleisure and streetwear came the domination of sneakers. Once restricted to the gym and the basketball court, sneakers are now the de facto "cool" shoe for many fashionistas. Comfort has been the name of the game: along with yoga pants, bralettes, and crop tops, these sporty shoes have been a mainstay in women's closets for close to a decade now.
Sneakers can be seen on everyone from trendsetting influencers and fashion bloggers to everyday women on the street. No longer limited to being worn with strictly athletic clothes or in a sporting context, they are now often paired with skirts and dresses to give them a casual, laidback feel.
And who can blame them? Running errands in a pair of Adidas Stan Smiths is infinitely more comfortable than tottering along in towering stilettos. The unexpected pairing of such casual shoes with a dressier, more formal outfit such as a silk slip dress also gives an outfit a chic, unexpected twist. 
Nowhere can the ubiquity of sporty footwear be seen more clearly than how it has taken over runways and fashion magazines. High fashion brands such as Balenciaga, Gucci, and even famed high heel brand Louboutin have come out with their own versions, while newcomers such as Common Projects, Off-White, and Y-3 have shot to fame with their low-key athleisure and street-style footwear offerings. 
Pros:
The most comfortable shoe type

Orthotic-friendly so you can even use your own special insoles for extra support

Designed to be used for athletic activities, so you can move around easily while wearing them
Cons:
Bulky silhouette

Cannot be worn in most offices or during formal occasions

Closed design means that these shoes can get too warm for summer
Boots
Utilitarian, stylish, and perenially cool, boots are a closet staple. With ample coverage ranging from ankle to mid-thigh, boots are perfect for keeping you warm during both pumpkin spice and eggnog season. Due to their military roots, boots are perfect for adding some edginess to the most basic outfit.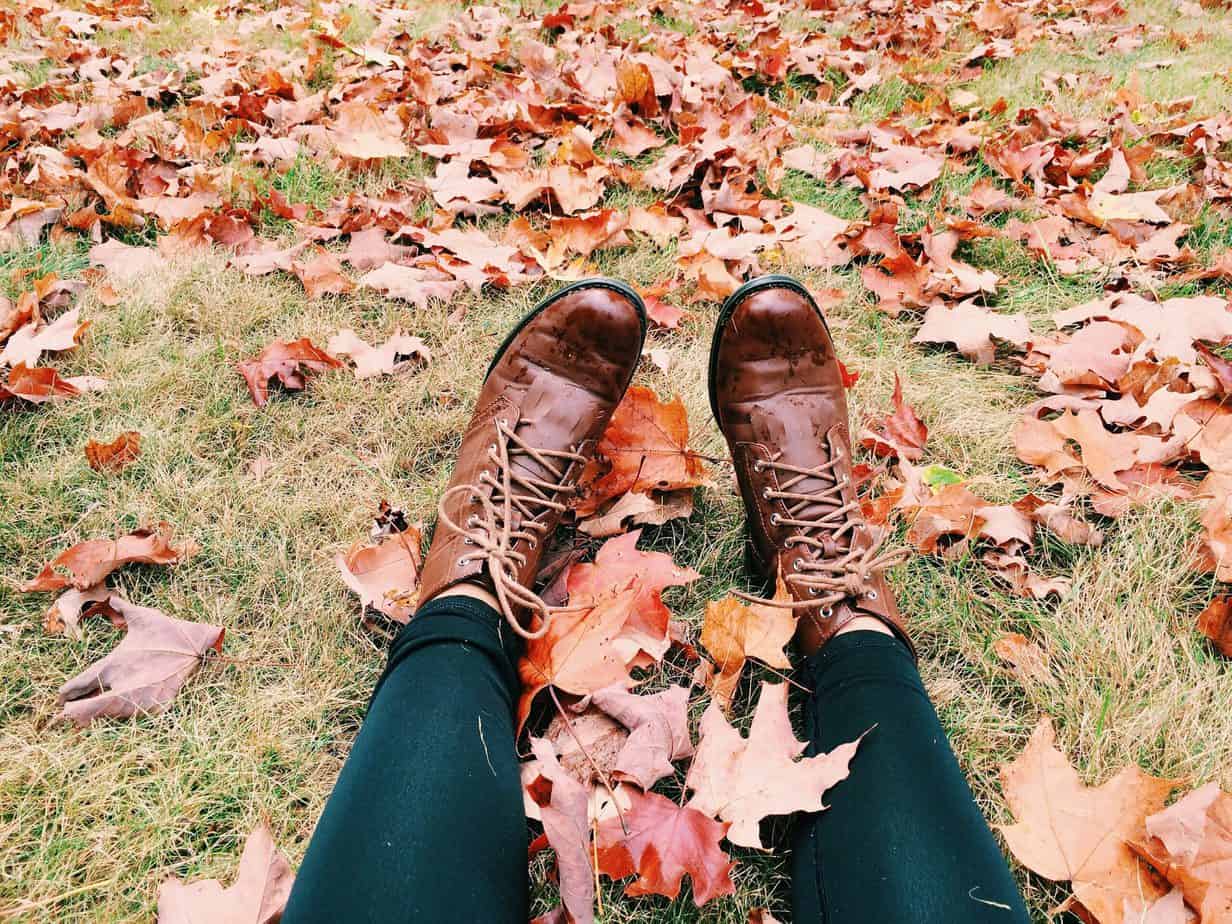 Pros:
Can be dressed up or down

Very comfortable in the wintertime

Can provide great arch support

The right pair can be timeless
Cons:
Not an all-weather shoe

Can be "trendy," meaning they'll may out of style soon
Loafers
The result of combining a moccasin with a fisherman's shoe, loafers are practical shoes, appropriate for all seasons and occasions. With their slip-on construction, they're easy to put on and take off and can be worn with or without socks. A modern classic, loafers are elegant and stylish yet comfortable, making them an ideal shoe for dressier occasions.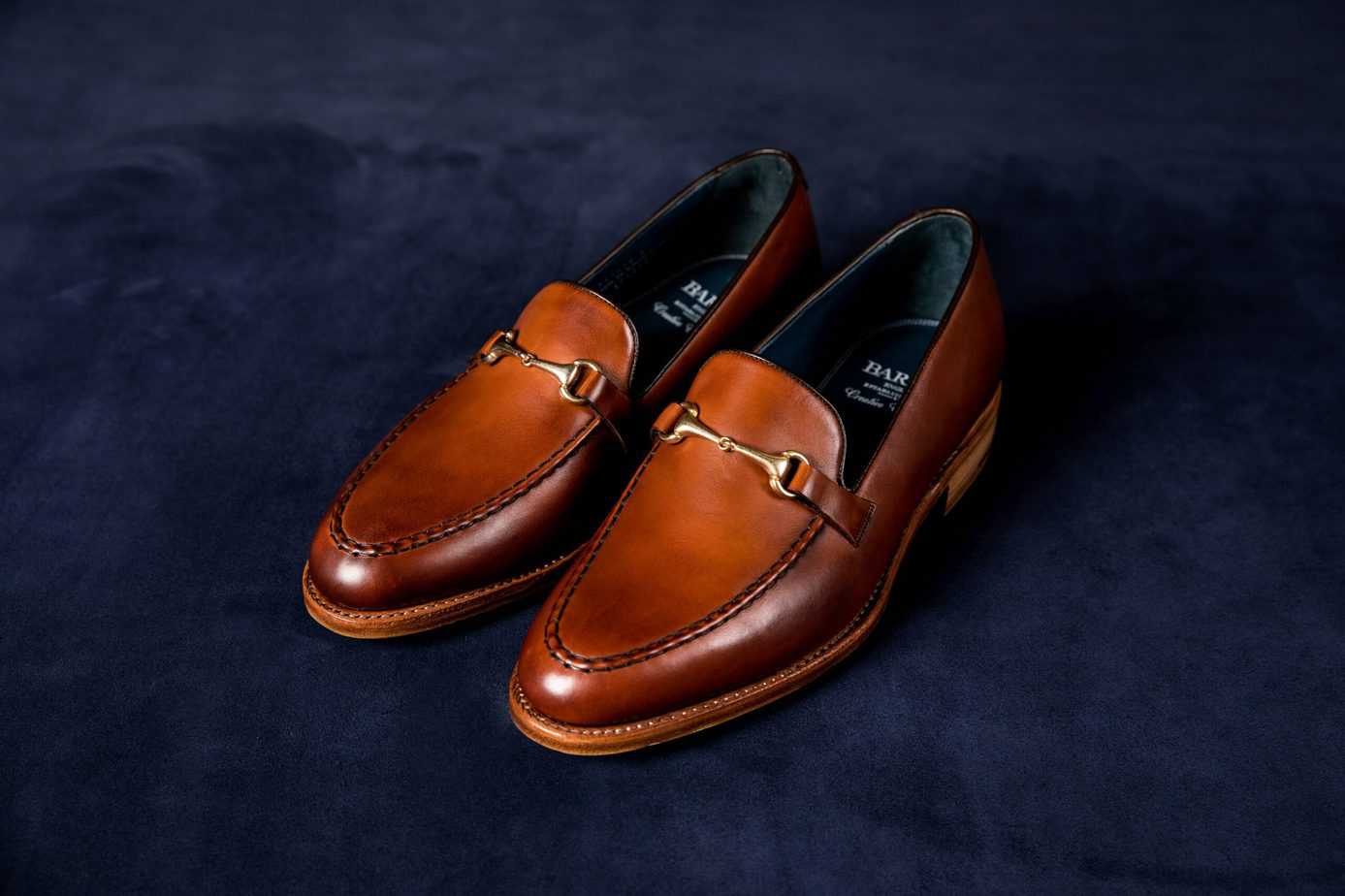 Pros:
Ample cushioning means they're great for all-day comfort

Slip-on design with no laces makes it hassle-free to wear without needing to bend down

The perfect midpoint between dressy and casual
Cons: 
Soft soles make it unsuitable for hard cobbled surfaces

The narrower toe on loafers can be restrictive for those with foot issues and wider feet 

Closed design can be hot and sweaty during the summer months
Types of Loafers
Penny Loafers

. Named after the strap across the forefoot with a diamond-shaped slot. The story goes that this slot was designed to hold a penny for emergency phone calls.

Moc Loafers.

With contrast stitching as seen in traditional Native American moccasins.

Tassel Loafers.

Features a scalloped lace strap with leather tassels on top, this style was invented when The Alden Shoe Company was commissioned to create an Oxford-style shoe with added tassels.
Horsebit Loafers.

From the Italian fashion house Gucci, this loafer has the brand's signature brass horse snaffle bit (more popularly called a "horsebit") across the front. Its dressy black color set it apart from the loafers of the day, which were mostly brown or tan as they were meant to be worn for leisure. It was the first loafer formal enough to wear with suits.

Apron Loafers.

So-called due to the gently-curved piece of leather, resembling the shape of an apron, that wraps around the top of the forefoot.

Heeled Loafers.

As loafers started off as a man's shoe, they traditionally have flat heels. However, as more and more women started to wear loafers, a high-heeled version was invented and was extremely popular in the 90s. 
Mules
A cousin of the loafer, mules are backless shoes that can easily be slipped on or off while still providing more coverage than a sandal. Mules include closed-toe designs as well as strappy ones with open toes.
Pros:
"Business in front, party at the back" — mules combine the elegance of a loafer with the ease of wear of a sandal.

Open design at the back keeps feet from getting sweaty, great for summer
Cons:
Lack of a back means that they have no ankle support and can be floppy

Slip off easily, so heeled versions can cause injuries if the wearer trips
Ballet Flats
A flat, minimalist shoe with a snubbed round toe, ballet flats mimic the look of a ballerina's slipper with a very thin heel that gives the appearance of no heel at all. Ballet flats usually feature a ribbon-like binding around the edges. Other common design features include a contrasting toe cap and a bow across the forefoot.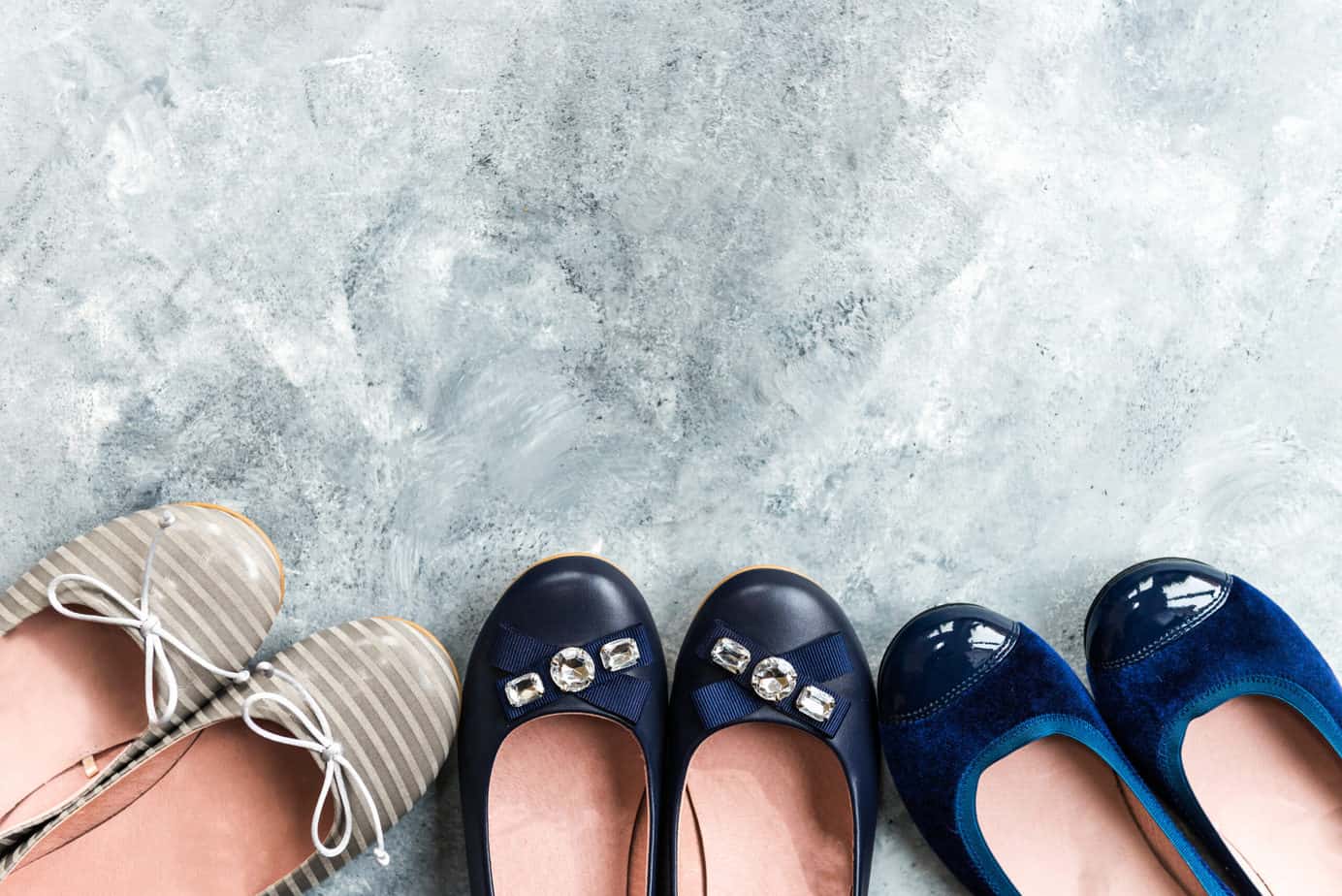 Pros:
Roomy, round-shaped toe box means that there's ample space for even the widest feet

Streamlined look is elegant and versatile
Cons:
The closed design makes feet sweaty, but the low vamp necessitates the need for special "no-show" socks

Lack of support and cushioning
Pumps
Also called court shoes, pumps are like a heeled version of the ballet flat. Often offered with a kitten heel, pumps are often worn for work, as they are the traditional accompaniment to suits and uniforms.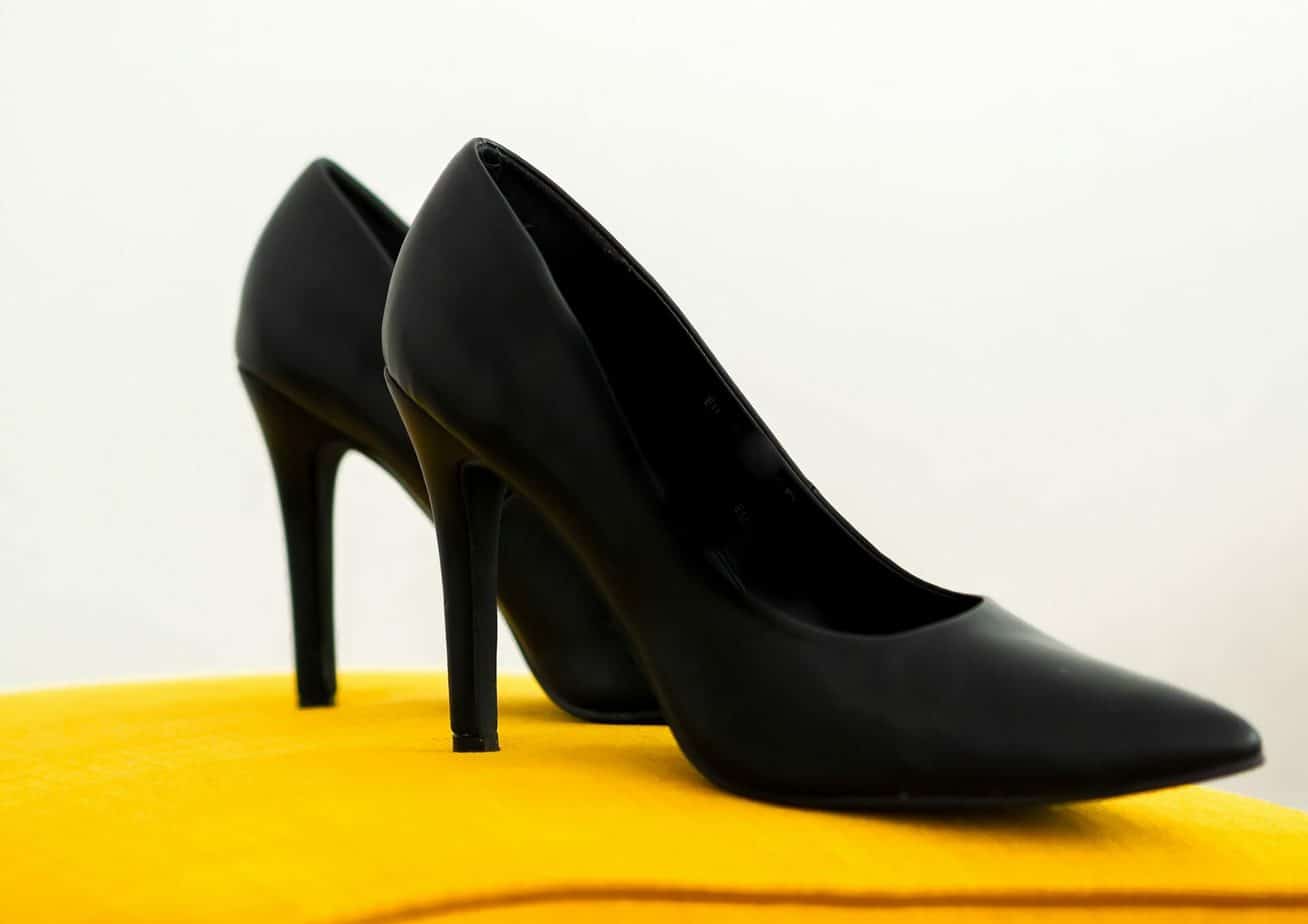 Pros:
Can be dressed up or down

Elongates the leg and makes calves look amazing

Comes in a variety of colors and styles
Cons:
Not very comfortable

Can't be worn year-round

Trends come and go, making it hard to pick out a pair
Top Shoe Recommendations
Made of the softest, lightest material that rubber clog maker Crocs has ever developed, these flip flops are durable enough to withstand sand and saltwater, while still looking great with your bikini. 
With its patented LiteRide foam, these babies will let you move around in cushioned comfort as you enjoy your day out at the beach as the grippy insoles keep your feet from sliding around even when wet. Available in several fun colorways, this is sure to be a summer staple!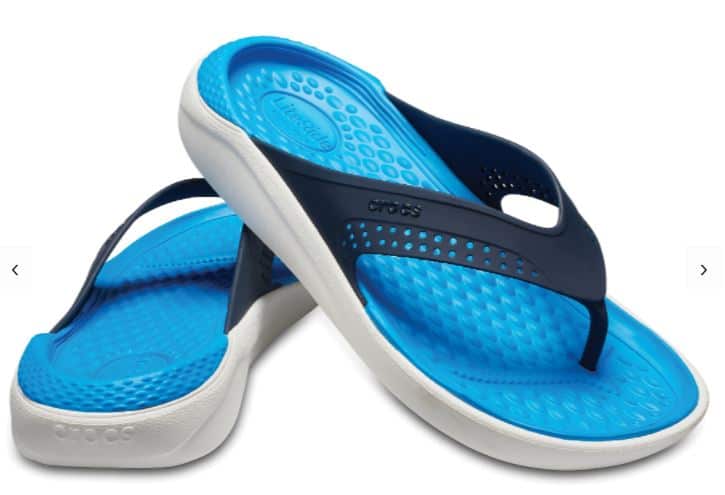 Comfy Sandals that Will Last You A Decade: Birkenstocks Arizona
This iconic sandal is a perfect marriage between cork and leather. Made in Germany since 1774, the proudly orthopedic-inspired Birkenstock was first invented as a "fitness sandal" to promote the natural gait. With its iconic two-strap design, the Arizona model is their best-selling variant, described as the epitome of a Birkenstock.
The anatomically molded shape of the cork Birkenstock footbed enables body weight to be distributed evenly over the whole foot. They're famous for molding perfectly to the shape of your feet after a few wears, providing the wearer with a customized fit and optimal support.
Long associated with hippie festivals and a more crunchy, granola crowd who prioritized comfort overlooks, these practical chunky sandals have experienced a huge upsurge in mainstream popularity with the rise of normcore in the mid-2010s. 
Spotted in the runways of fashion giants Celine, Marni, Giambattista Valli, and Isabel Marant, Birkenstocks are now a chic accompaniment to any outfit. Whether you wear them bare or with socks in true ugly-cute fashion, one thing's for sure: you won't have to sacrifice comfort for style.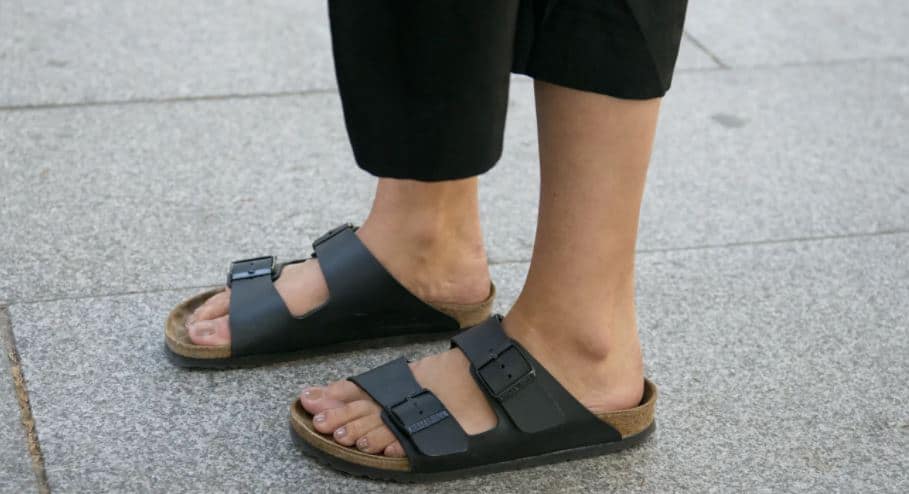 These sneakers are a true classic whether you choose the classic High Top Chucks or the more contemporary low-top basketball shoe version. Starting out as an athletic shoe, chucks, as they're colloquially called, soon made the jump to rock, grunge, and streetwear, with musical great Kurt Cobain famously sporting them in the 90s. The canvas upper with the iconic All-Star logo is sure to give your outfit a streetwear edge.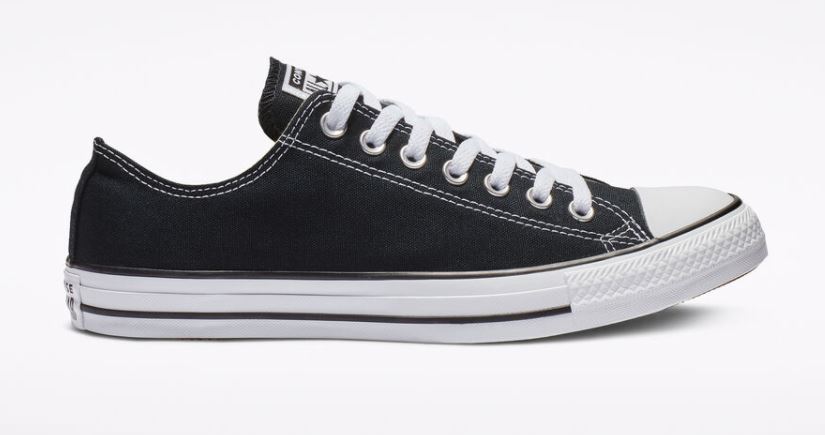 The quintessentially English bootmaker Dr. Martens' most famous shoe, 1460 is an 8-eye boot with a thick, lug sole and signature yellow stitching. This version in soft, supple Nappa leather serves up unparalleled comfort due to the company's patented AirWair sole, mixed with edgy style.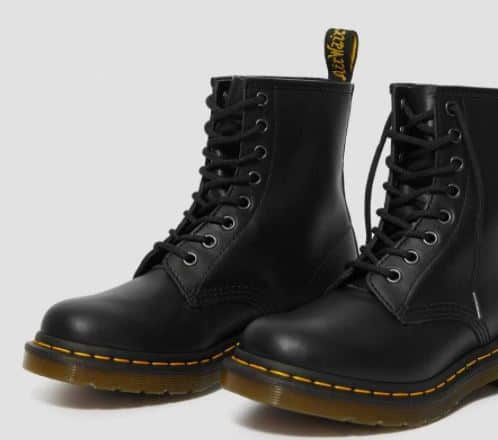 Since these delicate ankle-strap sandals burst into the scene in 2019, its elongated square sole has spawned thousands of dupes and ushered in the square toe as the It toe shape for footwear. With their soft, 100% lambskin straps, 3.5-inch heel, and beautiful minimalistic design, these sandals have been a constant on social media feeds and will undoubtedly become a classic for the brand in the years to come.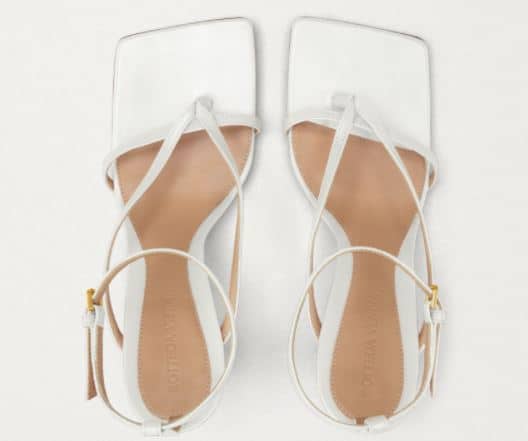 Frequently Asked Questions
Question: How can I make my shoes more comfortable?
Answer: Orthotics are a secret weapon that can transform any shoe into one that's comfortable for you. Orthotics provide additional support by distributing forces on the foot more evenly. Custom-fit ones best, and they are effective at reducing pain for people with foot complaints such as arch problems, plantar fasciitis, and bunions. 
Question: What are some tips for picking out footwear?
Answer: When choosing to buy a new shoe, you must take into consideration the shape and size of your foot. Try on shoes at the end of the day instead of early in the morning. As the day goes on, our feet swell as we walk, so a pair of heels that fit just right during brunch might turn painful and restrictive later in the day.

Finally, make sure you give any prospective shoe purchase a test before you go through with buying them. A shoe can be in your size but reveal all sorts of problems with fit once you start walking in them. To ensure that they'll be comfortable once worn, try moving your foot around in the shoe to see if there are any bits such as seams or tags that might poke or rub against your heel. 
Question: What are the worst shoes for your feet?
Answer: Without a doubt, sky-high stilettos are arguably the worst shoes for your feet. This is doubly true if they have a narrow, pointed toe box, as it can lead to painful bunions on your toes. That said, we totally understand that you may want to wear this type of shoe to look cute, so plan ahead and don't be afraid to sneak some comfortable flats into your purse to change into when your feet (inevitably!) start to ache.
Question: What are the most popular women's shoes?
Answer: There are quite a few types of women's shoes that seem to never go out of style. These include:
Cowboy boots
Kitten heels
Chunky white sneakers
Combat boots
Sensible heels
Our Final Thoughts
There are so many types of and variations in footwear today that it's possible to find the perfect pair for your feet. No matter what style of shoe you decide on, what's important is that you feel great in them.
With that in mind, our absolute favorite from this list has to be the Chuck Taylor All-Stars. Easily dressed up (these look adorable with a casual skirt or sundress!) or down, and surprisingly affordable for such an on-trend shoe, we love the versatility and style of the All-Stars. Even better, they can be worn almost all season, making them the perfect choice for us.
Ultimately, though, choosing the best pair of shoes is a personal decision. Before investing in the latest style, be sure to do your research. Your feet — and your wallet! — will thank you.