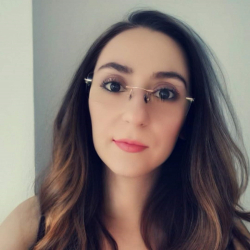 Latest posts by Alexandra Gavrilescu
(see all)
Let's face it! We all love wearing high heels once in a while because they make us feel sexy, but most times, we just want to feel comfortable in a nice pair of flats. Based on the style of the flat shoes you choose to wear, you can still look attractive and avoid foot pain and blisters at the same time.
This way, your feet will take a well-deserved break, but you will still look cute and stylish. Flats are also great for those of you who love to travel a lot because their compact size makes them the ideal footwear for your suitcase.
Let's see how you can find the best flats on the market and see some popular brands and flat shoe styles.
How to Find the Best Flats
There are three main characteristics to look for when you're buying flats: comfort, appealing design, and craftsmanship. These should be the 3 pillars that will help you select the best flats that suit your personal style.
Once you start browsing both the online and offline market, you will see there are countless alternatives in numerous shops. Here are the things you must consider before hitting that "checkout" button.
Material
It's always best to buy footwear that's made from high-quality and durable materials such as suede or leather. These fabrics will easily mold to your foot shape. Therefore, you will benefit from long-term comfort. It's true, however, that premium materials have higher price tags. On the other hand, they will last for many years to come.
For optimum comfort levels, you must always pick flats made from natural fabrics. If you cannot afford those, at least you should buy shoes that offer a lot of flexibility.
Padding
I have recently discovered flats cushioned with memory foam interiors and I am in love with them. It feels like I am walking on clouds. Other aspects you should look for when purchasing the best flats you can afford are supportive insoles and cushioned footbeds.
Avoid those flats that don't provide any kind of support. Whenever you're in doubt, you should browse through customer reviews and see what other clients have to say about a certain pair of flat shoes.
Toe Shape
I used to believe that only high heels could make my legs look long and slim. I am a petite lady but I wear heels only on special occasions because I can't feel comfortable in them. Later on, I've discovered that flats can make your legs look good too if you pick the right kind of toe shape.
For instance, whenever you want to achieve a more formal look or office workwear, you should opt for flats that have pointed toes. These types of shoes provide your silhouette with a tapered edge.
Flats with almond-shaped toes or those with round-shaped toes are more comfortable. Regardless of your chosen toe style, make sure you purchase the right size.
Style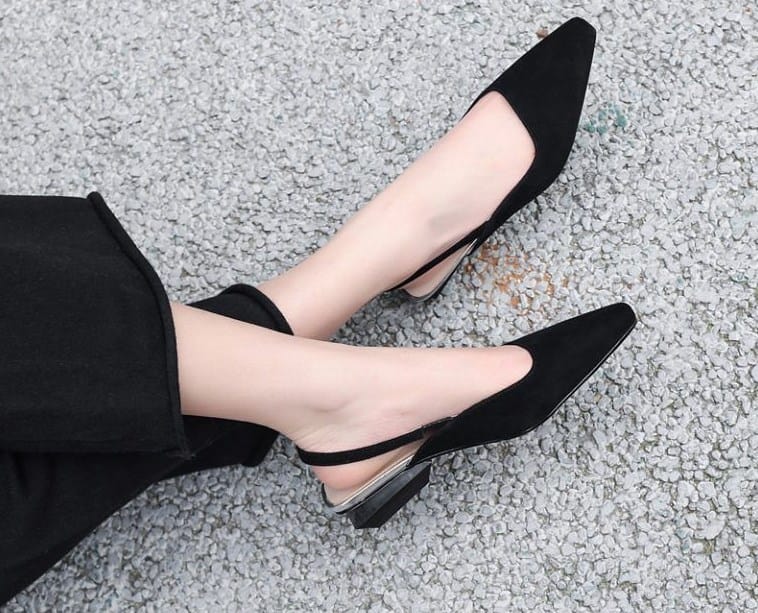 There are endless styles of flat shoes out there such as loafers, slip-on shoes, ballet flats, sandals, ankle ties, Oxfords, and mules. If you're searching for a very versatile style, you could opt for either mules or ballet flats. These two options will allow you to wear them with a wide range of outfits and you can easily shift from a daytime look to a nighttime outfit.
Ballet flat shoes are great for a feminine look, whereas loafers are the ideal choice for a day at the office. If you're feeling playful during a summer day, you can easily wear ankle-tie flats, while Oxford shoes are perfect when you want to create a smart-casual outfit.
Colors
You can buy a pair of flats in your favorite color but you could also opt for a neutral color that will go well with most of your outfits. Bright colors look awesome. I can relate to that. But, it won't be easy to pair them with every clothing item you have in your wardrobe.
Sole
Think about the fabric that the sole is made of. Look for a pair of flats that have a sole with molded sections that provide you with boosted support, especially for your foot's arch. Is the sole durable and made of high-quality fabrics? Is the sole thick enough? A thicker sole is the best choice for walking because it offers an increased level of support.
Weight
I always prefer to wear durable yet lightweight shoes to feel as comfortable as possible when I am traveling or walking a lot. So, make sure to verify the flat's weight before you buy them.
The Benefits of Wearing Comfy Flats
Here are some of the most important benefits of wearing a good pair of flat shoes:
You can easily put them on your feet and take them off whenever you feel the need to, especially at airport security. Wearing flats will be less stressful and less time-consuming;
A compact and lightweight pair of flats is always a great idea because they fit easily in your travel luggage. Some flats are so flexible that you can even fold them up;
Many flat shoes are stylish, fashionable, chic, and trendy so they can be easily paired with numerous outfit choices. You can wear flats with shorts, jeans, dresses, skirts, leggings, etc.;
Flat shoes will offer you all the support your feet need. Travel flats should be lightweight, supportive, and breathable because you will walk a lot and you want your feet to stay comfy and cool during that time.
The Best and Most Comfy Flats on the Market – My Personal Best Choices
It's time to discover some of the comfiest and popular brands and styles of flat shoes you can wear whenever you want to, whether is at the office, on a holiday trip or when you go grocery shopping.
The Best Flat Shoes for the Office
You will look classy but feel comfy at the office with any of the following flats.
Sam Edelman Felicia Flats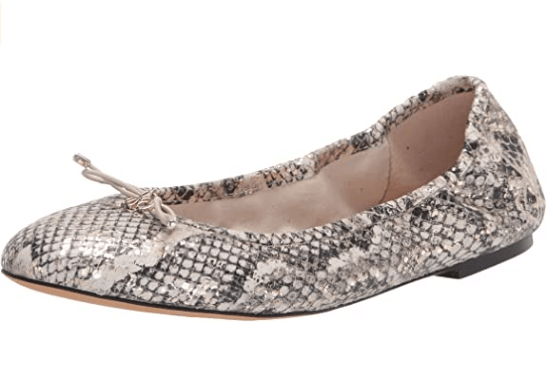 The Felicia flat shoes will make you feel like you're going to work in your favorite slippers. These flats are made of pliable and soft leather and they are highly comfortable yet very stylish to wear to your workplace. The sole of these shoes features slight padding so they are also good for women who like to walk to work.
The Felicia flats are sold in many different colors as well as various patterns and you can wear them directly out of their box. They don't need a period of break-in like other shoes. If you're really into shoes, you might even feel the need to purchase more than just one pair.
Dexflex Caroline Flats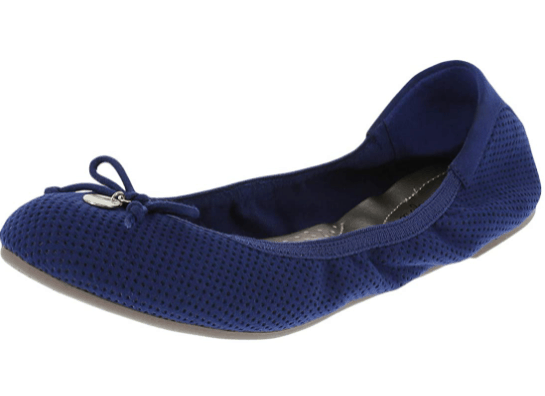 The Caroline flat shoes are cute, comfy, and affordable. They feature a cute string bow right under the toe area and there's even a disc charm that adds a boost of style. Their design is flexible which means these flats will follow your heel's natural curvature. The topline hugs your feet but doesn't cause any discomfort.
Caroline flats have a soft footbed that's made of latex and memory foam. These fabrics will absorb shock while also cradling your feet the entire day. There're also latter cushions that protect both your feet and the shoes.
You can choose from numerous interesting colors such as red, black, watermelon, taupe violet, and tan. They're available in two material choices: faux leather and faux suede.
Naturalizer Brittany Flats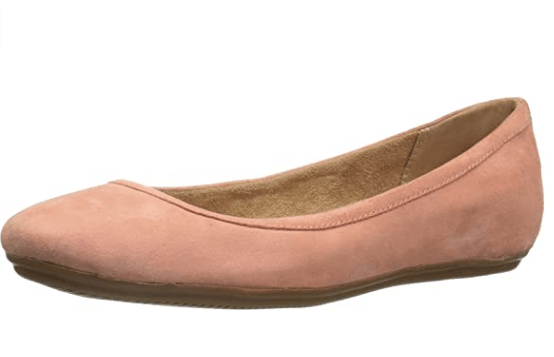 Those of you, who want a simple and comfortable flat shoe, should definitely consider buying the Naturalizer Brittany flats. They're basic but very stylish and also highly versatile. The footwear comes with dual-density cushioning and they have a contoured footbed. Compared to your typical ballet flat, this shoe provides you with significantly more support and comfort.
What I love about these flats is the fact that they're lightweight and breathable. The sole is non-slip which makes these shoes the ideal choice if you're about to spend the entire day on your feet or walking a lot.
You will find them in various colors and several different widths. My favorite colors when it comes to these flats are coffee beans and peony pink. But, you can never go wrong with black which is an iconic and classic color.
Calvin Klein Ghita Flats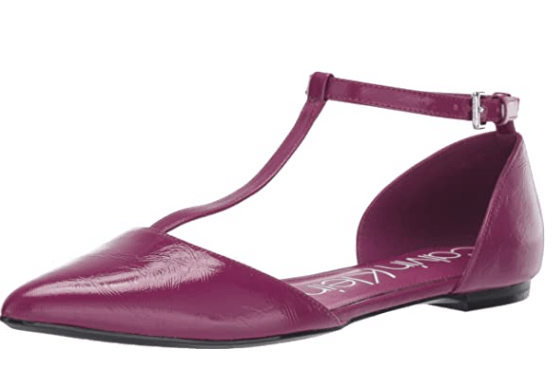 The Ghita flats made by Calvin Klein serve two purposes: they can be worn during the day at your office and be a part of an evening outfit. These shoes feature a sleek design due to their T-straps and pointy toes. I can even say these are some of the most sophisticated flats I have ever seen.
You may think that because of their design, these flats won't be very comfortable but, believe me, they are. Furthermore, their little elegant straps will ensure that the shoes remain securely on your feet. You can easily combine these shoes with a nice summer dress.
These stylish shoes come in a variety of colors, including silver, black, and cognac.
Minnie Travel Ballet Flats from Tory Burch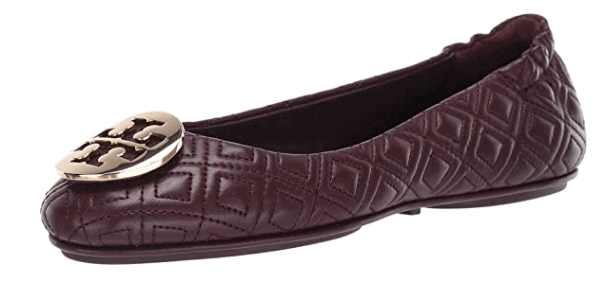 These ballet flats marketed by Tory Burch are proof that women shouldn't have to compromise on style to achieve comfort. Whether you like to walk to work or travel on a regular basis for business purposes, you will feel incredibly cozy in these flats.
The Minnie ballet flats are great for countless occasions and they help you feel relaxed and comfortable wherever you go. You can easily take them off and put them back on, especially when you're going through the security area at the airport.
These Tory Burch flat shoes are also versatile and you can wear them for many hours at a time without dealing with foot aches. They might be a bit more expensive than other flats but they're so chic that many believe they're totally worth the price.
The Best Flat Shoes for Traveling
Here are some of the most comfortable flat shoes for traveling.
Skechers Microburst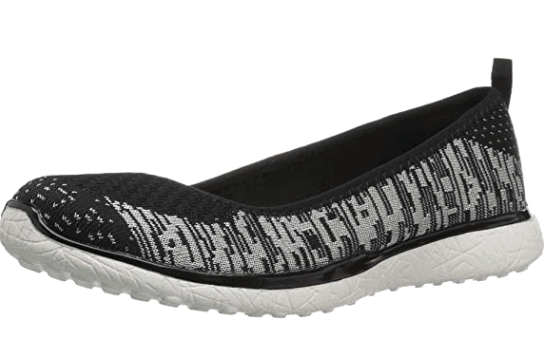 I love this brand due to all their comfy shoes that are padded with memory foam. The company is really making its mark on the shoe market. These Microburst flat shoes are sold in several different colors. I would definitely consider these flats for my next trip since, together with my husband, we walk all day long, every day, when we're on holiday.
Besides the fact that these flats are really comfy, I believe they also look amazing when paired with jeans or leggings. Skechers shoes always make me feel like I am floating instead of walking. They're amazing!
Josef Seibel Pippa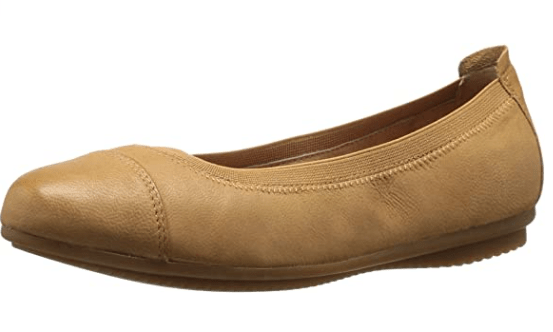 The Pippa ballet flats are your classic black shoes that will come in handy when you're sightseeing through an area where the streets are covered in cobblestone. These flats are sturdy and you won't have to worry about slipping when wearing them.
I hate when shoes bend a lot in the front and, after a while, start to form a line, but these ballet flats don't do that. They have a firm rubber grip. So, when talking about long-lasting comfort, durable materials, and high-quality flats, Josef Seibel's Pippa shoes are a great choice.
Olukai Upena Sandal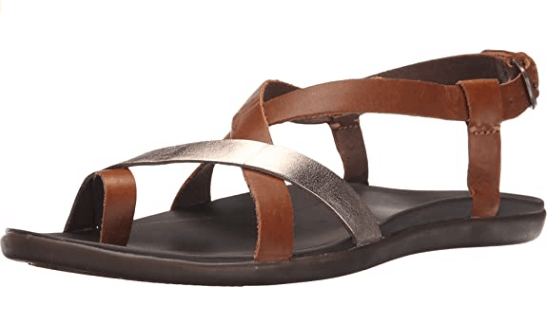 The Olukai Upena sandals are great due to their arch support. The sole is made of rubber and the upper part is made of leather. You will feel so cozy and comfy wearing these sandals because their footbed is molded in such a way that it suits the anatomy of your feet.
They come with adjustable ankle straps. These sandals offer you a lot of stability due to their toe loops. If you normally wear half sizes, you should size up with these flats.
Rothy's the Flats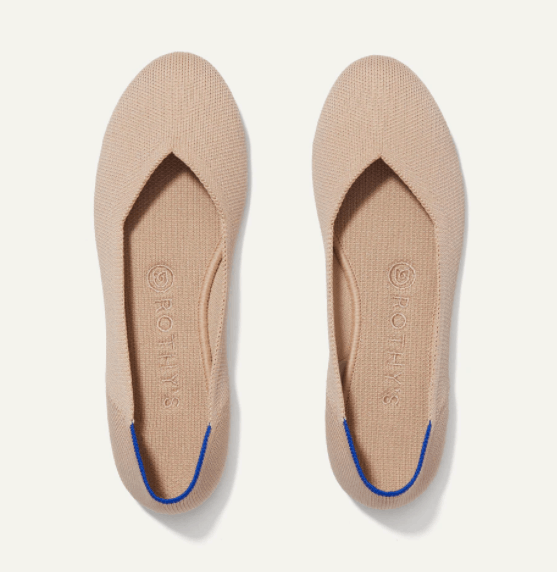 The Rothy's flats are the best-knit sneakers you can get. They are lightweight and very easy to put on and take off. Users even call them slip-on flats. The upper part is created from the upcycled fabric that the manufacturer uses to design the popular flats sold by the company.
The sole is sturdy and provides you with a lot of support. With these flat shoes, you will be ready to walk all day long. Another perk that I love about these flats is the fact that they're machine-washable, including the removable insole.
Aerosoles Conchlusion
The Aerosoles Conchlusion flats are very comfy and they also look cute and chic. The Gladiator travel sandals come in a gorgeous tan snake pattern. So, it will be easy for you to incorporate them into your outfits during your vacation. They look stylish and you can wear them for many hours without worrying about sore feet.
The brand has numerous options to choose from, including dressy flat shoes, sandals, and espadrilles. With these shoes, you will be able to go sightseeing in style. The design of these strappy sandals is feminine and the light arch support, as well as the sandals' cushioned soft footbed, are amazing features.
The Comfiest Mules
Mules have an open back and some health specialists don't believe they are the greatest if you plan to walk a lot in them. However, they are cool, comfy, and stylish and you could pack one pair of mules in your travel bag. Some are more comfortable and supportive than other models.
Vionic Adeline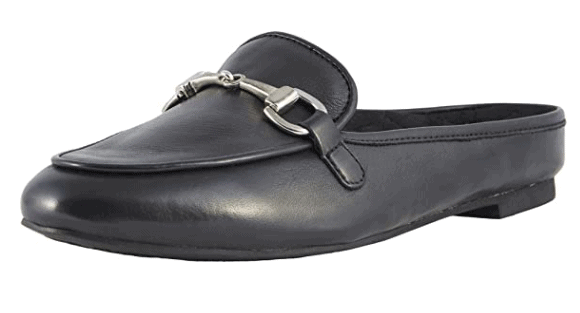 The style of the mules marketed by Vionic Adeline is recommended by some specialists due to the fact that this footwear is very focused on the comfort of its users. The heel cup is seated deeper compared to many other mules. This means that it will be easier for you to keep your feet inside these shoes.
The footbed is well-defined. Moreover, this brand uses special biomechanic technology to make sure your feet are aligned at all times.
Dr. Scholl's Idol Mule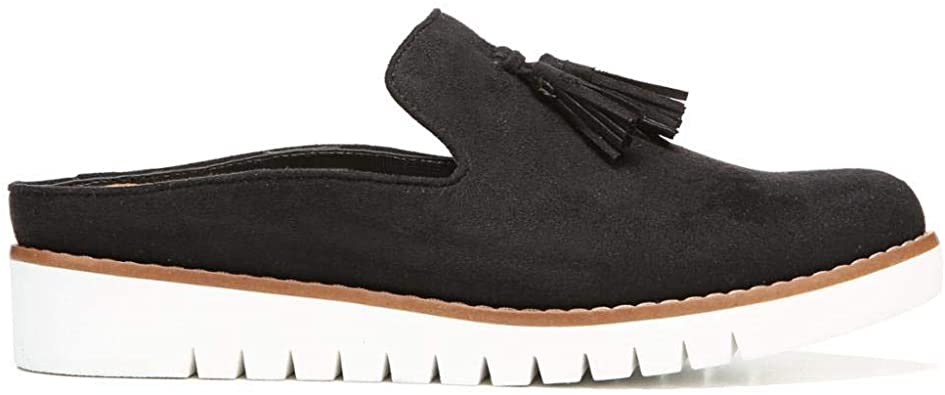 All the shoes made by this brand are very comfy, and the Idol mules are no exception. They are the perfect mix of a sneaker's traction and sporty style and a loafer's silhouette which makes these shoes appropriate for work. Their cushioned footbed is very soft and comfortable as well.
Donna Karan Mott Mule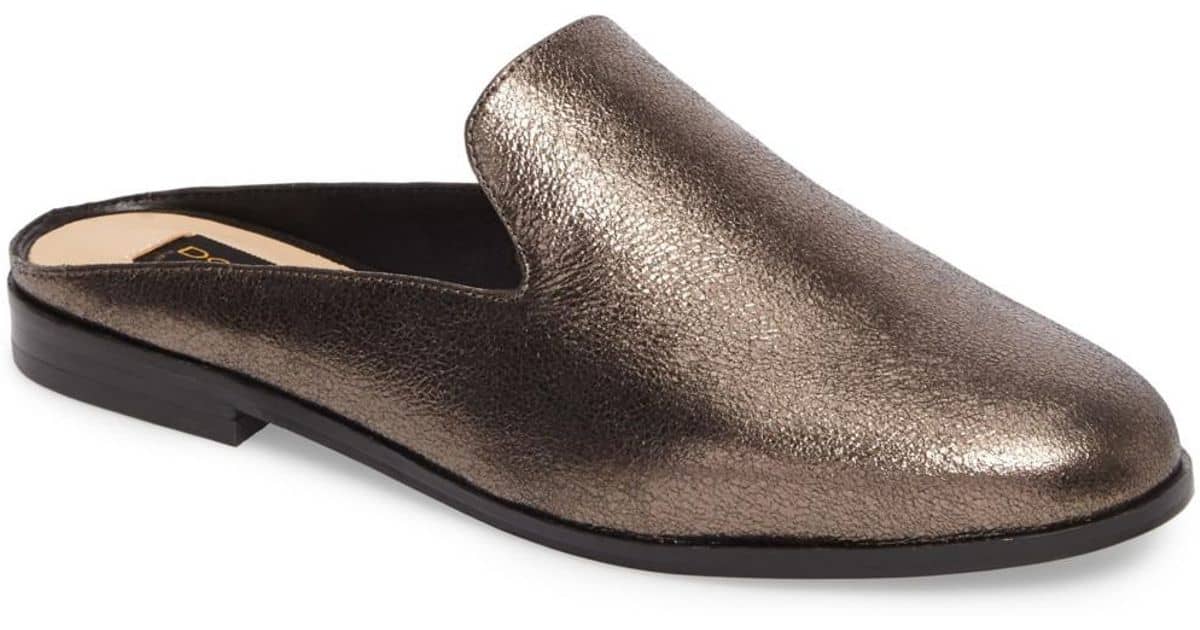 These Donna Karan mules have a deep-seated footbed and their toe box is not very pointy for booster comfort. You can buy them in either a metallic color or the chic embossed black snake style. The footbed is padded with soft memory foam that supports your feet but helps you avoid soreness.
Sam Edelman Mules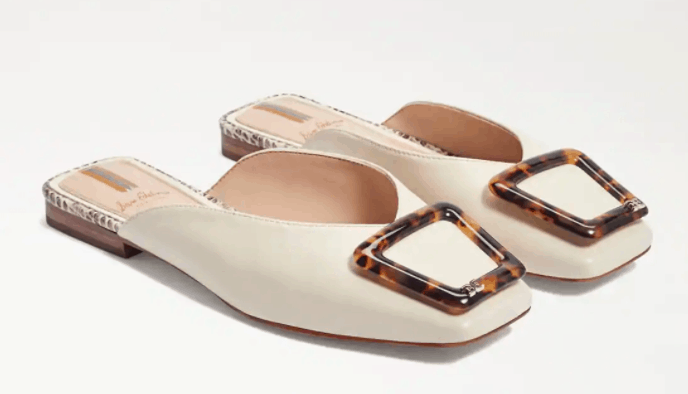 Sam Edelman mule shoes are some of the most versatile flats on the market. They can be easily turned from a simple design into a highly versatile loafer. The upper part is made of flexible and comfy leather that is sophisticated and stylish. Their synthetic lining together with the synthetic sole offer the kind of comfort you might expect from this type of shoe.
The footbed is cushioned. All in all, these mule shoes aren't rigidly constructed like other similar footwear. They are marketed in a tri-color block scheme which makes these shoes suitable for a diverse outfit palette.
Nisolo Mules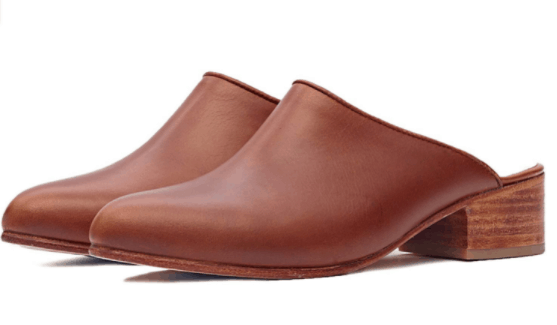 Nisolo mule shoes are stylish, elegant yet simple, and comfy. They have a low heel and are made of leather. The manufacturing process follows all the required ethical rules and takes place in Peru. The toe part of the shoe has an almond shape which creates the illusion of elongated legs.
The Best Flats for Wide Feet
Here are my favorite flats for gals with wider feet.
Birkenstock Salina Slide Sandal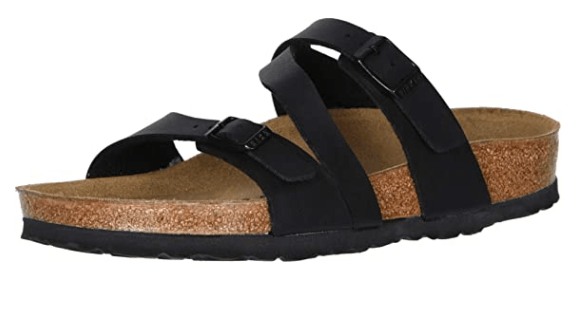 The heel cup of the Birkenstock Salina sandals is deep while their toe bar is raised. These sandals feature supportive arches and the footbed is well-contoured. All these together create a very comfy flat shoe because they mimic your foot's shape. The sandals have asymmetrical straps that give these shoes a chic look.
Open-Toe Espadrilles from Dream Pairs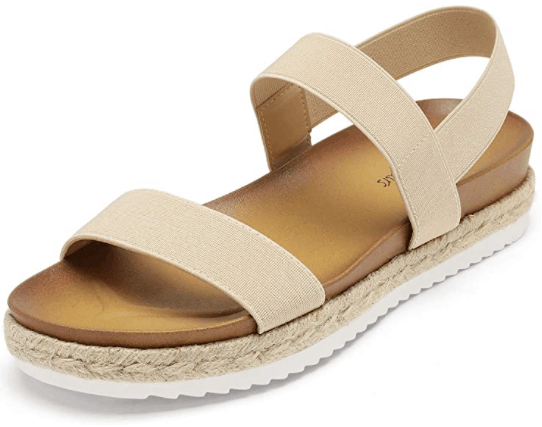 I love these open-toe sandals from Dream Pairs due to their level of comfort and the fact that you can purchase them in so many different colors, from nude and black to red and yellow. They are also very affordable flats. These budget-friendly espadrilles feature a comfy cushioned footbed that provides plenty of support to your feet's arch.
Their straps and toe bar will help keep your feet aligned. These sandals are flexible, adjustable, and they suit many different styles and outfits.
The Most Comfortable Moccasins
Here are some of the best moccasins for women you should consider.
UGG Dakota Moccasin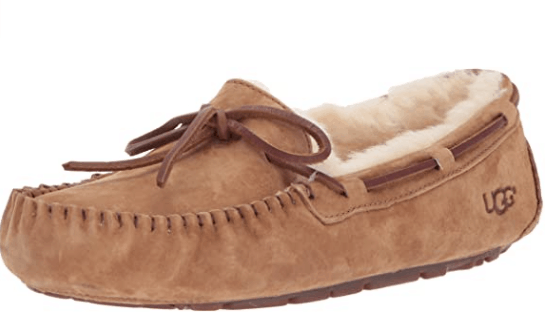 The UGG Dakota moccasins are made of high-quality suede leather. Their rubber sole is durable and they feature a wool insole of 17 mm. You will love the shoes' comfy design; it's a classic moc toe. The upper part is resistant to water. I personally love that they added a little fixed bow on top for that extra chic appearance.
Minnetonka Classic Fringe Boot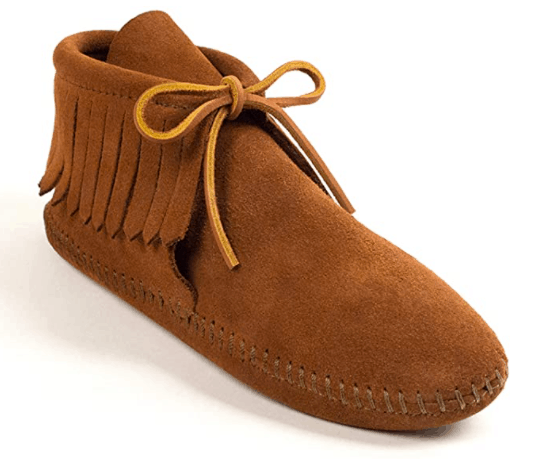 These fringe boots are made of cow suede leather and they have a synthetic sole that reinforces the support of the shoe. The footbed is padded. You will love these flats due to how long-lasting they are. They're a great choice for an outdoor outfit with an elegant twist. The strap placed on the top part will offer your ankle a snug fit.
RockDove Chenille Moccasins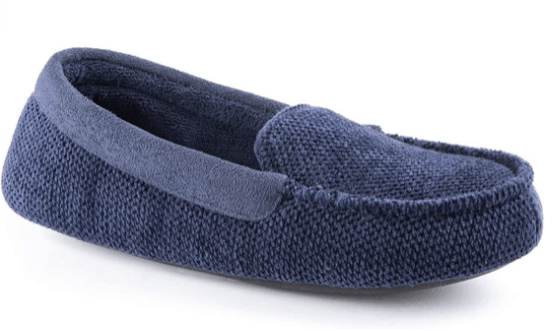 The RockDove Chenille flat shoes are padded with memory foam on the inside. The rubber sole is slip-resistant and the footbed is anti-shock. These shoes have an inside lining that's very breathable. Due to the shoe's rugged sole design, these moccasins are quite durable. You can easily wash them in your washing machine without worrying that they will be damaged.
How to Find the Best Flats – Frequently Asked Questions
Question: What Is the Comfiest Flat Shoe That's Also Appropriate for Work?
Answer: The most comfortable flat shoes that you can wear at the office are ballerina flats due to their stylish appearance. They're chic and their complete a classic silhouette. Oxford flats are also great alternatives to wear as work shoes.
Question: What's the Best Flat Shoe for Women Who're Standing on Their Feet a Long Time?
Answer: If your work requires you to stay up on your feet most of the day, you should always opt for the most comfortable flats you can find. Choose a round-shaped toe style. Moreover, pick flats that are made from natural fabrics and that come with great supportive inner cushioning.
Question: What Are the Best Flat Shoes for When You're Walking a Lot?
Answer: If you plan to walk a lot and you need some chic yet comfy flats, you should choose a pair that's very flexible. Try them on, wear them inside the house for a while and see if they lead to blisters or not. Both ballerina shoes and loafer flats could be great choices.
Question: What's the Most Popular Brand of Flat Shoes?
Answer: There are several popular brands that market flat shoes: Christian Louboutin, Tory Burch, Hush Puppies, Oliver Cabell, and more.
Question: What Are the Most Stylish Flats for Women?
Answer: Flats such as the Margaux Ballet mules and ballet flats from Pretty Little Thing are some of the most stylish footwear for women. Seecaas Ella flats and Birdies Starling flats are also very chic.
How to Find the Best Flats – Bottom Line
Flat shoes are always a good idea when you're traveling, planning to walk a lot, or simply wanting to feel comfortable without wearing high heels. Based on your preferences, you could opt for moccasins, sandals, mules, sneakers, loafers, and other styles of flat shoes.
My favorite types of flat shoes are ballet flats and sandals. They're so comfy and versatile.