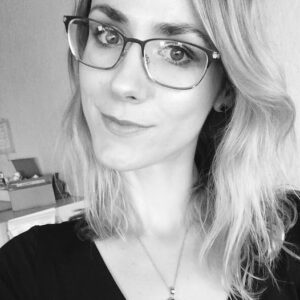 Latest posts by Karyl Trejo
(see all)
Plush, cuddly, and cozy sweaters are usually defined as an outer article of clothing designed to help keep you toasty warm when the temperature starts to drop. Both men and women alike reach for them when the weather grows cooler.
With a variety of materials and styles to choose from, they can be worn all year round, making them one of the more versatile pieces you can add to your wardrobe. Sweaters cover the torso and the arms with their long sleeves, and they can be worn by pulling them over the head or even buttoning the back or front. 
When humanity invented sweaters, they were hand-knitted and made of wool. This is something that has changed in recent years, though, mainly due to the arrival of sewing machines and the advent of synthetic fabrics. 
What hasn't changed, though, is the way we wear them. With skirts, slacks, and even shorts, there's literally no wrong way to wear one. With the only exception of maybe blue jeans, the sweater represents one of the best fashion inventions in the last few centuries. 
As happens with even the best pieces, however, sweaters weren't exactly the most fashionable article of clothing ever. The humble beginnings of the sweater go back to when it was merely worn to protect people from the cold weather. 
Even if that is kind of the point, they evolved bit by bit to be accepted by famous designers all over the globe. Many kinds of sweaters have appeared over the years, and among them, one of the things that have varied the most is their neckline. There are numerous types of necklines, with each adding its own touch to the sweater. 
Some of the most used necklines in sweaters are:
The turtleneck

The cowl neck

The v-neck

The mock neck
Today, I'll be focusing on the latter, as I believe mock neck sweaters have a lot of potential, yet they sadly are often unappreciated in favor of other types of sweaters. So if you've been curious about what the best mock neck sweaters are, then you definitely want to keep reading!
What Is a Mock Neck?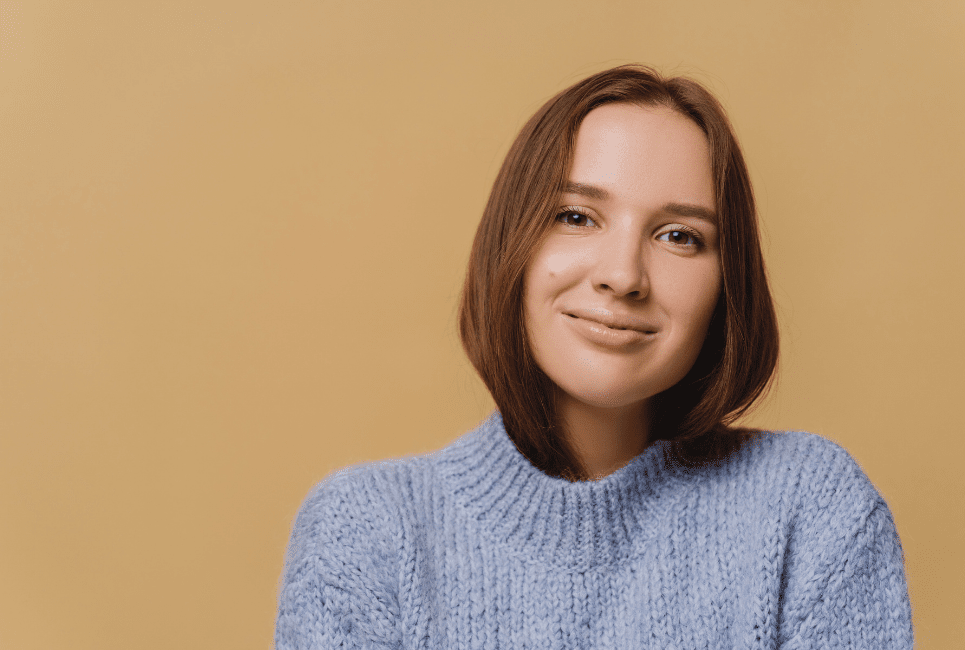 What's a mock neck, you ask? Well, it's a neckline or a collar that looks like a turtleneck but is a little bit looser and lower. Mock necks are also known as polo necks or faux turtlenecks. Like its counterpart, it consists of two folded layers of fabric stitched to the rest of the top, or in this case, the sweater.
One of the advantages the mock neck has over the turtleneck is that it's way less constricting at the neck. However, it might look more casual than the classic turtleneck. It's called a "mock neck" since it resembles the turtleneck a lot, but it's not actually one.
A Brief History of Sweaters
You already know what a sweater and a mock neck are, but where did sweaters originate from? Historians say the earliest examples of hand knitting go 2000 years back. Various clothes were hand knitted with wool, but sweaters didn't appear until centuries later.
The first sweater made with hand-knitting techniques was created in the 15th Century. The name can be explained by the place where they were created. This was in the islands of Guernsey and Jersey. Since that moment, the English term for this garment was Guernsey. It was years later than people decided to just call it jersey.
The jersey was made out of necessity, as fishermen needed something to protect themselves from the climate when they were working offshore. At first, only they wore it, but soon it became famous across most workmen across a variety of trades and industries. 
Here is a little fun fact. Those first sweaters' styles covered part of the neck! You could say the turtleneck and mock neck were the first necklines ever.
In the 19th Century, sweaters stopped being only for workmen. English gentlemen started wearing it, too, and the sweater became one of the most significant articles of clothing for the mariners. 
By the 1890s, athletes (like cyclists in the United States) started wearing it. And they're the ones who wound up dubbing it the "sweater" terminology that we're all familiar with today.
Then by the 1920s, some designers like Coco Chanel started to put the sweater in her collections, making this a tremendous step for this garment to be taken seriously in the fashion industry. As years passed, sweaters' design varied tremendously, and you'd see them in different fabrics, colors, and necklines – depending on whatever was trending at the time.
My Favorite Mock Neck Sweater Ideas
You have already learned a lot already about sweaters, and we are only beginning. You now know what a sweater is, what a mock neck is, and some of the reasons why people love them. Now, it is time to proceed to the moment we are all waiting for: the best mock neck sweater ideas!
I compiled ten different sweaters for you to see how a mock neck can be incorporated into your wardrobe. Hopefully, you'll be able to find one that suits your style and can weave it into your outfits! 
Before diving into it, though, I'd like to go through the factors I took into account when selecting all of my picks. That way, you can know exactly what qualified one of these mock neck sweaters to be added to my list.
What Was My Selection Criteria?
But before going into the beautiful mock neck sweaters I selected for you, I think it's only fair that you know the reasons behind my picks. After all, there are many of these sweaters out there, and I truly wanted to show the best of the best!
Colors
I wanted the sweaters I picked to be available in various colors and even designs, so you could choose the one that fits your personality best. Some of those sweaters are really lovely, so I don't blame you if you want to order them in different colors and try them all!
Sizes
Everyone who comes across this list must be able to try any of these sweaters if they want, so I only included pieces that were available in multiple sizes. My only exceptions were sweaters that had run out of a particular size, as their stores should have them again at some point.
User Reviews
You know what they say. If people say something is of bad quality, it probably is. I didn't want to take any chances, so I looked at the positive and negative user reviews of my picks and kept them in mind when deciding whether to add a particular piece or not.
Variety
Not everyone likes the same sweaters, so I tried to include one for everyone. Whether you need a sweater to complete your casual wear or one for formal occasions, I got you covered! When searching for sweaters, if one or more were too similar to each other, one had to go.
Joe's Jeans Riya Cutout Mock-Neck Top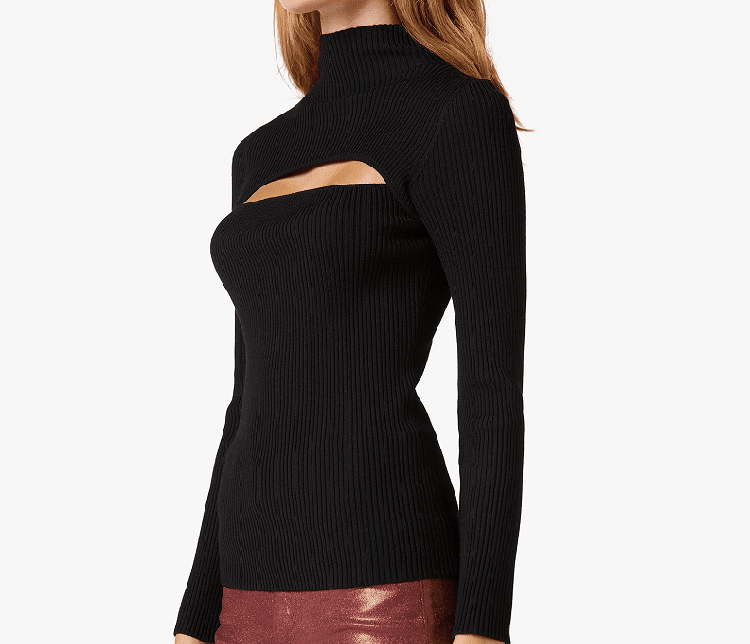 I wanted to start the list with a sweater that had a mock neck but was still fashionable at the same time. This beautiful sweater can be worn for a casual outfit, but the cut and the color can make it work in a more formal one. 
How cute is that cutout on the front of this sweater? A little bit sexy, a little bit flirty, you can easily dress this sweater up or down. That said, be careful not to spill on it, as wool isn't machine-friendly. If you want the sweater to last, it's recommended to hand-wash it.
Pros
It's available in three colors: Jet Black, Off White, and Port.

It's available in XS, S, M, L, and XL.

The fabric is a wool and nylon blend.
Cons
You can't wash it in the machine since it can damage the fabric.
Talbot's Button Detail Mockneck Pullover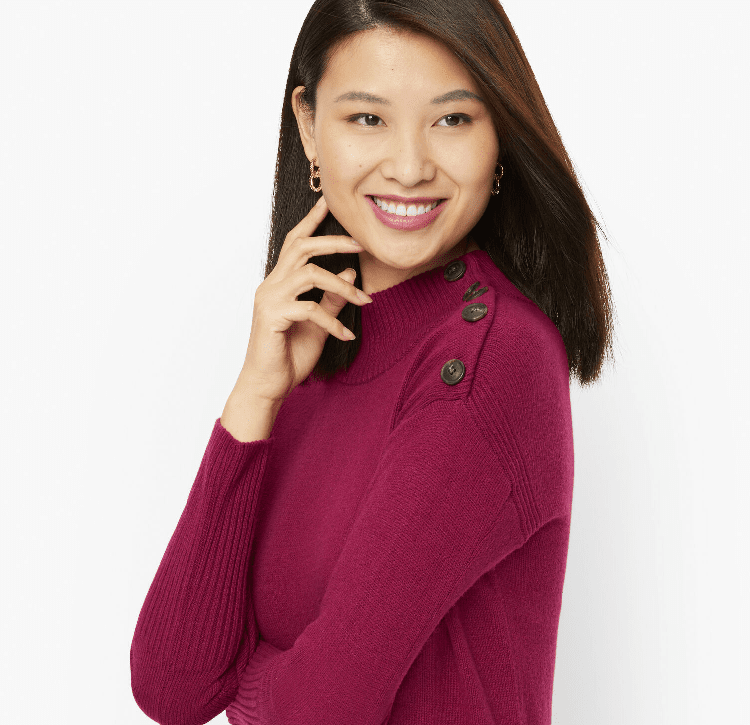 Who said mock neck sweaters couldn't be fancy? Some of the details that make this amazing piece look formal are its buttoned cuffs and button closures in the neck. You can wear this sweater with dress pants or jeans, but it'll all depend on the look you try to achieve.
I also love the fact that it comes in four different colors too. And since it's made of a super luxurious combination of wool and cotton, it's super breathable, too. That means you'll stay nice and warm, but you won't overheat. Even better? It's also totally machine washable.
Pros
It's available in the following colors: Black, Eggplant, Red Plum, and Spice.

The combination of cotton and wool is surprisingly easy to take care of, making laundering a breeze.

Depending on the color you choose, they offer different sizes like XS, S, M, L, and XL.

It fits true to size.

You can easily wash it in the machine (cold water only).
Cons
Some reviews pointed out that it felt a little scratchy.

The elastic in the waist takes away some of the elegance.
Amazon Essentials Women's Lightweight Long-Sleeve Mockneck Sweater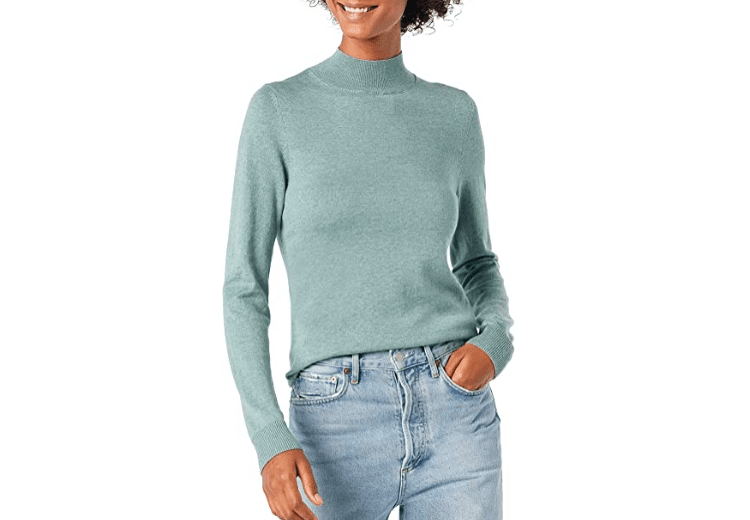 Sometimes you want to buy a sweater, but you don't have any particular outfit in mind. You don't want it to be incredibly fancy or even casual. You just want a basic sweater in a cute color that helps you be warm on cold days. 
Well, therein lies the wonder of this sweater. It's available in more than twenty colors, and the user reviews seem to love it. Here it is! The basic sweater you didn't know you needed. And at its current price point, you don't have to feel guilty about getting more than one color.
Pros
The fabric is 55% cotton, 25% modal, and 20% polyester.

It's available in beautiful colors like Sage Green, Light Pink, Burgundy, Dark 

Red

, Taupe Heather, and many others.

User reviews agree the fabric is soft and lightweight.
Cons
The design might be too simple for some women.

The manufacturer is unclear if it's machine washable or hand wash only.
Saodimallsu Women's Oversized Chunky Knit Jumper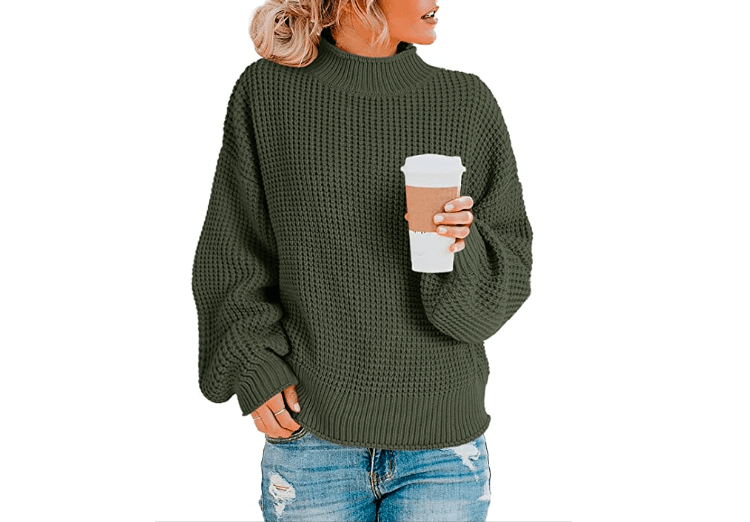 This sweater is perfect if you want something cozy and comfortable. The fabric is knitted, like that of classic sweaters. Also, the fit is oversized, which makes it excellent for the cold weather of fall and winter. 
You can pair this sweater with jeans, leggings, or even skirts. It's an easy and affordable way to look completely gorgeous and on-trend. Plus, you can have it in whatever color you choose.
Pros
It's available in more than 50 colors like Green, Khaki, Apricot, Pink, Black, Purple, Beige, and White.

It's available in sizes from S to XXL.

User reviews love it!
Cons
Because of its fabric, you can't wash it in the machine.

Works for casual looks only.
Romwe Women's Stand Collar Slim Fit Frilled Ruffles Shoulder Top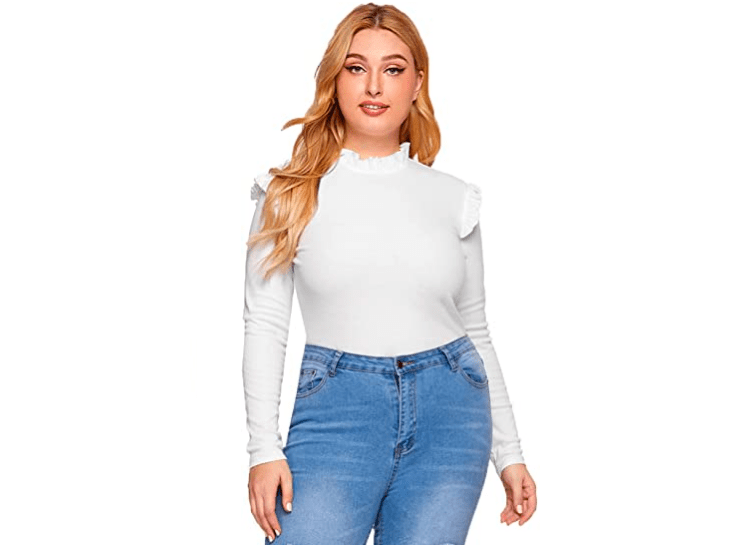 From extremely casual and laid-back to fancier designs, you can wear this mock neck sweater wherever you want and still look good in it. With its light ribbing design and silky-soft fabric, you can easily pair this sweater with anything in your closet.
The ruffles at its neck and shoulders make it a little playful while maintaining its trademark classiness. Some other features that the user reviews pointed out (and, of course, loved!) were the stretchiness and lightweight of the fabric.
Pros
It's available in more than 30 colors. Some of those include Navy New Plan, Stripe Purple, Floral Gray, Yellow Plain, Pure Black, and Burgundy Solid.

The fabric is 70% polyester and 5% spandex.

It's available in sizes from XS to 4XL. They also have a size chart you can check before making your order too.

User reviews love it!
Cons
The sweater has a slim-fit design, so you will have to order a size up.
Floerns Women's Casual Mock Neck Long Sleeve Grid Plaid Loose Shirt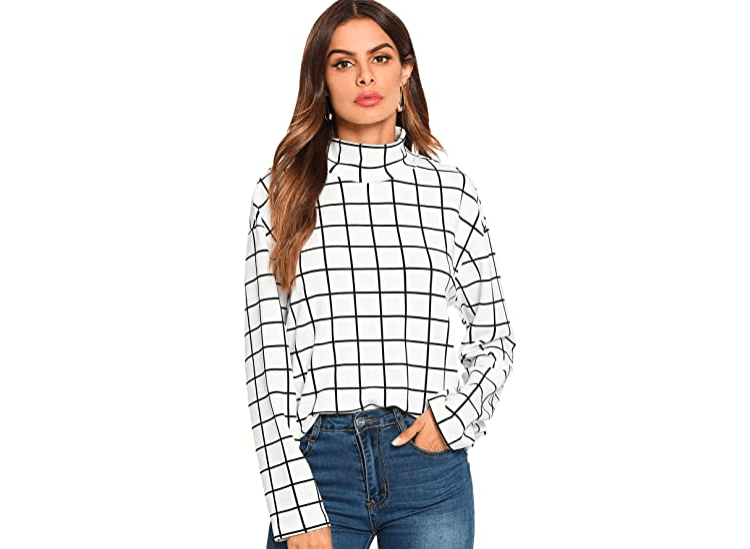 What if you want a double-purpose sweater? One that works both for a casual fit and as a formal outfit at the same time? Well, just take a look at this! This one is a gorgeous loose long sleeve shirt with a grid design that you can choose if you want it in black or white.
The drape of this sweater really takes it to the next level. How cute would this sweater be, half-tucked into a pair of high-waisted black skinny jeans? Or just pair it with your favorite pair of cozy leggings for the perfect weekend lounge outfit? Yes, please!
Pros
The fabric is 100% polyester, making taking care of it a cinch.

It comes in two colors: Black and White.

It's available in XS, S, M, L, and XL. They also have a size chart you can check to see which size you should order.

Most user reviews love it!
Cons
Even if the grid design looks adorable on the sweater, there are some unfavorable reviews.
CeCe Mockneck Contrast Sleeve Sweater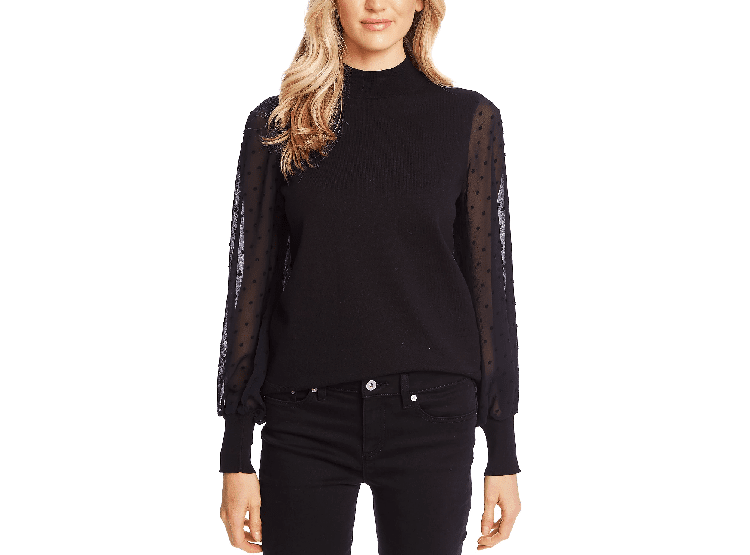 If looking classy and elegant is the goal you're after, then I recommend you try out a sweater like this. Every fiber of this sweater screams sophisticated and elegant, from the material used in the fabric to the details like the banded knit cuffs and the mock neck. 
One detail I loved was the long sleeves, especially with the cute textured polka dot pattern. When I saw it, I immediately thought that it'd make for the perfect transition piece between seasons, too. With a pair of ankle booties and a skirt, it'll take any outfit to the next level.
Pros
It's available in 7 colors: Plumeria, Antique White, Rich Black, Alpine Green, Claret Red, Cameo Blush, and Classic Navy.

It's available in sizes from XS to XL.

Most user reviews love it.

The body of the sweater it's made of cotton and nylon. The sleeves are made of polyester.
Cons
Not everyone likes the textured polka dot pattern on the sleeves.
Woman Within Perfect Long-Sleeve Mock-Neck Top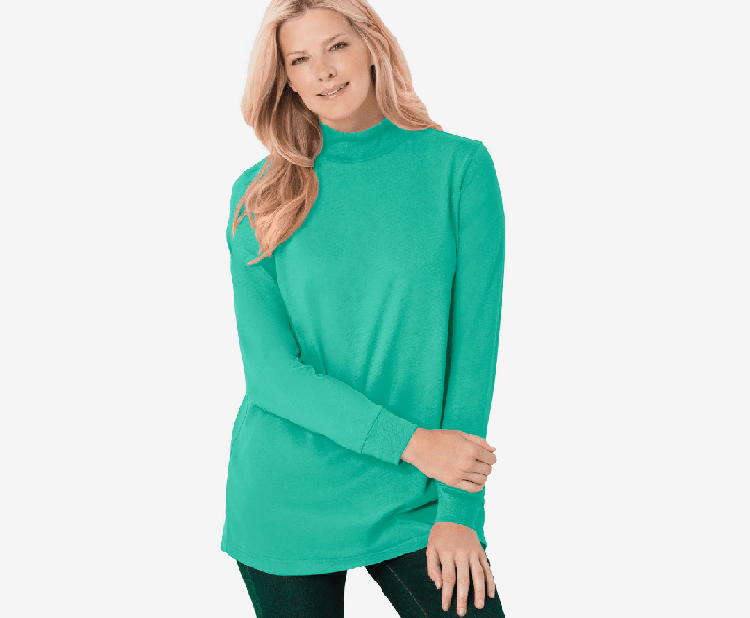 People love mock necks so much because they're a way to enjoy the elegance of turtlenecks but feel way more comfortable. Depending on your style, you can wear this sweater as a part of a casual outfit or a more classy one. 
One thing that really made me adore this mock-neck sweater is how many colors it comes in. With more than twenty different colors for you to choose from, there's one for pretty much any skin tone. The oversized drape makes it seem like the perfect piece for Casual Fridays, too.
Pros
It's available in more than 20 different colors. Some of those include Radiant Purple, Pumpkin, White, Classic Red, Navy, Black, Heather Gray, and Raspberry Sorbet.

It comes in two different sizes: petite and woman.

You can wash it in the machine.

The fabric is made of pure cotton.

User reviews love it and agree the sweater fits true to size.
Cons
The design can be too simplistic for some women.
Pendleton USA WOMEN'S RIB MOCK NECK PULLOVER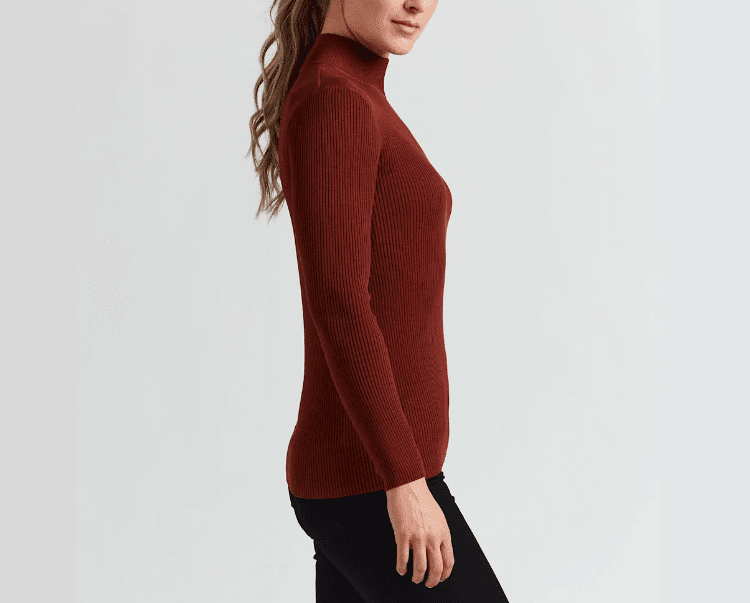 I think this sweater is the expression of the classic black mock neck sweater everyone loves. You can't go wrong with an option like this, and it even comes in neutral colors like black or ivory to balance your outfits. They're the perfect choice for work or formal gatherings.
Can we talk about how luxurious this sweater is for just a moment, too, please? Its combination of cotton and silk makes it both lightweight and breathable and the perfect top for those fancier occasions in your life.
Pros
The fabric is a blend between silk and cotton.

It's available in XS, S, M, L, and XL.

It's available in 6 colors: Midnight Navy, Ivory, Black, Blue Gray, Brick Red, and Brown.

It comes in two fits: Misses and Petite. You can check their size chart to check which fit you should order.
Cons
You'll have to hand wash it.

The available colors are fundamentally neutral; you won't find anything too colorful.
Style Recommendations
After looking at those mock neck sweaters, you're probably asking how to wear them. Well, these sweaters are pretty versatile, and while some of them are perfect for working at the office, others would look better while going out at night for a party.
To help you out combine your mock neck sweater, I'll talk about the footwear, jeans, and even accessories that generally go well with them. You may try out any of the styles that I'll list below or use them as inspiration for making your own. Let's go ahead and get started!
Black Mock Neck with Jeans and Flats
I'll start this list of recommendations by showing you how to look trendy and urban at the same time. As you can see here, this mock neck sweater is black. This gives the wearer more room to choose how she wants the rest of the outfit.
High-waisted jeans have been trending for some time, so they are always a safe choice. Since some sweaters can have an oversized fit, you can grab part of the hem and tuck it inside the jeans. The flats help give femininity to the outfit without making it too sporty, as would have happened with sneakers.
Brown Mock Neck Sweater and Black Jeans
Maybe you want your outfit to give that cozy feeling we crave so much during fall. Instead of tucking the sweater, you can also let it fall and embrace its comfortability. Still, be aware of looking too lazy or unkempt.
Some ways to counteract the oversized sweater are wearing accessories like a watch, rings, and earrings. Good makeup also helps. To make this outfit stand out even more, simply add a purse on the side. It's a nice touch that'll enhance the relaxed but chic outfit.
Cream Mock Neck Sweater with Skinny Jeans and Boots
A good idea for any outfit you're planning to wear is having everything in the same color scheme. Judging from the pumpkins on the back, this is probably an autumn outfit. Colors like brown, beige, and cream look beautiful in that season. Having a good outfit while trying to keep yourself warmed can be difficult sometimes, but I think this one nailed it. 
If you want to try it, you can wear a white shirt underneath the mock neck sweater to protect you from the cold. The skinny jeans with the boots will lengthen your legs and make you look stylish. The sunglasses and the purse will also give more dimension to your 'fit.
White Mock Neck Sweater with a Black Skirt and Brown Boots
http://lomurphy.com/wp-content/uploads/2017/09/IMG_8166-800×1000.jpg
If it isn't that cold out, you can encourage yourself to wear a skirt. Black skirts are ageless, and this one was paired with a white mock neck sweater. The contrast is precise, and it looks classy without being too much. 
On the other hand, the sunglasses prevent the outfit from being too elegant. The boots have a nice color and help the fit to avoid revealing too much. It also helps to not take away the cozy look. The pink purse is also nice, especially since it's a soft color that opposites the color and texture of the boots.
Beige Mock Neck Sweater and Dress Pants
If you're feeling bold, you can just wear every piece of your outfit in the same color. I won't call this a complete look since this term is used when all pieces have the same fabric. Still, having your fit like this can be pretty fun but also monotonous if you don't do it right. 
The best way to dress with a color in mind is to use different shades of the same color for balance. As you can see, the dress pants here are a tad lighter than the sweater to avoid being too plain. Other details, like the nails and accessories, can also be of different shades of your color to spice things up.
Cream Mock Neck Sweater with a Red Purse and White Flats
A rule of thumb in fashion is that if you have a ton of neutral colors in your outfit, then you can allow yourself to use a piece with more vibrant colors for contrast. Cream sweaters like this one look good on everyone, and if you pair them with white flats, they'll give an almost monochrome look. 
If you look closely, the nails are also painted white. The chosen piece to drag people's attention, then, was no other than the purse. In this case, it was a cherry red one, but other colors like orange or yellow would have worked almost the same. I really liked this outfit!
Plaid Jacket and Pink Mock Neck Sweater
Don't be afraid of layering clothing. Jackets can work well with sweaters if you wear them on top of your shoulders. For an outfit like this, the jeans can't be too baggy. This is mainly because the upper part has way more volume.
On the contrary, it is best if the jeans are high-waisted and fit, so they help stylize your figure. The ripped jeans help make the outfit more modern in contrast with the old plaid pattern, and the heels keep the fit chic and graceful.
Frequently Asked Questions
Final Thoughts
Choosing a sweater can definitely be a difficult task. This is especially true if you see too many models to choose from and don't know which is the best. Since I also understand the feeling (decision fatigue is the worst!), I took into my hands the arduous task of collecting and showing them to you.
If you asked me to choose a favorite, I would pick the Floerns Women's Casual Mock Neck Long Sleeve Grid Plaid Loose Shirt. The grid pattern is modern and trending. The design is beautiful, and you can wear it on daily occasions or in the office. I seriously fell in love with it!
That is everything for now. I hope you have learned a little something about mock neck sweaters today and that you have found the sweater of your dreams! Now what's left is to have fun rocking your new outfit.
Recommended reads: