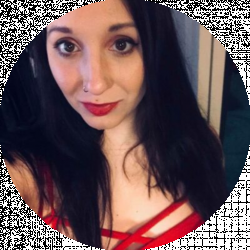 Latest posts by Stephanie Jensen
(see all)
If there's one clothing item that screams femininity, it's the dress. Dresses have been worn throughout history and they're still extremely popular today. In practically a decade, dresses have been available at different price points and there are more options than ever.
Because of all of the options, it can be intimidating to choose the best type for your body that fits your preferences. You may also not know the individual characteristics that will make one dress different from another.
Are you going dress shopping? Here, we will cover some of the main types of dresses to make your next shopping adventure easier.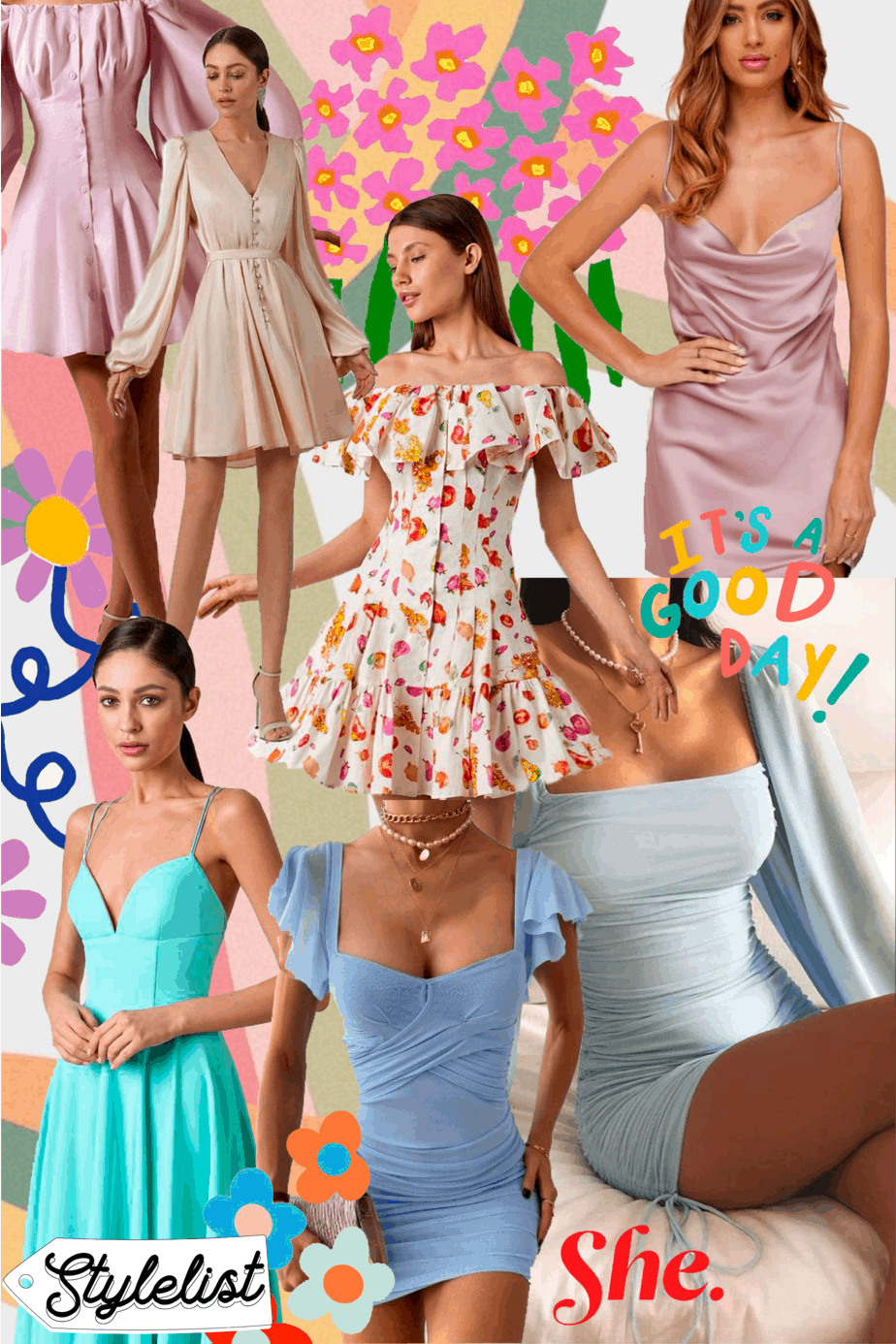 Mini Dress
First, let's go into dress length. Mini dresses turn heads since they show off your legs. They became trendy in the 60s, along with the mini skirt.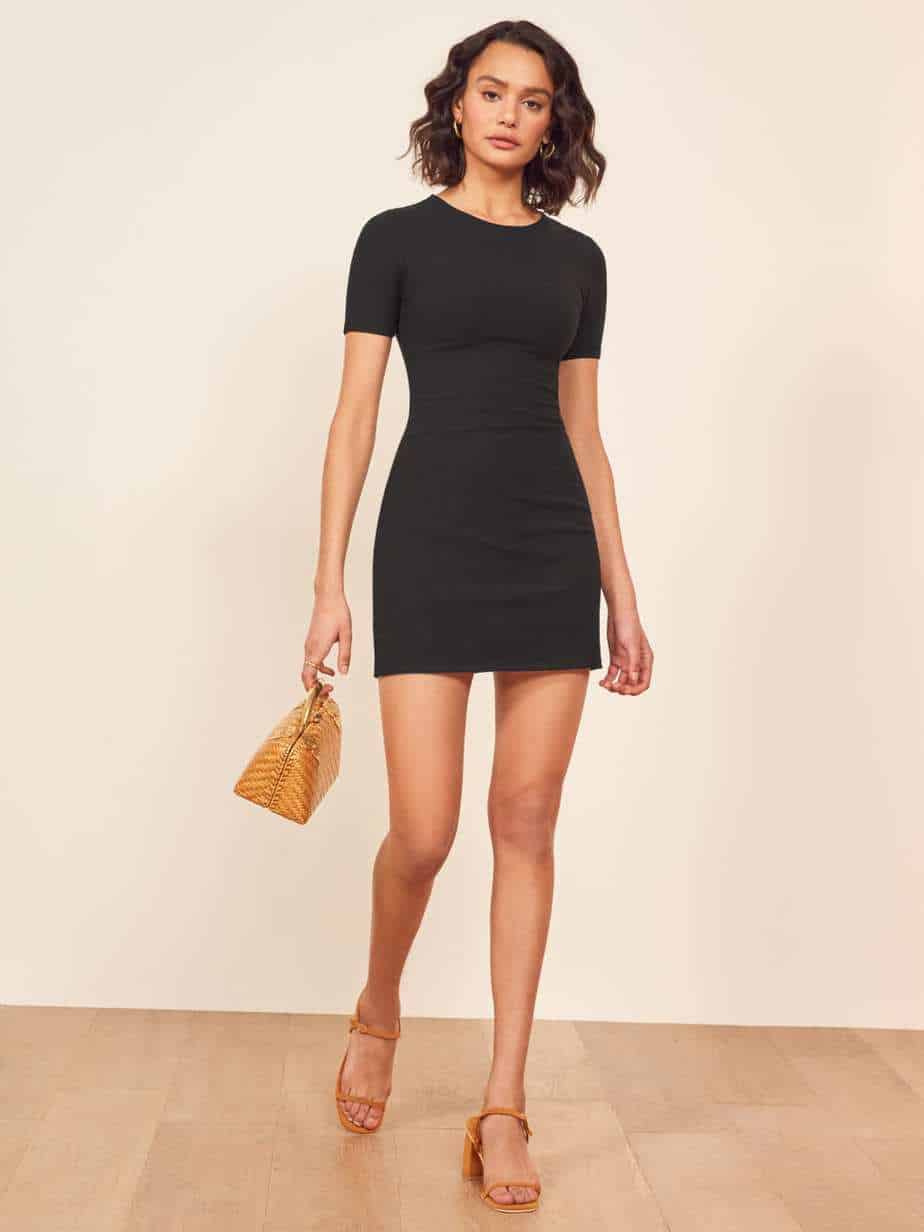 Are mini dresses only ideal when you're going out on the town or attending a casual event? These days, mini dresses are common and come in a variety of styles, so they look less scandalous if you're wearing a short dress to run errands in the summer. A dress such as Reformation's Kendy Dress is slim fitting but casual enough for days you want to be comfortable.
Midi Dress
Midi dresses are one of the most common dresses you'll find. The length usually falls at the calves, making them ideal for both casual and formal wear. Just about every type of dress can be made at midi length, so anyone can find a midi dress that looks great on them.
Since midi dresses are versatile, they can have a variety of different sleeve lengths and necklines. Some midi dresses may even have sleeves, making them ideal for colder weather.
Maxi Dress
If you would rather wear a dress you can relax in, then choose the maxi dress. With maxi dresses, the length is long enough to touch the floor. This makes them more ideal for casual settings, such as relaxing by the pool or the beach.
Don't worry, you can easily dress up your maxi dress to transform your poolside outside for the nightlife. You can flair up any maxi dress by adding some exquisite jewelry and heels.
Bodycon Dress
Bodycon dresses are perfect if you truly want to make heads turn. They're tight-fitting and hug your curves, accentuating your best assets. Bodycon dresses are usually made of stretchy materials, making them comfortable while you look hot!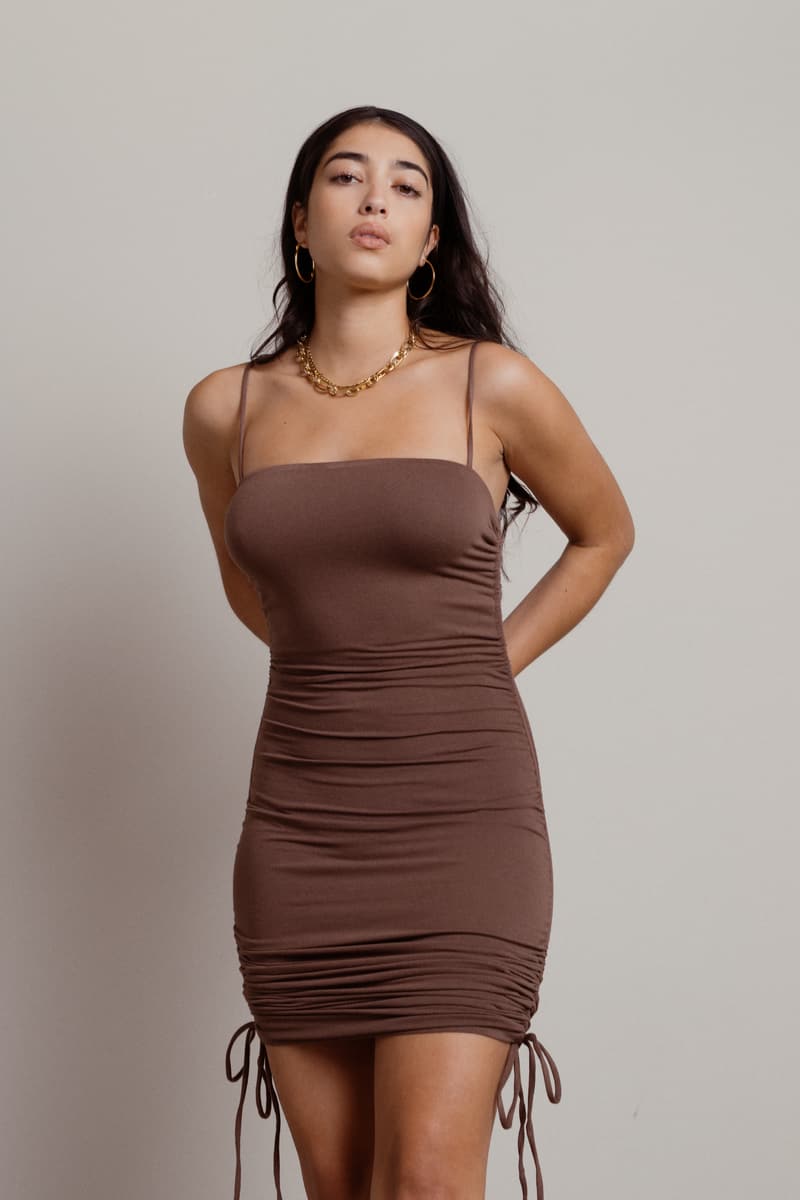 While bodycon dresses are ideal for women of all sizes, they look especially amazing on women with an hourglass figure. They're extremely flattering, embracing all of the beautiful curves. This ruched brown dress by Tobi is the perfect example of the perfect bodycon dress. Be sure to wear your bodycon dress when you're out on the town!
Cocktail Dress
These look very similar to bodycon dresses, so don't get the two confused. Unlike bodycon dresses, which are more casual, cocktail dresses are the perfect blend of casual and formal.
They're long enough to be formal, hitting just at the knee. They're available in a wide variety of styles, so you can find a cocktail dress that's suitable for your body shape.
Cocktail dresses have always been the go-to if you're spending the evening at your favorite bar with friends. They're also perfect if you're attending a casual party.
A-Line Dress
A-line dresses have to be one of the most popular styles of dresses around. They naturally clench at the waist and flare out at the hips. A-line dresses are popular because they look lovely on all figures. However, they look best on pear-shaped bodies. The dress accentuates your lower half, making you look ultra-feminine.
There are a variety of A-line dresses that are ideal for more casual or formal events. A-line dresses are also versatile; you can easily dress up an A-line dress with some heels when going on.
Wrap Dress
Wrap dresses look similar to A-line dresses, except they have an embellishment that wraps around the top half of their body. The wrap usually falls on the waist. Wrap dresses also draw in the waist, looking flattering on all body types.
Who looks best in a wrap dress? Those with a pear shape rock a wrap dress because they enhance the hips. Since the wrap clenches the waist more intensely, they also create the illusion of curves. This is ideal for women with an athletic build and anyone who doesn't have curves.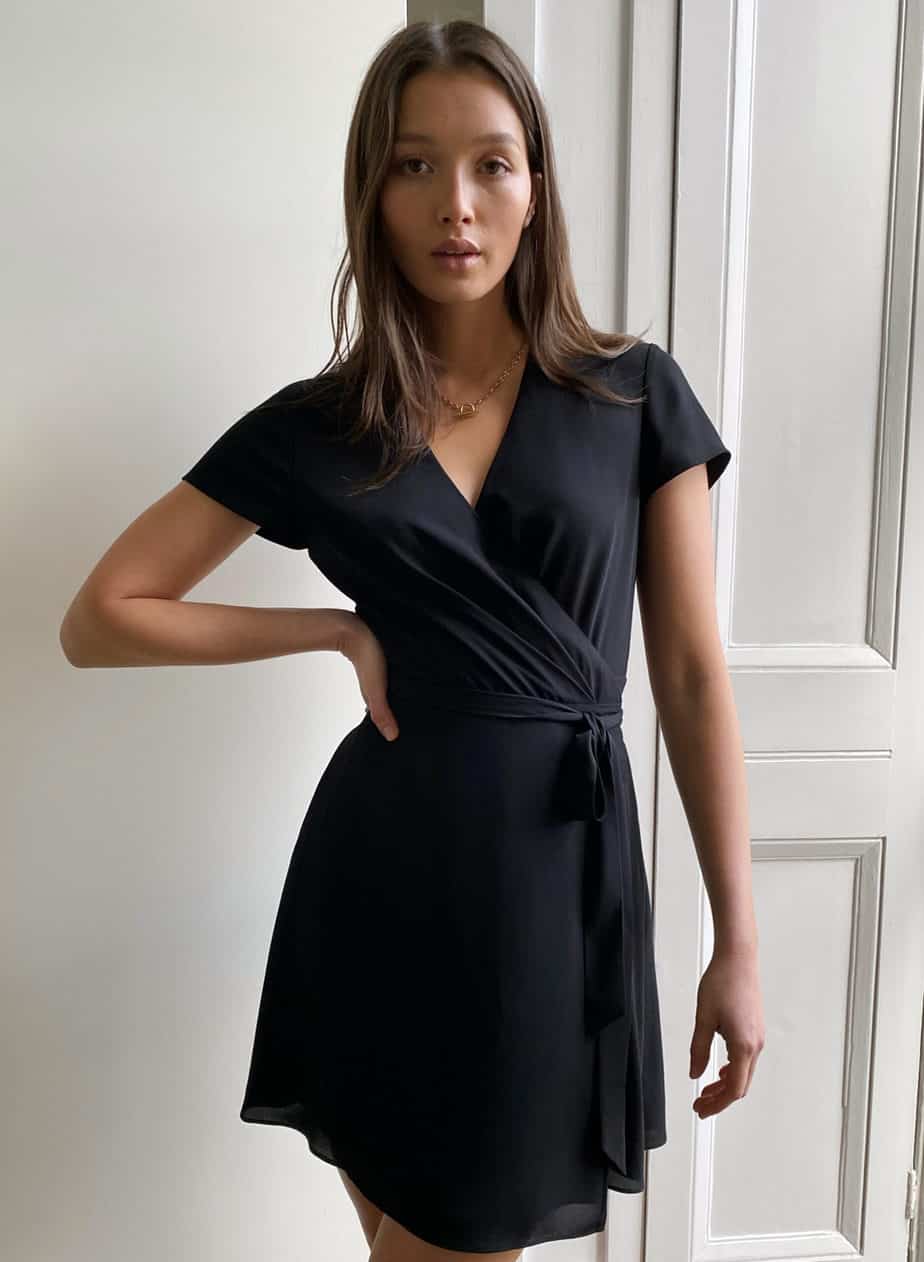 However, everyone can look amazing in a wrap dress. Aritzia's Babaton Mini Wrap Dress is short yet comfortable, with draping fabric that fits any frame perfectly.
Asymmetrical Dress
Asymmetrical dresses are uneven. While this sounds weird, they are completely fashionable.
Most asymmetrical dresses are longer in the back than the front (which we will discuss later), but there are different varieties of asymmetrical dresses.
Some dresses have a long sleeve on one side and a short sleeve on the other side. Other dresses may be longer on one side than the other.
Peplum Dress
Peplum dresses are popular because they're extremely playful. Not only that, but they have historical significance. The peplum look was first introduced by the tunics worn during Ancient Greece, called peplos.
"Peplum" is a term that refers to anything that flares out, whether it be pleated or gathered fabric. These dresses are usually fit at the top, flare out at the middle, and usually fit again toward the bottom part of the body; however, the peplum effect can occur anywhere on the dress.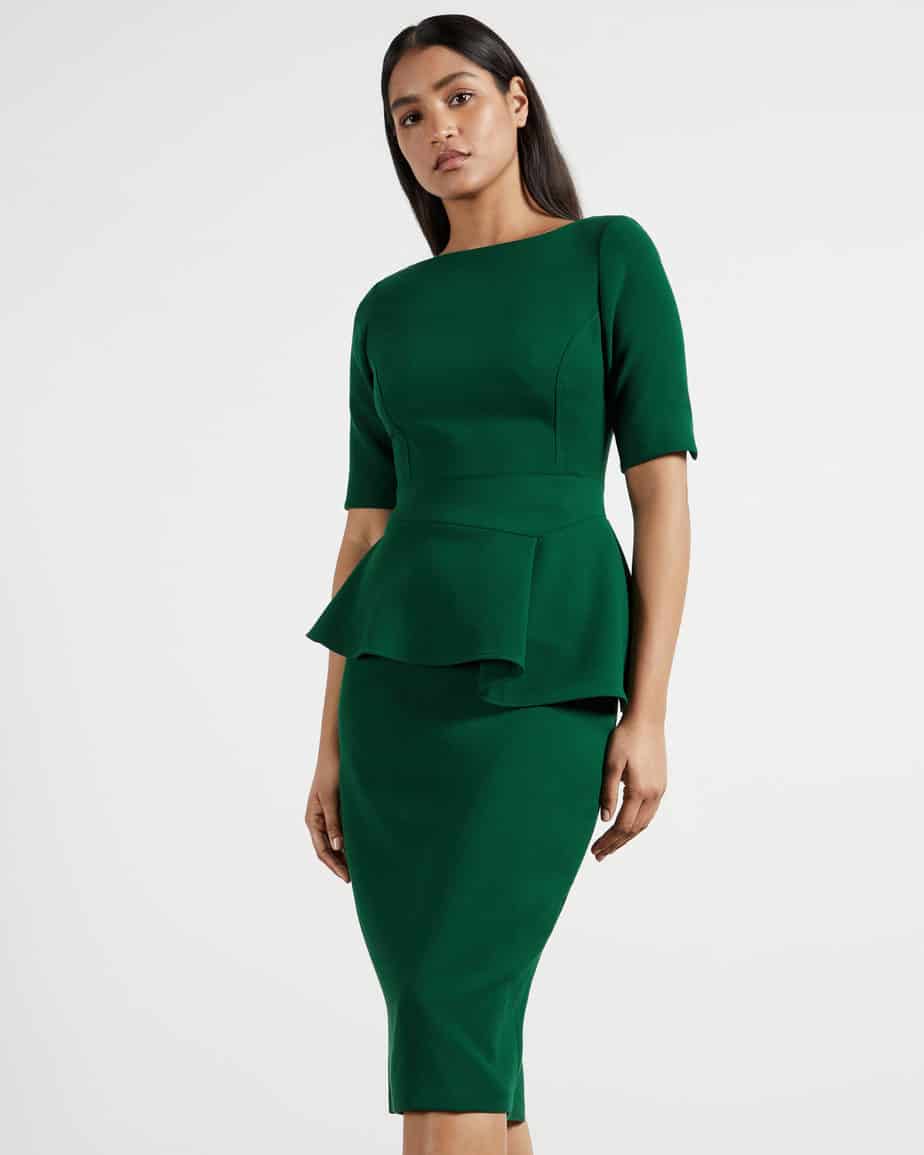 You can find peplum dresses in both casual and formal looks, though a pair of high heels can transform any peplum dress. But if you're looking for a fancy dress, the Romolaa Peplum Dress by Ted Baker is definitely ideal for the office or other exquisite event. And in a lovely shade of green, it's sure to flatter everyone.
Sweater Dress
Want to wear a dress when it's chilly outside? If so, the sweater dress should be your pick. Like your favorite sweater, the sweater dress is made of knitted fabric.
Most sweater dresses are loose and casual-looking, though you can find some sexier form-fitting sweater dresses. Because of this fact, you can find a sweater dress that looks amazing with your body type.
How do you wear this dress when it's cold outside? Pair the dress with some warm leggings and a pair of boots. If it's only a little chilly, ditch the leggings and choose sneakers instead of boots.
Slip Dress
Slip dresses are famously worn as undergarments or to wear to bed; however, slip dresses became popular in the 90s. Women were often seen wearing them alone and when out and about.
Most slip dresses are made of silk. They also have spaghetti straps, a V-neckline, and feature lace embellishments.
You can easily make a slip dress ultra-chic by wearing one with boots or heels. If you're wearing one during a casual day out, pair your slip dress over a t-shirt or wear it with a cardigan if the weather is chilly.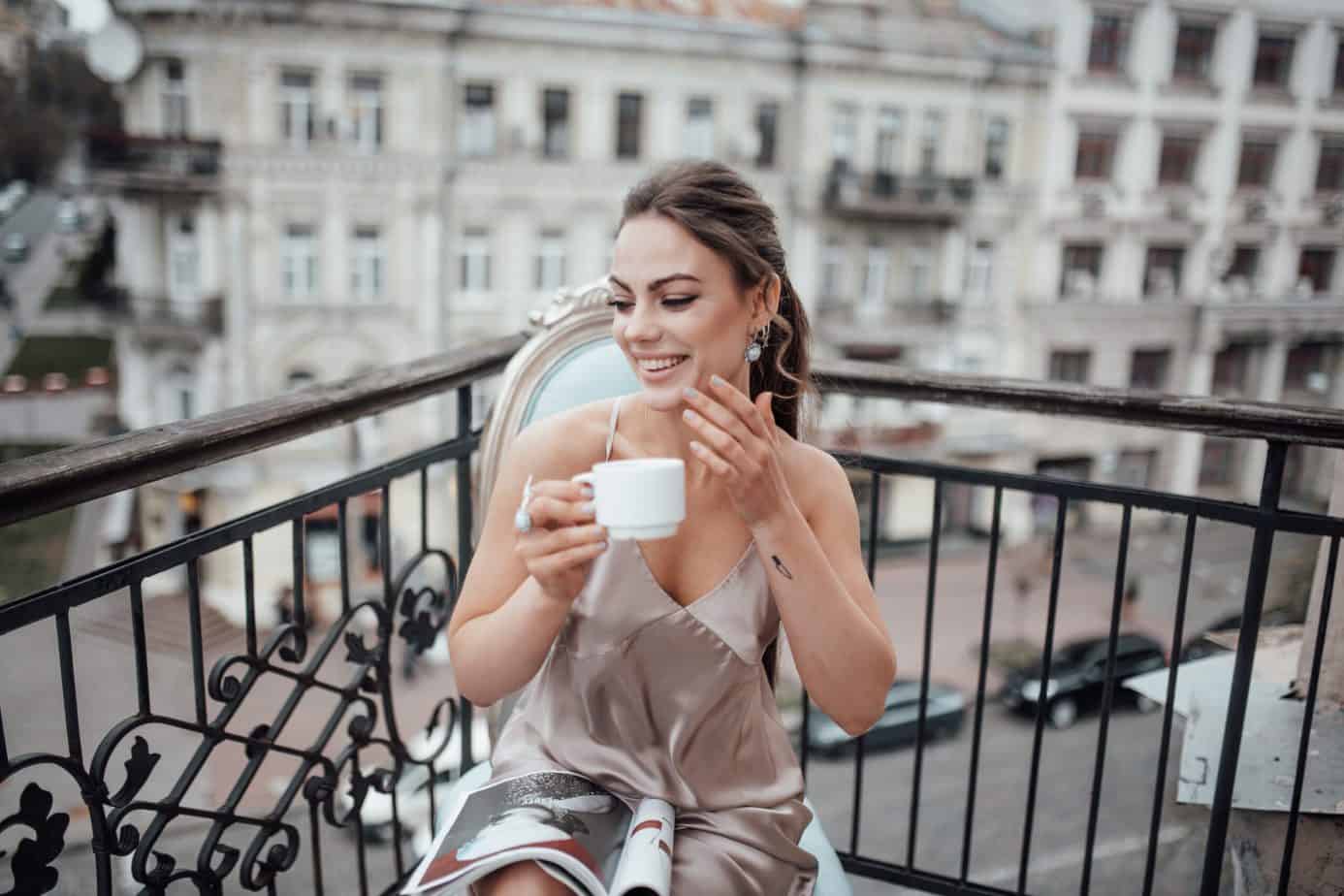 Have you ever slipped on your favorite t-shirt and didn't want to wear pants with it? You can get the best of both worlds with a t-shirt dress. T-shirt dresses are extremely casual and loose-fitting, providing serious comfort.
T-shirt dresses come in different lengths. They're a serious trend right now and look flattering on just about every figure.
You can style these dresses in many different ways. For a casual day running errands, wear a t-shirt dress with sandals and minimal accessories. If you're transitioning this look for a night on the town, swap the sandals for a pair of boots.
In addition, there's also the button-down shirt dress. Like a typical dress shirt, it buttons down the front and has a collar. These are ideal because they nip at the waist, unlike t-shirt dresses. Since they nip at the waist and are loose-fitting, they look best on women with apple figures.
Button-down shirt dresses are casual enough for days running errands, where you can pair the dress with a comfy pair of sneakers. If you're wearing a button-down shirt dress on a night out, choose a cute pair of boots. For an office look, wear the dress over leggings and finish with a blazer.
Ballgown
Want to feel like a princess? If so, wear a ballgown! If you're not sure what a ballgown is, think of a Disney princess. They're the exquisite dresses that fall to the floor.
The most famous example of a ballgown is the princess style, which is tight at the top and poofs out at the hips. However, the mermaid ballgown is another famous style. This style is form-fitting and flares out toward the bottom.
Ballgowns are ideal for formal events. The right ballgown will wow everyone, so be sure you only wear these dresses to special occasions.
Tube Dress
Tube dresses are the ultimate sexy dress. They make an impact while showing off your best assets. They're form-fitting but are also strapless, perfect to wear out when the weather is warm.
The best part about tube dresses is they look great on all body types. They hug every figure so you can be sure a tube dress will show off your best features.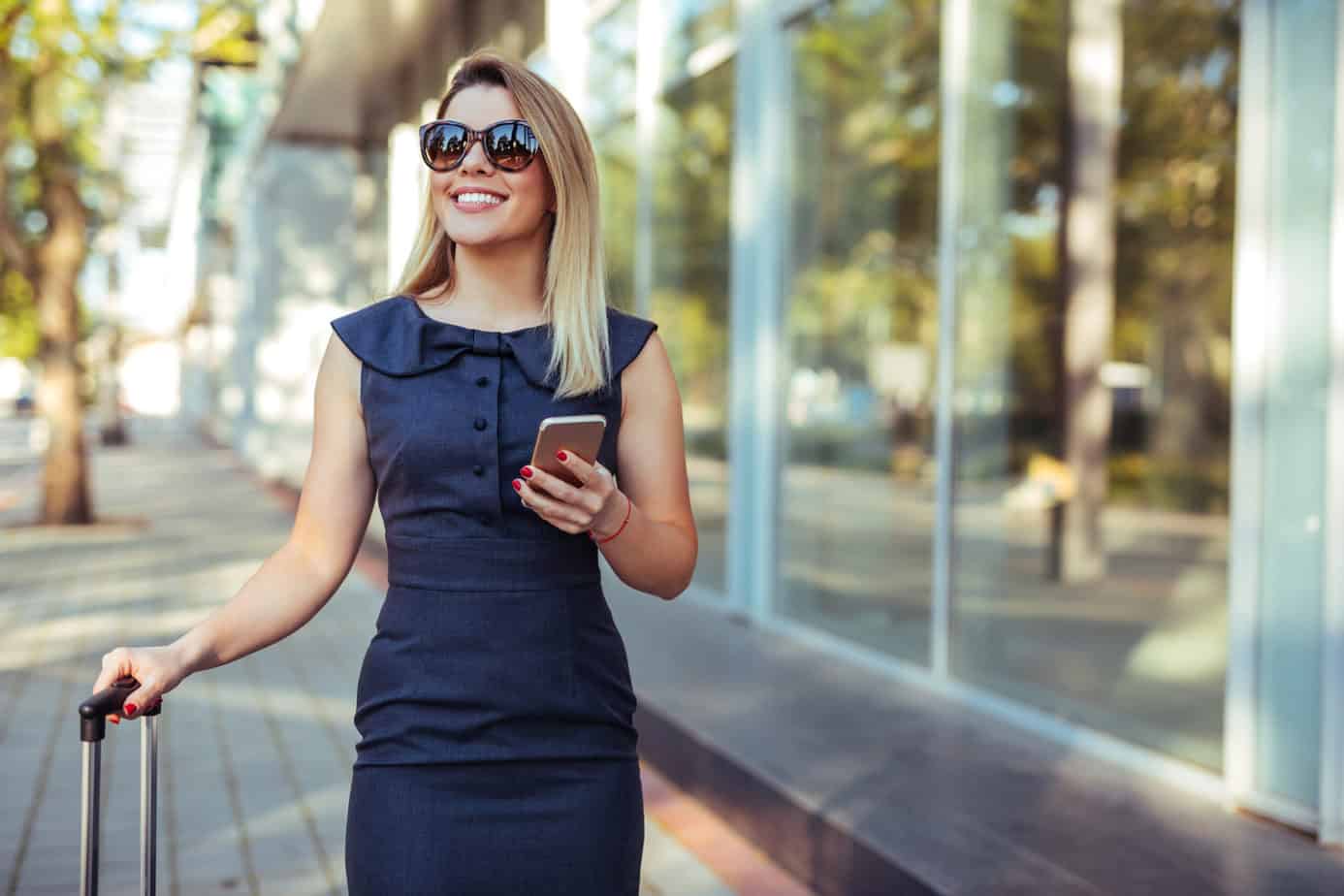 Off-the-Shoulder Dress
Off-the-shoulder dresses expose your shoulders and drape down to your biceps. The sleeves usually have a sleeve, but some dresses may feature a ruffled sleeve as an embellishment. Off-the-shoulder dresses are perfect for those looking for a casual style while exposing their shoulders, but may not want to wear a strapless dress.
Shift Dress
Shift dresses were a huge hit in the 1960s and are making a serious comeback. They have a boxy shape, hanging from the shoulders over the body. You can find shift dresses in just about any length, but most shift dresses are short. The dress is usually sleeveless, though you can also find long sleeve varieties.
Shift dresses are popular for many reasons. First, they're very comfortable. They fit loosely, ideal for going out and even running errands. You can easily style this type of dress with different pieces, such as heels, boots, and a jacket.
While some say shift dresses are flattering on everyone, many also argue they're better for skinnier women and even women with apple shapes. Since they don't cling to curves, they won't offer anything to women with hourglass or pear body shapes.
High-Low Dress
Can't decide if you want to wear a long or short dress? Wear both! High-low dresses are a form of asymmetrical dresses where the front of the dress is short, usually ending right above the knee, whereas the back is longer, practically hitting the floor.
High-low dresses are very versatile. They make variations for casual wear as well as the most formal events. To step up your high-low dress game, pair the dress with your favorite pair of heels. If you're short, it's recommended you wear anything with heels to ensure the dress doesn't drag on the floor.
Halter Dress
Halter dresses are sleeveless dresses that tie around the neck. Since they tie around the neck, the fabric comes up on the neck higher than the average dress. They're ideal for summer since they show off your arms and shoulders.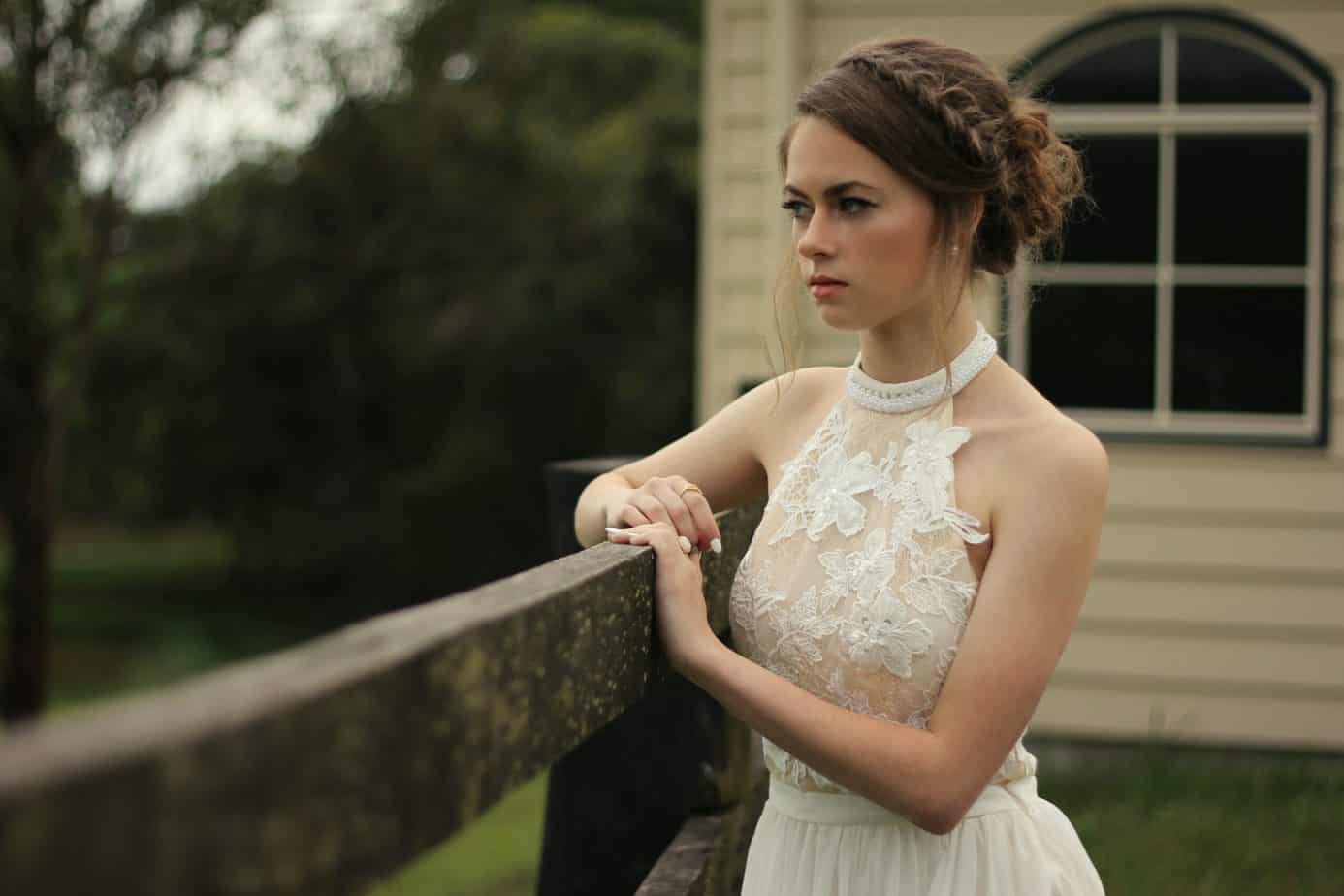 Sheath Dress
Sheath dresses have a straight shape and are form-fitting. They do nip at the waist, giving a feminine flair. But unlike bodycon dresses, these are more ideal for the office. That's because sheath dresses are typically long, sitting at the knee (or right above the knee at the shortest). However, sheath dresses have enough style to wear out or during an event.
The Black Halo Marissa Sheath Dress is the perfect example of this. It's an elegant, long-sleeve dress with a high neckline. While it ends at the knee, there's a slight slip on the side to make a statement. It's sleek enough to wear to the office but also a timeless option for a night out.
Sheath dresses especially look great with an hourglass figure. So if you want to show off your curves without wearing anything too risque, this is the perfect dress for you.
Pencil Dress
The pencil dress also offers similar benefits as the bodycon and sheath dresses. Pencil dresses are straight and nip at the waist, with no frills or embellishments.
They're also longer — the dress usually extends past the knee. But pencil dresses have varying necklines, from a plunging neckline all the way to a turtleneck.
Because they're form-fitting, pencil dresses are very flattering and are perfect for a date.
Smock Dress
Smock dresses are perfect for running errands or if you just want a dress that you can just grab when you want something quick to wear. Smock dresses are loose-fitting and extremely comfortable.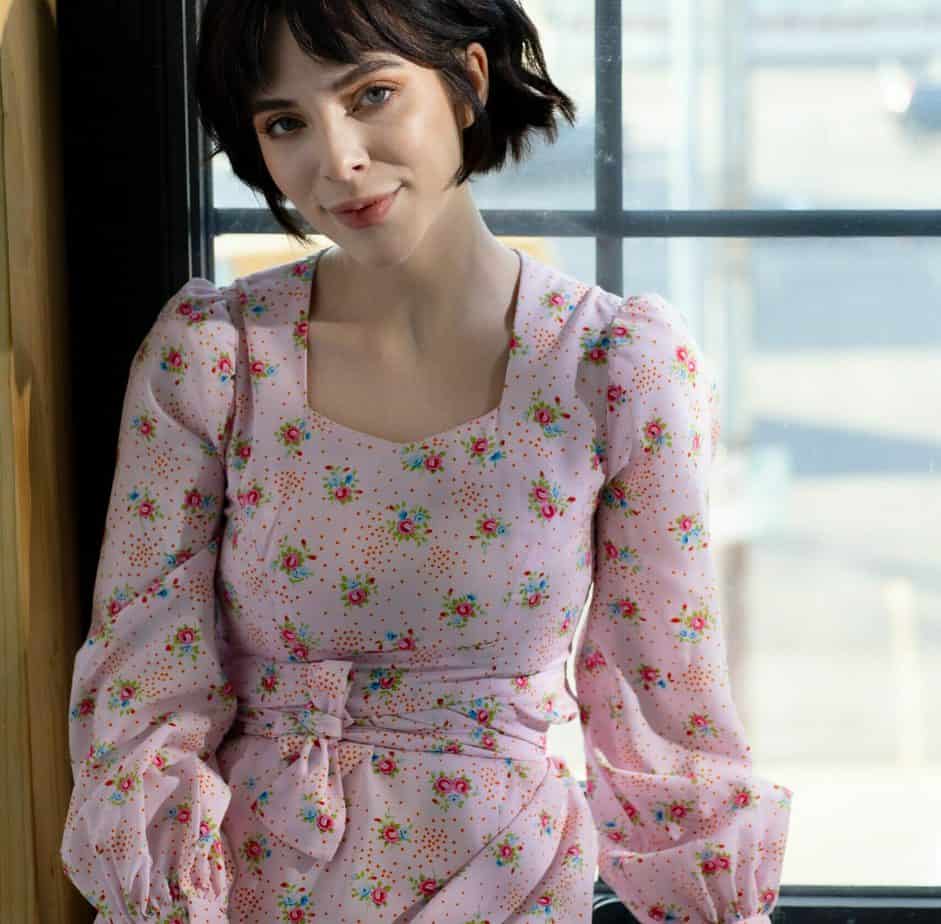 As far as sleeves are concerned, they're very versatile. You can find smock dresses in sleeveless varieties all the way to long-sleeves.
While smock dresses are perfect for the grocery store, you can wear this style when out and about. Smock dresses look especially cute when paired with ankle boots and a jacket.
Tea Length Dress
Do you want to rock the retro look? If so, wear a tea-length dress. The tea-length dress, commonly called the tea gown, first emerged in England and France during the mid-to-late nineteenth century.
What made the tea gown different from other dresses worn from that time period? Tea gowns are made with lighter fabrics. Tea gowns have a fuller bottom and end at the mid-calf.
These dresses were more causal, perfect when spending time with friends. They're nicknamed "tea gowns" because they were often worn while drinking tea.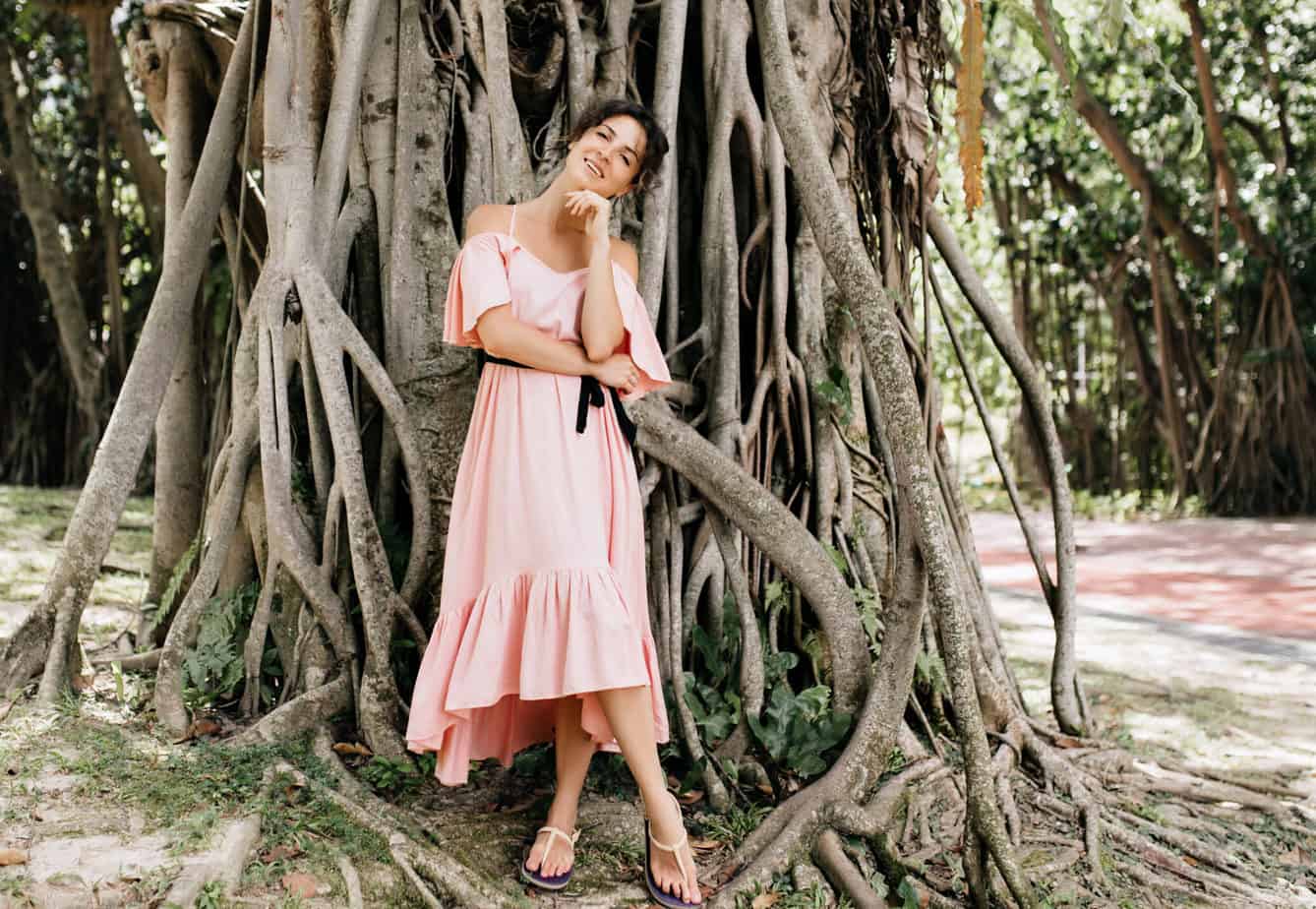 Since the nineteenth century, tea gowns went through various makeovers By the mid-twentieth century, the tea dress emerged from a stuffy Edwardian look to a fun dress, filled with color and patterns.
You can easily find retro tea gowns for a blast-from-the-past look. These dresses are perfect when worn to events and paired with time-specific accessories.
Pinafore Dress
Pinafore dresses are apron-style dresses that are worn over a t-shirt.
Pinafore dresses first became popular in the 1940s. They were popular because they were easy to remove by detaching the buttons, ideal for women who worked and who tended to the home. Women could also easily fix an apron to the dress, ensuring the dress would sustain no damage. Since they were so popular during this period, little girls also wore them frequently.
They have no collar and no sleeves, but with wide straps. These dresses are casual but cute and look great on just about everyone.
Denim Dress
Do you love denim but don't love jeans? Try and wear a denim dress. Denim dresses come in a wide range of styles, so you'll likely find a dress that looks amazing on you. Women love denim dresses because they're casual but ultra-chic, and you can wear your denim dress just about anywhere.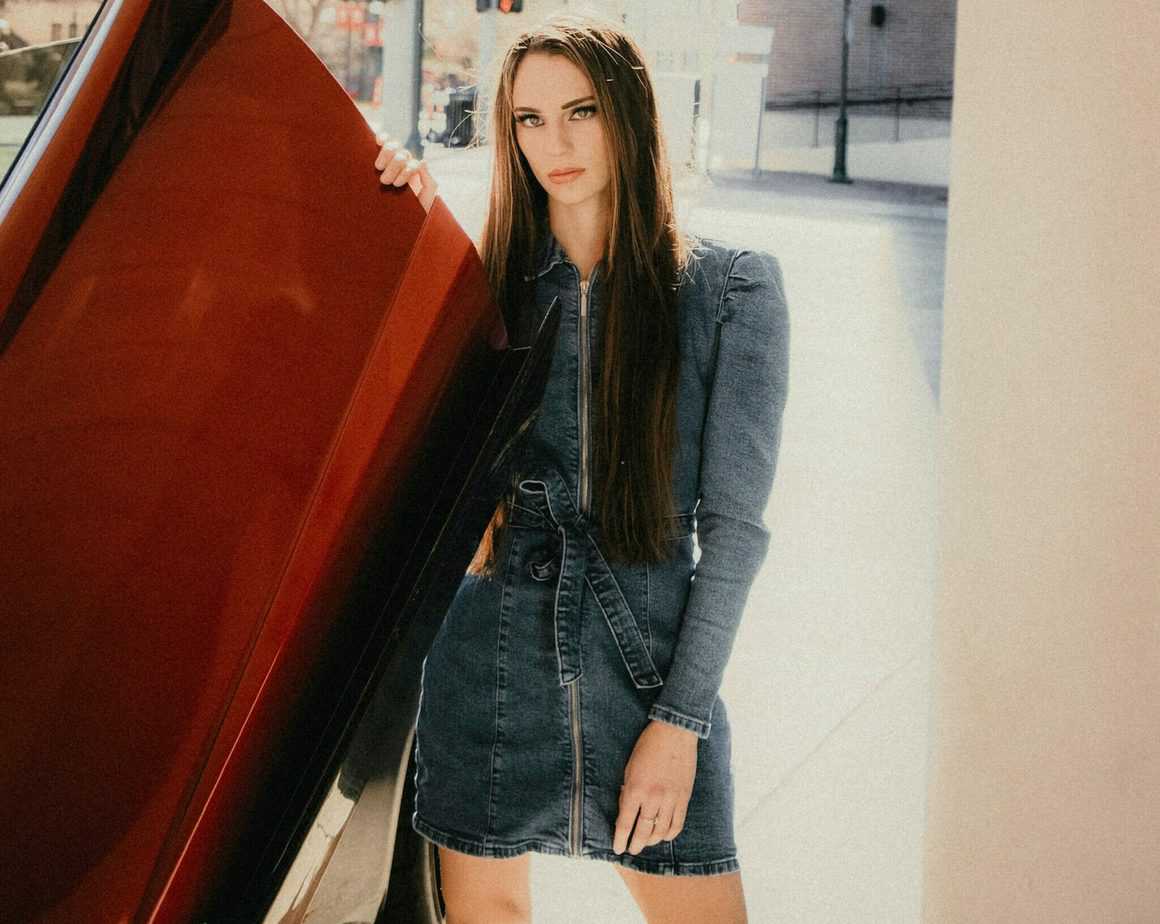 Denim dresses also have various button and sleeve styles. You'll also find denim varieties of popular dresses, such as denim pinafore dresses. Denim dresses offer other benefits. Many of them feature pockets.
Bardot Dress
Do you wish a style of dress was named after you? We bet you wish you were Bridgette Bardot! Bridgette Bardot is a French star, known as an actress and singer. She was a famous sex symbol and total blonde bombshell in the 50s and 60s, though today she devotes her life to animal rights activism.
Bardot made an impact on the world in many ways, but she also coined a specific style of dress called the Bardot dress. The classic Bardot dress falls off the shoulder that nips slightly at the waist.
Most Bardot dress styles are midi length, perfect to wear to a variety of different occasions. You can easily make a Bardot dress casual by wearing sneakers or luxurious by wearing heels.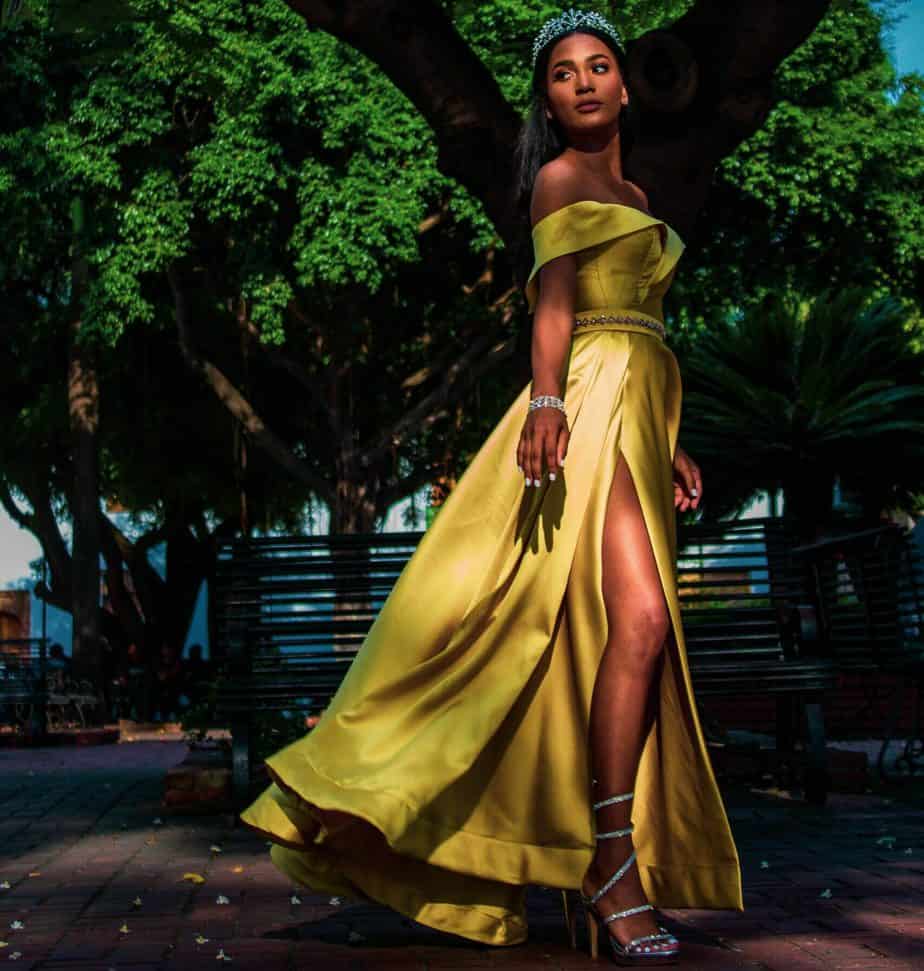 The Bardot dress is totally feminine, looking flattering on just about all body types. But because of the off-the-shoulder sleeves, women with broad shoulders should avoid wearing this type of dress.
FAQs
Question: What Are the Different Types of Style?
Answer: The dress you choose depends on your personal style as well as the dress code of the event you're going to. Some common types of style include:
– Casual
– Formal
– Artsy
– Chic
– Grunge
– Sexy
– Bohemian
– Trendy
– Exotic
Question: How Many Types of Dresses Are There?
Answer: We covered the main types of dresses in this article — however, the number of dresses in existence is staggering! There have been over 50 types of dresses identified!
Question: What Are the Different Levels of Fashion Markets?
Answer: When shopping for high-fashion dresses, you'll want to pay attention to the various fashion markets. These include:
– Haute Couture
– Luxury Fashion
– Bridge Brands
– Diffusion Lines
– High Street
– Fast Fashion
– Economy
What exactly do these fashion markets signify? A myriad of brands are all in these markets, and their significance varies by price, products, and even atmosphere.

The highest tier, Haute Couture, is the most expensive and leading fashion houses are in this category. The lowest tier is Economy, where the clothes are made via mass production. These brands offer stylish pieces at extremely affordable prices.
Question: Which Dresses Are Trending?
Answer: When dress shopping, you should pay attention to the dresses that are trending. With summer around the corner, you'll be happy to know that strappy dresses are popular, which includes halter dresses. Anything that clings to your curves is seriously in, especially form-fitting midi dresses. Poplin and knit dresses are also seriously hot.
Question: How Many Clothing Brands Are There?
Answer: There are countless clothing brands in existence. However, 20 brands dominate the global fashion market. Among these brands are popular places to get dresses, such as Gucci, Dior, Givenchy, Marc Jacobs, H&M, Ross, TJ Maxx, and Marshalls.
Question: What Is the Most Famous Fashion Brand?
Answer: Surprisingly, sports brand Nike tops that list. However, fashion powerhouse Gucci is right underneath the sports brand.
Question: What Are the Most Popular High Fashion Brands?
Answer: While Gucci tops the list of high fashion brands, some of the other most popular brands include:
– Prada
– Fendi
– Salvatore Ferragamo
– Givenchy
– Saint Laurent
Question: What Is the Most Expensive Fashion Brand?
Answer: Oscar de la Renta tops the list as the most expensive fashion brand. Right under them, you'll find Gucci, Louis Vuitton, and Air Jordan.
Question: What Are the Best Affordable Clothing Brands?
Answer: You don't have to spend a ton of money to get a great dress. Here are some of the most affordable fashion brands that sell great dresses:
Topman
Zara
ASOS
Everlane
Mango
Uniqlo
Find the Best Type of Dress For You
There are countless dresses out there. No matter your body type or style preference, you can find a dress that suits you.
From lightweight tea-length dresses to sexy and short bodycon dresses, there are many stunning dresses out there. Different dresses also feature various benefits, such as embellishments.
Have fun shopping for your next dress!
While there are many dresses for casual days, leggings and yoga pants are still a major trend. You can also wear leggings with dresses. Here are various ways to wear leggings.