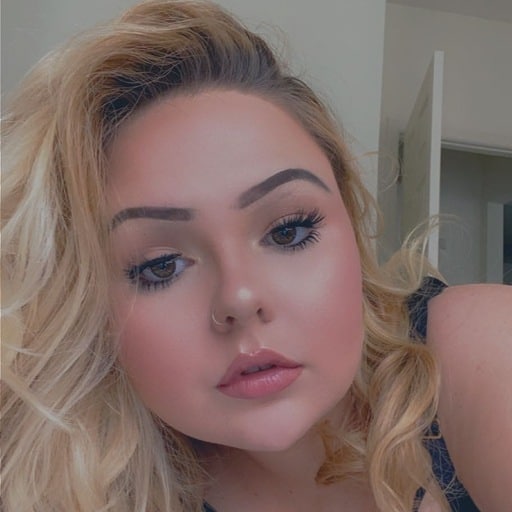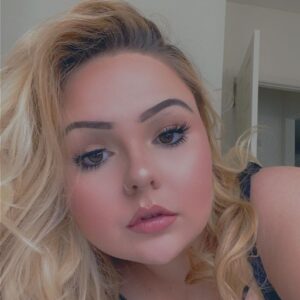 Latest posts by Annalise Swain
(see all)
Admit it: Being able to add a blazer to your outfit to spice it up or make it more business-like has been life-saving. When it comes to the warmer months, most women put away their blazers and break out their summer clothing, but how about we discuss the options we have for the summer and winter temperatures! 
We went through and decided on the best blazers in style, price, and comfort. We are also here to provide useful tips on how to style your blazers professionally or casually, and for warm months or cold months. So let's get started!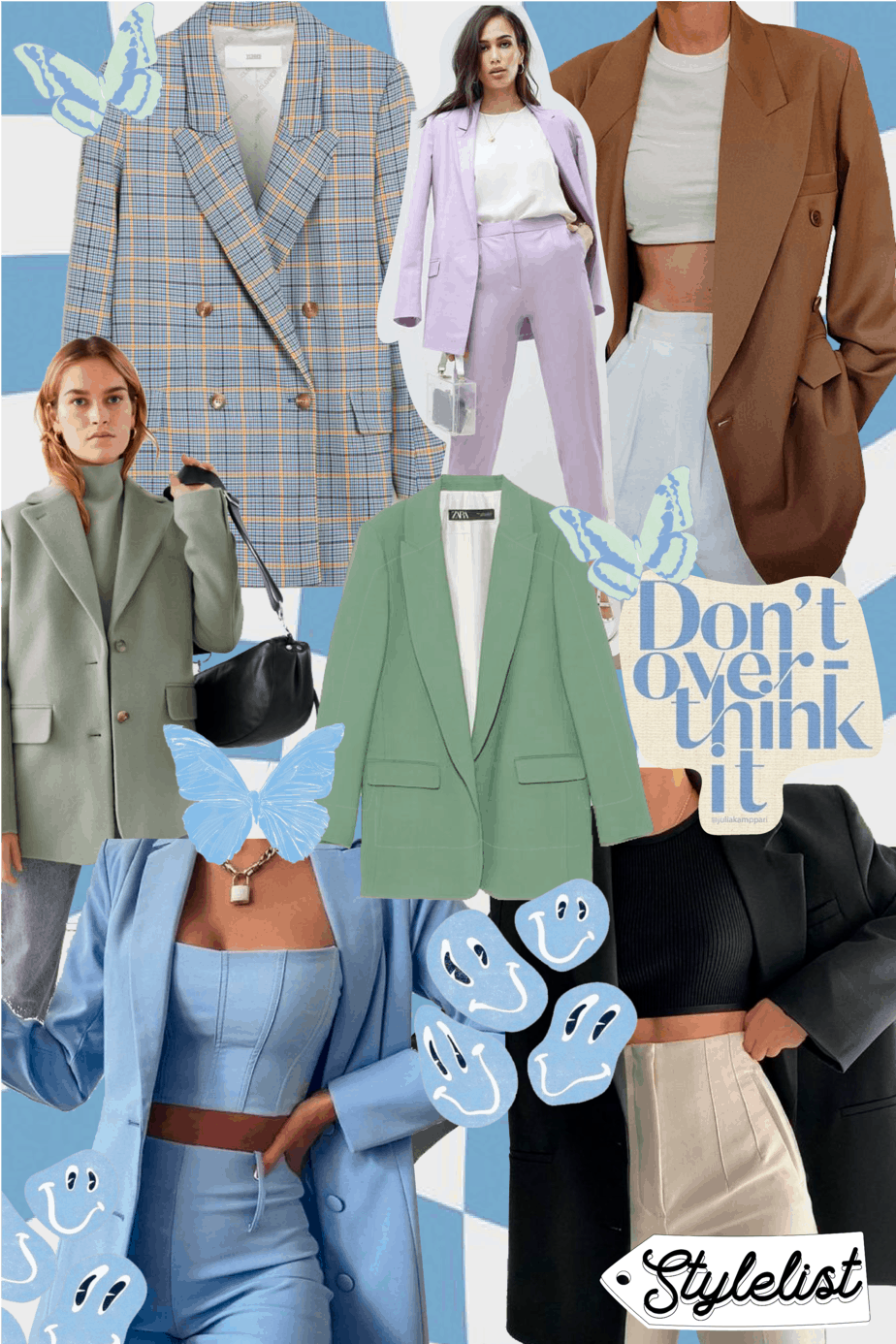 The History Behind Women Wearing Blazers 
Surprisingly, the trend has only been around for a short time. Men's blazers first became fashionable in the 1800s, when rowers from prestigious English colleges such as Oxford and Cambridge wore them as part of their warm-up attire. 
However, the original version is a long cry from today's styles. Blazers didn't have shoulder pads, vents, darts, or backstitching back then. Grosgrain accents, vivid, cheery colors, and three buttons were all main features. 
The blazer's popularity grew beyond the limits of a crew boat over time. Oarsmen began to wear their blazers around campus, and they eventually became as famous as the letterman jacket. In an essay about the jackets worn by Cambridge's Lady Margaret Boat Club in 1952, the blazer eventually made its editorial debut. 
From there, the blazer crossed the Atlantic and evolved from a collegiate necessity to a fashion staple for different aspects of our lives, beginning with the workplace.
How Do You Choose The Right Blazer?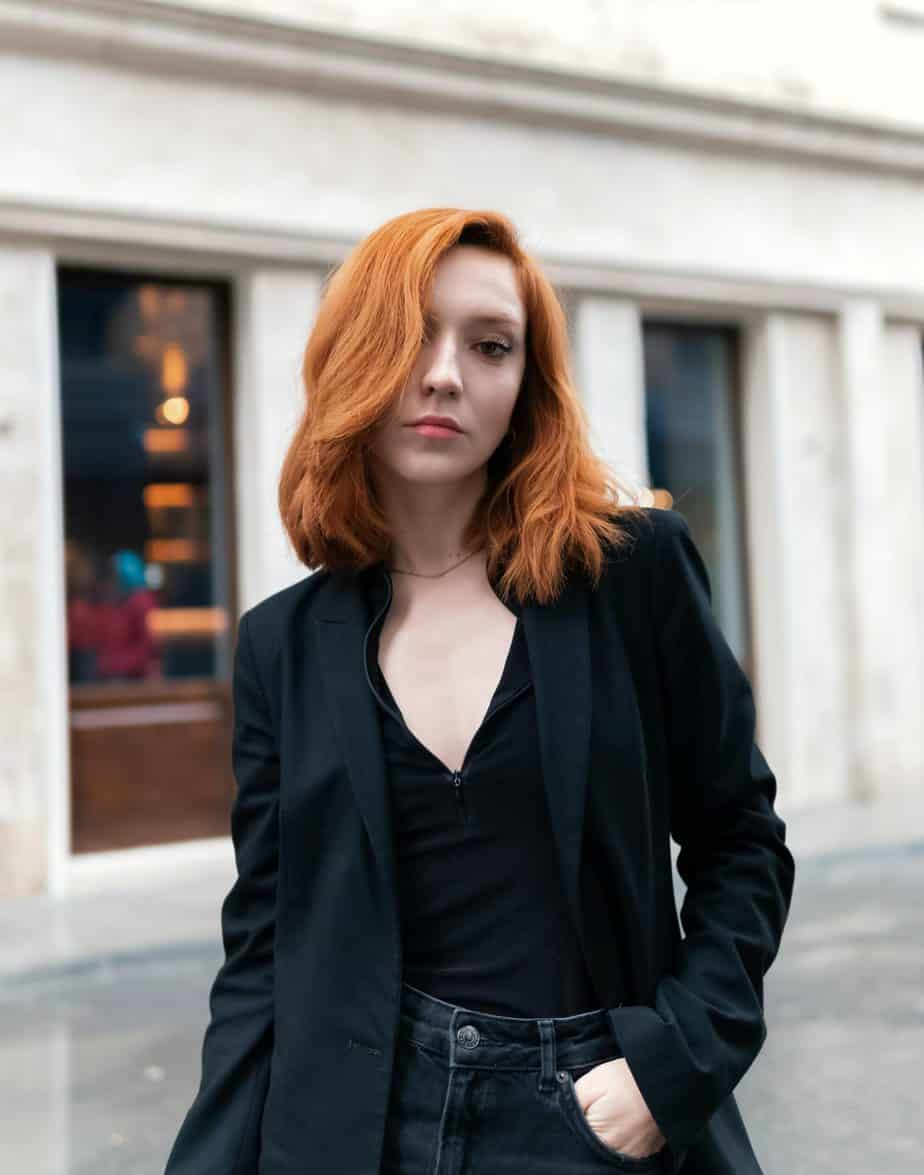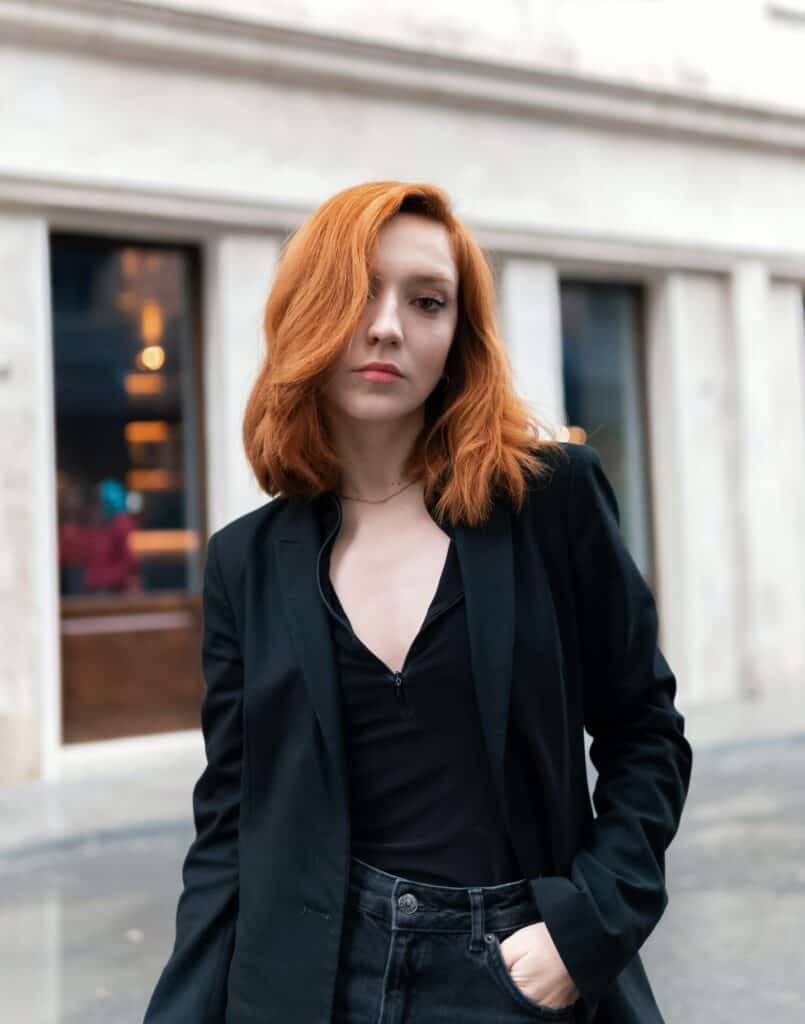 Blazers should be tailored in the same manner as suit jackets and sports coats are. Shoulders should not stretch more than half an inch beyond their normal range of motion; they should accommodate a maximum range of arm motion.
You should be able to button the jacket with enough give in the chest. When standing upright, the sleeves should reach the wrist bone and reveal one-fourth to three-fourth inches of shirt cuff. The jacket should be long enough to fit you. 
Although, as a woman, you have the luxury to have them fit loose, have them longer, and be able to style them however you please. 
How To Choose The Right Blazer For Your Body Type 
Whether you have an apple, pear, or hourglass figure, we're here to help you decide what blazer fit is the best for your body type. 
The Bust 
If you have bigger breasts,  our general advice is to wear an open front blazer or one with a wide neckline that nips in at the waist. I like open-front blazers because they are flattering on a wide range of body types. They're particularly useful for women who have large breasts.
Large collars are a great way to round out a smaller chest. Although double-breasted blazers can be bulky for some ladies, they look fantastic on smaller women! And don't go too big for the bulky look, or your body will get lost in it! 
The Hips and Waist 
If you have shapely curves, look for blazers that are more streamlined at the top, a bunch at the waist, and fan out a little at the bottom. The arrangement in the shoulders at the top will round out the breadth of your hips and build an hourglass silhouette. If you have an hourglass body with curves and a slim waist, a tailored blazer with buttons at the midsection will draw attention to that aspect. 
The Shoulders 
It's important to have this fit perfect! Blazers that are too snug in the sleeves – or that stick out too far – are certainly not for you. If you have big shoulders, look for blazers with a looser fit in the shoulders or without a collar. 
If your shoulders are thinner but your hips are broader, go for a more streamlined item – or even shoulder pads – that will match your body form. The fit of the shoulders should be snug but not too close. When you try them on, make sure to check your range of motion.
Let's Talk Style: How to Wear Your Blazers 
Suits aren't one of our favorites, but blazers are one of the most professional, comfortable, and trendy pieces of wear available. Blazer styles are, without a doubt, the best work outfits because they help you to represent yourself and work with confidence. They're simple to put on and give you a chic relaxed style that will go with everything in a lady's wardrobe.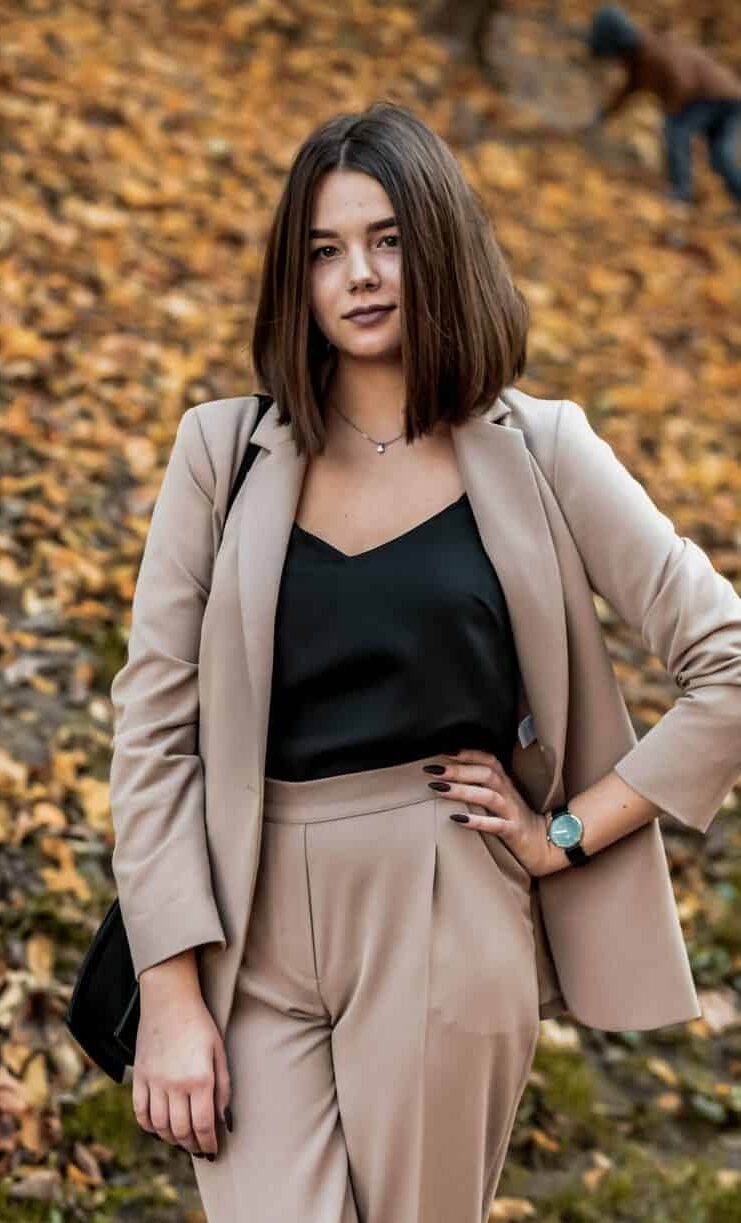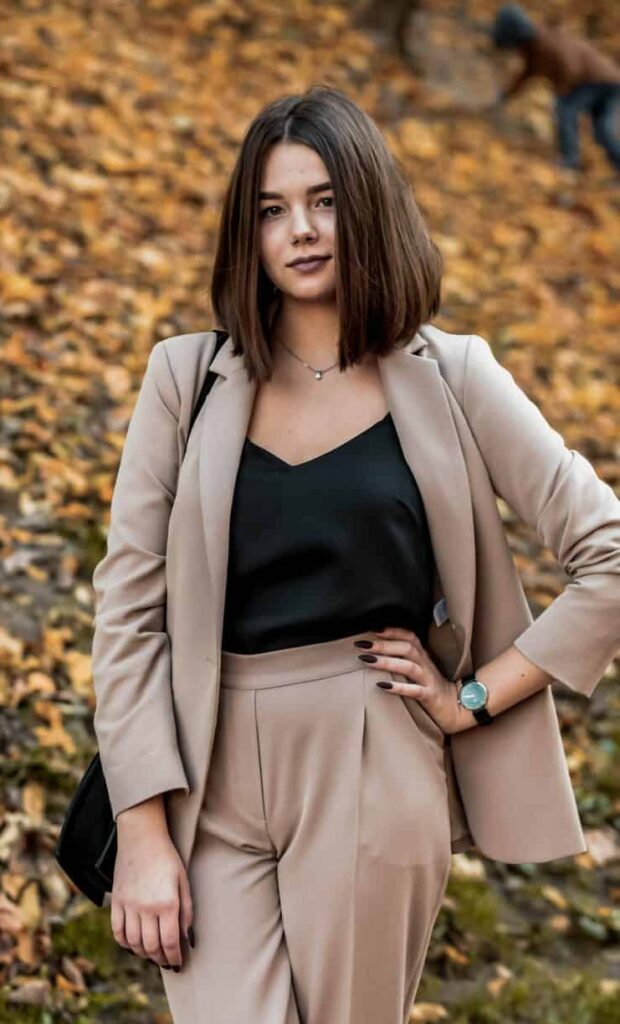 Blazer Outfits for Work 
You can create a sophisticated look with a black blazer, black fitted suit pants, a neutral-colored turtle neck, with matching heels. Depending on your workplace rules, you can add a simple necklace and earrings. 

To style a cool outfit, you will need some breathable linens in light colors, you can style a pink blazer with matching pants. You can wear either a white t-shirt or a white button-down top. Add some beige heels or flats and minimal jewelry. 

For more of a summer-styled work outfit, start out with a pencil skirt that ends above the knee (for a more business casual look, stay with a neutral color). Add a matching blazer and a light, breathable shirt. You can wear small heels or flats. 

When you want to style a blazer with a certain dress, you need to measure where your dress length. If the dress ends about mid-thigh on you, style a matching blazer that ends around the length of the dress. If the dress is around the knee or longer, add a blazer that ends at your waist and is a tighter fit. 
Blazer Outfits For A Day Out 
For a warmer day, start with a matching skirt and blazer, add a complementary color shirt with some matching heels. Add minimal jewelry (earrings, necklace, bracelets, or rings) to bring some bling to your look. 

If you are looking for a sexy look, let's style an animal print blazer. Whether you have a snakeskin, cheetah print, or tiger print blazer, you can add solid black jeans with a black, lacy-top. You can wear your favorite pair of heels and add a little spice with some jewelry. 

When styling a plain black blazer, there are many ways to accomplish this. On a warmer day, you can style this blazer with almost any dress you desire. Many recommend wearing a tighter fit dress to allow your curves to be shown off. You can accent your outfit with jewelry and a matching pair of shoes. 

Do you want a casual yet sexy look? Start with your loosest blazer, style it with your favorite ripped jeans, and a complimentary plain t-shirt. You can wear some plain sneakers or add some pumps. Make sure to add your jewelry and favorite purse!
Styling Blazers with Jeans 
If you want a striking combination, wear dark blue jeans with a vibrant floral top and a single-button navy-colored blazer.
Wear skinny black jeans with a colored blazer for a night out for a vibrant look.
Add light-colored boyfriend jeans with your favorite loose-fitting blazer for a comfy yet cute outfit.
My favorite look is to throw on some ripped jeans, add a white blazer, and a loose-fitting colored shirt for a spring-summer style.
Styling Blazers with Sneakers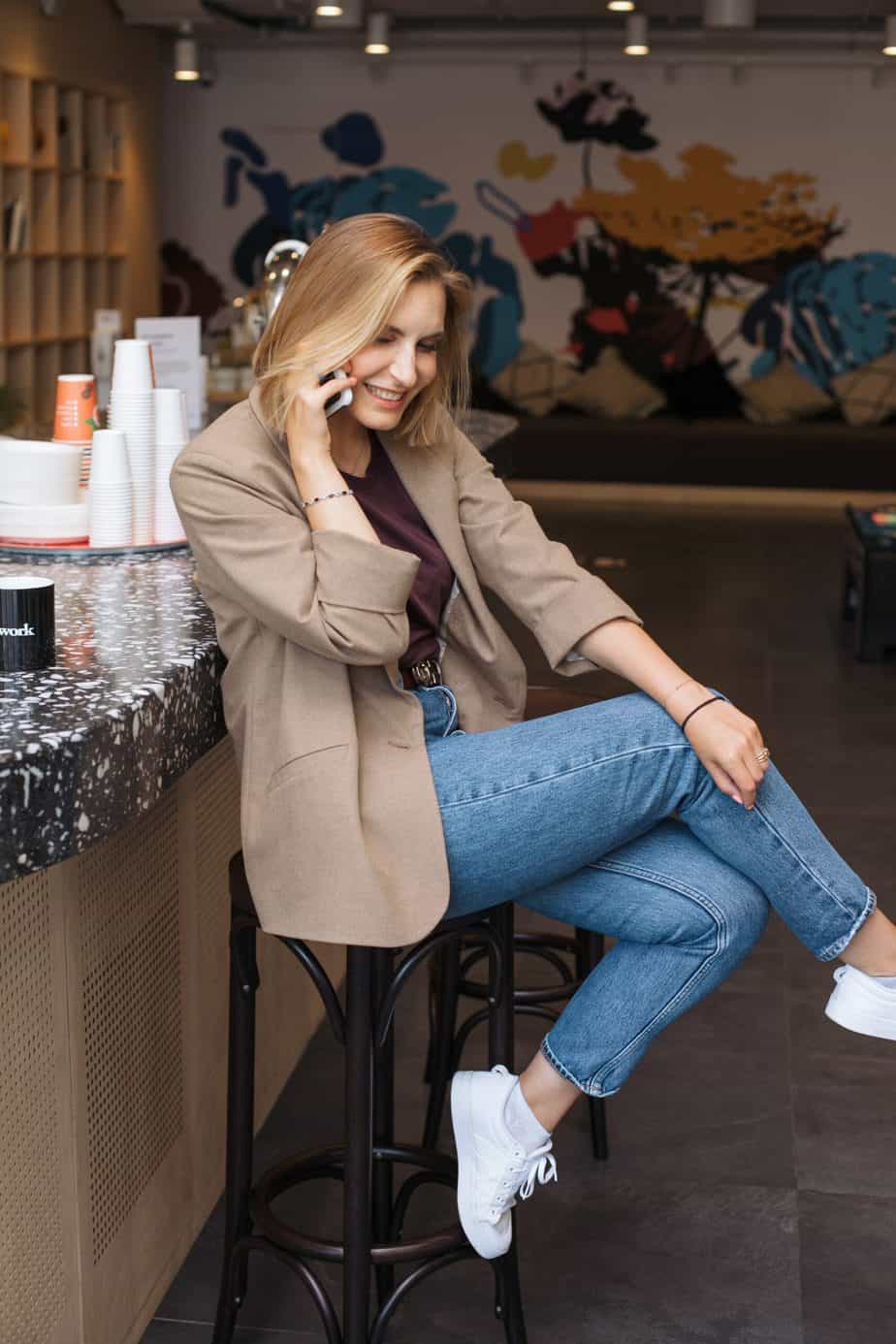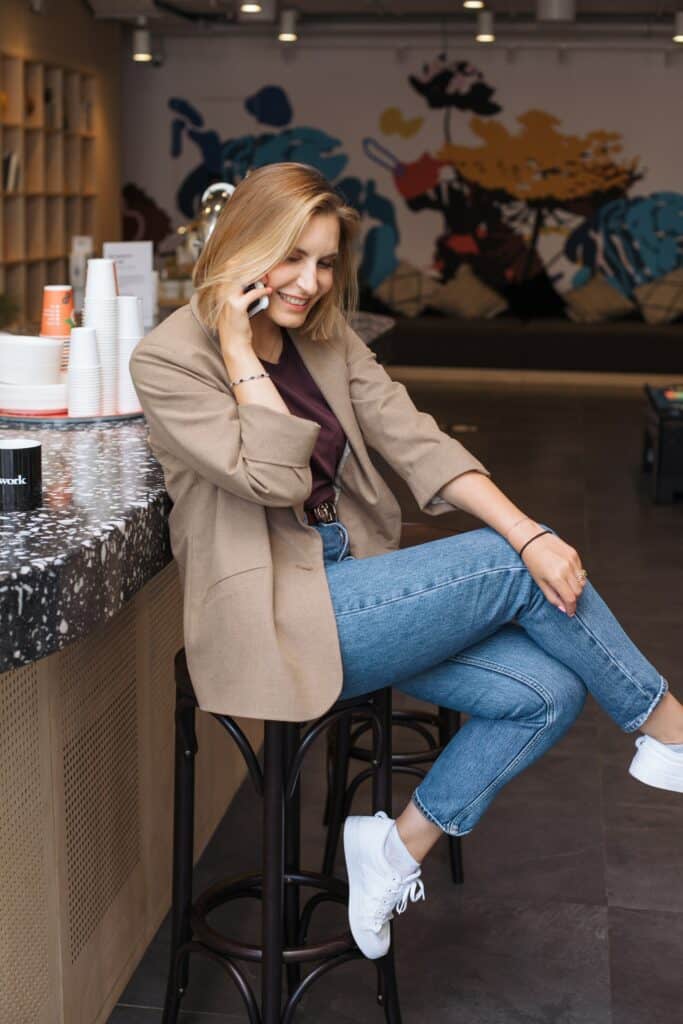 To put together your outfit, add white sneakers. A floral dress with a beige blazer and white sneakers giving you a business casual look. 

If you want more of a classic look, throw on some black converse with blue jeans and a black blazer. 

You can also wear a white pair of Adidas with a plaid blazer, a pink button-down shirt, and a pair of light blue jeans for a more fall look. 

For a pop of color, add some colored Vans, wear a white shirt, and pair of black leggings, and a blazer. 
Now, Let's Talk Price 
When looking for blazers, you can easily be tricked into thinking cheap can also be good quality. When you are shopping for blazers you want them to last you a few years, especially when you wear them for work. Now we're going to discuss good prices, for good quality. 
H&M Fitted Blazer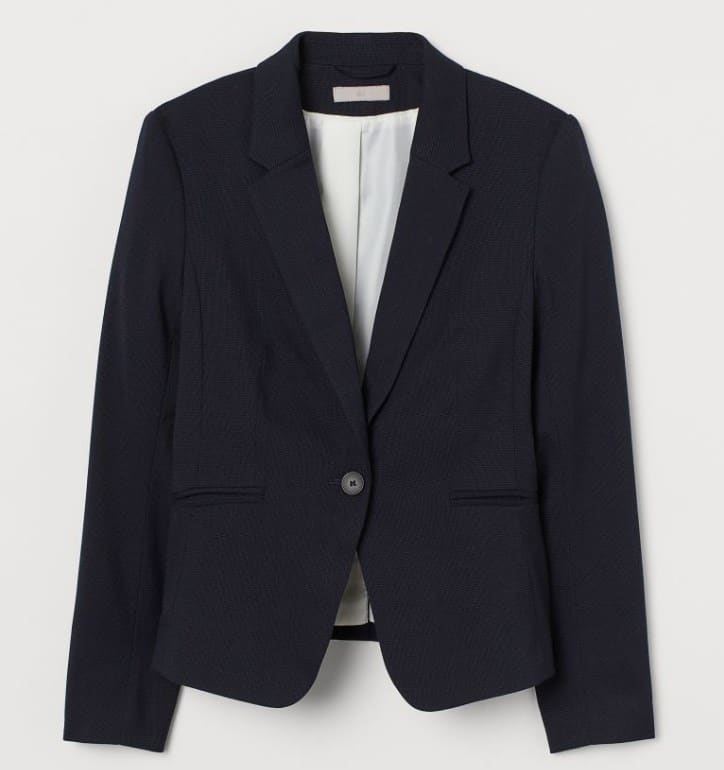 Ashley Phillips, a style editor, usually combines individuality and durability by purchasing H&M blazers and making them properly fitted for a perfect suit. She prefers the $50 versions to the lower-cost alternatives, claiming that the consistency differential is worth the extra money. 
She owns this edition and advises that if you're going for a fixed, tailored blazer style, you can go for your regular size. Shortening the sleeves or nipping in the waist is relatively inexpensive, but if the position of the shoulders isn't in the correct place, you might be looking at a complicated method.
Size selection: 2-22
Price: $50
BB Dakota Talkshow Host Blazer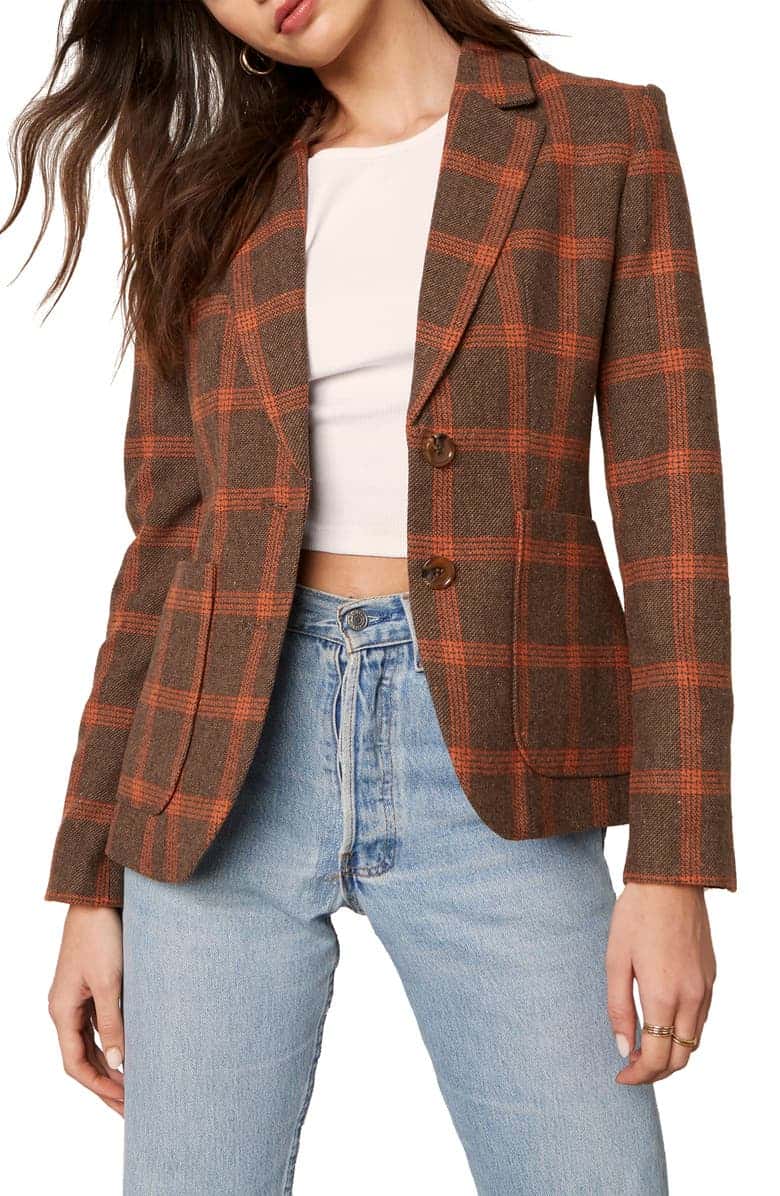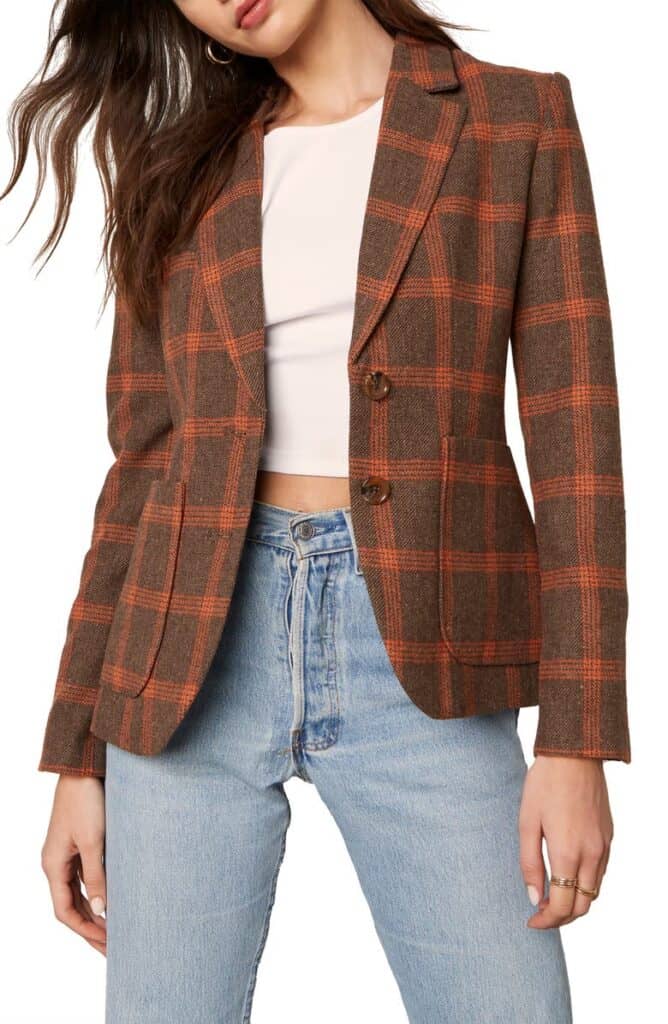 You'll definitely like the BB Dakota Talkshow Host Blazer if you want a more rugged, retro-inspired blazer. This is a blazer that can be worn to work as quickly as it can be thrown on over a white tee and pants. Its slotted lapels, bulky patch pockets, and casual fit strike a balance between masculine and a flattering, flexible silhouette.
Size selection: 0-14
Price: ranges between $70-$100
Lioness Palermo Blazer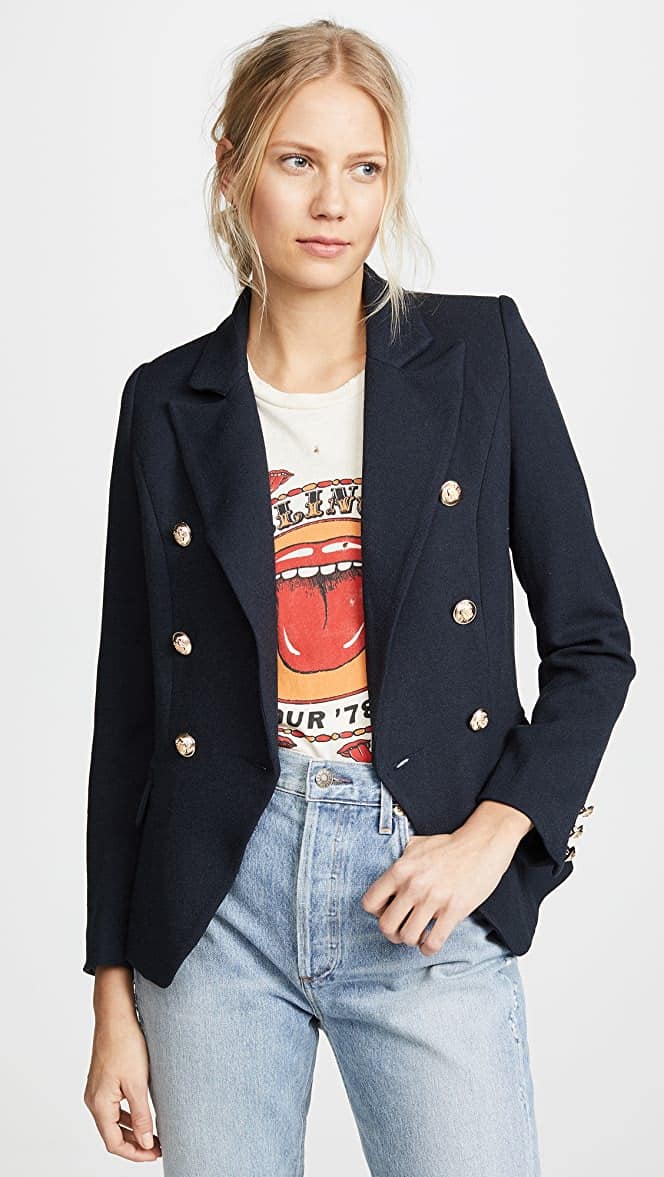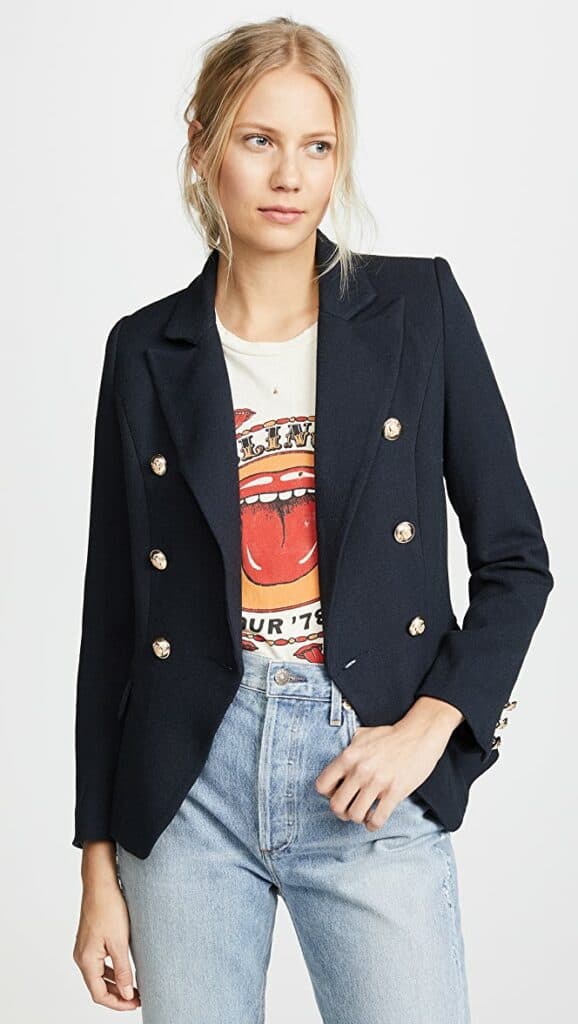 We enjoy the range and price point of Lioness' under-$100 blazers in common styles and designs, but this blazer is not an investment blazer. Although it is perfect to wear every once in a while, you may not appreciate the price of wearing it not so often. If you have a fuller bust, we would recommend sizing up one. 
Size selection: 0-20
Price: $88 
Everlave Oversized Blazer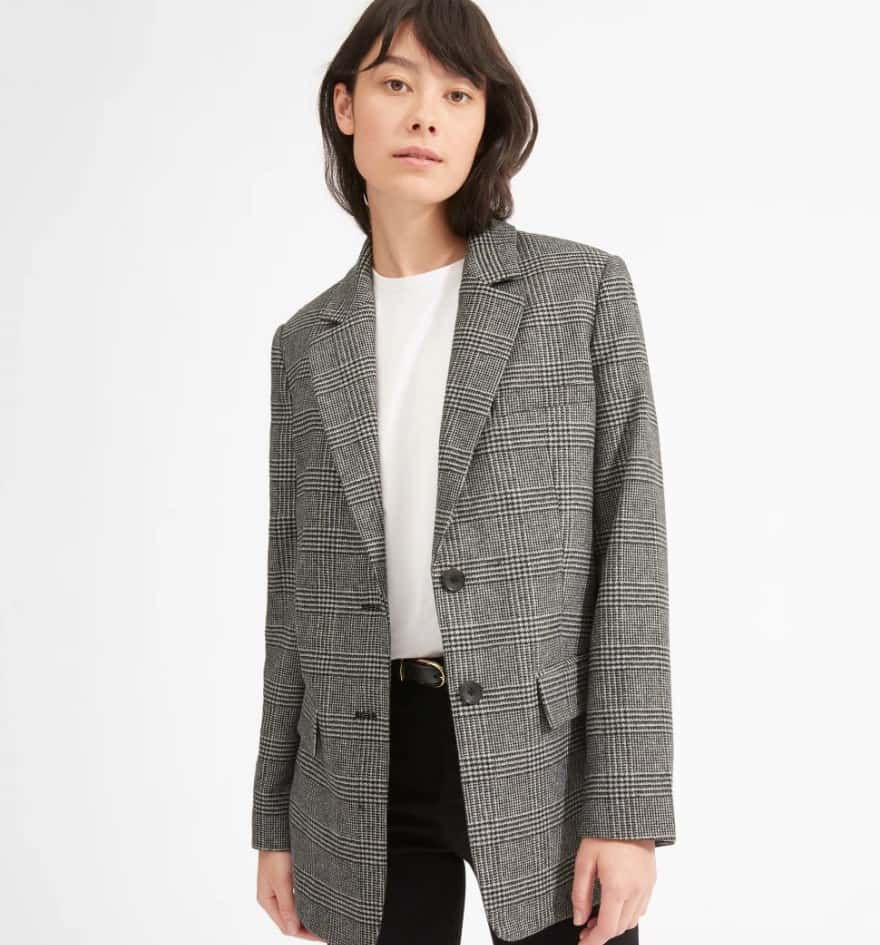 For a more pricer blazer, the Oversized Blazer is perfect for a relaxed look. The 100% recycled Italian wool is substantial – it's perfect for cold winter mornings and has a perfect draping effect. In our opinion, the sizing is slightly too big, so we suggest sizing down if you're looking for a slightly fitted look. 
Size selection: 00-16
Price: $170
Universal Standard Rio Blazer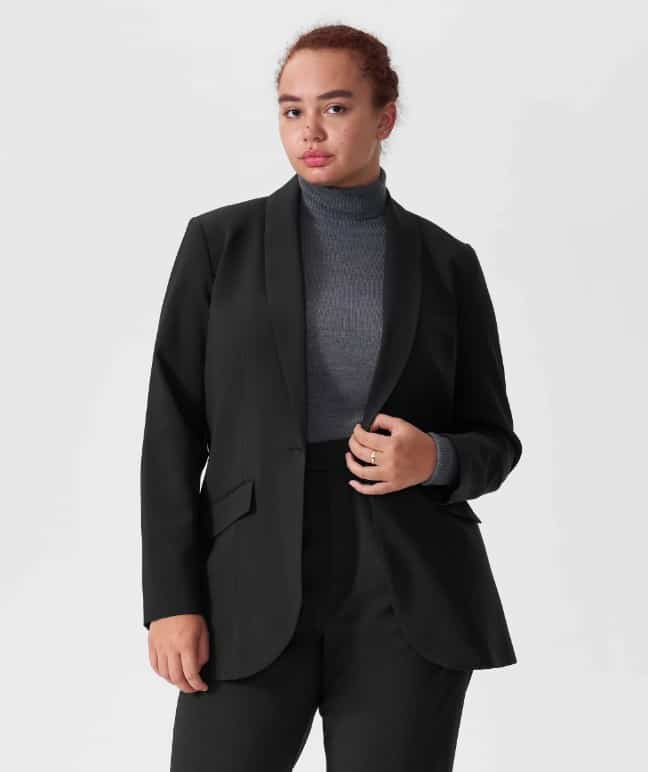 Although this blazer is much pricer than others, the quality with last you a lifetime. Long sides, tailoring that slims but doesn't take you in too much for long wear time, and light wool with a touch of a stretch make the Rio Blazer a classic. Universal Standard also is one of the most diverse sizing sets we've come across. 
This is a good fit if you're searching for a stable, anytime basic. Though it'll look great at a conference, you can also throw it on over a T-shirt and wear it with jeans for a more relaxed look. However, the arm area receives most of the tailoring, and the waist is less tailored than the other choices on this list. Rio's greatest strength is its agility. 
Size selection: 00-40
Price: $225
What are the Best Blazers for Travel? 
Trying to find a women's travel blazer that is ideal for both business and pleasure can be challenging, as it must meet a number of criteria. Although there are several choices, many of them aren't suitable for packing into a suitcase and traveling abroad. 
Encircled Women's Travel Blazer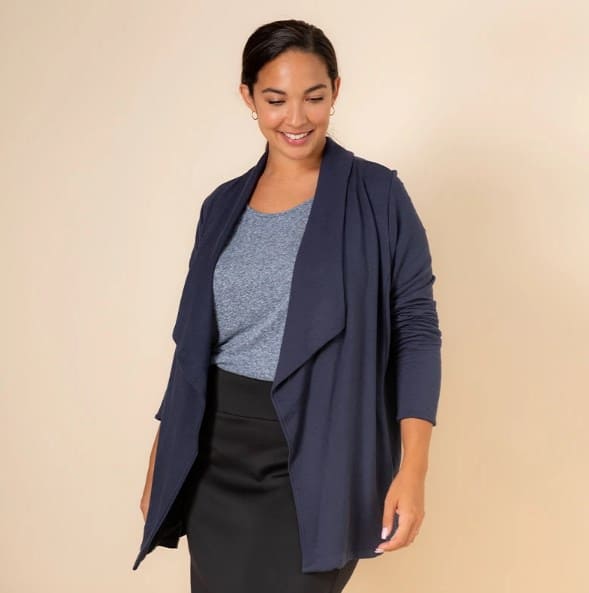 The Encircled Blazer is a wonderfully draped style and zipper pockets to conveniently store items, a hidden-button closure for flexibility to wear however you please, and lovely cuffed sleeves for a casual fit that you might take anywhere. The cloth is the best part; the lightweight bamboo wool is sturdy and very comfortable. 
Size selection: 0-20
Price: $288
Tommy Hilfiger One-Button Blazer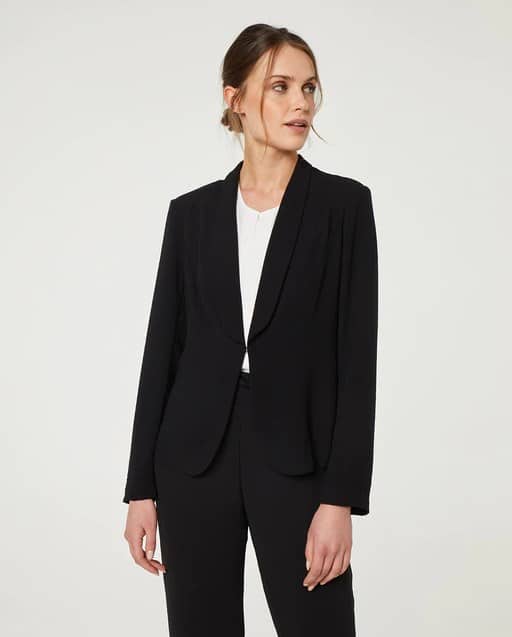 What a timeless charm that you will take with you everywhere you go! The Tommy Hilfiger blazer is available in a variety of beautiful colors and patterns. The fabric blends in this one-button line vary from model to style. The one seen above is made of a soft cotton-polyester mix. Both of them, though, has a plush lining and trendy crest buttons, as well as patched elbow sleeves for a flattering, traditional look. 
Size selection: 0-16
Price: $100 
J. Crew Sophie Travel Blazer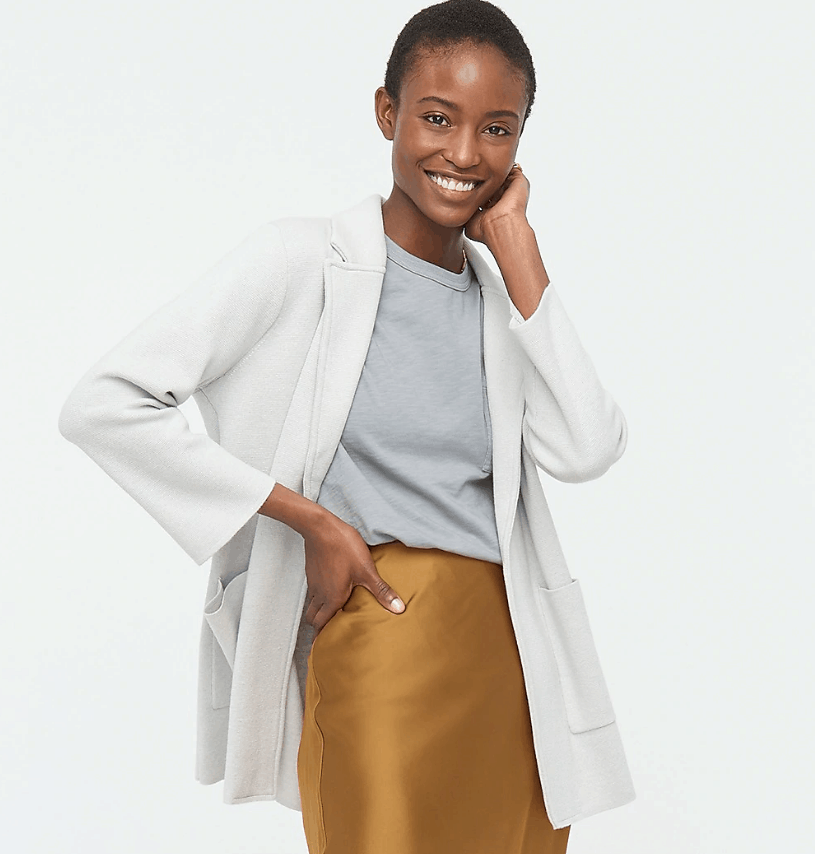 The J.Crew Blazer is a great year-round option that hits all the right notes in terms of casual styling and lovely tailoring. It's made of a smooth cotton mix with big pockets that can accommodate a room key card or lipstick, and it's so flexible that it can be dressed up or down.
It's also ideal for wearing on the plane for a little extra comfort, but it's not too bulky while arriving in hotter climates.
Size selection: 00-22
Price: $150
Banana Republic Lightweight Blazer-Luxe Sculpt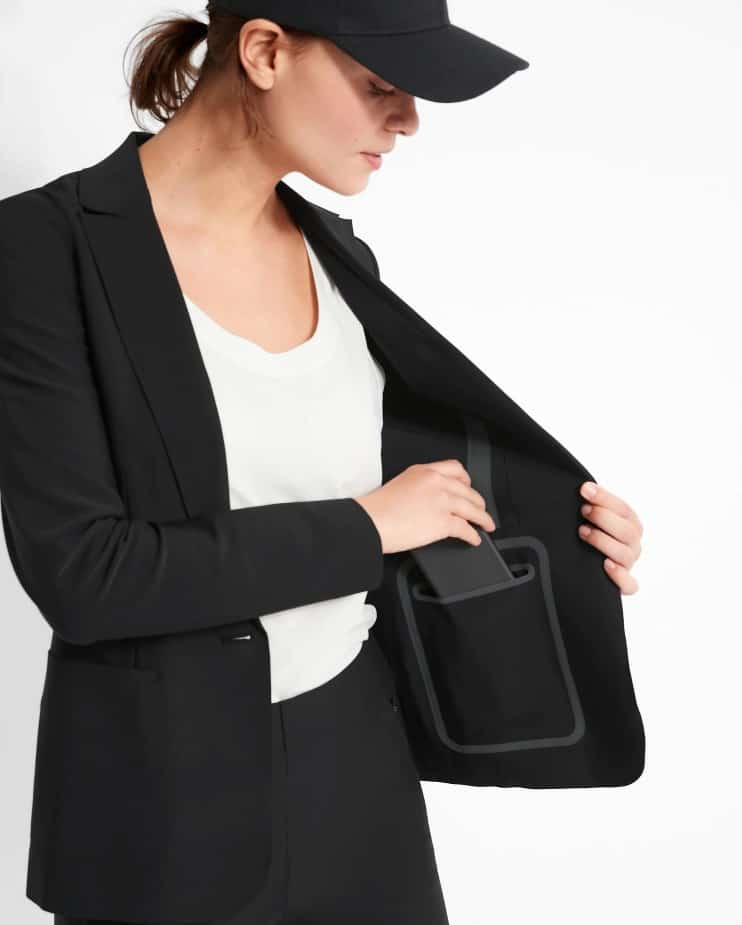 The Banana Republic Luxe Blazer is the perfect travel blazer, with stretchy, wrinkle-resistant leather, UPF 50 sun protection, and plenty of useful pockets, two front pockets, and a hip pocket that houses a smartphone. This is easily packable and flexible for corporate trips or some other time you want to wear it. It's great for warmer temperatures and can be bundled as it gets colder.
Size selection: 0-20 
Price: $220
Eddie Bauer Departure Blazer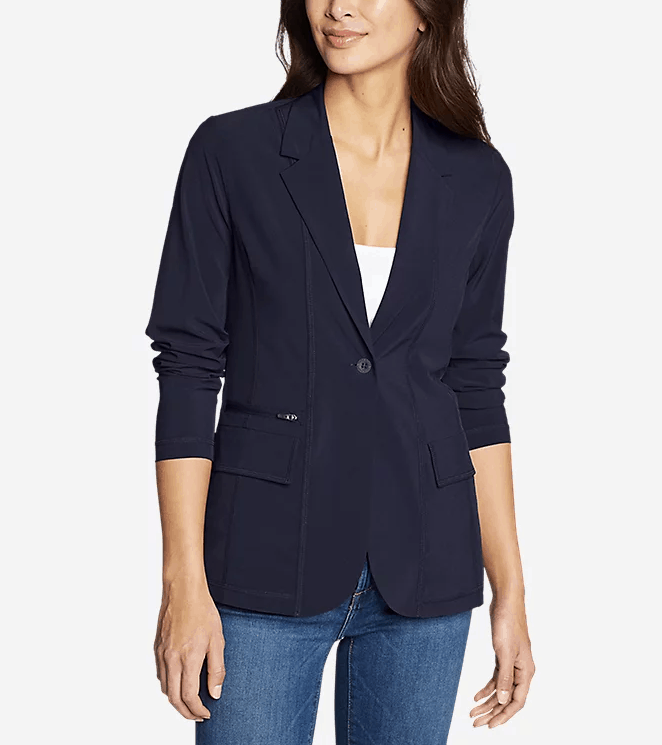 Eddie Bauer is a great option since their clothing is made for traveling. The polyester-spandex mix of the Departure Blazer is comfortable and stretches when you pass, and it's moisture-wicking, so you'll look cool while moderating a conference or leading a conference. The material prevents wrinkles and is incredibly thin, taking up very little room in your luggage. 
Size selection: 2-20
Price: $78
Which Blazer Is Most Comfortable? 
Whether you're out and about wearing your stylish blazer or you're in the office, you want your blazer to be comfortable. If it is less expensive or on the pricer side, there are a variety of blazers you can purchase if you are more worried about comfort over everything else. 
J. Crew Factory Sweater Blazer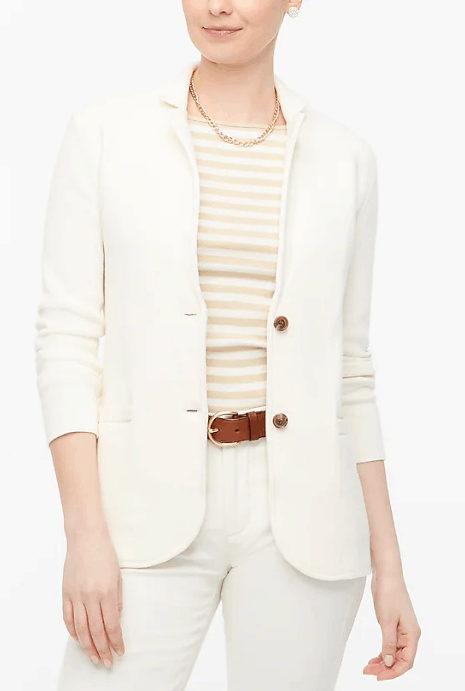 We're swooning over this soft cotton cardigan, which comes in four vibrant hues, (perfect for jeans and some sneakers). The blazer's design is timeless, the patch pockets are more casual and fun than conventional pockets, and it's all machine washable. It's "great in every way," according to one satisfied blogger, and we'll just have to wait and see.
Size selection: 00-22
Price: $60
Old Navy Classic Glen Plaid Blazer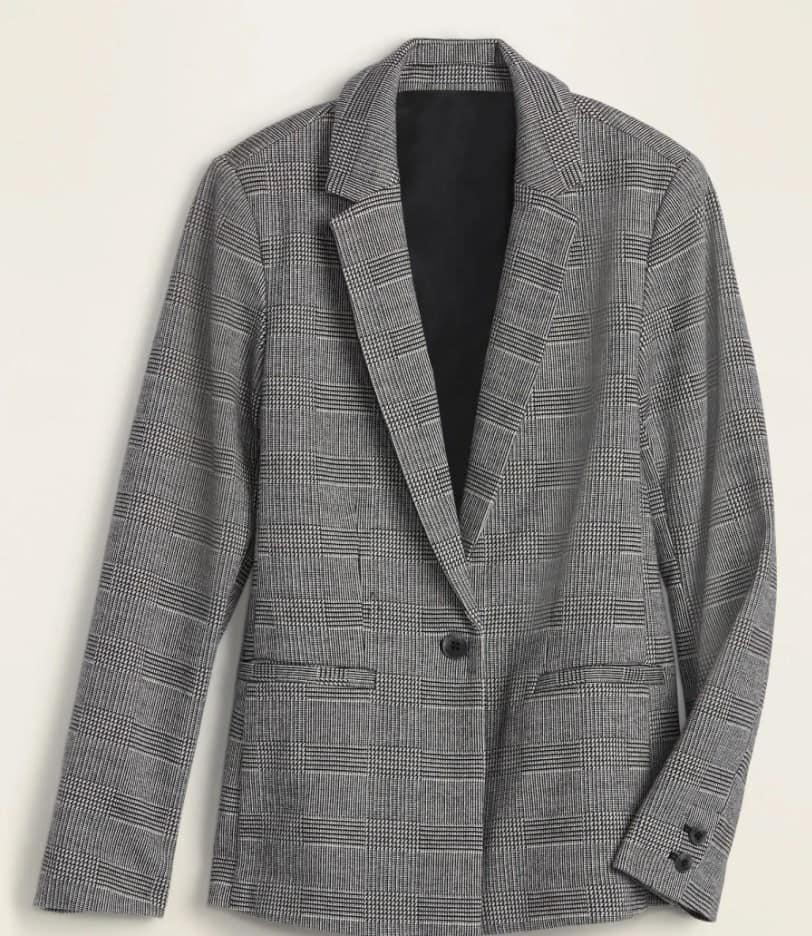 This tailor-made jacket can be dressed up or down depending on how you wear it. For presentations, layer it over a collared top and a pencil skirt, or your favorite jeans and a shirt. Plus, the added spandex allows you to move freely. 
Size selection: 0-20
Price: $38
Nic and Zoe Pocket Blazer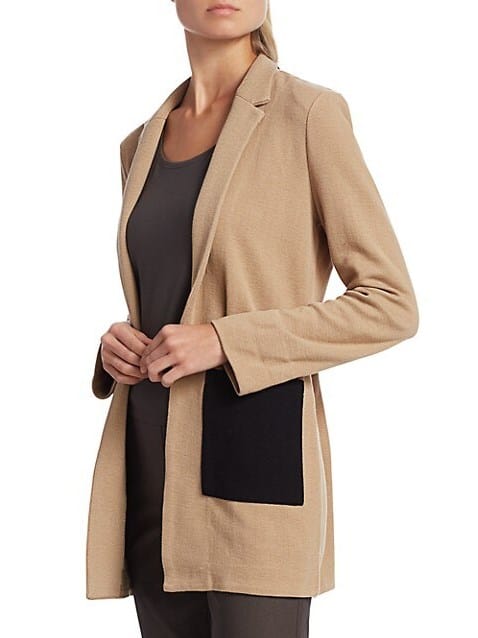 This hand-knit blazer with bold pockets and an open front walks the balance between traditional and edgy. Its cotton fabric is threaded with rayon for stretch, so you won't feel restricted as you would with a traditional blazer.
Size selection: 00-22
Price: $71
Allegra K Plaid Work Jacket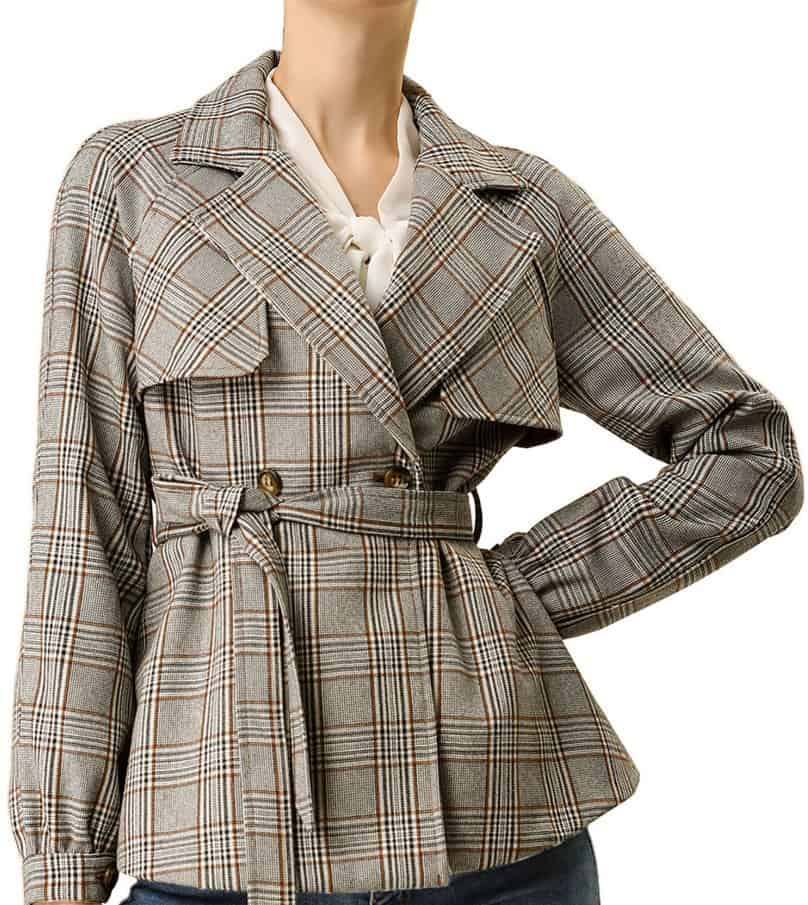 Fans of "Clueless" unite! Depending on how you wear it, Allegra K's plaid blazer is both ideally preppy and perfectly punky. To go grunge, put on torn jeans and military boots, or keep it clean with a white shirt, skinny jeans, and ballet shoes. In this case, it would seem to be the work of "a very powerful artist." 
Size selection: 0-20
Price: $49
Liverpool Boyfriend Blazer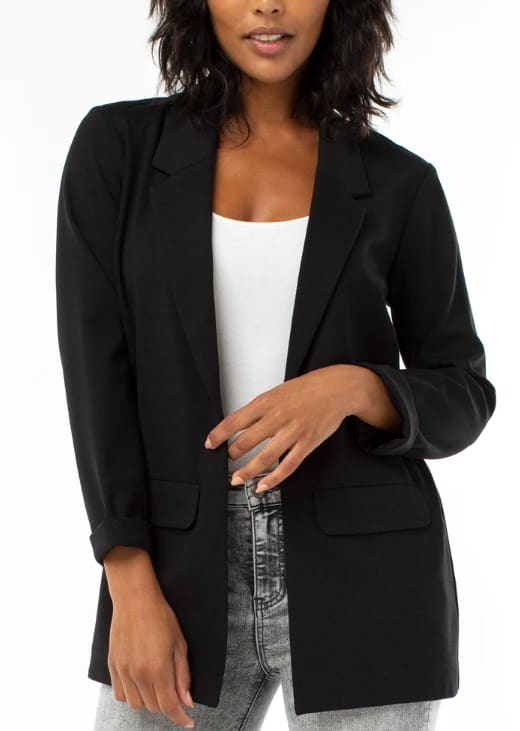 Is there anything cooler than a work-ready jacket that still looks like loungewear these days? The standard silhouette, cut, and print of this plaid classic by the brand Liverpool are all formal, but the fabric is smooth, elastic, and won't get wrinkly on you. 
Size selection: 0-20
Price: $77
Recommendations For Best Price and Comfort
When you are at work or wear blazers on a regular, you want the best in price and comfort, especially wearing them for hours on end. We recommend the best blazers in price and comfort for your needs. 
The Drop Blake Long Blazerreceives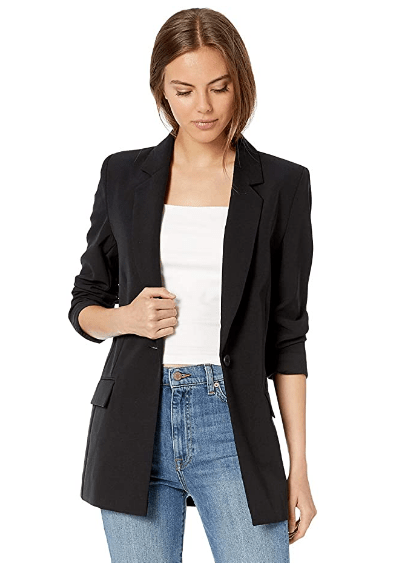 This affiliate marketer pick will quickly become a wardrobe staple. The fashion options are infinite thanks to the longline hem and exaggerated fit. This blazer fulfills all of our expectations. The drape is amazing; it skims the belly button and waist, making you slimmer. It's very relaxing and gives your clothes a tailored appearance. It can be dressed up or down, and it will be a great addition to every wardrobe. 
Size selection: 00-20
Price: $70
Old Navy Classic Ponte-Knit Blazer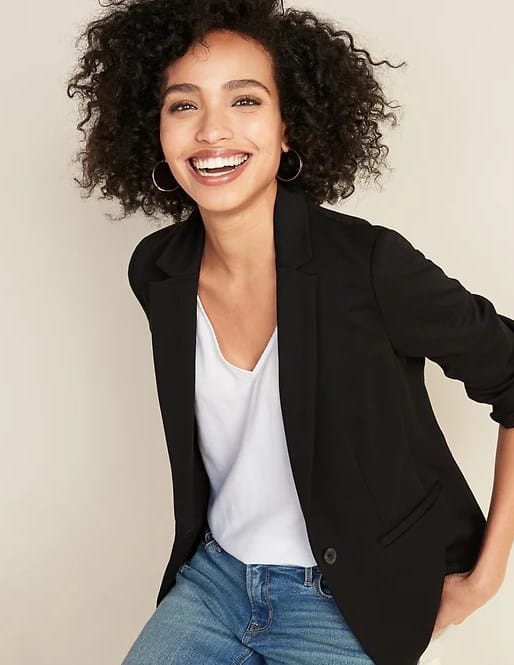 Knit blazers are the way to go when it comes to mixing warmth with style. This blazer seems to be a lot more costly than $45. Old Navy, you've done a fantastic job. Combine a white shirt, straight-leg pants, and a customized necklace with this classic blazer. 
Size selection: 0-24
Price: $45
State One-Button Stretch Crepe Blazer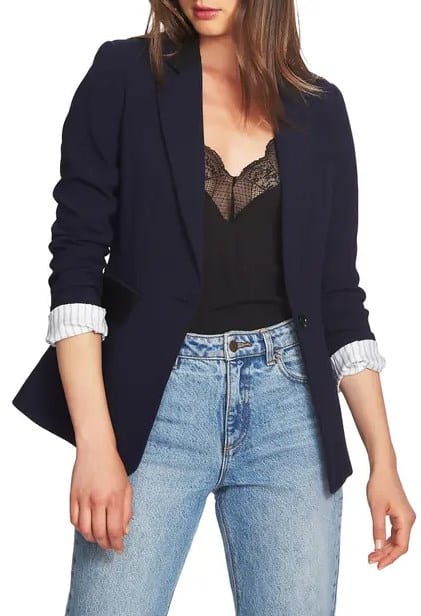 This blazer provides a much more feminine twist on the menswear-inspired classic, with its stripe-lined sleeves and tailored silhouette. We'd pair this single-button blazer with a button-down for a casual yet polished look. 
Size selection: 00-16
Price: $129
H&M Shawl-Collar Jacket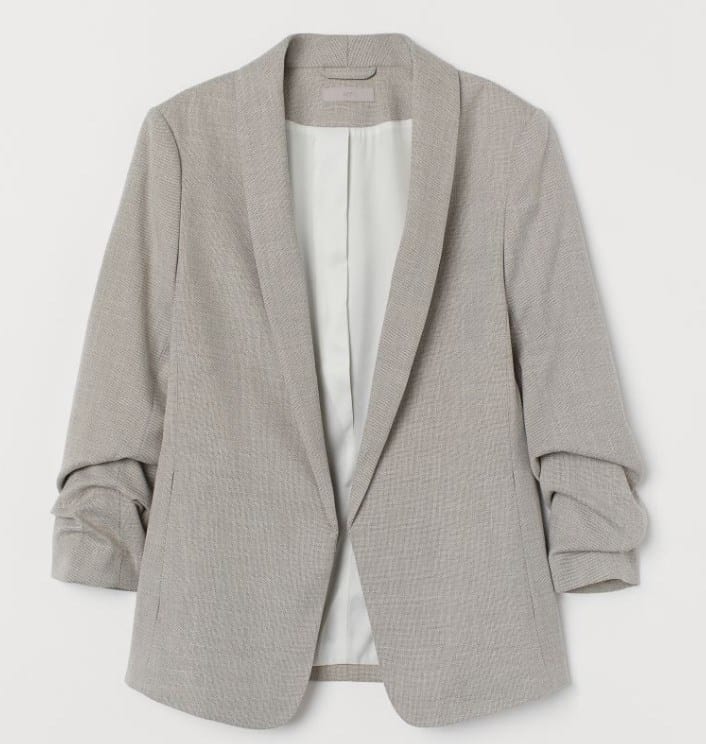 This blazer can be worn all year long, with turtlenecks in the winter and slip dresses in the spring. Combine this blazer with your favorite sweatshirt for a polished and relaxed look. 
Size selection: 0-20
Price: $50
FAQs
When it comes to purchasing a blazer, you want to make sure it is the right fit, perfect style, and fits comfortably for all-day wear. Do you still have more questions? We're here to help!
Question: What's the difference between a women's jacket and a blazer?
Answer: The only difference between a suit jacket and a blazer is that a suit jacket is intended to be worn with a matching pair of trousers or skirt for a smart appearance, while a blazer is designed to be worn alone for informal wear. 
Question: Is a coat or blazer better? 
Answer: The shoulders of a blazer are often tailored to match the shoulders of a suit. They are customized in the same way as shirts are tailored. The extra fabric is padded under the shoulder to maintain the shoulder's natural appearance. Blazers tend to be lighter and more textured than coats are. 
Question: Does a woman button her blazer? 
Answer: For men, the rule is simple: when they stand up, they can button the top button of their suit jacket; when they sit down, they should unbutton. For women, you can either buttoned the top button as men do, or you can button all of them. 
Final Thoughts On Women's Blazers
Spicing up your outfit with a blazer has been around for a while now. You're able to create any look that you desire when you have a blazer or two in your closet. Being able to afford a durable one is definitely in the mix when you are looking for the perfect blazer when it is required for your job, so is how the blazer fits and if it is comfortable. When looking to buy a blazer, you need to address your body shape so you can highlight the places you want. What do you think?