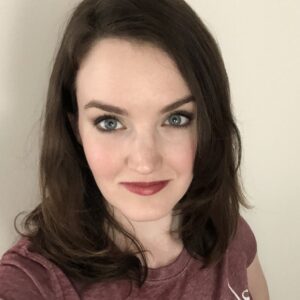 Latest posts by Crystal Schwanke
(see all)
You'd think shopping for a tank top would be a pretty easy, straightforward thing, but finding the best women's tank top brands can be a bit more challenging than that, and a life-changing (okay, maybe that's a little dramatic) experience .
Some tank tops don't hold their shape or they have shockingly unflattering shapes as soon as you buy them. Some are too sheer, too ill-fitting to hide any bra, or simply the wrong style. If you're tall, you may have trouble finding the ones that go as far down on your hips as you'd like.
We're here to cut out as much of the tank top shopping static as possible and get right down to how to know a tank top is the right one for you. Find out what to consider when you're trying them on, how to choose different tank top styles for a variety of occasions, and see the best styles we've found so far.
How to Find the Best Women's Tank Top Brands
Tank tops seem to be simple enough wardrobe staples.
Why, then, must it be such a chore to find the perfect ones that will last, look great on, and take you from casual weekend days (with jeans or sweats) to the office (under a blazer or sweater), and on to date night (with a flirty skirt or your favorite pair of jeans)?
It's not impossible, but it can seem daunting when you first get started in your search.
You just need to keep a few things in mind as you shop. Beginning your hunt with a list of stores that tend to have stand-out tank tops for women (even the best non-see-through white tank tops) helps, too.
First, what to consider:
Which stores tend to have things women of your height enjoy wearing?

Nobody wants a tank top that rides up or just barely skims the top of their pants when they want to be covered, and not everyone will want the "long and lean" styles you can find in some stores.

How much are you willing to spend on a tank top?

Because it's a staple item that can be worn in many ways, are some of them worth $40.00 or more?

Or do you prefer to pay less as long as it's somewhat comfortable because to you a tank top is always a layering item that's barely seen?

What kind of color range are you looking for?

A color for every outfit or something that matches your skin tone pretty well?

In some cases, you may be able to find a single brand and style that comes in enough colors to beautifully cover all those bases for you.

If you find it, stock up!

What kind of neckline is flattering on you, and which ones work with the bras you already have?

(Or are you willing to buy more bras?)

How thick do you want the straps to be?

Do you want your tank top(s) to be worn alone or layered?

How does that impact the styles you're willing to consider?

For example, especially flowy tank tops won't work under sweaters but the extremely fitted ones are meant to be worn under other things, yet there are some middle ground styles that can go either way.
Your answers to these questions will contribute to what is considered the best women's tank top brand for you.
The Main Differences Between Tank Tops and Camis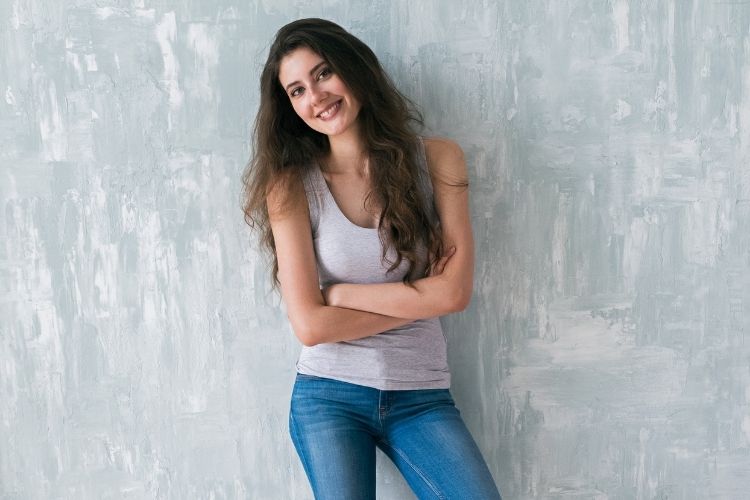 This comparison is for the more fitted, traditional camisole. Newer cami styles can be almost interchangeable with tank tops and worn on their own rather than layered.
Tank tops tend to have thicker straps, whereas camis have skinny spaghetti straps.

Tank tops can be worn alone, whereas camis are usually only fitted and somewhat sheer, they're best under other tops.

Tank tops can be fitted, flowy, or somewhere in-between, whereas camis tend to be very fitted.

Tank tops can function as a regular top, whereas a cami is a smoothing piece meant to be worn between the bra and another shirt.

Tank tops come in a variety of fabrics, whereas camis usually have a soft, silky feel.
Advantages of Women's Tank Tops
There are so many advantages to having a selection of tank tops in your wardrobe, especially for a woman who loves to have as many options as possible.
They Can Be Dressed Up or Down
Basic tank tops—assuming they're not especially sheer—can be worn with just about anything. They're just as at-home under a blazer or cardigan as they are on their own with jeans or a skirt of any length.
Other styles can be almost that versatile, as well as long as you're not working with an extremely form-fitting/sheer or flowy tank top.
They're Usually Inexpensive
This isn't always the case, since some tanks can cost $40.00 or more, but you can find quality tank tops for under $30.00, and sometimes even less than $20.00. That makes them perfect for stocking up on, whether you like layering them or wearing them on their own.
There's a Flattering Tank Top Style for Everyone
Unless you just hate the idea of ​​Bare shoulders in general (and even if you do, since you can layer), there's a tank top out there that's flattering for your shape and overall style preferences.
Love your shoulders? A halter or racerback style is the way to go.
Love delicate styles? You'll probably feel right at home in a tank with thin straps and a fitted style (or one with ruffles).
Sporty styles more your thing? You'll like racerbacks or basic ribbed tanks you can wear with just about anything. 
Disadvantages of Women's Tank Tops
Tank tops aren't everyone's favorite type of shirt or layering piece, and there are good reasons for that. Let's look at some of the disadvantages of tank tops.
Finding the Right Length Can Be Harder Than You'd Expect
Unless you're of average height (especially in torso length), shopping for a tank top may make you feel a little like Goldilocks—too long, too short, and finally, just right.
If possible, and if you're shopping for a tank top to go with a specific bottom, keep the rise of that item in mind. Tall women wearing high-rise pants may not need quite as much length in a tank as they would normally, and shorter women may feel okay in a slightly longer top if their pants are low-rise.
The Armholes May Be Too Big and Expose Your Bra
This may be the number one most annoying thing about tank top shopping. The color is right, the length is perfect, so you decide to try it on. Then you discover the armholes are stretching too far forward or drooping too far down to ever hope to cover any kind of bra.
In this case, you have a couple of options:
Decide if this formerly ideal tank top makes the cut as a workout tank you can wear a sports bra under

Use it as a layering piece

Decide if you feel comfortable wearing a cute bra with it and letting it show

Take a chance on getting it altered to fit better
Your Current Bra Collection May Not Match the Cut of the Tank Tops
This is sort of like the last disadvantage. Some tank top straps angle up toward the neck (even if it's not especially noticeable when the shirt is folded on the table or hanging up in a store), which can make tucking your regular bra strap in next to impossible.
In that case, you'll either need to buy a bra that works well with the tank tops (racerbacks, strapless, or even halter), decide the tank is a layering piece, choose to put pretty bra straps on display, or decide the tank top isn't worth the hassle, no matter how perfect it appeared to be at first.
Tips for Buying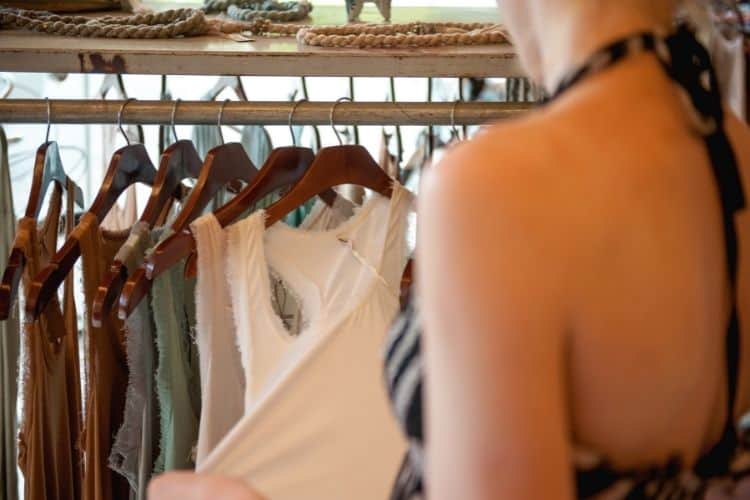 When it's time to buy, keep these tips in mind to find the most flattering tank tops for you.
Consider the Length
Will your tank top be tucked in or left untucked? Do you prefer to show a bit of skin above your jeans or skirt (crops will be perfect!)? Do you feel more secure in a longer top that extends halfway down your hips?
If you're using your tank as a layering piece, will it be long enough to stay in place all day? It's so uncomfortable to have one layer make its way up your torso when you can't do anything about it, and you can't always just reach under your sweater to tug your tank top back down.
In this case, you'll want a tank that's long, possibly long enough to tuck in and wait to stay put, and in a stuff that doesn't ride up. Something with a bit of stretch, not 100 percent cotton, is a good option.
Can It Be Sheer?
In most cases, the sheer tank top isn't likely to be what you're going for. However, if you never intend to wear your tank top as a standalone top, you can consider dropping your standards a bit.
If it's a little sheer, but the fabric feels fantastic against your skin, the length and fit are just right, and the fabric doesn't creep up around your midsection, you may be able to overlook the fact that it's a little see-through .
It may not be a "perfect" tank top, but it could still be just what you need at the time.
Most Flattering Necklines on You
If in doubt, go with a tank top that has a scooped neck or V-neck. These are flattering on everyone.
If you love to put your shoulders and decolletage on display, you may prefer a shirt with straps that angle up toward the neck (these usually have a racerback style).
For the illusion of curves, try a sweetheart neckline.
To add balance to a pear shape, consider a tank top with a square neckline.
Tank Tops for Layering or Wearing Alone?
If you always plan to layer, the best women's tank top brands will be different than what you might choose if you wanted to wear them alone. For layering, you'll want to choose long, fitted tops that are breathable and stay in place (consider cotton/Spandex blends).
Straps that sit farther out toward the shoulders will be best because they won't be close enough to the neck to show when you're wearing a top with a scooped neck or an unbuttoned flannel.
Want to wear your tank top as a standalone top? Choose your favorite color, embellishments, styles, and length. Anything goes.
Interesting Features
Unless you're looking for something as basic and versatile as possible, consider embellishments like lace, ruffles, buttons, or beads. These can add a little visual interest and dress up a tank top in a way that makes it blend more seamlessly into dressier outfits, as well as casual ones.
My Top Recommendations
A good collection of tank tops can make getting dressed a much more pleasant experience. They're perfect for casual outfits or as an additional layer when you want the warmth, the pop of color under a cardigan or a flannel shirt, or extra coverage.
Here are some of the best women's tank top brands I've found:
Old Navy (First-Layer Slim-Fit Rib-Knit Tank Top for Women)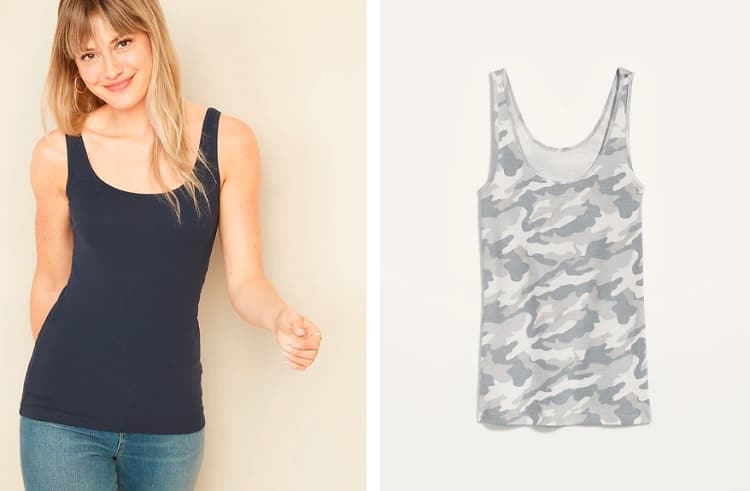 If you want a tank top that does anything, from being worn alone with a pair of jeans or a skirt to layered with other tops without adding a lot of bulk, the Old Navy option is worth a look.
Pros
Inexpensive

Several colors available

Available in Regular, Tall, and Petite sizes

Long enough to be good for tall women
Cons
XIEERDUO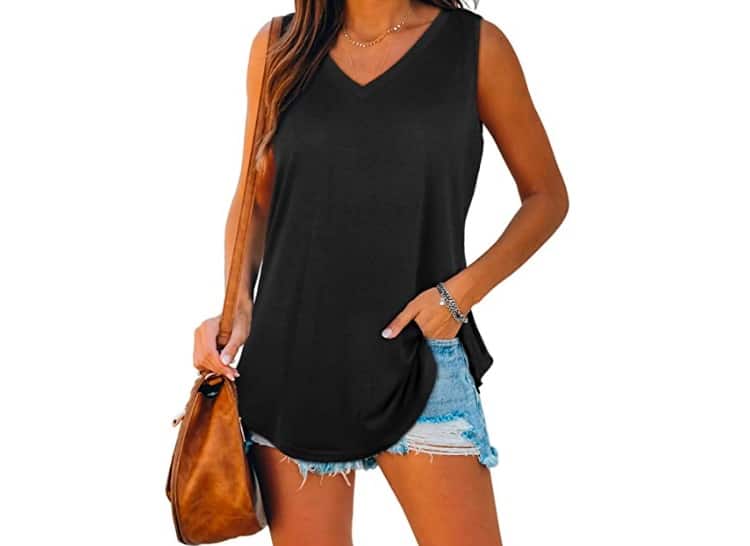 Xieerduo tanks on Amazon are some of the best sellers on the site. There are two styles in particular that stand out:
V-Neck Basic case case

: This style is loose, flowy, with wide enough strap for hide bra strap.

This one comes in a variety of solid colors and a few patterns.

V-Neck Lace

: This is similar to the basic style, but it has a lace accents along the strap and neckline.
Pros
Not especially expensive (but not

inexpensive

for a tank top, either)

Lots of variety

Loose and flowy fit will complement most body types

can be dressed up or down
Cons
May cost more than some people expect to pay for a simple tank top

Lace only comes in black or white, regardless of top color
Athlete (Renew Racerback)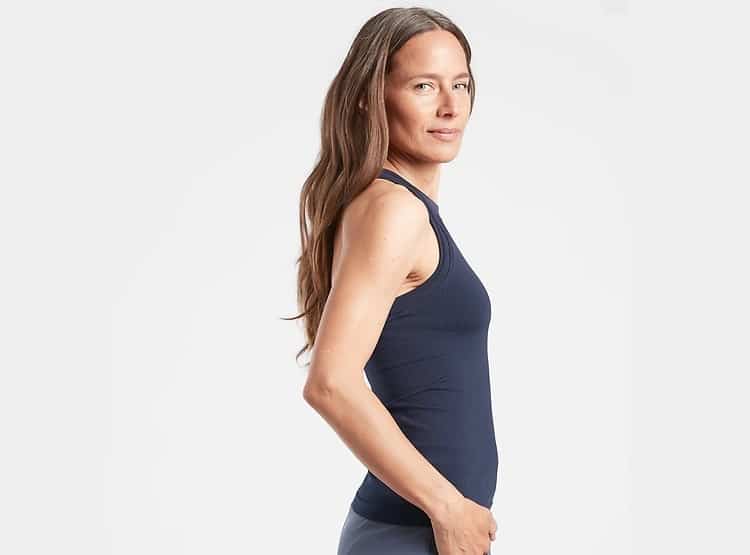 The Athleta Renew Racerback is a form-fitting racerback style that comes in a variety of colors.
Pros
color selection

seamless

versatile
Cons
Expensive at around $50.00
J.Crew Factory (Reversible Layering Tank Top)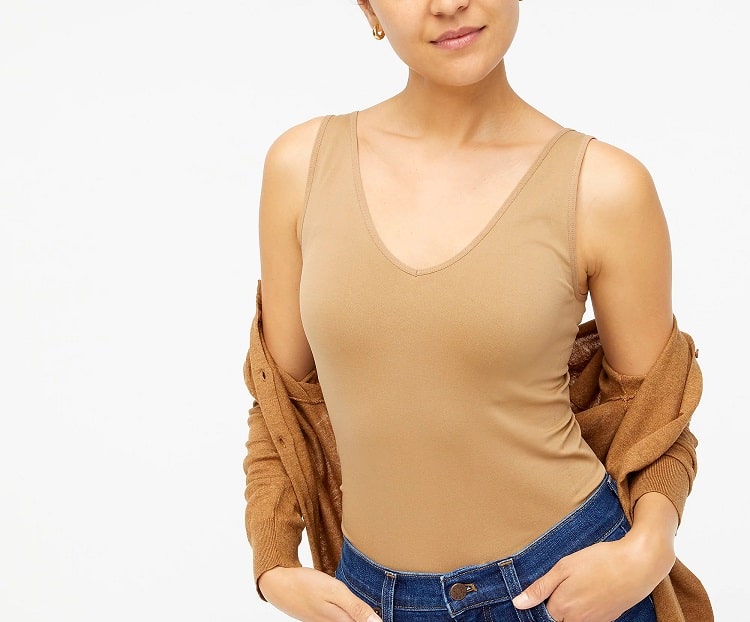 The J.Crew Factory Reversible Layering Tank Top is perfect for wearing under cardigans and other sweaters.
Pros
Inexpensive

Comes in a variety of neutral/nude shades to flatter different skin tones

Comes in sizes XX-Small to 3X

Can be worn as a V-neck or scoopneck
Cons
may run small

Since it's designed to be worn under other tops, it may not be the most versatile option
Banana Republic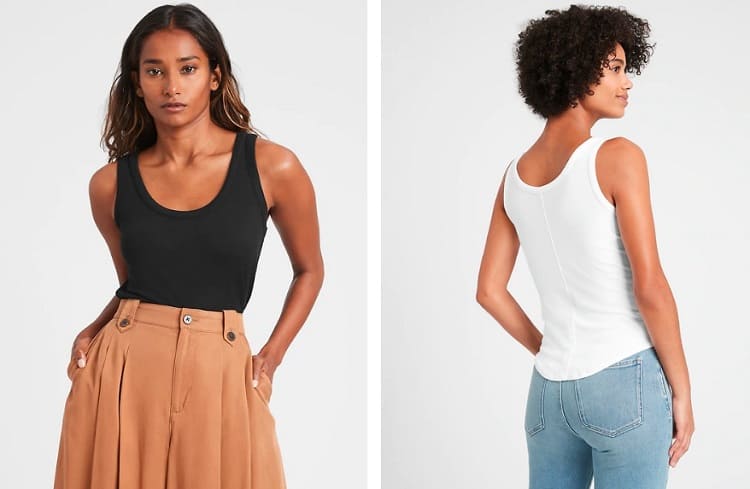 It's hard to go wrong with a Banana Republic tank top, but there are two that really stand out:
The

Essential Tank Top

, the scooped neck style that comes in neutral shades in sizes from XXS to XXL.

The

Fitted Ribbed Tank

, a top that's slightly more casual and available in a much wider range of colors.
Pros
The Essential Tank is flowy enough to leave out, but can also be tucked in for a more fitted look that shows off your waist

Both are versatile enough to wear with just about anything, can easily be dressed up or down

Regular, Tall, and Petite sizing available
Cons
Can be pricy if not purchased during a sale

The Essential Tank Top's color choices are extremely limited
the range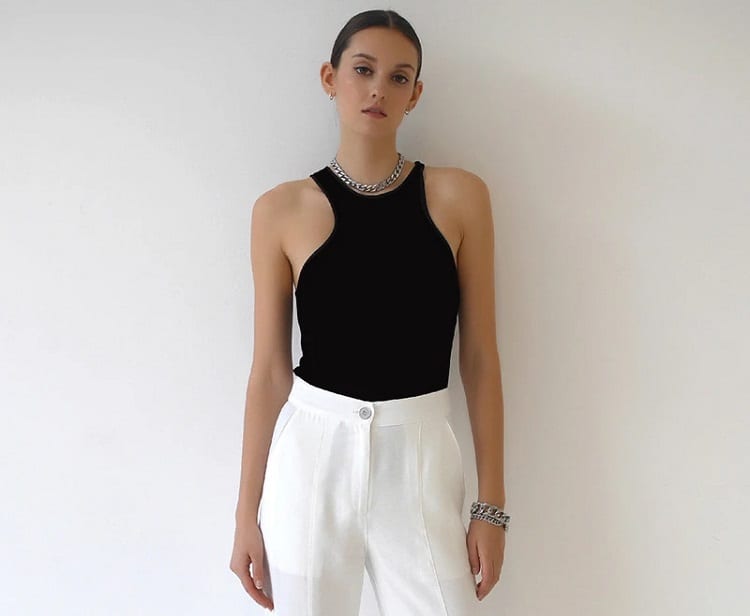 These are the most expensive tank tops on the list, but they are also some of the most interesting. Even the "basic" styles have something that makes them unusual. There are plenty to choose from. Some options include:
Pros
Interesting styles you won't see everywhere you look in the summer

Variety in styles at this store means there are different ways to play up your favorite features
Cons
Not a lot of color options

Expensive ($100.00 and up)

Limited size range
Venus
Venus tank tops are a good mix of trendy and everyday basics. They're usually inexpensive, too, so it's easier to stock up on a few different styles to fit any mood. Two of their tank tops that really stand out are:
The

Crochet Detail Tank

, which has a skinny strap and a sweetheart neckline, both lined with crochet detail

The

Square Neck Tank Top

, which is your basic tank top with a square neckline, available in six different colors.
Pros
Affordable (often less than $20.00)

Size range from XS to 3X

color variety
Cons
Some fabrics may be thinner than most people prefer
FAQs
Curious about where to find the best women's tank top brands and how to style them? Here are some of the most frequently asked questions:
Question: Who Makes the Best Women's Tank Tops?
Answer: Banana Republic, Old Navy, XIEERDUO (Amazon), Nike, and Under Armor
Question: Where Can I Buy Good Quality Tank Tops?
Answer: You can find them at Banana Republic, GAP, Old Navy, or even Amazon.
Question: What Are Different Styles Of Tank Tops?
Answer: Spaghetti strap (like a camisole), thick strap, crop, halter, backless, racerback, workout tank (usually made with moisture-wicking fabric), flowy, and fitted. They can have almost any kind of neckline, including square, scoop, V-neck, high neck, or crewneck.
Question: What Is a Ribbed Tank Top?
Answer: Ribbed refers to the vertical knit pattern on the shirt. Every other line is raised. You may have seen this in a more obvious form on a sweater or scarf.
Question: Where Can I Buy White Tank Tops That Aren't See-Through?
Answer: Try Banana Republic, Athleta, ASOS, GAP, and Venus.
Question: How Do You Pick a Tank Top?
Answer: Decide which cut and length will look best on you, and which color(s) you'd like. Look at straps as well as neckline.
Consider the types of bras you have and whether you'd need to buy a new one to match up with the straps or exposed area in the armholes of the one(s) you're considering.

Will you need it to go under other tops and smooth things out? In that case, choose a shade that is close to your skin tone to make it as versatile as possible. If you'd like the bottom edge to peek out for extra color in your outfit, skip the skin tone tip and grab whichever colors you like.

Consider the rise of the pants or skirt you plan to wear your tank top with. For high rise, you may like shorter—even cropped—top than you'd normally choose. If you want to wear low-rise pants, the "long and lean" top may keep you more comfortable.
Question: What is Considered a Tank Top?
Answer: A sleeveless top, usually casual, with no collar or working buttons (some may have a few decorative buttons, though).
Question: What do You Wear With Plain White Tank Tops?
Answer: Undergarments should be close to your skin tone (white ones will still stand out under the white tank tops if your shirt is even a little see-through).

You can wear white tank tops with blue jeans (any style), skirts, colorful pants—anything, really. White tank tops are incredibly versatile. Exactly how versatile a white tank top will depend on the fabric, fit, drape, and any special details (strap size and style, lace, beading, and so on).
Question: What is the Difference Between a Cami and a Tank Top?
Answer: A shirt is often worn under another top, whereas a tank top can be worn on its own just as much as it is another layer under a sweater or button-up shirt.

Camis have skinnier spaghetti strap. Camisoles are often thinner and more form-fitting than your average tank top, though boxier cami styles are having a moment right now, too.
Question: What Do You Wear Under a Tank Top?
Answer: You can wear a strapless bra or bandeau to make sure at the strap show. Depending on the cut of the straps and the bra styles you own, you may be able to match your bra with the straps to your tank top, too, if that's more comfortable for you.

Thick tank top straps that sit closer to the neck work well with racerback bras, for example.
Conclusion: Buying the Best Women's Tank Top Brands
The best women's tank top brands for you will depend on your body shape, height, how you prefer to wear tank tops (on their own, the layering pieces, and dressed up or down), and preferred features like neckline and any additional embellishments.
There are a few brands out there that stand out in quality and last through wear after wear, wash after wash. Some brands really embrace the basics and focus on excellent fit and quality but not much else. Others are still good quality but have a little more fun with the extras (which means they may not be in style as long).
The best women's tank top brands are the ones that match your aesthetic and everything that goes along with that. From a fabric and style standpoint, any of the brands listed above should be a good starting point.