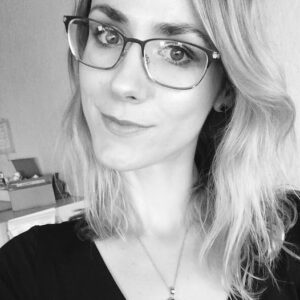 Latest posts by Karyl Trejo
(see all)
White boots can easily rank among women's best footwear options these days, largely thanks to their amazing practicality for both formal and casual events. They're versatile, comfortable, and can be found in a wide variety of styles and colors. I personally love white boots and am always on the hunt for a new pair. I have spent countless hours flipping through fashion mags, so I'm here to tell you white boots are here to stay.
Although they've always been somewhat popular – with their peak eras showing up in both the 1960s and another mini-renaissance in the 1990s – they've been steadily gaining popularity in the more recent years. In the past few months, they've swept fashion shows and have even made an appearance in a myriad of celebrities and social media influencers' wardrobes.
White boots continue to be a precious jewel of fashion, making outfits look sophisticated and adding a little extra touch of elegance to them. If you're interested in letting white boots make their home in your stylebook, and you're ready to incorporate them into your wardrobe now, then look no further. Today, I'm sharing with you all of my favorite style tips for wearing white boots. I've even compiled a list of hand-picked white boots for you to choose from, too. That way, you can start mixing and matching them with pieces that are already in your closet, allowing you to rock this statement footwear with confidence!
Different Boots for Different Styles
Boots are a pretty specific type of footwear, and they typically tend to call for particular types of clothes to be worn with them. Sure, they're versatile, but there are still a few fashion "rules," so to speak, you'll want to keep in mind. So, before diving headfirst into the unique world of white boots, it's important to break down the different sizes, styles, and materials that they come in.  Understanding these different types will help you to better know whether or not this type of footwear is right for you. And by breaking down the different types of boots there are, you'll be able to determine if they suit your style.  For instance, maybe you're an ankle bootie type of person. Or perhaps you're more into the OTK (over the knee) look. Regardless, there's a boot for you out there. Some of the more common styles can include:
Ankle Boots

Mid-Calf Boots

Knee-High Boots

OTK Boots
Below, you'll find a breakdown of these different types of boots. That way, you can find out which one catches your eye the most – and, of course, determine if you want to invest in that particular style to wear with the rest of the clothes in your closet.
Ankle Boots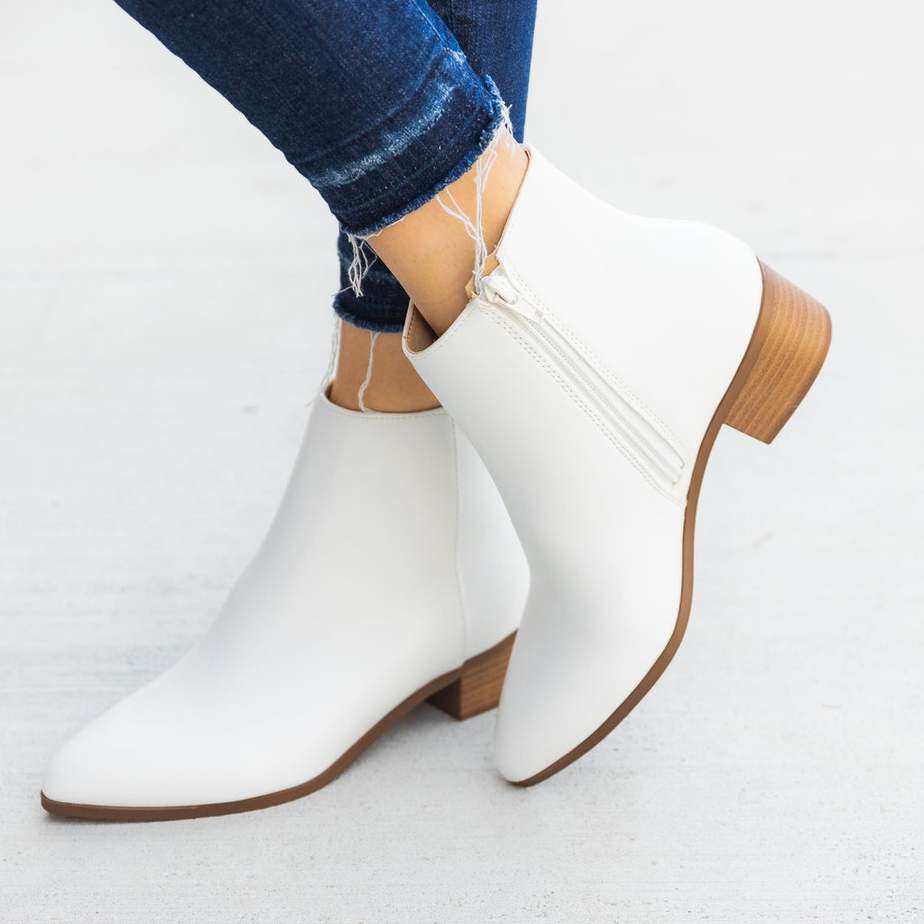 This type of boot exploded into the limelight a few seasons ago and, since then, it has refused to disappear. These boots are great in transitional seasons, like spring and autumn. The main goal of this type of boot is to add height and length to your look, but without looking too bottom-heavy.  Because of this, I strongly recommend that you avoid wearing contrasting colors. Instead, wearing the same color or shade family can help you look much more streamlined. For example, if you opt for a white ankle boot, it'd be best to pair them with white or light-colored leggings, tights, or stockings. Color continuity will be your best friend here.
Mid-Calf Boots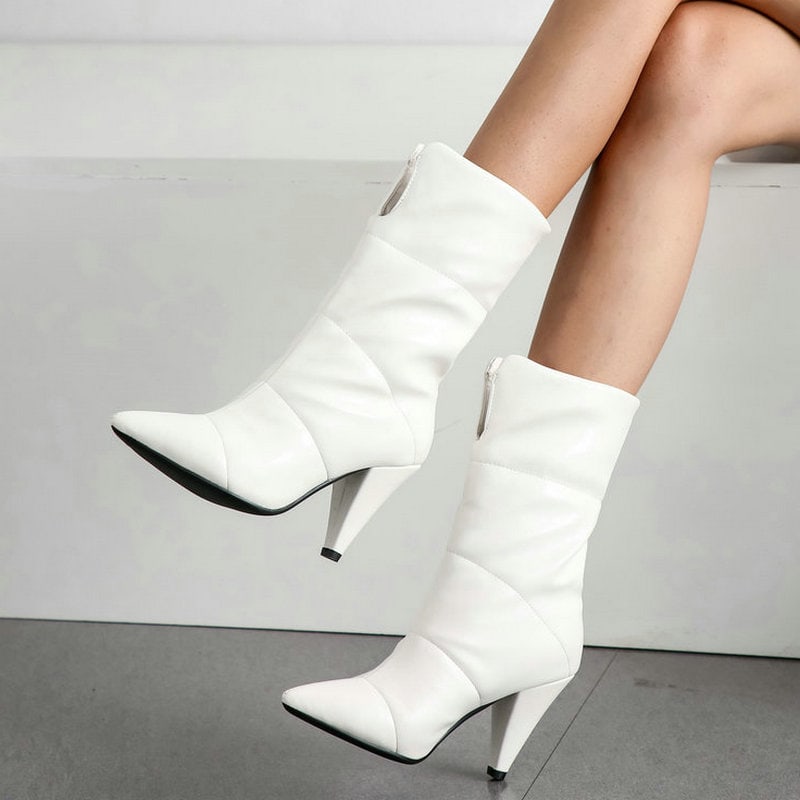 These boots stop right around the middle part of your leg, offering an effect similar to that of ankle boots. However, they can be a little bit more visually heavy than ankle boots. For this reason, I wouldn't usually recommend it for those who are short, as many other options could help you gain a few extra inches of height much more effectively. Conversely, mid-calf boots are highly recommended for taller people with longer legs. If you opt for this style, then be sure to keep in mind that pairing them with pants, socks, or leggings of the same color will be your best bet, as they're pretty similar to ankle boots in that regard.
Knee-High Boot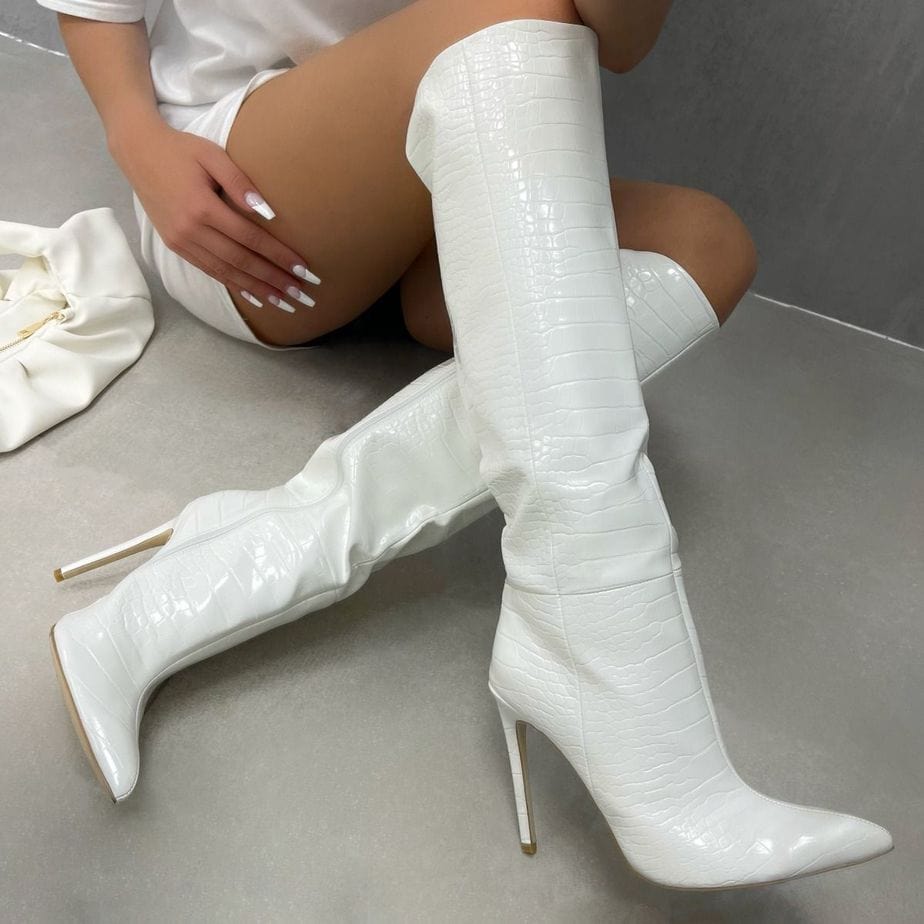 If there's a universally stylish boot among these footwear options, then it's the knee-high (or riding) boot. Unlike the other types of boots, knee-high boots can give the illusion of slenderness and can help lengthen your legs.  With their characteristic heels and worn with pants that fall into the same color range, you'll be gaining considerable visual height when you wear them. One of the best ways to wear these boots is over skinny-fit jeans, but they can also look great with a skirt or dress that stops just above the knee too.
OTK Boots
Last winter, OTK boots were one of the most in-demand footwear trends. And this year? Well, they've returned, and they're cuter and more fashionable than ever before. These over-the-knee boots will fit perfectly with a short dress or a pair of skinny black jeans. Feel free to experiment with different colors to give extra flair to your outfit.
What Is the Difference Between Regular Boots and Ankle Booties?
The regular everyday boot and the ankle bootie tend to be two of the more commonly confused items in most women's outfits. However, they actually differ in several ways, and they're not necessarily interchangeable. Yes, all ankle booties are a type of boot, but not all regular boots are ankle booties. As its name implies, the ankle bootie covers just the foot and ankle. It's a type of lower-cut footwear, and it can come in many different cuts and shapes. For instance, you can find block-heel booties, pointy-toed booties, and even suede and leather booties. As long as they don't go above the ankle, then you've got yourself a pair of booties. 
On the other hand, regular boots can go over the ankle and up to the knee. They're just a little bulky to wear than the former, but that's not necessarily a downside to them. It just means that you need to be more mindful of the rest of your outfit of the day (OOTD) before you reach for a pair of them.  Plus, since ankle boots have a smaller space to work with, designers tend to opt for adding decorative studs or buckles when making them. In terms of materials, they're not just limited to leather, either. You can also find ankle bottles in PVC (vegan leather) and even silk.  The same goes for regular boots, too. That said, they tend to be made of more sturdy materials, as they're expected to take a little bit more of a beating since they're more commonly worn in the winter months. (Can we say icky rain, snow, and slush? Yuck!) To break it down further, the main differences between regular boots and booties are:
Ankle booties stop at the ankle and go no higher, whereas regular boots can go as far as to your mid-calf, up to your knee, and even up to your thighs.

Ankle booties can come in more delicate fabrics and materials, as they are usually worn on nicer weather days, whereas regular boots generally come in more durable materials for those yucky weather days.

Ankle booties can be much more ornate than regular boots since they have less surface area to work with and need more

oomph

to spice them up

, whereas regular boots are generally more understated and muted in style.

Ankle booties are less bulky in general, as they stop right at your ankles and go no higher, whereas regular boots can be more visually heavy than their lower-cut counterparts.
And there you have it. You now know everything you ever wanted to know about the main differences between ankle booties and regular boots!
5 Reasons Why You Totally Need White Boots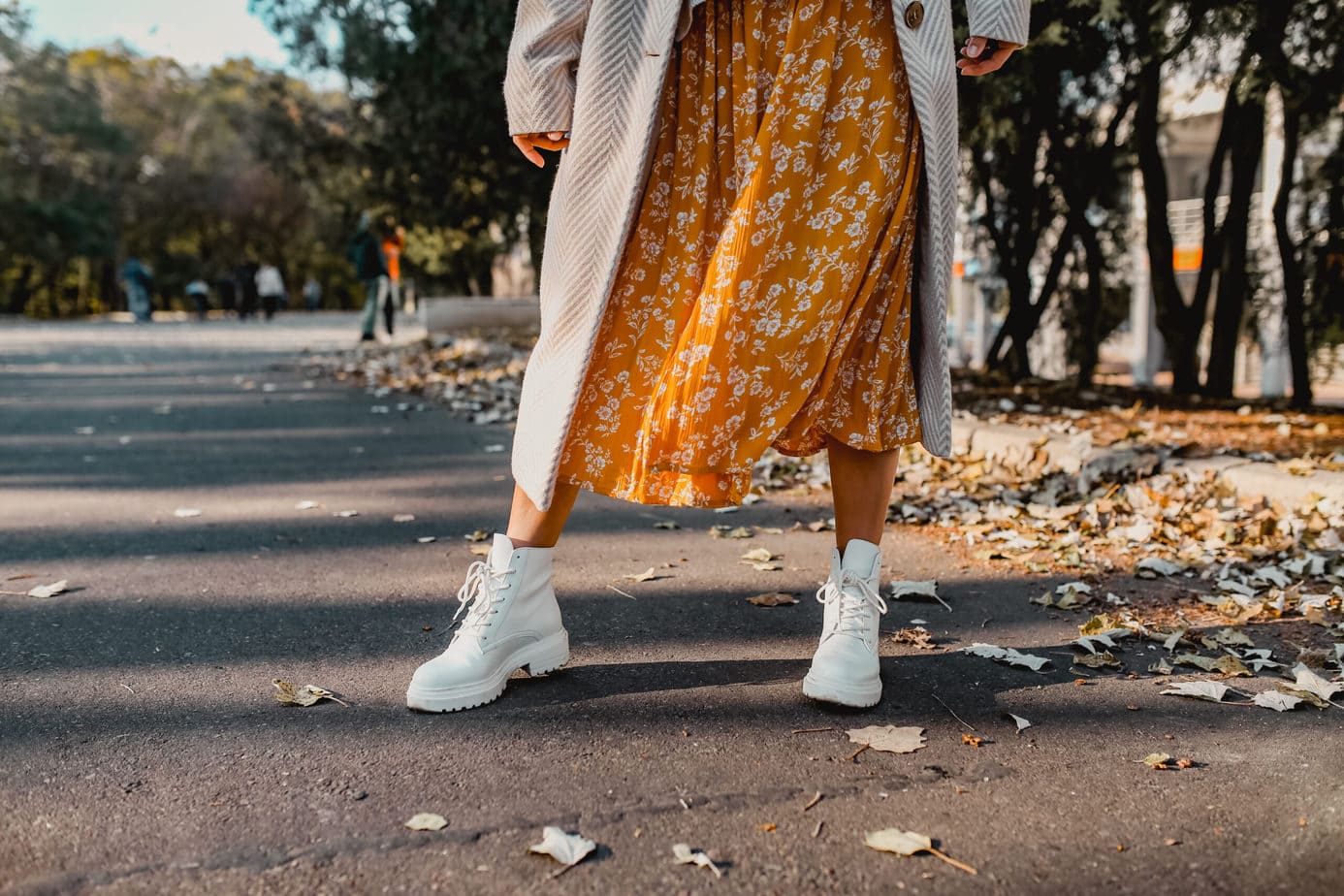 Now is the time to lose your fear of white boots. Say goodbye to the anxiety of wearing them after Labor Day, set aside your misgivings about keeping them clean and pristine, and just allow yourself to fall in love with this color and style today. Thanks to the hard work of countless fashion designers, white boots are quickly becoming one of the most popular types of footwear of this season. There's seriously no excuse for you to miss out on them.  You may understandably be accustomed to the usual pair of black or brown ankle boots that tend to fill up the racks at your favorite department stores. And no doubt, there's a reason those tend to be so popular, as they are considered both a classic style and a neutral you can wear with your entire wardrobe. But white boots, in particular, do has several fun and unique qualities that make them a worthy investment:
They're a completely unexpected and fun alternative to black boots
White boots are super fresh and unexpected, providing a much-needed break to your everyday black boots. Instead of investing in a pair of boots that are the same old style as what you already wore last season, changing things a bit in favor of a white or ivory boot is bound to make you stand out.
They go with everything in your closet
Many people forget that white is also neutral. Plus, white boots tend to look good with absolutely everything. Whether you want to go head-to-toe white for a crisp, clean spring look or you're looking for the perfect shoe to wear with a printed maxi dress, white boots are a great choice.
They can help elevate even the most basic and simplest outfit
If you're one of those people who can't live without your everyday pair of blue jeans and plain cotton t-shirts, then that's fine! A pair of white boots will offer an easy way to add a little sparkle to your chosen look.
They're a bold choice but still quite stunning
It's amazing how some of the more unusual trends can somehow sneak into your closet, but white boots manage to do just that. Even if they're a little showy at first, they're also actually pretty practical. Thanks to their versatility, you really can't go wrong with them.
They're the perfect transition shoe from season to season
White boots are a great shoe choice for the changing seasons. Since they can keep your feet warm, you can easily pair them with a spring outfit. Or, if you prefer, you can go all Fashionista Winter with a cozy, all-white ensemble for those overcast and snowy days.
The Many Types of White Boots
Boots are especially popular around this time of the year, and according to style reports, the emerging trend for them in 2022 is to wear them in stark white. There's no question about it – white boots are everywhere, meaning you have your pick of them to choose from. But mirror on the wall, how could you possibly know which one is the best white boot of them all? If you're unsure about which white boot to choose for your fashion sense, then let me teach you through the different types of white boots and how you can add them to your favorite looks.
White Cowgirl-Style Boots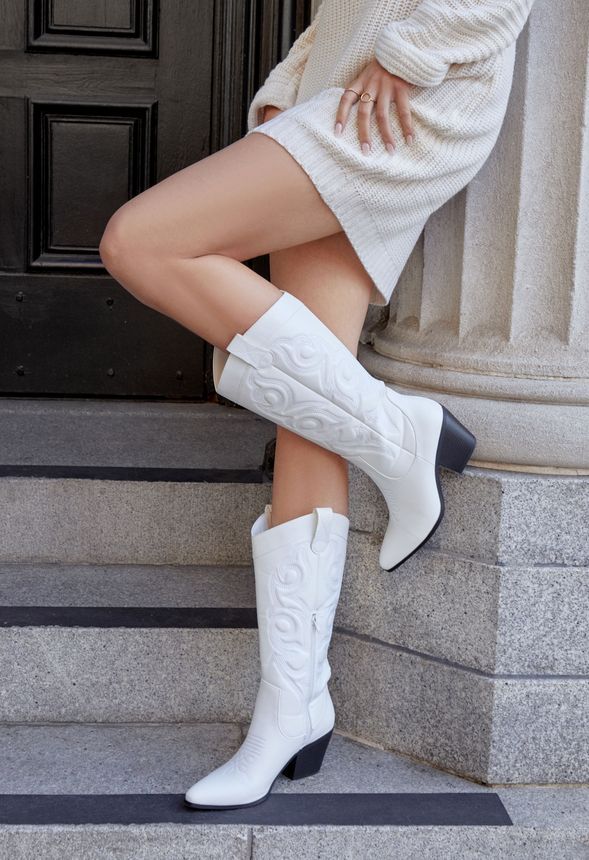 Cowgirl-style boots have returned from the ashes like a phoenix! These are just showy enough to stand out in the crowd, and they're also super fun to style. You can wear them with a short skirt, a basic t-shirt, and a well-structured blazer. You can also use them with a dress shirt, another trend that's coming strong and won't be leaving your closet anytime soon!
Classic Moon Boots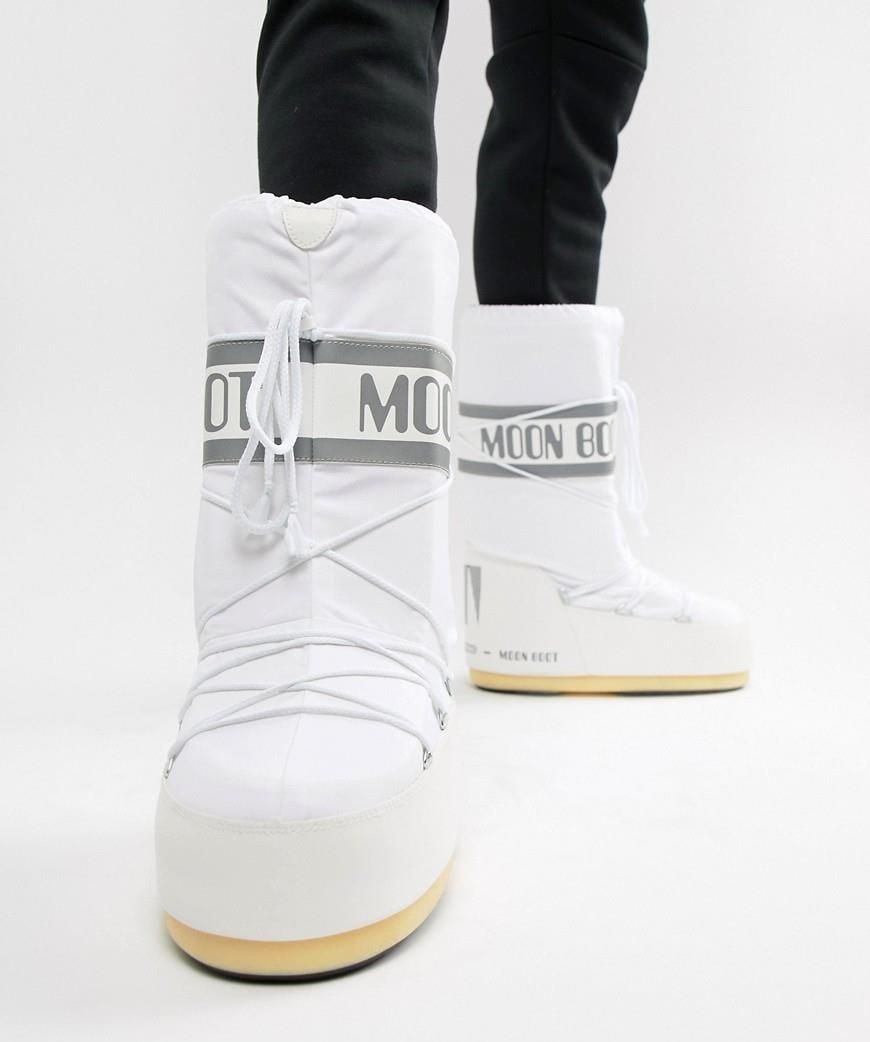 Believe it or not, white moon boots are positioned as the new favorite shoe for the wintertime. Not only are they very warm, keeping your tootsies nice and toasty, but also because they'll also give you a fantastic urban vibe. Athleisure or streetwear will be their best style companions.
White Combat Boots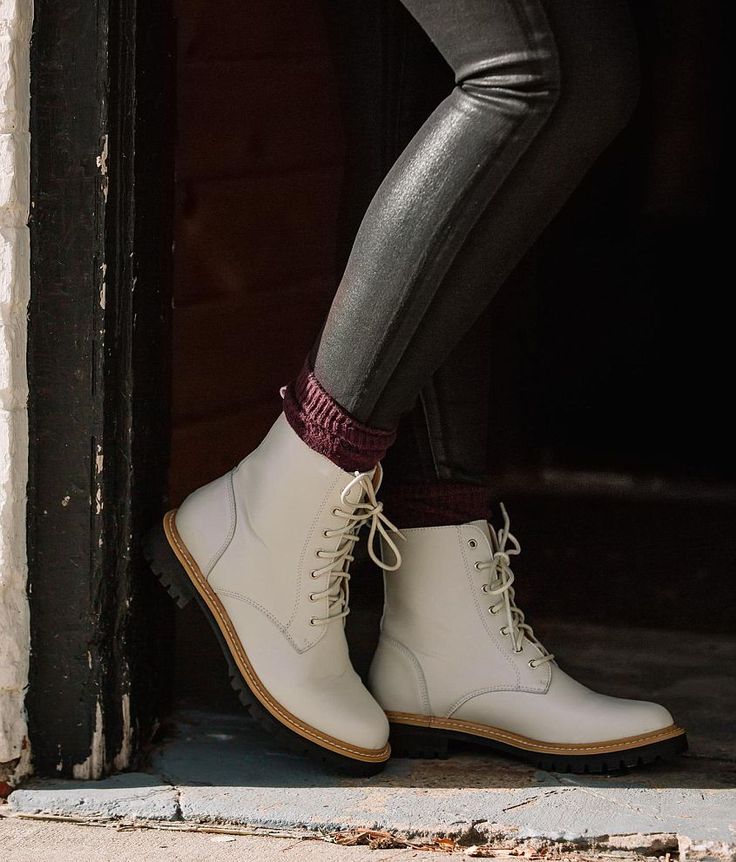 After many years of being on-trend, we kind of stopped seeing combat boots for a while. However, I'm glad to tell you that they're back… and they're brighter than ever! Combat boots have a serious attitude and can add a bold touch to any outfit.  Wear them with midi dresses, miniskirts, or leggings. And if you want, feel free to wear opaque stockings with your outfit to create visual contrast and stand out.
White Boots with Black Contrast Panels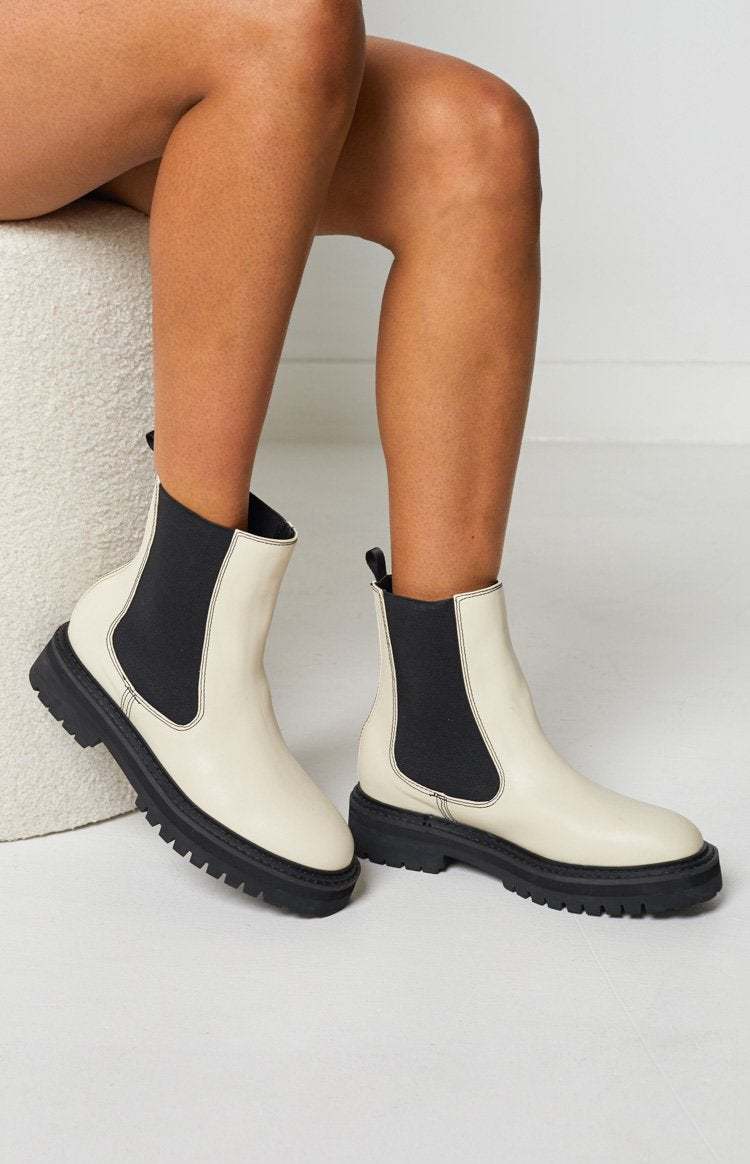 This is one of the hottest combinations of the season. A midi skirt, leggings, and baggy pants will be the perfect cocktail of fashion with these white boots, giving you a look that not only provides comfort but also goes well with plenty of styles.
White OTK Boots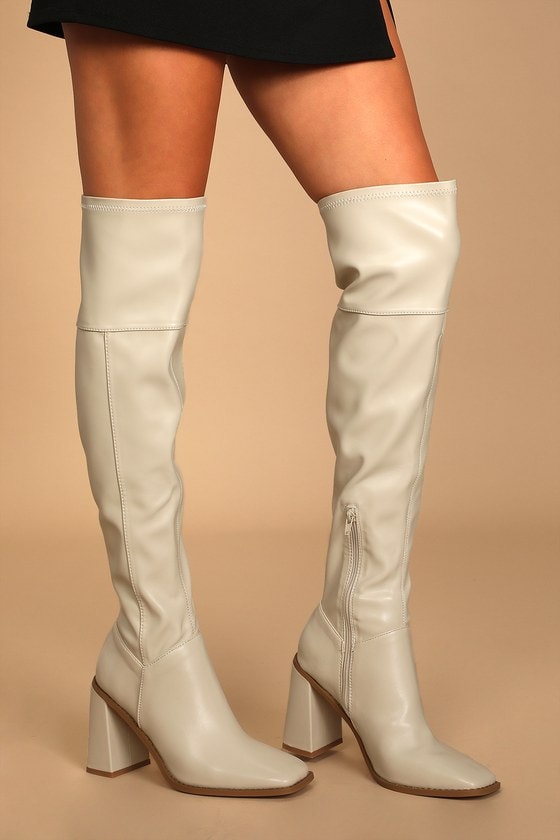 OTK boots are a must if you want to add a daring element to your outfit. Combine them with a miniskirt or short dress, a pair of jeans, and don't forget to add a blazer or sweater to complete the look. If you want to make your look a little more risque, why not try to add some fishnet stockings to the outfit?
White Rain Boots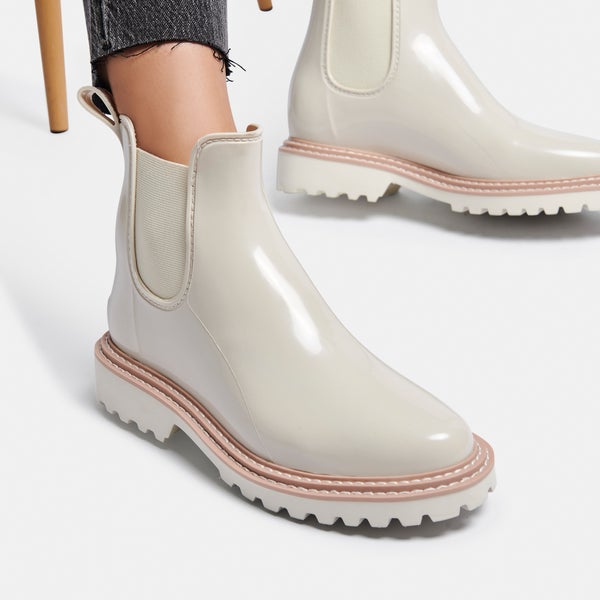 Let me tell you right now: white galoshes aren't seen every day, yet these rubber boots are perfect for rainy and drizzly days. They're surprisingly comfortable, too, so it's a win-win all around. How adorable would your white rain boots be with a flirty floral spring skirt, or a pair of black leggings, and a chunky white cardigan or cable-knit sweater?
Platform Boots
Sneakers are a thing of the past, so if you're looking for a pair of beautiful boots that'll catch people's attention, white boots with a platform will be your new go-to. Flared jeans (the 90s are back!) or button skirts are good options to keep in mind when styling your white platform boots. Try adding a turtleneck sweater and a denim jacket so that the retro look can shine.
White Stiletto Boots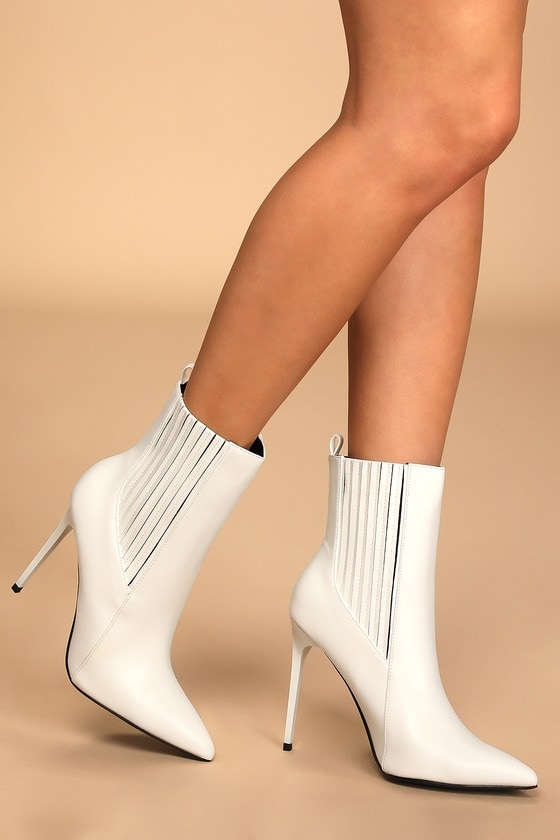 If you want to show off a more avant-garde sense of style, then these white stiletto boots will be perfect for you. White stiletto boots go with absolutely everything, whether it's that one romantic dress you want to wear on a hot date to even your most casual mom jeans if you're just in the mood to go shopping with your girlfriends.
White Sock-Style Boots
I know this trend is still somewhat less common, but if you manage to get your hands on a pair of sock boots, you'll be the envy of the season. Ankle-length jeans, wide-leg pants, or a pencil skirt will be excellent options to complement your look. However, don't forget balance. If your outfit is drapey, reach for more snug instead of slouchy sock-style boots.
White Patent Leather Boots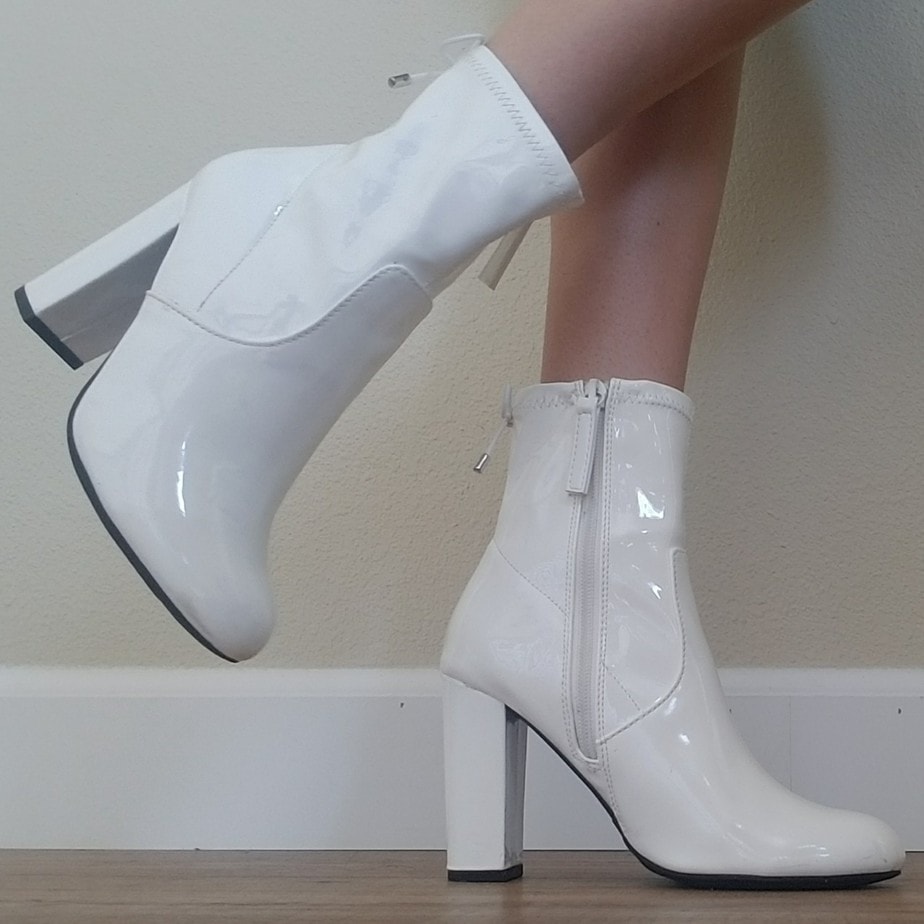 White ankle boots look like they came out of our mom's closet, as they have a super vintage and fun look to them. An overall dress with a cowl-neck sweater and leggings will go nice with them for those cooler days. Cargo pants will also look incredible with this option, and a skirt buttoned in the front and tied at the waist is a must.
The Top Five White Boots of 2021
After reviewing the seemingly infinite types of white boots out there, all that's left now is to determine exactly which styles are the best ones to add to your wardrobe. I've included a design for virtually every style, which means that you can easily find the right one that works best with your outfit inspiration. However, before we dive in, you should know that not just any old white boot successfully made it onto my list. It's important to be a little bit picky, especially when it's a statement piece that you're going to want to wear again and again. I had a few criteria I kept in mind before choosing a pair of white boots to add.  The key factors that I considered were:
Their Price:

It's no secret that boots can be somewhat expensive, especially if they're from a well-known

designer brand

. Because of this, I tried to include affordable options that were still fashionable and could pass for high-end boots without any problem.

Their Versatility:

When selecting any kind of footwear, it's important to think ahead and picture the outfits that you want to wear with it. I wanted my list to have boots with highly versatile styles, so you can wear them with

all

of your outfits without any problem.

Their Comfort:

An essential thing to look for when comparing footwear and clothes, in general, is their overall comfort. The boots that I picked out are quite comfortable. (But be sure to keep in mind this can vary from person to person, as no two pairs of feet are identical.)

Their Quality:

Of course, it was important for me that the boots I included here were made of

quality materials

and could last you for a long time. While white boots are trendy, nobody wants a pair of shoes that'll fall apart after just one season.
Let's start the list in a big way: glossy vegan patent leather snakeskin boots. I know it's a mouthful, but these beautiful high-heeled boots will be a sensation if you wear them with your favorite pleated midi skirt or slinky bodycon mini-dress.  Its textured design gives them that extra special touch that will make your outfit seriously stand out. Its nearly four-inch stiletto heel is noteworthy, too, as it'll give you the extra height and glamor that'll make you look unstoppable when you wear them.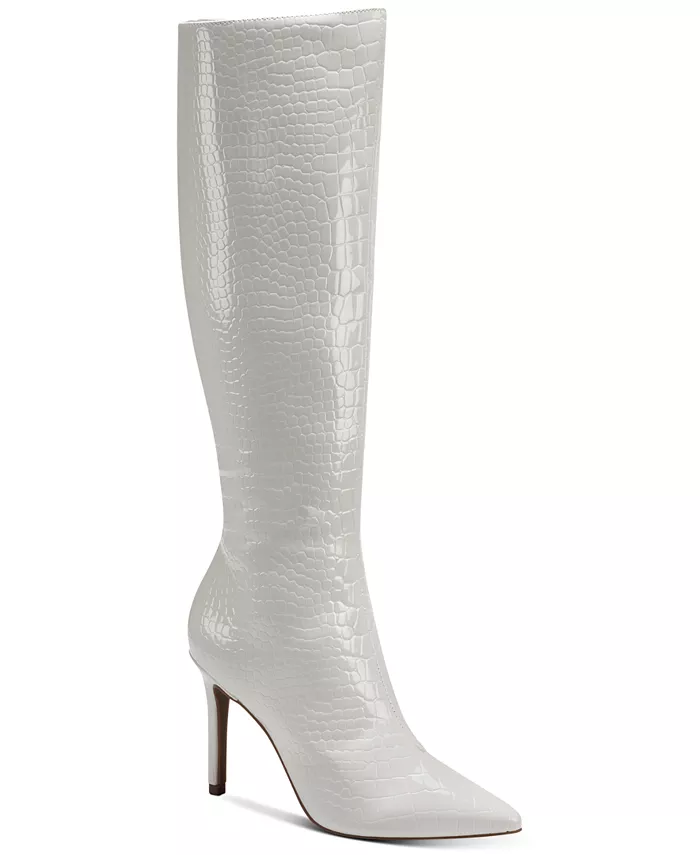 Pros:
Versatile design compatible with tons of different styles

High-quality materials and construction

Amazing snakeskin texture
Cons:
Reviews state they're not ideal for wider calves

Manmade materials may not last as long as real leather
There's something about a pair of OTK boots that just command attention. They're so striking and bold, and they seriously take every outfit to the next level. These white patent leather over-the-knee boots by Steve Madden seriously exude sensuality, but that doesn't mean they can't be worn with everyday outfits. With their pointed toe, stiletto heel, and glossy vegan patent leather, they can easily be dressed up or down. These white boots would look amazing with a pair of opaque tights (like in teal or rust colors) and a flirty babydoll dress. Or simply throw them on with a pair of skinny white jeans and a silver-colored knit sweater. There's no wrong way to wear them!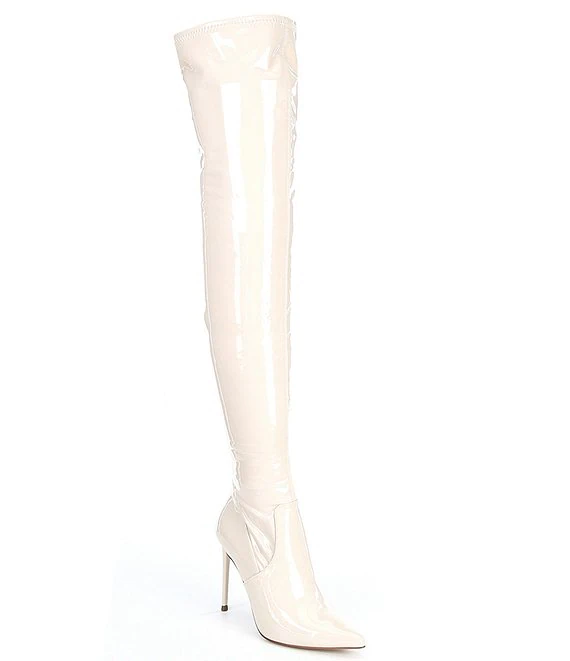 Pros:
Incredibly versatile style can be worn with anything

The vegan material is ethically sourced

Classy style lengthens your legs and adds height
Cons:
The narrow shaft may not be comfortable for wider legs

Manmade materials wear out faster than real leather
What do you think of the strong, almost industrial-like look of these white combat boots? If you want to leave an unmistakable footprint – no pun intended – wherever you go, then these beautiful boots will meet your needs.  With its heavy platform heel contrasted by its pristine, all-white color, wearing these white boots will make you look downright incredible, no matter what outfit you wear them with. I can easily see myself wearing these boots with a pair of blue skinny jeans and a cream-colored moto jacket.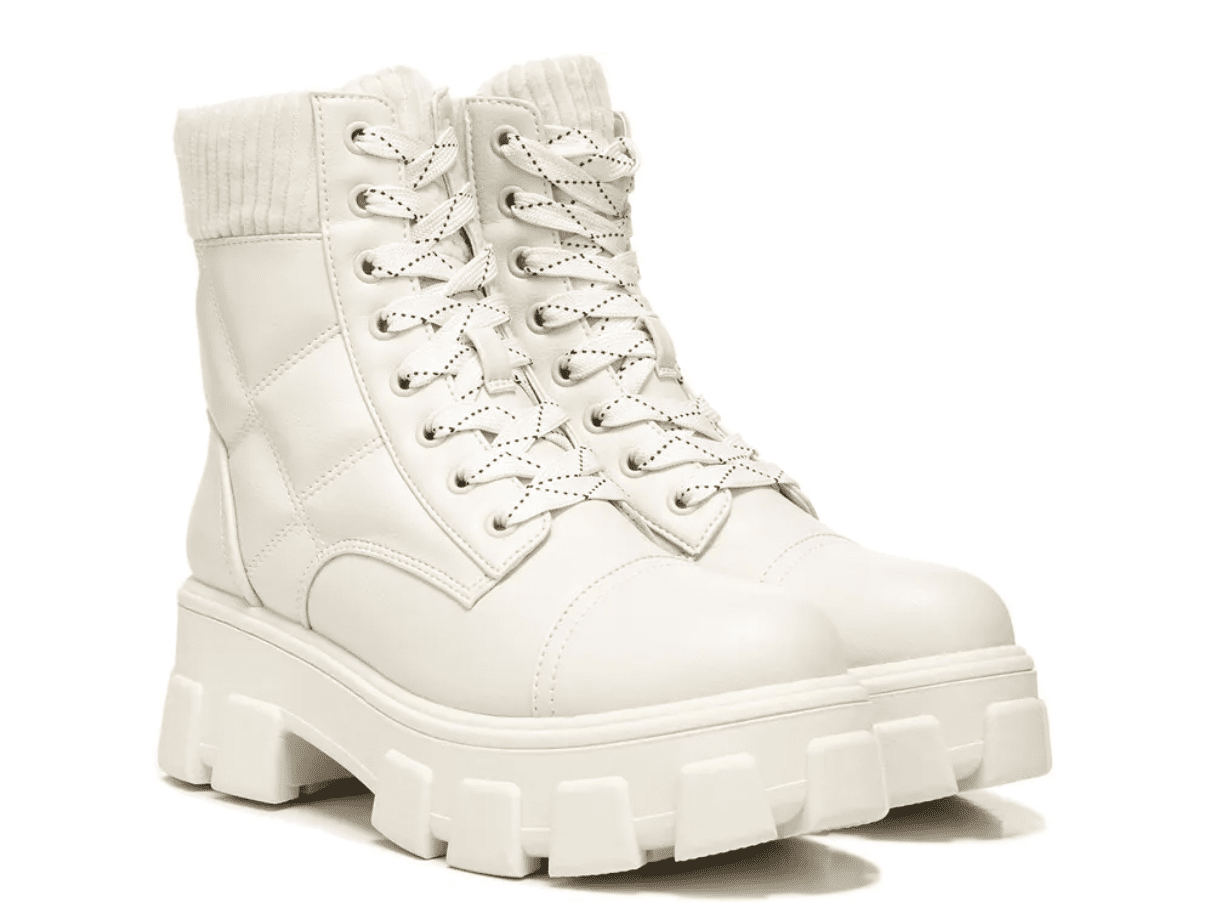 Pros:
All-white design easy to match with everything in your closet

Superior quality materials won't wear out after just one season

Perfect boots for colder climates
Cons:
Harder to keep the quilted fabric looking clean

Heavy platform style can look dated in just a few seasons
I'd be remiss to leave the iconic Doc Martens off my list of white boots. This brand defined the modern combat boot, and this stunning pair of white leather boots are both timeless and en vogue. Their beautiful white leather design is a hit for those who want to look tough and rugged, and they're pretty practical and comfortable at the same time.  These boots are made of quality materials, are durable, and most importantly? They're also easy to maintain, thanks to their real leather construction. In addition to this, details such as their black eyelets and classic sole make these boots stand apart from the rest.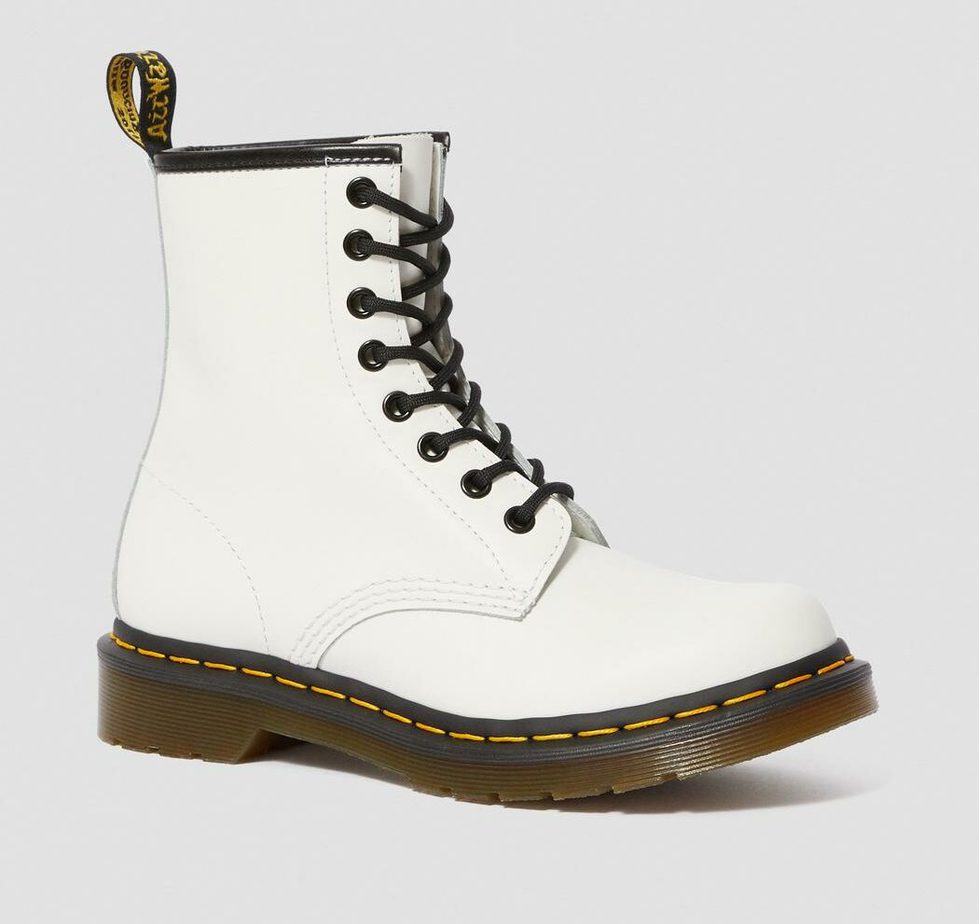 Pros:
Made from high-quality materials

Iconic and versatile design

Padded and anti-slip sole

Timeless style can be worn again and again
Cons:
Higher price compared to other boots

Real leather can be a turnoff for those looking for vegan footwear
Who said chunky heels were no longer in fashion? This beautiful Dolce Vita white boot design certainly disproves this claim. The beautiful chunky heels design not only gives it a nostalgic vibe but also contrasts its nude color with the white of the boots' material.  These go-go style boots were made for walkin', and that's just what they're going to do. They're going to walk right into your wardrobe with their cute style. This model is as versatile as it's beautiful, making it perfect to wear with skirts, dresses, jeans, and more.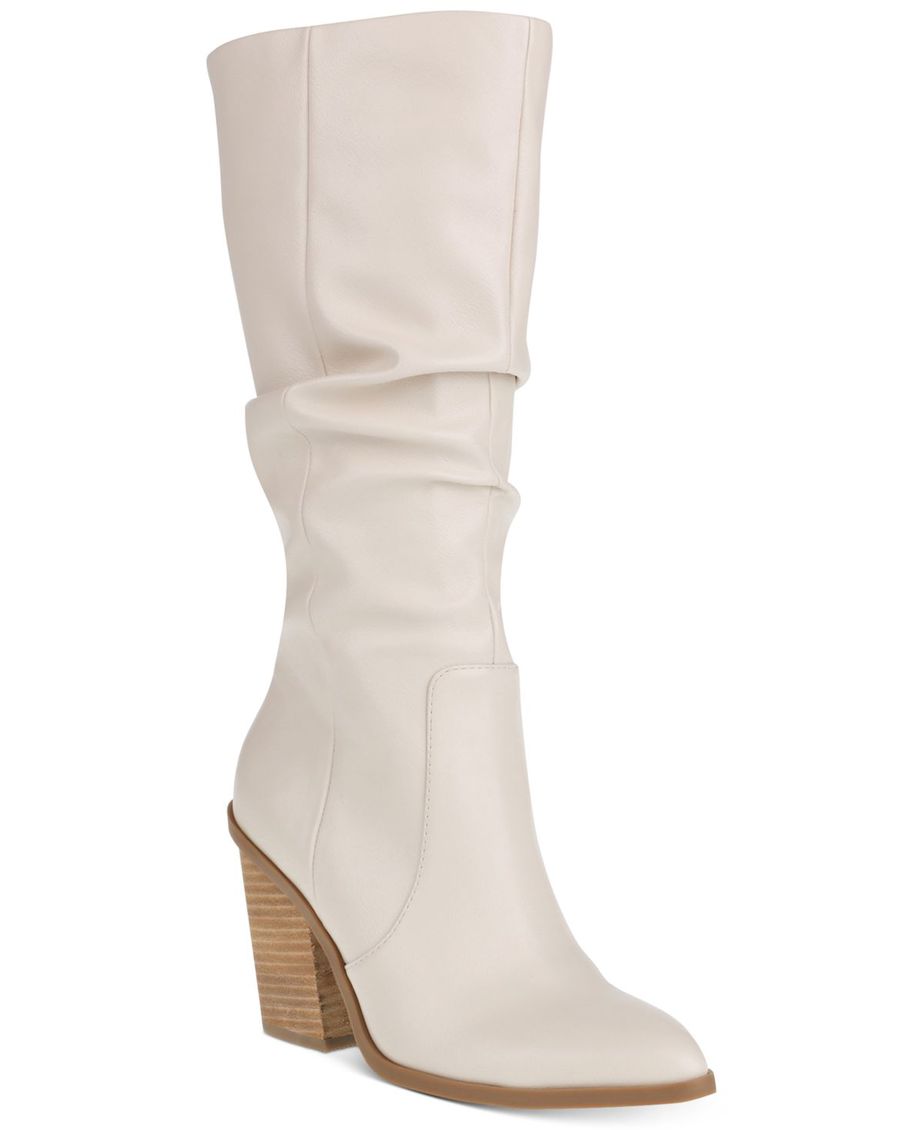 Pros:
Beautiful and versatile design easy to match any style

Harmonious color between the sole and the shoe

Anti-slip sole for better safety in bad weather
Cons:
It doesn't have a zipper, so it can be harder to slip on

Narrow toe box may not be the most comfortable for everyone
How to Style Your New White Boots
White boots can be surprisingly controversial, and to many, they're just as loved as they're hated. Several years ago, it seemed unthinkable to add this type of footwear to our looks, but the commitment of persistent fashion gurus has left the balance in favor of this style. That makes them one of the most breakout trends this season.  Wearing white in winter is always in fashion, too. What better way to prove this than with your footwear? I'm going to go ahead and highlight some of how you can combine your pair of white boots. That way, you can get an idea of the outfit you want to create. Use this as a gateway for your imagination!
With earth tones or beige:

This color combination is a mixture of tranquility and elegance. It's a simple combination, but a powerful one. Dresses, skirts, and even pants in these types of colors will ensure attention doesn't fall 100% on the boots and will instead balance out your outfit so you can truly show off a clean and classy look.
With a matching handbag: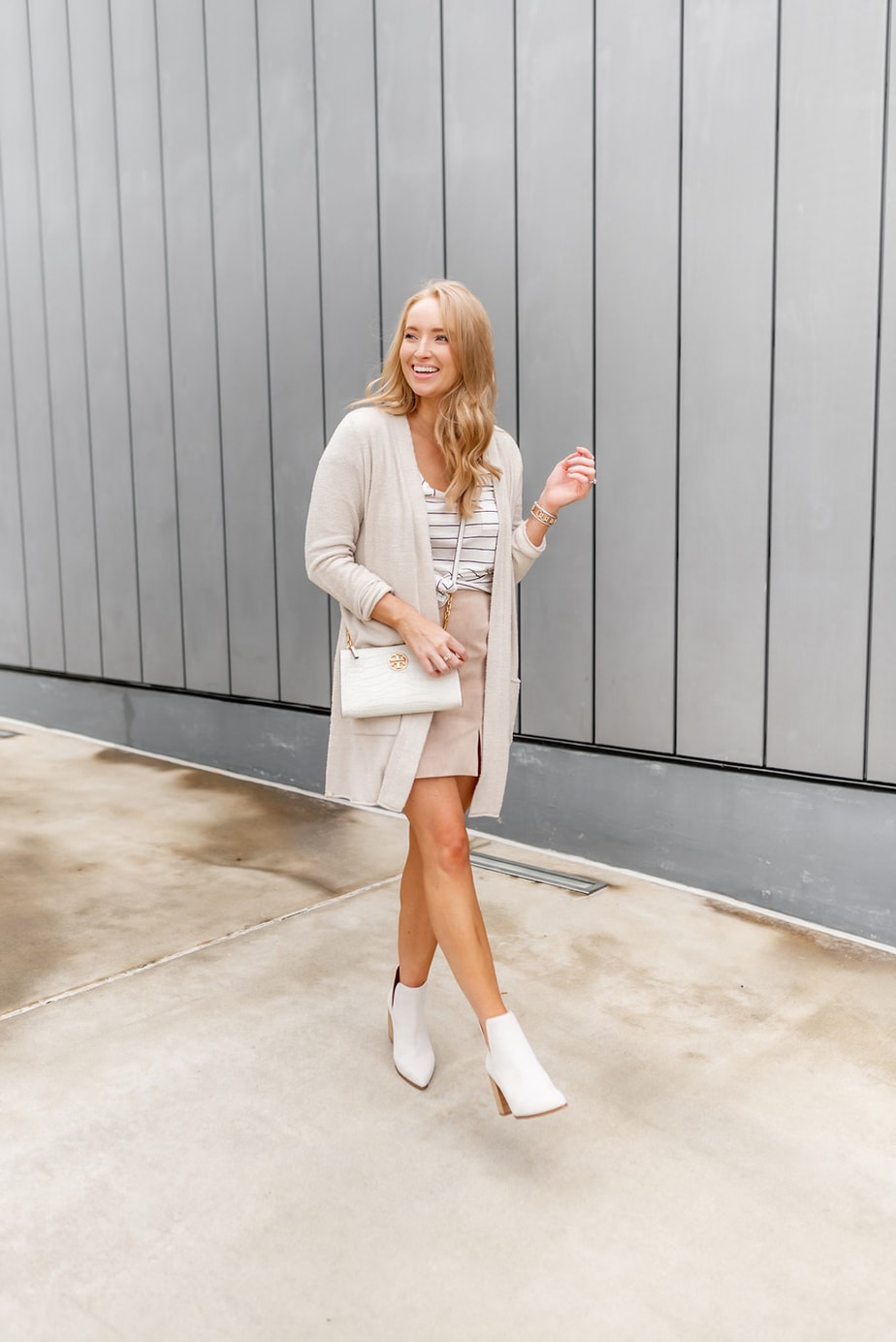 Matching your shoes with your bag is a trend that has worked for many years. In this case, it can be the perfect way to start adding white to your outfit without attracting too much attention to yourself.
With leather pants and a trench coat:
Leather pants, a cream or camel trench coat, and white boots? My answer to that question is a resounding, "Yes, please!" This combination leaves a magnificent result worthy of a fashion expert and is part of some of the most famous trends of this last season.
Over your pants: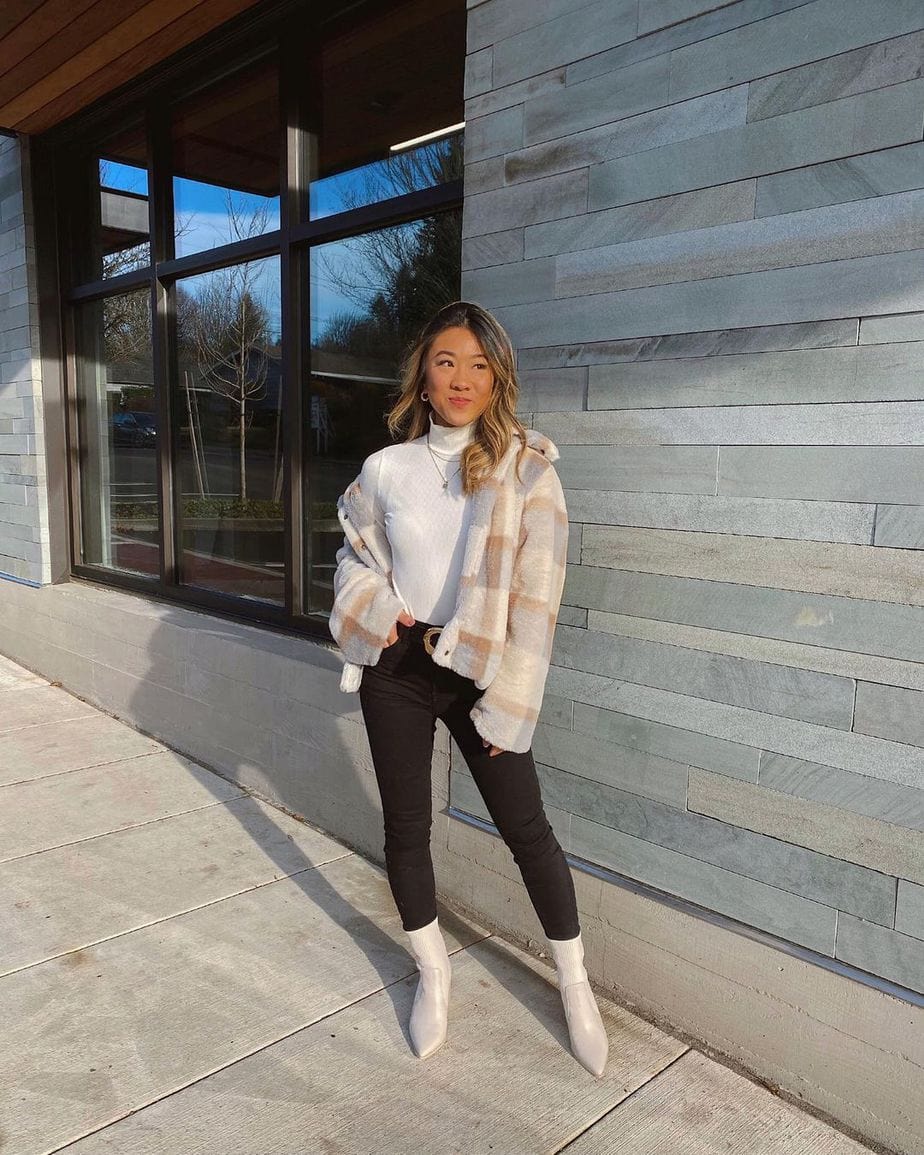 This is the ideal option for those who want to draw all the attention to their beautiful footwear. Pants in a light, dark, and even black or gray denim style will help you give a bold and renewed air to your style. Do you dare to try it?
With a white dress and a jean jacket:
Sometimes, experimenting with a monochromatic look is enough. However, if you add in a piece that provides a little extra touch of color, such as a jean jacket, then the outfit will scale from good to amazing! Without a doubt, this is one of your best bets if you want some extra style in your daily outfit.
With hot-pink corduroy: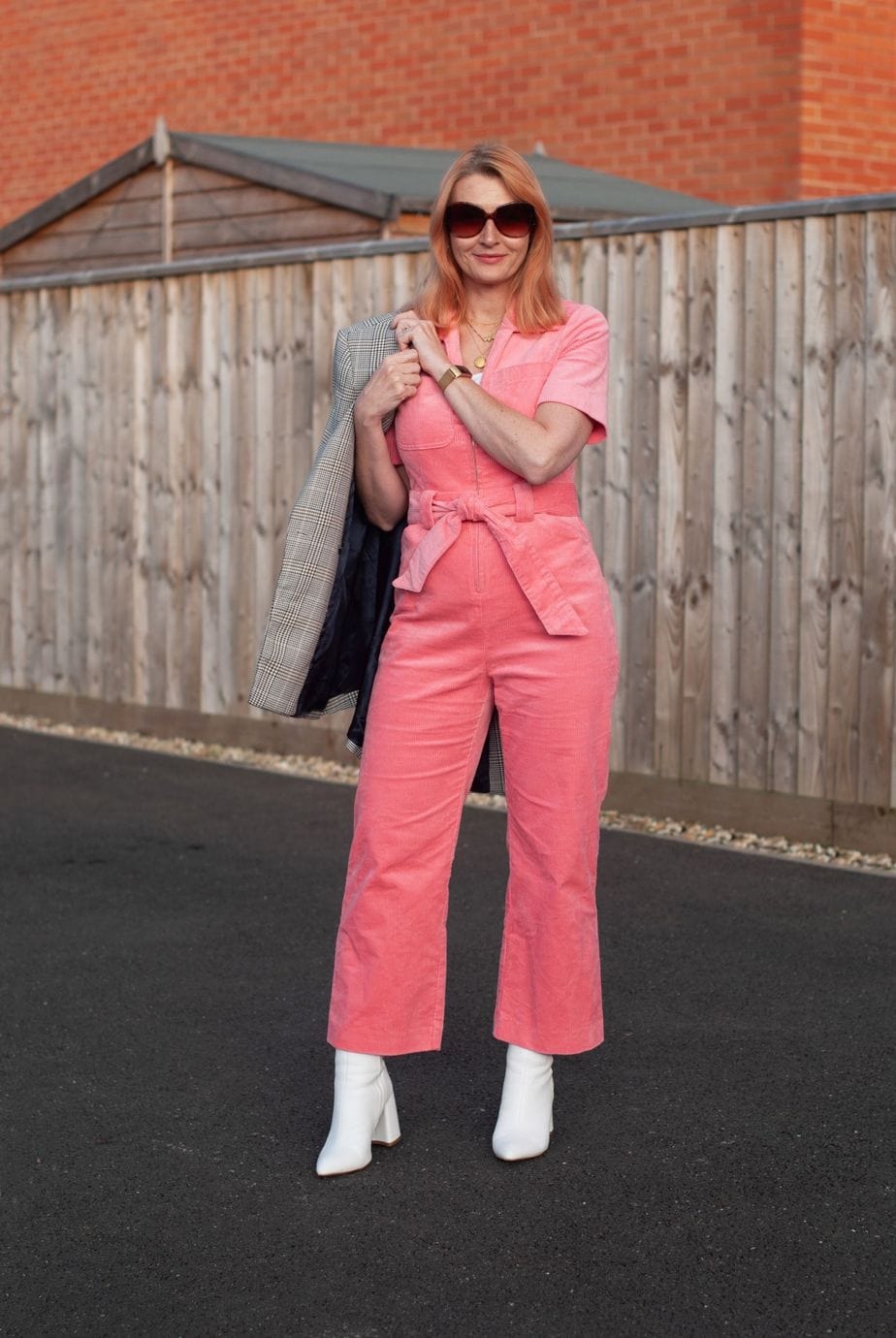 The corduroy jumpsuit is one of those garments which has so many attributes that I don't know which one to highlight. Imagine full-color look synchrony with different magenta and pink tones and striking white ankle boots! It'd be fun and fabulous at the same time.
With white, wide-legged culottes: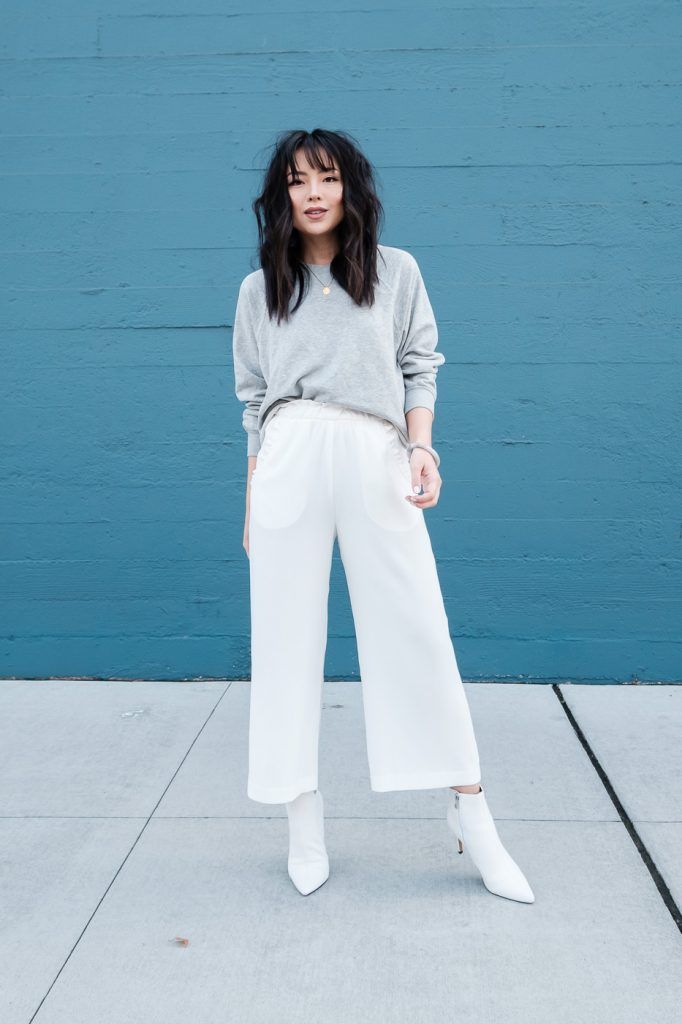 This is, I think, another of the quintessential combinations of white boots. It is a look that will bring us those summer vibes that we like so much — an outfit that's presented as something quite basic at first but quite spectacular at second glance. It's impossible not to fall in love with it.
With pinstripe pants:
If you're going to wear pants like these, and you're going to combine them with white boots, then make sure that the pair you choose is as colorful as possible. Although they look good, pants with classic patterns usually don't work well with white boots.
With bright, playful, and cheerful colors:
You might be thinking that white boots could only work with basic and neutral colors. However, they can also make a big impact with bolder-colored garments. Combining white boots with clothes with a metallic shine can look much better than with shoes of a darker tone.
With a floral dress: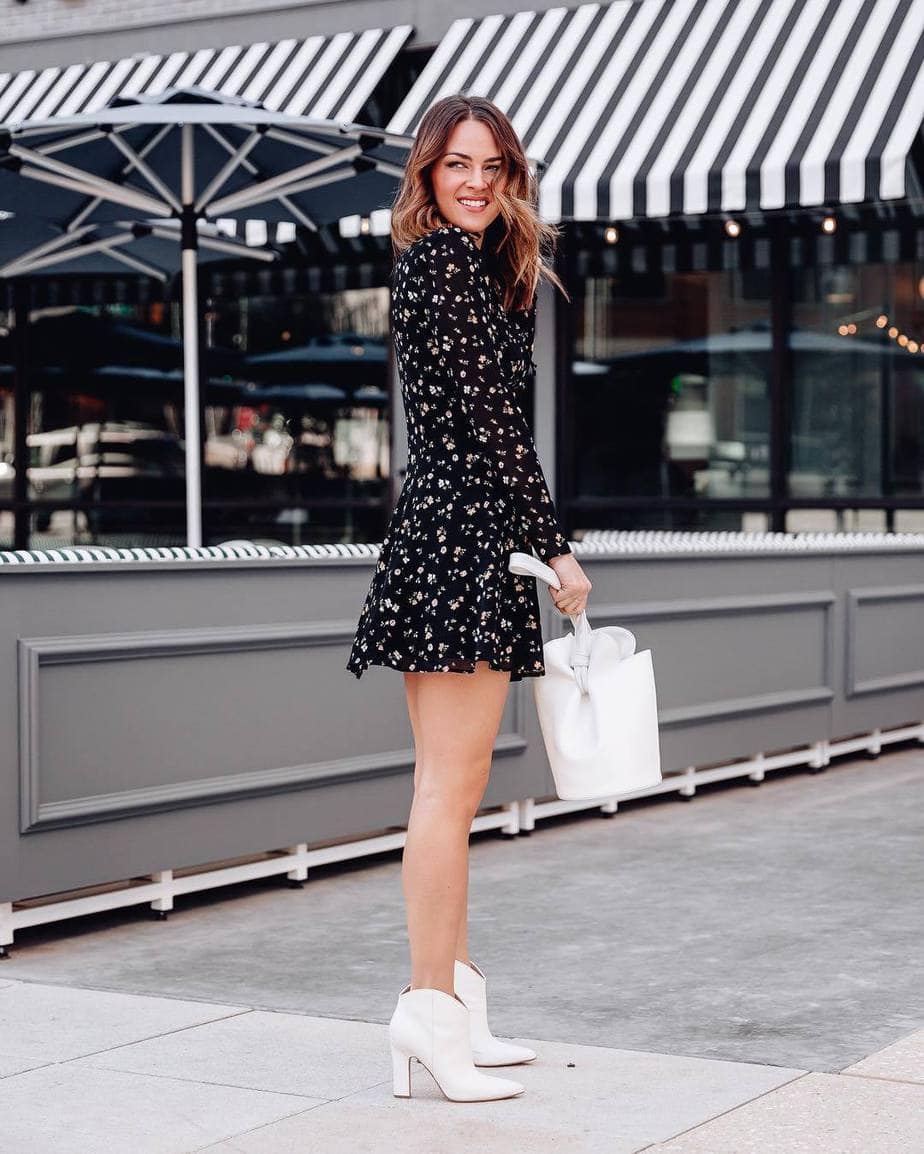 This is perhaps the most daring combination of all, but if you know how to balance it well, then you're in for a treat. Floral dresses are flirty and graceful, and they can be matched with delicate accessories and white ankle boots. For extra contrast, the more dark colors the dress has, the better.
With a head-to-toe black look:
There are very few combinations as iconic as black and white. Black is a color that combines with absolutely everything, and if you're willing to go full black with only your white boots as outliers, then you'll be making them the center of attention.
With darker accessories:
If you detect a lot of white tones in your look, but you don't want to go full-on black, then why not just add a bit of darkness to your outfit? It's a question of balance and of knowing that the mixture of black and white is a winner, always.
With black jeans and a statement jacket:
The amazing combination of black jeans and something like a bright orange or fringe jacket gives this look a fantastic first impression. Here, you must put your creativity to work with the statement jacket, play with the tones and designs to achieve a good balance, and present a distinctive style that attracts people's attention. 
With a power suit:
But beware, not just any type of suit will do. A suit with flared bottoms is especially recommended since thanks to their billowy and hypnotic movement; the ankle boots carry extra elegance with them.
With a total brown look in different tones:
I could never have imagined that such a fashion choice would be a great idea, but after trying it out myself, I had no choice but to change my mind. Combining different garments with different shades of brown with white boots results in one of the most eye-catching looks of the season.
With an exotic or patterned print:
White boots were born to be combined with leather, vinyl, corduroy, and other different "hard" fabrics, not with tropical or patterned prints… right? Still, after a bit of experimenting, I've found a way to make this idea work — and I'm digging it.
With jeans and a white top: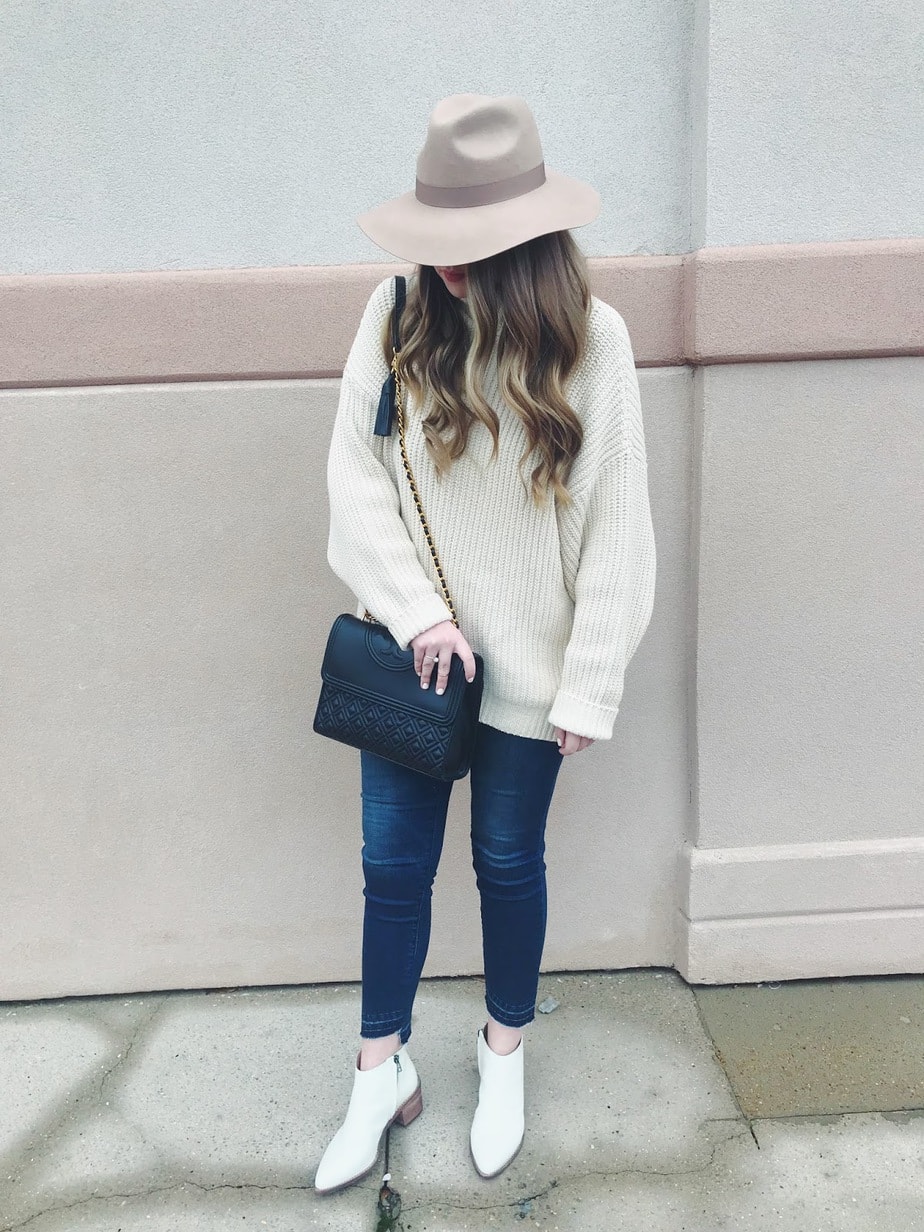 An obvious combination that's practically impossible to go wrong with. Jeans are something that combines with practically everything, and if you decide to opt for a T-shirt, sweater, and shirt in the same tone as your boots, then you're bound to succeed!
Frequently Asked Questions
Question: Are white boots in style for 2022?
Answer: Of course! White boots dominated the runways in the fall and winter of 2021, which means that this style is going to be going strong throughout the winter and spring of 2022. Plus, as the seasons change, the cuts and styles of these boots will also change.  While taller-shafted boots will likely be more popular in the cooler months, as the seasons change to spring and summer, lower cuts will take over. Don't be afraid to wear white ankle booties with your favorite sundresses and billowy skirts!
Question: Are white boots difficult to style?
Answer: Trying to style white boots can be tricky at first, but don't let that hold you back from getting a pair for yourself. If you're willing to spend a bit of time testing out different outfit ideas and experimenting with fashion, then you can make them work. You just have to think outside the conventional black and brown boot box!
Question: How do I keep my white boots in good condition?
Answer: Bear in mind that while white boots are a bit more difficult to take care of, that doesn't mean that it's impossible to maintain them. I recommend that you be very careful with your white boots. If they're made of delicate materials (such as suede or silk), try to avoid getting them wet.  If they do get scuffed, though, you can use a damp cloth to wipe them down. Then be sure to dry them off with a soft, microfiber towel quickly. Also, not everyone knows this, but you can take your boots to the dry cleaner or your local cobbler for a good deep cleaning if needed. 
Question: Is it worth it to invest in white boots?
Answer: I have zero doubts when I say yes to this question! Although there are some downsides to white boots, I still absolutely recommend them 100%. You'll be pleasantly surprised by their functionality, comfort, and stylish appearance. 
Question: Are white boots more prone to falling apart when compared to other colors?
Answer: With proper care, this type of footwear has the same life span as any other. Don't be afraid to put on your white boots as much as you like, but try to avoid wet weather and muddy pathways when you wear them, especially if they're not made of durable materials. That way, you don't end up permanently staining or damaging them. 
My Final Thoughts
White boots were one of the most popular trends of the fall season, and they won't be going anywhere during the upcoming winter months. Fashion experts and our favorite celebrities have been styling this type of footwear in their looks, and I'm sure you can be just as fashionable as they are when you wear your white boots.  It can be more than a little bit daunting to think about rocking this trend, especially if you tend to veer toward more conventional styles. 
Don't let the unconventional appearance of white boots scare you off, though! And it's my sincere hope that my styling tips, plus my list of favorite white boots, helped you get a better idea of how awesome they are. Now, it'd be a lie to say that I'm not a fan of each of the boots that I talked about here, but if I had to choose just one, I'd go for Dr. Martens' Smooth Leather Lace-up Boots. I love their slight bulkiness, and I can't get over their colored eyelets and laces. INC's Rajel Dress Boots are a close second, though, as I think they're perfect for formal wear.  Regardless of which ones you choose, though, I hope you love them as much as I love wearing them, too! Now it's your turn to express yourself through your white shoes, so don't be afraid to experiment and find out what works best for you and your unique sense of fashion!
Recommended Reads: