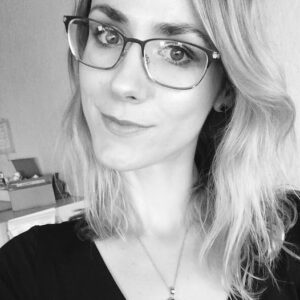 Latest posts by Karyl Trejo
(see all)
As much as we all love warmer weather, sweater season is always just leaving or just around the corner. So of course it makes sense to have a collection of high-quality, great-looking sweaters to have in your wardrobe. They are comfortable, they keep you warm, and they can adapt to nearly any outfit idea. 
Sweaters provide an easy go-to in the colder months when putting together outfits can be much more expensive and time-consuming than in the warmer months. You can dress them up or dress them down, wear them with jeans or khakis, use them for business attire or a night out. The sweater has become everyone's choice for an extra layer of protection against the elements.
Now that's not us underestimating how difficult shopping for a sweater might be, especially if you're a woman. It's no secret that a high-quality sweater can cost you a fortune. You need to make sure that you get yourself something that's not only super cute but also functional enough that you can throw it on with whatever's lying around in your closet. 
We know that's no easy feat, and therefore, in today's post, we'll be helping you pick the best women's sweaters from the lot. That way, your winters will always be comfy and stylish.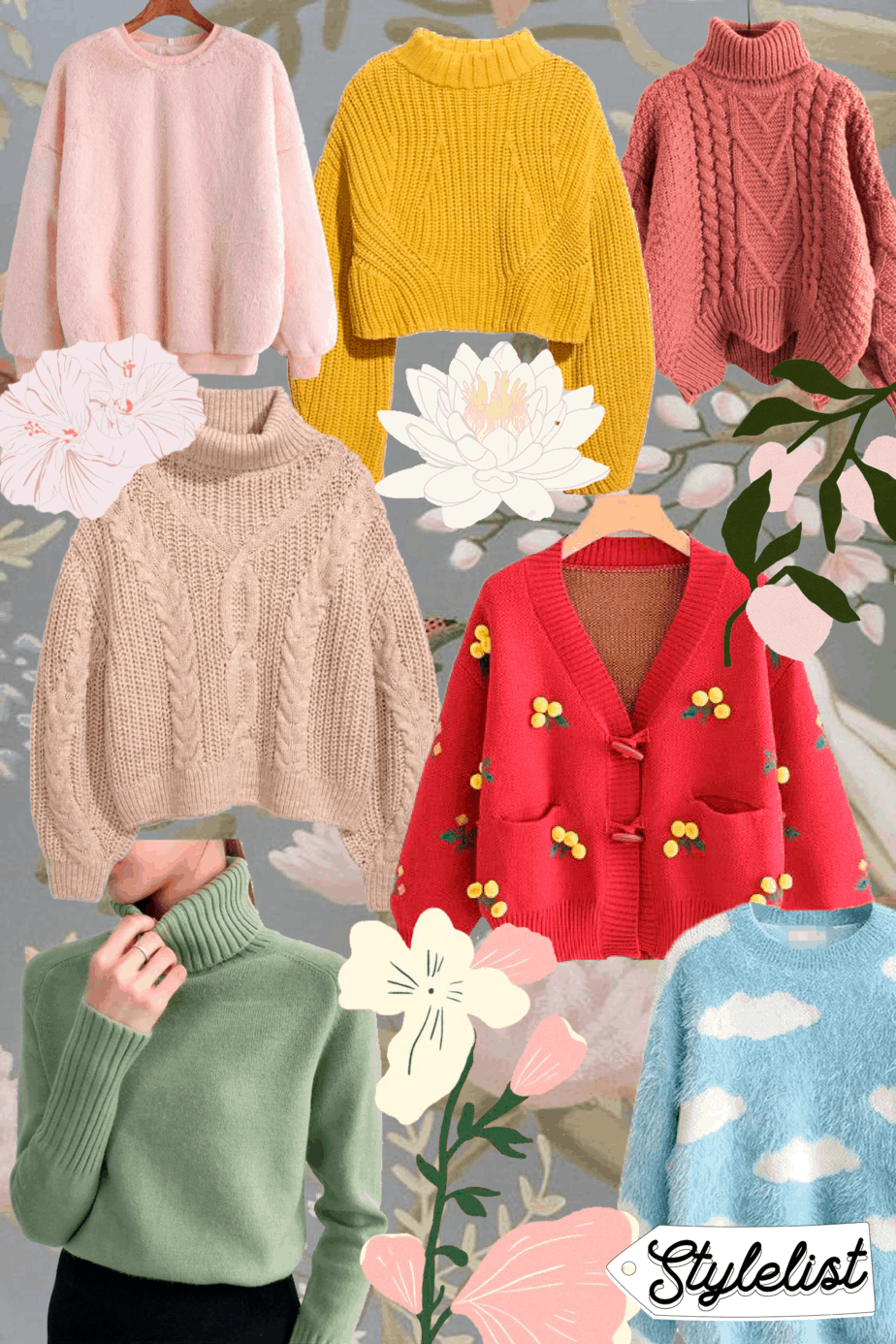 A Brief History of Sweaters
Have you ever wondered where sweaters came from originally? The evolution of clothing is an interesting one in general, and sweaters are no different. The garment that would evolve into today's sweater was first conceptualized in islands on the English Channel by the wives of sailors and fishermen. 
These first article sweaters were made of natural wool, and helped to keep the men warm even when they were on the ocean. The oils in the natural wool fibers would help trap and retain heat while repelling moisture.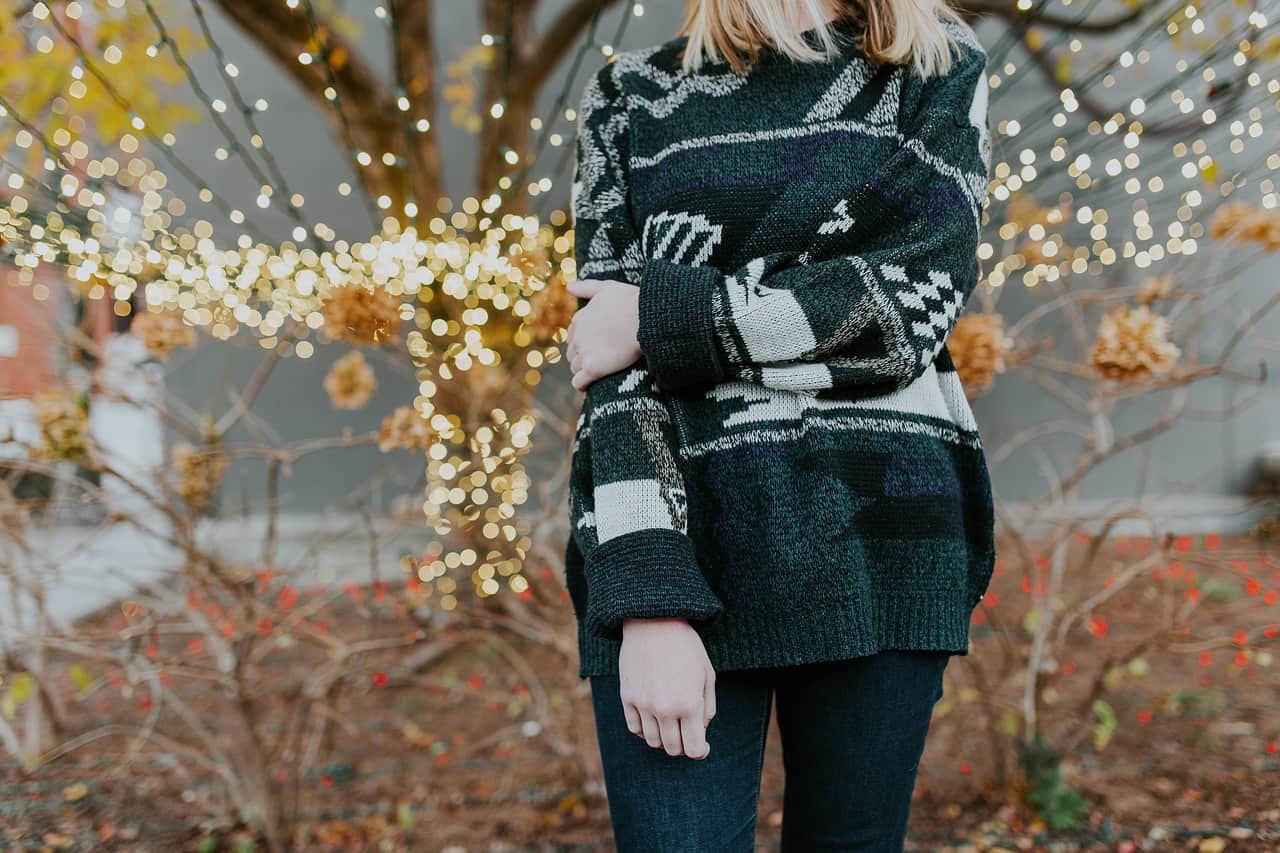 The new garment type quickly spread throughout Europe, providing an effective way to keep the whole torso warm without the bulkiness of a coat. In the 1890s, the sweater design was discovered by athletes in the United States, who would use sweaters between matches or rounds to keep warm, especially for rowing activities. 
By the 1920s, sweaters were showing up in fashion designer's styles of the times, including important figureheads and playwrights. Sweaters were adopted early by big names such as Coco Chanel, too. They were first featured in a magazine when Elle presented them in a shoot, lending that particular style of sweater the name of "Elle" for quite some time afterward.
From there, sweaters exploded. By the 1960s, sweaters were a part of everyday wear and had been seen on everyone from movie stars and rock stars to the average manual worker — and everyone in between. New fiber types and designs made sweaters much easier and cheaper to mass-produce, and even hearty knitted sweaters from Scotland were already in high demand.
Today's sweaters range widely in style, type, cut, color, and everything else. What sweater you wear today might be dictated by the weather, or you may go by the outfit. However you choose the sweater that you choose, this guide will help you know the ins and outs before you buy.
Types of Sweaters
The clothing industry generally recognizes ten different types of sweaters, and groups them into four main categories. The main categories are:
Pullover

Cardigan

Turtleneck

Tunic
Below are the different types to consider in each category. Let's take a closer look, shall we?
Pullover Sweaters
Pullover sweaters are just that: they pull over your head. Pullovers can be any type of sweater that does not open down the front.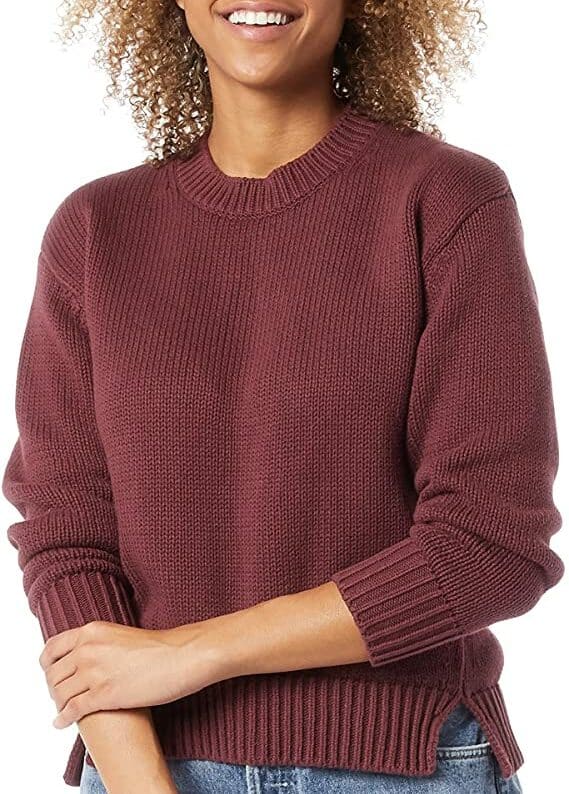 Cardigan Sweaters
Cardigan sweaters are sweaters that are open in the front. Cardigans are put on like a jacket instead of over the head, and can be open, buttoned, or cinched closed with a belt or tie. Cardigans are used in a huge variety of style templates and can range from casually slouchy to comfortably classy.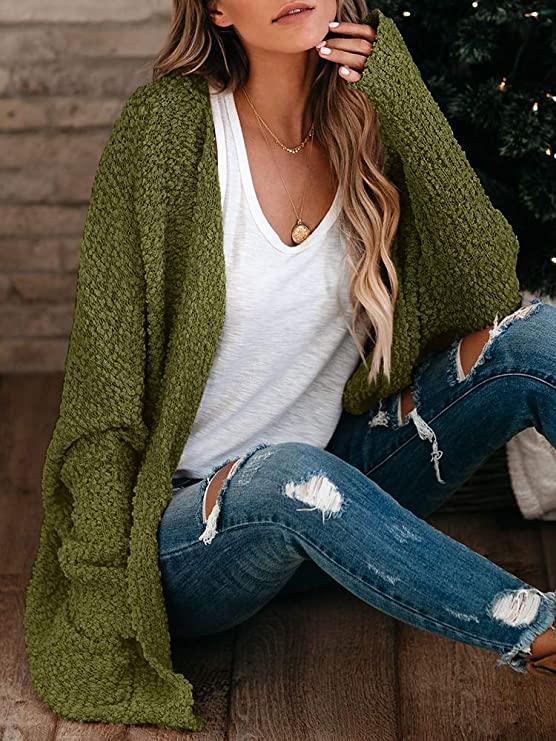 Sweater Vests
Sweater vests fit into the pullover sweater category but are really a different animal altogether. With no sleeves, sweater vests can be even more versatile than a traditional sweater, making an early entrance into fall and a late departure in spring because of the ability to go warmer or cooler depending on the layered clothing you use.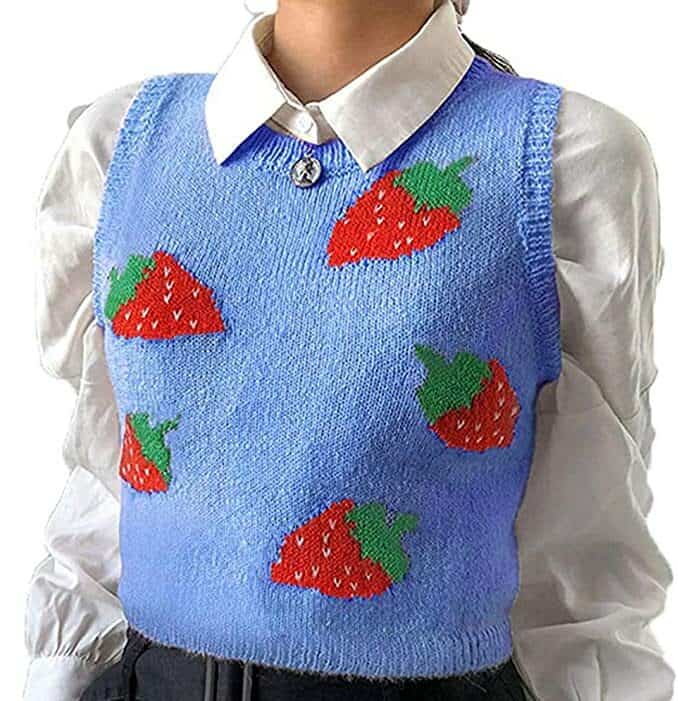 Crew Neck Sweaters
Crew neck sweaters were first popularized by athletes, originally to prevent skin irritation. The more casual look of this sweater can still be kept on the classy side, or it can be used as your favorite go-to for hitting the gym on a cool day.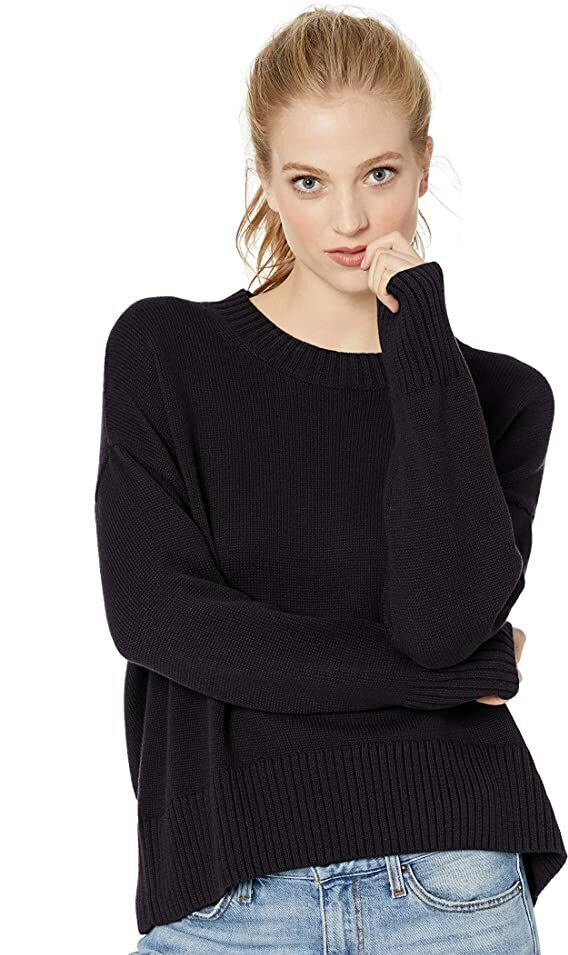 Boyfriend Sweaters
Boyfriend sweaters are any oversized sweater, whether you stole it from a partner or not. These sweaters are the perfect type for cooler days in the spring and autumn, or anywhere you might want an extra layer of warmth that is easy to pull off if you get too hot.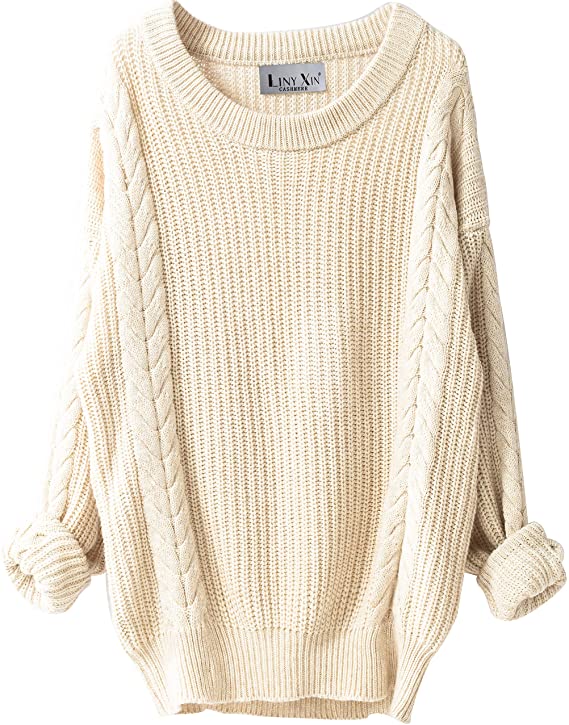 V-Neck Sweaters
V-neck sweaters are simply crew neck sweaters with an extra touch of class. These sweaters are made to be dressed up by layering them over a lacy camisole or a clean-lined, button-up shirt, so the shirt underneath peeks out from the v neck of the sweater.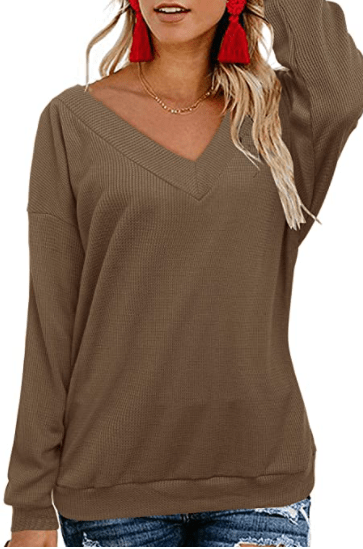 Quarter-Zip Sweaters
Quarter-zip sweaters are the casual hybrid between pullover sweaters and cardigans. Usually thicker than everyday sweaters, quarter-zip sweaters are often worn as a top layer in cooler months that have yet to hit the winter chill. The quarter-zip often includes a collar that can zip up around your neck for even more warmth, or unzipped and turned down to provide a bit of a collar.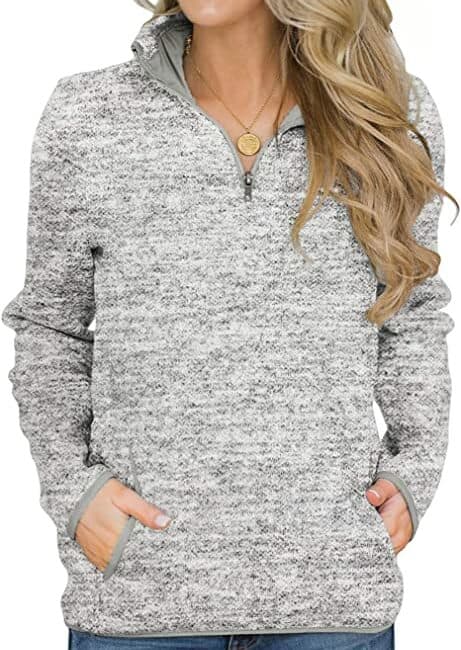 Tunic Sweaters
Tunic sweaters can often be defined as shirts, not sweaters, depending on the thickness and type of fabric. Tunic sweaters are often worn alone instead of layered, making up the main portion of the outfit. Tunics are longer than the waistline, usually loose, and have a flared hem.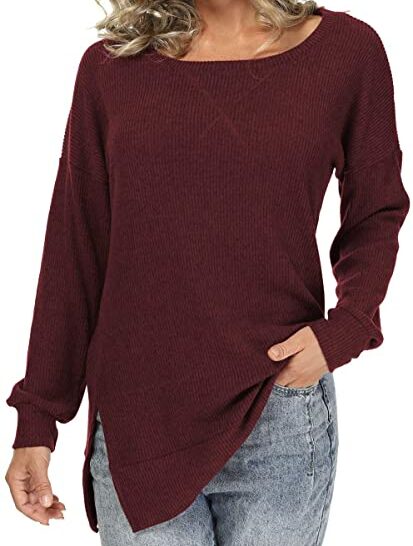 Turtleneck Sweaters
Turtleneck sweaters are very easily defined as a type because of, you guessed it, the neck. Turtleneck sweaters have fabric around the neck that folds over itself, covering the whole neck in a thick layer that provides extra warmth and also traps warmth around the torso.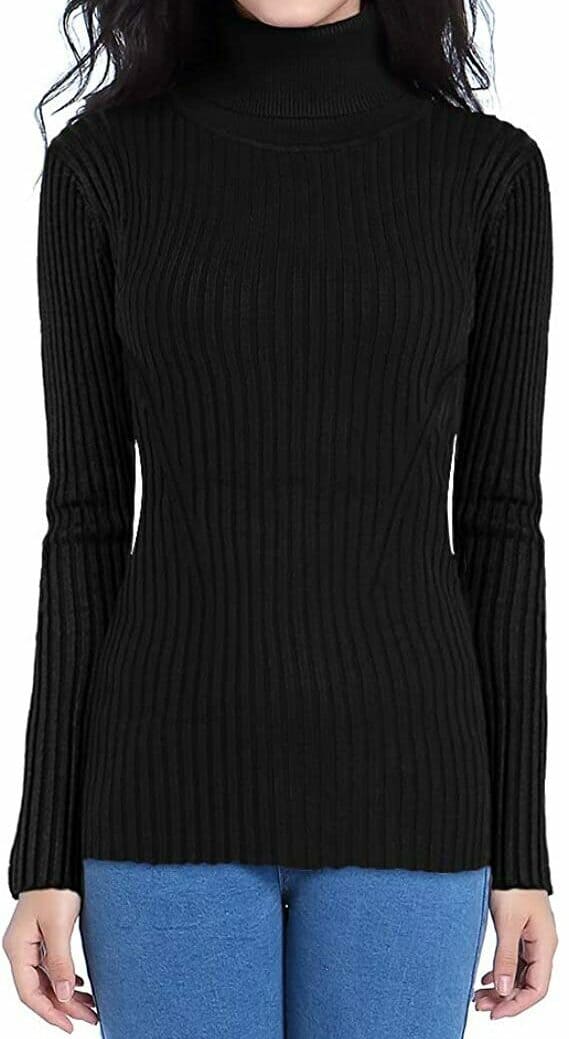 Mock Neck Sweaters
Mock neck sweaters are similar to turtlenecks. However, the fabric or knit of the sweater does not extend farther than the middle of the neck, or approximately the Adam's apple (on those who have one!). Mock neck sweaters are often called turtlenecks, but true turtlenecks have much more fabric around the neck.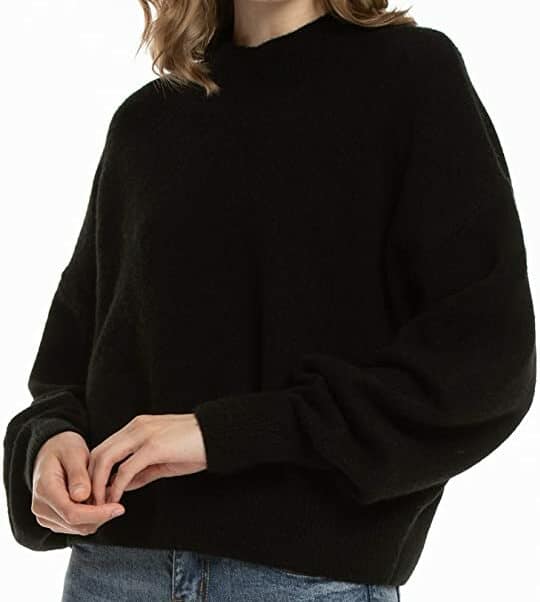 The Right Sweater For Each Body Type
Although you should generally be picking your sweaters based on what the weather outside is commanding, there's no denying that certain styles flatter one body type a little more than others. If you want to look amazing in a casual sweater look, picking the style that flatters you the most should do most of it for you.
How to Pick Great Sweaters
Now that you are familiar with the different types of sweaters, let's look at how to choose great sweaters for your personal wardrobe. There are a few key points to pay attention to that will assure that you are getting a high-quality product that will last you for years as long as you take care of it. 
A good sweater should not pill or come apart at the seams, while still being relatively easy to care for and keeping its color and shape. The fabric makeup is also important, as are other key considerations.
The first tip for finding a sweater that is long-lasting can be said about any article of clothing — look for

natural fibers

. Synthetic fibers may be cheaper, but they also won't last as long.

Acrylic, rayon, and polyester are all types of fibers that are much more likely to break down quickly with wear. Instead, look for cashmere, merino, wool, cotton, alpaca, and linen. These types of products normally have a higher price tag, but make up for the longevity of the garment.

Look at the details, such as edging and trim. The edges of the sweater should not roll up either when laying flat or when you are wearing the sweater. If the sweater has pockets, it should not look loose or stretched out.

Buttons should be evenly spaced and well attached, as well as lie flat to the garment. Seams should not be fraying or loose. Zippers should be well sewn and lie flat instead of being wavy or bumpy.

Perhaps one of the easiest things to do to look for quality is to try the sweater on, or at least run your hands over it. Does it feel like something you would want to wear?

Sweaters that feel scratchy or plasticky to the touch will likely not feel good against your skin either. Look for sweaters that feel soft and tightly woven, but pliable.

Check the seams closely for puckering or weakness. While this is also called out in the second point, we feel it is important to look at seams specifically, and with much scrutiny. The seams of any sweater should not be puckered, but instead should be smooth and streamlined, and keep a good shape when the sweater is lying flat.

Finally, pay attention to patterns. If the sweater you are coveting has a particular knit or color pattern, it should be easy to see discrepancies that may indicate that this sweater is not of the highest quality.

High-quality sweaters will always line up in color and pattern throughout the whole of the garment. If you stand back and look at the sweater and it appears uneven, it probably is.
Style Ideas
Sweaters can be worked into nearly any outfit in nearly any season, including summer. Below we have called out some of our favorite sweater style ideas.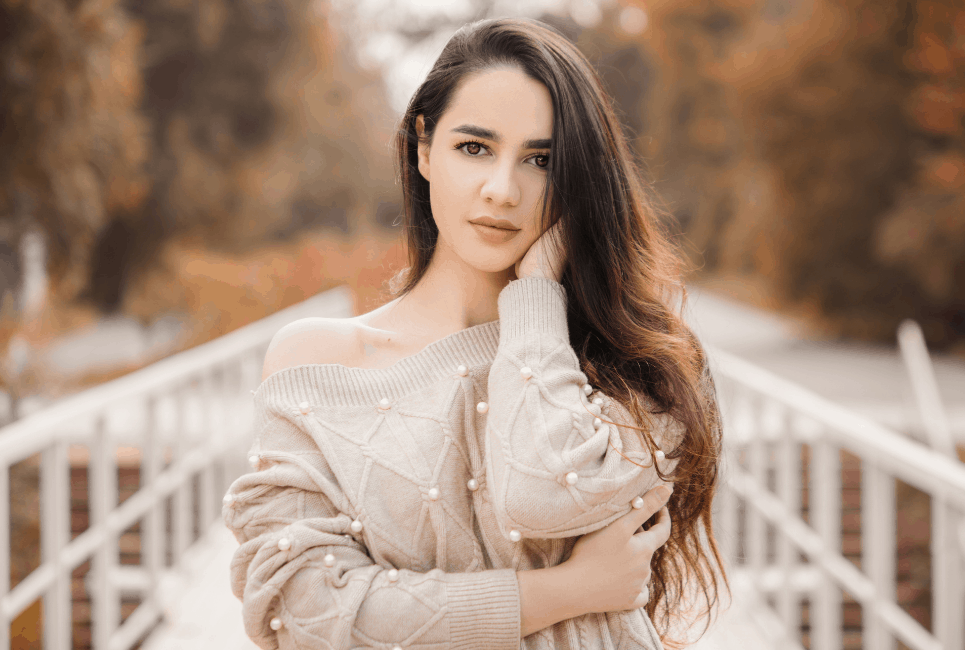 Pair an oversized, chunky sweater with a pair of skinny jeans.

For a night out, distressed

jeans

are great, but if you're going to work, pick a non-holey pair. Finish this look off with a hobo bag and a pair of

boots

or booties.

Sweater vests look amazing over a white button-up shirt.

This look, as with many sweater looks, can be dressed up or down. To dress it up for the workplace, wear a tighter-fitting blouse underneath a well-fitted sweater vest and a pair of smooth slacks in a neutral color, with sensible work shoes. 

Take a closer look at the fit.

If you want to take this look out on the town, allow for a bit more bagginess in both your

blouse

and your sweater, don a pair of distressed jeans and a sexy pair of heels.

Color is also key, and darker or neutral colors can elevate an outfit.

A simple crew neck sweater can provide an easy style go-to when it is a neutral or darker solid color.

A dark green sweater with a pair of dark wash jeans, for example, is a polished outfit that works nearly anywhere. Add a strappy, neutral-colored purse and flats, and you've got the simplest, sharpest outfit ever.

For warmer months, loosely knitted sweaters can work great as swim cover-ups.

A white bikini gives a pop of brightness under an open knitted sweater in a dark blue. Pair this with a pair of shorts and tan sandals, and you will feel like you're already on the beach.

Why not try layering?

A long, slouchy

cardigan

can be perfect for those days that start off cool but end hot. Pair it with a color-matching tank top, perhaps with a contrasting pattern. Throw on a pair of distressed boyfriend jeans or shorts and

sandals

and you've got a comfortable outfit that can be easily made cooler or warmer.

Have a little fun with textures and shapes.

An off-the-shoulder chunky knit sweater in a bright color looks great paired with a sleek-looking pair of lighter-colored jeans or slacks. Why not even try white?

If you are going for this outfit, make sure you choose colors that not only blend well but match well with your skin tone and overall aesthetic. A natural, more toned-down color in a purse can pull this outfit together completely. Flats or heels look best with this.

Mock neck and turtleneck sweaters are blowing up with cutouts right now.

Whatever type of this sweater you decide to buy, it will look best with a pair of well-fitted, straight-leg jeans or slacks. Chunky heels and some boots will make this outfit a pure winner for both work and play.
Taking Good Care of Your Sweaters
So you've picked out your sweaters and made sure that they were great quality and that they looked good on you. We personally love:
These natural fibers are fantastic for sweaters. Now, how do you keep your sweaters around for the long run? Below are tips and tricks based on the type of material used in your sweater.
Wool (And Other Animal Fibers)
To keep a wool sweater in the best possible shape, it should never be machine washed. Wool sweaters should always be washed by hand, and always in cold water. The sweater should also be turned inside out if possible, which will allow you to see any snags or other issues on the inside of the sweater that you may not have noticed before. 
You should also never dry your wool sweater in a dryer. Knead your sweater by hand to remove any greases, and then allow it to air-dry. Animal fiber sweaters are generally super delicate, so you should be as gentle with your wool sweaters as possible.
Cotton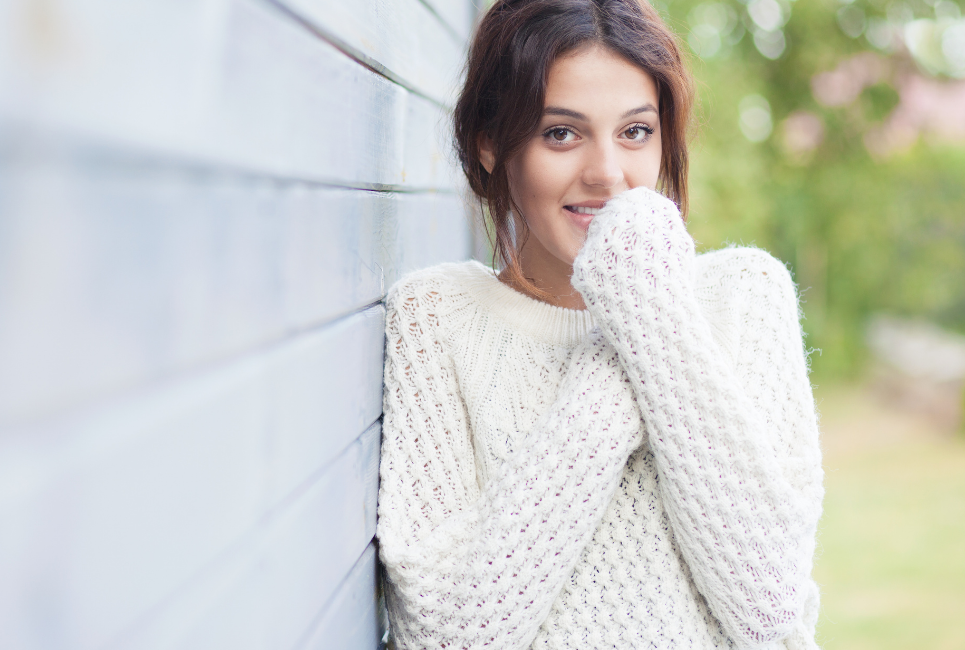 Unlike animal fibers, cotton's safe inside the washing machine. However, it's always recommended that you check out your sweater's care label beforehand to avoid mishaps. 
You should only use the gentlest cycle while washing your sweater, and a stain remover beforehand to remove any stains instead of relying on the detergent alone. As for the water's temperature, lighter colors should be washed with warm water, but bright colors are good to go with cold water. 
If you'd like to prolong the life of your sweater though, the classic hand washing techniques for animal fiber sweaters are what you should be doing. Otherwise, flat drying your cotton sweaters or even using a dryer for 5-10 minutes should do the trick. 
Linen 
Linen tends to get softer and more absorbent with each wash, so you need to be careful with your linen sweaters to make sure that they don't turn into rags after a couple of washes. The good news is, linen can be machine washed and dried much like cotton, so you only need to worry about using the gentlest cycle and a mild detergent. 
While washing, don't overcrowd the machine and allow the fabric to flow freely. If possible, only wash your linen clothing with soft, lukewarm water. Iron your linen while it's still slightly damp to avoid wrinkles.
Our Top Picks
Here are our top sweater brands/sellers that you can stick to if you're totally new to the sweater game. Each one of these promises top-notch quality, so you can rest assured that you're in good hands! 
But First, Our Selection Criteria
While picking out our top sweater brands that you could count on for the winter season, we had the following criteria in mind:
Price.

If you're looking to buy a good sweater that's going to last you for a while, it's obvious that it's going to fall on the pricier end. However, we don't want you spending your entire paycheck on a single cardigan, so we've given economic options more weightage here.

Quality. Quality comes from not only the material and the knit but also how comfortable the sweater is and its estimated durability. Although a woman's sweater is expected to look pretty and dainty, we don't want it to act the part too.
What's the use of a sweater that's so dainty it wears out after three uses anyways? We've limited our picks to only those brands that are famed for their high-quality products, ones that you can wear as many times as you'd like without any worries.
Aesthetics.

While we're expecting the sweater to be budget-friendly and high-quality, we can't forget one of the most important factors – the sweater's overall appearance! We've tried sticking to brands that cater mostly to women so that you don't end up with an ugly dad hoodie.

Ease of maintenance.

We don't want you spending an entire day creating the perfect environment to dry out your

cardigan

and whatnot. What we do want, instead, is a sweater that needs minimal care and can be washed and dried easily so that you don't have to worry about getting it washed after each use, only to end up not wearing it altogether.
Land's End 
Land's End is currently the leading brand for women's sweaters right now, and it isn't really hard to see why that's the case. The brand, which launched its extremely popular Land's End Canvas line in 2009, has since delivered premium quality winter wear for all genders at a very affordable price.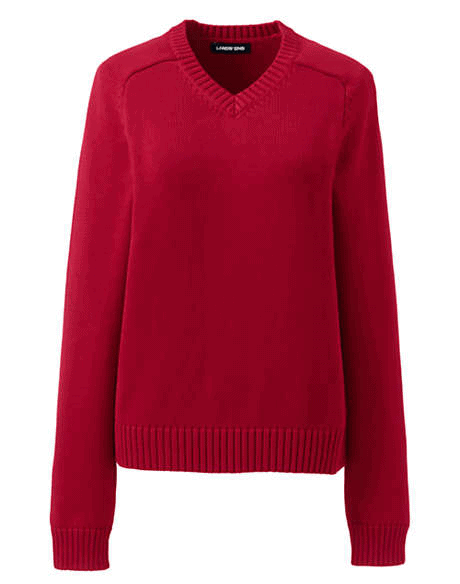 Since then, their target demographic has slowly transferred to the likes of women and young adults, giving the brand's aesthetics a modern and chic groove.
Pros
Premium quality material and excellent craftsmanship that any other retail brand can hardly compete with. 

Economically insane, as prices start as low as $25, and average at around $50! 

If that price range didn't impress you, Land's End also has sales every so often and also offers free shipping, so you can get your favorite sweaters at an even better price every time. 
Cons
If you're on the slimmer side, you might have a little trouble finding something that you love here, as the company has limited sizing options catering to larger body types. 

The quality of the Canvas line that initially made the brand popular has since dropped drastically. 

The cuts of some products that Land's End offers aren't exactly flattering, so you'd have to wade through some items to find a pretty pick. 
L.L. Bean
Although it lies a little on the classic and regular side when it comes to design and aesthetics, L.L. Bean's quality remains unmatched. If you're trying to build a wardrobe that doesn't essentially pop, but still lets you be prepared for any occasion.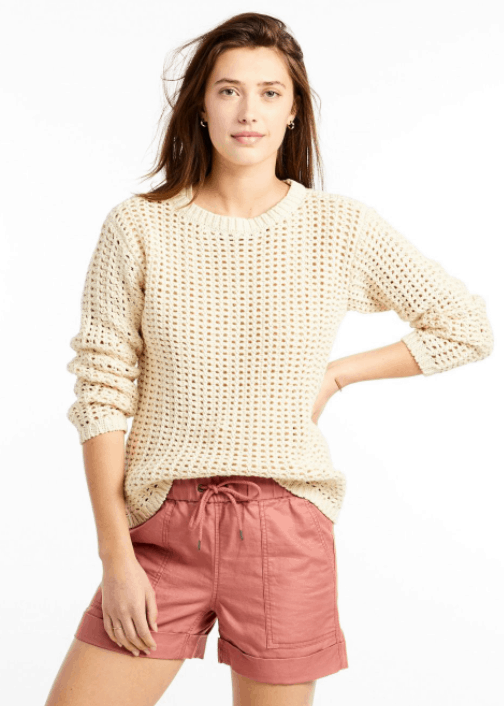 Since the brand's known mostly for its outdoor equipment, the durable and tough nature of the brand shows up in their line of sweaters too. If you're trying to get your hands on a plain, simple yet classy sweater that's going to last you through tough terrains, L.L. Bean's the brand for you. 
Pros
Much like Land's End, L.L. Bean boasts premium quality sweaters that are made for the outdoors. 

Although slightly more expensive than our first pick, average pricing for women's sweaters start at just $30.

Not only are their products high-quality, but the amped-up durability makes their sweaters super easy to maintain too. 

Their fits are always flattering and stylish, although modest and casual. 
Cons
The main gripe that L.L. Bean customers seem to have is the lack of bold and fashionable styling options. The brand doesn't seem to keep up with the current trends and sticks to classic and safe design choices. 

The brand boasts of its

BIFL

quality, which means that the product's expected to be durable enough to last you for a lifetime. However, BIFL quality doesn't come in for cheap, so many of their premium sweaters would cost you a fortune. 

L.L. Bean's sweaters are mostly made of natural and delicate fibers, so they're to be hand-washed only. 
Loro Piana
Loro Piana has been labeled as the standard when it comes to luxury sweaters. A high-end Italian brand that could even score you an excellent resale value thanks to its reputation, if you're trying to splurge, this is the brand you need to look for.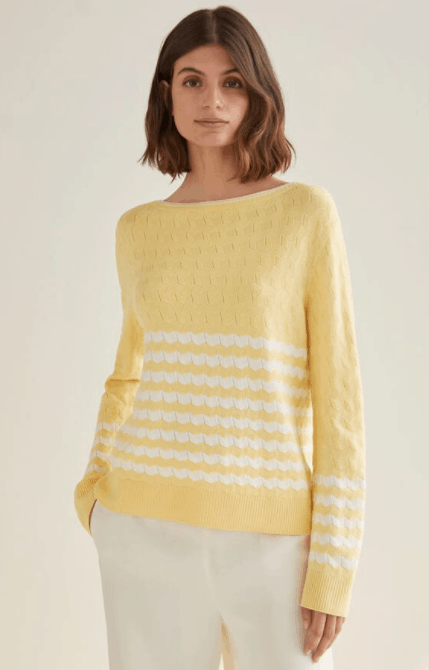 Pros
Loro Piana sources the world's finest ingredients for its sweaters, so when you've got one of their sweaters in your hands, you can feel the comfort and luxury exuding from it. Their cashmere products are an exception, as the brand famously sources its cashmere from Mongolia and has been labeled as the best in the world. 

Being a

luxury brand

, their clothes are finely crafted to ensure that you get a product that surpasses your expectations. A Loro Piana product is bound to last you for a lifetime, generations even, as long as you take good care of it. 
Cons
While the brand is a 10+ on literally every other aspect, a Loro Piana sweater could cost you your entire paycheck. Discounted items start at $700+, and their prices reach up to tens of thousands of dollars.
Etsy Brands
Although Etsy isn't a brand on its own, you shouldn't be underestimating the quality of winter wear that you could get your hands on there. Etsy's an online marketplace, but what distinguishes it from other online stores like Amazon is the fact that it's a platform for individual creators and small businesses who deal in handmade and vintage items. 
Etsy's home to over 4.3 million sellers and many of them sell handmade garments that you probably won't be able to find anywhere else. From cashmere to linen, there's a good chance that your dream sweater is tucked away in the workstation of an Etsy seller waiting to find its home. 
In terms of quality, we all know very well that there's nothing better than a handknit sweater laced with love. Most small businesses also source their materials locally, so all that you really need to take care of is choosing a seller who's got a great repo. 
Another great thing about Etsy is the customer base, which is always eager to support its favorite creators. So if you like a product that's been sold multiple times, there's a great chance you'll be able to check out some photographs uploaded by buyers as well as in-depth reviews to help you make your buying decision.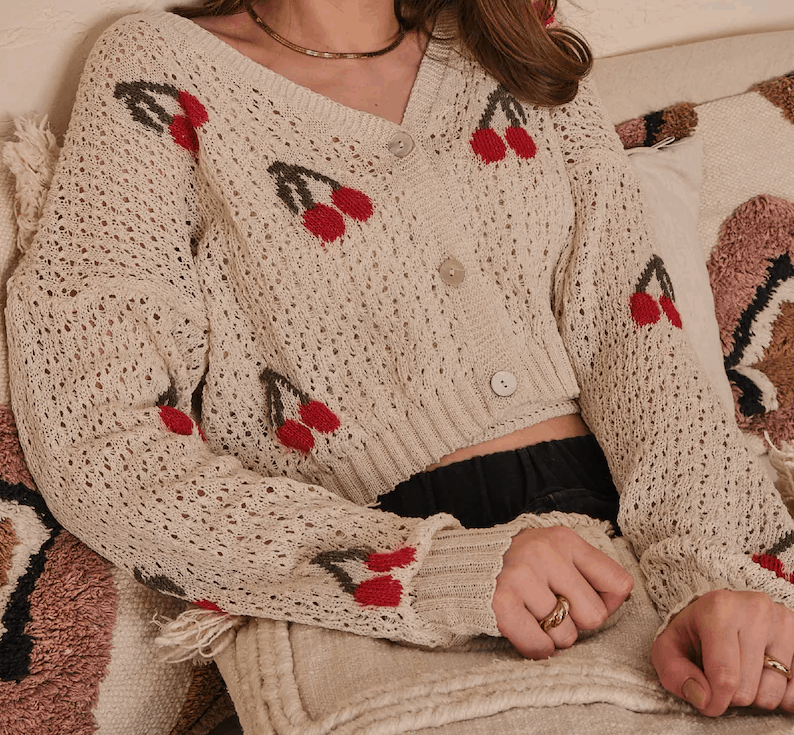 Pros
Handmade items are often the epitome of unmatched quality, and they offer a personal touch that no other commercially produced product could ever compare to. 

Small business owners often go above and beyond to make your experience a great one. 

You can often request small customizations or even request a seller for a specific design without having to spend a lot for it. You can even have your sweater tailored to your size for a minimal added cost. Most sellers are going to adhere to your requests, so you can have a product that's truly yours. 

Thanks to the variety, you'll be able to find everything, right from economically favorable to all-out luxurious products on the site.
Cons
You're not likely to find Etsy products anywhere offline, so depending upon where your seller is based, you'll have to pay a hefty shipping fee for each product you buy. 

Handmade products come at a much higher price than commercially produced. 

Many small businesses are unable to accept returns or refunds, so you need to be extra careful about the seller you buy from.
Frequently Asked Questions
Question: Which brand is the best for ladies' sweaters? 
Answer: Locally sourced and handmade sweaters are the very best kind of sweaters you could find, but if you want a cheap and high-quality sweater, Land's End sweaters are perfect. If you're really looking for the best though, Loro Piana's high-end sweaters are the ultimate standard for women's sweaters. 
Question: Where can I find cute sweaters?
Answer: Etsy's a great place to look for if you want to score a super cute and warm handmade sweater. The sellers there are quite proud of their creative and never-seen-before designs, so even window shopping is going to be a real treat. 
Question: What are the softest sweaters made of?
Answer: Hands down, that'd have to be cashmere. Of course, cotton can also be very soft, and linen gets softer the more you clean it. But there's something about plush, soft cashmere that feels like you're wrapped in a hug.
Question: What type of sweater is the warmest?
Answer: Woolen sweaters are the warmest sweaters you can find to keep you cozy during the winter months. Natural fibers trap more heat and are extra comfy to wear, so if you're looking to update your wardrobe, keep an eye out for wool, cashmere, and alpaca. 
Question: What is the best sweater color?
Answer: It's hard to answer a question like that, as everyone has a different style and different skin undertone. However, that said, you can never go wrong with a basic black sweater in your closet, as it matches pretty much everything. The same can be said for neutrals (like cream, navy, and gray).

But feel free to buy every color in the rainbow! That way, you can have a sweater for whatever mood strikes your fancy.
Question: Which is better, a sweater or a sweatshirt?
Answer: We have to admit, we're a little bit biased here, but we're team sweater all the way. Sweatshirts have their time and place, but they're just a little too casual to be considered a versatile wardrobe piece. Sweaters, though, can be dressed up or down.
Our Final Thoughts
Good quality sweaters are the perfect luxury gift you could give yourself to ensure a cozy and stylish winter season. 
We do know that you wouldn't want to go all out over some winter wear though, so we've rounded up our top picks to Land's End and L.L. Bean sweaters, both easily accessible brands that offer high quality, stylish and affordable sweaters. 
If you're ready to stock up for winter, be sure to find sweaters that are truly comfortable and made with natural and ethically sourced materials. Happy shopping!