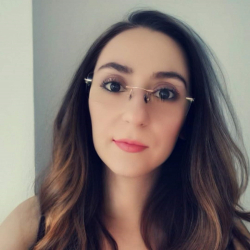 Latest posts by Alexandra Gavrilescu
(see all)
When you're looking for a pair of new boots, you must first ask yourself how and where you will wear these boots. Do you need a pair of boots for your daily walking activities? Do you need boots that can be paired with your office outfits? There are so many different kinds of boots, from very stylish and elegant ones to sporty hiking boots.
In today's guide, I will detail the things you must consider before buying a pair of boots. In the sections below, you will also find some of the best women's boots available on the market.
How to Find the Best Women's Boots – a Brief Buying Guide
Some of you prefer high-heeled boots, while others would rather opt for more comfortable shoes. Regardless of your choice, even comfy boots can look chic and trendy, based on their design and structure. There are so many choices that it can be difficult to select only one pair of boots.
Therefore, the next time you're looking for a new pair of women's boots, you should keep in mind the following aspects.
a. The Height of the Heel
Obviously, flat boots are the most comfortable types of boots. Flat and low-heeled boots are those that feature a heel that's not taller than 2.5 inches. Small heels will provide you with optimal comfort. If you want and can rock a high-heel boot but still need to walk a lot every day, you should choose boots with wedges or block heels.
Boots with stiletto heels should and could be worn on more special occasions, especially if you want to avoid foot and back pain.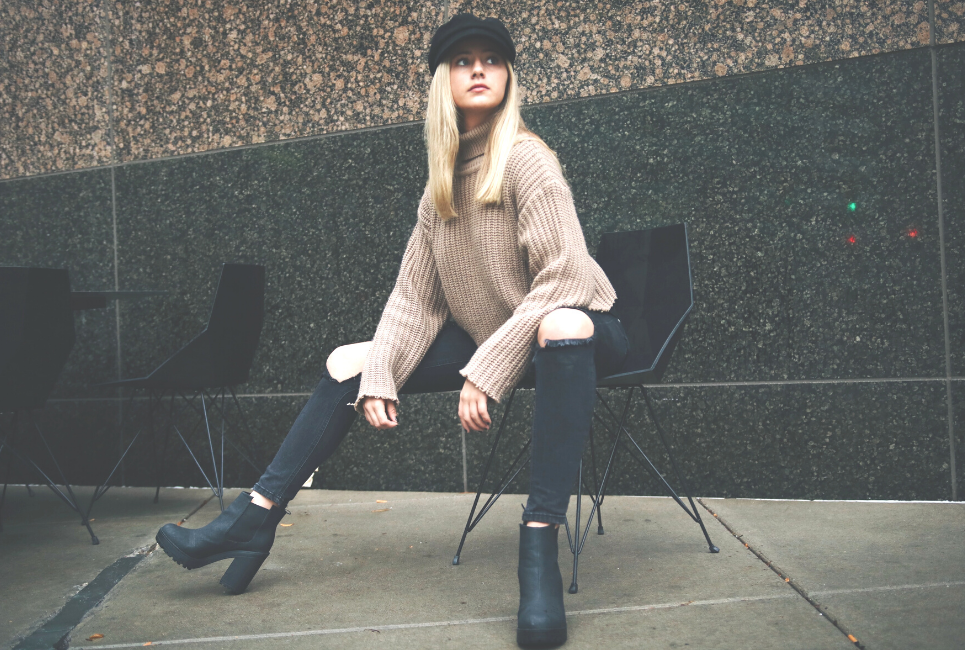 b. The Length of the Boot
The most versatile types of boots are ankle boots because they can be easily paired with numerous clothing items that you already have in your wardrobe. If you want to wear a failsafe pair of boots that you can go to the office with and then go out during the evening, you should choose a Chelsea-length boot.
Dressier boots are those that are taller and cover your knees. These are perfect for countless occasions and events due to the fact that they look premium and luxurious as long as they're well-made. For an office-appropriate outfit, you should purchase knee-length or even shorter boots.
c. The Material
High-quality boots are normally made from premium materials such as leather and suede. These fabrics will last longer and they're typically comfier and more flexible. If you want something that looks good and feels comfy, you should opt for natural materials and avoid artificial fabrics.
Choosing the Right Kind of Boot that Suits Your Body Type
The most important thing is for you to feel good, comfy, and confident with what you're wearing. Still, there are certain general guidelines you should follow to make sure that the boots you choose to wear match your particular body type.
Boots for Petite Women
·        Opt for heeled boots if you want to gain some extra height. Heeled boots will also make your legs look longer;
·        Don't wear boots that are very slouchy and avoid calf-length boots, square toe boxes, and boots with too many straps. Keep it simple;
·        The right kind of boots for petite women are those that hug the ankles and end above the ankles or right around them;
·        Knee-high boots are another great alternative that suits petite women.
Boots for Tall Women
·        If you're tall, then you're lucky and I bet you have long gorgeous legs. In that case, you can wear a wide range of boot styles and lengths. I would suggest over-the-knee boots which are very sexy;
·        Even though you're tall, you shouldn't avoid heeled boots altogether. Choose a pair of ankle boots that feature short heels.
Boots for Wider Feet
·        If you have wider feet, you shouldn't wear boots and shoes that have pointed-toe boxes. Footwear with a lot of decorative elements is also something that's not appropriate for your feet. So, stay away from straps and buckles;
·        The best choice for you is a boot that has slim heels and a round-shaped toe box.
Boots for Skinny Calves
·        We all like women who have thin calves but, having skinny calves and wearing boots can become a little problematic. The best options are boots made of stretchy materials because they are sold in a wider range of measures.
Boots for Wider Calves
·        The best types of boots for wider calves are those that feature elastic gussets such as the ones seen on Chelsea boots. They are more comfortable and easier to wear;
·        You should avoid wearing boots that have too many straps.
Main Types of Boots for Women
There are 9 different types of women's boots and I will detail each and every one of them right now.
1. Ankle Boots
This type of boot isn't very tall. It stops right around your ankles. Ankle boots are very versatile and flattering. You should definitely own at least one pair of ankle boots because you can style them in a wide range of ways. They can suit every occasion you may go to, from a day at the office, to a date night or a casual walk through the park.
There are heeled and flat ankle boots. They can be easily paired with skinny jeans, denim jackets, and floral midi dresses.
2. Knee-High Boots
The edge of a knee-high boot ends right below your knees as the name suggests it. They are good for colder seasons. You can keep your legs warm with this type of boot. Knee-high boots are also incredibly stylish. You can quickly create a boho-chic outfit if you wear these shoes with floral tea dresses.
For an outfit that works during a colder day, you could wear an oversized shirt with denim jeans and throw a puffer jacket on top.
3. Over-the-Knee Boots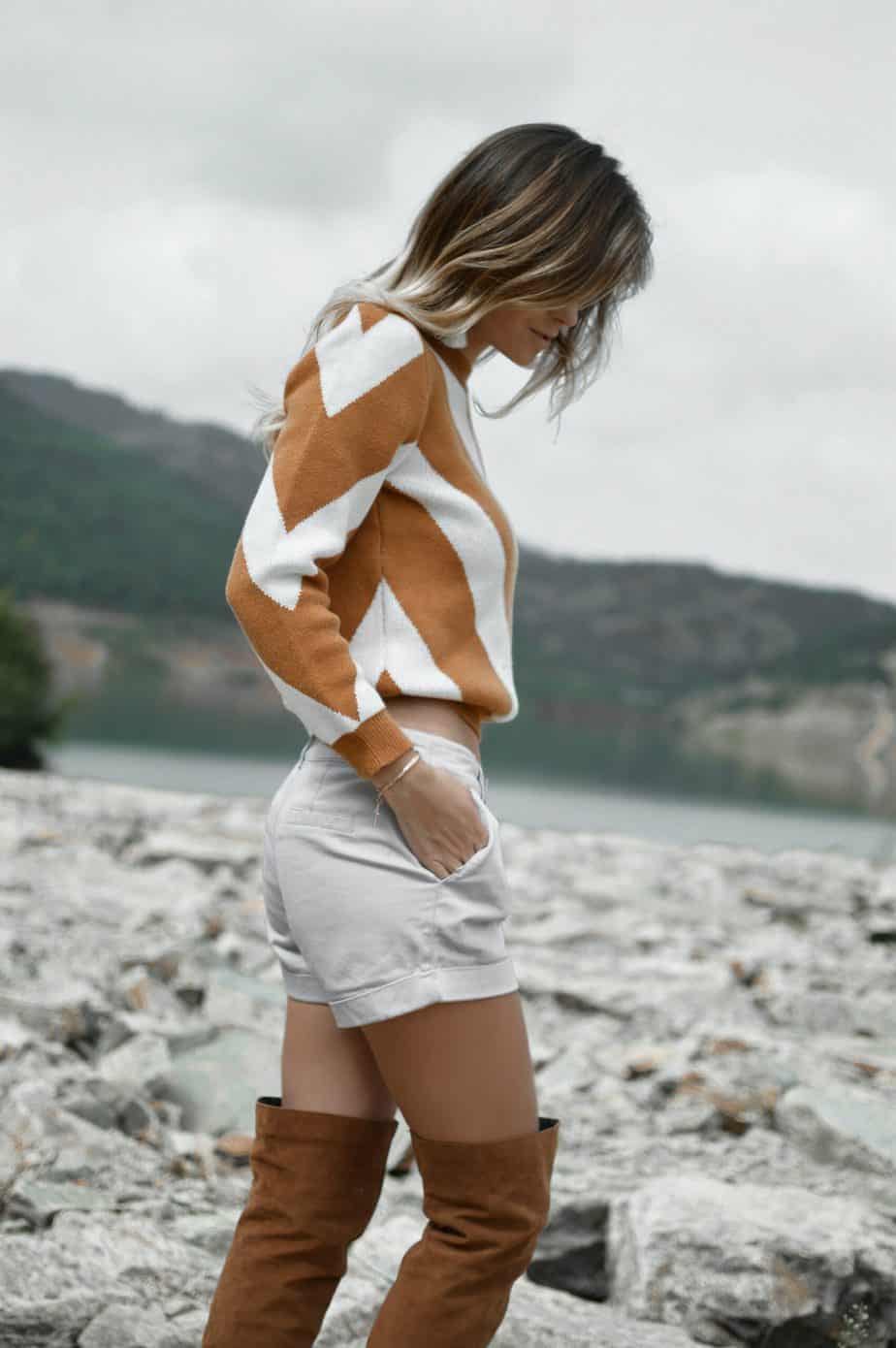 This style is very daring but, at the same time, it's also easy to include in many of your outfits. Plain outfits can really be transformed by a pair of well-made over-the-knee boots. They end right above your knees and they can be paired with leather jackets, silky shirts, and skinny jeans.
It's the ideal style of boots for the winter months when you need your legs to stay warm.
4. Calf Boots
These boots will sit a little higher up your legs than the standard ankle boots. By comparison, calf boots provide increased coverage and you could wear them in October and November. When it's a bit chilly outside, you could easily fulfill your errands while wearing a pair of calf boots.
They go well with thicker tights, roll neck tops with long sleeves, and wrap skirts. These shoes will complete your ultimate autumnal outfit.
5. Chelsea Boots
Chelsea boots are very similar to ankle boots in terms of length. They were first created during Victorian times and their name comes from the popular and wealthy borough in London. Despite their long history, Chelsea boots are still fashionable and can become a statement piece in your wardrobe.
Each side of a Chelsea boot features an elasticated panel and the shoe is close-fitting. Most Chelsea boots are flat. However, various heeled options are available too. You can style this footwear with tailored suits, white blouses, wrap skirts, boyfriend blazers, and Oxford satchels.
6. Snow Boots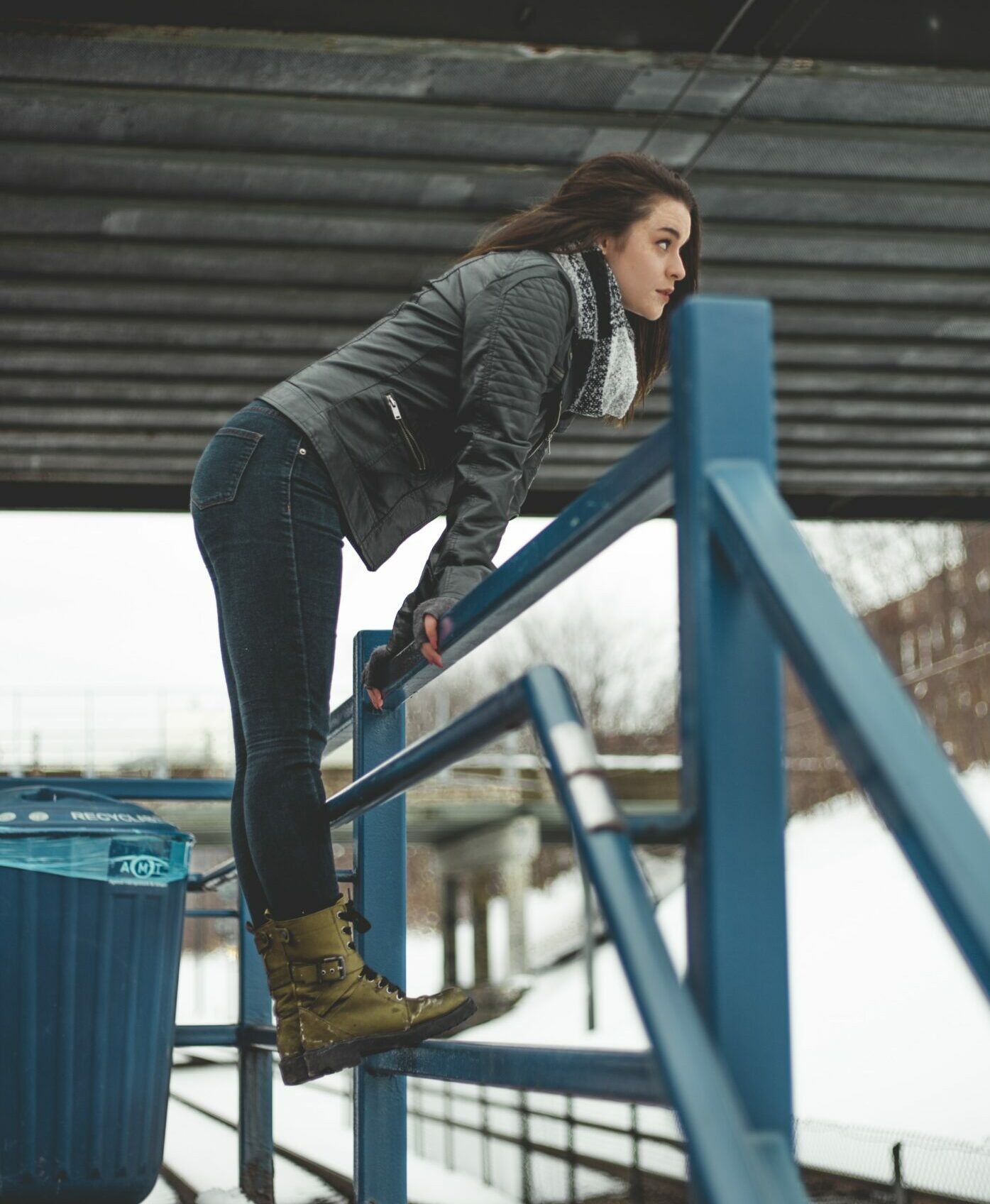 Snow boots are made to keep your feet and legs dry and warm when there's snow outside. Their soles will also provide an enhanced grip when the ground is covered with a layer of ice. It's true that snow boots were initially made for functional purposes rather than fashion but, nowadays, you can have the best of both worlds.
They will make you walk with confidence even when there's snow and ice on the ground and you can make them look trendy if you pair them with cozy leggings, knit jumpers, and thick parkas.
7. Riding Boots
I actually own a pair of riding boots since I used to do horseback riding a couple of years ago. Because of back pain issues, I had to let go of that particular hobby but I've still kept the boots. So, riding boots were also made with a functional purpose in mind but I've seen plenty of fashion trendsetters wearing them casually on the street.
Normally, these boots end below your knees and their sole is flat. Some models may have a very small square-shaped heel. Their design works well with your casual day-to-day outfits. You can still be fashionable without compromising on comfort. Wear riding boots with oversized jumpers, a pair of jeans, and accessorize the look with a leather backpack.
8. Biker Boots
Biker boots are another statement piece of footwear that shouldn't miss from your wardrobe. They spice up even the plainest looks. So, if you're after that rock 'n' roll chic look, you should buy a pair of biker boots. Choose one that has thick soles, buckles, and a bit of edginess.
This type of footwear is both sturdy and comfortable, and it can also keep your feet warm during colder days. Moreover, these boots are highly versatile. I dare you to wear them with a floral tea dress and an oversized denim jacket. That way, you will achieve a combination of roughness and femininity.
9. Wedge Boots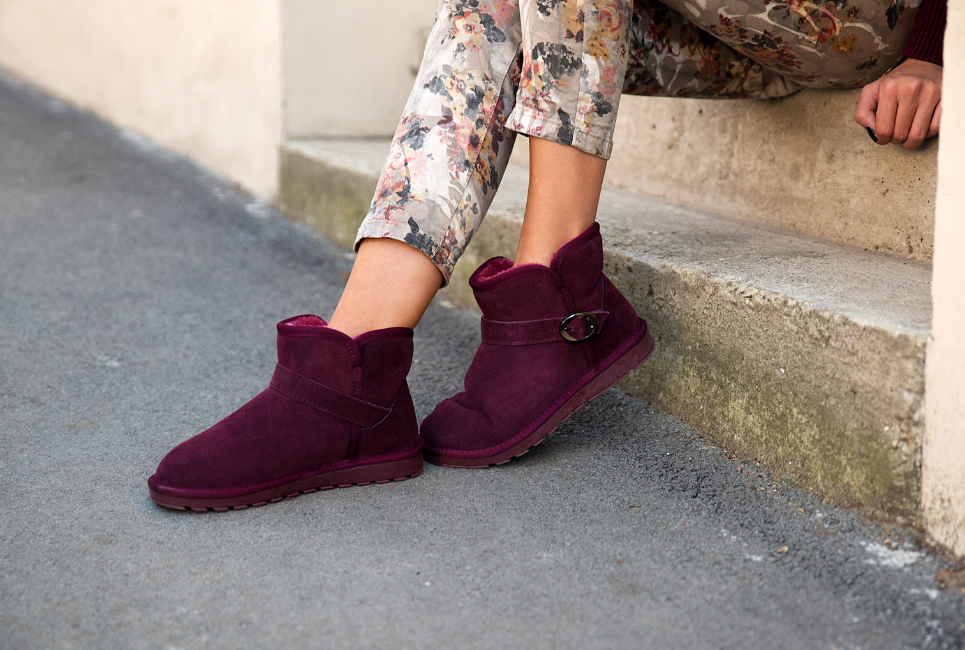 Wedge boots should be your choice of style when you want to gain some extra height while also avoiding the discomfort that comes with thin heels. There are numerous wedge boot styles on the market, one more fashionable than the other.
Their length can vary from shorter models that end around your ankles to taller boots that sit under your knees. These boots work great for office outfits as well as for a night out with your friends.
The Best Women's Boots on the Market – My Top Choices
I will present you with some of the best, most comfortable, and most stylish boots on the market. I have grouped them by types of boots to make it easier for you to create a new mini shoe collection.
*The following products are listed in no particular order. I have chosen them based on their reviews, popularity, and quality.
The Best Women's Ankle Boots
Ankle boots are cute, trendy, and they can be worn with pants, skirts, and dresses. Here are some of the best ankle boots for women that you should consider.
a. Dolce Vita Shanta Boots
These ankle boots from Dolce Vita are made of suede leather and they're very durable. The heel is chic and comfortable. You can easily wear these boots for a very long time without any wear or tear. They look premium and luxurious but they come at a very affordable price.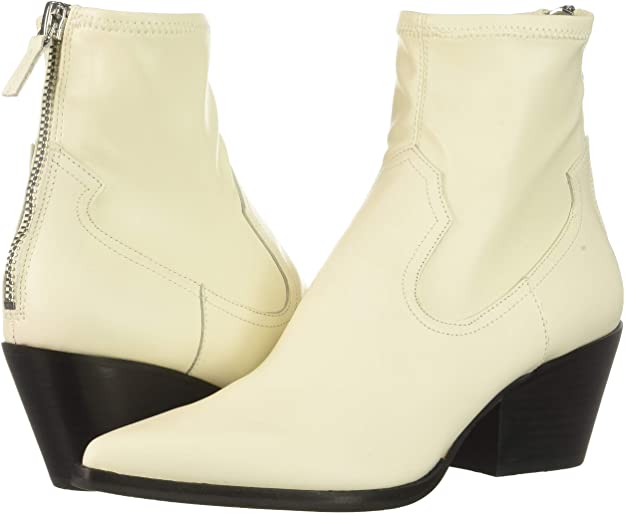 My favorite Dolce Vita ankle boots are the apricot ones. I love these boots due to their surprising price tag and their overall quality. You will notice that the material won't fade too much over the years. The heel is chunky and low enough to enable you to walk in these boots every single day without experiencing any pain or discomfort.
b. Joy Jolene Ankle Boots from Vionic Women
These ankle boots by Vionic Women are great. They're well-built and they have a sleek design. The leather is resistant to water. Therefore, you can safely wear them when it's raining or snowing outside. I liked the Joy Jolene ankle boots because they're super comfy, not to mention how affordable they are.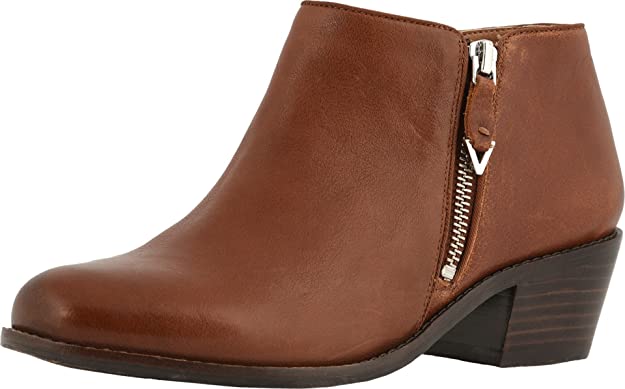 c. Everlane Day Ankle Boots
These Everlane boots are so very cool as well as comfortable. If you want to buy footwear that's ethically made, you should certainly consider these boots. The manufacturing company is well-known for its transparency policy which is so refreshing in today's consumption-focused world.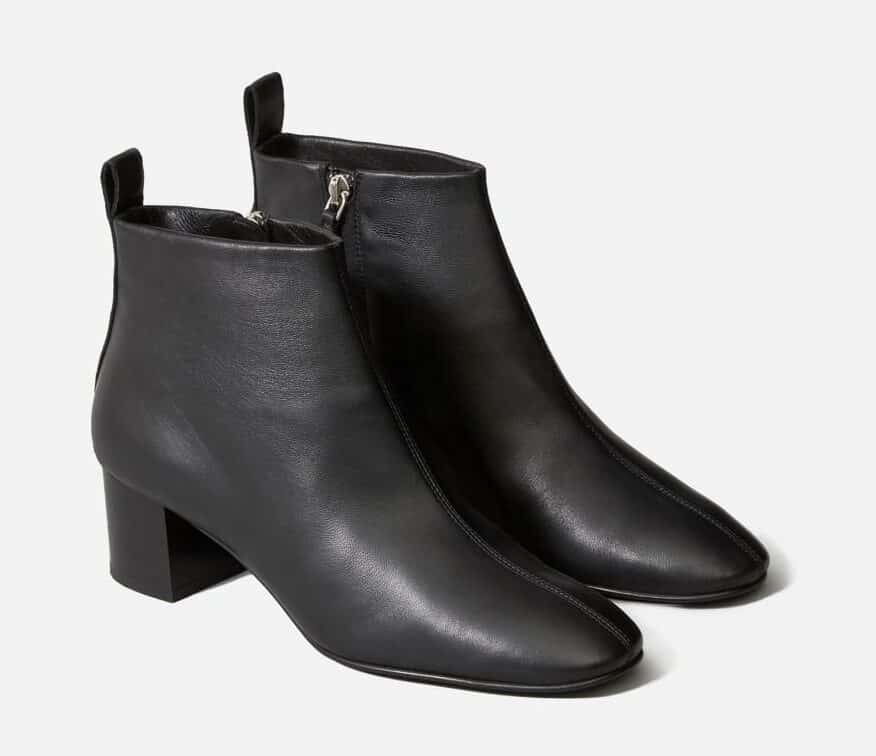 There are four available color options you can choose from: black, brick, bone, and ecru. My favorite one is brick, although the black version can be paired with numerous outfits. The design of these boots is timeless and their low chunky heels will give you that extra height you need.
I could see myself in these ankle boots with skinny jeans and a nice cashmere sweater.
The Best Women's Knee-High Boots
Knee-high boots will cover your calves in cold weather and, based on their design, they can be very sophisticated. Here are some of the most popular models of knee-high boots.
a. Blondo Vida Leather Boots
These knee-high boots made by Blondo Vida are made of comfortable and durable leather. They are very stylish and have a sleek appearance. Your legs will remain dry and warm whenever you decide to wear these boots during the winter months. The boots are booth skid-proof and waterproof.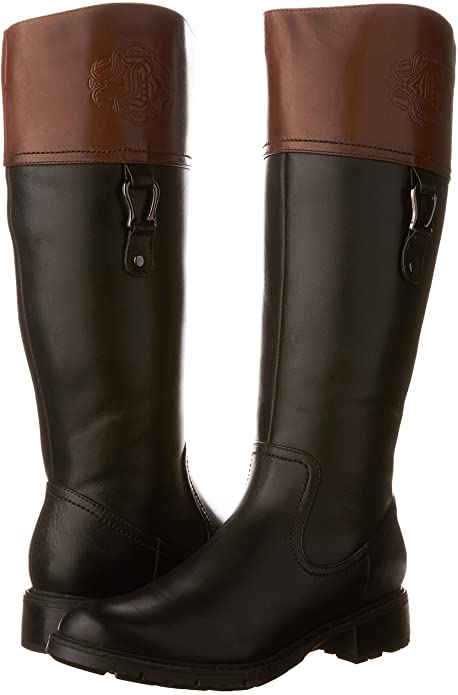 You can pair them with tights and add a fall dress or skirt on top of the tights. They can also be worn with leggings or jeans. The sole is sturdy and the small heel measures around 1.5 inches.
b. Penny Riding Boots by Sam Edelman
These Sam Edelman knee-high boots might have the design of riding boots but you can wear them whenever you want. Include them as accessories in your casual and smart casual outfits. They have a sleek and elegant design and you can choose from the following available color options: grey frost, dark brown, olive, whiskey, black, and navy.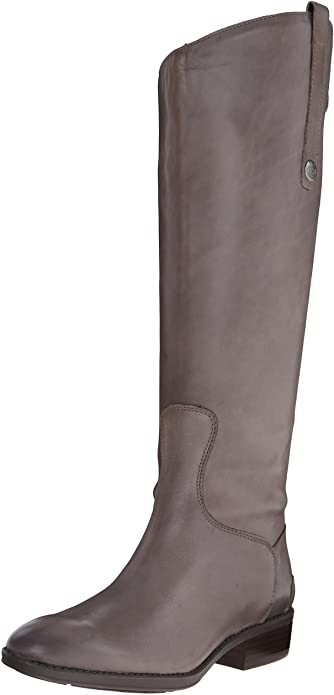 They're made of high-quality leather and the sole is synthetic. These boots can be easily cleaned with a damp cloth and then dried naturally. Their look is timeless and you can pair this footwear with cozy wool sweaters and jeans.
c. Women's Knee-High Boots by Hush Puppies
These Hush Puppies boots come in two different color options: black and brown tan. The sole is made of rubber and the back part of the boot that covers your calves is made of an elastic textile material. All the other parts are made of leather.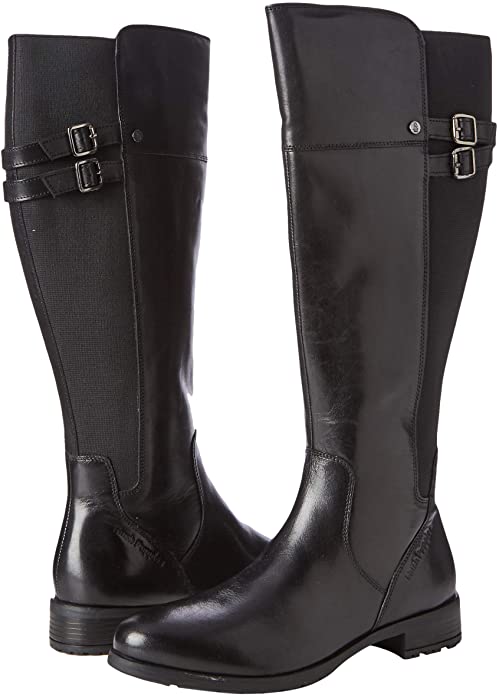 I simply love these boots due to their elegant and classy design. They're great for women who have wider calves due to their stretchy material on the back.
The Best Women's Over-the-Knee Boots
Over-the-knee boots look so sexy and appealing, not to mention they keep your legs warm. Here are my top three best high boots that go above your knees.
a. N.N.G. Long Autumn Boots
These N.N.G. long boots look so much more expensive than they really are. They're made of suede leather and they're very budget-friendly. Their sleek fit, on-point details, and block heels make these shoes perfect for date nights. The material has a bit of stretchiness for added comfort.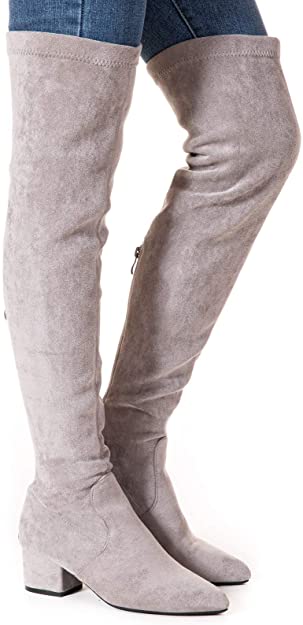 There are so many various colors, patterns, and varieties to choose from. I almost want to buy them all. You can opt for one or more of the following alternatives:
·        Colors/patterns – black, brown, grey, leopard print, starry black, red, and pink;
·        Details – simple boots, with laces in the upper back part, with buckles, etc.;
·        Heel height – 2 inches and 3 inches.
b. Dream Pairs Flat Boots
If you want something that looks good but is also very comfortable and suitable for daily walks, you should consider these long boots from Dream Pairs. They don't have heels and they're very affordable. These shoes are truly made for walking a lot. The rubber sole is comfy and durable.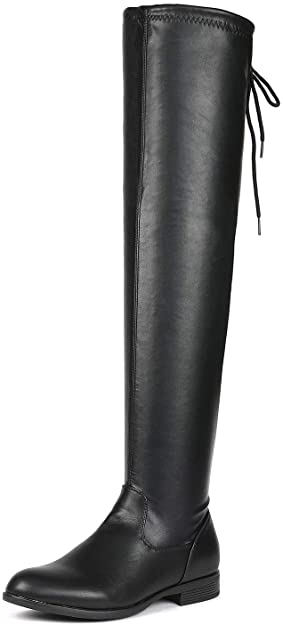 You have the following options available for purchase: black leather, black suede, grey suede, brown upland, black override, dark blue, and more. I am sure you could walk in these boots for miles since they're very comfy and their inside part is covered in fleece which makes them an excellent choice for cold months.
c. XYD Buckled Long Boots
These XYD over-the-knee boots are simply gorgeous. They feature stiletto heels and they will certainly make you look sexy and fierce. I can think of two words to best describe these boots: bold and beautiful. The four chic buckles that are placed across the calves are somewhat adjustable.

Clients can choose from no less than 24 amazing colors, including black, brown, fuchsia, green, red, and more. Moreover, there are numerous other cute patterns to consider: black and white animal print, illusive rose, British plaid, butterflies, plants, circles, and more.
The Best Women's Chelsea Boots
I am deeply in love with Chelsea boots. They're so chic and cute and I can pair them with numerous outfits that I already own. Flat Chelsea boots are also great for traveling. Here are my top three picks.
a. Kenneth Cole Salt Boots
The Kenneth Cole boots represent the ideal and timeless representation of Chelsea boots. They feature the classic design of this type of footwear. I love their black microsuede color and their incredible value. You will love them too because of how well-made, chic, beautiful, and sophisticated they are.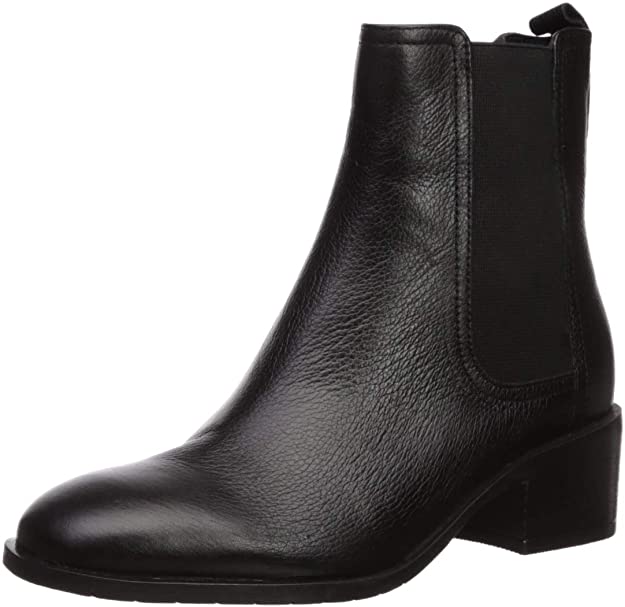 The boots are also very comfy so you can wear them to work every day or during long shopping sessions. The fit varies between narrow and medium. There are 10 different colors to opt from: black, tan, pecan, brown, burgundy, grey, and more.
b. Blondo Elvina Chelsea Boots
For those of you who want great waterproof Chelsea boots, the Blondo Elvina shoes are one of the best alternatives out there. These ankle boots have rubber soles and they're lightweight and easy to wear. I believe these are some of the best shoe options for rainy autumn days.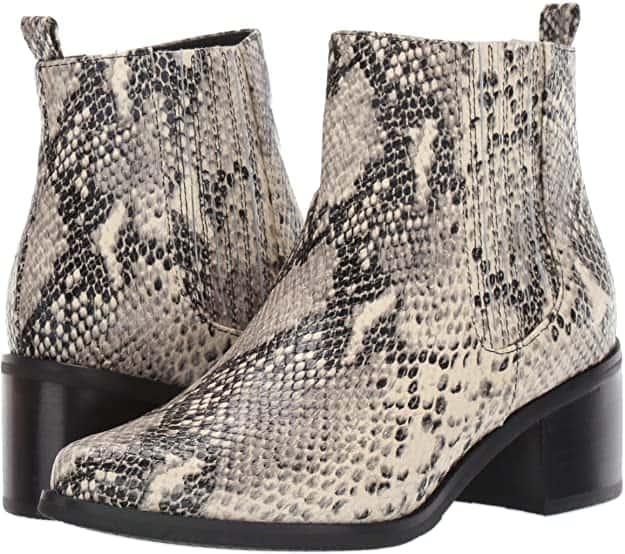 Their style is inspired by the classic Chelsea boot but these feature an elegant zipper on one side which makes these shoes easy to take off at the end of a long day. They are marketed in the following pattern and color choices: natural snake leather, black Croco leather, leopard suede, black suede, and black leather.
c. UGG Hazel Chelsea Boots
These UGG Chelsea-inspired boots are so cute. They're stylish and they have a chunky heel that measures around one inch. The platform of these boots measures around 0.5 inches. They are made of suede leather and there are three color options to choose from: mole, pinewood, and black.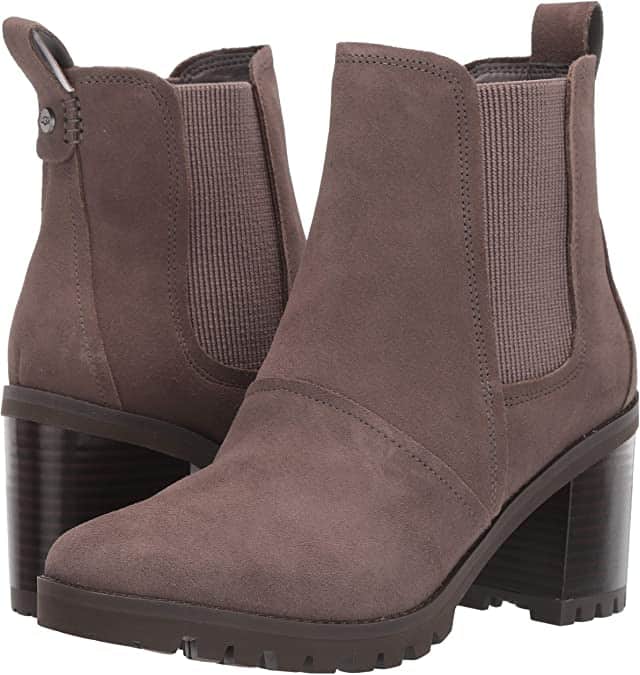 The material is resistant to water. So, these shoes will be suitable for many kinds of weather conditions. The sole is sturdy and enables a strong grip. You can easily pair them with long sweaters, leggings, tights, and short skirts.
The Best Women's Wedge Boots
Everybody loves wedge boots. What's not to love about them?! They're stylish, comfortable, and versatile. Scroll down to discover my top 3 picks of some of the most beautiful and popular wedge boots for women.
a. UGG Mini Boots
UGG boots are the most comfortable shoes on the market and I am sure they will continue to be for many years to come. These UGG wedge boots have received numerous positive reviews from customers on several online shopping platforms. There are four available colors to pick from: black, chestnut, slate, and caribou.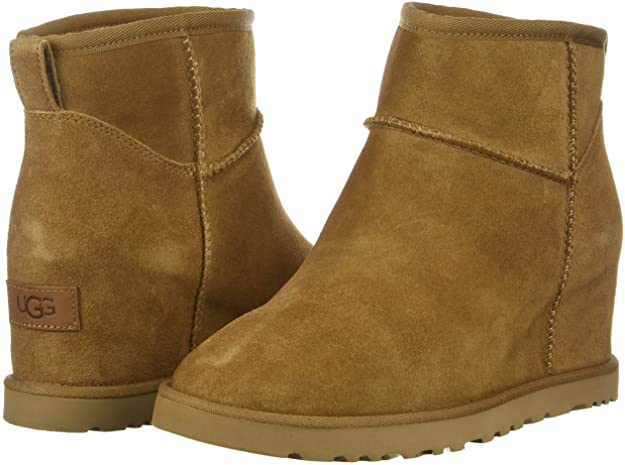 The outer fabric is cow suede leather, whereas the inner part is made of a mix of both leather and textile. These wedge boots are very lightweight due to their ethylene vinyl acetate sole. It's easy to put them on and remove them. If you want to wear them, all you have to do is pull them on. The height of the platform's heel measures approximately 2.7 inches.
b. Toms Kala Wedge Booties
These wedge boots from Toms Kala are so cute and chic. They're slip-on boots that feature the brand's iconic elements such as the stitched logo and the asymmetrical cap toe. The company is also known for its charity work. Therefore, for every pair of shoes a client buys, the manufacturer offers a new pair of shoes to a child who needs them.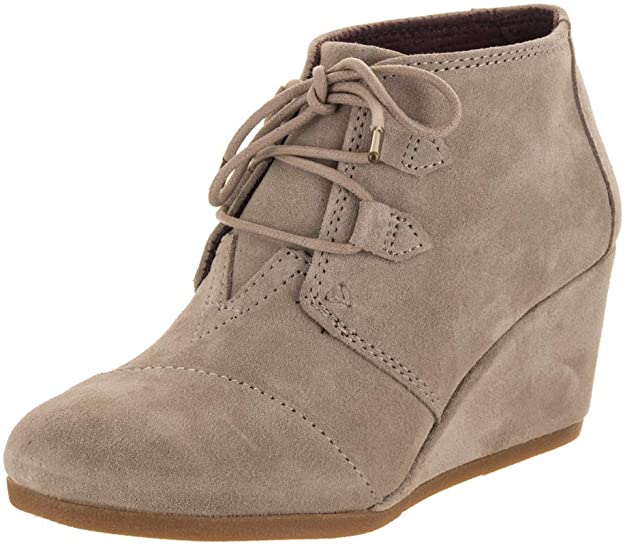 There are a few available colors to choose from, but my favorite one is brown desert taupe. The inner part of the boot is manmade and the sole is made of rubber. The outer part is made of synthetic material. These Toms Kala boots have a platform heel that measures around 2.75 inches.
c. Women's Dakota Boots from Dr. Scholl
These wedge boots marketed by Dr. Scholl have a lace-up construction. They also feature tassel accents. In other words, these shoes take the standard Oxfords to a whole new level. You can select from the following color alternatives: stucco microfiber suede, dark brown, black, dark grey, olive, and tan black leopard.
The sole is made of durable synthetic material. All the other parts are made of textile synthetic fabric. The heel of the platform measures around 2.25 inches. The insole is made of memory foam which makes these boots very comfy.
How to Find the Best Women's Boots – Frequently Asked Questions
Question: Which Ones Are the Comfiest Boots for Women?
Answer: There are many comfortable boots out there. It all depends on your needs and preferences. Some women can walk in heels and feel more comfortable than others. I personally don't like wearing heels a lot of the time but that's just my experience.

As long as you buy boots made of flexible, natural, and high-quality materials, and you also purchase the right fit for you, then you shouldn't have any issues with your new shoes.
Question: What Are the Ideal Boot Types for Walking a Lot?
Answer: Obviously, the comfiest boots of all are those with flat soles. However, the sole should be thick enough to provide the right amount of support. On the other hand, if you can handle a little more height, you could easily opt for wedge boots since they make you look taller but they don't have thin heels.

Other boots, regardless of their length, will work too as long as they have small or medium chunky heels.
Question: What Are the Most Lightweight Women's Boots?
Answer: In my opinion, some of the most lightweight and comfy boots are the models created by UGG. But other boot brands market comfortable and lightweight footwear as well. Look for those that have platforms, heels, and soles made of airy materials.
How to Find the Best Women's Boots – Final Thoughts
Looking good is important, but feeling good is essential for your well-being. It's true, however, that, many times, feeling good and looking good are interconnected. When you're choosing a new pair of boots, you should think of the main reason you're buying those particular boots.
If you plan to wear them during cold winter months, you should definitely consider practicality above everything else. If you just want a stylish pair of boots that you can wear at date nights or out with friends, you are free to opt for trendy, elegant, or chic boots.