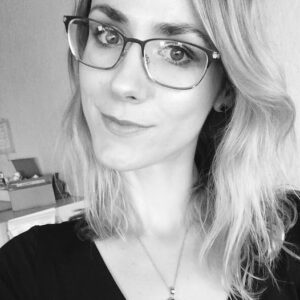 Latest posts by Karyl Trejo
(see all)
In this modern era of fashion, where timeless elegance meets new and innovative style trends, it's safe to say that the sheer blouse is here to stay. According to recent style reports, this article of clothing will be one of the ones that will be seen in more regular rotation in the upcoming seasons.
For a much-needed break from a seemingly endless stream of crisp white blouses and bland pullover sweaters, nothing can be better than adding a sheer blouse into your closet for a much-needed pick-me-up. The fact is, transparent materials have always been one of the more fun options to consider when it comes to clothing. 
So much so, in fact, that they can be easily dressed up or down — and all thanks to the chic and on-trend pieces of clothes made from this type of fabric. If you've been looking to incorporate sheer blouses into your wardrobe, but you're not sure where to begin, look no further. 
I'm excited to share with you everything you need to know about sheer blouses, including:
The many different types of sheer blouses out there

How to style your sheer blouse to dress it up or down

Ways to wear your sheer blouse to avoid a scandal (gasp!)

Frequently asked questions about these types of tops

And even a handful of choices you can include in your closet today!
Ready to learn more? Then let's go ahead and dive in!
The Different Styles of Sheer Blouses
There's no doubt about it: sheer blouses have managed to make a powerful impact on today's fashion. And why wouldn't they? They're incredibly versatile and super cute, meaning you can easily mix and match them with almost anything else in your closet. 
It's also clear that these blouses are super on-trend right now. You can see this demonstrated by popular brand's new launches, digital influencers glamming it up for the 'gram, and the many street-style looks that you may have already seen on your favorite social media feeds. 
For instance, you can combine them with a nude-colored camisole, pair it with a skirt or pants, and wear them to work without batting an eye. Or you can pair them with much more daring outfits choices, like a sexy bra underneath them, and wear your favorite sheer blouse to your favorite local watering hole for a couple of cocktails with your girlfriends. 
Some of the ways sheer blouses can be styled include:
Slipping into classic yet modestly sheer work-appropriate designs.

Rocking transparent tops for those spicy first dates

Living in ruffles and gathers for days and adding a little feminine touch!

Wearing tulle fabric around the clock, like our favorite fashion maven,

Carrie Bradshaw

.
The transparent fabric of a sheer blouse allows for the passage of light through the fabric, making it both a very bold fashion statement and even an ethereal article of clothing. They also give the illusion that you are wearing fewer clothes than you are, providing allure and sensuality.
Plus, sheer blouses are some of the most season-friendly style trends today, as they're a piece that can be worn all year long. And today, I'm going to share some of the best designs for this type of shirt with you. With their versatility, flirtiness, and elegance, you'll soon understand why they're catching every fashionista's eye this season.
Sheer Button-Down Blouses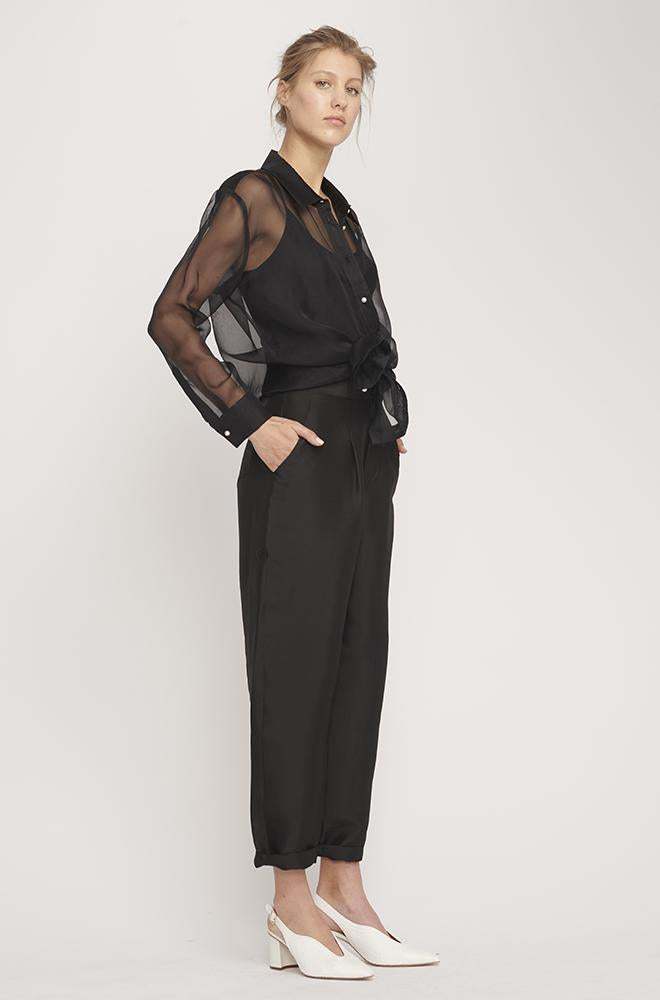 Sheer button-down blouses are primed to become one of the biggest staples in the world of fashion, making them an essential piece in everyone's wardrobe. These play nicely with a midi-skirt or a pair of slacks, allowing you to achieve a stunning and professional workplace office outfit. 
This shirt style also looks fantastic with your basic blue or black denim jeans too. If the blouse is transparent and you don't consider yourself a risqué person, though, you can always wear it with a black or nude tank top underneath.
Plumetis-Style Sheer Blouse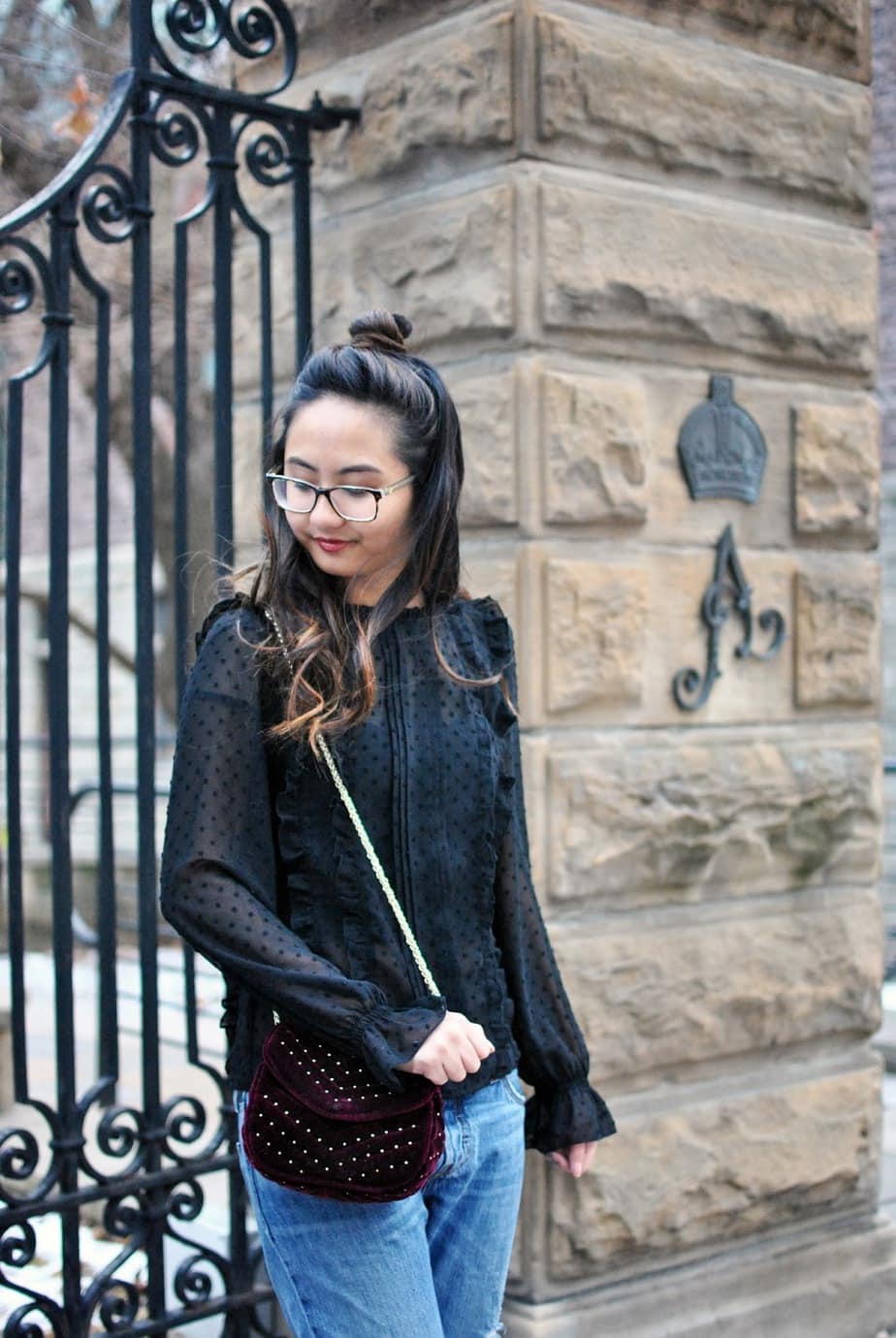 A transparent plumetis blouse has it all: it's romantic, sophisticated, and sensual. With its raised dots against a sheer fabric background, this type of blouse works well with many different outfits. You'll be an eye-catching success in any look you wear it with. 
The fabric for this type of blouse is usually made of silk, organza, and lace. You can typically find them in solid colors and with the occasional touch of print. They are easy to combine, super elegant, incredibly feminine, and always sexy. 
Of course, a sheer plumetis blouse is also an excellent choice for party looks. It's super easy to combine it with shiny or sequined fabrics or simply with black tuxedo-type pants. Every one of them has something that makes it special and unique, such as gathered details, large bows, or lantern sleeves.
Romantic Sheer Blouses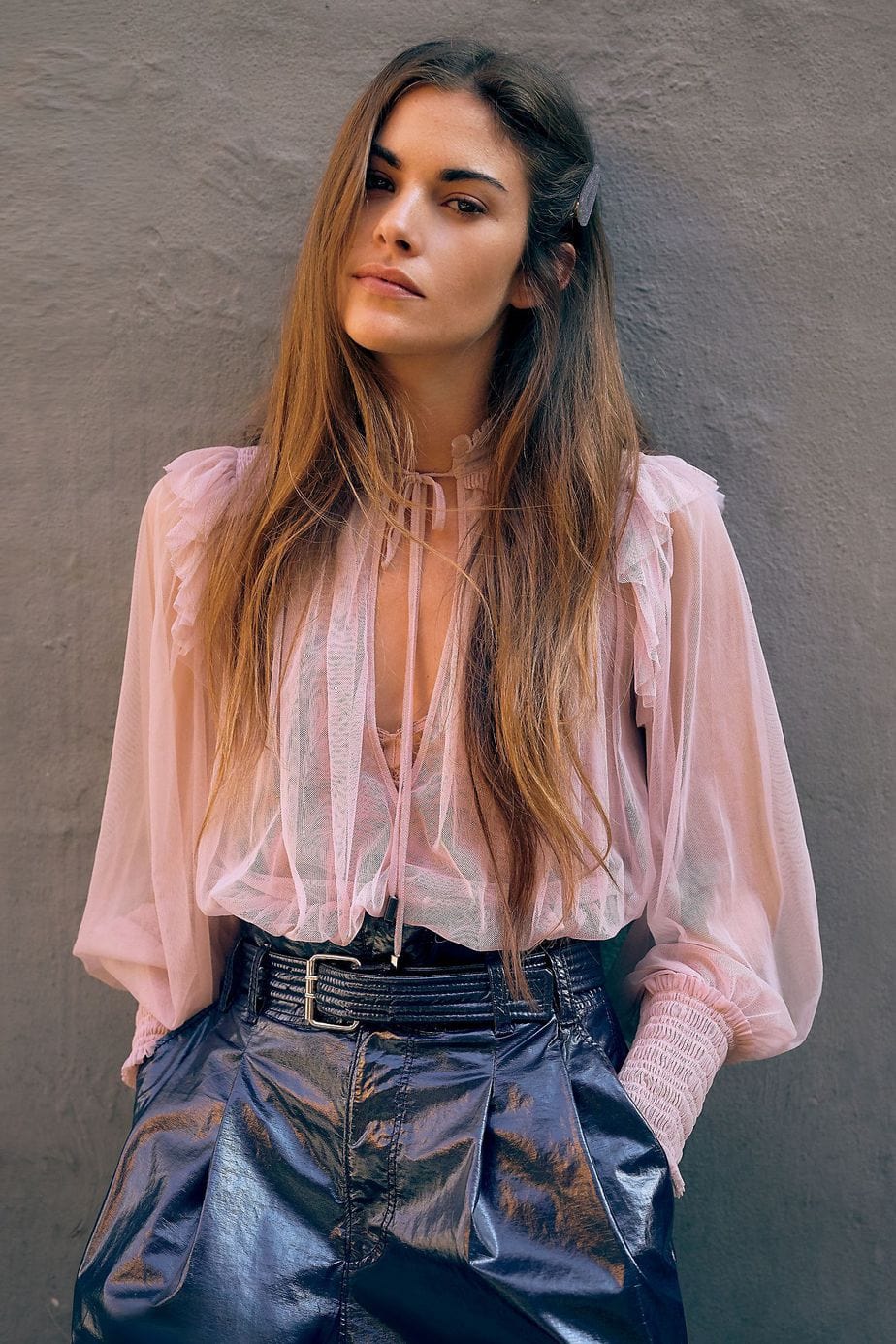 Sheer blouses with a hint of romance are truly something else. These styles are loaded with lace, embroidery, and soft fabrics. Sometimes they may even come with ruffles or bows, but the one thing they all have in common is how delicate and feminine they are. 
You can combine them with a blazer or biker jacket or throw on a pair of sneakers for a casual option. Or, if you want to dress it up, a pair of heels can take it to the next level. There's literally no wrong way to combine this type of sheer blouse!
Some of the many designs have a Boho-chic vibe, while others are more figure-hugging and flirty, with an extra touch of elegance. These romantic sheer blouses are usually found in lighter tones (like ivory or cream) or exaggerated embellishments, making them fairly original options.
The white and black combination is always a flawless choice, so a sheer blouse with these colors — or in a white or black look – will be an attention grabber. In their most striking and original design, these ethereal blouses will elevate your look to the max.
How to Combine Different Styles of Sheer Blouses
As you already know, sheer blouses come in many different designs and styles. Because of their wide range of availability, it's especially important to know which one is best for your way of dressing and personality. Below are some great styles that will help you find what works best for your trademark look.
A Sheer Blouse With an Undershirt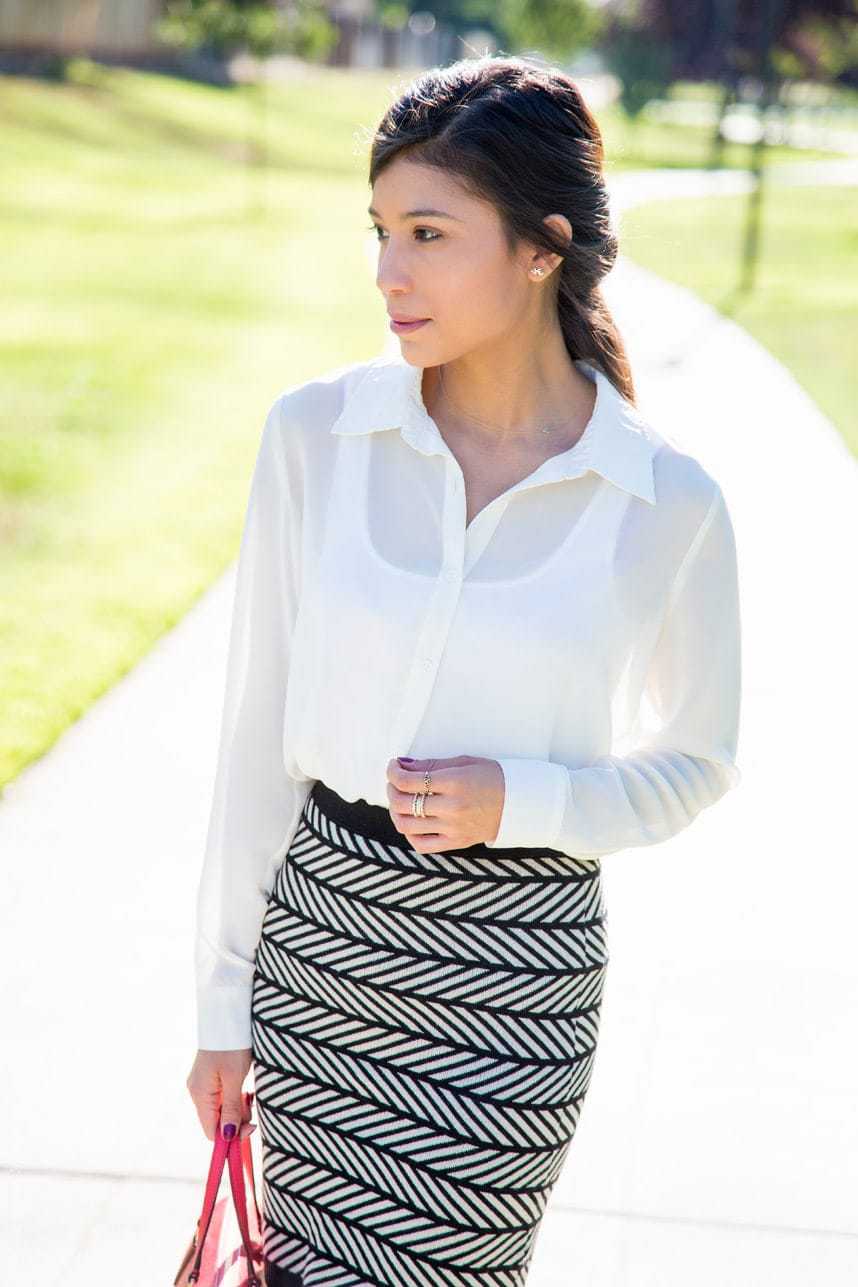 This is a perfect idea for people who want to wear this see-through style without revealing much. A simple t-shirt (in your basic colors like white, black, or tan) and spaghetti straps can do wonders under your blouse if you want to add a bit more modesty to your look or if the event warrants it. 
This provides a classy yet casual look that can be dressed either up or down for work or a night on the town. Jeans, slacks, and a variety of skirts can be combined well with this blouse and t-shirt combo.
Semi-Opaque Blouses with Sheer Panels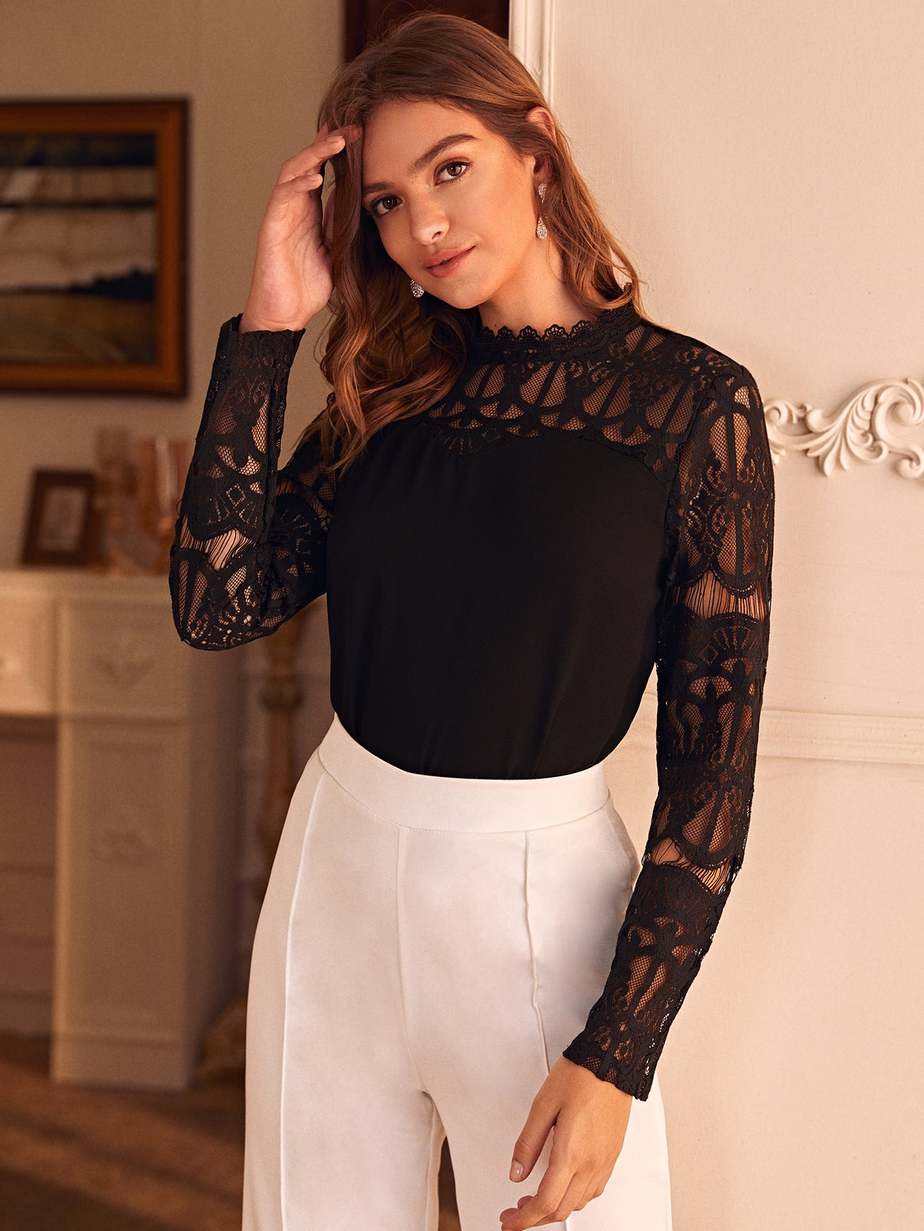 A two-in-one style is also something that you'll be seeing a lot of in this popular trend. These types of transparent blouses are the complete opposite of plain or boring. Instead, they can bring some of the most current and trending stylish prints. 
For instance, you may find one with polka dots. Or maybe you'll see one with beautiful florals or an animal motif splashed across it. If you combine them with solid-colored dress pants or a pencil skirt, then you can bring out your best lingerie for a combination that will be nothing short of va-va-voom.
Sheer Blouses with Dresses or Jumpsuits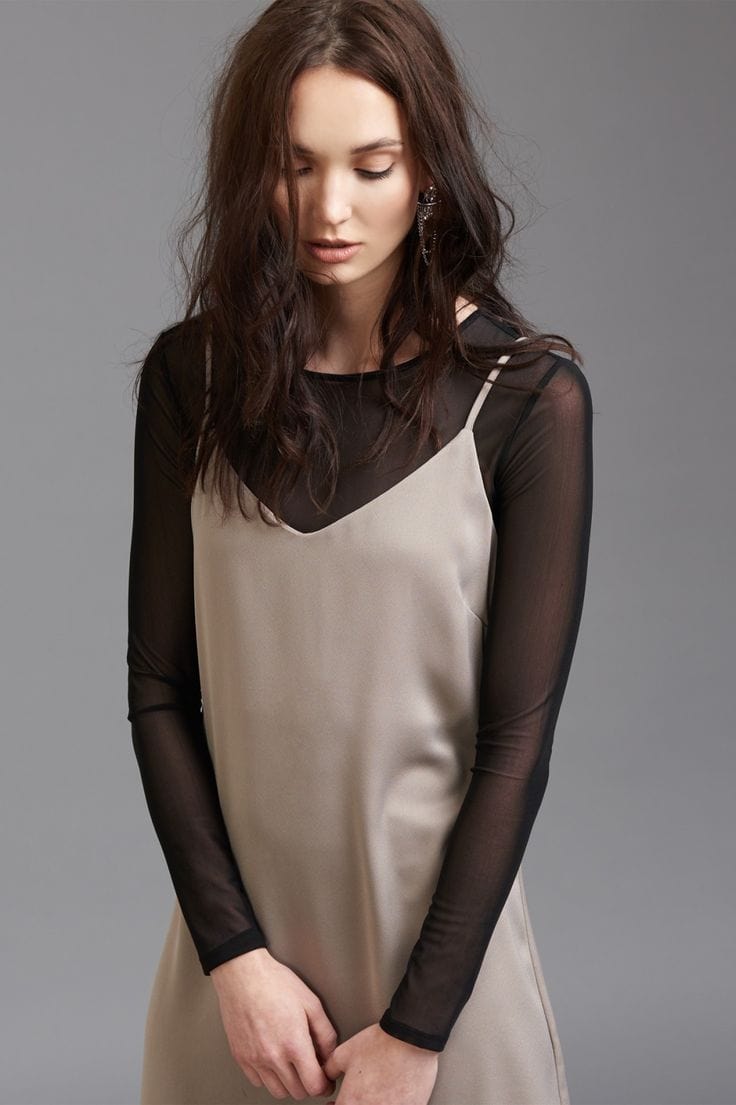 Putting a sheer blouse underneath (or over!) a dress or jumpsuit has also become very popular in the world of fashion. They go well with a large variety of skirt lengths and styles and, without a doubt, this combination is the perfect way to finish any party outfit you want to wear.
You might even see sheer blouses with overalls, although they'll almost always be in simple colors or in basic finishes to avoid overdoing the look. This allows you to wear a translucent but still-modest ensemble. You can also mix and match them with more elegant and sophisticated styles or add studs or leather elements for a more punk or counter-culture design.
Opaque Blouses with Transparent Sleeves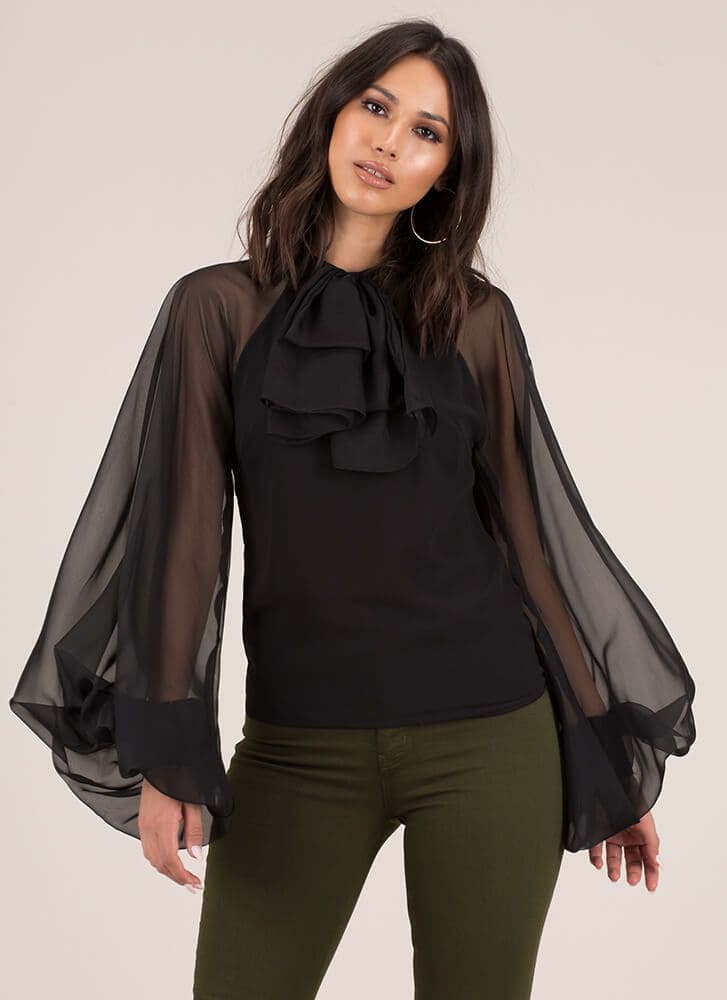 Transparent sleeves give an otherwise plain blouse a sophisticated finish. These tops also work well in a variety of bold colors too. This can make the garment much more striking, such as a deep blue shirt with sheer sleeves. 
These pieces also look great, accompanied by a dark-colored pencil skirt or high-waisted wool or polyester pants. The versatility of this type of blouse lends well to using your imagination for a great outfit. And finally, a neutral blazer that adds a little extra class is another one of the many options you can pair with your sheer blouse.
Tips for Wearing Sheer Blouses
A sheer blouse can be elegant, bold, sexy, seductive, and pretty much everything in between. Therefore, pairing it with the right pieces in your closet can quickly make or break your outfit. Below are some tips for wearing sheer blouses, all of which can help you find your perfect statement look.
Dress in layers.

The smartest way to wear sheer blouses – and not veer into the "inappropriate" category – is to dress in layers. You can do this by wearing a

tank top

or a bandeau under your blouse. To further tone down your style, you can combine your colorful blouses with neutral tops underneath and vice versa.

Don't wear overly tight blouses.

Always remember to choose a looser fit in this type of blouse, since it will be the best way to get that elegant and sophisticated look you're going for. Remember that the tighter the shirt, the less room you will have to experiment with your style. (Plus, you might also end up showing much more than you actually intended.)

Cover up when necessary.

You can wear see-through blouses to work if you don't forget the golden rule: cover lingerie by wearing a tank or other top underneath it and wear a blazer over your blouse to give it a much more sophisticated vibe. Remember that while looking gorgeous in your workplace is optional, your ideal look should always be a professional appearance.

Combine your outfit fabrics correctly.

These types of blouses are usually somewhat loose, with a nice drape to the fabric and a bit of added volume. Because of this, it's essential to look for more structured materials for the lower part of your outfit and not something like a lightweight chiffon skirt. Try to find pencil-style skirts,

jeans

, and other fabrics with some heft to them.

Experiment with contrasts.

Feel free to get creative in mixing and matching styles in your outfits, both in textures and color. This will give your outfit so much more life, in addition to adding a little extra unexpectedness to your ensemble. Why not reach for

block-heeled boots

, layered accessories, and

leather skirts

or vests?
Helpful Hints for Styling Your Sheer Blouse
Sheer blouses have been a part of the fashion world for quite some time, and they will continue to be a top choice for many years to come. They are very delicate, feminine, and elegant, making them a popular choice for work and leisure.
However, wearing them the right way isn't easy, especially since their transparency can make it difficult to put the perfect outfit together. With that in mind, here are more tips for fun and cute combinations that will make for the perfect outfit of the day for you.
Combine the sheer blouse with a jacket. If a sheer blouse is too daring for you, wear them as a complement to your look instead of the centerpiece. Simply throw a blazer or a loose sweater over your top. This will give you a hint of playful beauty in your outfit underneath a no-nonsense exterior.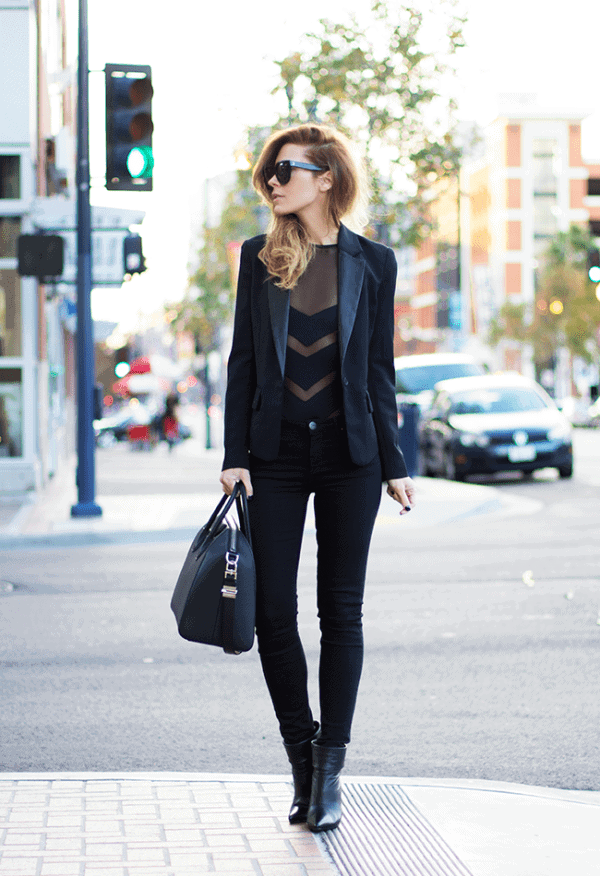 Play around with it.

One of the many amazing things about sheer blouses is that they can allow you to combine and create new and different styles, playing with overlays, tones, and layers. You can wear it with your favorite top underneath, with a bodysuit, or with a crop top. Wearing a tight layer underneath helps to preserve the floaty style of the sheer blouse on top.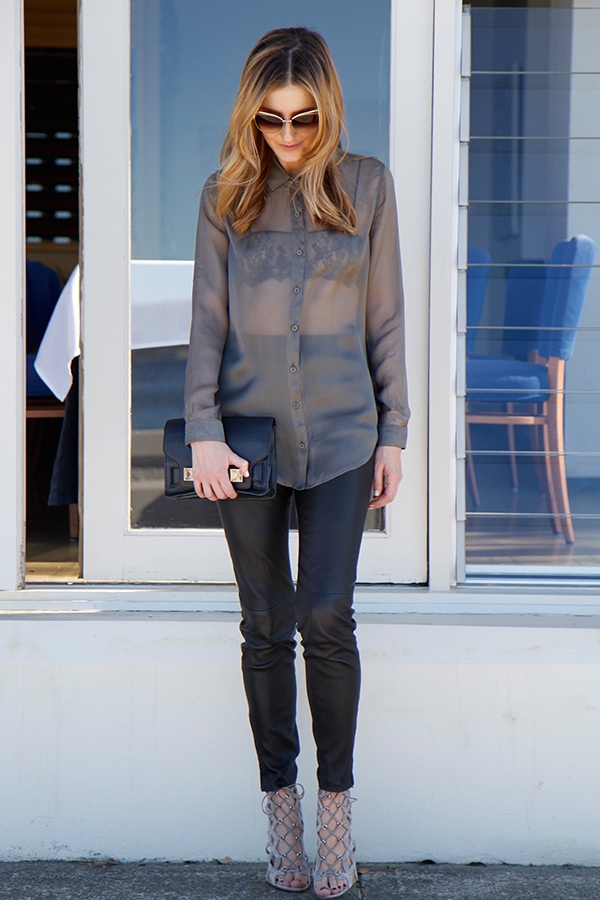 Wear lots of ruffles.

If you want to try this see-through blouse trend, but don't want to show off too much of your body beneath it, then why not aim for a more statement look? All of the fabric that makes the ruffles can add enough layers to appear much less transparent.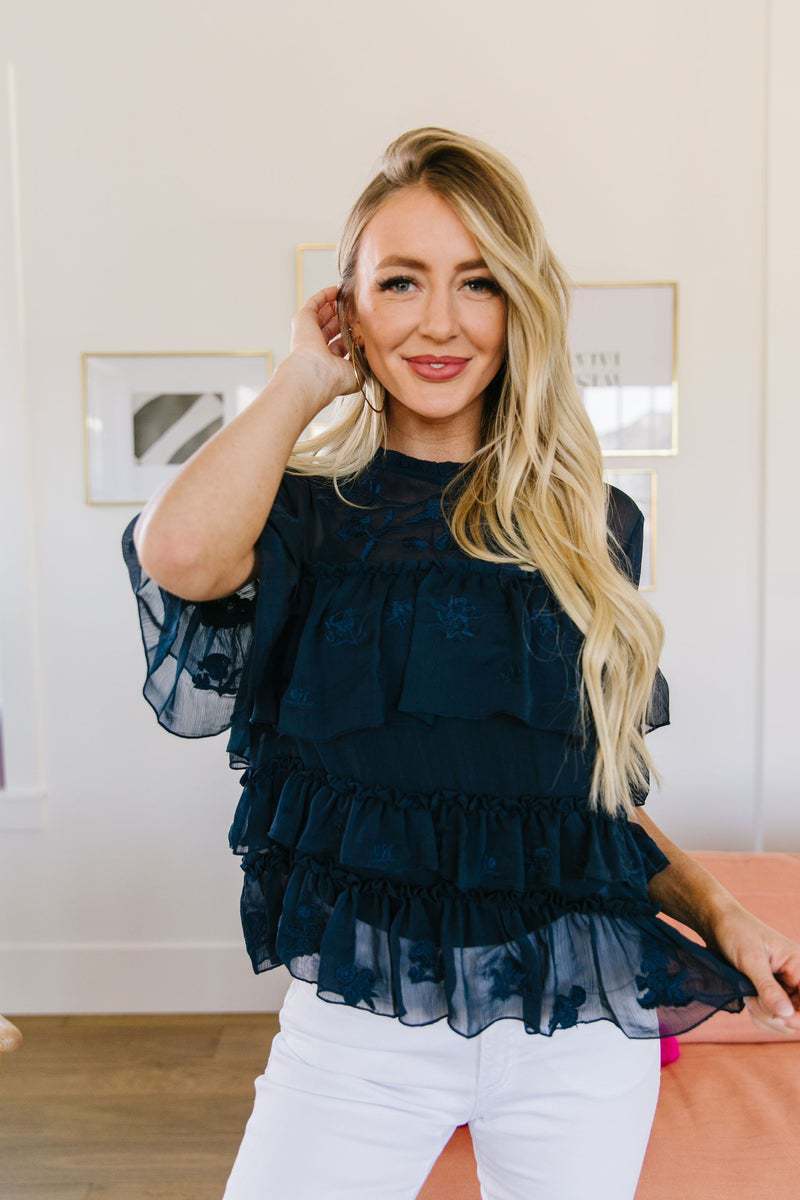 If you're feeling shy, reach for printed sheer blouses.

The transparent style isn't for everyone, and that's totally fine! But if you want to try sheer blouses out and you're unsure about going all in, then leave the monochromatic ones on the rack and seek out one with patterns. They can minimize the top's transparency by focusing on the pattern itself.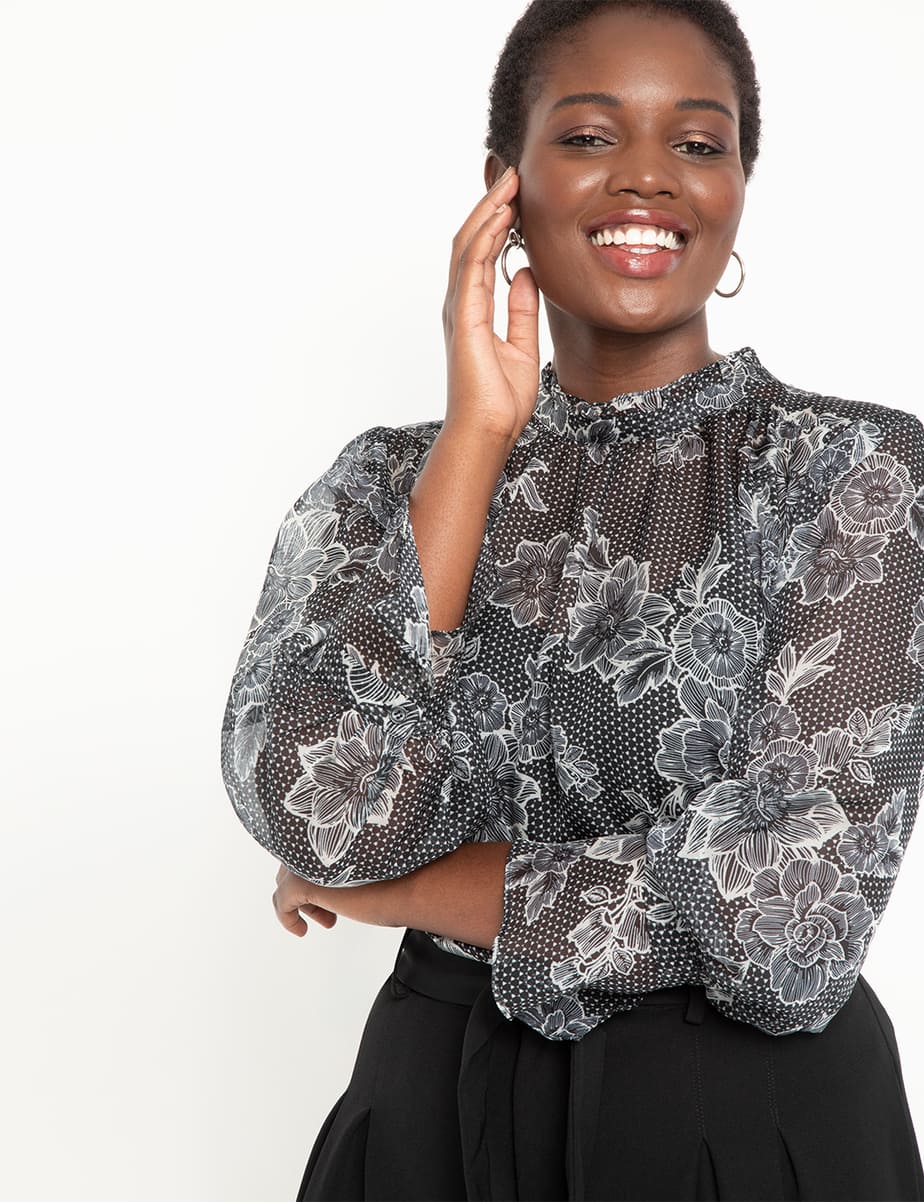 Ideas For Wearing and Combining Sheer Blouses
The iconic fashion looks of the 2000s are definitely resurfacing, and one of the fabrics that were a great trend back then has returned – in the form of beautiful sheer and mesh blouses. This trend can now be found everywhere, such as dresses, skirts, and everywhere else in the fashion world. 
Here are a few more ideas of how to add this ubiquitous piece to your regular wardrobe:
Sheer blouses are considered to be somewhat daring because they are transparent. Even so, this doesn't necessarily mean that you can't wear them to go to work. Try wearing them over a basic top to make your mesh top stand out.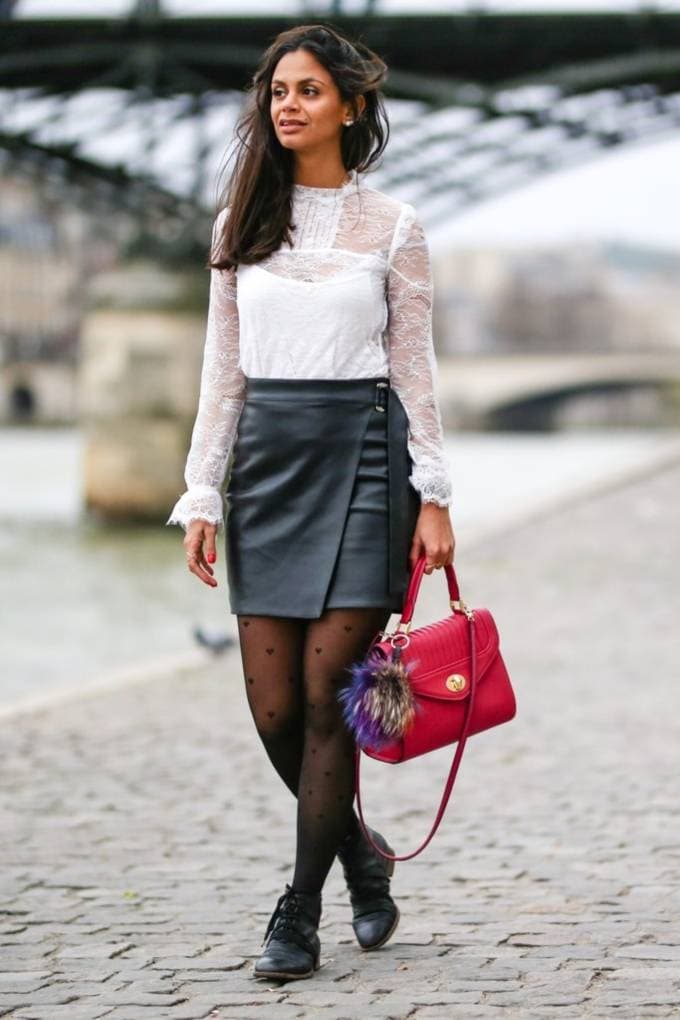 If you want a more alternative style or are dying of cold but don't want to lose the style, you can wear a shell tank

under a basic blouse

with a pretty print. You'll look very good, and it's also a very comfortable look.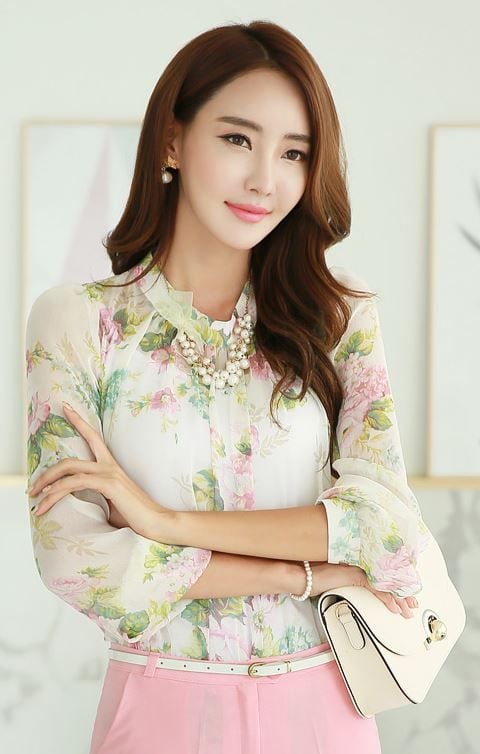 Sundays are usually a day of relaxation, for lounging at home and binge-watching movies or your favorite shows all day. If you need to go out for any reason, you can wear

leggings

and a see-through blouse. Below, you can wear a bralette so you can feel even more comfortable.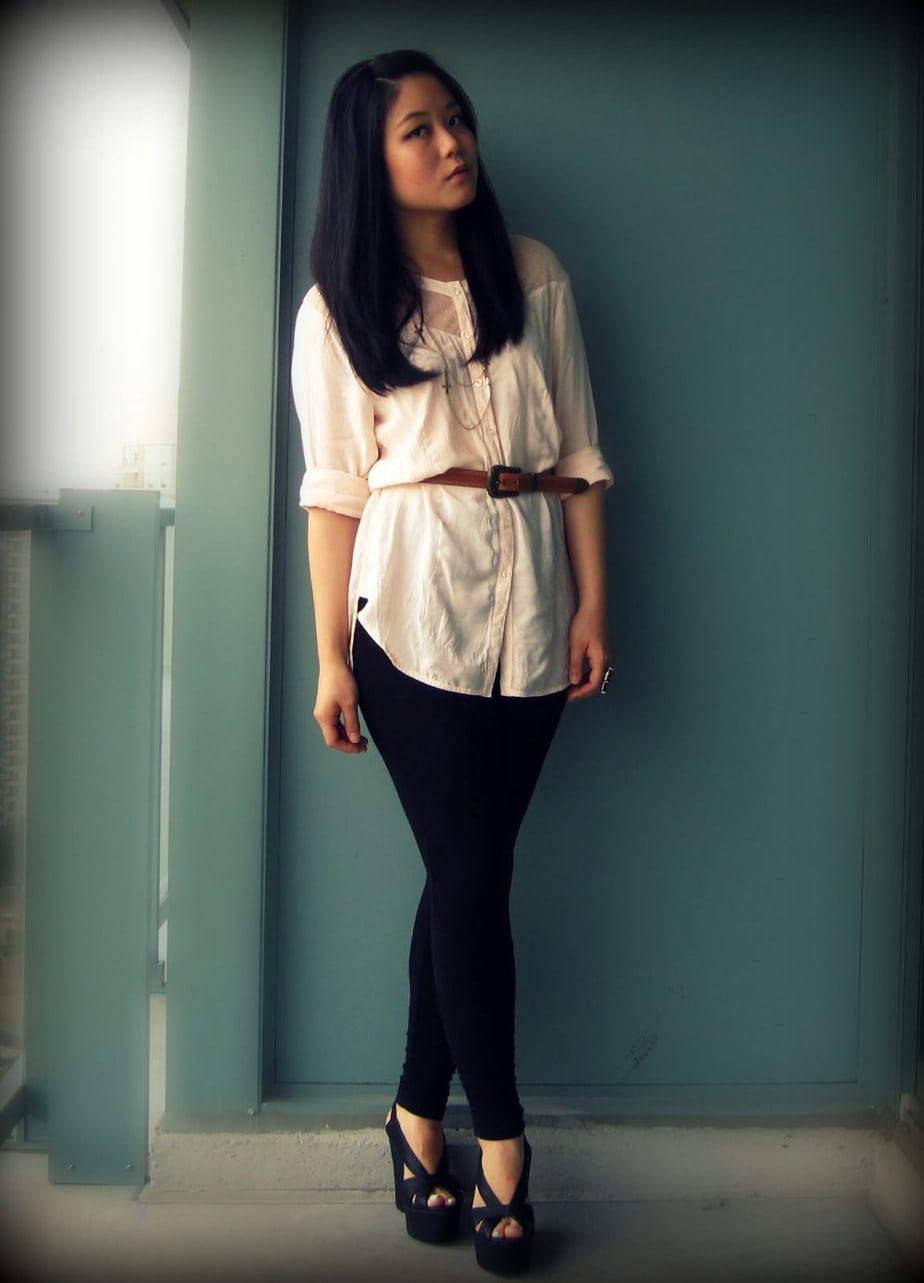 As you likely already know, mastering the sheer blouse in a business setting is all about trying to combine it with the clothes you wear to work. If you want to look a little more formal, wear formal black pants with boots that help to highlight your style better.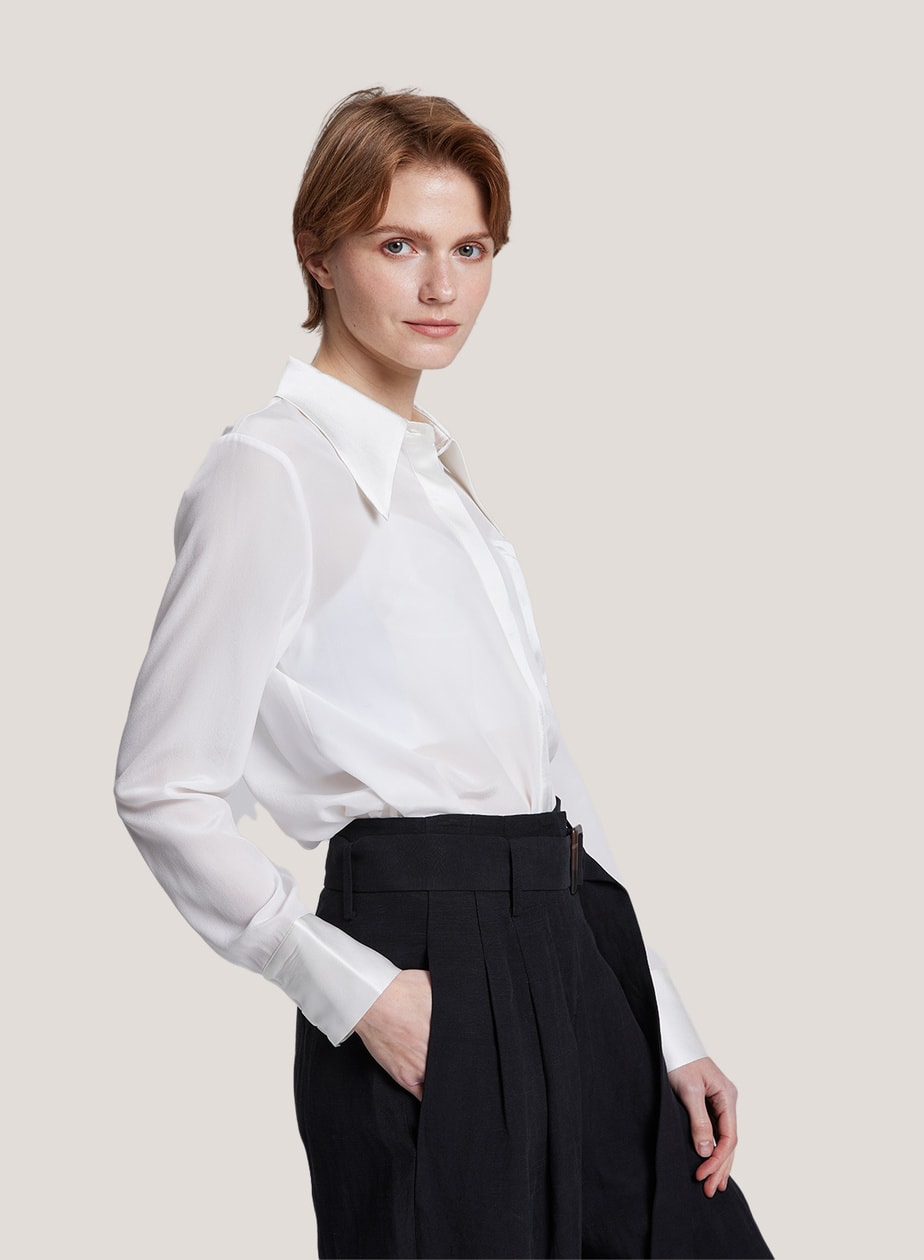 You can't go wrong with a see-through black blouse with a black bra or a sports bra. Don't be shy about rocking this look, either. Sure, it looks very sensual at first, but it also reveals a more sophisticated side that looks seriously amazing.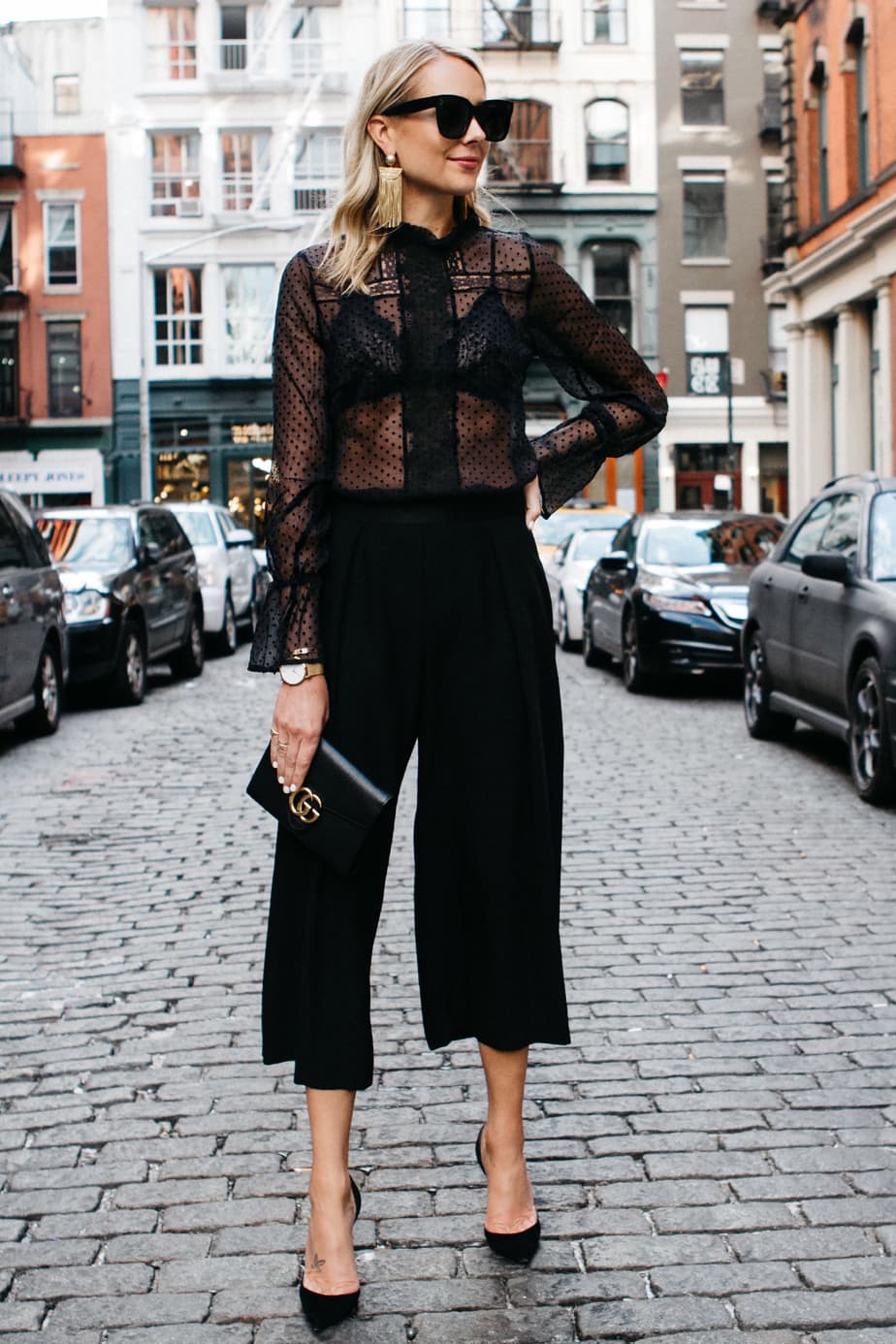 Top 5 Sheer Blouses of 2022
The fashion runways were packed with sheer blouses this year. It was hard to narrow it down, but I've picked out some of my favorites from the styles highlighted this year. The following criteria were taken into account when selecting my top five choices:
Their Price.

I've provided a wide range of prices for my selections of blouses. That way, you can decide which of my picks best suits your own budget.

The Materials Used.

All the materials used in these pieces are of the best possible quality. None of these sheer blouses will fall apart after the first wash!

Their Actual Comfort.

Sheer tops are usually fairly comfortable, but it's safe to say that some are more comfortable than others. I ensured that none of my picks would have you feeling itchy or miserable halfway through the day.

Their Overall Versatility.

Nobody likes a slacker, which is why I was careful to only choose pieces that you can wear again and again. You can combine all these pieces in multiple ways, so whether you want to wear them to the office or at a party, you'll be covered.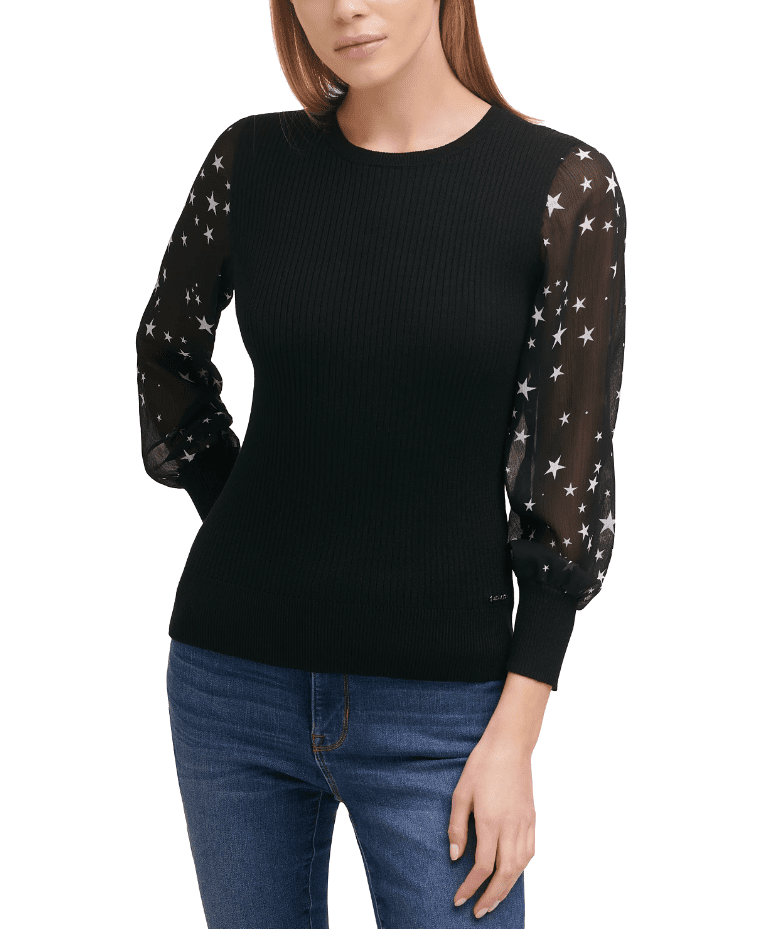 I literally can't say enough good things about this gorgeous long-sleeved blouse with its sheer, starry sleeves. This is ideal for those who want to integrate this transparent fabric's style and texture – but without showing more than necessary. Its style is quite simple yet striking, especially for having those amazing star-spangled sleeves.
Pros:
Limiting sheerness to sleeves is ideal for the office environment

Perfect for a classic and chic style

It can easily be paired with jeans or slacks

Super fresh materials and design
Cons:
The fabric of the sleeves is somewhat on the thin side

It doesn't run true to size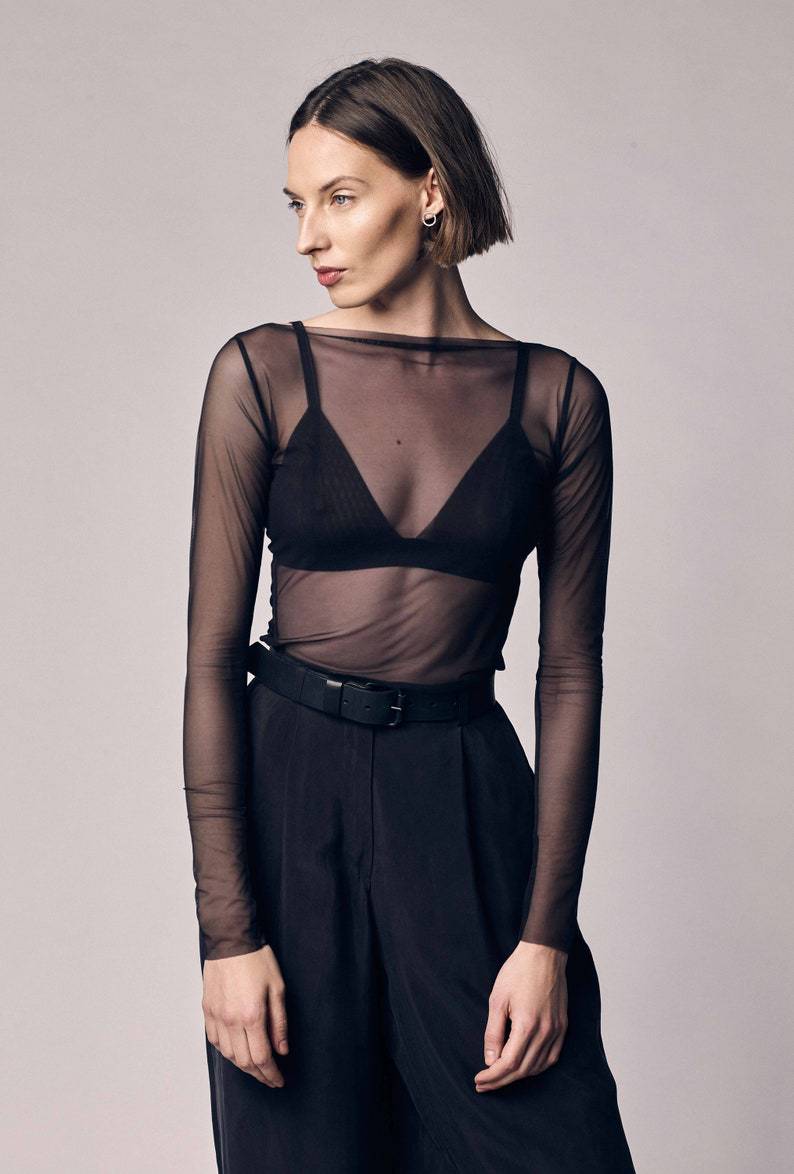 If you are looking for a long-sleeved mesh blouse that you can wear with many different outfits, then this piece is for you. Its lack of embellishments means you can wear it with anything, and thanks to its classic style and dark color, it will fit in nicely with a variety of outfits. The price is higher, sure, but that's to be expected for a handmade article of clothing.
Pros:
Made with love by an actual fashion artist

Lightweight, breathable, and cool design

Combinable with multiple styles of outfits
Cons:
Higher price point

Requires special care to stay in good condition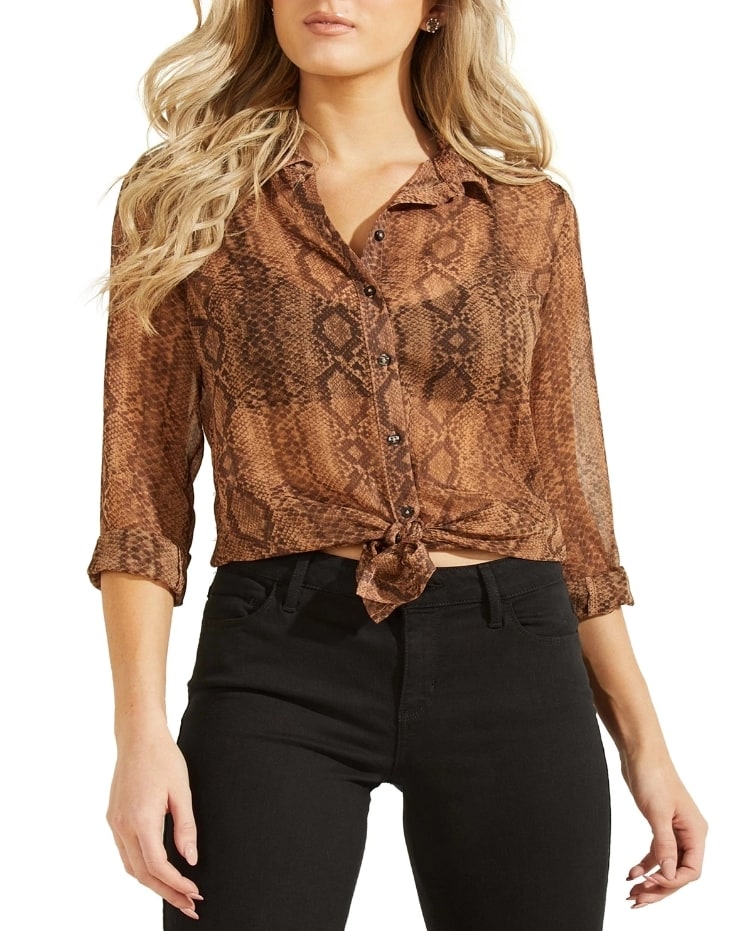 Seeing a snake-print pattern is unexpected for a sheer blouse, but it definitely works here. The classic button-down style contrasts well with its pattern, and surprisingly, its color actually lends to its favor. The neutral brown matches everything, and its button-down style makes it easy to dress up. You'll look beautiful, bold, and striking in this sheer blouse.
Pros:
Unique color and pattern allows it to stand out

High-quality construction easy to care for

Classic and combinable design
Cons:
It may not be suitable for every occasion

It might not favor all types of silhouette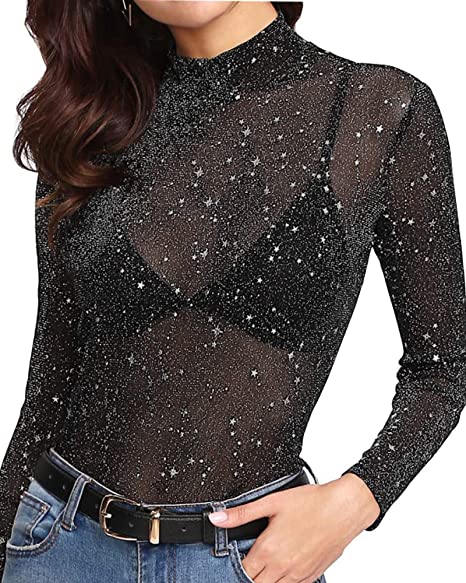 Do you want to really stand out? Then this piece will do it for you. With this sheer blouse, you're bound to be the center of attention. Everything about it shouts "Look at me!" – from its vintage Victorian style to its beautiful color; it's a statement piece. With its loose fit and button design, it's undoubtedly a perfect garment to go out with your friends for a fun night out.
Pros:
It comes in a wide variety of fun colors

Sparkles are so fun and playful

Combinable with different types of lingerie and tops
Cons:
Sleeves hit at an awkward place on the wrist

It runs somewhat small, according to reviews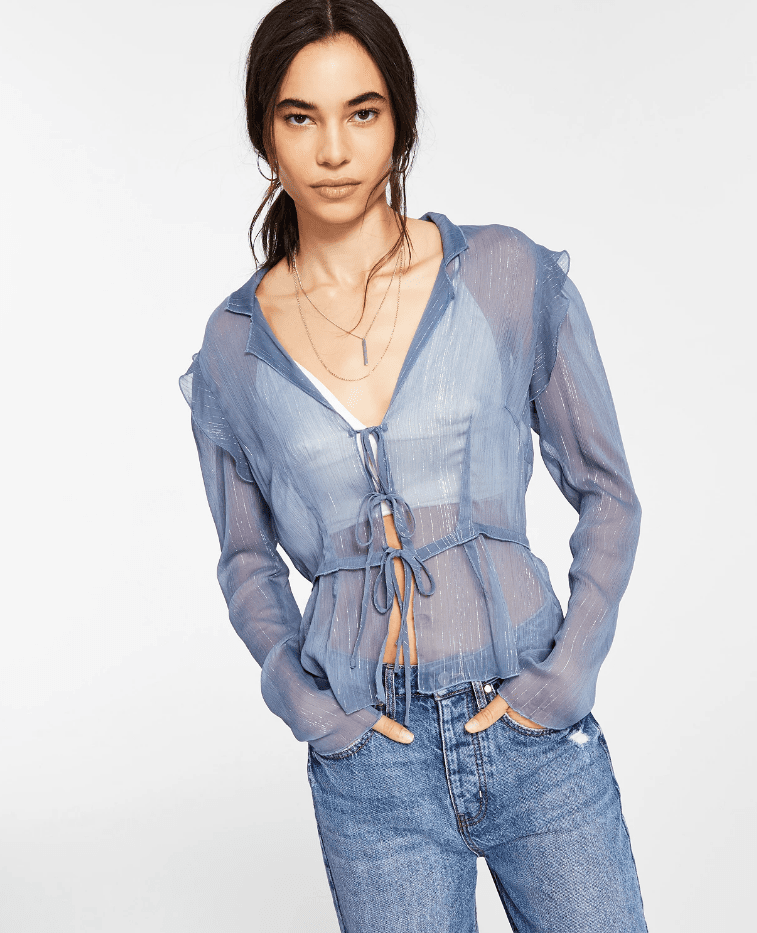 This beautiful, casual piece is a must-have for any wardrobe. The gorgeous lace-pattern design of this top seriously makes it stand out from other button-down sheer tops we've seen. And it's not just this that makes it such a gorgeous and eye-catching option. The metallic accents also apply an extra factor of beauty to this one.
Pros:
Flirty and fun design

Can be dressed up or down

Quality details and finishes
Cons
:
It can be difficult to keep its shape

Lacing design might not be flattering for all silhouettes
Frequently Asked Questions
Question: How do I wear my sheer blouses with visible lingerie?
Answer: The first thing to look for is the type of transparent fabric in the blouse, which allows the bra to be seen. For instance, lace bodysuits and lingerie pieces are complemented by net-type fabrics to give it a rebellious and daring style.

Pastel tones are looking to be the go-to color for the upcoming spring season, so you can combine a bra in these colors with an embroidered sheer blouse. The end result will present you with a more romantic and elegant style that you'll be sure to enjoy.
Question: What lingerie should I wear with a sheer blouse?
Answer: If your sheer blouse has oversized prints and is discreet enough to be worn in the office, it's recommended to use two simple colors: black and beige. This is because both colors contrast nicely with this type of blouse, in addition to giving much more volume to your curves.

If your blouse is of a lighter color, I'd recommend going for beige, since it looks much better and combines well with the basic sheer blouses. However, don't be afraid to choose a more striking color, such as red.

On the other hand, if you want to give a more striking impression and contrast the colors, why not wear a black bra beneath a white blouse. Of course, you'll just want to make sure your bra is your correct size and consider the event or place you'll attend.
Question: What kind of fabric is used in sheer blouses?
Answer: Sheer blouses are usually made of light and very comfortable fabrics, which is great for warm weather. They feel pleasant against the skin due to their softness and lightness, especially if made from more natural fabrics. The most common fabrics used in sheer blouses include:
Organza: Made with silk, polyester, or nylon fiber. This fabric is airy, crisp, stiff, soft, but it's also very prone to wrinkles.
Chiffon: This fabric is made of silk and polyester. It's a soft, flowing, light, and drape-able fabric.
Lace: Lace is produced with fibers of silk, cotton, viscose, rayon, and polyester. It's a soft, fluid, and drape-able fabric.
Tulle: This fabric is made of silk, cotton, viscose, rayon, polyester, and nylon. It's a soft and silky textile that can be fluid or rigid.
Question: When can I wear a sheer blouse?
Answer: Sheer blouses are always a good option for a party or formal celebration. They can be combined with many different styles, especially if the event doesn't have a dress code in place.
For parties: Sheer blouses with sparkles or translucent panels will make you stand out from other people. A delicate sheer red fabric shows off very well when worn with leather pants or skirts. A pencil-style skirt also looks great with this style.
For a wedding: What is the first thing a person asks themself when they're invited to a wedding? It's how they should dress, of course. Sheer blouses will always be an excellent option, allowing you to look amazing without showing up the bride and groom on their big day. 
For the weekend: A fun weekend is all about relaxation, outings, and entertainment. For this simple reason, the rule of thumb is to wear much more comfortable garments during this time. In this case, sheer blouses without any decorative elements are preferred.
Question: How should I care for my sheer blouse?
Answer: Caring for a sheer blouse depends solely on the type of fabric from which the blouse is made.
Organza blouses: Many blouses made of organza can be hand-washed, but some should be dry cleaned, so be sure to check the label. When hand washed, the piece should be laid flat to dry away from direct sunlight and heat. Steam irons can be used – carefully – for wrinkles. It's also important to keep the blouse away from zippers or anything else that can catch the fabric.
Chiffon blouses: Silk chiffon blouses need to be dry cleaned. Other types of chiffon can be hand washed or washed in the machine on delicate settings with mild, gentle detergent. Chiffon cannot be left in water for more than a half-hour, though, without the risk of losing the dye. Avoid sunlight and wringing, and always lay chiffon flat to dry.
Lace: Lace can be made of various fabrics, each requiring different care. Knowing the type of fabric is the key to caring for lace, and it should always be handled very delicately and gently. You should also take care to keep lace away from anything that may snag the fabric, and it should be laid flat to dry with no wringing. 
Tulle: This delicate fabric should be washed by hand in cool water with mild detergent. Air drying by hanging in an area with adequate ventilation is key. To prevent wrinkles, tulle should be stored by hanging, and it should never be wrung. It's also important to keep tulle away from things that may snag against the fabric too.
My Final Thoughts
Throughout this article, we examined many different types and styles of sheer blouses: formal, casual, long, short, with different colors, and different patterns. Hopefully, this will help you get started and get an idea of how you want sheer blouses to enhance your wardrobe. 
If I had to choose just one for myself, I'd go for the DKNY Sheer-Sleeved Mixed-Media Sweater, hands down. It looks gorgeous, yet simple enough to allow me to get creative with accessories, but without being dull due to its cute star-printed design.
Sheer blouses can definitely be somewhat of a double-edged sword. If you don't combine them correctly, you could make serious fashion faux pas that could severely affect your experience using them.
However, if you do? Then you're in for a bold, stylish piece that's versatile enough to adapt to many different outfit ideas. So do get creative and fun and play strategically with these garments. That way, you can get the most out of this awesome garment – and of course, wear it with confidence, with everything in your closet!
Recommended reads: