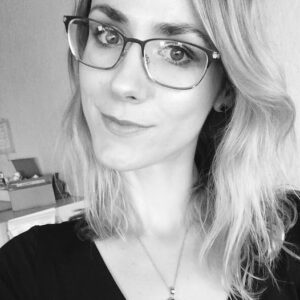 Latest posts by Karyl Trejo
(see all)
We all have at least one hoodie in our closets, whether to use it as sportswear or as protection from the cold weather. We have them maybe as a forgotten aunt gift from Christmas or a college hoodie from the 80s.
Hoodies have become a piece of everyday clothes, and some even say that hoodies are now essential. But was it like this all the time?
Today, you will learn everything you need to know about hoodies. Hoodies history, some fashionable trends, frequently asked questions about the hoodie. Also, we will see some of the main differences and similarities that distinguish the hoodie from the sweatshirt.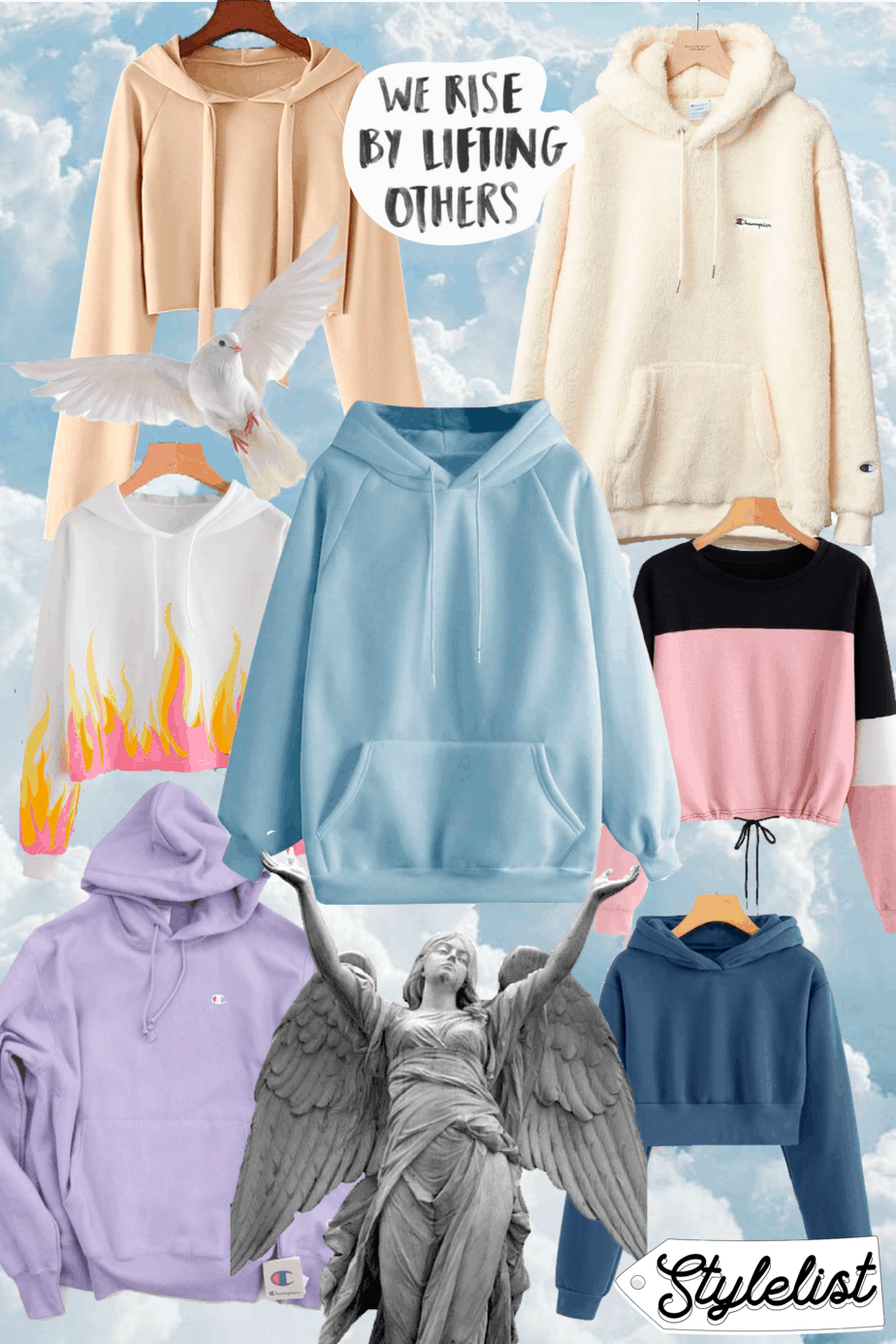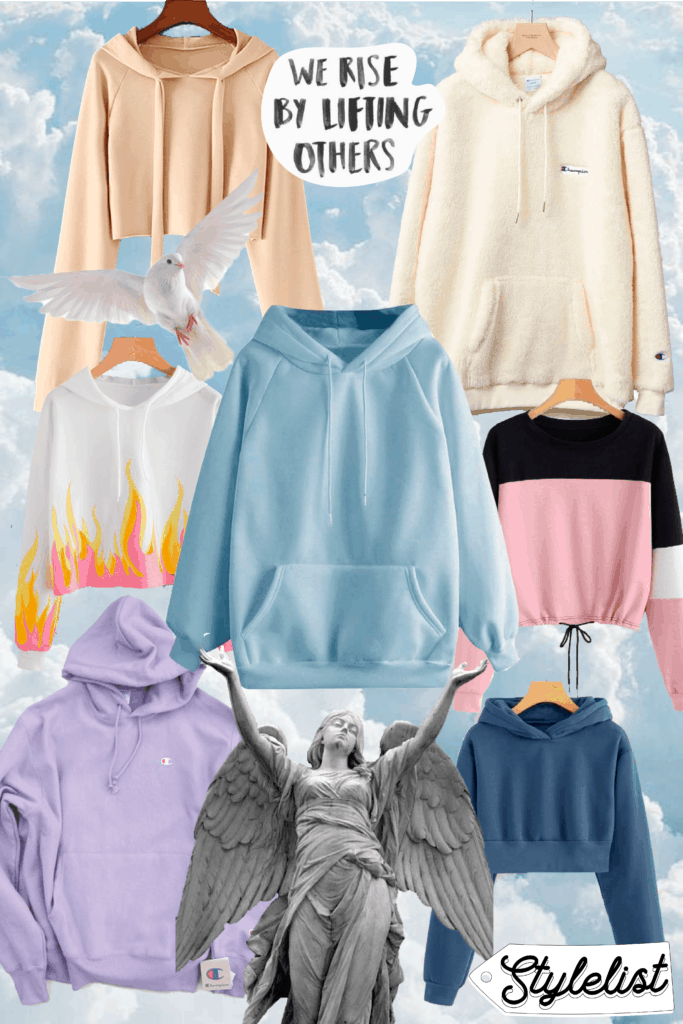 So, When Was the First Hoodie Created?
Not every piece of clothing has a trajectory as enormous as the hoodie. But, when did all of it start? Did someone choose to sew a hood into a sweatshirt and decided it was a good idea? It was kind of like that, but not quite.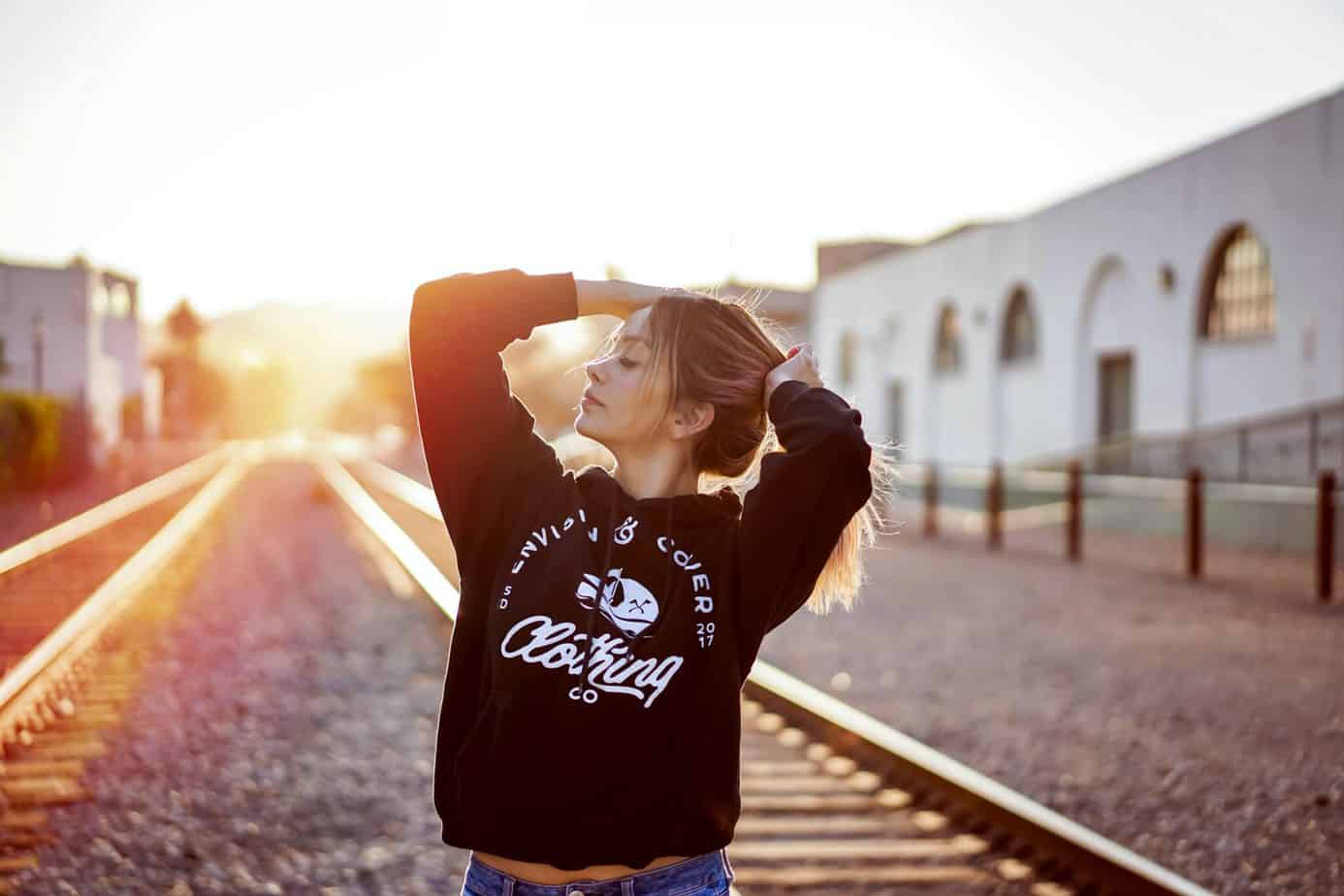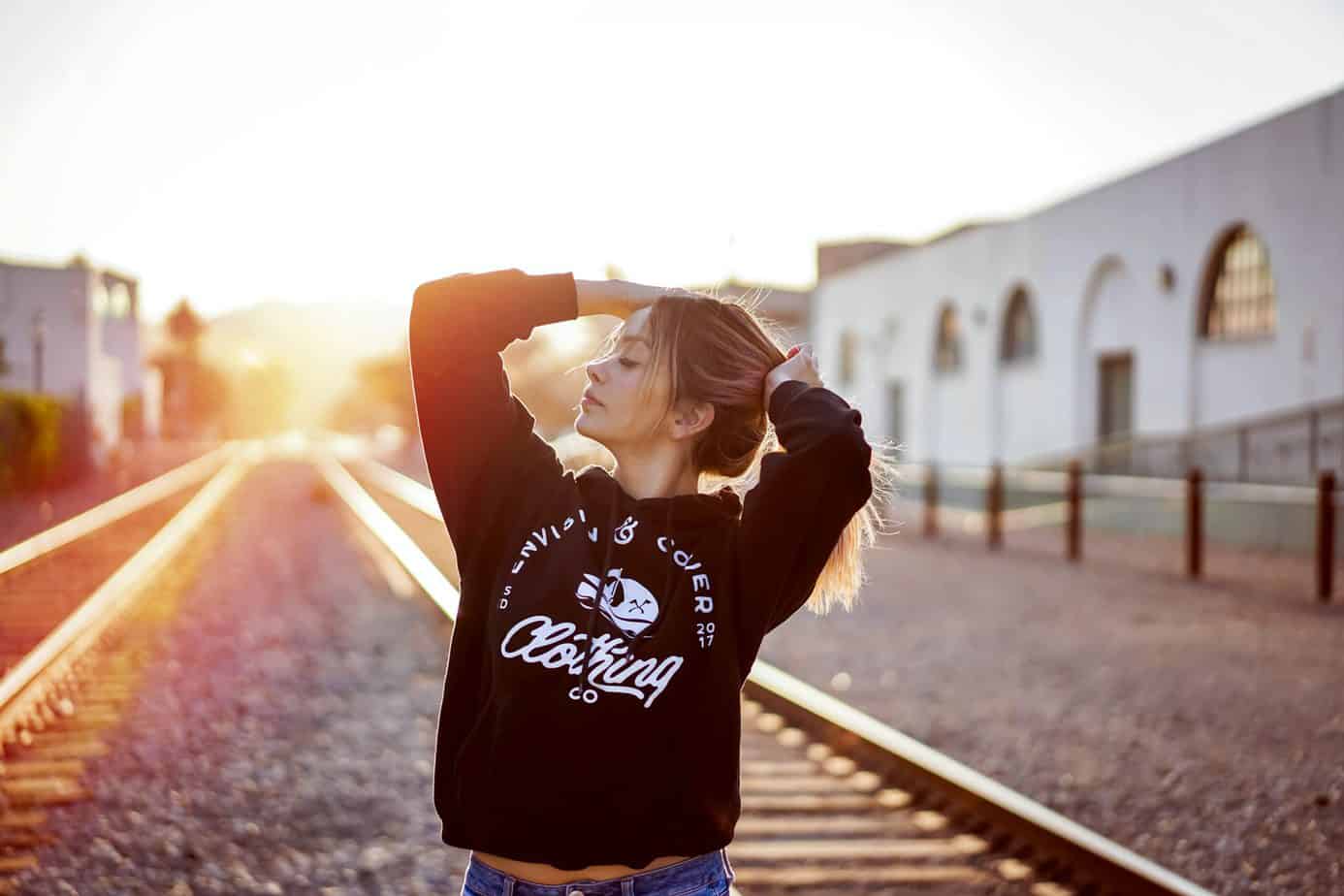 The 12th Century: Medieval Monks
Believe it or not, people (monks, specifically) started using the most look-a-like type of clothing to a hoodie in the 1200s.
You can picture yourself in the European Middle Ages for a moment. No presidents, there were no toilets, and chances are people believed you were satanic if your hair was red. How exciting.
Medieval monks started to implement hoods in their clothes to protect themselves from extreme weather conditions and not as a fashion statement. The hood was a simple way for monks and people who worked outside to protect themselves from relentless winds or harsh rains. 
Interesting etymology fact: the word "hood" comes from the word "höttr." It is a word of Anglo-Saxon origin and has the same roots as the English word "hat."
The 17th Century: Death, Mystery, and Crime
As time went by, the protection function changed a little. By the 1700s, hoods were more associated with secrets, mysticism, and crime. Even before that, centuries ago, people started to associate the hoods with the Grim Reaper. 
In actual movies and literature set on these past decades, people also associate these hoods with secret love affairs and midnight escapades. Women could use them with a long cape that hid their dresses, allowing them to walk through the streets without being recognized.
The 1930s: Champion Created the Modern Hoodie
We go fast forward to the 1930s. When people were about to exercise, they used sweatshirts; they were the predetermined clothes to use as sportswear. At least until 1930, when the Knickerbocker Knitting Company (now known as the worldwide brand Champion) invented the modern hoodie. 
At first, Champion made the hoodie to protect New York work laborers during winter and with the goal to keep them warm. Soon after that, athletes started using it too. A few years later, the brand supplied the English and USA military with kits that included their hoodie.
Even if it was more popular than before, the hoodie was yet to be used by everyday people.
From 1960 to 1980: College Hoodies, Rocky Balboa, and Hip-Hop Rappers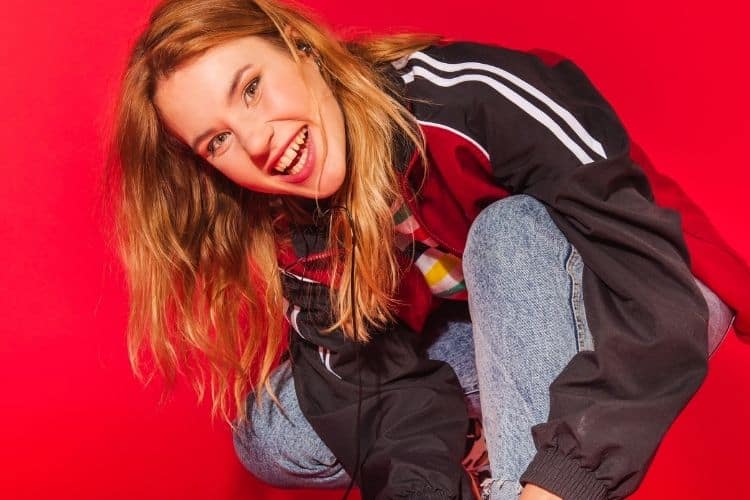 In 1960, the hoodie started its way into college fashions. Universities began to print their logos in hoodies for their students to wear. This trend was popular in the USA, but it also gained popularity over the world.
In 1970 they were already common; we started to see movie starts using them, and specifically in 1976 with the cult film Rocky. The character portrayed by Sylvester Stallone liked to wear a hoodie as he trained. 
Besides that, there was a particular scene when the main protagonist uses a gray hoodie while standing in front of the Philadelphia Arts Museum. It was a scene that marked a generation. At that moment, the hoodie became more than the type of cloth used only by athletes. It was unquestionably iconic.
In 1980, people were starting to familiarise themselves with hip hop, as in, hip hop music was making #1s in USA and UK charts.
However, as hip hop became popular, it also brought some negative associations related to the rappers and the clothes they used. Either way, that was no harm to the hoodie reputation, and hoodies were more popular than ever.
The connotations persisted, and once again in history, hoodies were a synonym of crime. How did that change?
From 1990 Until Now: Hoodies are Finally Fashionable
By 1990, famous high fashion brands Tommy Hilfiger and Ralph Lauren included the hoodie in their sportswear collections. College students, hip-hop rappers, and now streetwear fans. However, the hoodie still had a long way to go until being normalized as a common type of clothes, instead of still being associated with gang culture.
In 2000 (specifically, in 2005), it was one of the first times that people used the word "hoodie" officially, but not for the right reasons. The reason behind it was that one Blueberry Shopping Centre in the UK banned their clients from using this kind of clothes when entering their shops.
Other shopping centers, like Tweed City in Sydney, Australia, followed suit. Their logic was that it would reduce crime. This incident, of course, made the hoodies even more popular.
In 2012, a tragedy occurred. Trayvon B. Martin was a 17-year-old African-American boy walking on the Florida streets on February 26th. George Zimmerman was a community watch member. That evening, while the teenager was walking, Zimmerman shot him after calling the police and saying the boy was "suspicious."
The case gained media coverage rapidly, mainly because Zimmerman claimed self-defense and was declared unguilty.
Across the United States, people protested and made rallies to support Martin. One of the biggest ones, the "Million Hoodie March," had hundreds of people wearing hoodies to support the cause.
As you could see, hoodies have been up and down in history. They lost popularity and then gained it back again. Today, from Mark Zuckerberg to Kylie Jenner, almost every celebrity has been photographed using a hoodie.
What Are Considered the Best Hoodies Ideas?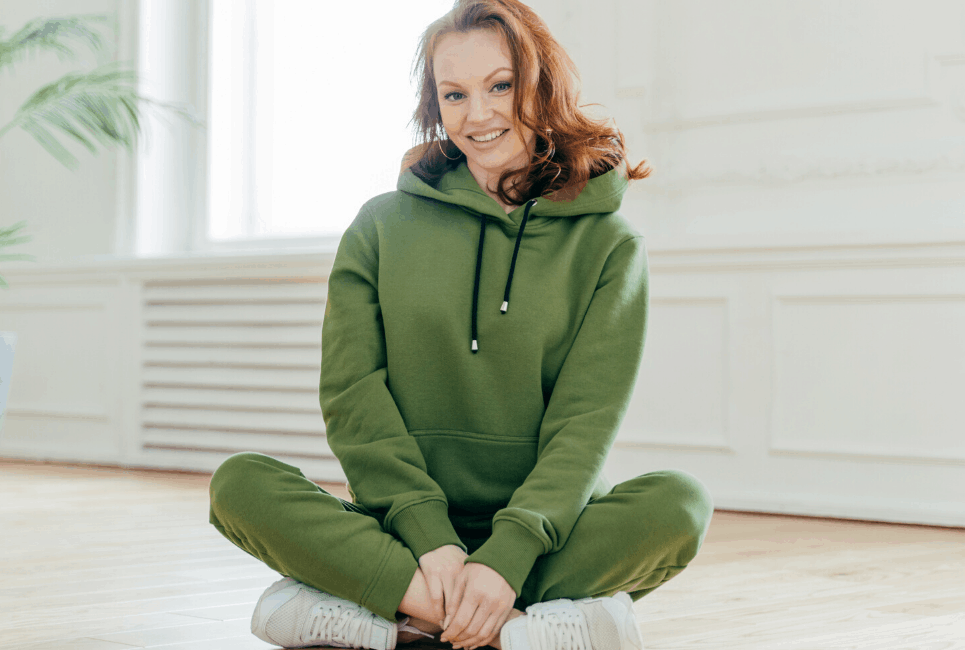 When it comes to knowing which one is the best hoodie for you, some factors are the key to your final choice. That is why we compiled some main criteria such as:
Affordability

Fabric

Comfort

Brand

Versatility
Every hoodie is different because of these characteristics, and when you are making your hoodie purchase, you must recognize which criteria are more important to you. Do you want the hoodie for the winter or just as a fashion statement? 
If you are using it for the winter, chances are your more significant factor is fabric and maybe comfort. If you want a hoodie for fashion, perhaps you will pay more attention to the brand. This choice is up to you to decide.
Right now, we are going to explore these main criteria to help you find the hoodie that best adapts to all your necessities.
Affordability
The first thing you have to ask yourself is: How much money am I comfortable spending on a hoodie? What is my budget? Prices can go as low as $9 and up to $30 – $50 — or even more, depending on the brand.
The next thing you have to worry about is that the quality goes along with the price. Some brands promise you the best and more comfortable hoodie ever, but they are too expensive, and there are always cheaper options. Some other brands are already more affordable, but the quality is not always that good. 
What is the best you can do to avoid that kind of trap? Make comparisons between brands and their prices. You can also look up online reviews and read articles about a specific hoodie. Once you are informed, it will be easier to make a decision.
Fabric
Usually, hoodies have a kind of fabric on the outside, and when someone wears a hoodie, that is what other people will see at first. However, most brands make their hoodies with a different type of fabric on the inside.
That last kind of fabric is softer since it hugs your skin and keeps you warm. Both of them are called outer and inner fabrics, respectively.
Most of the time, cotton, polyester, or both are the fabrics that brands use to make their hoodies. Whatever you choose is a personal preference since all fulfill their function to protect you from cold weather. Also, every fabric has its pros and cons.
For example, cotton is more expensive, but the advantage is that the fibers are completely natural. On the other hand, polyester is more affordable, but its fibers are more sensitive to temperature changes, and the fabric can wear out over time.
Since you already know what you want to do with your hoodie, you can also choose the fabric according to these needs. More layers of fabric are helpful on hoodies for fall or winter, but casual everyday hoodies tend to be lighter because of the lack of them.
Fit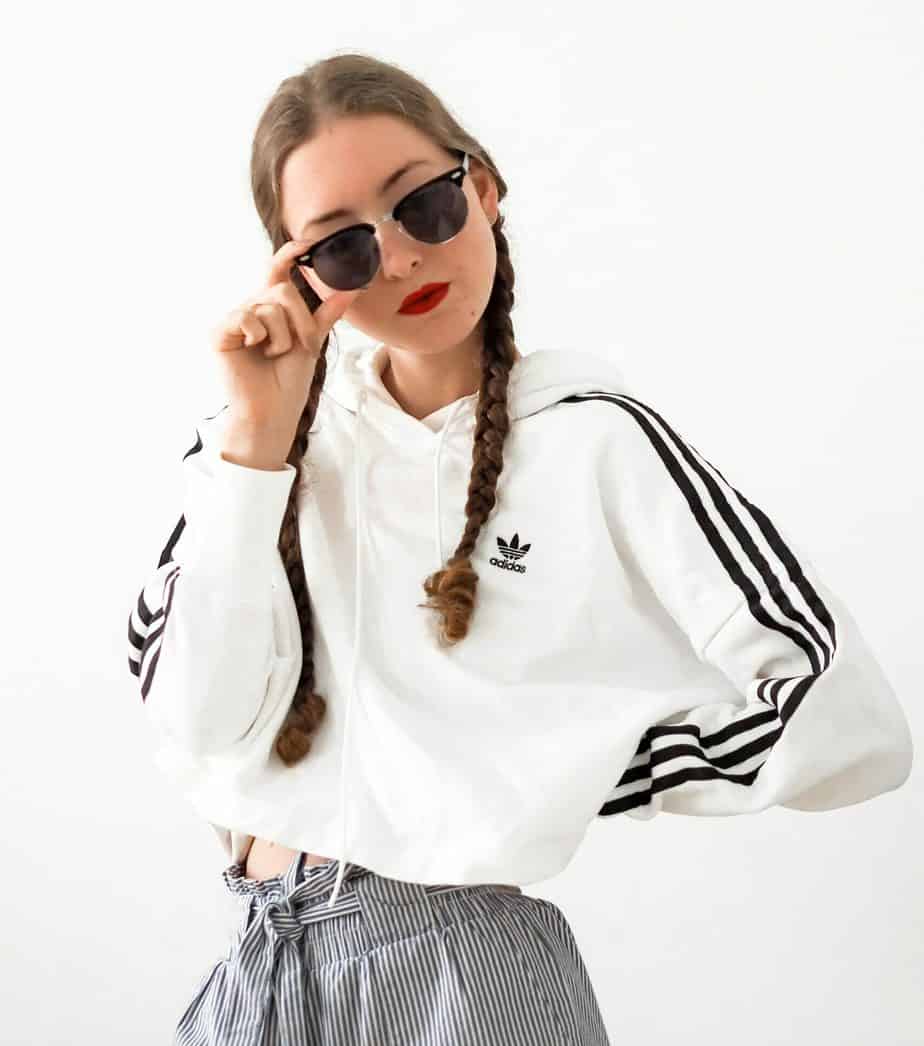 If you are looking for a hoodie, you need to know which size you are buying it. This specific factor is about the hoodie's perfect size. It can be an easy step if you are used to buying online.
However, if you have never bought something online before, you will have to be careful since ordering a hoodie is different from buying a t-shirt or another type of clothes. 
Bloggers recommend the hoodie to be at least a size bigger, principally because oversized hoodies are a trend. Another tip regarding the size: it never hurts to know your body measurements since not all sizes across the globe mean the same.
Comfort
Brands make hoodies to be soft and easy to wear. However, it also depends on what you consider to be comfortable. If you are going to make an online buy, you can only rely on online reviews. 
But, if you got a chance to go to the physical store, you can try this factor out. How comfortable is it for everyday use? Do you feel comfortable using it? Does it go with your style? Those questions can be beneficial for indecisive buyers. 
Brand
The hoodie market is full of a lot of different brands. Some of them are expensive and some others not so much.
If you already have a favorite brand in which buying most of your clothes, you can see their catalog and see if they sell hoodies that go according to your style. This way, you will not waste so much time choosing which brand you want to buy. 
It is always best to go for already established brands, but if you wish to support some local store, that is also totally fine. Either way, always make sure the product has good quality and watch out for bad user reviews. Most of the time, users let their opinion of the product if it was bad or good.
Versatility
This factor goes intertwined with all the ones mentioned before. Versatility means the ability to adapt efficiently to the circumstances, and it is a critical factor to consider when choosing a hoodie. Some questions to ask yourself include:
Will you use it only in winter? 

Do you prefer a hoodie that goes well with every season? 

Some colors and styles might look like a good choice right now, but will it be on trend the next year? 
If you do not mind that the hoodie you are going to wear goes out of fashion, maybe you can be less severe on this factor than on the other ones.
Top Recommended Women's Hoodie Ideas
Hoodies come in all kinds of types, so you have a lot of material to choose from. Either way and to make this easy for you, we selected some of the best hoodies for women.
That way, you will not have to worry about all that we mentioned before: versatility, brand, and even comfort. We will also give you the pros and cons of each one of them.
Remember, all these hoodies have different characteristics, so keep that in mind when choosing the best for you. If you want, you can pick some factors from the above list and see which hoodies have them.
MakeMeChic Crop Top Hoodie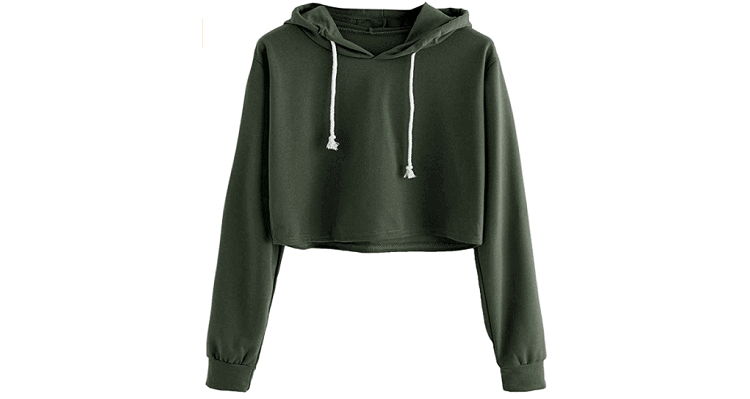 We start this list with a trend that separated people into two teams: girls who love crop top hoodies and girls who hate them with a passion. You can decide which team you are in after you see this garment.
Crop tops have been in the market, along with high-waisted jeans, for a while. And apparently, they came to stay. Most of this hoodie is made with polyester, so the fabric is shrink and stain-resistant. It is also elastic, and it comes in colors like pink and blue.
Pros
Crop tops are

trending

.

You can use it as casual wear since it goes well with some jeans or high-waisted shorts.

It comes in a variety of colors.

You can wash it in the machine.
Cons
You can use it as sportswear, but the hoodie is more like a fashionable choice.

Some girls are not comfortable with showing their abdomen.

It does not have any pockets.
Women's Tie Dye Hoodie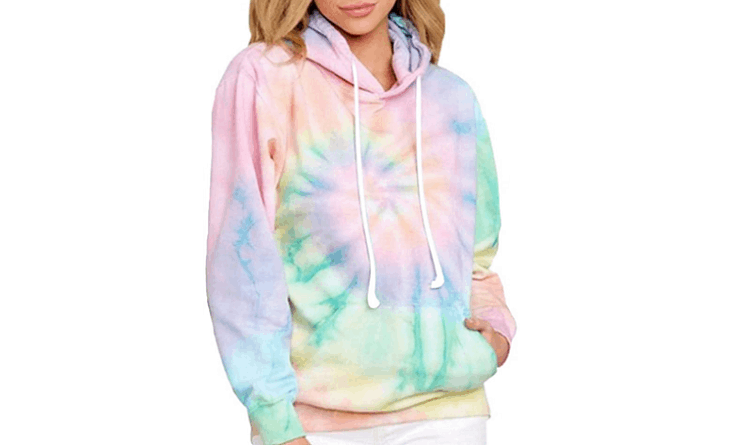 What can be better than a hoodie? Maybe, a hoodie with a wearable face covering. The most astounding characteristic of this hoodie is the pattern, the famous tie-dye that we started to see in 2020. If you are late and do not know what this trend is about
Tie-dye is based on the Japanese Shibori technique. This technique consists of twisting, tightening, and tying certain parts of the fabric to prevent them from being dyed, and from that on, you can create countless designs. This trend has always been on and off, but it became more popular during the pandemic.
Pros
Very fashionable design.

It comes with a face covering.

You can wash it in the machine.

You can use it above a shirt since it has a pullover style.
Cons
User reviews said the face-covering was too big when compared to the hoodie size.
ReachMe Oversized Sherpa Pullover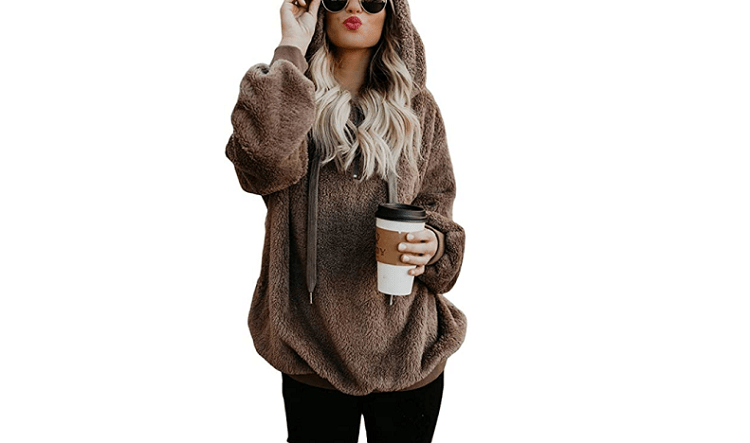 Oversized clothes have been trending these last few years. And, of course, hoodies could not be excluded from that trend. This oversize fashion style is about garments whose construction keeps the trunk and armpits wider than the sleeves. 
This means that an oversize garment of a particular size will fit us wider. However, this style is not for everyone. If you are uncomfortable wearing clothes too big, you can also wear this hoodie at home. Everything is valid!
Pros
It comes in colors such as burgundy, khaki, brown, black, and gray.

It has two side pockets.

Its pullover style is on-trend.

Its thick fabric protects you from the cold.
Cons
User reviews report that you have to buy a size larger if you want the oversize look to work. 
Hanes Women's Full-Zip Hooded Jacket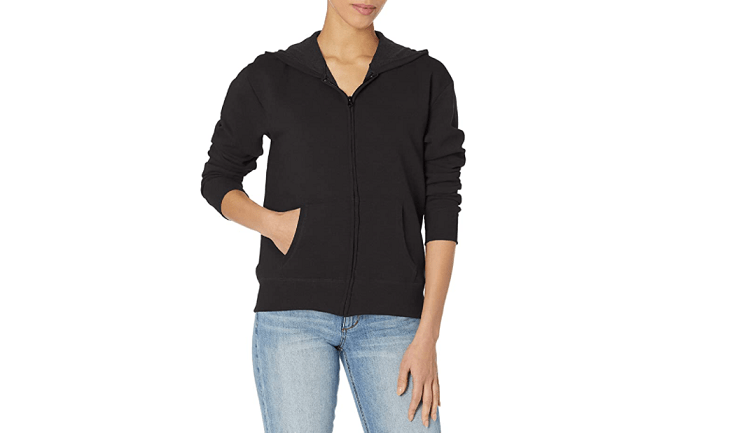 Every day we get new trending clothes that usually go unnoticed a few months later. If you get overwhelmed by the fast changes in fashion, maybe this hoodie is the perfect choice for you.
This hoodie goes more for the classic style, made with 50% cotton and 50% polyester, and a full front zipper on display. It might look simple, but that is what makes it stand from the others on this list. Sometimes less is better. 
Pros
It comes in different colors like violet, white, ebony, navy, pink, among others.

You can wash it on the machine.

The hoodie does not come with a tag, so it is more comfortable to wear.

Available in all sizes.

It has two pouch pockets on the front.

It has a modest price considering its modern features.
Cons
Since it has a simple style, most clients use it with the zipper open, looking more like a cardigan than a hoodie.
Starter Women's AUTHEN-TECH Pullover Hoodie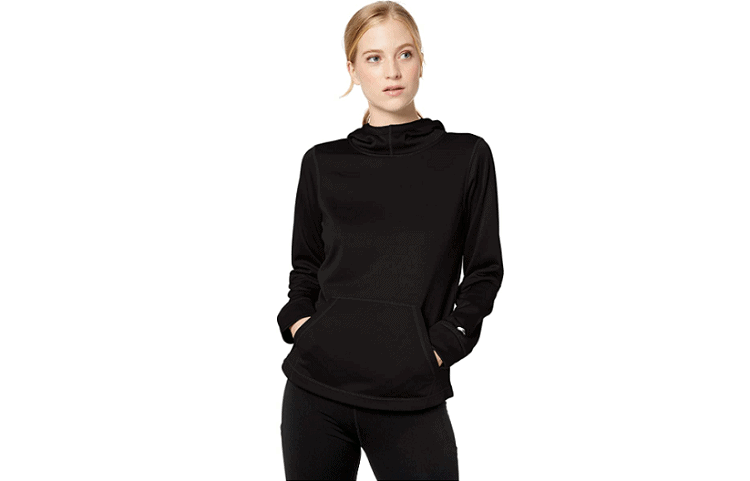 This hoodie has a combination of polyester (93%) and spandex (7%). What makes it stand is the more elegant appearance when compared to others on this list. 
Instead of going for the oversized style, it gives the user a more fitted look. You can wear it above your everyday clothes, since it is an easy-to-wear garment with its pullover style.
Pros
You can wash it on the machine.

The tag that comes with your buy can be used as a sticker.

It comes in four colors, including black and gray.

The hoodie has an adjustable drawstring cord.

It has a modern

pullover

style.
Cons
The pullover style is also a con. Some women like to use their hoodies to exercise and unzip the hoodie when the weather is too hot.

Some colors are unavailable in some specific sizes.

User reviews report the hoodie is too heavy for sportswear.

Some users like the hoodie to be oversized, and this type of hoodie fits better than most on this list.
Amazon Essentials Women's Water-Repellent Thermal-Lined Full-Zip Hoodie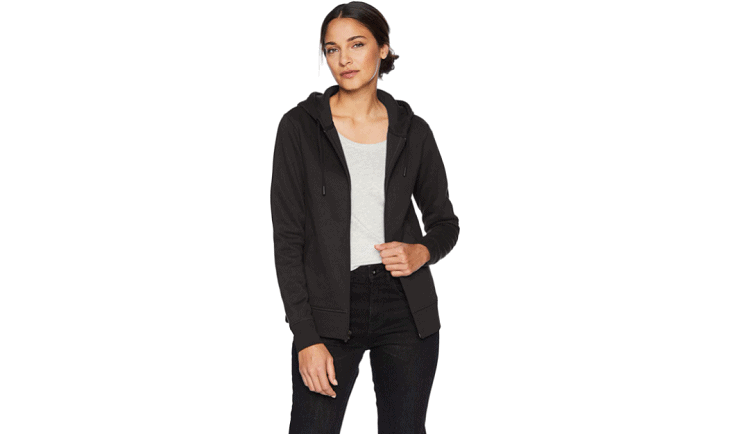 Casual hoodies are an ageless trend. This time, the Amazon Essential Store delights us with a classic hoodie model that gives you the best feature a hoodie has to offer. It has 40% Polyester and 60% Cotton. It also has a full zipper at the front and more. For styling, you can wear it for protection from the weather or as a casual look.
Pros
You can wash it on the machine.

This hoodie is water repellent.

It has two zipper pockets that you can unzip if you want to use them.

It comes in all sizes.

It comes in four colors: black, gray, navy, and charcoal.

Its thermal lining makes it a perfect option for use during the winter months.

Good quality material that does not fade or shrink.
Cons
Some women prefer to use brighter colors, and this model only has classic and sober ones.

User reviews say the hoodie is not worth the price.

User reviews say the sizes are too big.
MWL Superbrushed Easygoing Hoodie Sweatshirt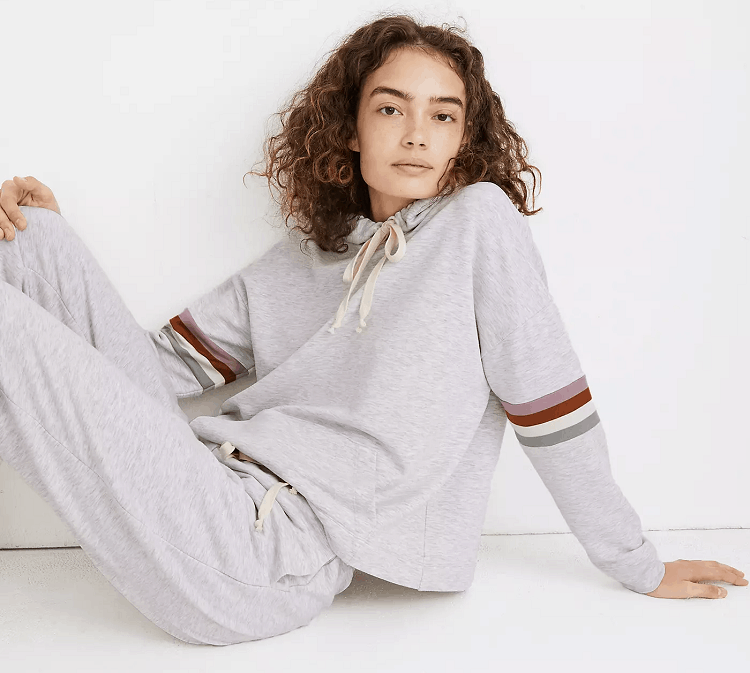 This hoodie is one of the top-rated clothes this brand has to offer. It is soft, comfortable, and in style. Its design with icy gray color and the four stripes on the sleeves makes it look original. It is perfect for the people who love to stand out, even if it is about hoodies.
Pros
This brand makes its clothes with sustainable materials.

You can wash it in the machine.

User reviews say it looks large when you try it. This is nice if you like oversized hoodies.
Cons
It only comes in a unique gray color.

This hoodie is on the pricier side, and some users consider it is not worth it.

You should buy a size down if you prefer your hoodie to fit you well instead of oversized.
The Major Differences Between a Sweater and a Hoodie
Since sweaters have been in the market way longer than the hoodie, sometimes it is easy to mistake them. Here are some of the main differences between the two: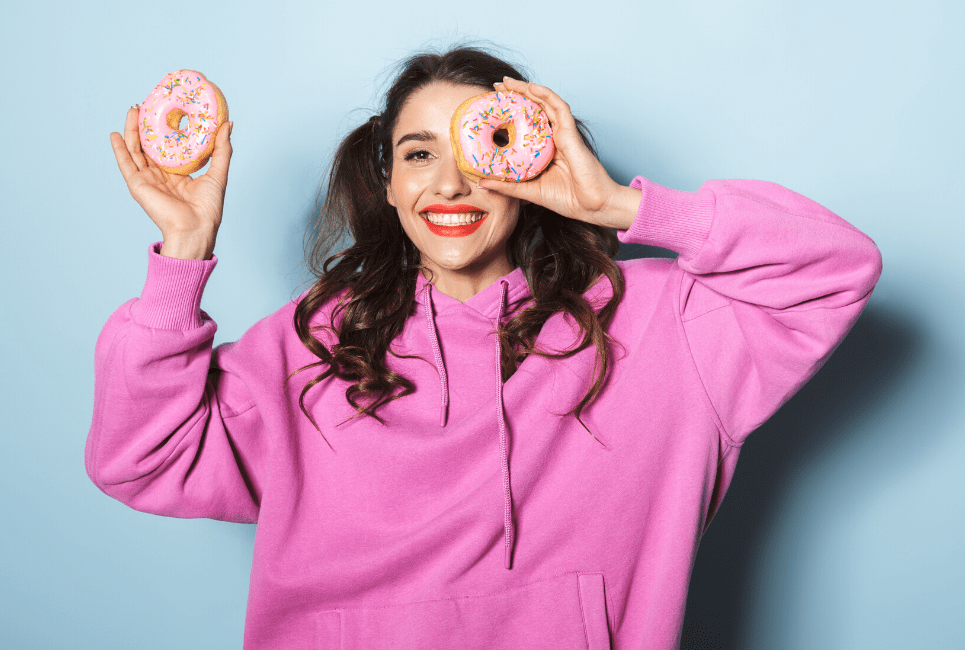 A

sweater

can be a pullover or a cardigan, whereas a hoodie usually opens at the front. The pullover does not open at the front part, and the cardigan opens with buttons or a zipper. On the other hand, hoodies usually open at the front with a zipper on the lower side. They also have a drawstring to adjust the hoodie to your head and face.

Sweaters are knitted or even crocheted, whereas

hoodies

, on the other hand, are usually made with cotton, polyester, or both. However, sweaters have evolved, and brands now make them with more modern fabrics.

Sweaters do not have a hood, whereas hoodies (as the name suggests) have one — and that is the main characteristic that puts them apart from other types of clothes.

People commonly wear a sweater without anything underneath, whereas people usually wear hoodies with a t-shirt.
The Major Similarities Between a Hoodie and a Sweater
We already saw their main differences, but they also have some significant similarities. Some of them include:
Even if they started in the market with some other function, people now use them as casual wear.

Both are popular types of clothes because of the comfort they provide. This factor is especially true among athletes, who are always looking for comfortable clothes that allow them to do physical activities.

Modern brands usually make them with similar fabrics like cotton, polyester, spandex, or a combination of these fabrics.

Most of the time, both have pockets on the front.
Frequently Asked Questions About Hoodies
Question: How do you style a ladies' hoodie?
Answer: It all depends on your style. If you like the urban streetwear aesthetic, you can style it with mom jeans and sneakers. If you prefer the baddie look, skinny jeans can work just fine.

Years ago, it was common to see girls wearing a hoodie with leggings and a knitted beanie. Today, it is fashionable using a hoodie with white pleated skirts, also called tennis skirts. 

As we said, it all depends on how you want to style it. Most of the time, the essential part is to be confident and with a good hairstyle. That way, you will not look lazy or like you recently woke up from bed.
Question: What is the most popular hoodie color?
Answer: It depends on what you consider to be popular, of course. Nevertheless, some great colors such as black, gray, and white are ageless. They never go out of style, and you can use them with almost anything. 

Some others colors like beige and dark brown also look good, especially in fall. If you like your hoodies to be extravagant, some customized black or white hoodie with a character or a painting in the front part are also accepted. More modern colors include burgundy, navy, and royal blue. It is up to you to decide on what occasions you will use the hoodie and which color will be best for you.
Question: What company makes the best hoodies?
Answer: Most of the time, the best hoodie brands are not the ones that only sell hoodies. Actually, several brands already have an entire brand dedicated to all kinds of clothes (including these types of sweaters). 

If not, they are the type of brand that specializes in sportswear. Some of them include Zara, The North Face, H&M, Nike, Adidas, Champion, and Comme des Garçons. It is not about the best hoodie brand but about the brand that sells the best hoodies.
Question: How much should a good hoodie cost?
Answer: The price range for a hoodie is very diverse. Sometimes, especially if we are talking about a local brand, they can be cheap without compromising the quality. However, some other hoodies can be higher in price, frequently if it is a hoodie from a renamed brand. 

If you want to know an average rate, aim for $30 to $60 or even $80. That is why it is essential to establish your budget right from the start: you will know how much money you are willing to spend, and you can start looking for hoodies at a similar price.
Question: How many hoodies should I own?
 
Answer: There is no exact rule related to the number of hoodies you should have or the age at which you should stop using them. Hoodies are for everyone! You can own as many as you want. 

However, if you are concerned about having too little of them, you do not have to worry about that. If you have at least five of them, you should be good to go. This advice is helpful if the hoodies are different in style or color.

That way, you will not feel like you are constantly repeating your style, and you will have enough room for various hoodie types. 
Some people have even ten or twenty hoodies on their wardrobe, so believe us — there is no limit on how many hoodies you should have!
Conclusion: Best Women's Hoodie Ideas
Since hoodies became popular, lots of brands tried to style them into more fashionable clothes. Even if that means fashion is changing, it is a positive thing that hoodies also get to change with it. Nevertheless, it is exhausting to find the best hoodie for your needs because of the continuous changes.
The fabric is not the same as it was twenty years ago. Some brands specialize in lighter fabric hoodies that will be used for fashion purposes. Some other brands keep it classic with heavy cotton. And some others brands experiment every day with new material combinations. Ask yourself: what do I need? What do I want? 
That is one of the best tips when choosing a new piece of clothing. With that in mind, you will not procrastinate when finding your hoodie. You will know exactly what you are going to buy even before seeing it. 
However, that said, we can't say enough good things about the Hanes Women's Full-Zip Hooded Jacket. A timeless and established brand, you can't go wrong with this surprisingly affordable yet super cute hoodie jacket!
We certainly hope you find all of the advice helpful on your way to finding the best hoodie according to your necessities, whether you are looking for a casual wear hoodie or a hoodie that protects you from the cold. No matter what, we hope the one you choose feels like a warm hug and keeps you nice and cozy whenever you wear it!
Further Read: