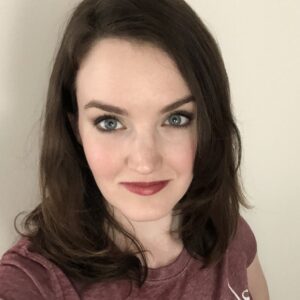 Latest posts by Crystal Schwanke
(see all)
Need the types of cardigans explained in order to continue your search for the perfect pieces to add to your wardrobe? I don't blame you. Long gone are the days of the simple structured, fitted, button-up cardigan that hit somewhere between the waist and hips.
Those are still around and they have their place, but there are so many other styles to choose from, something for everybody to type and a wider variety of outfits.
Here, we'll take a look at the different types of cardigans so you'll know what to search for when it's time to bump up your wardrobe with a few more essentials.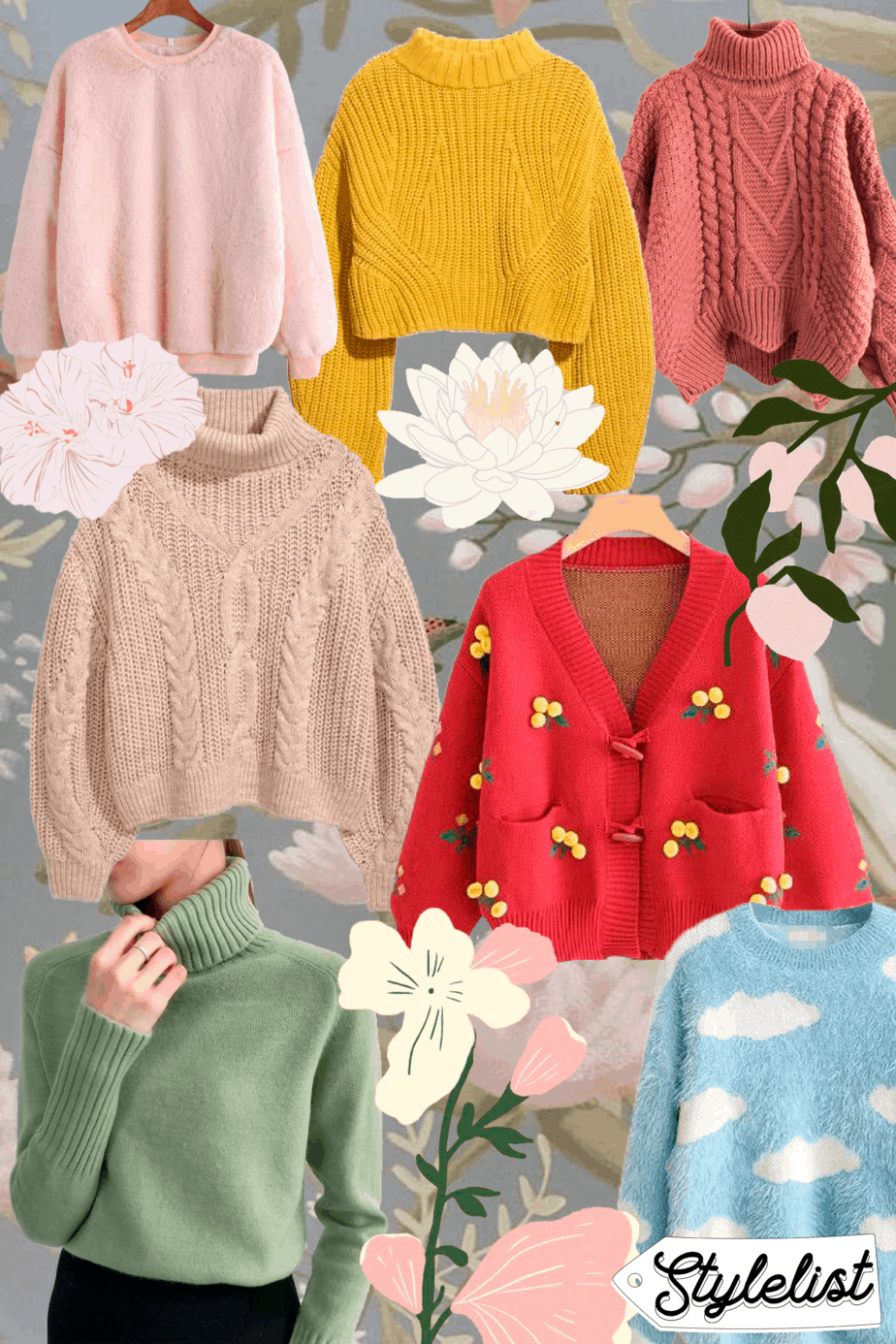 The Main Types of Cardigans, Explained
Some cardigans can fall into more than one category. Here's a rundown of the different types of cardigans, explained:
Belted
Belted cardigans are just that—cardigans that come with matching belts attached. They're usually at least long enough to cover the hips.
Hooded
Several types of cardigans come with hoods. These hoods usually don't come with drawstrings (so they're different from hoodies), so they drape over your head without cinching in tight to keep the cool air out.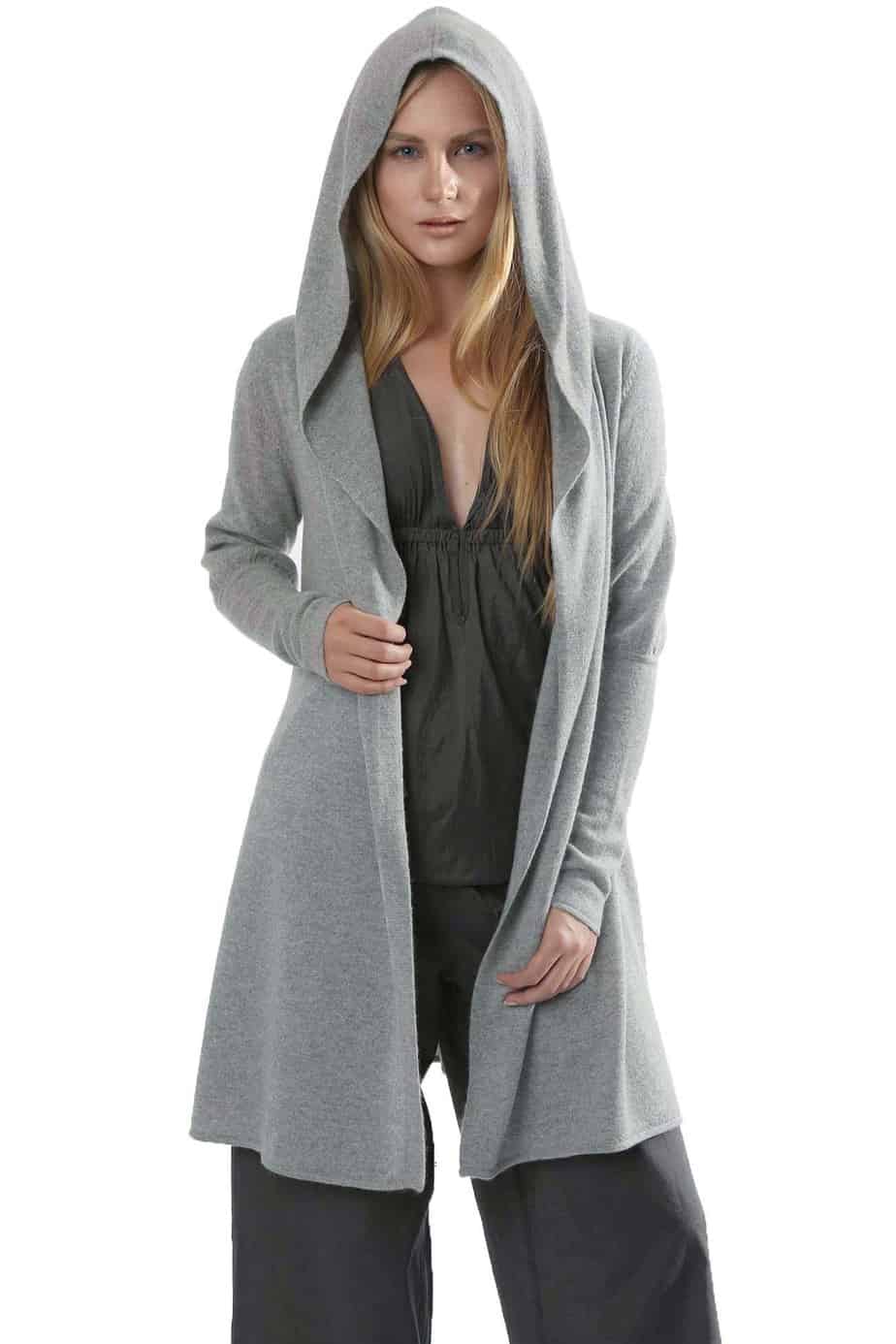 Cropped
Cropped cardigans are what you would imagine—shorter than the average cardigan. They're usually pretty fitted, not flowy, and a little longer than shrugs. These cardigans often have short sleeves, but they can be long-sleeved, too.
Buttoned
This is the most traditional cardigan closure and one you can find on most styles, from boleros and shrugs to longer tunic designs. You'll find buttons on classic and trendy, casual and dressy, styles of cardigans.
Zipped
Zippers show up on cardigans in the place of buttons, but they're usually on the more casual styles.
Open
Open cardigans don't have buttons or zippers to keep them closed. They're meant to be worn open, so they won't be the best bet for cold days.
Vest
Cardigans aren't just for cooler weather. Cardigan vests are meant to be worn just like any other kind of cardigan, but they're sleeveless, so you can enjoy them during the warmer months. You can find them in tunic lengths, belted styles, with draped collars, and with embellishments like fringe.
Wrap
There are a few kinds of wrap cardigans. Some are designed to wrap across the body and tie in place, creating a deep V neckline. Some wrap and are secured in place with a belt. They're usually on the cozier, slouchier end of the cardigan spectrum. Some have wide sleeves and a "cocoon style" with rounded edges along the bottom.
Bolero
Bolero cardigans can be open or have button closures. They're often short-sleeved and usually fitted. These tend to be dressy and pair well with dresses, though they can be worn with tanks and jeans, too.
Dress
These are the very long cardigans that hit well past the hips. They may be open or have buttons. They could be somewhat straight and fitted or flowy.
Cascading/Waterfall
Cascading, or waterfall, cardigans are a type of open cardigan, but they have a wavy "cascading" effect that drapes around the body in the front and around the edges.
Oversized
If you want your cardigan to make you feel safe and cozy, consider an oversized one, designed to have a loose, slouchy fit. These are usually open or have large buttons. Some have hoods and they're usually the longer side. These look good with straight-leg jeans or leggings paired with a fitted tee.
Classic
This is the style you probably think of when you think of cardigans—decades past, sweater sets, small pearly buttons, finely knit, and a length that stops somewhere along the upper-to-mid-hips.
Chunky Knit
Chunky knit cardigans are often oversized and slouchy, but they don't have to be. These use thicker yarn and often have interesting knitting patterns.
The Main Differences Between Cardigans and Sweaters
A cardigan is a type of sweater, but there are some definite differences to note.
A cardigan is always open in the front, whereas a sweater may not be (it only is if it's a cardigan).
A cardigan can be very short or very long, whereas a sweater of any other type usually ends between the waistline and just below the hips.
A cardigan is almost always meant to be worn over another shirt (even if it's just a camisole), whereas a sweater could be worn alone.
Advantages of Cardigans
What's not to love about cardigans? There are so many advantages and styling opportunities. Here are a few of the top advantages:
Cardigans Add Extra Visual Interest to an Outfit
What you wear allows you to express yourself, and cardigans are a good way to do just that.
Choosing the right pattern, texture, and length of a cardigan to go with the rest of your outfit gives you the chance to completely transform a look. When you add the cardigan, you'll even be inviting new accessorizing opportunities.
The way long necklaces, large hats, and booties look with a cardigan is completely a different vibe than what you'd get if you wore those accessories with the same outfit, cardigan-free (in that case, an infinity scarf and dangling earrings may be the better options).
Extra Warmth and a Fashion Statement
Cardigans pull double-duty. They can make or break an outfit from a fashion standpoint, but sometimes you just want a little extra warmth.
If you work in an office, for example, a thick, tightly woven cardigan could be the deciding factor between an incredibly productive day and a disappointing one.  A cardigan can keep you from spending the day shivering and unable to think as well you would if you were more comfortable.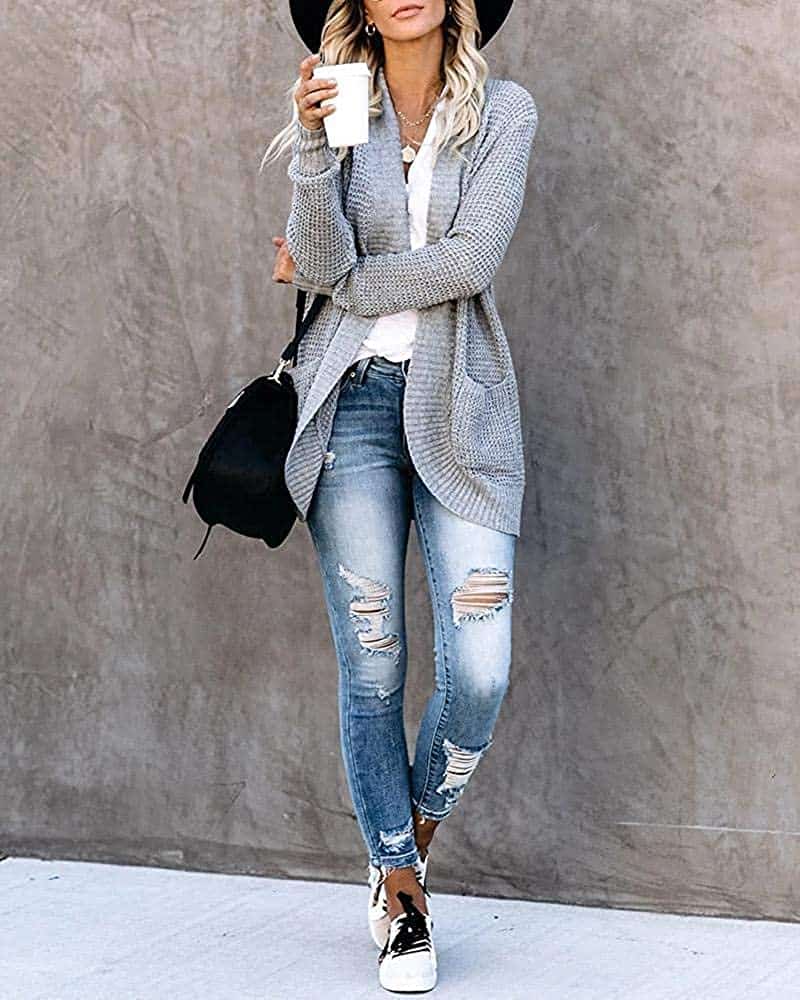 Of course, a cardigan can do more than keep you warm. By wearing one, you'll look more put-together, as if you spent more time getting ready in the morning than you actually did. A cardigan is to an outfit what a bold lip color is to your makeup look.
They're Perfect for Spring and Fall
Building on that "extra warmth" idea, cardigans are perfect fashion choices for spring and fall because the temperatures are often at those in-between levels, often fluctuating quite a bit even within the same day.
Start the day in a cardigan, then take it off when it gets warm. Keep it nearby for when the sun goes down and it's chilly again. If you were to treat a sweater the same way, you'd have to tug it over your head a few times, which might not be the best for your hair, makeup, or the situation (awkward!).
Using a jacket or coat this way might be a little too warm at times, and a cardigan may complement your outfit better. There are so many colors, patterns, and options to choose from. 
Cardigans as Layering Pieces
Thin cardigans can be used as layering pieces and fit between a tank or tee and a jacket or coat. When you use cardigans like this, you can stay comfortable all day no matter where you go or how the temperature fluctuates.
If you do plan to wear a cardigan as a mid-layer, make sure it's shorter than the outer layer. 
Disadvantages of Cardigans
Cardigans are a lovely, versatile staple in most wardrobes, but there are some downsides. Most of these are related to finding the right fit and style for your body type and outfit than the concept of cardigans themselves, though, so don't be scared away. Just enjoy the process of finding your personal ideal cardigan styles.
Too Many Layers or the Wrong Knit Can Give the Illusion of Extra Pounds
Too many layers and too much volume in the wrong place on any kind of clothing can create the illusion of extra pounds, and cardigans are no exception.
Consider your body type when shopping for cardigans. Look to more structured cardigan styles in thinner fabrics and layer on top of fitted tanks or tees to minimize added bulk.
Similarly, if you'd rather look leaner overall, skip the oversized cardigans as well as the ones knitted with chunky yarn. Want to add curves? Do try those cardigan styles.
The Wrong Length or Style Can Look Frumpy
An ill-fitting, oversized, or shapeless cardigan can undo all the work you put into choosing the rest of your outfit by hiding the features your top and pants/skirts or dress would normally emphasize.
Depending on the style and length of the cardigan, it could even play up the wrong areas or add bulk while simultaneously hiding your curves. 
You'll Have to Wear Another Shirt
One of the nice things about regular sweaters and other tops is the fact that you can wear them on their own (even if you wouldn't normally choose to).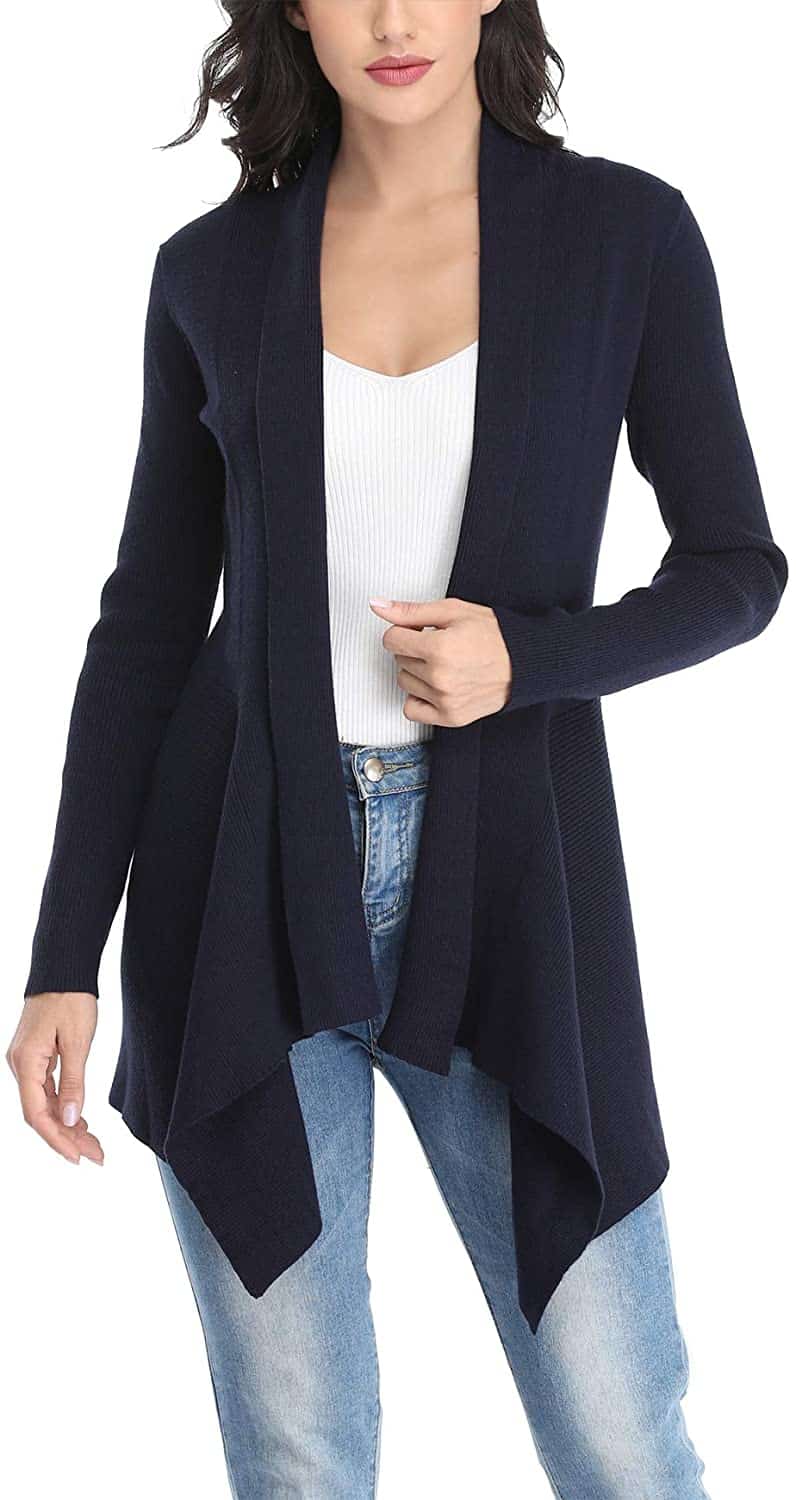 When you want to wear a cardigan, you're going to need a separate shirt underneath it, which means you'll need to make another decision about what matches and what styles work best, plus there will be more laundry to wash.
Tips for Styling Different Types of Cardigans
Versatility is of the best things about cardigans. They're likely to always be in style, but the way you dress them up or down and accessorize them will shift from year to year.
Tuck Them In
If you have a thin button-up cardigan that hits about hip-level, put it on over a camisole and tuck it in. You can unbutton it enough to let it hang off of one shoulder and expose a cami strap if it's a loose enough cardigan for the slouchy look.
Wear a Belt
Longer cardigans are fun to accessorize with belts. Play around with belt widths to see which ones are most flattering to your waistline with each cardigan. If you're wearing a cascading or waterfall style of sweater, a thinner belt may be best to keep the bulk to a minimum. A thicker belt may overwhelm the whole. look. If your cardigan has pockets, you'll probably want to skip the belt.
Layer Wisely
Simple tanks, tees, and dresses work best under cardigans. That doesn't mean you can't have fun playing around with colors and patterns, though. Also, don't be afraid to show a little skin around the neckline, perhaps with a scooped neck or V-neck style top.
Experiment with necklaces (longer pendants look great with tunic-length and longer cardigans) and types of earrings. You'll probably want to skip the scarves when you're wearing a cardigan, but never say never. If you have one in mind, try it on and see how it looks.
Slouchy styles look cute with fitted (but not tight) t-shirts and will keep you feeling cozy. Try them with girlfriend jeans and booties.
Balance Flowy and Structured
If you're wearing a cardigan with a lot of movement, either because it's long and flowy or because it's a waterfall, cascading, or asymmetrical style, it's generally best to keep the other pieces in your outfit fairly form-fitting. That could be in the form of leggings, a pencil skirt, or straight-leg jeans.
If your sweater is more structured and less flowy, you'll have a little more leeway with the other pieces you're wearing.
If you do want to wear a flowy cardigan with wide-leg, flowy pants, matching the shades of the cardigan and pants together is one way to look polished and maybe even a little taller. 
My Top Cardigan Recommendations
You can find all types of cardigans online year-round, but the selection will still be influenced by the current season. Here are some of my favorite examples of various types of cardigans:
Astylish Women Open Front Long Cardigan
This Astylish brand cardigan features an open front, tunic length, and chunky knit. It comes in a wide range of colors and is just slouchy enough for a casual outfit, without being so slouchy it'll make you look frumpy.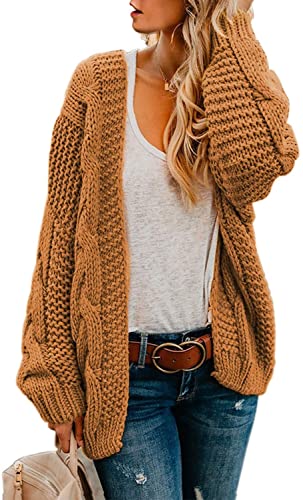 Pros
Comes in several colors
Cozy
Versatile
Cons
Only available in sizes up to XX-Large
Grace Karin Women's Long Sleeve Button-Down Vee Neck Classic Sweater Knit Cardigan
This Grace Karin option comes in an incredibly wide variety of colors and patterns.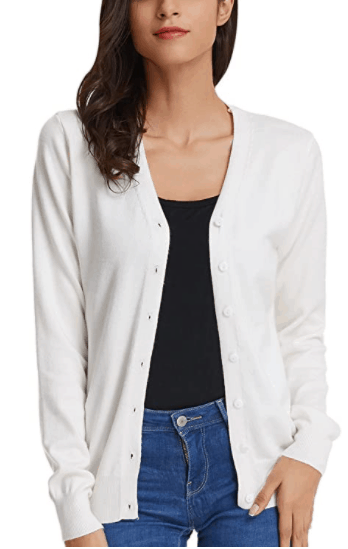 Pros
An amazing range of colors and patterns
Flattering for most body types
Classic enough style to go with almost anything
Cons
The size chart may be slightly off, depending on how you want your sweater to fit
Banana Republic Linen Blend Long Cardigan Sweater
This Banana Republic cardigan may not come in the most colors, but its length makes it a standout piece for any wardrobe.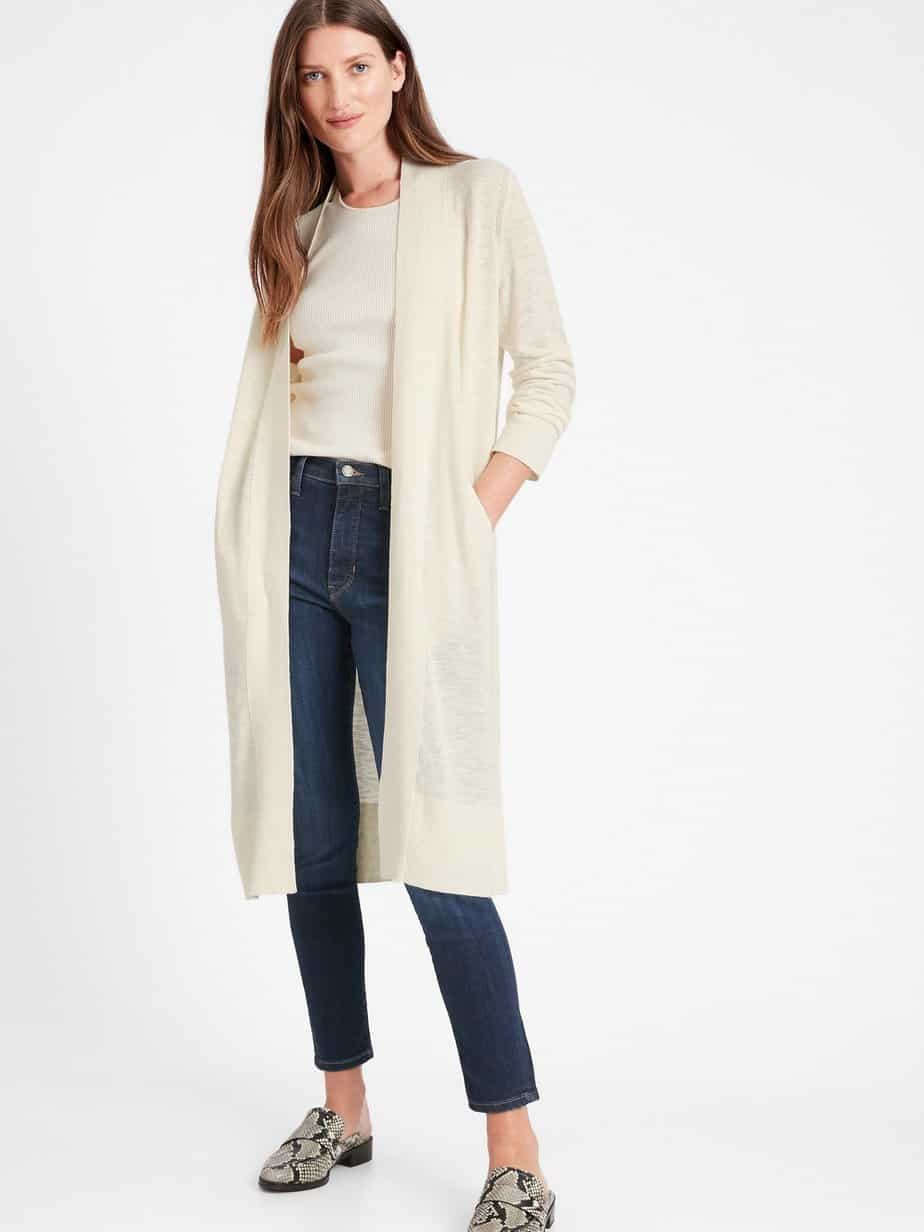 Pros
Comes in neutral shades (black and white) so it's easy to pair with other things in your closet
Lightweight
Can go with anything from dresses to workout clothes (to and from the gym)
Cons
Not many colors available
Expensive
Ermonn Women's Crochet Cardigan Sweater
This Ermonn cardigan is perfect for summer. The loose fit and boho vibes mean it pairs well with tank tops and shorts.
Pros
Can make it look like you put a lot more thought into your outfit than you did
Comes in several colors
Cons
Handwash only
If you want a cardigan that'll keep you warm, this one won't do it
Urban CoCo Women's Sleeveless Draped Open Front Cardigan Vest with Asymmetric Hem
This Urban CoCo cardigan is another summertime-friendly cardigan that'll dress up an outfit without making you too warm.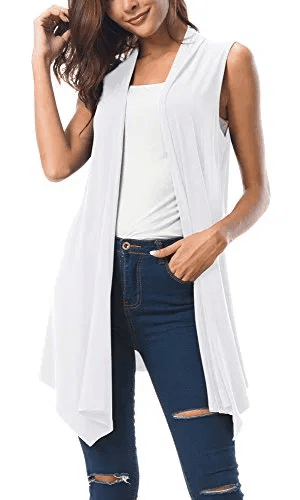 Pros
Longer length can have a slimming effect
Comes in several colors
Inexpensive
Cons
Handwash only
May wrinkle easily
Women's Nina Leonard Scallop Trim Bolero
This cropped style has scalloped edges for a softer look.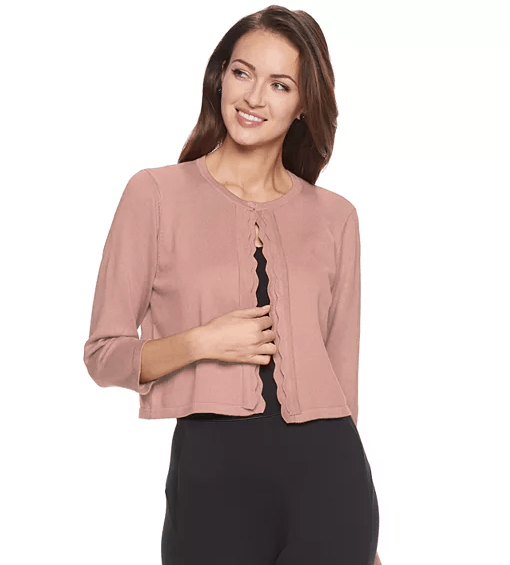 Pros
Dresses up any outfit
Cropped just enough to be flattering on several body types
Cons
Open front (not always a con, but it won't offer much warmth and doesn't offer the option to wear it closed if that's your preference)
One of the more expensive options here, at around $50.00
Women's Nine West Essential Cardigan
This style can act as a staple in your fall and winter wardrobe. It has a long, simple style.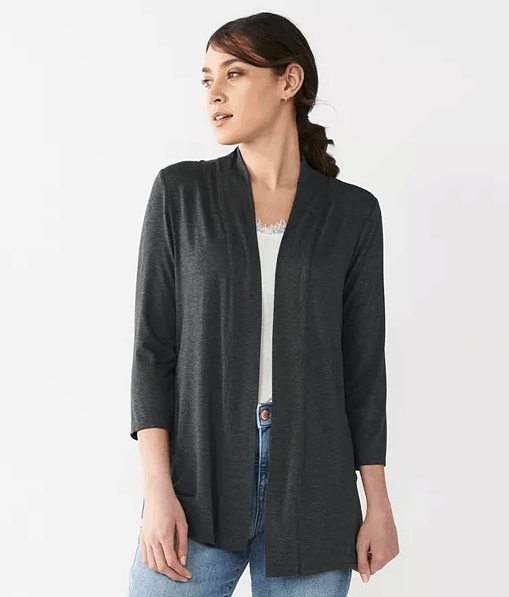 Pros
Simple, versatile style that goes with almost everything
Front pockets
Cons
No buttons to close it if you want to
FAQs About Cardigans
If you still have questions about the types of cardigans and how to wear them, these frequently asked questions might help:
Question: What are thin cardigans called?
Answer: If it's short as well as thin, you may be thinking of a shrug, cropped cardigan, or bolero, though most types of cardigans can be made from thin fabrics. Some thin cardigan-like pieces (similar design, but not knitted) that are often floral print and worn in the spring and summer, are called kimono cardigans. Those sleeves tend to be looser and shorter than what you'll see on the average cardigan.
Question: What are cardigans without buttons called?
Answer: In most cases, these are called open cardigans. There are different types of open cardigans, like boleros, tunics (not always button-free, but sometimes), or cascading/waterfall cardigans.
Question: What are open cardigans called?
Answer: They're just called open cardigans, but open cardigans can fall into different categories. This just means there's no way to close them up in front, so no buttons or zippers.
Question: How do you match cardigans?
Answer: If your top and bottom are very fitted, a longer or looser (or both) cardigan will work. Wearing something looser than that, like a t-shirt and/or skirt? Try a more structured/fitted cardigan. As far as colors go, you can choose something similar to the color of your shirt or dress, choose a neutral that goes with everything, or go all-out with a bold shade that looks striking against whatever's underneath the cardigan. Of course, rules are meant to be broken, so put your creative spin on things and trust your own sense of style to create a look that's uniquely yours.
Question: What are cardigans used for?
Answer: Cardigans are a good way to dress up an otherwise casual outfit (so you get to look like you put more effort into your look than you did). You can add an extra layer of warmth to your outfit, which means you can adapt as the temperature changes throughout the day.  You can use one to add color to a very simple, neutral outfit.
Question: What exactly is a cardigan?
Answer: A cardigan is an open-front knitted sweater that may have buttons or a zipper to close it (or a belt to cinch it in in the middle). You can find cardigans with additional features, like a belt or hood, and lengths can include cropped to tunic (or longer). The main feature, though, is the open front.
Question: Are long cardigans in style 2021?
Answer: Long cardigans never really go out of style. You can wear them year after year.
Question: Can I wear a cardigan with a dress? And should your cardigan be longer than your dress?
Answer: Yes, cardigans look beautiful with dresses and can provide some much-needed warmth on a chilly night out. Your cardigan can be longer than your dress, too, especially if the dress is form-fitting all the way through the skirt. If you're wearing an A-line dress or similar, a shorter cardigan will look better.
Question: Are cardigans cool?
Answer: Yes, cardigans are always cool as long as you style them with care. Certain styles cycle in and out of fashion more than others, but you can never go wrong with the more understated, classic cardigan styles.
Question: How do ladies wear cardigans?
Answer: There are so many ways to wear cardigans. You can belt one in the middle over a dress, button a slouchy one up just enough for it to expose one shoulder when tugged to the side and tuck it in at the bottom, wear one open and flowing over jeans and a tank, or even wear a button-up one like a top (you'll probably want a cami under it, though).
Question: How tight should a cardigan be?
Answer: Unless you're going for the oversized look on purpose, cardigans should be somewhat fitted (not "tight" when buttoned or zipped, though), but loose enough for you to comfortably fit a shirt underneath it. If you're always going to wear tank tops with your cardigans, it can be more fitted, but if you plan to wear tees (short-sleeved or long-sleeved), give yourself a bit more room.
Question: Is a cardigan considered outerwear?
Answer: Some cardigans can be considered outerwear, but you can really wear them however you'd like. The chunkier knits with hoods are usually as close as cardigans get to being outerwear.
Question: Can you wear tank tops with cardigans?
Answer: Yes, this is actually one of the best ways to wear cardigans. Since cardigans' sleeves are usually fairly fitted, sleeves on a shirt can get bunched up under them. With a tank top, this isn't a problem. Of course, you also will be sacrificing some warmth, so layer up with a different type of shirt when you need to.
Question: How do you wear a cardigan without looking frumpy?
Answer: Cardigans in bright colors are naturally less likely to look frumpy, but it's really all about the styling and choosing the right length and fabric for your body type. That could just take some trial and error, but we'll share a few tips here, too.

More fitted cardigans made from thinner materials are generally more flattering on all body types than the slouchy, chunky-knit ones (that's not to say that those fun, chunky knits never look good, and they're delightfully warm).

Think of the way you would mix loose tops with more form-fitting pants or skirts, or a fitted top with wide-leg pants, and apply that same general idea to your cardigan. If it's especially loose, flowy, long, or has thicker fabric, keep the rest of your clothing more fitted. Details like belts help, too.
Conclusion: Types of Cardigans to Buy
You could have a whole collection of go-to cardigans and still buy more because there are so many different types of cardigans for outfits year-round. You could have your traditional or tunic-length cardigans for work, a crochet boho-style for summertime adventures, a bolero or shrug for A-line dresses, and so on.
Venture out and try on a few different types of cardigans to see which styles fit your body and wardrobe best. Understated, simply styled cardigans are always in fashion, so choose the ones you think you'll love for years. Don't be afraid to shake things up with something a little unusual for a season or two, either, though.