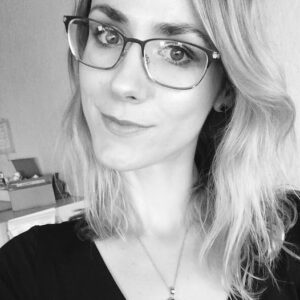 Latest posts by Karyl Trejo
(see all)
Are you getting tired of wearing your typical pants or leggings on your way to both casual and formal occasions? If so, then it's probably the best time for you to consider the option of adding jumpers and jumpsuits into your wardrobe. 
Important Note: Before we really dive into this topic, if you are from the UK (or only starting out to understand jumpers), it is important to remember that jumpers in the US are called pinafore dresses in the United Kingdom, whereas a jumper in the UK is simply the other term for sweaters.
With that said, jumpers have become one of the most recurring fashion trends over recent years, and it is very obvious as to why. Depending on your body type, jumpers, jumpsuits, and rompers can be comfortable, classic, elegant, or even old-fashioned. In addition to that, they can make you look a lot cuter or sexier on your way to a date or other special occasions. 
If you are fairly new when it comes to picking the right jumpers or just wondering what's the next set of outfits to add to your wardrobe, we got you covered!
The Major Differences Between a Jumper, Jumpsuit, and a Romper
Let's face it. Even though certain physical or online stores call them with different names, we all thought that jumpers, jumpsuits, and rompers were pretty much all the same. Having said that, they usually differ in numerous things such as designs, fabrics, shapes, and styles. 
To know more about the major differences between the three, and to get a better idea of what you would prefer to go with your sense of fashion, we gathered all the information you need to know down below. 
What Exactly are Jumpers?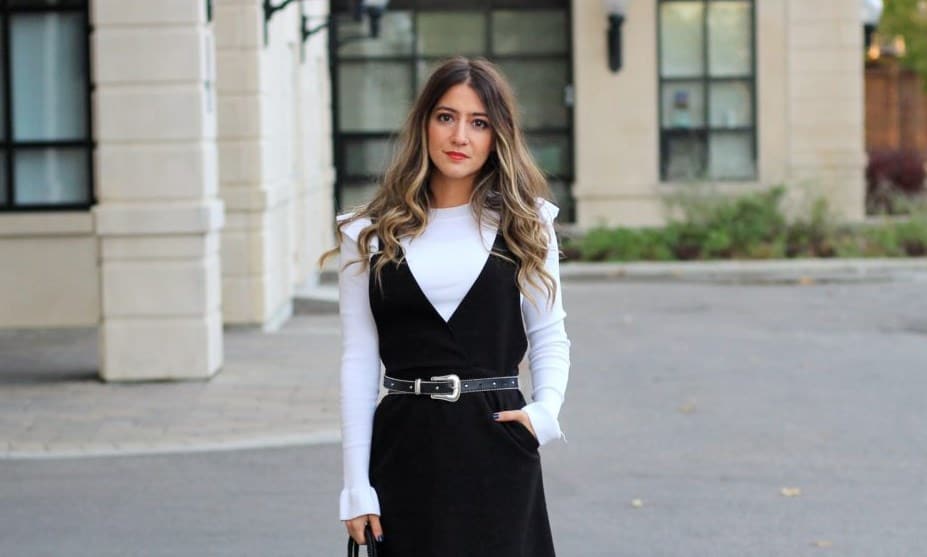 Often called a pinafore dress (or a "pinny" in the UK), a jumper is a sleeveless, collarless dress with suspenders attached in its front panel, and it's intended to be worn over a shirt, blouse, or sweater. 
As you may already know, denim is probably the most common fabric for jumpers, as it's quite a flexible clothing item especially when you are looking for your next favorite go-to casual wear in the morning. Jumpers also come in other fabrics such as cotton, corduroy, linen, silk, and velvet. 
Even though they are not made for formal occasions, jumpers have the upper hand when it comes to dressing down. So, if you are looking for a minimalistic yet stylish dress, jumpers may as well be the right option for you. 
Pros:
A great choice for casual wear

Comfortable and easy to wear

Keeps you cool in summer
Cons:
Can be too revealing at times

Not good for winter wear

You need to feel confident about your legs
What About Jumpsuits?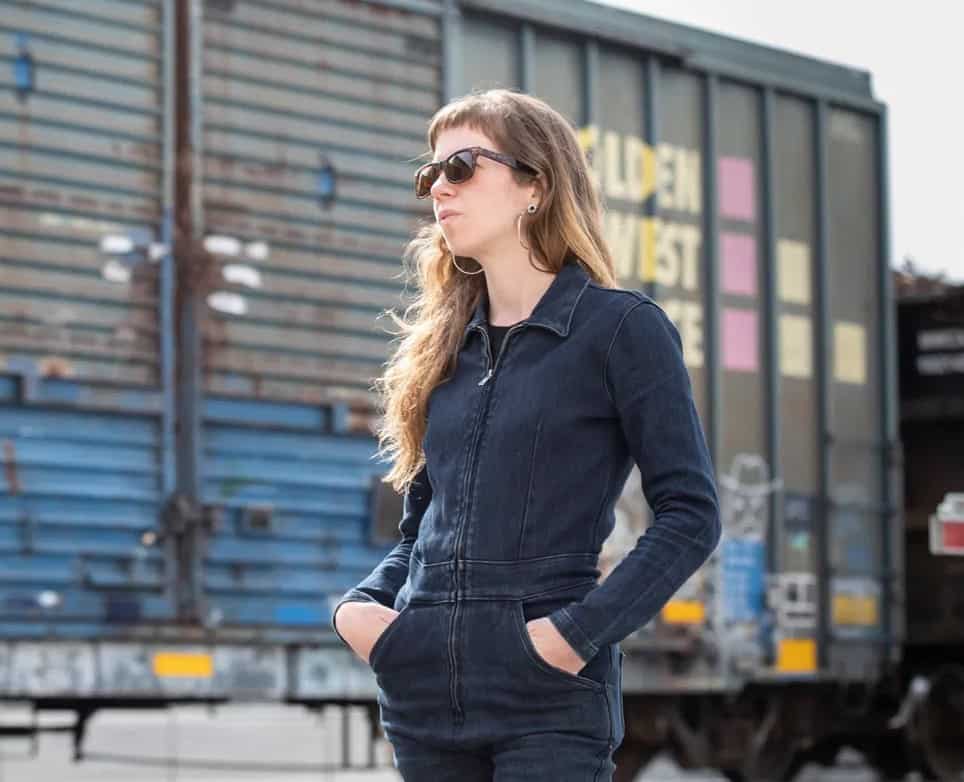 Looking for a classier and more professional look? Jumpsuits might be the best option for you! Although people usually use the words jumpers and jumpsuits interchangeably, a clothing item is strictly considered a jumpsuit if it is a one-piece garment consisting of a blouse or T-shirt with attached trousers. So, if it has pants attached to it instead of having a skirt, it's automatically a jumpsuit.
Jumpsuits are more preferred to be worn on formal occasions than jumpers, as you can add more style into the mix with the use of different accessories or clothing items such as belts, necklaces, and even blazers. If you want to impress someone at a business meeting or other formal occasions, then you should definitely consider buying a jumpsuit.
Pros:
Looks elegant and professional

A better option for winter

The option of having pockets
Cons:
Some may need a belt to look better

Can be less comfortable

Some movement restrictions
And Finally, What are Rompers?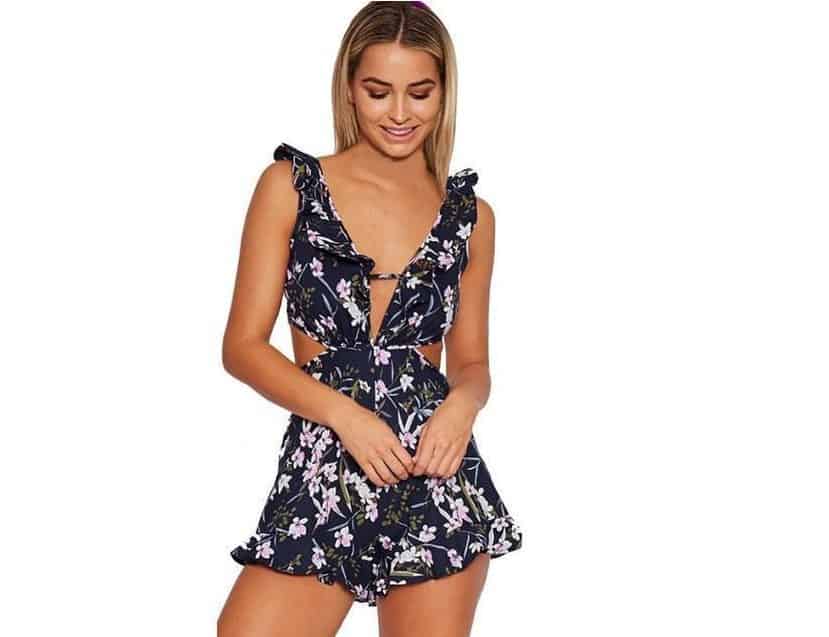 Have you ever thought of wearing a dress that will help you remember the inner child in you? If so, you better try on some rompers! Rompers are extremely breathable and lightweight when compared to jumpers or jumpsuits. They are usually intended for beachwear, casualwear, and loungewear. However, when made with fabrics such as silk and chiffon, they can also be worn for formal occasions. 
You will feel a lot more freedom when you are wearing one of these. And if you are occasionally lazy from picking a set of clothes in your wardrobe, you could just wear the right romper and your friends won't even notice that you rushed your outfit for the day. 
Pros:
Usually slicker and sexier

Comfortable to use

Compliments your legs
Cons:
Not appropriate for formal events

Does not work on most body types
How to Find the Best Jumper
Whether you're out with your friends for a casual night out or going to a formal event, a jumper or jumpsuit is great for almost any occasion. Having said that, it can be quite a challenge to find the best jumper that suits you. If you are worried about getting the wrong outfit, we can help you!
Here are some tips that you should know when you're shopping for the next best jumper to add to your wardrobe:
Choose a jumpsuit or romper that flatters your height and body type.

Know your options especially if you're on a budget.

Recognize your preferred style.

Pick a single and solid color that compliments your skin.
Let's go ahead and break these down a little bit more.
Choose One That Flatters Your Height and Body Type
Most of us may already know this advice by now so it's more of a general reminder. Jumpers are a lot easier to deal with since it mainly boils down to comfort and your sense of style. However, in terms of jumpsuits and rompers, your height and body type are extremely important to consider. 
To put it briefly, a wide-leg jumpsuit that has its pants finished just above the ground is perfect if you're tall whereas a slim, cropped style jumpsuit will work great for if you're short. Besides your height, picking the right romper or jumpsuit will also depend on your body type. 
As an example, if you have a pear-shaped body, an off-the-shoulder jumpsuit or romper will look best on you. It's also important to note that you should not wear belts on your jumpsuits if you have a pear-shaped body because it will give more focus to your waist.
Know Your Options (Especially if You're on a Budget)
Another thing to keep in mind is your options. Are you going for a high-end designer jumper or one that is custom-made? At the same time, there are many options for you to choose from if money isn't a problem. 
However, if your budget is limited, it may be best to consider buying a flexible yet affordable jumper during a seasonal sale. You can also find risky yet great deals online and depending on the fabric or material used. Exploring different online stores is a great start for you because eventually, you will know what to add to your wardrobe. 
Recognize Your Preferred Style
Are you going to leave room to add accessories or is your style of dresses more minimalistic than others? You need to recognize your own preferred style. If you're searching for a more comfortable outfit than your typical short dress, you should try out a knee-length or a long jumper. 
If you're aiming for the perfect jumper or jumpsuit, think twice as to what occasions you'll use it for. Always choose the style that flatters the best features of your body.
Pick a Color That Compliments Your Skin
If you are having second thoughts about choosing a more sophisticated jumper over a simpler one, the simpler one will probably be the safer option for you especially if you are not yet familiar with your fashion sense. 
Choosing the simple one will save you a lot of trouble since a single-color jumper is usually more friendly and flexible if you wear it together with the right accessories. Don't forget to also choose the color that will complement your skin tone. That said, if you are only starting out, you can always go for a solid black or another dark-colored jumpsuit color.
When to Wear a Jumper
Assuming that you are only starting to familiarize yourself as to how and when to wear a jumper, you have to understand that a jumper or jumpsuit can be just as beautiful as your typical dress. Having said that, jumpers can also be worn on different occasions. 
Casual Occasions 
Whether you are enjoying a sunny day at the beach, hanging out with your friends, or on your way to a casual party, going with a more serious fashion trend with a jumper or jumpsuit can be a huge game-changer. You can't simply remove casual jumpers or jumpsuits from your options, since a casual jumper is a great alternative to your typical jeans and T-shirt. 
Loosed, comfy and fashionable, almost any jumpers would work with casual occasions since they are more flexible. However, when it comes to wearing a jumpsuit for a casual occasion, we recommend you choose from a variety of jumpsuits made from cotton or denim. And if you truly consider yourself a jumpsuit virgin, try a looser fit jumpsuit that features a drawstring waist, as they are usually flattering for most people.
Formal Occasions
Having to deal with your wardrobe for formal occasions can feel a bit too repetitive at times, especially when your only go-to choices are a few cocktail attires and little dark dresses. Fortunately, whether you are looking for another great option to wear for business meetings or other formal events, one-piece jumpers will help you look just as stylish and beautiful as you were, with your previous classy options. 
Just make sure to remember that there are different kinds of jumpsuits for you to choose and style. As an example, loose-cut jumpsuits often require a great deal of attention when it comes to adding accessories. 
Since the world of fashion's favor for fashion trends continuously changes and evolves from time to time, there are countless kinds of one-piece jumpers you could buy today. Your choice of formal jumpsuits includes blazer jumpsuits, cape jumpsuits, flared jumpsuits, and wide-leg jumpsuits. 
How to Style your Jumper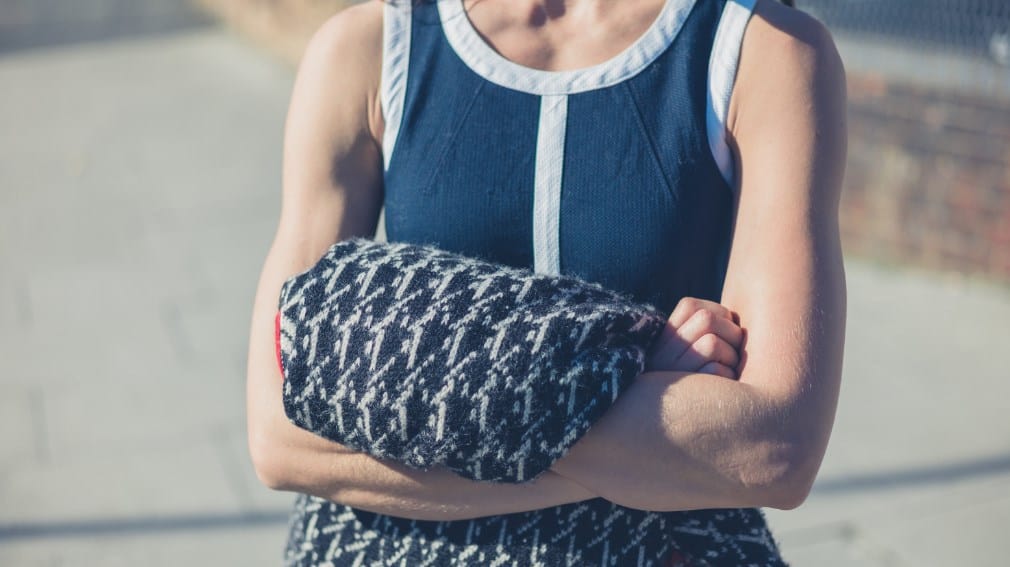 Assuming you are already in an online or physical shop staring at a certain dress, you might ask yourself, "How can I look better with this jumper?" Fortunately, we know how to help you. 
It is important to note that you can add more style or class to your outfit with the use of different accessories and other fashionable clothing items. So, whether you are trying to look for a new go-to jumper as part of your casual outfits or a jumpsuit for formal events, here are some of the things you have to think about to look chicer with your new jumper.
Consider your footwear
One of the most obvious reasons as to why jumpers are versatile is the flexibility it has when it comes to footwear. Depending on your sense of preferred style, you can choose from a variety of different footwear to match your outfit. For instance, if you want a more feminine and lovely look, you can go with a short, black jumper together with a gray sweater and black suede knee-high boots. 
There are also other options you can wear with jumpers and jumpsuits such as:
Sneakers

Ankle Boots

Sandals

High Heels
Needless to say, you shouldn't forget to match your cute or sexy outfit with some great footwear. 
Belts
If we are strictly talking about jumpsuits, a belt can be an essential accessory especially when you are still clueless as to how your sense of style should be. Additionally, wearing the right belt that matches your jumpsuit will help define your waist. Although some jumpsuits are already fitted at the waist, wearing a belt will make you look a lot slimmer than usual. 
If you consider yourself a jumpsuit virgin, we recommend that you use a contrasting color for your belt so that it will match perfectly with your jumpsuit. You can also try to match the color of your belt with your shoes as they can balance how your whole outfit will look.
Jewelry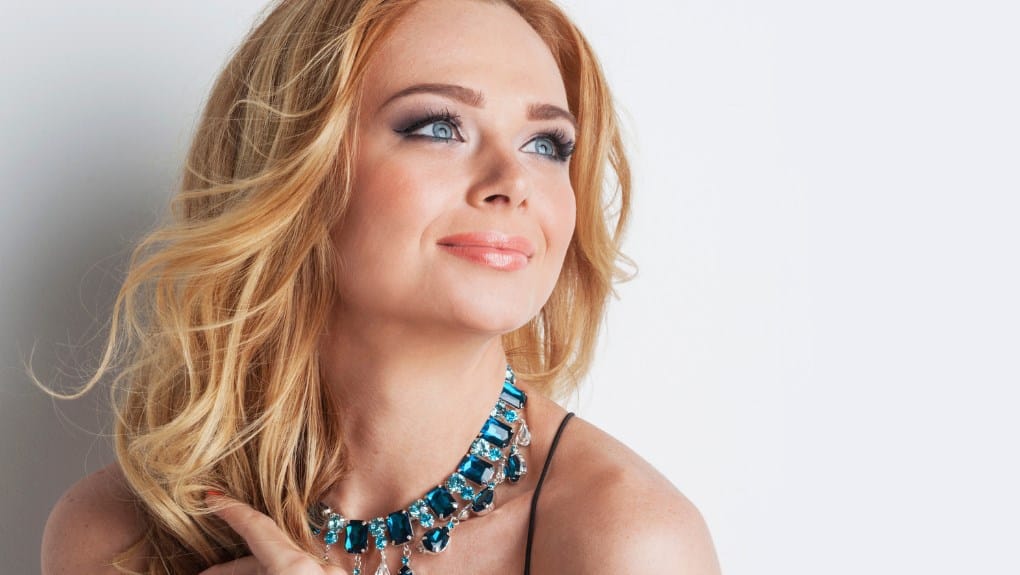 Even though jumpers and jumpsuits are part of many recurring fashion trends, they can sometimes look too simple without wearing any daring accessories. Most simple jumpsuits will often look boring in a formal event, since they will look more like a type of casual wear on paper. To complement and add more dimensions to your outfit, you need to consider pairing it out with some jewelry.
Some great ideas can include:
A Necklace

Earrings

A Classic Watch

A Cute Brooch
No matter what you choose, the right jewelry will give your outfit some extra focus and style. Having said that, if you're going for a casual style, don't overdo it. A simple, metallic watch will do just fine!
Blazers 
If you want to add more dimensions to your already chic jumper, try pairing it with a blazer or jacket. Blazers are usually worn with a wide variety of clothes including short dresses and jumpsuits so do not be scared to try out with your outfit. 
Having said that, you can also try out checking cape jumpsuits as they offer a different yet equally stylish take on wearing jumpsuits. Even though a jumpsuit can work perfectly with only your usual accessories and gorgeous footwear, a blazer will give your image more personality. 
Also, depending on the occasion, a blazer will also make you feel more comfortable with your outfit. If you go for the right one, you will definitely realize that blazers can really balance the way you wear jumpers.
Hats and Sunglasses
Besides the benefit of extra sun protection, wearing the right hat or sunglasses can be classy for your jumper since they can also determine how your overall outfit will look, especially in daylight. So, if it's a sunny day on the beach or you're on a casual walk in the morning, a hat and some pair of sunglasses will surely help you look smarter and more elegant with your outfits.
Our Top Recommendations
If you already have a reasonable understanding of how to wear and buy your own jumpers, you might just be ready to explore different boutiques around you and try some out. Having said that, for you to know more about how to find the best ones online, take a look at our top recommendations down below.
What Was Our Evaluation Criteria?
Finding the right jumper for a specific occasion can be too difficult to do especially if you really have zero experience with jumpers. Fortunately, we can help you. We've gathered our top recommendations by considering a few things:
Is it universally flattering? 

Is it hard to style?

Will it work for most body types?

Is it comfortable? 

Does the price match with the quality?
Whether you're keeping an eye on certain jumpers online or on your local boutiques and malls, our wide range of different jumpers, jumpsuits, and rompers will give you a head start on your search for the oh-so-chic jumper you always wanted to try.
U KNOW WHAT'S UP ROMPER by Lioness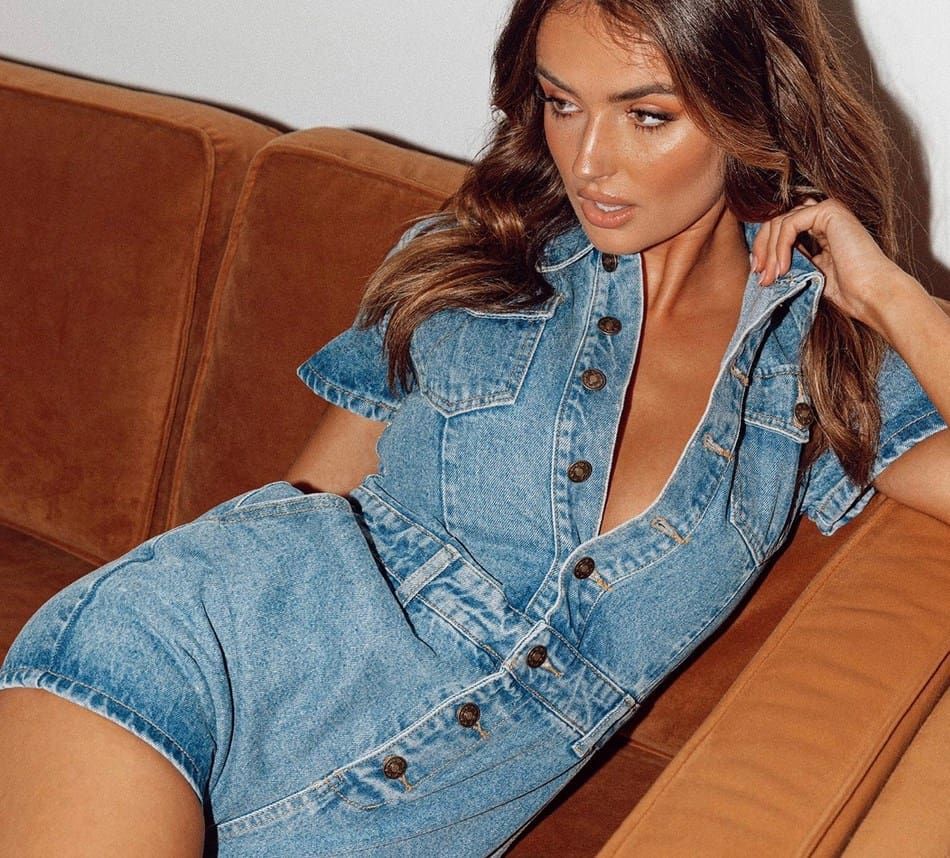 Want a little sexier pick for your wardrobe? This playsuit made by Lioness will surely capture your attention. Besides having multiple pockets and belt loops at its waist, it is also a great choice if you're planning to use some of your favorite accessories.
Pros:
Great for tall and lean body types

Fun to wear with different accessories such as boots and belts

Breathable cotton/spandex material
Cons:
Can be a little revealing

Runs small (Australian sizing charts)
Cosmic Flutter Romper by ATHLETA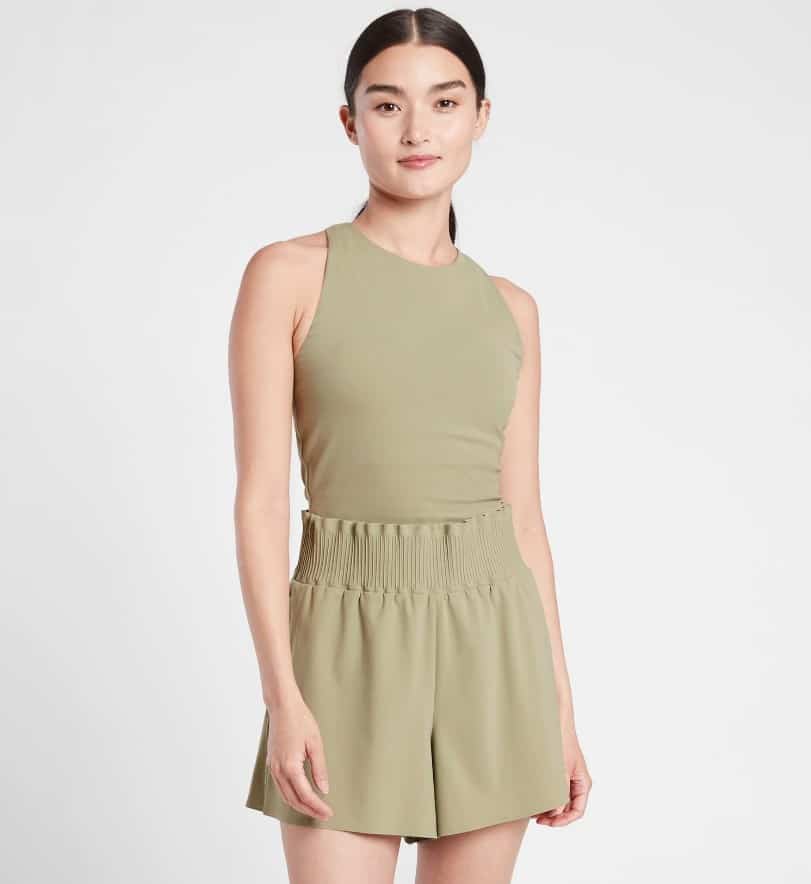 In contrast to cheaper rompers, this outfit won't give you a hard time since it comes with super comfy back zip – not hard to unzip at all. If you want to pack lightweight on your trip to a new city especially in summer, consider this affordable and lovely outfit from Athleta.
Pros:
Breathable like most rompers should be

Easy to wear and take off
Cons:
Some reviewers say it runs small

A little bit casual
Black Sleeveless Jumpsuit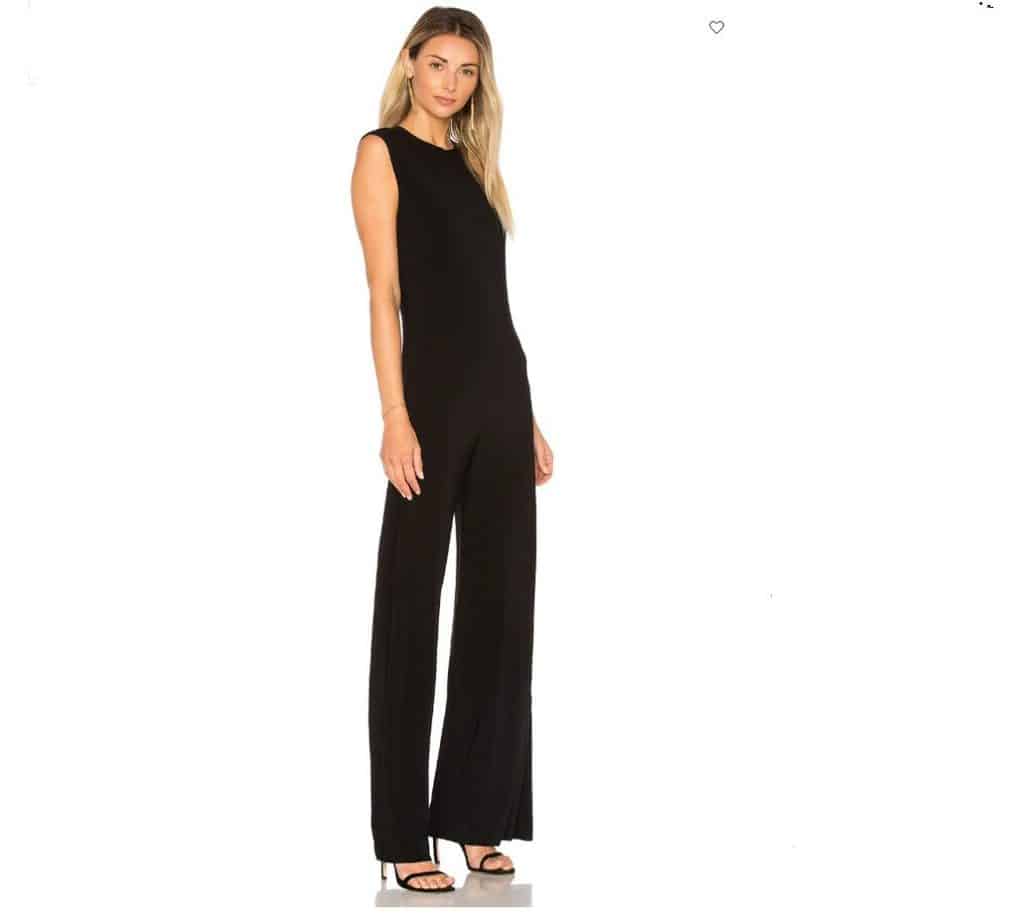 If you're tall and you want to try out a wide-leg jumpsuit, check out this black sleeveless jumpsuit designed by Norma Kamali. It's a very flexible outfit as you can pair it up with a variety of other elegant accessories. A simple yet elegant choice for a black jumpsuit.
Pros:
Can be dressed up or down

Has a smooth material

The lightweight and flowing silhouette

Classy black instantly elevates an outfit
Cons: 
More flattering on tall, slim body types

The fabric might come as too thin for your style

Polyester not as breathable
Linen Pinafore Dress VISBY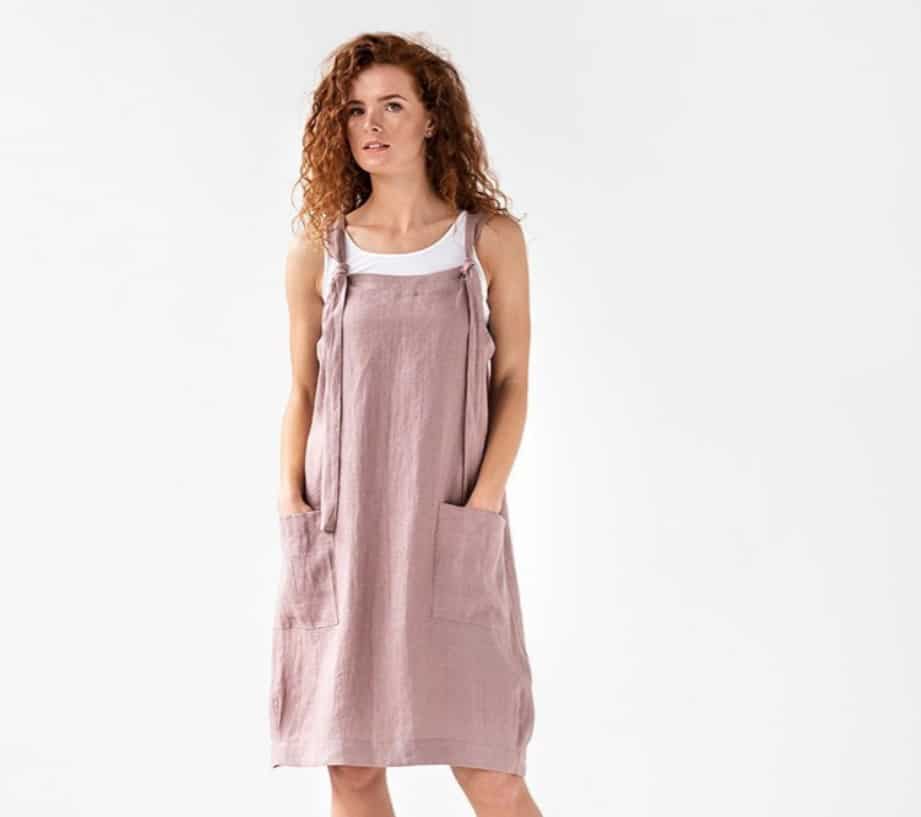 Looking for a simpler or casual look? this lovely pinafore dress from Magiclinen might be it! Besides the adorable look, it has two front pockets making it a super comfy knee-length dress even on a hot summer day.
Pros:
High-quality linen material

A great dress for summer

Handmade (made with love!)
Cons:
Only comes in "Woodrose" color

Can't be worn in cooler months
Retro Wool Pinafore Dress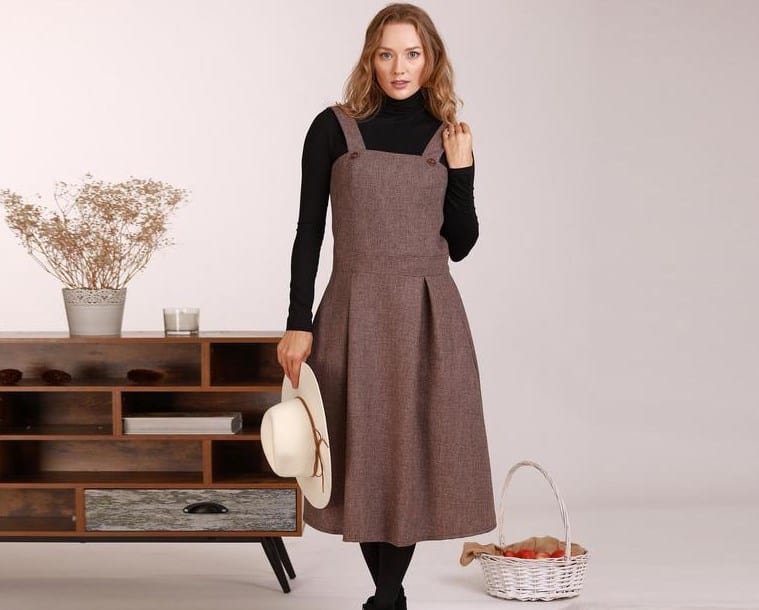 Since it's made from cool wool, this long pinafore dress from Etsy will fit perfectly as your winter dress. It's lightweight and warm, making it a great choice if you're looking for a long jumper.
Pros:
Comes in different patterns

Perfect for the winter season

Supports small business
Cons:
Meant more for dressing down

Ships from overseas (may be delayed)
My Go-To Jumper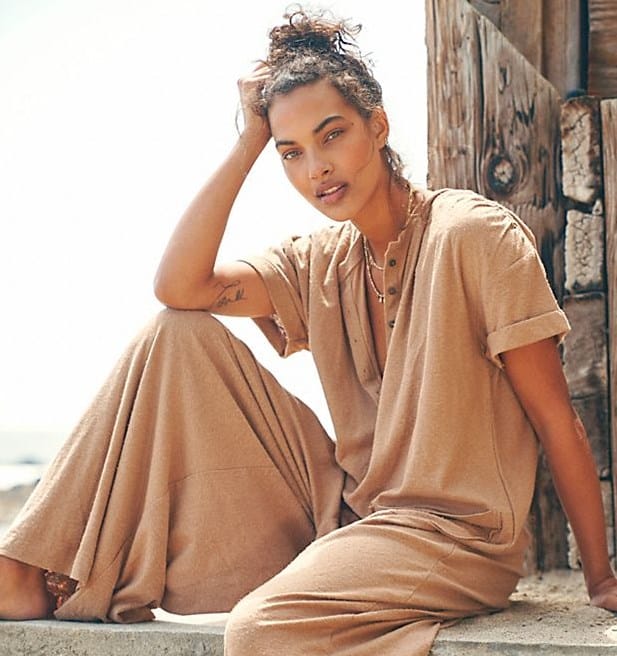 Want a more casual look when it comes to jumpers? Try this outfit out. If you're planning to replace your casual beachwear with something more serious and elegant, this outfit does an incredible job complementing your lean body.
Pros:
Great if you want to dress more casually

Super comfortable 

Very flattering cut
Cons:
Not for all body types (has wide legs)

Runs a little bit big
Linen-Blend Sleeveless Button-Front Jumpsuit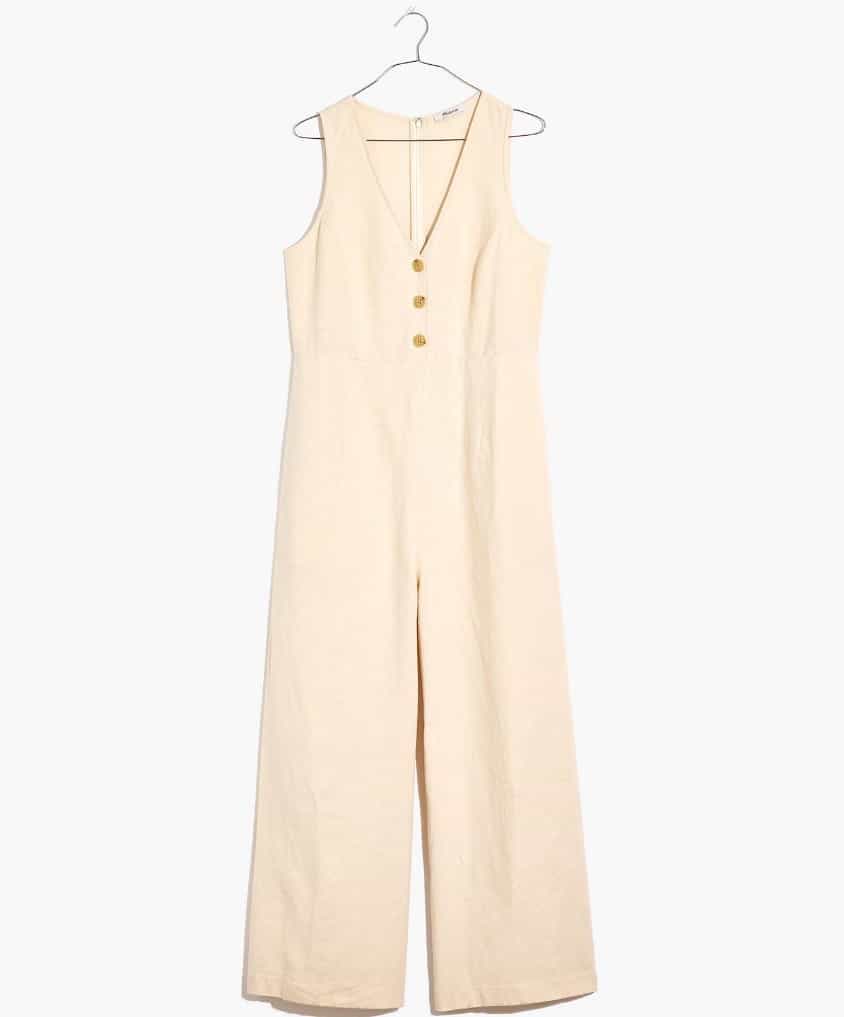 If you want a flexible outfit in your wardrobe, you might find this linen-blend jumpsuit by Madewell extremely desirable. It has an incredibly effortless yet clean look, making it a must-have, especially if you mostly pair your outfits with different accessories or other elegant items.
Pros:
Great for casual and formal occasions alike

Super worth it for its price

Very lightweight and breathable
Cons:
Only comes in a "bone" color

May stain easily

Not good for cooler weather
River Island Denim Pinafore Dress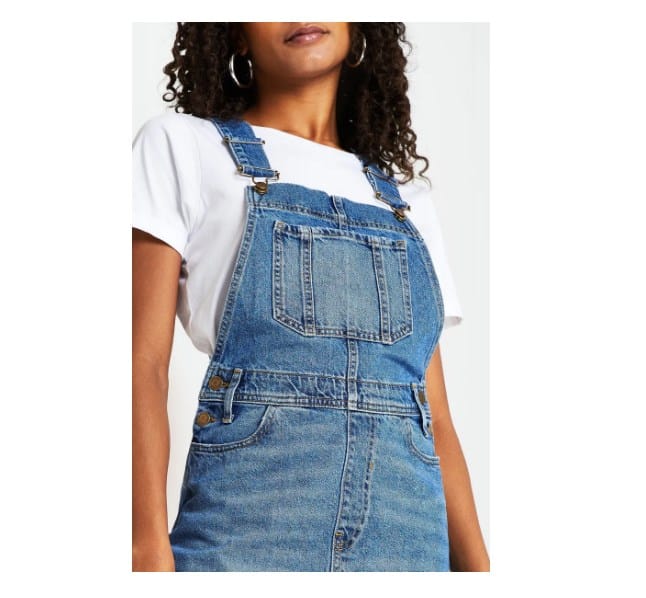 Although denim is probably the most common material for pinafore dresses, it's quite hard to find one that has real denim and high-quality fabric. Fortunately, Nordstrom offers pinafore dresses that are very different from those on Amazon. 
If you tend to be more easy-breezy when dressing casually, this old-fashioned pinafore dress is a must to include in your wardrobe. 
Pros:
Great quality denim

Easy to style 

Fun and playful
Cons:
May come as too short if you're tall

Runs small
Frequently Asked Questions
Question: Can I wear a jumper dress for a semi-formal occasion?
Answer: A jumper dress is a bit risky and inappropriate for a semi-formal occasion, but it ultimately depends if you can wear one that has the right fabric and style. The safer option for you would be to pick a proper formal dress. 

Having said that, if you are going to a formal occasion, A black or white jumpsuit would also be a better alternative since a jumpsuit is more appropriate for formal occasions. 
Question: Why do some people choose rompers overdresses?
Answer: Just like traditional dresses, there are also a variety of styles suited for different occasions when it comes to rompers. More women are choosing rompers over dresses since rompers are more comfortable and breathable. In addition to that, you won't have problems with windy days and sitting properly if you try on some romper dresses. 
Question: Is it hard to go to the bathroom if I'm wearing a romper or jumpsuit?
Answer: This is where you have to be a lot pickier when you're buying your rompers or jumpsuits. Rompers and jumpsuits are classy fashion trends for you to try out but sometimes they can be a bit complicated when you are about to go to the bathroom. 

However, if you know what to look for when buying or styling your outfit, you can avoid being extremely annoyed by it. Read this complete guide to know more about how to avoid being frustrated by your outfit.
Question: How can I determine my body shape and the right jumpsuit for it?
Answer: If you are still clueless as to what your body shape is, there are many websites that offer a calculator for you to find out what your body type is. On the other hand, if you want to know what kind of jumpsuits match your body shape, you should try taking a look here. 
Question: What's the ideal length for a jumper?
Answer: There is no such thing as an ideal length for a jumper since the best jumper for you would only rely on a few personal factors. Nonetheless, jumpers come in a variety of lengths ranging from small to medium-length or fully covered. All of them are equally popular and it's just a matter of style as to what you should wear. 
Final Thoughts: Finding the Best Jumper For Your Style and Body
Knowing everything about your preferred style, body shape, and other things regarding jumpers can be extremely useful, especially when you're trying to apply it to yourself or you just want to push your friends to try one out during your shopping spree. Naturally, the best jumper idea for you is probably the one that will make you feel the most confident and comfortable. However, If you are really new to the world of fashion when it comes to jumpers, we got you covered. 
If we had to choose just one recommendation from our list that you should try, we suggest that you look at the Linen-Blend Sleeveless Button-Front Jumpsuit from Madewell. Sleeveless jumpsuits are one of the safest options you could pick from if you're a jumper newbie, so it would be a great deal for you if you can pick a white or black sleeveless jumpsuit that's made with high-quality fabric. 
We hope that our guide helped you retain a better understanding of how jumpers, jumpsuits, and rompers work. Good luck finding your next best outfit!