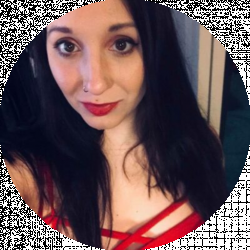 Latest posts by Stephanie Jensen
(see all)
Did you know the global apparel and footwear industry is worth $3.3 trillion? And a good chunk of this comes from women's fashion.
As a woman, wearing the right top is essential. Certain shirts flatter your figure, especially if they're made for your body type.
But it's difficult knowing which top will look best on you. That's because there are so many different types of shirts out there. Not only that, but some shirts look best on certain body types.
You'll also discover that these shirts are more complex than people think. That's because sleeves and necklines play a part in shirt type.
Here, we break down the different types of shirts as well as other factors that make shirts different.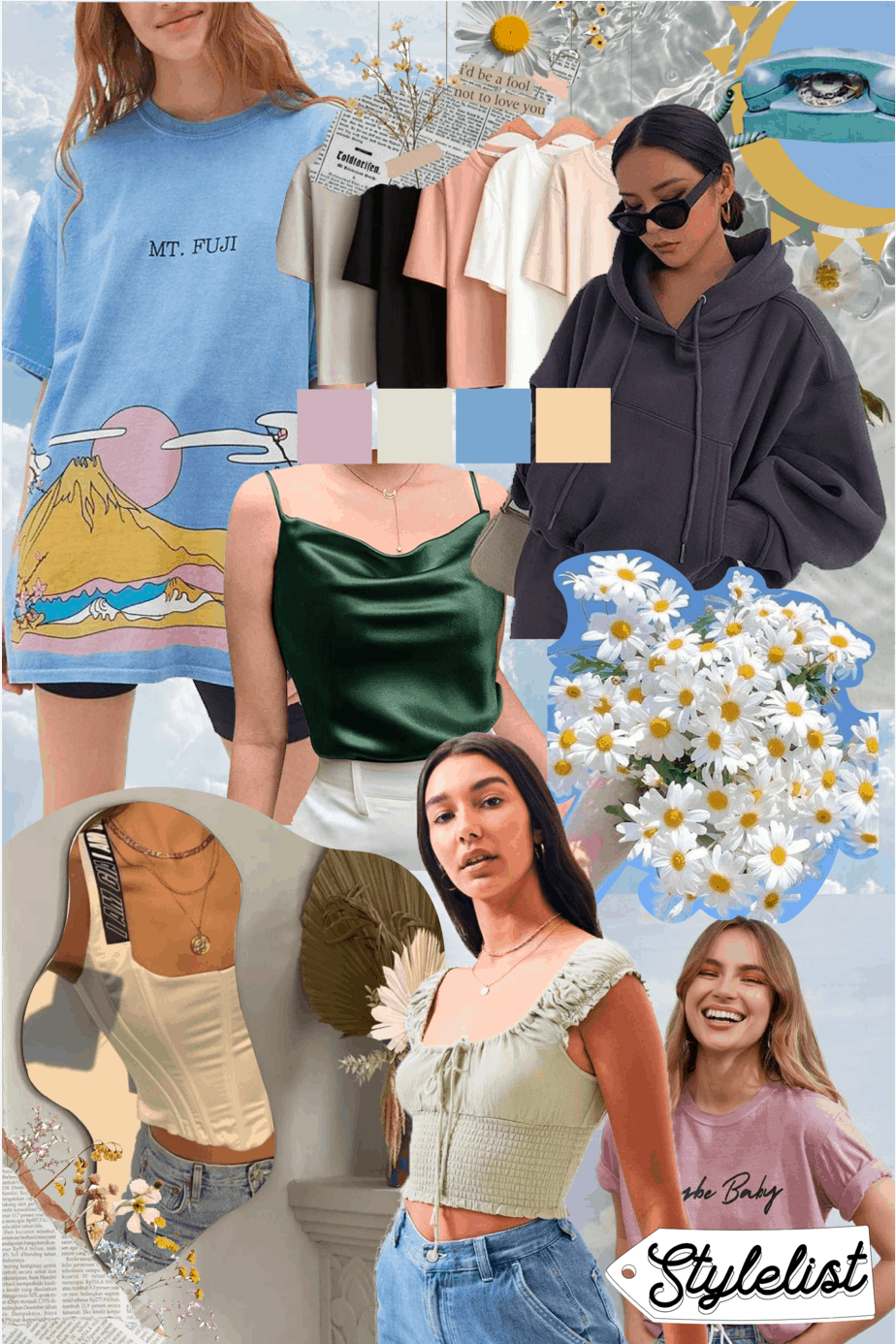 Different Necklines
Before we cover the different types of shirts, let's uncover the various types of necklines. The neckline influences the shirt style more than you think.
Cowl Neck
The cowl neck is rounded but looks like it's almost folded over. The fabric drapes in a round form, resulting in a unique neckline that looks flattering on just about everyone.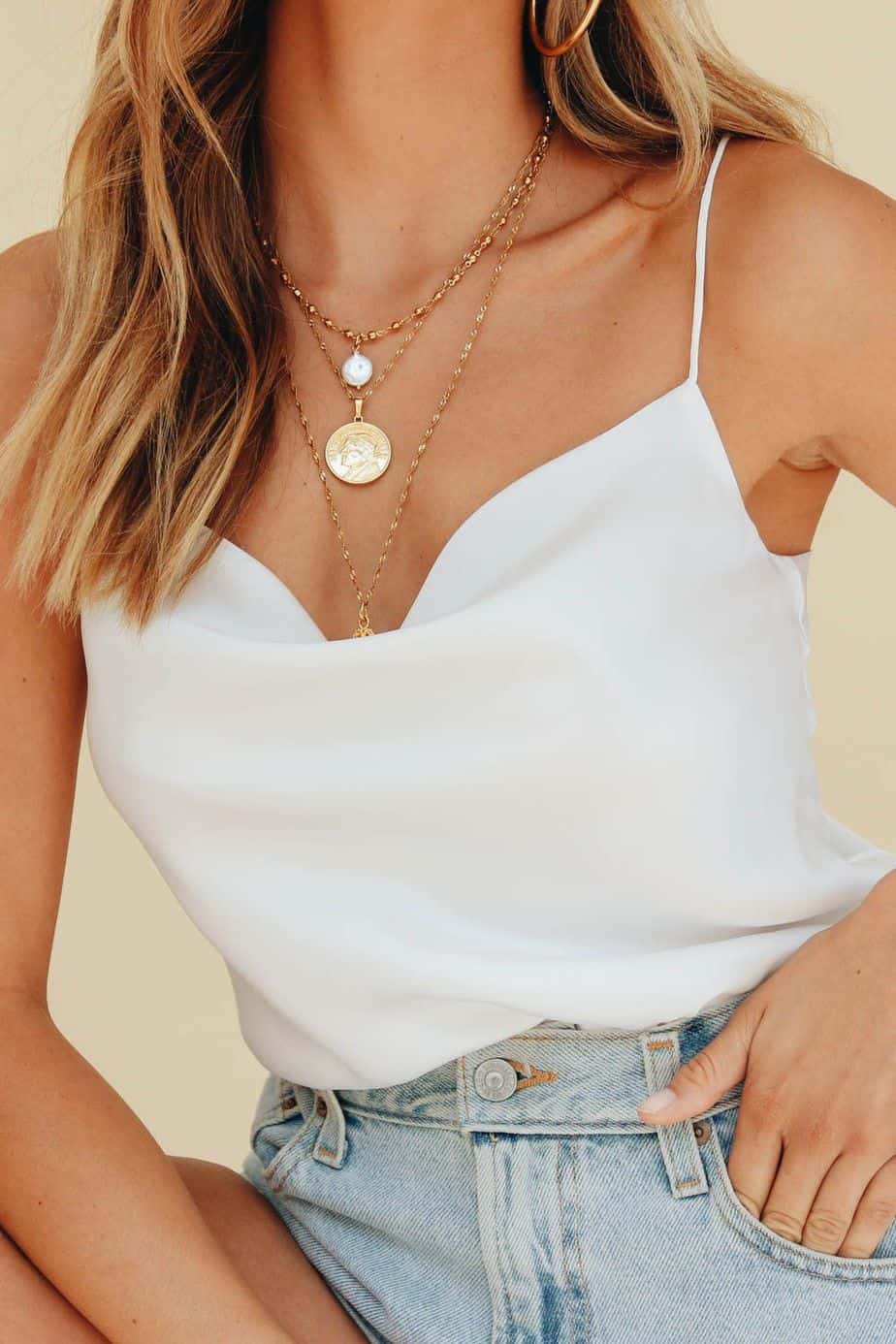 The best part? There are different types of cowl necklines that are suitable for all bust types. Women with a large bust can opt for thinner folds and women with a small bust can opt for a neckline with thicker folds.
Boat neck
Boat necks are high necklines that are wide, usually hitting at the collarbone. You likely saw them on Audrey Hepburn, the actress who made this popular neckline.
Boat neck gets its name from its nautical inspiration since sailor uniforms inspired this style. These necklines are very graceful and balance out wide shoulders and hips. They're also ideal for women with small and large busts.
Dumbbell neck
Halter necklines refer to anything that wraps around the neck. Halter tank tops are the most common since they're easy to tie and comfortable to wear.
Halter necklines are best for women with broad shoulders. The halter neck style draws the eye up and away from your shoulders, creating balance.
The halter neckline also looks great on women with toned arms, since your beautiful arms will be fully exposed. Since this neckline style is all about balance, it looks especially great on women with an hourglass figure.
Women with apple figures and large busts should be wary about choosing this neckline type since it can make your upper body look fuller.
Crew Neck
The crew neck is a go-to for many women. It's a simple neckline that doesn't show a lot of skin. This style is best for women who have sloped shoulders or a small chest. Women with a large bust should avoid this neckline; even though it's high up as the chest, the rounded style can add volume to your chest.
Off-the-Shoulder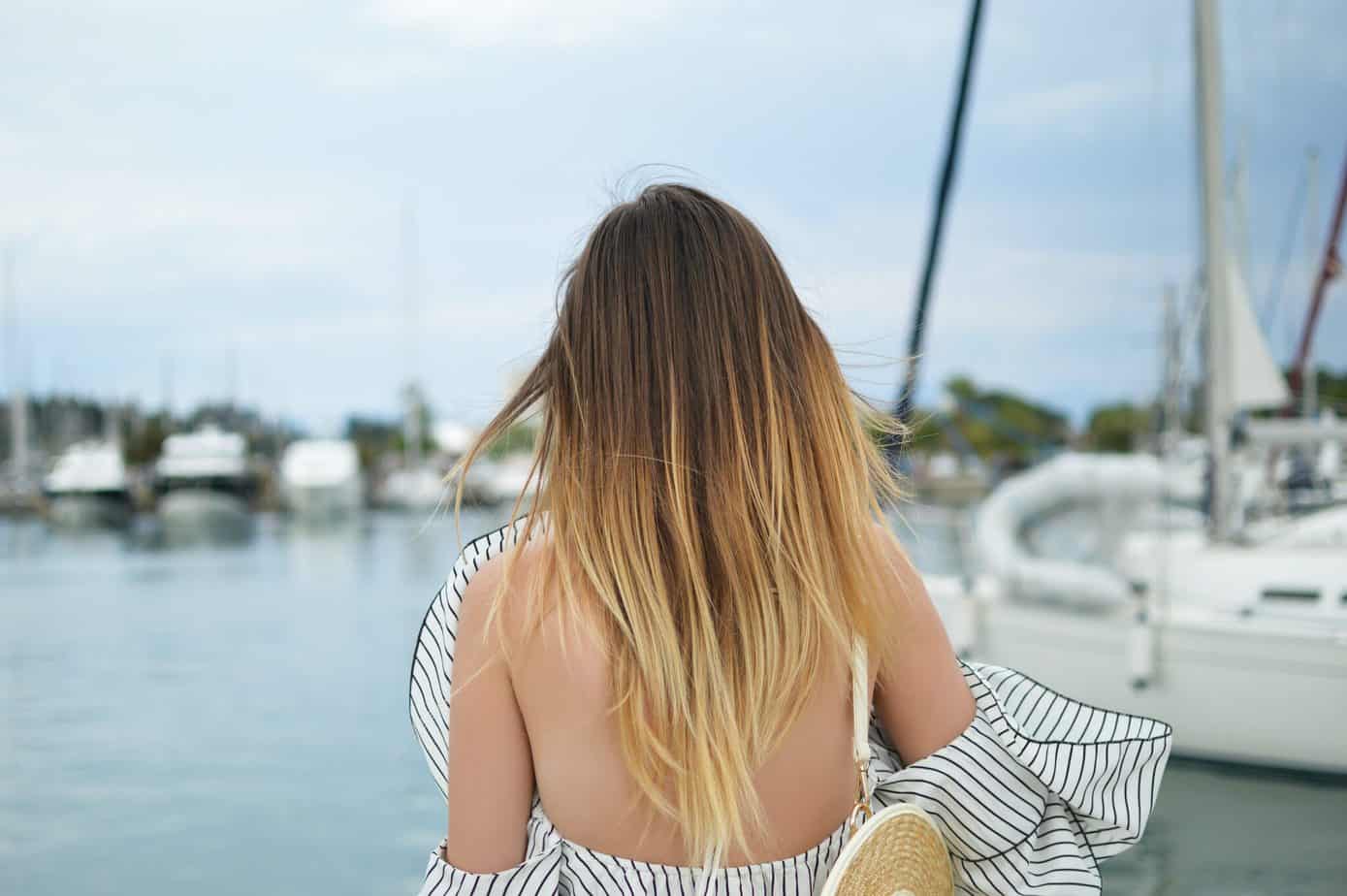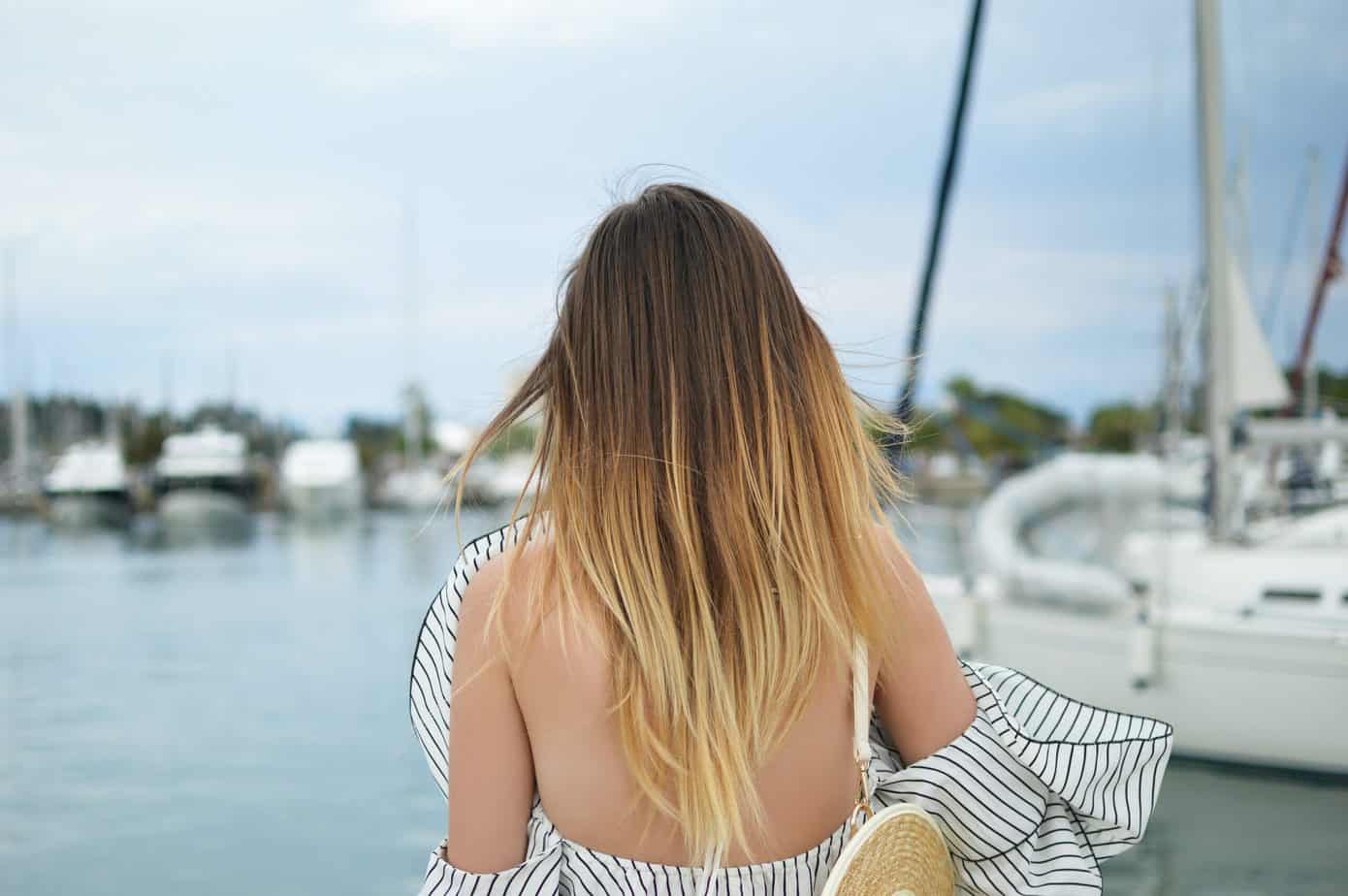 If you're looking to fill out your middle section, opt for an off-the-shoulder style. This shirt style was made famous by French icon Brigette Bardot, which is why they are also often called Bardot tops.
This top is very flirty, showing off your shoulders and chest. No matter your figure, you'll look amazing in a Bardot top.
Turtleneck
The turtleneck is a sophisticated style that hits extremely high, just a little below the chin. While turtlenecks look good on everything, choose a lower turtleneck for best results.
Scoop Neck
Scoop necks have a deeper and wider neckline. They lengthen your neck, but the neckline doesn't scoop too far down. This makes them look great on just about everyone.
One-Shoulder
One-shoulder necklines are exactly what they sound like — they only drape on one shoulder.
They're arguably the most dramatic of all necklines, looking best on smaller framed women. Women with broad shoulders should avoid this look.
Square neck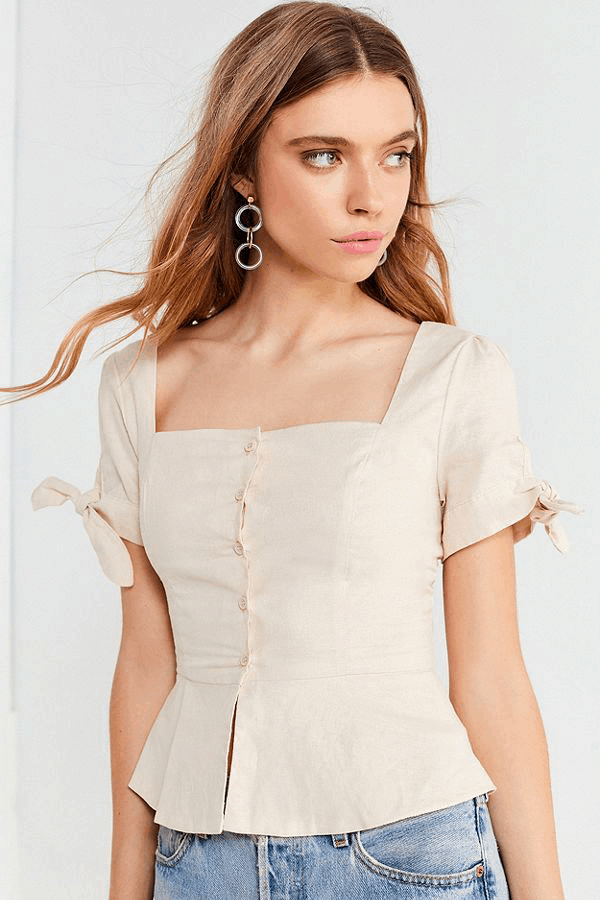 Square necks are very retro, gaining popularity toward the middle and end of the 19th century.
This neckline looks best on busty women since it frames the chest without revealing too much cleavage. They also balance out curves and lengthen narrow shoulders and a short neck.
Collar Neck
Collars are two flaps of fabric at the sides of the blouse. They're very fancy and can make any top look chic. While collared necklines can look preppy, the right collar looks very feminine.
It looks best on women who have a thin neck or a full chest. Add collared shirts also button up or dip down a little further, revealing a bit of skin.
V-Neck
N-necklines are the ultimate busty neckline. They dip down low, revealing your best "assets." This style is best for women with a small or medium bust; the V-neck may show off too much if you have a large bust. The V-neck is also a great neckline for petite women or women with a short torso since it elongates the chest.
Strapless
This is exactly what it sounds like — strapless tops have no sleeves at all. They show off your entire upper body, perfect for small-framed women. If you need the extra support, be sure to wear a strapless bra.
Types of Sleeves
Now that we covered the most popular necklines, let's go into the sleeves.
First, let's look at the different sleeve lengths. These include:
sleeveless

short sleeves

3/4 sleeves

long sleeves
Knowing these sleeves will help you differentiate between some of these shirt types.
The Different Types of Women's Tops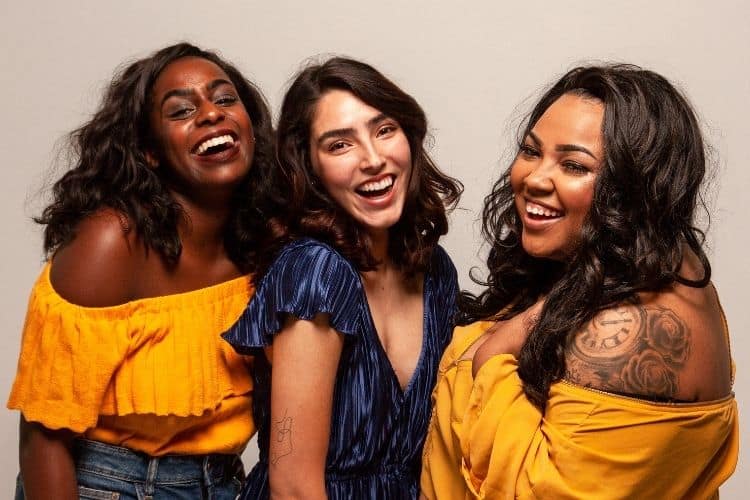 Now that we covered some of the essential basics, we can start explaining the different types of women's tops. Here are the most popular ones.
Asymmetrical
This top doesn't have a straight hemline and can be lower or higher in the front/back or sides. If you really want to look interesting, choose this shirt style. These tops are edgy yet creative, adding an artistic flair to any outfit.
Bralette
This top is a bra-inspired shirt. They're extremely cropped and fitted. Add even include cups. They're different from bras because they don't have the hook and eye enclosures.
Batwing top
These shirts look like you have wings!
They're sleeved tops with drapey fabric and deep armholes. Batwing tops are typically long-sleeved, though short-sleeved batwing tops are becoming more popular.
Boxy Top
Boxy tops are, well, boxy. They're loose-fitting and made of a thicker fabric.
Bustier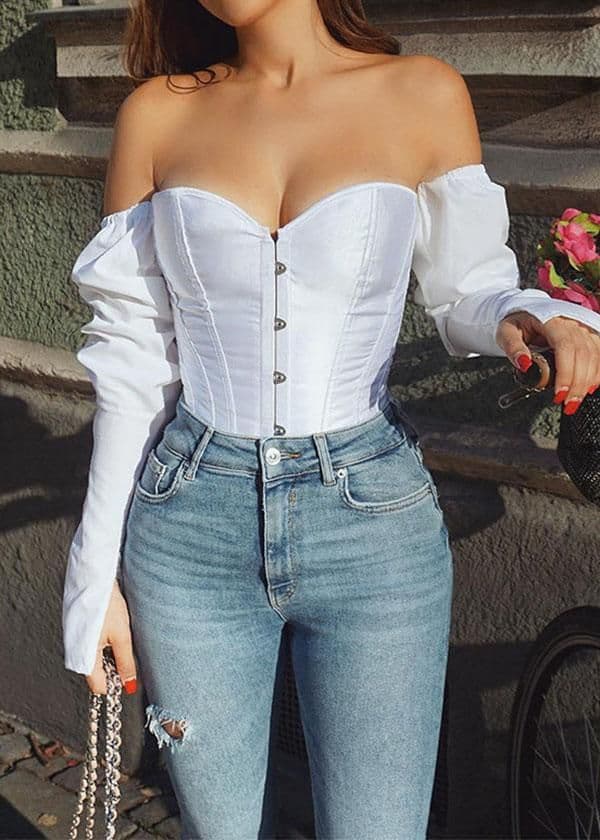 Bustier tops are form-fitting, hugging your curves. They look very similar to corsets, except bustier tops usually have sleeves.
They're usually made with brassier cups, giving your bust enhanced shape and support.
Bodysuit
The bodysuit is a one-piece and form-fitting top. It not only covers your entire bust but also your crotch. You can wear these either alone or with pants or a skirt over them.
Cape Top
The bottom part of this top is form-fitting, but extra fabric drapes over the neck and bust. It looks like you're wrapped with a cape, which is where this gets its name.
Camisole
The camisole is a form-fitting sleeveless top. The straps are very thin. You can either wear them alone with under another shirt.
Crop Top
Crop tops are short shirts, showing off your belly. However, there are different crop top lengths for all body types.
Sweater
Sweaters are warm tops made with knit fabric, often worn during the fall and summer. There are different sweaters, such as the cardigan. Cardigans are open in the middle, either buttoning or zipping up.
Corset
Not to be confused with a bustier, corsets are strapless and tight-fitting garments.
Historically, corsets had steel bones and lace to tighten the body, which creates a curvy silhouette. Today, you can buy corsets made with plastic bones and hook-and-eye enclosures to prevent this.
Choker Top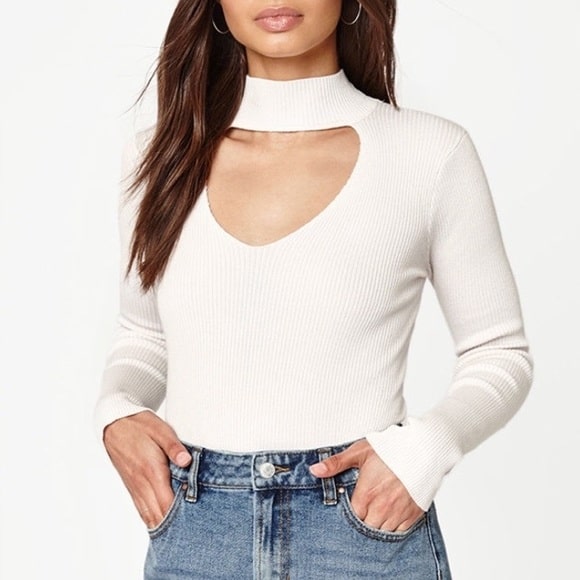 The choker top has a thin line of fabric under the neck, looking like a choker necklace. The neckline is usually a V-neck or a low-cut neck for emphasis.
Cold-Shouldered Top
This top style is very unique. It combines the sleeves of a tank top and Bardot top, only two pairs of sleeves are on the shoulders and arms. You may also hear this top called a "split shoulder top."
Empire Line Top
This shirt is fitted on top but flares out toward the bottom. It's flattering on many different body types, though it doesn't define your waist.
This shape especially works with petite women, since it lengthens the body.
Flashdance Top
This shirt style was made popular by the movie Flashdance . It has an off-the-shoulder neckline, but it moves more to one side. It's a very loose shirt with long sleeves and is usually in a neutral color.
Henley
Henley tops are collarless pullovers, especially with a few buttons. They're usually made of cotton and can have either short or long sleeves.
Keyhole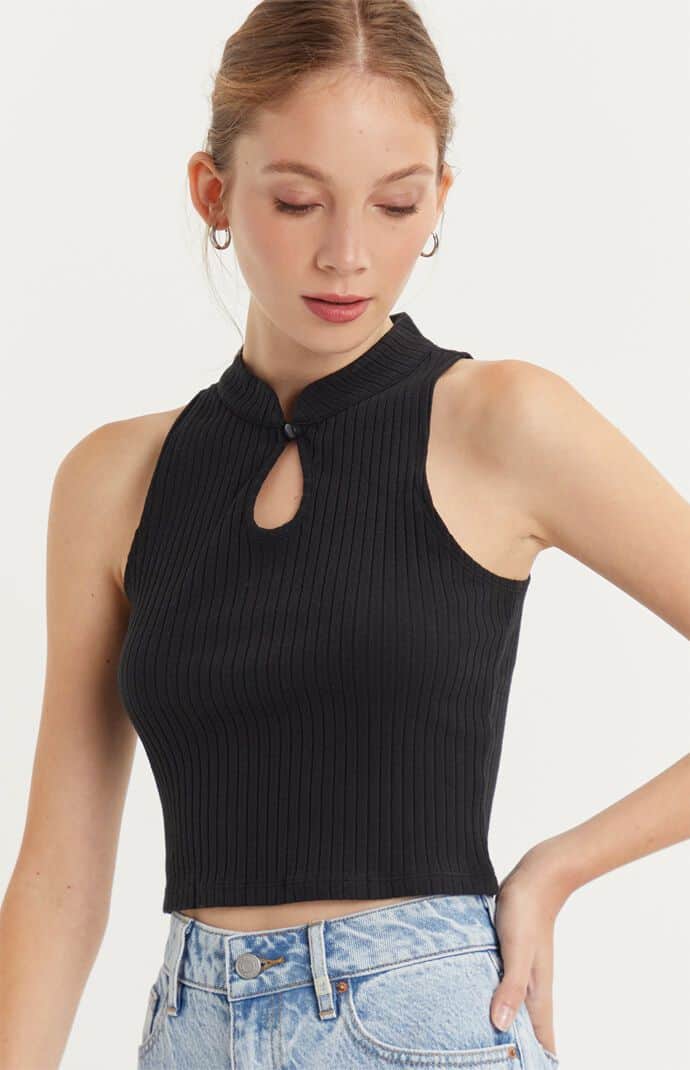 Keyhole tops have a small cut-out in the center top of the shirt. That's where this style gets its name since the cut-out looks similar to a keyhole.
Layered
This type of shirt has more than one layer of fabric. Both fabrics are usually flowy, like a chiffon shirt.
Lace Up
This type of shirt has laces going up and down. Unlike the corset, where the laces are in the back, lace-up tops can also have laces going up and down the sides.
Poncho
A poncho is an oversized cloak-like top that drapes over the whole body. There's only an area on top to insert your head — this top has no defined sleeves.
Peasant
These tops are very casual. They're loose but not too long, with puffed sleeves and a wide neck. Most peasant tops have embroidery and smocking on the waist.
T-Shirt
Everyone is likely familiar with the t-shirt. These shirts have rounded necklines that sit at the base of the neck with sleeves that end at the upper arm. They're basic but also comfortable, perfect for laying around the house or running errands.
T-shirts can be either baggy or fitted. Many t-shirts also have graphics, such as shirts for sports teams and bands. You can also find plain t-shirts in just about every color.
Tunic
Tunics are longer than traditional shirts, going past the hips and sometimes down to your knees. Most tunics are loose-fitting, making them very comfortable. They look great on virtually any body type.
Flannel Top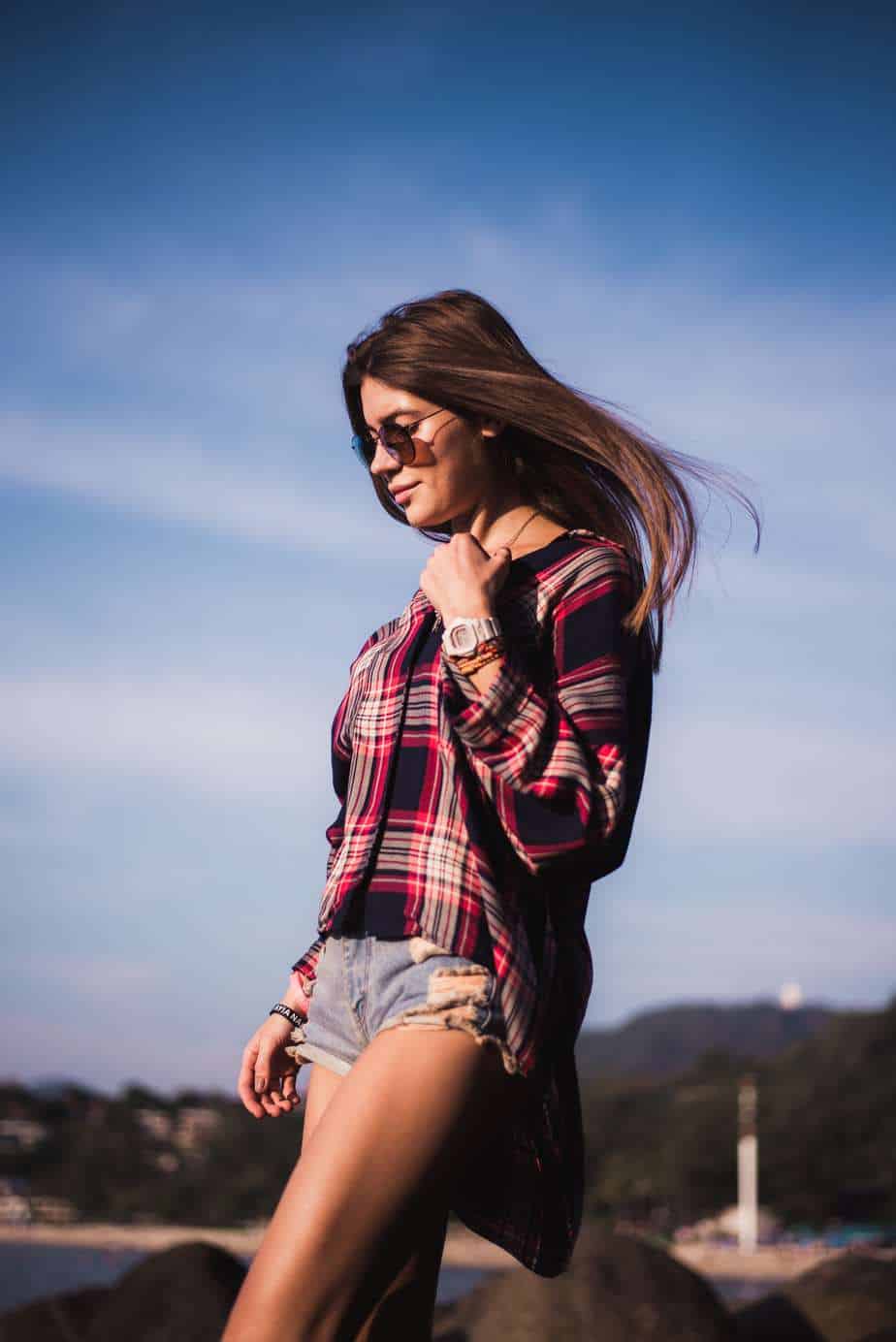 Flannel tops made their peak in the 90s, but are still popular now.
Most flannel tops are button-down with long sleeves, though you can button up the sleeves to make them shorter. Flannel tops are relatively long, though you can easily tuck them into your pants.
Women love flannel tops because they have a relaxed feel to them and the material is often soft. Plaid-patterned flannel tops are the most popular, but you can find flannel tops in virtually any color and pattern.
Button-Down Shirt
Not to be confused with the flannel shirt, button-down shirts are more formal than flannel shirts. They're usually made of better materials, have a more defined collar, and most button-down shirts are full long-sleeved.
This makes them the ideal choice for the office. But there are button-down shirts that are more casual, ideal for the night out.
Wrap Top
Wrap tops are exactly what they sound like. The fabric wraps around the top, usually in the middle. They create the illusion of curves and only accentuate existing curves. While wrap tops are casual, they're stylish enough for a date or a night out. Overall, they're universally flattering and are a must-have for all women.
Statement Top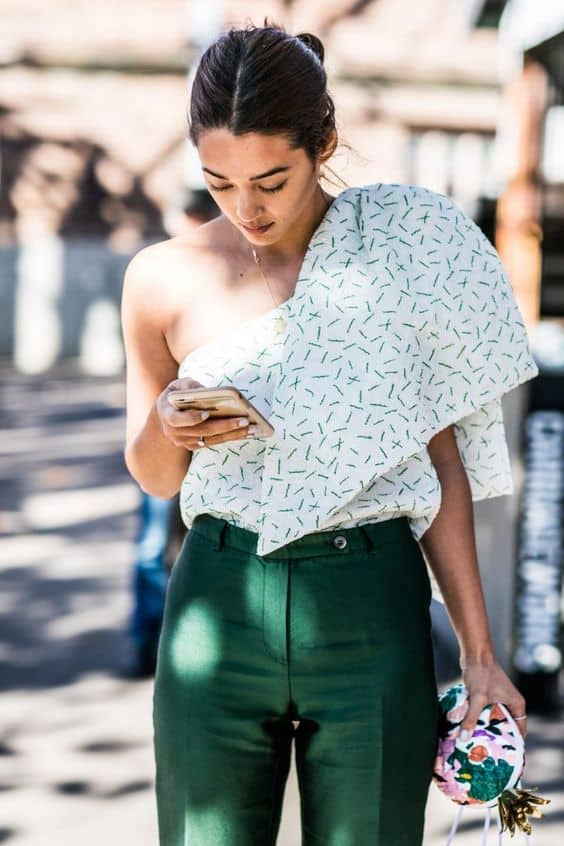 What is a top statement? Well, anything that makes a statement. These tops are very versatile. You can make a statement by wearing a bright-colored top, rocking a blouse with sequins, and the options are endless. Statement tops are the most fun to wear when you're going out with friends.
Tie-Front Top
This top is exactly what it sounds like. There's an area at the front where you can tie the shirt. While most tie-front shirts are cropped, you can find varieties that go down to your waist or even hips.
X-Ray Top
Commonly called the see-through top, it's, well, the see-through top. The top is purposely made with a transparent and/or thin fabric. You're meant to wear a tank top or bralette under them.
Yoke top
A yoke is a pattern that almost looks like a bird's wing. You'll see this pattern on the neckline and shoulders. The shirt usually has a contrasting color or print; the top of the top before the yoke will be different than the rest of the shirt.
Back Pattern
These tops feature a, well, pattern on the back. The front is usually plain, accentuating the back even more. This pattern is usually cut into the fabric and can be anything.
You may even see patterns made with lace and zippers. The goal of these tops is to look eye-catching and unique. Some patterns are also sensual, showing off plenty of skin.
These tops are perfect for a night out. Wear them to a date, girl's night out, and parties.
Frocks
Frock tops are very popular in the summer because they're airy. The material pleats toward the bottom, flowing outward slightly. They're usually made with a cotton-polyester blend. Since they're summer tops, you'll often find frocks made with bright colors and other summer-y designs. Some frock tops are sexy, made with lace accents.
Hoodies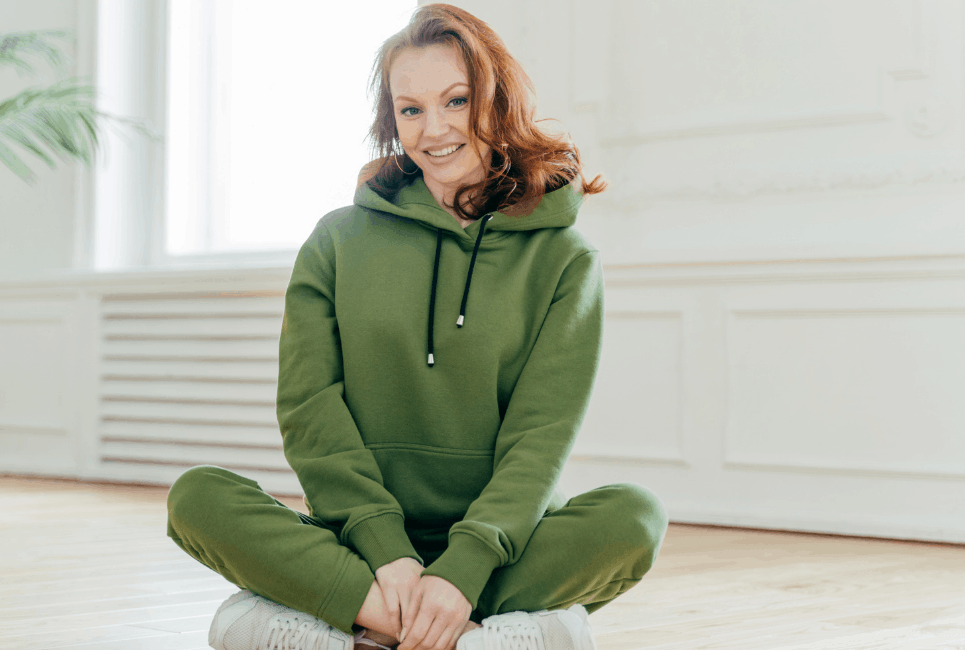 Hoodies are pullover sweaters with a hood in the back. The hood is meant to cover your head. Hoodies are perfect for chilly days because they're warm. You can also wear hoodies when you're exercising or just want a casual look.
Fishnet
Fishnet tops have a fishnet design and are see-through underneath. You're meant to wear a tank top or bralette underneath them. They have a unique and edgy look to them, though they're extremely comfortable.
Fishnets are so versatile, and you can find fishnet tops in a wide variety of styles. Traditional fishnets are casual, ideal for wearing on a day or night with friends. But there are also fancier fishnet varieties. Classic fishnet tops are black, though you can find fishnet tops in just about any color.
Ruffled Shirts
Ruffled shirts have multiple frills (called "ruffles), usually at the front of the blouse near the neckline. You can also find ruffles on the sleeves and other parts of the shirt. They are often made with soft fabrics.
This makes them equally stylish and comfortable, ideal for a long day of running errands before going out for the night.
Ruffled shirts are usually not ideal for formal events; the ruffles give off a casual look, just be sure to save these tops for a day at the beach or even a party.
Best Places to Buy Tops
Now that you know about the different types of tops, it's time to go shopping! Here are some of our favorite stores.
Matches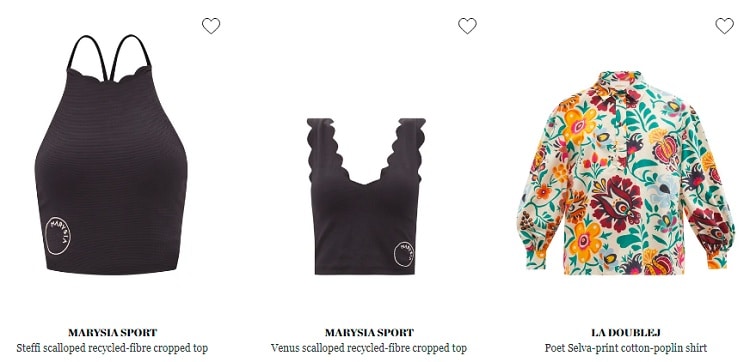 Matches is ideal if you want minimalistic clothing but are also looking for quality. All of their clothes are modern and stylish, so everything you buy will keep up with the current trends.
They sell a variety of clothing for all occasions — from a daytime look to a night out and even options for the office. They also sell items for all seasons, so you can turn to Matches for all of your clothing needs.
Bloomingdales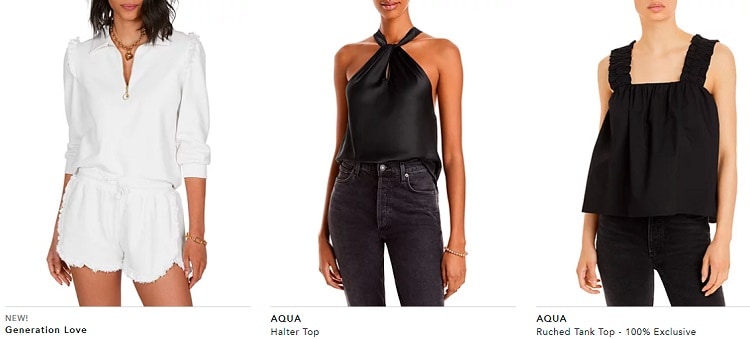 Bloomingdales is a classic choice when finding a clothes store. Their clothes are made with high-quality materials and all of their clothes seriously last! They have a diverse catalog and their clothing is meant for all women of all shapes and sizes.
Bloomingdales also sells a variety of different clothes and items for men. There's likely to Bloomingdales near you or you can shop online.
Shopbop
If you prefer to take your shopping online, you'll love Shopbop ! Their clothes are also very minimalist but are versatile enough to attract all women. Shopbopsells a myriad of different clothing styles and also has a wide size range. They also sell clothing for any occasion, so you'll always find what you're looking for.
Neiman Marcus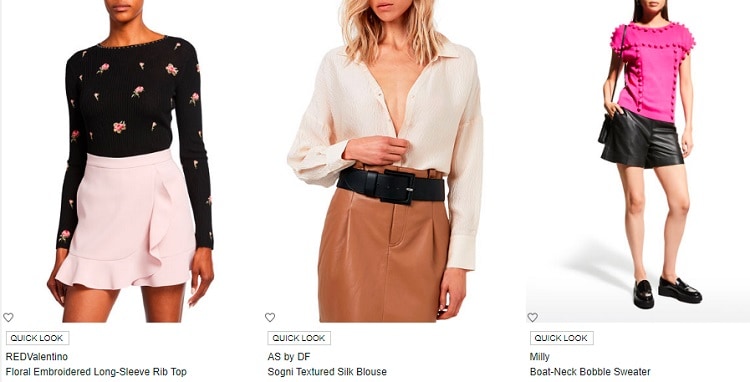 Neiman Marcus is popular because they have a huge catalog. You're always bound to find what you're looking for. This is also the store to choose if you want designer clothing; they offer the biggest brands and names in fashion.
Neiman Marcus also sells accessories, shoes, dresses, pants, skirts, and even clothes for men and kids.
Nordstrom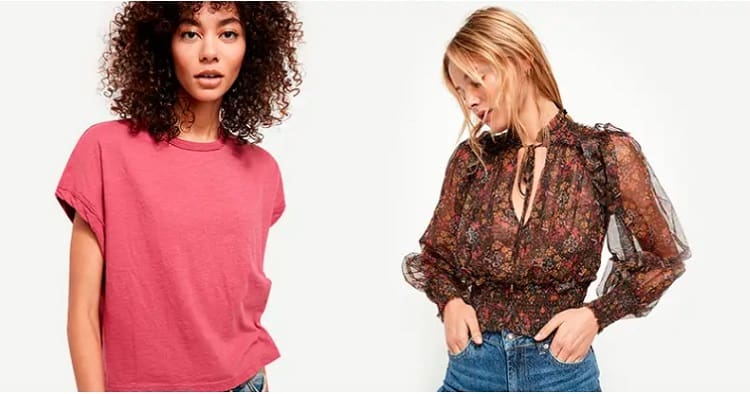 Nordstrom is another popular and versatile clothing store. They have a diverse catalog and sell clothes for just about everyone, no matter your size.
You can also find Nordstrom clothing in a variety of price ranges, including a generous sale and clearance section. Plus, you can shop for men's clothes at Nordstorm, too.
Revolve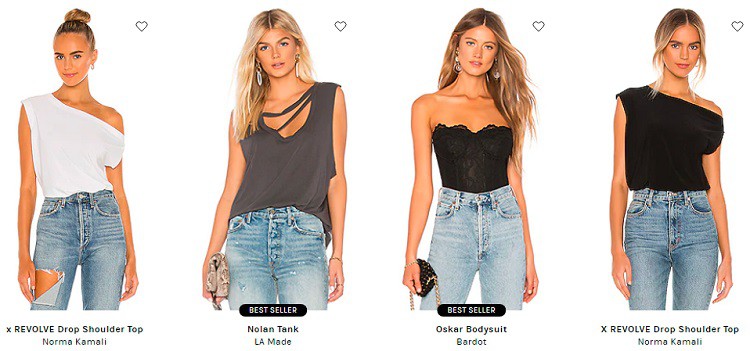 Revolve is the store to shop at if you want tops that are edgier and overall more intriguing. Their entire catalog is a lot of fun and you'll love the way you look practically wearing in every shirt you're.
Revolve also makes their clothing with comfortable material, so you'll not only look cute but you can wear their clothing all day.
FAQs
Question: Which Tops Are Trending Right Now?
Answer: If you're buying new tops, you'll want to know the ones that are seriously trending right now. Here are the tops that are in style in 2021:
– Bardot
– Aline
– Bodysuit
– Blouson
– Bralette
– Boxy
– Shirt
– Cape-style tops
Question: What Should You Wear With These Tops?
Answer: If you're putting together a stylish outfit, you'll want to know some great items to match your super cute top! These clothing items will go with virtually any shirt:
– Jackets
– Blazers
– Handbags
What if you're just hanging around the house? You can never go wrong with your favorite pair of sweatpants!
Question: What Tops Should You Wear With Skinny Jeans?
Answer: Are skinny jeans your favorite clothing item ever? You'll want to know which tops to match your massive skinny jean wardrobe!
Tank tops are the ultimate piece to wear with skinny jeans. But when the weather is cold, rocking the tank tops is not really an option. Fortunately, leather jackets or a pullover sweater look great with skinny jeans. Denim jackets are also a great option if the weather is still too warm for a leather jacket.

Just about any loose-fitting blouse looks great with skinny jeans. This is ideal if you're trying to look fashionable but conservative. If you want more of the corporate look, opt for a button-down blouse.

Peplum tops are also a perfect match with skinny jeans since they're very stylish and ladylike. If you're running errands in your favorite pair of skinny jeans, be sure to wear a t-shirt for comfort.

What if you want to amp up the sexiness? High-waisted skinny jeans also look super cute with a crop top!
 
Question: What Accessories Should You Wear With Tops?
Answer: Scarves are by far the best accessory to wear with these tops. If it's too warm for a scarf, then rock something on your head. Great recommendations include beanies, cowboy hats, floppy hats, baseball caps, and more.
Wear These Amazing Tops In Style!
There are a variety of blouses that every woman should wear. No matter your shape or size, there's a top for you. Take a look at these types of tops and go shopping!
What if the t-shirt is your go-to? There's no shame in that, but you'll want to buy the best t-shirts. Here are our favorite t-shirt brands.
Further Read: