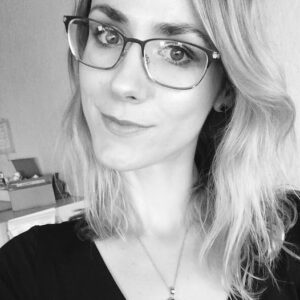 Latest posts by Karyl Trejo
(see all)
We use the term "blouse" to talk about a garment that fits loose on the upper part of a woman's body. Some of them aren't collared, and they rarely include buttons at the front. They also usually cover the body from the neck to the waistline.
It doesn't sound like anything too complicated, but still, it's a trend that has changed a lot over the years. And in all of these changes, simplicity has prevailed. As Carolina Herrera once said, "Sometimes the simplest things are the most profound."
Today, most of the time, people use the word to refer to feminine and elegant clothes. Centuries ago, people exclusively used the term for children, artists, and men's clothes, instead of being only associated with women.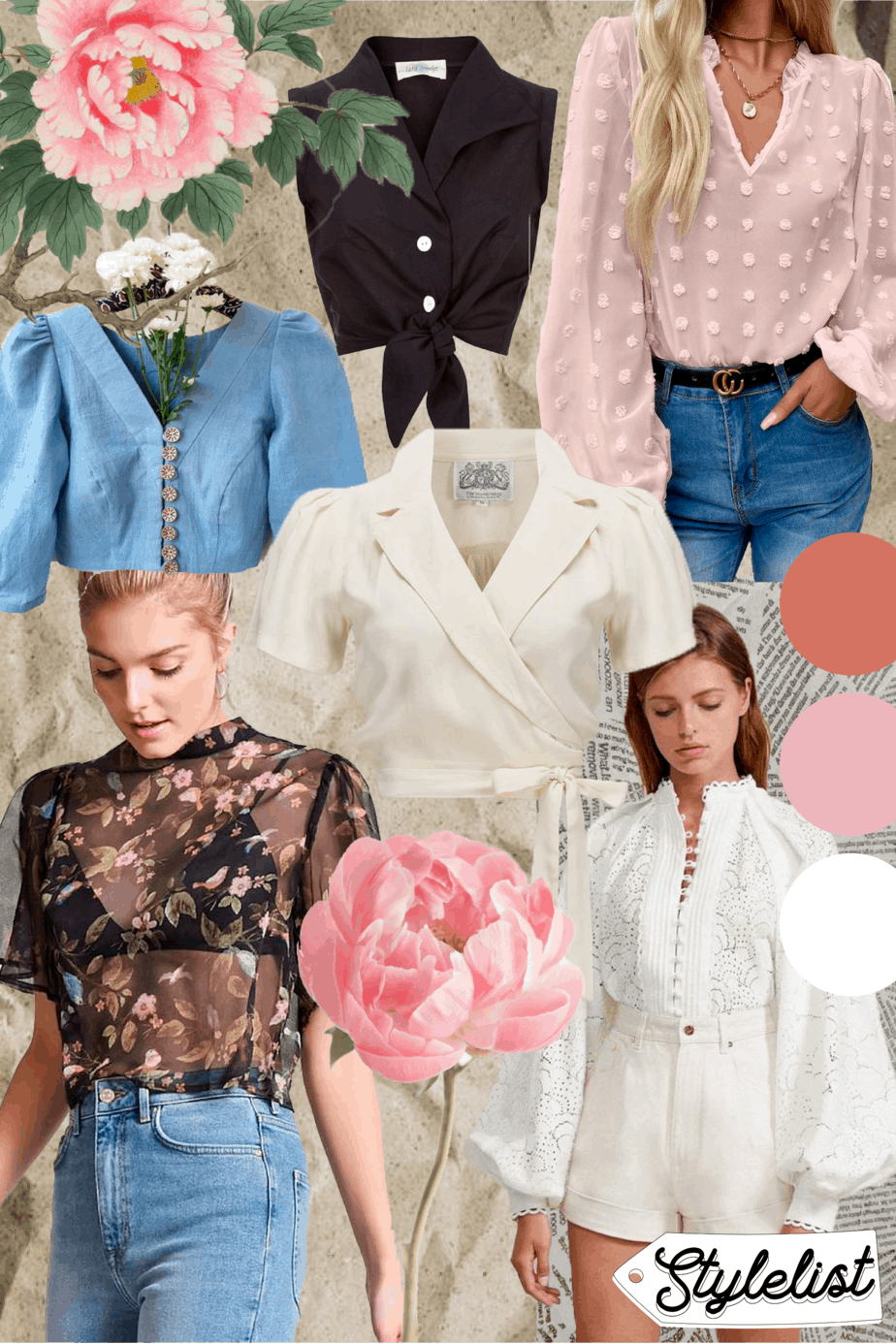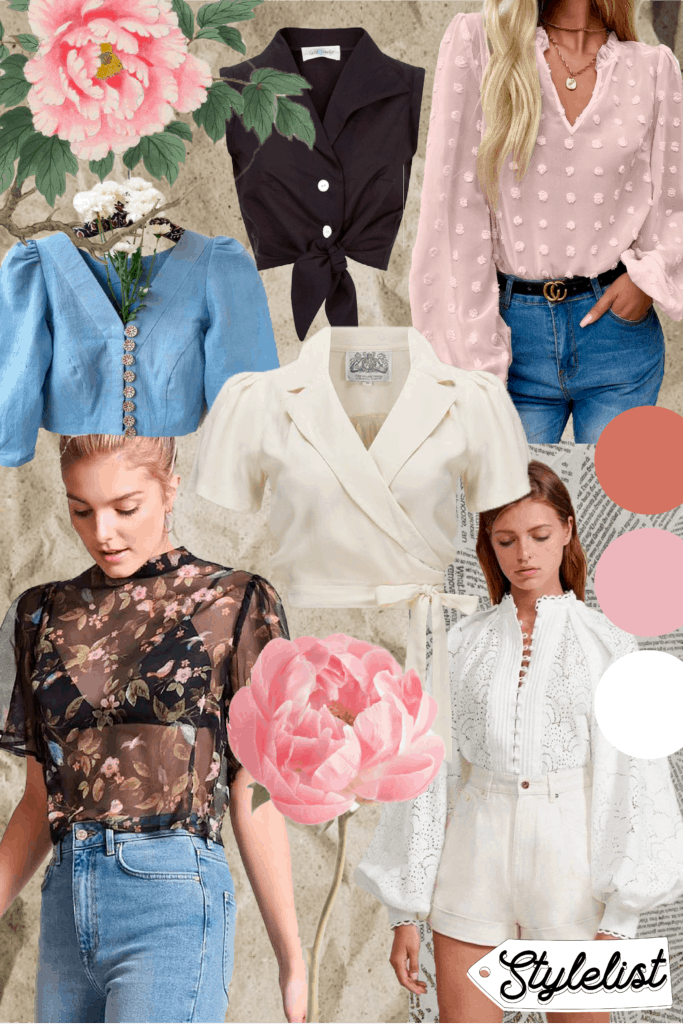 Blouses and Their Importance
Fashion is constantly changing, and one perfect example of this is the history of the blouse. It's a garment that went over some drastic changes until being what it is today. How did that happen?
The Beginning
In 1800 and way before that, blouses were almost solely for anyone but women. Not because women couldn't use them, but rather because it wasn't fashionable. Women usually wore dresses, so of course, the blouse didn't seem like a safe choice. Only children and men used blouses, and it stayed that way until 1890. By then, women started to wear pants.
Women Start Using Blouses
By 1890, blouses became a part of a women's wardrobe. In work offices, the usual dress code for women included a skirt and a blouse. It gained popularity quickly since most people considered pants too masculine but a dress too formal.
A skirt with a blouse was the perfect combination for going to work and looking feminine and fashionable. It was also comfier than the late Victorian dresses, with their tight corsets and bustle skirts.
However, these first blouses for women were very ornamented. This idea was probably a way to make them more appealing to the women's public and separate the thought that only men used them.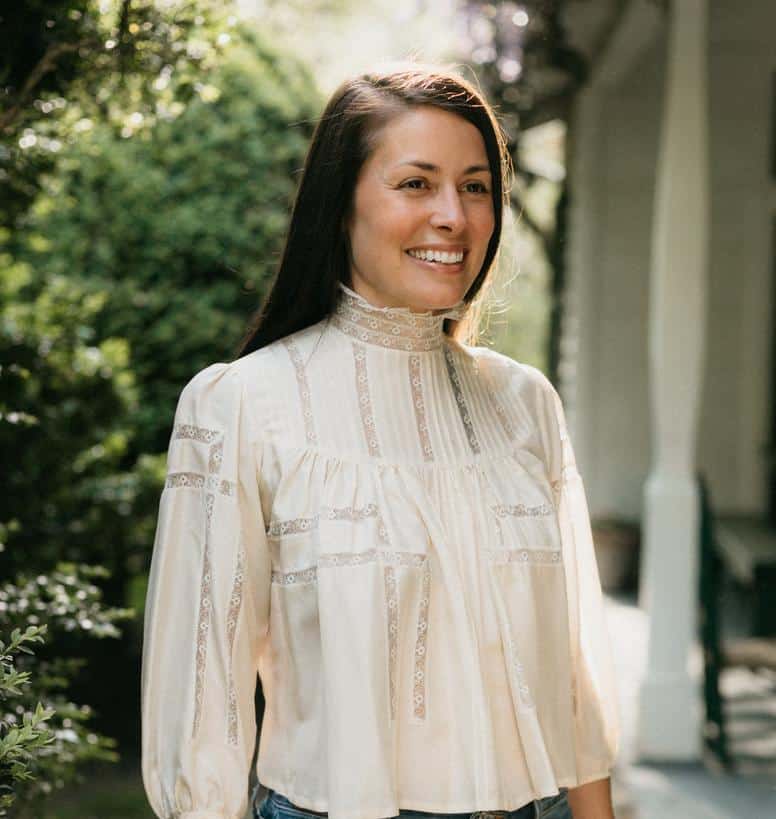 One particularly charming design was the "Gibson Girl Blouse," a blouse with a high collar made of silk or cotton.
From Ornamented to More Simple Designs
To appear feminine, most of the blouses were long-sleeved and full of tucks and pleating. Nevertheless, and as years went by, there were short sleeves, bell sleeves, or bishop sleeves. (We explain those sleeves later in the article).
In the 1920s, as it happens with fashion, there was a specific design on-trend. People called it the jumper blouse, and here is when the sailor collar became popular. Actually, designers improvised all different types of collars and sleeves in that decade.
Simple, But Make It Colorful
Art Deco's fundamental elements are geometric shapes and simple, straight lines. It was an art movement that started in the first decades of the 20th Century, but it became more known in the 1920s. Art Deco didn't stop at decoration, and it also influenced films, sculptures, and fashion. What always prevailed was the interest in beauty and art.
That way, blouses stopped being so plain and started being interesting.
Some other popular designs were the peasant blouses, inspired by Puerto Rican dresses, and silk blouses inspired by fabric used in the Chinese middle ages.
Another change that came through blouses was the collar's size. They were big in 1920-1930, but they got smaller in the 1950s.
More and More Women Give the Blouse a Chance
Polyester started in the market in 1950, but it kept growing and became popular in the 1970s. By this decade, designers experimented with different types of fabrics.
At the start of the 1980s, some in-demand collars were the rounded collar, the extra-wide collar, and the sausage dog collar. The sleeves also changed because designers made them with the premise to stand the woman's best attributes. For example, short sleeves work to give the illusion of an arm slimmer than it is.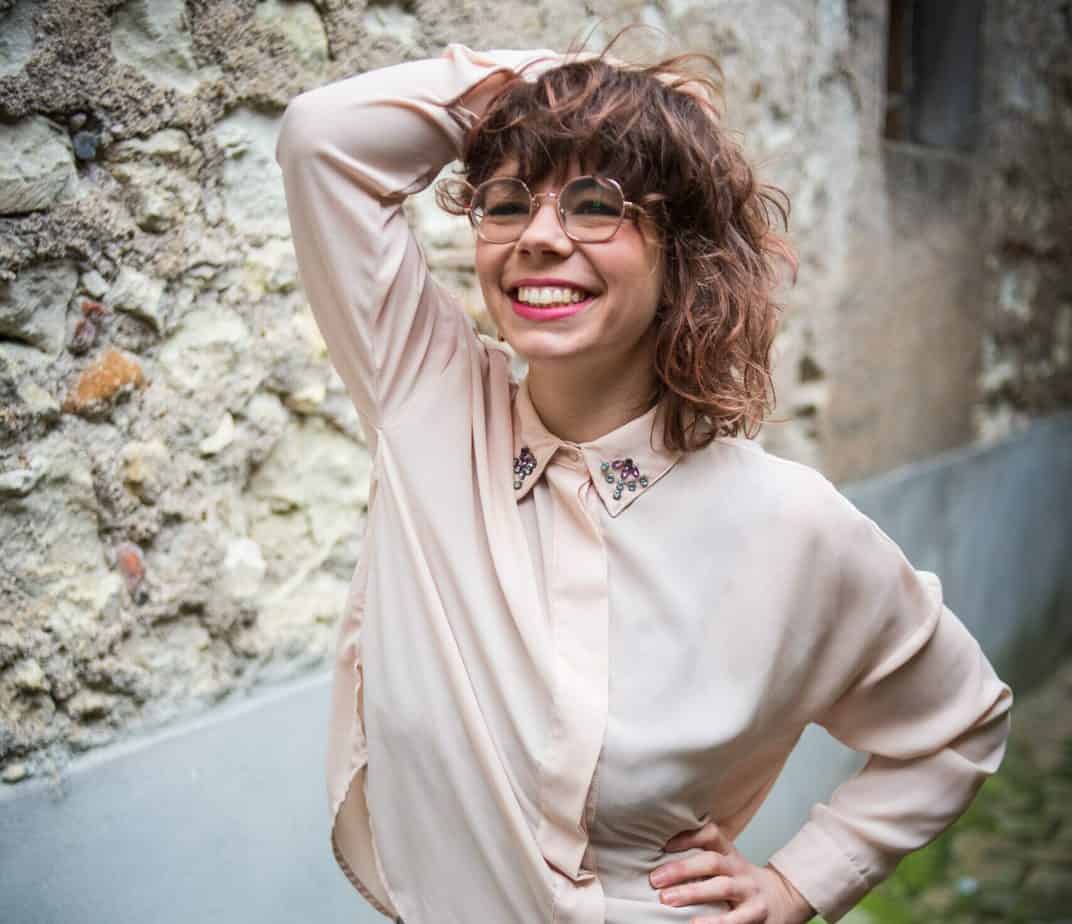 By 2000, sleeveless tops were also fashionable to wear, especially during summer.
Now, it's hard to know which design prevails over the others. Designers still experiment with some older patterns now and then, allowing women to look chic. It's amazing!
How To Choose The Best Women's Blouses Ideas?
Blouses are one of the most versatile kinds of clothes. However, they have existed for so long that there are too many types from where to choose. This variety is astounding, but it also raises a lot of questions. Which type of fabric is the best one? Does every style suit me well? Which one should I buy if I want a blouse for work? Or which one should I buy for a party at night?
That is why today we collected everything you need to know about blouses to help you in your way to buying the best one.
Fabric and Texture
The fabric is the most crucial factor over all the others left in this list. That sentence is partly true in every piece of clothing, and it is something you have to be careful about when buying new clothes.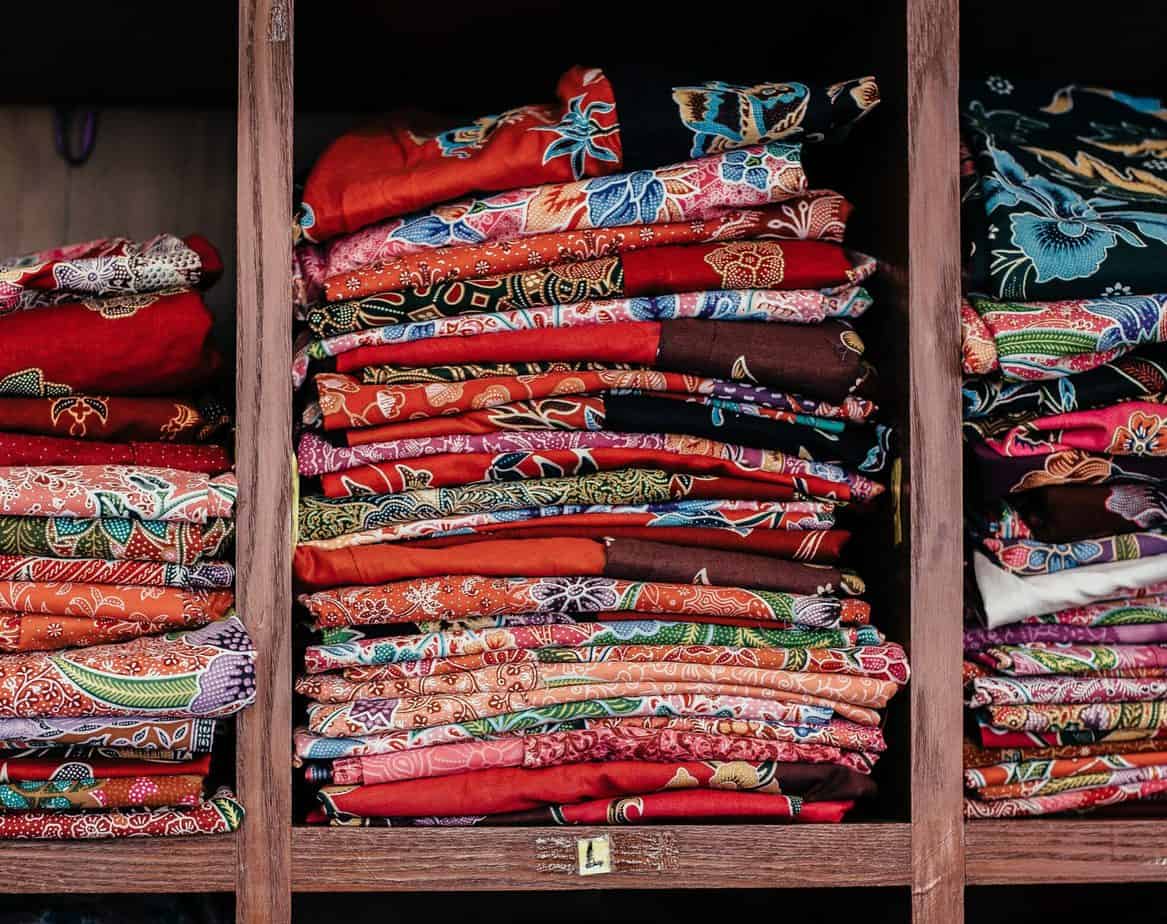 Even so, blouses have the distinct characteristic that people expect them to be elegant, and that is why you should stress over the material your new blouse will have. These can include:
We'll make a short pause here to talk about some of these.
Cotton
It is probably the less elegant one since this is the type of fabric most people imagine when talking about t-shirts, not a blouse. Still, cotton it's your best bet if you are a busy woman who prefers machine washing. 
If you have no time to take that much care about your blouse, you can choose cotton. It's comfortable to wear, easy to maintain, and completely natural. Additionally, if you combine it with a good bottom and the right accessories, you will not have to worry about looking too casual. Remember that attitude is also essential.
Polyester
This one is the most durable material over the others. Polyester is a synthetic type of fiber derived from water, petroleum, coal, and air. Because of its synthetic properties, this fabric can last for a long time and can hold its shape even after several machine washes. 
Still, this fabric has the same disadvantage as cotton: it's not that elegant. Also, since polyester it's not natural, it can irritate some people's skin. Either way, if you're worried about a reaction, keep in mind that you have probably tried polyester before and that a polyester allergy it's not that common.
Silk
This one is the best material for night blouses. The design and details are vital in a blouse, but they fall into a second category when the fabric by itself it's sophisticated. The only possible disadvantage when talking about silk blouses is the maintenance. 
You will probably have to wash your blouse with a dry cleaner, and some blouses don't allow machine washing because of the material. Be careful to read the tag to avoid any damage to your blouse. The good thing about silk is that everyone looks good on it, and most of the time, it's perfect if you want an elegant look.
Remember that whatever you choose, it's up to you. Another tip is to pick the fabric depending on the season. During winter, it is best to use a thick and heavy type of fabric. However, it's the contrary during summer, where it is best to keep the material lighter and breathable for your skin.
Affordability
As it is with any piece of clothing, you have to know your budget. How much money will you spend on a blouse? Commonly, good-quality blouses will cost more money when compared to a lesser quality blouse, but that is not always the case.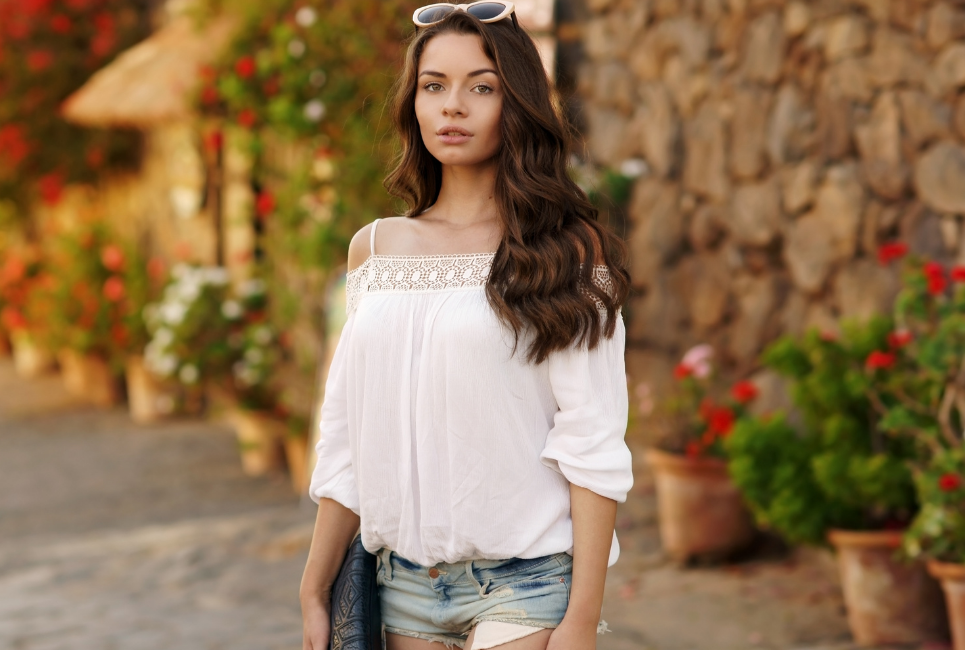 What makes a blouse expensive most of the time is typically three things:
The material

The design

The brand
To make it easier, you can pick some factors you want your blouse to have. For example, maybe you want a night blouse made of silk and from a popular designer brand. This type of blouse will cost you more. 
But perhaps you don't mind cotton blouses, and you want the blouse to go to college or work. These decisions will shape your future budget when looking for a top.
Also, most of the time, shops have discounts and promotions. You can take advantage of this and keep it in mind while shopping.
Color
This factor is as essential as the design. First of all, you have to take into consideration your favorite color. Then, you need to know if the color you want is the color your skin needs. For example, women with fair skin tend to look good in cooler colors, such as blue and gray. 
On the other hand, warmer-skinned women look better in warm tones like orange or beige. The most ideal would be that your favorite color matches your complexion and your skin tone. 
Either way, don't take it too seriously. If you feel comfortable wearing any color you like, who are we to stop you? Always follow your instinct.
In addition, most fashionistas agree that white blouses are in, and any woman can make them work.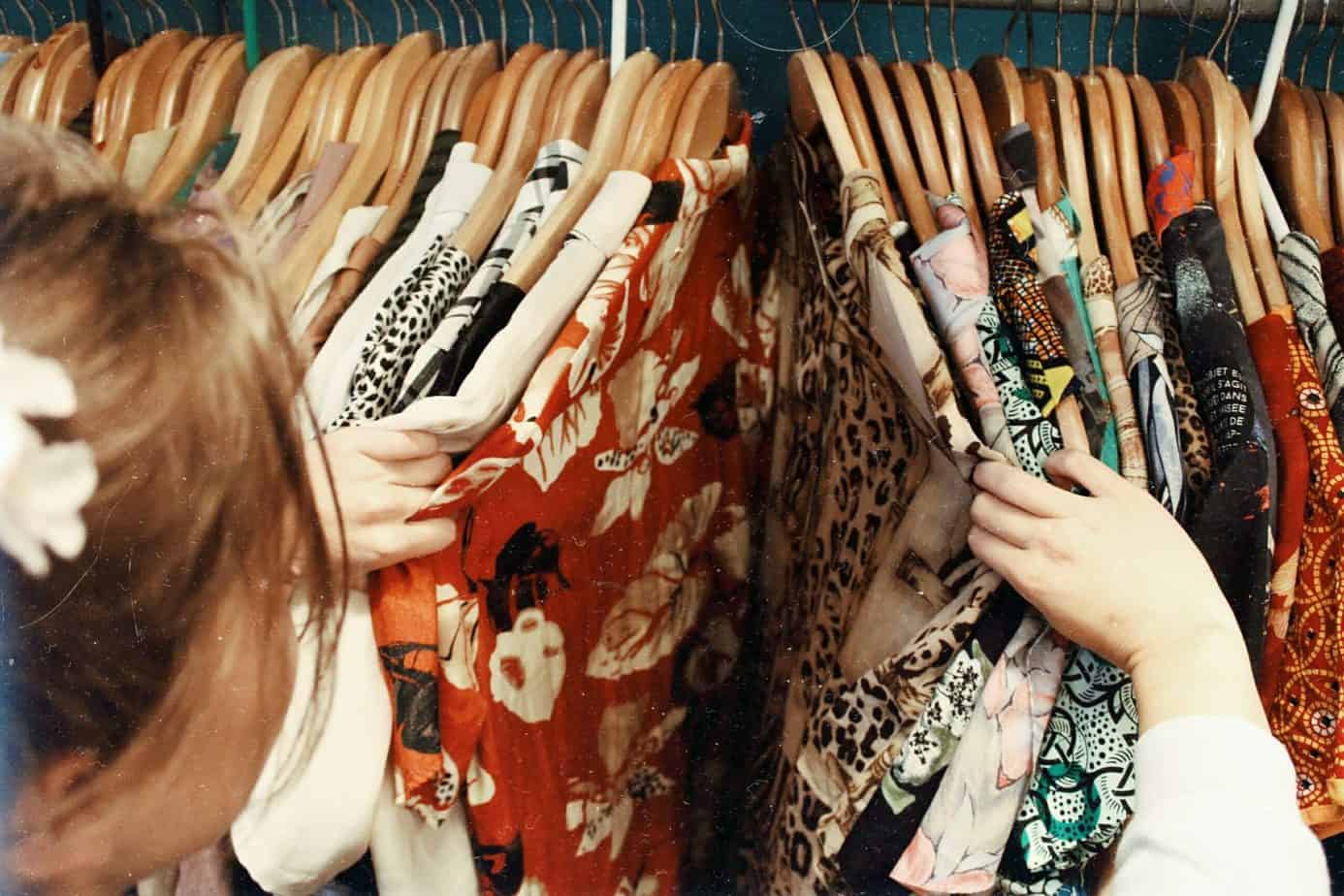 Remember that the color also has to go with the event you are going to. For a wedding, it will be terrible to wear white. Contrarily, a neon color will be far too extravagant for a formal reunion. It all depends.
Style and Fit
The astonishing thing about blouses is that they can flatter any figure if you choose the right one. Here, it is the same with the color. You can combine the style that you like with the one that looks the most good on you.
Do you already know your body type? If you don't, today it's a nice day to start. These include:
Hourglass

Pear

Apple

Rectangle
Most of the time, the style of the blouse will depend on it. Most of the time, designers make the clothes for whatever body type is trending at the time. Right now, hourglass and pear body types are the most popular. You can consider getting the help of a tailor if it gets hard for you to find a blouse that fits you well.
Hourglass Body Type
If you have this body type, then you're lucky. In most cultures, society thinks of it as the more sensual one. The best blouse for women with this figure is narrow at the waist and wide at the bust and hips. That way, it will emphasize her body type. Fashionistas also recommend using a belt at the waistline.
Pear Body Type
You have this body type if your hips are more voluminous than your upper body. For this type, you should wear a blouse with a narrow waistline. The blouse should also be wide on your bust to create harmony between your upper and lower half. Another tip: if the blouse has a print at the top, it also helps. Everything that brings attention to your bust will work.
Apple Body Type
This body type it's also called round shape. It's when the woman's body has narrow hips, a big bust, and a circular midsection. It is better to wear blouses with a wide waistline and narrow at the top. Fashionistas also recommend shoulder pads and V-neck blouses.
Rectangle Body Type
The main characteristic of this body type is that the bust and hips are almost the same widths. Another point is having little to no waist. These traits mean the woman has to use blouses that bring her movement and emphasize her curves. 
Again, designers recommend shoulder pads and empire waist. The empire waist is a style where the dress or blouse fits under the bust instead of the actual waistline.
Most of the time, designers make the clothes for whatever body type is trending at the time. Right now, hourglass and pear body types are the most popular. You can consider getting the help of a tailor if it gets hard for you to find a blouse that fits you well.
Design
As with everything in fashion, blouses come in a variety of forms. When we talk about style, it is more about yourself and what fits you best. On the other hand, the design is more about the decorations and the details of the blouse. Style and design are similar, but they are not the same.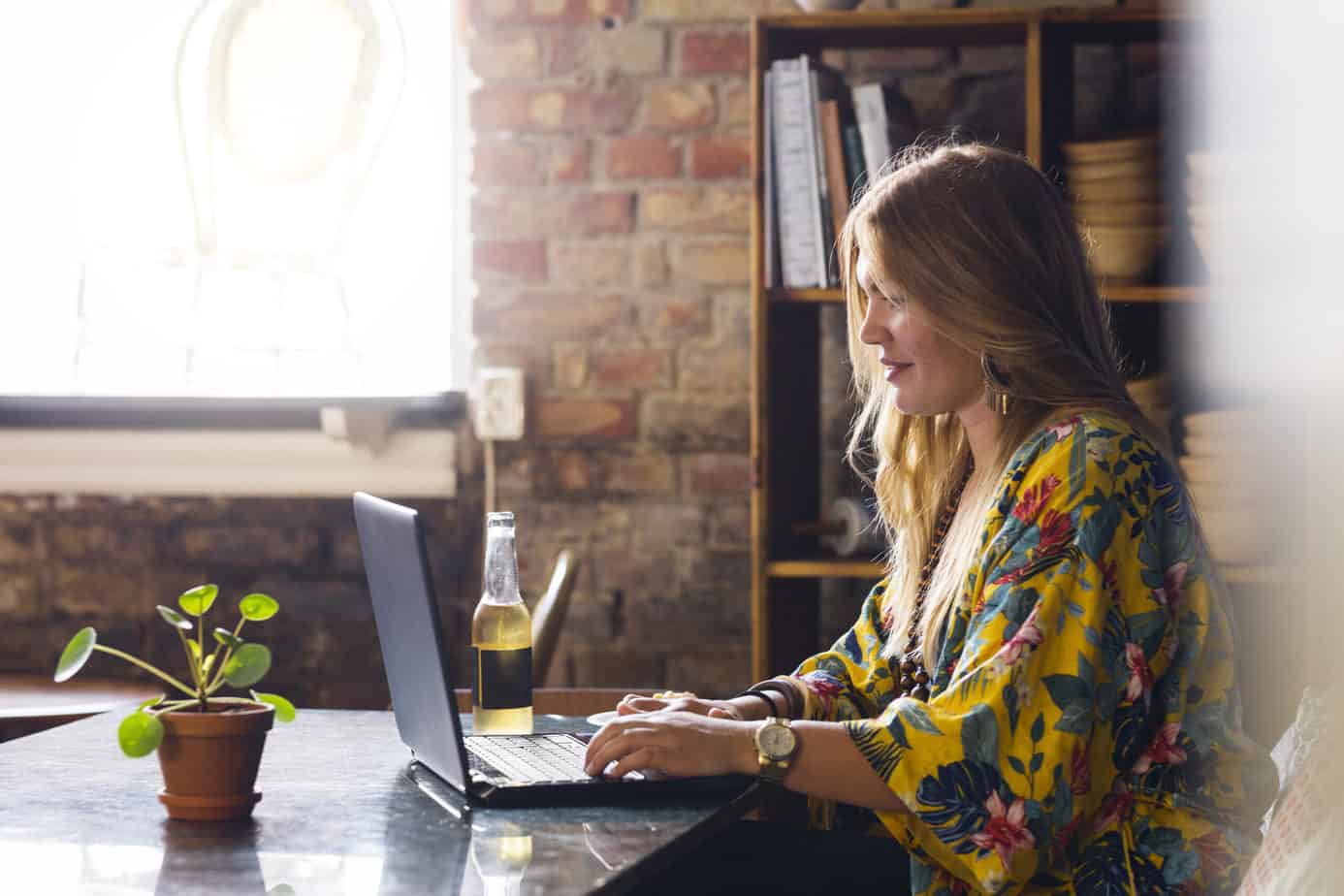 How to pick a blouse with a good design? You will have to keep in mind the criteria stated above. First, make sure the design you want is of your preference. Second, make sure the fabric fits the design and the occasion on which you'll use the blouse. 
For example, a nice blouse can have flawless details and delicate decorations. However, by the fabric, you can see if it has good or bad quality. An error on any of these can make the blouse look bad.
Some of the different types of design on blouses include:
Peasant blouse

Button-down blouse

Empire waist blouse

Wrap Blouse
Let's go ahead and break them down further.
Peasant Blouse
This type of blouse is a loose-fitted top with long sleeves. They are usually white with something embroidered at the front, but they come in different styles. They are great if you don't feel like showing off your upper part, and they are very comfy.
Button-Down Blouse
This blouse is one of the best ones for work, especially if your work dress code requires you to be in formal attire. It kind of looks like a men's shirt, and it's simple but not too formal. 
However, you can pair it up with a jacket or a blazer for even more formality. If you want to be more casual, you can match it with jeans. This blouse is very versatile.
Empire Waist Blouse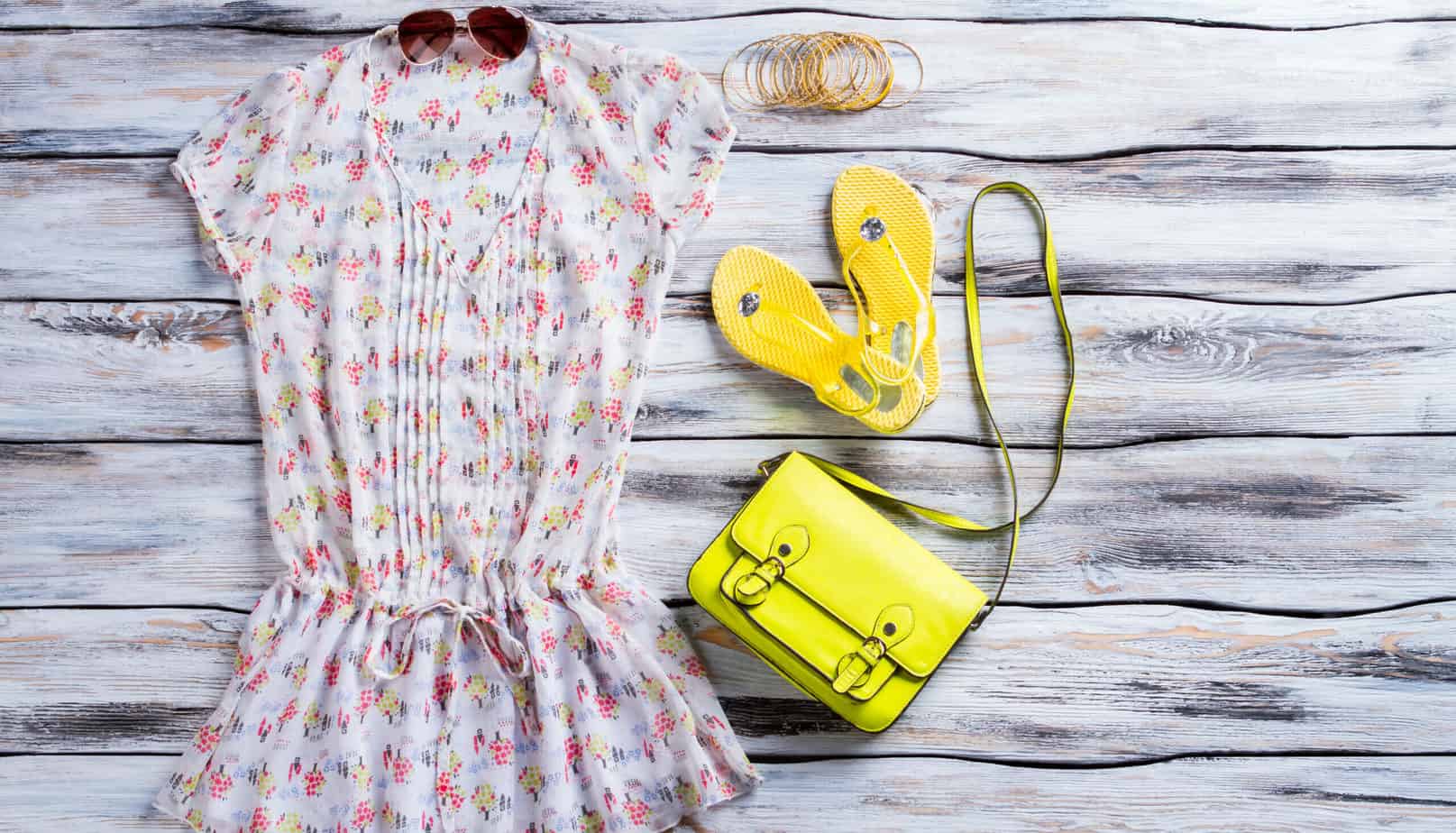 The empire waist blouse is also called a baby doll blouse. This blouse has a hem that fits right under the woman's bust, instead of going for the natural waistline like other types of blouses. 
Women started using this style a lot in the 19th European ages to look slimmer and taller. This style goes particularly well with petite women and slightly heavyset ones.
Wrap Blouse
The wrap blouse is a universal classic. As the name suggests, this blouse has a warped form that folds around the woman's middle. They outline the woman's natural silhouette, and it gives the appearance of an hourglass figure. 
Most of the time, this blouse has long sleeves and a tie around the waist. You can wear it with jeans to look more casual.
Other Types of Blouses
These are some of the most used blouse designs. The majority of them will have long sleeves, but if you want another type of sleeve that's more elaborated, you can also look for:
Cap sleeve.

This one is a short type that only covers the upper part of your shoulder. It's a simple design, and it's more flattering for people with slender arms.

Cutout sleeve.

It's a long sleeve blouse that has a cut at the shoulder, showing some part of the arm's skin on it. Then, it closes at the wrist. These blouses are usually fitted to the body and go well with slender women.

Bishop sleeve.

It is also a long sleeve blouse. This one is narrow at the top, and then it gets loose and wide on the rest of the arm, especially the elbow. This type fits well with women with rectangle body types.

Cuffed sleeve.

This type of sleeve can end above the elbow or at the wrist. The more distinctive characteristic is the cuff. Most of the button-down blouses will allow you to cuff your sleeves to give more of a casual look.

Batwing sleeve.

Also known as a dolman sleeve, it was a blouse' type that was trending a few years ago, but now women don't use it that often. The design with long and baggy sleeves can remind you of a cape taken out of Batman's outfit. 

Bell sleeve.

This type of sleeve it's narrow at the elbow and then gets more voluminous. Then, the fabric falls to your wrist, creating a wide cuff. The name came from the resemblance that the sleeve has to an actual bell. Today's blouses have evolved, and they can be crop tops while also having this type of sleeve.
Top Recommended Best Women's Blouses Ideas
There's a lot to know about blouses, but we think you're now ready to go. Here are some of the best women's blouses ideas for this year.
Our Selection Criteria
Before we dive into our list of favorite blouses, we did want to take a moment to explain exactly why we chose these tops. After all, if something is going to wind up on our list, you deserve to know why right?
To be selected, these blouses had to meet certain criteria. This included:
Comfort.

Who wants to wear an itchy, scratchy blouse? Not us.

Size inclusiveness.

We wanted to make sure these tops would fit a wide range of body types.

Reviews.

If a blouse had bad reviews, it didn't make the cut, period.

Versatility.

The blouse had to be able to go from work to play to date night with ease.

Appearance.

It may seem silly, but how the blouse looked mattered to us. We always want to look our best, don't we?
Without further ado, let's go ahead and check out our winners!
Tuckernuck started in 2012 as a company made with friends and family. As a brand, they have a fresh style, including their blouses.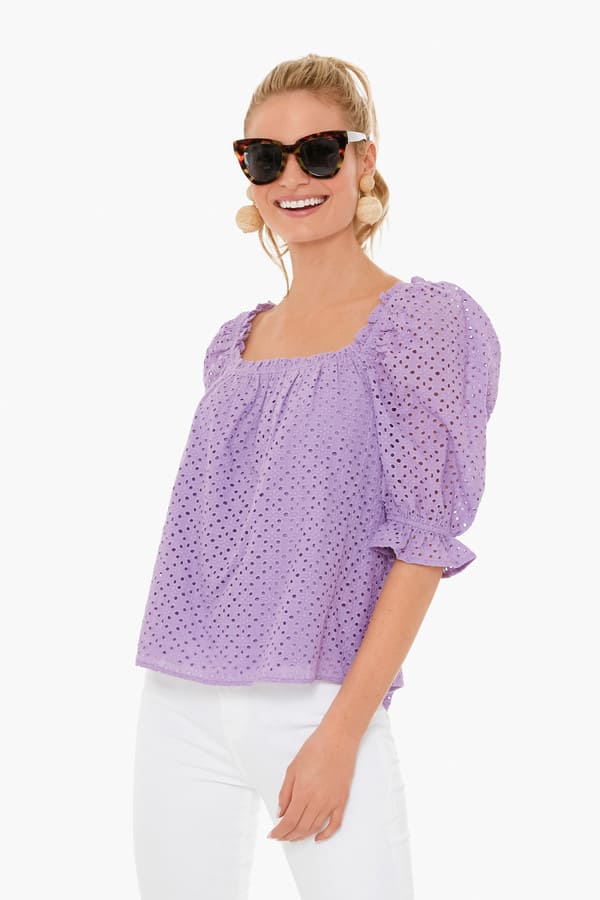 Pros:
It has detailed sheer sleeves that cover a quarter of your arm

It comes in all sizes.

Their most bought color is the lavender one, but the blouse also comes in coral and navy

The cuffs are elastic

Eyelet fabric

Lovely design and very pretty
Cons:
The sleeves might be too loose

Some user reviews say they run large
When you think about a blouse designed in Paris, you probably think about something fancy and sophisticated. It's a relief that this blouse didn't disappoint on that part.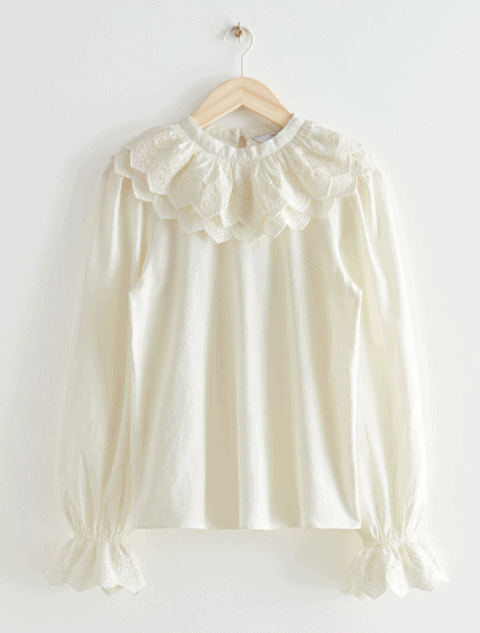 Pros:
It's a white blouse with long sleeves made of cotton 98% and elastane 2%

The embroidery at the cuffs and the collar look delicate and give you an excellent look

It comes in all EU sizes, from 32 to 44

The blouse has a little button at the back that helps to close it
Cons:
Only comes in white

Has a double layer

Sits too heavy and too thick

You can wash it in the machine, but only in gentle cycles
Mango is a brand that has committed to "making fashion more sustainable and ethical," according to their official page. They have all kinds of clothes for men, kids, and plus-size collections. Their blouses are pretty while also being affordable.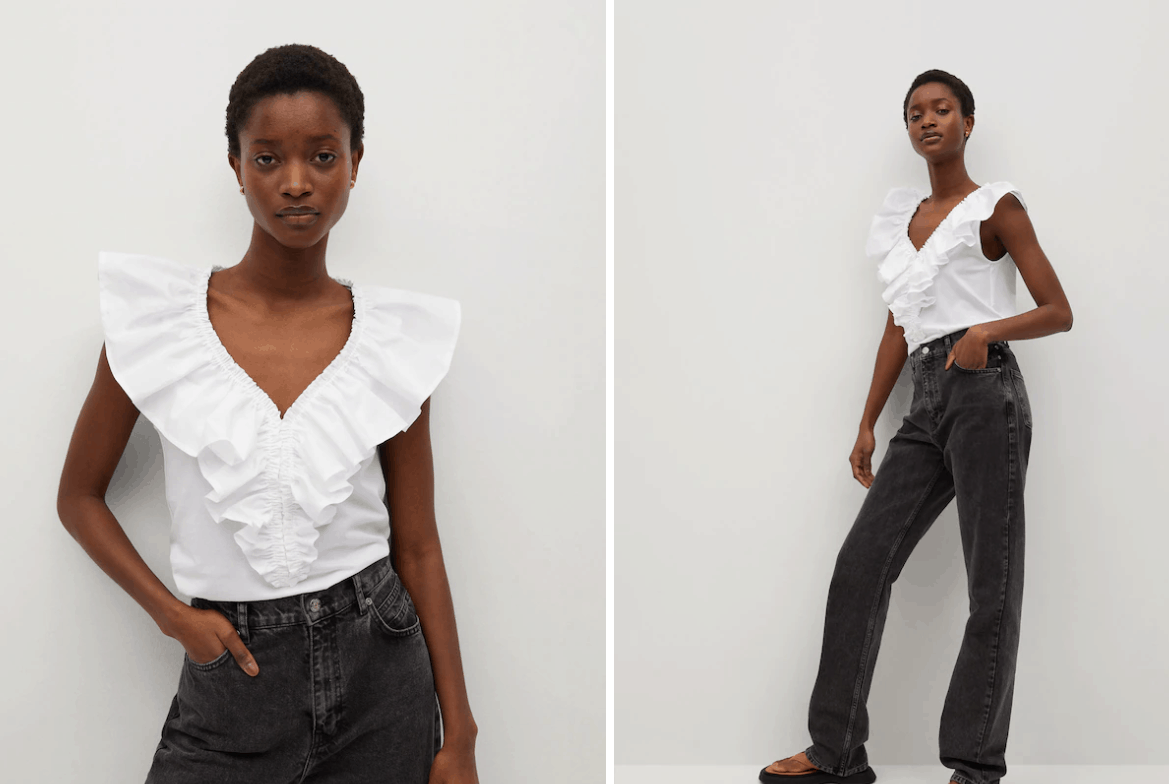 Pros:
It has a classic black color, but it also comes in orange and white

It's 100% cotton

It has a V neck with ruffles about it

Part of the collar falls above the shoulders, and it gives the appearance of short sleeves

It's more affordable when compared to other blouses on this list

It comes in a variety of sizes
Cons:
You can wash it in the machine but only for short periods

Only goes up to a size XL
GAP has clothes for everyone: men, women, and children. But it also goes a little bit further and has maternity and baby collections. Their blouse collection is also astonishing.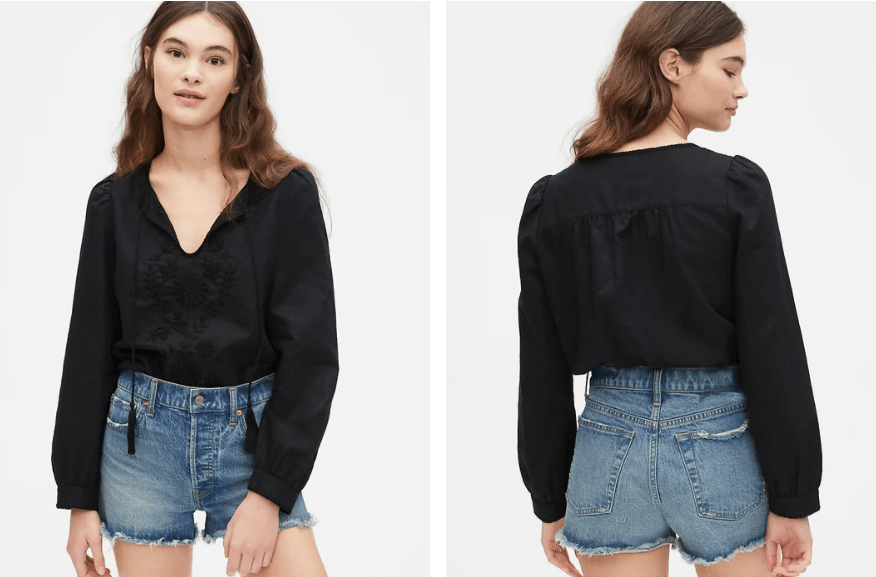 Pros:
This blouse comes in two colors: black and white

It has fancy embroidery on the front

It has long sleeves

Made with 45% Cotton and 55% Linen

You can wash it in the machine
Cons:
Limited sizes (most of the time, the XL & XXL are sold out)

Some user reviews say the fabric is too heavy
H&M is a worldwide known brand founded in 1947. Since then, they have provided the public with clothes for men, women, children, and newborn babies. Their blouses are famous for being affordable while also being good quality.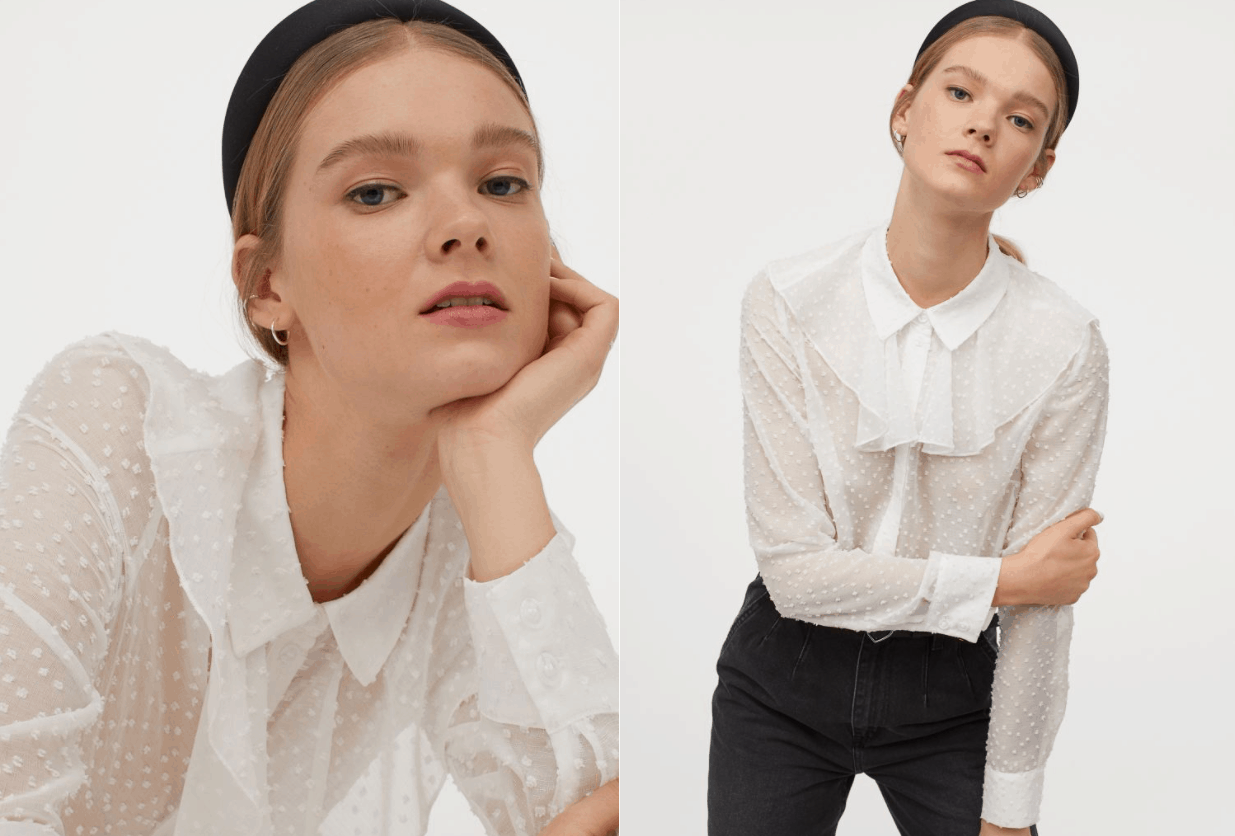 Pros:
It comes in white and black colors

The fabric is transparent, and it gives you an elegant look

It's 100% polyester

It has an affordable price

It has buttons at the front and the cuffs

It comes in all sizes
Cons:
Sizing inconsistent, not true-to-size

Polyester not breathable in warm weather
Eloquii is a brand that specializes in plus-size clothing, e. i. sizes from 14 to 28. That includes a lot of beautiful blouses like this one.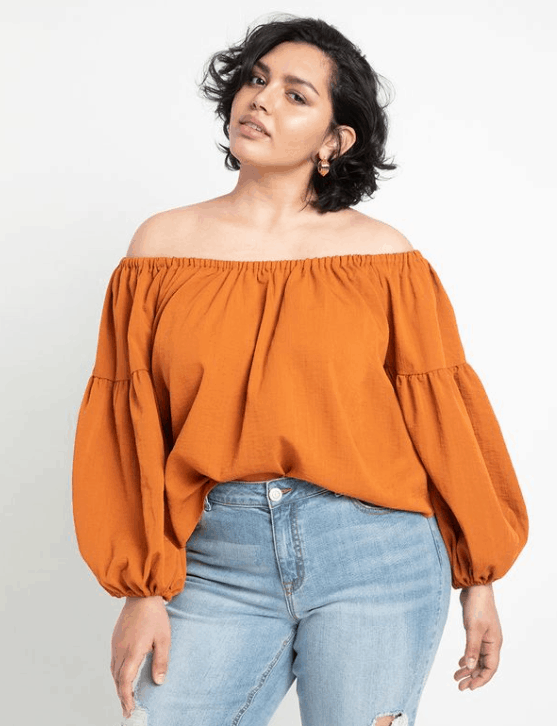 Pros:
It comes in orange, green and black.

The fabric is 55% Rayon, 15% Nylon and 30% Polyester.

It's elastic around the wrists and neck.

You can machine wash it in gentle cycles.
Cons:
Does not come in smaller sizes

Not as breathable as natural fiber blouses
Best Use Tips
It doesn't matter on what occasion you want to wear your blouse. Here are some general tips to keep in mind when searching for the right one:
Know your measurements

Choose the right sleeve

Don't forget about the collar
Know Your Measurements
This one is probably the most important tip, especially if a tailor is making your blouse. Since not all women have the same body, your measurements are crucial information for the tailor who will take care of all the work.
However, you can also go shopping and see the blouse of your dreams, but you don't know your size. You always need to know your measurements. Yes, there are sizes and charts, but not all brands have the same size. 
Choose the Right Sleeve
There are lots of kinds of sleeves from where to choose. Some of them go better according to your body type or depending on the occasion you're going to. Don't be afraid of picking something too risky! They all have diverse characteristics, and you can select whatever you like.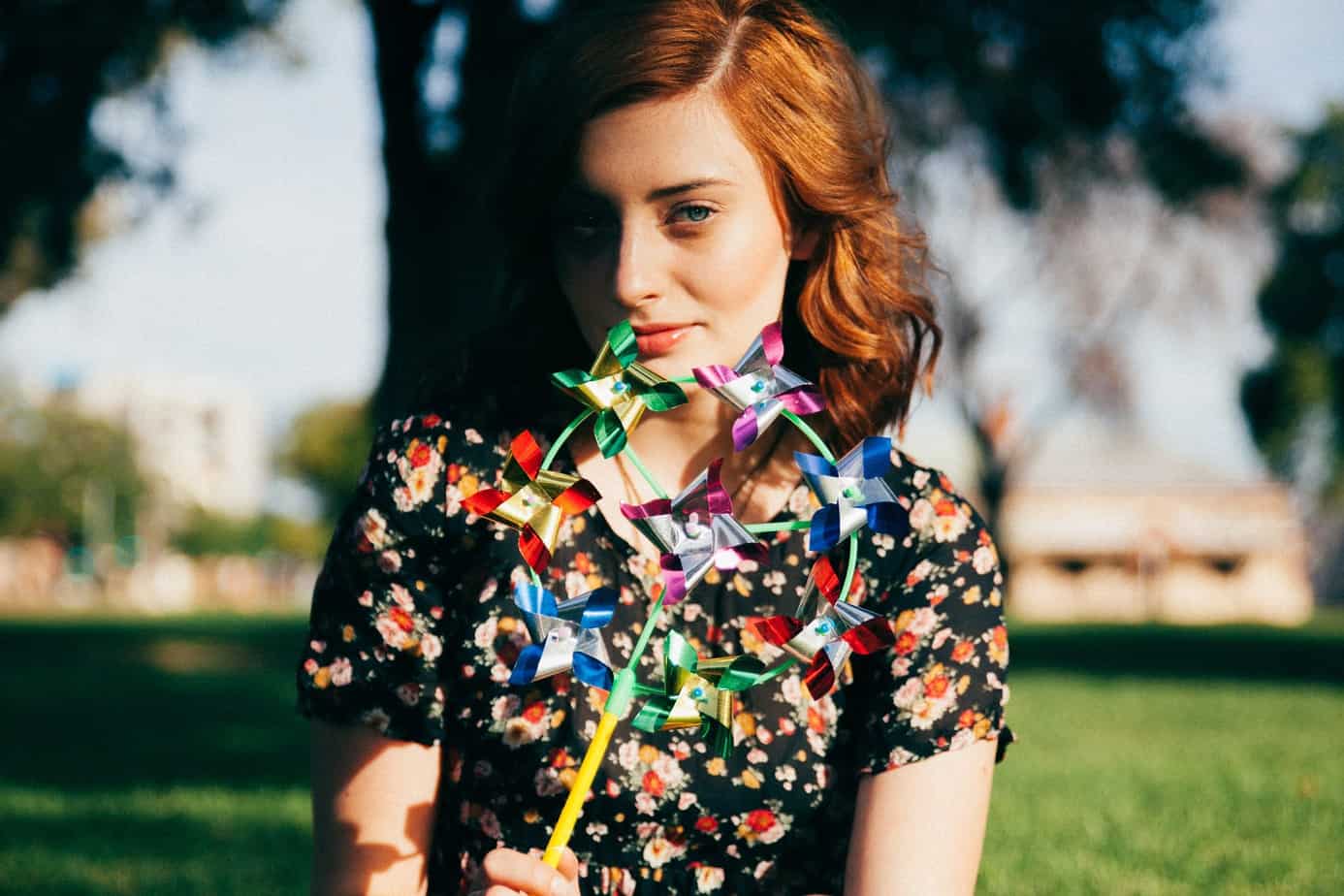 Don't Forget About the Collar!
Collars are the part of your shirt, blouse, or dress that go around your neck and secure it. There are several styles, and talking about all of them could make an article on its own. Nevertheless, some of the most common ones include:
Straight collar.

It's the most classic one and the most popular among formal blouses. 

Peter Pan collar.

The edges of this collar are more round, and it usually goes well with a button-down blouse.

Mandarin collar.

Designers took inspiration from Chinese dresses to make this type of collar. These collars are straight, and the edges at the top can be straight too or also round.

Chelsea collar.

It has a low "V" neckline, and it's commonly flat. Women can use it with a necklace for a refined look.

Jabot collar.

Designers make this collar with lace while adding ruffles over the woman's breast and chest.
As you could see, there are a lot of them from where to choose.
Frequently Asked Questions
Question: Are blouses for women?
Answer: Originally, the word wasn't only for women. The term started in France to define the blue shirts that French men workers used at the time. Then, English men began using the word too. By 1870, people used it to talk about a shirt for young women. 

If we look at the word origin, at first, blouses were a word meant for laborers' clothes. A few years ago, people started to use the world most of the time when referring to a woman's elegant shirt.
Question: What do you wear with blouses?
Answer: Short answer is almost everything! Some even call blouses the most versatile type of cloth you can wear to look elegant. If you want to be casual, you can match them with skinny jeans and sneakers. 

For a more sophisticated look, you can pair your blouse with a pencil skirt. And, if you want to wear a blouse to your office, a simple but elegant look it's using it under a blazer.
Question: Which brand is best for tops?
Answer: As it happens with almost every type of clothing, most of the time, it is about finding the balance between the cost and quality of the blouse. Even if there's a correlation between these two, people usually associate higher prices with higher quality. 

You can always find great blouses in your local brands at a favorable price. However, some good brands include Forever 21, Vero Moda, Dorothy Perkins, H&M, Femella, and Benetton.
Question: What is a blouse used for?
Answer: Women typically wear a blouse if they want to look elegant. However, a big deal of looking elegant has to do with whatever you use with it, like shoes, a bag, and accessories. 

Blouses are also comfy and versatile. You can pair a white blouse with jeans, and it looks casual. But, you can also match the same blouse with a skirt, and it will look classier.
Conclusion: Best Women's Blouses Ideas
Even if blouses didn't mean to be fashionable, they slowly became essential in every woman's wardrobe. Of all the blouses we featured today, our favorite would have to be the Lavender Eyelet Iris Blouse. Fun, feminine, and flirty, you can dress it up or down.
That said, it's definitely tricky to find a blouse of high quality. You have to pay attention to criteria like the design, the fit, and the color. Some even more meticulous women take the sleeves and the collar into account.
Either way, you now know all of this. You're ready to go on your search for any modern blouse. Whether for work or a party, now you're prepared because all you needed to know is in this article. Still, I hope this has been helpful in your way to finding the blouse of your dreams.
Read More: