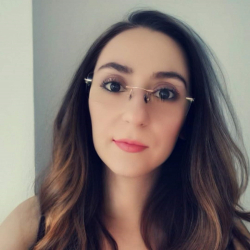 Latest posts by Alexandra Gavrilescu
(see all)
When making a list of must-have footwear types for women, the brown boot must surely make a list. Not only because these boots are sturdy and comfortable but because they heighten the dress style and show elegance when rocked with unique outfits.
Brown boots are a trendy type of boots. As against the popular belief that boots can only be used during winter, some can be used anytime. You would not have to wait for any particular season of the year or a special event to rock some of these pairs of boots. This is not to say they are not in perfect need for winter or rainy season.
Besides being a fashionable piece of footwear to compliment your outfits, they are also an elegant way to keep your feet warm, especially during the winter season. Having one or two of these boots wouldn't be a bad idea.
The cool thing about it is that there isn't just one type of brown boot. There are some very distinct styles. For example:
The Brown Slouched Knee-High Boot
Not only is this boot comfortable, but you will give off that horse riding vibes. And let's be honest, there's nothing sexier than those horse riding boots. Don't you agree? 
Brown Pull On Buckle Boot
Do you love slipping your foot in a shoe without having to worry about zippers or laces? While then, this boot will be perfect for you. It is stylish and, most importantly, super comfortable.
Brown Zip up Ankle Boot
Ankle boots are always a great option if you are not a fan of long boots or if you have bigger calves. These brown ankle boots will also look adorable with a 50's style dress and a summers hat. 
Brown Over the Knee Boot With Heel
These boots will make you feel like a boss babe that's got her act together! And it is going to take over the world!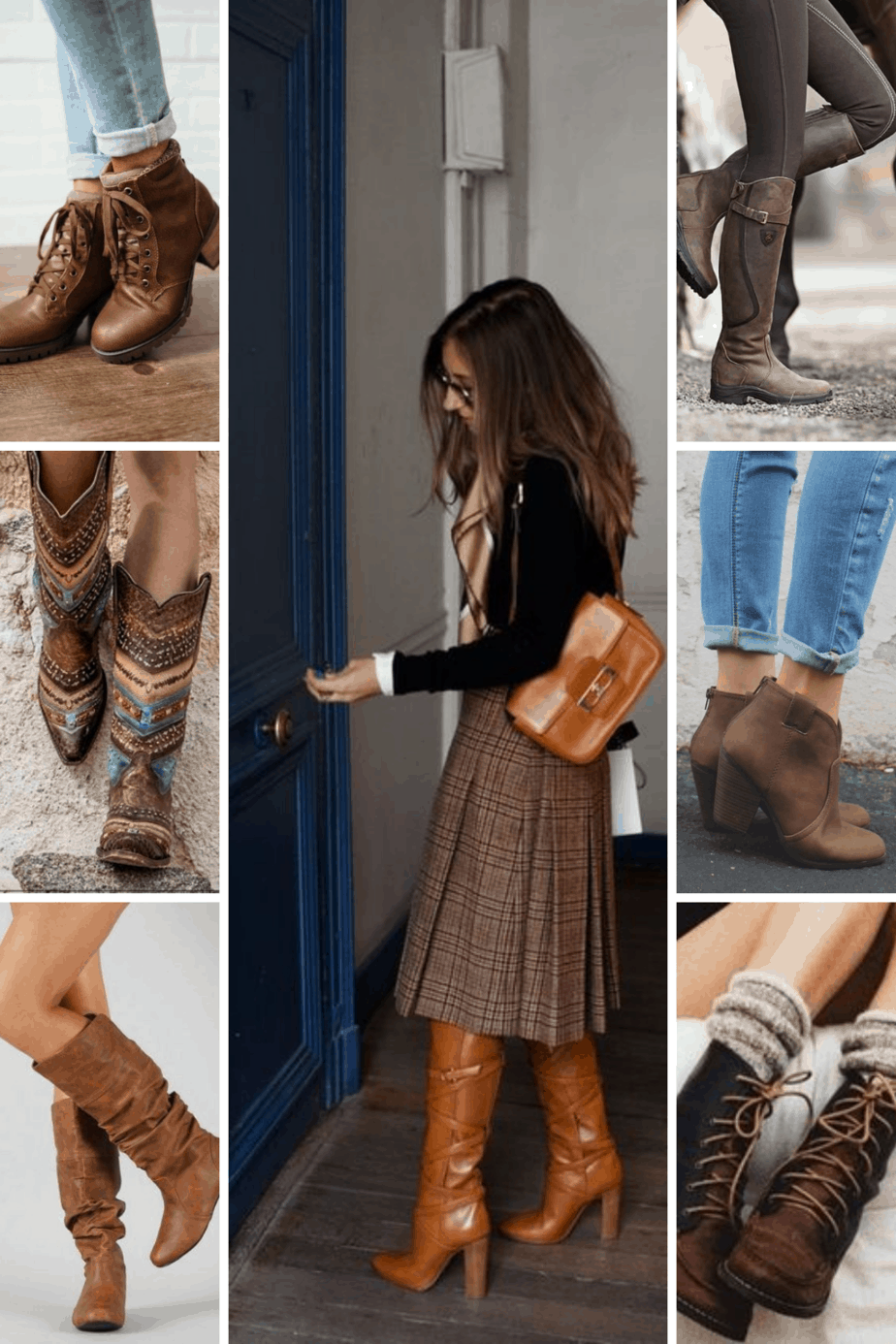 The Top Brown Boot Ideas
If you are looking for the best brown boot that would fit your style, look no further. There are so many options for everyone. You just need to find the one that best suits you.
1. Teva Women's W DE LA Vina Dos Tall Boot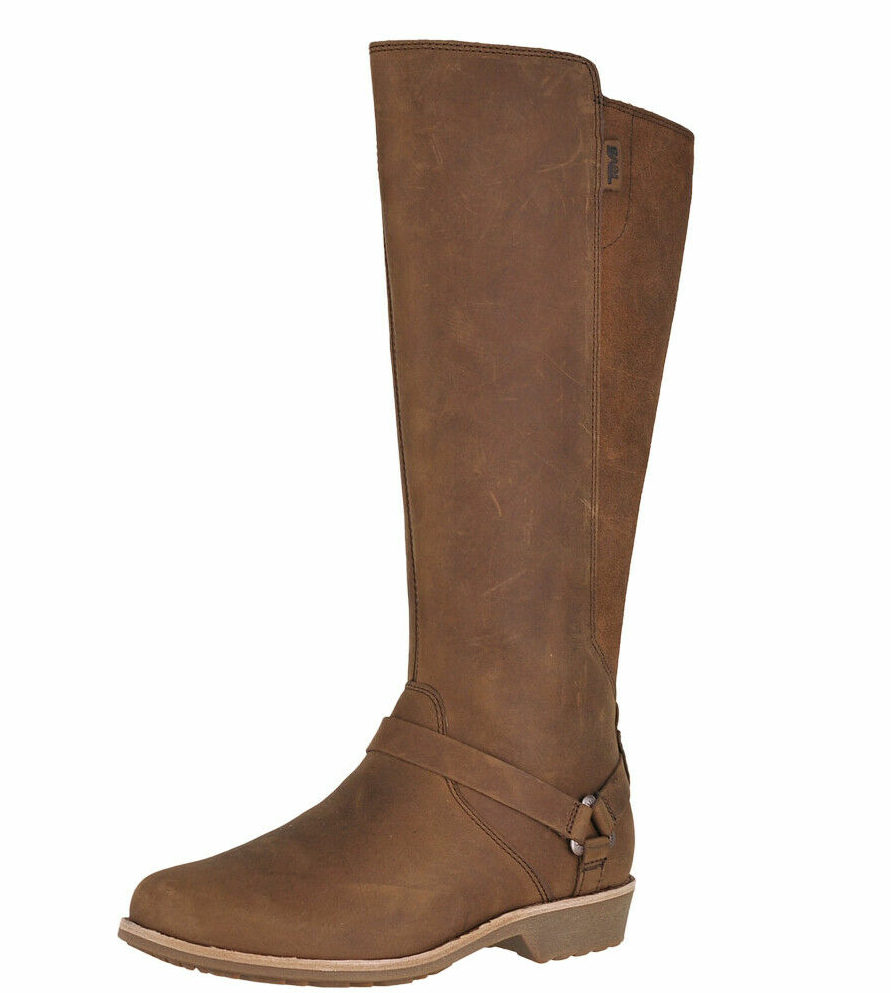 When comfort meets exquisite taste, Teva Teva Women's W DE LA Vina Dos Tall Boot comes into play. This boot is made with pigskin lining to ensure the comfort of the feet is not compromised when you rock this boot.
Pros
It comes in different sizes
Comfort is ensured with the soft pig lining
It is waterproof
Inexpensive
Easy to get in and out with zipper closure
Cons
It is not the perfect kind of choice for a rainboot.
2. Blondo Venise Chocolate Brown Boot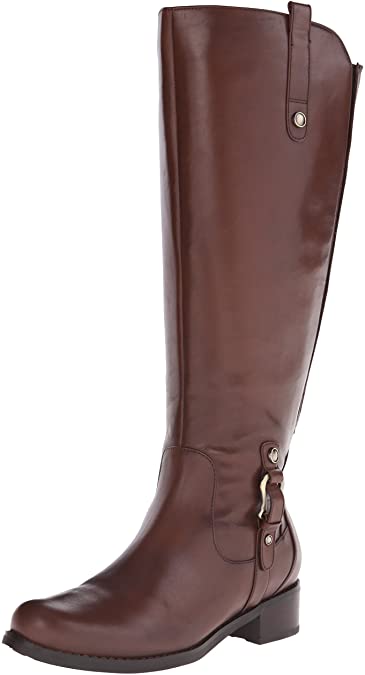 This fantastic boot is built with a sleek design and rubber sole to handle elements. It has an alluring design at the ankle to give it a distinct look, not to mention that it is 100% leather material. This means it is sturdy enough to ensure prolonged use.
What's more? It is pretty affordable. You can get it for prices ranging from $60 to $109, depending on the size.
Pros
It is relatively cheap
Easy-on pulls at the top
Available in different sizes
Comfortable use for those with wide-calf
Cons
Reviewers have complained about too wide calf
3. SOREL Women's Joan Uptown Lace Bootie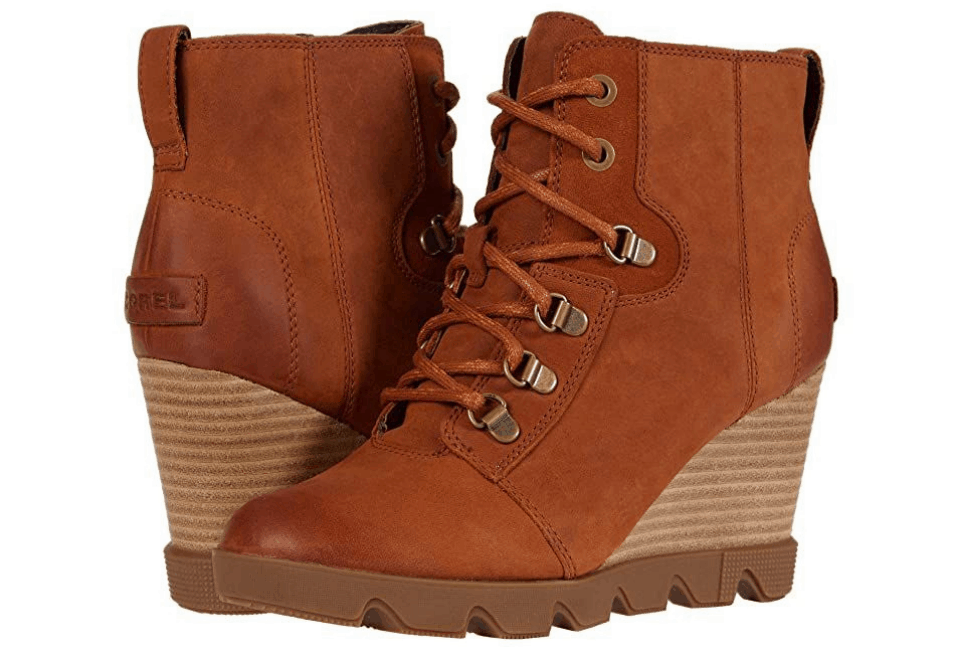 SOREL Women's Joan Uptown Lace Bootie won't leave you stranded during inclement weather. Meanwhile, this dainty uptown lace boot does more than protecting your feet. It gives an alluring complement to your outfits.
It has a moderate heel height of 3 1/2 inches and 1/2-inch to provide all-day comfort for your feet. You might want to try this on denim.
Pros
It has a durable insole with pigskin
Made with top-quality leather material to enhance prolonged use.
Not too expensive
Cons
Some reviewers complained of discomfort after walking in it all day.
4. Katliu Women's Slouchy Mid Calf Boots Zip up Flat Boots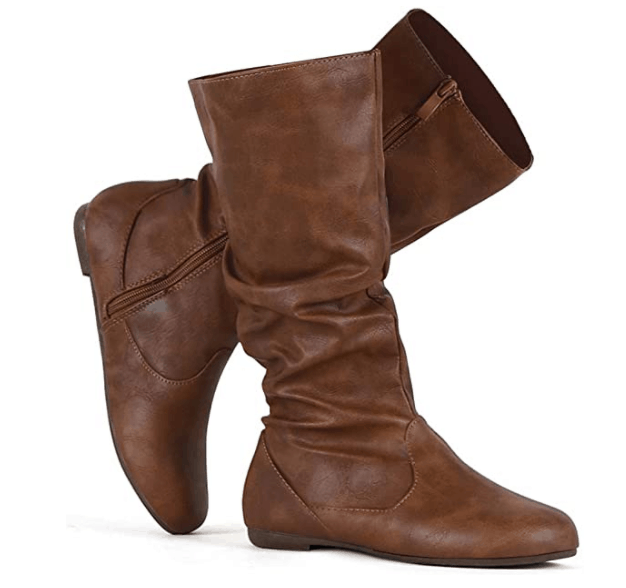 Who said the rainy season is not a time for slaying? Not with Katliu women's slouchy mid-calf boots. Even in the most inclement weather, your fashion style and standard can be maintained.
This exquisite boot adds a level of charm to your look and makes you the center of attraction in any event. You can pair this boot with jeans, hoodies, or sweatshirts. You can also rock it with leggings.
Pros
You can match with any style of dressing
It has a side zipper for easy on and off
It guarantees the comfort of your feet with its cushioned insole
Cons
The exact type of brown might not be what you get when it's delivered.
It has a thin and flat sole, not an attraction for lovers of heels.
5. Heelchic Women's Sunflower Printed Western Boots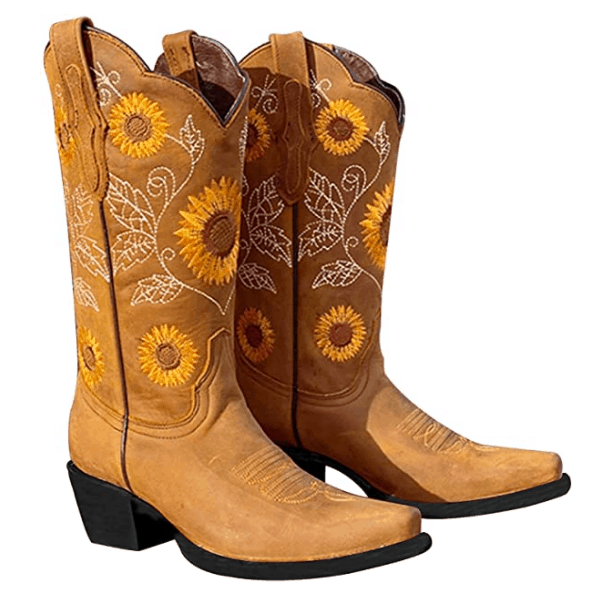 You don't need to get in a boot that will be quite difficult for you to run around all day in; heelchic women's sunflower boot is built with the proper padding to ensure comfort. It is given a Western design style with a low stack heel to make it a perfect attraction.
With its slip-on and lace-up design, you wouldn't be struggling to get it on or off.
Pros
It is relatively cheap
Fully padded to ensure comfort
It comes in different sizes
Cons
They are not explicitly designed for people with wide calf
6. Vepose Women's 28 Mid Calf Boots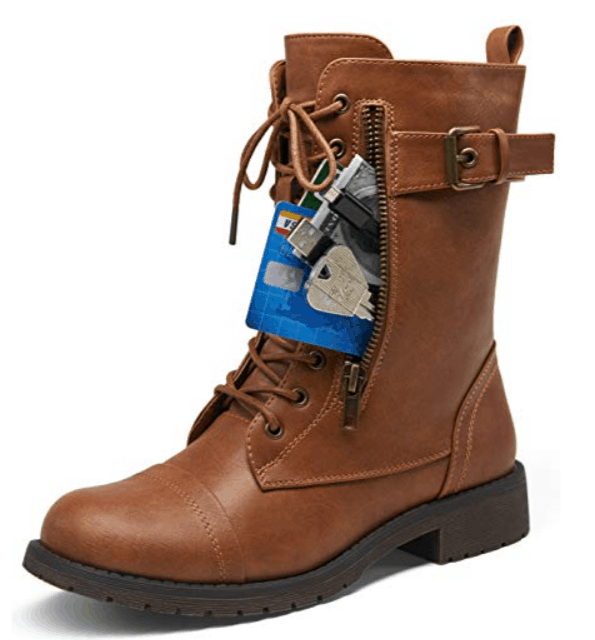 If you need the right brown boot that can serve different purposes, Vepose Women's Mid-calf boot is the best choice. With a military design type, this boot can be used for hiking, everyday walk, riding, combat and many others. It has side pockets that can hold knives, cards, money, and any other object.
It is strong and guarantees long use. Vepose boot has a lace-up and inner zipper design for easy adjustment. With this, you don't have to worry about it being too broad or tight.
Pros
It comes in different sizes and design
It has a side wallet pocket
Built with inner zip and buckle
Designed with non-slip rubber sole.
It is affordable
Cons
Some reviewers complained about not being comfortable for all-day use.
7. DREAM PAIRS Women's Riding Combat Motorcycle Mid Calf Winter Boots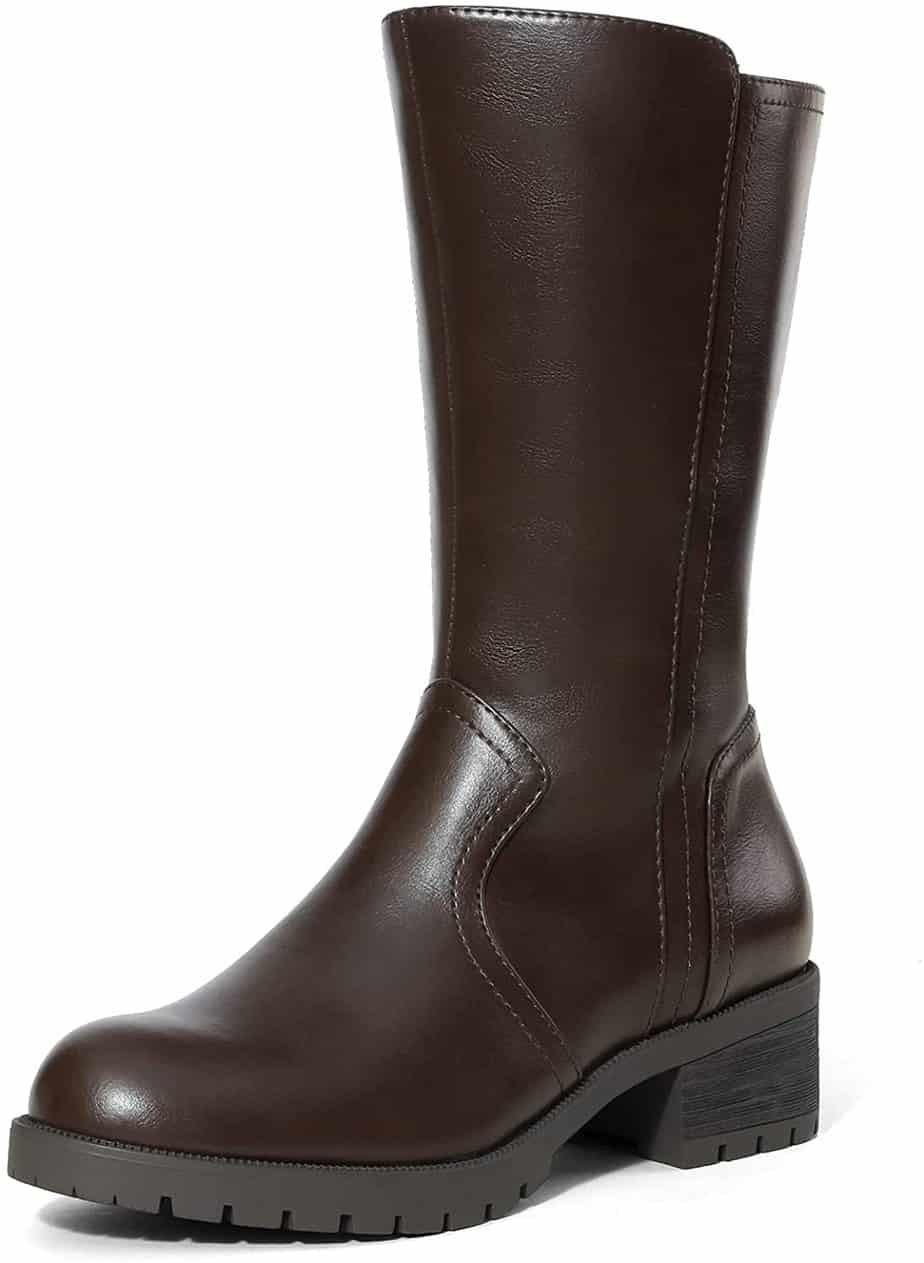 Do not let the name of this boot deceive you into thinking it is only meant for combat or can only be used in the winter; you can use it for any occasion. It all depends on your fashion sense.
Let me give you a tip. This boot goes well with Jeans, leggings, or hoodies. So you don't have to keep it until you want to ride or combat.
Pros
It is water-resistant
It is a nonslip riding boot
It is affordable
It comes in different designs
Cons
They are designed only for mid-calf. You might not get the best deal if you have a wide calf.
What To Consider When Getting A Brown Boot
You must get a real knack for every penny you spend. That's why you need to make the right choice when buying one. There are several factors you must consider when getting a brown boot for women. They include:
Your Wardrobe
Check if it fits perfectly
Consider the season
The Material
Waterproof
Let's explore these considerations and how they come into play when getting a brown boot.
Your Wardrobe
Boots are a great deal, and they can match almost any pair of clothing. The first you must do is study your wardrobe. It will give you an idea of the type of boot and the type you should purchase.
Ensure that you settle for a women's boot made with top-quality material to ensure prolonged use.
Check if it Fits Perfectly
You don't want to have swollen feet after using your new pair of boots. Check if it fits perfectly on you as this would determine if you can use it for work. Some boots look pretty big enough to accommodate even wide calf, but until you try them on before you realize that, looks can be deceiving.
Don't take chances. Try them on, walk in them for some time to ensure that you are not leaving anything out.
Consider The Season
Like clothes, some brown women's boots are perfect for a particular season. Typically, most boots are designed to keep the feet warm. This means they come in handy during the cold season. However, some boot styles can be used during any season.
If you are planning on purchasing one to meet the need of a particular season, be sure to settle for the one that keeps your feet warm. Also, the sole should have enough traction to prevent slippery in icy water.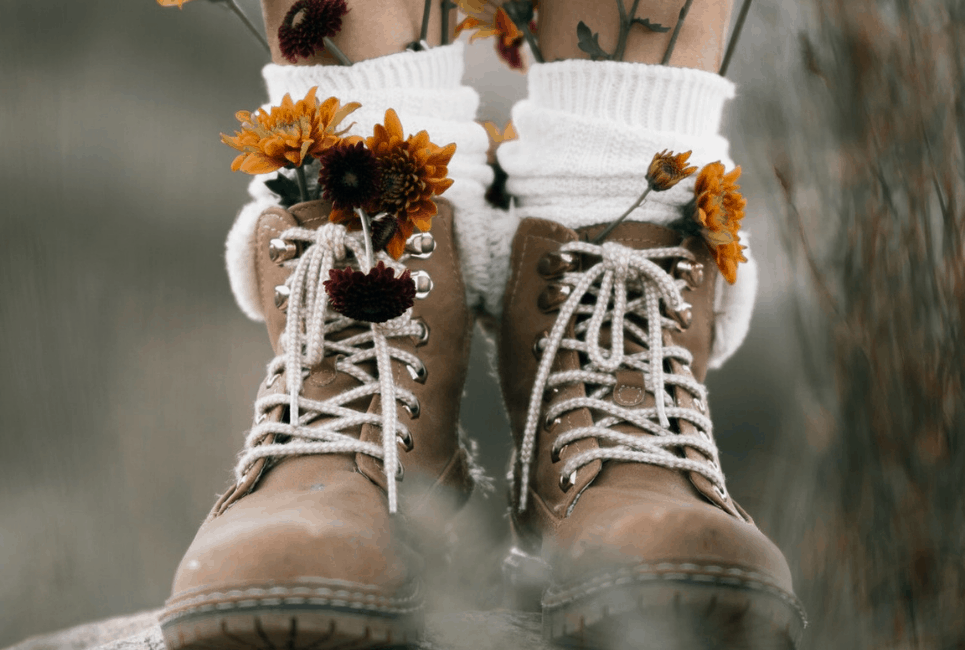 Material
Boots are made with leather, synthetic, faux leather, and suede. Before deciding which one to buy, be sure to pick the one with material that fits your need and style.
For Context, leather materials are the most preferred option. It is durable, versatile, and charming. However, they are quite expensive compared to synthetic.
Waterproof
If you work in damp areas, you might want to ensure your boot is waterproof or can be waterproofed using a counter product.
It must be able to keep your feet safe and warm during inclement weather. Be sure to check if it has water-resistant.
Tips for Wearing Brown Boots for Women
You can't go wrong with brown boots. Regardless of the style or design, the brown color blends with almost any pair of clothing. Nevertheless, you can make it even better with these tips. Check out our guide on the 12 Best Mid Calf Boot Picks and Ideas for more inspo!
Wear With Skinny Jeans
Skinny jeans are pretty much a versatile kind of dress. They are durable enough to pull on and off easily. This type of dress fits any woman regardless of their size or shape.
Skinny jeans can be complemented with different tops, and they sure go well with any boot style and color. You can match your brown boot with skinny jeans and a pair of hoodies or sweatshirt, depending on the season.
The brown boot style is not a barrier. Whether it's an ankle boot or a knee-length boot, you are good to go.
Pair With a Black Dress Gown
There is a synergy between black and brown. A stunning black dress enhances the charm of a brown boot. You can wear this combo to any event, whether a night date, church or work.
You must undoubtedly be sure you match the black dress with a brown ankle boot to define your style and elegance.
Pair With Midi skirt
Midi skirts are classy for women of all ages and sizes. They are one of the best dresses for fall and spring. An interesting thing about this dress style is the colorful charm it adds to your look.
Ensure you select the right length of the skirt with striking prints. However, if you do not fancy print, you can opt for a plain midi skirt.
Pair With a Black Leather Jacket and Waxed Jeans
Another excellent choice for using the brown boot is to match with a black leather jacket, white button-up top, and waxed jeans. The essence of the white button-up top is to ensure that there is proper color mixing.
Brown goes well with black and white. With this, you will have an enchanting look.
Pair With a Blush Pink Long Wool Coat With Blue Jean
Do you wish to have a look that is too gorgeous to ignore? You can achieve this charming look by matching a blush pink long wool coat and skinny blue jeans with an ankle or knee-length boot.
This is such a charming outfit that will give you that attraction you desire. Put in mind that this dress style goes well in the cold season.
Little Black Dress
Brown boots and a black dress is the perfect combination! You can wear this outfit almost anywhere! To work, to an event, or to church.
Pencil Skirt
A grey pencil skirt with a light sweater and brown ankle boots will make a fab outfit! It is an outfit that looks amazing and is so simple to put together. 
"He was a skater boy she said see you later boy." Yeah, I know Avril Lavigne's song was the first thing that came to mind when I thought of a skater dress. A white skater dress with brown boots will look fun and feminine.
A skater dress is definitely the most flattering dress a woman can wear and with a pair of brown boots. Girl, you are going to look out of this world.
Sweater Dress
A sweater dress with some brown cowboy boots will be perfect for the fall. 
Wrap Dresses
I absolutely love wrap dresses! And with a pair of brown boots, this will be a super cute and classy outfit for a day out or night out.
Leggings
Yeah, I know you were waiting for a comfortable option, and here it is! Pair your leggings with a cute shirt and brown boots to have a super comfy yet stylish outfit. 
This is such a charming outfit that will give you that attraction you desire. Put in mind that this dress style goes well in the cold season.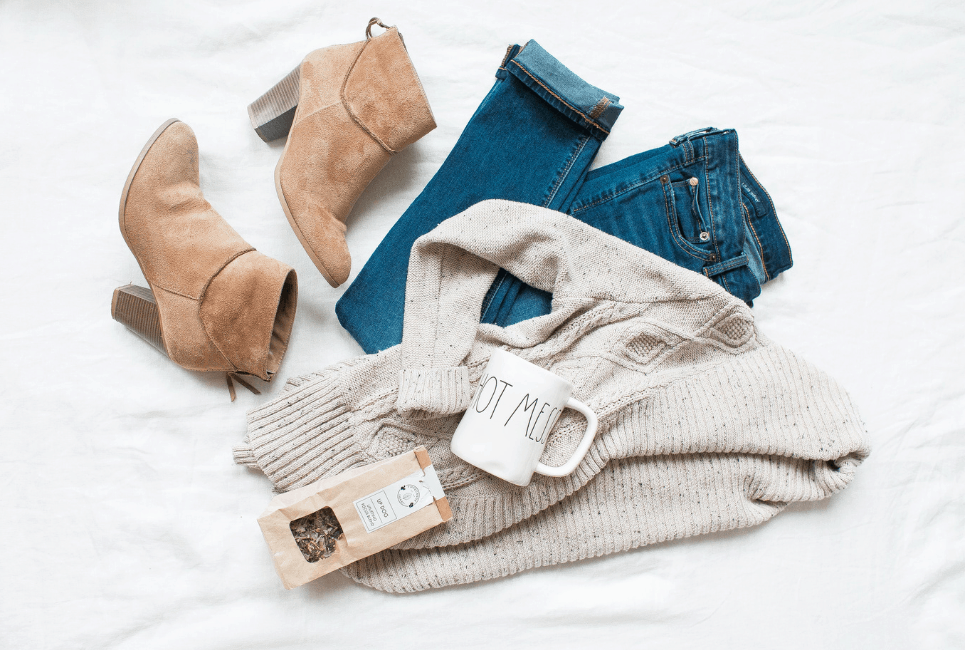 Let us have a look at some pros and cons for adding brown boots to your outfit:
Pros 
They add more character to your outfit and add a pop of color

You don't have to polish it as much as you need to do with black shoes

It is versatile and can be worn with many different outfits
Cons
Depending on the type of boot it sometimes does not look good with a black suit
How to Take Care of Your Brown Boots
Okay, so you want to take care of your boots, clean them, and give them that shine. And I have just the trick on how you can do that.
Firstly, you will want to clean any excess dirt on your boot. What you will need is the following:
A sponge or a soft brush

Water

A bit of soap
Do the boots have some leftover polish? Take that off too!
After taking off any excess polish, you can apply the first layer of polish. I would personally use a cream-based product because this will bring back a little of the color of your boots if it has gotten a bit dull. 
Apply brown polish to your boots that match the color of your boot the best.  Now use a brush and make sure to get to every part of the leather. When you are done applying the polish, you can let the boots sit for about 20 minutes.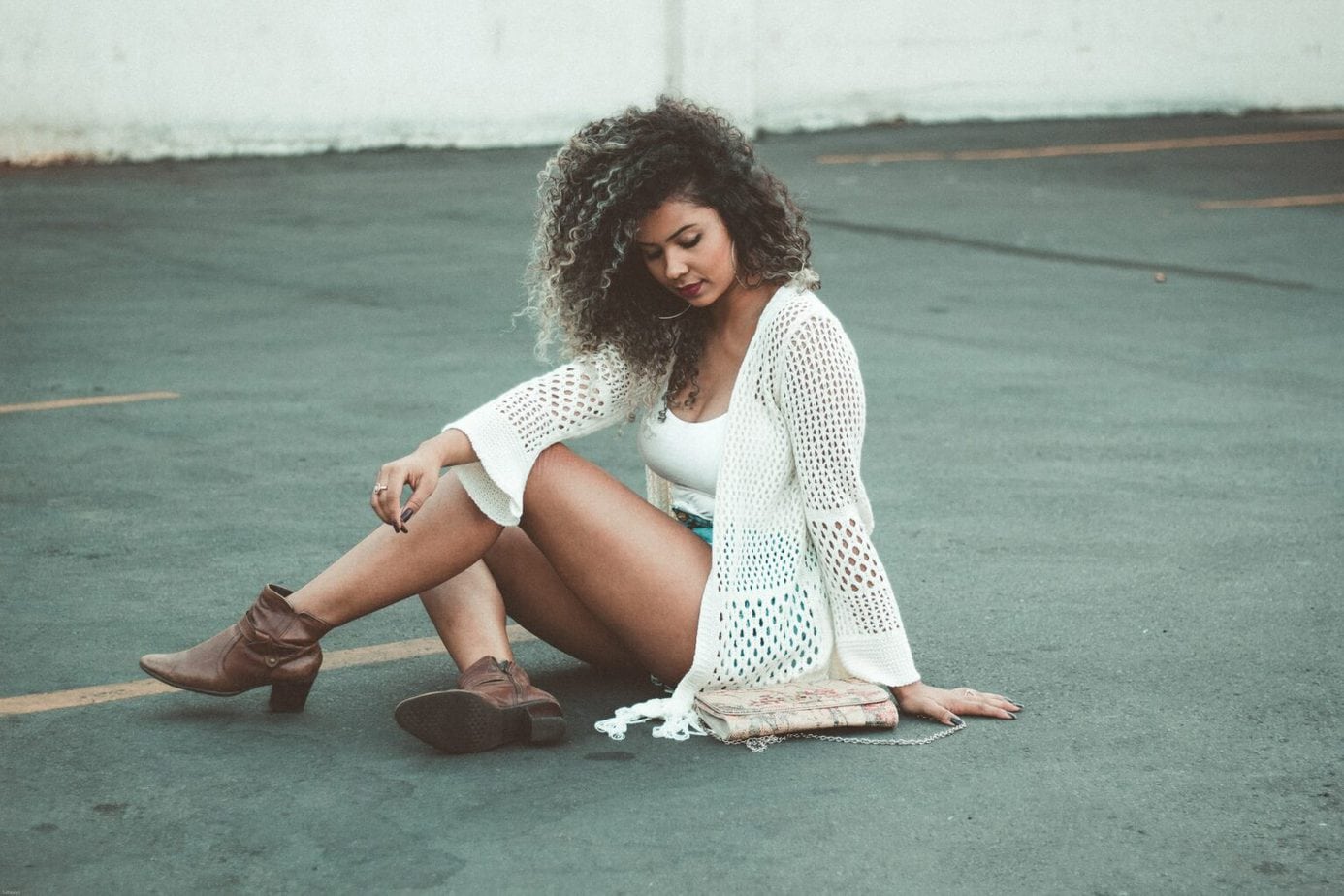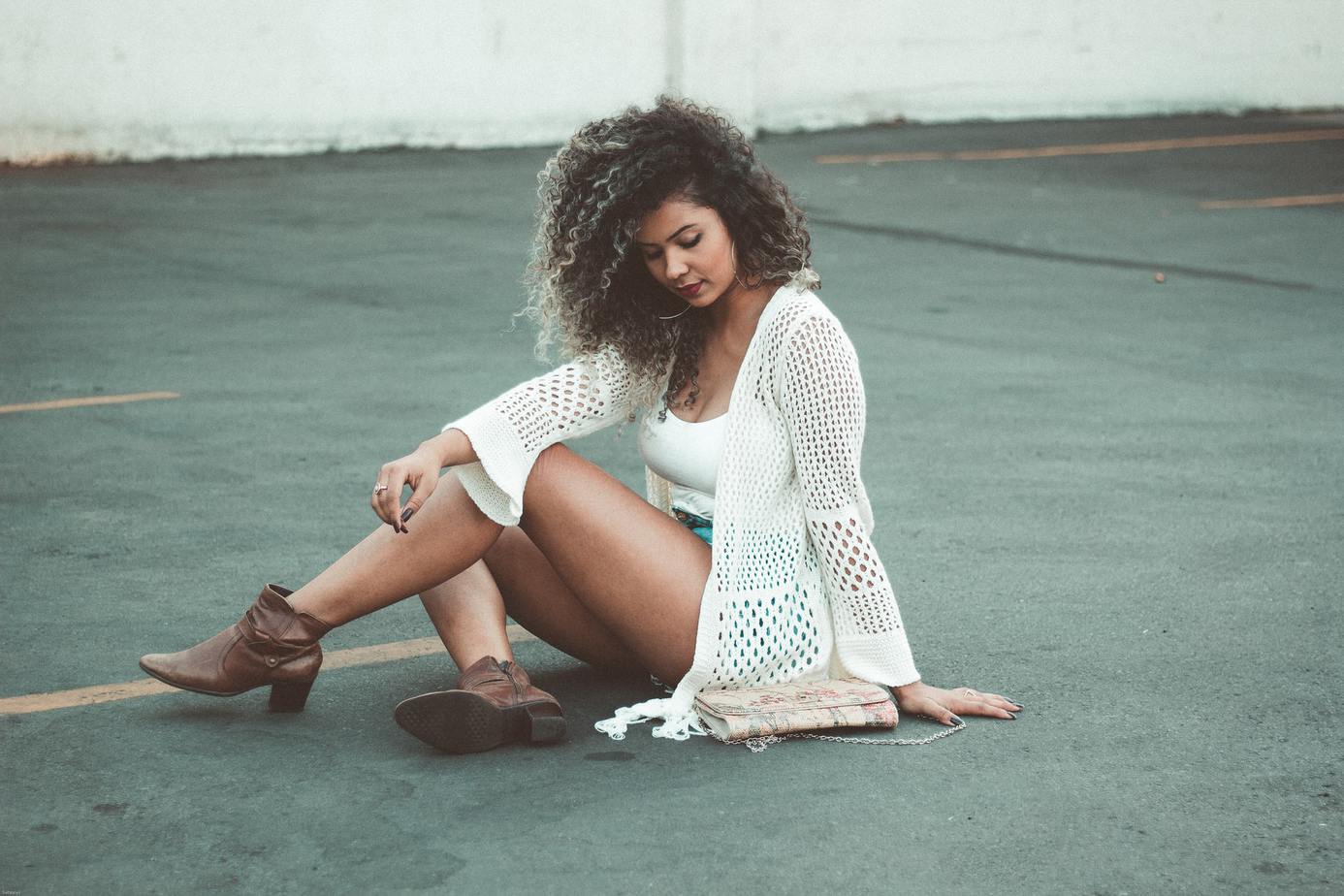 Should I Choose Brown or Black Boots? 
Let me start by saying it is all up to you, but I will give you my honest opinion on which color boots I think are the best. Brown boots are just as versatile as black boots and can bring a bit of contrast to your outfits. Brown boots go with blue jeans, leggings, cute summery dresses, and skirts. 
Brown boots with an all-black outfit look stylish and give your outfit a more distinctive look than black boots. So if I had to choose I will say brown boots are the go to!
What Shade Of Brown Boots Should I Choose?
Choosing the different shades of brown will depend on some different factors. Here is an example:
This is a popular choice and my favorite. Why? Because it goes with almost anything, and makes choosing outfits so much easier because it is so much easier to style than darker shades of brown. Here is a little tip, if you want some contrast in your wardrobe, go for a color you will not usually choose, like tan or cognac.
Another tip is to keep your wardrobe in mind when choosing your shade of boots. And ask yourself, will this shade match and compliment my outfit?
Where Can I Buy Brown Boots?
Most shoe stores that sell boots will have the option of brown or black boots. But I know you are so excited and just want to get your brown boots right away. So I will suggest Amazon. Not only are they fast to deliver, but they have super cute boot options to choose from.
Buyer's Recommendations
If you have never worn brown boots and your go-to was usually black. I am confident that you will change your mind after reading this article and going through these brown boots recommendations.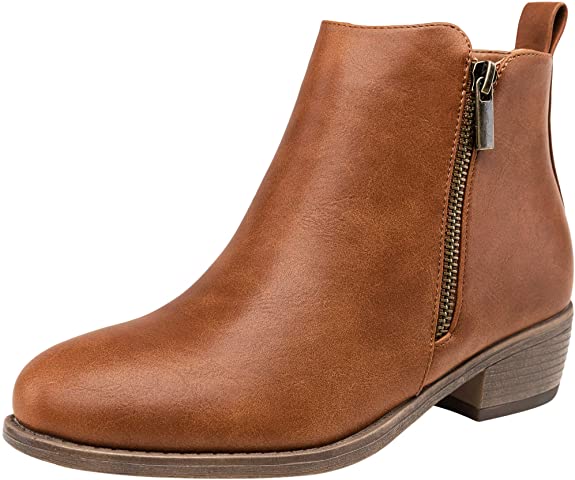 These brown boots are great if you want to look stylish but comfortable at the same time.
Pros
They are comfortable

They are affordable

It can be worn with formal or casual outfits
Cons
The color may not be for everyone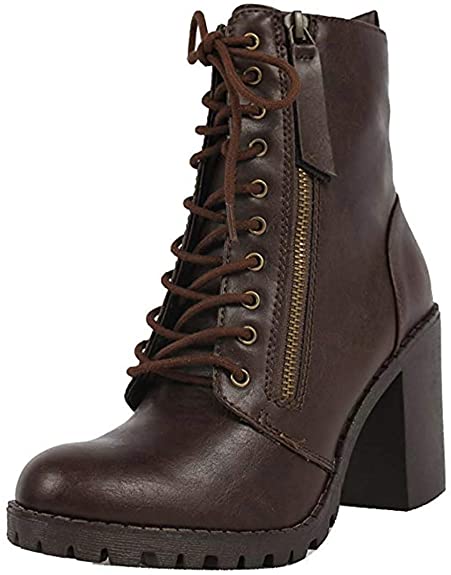 If I had to describe these brown boots in 3 words, I would say stylish, sporty, and sexy. 
Pros:
It is stylish

It will match with most of your outfits

The zipper makes it easier to put on
Cons
For some, the heel might be too high

The style of the boot is not for everyone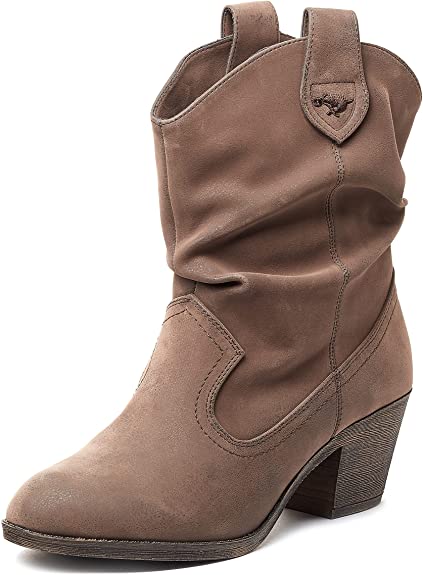 If you love those Western cowboy movies and have always wanted to own a pair of cowboy boots, here is your chance!
Pros:
They are comfortable

They are stylish

Looks great with some blue jeans
Cons
Not everyone will like the style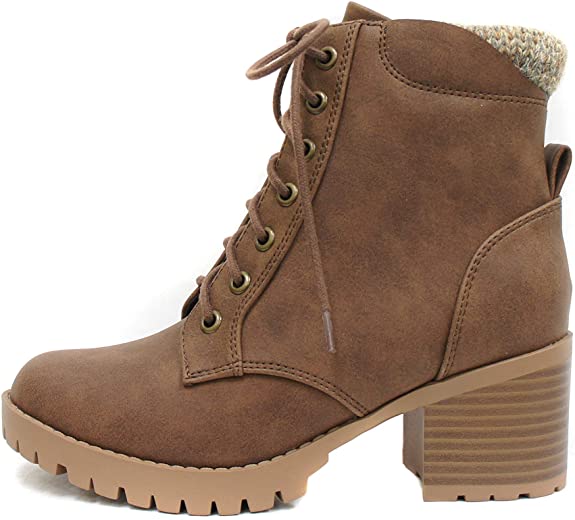 These brown combat ankle boots are super stylish and sexy and perfect for the winter.
Pros:
They are fashionable

Easy to put on 

Nice and warm making them ideal for the winter

Comfortable
Cons
The heel might be too chunky for some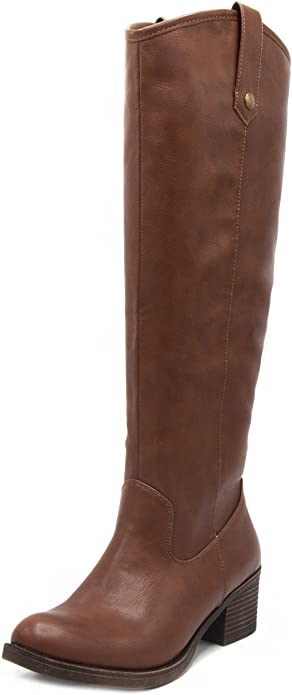 If I had to choose one word to describe these boots, I would say they are spectacular! If you want to achieve that horse riding look, these are the boots you need to get!
Pros:
They are stylish

They are comfortable
Cons:
Not everyone will love the length of the boot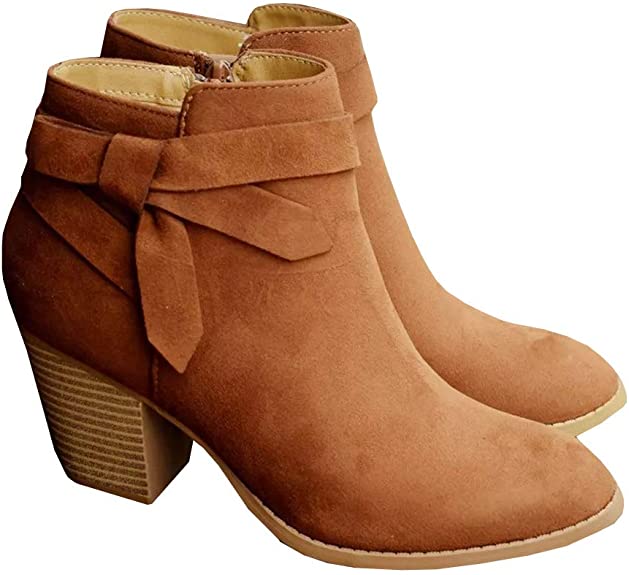 These brown boots are super cute and girly and will look perfect with a white summer dress and a summer hat. 
Pros:
They are cute and girly

They are comfortable

They will go with most outfits
Cons
The style of the boot might not be for everyone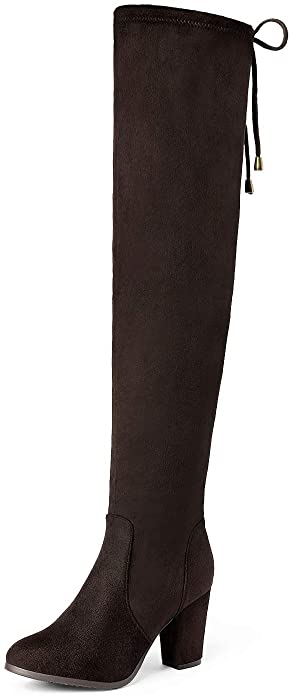 If you want to make a normal comfy outfit stylish and sexy, add some thigh high brown boots. Some brown jeans, a white top, and brown thigh high boots will make a super cute outfit. Throw on some gold jewelry and you can take the day time look to a night time look in a few seconds.
Pros:
It makes any outfit look sexy

It is comfortable

It is affordable

It is fashionable

It will keep you warm
Cons:
The length of the boot is not for everyone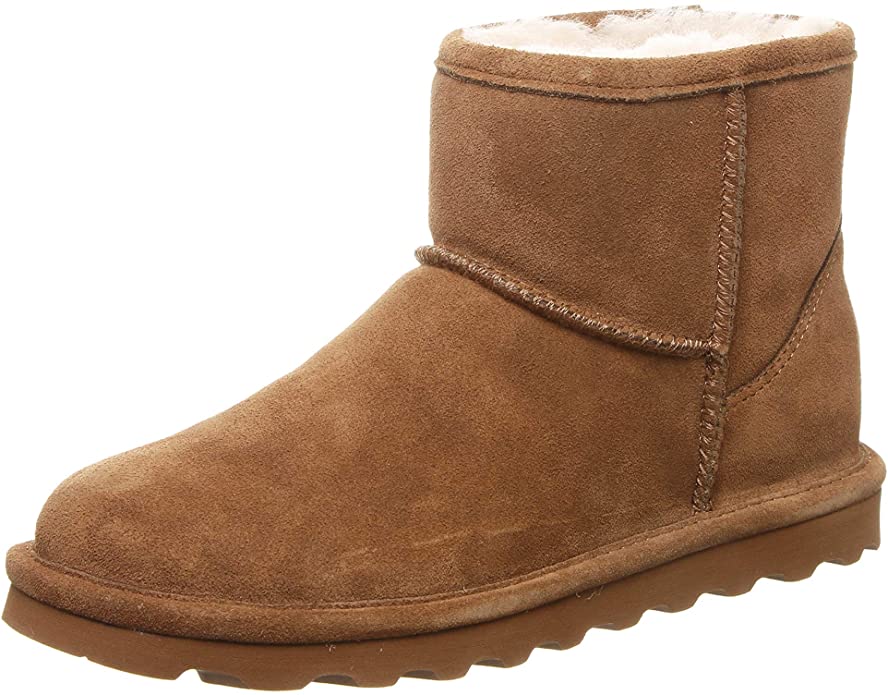 Yes, I just had to include this as my last recommendation. Why? Because they are super comfy, they remind me of Christmas, and they are perfect for winter!
Pros:
They are super comfy and feels as if you're walking on clouds

They are warm

They are cute
Cons:
The style might not be for everyone
FAQs
Here are some of the most asked questions on brown boots.
Question: Do Brown Boots go With Everything?
Answer: Brown boots are versatile wear, and they can go on almost any type of dress. You can pair an elegant brown boot with skinny jeans, a midi skirt, pencil skirt, joggers, a black dress, and many more.

There are no restrictions on what type of dress you can pair brown boots with.
Question: Do Ankle Boots go With Dresses?
Answer: Yes, brown ankle boots go well with dresses. As explained within this blog. You can match your ankle boot with a dress. Preferably, you should consider matching it with a black dress because black intensify the elegance of the color brown.
Do not fret in matching your ankle boot with a dress. It is a classy and fashionable style of dress.
Question: What's the Most Important Thing to Keep in Mind When Getting a

Brown Boot?
Answer: Well, there are several essential things you must take note of when getting a brown boot. The material is quite important. The boot's style should also be considered, given that you may want it to serve more than one purpose.

For instance, a knee-length brown boot is not so appropriate for office use. So you might need to put that in mind when getting one.
Question: Can I Wear Knee-Length Brown Boots in Summer?
Answer: You may have to opt for a brown ankle boot during summer. The essence of a knee-length boot is to ensure the safety of the feet during inclement weather by keeping them warm. You don't have to deal with the heat of summer with a knee-length boot.
Take Away
Brown boots for women are an essential component for fashion and style, and they come in handy for any season and occasion. If you plan on getting one, let this blog be your guide to making the best buying decision. Also, you can use our tips to get the best out of your brown boots.
Interestingly, these boots are pretty affordable. You won't have to break the bank to get one.
Recommended Reads: