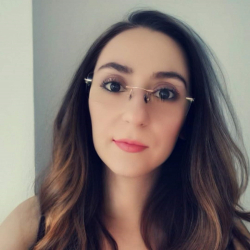 Latest posts by Alexandra Gavrilescu
(see all)
The ruched design has the power to make almost any clothing item look eye-catching, more stylish, and more feminine, hence, the increased popularity of ruched dresses. Moreover, they're flattering on all body types. At first, they might seem uncomfortable, but, believe me, they're so much comfier than many other types of dresses.
Ruched dresses are also amazing for pregnant women, as long as they're made of stretchy material. In today's post, you'll find out some of the most popular ideas of ruched dresses, as well as tips on how to style and accessorize them, a few buying guidelines to make sure you find the right one for you, and many other interesting and useful details.
Top 10 Best Ideas of Ruched Dresses
Here are some of the most stylish and popular ruched dress ideas that you could try.
Short-Sleeved Bodycon Ruched Dress
If I were to pick this type of ruched dress, I would opt for either green or blue color, since these two are my favorite choices. The design is classic; it's your typical ruched dress that embraces your body. It's basic and straightforward, which makes it the ideal starting point, before trying some other more complex models.
The dress is pretty simple and it's easy to accessorize it with high-heeled sandals. If you want to go all the way, you should consider wearing shoes that have the same color as the ruched dress.
Ruched Tank Bodycon Dress
The ruched design in this model is a bit more tamed and more subtle. You can wear it at evening events such as proms or cocktail parties. Despite being a simple style, this tank bodycon dress is sexy and sensual, and it can truly make you stand out. I would consider a dark green color for this outfit. In terms of the length, you can go as short as it feels comfy for you, but, my personal choice would definitely be a midi dress.
To make the dress stand out even more, you can pair it with some nude or pale pink sandals. These accessories will complete your elegant, chic, and sexy look.
Ruched Mini Dress with a Plunge Neckline
This is the ultimate mini dress that's so trendy and hot. The deep V neckline boosts the ruched dress' sensuality. To top things off, you can always wear it with a matching choker. It's another great idea for a cocktail party outfit that will attract the attention of all the other guests. So, it's important to be bold, so that the appearance matches your personality and attitude.
For this outfit, I would recommend simple black open-toe heels that feature a thin strap wrapping around your ankles. The choker placed around your neck will represent that little yet important stylish detail that will provide this dress with a wow effect.
Pale Pink Bodycon Ruched Dress
As you can see by now, most ruched dresses are sexy and bold, or delicate and feminine, based on the model you choose to wear. But, if you want to take the leap, and take the entire outfit to a whole new level, you should purchase a pale pink ruched dress. I guarantee you'll look like a sophisticated lady.
Regardless of your chosen neckline (whether it's a deep V or a covered top part), you will still look stunning in this type of dress. Wear it with nude ankle-strapped sandals or heels for a sexy yet feminine appearance.
Ruched Dress with a T-shirt or Shirt Top
This is a simple yet effective combination. Tone down the outfit a bit by wearing the dress with a button-up shirt, for a more casual or smart-casual look. This is an effortless daily outfit that you can wear during hangouts with your friends or on a daytime romantic date. If you plan to walk a lot, lose the heels, and wear the outfit with some comfy yet delicate sandals.
All that's left to complete this stylish look is a spacious brown leather purse, that can easily fit all your belongings such as your smartphone, wallet, lipstick, napkins, iPod, and any other items you may need when you're on the go.
Loose Black Ruched Dress
This is another ruched dress model that works great with strappy sandals. It's also suitable for both cocktail parties and proms, but it's the ideal choice for those of you who want a more low-key outfit. Despite the low profile of the look, you will still be fabulous and stunning, having a timeless and classic vibe. Moreover, looser ruched dresses are so much comfortable and flattering than bodycon ones.
Ruched Wrap Maxi Dress
The combination between the ruched style and the wrapped design flatters almost any body type. I love wearing this kind of dress because, let's face it, my abs aren't flat, and with this style, I can hide my tummy a little bit. Yes, I know I must work on increasing my self-esteem, but until I can make peace with my body, I still prefer to wear flattering outfits.
The design of this ruched dress is more complex and creative, which makes the entire look a tad more high-profile, and appropriate for evening and formal events. You could even opt for a ruched dress that features a faux-wrap cutting. It's certainly an appealing dress that looks amazing on its own, so you won't even have to wear a lot of accessories to make it stand out.
I love the combination of the forest green dress and the golden sandals. It looks so glamorous and chic.
Ruched Shirt Dress
Another creative design is the ruched shirt dress. The top part screams office outfits, whereas the bottom part is all about partying, flirting, and having fun. Pick a dress made of satin; one that has a light and feminine color such as pale pink or champagne. Even though the top part resembles a shirt, if you opt for a deep V neckline, the entire dress will look sensual and sexy.
This bodycon mini skirt is completed by the tie-waist detail, which transforms it into an elegant and unique outfit. If you really want to shine wherever you go, you should pair the dress with silver heels with open toes.
Gathered Waist Ruched Dress
This ruched dress style is very sexy without requiring you to show a lot of skin. The perfect shade for this dress I believe it would be blush pink or powdered pink and velvety fabric, but other colors will do the trick, just the same. Both the gathered waist and its bodycon shape will create a beautiful hourglass body so that you can flaunt and be proud of those curves of yours.
As for the shoes, you should consider open-toe heels that look feminine. Pick a pale pink or nude pair of heels.
Tube Ruched Dress
For a ruched dress, the tube bodycon design is an iconic one that will always be popular and stylish. It looks so timeless and gorgeous, not to mention how sexy it is. With this kind of dress, you could safely wear ankle-strap heels with open toes. Choose silver or gold heels or sandals. You can opt for a strapless ruched dress or wear one with sleeves that are coming off of your shoulders for an extra feminine and sensual touch.
How to Wear and Style a Ruched Dress
It's time to find out the proper ways in which you can style ruched dresses, based on your personality, preferences, and season.
Wear It with a Lace Kimono on Top
For a great summer or late spring look, you could wear a delicate and breezy lace kimono on top of your ruched dress. Obviously, in terms of shoes, you should pick a pair of feminine strappy sandals. Choose flat sandals if you're planning to walk a lot. The lace kimono will truly make your dress stand out and it will boost your outfit's personality.
Layer It with a Jacket
A casual ruched dress would look gorgeous if you pair it with either a leather or jean jacket. This outfit, accessorized with sports shoes, and even socks, is a very cozy autumn look. An oversized utility jacket is an ideal choice for a fitted bodycon ruched dress because it will balance your body's proportions.
And, if you're going out in September, and the weather gets warm, you can always take the jacket off, and wear it wrapped around your waist.
Wear Your Ruched Dress with Elegant Heels
You can always dress up your ruched dress by pairing it with some elegant heels. A fabulous combination is an animal print ruched dress, accessorized with hot red stilettos. If the color of the dress is bolder, such as passion red, you can always balance that by wearing shoes in neutral colors. A good example would be nude heeled sandals. It's a very good choice for an evening event or cocktail party.
Pairing the Dress with Boots for Winter
Who says you cannot wear ruched dresses in winter? You can, if you also wear layers to make you feel comfy and warm. For warmer days, you could opt for a poncho on top of your dress. Another idea is to pair the dress with a cozy button-up sweater. A cardigan is another way to go. But, remember to always wear high or even over-the-knee boots to complete this wintery look.
How to Find the Best Ruched Dress – Buying Guide
Before purchasing a ruched dress, you should consider the following aspects.
Think About the Ruched Design and Its Placement
Before buying a ruched dress, you should figure out where you want the ruched design to be featured. Bodycon dresses can have ruched details placed in front, their back part, around the waistline, on both sides, around the hips and bottom areas, or even on the sleeves. Certain models have ruched details all over the dress.
Wearing ruched clothes makes a clear statement, so, you must carefully think about your preferred style. Specific types of ruching can conceal specific shapes or so-called imperfections. For instance, I have a tummy and I try to wear flattering clothes that aren't too tight.
Take Good Care of the Dress
With a ruched dress, you must be very careful whenever you iron or steam it. The ruched details are made that way so they're permanent and cannot be modified. But, if you don't steam or iron them properly and with extra care, you could damage them and ruin the entire dress. Read the instructions provided on the label because, in some cases, certain ruched materials aren't supposed to go through any type of heat cleaning process or they will melt.
Buy a Stain Remover
Having a stain remover close by is always a good idea if you have delicate clothing items in your wardrobe. Ruching designs come with a lot of benefits, but they also have a few downsides such as the fact that they collect stains and dust quite easily. Ruching is something opposed to flat designs and its volume and shapes are prone to stain quickly, especially if they rub or brush against another surface.
Moreover, these indentations will prevent food crumbles from falling on the floor. Instead, they will be retained by your ruched dress. Luckily, an effective laundry stain remover will solve all those issues.
The Main Features of Ruched Bodycon Dresses
Neckline
Image source: 1
It's always best to balance things. So, if your chosen ruched dress has a mini skirt, you should opt for a design that has a less revealing top part. At the same time, if the bodycon dress is a longer one that doesn't show your legs, you can pick a V neckline. To recap, more modest necklines go with shorter dresses. Here are the available types of necklines:
Sweetheart neckline;
Crew neck;
Scoop neck;
Plunge neckline;
Low halter neckline;
Mock neckline;
Round neckline;
Square neckline;
Surplice neckline;
High halter neckline. 
Hemline Length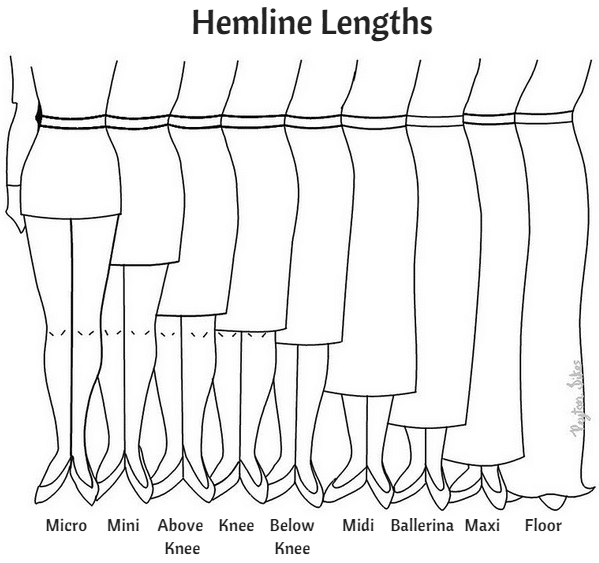 Image source: 2 
Choose the length of the hemline that makes you feel comfortable and confident in your own skin. Remember that a ruched bodycon dress will fit tightly, so you may like a dress that ends around your knee area, or even lower than that. But, hey, if you are totally comfy wearing a mini dress, go for it, without thinking twice. For me, the ideal hemline length would be a midi dress.
Style
Not all ruched dresses are sexy or sensual. Based on their details and design, these clothing items can be casual, professional, fancy, or even revealing. For example, a very casual ruched dress would be one that's made of cotton and features a top part that resembles the construction of a T-shirt.
The Best Ruched Dresses Brands to Consider
If you enjoy an occasional fashion and dress-up play, I'm sure you like to try original clothing pieces such as ruched dresses. I am like that; as a teenager, I wasn't very confident with the way I looked, although I was much slimmer than I am now, my perception was disproportionate. So, I wore clothes that didn't make me stand out too much.
Now, at 32 years old, I am finally starting to make peace with both the child and the woman in me, and I am more courageous when it comes to trying bolder colors, statement fashion items, and original prints. So, it was only natural that my attention was caught by some cute, feminine, and sexy ruched dresses that even celebrities love and wear.
Without further ado, let's see some popular brands and choices of ruched dresses.
Ruched Silky Mini Dress by Kim Shui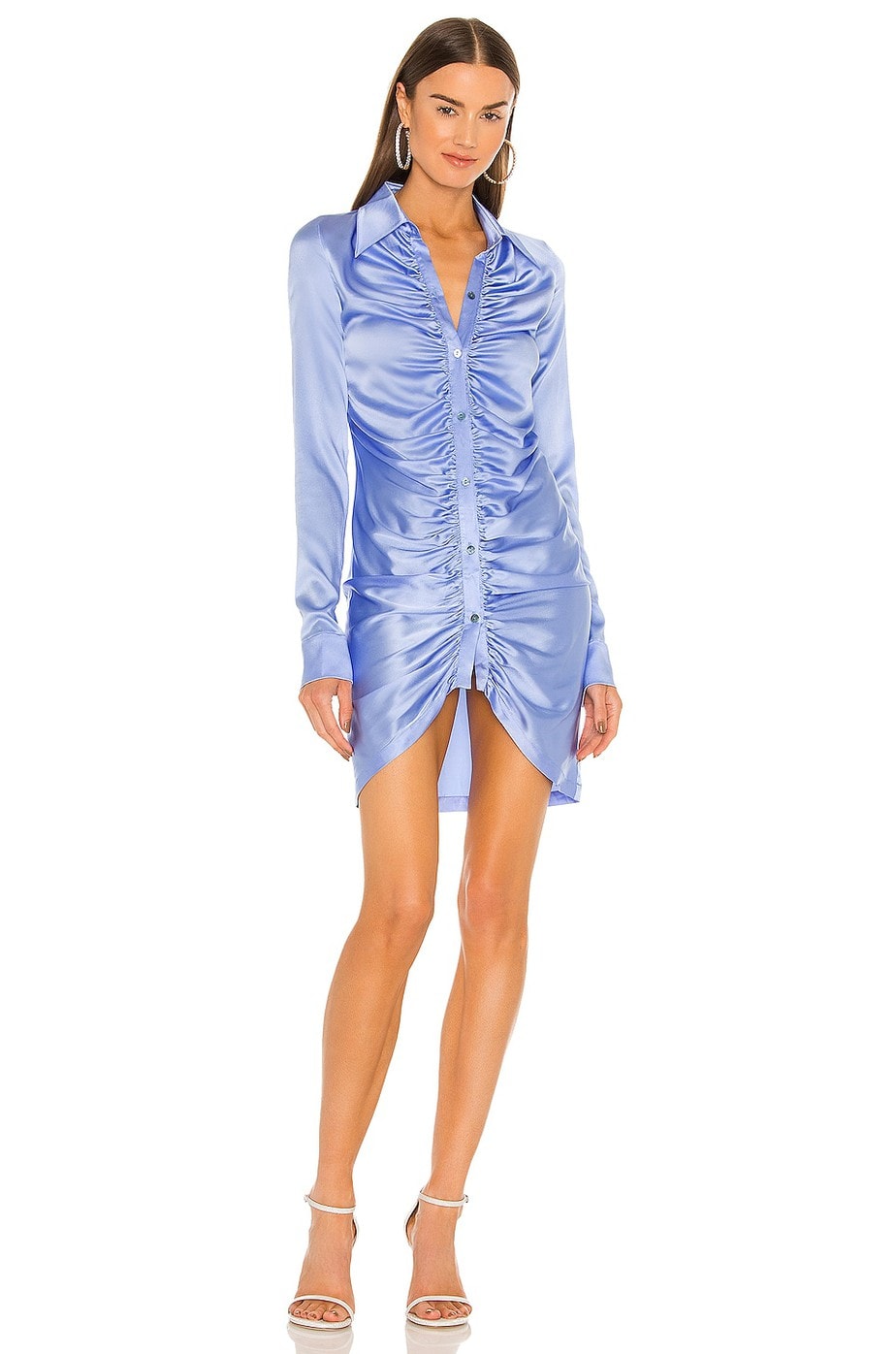 This Kim Shui violet dress is incredibly glamorous and feminine. Its soft silky material shines beautifully. The dress is a mix between office looks and party dresses. The top part is a shirt design with long sleeves, and there are buttons all the way down on the front part of the dress. Due to these buttons, you can always wear it as a long shirt, paired with jeans, for a more casual look.
Long-Sleeve Ruched Dress by Pretty Little Thing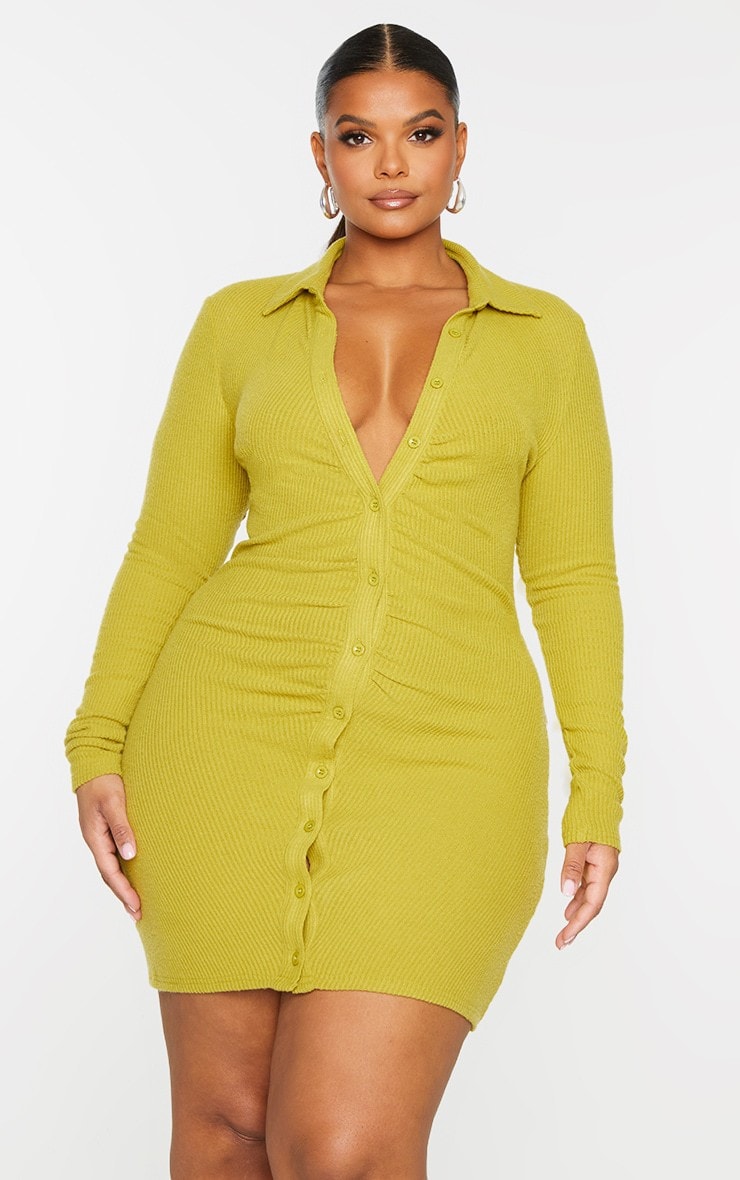 This Pretty Little Thing ruched dress is another shirt-looking choice, but unlike the one presented above, this dress is made of cotton and other casual materials. It's form-fitting and comfy, and it enables you to wear it with a wide range of different shoes. This outfit looks very chic and modern, and it's also very affordable.
Veronica Beard Ruched Shirtdress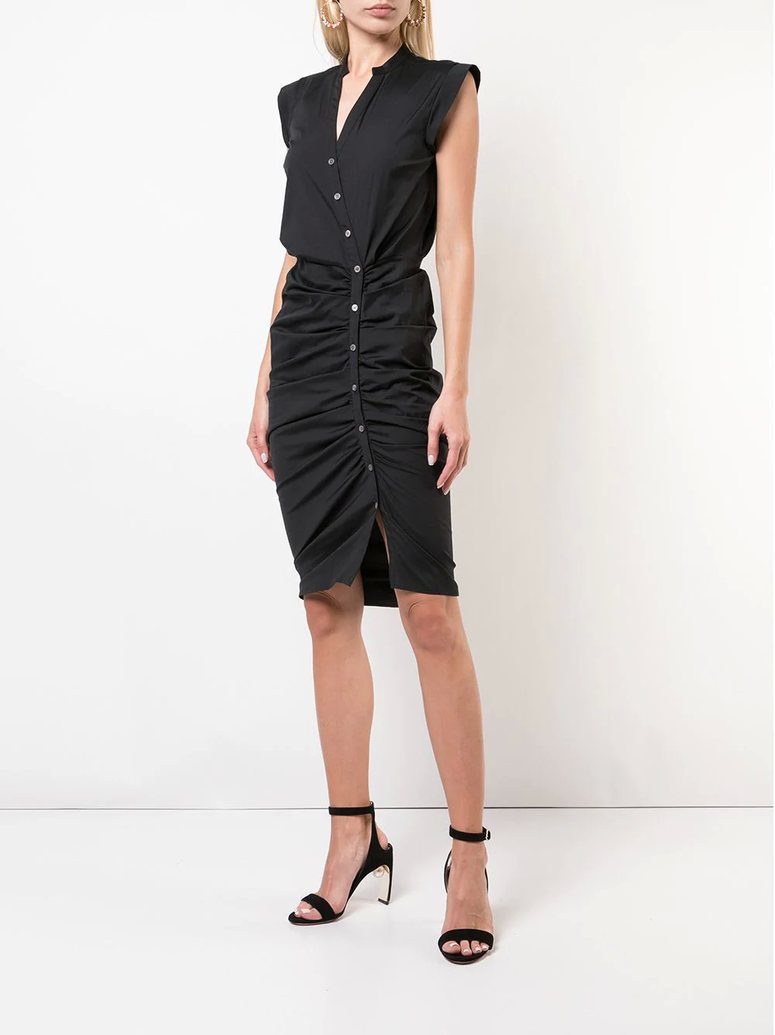 This Veronica Beard dress is highly versatile, but the main vibe it sends is the one of an office dress. It's white, so you can accessorize it any way you want. Wearing it will be a pleasure due to its comfy material and structure. The hemline is a knee-length one which is another advantage if you want to wear it at the workplace. While the white version is cute too, I personally prefer the black alternative.
The hem is asymmetrical and the front part closes with buttons. I also love the fact that this ruched dress is made mostly of cotton. Unlike your classic shirtdress, this one is reinvented and really edgy.
Sleeveless Mini Ruched Dress by Nasty Gal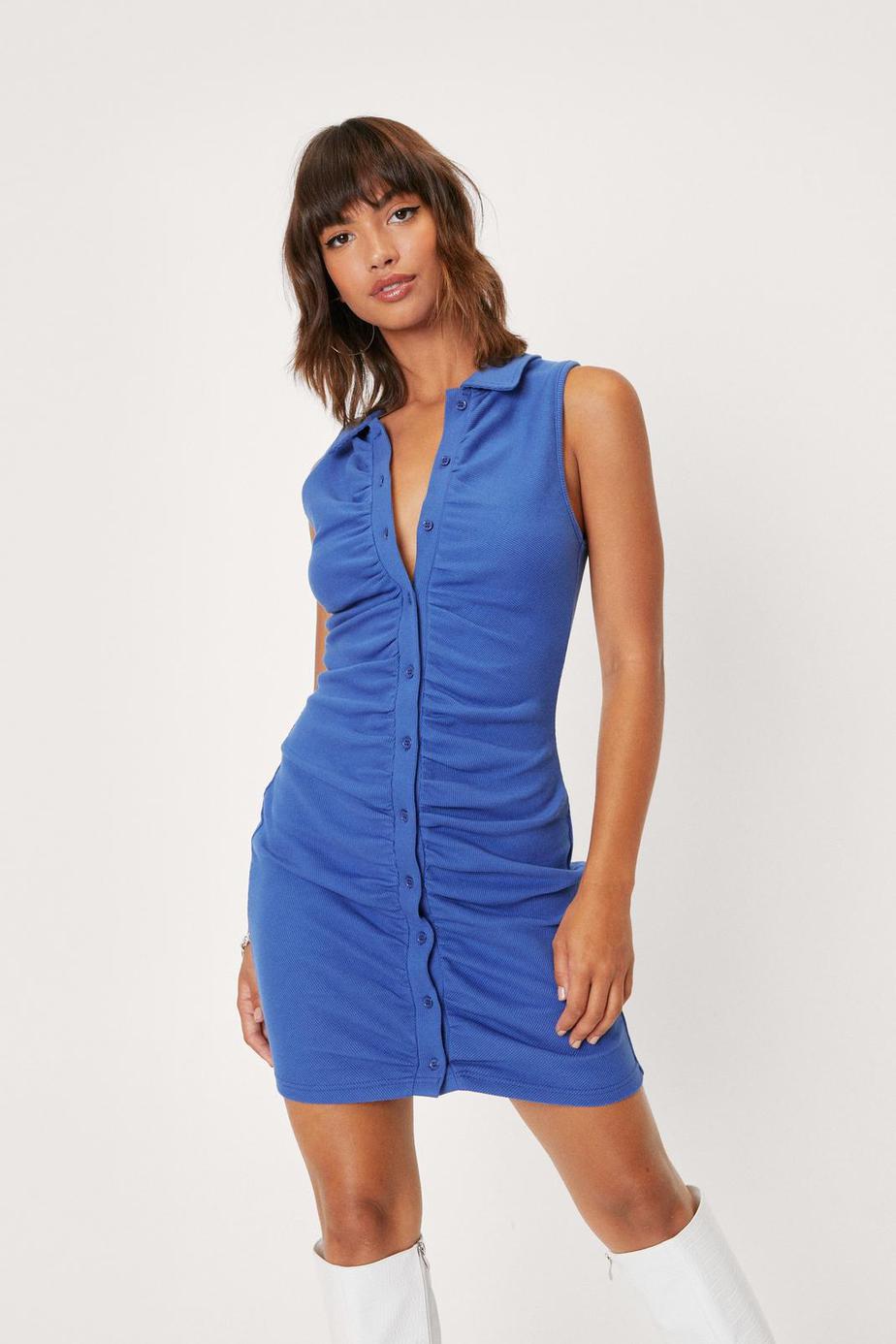 I love the Nasty Gal brand and its clothing items. They're fashionable and chic, and they flatter most body types. Plus, I know and appreciate the owner, who's a very strong and independent woman. This mini shirt dress is highly affordable and very cute. It's also versatile, which means that you can dress it up, by wearing it with high heels, or dress it down, pairing it with flat sandals or masculine boots.
Off-Shoulder Ruched Dress by Elleme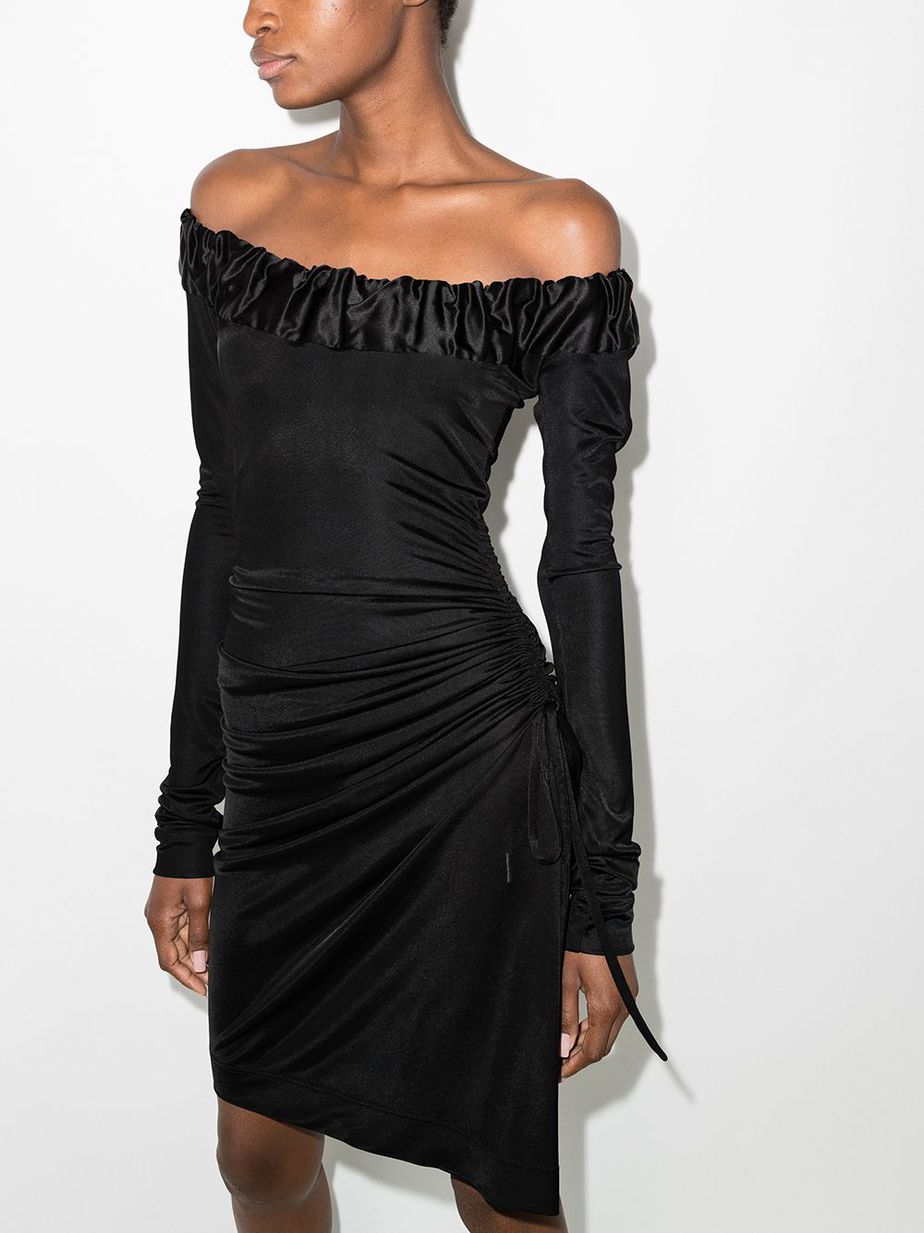 This Elleme ruched dress could be your original and unique little black dress that you can wear at cocktail parties. It's an off-the-shoulder dress, which makes it really pretty and sensual. The neckline is wide and covered in a long ruffle, while the ruched detail is featured on the side and has an asymmetrical design. It's a tad more expensive than other ruched dresses but it's manufactured in Italy, from high-quality fabrics.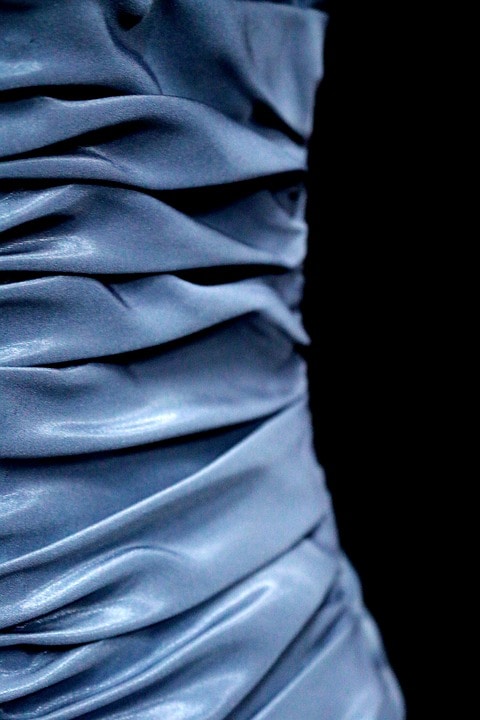 Image source: 3
Best Ruched Dress Ideas – Frequently Asked Questions
Question: What Is a Ruching Design?
Answer: It's a specific design and fashion detail that has the purpose of boosting both volume and texture in clothing items. It's a technique that consists of pleating and gathering the excess fabric to create the illusion of waves, and it can have a slimming effect. Ruching details on bodycon dresses increase their sensuality, while the same structure placed around one's chest, makes your "gals" look bigger.
Question: What Are Bodycon Dresses?
Answer: Bodycon dresses are those that are snuggly and form-fitting, so they are close to your curves and shapes, following the line of your body, especially around the waistline, hips, legs, and bottom. They're made that way to accentuate one's curves. Most bodycon dresses are made of stretchy and thin fabrics. This design became popular in the early 1990s.
Question: What Are the Pros and Cons of Ruched Dresses?
Answer:
Pros:

They look great and sexy;
They accentuate one's curvy body;
A ruched dress can make you look slimmer around your waist;
This style will always be trendy and popular.

Cons:

They could be too form-fitting for some people;
Too tight ruched dresses might not be very comfortable to wear;
Most ruched dresses are made of thinner materials, and some of those fabrics might be a tad transparent.
Best Ruched Dress Ideas – Final Thoughts
Ruched dresses are aesthetically pleasing, comfy, sexy, and they even conceal a bit of your tummy or other so-called "imperfections." (Baby girl, don't you think your body is not perfect, because it is, no matter the shape or the size; after all, I strongly believe that beauty comes in all shapes and sizes, although there are days when I struggle with my body image, but that's a story for another day).
I love ruched dresses, and I even own a couple of them, both appropriate for evening or formal events. One of them is really glam, made of velvety red material, while the other one is shorter and has puffy sleeves and a vintage vibe to it. I only got to wear them twice but I keep them safe and sound in my closet, and cannot wait for the next occasion to flaunt them in public. My personal favorite ruched dress style is one that's made of comfy fabrics and that's not very tight on my body.
Here are my two ruched dresses. But, I'm not sure they still fit me properly, since I haven't worn them in the last 2 years or so, and I've gained some weight since then.
What about you? What kind of ruched dress you'd like to wear?
Recommended reads: