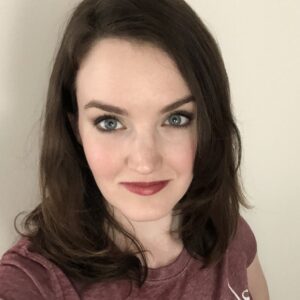 Latest posts by Crystal Schwanke
(see all)
The best yellow cardigan ideas are having a moment right now, thanks to all the cardigan styles there are to choose from as well as the popular pairing of relaxed, cozy style and a return of bright colors to the fashion scene.
I chose the best yellow cardigan ideas based on their versatility. I wanted cardigans that would flatter the most skin tones and body types, as well as transition well from season to season and from one occasion to the next. Ideally, the sweater would pair well with any wardrobe, too, regardless of color palette or style.
Of course, they needed to appear well-made, as well. I relied on reviews as well as my own experience shopping for sweaters from these stores. Interesting features, like pockets, also influenced my decisions.
Types and Shades of Yellow Cardigans
When you're looking for the best yellow cardigan ideas, you have options.
Types
You can find yellow cardigans in any of the usual cardigan styles, though some shades may be easier to find in certain styles (cropped or classic in a bright yellow and mustard in a long cardigan style, for example). Here are some of the options you may want to look for when you're expanding your wardrobe to include a yellow cardigan.
Open-Front Cardigan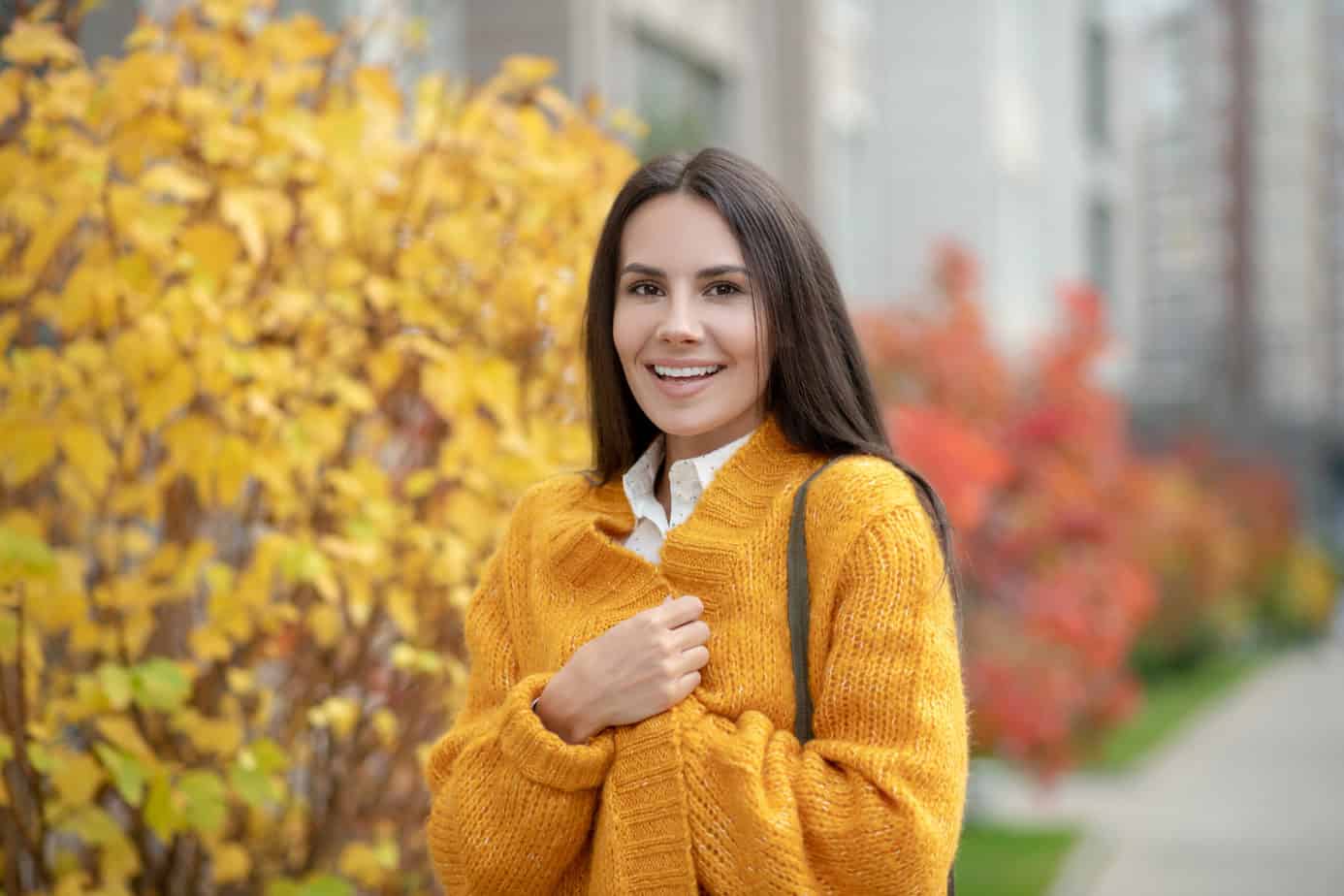 These are usually longer and cozy, often knitted with chunky yarn, though not always. Pair it up with anything from a tee and jeans to a casual dress.
Zipped Cardigan
This makes a good, more dressed-up (usually), option to take the place of a standard zip-up hoodie. You'll often see these with hoods, too, for extra warmth. In most cases, these will end around mid-hip or higher.
Waterfall Cardigan
Cozy, flowy, and open, this is a cuddly style that looks great with dresses because of the extra length and feminine detail. You can always wear them with your tees and jeans or leggings, too, though. They're usually on the longer side, so this type will cover your backside (helpful if you're worried about keeping it covered when you're wearing leggings). They'll usually end around the bottom of the hips or mid-thigh.
Classic Cardigan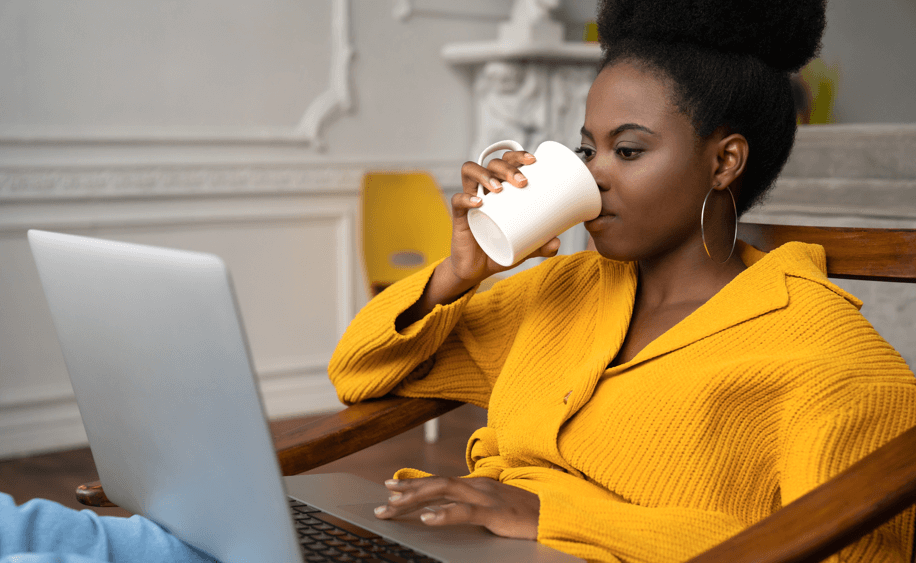 You know the type. Buttons end at the waist or mid-hip. Looks cute over a dress with a fitted bodice (skirt type doesn't matter–it all works) or t-shirt. It can go just about anywhere and you can probably find these in just about any shade of yellow. Pearls optional.
Hooded Cardigan
You can find hoods on zip-up cardigans, waterfall cardigans, and cardigans of all lengths. It's an extra layer of warmth and coziness, but these are generally designed to accompany more casual clothing choices, so while you might wear it over a casual dress or tank and leggings, you probably will want to choose something else for special work events, for example. This one's not quite as versatile as a classic cardigan, but it's cozier.
Belted Cardigan
If you have an hourglass shape you want to play up or you're looking to create the illusion of curves (or you just like for your slouchier, cozier cardigans to stay in place), a belted cardigan–with or without buttons or a hood–could be the way to go. These work well over dresses where you may feel like you need to rein some of the material back in and hold layers closer to your body.
These often have chunkier knits, but that's not always the case. Other features you can expect: open front, crossover style, deep front pockets (I especially love this one, but pockets aren't always available!), and longer lengths that at least hit at the lower hip.
Cropped Cardigan or Shrug
Cropped cardigans will end at or above the waist and they're a fun way to add an extra layer of color to an outfit (so they're perfect if you're loving the idea of a neon yellow cardigan) even if you don't necessarily need to add a lot of warmth. If you do need the extra warmth, these can be layered under a jacket (leather or denim, for example) because they tend to be fairly thin.
Wear a cropped cardigan with a dress (skirt style doesn't matter) or almost any kind of tee/blouse and bottom pairing. They're versatile, fitted, and often have buttons or zippers to keep them closed.
Long Cardigan
These can hit anywhere from below the hips to the ankle. They can have hoods and/or belts, but they're usually open in the front (other than a belt). These can work well with leggings, tees, and ankle boots; they also complement fitted dresses as well as blouses and slacks.
Cardigans on the longer end of the spectrum tend to be made from thinner fabrics and tighter knits so they skim the shape of the body rather than adding a lot of extra weight and bulk (visually or literally).
Shades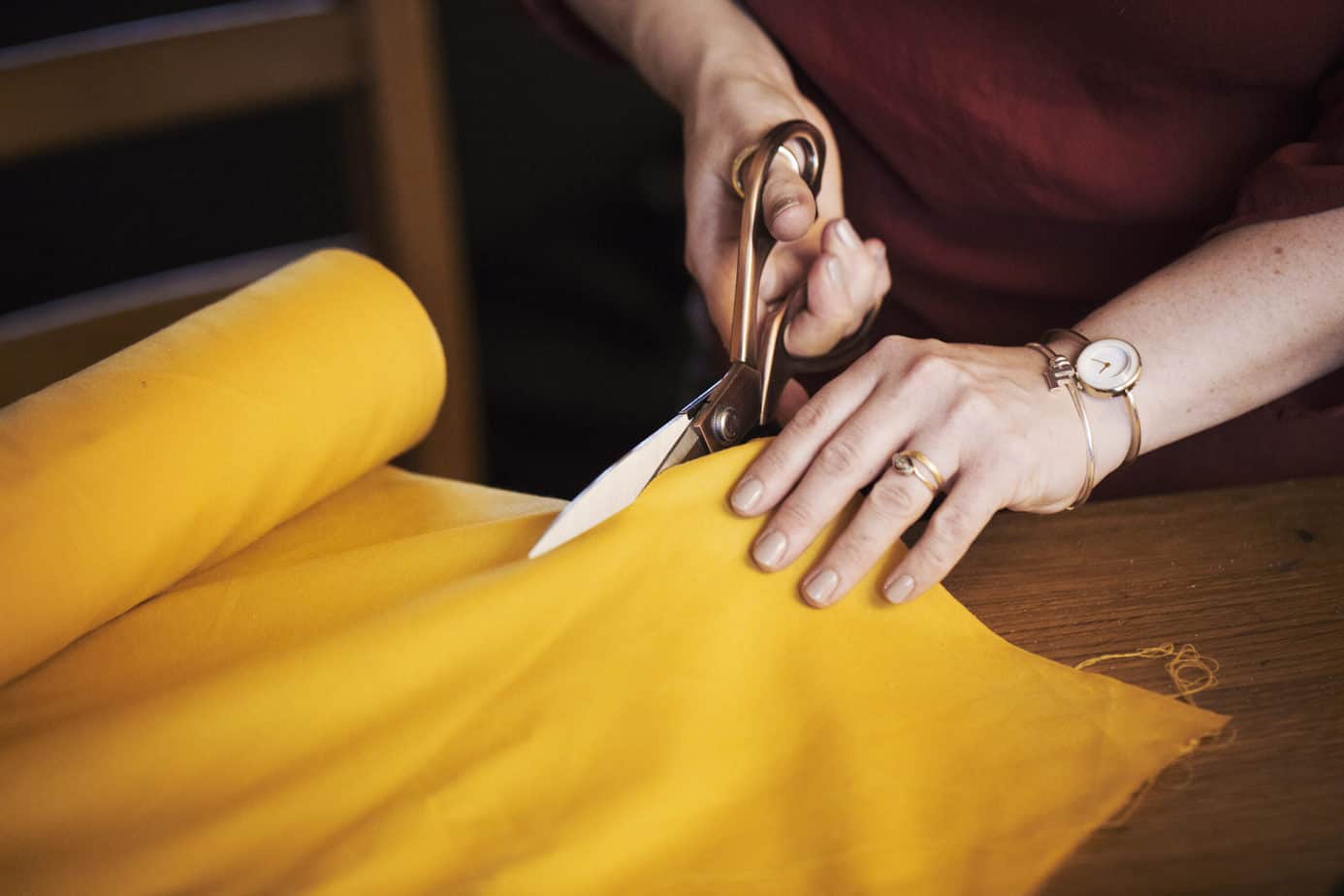 There are different shades of yellow to suit a range of skin tones and personality types. In general, yellow is best on warm-toned skin, but pairing certain yellow shades with neutrals or cool-toned shirts, dresses, or scarves can increase your odds of looking beautiful in yellow even if your skin is neutral- or- cool-toned.
Mustard/Honey/Amber
These are the muted shades of yellow with a touch of brown. They're perfect when you want to wear a yellow sweater without standing out too much. If "loud" clothing isn't for you but you're warm-toned and yellow is one of your favorite colors, try one of these. They look beautiful with deep, rich shades like burgundy, navy, and forest green. Even some shades of purple look stunning next to mustard, honey, or amber cardigans.
Neon/Lemon
Love to stand out in the crowd? A neon or lemon-colored cardigan should be on your list. You can wear these with clear, bold colors like royal blue or emerald green, but they pop on top of neutrals like light gray, charcoal, and black, too. A bright yellow cardigan is a good way to liven up an otherwise boring outfit.
Primary Yellow/Canary
Basic yellow may sound underwhelming amid honey, lemons, neons, mustards, etc. However, it could be perfect. If you're a yellow fan but have trouble pulling it off some of the other shades, this basic primary shade may be the solution. It also pops against neutrals and clear, bold shades just like the others.
Primary yellow, or canary yellow, is one of the more versatile shades of yellow, so if you want something that's not quite so understated it blends in, but you're not really a neon yellow kind of person, and you do love the idea of a yellow cardigan you can throw on over almost anything, try on a basic, primary yellow one.
Pastel Yellow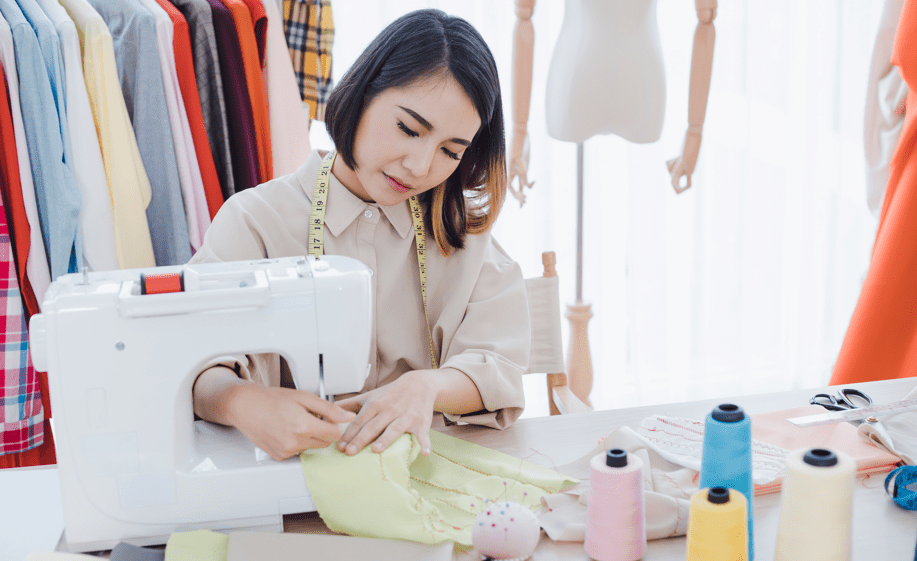 If you're fair-skinned and find yellow cardigans to seem overwhelming against your coloring, a pastel yellow could work. These are often overlooked in favor of shades of yellow associated with fall, like mustard, or the brighter shades that come to mind when you hear the word yellow.
Pair pastel yellow with pale blue, white, light denim, and even gray. Experiment with other pastel shades for your top and any accessories.
The Best Yellow Cardigan Ideas to Try
Here are some of the best yellow cardigan ideas to try when you want to update your wardrobe with new ways to keep warm, help your summer clothes transition into fall, and add a little sunshine to your closet:
Loose Knit Cardigan
This loose-knit cardigan from H&M is the perfect shade of buttery yellow and it's light enough to flutter on the breeze, perfect for adding color without a lot of warmth (great for warmer fall days or cooler spring days).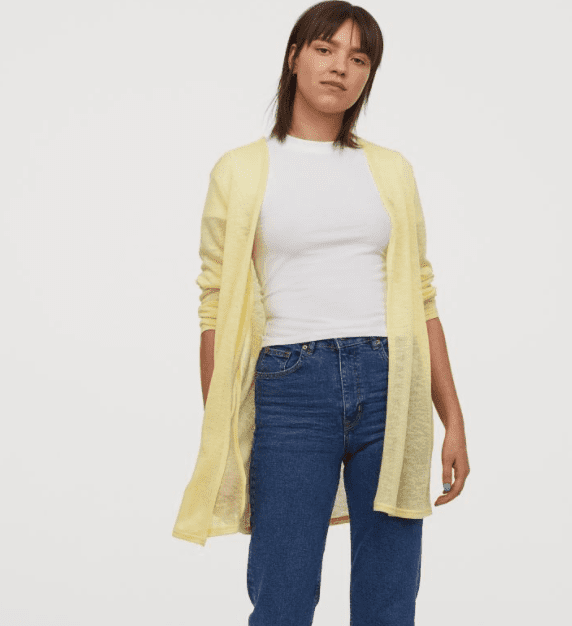 Pros
Inexpensive at under $15.00
Not such a bright shade that it will feel too overpowering (for anyone's coloring or occasions)
Made from recycled materials
Cons
Probably too lightweight to add much warmth, but the length will keep it from being layerable under other jackets
Doesn't close and doesn't have a belt, so it's really unlikely to help you stay warm
Size range is limited to XS to XL
Short Cardigan
This short cardigan, also from H&M, has some interesting features that make it stand out in a crowd of yellow cardigans.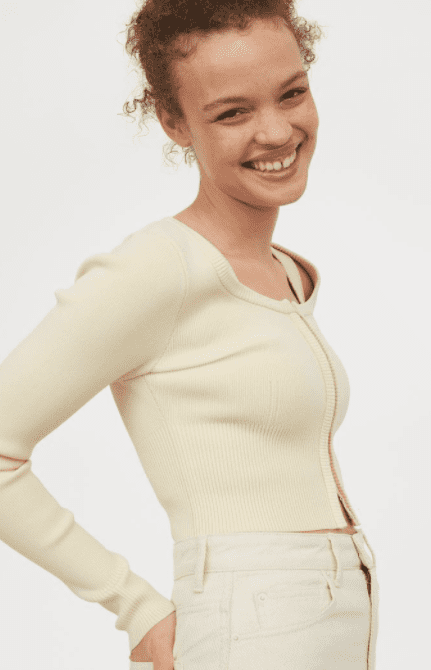 Pros
Cropped style will be versatile enough to work with all kinds of dresses, tops, and bottoms
Soft yellow shade is as close to universally flattering as yellow can get
Reasonably priced at about $40.00
Scoop neck and hook-and-eye closures make this more visually interesting than most other cardigans on the market
Cons
More expensive than some other options
Cropped style won't be flattering on as many body types as other cardigan styles might be
Sizing only goes from XS to XL
Women's Button-Front Ribbed Cropped Cardigan
This cardigan by Wild Fable, available at Target, will introduce a burst of color your wardrobe might be craving. It has a generally classic style, but with a collar. It's just slightly cropped and relaxed, so even though it has buttons, it's not exactly "buttoned-up" like the classic cardigan styles associated with scoop-neck twin sets and pearls. Though if you do happen to like the twin set look, there's a rib-cropped sweater tank to match.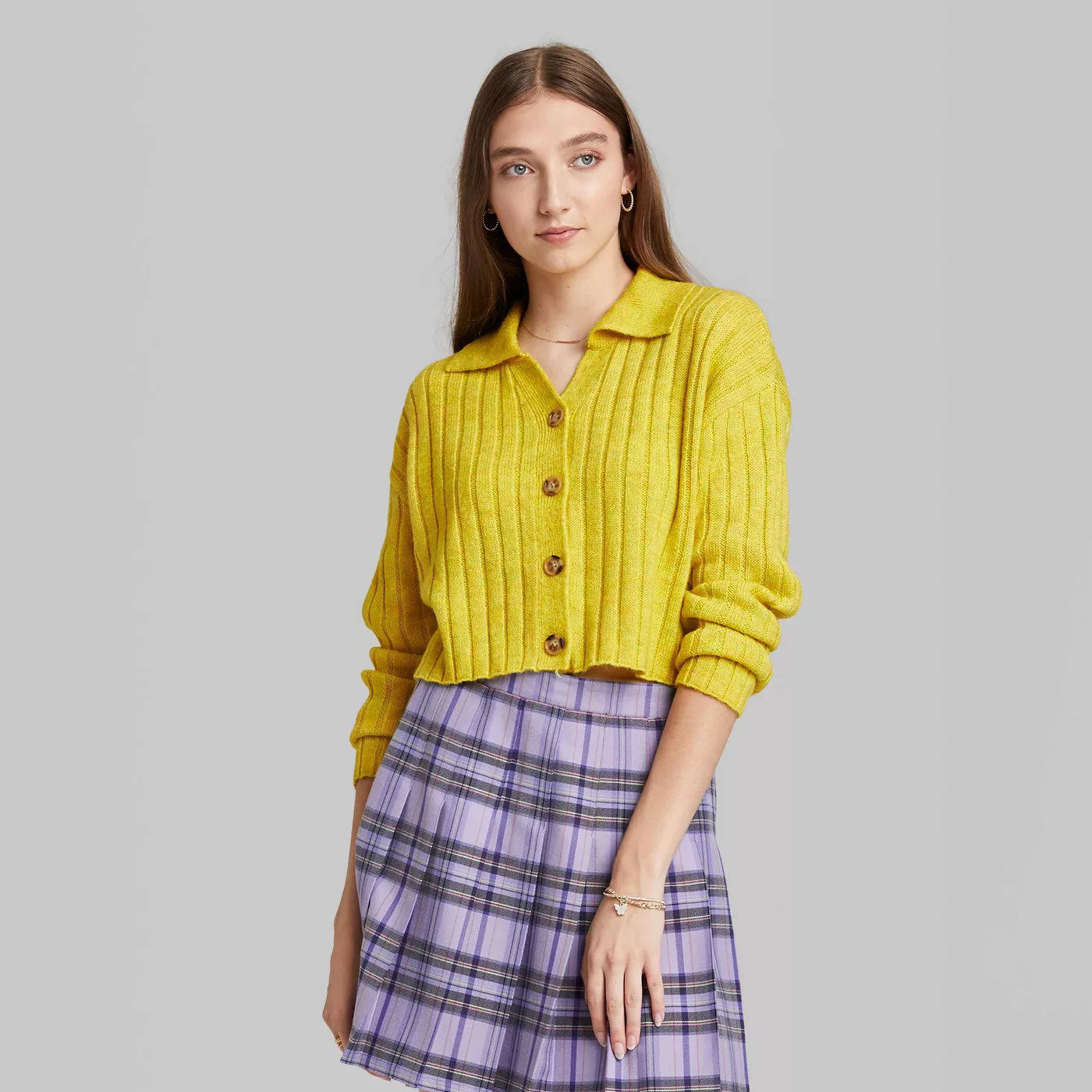 Pros
Modern twist on a classic
Bright color stands out
Cropped without exposing too much skin, so it can still help keep you warm
Inexpensive at $25.00
Available in XS to 4X
Cons
This particular shade of yellow isn't as flattering on as many skin tones as some other shades
Some people may find it too relaxed or slouchy for the shorter length
Women's Duster Cardigan
This women's duster cardigan by Universal Thread is on the longer side, with pockets, in a muted strawlike yellow shade.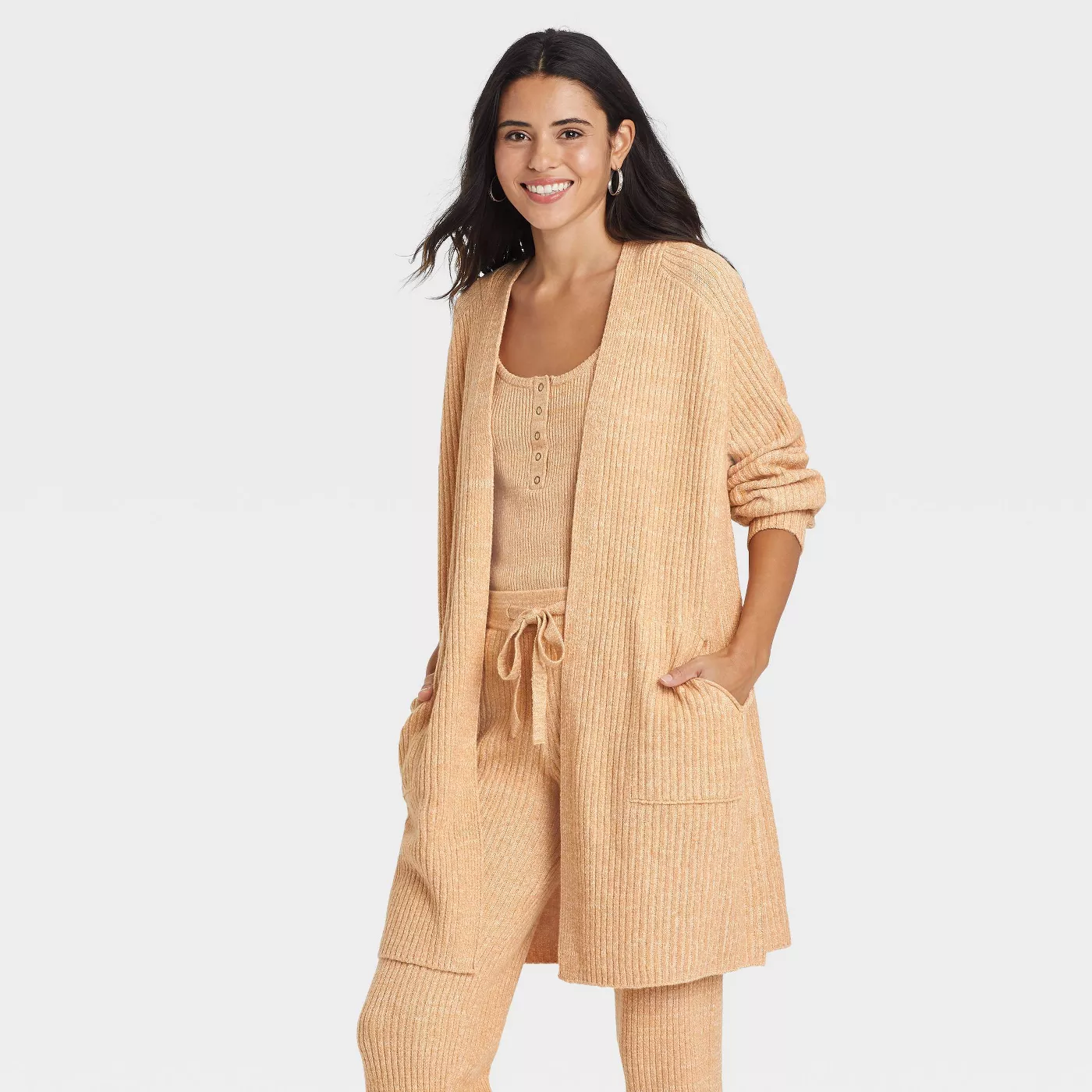 Pros
Inexpensive at around $30.00
Longer length will be flattering on most body types
Sizes from XS to 4X
It has pockets
Can be dressed up or down
This shade of yellow is soft enough to flatter a variety of skin tones and be worn anywhere
Cons
Open front may be an issue for some
Striped V-Neck Pocket Cardigan
If you love stripes and want a yellow cardigan that's a little more exciting than the typical solid color, you'll love this striped v-neck pocket cardigan from Loft.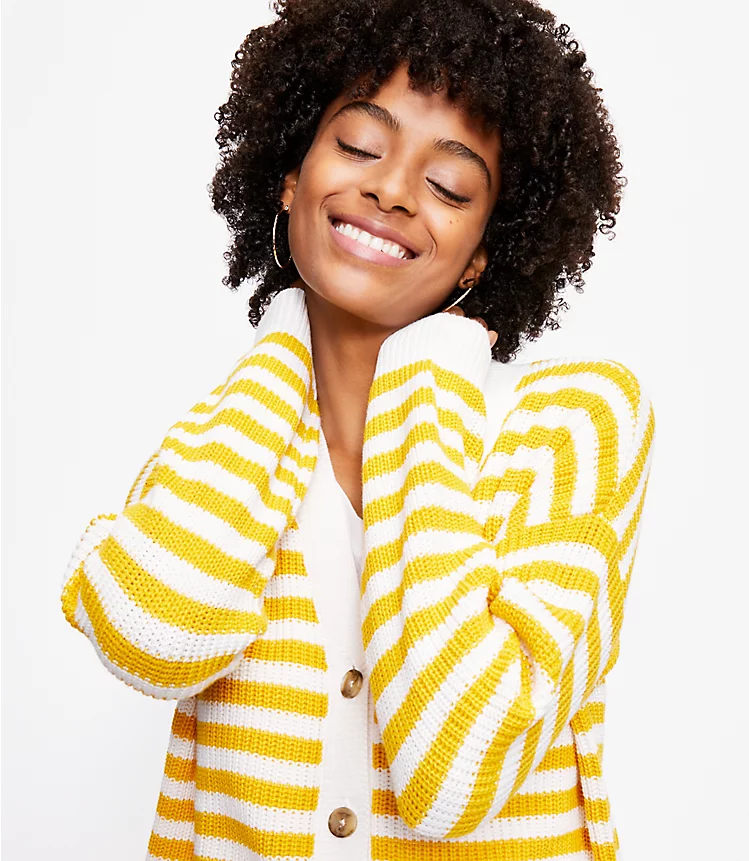 Pros
Stripes not only add visual interest but break up the bright yellow to make it seem softer in color overall
It has pockets
Tunic length is flattering without being overwhelming
Cons
It's one of the more expensive ones on the list at just under $80.00
Limited sizes available
a.Jesdani Women's Button Down Crew Neck Knit Cardigan Sweater
The a.Jesdani sweater is available in bright primary yellow and mustard, so you can choose between the two if you like this classic knit button-up style.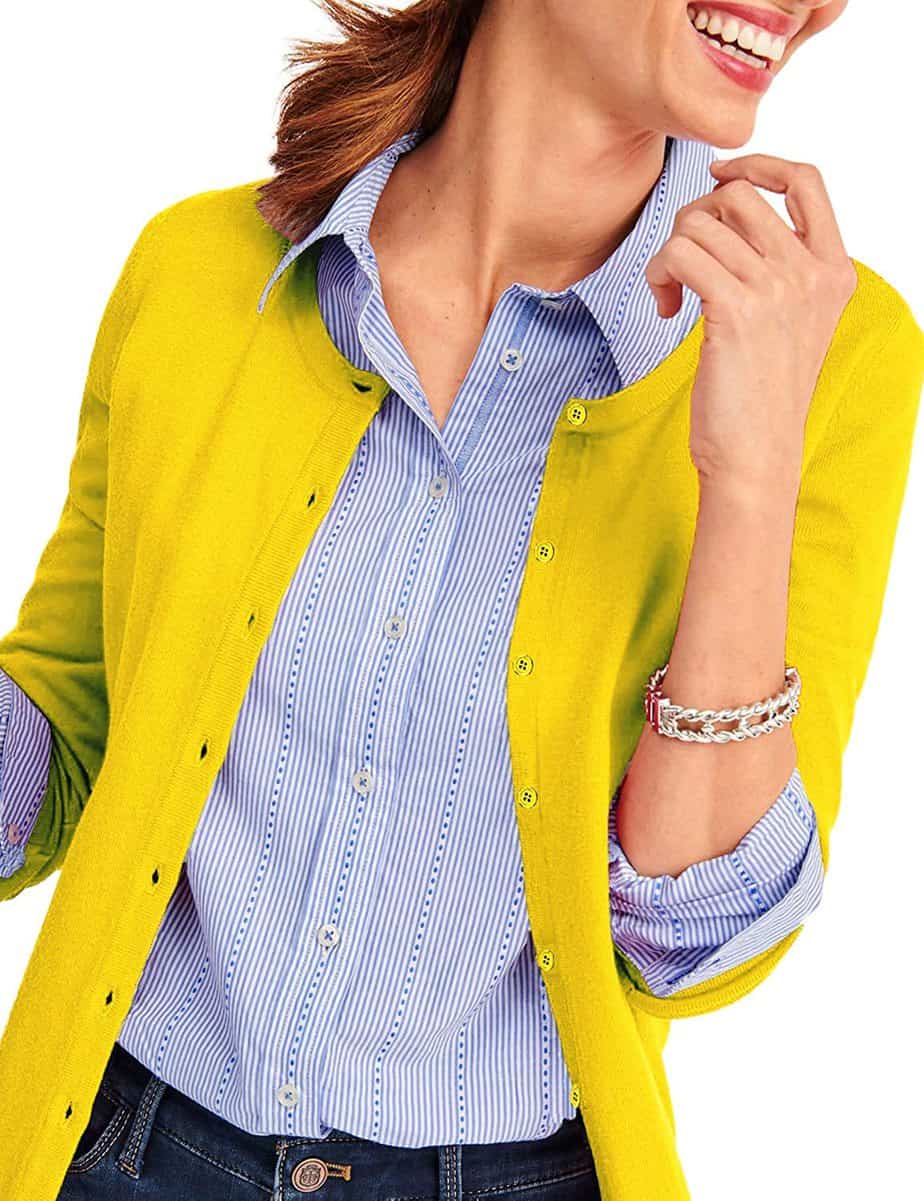 Pros
Available in two shades of yellow
Mustard shade is available in scoop neck or v-neck style
Well-made, according to the reviews
Classic style goes with everything
Inexpensive
Cons
Some reviewers mentioned that the sizing can be off, so skim reviews before placing an order to make sure you order the right one
Some people may find this style too basic and boring for what they need
MEROKEETY Women's Long Sleeve Cable Knit Sweater
The MEROKEETY sweater is available in mustard yellow. It has buttons and a v-neck style, and it hits just below the hips.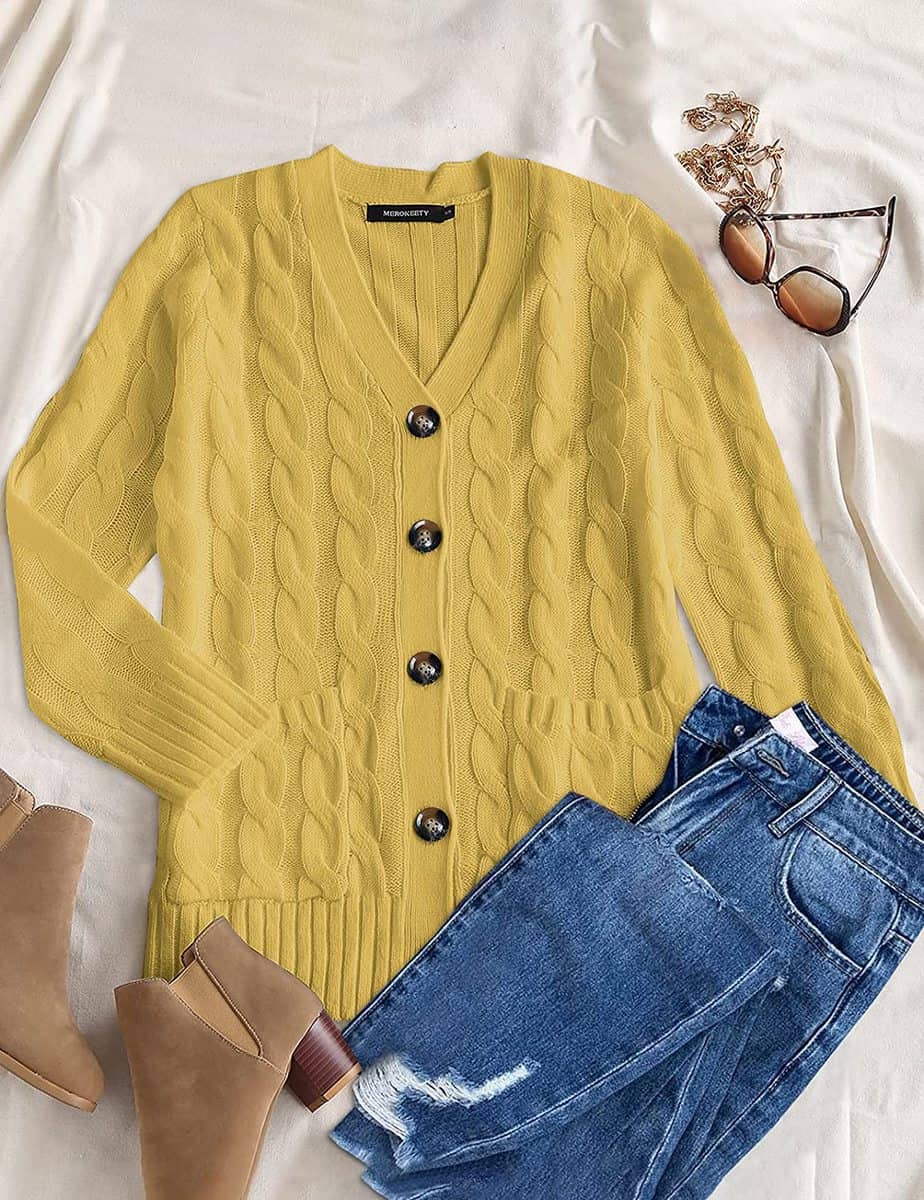 Pros
Flattering length
Pockets
Cozy, but fitted enough so as not to look too slouchy
Interesting, chunky cable knit
Cons
Expensive, compared to most others on the list
Only one shade of yellow is available
Only available in Small to XX-Large
How to Style Yellow Cardigans
So now you know you'd like to have a yellow cardigan in your closet, but how should you wear it? Here are some of my favorite ways:
Pastel yellow cardigans look right at home when paired up with a white tee and relaxed jeans, as lilyinterrupted shows us. Keep the casual vibe going with your favorite pair of sneakers.
Red may not be the first color that comes to mind when you start thinking about how to best wear a yellow cardigan, and what to wear it with. However, consider this pairing of a white top, yellow cardigan, red pants, and chunky accessories from weekenddoll:
How about a burgundy playsuit with a yellow cardigan for an unexpected pairing? This one's also from weekenddoll:
You can use a yellow cardigan to add a pop of color to a black crop and black jeans combo, as danny_1518 shows us here:

A long yellow cardigan adds an element of warmth and coziness to a shorts-and-top combo and makes the perfect segue from summer to fall, as shown by behindherglasses_. The pattern on the shorts adds some visual interest to a neutral outfit, then the cardigan ties everything together:
A lemon yellow, slouchy-but-classic cardigan makes a statement when it's tucked into a patterned skirt and paired with a lace-lined cami and boots. Seenonsarah shows us here:
Pop a classic pale yellow cardigan on top of a soft blue dress with a flared skirt for a look that works in the fall or spring, as demonstrated by historyteacherstyle:
What Else You Should Know About Yellow Cardigans (FAQs)
Question: What goes well with a yellow cardigan?
Answer: It depends on the shade of yellow. Mustard, for example, will look good with earth tones. Bright or neon yellow will be balanced by neutrals (not just black, but think charcoal gray, navy blue, etc.). Primary yellow can pair up with just about anything, but consider bold shades like emerald green or royal blue.
Question: What do you wear with a mustard cardi?
Answer: There are so many options! A navy blue, burgundy, brown, or forest green dress would be beautiful. An all-neutral outfit of any kind (tee/jeans, top/skirt, blouse/slacks) would work, too. If you like to wear lipstick, try a warm red to bring the whole look together.
Question: What color shirt goes with a yellow sweater?
Answer: It depends on the shade of yellow cardigan you choose, but for shirts, consider: black, charcoal gray, light gray, denim blue, emerald green, royal blue, primary red, burgundy, royal purple, white, cream, or forest green. Yellow cardigans are more versatile than you may think.
Question: Who can wear mustard yellow?
Answer: Mustard yellow looks best on those with warm-toned skin (yellow undertones). If you have a mix of warm and cool undertones, you may be able to pull it off by pairing a cooler-toned top with your cardigan. A hair accessory or bold earrings could also help balance the mustard yellow against your skin tone.

However, if your undertones are pink and you're undeniably a very cool-toned person who wants to wear a mustard yellow cardigan, try putting a scarf in one of your best colors with the cardigan. This will create a line between the mustard yellow and your face, so you'll get to wear the color you'd like to wear and still look radiant.
Question: How do you rock a yellow sweater?
Answer: My favorite way is to pair a slouchy yellow sweater up with an otherwise neutral, comfortable, casual ensemble. My second choice is to put a yellow cardigan on top of a navy blue A-line dress for a gorgeous contrast that flatters a variety of skin tones and body types.
Question: How do you style a cardigan in 2022?
Answer: Boots are a must. Ankle boots with leggings and a tee (possibly cropped, if it's not too cold), plus the boots and cardigan are the perfect look for Fall and Winter 2022. The key is to keep everything casual. Brights are making a comeback (think 80s fashion), so a yellow cardigan with your favorite pair of relaxed jeans and a fitted tee is a no-brainer, winning style for 2022.
My Top Yellow Cardigan Recommendations
There are so many beautiful yellow cardigans to buy out there, but I think if I had to choose an absolute favorite, it would be the MEROKEETY cable knit one, available at Amazon.
Its length is flattering on most body types–not too long or too cropped–and the cable knit gives it visual interest without requiring a busy pattern.
The shade of yellow makes it versatile enough to work with muted or neutral tones, and it can go just about anywhere.
Recommended Reads: