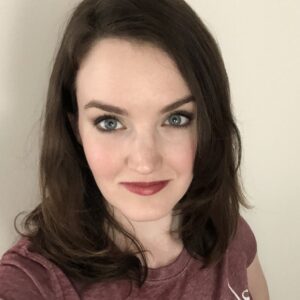 Latest posts by Crystal Schwanke
(see all)
The best balloon sleeve sweaters will make you feel warm, cozy, and chic, and you can pair them with almost any bottom in your fall or winter wardrobe. This is an interesting spin on a classic sweater style that can make you look fashionable but not overly trendy.
My list of the best sweaters with balloon sleeves is a collection of versatile choices in colors to flatter all skin tones, in a variety of styles that will suit personal tastes and different environments (you may want something different for going out than you do at the office, for example). I've considered pros, cons, perceived quality, as well as others' reviews when narrowing down the sweaters included on the list.
What Is a Balloon Sleeve Sweater?
Imagine your favorite classic sweater that fits you perfectly. It skims your body without being too tight or too boxy. Now, mentally add extra material to the sleeves below the shoulders so it "puffs" slightly. Cinch the material back down at your wrists with a cuff.
Balloon sleeve sweaters can be any length and have any type of neckline or collar. The extra material in the sleeves, carefully placed to start at or just under shoulders before ending in cuffs at the ends, is the standout feature here.
If you love oversized sweaters but can't wear them everywhere–or with everything–you'd like to, the balloon sleeve sweater could be the next best thing. They generally have a classic fit, but the large sleeves could make you feel cozier, almost like you're wearing your favorite baggy hoodie somewhere it'd never be acceptable.
The Best Balloon Sleeve Sweaters to Wear Now
When you're deciding which is the best balloon sleeve sweater for you, consider:
How long you think they'll be in style (or how long you will feel comfortable wearing them)
Price based on the answer above
Where you want to wear it or how versatile you want it to be (the sweater's length may come into play here if you enjoy wearing crops, for example)
Color choices and how they look on you (even the best, highest-quality sweater won't look great if you choose a color that you don't love that also seems to drain the color out of your face)
Here are some of my top recommended balloon sleeve sweaters to choose from:
Zara Balloon Sleeve Knit Sweater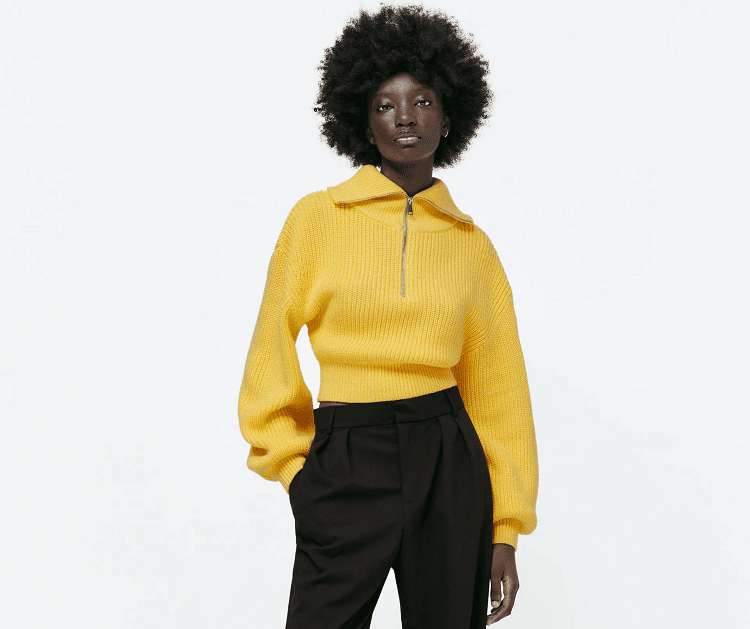 This yellow sweater balloon sleeve sweater from Zara is the perfect addition to all the dark, neutral shades that prevail in the fall and winter months. It's an unexpected pop of sunshine, and the half-zip style gives you room to play with just how zipped up you want it to be. Wear a tee in another fun color underneath (or don't) and unzip it part of the way to switch up the look.
Pros
Bright color will stand out in a sea of navy, brown, black, and charcoal (but pairs well with all of those colors)
Zipper adds visual interest and versatility
Not a cropped style, so can be worn more places
Cons
A little on the expensive side at just under $50.00 before tax, especially if you only see yourself wearing it for a season
Yellow isn't everyone's best color, but it's the only one available here
H&M Sweater Jacket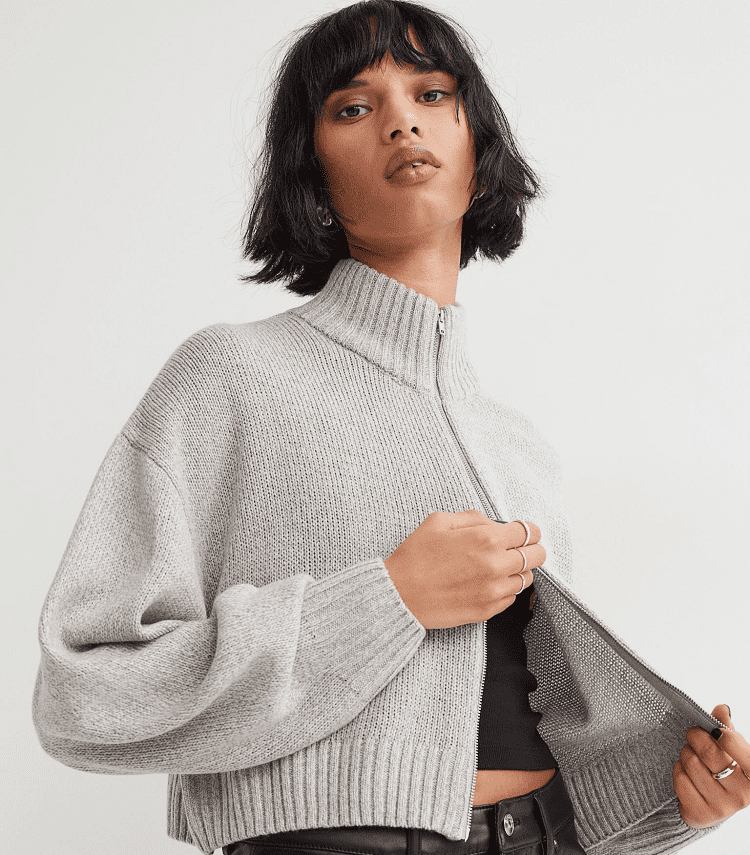 This H&M Sweater Jacket is an interesting choice because it's got a full zipper on the front, so it's easy to throw on top of a tank, tee, or dress, and you can dress it up or down.
Pros
Available in three neutral shades (gray, beige, and black), so it should work for anyone's coloring and wardrobe
Inexpensive at around $25.00
The stand-up collar helps keep you warm
Can be thrown on top of tops or dresses to finish a look and add more warmth at the last minute
Can be dressed up or down
Cons
The cropped style may not be for every location or occasion
You'll probably want to wear something under it because of the full zipper, so that adds an extra decision to your morning routine
SHEIN Solid Drop Bishop Sleeve Sweater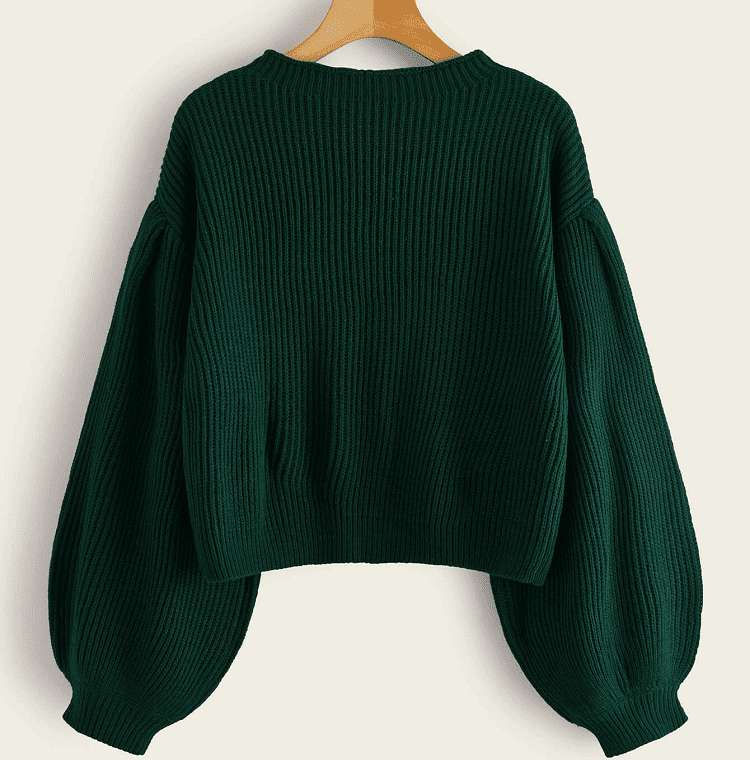 The Solid Drop Bishop Sleeve Sweater is a popular, well-reviewed choice on the SHEIN site. It's available in eight colors and a size range of Small to 3XL. Most of the colors are on the muted or neutral side, but there should be something for just about every skin tone.
Pros
Wide range of sizes
Plenty of colors to choose from
Inexpensive at $19.00
Oversize fit is comfortable and cozy
Cons
It may be too short to feel comfortable on some people, but it's not designed to be especially cropped
There could be some sizing issues, so be sure to check the chart as well as one-star reviews for guidance
Nine West Crewneck Balloon Sleeve Sweater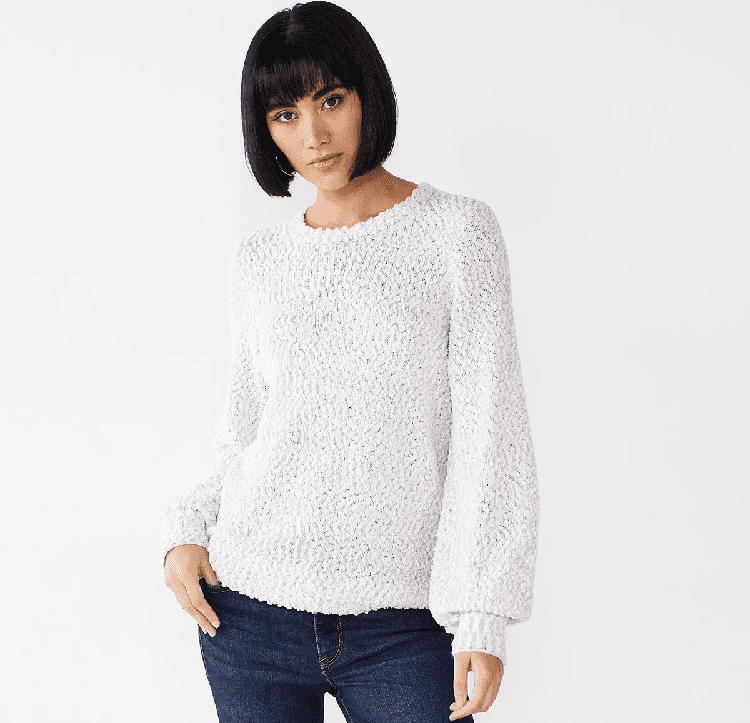 The Nine West Crewneck Balloon Sleeve Sweater at Kohl's is a hit because it's available in shades you don't see everywhere else in the fall and winter. You'll see orchid, mint, and rose in addition to more traditional cold-weather colors like burgundy and olive. The sizes range from XS to XXL.
Pros
The crewneck keeps it classic and versatile
The color range is wide enough to make anyone happy
The traditional length means this sweater can go almost anywhere
You can dress it up or down
Cons
It looks sheer, so you'll need to wear something under it
One reviewer complained that the sleeves were too long
WEACZZY Women's Casual Lightweight Sweater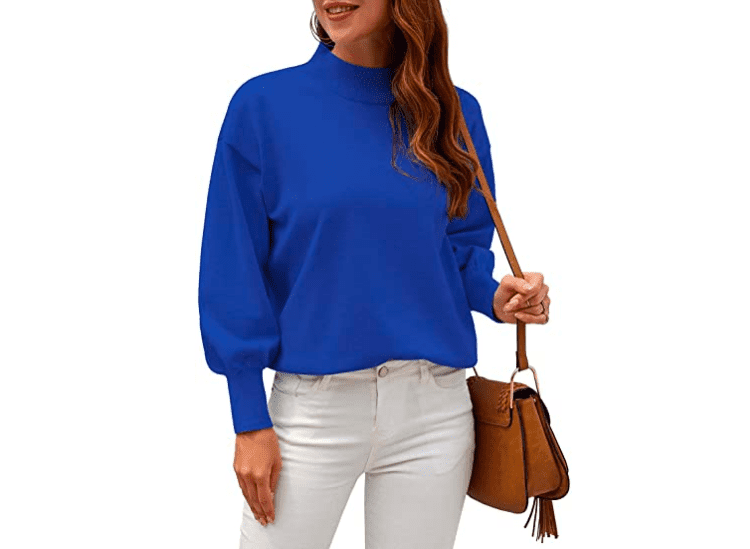 This WEACZZY sweater option on Amazon comes in 12 color options and sizes Small to 3XL. It's designed to hit at about mid-hip and can be dressed up with a skirt or slacks, or down with skinny jeans or leggings.
Pros
Affordable
Versatile
Wide range of colors and sizes available
Cons
Sizing chart may be about a size off, so read the reviews for guidance in choosing the right one for your height and weight
Hand washing is recommended
Express Chunky Thermal Off the Shoulder Balloon Sleeve Sweater
I love this Express Chunky Thermal Off the Shoulder option because it's so different from all the others on the list and not a style you're likely to see everywhere else when you're out shopping. You can really dress it up and make it the go-to for last-minute holiday parties or date nights, too (maybe with a pair of faux leather pants?).
Pros
Chunky thermal fabric is interesting to look at compared to other knits and will stand out
Perfect for when you want something a little sexy but not too obvious
Off-the-shoulder look will balance a pairing with bootcut or flare jeans, so you won't feel as much like the go-to needs to be skinny jeans or jeggings (though you could certainly wear those with it, as well)
Machine washable
Primrose, light blue, and sandshell shades aren't the typical fall/winter sweater colors, so this sweater makes an interesting choice because of the fabric and the color
Cons
Only three colors to choose from
Sizing only goes up to XL
Folded styles that are off-the-shoulder tend not to stay in place, in general, so that could be an issue here
One of the more expensive options on the list at $80.00
How to Style Balloon Sleeve Sweaters
One of my favorite things about balloon sleeve sweaters is how wearing them doesn't take a whole lot of special planning unless you choose one that has especially extravagant sleeves (even then, it's not that difficult).
Just think balance.
It's All About Balance
If your balloon sleeves are big, you'll generally want to keep whatever you wear on the bottom close to the body. That could mean choosing a pencil skirt over an A-line or skater skirt or a pair of jeggings over bell-bottom jeans. If your sweater has a feature that draws the eye out horizontally (like an off-the-shoulder neckline), you may be able to get away with a flared style of jeans, too.
Of course, these tips aren't universal. Fashion rules are meant to be broken, and different body types look different in the same style, so experiment all you want and wear what you love.
Influencers' Styling Tips
Here, stylebyjennsmith shows us how to balance not only a balloon sleeve sweater and skinny jeans: https://www.instagram.com/p/CJy7JZdFxU6/
Using the same principles of balancing a balloon sleeve sweater with something more fitted on the bottom, jessica_lynn_xo paired her top with a gorgeous rust-colored midi skirt and neutral accessories for the perfect fall ensemble. https://www.instagram.com/p/CWLQK5xLTFW/
Balloon sleeve sweaters aren't just pullovers and zip-up cropped cardigans. In this case, wizziby wore her open front cardigan with full sleeves with a knee-length dress for a classic look that goes anywhere. https://www.instagram.com/p/CWEepCnPUbD/
Wear an unexpected shade with dark jeans for a different type of balance, like shop_sway's account demonstrates: https://www.instagram.com/p/CV2hOVHgK0j/ (and is that shade of green stunning, or what?)
Sometimes, you just want a cozy, casual look that's a warmed up version of a t-shirt and jeans. Look at how well misssameenx matched her periwinkle balloon sleeved sweater to her top and makeup (and background!) for a gorgeous everyday look that's pulled together but comfortable: https://www.instagram.com/p/CVTjr1esqGF/
The Main Difference Between Balloon Sleeve Sweaters and Bell Sleeve Sweaters
If you've always loved the look of bell sleeve sweaters but found the ends of the sleeves to get in the way of everyday tasks, you may have found your solution in the balloon sleeve sweater.
There's really only one main difference between the two:
The extra volume and width of the balloon sleeve sweaters is found along the length of the arm but cinches in at the wrist, whereas the extra volume and width on a bell sleeve sweater happen at the wrist.
When the extra fabric flares out at the wrist, sometimes it ends up in your food, smudges ink as you're writing, or gets in the way as you're typing. In some cases, the sleeves just don't stay snug enough to keep your wrists and forearms warm. Though there's still extra material near the wrist in a balloon sleeve sweater, the sleeves hug the wrists at the ends. That detail can help keep the fabric out of messy situations and keep you warmer.
What You Should Know About Balloon Sleeved Sweaters (FAQs)
Balloon sleeve sweaters are just trendy enough to be exciting but not so far from the more traditional styles that you're limited on how to wear them, when to wear them, or where to find them. Here are some of the FAQs for this style:
Question: How do you wear a balloon sleeve sweater?
Answer: You can usually wear a balloon sleeve sweater any way you'd wear a classic sweater style. There may be exceptions for some collar styles, zippers, and cropped designs, of course. Dress them up with skirts and boots or down with jeans and tees. Layer a tank or other tee underneath for glimpses of color (at the collar, behind an unzipped zipper, or below the hem) or warmth.
Question: Are balloon sleeve sweaters in style in 2022?
Answer: Absolutely! Balloon sleeve sweaters are big (no sleeve-related pun intended) in the fall and winter of 2022. You can find them at most major department stores and several online boutiques (be sure to triple-check the sizing on those, as some reviewers have reported issues with that).
Question: Where can I find a balloon sleeve sweater?
Answer: H&M, Zara, Shein, Amazon, Express, Kohl's, and other major department stores that sell women's clothing.
Question: What is a puff sleeve sweater?
Answer: As far as sweaters go, there's not a huge difference between a puff sleeve and a balloon sleeve sweater. Puff sleeve tops, in general, encompass a wider range of sleeve lengths and fullness (some can be quite dramatic!).
Question: What is a lantern sleeve sweater?
Answer: Lantern sleeves are similar to balloon sleeves, but the "puff" starts lower, around the elbow instead of at or just below the shoulder.
The Balloon Sleeve Sweaters I Recommend Most
My absolute favorite on this list is the chunky thermal option from Express (in light blue, especially).
However, if you want something more traditional that you can wear anywhere, with anything, the WEACZZY style from Amazon would be my second-choice pick. You really can't go wrong with any of them.
If yellow is one of your best colors, the one from Zara is a spectacular, statement-making sweater you should definitely consider.
No matter which one you choose, you're bound to feel especially cozy, thanks to the extra fabric and knit styles.
Recommended reads: