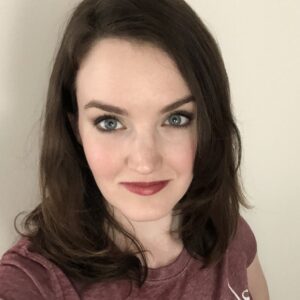 Latest posts by Crystal Schwanke
(see all)
Argyle sweaters have been around for decades, and they don't show signs of falling out of fashion anytime soon, but where do you find the best women's argyle sweaters? Because they're such a classic, argyle sweater ideas are not hard to come by. They're fairly versatile (maybe less so than a solid color), and they can be dressed up or down.
Here, I'll be sharing some of the best women's argyle sweaters based on versatility, the creativity of design, perceived quality (based on experience with the store, brand's reputation, and reviews), and price for what you're getting. In some cases, "best" means classic. In others, the sweater may be a twist on a standby style.
What Does "Argyle Sweater" Mean?
Argyle is just the pattern. It's typically made up of diamond shapes in different colors against a solid background. The diamond pattern is often criss-crossed with thin lines in a single color. There could just be a strip of the diamond pattern down the front of the sweater, most of the sweaters could feature the print, or you may see some sweaters where the amount of argyle pattern falls somewhere in-between.
How to Style an Argyle Sweater
You may be surprised to find there are so many ways to wear an argyle sweater (and sweater vest). I think most people tend to think of classic, sophisticated styling first when argyle sweaters come to mind, but there's so much more you can do with them to achieve relaxed, cozy, and even trendy looks. It's time to experiment with a new one or pull that old argyle sweater you've had for years out of the closet and give it new life.
How to Wear an Argyle Sweater Vest
How to wear an argyle sweater vest deserves its own special section because it's a little different than the others, so we'll start here before looking at argyle sweaters (and how to style them) as a whole. With the sleeves missing, what you put under (or don't) your argyle sweater, in this case, matters more. Here are a few ideas:
Layered Up
Layering an argyle sweater vest over a turtleneck and under a peacoat with a pair of sophisticated slacks looks so chic and helps you transition from cooler temperatures outside to warmer ones inside (or you can just add or subtract a layer as the day goes on if the temperatures fluctuate a lot during the day). Rachelle_spier shows us how it's done:
Totally Laidback
You can slip your sweater vest on over a plain t-shirt to look a little more put together but still completely laidback. Taralynevansstudio demonstrates this look beautifully.
Wear It as a Top
You may not even need to layer your argyle sweater vest over anything, depending on the fit. This cropped one, worn by lilswedishchick425…

…is the perfect example.
Go Preppy
We can't forget about the preppy style that the argyle sweater lends itself to so well. Loverouteclothing paired one up with a crisp button-up, pleated skirt, t-shirt, and a bold necklace. It's a combination of edgy, relaxed, and preppy.
Keep It Casual
Here, the buttoned-up cardigan style of the argyle sweater is paired with some of the most casual pieces possible, wide-leg acid wash jeans and sneakers, which demonstrates the true versatility of the argyle sweater. It's not just for straight-leg jeans, chinos, and knee-length skirts. The addition of simple gold hoops and a small, structured bag brings everything back into balance.
Oversized and Monochromatic
You could technically choose one or the other here and go with an oversized sweater or a more fitted one in a monochromatic (almost) outfit. Abbiedhaliwal does such a beautiful job of pulling them both off at the same time, though!

I love the flares (an unexpected twist!) and variety of textures here; the whole look is especially cozy.
Oversized and Layered
Storets shows us another example of a pair of flares being paired up with an oversized argyle sweater, only this time the pants are cropped and black for a neutral base, and the blue tones in the sweater pop against the neutrals. A loose button-up white shirt, structured bag with gold chain detail, and high-heeled boots keep the look more crisp than cozy.
Don't Overthink It
Choose an argyle sweater with a bright color you love in the pattern and then wear it with your favorite pair of jeans. There's no need to overthink it, as the_gray_gal demonstrates. Argyle sweaters can hold their own in a wardrobe and most environments.
Skip the Layers with a Cardigan
Even the cardigan version of the argyle sweater can hold its own without additional layers, as adailydoseofmillie shows us. You can layer it up if you're more comfortable with that, and slip a tank or camisole on first–just make sure it's not visible once you've buttoned the cardigan up. Pair it up with jeans or a simple skirt, then put on your favorite sneakers or casual boots.
Cropped and Relaxed
Here's a combo you might not have thought of yet, from  2020ave: It's a cropped argyle sweater, but it's not paired with jeans or even an A-line skirt. Instead, joggers. This is the ultimate cozy, unabashedly comfortable, cool-girl look and the trendiest, most modern of them all.
Go for Classic
If you do have a thing for classic styling, you'll love pairing a neutral argyle sweater with your favorite straight-leg or skinny jeans, casual ankle boots, and a few understated accessories (like the necklace and eyeglasses seen here). Though this isn't the most daring outfit, you can consider it a go-to for most occasions, and it'll probably never go out of style.
Types of Argyle Sweaters
If you love argyle, but you're picky about your sweaters in general, you're in luck. You can get:
Argyle sweater vests: For layering and having fun with color in your outfit
Argyle cardigans: For a sweet, button-up style that can be classic or more modern, depending on how you style it
Argyle crewneck sweaters: For a classic style (but don't be afraid to add a modern or unusual twist with whatever you decide to wear on the bottom)
Argyle v-neck sweaters: Another classic style, slightly more casual than the crewneck
Cropped argyle sweaters: Who doesn't love a trendy, fun-loving take on a usually-serious classic?
The 6 Best Women's Argyle Sweaters
Here are some of the best women's argyle sweaters I've found:
Tommy Hilfiger Ivy Argyle V-Neck Sweater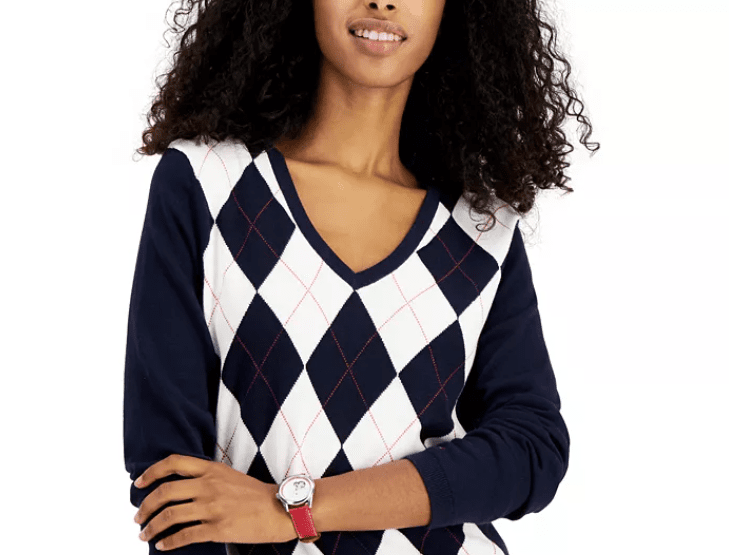 This Tommy Hilfiger argyle sweater has a classic, easy fit that makes it pair well with different types of bottoms and layers.
Pros
Classic fit
Not too fitted or loose
Black and white color scheme with hints of red make it pair well with almost anything
Relatively inexpensive
Cons
The color scheme may be too boring for some
Some say the material is too thin (others just call it lightweight)
Jolene Argyle Patterned Khaki Knit Sweater Vest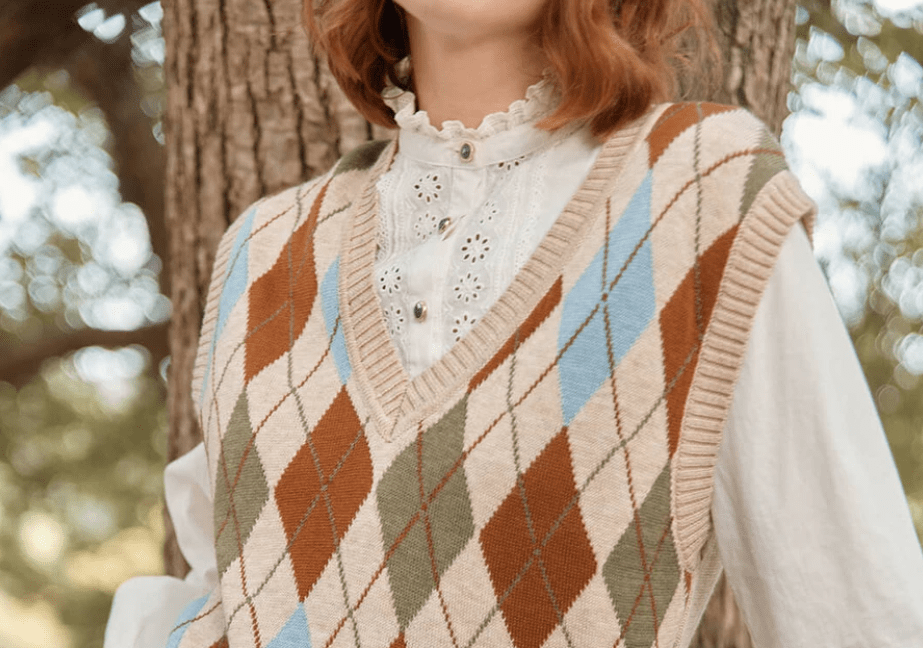 The Jolene sweater vest has a retro vibe in style and tones.
Pros
Unusual retro vibe and color scheme (especially flattering on redheads)
Versatile
Cons
Limited sizes (XS to L)
Needs to be hand washed
LOFT Argyle Sweater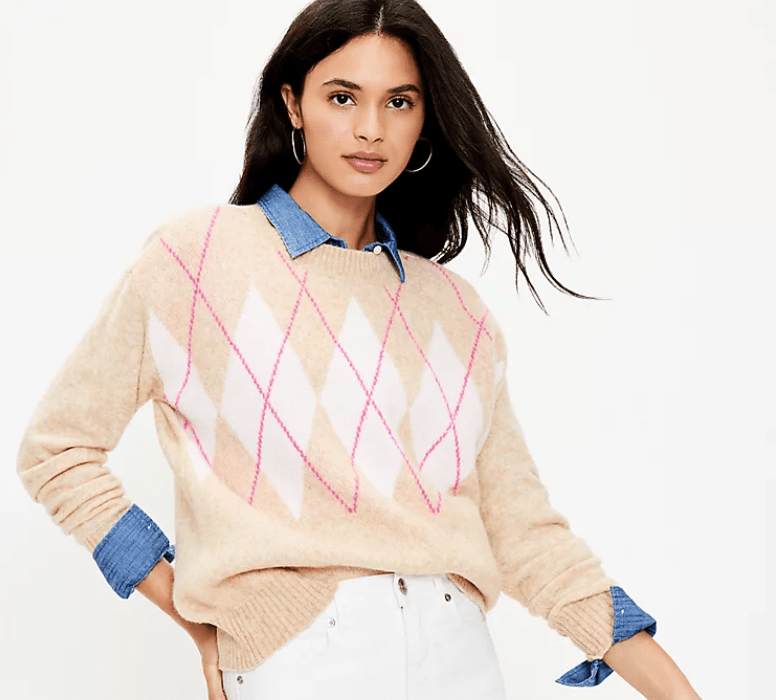 The argyle sweater from LOFT is a simple crew neck style that can go almost anywhere. The layering options are almost endless. Toss it on over a tank or tee that won't be seen or let a little extra color peek through at the neck with a turtleneck or button-up. The clean camel melange choice will pair well with almost anything, while the coral spice option will be a bit more limited but stands out more on its own, anyway.
Pros
Two color options to choose from, one neutral and one brighter
Versatile style
Thick
Warm and cozy
Cons
Even though there are two color options, there might not be a shade for everyone since both skew warm-toned
Some say it runs slightly large
Expensive when not on sale
BP. Argyle Ribbed Crop Cotton Blend Cardigan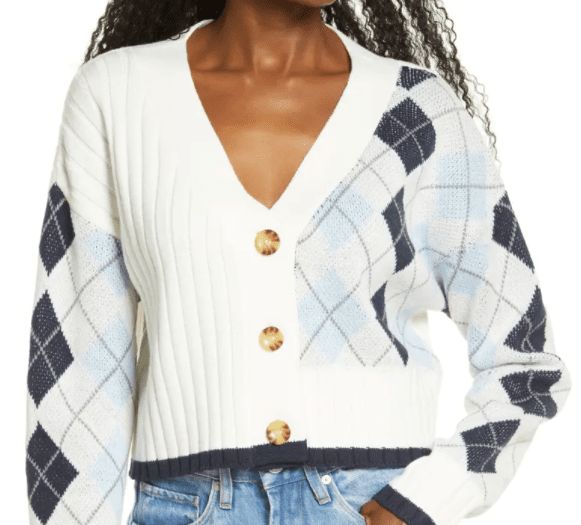 This cropped argyle cardigan is especially interesting to look at because the argyle print isn't all over or in one stripe down the middle, the way it on on most argyle sweaters. Instead, it's on one side on the front, plus both sleeves.
Pros
Interesting design
Cropped and trendy
Can be layered or worn alone, dressed up or down
Reasonable price at around $50.00
Cons
Cropped style may not be for everyone
Only available in one color (ivory-blue argyle)
Amazon Essentials Women's Classic Fit Lightweight Long-Sleeve V-Neck Sweater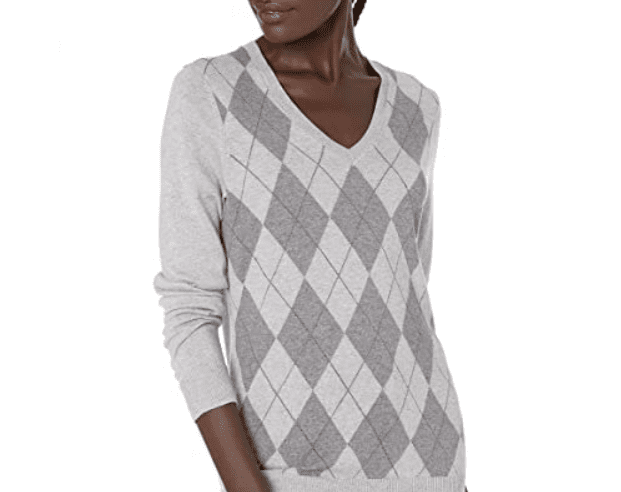 If you're looking for a classic, go-anywhere, neutral argyle sweater, this Amazon Essentials option could be your perfect match. It has a 4.5-star rating with almost 12,000 reviews.
Pros
Versatile, simple style
Good for layering
Netural gray will look good on most skin tones
Inexpensive
Machine washable
Cons
Though you'll see a lot of sweaters in the listing, only one is argyle, so that means the selection is extremely limited (to gray)
Not the most visually interesting option
Grace Karin Women's Long Sleeve Button Down Crew Neck Classic Sweater Knit Cardigan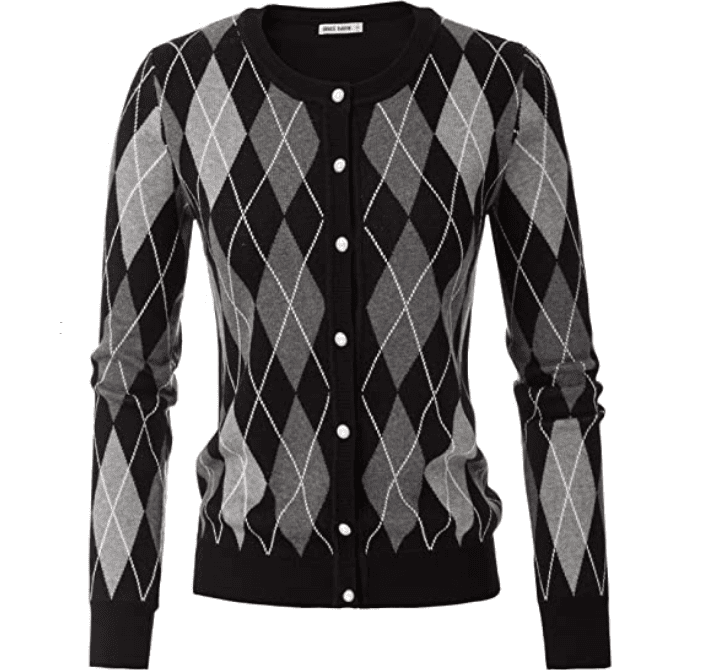 Grace Karin does a good job at offering classic, vintage-style pieces at reasonable prices. This sweater will most likely never be accused of being trendy, but that means you can probably keep it hanging in your closet for years to come.
Pros
Classic and versatile
Reasonably priced
Vintage-inspired
Several color options
Cons
Hand wash only
Though versatile, it may not be able to be dressed down quite enough for all the argyle sweater ideas on the list
You'll need to consider the size chart before ordering
FAQs
If you still have questions about argyle sweaters, maybe these frequently asked questions will help:
Question: Is argyle trendy?
Answer: There are trendy ways to wear it (like cropped, oversized, or with especially relaxed-looking bottoms), but argyle sweaters are a classic.
Question: Is argyle still in fashion?
Answer: Absolutely. Argyle is definitely in fashion.
Question: Are argyle sweaters in style in 2021?
Answer: Yes, argyle sweaters are having quite a moment in Winter 2021.
Question: What is the difference between plaid and argyle?
Answer: Argyle consists of diamond patterns where the shapes do not create 90-degree angles. Plaid, on the other hand, is made up of perfect squares.
Question: What is the origin of argyle?
Answer: Pringle of Scotland explains that argyle originated in Scotland as early as the 17th century as the Clan Campbell of Argyll's tartan, showing up on kilts and socks of Scottish Highlanders. It really took off in the early 20th century, though, thanks to the Duke of Windsor's interest in the pattern. From the 1920s on, argyle started spreading everywhere. Brooks Brothers indicates that the pattern (on socks) made it to the United States in the late 1940s when their then-president saw the pattern on a friend. They successfully launched their first argyle socks in 1952.
Conclusion: Choosing the Best Women's Argyle Sweater for You
As long as you like argyle, the best women's argyle sweater for you is really up to your personal style and where you plan to wear the sweater.
If you're planning to wear it to work, you'll most likely (not in all cases) need to stick with the more classic styles of cardigans, crewnecks, and v-necks. These will be the trusty go-to items that will last you decades if you choose well. Don't be afraid to splurge on these if your budget permits.
If you're just looking to wear something cozy on the weekends or the dress code at work allows for more relaxed attire, something oversized and thick will be perfect (especially if they like to keep the temperature low in the office!). Wear it with skinny jeans or even leggings, if your sweater is long enough.
Want something fun, playful, and a little trendy? A cropped sweater or argyle sweater vest is what you need. Pair it up with your favorite jeans and sneakers.
My personal favorites here are the BP. Argyle Ribbed Crop Cotton Blend Cardigan because of the interesting placement of the argyle, as well as the Amazon Essentials V-neck sweater, for its ability to be worn almost anywhere and how easy it is to layer (over or under).
Recommended reads: