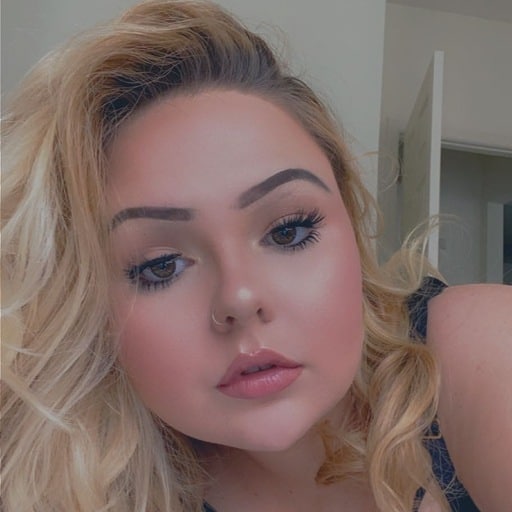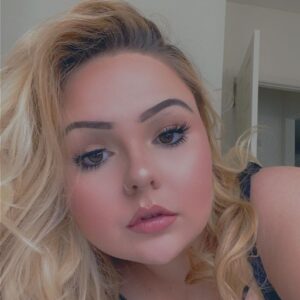 Latest posts by Annalise Swain
(see all)
We're all about to be wandering in the nude as soon as the weather warms up. Not that way, we're talking about flesh-toned footwear here. Because of its adaptability, neutral footwear has long been a popular fashion choice, but it hasn't always been done successfully.
Because there is no single hue of skin, despite what many product descriptions have been selling us for years, finding nude shoes may be difficult. The fact is that fashion has a diversity problem, and the usage of the word "nude" in the context of color palettes is only one example. 
For far too long, the footwear industry has interpreted the term "nude" as very light and very beige, therefore alienating a large proportion of female customers while also promoting one skin tone above all others.
Christian Louboutin was one of the first to address the issue of flesh-colored footwear with a debut collection he believed would give more alternatives for ladies wishing to match their stilettos to their skin tones.
This work is more than simply exposing the problem; it's also altering how we use the word "nude" in the fashion world. Let's get down to business. 
How to Choose the Right Nude Heels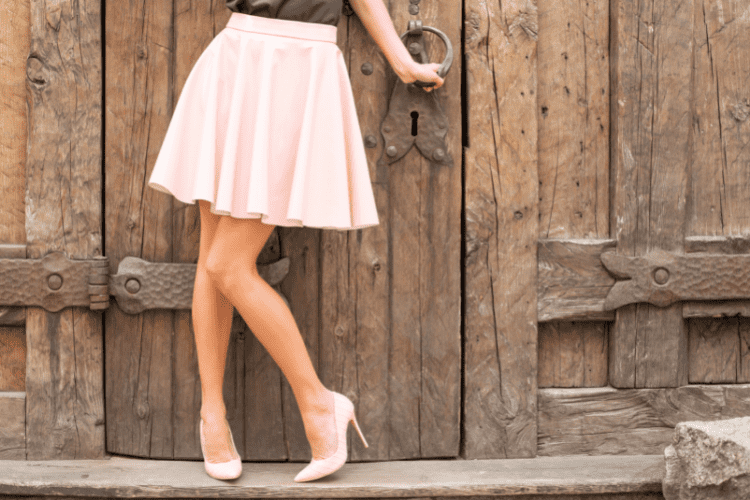 Finding the right black or white heels is similar to finding your dream nude shoe. Keep an eye on the comfort fit and the shade. If you keep the following advice and recommendations in mind, picking out a pair of nude heels will be a snap. 
Matching your Heels With Your Figure 
While all ladies should wear the shoe that calls to them, we've put together some helpful hints to help you choose the most flattering fit.
Stacked and chunky nude heels look great on petite ladies because they provide a nice contrast to their thin calves and ankles.

Women with curved figures or who wish to balance wider shoulders with an hourglass appearance should wear chunky, stacked heels.

Razor-sharp stilettos and kitten heels look great on slim ladies, especially taller ones.

Platform wedges are ideal for women who wish to gain height without sacrificing comfort.
Formal vs. Everyday Heels
Fortunately, several of the best nude shoes on the market are shape-shifters, making them suitable for both day and night use. If you're searching for a certain design for a specific event, though, finding a shoe that completely matches your specifications is a must.
Block heels and kitten heels are ideal for school, the office, and everyday wear.

Skinnier nude heels with a height of more than three inches are ideal for classy evening dresses and happy hour clothing.

Bow embellishments and hefty hardware are ideal for an urban look, while clean lines and conventional shapes work best with a power suit or a brunch-appropriate dress.
Skin Tone Matters
Skin tone is important when it comes to nude shoes! The perfect nude may make you seem slender and poised by lengthening your legs. The incorrect nude might make you seem stocky by clashing with your skin tone and cutting you off.
For an attractive silhouette, consider a tan or camel shoe for ladies with darker skin tones.

Ballerina or blush pink nudes look best on women with a light complexion.

Nude colors in beige-blush and caramel can be worn by women with olive and medium complexion tones.
Of course, if you're wearing your nude shoes with jeans or trousers, you'll have more freedom to play with different nude colors.
This is just a good idea to remember while wearing your neutral shoes with your bare legs. They can not only lengthen legs, but the appropriate shade of nude can also shrink the foot and make it appear daintier. 
Comfort Rules 
If you're new to nude heels and pumps, we recommend starting with a thicker heel. Chunky heels provide greater support and might aid in the adjustment to wearing nude heels on a daily basis.
Another option for long-lasting comfort is platform wedges. Keep in mind that narrow platforms don't provide as much support and might be difficult to balance for ladies who aren't used to wearing heels.
Kitten heels are a good choice for the classroom or the office since they are durable and trustworthy. 
Make sure you choose a nude shoe that fits well and allows your toes to breathe. Extreme toe cleavage should be avoided. Why? It's a symptom that your shoe is overly small, preventing blood flow to your toes.
You'll also want to pick a shoe that fits snugly around your heel. It's usually a good idea to go for a cushioned insole.
Ankle Straps 
Ankle straps are ideal for improving the ankle as well as the calves. They may help you achieve a thin and tiny foot look while also adding sophistication and elegance to your ensemble.
Nude ankle-strapped pumps look especially good with a tiny skirt, slip dress, or slim cigarette trousers. The sleek and feminine aspect of the ankle and calf region is further enhanced by thin ankle straps with buckling hardware.
Trendiest New Heels 
These nude heels are to dream for and guarantee to bring a stylish touch to whatever ensemble you wear, between day and night.
Gucci GG Marmont Nude Heels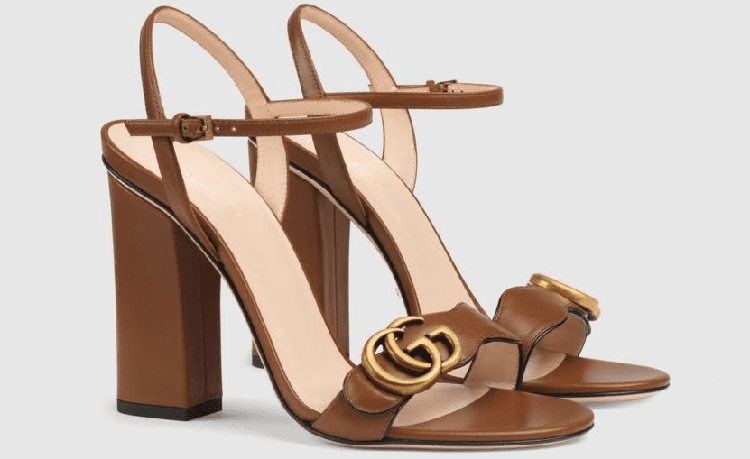 With these vixen-esque beauties, disco glamour meets Sunset Boulevard style maven. The hefty heel and molten gold hardware exude classic elegance, which we like. The rich camel brown tone is enticing and inviting. For a stylish and confident look, pair with cropped tuxedo trousers. 
Christian Louboutin Decollete 554 85 Nude Heels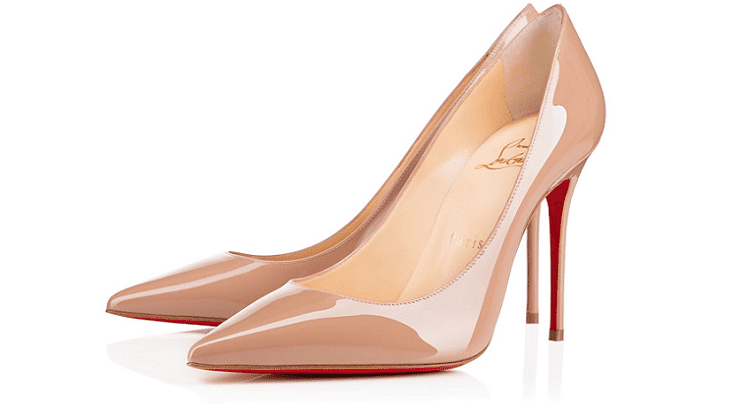 Isn't glossy blush beige a wonderful shade? This elegant and luxurious kitten heel shoe is one of our favorites. With a distinctive Louboutin crimson sole, this sultry pair will liven up any ensemble. The shoe's patent leather makes it suited for a range of events. 
Alexandre Birman Nude Heeled Sandals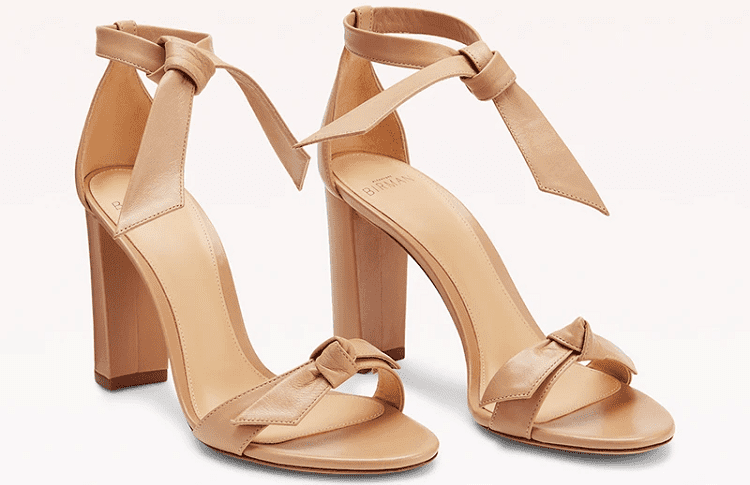 The most delicate hue of ballerina pink is found in these nude shoes. The front knot accent and ankle tie fastening are two of our favorite features. The end product is a light and graceful stiletto pump that will take you from delicious brunch dates to romantic candlelit soirees with ease. 
Jimmy Choo Romy 100 Nude Pumps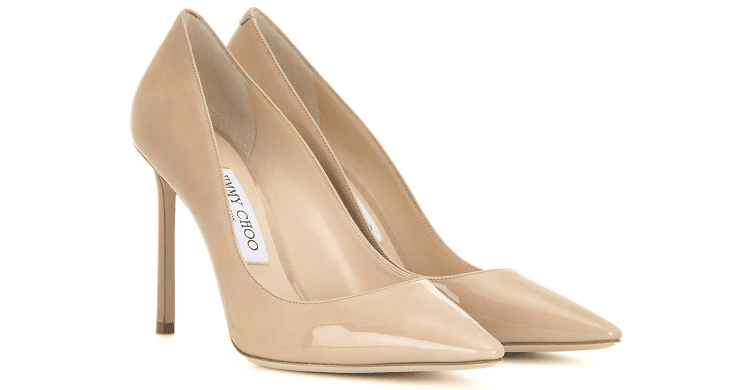 Why can't you wear these nude heels like Kate Middleton did at the royal wedding? Ladies, hurry up and get a pair before they sell out. Elegant and modest, the luxurious suede and supple leather. The ballet pink-beige tint will lengthen your legs and complement a lovely evening gown. 
Bombshell Nude Heeled Sandals 
These gorgeous nude shoes are a true piece of art, both delectable and inventive. The architectural vibe is enhanced with decorative spheres and gunmetal pyramids. The ballerina pink hue is a feminine and beautiful approach to embrace the unconventional form. 
Manolo Blahnik PVC & Suede Nude Heeled Sandals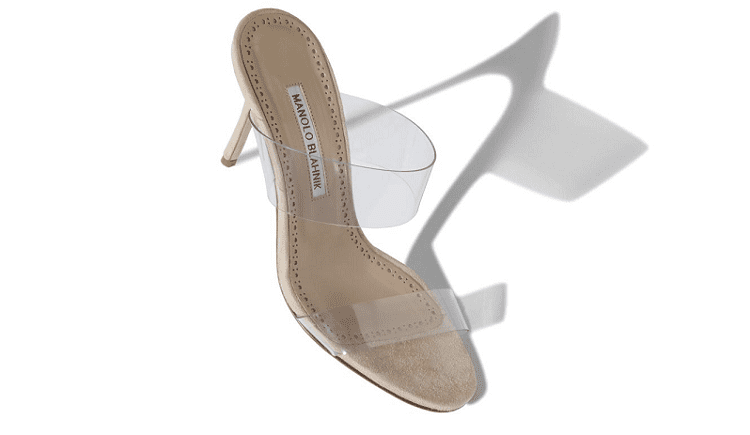 A pair of Manolo Blahnik's luscious nude heels is a girl's dream come true. These charming and stylishly playful camel suede heels are one of a kind. The gold tassel hardware complements the shade's warmth. 
The Classic Minimalist Nude Heels 
Elegant and understated, these nude shoes would complement a lovely slip dress or monochrome ensemble. The gorgeous buckled ankle strap and the slender toe strap are our favorites. The textured suede has a relaxed and mature feel to it. 
Bottega Veneta Contrast Heel Nude Pumps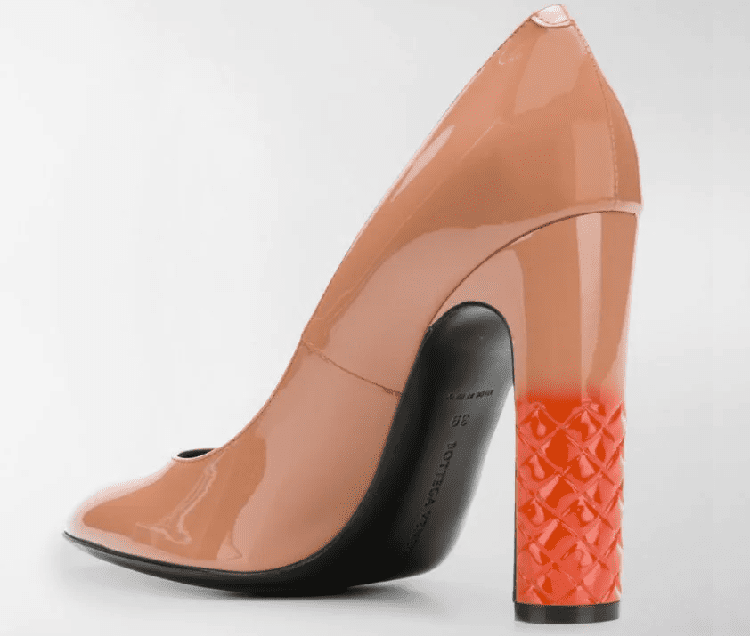 A pointed toe, a deep caramel hue, a branded sole, and a detailed heel characterize these nude heels. This season, the milky lacquer leather will undoubtedly be seen on the feet of jet-setting power ladies all around the world.
Stuart Weitzman LessNudist Nude Heels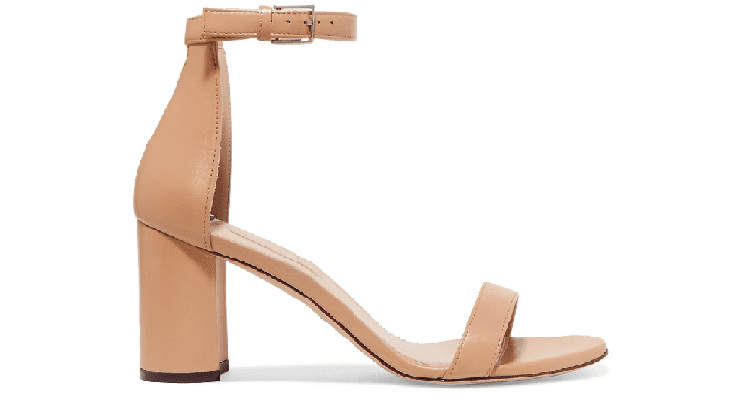 These enticing nude heels have a simple form that is both accessible and new. The simple toe strap is beautiful and balanced, and the spherical block heel gives a strong basis. To play up the massive heel, pair with wide-leg slacks or thin jeans.
How to Wear Nude Heels 
It's impossible to go wrong with a pair of naked heels. I'll say it again: absolutely everything. As a result, we'd like to give some recommendations that will make your new pair of nude shoes feel like home in no time!
Pair your nude heels with brightly colored clothing: a pair of nude pumps serve as a wonderful anchor for a patterned and vibrant ensemble. With a black or white shoe, bright hues can be cut off, but a nude tone creates a balanced, balancing impression.
Wear with a power-mixed ensemble. In the blogosphere, power struggles are common. Florals, ginghams, tartans, and stripes are some of our favorite patterns to mix and match. A nude heel may complete the look and provide a pop of color.
Slip dress styling: a sleek and simple slip dress looks great with a nude chunky heel or ankle-strapped stiletto.
Wear your nude heels with a denim-on-denim ensemble. Denim on denim uniforms is a favorite of ours. Pair it with a sleek handbag and glossy nude leather shoes to amp up the elegance factor.
When coupled with a mod black and white combination, a hefty nude platform pump provides a Sixties vibe. Andy Warhol is on the line!
Make your nude kitten heels or pumps ultra-feminine by wearing them with beautiful materials like lace, crochet, and linen.
When worn with an understated nude pump, delicate pastel colors like pink and sky blue appear ethereal and dreamlike.
When coupled with fitted and clean nude heels, an urbane style of tight black trousers and a leather jacket or asymmetrical sweater look new and striking.
Pair your nude shoes with a flowing shirt, flowy skirt, and antique jewelry for a boho look.
Pair your nude heels with thin jeans or fitted cigarette pants to heighten your stature.
Understanding the Value of Your Shoes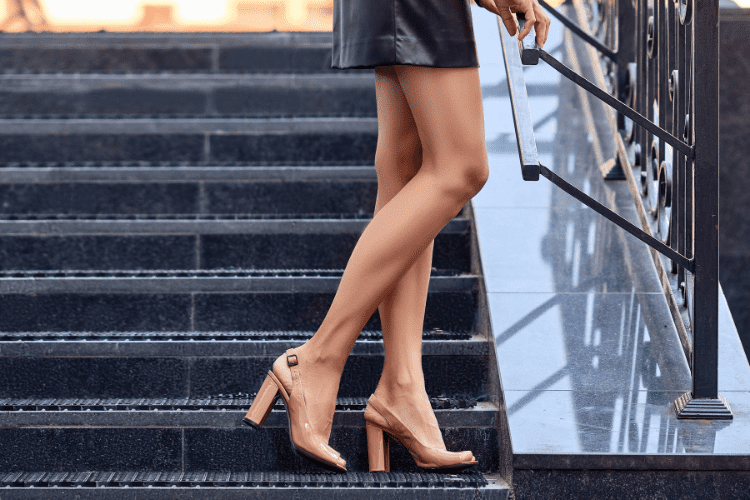 When it comes down to your shoes, you want to make sure you get the best for your precious feet. So let's get down to what matters when you're finding your shoes. 
Versatility 
Great footwear may be worn for a variety of activities. Some informal sports, such as walking and running, may be played with walking and running shoes.
In relaxed work environments, stylish sports footwear might be worn. Sandals are appropriate for both informal and semi-formal occasions. The more circumstances the shoe may be used in, the more value it provides for the money. 
Longevity and Durability 
Footwear normally lasts longer than a few months because shoes that break apart after a few months of use aren't worth spending more than a few bucks on.
To make the shoes more robust without compromising flexibility, leather and synthetic overlays might be employed. Uppers made of firm leather or synthetic materials are durable and supportive.
Brand 
When buying new shoes, the brand is frequently the first item on people's minds. While the brand name does not necessarily indicate the shoe's quality, it can give you an idea of what to expect in terms of the other characteristics outlined above, such as durability, comfort, and the materials used.
When we were researching alternatives for this list, we made sure to seek brands that are recognized for their comfort and durability, which is crucial when walking on a hard surface like concrete.
You'll see that many of the names are well-known top brands from firms with a solid reputation. With that in mind, take a look at all of our selections, whether they're huge brands or not, because they're all excellent choices for ensuring your feet are well cared for.
Maintenance 
Good footwear is simple to keep clean and maintain. They don't need a lot of costly shoe treatments or time-consuming maintenance. Shoes that require a great deal of work, time, and money to maintain do not sell as well as shoes that are simpler and less expensive to maintain.
FAQs 
Question: How do you Choose Nude Heels?
Answer: If you have a darker complexion, for example, search for a darker heel that matches your skin tone. To give the illusion of longer legs, match the heel to your skin tone. Nude heels that mix in with your skin are very slimming and can help to reduce the size of your feet and ankles.
Question: Are Nude Heels Easy to Match? 
Answer: Nude shoes are not only versatile, but they are also a timeless and stylish accent to any ensemble. Nude shoes are ideal for finishing both our nighttime and daytime ensembles. They're timeless, go with everything, and can be worn several times. 
Question: Can Slingbacks be Worn in the Fall? 
Answer: Slingbacks are a shoe style that you may incorporate into your autumn shoe collection. When you think about it, if fall were a shoe style, that would be it. You're well-protected from the cold, yet you can still show off a little flesh without jeopardizing your feet.
Nude Heels 
Nude shoes come in a variety of shapes and heel heights, ranging from flats to block heels to stilettos and platforms. In terms of style, you have the option of going for a more ornate and stunning pair or a more simple and streamlined pair.
You'll discover a selection of styles that will be the ideal finishing touch to your appearance, no matter what your theme or aesthetic is. Remember to locate exactly what you're searching for in a shoe; else, you may be dissatisfied with your purchase.
It's crucial to purchase adaptable shoes, so you don't have to buy different shoes for every outfit you wear unless that's your style. What are your thoughts on nude heels?
Recommended reads: