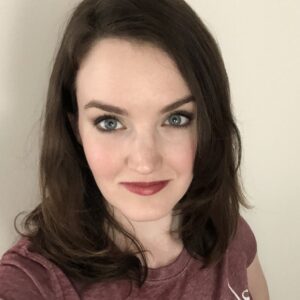 Latest posts by Crystal Schwanke
(see all)
The best camel coats and ideas usually revolve around the ones that are around knee-length. These tend to flatter most body types and work well with all skirt lengths and pants styles. They look just as at home on top of crisp, tailored work clothes as they do a looser, more casual style.
The camel coats I've chosen here have made the cut because of their versatility, an expectation that they'll last several years, reviews, and overall quality. I also considered price and any special features that make these coats stand out.
The Best Camel Coats and Ideas to Try
Here are some of the top camel coats on the market right now. They all look pretty similar at first glance. What determines which one is the right one for you?
Whether you want a warmer, cooler, or as perfectly neutral as possible camel shade

Whether you want a shorter or longer coat

The presence of any special features you prefer (belts, buttons, zippers, or a special kind of collar, for example)

What will you be wearing under it most often–thin tops or bulky sweaters?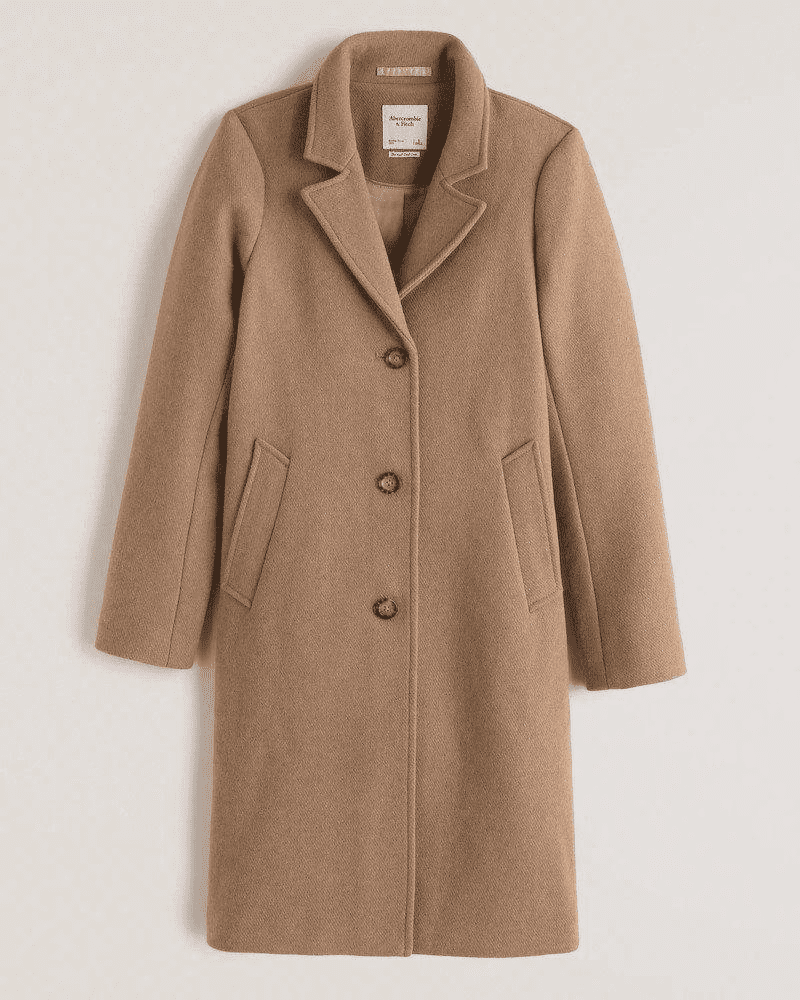 Not for dads, this coat is available in women's sizing, from XXS to XL, in Petite, Regular, and Tall. It doesn't cinch in at the waist or have a lot of special details, similar to the way a man's camel coat looks. There are two pockets, three buttons, and it's in a shade that will pair well with warm- or- cool-toned wardrobes.
Pros:
Simple style and cut

Decent range of sizes, especially with the Petite and Tall offerings

Lined

Provides enough room for thicker sweaters
Cons:
Sizing doesn't go beyond XL

Pricier than some of the others on the list, at $220.00

Some reviewers complained about sleeve fit (too long, too baggy)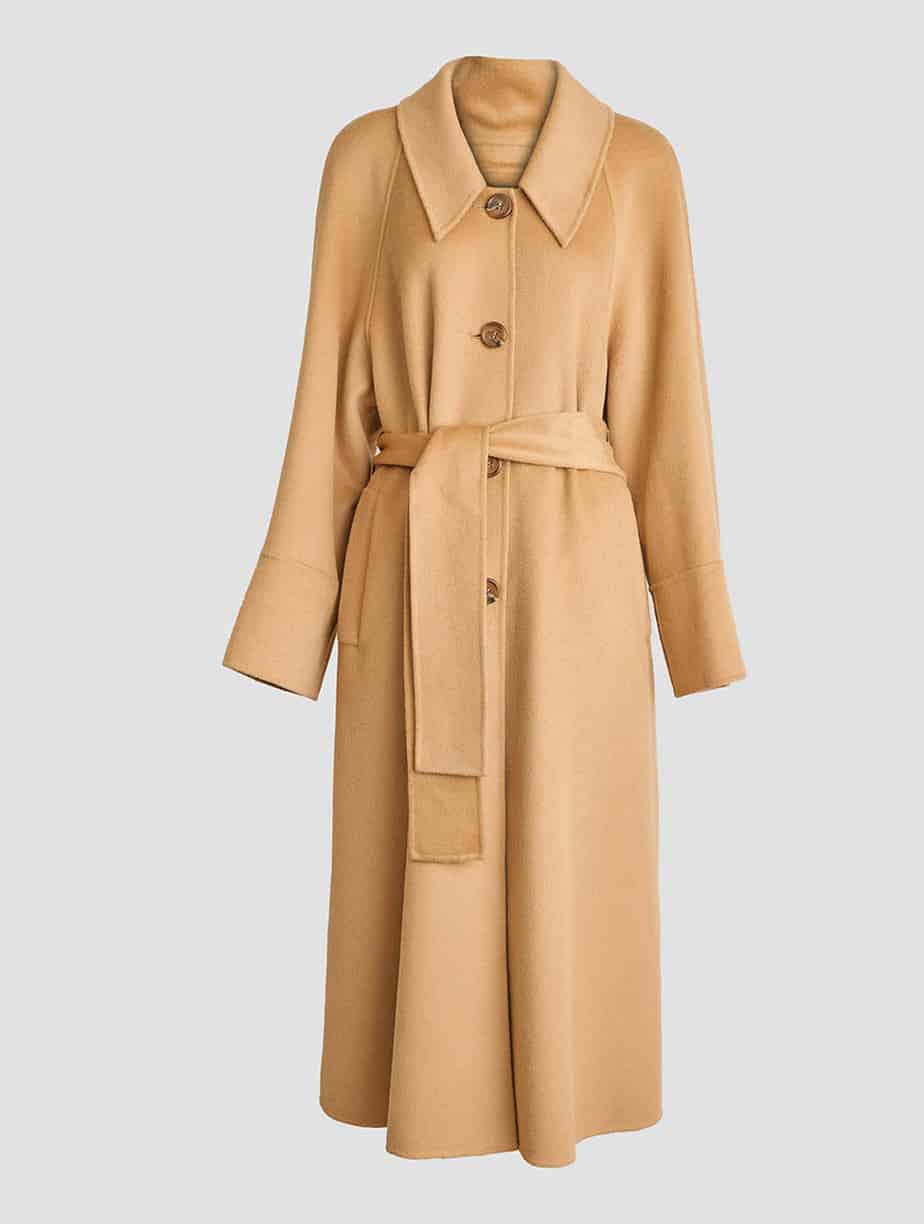 This is a longer option, with a flowy, slouchy fit and a tie at the waist for an exceptionally feminine (and warm) look. There's a camel option, but if that's too light for you, there's a similar–lovely, but darker–golden brown shade, too.
Pros:
It's so long; you can expect to stay warm no matter what you're wearing underneath (so it's perfect if you often wear skirts with pantyhose or tights and freeze).

The slouchy style can make it more comfortable with certain outfits that also have lots of material.

It's unusual because of its length but still classic and simple enough to be versatile.

100 percent wool
Cons:
If you're looking for a more tailored look, this one will probably let you down.

There's a risk it'll look shapeless at times.

The addition and position of the belt may make it harder to wear for some people (if it's too low or too high, for example).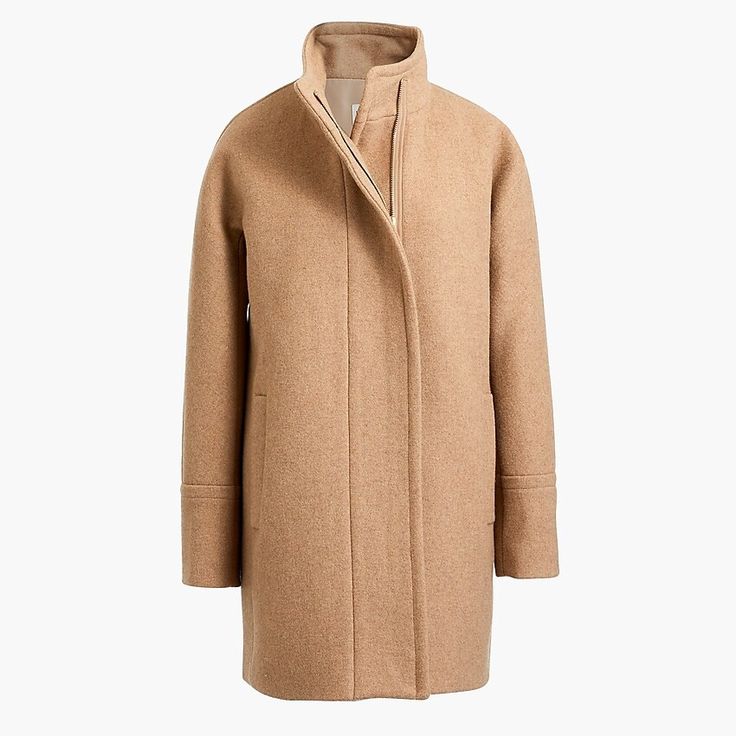 This is a best-selling item from J.Crew, and it's easy to see why. It's on the more casual end of the spectrum, less expensive (on sale at the time of this writing, at least) than some of the other options on the list, and hits a bit higher on the thigh than most of the others.
Pros:
Shorter than other options (not everyone wants knee-length or longer)

More casual, less tailored vibe than traditional camel coats

Available in sizes 00 to 24 (Classic and Petite sizing)

A standing collar will keep your neck warm without the need for a 

turtleneck

 or scarf

It comes in several colors, so you can stock up if you love it

Made with recycled materials
Cons:
Not the traditional style, and its shape and fit make it less versatile than the more tailored, button-up options

It can be more expensive than others on the list (around $240.00) if it's not on sale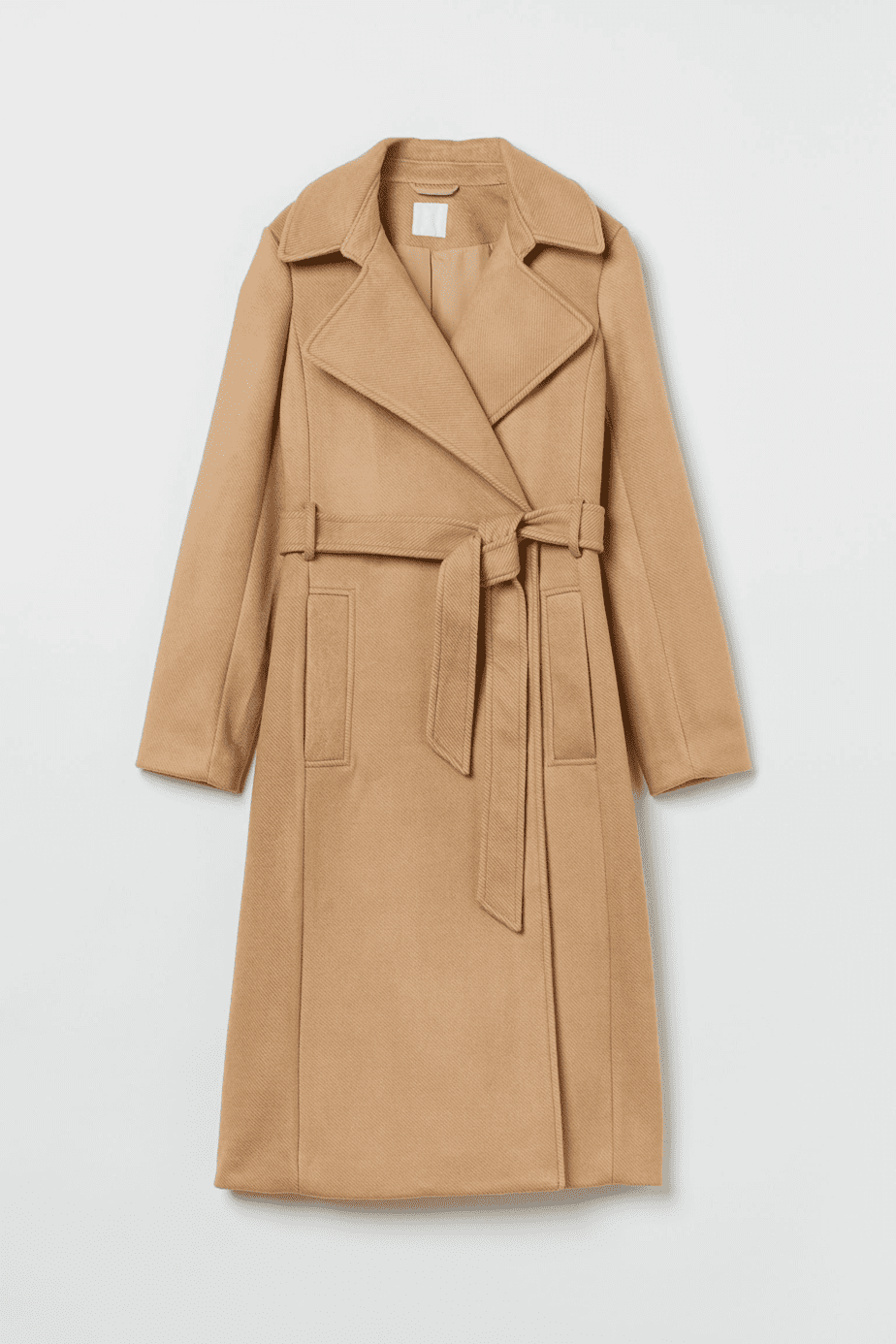 This coat from H&M is chic, classy, and ready for anything, and it's a lot less expensive than most of the other options on the list.
Pros:
Wrap style with a belt cinches in the waist for a feminine silhouette and a snug fit

Sizing ranges from XXS to XXL

Inexpensive, compared to other options, at around $60.00

Made from recycled materials

A good length for wearing with just about anything
Cons:
Because there is a belt and belt loops, you'll have to make sure they're in the right spot for your body (the belt is removable, however, so you won't have to wear it)

Polyester, not wool (may not always be a con, but it's worth pointing out)

It runs a little large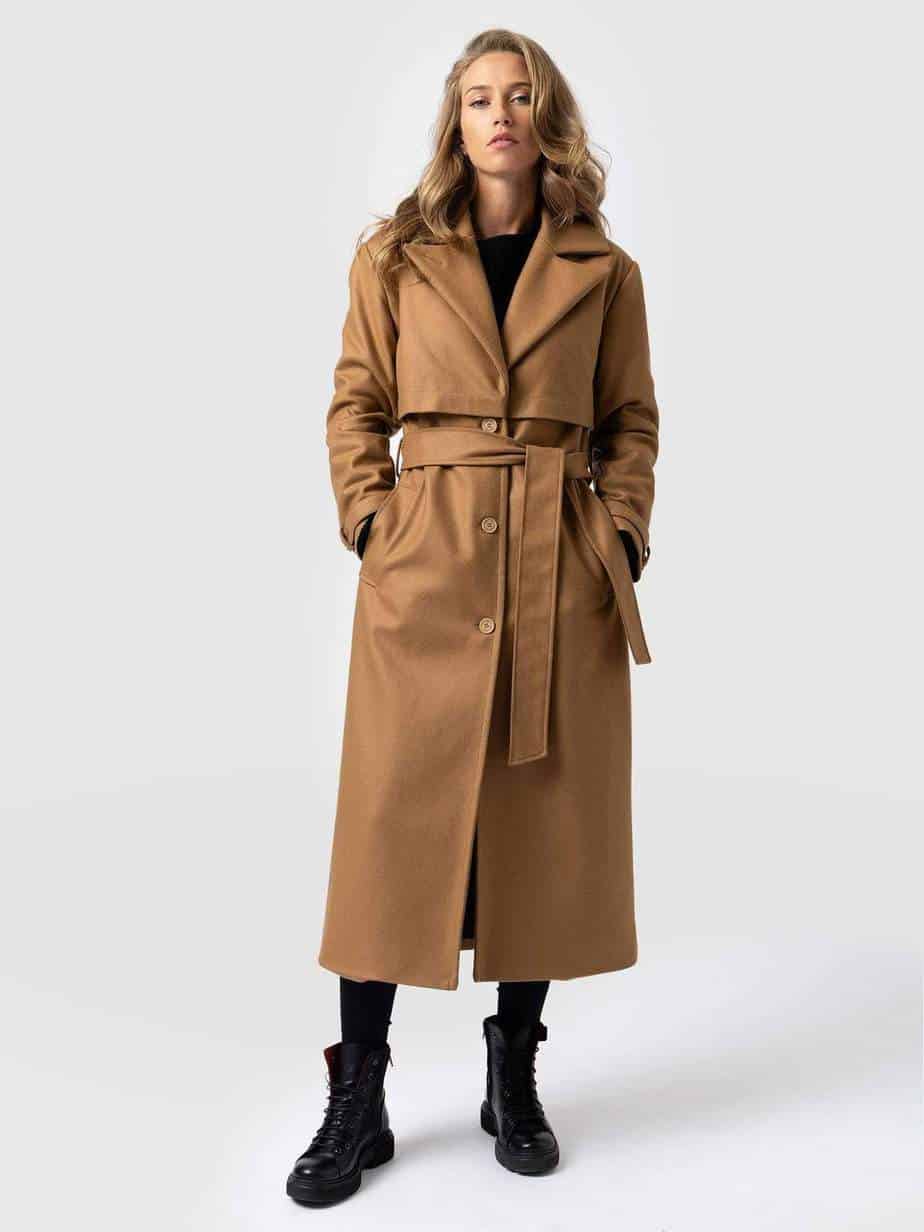 This coat has more detail than most other options on the list, but it's still versatile enough to go with almost anything and survive for years in your wardrobe without becoming outdated.
Pros:
Storm flaps provide more warmth than your average camel coat of a similar style

Buttons and a belt keep it secure (which means you'll stay warmer)

Deep pockets

Longer length keeps you warm from shoulders to just above the ankles

Classic look
Cons:
Expensive, at around $375.00 (usual retail price is listed at $500.00)

If the belt digs into the wrong spot on your body, it could be uncomfortable to wear

It has a boxier silhouette than other styles because of the storm flaps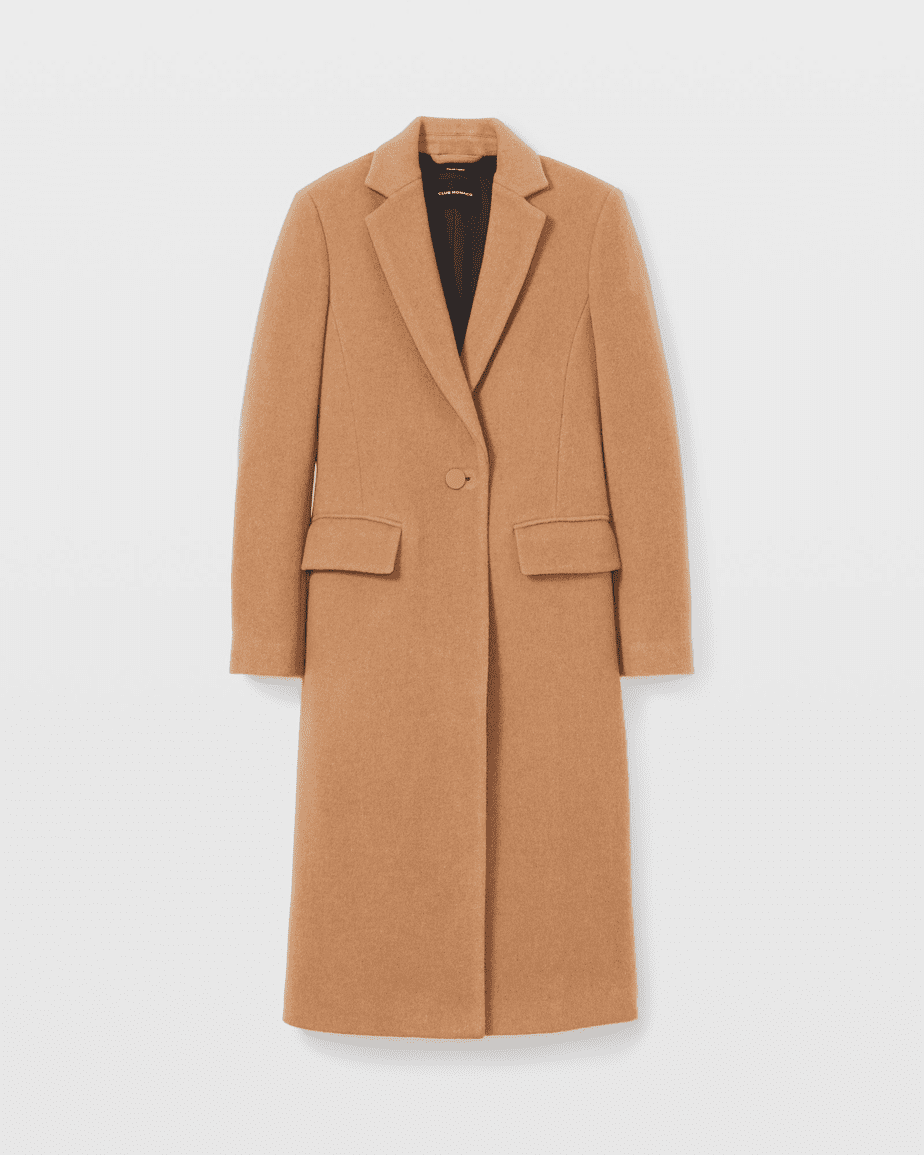 The Slim Tailored Coat hugs the body without the need for a belt. It has that classic length of just around the knee, so it will go with almost anything, and there's no need to worry about where it cinches in because the whole thing skims the body.
Pros:
It could be perfect for those who have trouble with belted coats

64 percent recycled wool

Lined

Timeless, classic fit and style with very few extra frills

This shade could work well with warm and cool wardrobes
Cons:
The slim fit probably doesn't leave much room for bulky sweaters underneath, so it's less versatile than some of the other options.

At almost $500.00, it's one of the most expensive on the list.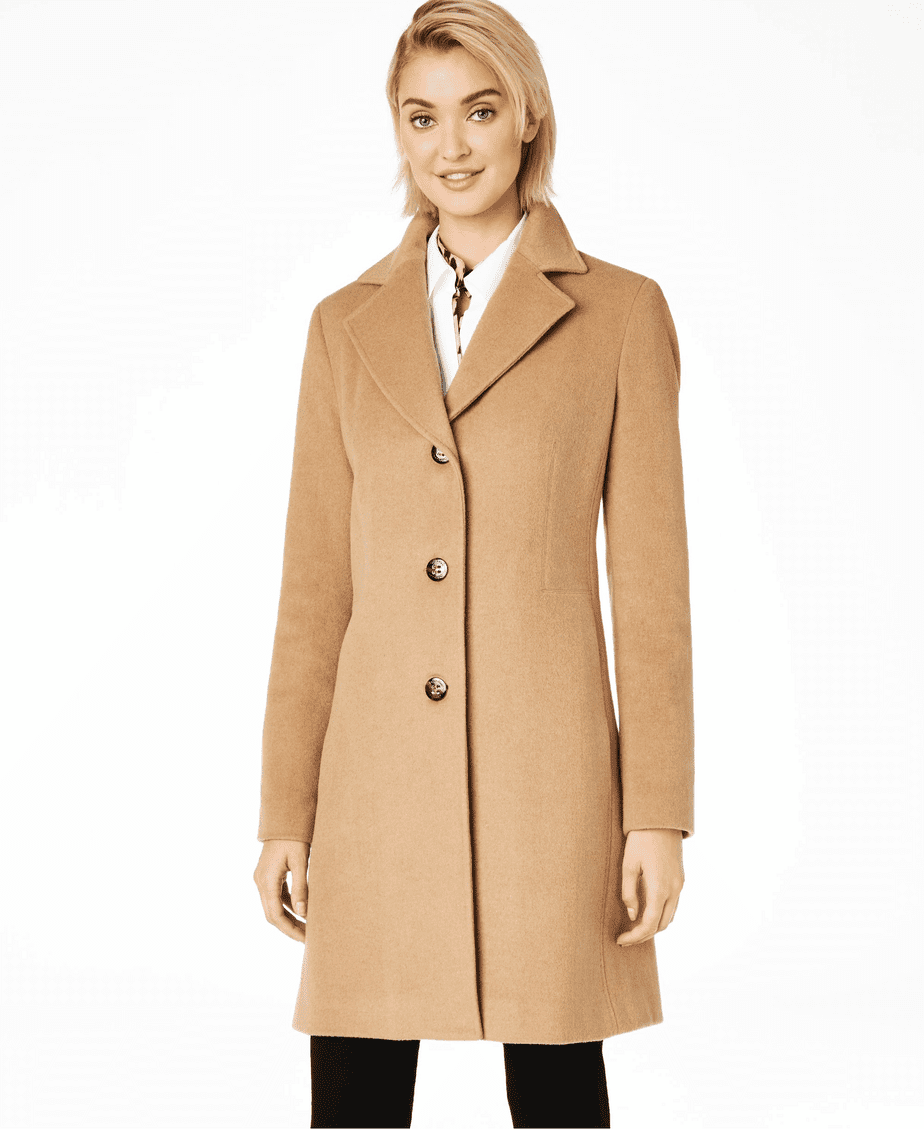 Here's another classic camel coat style that hits just above the knee. It's tailored in such a way that it should be flattering on most body types. It looks professional but would also pair well with jeans and a casual top.
Pros:
One of the easier ones to find in person and try on in-store before deciding if you happen to live near a Macy's.

Great price if you can catch it on sale (as of this writing, it's $200.00, but the regular price is $400.00)

Most reviewers were happy with the size recommendations and fit
Cons:
Not the most extensive size selection (0 to 18)

If you can't wait for a sale, this is one of the most expensive options

Some reviewers say the quality isn't what they expected (so it's probably wise to wait for a sale, at least)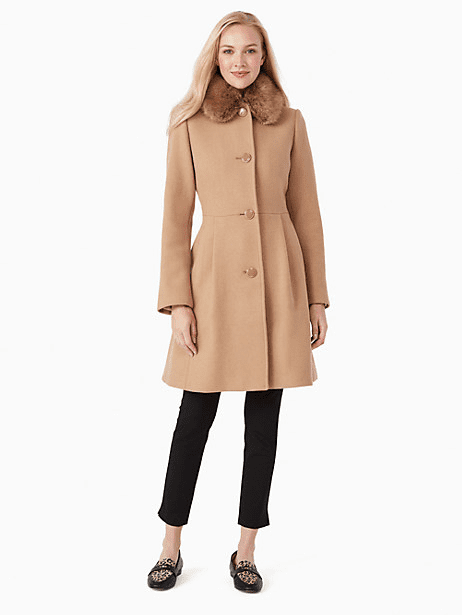 This option from Kate Spade won't be for everyone, but if you truly love the fit & flare style, this is probably the coat you've been looking for. It has enough in common with the classic trench style but with the flare for a feminine touch. It has that yesteryear feel between the flare and the faux fur collar.
Pros:
Traditional enough, but with interesting touches to make it stand out

Faux fur collar keeps your neck warm, whereas many camel coat styles leave that area open (great if you like wearing scarves)

The faux fur collar is removable

Good fit that accents curves without the bulkiness or hassle of a belt
Cons:
You won't be able to easily pair scarves with this coat, so if you love accessorizing with those, this may not be the best fit. Since the collar is removable, it won't be completely out of the question, though.

Sizing could be better–XS to XL

One reviewer got her coat with a chipped button, and another one fell off the second time she wore it, so there may be issues with quality control.

It doesn't appear to have pockets.
Type of Camel Coats
Though the classic camel coat is trench style, there's more to choose from. You can also find camel peacoat, fit and flare, funnel neck, and wrap styles.
Trench Coats
These tend to be knee-length or longer and are usually double-breasted, though you can find single-breasted and buttonless trench styles. Trench coats have matching belts that cinch them in at the waist, shoulder epaulets, and deep front pockets. You'll see them with point collars or notch lapels.
Peacoats
Peacoats are usually somewhat fitted (relaxed styles are available and better for layering over thick sweaters), often made of wool, and end around the upper- to- mid-thigh area and are fitted through the shoulders. You can find single-breasted and double-breasted camel peacoats. Most other features are the same, regardless of whether it's single- or- double-breasted–like a notched collar, tab detail at cuffs, and front pockets–so choose the look and style you prefer.
Fit and Flare
These are similar to the peacoat style, but flare out at the waist. These usually end around mid-thigh, but they can be longer. They're generally single-breasted and can have a funnel neck or notch lapel. Some fit and flare styles may not have pockets, so be sure to check before you buy.
Funnel Neck
These button up the front, but instead of having the notched collar like a peacoat or trench may have, the buttons continue up to create a collar that covers the neck for extra warmth (almost like a turtleneck). You can wear these unbuttoned and leave the collar open for a different look or to accommodate a scarf.
Wrap
These hug the body, overlap in the front, and tie at the waist with a matching belt, similar to some cardigan styles. In most cases, they end around the knee and have shawl collars.
How to Wear a Camel Coat
One of the most wonderful things about having a camel coat you love in your closet is how well it pairs with everything. It's not such a dark brown that it won't work with black clothing. It'll go with brown, black, gray (sometimes), and just about any color you want to wear.
You'll practically never have to wonder what outerwear to choose again–unless you just like to have a few options on hand and play with different color pairings–as long as you choose a classic style that'll complement anything in your wardrobe.
Need examples of the best camel coats and ideas on how to wear them? Try these ideas, so you can get even more of an idea of which style you should be looking for and how it'll work with your own clothing:
Camel and Black
Look sophisticated in a camel coat and black dress of a similar length, like karinastylediaries shows us on her Instagram. The ankle boots tie the whole look together. Keep the accessories simple and sleek for the best effect.
Cropped and Casual
Wear your long camel coat with cropped jeans and a cropped sweater, accented with a structured purse and statement boots. See how ceydakgun does it here.The camel coat elevates the look from completely casual and something that wouldn't normally warrant a second glance to something head-turning.
With Classic Patterned Pants
Play around with neutrals and patterns by pairing your camel coat with a pair of neutral, patterned pants and blacktop, like josianneisabel here:
With Brown and Cream
Amidst all this talk about camel with black, we can't forget that camel looks beautiful with brown and cream, as well, as Connection Fashion shows us on Instagram. Pair a loose cream-colored button-up shirt with a brown belt, brown pants, and tall brown leather boots for a soft, warm, sophisticated look.
With Long or Short Skirts
Here 40atnb shows how the same camel coat can be paired with a long skirt and tall boots or a mini skirt and ankle boots–and that you can go minimal with your accessories or max them out. The key to this versatility is sticking with a neutral color palette and limiting patterns.
Add Some Brights
If you were starting to think that camel coats only work in a neutral wardrobe, check out ingridwilkinson on Instagram. The camel coat and black mid-length skirt anchor the outfit, but she's added bright green, pink, and blue to liven things up. It's the perfect way to say goodbye to summer or hello to spring when the cooler temperatures are creeping in or lingering behind when the seasons change.
FAQs
Are you still wondering if a camel coat is right for you? I don't blame you. The right one that will last and compliment you and your wardrobe can be quite an investment, which can be scary. Here are some of the most frequently asked questions regarding camel coats to help you make your decision.
Question: Do camel coats suit everyone?
Answer: Pretty much! Camel is one of those shades that will complement just about any skin tone, hair color, and wardrobe. Choose a classic cut, like a trench coat, and you'll never have to wonder what to wear, if it's in style, and if it suits you or your outfit of the day.
Question: Do I need a camel coat?
Answer: Unless you already have a go-to coat in your closet that goes with everything and you're perfectly content with that one, yes, you need a camel coat. They're too versatile not to have one if you ever find yourself standing in front of the closet, wondering which outerwear matches what you're wearing. If you want something that's a no-brainer option, you can throw on with anything (thus saving space in your closet, too, because you won't need many options!), spring for the camel coat.
Question: How long should a camel coat be?
Answer: The most versatile and timeless length for a camel coat is around knee-length (think trench coats). However, if you'd prefer something shorter, a camel peacoat that hits just below the hips is an excellent, classic choice, too.
Question: Can you wear camel with black?
Answer: Yes! It's light enough to look perfect with black. It's a sophisticated and classic look that's less expected than, say, black and gray or tan and dark brown.
Question: Do camel and navy go together?
Answer: Absolutely. This is just as stunning a combination as camel and black.
Question: Is camel a warm or cool color?
Answer: You can find either one. There are some warmer camels that have a distinct yellow undertone (they're almost mustard yellow, but not quite), and others that have a pinkish tint. Choosing one that's neither too yellow nor too pink is the best way to keep things as versatile as possible, but if you stick to a completely cool or warm wardrobe based on your coloring and personal preferences, feel free to go further to the warm or cool side of the spectrum when choosing your camel coat.
Which Camel Coat to Buy?
Your preferences and body type will definitely come into play when you're choosing your best camel coat, and ideas on how to wear them versus what you have in your closet (or plan to add soon) will also factor in.
That said, if I had to choose a favorite, one that will be most likely perfect for the most people (and the one I would buy for myself), it would be the Calvin Klein Single-Breasted Coat, with the Club Monaco Slim Tailored Coat as a very close second place.
Recommended Reads: