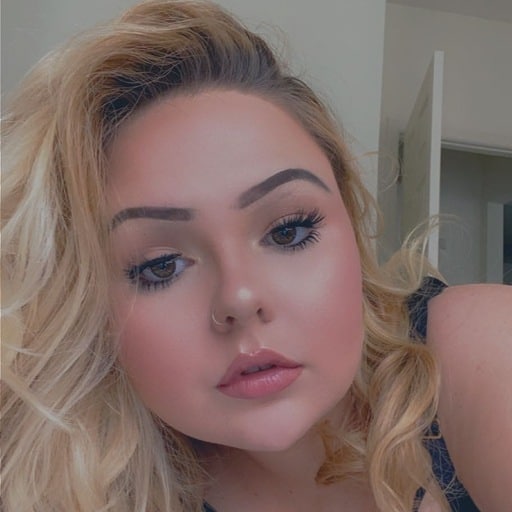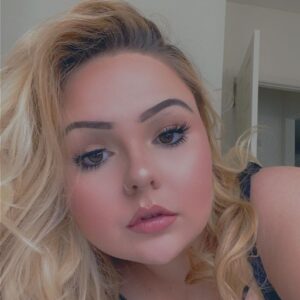 Latest posts by Annalise Swain
(see all)
We've started planning our 'sweater weather' outfit as our bikinis and shorts take their final peaks for the season. Oversized sweaters, hats, and a selection of boots will be in our mix, but plaid clothes deserve a position in your mixture if you're seeking to plot your style by pattern. A plaid dress, in addition to a tiny black shift, is a must-have addition to your capsule wardrobe. When you're adding plaid to your new style, you also have to incorporate some new fall colors like rust, burgundy, and mustard yellow. 
It works every time, whether you're headed back to the office or eating dinner outside on a windy night, and it's a fantastic way to incorporate patterns and color in a more subtle way. Here are some of the greatest plaid dresses and ideas to add to your closet!
How to buy the right plaid dress 
Plaid is an antique weaving style that dates back to the time when the yarn was dyed in many colors. There are several sizes to choose from, each of which complements a distinct aesthetic approach. You can wear plaid clothing to work depending on how you style it. When worn in a California casual, western, or rock vibe, it effortlessly reads weekends.
Picking a good quality dress 
If you're looking for a plaid dress for work, make sure you check it properly. Examine whether the plaid pattern meets exactly at the same locations on the darts. After then, and only then, should you hand over your cash. When the plaid pattern is offset, it appears cheap and unsuitable for the workplace. When the pattern doesn't line up, no matter how much the price is reduced, the sale isn't a good bargain.
Colors 
Make sure the bulk of the colors are neutrals or at the very least hues that are appropriate for a business – in other words, the main color should not be bright in any shade. In terms of dresses, black and white are ideal, but fuchsia/pink is okay in most professional settings as long as the pink does not have a neon color.
Also, when it comes to your clothing, don't overlook the importance of color. Remember that dark hues make you look smaller, but light colors, particularly white, add bulk. The color of your garment will be determined by the hue of your natural skin tone. Choose greys, white, black, and jewel tones if your skin has a blue undertone. If your skin tone is warmer, however, reds, oranges, yellows, and browns are the colors to choose.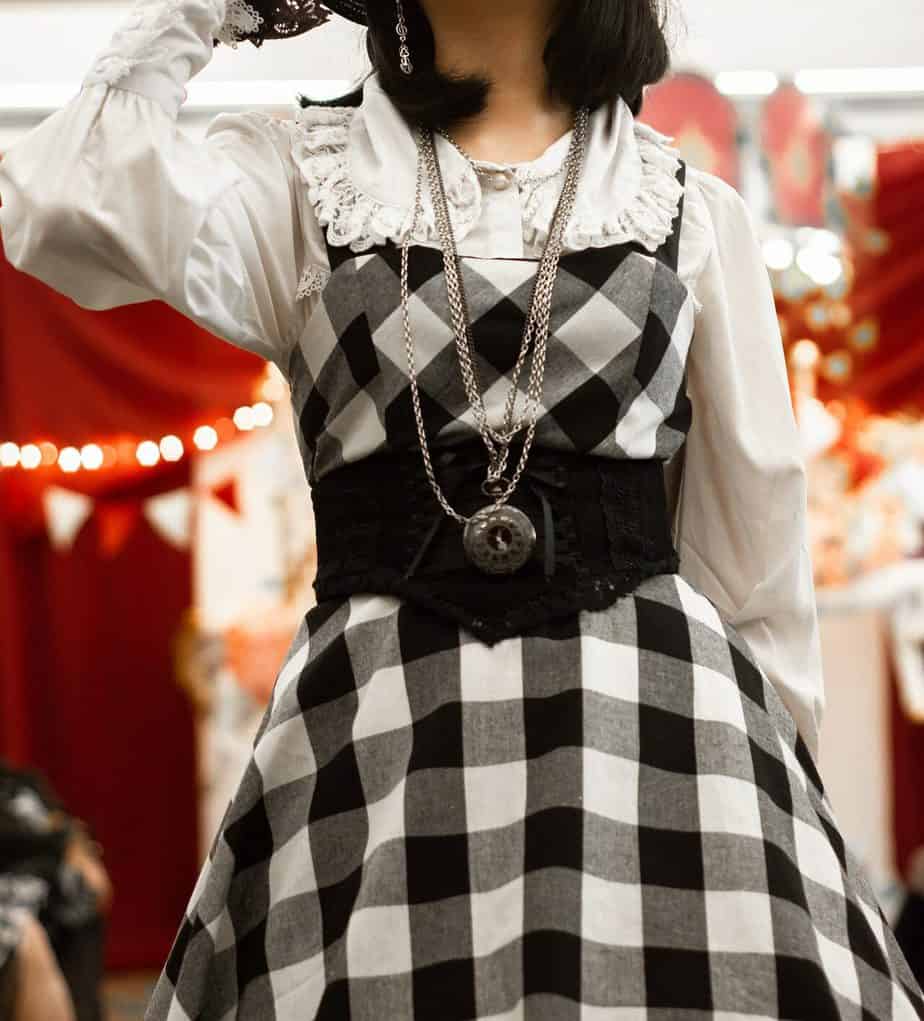 Remember your budget 
Your budget should also be taken into account. There are gowns for any budget nowadays. You may select from a choice of exclusive designer dresses for high-end consumers. You may also have it custom-made, which allows you to have numerous fittings to ensure that the dress fits you exactly and has a comfortable and elegant cut.
If you're on a tight budget, try purchasing your gown during the off-season or during a seasonal discount. You might be able to locate better prices on the internet as well. Consider purchasing a flexible dress that can be worn for a variety of events and gradually extending your dress collection with more particular dress types over time.
Buying the right size 
It should go without saying that you should try on any outfit you want to buy. If you're in a rush and buying your dress online, make sure to choose a retailer that offers a size chart. The sizing chart will help you figure out what size you should get. Avoid ordering your usual size without first reading the size charts and taking your own measures, as you may be purchasing from an overseas retailer with measurements and size charts that differ significantly from your own.
Dress style 
It's time to choose a dress style once you've determined the event, your body type, and a color choice. The following are some of the most popular dress styles available. 
Best Plaid Dress Ideas to Buy 
These plaid and flannel-inspired dresses will help you celebrate the arrival of the new season with style. The nice thing about plaid dresses is that they can be worn early in the fall when the weather is still warm, and they can also be layered later in the year when the weather cools. Plaid dresses may be dressed up or down for any event depending on the shoes and accessories worn with them, whether worn alone or with a denim jacket or cardigan. These plaid dresses will be the perfect combination for every occasion you'll be attending this autumn, from game day to Sunday school to dinner with friends. 
Wild Fable Short Sleeve Button-Front Woven Shirt Dress
This shirt dress has a button-down front and a casual shape and comes in four distinct plaid colors: navy, gold, wine, and green. This is the perfect dress to be casual for the day or you can dress it up. The soft and lightweight fabric makes it perfect for hot days or to layer up on those last few days of fall. 
Loft Plaid Tiered Pocket Shirtdress 
A basic black and white design is always a safe bet. A tiered skirt is coupled with traditional characteristics of a button-down shirt, such as a collar and front pocket, to create an easy aesthetic. The best part of this dress? The pockets. 
Time and Tru Women's Plaid Ruffle Dress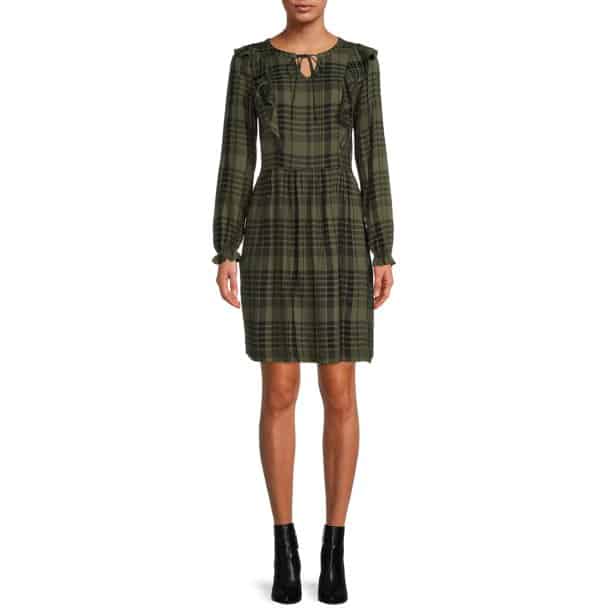 Time & Tru, a Walmart brand, is known for its cheap design, and this plaid dress is no exception. This tie-neck flannel dress may be combined with boots for a simple fall look for less than $20. 
Plaid Fit and Flare Mini Dress 
This dress has a fit and flare design with a tight waist, square neck, and trumpet sleeves that give it individuality. The uniqueness this dress has will make you stand out against the crowd, it is perfect if you're looking for a fun dress to do a photo shoot in. 
Plaid Short Sleeve Button-Down Dress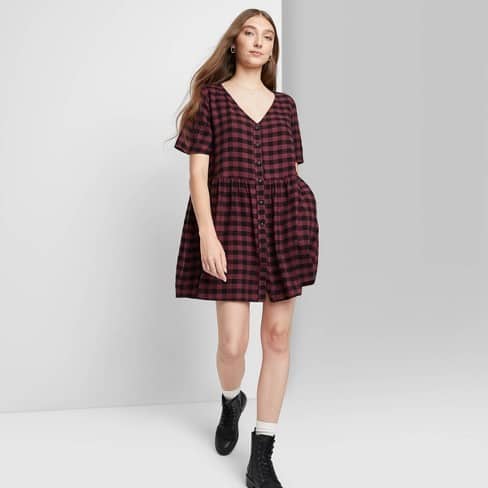 This button-down dress is a breeze to put on. On hot days, the soft, lightweight fabric will keep you comfortable, and when the weather cools down, it will look fantastic with a cardigan or denim jacket. The front buttons are a charming design feature that makes them easy to put on and take off. Because of the flexibility and lightweight fabric, this dress may also be worn as a maternity dress. The buttons make it easy to breastfeed while out and about if you're a nursing mother.
Goodthreads Women's Flannel Relaxed Fit Belted Shirt Dress 
This dress has a thicker cloth, a collar, and a rounded hem, much like a genuine flannel. It also has a waist tie for a figure-flattering fit. This belted dress is perfect for the office or a formal setting. 

How to style a plaid dress 
When it comes to styling your plaid dress, you want to be trendy yet comfy. So let's talk about the best ways to style your dress for the warmer and colder weather. 
You will want to start this style with the Target plaid short-sleeve button-down dress. You can throw on a white or off-white belt cinched around your waist to add a little spice. Grab your favorite pair of beige booties, add some jewelry, and you're all set! 
Errand day 
Any colored dress will do, but let's go with a classic black and white style for this look. Grab the Loft plaid tiered pocket shirtdress, throw your favorite pair of white sneakers, and add in a black purse to complete this look. It may seem a little basic, but when I'm running errands, I prefer to be comfy, yet stylish which is what this look offers. 
Teacher's outfit 
Are you a teacher who loves to style in your classroom? Here's the perfect outfit for you: grab the Goodthreads women's flannel dress in any color you love. You can mix it up by either wearing nude booties or your favorite sneaker. Put on a simple necklace, pretty earrings, and a bracelet if you'd like. 
Photoshoot day 
Who doesn't love doing a photoshoot in the cool fall weather, with the colored, crunchy leaves all around you? I have the perfect out for you. Start with the Forever 21 plaid fit and flare mini dress, add on some simple jewelry, your favorite pair of black heels, and a cute hat. Now you're all set to start your photoshoot!
Pumpkin patches and corn mazes 
I personally love doing pumpkin patches and corn mazes with my family during the fall, but my problem was I could never figure out the perfect outfit for the day. I have the solution for you. Throw on the Time and Tru women's plaid ruffle dress, add on a cardigan, your favorite pair of booties (preferably black because they tend to get a bit dirty), and don't forget the sunglasses! 
FAQs 
Question: What are the most important characteristics when buying a dress? 
Answer: Not only should you examine color, but also the dress's quality, price, and materials to determine whether it is worthwhile to purchase. The dress's design and style must also be considered, as there are a few designs that do not fit our personality.
Question: Is plaid still in style for 2022? 
Answer: Tartan and gingham checks will make a comeback in 2022. Plaid is a fall and winter fashion must-have. Plaids and checks are alive and well for fall and winter 2022. We believe that the style of plaid will never fade since it is such a cute pattern that really captures the sense of us being in the fall season. 
Question: What does plaid pair best with? 
Answer: A brown or black fake or real leather jacket looks fantastic with almost every color of plaid. To finish the outfit, add a neutral-colored scarf and ankle boots or sneakers. If you're wearing a black and white plaid dress, feel free to brighten the look by adding some bright colors like orange, yellow, green, and purple. 
Conclusion
You won't be able to get enough of this timeless wardrobe classic, whether you dress it up or down. Though it may be worn all year, it's most popular in the fall and winter, especially in darker hues like burgundy, grey, and forest green. It may be dressed in pastel and neutral tones throughout the warmer seasons. Remember what the most important characteristics are when you're buying a plaid dress. If the plaid doesn't match up on the seam line, it is cheap quality, if the plaid does match up on the seam line, it is worth spending your money on, so keep looking.
Further Reads: