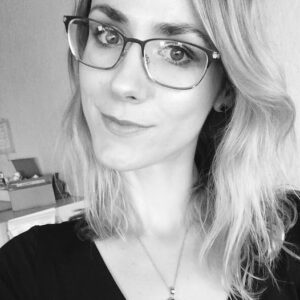 Latest posts by Karyl Trejo
(see all)
Nothing heralds the start of pumpkin spice season and sweater weather as clearly as the sudden proliferation of cardigans cropping up all over the place. The perfect intersection between comfort and style, cardigans are a versatile accent for any outfit. 
Cozy, cute, and perfect for the transition between the cooler months, there's really no garment that compares to the humble cardigan. Not only are they completely functional, but they're also adorable as heck, too. You can dress them up or down, wear them with jeans or a dress — there's no limit to how you can style one.
The fact of the matter is, no closet is complete without at least one cardigan sweater. With that in mind, only one question remains: which cardigan is the best one for your wardrobe and unique sense of style?
What Exactly is a Cardigan?
A cardigan is a kind of knitted sweater that has an open front, traditionally made with wool. With how practical the design is, you'd think it would have been around for ages, but the cardigan is actually a fairly recent invention. 
It was made famous just 300 years ago by the 19th-century British aristocrat Lt. General James Brudenell, the 7th Earl of Cardigan, who lent his name to the garment. The rest, as they say, is history.
The Main Differences Between Cardigans vs Pullover Sweaters
The Main Differences Between Cardigans and Pullover Sweaters are:
Now that we've defined what a cardigan is, let's talk about what it's not and how it differs from that other cold-weather staple, the pullover sweater. Although they may seem similar at first glance, there are many ways these two autumn staples differ from each other. 
Cardigans have an open front and are typically fastened with buttons or left to drape without them, whereas pullover sweaters are closed in the front.

Cardigans are worn as an outer layer in place of a jacket, whereas a pullover sweater is more commonly worn on its own as a top.

Cardigans can be knitted from light and breathable materials (such as cotton or linen) so they can be used for layering even during summer, whereas the high neckline and long sleeves characteristic of pullover sweaters make them a strictly cool weather item — no matter what material they're made from.

 Cardigans can be opened in front and are worn by inserting your arms into the sleeves and shrugging them on, whereas pullover sweaters are worn by "pulling them over" your head, hence the name. Coco Chanel famously loved cardigans for this very reason, as pullovers would dishevel her perfectly styled hair.

Cardigans are seen as more formal, whereas pullover sweaters are a tad more casual. Due to this, cardigans are more accepted in office settings, whereas pullovers are often worn outside of work or on weekends.
The Unexpected Military Origins of the Cardigan
Despite modern associations with a hipster, geek-chic aesthetic, cardigans actually started out being worn on the battlefield. Once upon a time, they were seen as a military garment, not the ubiquitous fashionable sweater in most of our closets.
Curiously enough, the first cardigans were sleeveless, more like vests than the full-sleeved garments we know today. Lord Cardigan was said to have accidentally burnt the tails off a waistcoat and found that the resulting short, sleeveless garment was great for layering on top to keep him warm as he led the British forces on the frontlines during the Crimean War. 
He famously wore a woolen cardigan during the fateful doomed Charge of the Light Brigade, and during his brief popularity where he falsely painted himself as a military hero, the cardigan rose to fame along with him.
The Rise of Cardigans in Womenswear
With its military roots and association with soldiers, the cardigan was seen as a mostly male garment until French fashion designer Coco Chanel popularized it in womenswear in the 1920s. 
The designer famously made the first prototype by cutting up one of her own pullover sweaters, which she disliked for messing up her carefully coiffed bob when she had to pull them over her head. She then finished it off by sewing a ribbon around the collar and debuted her creation to rapturous acclaim. 
After switching the material to a softer jersey and matching it with a coordinating skirt for a twinset look, the iconic cardigan that is still synonymous with Chanel today was born.
The Evolution of the Cardigan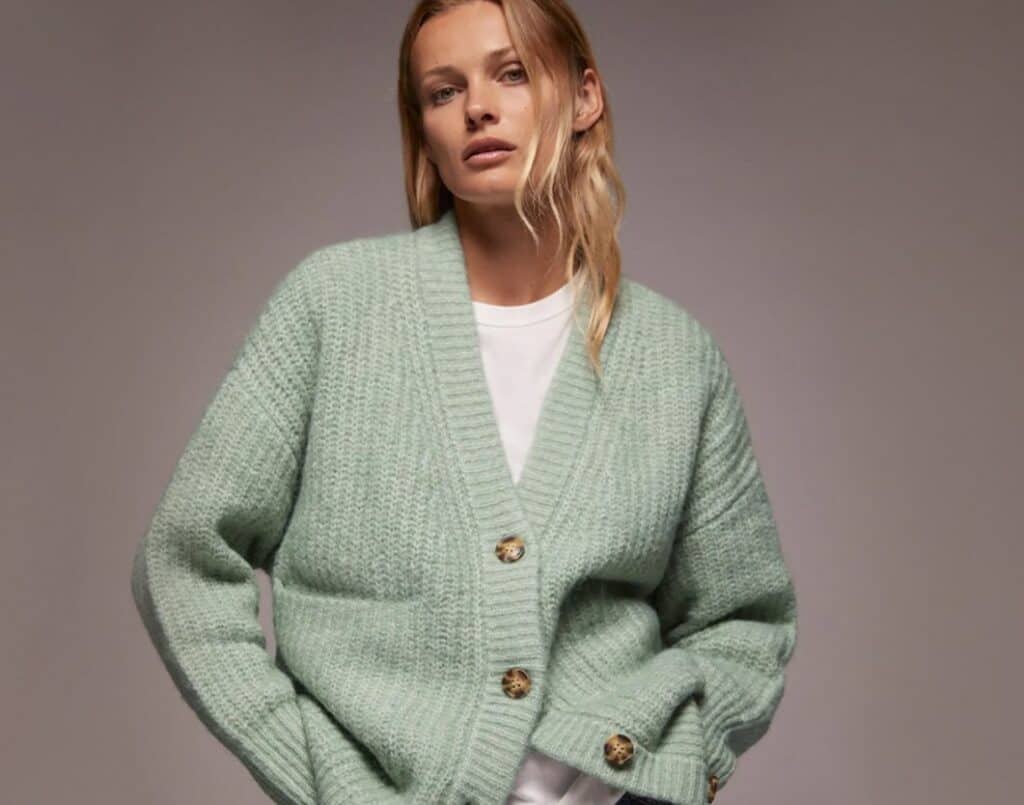 From its slouchy first form as created by Chanel, the women's cardigan became even larger and roomier in the 20s and 30s as oversized college wear, the source of the ever-trendy "boyfriend" fit, came into vogue. 
It underwent a drastic slimming down in the 40s and shrunk to become more like a bolero. Instead of the chunky look of the past decades, the cardigan started to be made from soft, clingy materials such as angora and cashmere. This went hand in hand with the then-scandalous conical brassiere, which the new form-fitting cardigans showed off. The look was popularized by the so-called "sweater girls" of the period, many of whom became pin-up icons.
Nowadays, cardigans are available in different cuts and styles, from the shrug-sized sweaters of the 50s to the slouchy, oversized button-up variety famously worn by the 90s grunge icon, Nirvana frontman Kurt Cobain. 
Materials have also become varied, with most cardigans being made with a mix of fabrics. Below are the most common fabrics in cardigans today.
Common Materials in Cardigans
Cardigans can be made from a wide variety of materials, lending to their versatility. Depending on the material you choose, you may find yourself paying a higher price for your cardigan. That said, better materials are considered an investment, and a cardigan made out of wool or cotton may last you longer than one made out of polyester.
Of course, it's not fair to make a blanket statement out with this, and we've heard stories about favaorite cardigans that are several years old… and also happen to be made out of synthetic fabrics (like polyester or nylon). With that in mind, these are some of the more popular materials that cardigans are generally made out of:
Despite being less breathable and insulating compared to natural fibers, synthetics have their place in sweaters, too. Elastane or spandex can add stretch to a cardigan and make it more comfortable to wear. 
Synthetic knits can be extremely soft, but they are less warm compared to wool and less breathable compared to cotton. They're also less sturdy and pill more easily compared to natural fibers. Due to this, synthetics often last less long compared to sweaters made of natural fibers.
When choosing your next cardigan, it's still best to pick the one you feel the most comfortable in. You'll be the one wearing it, after all. Whether you choose a super soft synthetic or a luxurious merino wool cardigan, what matters is that you feel great in it.
Our Favorite Fuzzy Cardigans (That You'll Absolutely Love!)
Here are our top picks to keep you warm and looking cute when the temperatures start to drop. These soft, fluffy, and warm cardigans are the ultimate in cozy comfort.
What Was Our Selection Criteria?
Cardigans are a functional outer layer that doubles as an accent to your outfit. With this in mind, we made sure to prioritize comfort, warmth, and ease of wear without sacrificing style. Here are our criteria for our picks:
Good reviews. We made sure that each cardigan we picked had loads of glowing reviews from happy customers, so you'll be sure to love them too.
Cozy material.

No itchy or scratchy cardigans here! Just 100% pure fluffy, fuzzy amazingness.

Color.

Nothing is more disappointing than finding that one item of clothing that's perfect in every way, except that it's in a color that you never wear, or clashes with everything else you own.

Every cardigan in this list comes in a neutral color so you can easily pair it with anything in your closet, and most are available in multiple colorways, so you're sure to find one in your favorite shade.

Style. We made sure to pick cardigans in trendy cuts that are easy to pair with everything from distressed jeans to silky slip dresses. With a wide range of fits, lengths, and fabrics, you'll be sure to find your next favorite layering piece below.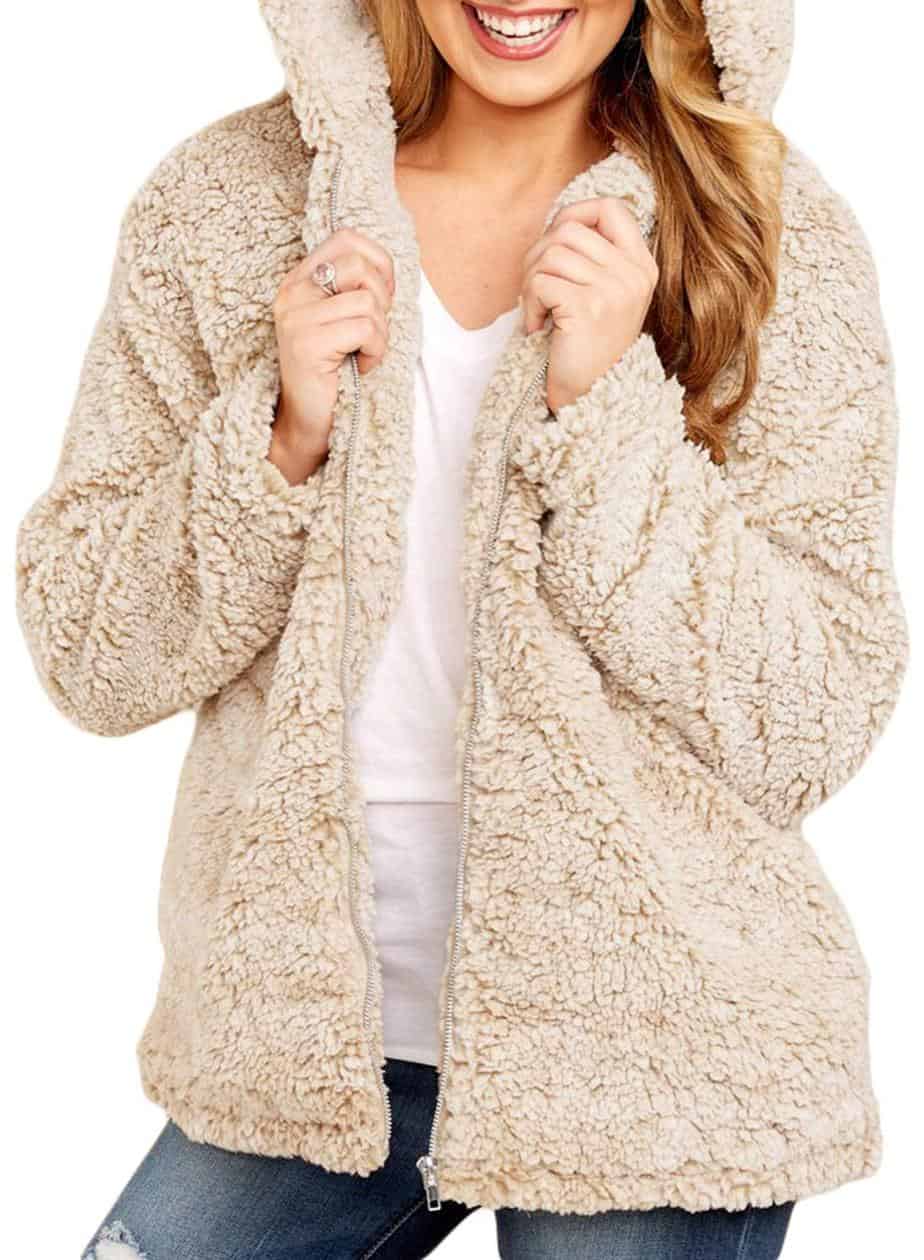 With the recent popularity of teddy coats, this cozy cardigan is a stylish, on-trend pick for fall that you can wear straight into winter. Made of a plush, fuzzy fabric reminiscent of a teddy bear's fur, snuggling into this cardigan feels just like hugging your favorite childhood stuffed animal. This cardigan is perfect for a lazy winter day spent at home with a nice cup of steaming hot cocoa.
Pros:
Soft, fluffy material resembling teddy bear fur

The attached hood lets you keep your head toasty warm, too

The oversized fit makes it perfect for lounging around

Available in 10 colors and 13 patterns

Comes in sizes XS to XXL
Cons:
Bulkiness makes it hard to layer with other items

The overly casual design makes it unsuitable for professional wear

This is a strictly weekend layering piece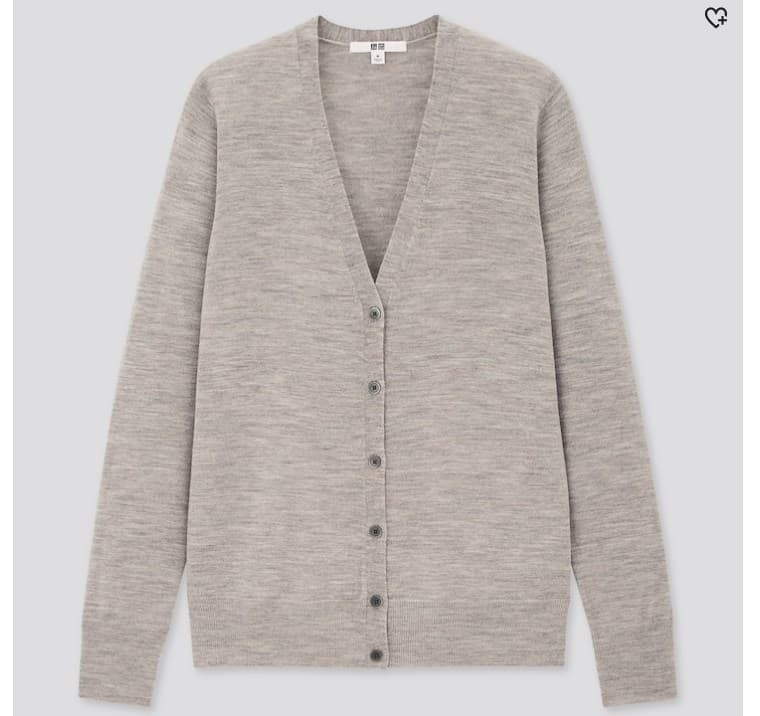 Knitted from 100% extra-fine Merino wool, this luxurious cardigan from Japanese retailer Uniqlo is a perfect office staple. As the material is so smooth and delicate, it has a beautiful drape and a subtle sheen. The Merino wool used in this cardigan has also been specially treated to make it machine washable and resistant to pilling.
Pros:
The thin material makes it perfect for layering

Slim fitting so it shows your shape

Luxe fabric at a budget-friendly price

Merino wool is moisture-wicking and perfect for all types of weather

Odor-resistant material means you can go longer between wears

Don't have to worry about smells

Comes in many colors, like off-white, black, wine, gray, and navy

Huge selection of sizes, from XXS to XXL
Cons:
The slim fit makes it hard to wear bulky garments underneath

Delicate fabric can rip or get snagged easily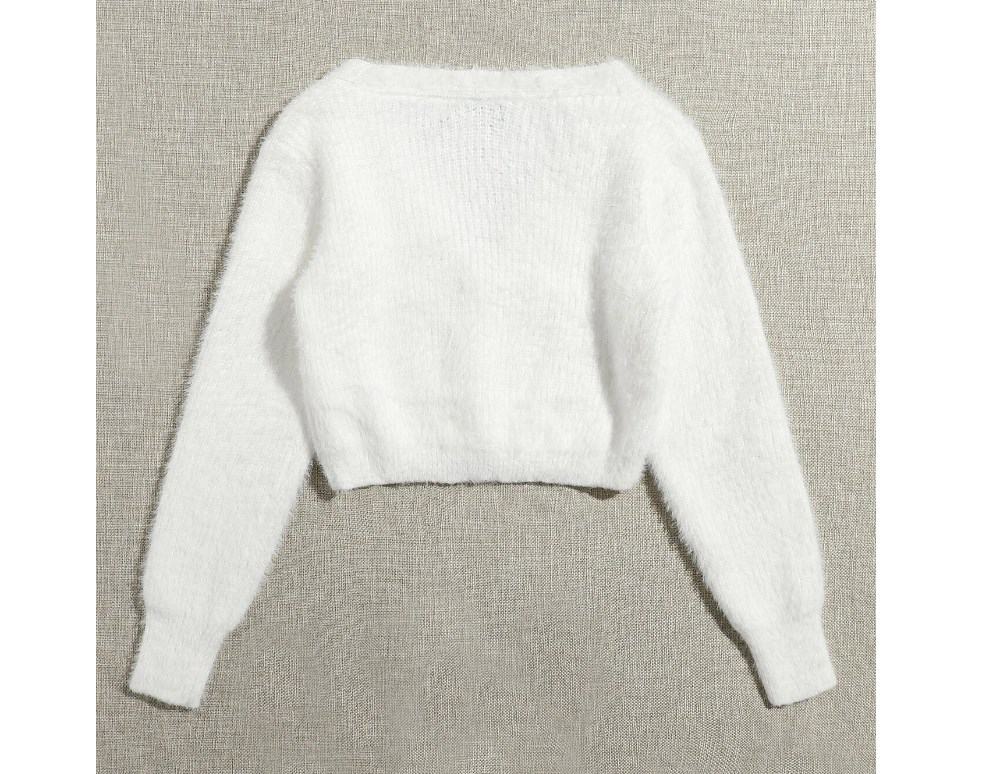 The 90s revival is still in full swing, and this darling cropped cardigan with elegant pearl buttons is a perfect example of Clueless chic. Channel your inner Cher Horowitz as you don this fuzzy cardigan — no buggin'!
Pros:
Supersoft acrylic fabric mimics the fuzzy look of wool (without the itchiness!)

The cropped length makes it great for layering over tops and dresses

Available in S, M, & L

Comes in White, Black, and Olive Green
Cons:
Limited sizes (only goes up to large)

Slim fit with minimal stretch makes it hard to layer underneath

Not the widest range of colors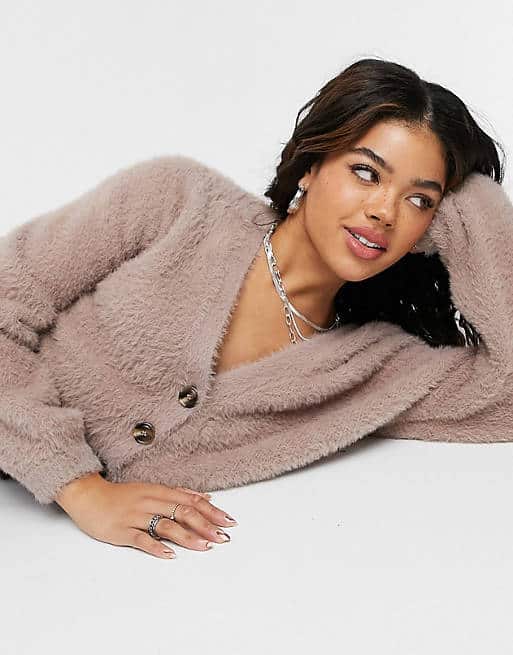 With its princessy bishop sleeves, this slouchy, drop-shoulder cardigan is seriously amazing for adding a touch of whimsy to any outfit. The cropped length hits right at the waist, making it perfect for French tucking into a skirt or some distressed flared jeans.
Pros:
The roomy fit makes it easy to wear

Ends right at the waist so it can be tucked in with no bulkiness

Extra-long sleeves with garterized cuffs keep them in place for warm wrists

Comes in sizes XS to L
Cons:
Sleeves will be too long for petites

The boxy cut might be unflattering

Doesn't come in extended sizes

Only available in "Mocha" color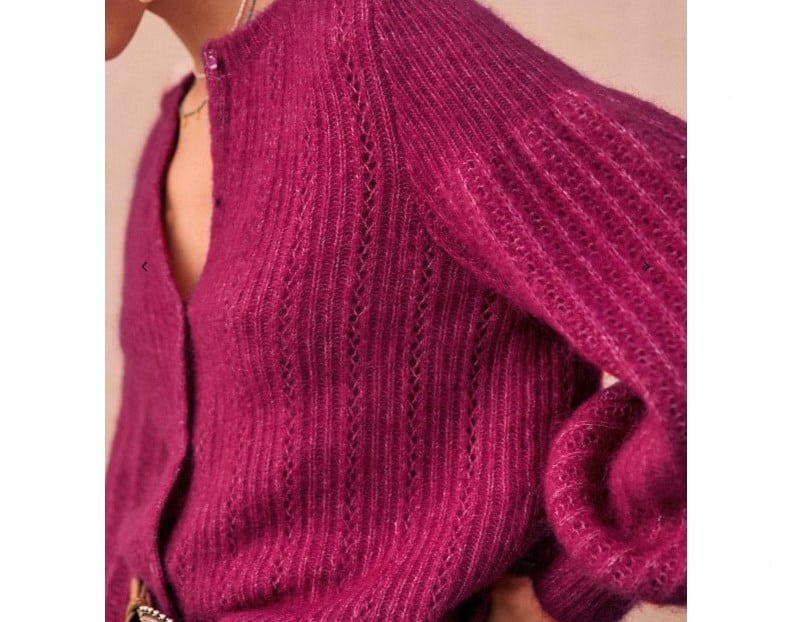 French cool-girl brand Sézane's knitwear has always been iconic. Its famous Barry cardigan was a cult favorite in 2017, and at the peak of its popularity, it had a waiting list of some 30,000 customers long. Though the Barry is no longer in production, the Alyssa (with its mega-fluffy wool and mohair mix material and oversized balloon sleeves), is just as waitlist-worthy. 
Pros:
CRWS-certified means wool is from humanely raised sheep

Intricate cable knit adds visual interest 

Long and voluminous balloon sleeves add whimsy to any outfit

Comes in many colors (Ecru, Aqua, Peacock Green, and Bougainvillea)

Wide range of sizes, from XS to XXL
Cons:
Hand wash only

Wool and mohair-rich knit material makes it prone to shrinking, so be sure to use cold water when washing

Runs small, so be sure to size up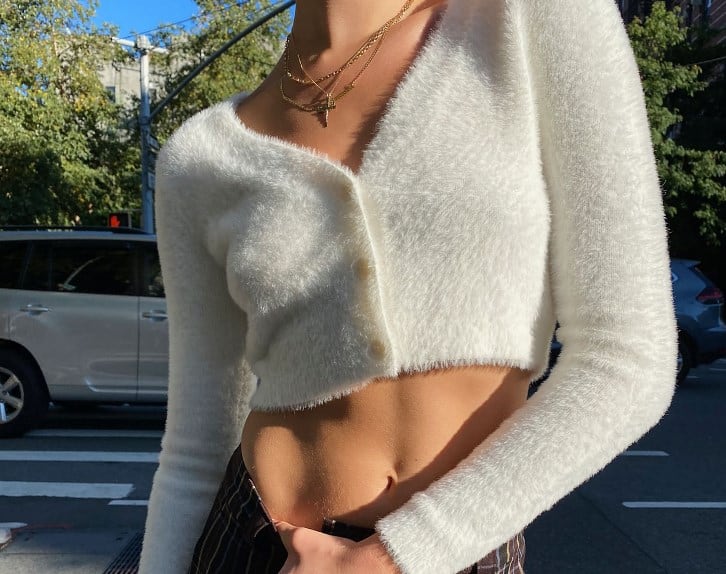 A cult favorite from the athleisure-inspired Canadian brand Aritizia, this cropped, V-neck cardigan with front button closures is made with their signature Fuzzy-Knit yarn for maximum fluffiness. 
Pros:
Nylon material gives this cardigan a strong sheen 

High stretch fabric allows for a perfect streamlined fit

Vegan-friendly

Huge size range: from 2XS to XXL
Cons:
A shiny finish gives it a synthetic look

Hand wash only instructions makes laundry day a little harder

Slightly limited colors (Espace, Turner Taupe, and Denude)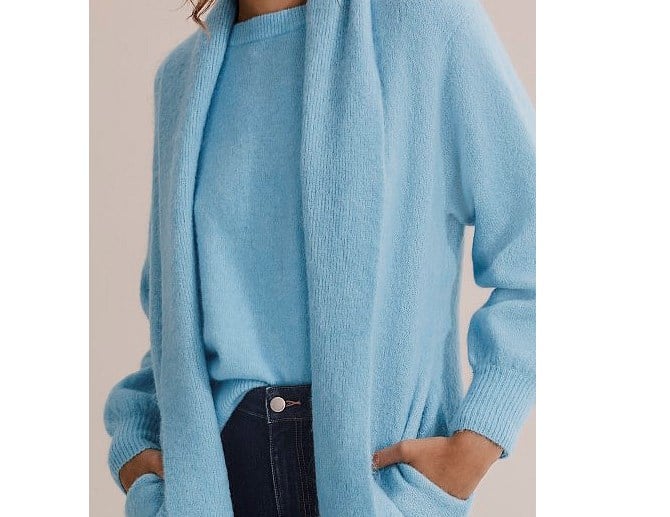 Made from tufted, fluffy yarn for unbelievable softness, this knee-length cardigan features a refined shawl collar and bishop sleeves with tapered cuffs. Made from a mix of wools (34% Merino Wool, 15% Mohair, and 15% Alpaca), this cardigan is sure to keep you warm even on the dreariest winter day. 
Pros:
Plush, fluffy material has some stretch due to added spandex

Extremely comfortable to move around in

Large patch pockets are roomy enough to fit your phone, keys, and mittened hands

Lots of sizes, from XXS to L
Cons:
Tends to shed after washing 

Might be too long and bordering on coat length for petites

Doesn't offer extended sizes

Only comes in Oxygen Blue and Charcoal Marle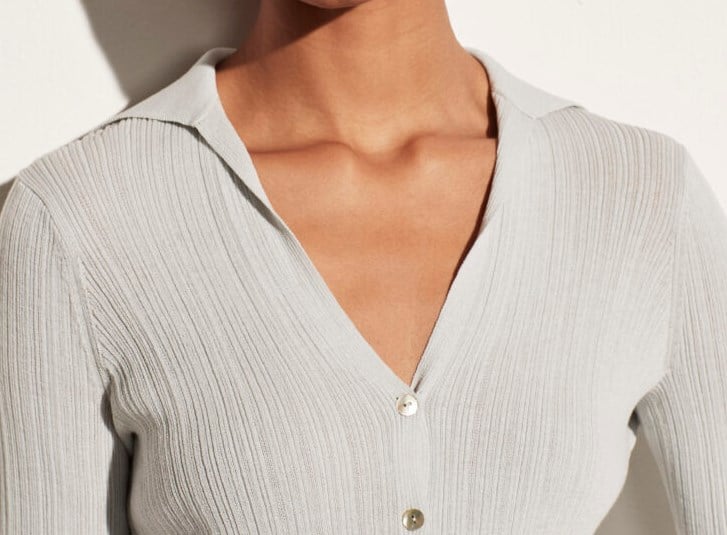 From the luxury California brand Vince, this polo-style cardigan with a deep V-neckline, tiny buttons, and point collar is truly one of a kind. Made of exceptionally soft fine-gauge cotton, this cardigan features narrow ribbing that flatteringly follows the lines of your torso.
Pros:
Can be worn on its own so it doubles as a top

Fine-gauge knit and 100% cotton material makes it perfect for layering

Comes in many sizes, from XXS to XL

Three fun colors: Pale Walnut, Mist, and Black
Cons:
Not warm enough for winter or very cold weather

Thin and not suitable for wearing over bulky clothes

Doesn't come in extended plus sizes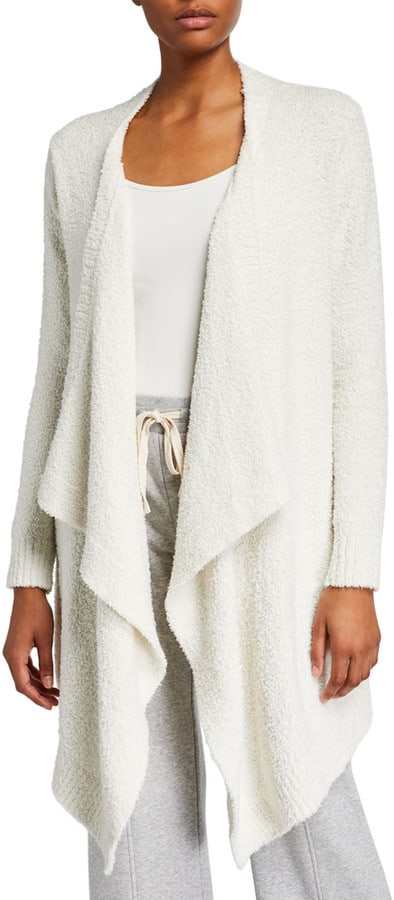 Until it becomes socially acceptable to go outside cocooned in a warm fleece blanket, this oversized cardigan is the closest we can get. With its soft, fluffy popcorn knit fabric and elegant waterfall draped front, this is a great cardigan to throw on and lose yourself in.
Pros:

Large patch pockets at the hips

Waterfall collar and drape makes it feel like wearing a blanket

Ends at mid-thigh

Can double as a coat

Huge choice of colors (Black Leopard, Cream, Driftwood, Grey, and Vintage Blue)

Good size range, from XS to XL



Cons:
Loose, fluffy knit means it can snag and pill easily

Bulky and oversized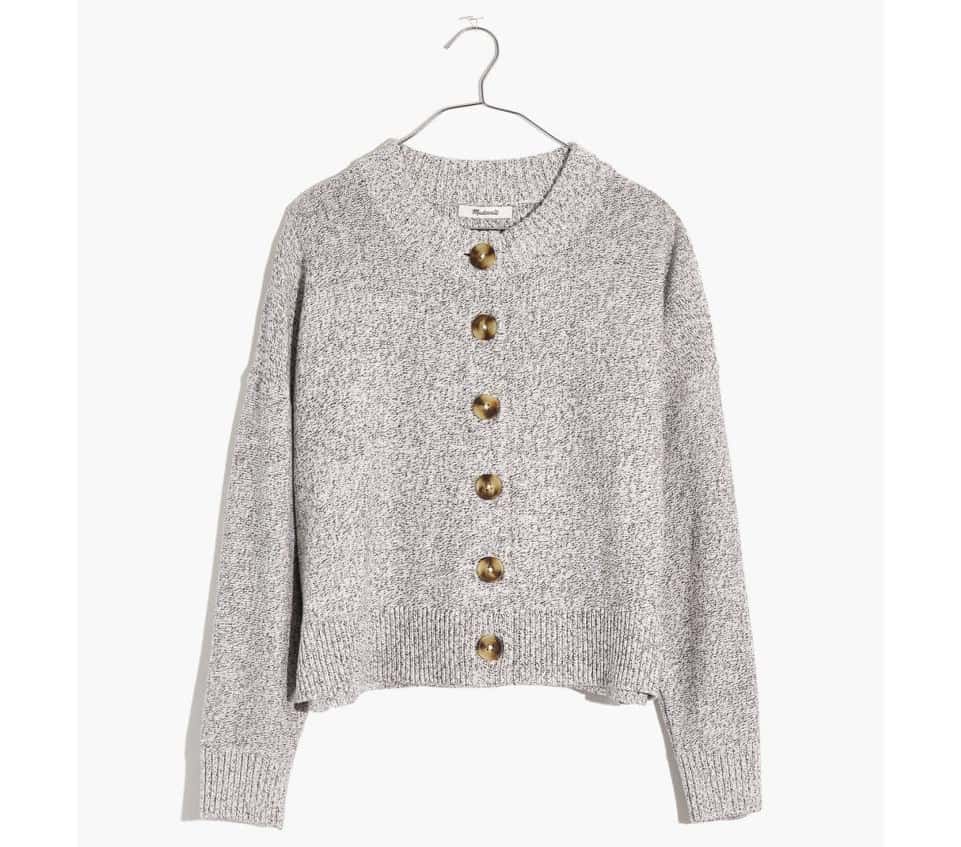 The best-selling cardigan for American brand Madewell, the Broadway Cardigan sweater is a roomier, slouchier sister to the slim-fitting Bellemoor. With its relaxed, boxy shape and 100% cotton content, this touchably soft and breathable cardigan is an easy choice for year-round layering.
Pros:
Cotton fabric resists pilling so you can give your sweater shaver a rest

Thin knit and medium-weight fabric

Can be worn as a layering piece in all types of weather

Great colors (Marled Panda, Marled Olive, Marled Rose, Muted Alabaster, and Marled Ocean)

Inclusive size range (from XXS to XXL!)
Cons:
The wide and cropped fit might make it look unflattering 

A high U-neck ribbed collar makes it more like a jacket when buttoned up 

Can get lumpy with repeated laundering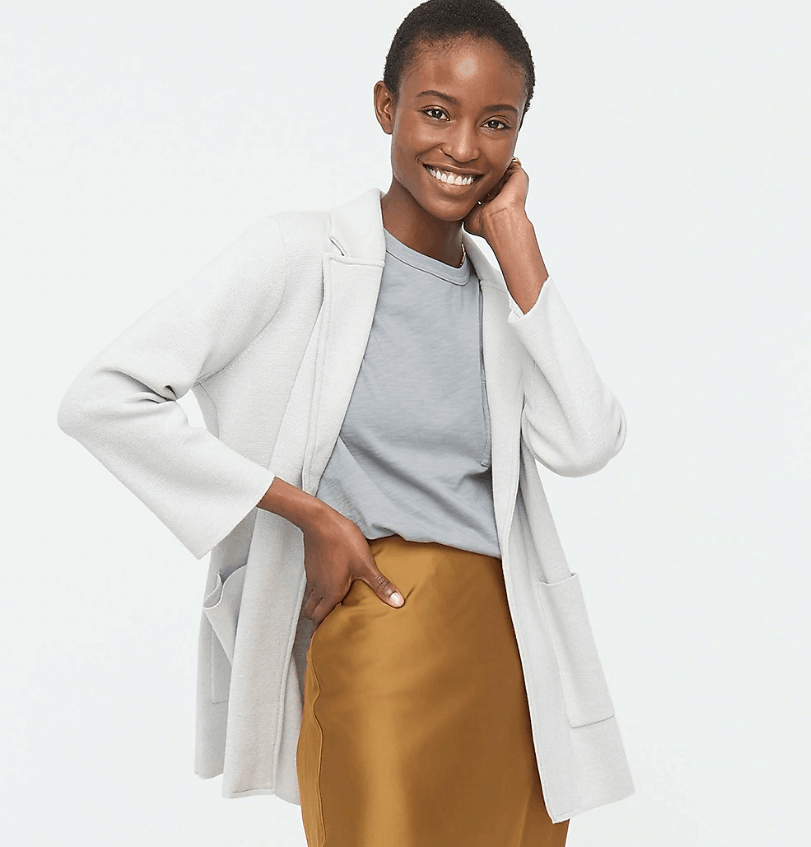 Perfect for the office, this cardigan-blazer hybrid from one of former FLOTUS Michelle Obama's favorite labels is the ultimate in business casual dressing. Made of a lightweight cotton blend that you can wear all year long, it's the perfect polished yet relaxed layering piece that you can take from day tonight. 
The contrasting color of the bracelet cuffs adds a stylish accent to your look, making this an influencer favorite. This cardigan is the perfect addition to your professional wardrobe!
Pros:
Has a professional-friendly cut and unstructured, casual fabric

Very versatile: you get the best of both worlds, style, and comfort

Cotton-blend knit is fluffy yet lightweight

Soft and warm while keeping your silhouette sleek and streamlined

Huge size range so you can get the perfect fit (from 3XS to 3XL)

Patch pockets are huge, so there's lots of extra space for your phone

Amazing color range (Heather Charcoal, Stainless Steel, Heather Fern, Heather Khaki, Heather Grey, Navy, and Black)



Cons:
Fabric tends to pill, so it requires a lot of maintenance with a sweater shaver

Oversized fit and hip length might make it too long for petites
Our Best Styling Tips
While the sweatsuit obsession of the aughts meant that we traded in our cardigans for velour hoodies, the 90s revival has brought the humble cardigan back to the forefront of fashion once again. 
Aside from just throwing it on top of your regular outfit, there are many other countless ways to wear the cardigan. Elevate your next fall fit with these simple yet trendy styling tips.
Worn alone as a top and tucked into high-waisted jeans.

Form-fitting fluffy cardigans are having their heyday as standalone tops, as seen on runways and fashion it-girls like Alexa Chung and Hailey Bieber. To get the look, simply wear it like a button-up and tuck into high-waisted jeans.





For a more casual, undone look, try leaving the first few buttons open. You can also tie the ends of the cardigan up into a knot for a navel-baring look that's perfect for warmer weather.

Paired with distressed denim for a relaxed fit.

Try wearing an oversized fluffy cardigan with a pair of wide-leg ripped jeans for a fashionable

off-duty model

look. The boxy cut of the cardigan paired with the baggy denim gives the ensemble a laidback flair. Finish off with a pair of strappy sandals and oversized sunglasses.

Unbuttoned over a low-cut tank top for those 90s feels.

A tight, stretchy knit cardigan with ribbon ties or small buttons will work the best for this look. Popularized by

Cameron Diaz

in

There's Something About Mary

, the pairing of a slinky tank with a modest cardigan left provocatively undone is still as sweetly sexy as ever.

Shrug it Off. Literally.

To wear your cardigan as an off-shoulder top, undo the top buttons and pull it off one shoulder for a chic asymmetrical look.

On top of a silky slip dress. Despite being as comfortable as pajamas, a slouchy, fluffy cardigan on top of a figure-skimming slip dress is a look that packs a punch. The slip dress adds elegance and some oomph to the look, while the earthy knit of the cardigan grounds it. Paired with a heeled boot, this is an outfit you can look good and feel great in.
If in doubt, belt it!

Tired of the boxy, oversized look? A thick belt is a great way to add waist definition to a chunky longline cardigan. For a more current take, try a metal chain belt instead of a leather one.

Turn it around.

Inspired by Sezane's reversible jumpers, wearing cardigans front to back gives you a whole new way to style your favorite knitwear. This works especially well with cardigans that have a deep V-neckline, as wearing it backward makes it so that the back has a deep dip, adding an alluring touch to your outfit.
Frequently Asked Questions
Question: Are cardigans out of style?
Answer: Cardigans are, in fact, the opposite of being out of style! These on-trend garments have seen different styles and iterations throughout the years, but they're still very much fashionable. However, certain cuts and drapes (like waterfall cardigans, for instance) are starting to look dated.

To avoid looking like you're not aware of the current cardigan trends, look for cuts that reflect today's styles. For instance, chunky knit cardigans are still very en vogue, as are boxy and oversized ones. Loose-knit ones are also stylish right now, too!
Question: What do you wear under cardigans?
Answer: Cardigans are one of the most versatile articles of clothing you can wear, and with that in mind, there's no limit to what you can wear underneath one. Pairing a chunky cardigan with a delicate floral slip dress, for instance, is absolutely adorable. 

You can also throw it over a flannel shirt and some Doc Martens for a retro '90s vibe, or just slip one over a basic, v-neck shirt. No matter how you wear it, you'll look both cute and cozy!
Question: Do cardigans make you look old?
Answer: First of all, banish that thought from your head! Growing old is a privilege, and many mature models look downright gorgeous, regardless of their ages. With that said, styling your cardigan a certain way can age you. 

Don't pair your cardigan with a shell or a matching sweater, as it can look a little too matchy-matchy and mature. Also, even though cottagecore is totally in right now, you have to make sure your look comes across as intentional rather than careless, or that can make you look older than you are.
Question: How do you wear a cardigan without looking frumpy?
Answer: If you want to avoid looking frumpy in a cardigan, there are a few things you can do to make it look a little more fresh and flattering. For instance, a belt (especially one in a contrasting color!) can show off your waistline and prevent making you appear dowdy.

Also, think about the clothes you're wearing underneath them. If you're wearing your fuzzy cardigan with a bulky sweater or a voluminous maxi dress, it can make you look a little bit shapeless. A more figure-skimming outfit underneath it, like a slim tank top and some skinnies, can add some much-needed balance to your outfit.
Question: Can petites wear long cardigans?
Answer: It's a fairly common myth that petite ladies need to avoid long cardigans, lest they look buried alive in fabric. To avoid looking like a little kid playing dress-up in her dad's clothes, make sure that your long cardigan hits above your knees. 

Also, try to look for a more form-fitting cardigan, as it can help prevent the shirt from swallowing you whole. You can have long, or you can have baggy. You can't, unfortunately, have both. At the end of the day, you want to make sure you're wearing the cardigan — and the cardigan isn't wearing you!
Question: Are cardigans supposed to be tight?
Answer: Of course not! Cardigans come in a huge variety of shapes and cuts, and boxy, oversized cardigans are absolutely in style right now. If you want to wear a more form-fitting cardigan, though, we're not going to stop you. Just make sure you pair it with more sleek clothes beneath it, like a snug tee-shirt or a curve-hugging bodycon dress.
Final Thoughts: Choosing the Best Fuzzy Cardigan
As you can see, there are literally tons of chic, stylish cardigans to choose from. From gorgeous and luxurious materials like linen and silk, to more durable and hardy fabrics like cotton and polyester, you'll have your pick when the weather starts to take on that familiar autumnal chill.
With its luxurious 100% merino wool composition, timeless design, and budget-friendly price, Uniqlo Extra Fine Merino V-neck Cardigan is a no-brainer. The machine-washable, specially-treated merino wool fabric makes laundry a breeze, and its classic slim fit makes it the perfect layering piece. 
The inherent sweat-wicking and odor-resistant qualities of merino wool also ensure that this cardigan can be worn year 'round. Try it alone as a top during summer, or slip it on top of a summer dress to make it cold-weather appropriate. 
No doubt, finding your next cardigan isn't going to be an easy choice, especially with so many adorable ones available to you. However, we hope our list helped make it a little bit easier for you — and before you know it, you'll have a closet full of plush, fuzzy cardigans to wear!