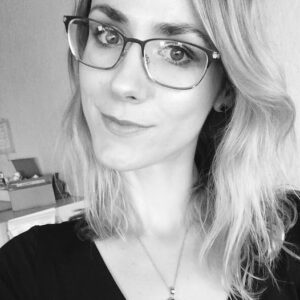 Latest posts by Karyl Trejo
(see all)
We are in a decade where fashion trends and types of fabrics that you thought were lost suddenly are coming back to stay. Some of these fashion trends include the jumpsuit, and some of these fabrics include the sequin fabric. You might ask: what does it happen when you mix the two of those? 
Well, you get an elegant and multifaceted garment, of course. If you are not familiar with any of those together (or even separately), today is your lucky day.
In this article, we will talk about what are the top sequin jumpsuit ideas and all that we can encompass about them. But first, let's talk about their concepts.
What Is a Jumpsuit? Is It the Same As a Romper, Playsuit, Or Dungaree?
It can be hard to differentiate between a romper, a jumpsuit, a playsuit, or a dungaree when they all look the same. After all, they all are one-piece clothing, and they all cover most of your body. However, and after some research, we will save you the trouble. 
Brands and designers use the terms playsuit and romper interchangeably, but they usually mean an article of one-piece clothing with short pants and short sleeves. On the other hand, when talking about a garment with those characteristics but made of denim fabric, you use the term "dungaree."
The main feature of the jumpsuit and what makes it literally a jumpsuit are the long sleeves and long pants. In other words, a jumpsuit will cover almost all of your body.
Some other jumpsuit definitions call it the mix between a top and a bottom piece. So you could also define it as a type of clothing with a long sleeve blouse and some trousers attached. Besides all of that, the most popular definitions also say this garment was popular among parachuters when they jumped out of planes.
It seems difficult that a garment like this could be fashionable, but believe us, in this case? Seeing the jumpsuit is more elegant than writing about it.
Now, What Exactly Are Sequins?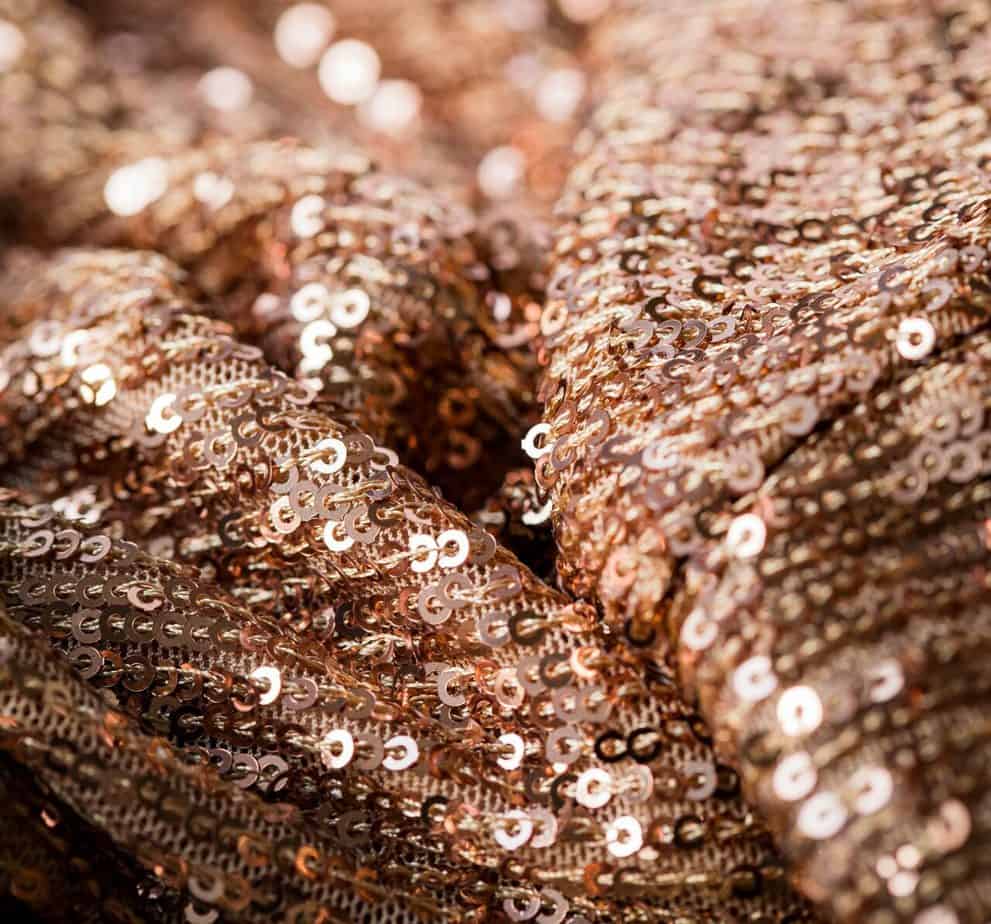 In brief, a sequin is a small shining disc. Other than that, sequins also vary in:
For instance, they can be golden, but they also can be of more bold color. Classic sequins were generally round, but they can be rectangular, oval, or squared. People make them of plastic or metal. 
Most of the time, people use them to decorate, especially in women's clothes. How does this happen? Designers stitch lots of sequins above a specific fabric, like chiffon. Suddenly isn't chiffon anymore, but sequin fabric. It is just that easy.
Now, depending on how you want the sequin fabric to be, designers usually use two varieties:
All-over sequin type of fabric.

This is when you can barely see the backing fabric, and you only see the sequins. This fabric is more elegant, but it can get heavy. Designers use it LOTS to sew dresses and cowl neck blouses.

Randomly stitched sequins type of fabric.

As the name suggests, this is when some random parts of the material have sequins. On the rest of it, you can see its color. Designers use this variety to accentuate a part of the fabric or to outline it! The possibilities are endless.
Another last thing you should know about sequins! In these last few years, the most used sequins to make dresses, blouses, and even purses, are the two-toned sequins.
What is so special about them? We'll explain it to you. 
The sequins have one different color on each side, so if they are in a piece of fabric, and you flip them over with your hand, all the fabric will change its color. They are called mermaid sequins, or reversible sequin fabrics, and they are one of the reasons sequin fabrics have come back in these last few years.
You understand both definitions now, but you still need to know what the background behind them is. We will try to make it quick, so we can proceed to show you the top sequin jumpsuit ideas. 
Let's get started!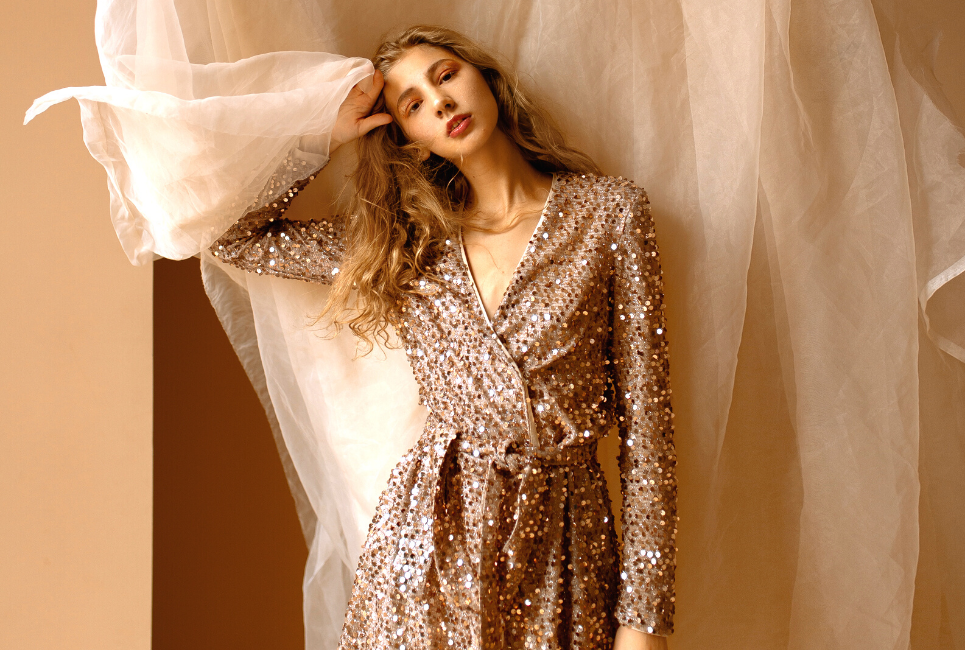 The History of the Jumpsuit
Jumpsuits started as workwear, really far from being fashionable. But we'll get to it soon. First, let's go ahead and start at the very beginning of this garment.
The Humble Beginnings
We're sure you're smart, so we figure you've probably wondered before why a jumpsuit is called what it is. This time there's no trick or secret, and the word meaning is kind of literal. 
Yes, you guessed right. The jumpsuit started as a garment for parachuters to jump out of planes. Professional drivers and pilots also used it because it was comfortable and, why not? 
If people were jumping out of planes wearing it, pilots as well could do it. By that time, jumpsuits were for people who did a dangerous type of work. This concept changed a little by 1919.
The TuTa
Sometimes you spend lots of time and effort to accomplish something, but it causes the opposite effect of what you have planned. It may sound too specific, but I'm sure it has happened to you. It also happened to Thayaht, an Italian artist.
In 1919, he began to design clothing, strongly influenced by the desire to find new forms of clothing for the working class. His ultimate goal was to have the working class wear this practical and easy-to-make piece. How did the garment look? It was an early example of what we identify today as a jumpsuit.
However, the working class wasn't impressed by the garment, so the TuTa was adopted as a fashion statement by the Florentine high society. It was the opposite of what Thayaht wanted, but at least his creation became popular.
The TuTa, But Make It Russian
Two years later, a couple tried to make the same kind of garment. They were two painters, called Varvara Stepanova and Alexander Rodchenko. They called it the Varst, and even though it had a similar design, it wasn't the same for different reasons. 
This new invention was less sober and more colorful. It also was within the aesthetics of the constructivists.
But overall, it had the same purpose as the original TuTa. However, Russia in its Early Soviet years wasn't the most fashionable place on Earth, so the practical Varst wasn't acclaimed in the Russian society.
Did You Hear? Now Jumpsuits Are High-Fashion!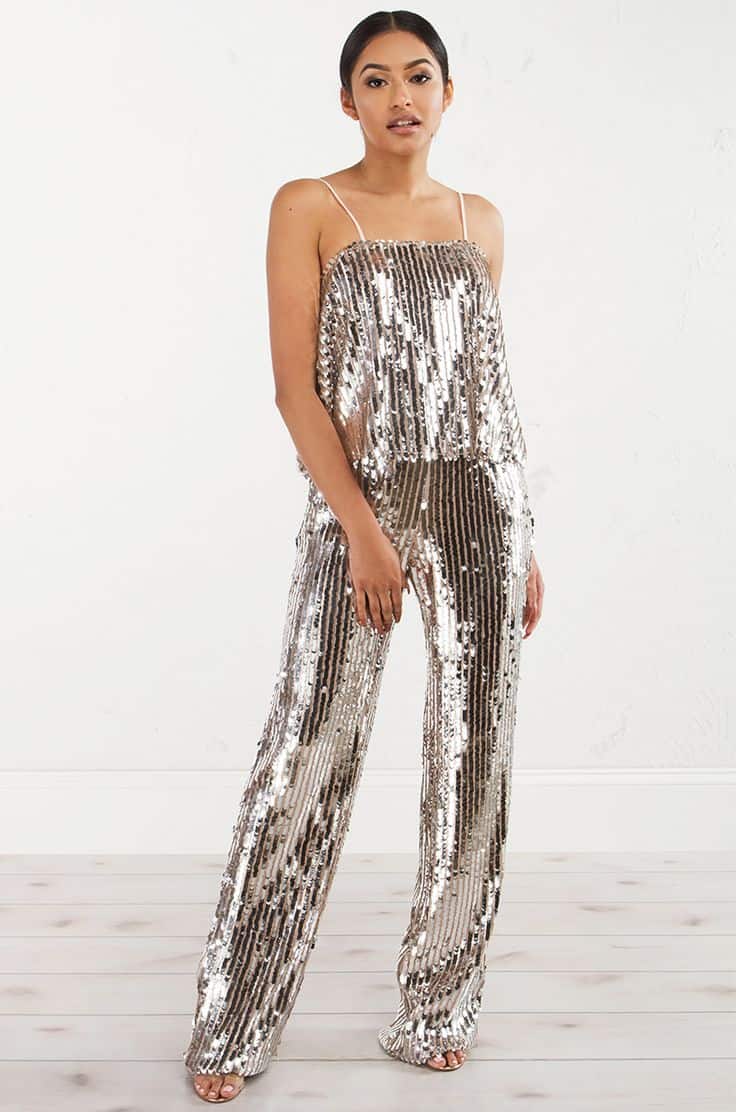 Until now, the jumpsuit was considered either workwear or a fashion failure. Who was the genius who said, "Maybe this could be high-fashion"? We owe it all to Elsa Schiaparelli. 
She was the first fashion designer who made a high-fashion jumpsuit. This event occurred in the 1930s, where Elsa created a collection that included jumpsuits as the main feature. She took inspiration from the upcoming war to make her jumpsuits, so they were made of green silk and had huge pockets.
Unlike the TuTa and the Varst, this design had positive reactions. Not everyone could afford them, of course, but it was the first time the jumpsuit was viewed in a positive light when talked about in a fashion sense.
In 1940, nobody paid that much attention to fashion in general, so luxury jumpsuits took a break. Instead, now there were cotton and wool jumpsuits.
By 1950, we get one famous example of a woman wearing this type of clothing. She was the iconic Rosie the Riveter, and if that name doesn't sound popular, we're talking about the woman on the "We can do it!" drawing. Even if women were wearing them now (and this was amazing), most of the jumpsuits were utilitarian.
When Did Jumpsuits Become Popular?
This jump of fame was probably by the 1960s and the 1970s. The first time the jumpsuit appeared in Vogue was in 1964, and this was a big deal. 
Now it wasn't just some crazy idea Elsa Schiaparelli had. Other brands were taking it more seriously, and they were interested in the jumpsuit. As the Twenty One Pilots 2018 song said, "Jumpsuit, jumpsuit, cover me."
Schiaparelli kept her jumpsuit version in her collections. However, in these two decades, almost every brand had its own jumpsuit version.
There were jumpsuits made from Christian Dior to Oscar de la Renta and Yves Saint Laurent. Every brand wanted to show the world their jumpsuit version.
What was more important: not only high-fashion brands liked the jumpsuit. Everyone did. By then, jumpsuits were already unisex, and all kinds of pop stars wore them.
Among other significant marks during this decade, Irene Galitzine invented her Palazzo pajama. It was a luxurious piece popular during this time. Part of the designer customers included Audrey Hepburn and Elizabeth Taylor.
Jumpsuits Night Fever
Jumpsuits were popular in this 70s and 80s disco era. One of the first artists that made the jumpsuits a synonym of music and glamour was Elvis Presley. He began to wear a white jumpsuit that became his signature clothing, making it a part of his stage persona. Some other artists include David Bowie, Freddie Mercury, and Mick Jagger.
On the woman's side, we have the marvelous Cher. In all the 70s years, she wore astounding jumpsuits that became iconic.
This piece also helped the woman's revolution that was happening at that time. The jumpsuits allowed women to wear something that looked like pants, but without actually wearing pants at the same time. It was a clever piece of clothing.
As years passed, the jumpsuits only became more and more popular. Designer Geoffrey Beene had some words about the matter and called them "the ballgown of the next century."
Of course, as fashion changed, so did the style of the jumpsuit. The jumpsuits were bigger and brighter. One of the characteristics that made jumpsuits so attractive is that you could be stylish while being simple. You didn't have to work that hard if you wanted to look fashionable.
The Jumpsuit in the Last Decade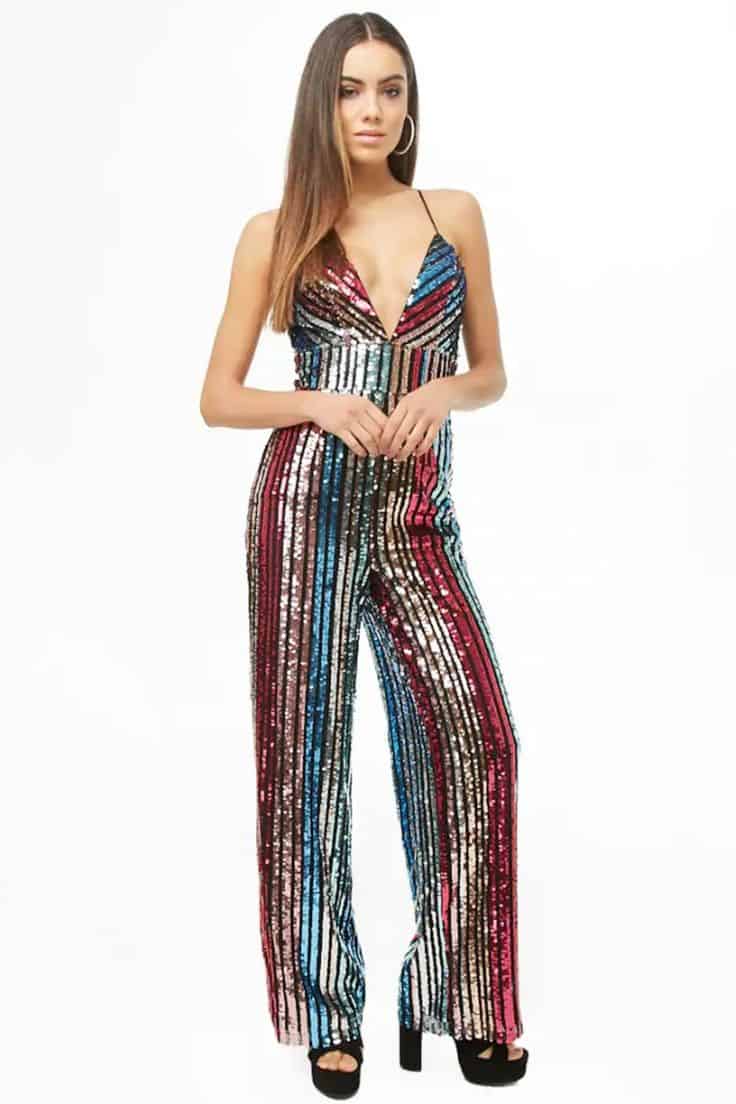 Now, let's skip all the craziness in the 80s. There was a latent time in which people didn't like jumpsuits that much as before. But, as it happens with most iconic pieces of clothing, there is always a moment where it starts being on trend again.
For the jumpsuit, this started in the 2000s. Famous designers like Marc Jacobs and Stella McCartney had jumpsuits in their collections. Of course, they weren't like the ones people wore in the 80s, but a more toned-down version of these.
Some people even say the jumpsuit stopped being a fashion statement, and it's becoming a fashion staple. This last term defines a piece of clothing that you definitely need to have in your wardrobe like an essential.
Looking for the too long, didn't read version? Well, the jumpsuit went from workwear to a fashion essential. Amazing!
What Are the Top Sequin Jumpsuit Ideas and Inspiration?
We won't make you wait any longer. But, before diving into beautiful sequin jumpsuits, we will briefly show you the selection criteria we used to choose those jumpsuits.
Our Selection Criteria
When choosing these pieces, we considered several factors. These include size, affordability, originality, color, and versatility.
Size.

All women have different body types, and that's why we included pieces of clothing with a wide range of sizes. Most jumpsuits in this list have sizes ranging from XS to XXL.

Affordability. This was also a relevant factor for us. All the jumpsuits in this list are under $100.
Uniqueness.

Not all the jumpsuits in this list are the same. Each one of them had something that captivated us since the first time we saw them. Some are long-sleeved, and some have spaghetti straps. Some have a wide leg, but some others have a slimmer fit.

Color.

It's hard to find a sequin jumpsuit that comes in more than two colors, so we really couldn't be too picky with that requirement. However, we picked jumpsuits that came in neutral colors that everyone will look good on, like silver or black.

Versatility.

The jumpsuits had to be suitable for almost any occasion we could think of. Let's say, a party on New Years' Eve or a casual going out at night. It had to be versatile.
Now, let's see the top sequin jumpsuits ideas!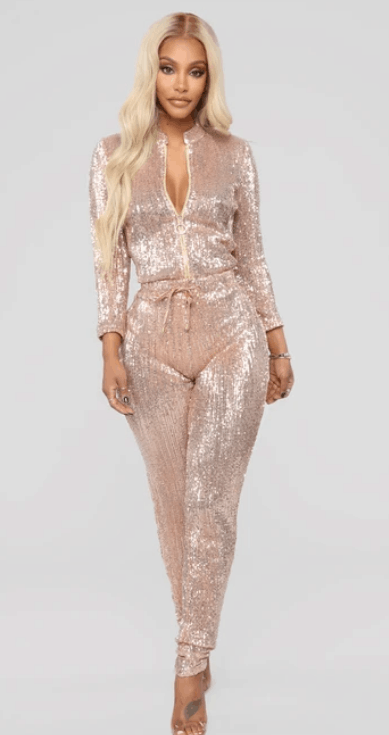 This brand is a good option for women with more curvy bodies while being affordable and on-trend. Besides, if you go to their website, they probably have a discount that can go from 10% to 30% waiting for you.
Pros:
It has a beautiful Rose Gold color that suits everyone, regardless of their skin tone.

It has sizes available like XS, S, M, L, XL, and more.

It has an elastic waistband that hugs your waist and defines your figure.

The fabric is 100% Polyester.

It has a zipper at the front with charming rhinestones.

Most user reviews about this jumpsuit are positive, but some users advise you to check Fashion Nova's size chart to ensure the jumpsuit will suit you well.

It's a cheap option.
Cons:
It comes in only one color.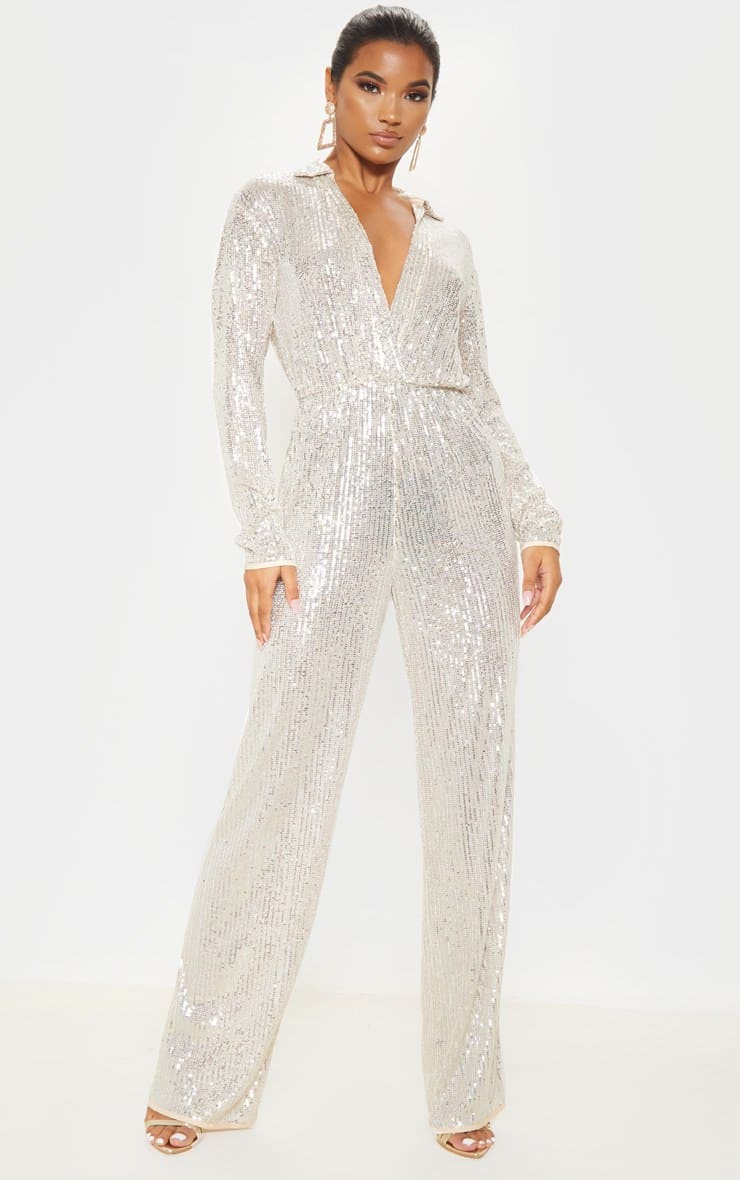 Pretty Little Thing surprised us with this piece. It's simple, but at the same time, it's chic and glamorous. We had to include it in the list!
Pros:
It comes in two colors: Silver and Black.

The fabric is 95% Polyester and 5% Elastane.

It comes in sizes ranging from XS to XL.

The jumpsuit has a beautiful V-neck that makes it look even more luxurious.

It's a wide boot jumpsuit, so it's perfect for wearing it with high heels.

It's one of the most popular pieces of clothing on their website.
Cons:
Some women prefer the cut to be slimmer on the legs.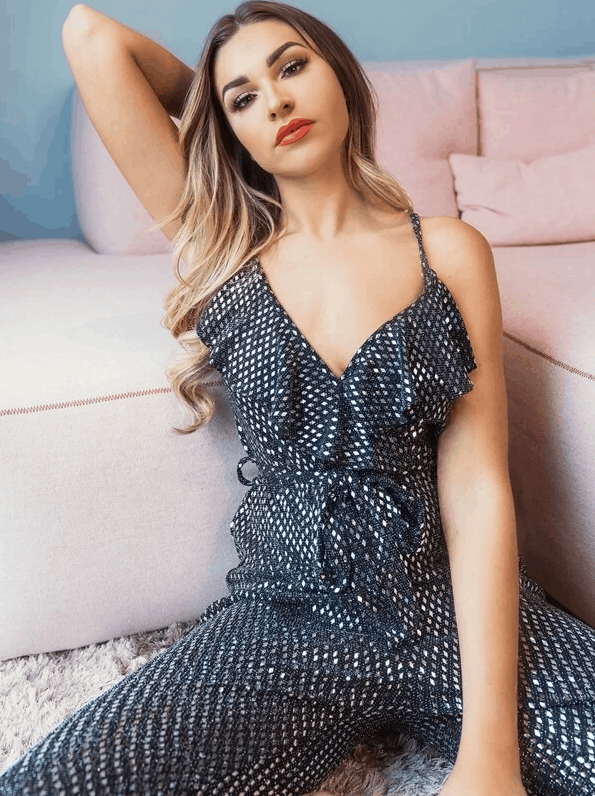 This Shein jumpsuit is glamorous while being casual, and that's one of the main reasons we decided to include it. Besides, its sequins aren't the round disc shape we're used to, but more like a rhomboid shape that gives the jumpsuit its unique look.
Pros:
It comes in black color.

The fabric is 86% Nylon and 14% spandex.

The spandex makes the fibers elastic enough to be comfortable.

It has a V-neck and ruffles at the front.

It comes in XS, S, M, L, and XL.

It has a slimmer fit that goes well with petite women.

It's an affordable option.

It's high-waisted, so you can define your figure while wearing it.
Cons:
It only comes in one color: Black.

It doesn't have long sleeves. So, according to some definitions, it could be more of a romper than a jumpsuit.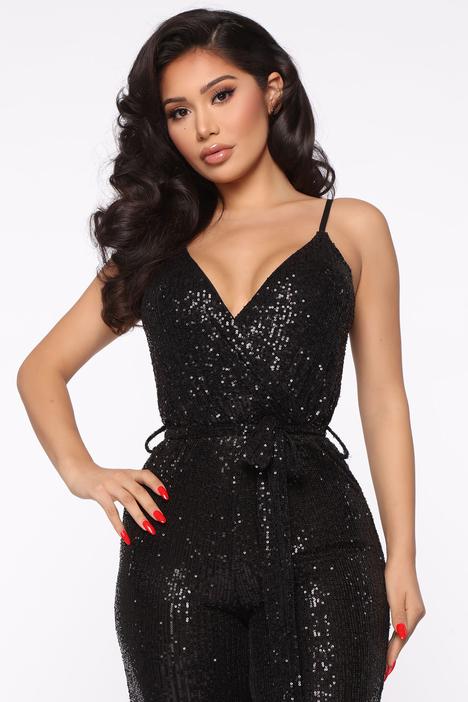 We couldn't resist adding another Fashion Nova jumpsuit to the list! They're everything you would expect in a jumpsuit: they're affordable, glamorous, and chic. This one comes in two colors, and we couldn't decide which one we liked more. Take a look at them!
Pros:
It comes in two colors: Black and Pink.

The fabric is 100% Polyester.

It has adjustable spaghetti straps.

It has a wide leg, so it's perfect to wear with high heels.

It comes in sizes from S to XL and more.

It comes with a belt of the same fabric that you can tie according to your liking.

It has a cute surplice neckline.
Cons:
It doesn't have long sleeves.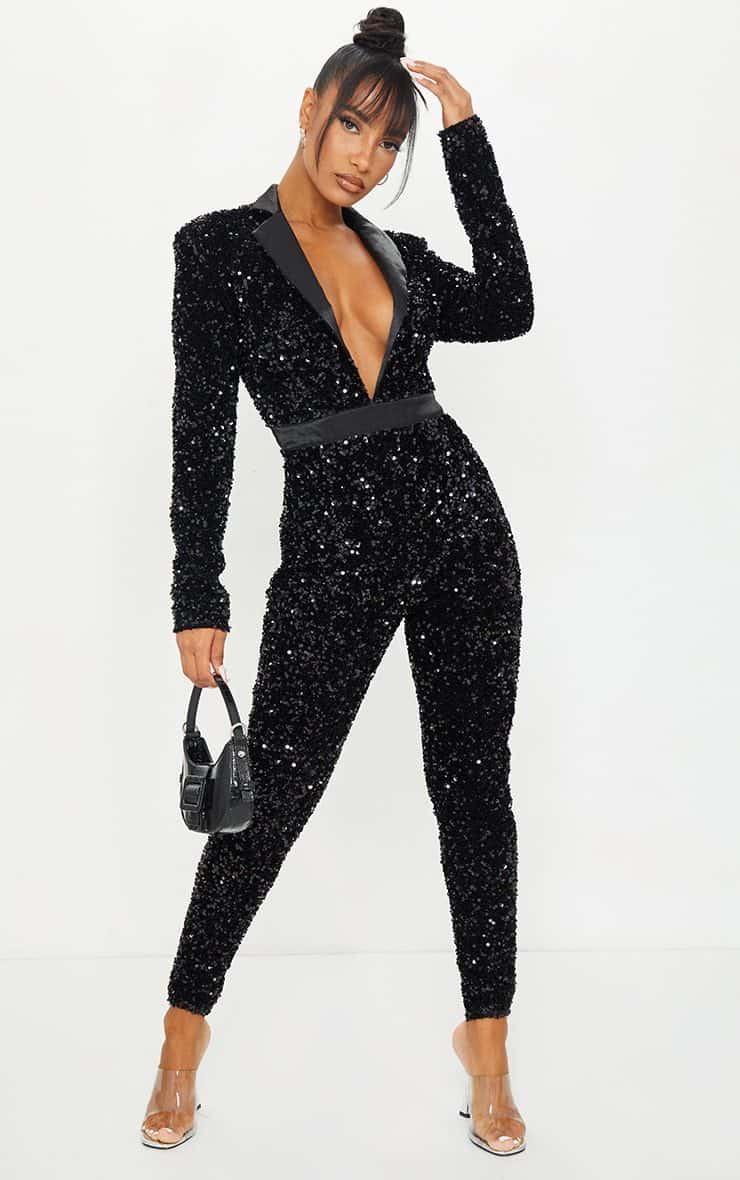 We loved this one! The slimmer fit makes the jumpsuit an elegant and sophisticated piece we had to include on the list. It only comes in one color: black, but maybe because it doesn't need to be any other color to catch your attention. This jumpsuit is perfect just the way it is.
Pros:
The fabric is 95% Polyester and 5% Elastane.

It comes in sizes ranging from XS to L.

It has a plunge front that makes the jumpsuit look really chic.

It has a slimmer fit, perfect if you want to show off your body.

It's one of the most popular jumpsuits on the Pretty Little Thing page.
Cons:
It comes in only one color.
Remember when we talked about mermaid sequins? This beautiful dress is full of them! The design may be simple, but the marvelous colors make up for it. And what's better, you have six colors from where to choose. 
The one we picked as "Quartz." The brand itself defines it as a color with light blue, soft pink, and pale gold. You can check the other colors, and you will see they are as elegant as this one.
Pros:
It comes in sizes from XXS to XXL.

The fabric is 95% organic cotton and 5% spandex.

According to their website, the jumpsuits are comfortable and free of any itchy feeling.

It comes in dreamy colors like Quartz, Coral, Dahlia, Hologram Silver, Mint, and Rose.

This jumpsuit has a deep V neckline and back that gives a flattering look.

It's a jumpsuit that requires little styling.
Cons:
The design is too simple.

The jumpsuit is higher in price than others on this list.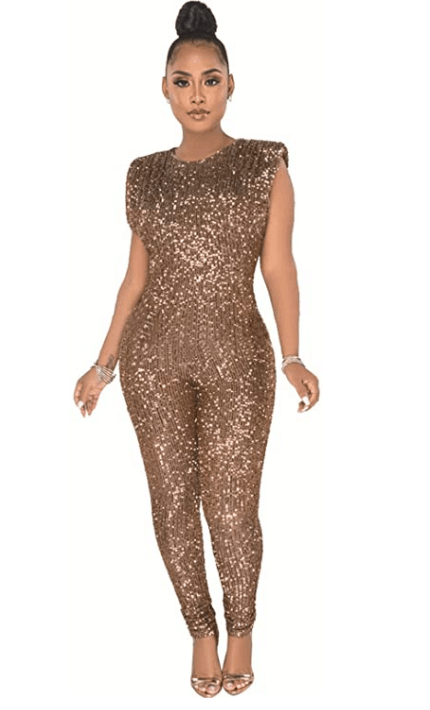 Sometimes less is better, and this was the case with this jumpsuit. It has a charming color, a simple but modern design, and a slim fit. What else could you ask for?
Pros:
It comes in three colors: Black, Golden, and Silver.

It's available in all kinds of sizes you can think of, from S to 5XL.

It's a jumpsuit with a slimmer fit, so if you prefer this kind of jumpsuit, this can be a good option.

The sequins are placed in an unnoticeable horizontal lines pattern.

It's a sleeveless jumpsuit, and this makes it look super stylish.
Cons:
User reviews say you should order a size up since it's not true to size.

Not everyone likes the design to be that simple.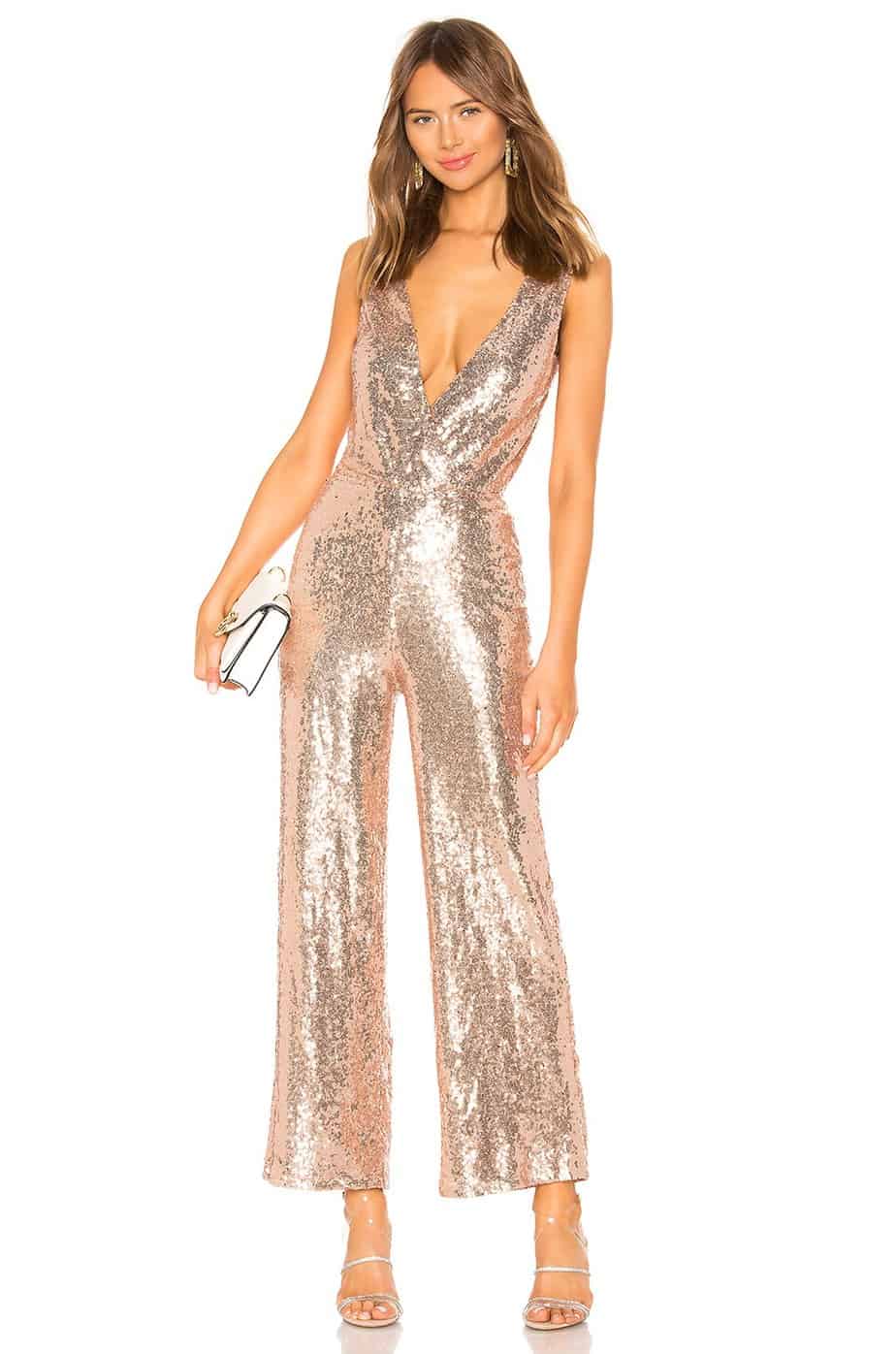 This jumpsuit is perfect for going out at night while looking elegant and chic. It reminds us a lot of the classic sequin jumpsuits that women wore in the '80s! Besides, the gorgeous Rose Gold color gives the jumpsuit a special touch.
Pros:
The fabric is 95% polyester and 5% spandex.

It's available in sizes ranging from XXS to XXL.

It has an elastic waistband and a V neck that helps to define your body.

This jumpsuit has a wide leg boot, making it particularly flattering to tall women.

Most user reviews agree the jumpsuit runs true to size.
Cons:
It comes in only one color: Rose Gold.
Frequently Asked Questions
Question: How do I wear a jumpsuit?
Answer: It seems like a simple question, but since jumpsuits are the type of clothing that covers your body, you don't have that many options or things to choose from. Some of the things you need to ask yourself are: where will you wear the jumpsuit? And, what style do you want to have? 
From that on, it gets a little easier. Other tips to have in mind include:

Wear the perfect fit. Again, it sounds easy, but you will be surprised at how many women fail on this first one. Your jumpsuit can't be too loose or too tight.
If you can opt for a white or black jumpsuit, do it. Those jumpsuits are easy to wear, and since those are neutral colors, you don't have to worry about looking like you're imitating an 80s look. (It's also fine you want to recreate a look from the 80s, but if that isn't your intention, you probably don't want to unconsciously look like it.) 
Try avoiding patterns if you're going to a formal setting. That said, you might want to wear something more colorful if you're wearing the jumpsuit for the beach or as casual wear.
Try wearing a blazer. Now, the best is to have some contrast between the two pieces. Maybe if it's a sequin jumpsuit, since the sequins will be the center of the outfit, it's best to wear neutral color blazers. Other options include a total look, in which the jumpsuit and the blazer are the same color.
And last but not least, remember to define your waist. Some jumpsuits already are slimmer in the waist, but some others are looser on that part. If you think it's too loose, you can always add a belt.
Don't forget footwear, though. For the shoes, if you're unsure about which ones to wear, we have a word for you: heels.

High heels work with this type of outfit because they make you look feminine, and if you're on the more shortie side, they will make you look taller. It's a win-win!
Question: What body types can wear jumpsuits?
Answer: All body types can wear jumpsuits! However, depending on your body type, the cut, fit, and sleeves can be a little different to highlight your main attributes. 
– If you're petite, you should try a cropped jumpsuit. And if it's slimmer, better.
– If you're tall, a wide-leg jumpsuit will look amazing on you.
– If you have a pear-shaped body, the best is an off-shoulder jumpsuit. This way it will be some balance between the lower part of your body and the upper part.
– On the contrary, if the upper part of your body is the most prominent, try a V-neck jumpsuit.
– If you have an apple-shaped body, it's necessary to define your waist with a belt.
– And if you have a small chest, some ruffles at the top of the jumpsuit can give the illusion of a bigger chest.
Question:
Can you wear sequins casually?
Answer: Yes, you can! However, there are some tips you can practice to look good while wearing them.
– Keep in mind if you're wearing them casually at day or casually at night. In the first instance, the best is to wear matte sequins. Now, if you're wearing them at night, you can go a little bit crazier as you want with them.
– Try using a one-color sequin fabric. Patterns are great, but it's tricky to wear them casually without looking too over the top.
– Blouses and skirts are excellent, but sequin dresses are a whole other level. Maybe you will want to avoid wearing sequin dresses as day wear.
– Remember, the center of attention in your outfit will be the sequin clothing item. It's best to keep everything else in your outfit plain.
Question:
How should I wear my hair with a sequin jumpsuit?
Answer: With the hair, it's the same as any other jewelry or component you pair your jumpsuit with. The best is to keep it simple.

Some more specific tips:
– Beach waves are easy to make and look good in short and long hair. 
– A slick back hairstyle is also a safe option.
– Messy buns are great because they keep your hair out of your face, clearing it and making you look more elegant.
Question: Is there any occasion in which wearing sequins is a big no-no?
Answer: Yes. However, we think is common sense to not wear sequins on some occasions like:
– Funerals. Some mourners can consider it in bad taste.
– Weddings. You won't want to upstage a bride.
– Hospitals. This might not be obvious, but sequin fabric has more surfaces than a regular fabric on which you can accumulate bacteria.
– Gym. Besides what we've already explained about bacteria, you need to wash exercise clothing more frequently, even more, if you work out regularly. Sequin clothes don't get along that well with wash machines. Of course, you can handwash it, but this reduces its useful time.
– Job interviews. This one depends on the interview, of course, but a rule of thumb is to not wear sequins or anything too flashy in a job interview.
Conclusion: Top Sequin Jumpsuit Ideas and Inspiration
As you could see, sequin jumpsuits can be the way you want them to be. 
If we were to choose one, we would pick the Fashion Nova Is This Star Taken Sequin Jumpsuit in Rose Gold. The color is beautiful, and the polyester fabric makes it comfortable to wear. Besides, it's also affordable and available in every size you can think of.
And that is everything for today! We think sequin jumpsuits will keep being fashionable for a while. We hope this has been helpful in your way of finding the best sequin jumpsuit that adapts to your needs!