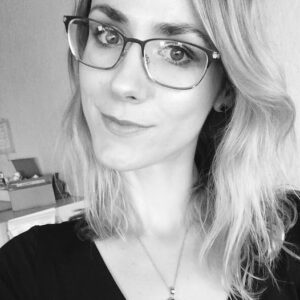 Latest posts by Karyl Trejo
(see all)
Don't be shy – we've all wanted to own a Gucci accessory at some point of time and a Gucci belt? Owning one of those would be a dream come true. And why not? Sure Gucci can be a tad bit too expensive (who are we even kidding, those price tags probably spell out two months of our salary). Nonetheless, the essence of owning a Gucci item is elite, and we've just got one life in here. 
Belts and handbags may seem too minuscule to be splurging so much on, but nobody would say no to a gorgeous jacket now, would they? If you're smart and know when to answer yes, then you're in luck, because we're riding the same train of thought today. You'd be glad to know that Gucci has some exquisite jackets to offer, and one of these would probably be the pride of your wardrobe for a lifetime. 
Still onboard? Tighten your Gucci bets and your wallets, and get ready to fall in love with our top 10 Gucci jackets that you absolutely need to own. 
Gucci Through The Years
The frivolous trivia lovers would probably know that the iconic brand was founded in 1921 by a (then) rather tasteful porter who went by the name of Guccio Gucci in Milan, Italy. The brand remained rather humble and only began gaining mainstream attention after celebs like Elizabeth Taylor and Jacqueline Kennedy (they even named a bag after her) started sporting their wares. 
Since then, the brand has been through a lot, undergoing several changes in management and ownership and eventually getting acquired by the French group Kering, and had several notable names such as Tom Ford leading it before the current creative director Alessandro Michele stepped in. Despite all of this though, Gucci continues to reign over the fashion world as an elite high-fashion house with an incredibly powerful brand image. 
With that out of the way, let's talk jackets. Gucci started their ready-to-wear collection sporting the iconic Flora print in 1981 and has since never gone out of style. While Gucci might look outrageous on the runway, you might be surprised to check their collection out and find gems that are actually worth the price tag and will make you look expensive on the daily. 
Gucci Jackets: A Guide To Selecting The Perfect Ones
Shopping Gucci is just as fun as it is fabulous, but it also takes a little bit of thinking on your part so that you end up with the jacket of your dreams. And let's be honest, not everyone here has got that much cash lying around as pocket change, so a little bit of research and vigilance goes a long way. Here's a nifty guide to help you with your shopping! 
Checking For Authenticity
Before you set your heart on a design, don't forget – the market's riddled with more fake Gucci products than actual Gucci items, so there's a good chance that what you might be looking at right now is a counterfeit product, especially if it isn't from an official store. You wouldn't want to find out that your Gucci's fake when you're trying to make some bucks reselling it, so better examine the product thoroughly before you buy it (or as soon as it's delivered to you).
Whew, buying a Gucci can come off as pretty tiring, right? Don't let that become a dealbreaker for you though, because with a little bit of googling and double-checking, you can get your hands on authentic Gucci items without having to break a sweat. We've simplified the process for you – use this as a little bit of a checklist if you will.
While Gucci bags come with fancy-schmancy authenticity cards and serial numbers to help you determine that you got the real deal in the mail, it isn't quite the same for their ready-to-wear collection. Thankfully, there still are some indicators to help you determine whether you've got a Gucci or a Fakecci at hand. 
1. The Logo (They didn't put the Chanel in there accidentally, did they?)
Wouldn't you know it, Gucci's double G logo is pretty hard to replicate exactly, and fakes have a tough time doing it. After all, they're usually made in cheap basement factories by poorly paid workers to cut costs.
Common mistakes include the Gs not facing the right direction, the logo not looking like the real one at all, and in some severe cases, the brand name getting misspelled. These cheap fakes come in cheap, so if your Gucci's price tag suspiciously didn't give you a mild concussion, it's probably because it's a fake.
The Gucci tag on jackets also has two red threads that go horizontally along the upper edge. A lot of fakes tend to miss out on that detail, or have the threads going diagonally instead of horizontally.
Things get a little difficult when the fake is actually made with care. In such cases, you'll have to go the extra mile to Goggle the logo and examine the one on your bit.
2. It has a Manufacturing Tag, Right?
All of Gucci's products need to bear a 'Made in Italy' tag, and it's their region of origin as well. If your clothes don't have this tag or mention a different location (fakes are usually originated from Korea or China), then sorry to break it to you, but that's probably a fake.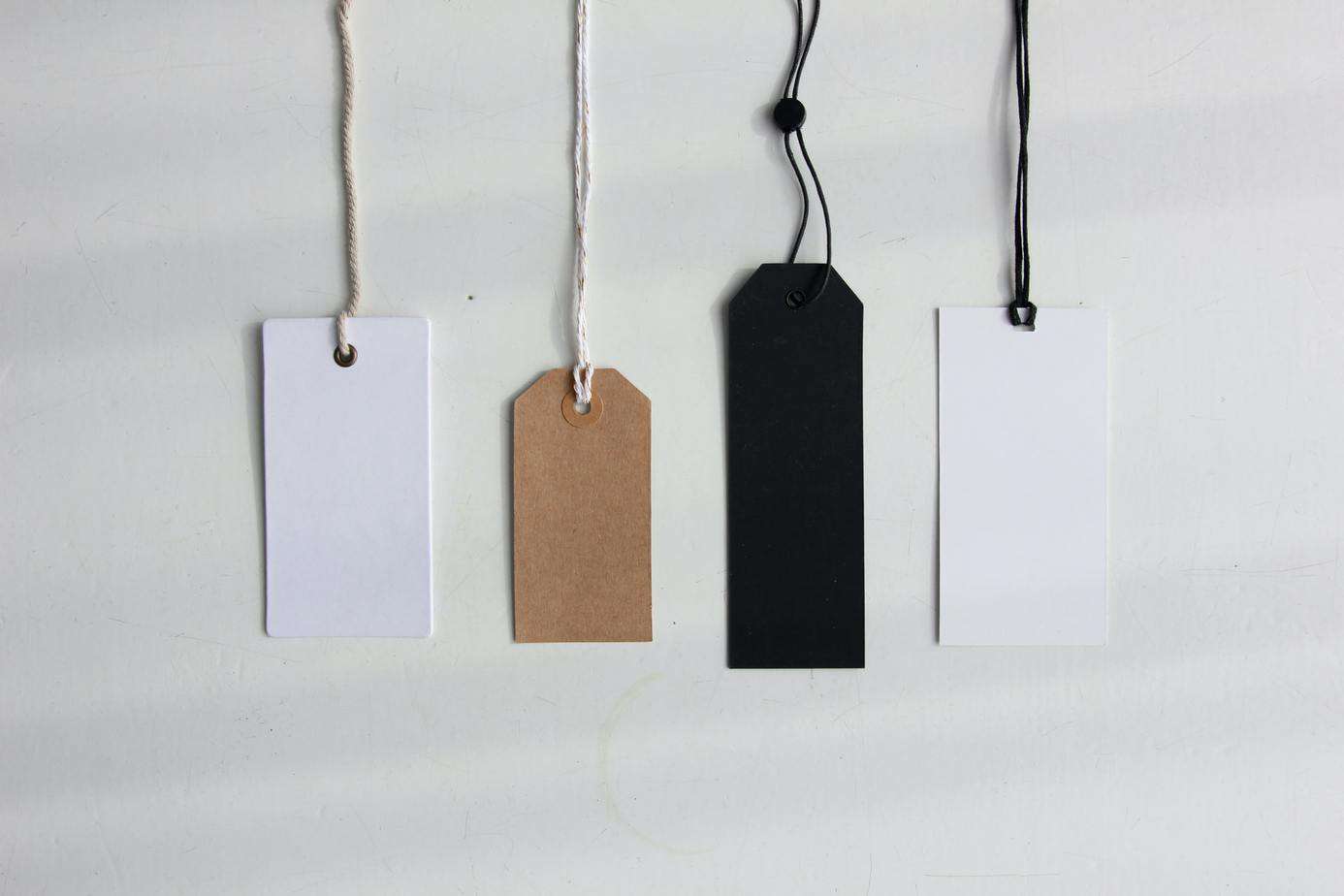 3. Check the Stitching While you're Prying the Insides
While you're there looking for the 'Made in Italy' tag or examining the logo, check out the stitching and the fabric too. Remember, Gucci is a high-end brand and all of their items undergo rigorous quality checks before being sent out to stores. That means the stitching and embroidery are pretty much perfect, and there are no loose threads or knots whatsoever.
If your items have some sort of embroidery on them, observe the thread and the stitching style. Gucci follows the applique embroidery design, so a different stitch probably means that the product isn't authentic. Gucci's threads also aren't the regular polyester kind, and the stitches along the seams of the fabric are close to invisible.
4. The Feel (Gucci shouldn't be tearing so fast, I literally paid $5000 for this!)
Gucci's fabrics are top tier, so if it feels cheap or irritates your skin, it probably isn't the real deal. If the fabric ends up tearing or weathering after a few uses, that also means you should probably not buy something from that store ever again.
And speaking of stores…
The Importance Of Getting Your Jacket From An Authentic Store
Not every store that comes up when you look up "Gucci jacket" on your search engine is one that serves the real deal – as we told you, there are fakes everywhere. If you're shopping online, your best bet is heading to the official Gucci website and heading to the Outwear section under Ready To Wear to take your pick from real Gucci selections that get shipped straight from the source. 
If what you're looking for isn't available on the official website – don't panic just yet! You could always hit a store that sells authentic Guggi products. You need to be careful here though – a run-down store that looks like it hasn't been cleaned in years and is located in the corner of a dusky alleyway probably won't have anything good for you even if the sign outside reads Gucci. 
One easy way to find a legit outlet is using Gucci's official store locator itself. If you aren't in the delivery radius of any official stores, you have to do a little bit of snooping around to find some luxury stores that might carry Gucci clothing, or find online luxury retailers like FarFetch that deliver authentic luxury goods worldwide. 
Bear in mind, however, that sometimes, your delivery service might get a little too liberal with your items and replace them with fakes. While this isn't as common, it's still something that has happened to people, so be on the safe side by opting for a trustworthy delivery service.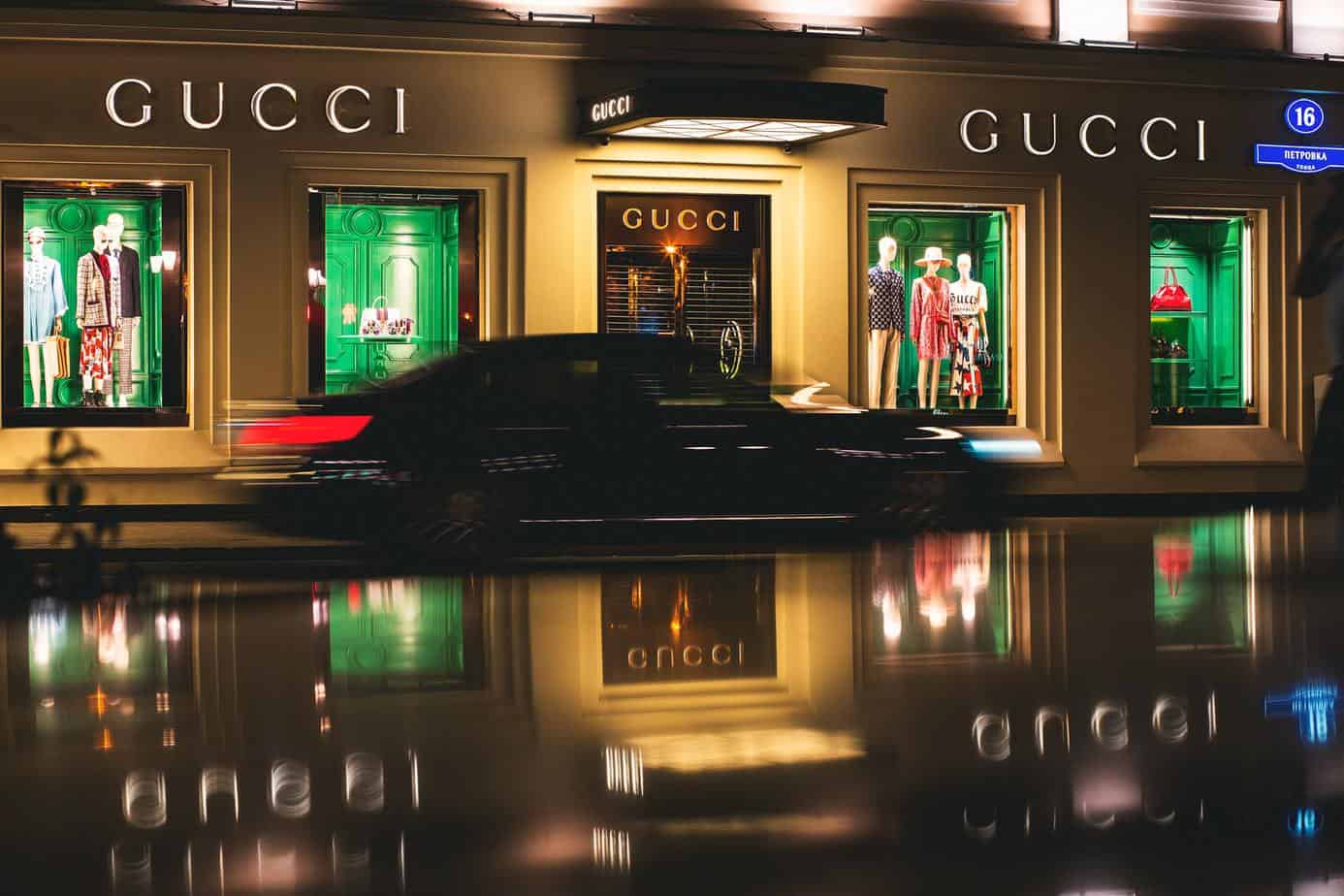 Some Big Sis Advice Before You Go Shopping
Remember to buy the correct size! Gucci's cot a convenient

size chart

on its website. Sure, the Ready To Wear collection doesn't come in a huge assortment of sizes, but these sizes are all-encompassing and generally make for some fabulous fits. 

To check whether the website that you're buying from isn't selling counterfeits, run an extra security check by hitting up

r/DesignReps

,

r/FashionReps

, and

r/RepLadies

– communities that discuss websites selling high-quality replicas of famous brands – and ensuring that your website hasn't been mentioned around these corners. 

First-time buyer? Don't fall for what's trending. Gucci's got a great collection of timeless clothes that will make you stand out no matter what's the season. For something so expensive, you wouldn't want it to fade out of season fast and make you look ridiculous, would you? 
But then again, if you truly seem to have fallen for something that's in style, who's stopping you from getting it? Always remember to be in your element while you're getting your clothes, and go for a jacket that flatters you instead of something that others think looks more "classy". You're the one wearing it at the end of the day anyways! 
Our Picks Of The Best Gucci Jackets Every That You Need To Add To Your Collection
Our Selection Criteria
Choosing the best Gucci jacket is a tough task. First of all, they're all good. Second, they're all expensive. So if you had to choose the best of all things good, you'll have to spend a few grand before finding out that there's actually something better.
The good thing is that we've done all the research for you. For our list, we picked the top-tier Gucci jackets based on:
Durability

Usability

Versatility

Comfort

Washability
Having the most expensive jacket out there doesn't mean that you're getting the best one. We can't just shell out thousands of dollars for a jacket that's as durable as cheap lingerie. What we're showing here are those that you can use, reuse, wash out after a sweaty day, and use it again because you love it.
We are also skipping cost-efficiency. The Gucci brand is expensive, that's an indisputable fact. So if you're not willing to use up money and a bit of extra for the highest quality of high fashion, then maybe Gucci is not for you. There are other brands that focus on cost-efficiency, even for high fashion, and Gucci ain't it.
Meanwhile, we know how these jackets aren't all unisex. That's why we're showing jackets fit for either men or women. We'll just show you which is which.
So without further ado, here are the best Gucci jackets we've handpicked just for you: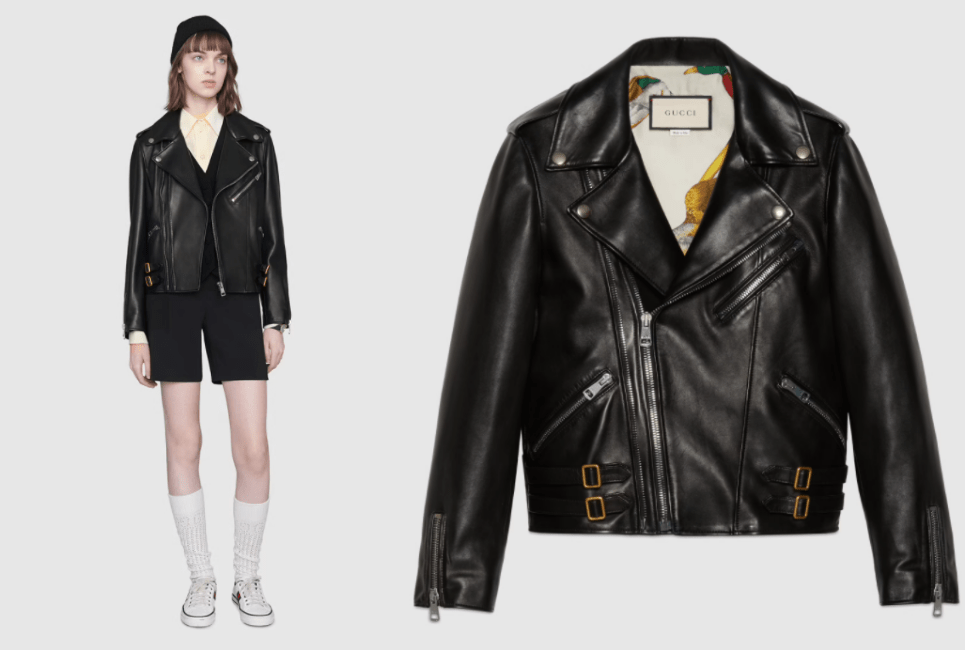 Pros
Made from high-quality leather

Interior pockets

Exterior zip pockets
Cons
Materials
Plongé leather

100% lambskin lining

100% viscose
If you're gunning for that "tough girl" look, then the Plongé Leather Biker Jacket should be the best one for you. Made from high-quality plongé leather, this jacket seals out the heat while being a key item in a fashionista's wardrobe. The metal hardwares are aged gold-toned, classy enough for the classy biker.
This jacket is the best at what it does. But you might want to take great care with washing it. Because of the 100% viscose, it tends to shrink when washed wrong. It would be best if you could handwash this with cold or lukewarm water.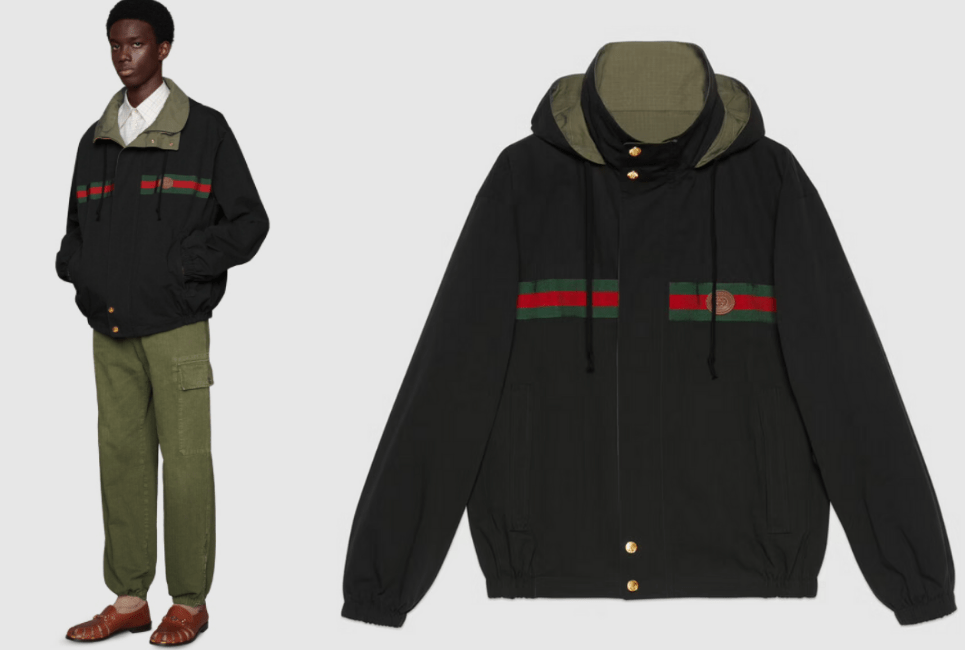 Pros
Reversible design

Elastic details on cuffs
Cons
Tends to shrink

Undetachable hood
Materials
Just because something is made out of nylon doesn't mean that it doesn't belong in high fashion. The Reversible Cotton Nylon Jacket is one of those jackets that screams casual and luxury without looking too casual or luxurious. It's something you can wear to your daily walk, looking fashionable without looking out of place.
This jacket is perfect for the casual walker who wants to look great all day. Just be careful while washing this jacket, though. It can shrink, so you might want to give it a good rinse and handwash instead of placing it in the washing machine.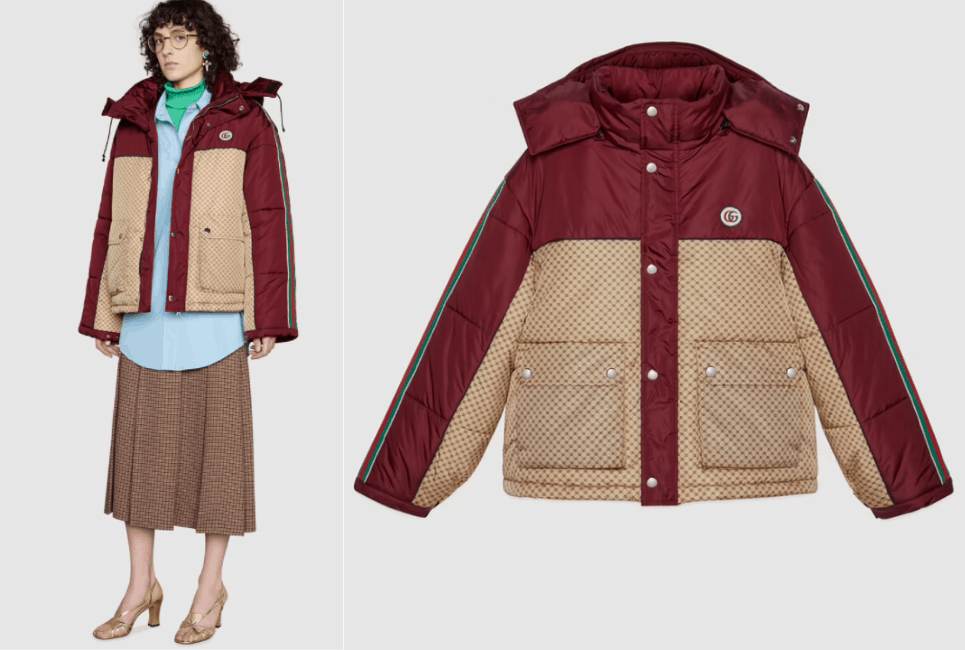 Pros
Detachable hood

Outside flap pocket
Cons
Too puffy to store in a small space
Materials
Nylon jackets aren't just for men. And if we're going to push things up higher, why not even make it a padded jacket? The GG Parachute Nylon Padded Jacket is something you could wear both at work and at the walk home. It's a comfortable jacket that will keep you warm during the colder months while showing off the classy fashionista in you.
This jacket belongs to the Ouverture Of Something That Never Ended collection. It's one of those clothes that will make any Gucci fan cry "awesome!" when they see you walking around with these.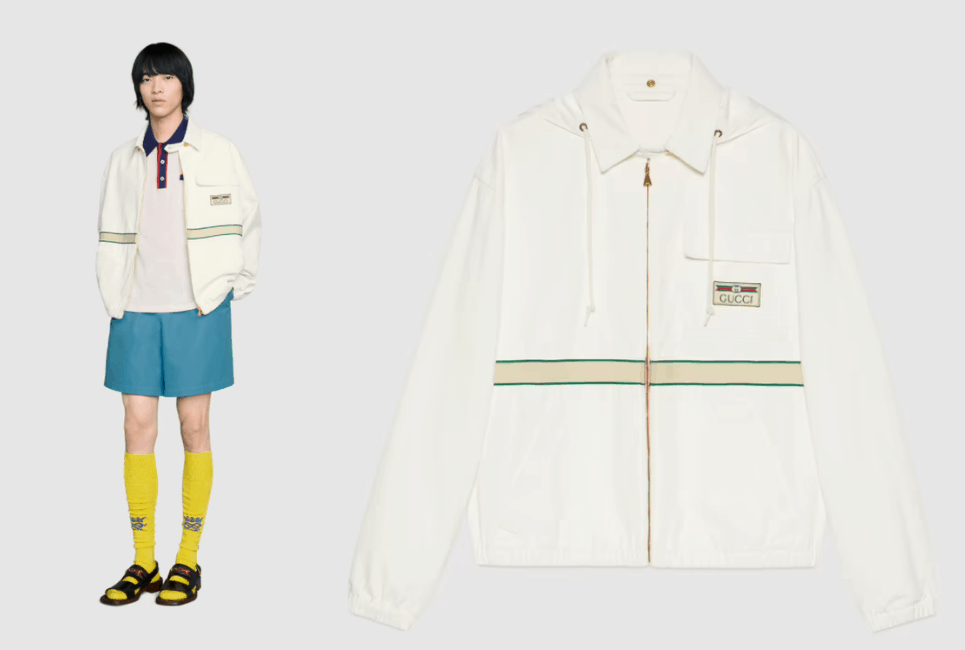 Pros
Made with eco-wash cotton

Zipper closure
Cons
Undetachable hood

Tends to shrink
Materials
Gucci, as a brand and company, is already eco-friendly with its own products. All their materials are acquired in sustainable ways. But can they still make themselves even more eco-friendly? With the Eco Cotton Jacket With Vintage Label, the answer is a resounding yes!
Besides being ethically sourced, this jacket is meant to be easily cleaned using low heat. Plus, it looks nice on its own with a good feel thanks to being 100% cotton. This jacket offers both aesthetics and comfort in one, neat package.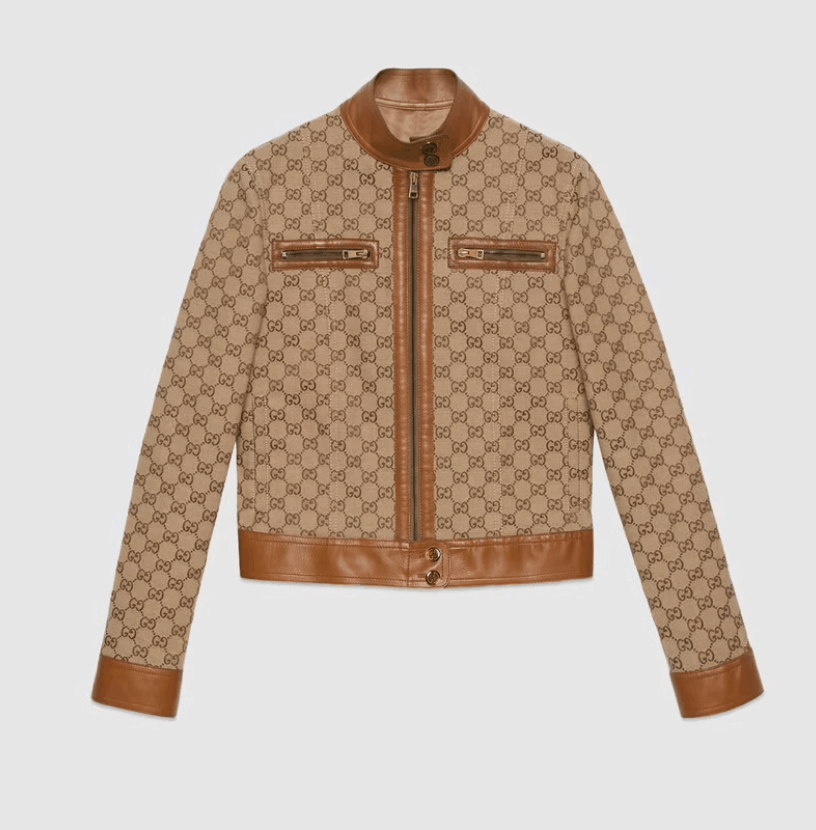 Pros
Unique Gucci Rhombi design

Brown leather trim on waistband and cuffs
Cons
Leather may break under high heat
Materials
Featuring the monogram Gucci Rombi design, the GG Canvas Jacket With Leather Trim is a wardrobe must for any fashionista. The design is a pattern that's been used in Gucci's 30's archives and continually evolves to become better and better every time. Leather trims line the cuffs and waistband, plus the zippers and neckline.
For the veteran Gucci lovers out there, this jacket belongs to the Aria collection by Alessandro Michele. You could sport this with a matching pair of pants or put your own style with different pants or a skirt.
Pros
Neutral style that goes with anything

Flap patch pockets
Cons
Can be too neutral

Can shrink and crack from too much heat
Materials
100% lambskin lining

100% cupro
If you're looking for a jacket that you can wear with most other clothes, then the Leather Bomber Jacket should be right for you. With a plain black color and logo-less design, it's great when you're aiming to score with your date without being a human billboard. The design is subtle, just shows how well this jacket can go with anything.
The fashionable yet subtle design owes itself to the small finishes made all over the fabric. Small sews, hidden underneath the jacket, gives the jacket its shape that makes it look much better than just any other bomber jacket.
Frequently Asked Questions
Question: Does Gucci Make Jackets?
Answer: Yes, they do! Gucci launched their Ready To Wear collection in 1981, which had an assortment of clothes that were, as the name of the collection states, ready to wear. Since then, Gucci's jackets have gained a large following of their own and the brand hasn't stopped producing them since. 
Question: How Much Does a Gucci Jacket Cost? 
Answer: Gucci Jackets are obviously on the pricey end, although you might be able to snag some of the cheaper items in their collection for a little over $1000, their most expensive items, including their famed leather and fur jackets, are priced at around $5000-$7000. Men's jackets come in pricier than women's jackets too. 

Do remember though, that Gucci holds private sales for off-season clothes twice a year and offers massive clearance discounts of up to 50% sometimes, and there are some secret discounted outlets around town too. 
Question: How can you Tell if Gucci Clothing is Real?
Answer: Besides looking at the price tag, one of the most surefire ways of finding out if Gucci clothing is real is by checking the logo. The Gucci tag is a headache to replicate, even by the best makers of counterfeit clothing. Gucci prides itself on putting even the smallest details right. So if there's even a small error in the logo, you're sure it's counterfeit.

Another way of finding out is by looking at the country of origin. Gucci makes everything in Italy. They don't have factories in any other place. If it says that it was made in any other country, then that is a sure fake.
Question: Why is Gucci so Expensive?
Answer: Gucci is a designer brand that sources the best materials to make the most high-end fashion items designed by top-class fashion designers. Besides the cost of items going up because of quality, Gucci pays their designers a lot. All of those costs come into the final price for each item you buy.
Question: Is Gucci Made in Italy Real?
Answer: Yes. Gucci says that all their products are made in Italy. However, sources have clarified that the brand does outsource around 40% of its stock from other sources to meet rising demands. Nonetheless, authentic Gucci products usually carry a 'Made in Italy' tag. 
Question: Why is the Logo of Gucci GG?
Answer: The iconic Double G logo stands for the initials of the founding father of the brand, Guccio Gucci. 
Question: What Does Gucci Stand For?
Answer: Gucci is derived from the surname of the brand's founder, Guccio Gucci. Over the years though, the brand's popularity has led to the name becoming a pop culture slang that's used to refer to anything that can be considered a luxury item. 
Question: What Does Gucci Bee Mean?
Answer: Gucci has a number of animal, plant, and insect motifs on its designs, and the Bee just happens to be one of their most iconic motifs. The Bee motif forms a Gucci Garden trio alongside the other ultra-popular motifs of the Tiger and the Kingsnake. They could be called the mascots of the brand at this point. 

The Bee motif was especially popularised not just because it had a unique Renaissance look to it, but also because the symbol of the bee symbolizes themes of love and attraction. 
Question: Does Gucci use Exotic Skin?
Answer: Nope, not anymore. For a period of time since its inception, Gucci did use fur for its coats and even gained popularity through those. The brand's image had been interlaced with animal skins for a while until Gucci made headlines in October 2017 by deciding to go fur-free moving forward. 

While a monumental decision on the brand's end, this was done to become a more 'socially responsible' brand, as said by the Ceo Marco Bizarri himself. The bottom line is, Gucci doesn't use exotic skins for its clothes or accessories anymore. 
Final Thoughts
With jackets, there are a lot of ways that you could pull them off. You could sport out a nerdy yet trendy look with a good one. Or you could go with the classic gangster style. Choosing the right one is always up to you, but there are always some that are better than everything else.
For women's jackets, the GG Canvas Jacket With Leather Trim can be very versatile. You could use it at work with a dress or have it pair up with a nice pair of pants. But on the durability side, the GG Parachute Nylon Padded Jacket does a better job. It's made out of nylon, that's why. But you would be losing out on the canvas jacket's versatility.
As for men's jackets, the Leather Bomber Jacket is the best in terms of versatility. Because of its neutral design, you can sport this out like a cool bad boy or a more semi-casual look with a nice shirt. But as casual wear, the Reversible Cotton Nylon Jacket beats it by being able to handle heat without shrinking.
Now that you've read our best picks, here's hoping that you've found the right style of Gucci jackets just for you!
Recommended Reads: