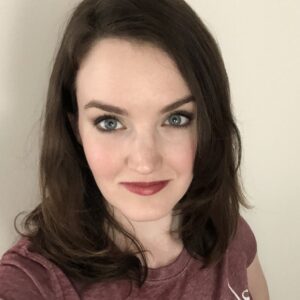 Latest posts by Crystal Schwanke
(see all)
If you're looking for the top red blouse ideas, you're likely looking for something that will stand out at least a little bit and flatter your complexion. I've put together a list of some of the best red blouses I could find, in a range of shades and depths, with a variety of shapes and fits to accommodate different body types.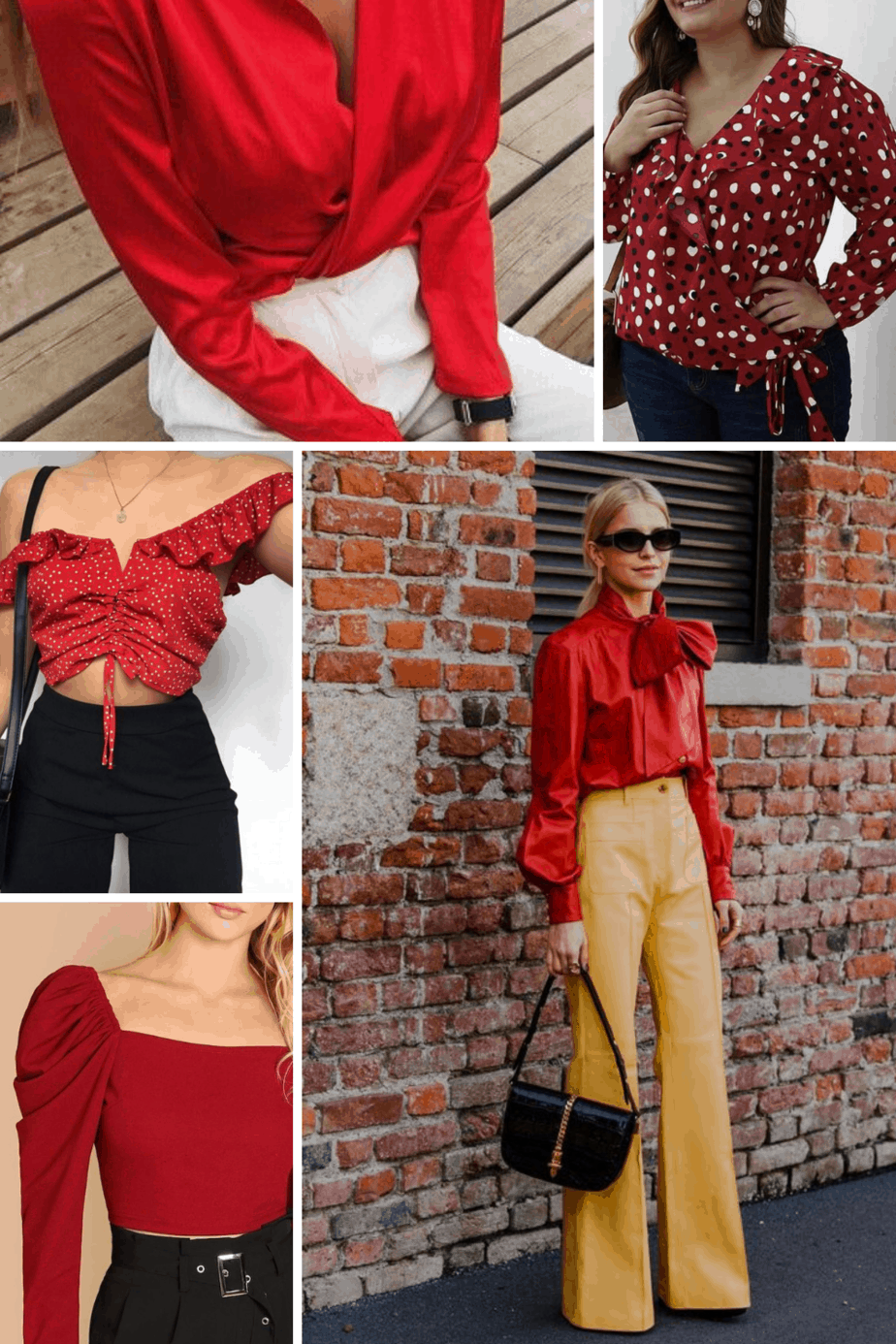 I've added some styling tips and a little background behind the color red and its effects on psychology (the wearer's, as well as everyone else's around them).
Anyone can wear red. It's just a matter of finding the right shade and cut of the blouse to match the personality, coloring, wardrobe, and intended effect.
The Top Red Blouse Ideas
Need some inspiration and to see some of the top red blouse ideas? There's a lot of variety here, with something for everyone:
Banana Republic Factory Tie-Neck Tank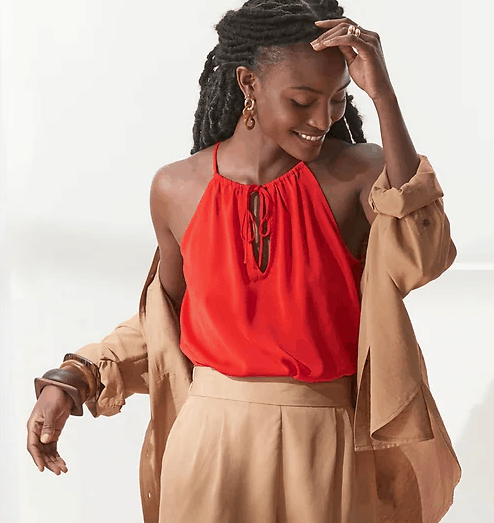 This tie-neck tank from Banana Republic Factory comes in Hot Red and will definitely turn heads.
Pros
Inexpensive if you can snag it on sale (it's only $25.00 as of this writing)
Comes in sizes XXS to XXL
Can be worn on its own for a summertime date or layered under a blazer for a little more coverage and warmth
Can easily be dressed up or down
Looks like satin, but isn't
Machine washable
Cons
Some people may not feel comfortable with the depth of the V-neck
Shein Polka Dot Butterfly Sleeve Blouse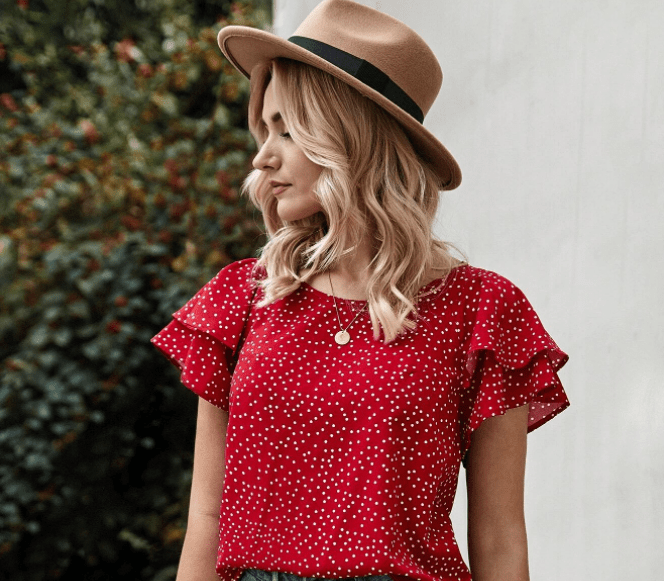 This polka dot butterfly sleeve blouse is cute and has a lot of visual interest without being over the top. The white polka dots are small and the ruffled sleeves are just a little something extra.
Pros
Inexpensive
Flirty and casual
Can also be dressed up for a more classic look
The shade of red that can go anywhere and look good on just about anyone
Cons
Some people have trouble with the sizing (some say it runs large, while others say it runs small)
Express Satin V-Neck Top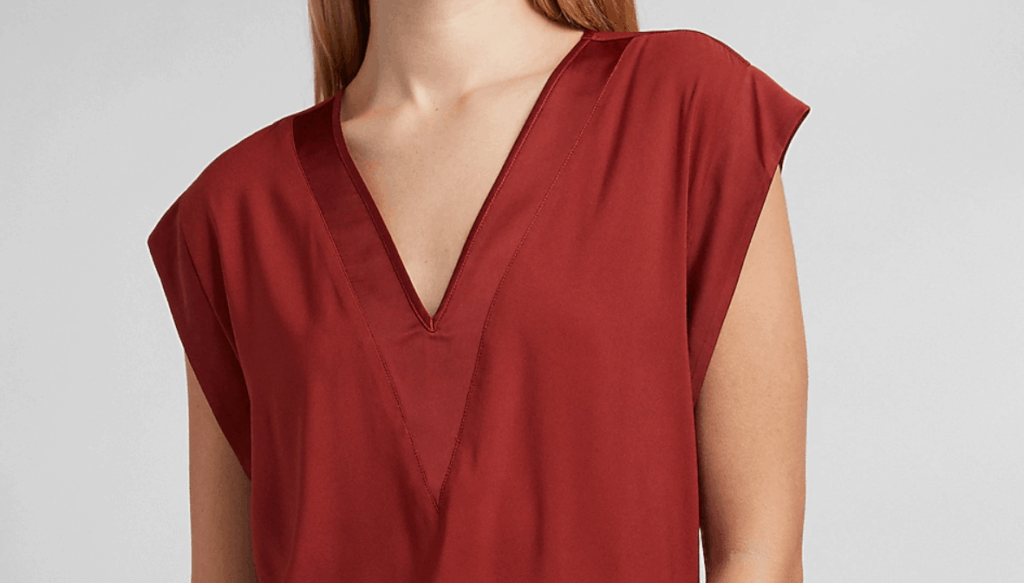 The Express Satin V-Neck Top is available in four shades, one of which is Henna, a rust shade. This one's easy to wear, simple, and can be dressed up or down.
Pros
Simple enough to wear on its own or layered with other pieces, and goes well with dress pants, skirts, or jeans
Perfect for warm-toned skin
Reasonably priced
Cons
Not a wide range of sizes
Not flattering on everyone because of the warmth of the shade
Venus Balloon Sleeve Blouse
The Venus Balloon Sleeve Blouse is trendy and fun, and it comes in a red shade that's just bright enough to stand out, but not so bright it'll make you feel self-conscious.
Pros
Wide range of sizes (up to 3X)
Trendy style, thanks to balloon sleeves and a bit of a collar
Will look good with dress pants or dark wash jeans
Cons
Hand wash
Not as versatile as other options (and probably not the most work-friendly)
Banana Republic Peplum Top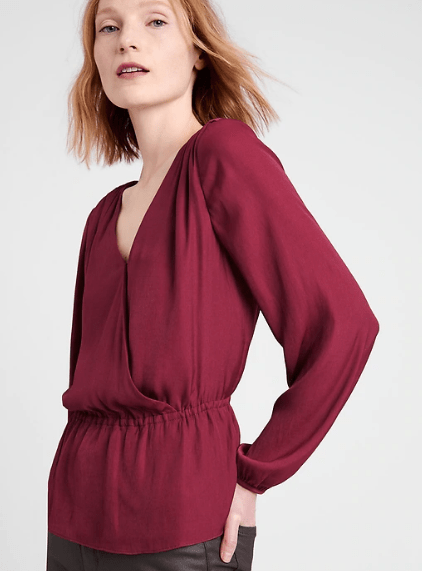 The Banana Republic Peplum Top is available in the Wild Berry shade, which is more on the cooler tone of the spectrum. It has a deep V-neck as well as a V in the back.
Pros
Something for the cool-toned ladies
Peplum hem makes it interesting
Cons
Not everyone can wear this shade since it's so cool-toned
Reviewers complained about the fit
Bar III Ruffled Blouse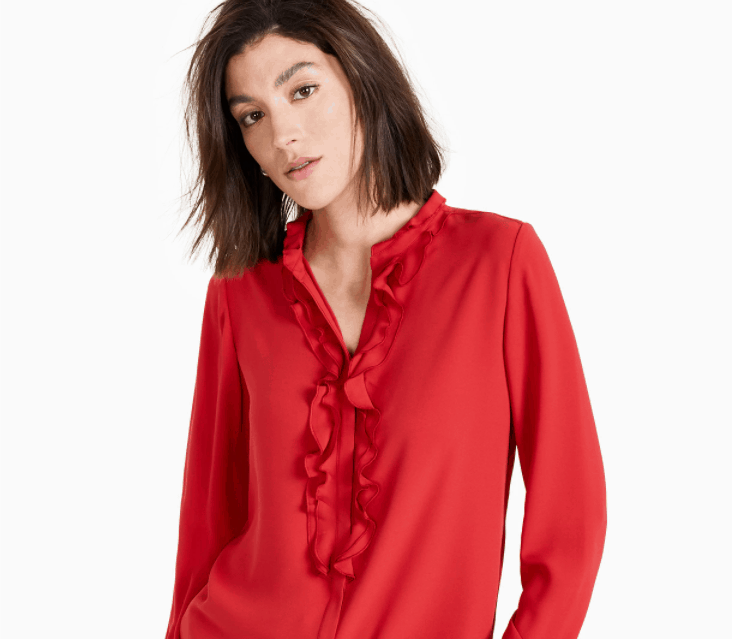 The Bar III Ruffled Blouse was created specifically for Macy's. It has long sleeves and mimics a dress shirt with the ruffles down the front and at the collar.
Pros
Professional look
Loose fit with just enough shape, so you can wear it tucked in or leave it untucked
Classic style
Cons
It will probably need to be ironed
Target Women's Embroidered Knit Top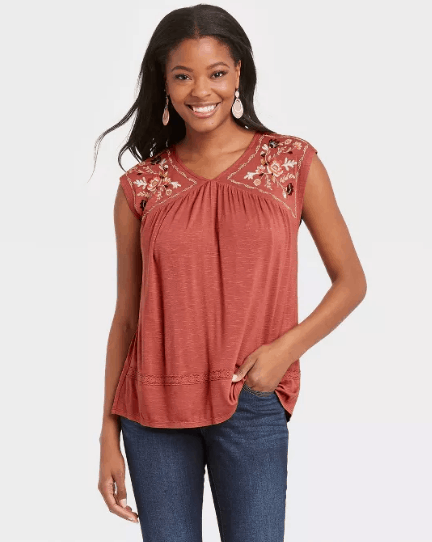 This embroidered knit top is one of the more casual options. The embroidery at the shoulders keeps it from being boring and makes it even more perfect for summer.
Pros
Versatile enough for shorts, skirts, jeans, or slacks
Inexpensive
Just enough stretch to keep it comfortable
Cons
Not easily dressed up (though still fun to accessorize)
The shade of red may be too bright for some people
Milumia Women's Casual Round Neck Basic Pleated Top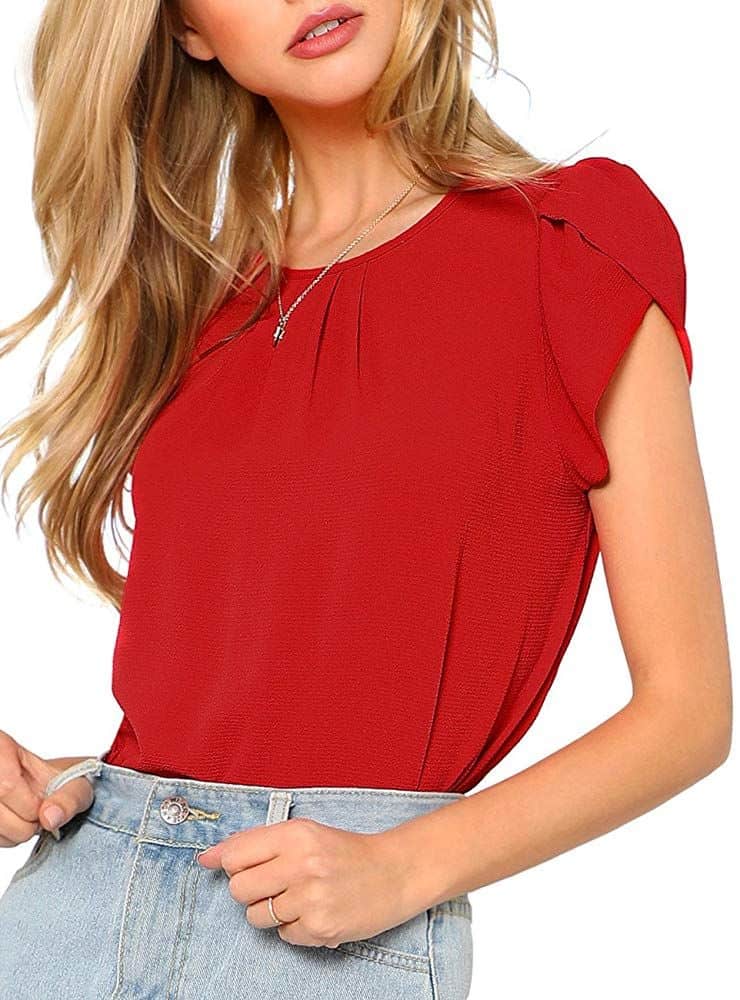 This top from Milumia has a simple design that can be dressed up or down. The pleats, cap sleeves, and keyhole opening in the back make it more visually interesting and keep it from looking like a basic t-shirt.
Pros
Can be dressed up or down and accessorized easily
Inexpensive
Flattering fit that plays up your curves
Cons
Hand washing is recommended
Sizing and material seem inconsistent
Cece Floral Ruffle Sleeve Blouse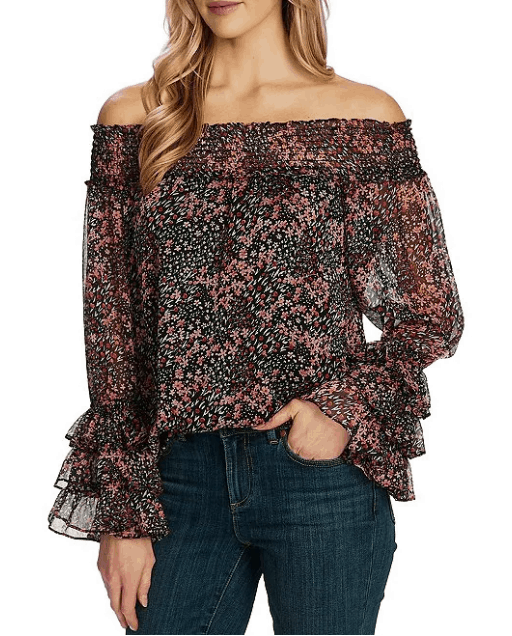 If you love making a statement with color and patterns, you might like the Floral Ruffle Sleeve Blouse.
Pros
Floral pattern makes this one stand out
Good for casual days or work
Feminine details including ruffles and ¾-length sleeves
Cons
Expensive (around $70.00)
Banana Republic Factory Textured Puff-Sleeve Top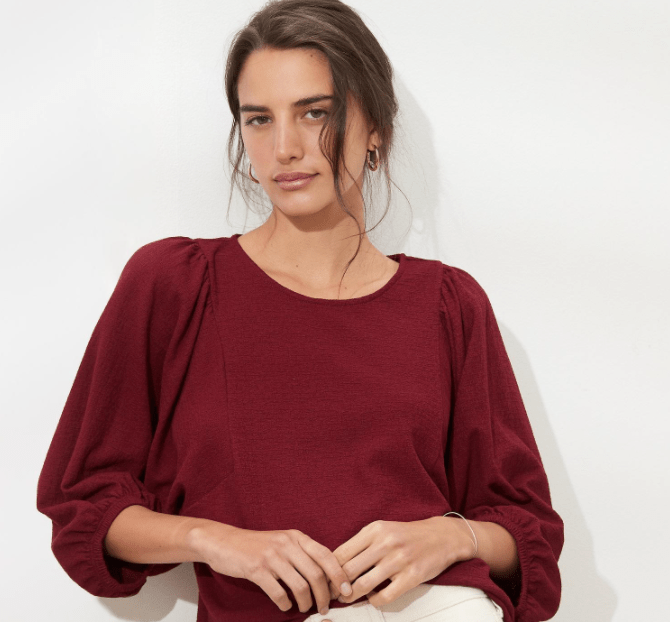 If it's brick red you're looking for, you won't want to miss this one. The deep color makes it perfect for fall and winter and the puffed sleeves give it a romantic vibe.
Pros
Comes in XXS to XXL
The flowy style gives it a romantic feel and feels comfortable, not clingy
Not sheer
Can be dressed up for an elegant evening out or down for a casual weekend activity
Cons
Some say it runs large (and you should go down a size)
Maybe too baggy for some people's preferences
Who Should Wear a Red Blouse?
Anyone can wear red. Just don't do it if you want to blend into the background or have an especially peaceful presence.
As far as personality, skin tones, and coloring go, though, there's a red blouse for everyone.
Personality
If you like red but don't like being the center of attention, you'll probably want to go with a deeper shade (burgundy or wine) than the fire engine red someone who loves owning a room might choose.
Skin Tone and Coloring
If your coloring is warm, you'll look great in reds with a hint of yellow.
If your coloring is cool, you'll look great in reds with a hint of blue.
How drastically you want to tilt toward yellow or blue is up to you. The cooler or warmer your skin tone is, the further into that category you can go and still look your best.
Neutral-toned coloring can pull off either one (just not too far yellow or blue) or you can rock plain old primary red.
Color Psychology: Why Wear a Red Blouse?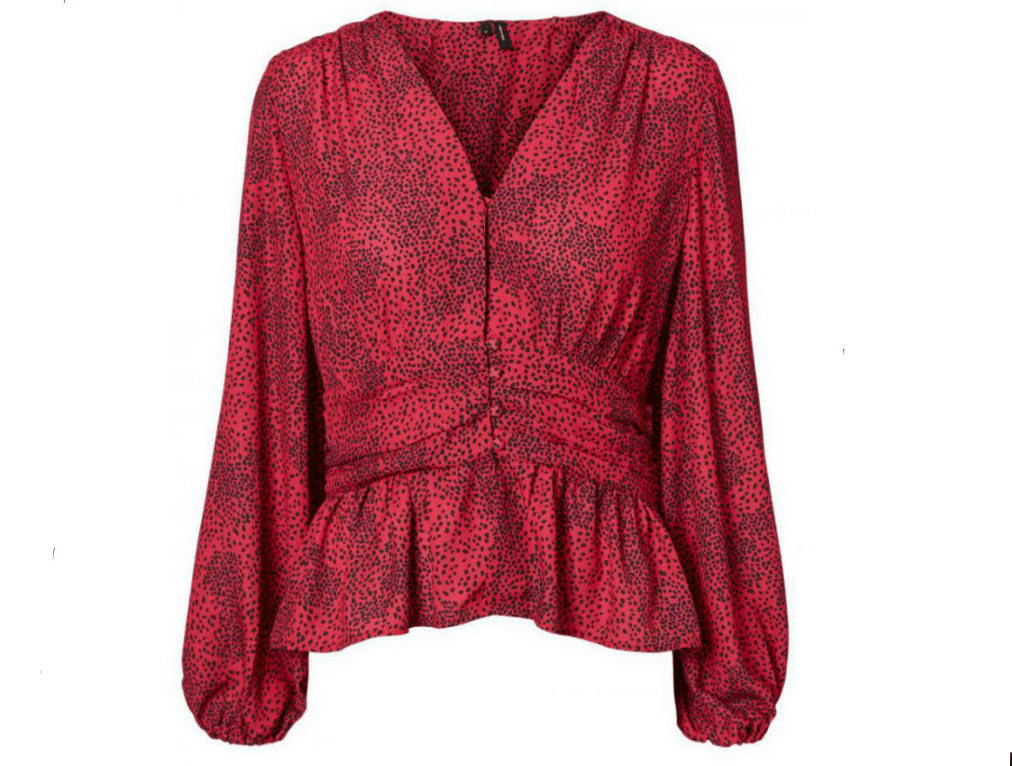 Red is a powerful color. When you wear it, you may experience:
Faster breathing
Faster heart rate
Faster metabolism
Higher blood pressure
To others, you may appear:
Confident
Powerful
Passionate
Desirable
Basically, wear a red blouse when you want to stand out, be assertive, attract a partner, or look especially attractive on a date with someone you're interested in.
How to Wear a Red Blouse
Red blouses come in so many shapes, styles, and shades, there's no one way to wear a red blouse. That said, I can give you a few tips:
Most red tops will look perfect with dark wash jeans. Brighter reds and more casual styles look great with lighter washes, as well. Check this outfit for inspo.
If the top is flowy and loose-fitting, keep your pants/jeans/shorts more fitted and/or tuck in the front of the blouse for balance. If you're wearing an A-line or other type of flowy skirt, tuck your top in all the way around to emphasize your curves.
If your red leans are more warm-toned, use gold jewelry and choose brown for your shoes, belt, and maybe even purse. If it's a more cool-toned red, use silver jewelry and choose black for your shoes, belt, and purse. Check this style idea here. (Or skip the black and brown standard accessory shades and do something unexpected!)
Don't be afraid to dress your red blouse down, like this outfit.
You can take an especially feminine blouse style and give it back some edge with a leather or pleather skirt and large hoop earrings, like this: (It's all about balance!)
Red is eye-catching on its own and it's best to go understated with other parts of your outfit, but that doesn't mean you need to nix all other patterns. This small print is perfect with a bold red top outfit idea.
On the flip side of that, if you have a patterned red top, keep it simple on the bottom. This inspiration is must-see! See here.
Where to Buy Red Blouses
Unless you've stumbled into a boutique with a specific color scheme that doesn't include red at the time, you can find red blouses in almost any store that sells women's clothing. Check:
Department stores (Macy's, Dillard's, Belk, Nordstrom, Neiman-Marcus, etc.)
Target
Amazon
Banana Republic
GAP
LOFT
Crew
Express
Online and brick-and-mortar boutiques
Keep in mind that the shade of red you're most likely to find at any given time may reflect the time of year. It may be much easier to find deeper shades during fall and winter and the brighter ones during spring and summer, but that's not always the case.
The Main Differences Between Red Blouse and Red Shirt
A red blouse isn't exactly the same as a redshirt, even though they can be similar. Keep in mind, "shirt" here is referring to a button-up, collared style of shirt, not the generic term that means whatever covers your upper body, encompasses a range of styles, and ends around the waist or hips.
A red blouse will hang loosely on the body, whereas a redshirt could be loose or fitted.
A red blouse won't have buttons going up the front, whereas a red shirt will.
A red blouse won't have a structured fold-down collar and cuffs, whereas a red shirt will.
A red blouse is more associated with womenswear, whereas a redshirt would be more likely to fit into the menswear category (though women wear red shirts, too).
Frequently Asked Questions
Do you have more questions about red blouses and how to incorporate them into your wardrobe?
Question: How do you wear a red blouse?
Answer: With confidence! Jokes aside, it'll depend on the blouse. Most of them—at least those with a straight hemline—look best tucked in either in the front (casual) or all the way around (more professional). Choose a red that complements your own undertones. Try a color analysis to see which reds are most flattering on you.
Question: How do you wear a red blouse casually?
Answer: Tuck in only the front of the blouse, wear jeans or shorts, and choose a blouse style with a pattern, fluttery sleeves, and/or a pattern. Have fun with your accessory choices (for example, use lots of thin bracelets, larger hoops than you'd normally wear with a dressy top) instead of sticking with classic, understated pieces. Shoes could be flats or sandals.
Question: What goes with red blouses?
Answer: It'll depend on the blouse itself and how much extra detail it has. It's already demanding most of the attention on its own, but if it's a pretty simple style, you can pair a red blouse with a bottom that has a simple, small pattern.

Accessories should generally match the undertones of the red top (so gold metal with warm reds, silver with cool reds). You can wear jeans (pants, shorts, or skirts) with red blouses.

Dark washes pair well with any shade of red, while lighter washes look great with lighter, brighter shades.

If your blouse is loose and flowy, look for something more fitted on the bottom. Shoes that look good with red blouses: nude, black, red (same shade), white, or brown flats, pumps, sandals (with or without heels), and ankle boots.
Conclusion: Considering the Top Red Blouse Ideas
The good news is, if you're interested in a red blouse, either for casual wear or work, you can wear one. You'll just need to decide which red is the most flattering with your coloring and which details or prints you love the most on a red top.
From there, it's all about seeing which ways you prefer to pair your red blouse up and accessorize. Do you like the casual sophistication of a dark wash pair of jeans, the laidback vibe of a pair of shorts, a more dressed-up A-line skirt, or even something a little edgier?
Start with a whole vision of what you want and where you want to wear your blouse. Armed with that picture in your mind and the knowledge of the perfect red for you, you should be able to find the best red blouse for you.