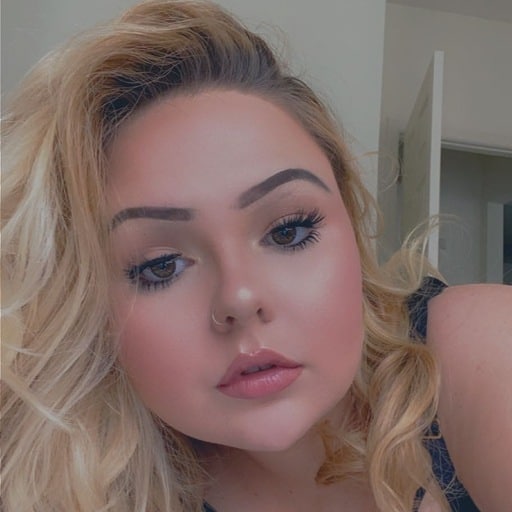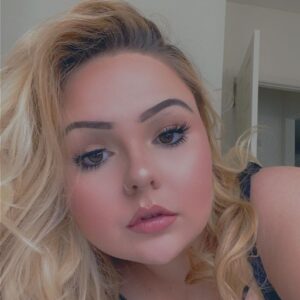 Latest posts by Annalise Swain
(see all)
According to licensed physical and exercise therapist and running expert Randy Brangman, who advises shopping for heels depending on your individual foot difficulties or concerns, there are a few basic qualities to focus on if you're wanting to increase your comfy heel collection. Fortunately, today's designers are one step ahead of the game, offering comfy heels for each occasion in nearly any shape and color imaginable.
In this article, we will be discussing the best block heels that will suit every occasion, the secrets of wearing heels, and some of the most comfortable heels.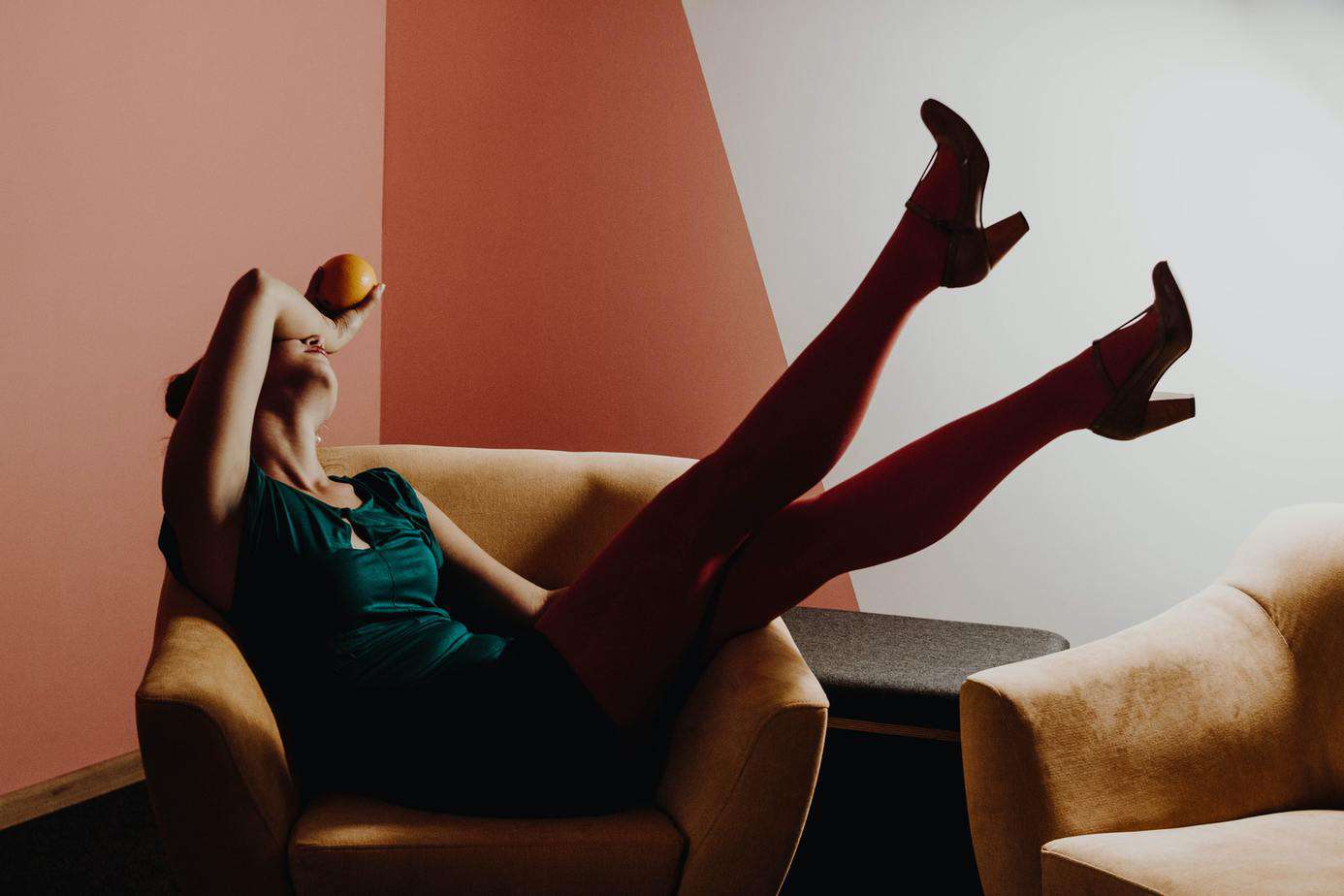 Block Heels for Work 
When it comes to walking around the city or going to work, you want comfort. We have compiled a list of heels that will provide you the most comfort and fashion while walking about. 
M.Gemi the Lustro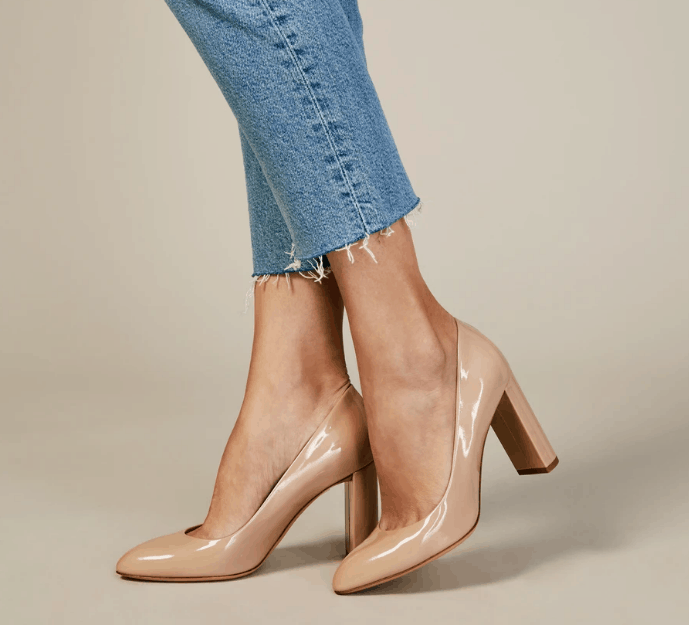 When you're wearing heels and walking all day, you can leave the backup shoes at home because M.Gemi's The Lustro mixes everything you need in a high heel to actually take the agony out of heels. If you know you'll be on your feet for a while, a three-and-a-half heel can seem scary, but the super-cushioned and flexible form means you'll practically forget you're walking higher than usual. 
These nude heels have a lovely, delicate profile and are superbly made with an enhanced level of support and appealing appearance without any toe-pinching. These heels are a pair you'll keep for years because of their elegance and quality. With an almond-shaped toe and a thin block heel, these shoes are very walking and well-made. 
Everlane the Double Strap Block Heel Sandal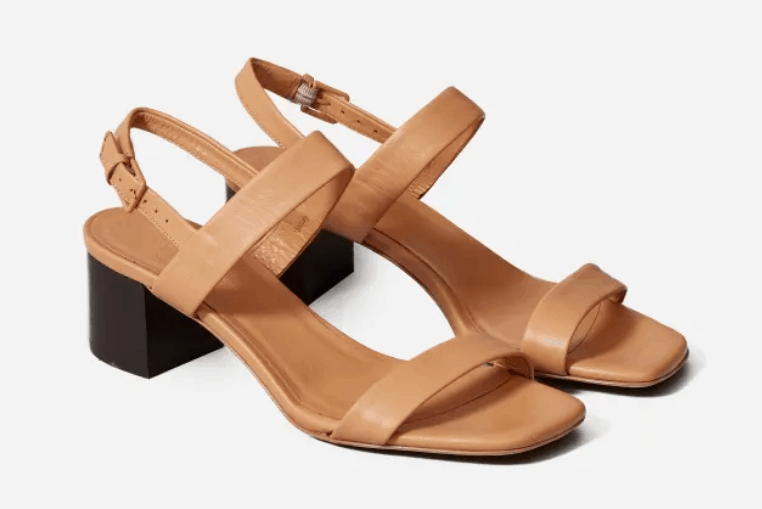 I knew I had to try these block heel sandals after hearing them described as "their new go-to shoe" by so many Everlane customers. These minimalist sneakers include two front straps and a rear strap that can be adjusted to keep them in place. The basic sandals may be worn with a variety of outfits, from shorts to jeans to LBDs and anything in between.
Tod's Black Leather Pumps 
With an addition of Tod's Black Leather Pumps to your collection, you can take the worry out of outfit preparation from Monday to Friday. This heel is about mid-height, it is classy and elegant, and the handmade black leather and softly cushioned insole prove that a practical work heel does exist. In the boardroom, a round-shaped toe takes no prisoners, and a basic design makes these shoes easy to combine with any business attire.
Block Heels for Dancing 
FInding heels to go dancing in is almost impossible. There are risks of heel breaking, making your arches hurt, etc. We have come up with a list of the best block heels for a night of dancing. 
Porte & Paire Black Leather Sandals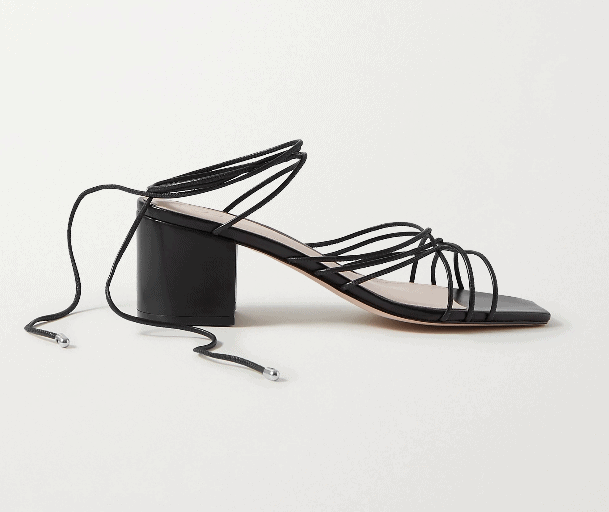 With a square toe, a two-and-a-half block heel, and a cushioned footbed for exquisite comfort, Porte & Paire's black leather sandals are elegant and sleek. These heels, which are made of silky black leather and have slender straps that sway in the breeze across your toes, are perfect for a fun night out with friends, since they won't leave you with any of the normal high heels agonies.
The woven pattern adds a bit to have a good time with anything you're wearing, making these heels trendy, fashionable, and comfy. Combine with a slip dress made of cotton for a breezy summer style that's ready for whatever music comes on next. 
Aquazzurra Mescal 50 Metallic Leather Sandal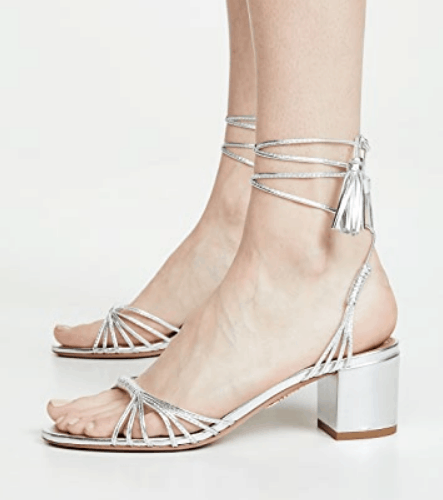 Wear these silver metallic leather sandals to your next Spring or Summer wedding and dance the night away. The delicate straps and ankle tassel accent are our favorites, and the neutral hue is perfect for anything you decide to wear. 
Laine Block Heel Sandal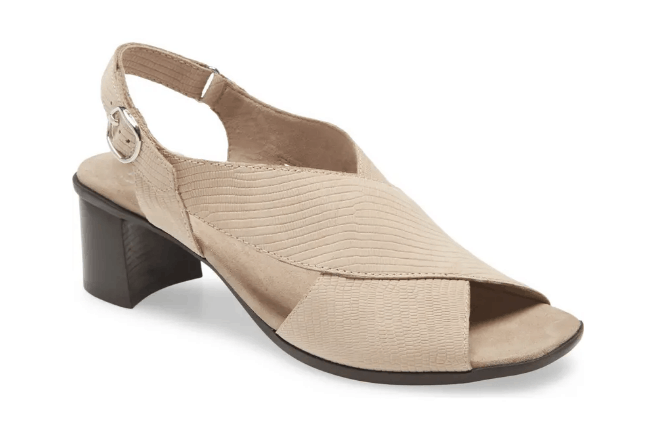 This pair is recommended by podiatrists because of the strong straps and 2-inch block heels. These heels come in medium, broad, extra-wide, and thin widths to accommodate a variety of foot shapes. They also include a cushioned footbed for comfort and stability, as well as a strap that can be adjusted.
Block Heels for Comfort
Comfortable heels almost seem like a myth. Thankfully we were able to find heels worth the money for a more comfortable fit and wear. 
Stuart Weitzman NearlyNude Leather Sandals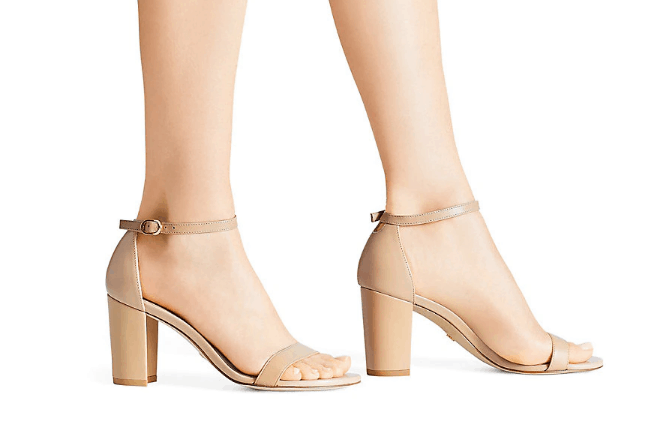 If you're going to dance, choose an ankle strap heel and you'll never go back. Although a stiletto is a usual choice, once you've made the transition, you'll be a convert for life. 
When viewing Stuart Weitzman's NearlyNude Leather shoes, which are expertly made in Spain from smooth leather, you'll certainly notice the three-inch block heel first. These comfy strappy sandals will be the first thing you put to your "pack for vacation " bag for nighttime strolls or Saturday morning brunch since the heel is just the ideal height to be dressed up or worn simply. An additional layer of comfort and support is provided by the adjustable ankle strap with concealed elastic. 
Vionic Amor Mariana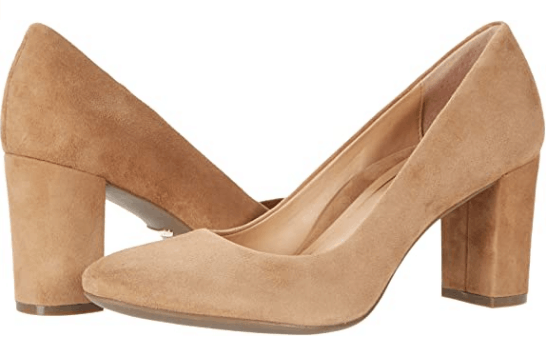 If you have arch difficulties, it may seem easier to just avoid heels altogether and stick to flats, because none of us wants to play the Roulette-style guessing game of whether your new heels will do the job or not. Vionic Amor Mariana might be the solution to your woes, allowing you to stay pain-free and gorgeous even when your feet refuse to cooperate. These heels are ready to party right away, and they'll take all the hassle out of shoe buying. 
They're a go-to for comfort and style and may be worn to a wedding, a daytime function, or at work. A three-inch heel lengthens legs without causing calf discomfort, and the round toe accommodates larger feet. These shoes are lovely and feminine, and they're a delight to dance in no matter what the occasion. Keep the party going with the Wine colorway, or keep things simple with black or tan heels. 
Clark Sheer Rose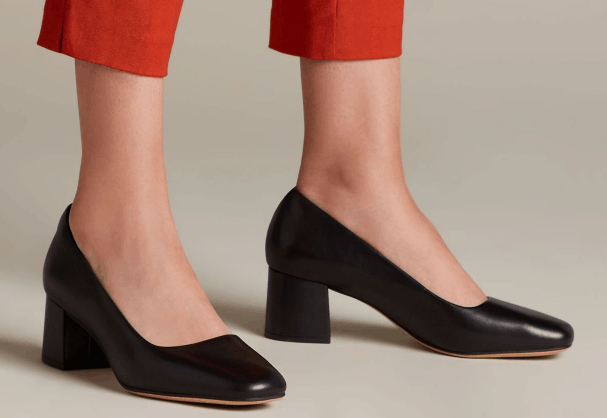 This pair from Clarks is a winner if you're looking for a new pair of heels that won't let you down no matter how much stress you put them under. Waiting is unpleasant enough, but having a constant throbbing ache in your heels makes it worse. Clarks' Sheer Rose has a squared toe with a two-and-a-half block heel for all-day comfort. 
Each of the three color options (Tan Leather, Blush Patent, and Black Leather,) provides a clean, minimalistic aesthetic with a great style impact. This heel simply dresses up raw edge jeans, adds a layer of refinement to dress skirts, and makes a modern combination with cropped pants.
How to Buy the Right Heels 
A lot of women just buy heels, even if they are uncomfortable. We have come up with a list of tips to make sure you buy the right heels that fit you perfectly and that you can wear all day long and still be comfortable. 
Type of heel 
If you want to be as comfortable as possible, a wedge heel might be the shoe for you. In addition, search for heels with a lot of room around the toes, heels with an ankle strap, and pairs with a lower heel height. If you can't avoid wearing taller heels, go for a pair with a thicker and more stable heel to compensate for the increased height, like a block heel. Spindly stilettos may seem amazing, but they provide the least amount of support for your feet.
Material 
Although leather or suede heels are more costly, their superior quality ensures that they will outlast synthetic materials. Leather and suede are also softer, molding to the contour of your foot much more quickly and rubbing less. 
Height of the heel 
Heels of a height of one-quarter and three-half inches are believed to be the most comfortable since they provide elevation without being too high and placing too much strain on your legs and lower back. If you'll be standing or dancing for extended periods of time, go for low heels; if you won't be on your feet for long periods of time, go for high heels.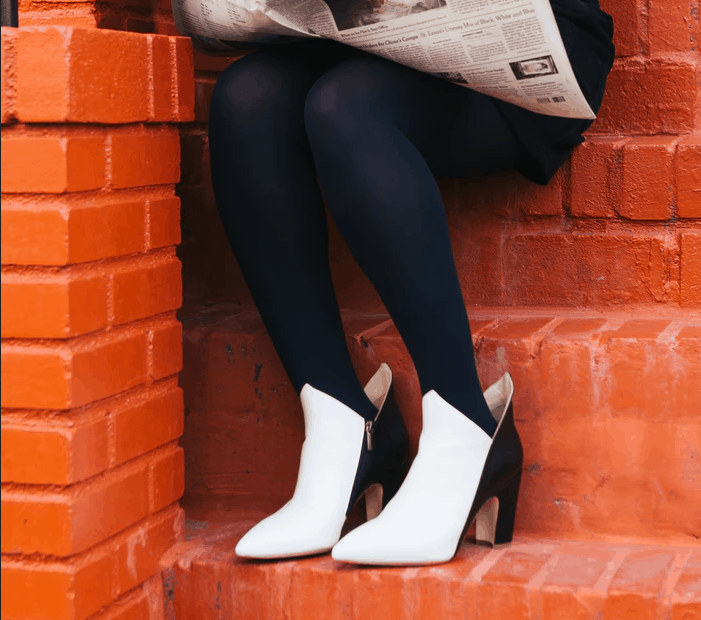 Cushioning and comfort 
When it comes to comfy heels, cushioned soles may be a lifesaver, and a memory foam sole can mean the difference between success and failure. If you do happen to acquire a pair of heels that feel like you're sleeping on a bed of concrete, memory foam insoles will help you bridge the gap. 
The right size 
It should go without saying, but never buy high heels that don't fit correctly, or you'll suffer the curse of gradually resenting ever wearing them. To avoid blisters or ankle pain, high heels should be tight and hold the foot securely in place. 
Try on your heels towards the end of the day after a long day of walking for the best effects. Because feet are less swollen in the morning, it's a decent indicator of how comfortable they'll be after a few hours of standing.
Toe wiggle room 
If you can wriggle your toes in your heels, they may be a little too large, but choose them over heels that constrict your feet. If your toes are continuously straining for additional space, this might contribute to arthritis in the long run. Shoes with a round or almond toe have more room than pointed toes. 
When to Replace Your Heels 
With everyday wear, your shoes will need to be replaced every six months to a year. When your shoes are causing actual harm to your feet or joints, they should be changed. When shoes become an eyesore, they should be replaced.
Some shoe owners will not get the most out of their shoe life since they only wear them a few times before purchasing a new pair, while others will forget to retire their shoe even after it begins to harm their health. You and your pocketbook will both be delighted if you choose the optimum moment to replace your shoes. 
Over time, the soles compress and deteriorate. After a lengthy period of everyday usage, they will no longer support your foot as well as they should. The rubber bottoms will also begin to deteriorate, exposing the foam beneath, resulting in decreased grip and slipping. 
With proper maintenance, a good pair of heels worn once a week can last five to ten years. With proper maintenance, a daily pair of shoes may last up to two years. 
Consider changing the soles of your shoes to extend their life. This can cost anywhere from $50 to $100, depending on the work done. 
Finally, consider purchasing shoes that are brand new. Even on the shoe store shelf, shoes begin to degrade. Midsoles begin to disintegrate after 5 years of storage, but the shoe glue that holds the sole to the shoe may degrade much more quickly. 
If you buy last year's model, you'll probably get less mileage and the adhesive will break down much faster than if you buy this year's model. 
Inquire how long the shoes have been in storage, or purchase the most recent release of the shoe you prefer. Some footwear the most recent sole varieties claim to feature unique foam soles that last longer and deteriorate less. 
Find the shoe that best fits your needs when it's time to replace your shoes. If you have the time, learn more about your specific objectives and the kind of shoes that will help you achieve them. 
FAQs 
Finding the best block heels can be a bit stressful. If you still have more questions, that's okay because we are here to help. Below you will find answers to the most common questions asked. 
Question: Are block heels comfortable? 
Answer: Block heels provide your heel area additional support and make it comfier for you. These are your best bet if you're heading to an event where you'll be standing or dancing in high heels for several hours.
Question: Are block heels better for your feet?
Answer: A chunkier heel, according to physicians, provides better stability and, as a result, more support. Because it offers a larger surface area to distribute your body weight over, a chunky heel is healthier for your foot than a stiletto. 
Question: Are stilettos or block heels easier to walk in? 
Answer: Block heels are considerably more comfortable than standard stilettos because they provide greater support and equitable distribution of weight. Is it easier to walk with block heels? Yes, they are typically easier to walk in than thinner heels since they assist to disperse the weight.
Style Your Block Heals Creatively!
A nice pair of heels will really enhance your clothing, but they won't seem as fashionable after a few hours when you're limping about in pain. If you're going to be wearing heels for an extended amount of time, be sure they're comfy. What do you think? 
Further Read: