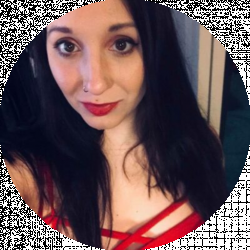 Latest posts by Stephanie Jensen
(see all)
Footwear is a multi-billion dollar industry globally. This is especially true for women's footwear. But we are seeing some surprising trends in women's shoes, such as the popularity of mid-calf boots. Mid-calf boots fall between the ankle and the knee, making them both stylish and comfortable. But buying and styling boots are more difficult than it looks.
Do you love the look of mid-calf boots but aren't sure how to style them? Maybe you're not sure which boots to buy? We got you covered. Here, we will show you some outfit inspiration as well as our favorite brands and some factors to consider when buying mid-calf boots.
What to Look for When Buying Mid-Calf Boots
Mid-calf boots aren't only challenging to style, but it can be difficult to find the right pair. Here are some factors to look for when shopping for mid-calf boots.
Material
You can find mid-calf boots in many materials, from leather to fabric. No matter the material you choose, make sure it's breathable, comfortable, and durable.
The material also impacts the look of the boots. If you want something casual, opt for leather or faux leather combat boots. But if you want something ultra-chic, find a pair of suede boots.
You should also consider your location. For example, do you live somewhere where it often rains? If so, get a pair of boots that are made of waterproof materials.
Comfort
While we mentioned this in the previous section, it's important to emphasize this point. Not all boots are made for all-day comfort. To be safe, you can always wear insoles to support your feet better.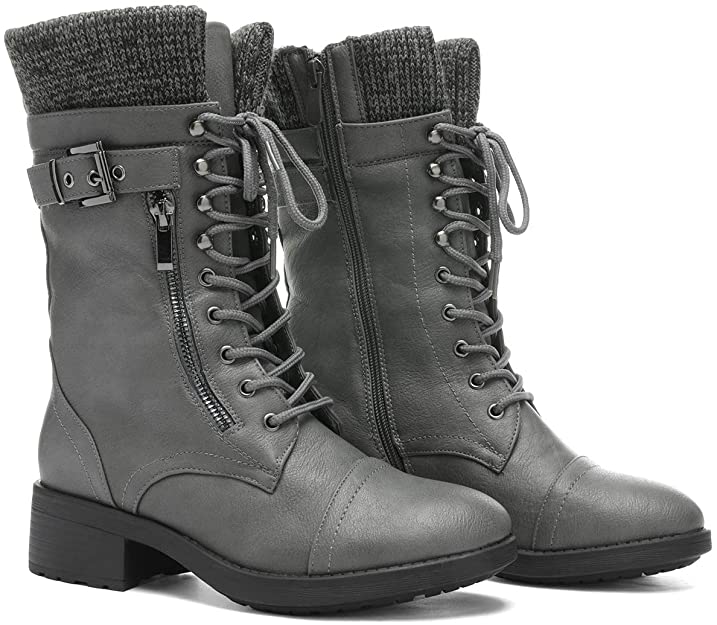 Color
The color of boots you choose depends on your style and preference. Fortunately, brands make mid-calf boots in just about all colors. But if you want to be safe, black and dark brown boots match with practically any outfit.
Purpose
Are you wearing your shoes for a casual night out? Or do you need some serious hiking boots? While mid-calf boots are versatile, there are boots made for specific purposes. Consider your reason for buying mid-calf boots before buying a pair. That's because some boots, such as ones made for hiking, are made with more protection and support than fashion boots.
How to Style Mid-Calf Boots
Before reading our outfit inspiration, here are some tips when styling your mid-calf boots!
Wear Heeled Boots for Longer Legs
Are you short and hesitant about wearing mid-calf boots, thinking they will shorten the appearance of your legs? You can fix that by opting for heeled boots. You can find heeled boots with different types of heels. If you plan on being on your feet, opt for a small pair of kitten heels. If you want something sexier, opt for a stiletto.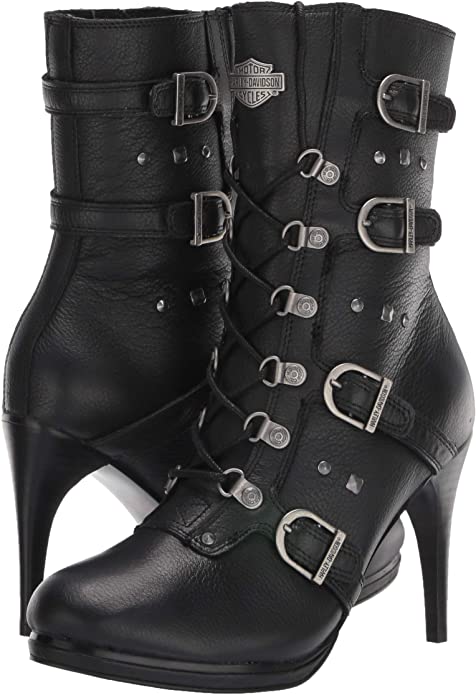 Make Sure They're Comfortable Around Your Calves
The last thing you want is a pair of mid-calf boots to be too tight or loose. When trying on your shoes, walk around in them to ensure they fit perfectly around your calves. This is also important because boots that are too loose will make your calves look bigger.
How do you know a pair of boots will fit around your calves? Put your fingers in the back of the boot. If your finger fits comfortably without any gaps, then they're a perfect size. If you struggle to get your finger inside, they're too tight. If there are too many gaps, the boots are too big.
Another hack is looking for boots with mesh or zippers. This way, there's more flexibility in the sizing and fit.
Which Bottoms Look Best With Mid-Calf Boots?
Have you debated which bottoms look best with mid-calf boots? Here are our recommendations.
Wearing Mid-Calf Boots With a Skirt or Dress
The key to wearing mid-calf boots with a skirt or dress is to ensure the skirt/dress isn't maxi length. The boots look best with a knee-length skirt but are also perfect with short skirts. When worn with short skirts, the mid-calf boots will show off your legs.
Skinny Jeans
Skinny jeans hug your curves, and mid-calf boots are form-fitting, making them the perfect combination. Since skinny jeans cling to your legs, you'll want to wear your mid-calf boots over your jeans. You can do the same effect with leggings for a sleek and stylish look!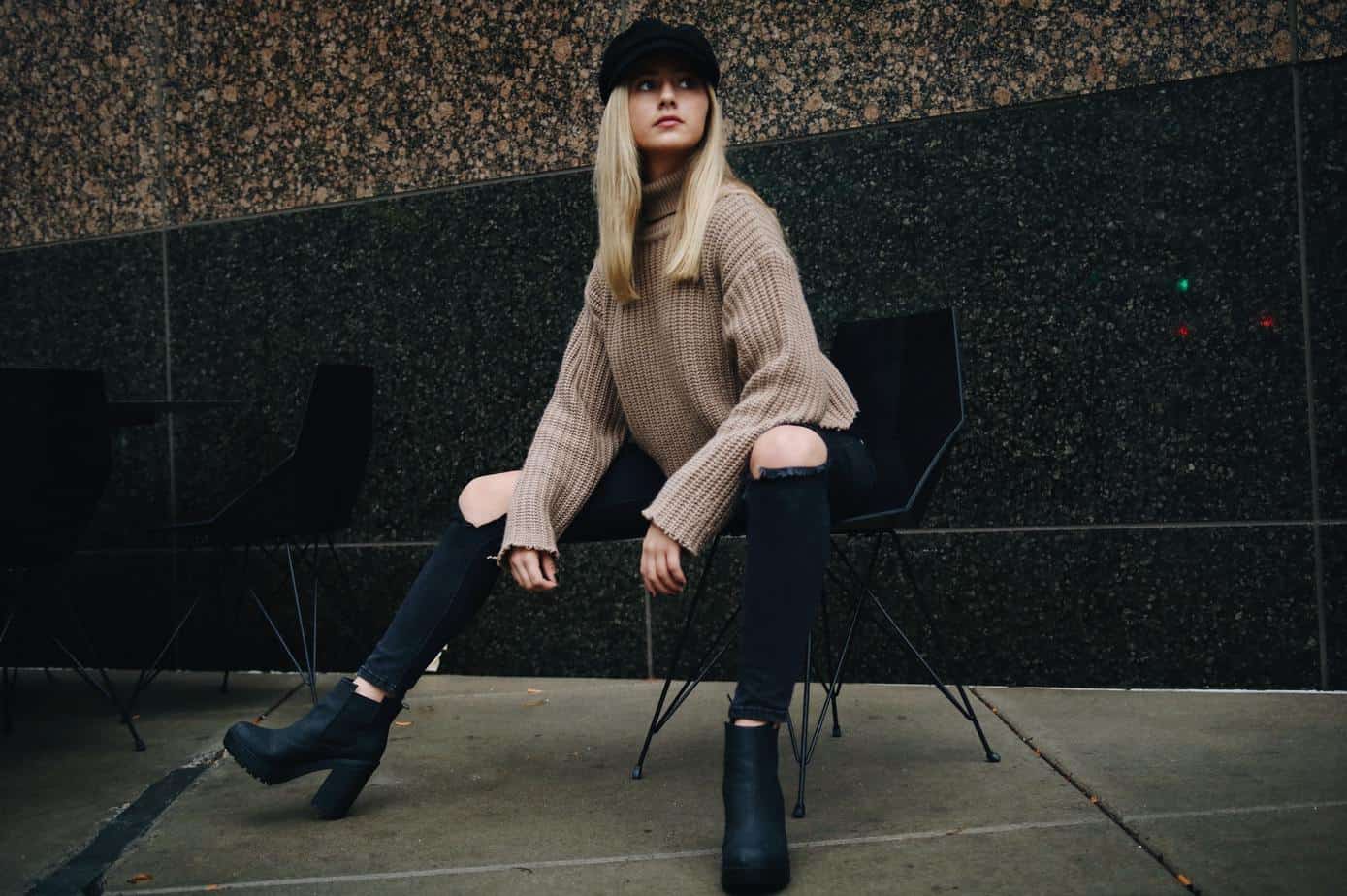 Under Baggy Jeans
What if you want to wear mid-calf boots with baggier jeans and pants? Simply wear the pants over the boots! Make sure the pants are short enough to show off the boots. For a super flattering look, wear high-waisted jeans and pants.
When to Wear Mid-Calf Boots
There are many occasions to wear mid-calf boots. Some of the most popular include:
As fall/winter footwear
When traveling
Any other occasion when you need comfortable and casual footwear
Mid-Calf Boot Outfit Ideas
Now that we got some basic information out of the way let's cover some mid-calf boot outfit ideas!
Flirty and Cool
We love the flirty look of this white lace dress with these black leather boots and the jacket. Mid-calf boots are famous for being transitional, and they balance the feminity of the dress with the edginess of the jacket. The dress is girly but versatile, and this look is totally wearable. I personally love the thick heel, which elongates the model's legs.
Color Blocking
This is actually the product photo for Farfetch's Chelsea Mid-Calf Boots, but I love this look so much I had to include it in here. The color blocking going on here is intense. The black boots and pants contrast with the white top, making this look exquisite. These shoes also look extremely comfortable.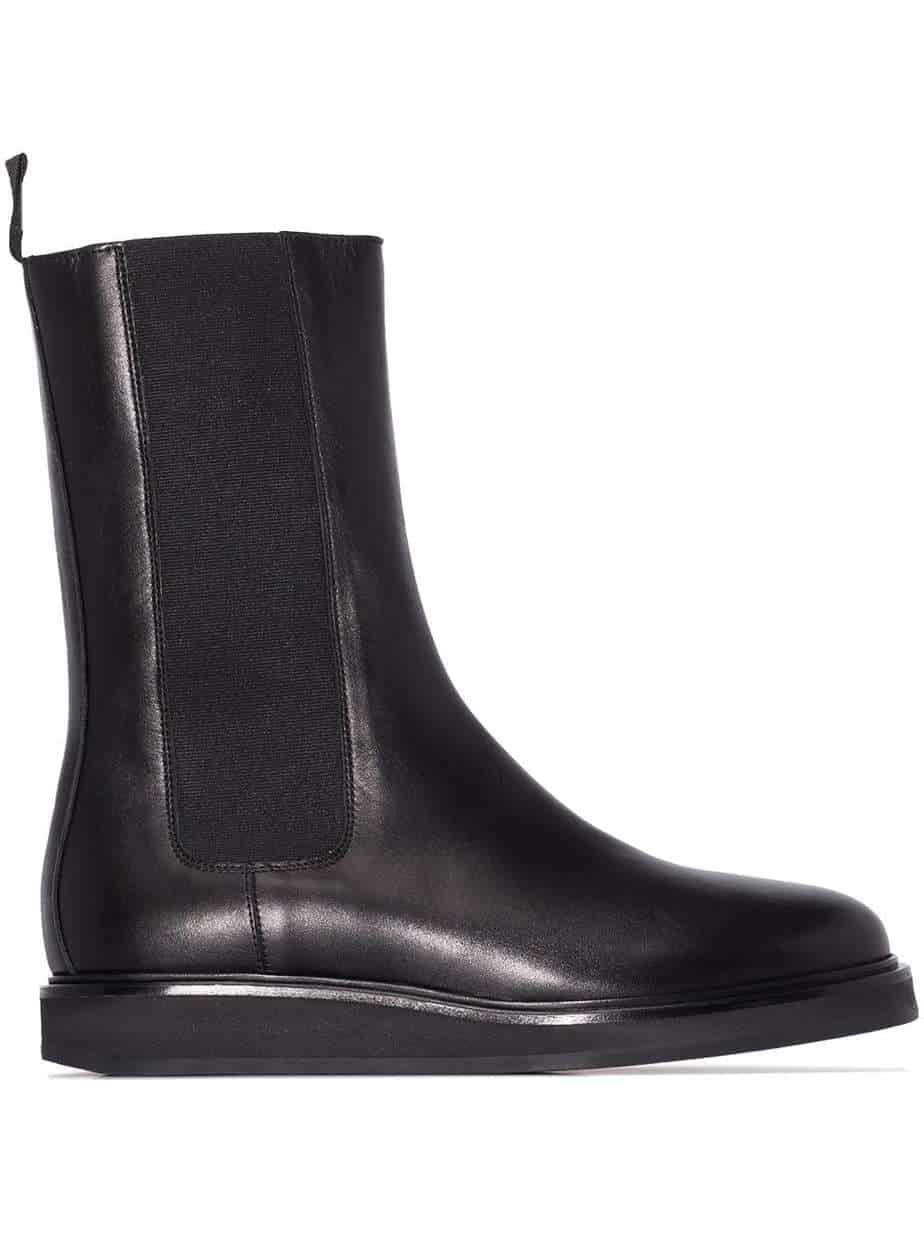 Neon Boots
Are you scared to wear neon-colored boots? Don't be! This look is amazing because the model is wearing bright fuchsia boots with all black. The boots are what stand out, giving life to her outfit. The black blazer and dress pants also contrast the colorful boots. I especially love the block heel on these. It's a great outfit to wear when out and also to the office (as long as your workplace allows crazy-colored shoes).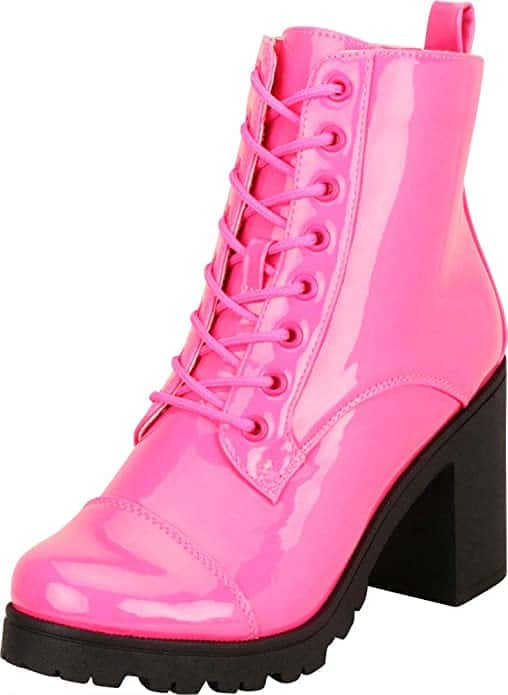 Simple and Chic
This is a look I found on Pinterest. I love the model's muted navy dress with the slight peplum flair. While navy and emerald are an odd color combination, it definitely works with this look! The dress is the perfect length, and the boots aren't too short or too high, providing great contrast.
Comfy Fall Look
Mid-calf boots are perfect for the fall, and this look is a must for those chilly autumn days. An oversized sweater with leggings and comfy calf boots is my kind of outfit. And all black? I'm sold! This outfit is not only comfortable but looks warm. It's easy to throw on when you need to run errands but is still chic.
Black and White

Not sure how to wear white mid-calf boots? You can rock a similar look to @sammyhill. Her black long-sleeves, floppy hat, and skinny ripped jeans are both chic and laid back. The white boots totally pop. I'm someone who's trying to move away from black (it's so difficult!), so an outfit like this is a way to incorporate more colors easily into your wardrobe.
Sweater Dress Cowgirl

I have to say, I absolutely love sweater dresses! It just sucks because I live in Florida and it's way too hot to wear them. That may be why I love this look from @lindseygurk. She's wearing a white and beige leopard print sweater dress with matching brown boots and a cowgirl hat. This outfit is fashionable but also looks comfortable, perfect for one of those lazy days when you're not sure what to wear.
It Was All Yellow

I'll be honest, yellow is probably my least favorite color (right next to orange) so I probably wouldn't wear this outfit. But I love the way it looks on @minombrerany. She's wearing a summery yellow dress that hits right above the knee with brown mid-calf boots and a matching bag. It's a simple and stylish outfit for just about anywhere!
Lovely in Leather

I have to admit, I love leather! Well, faux leather. But nonetheless, leather. That's why I'm in love with this outfit by @celestinekampire. Her vegan leather outfit consists of a black long-sleeve blouse, a burgundy skirt, leather boots, and a black purse. Okay, I seriously need this outfit, especially that burgundy skirt.
Our Favorite Mid-Calf Boots
Now that you have some outfit inspiration, which mid-calf boots should you buy? Here are some we love!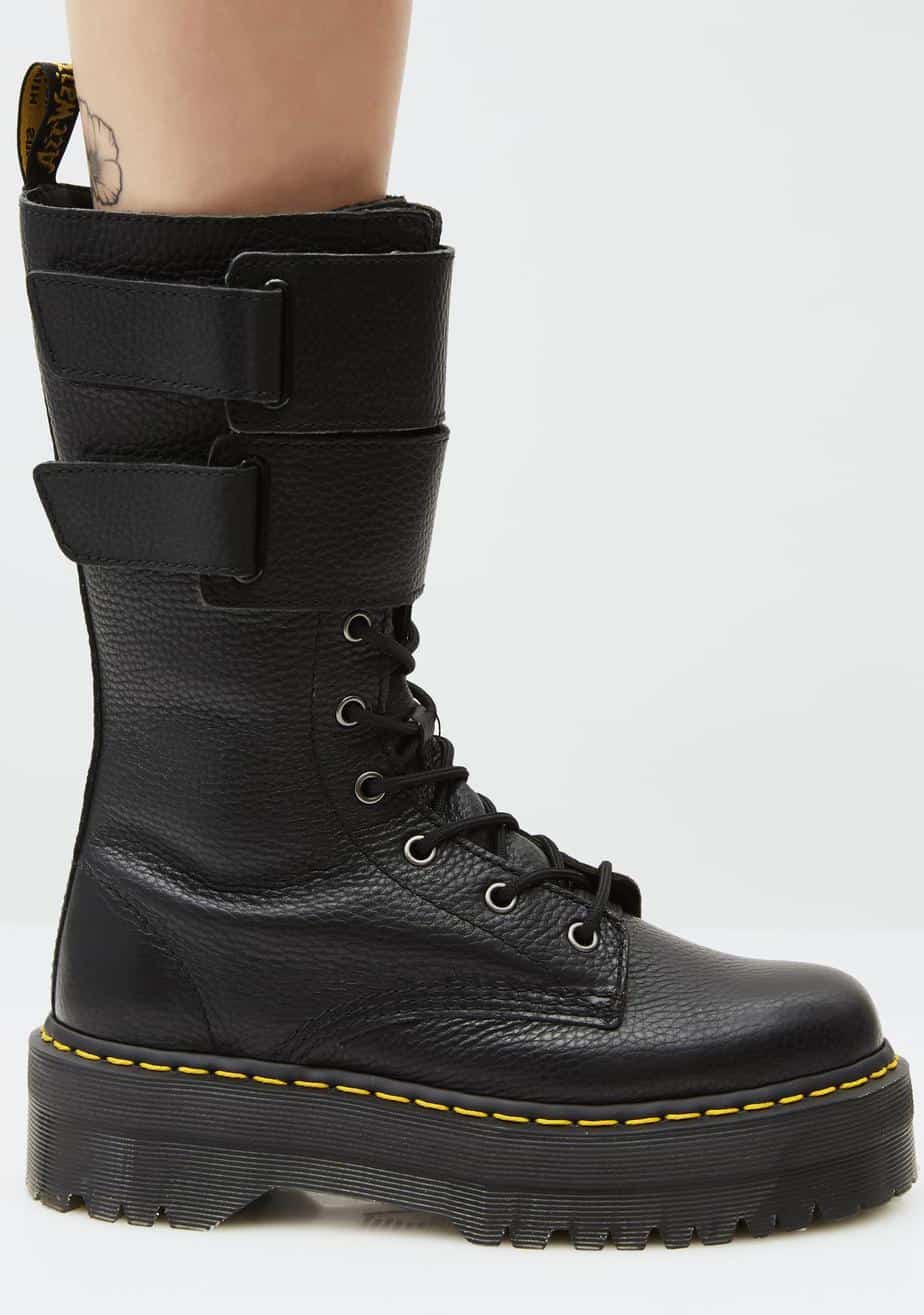 When you think of boots, Dr. Martens (commonly referred to as Doc Martens) is the brand that usually comes to mind. And there's a reason why. Their boots are high-quality and comfortable enough for all-day wear, especially if you're on your feet all the time. I personally love this combat boot look and the yellow stitching detail. Plus, they're on sale for $180 at Dolls Kill!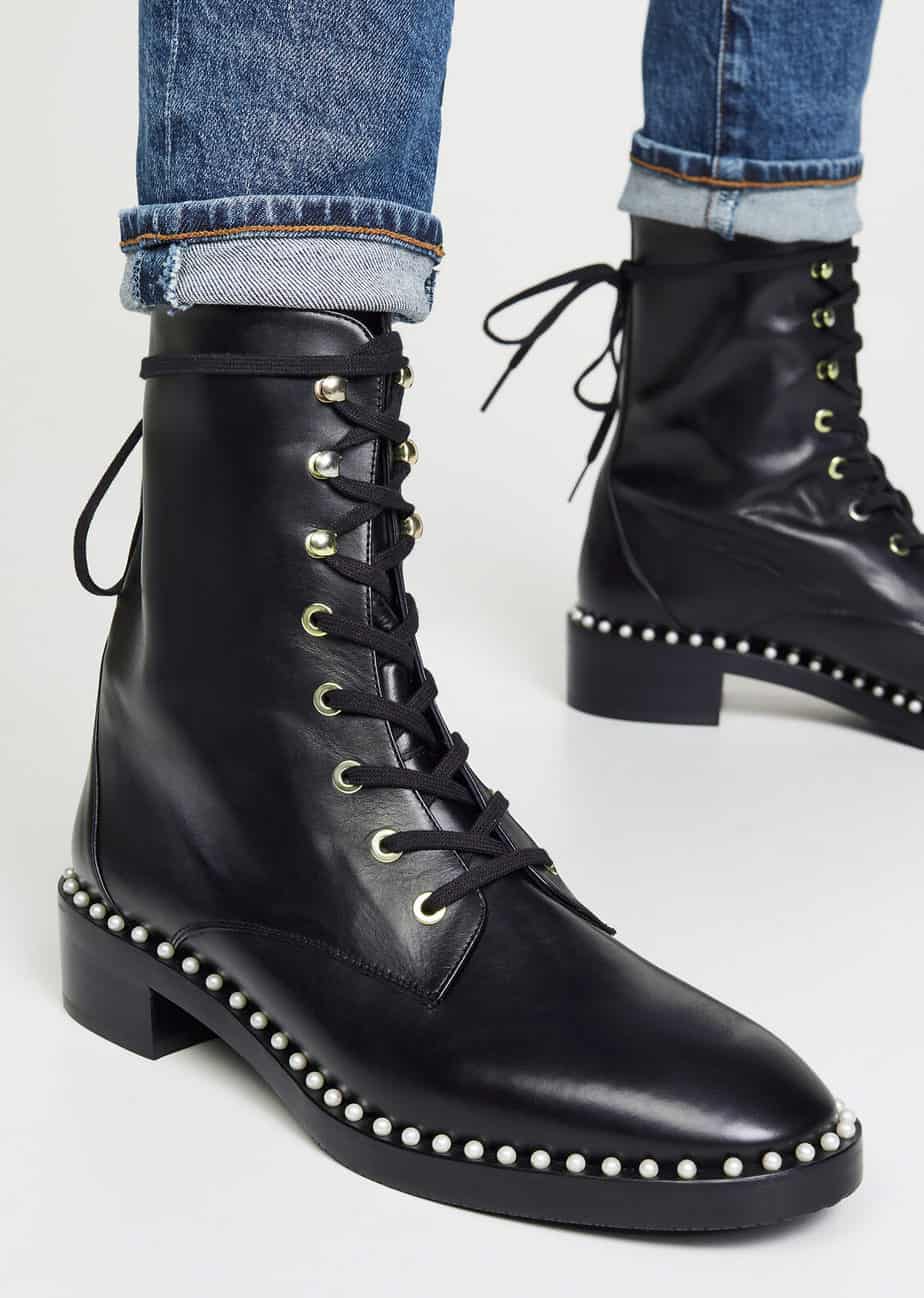 These black leather boots are another amazing pair if you love the combat boot style. I especially love the pearl detailing on the bottom, making the boots look slightly more feminine. The boots are flat but have a slight heel to add a little height. I love that because I'm short! They look easy to slip on and to wear all day.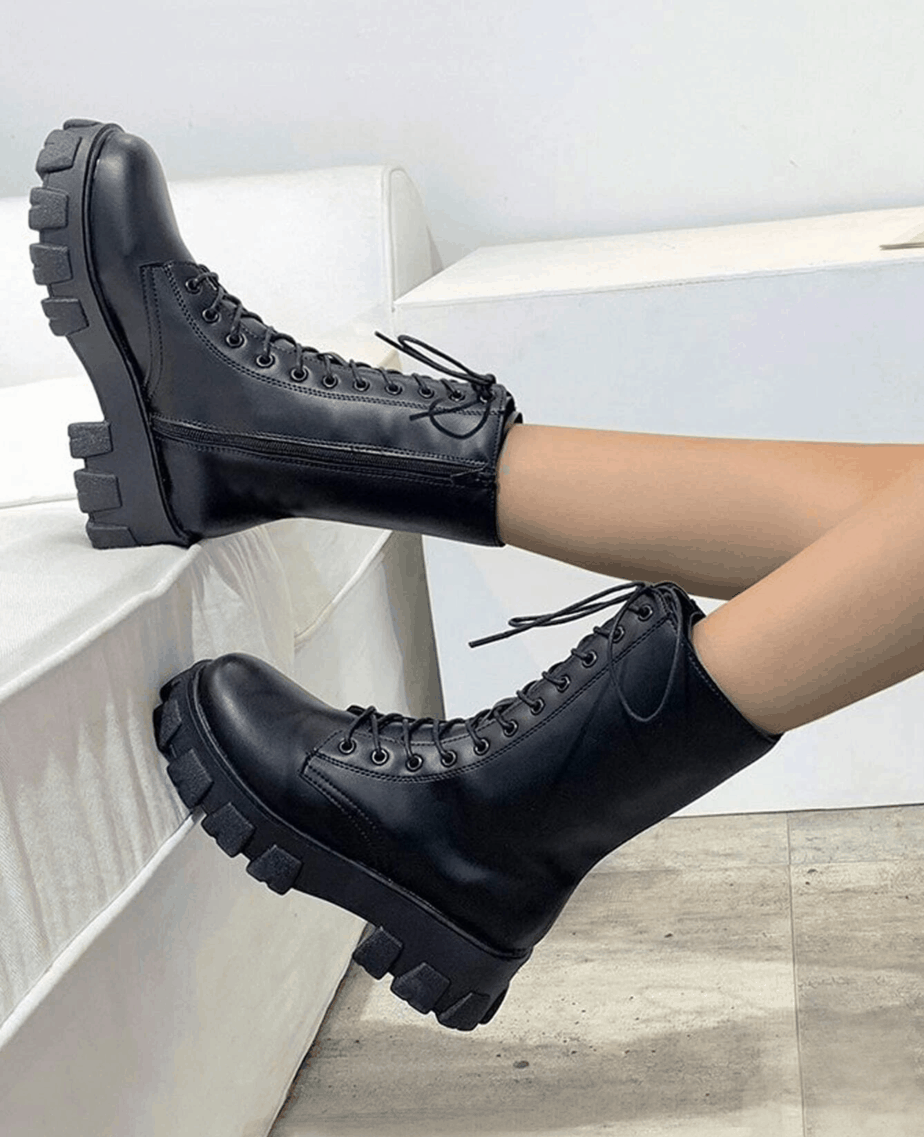 I'll be honest, I've gotten a lot of boots from Romwe and have always been impressed. They're easy to slip on and look extremely stylish. And at $30, you can't beat the price!
The only downside is, these aren't boots to wear all day and night. They're not the comfiest. That and they will usually fall apart after a year or so with consistent wear. But if you only plan on wearing these boots occasionally, then they're a great option!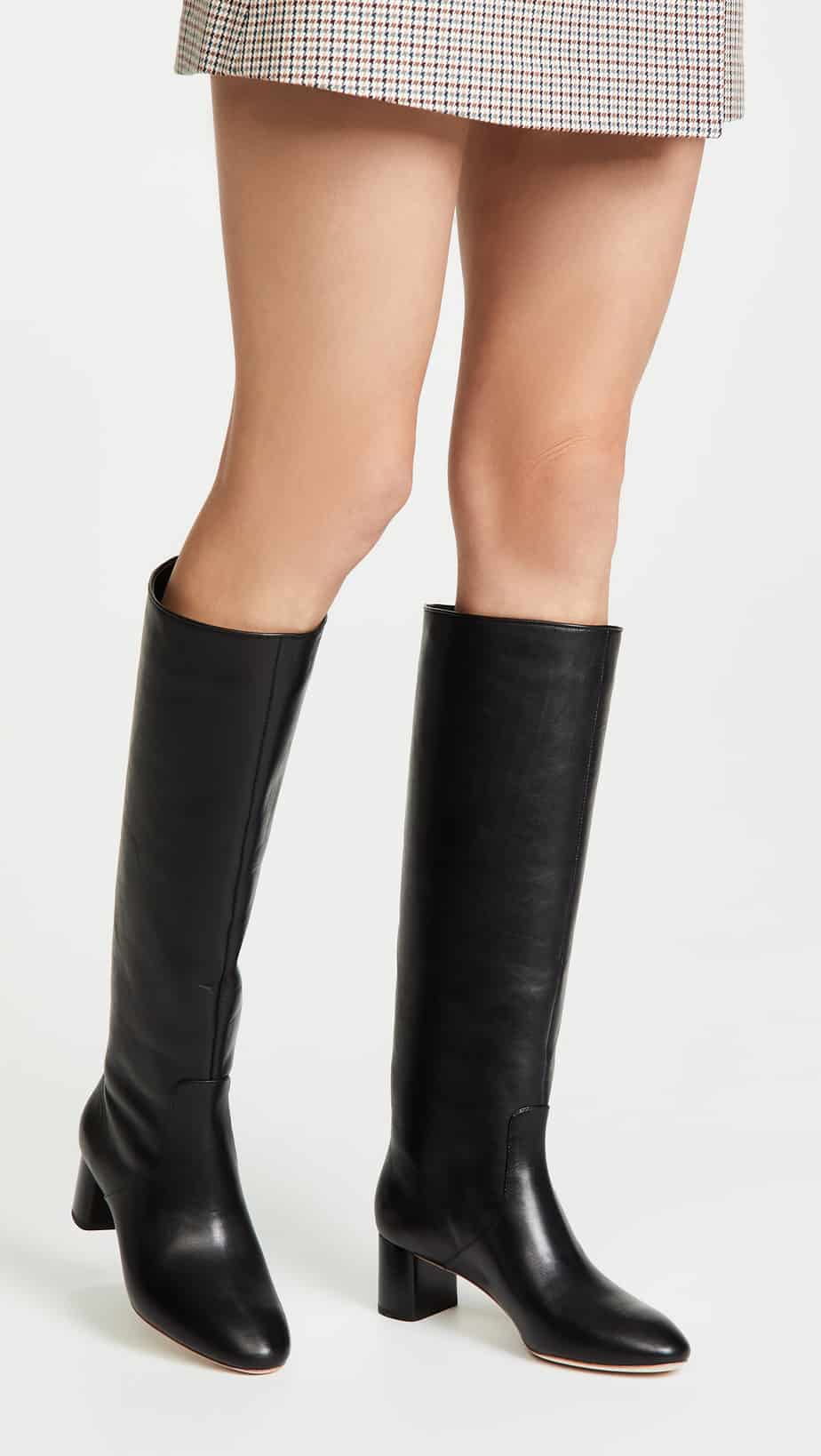 Taking a break from traditional combat boots to show you these beauties! These boots are tall, reaching a little below the knee. They have a slight heel, perfect for those who still want to lengthen their legs. They're made of high-quality leather and are easy to pull on. Perfect for a night on the town!
FAQs
Question: Are Mid-Calf Boots Flattering?
Answer: Overall, mid-calf boots look amazing on everyone! They're also great for all-season wear and are a serious trend. But you may not care for the look if you're naturally short. If that's the case, choose a pair of mid-calf boots with a heel.
Question: Are Mid-Calf Boots the Best Boot Height?
Answer: Even though mid-calf boots look great on everyone, they're arguably not the best boot height. The winner in this category is the ankle boot. Ankle boots cut across the narrowest part of your leg, looking flattering on just about everyone.
Question: Can I Wear Mid-Calf Boots If My Legs Are Big?
Answer: Mid-calf boots are fine if your legs are thicker, though you may want to opt for shorter calf booties or even ankle boots. As stated in the last question, ankle boots are universally flattering. And if you wear booties or ankle boots with a heel, your legs will look longer and slimmer.
Question: Do Mid-Calf Boots Look Good on Skinny Legs?
Answer: On the contrary, what if your legs are naturally slim? Mid-calf boots are definitely the perfect option! They will give your legs added shape. Any pair of boots under the knee will even out your appearance.
Question: What Other Boots Look Great With Skinny Jeans?
Answer: If you love wearing skinny jeans, be fortunate because just about all boots look amazing with skinny jeans! I personally wear boots with skinny jeans constantly. I personally wear over-the-knee boots with skinny jeans constantly, though tall riding boots also look great with jeans.
Need More Shoe Advice?
Mid-calf boots are extremely cute and versatile. But there are also so many different types of boots and other shoes. Check out our post on the best brown boot ideas for women! If you're updating your shoe wardrobe, you should look at the different types of shoes out there. Here, we go over the best types of women's shoes and some examples of each. 
Bottomline
Your shoes can make or break your outfit. If you love mid-calf boots, you may not know how to style them. There are countless outfits you can wear with them! As long as you don't wear them with a maxi dress/skirt or anything that covers them, you can flaunt a cute pair of mid-calf boots! 
Recommended Reads: