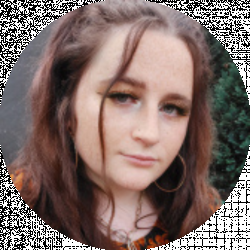 Latest posts by Lou Siday
(see all)
A pair of jeans is a staple wardrobe piece. They are versatile and long-lasting, with a range of styles and options available. Because of their popularity, jeans have been reinvented time and time again, with fresh looks appearing on the catwalks and high street on a regular basis.
A recent twist of the classic jean is stacked jeans. This style of jeans is becoming more and more popular, with many fashion-forward individuals sporting this look. Check out our guide the best types of women's pants here!
In this article, we will look at what stacked jeans are, different ways of styling them, and the best stacked jeans in the stores and online today!
Bottom Line Up Front
In case you aren't wanting to read the whole article, here are my tips on where to buy stacked jeans :
Fashion Nova – Best choice for affordable stacked jeans in a range of designs
Madewell – Best choice for high-quality long-lasting stacked jeans
Reformation – Best choice for sustainable stacked jeans
Ali Express – Best choice for dramatic y2k stacked jeans
Boohoo – Best choice for straight-legged simple stacked jeans
What Are Stacked Jeans?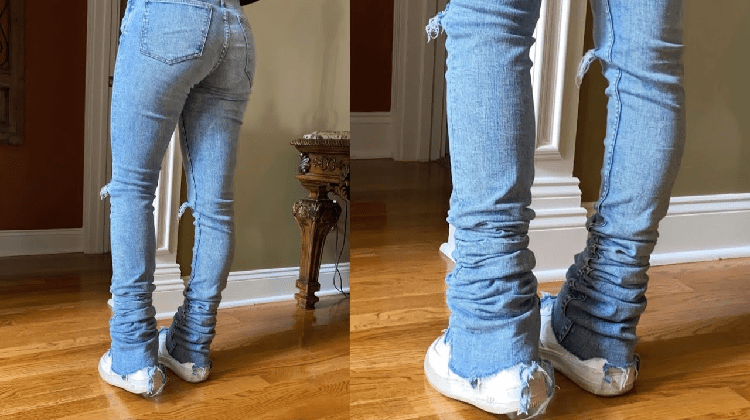 Stacked jeans are jeans that have been cut long. The fabric below their knee is tapered in a way that means it is evenly distributed, with the fabric stacking on itself. This creates a relaxed and comfortable look.
Stacking jeans, of course, began when people would wear jeans that are a bit too long for them. Because of the length, the jeans needed to stacked up at the ends. Fashion designers took this look and began to exaggerate it, making stacked jeans a fashion choice in itself.
How To Choose Stacked Jeans
If you are looking for the perfect pair of stacked jeans, there are some things you might want to consider. Here is our handy guide on how to choose stacked jeans!
Style
Most stacked jeans are a skinny fit cut as this allows them to stack in an evenly distributed way. However, you can find stacked jeans in a looser fit.
Have a think about what cut of jeans you like and your own personal style. What type of jeans do you feel comfortable in? What styles make you feel like you?!
You should also consider the type of rise on the jeans. Low-rise jeans are pretty popular right now, and you will be sure to find some fashionable stacked jeans with a low-rise. However, if low-rise isn't for you, there are options for mid or high-rise styles.
Fabric Type
If you are shopping online, I would strongly recommend looking at the fabric type before you buy. Jeans are usually made out of denim, which is a sturdy cotton fabric. They may also be made out of a cotton blend, using the qualities of other fabrics in order to create the best choice of material.
Some stacked jeans will be made out of synthetic materials. Always be wary of synthetic fabrics and do your research into them before buying.
Often, these synthetic fabrics will not be as strong as denim, and therefore the item of clothing will not last as long as you want. Furthermore, synthetic fabrics will typically be less sustainable than other fabrics. If you are passionate about environmentalism, you may want to give synthetic fabrics a swerve!
How To Style Stacked Jeans
So, you have found the perfect pair of stacked jeans that you want to buy. But, maybe you are a bit confused about how to style them!
Thankfully, styling stacked jeans is pretty easy, as they are super versatile. Here is some inspiration for you for styling stacked jeans!
Embrace Y2K
There is no escaping the Y2K movement in 2022. This trend has had a massive influence on fashion over the last few years, and it is here to stay!
Stacked jeans are super Y2K, and keep the vibe flowing with a cropped top and big sneakers. Add a statement jewelry piece, and you are good to go.
This is a simple yet properly cool way of styling your stacked jeans. Long live the noughties!
Varsity Vibes
Because of the versatility of stacked jeans, you can really do whatever you want when styling them. Take a look at your wardrobe and see if any jackets and tops go with your new pair of stacked jeans, and try different things out until you find your look.
I am all about this look and how they have styled their stacked jeans. Matching a varsity jacket with the stacked jeans gives a laid-back look, but the addition of heels gives a sophisticated edge to the outfit.
Keeping it Simple
Stacked jeans are pretty causal and if you are keeping it low-key, match them with a T-shirt, sneakers, and minimal jewelry.
This look is pretty relaxed yet still very fashionable. The CELINE top gives the look classy vibes, sticking on-trend and embracing the stacked jean look.
Dress It Up
Wearing jeans doesn't mean you have to keep it casual. Stacked jeans are perfect to wear with heels, as the heels amplify the stacked look. You can dress the stacked jeans up, allowing you to wear them to parties, nights out, and events.
I properly love this snakeskin two-piece set that incorporates stacked jeans. It really shows how many different styles of stacked jeans are out there, and how they can be perfect for a night out or event!
Our Favorite Stacked Jeans To Buy Right Now
Now we know the versatility and styles of stacked jeans, we can look at our favorite ones that are in stores and online today.
When I was picking out the best stacked jeans, I kept a few things in mind. I wanted to find jeans that were both stylish and affordable. I also checked out any reviews of the jeans if they were available.
Let's get into it!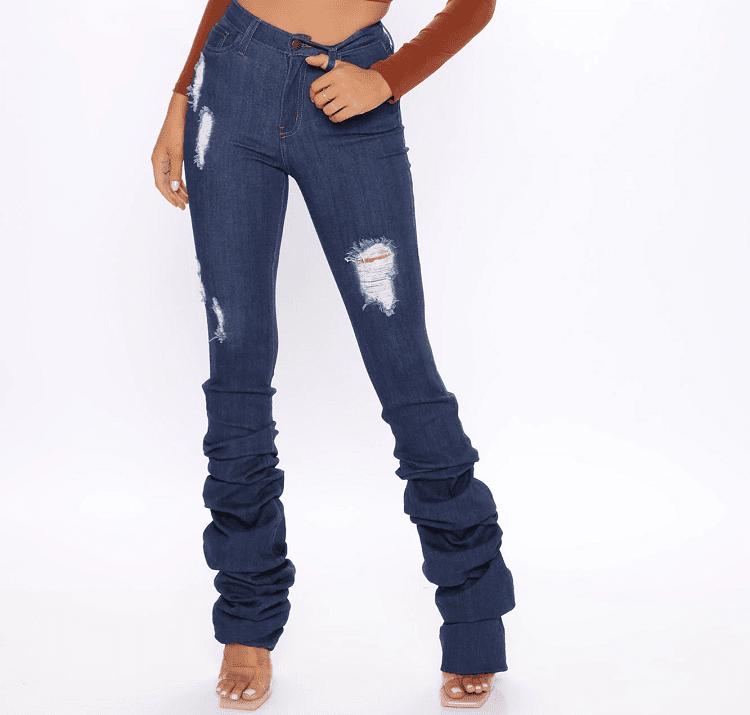 The popular fashion brand Fashion Nova is always hot on the trends, and so you can imagine that there are some great choices for stacked jeans in this store! These dark wash stacked jeans are simple and classic, meaning they can be worn with a range of different outfits and styles.
They are skinny leg and high-waisted, with stacking at the bottom. I really like the distressed style and think it really goes well with the stacked jean look!
They are on sale right now, with a range of sizes from xs to 3xl. According to reviews, they fit really well and are super comfortable!
Pros
Affordable
Comfortable
In a range of sizes
Cotton blend
Simple
Cons
Only available in dark
Only available in 'tall' so might not fit shorter people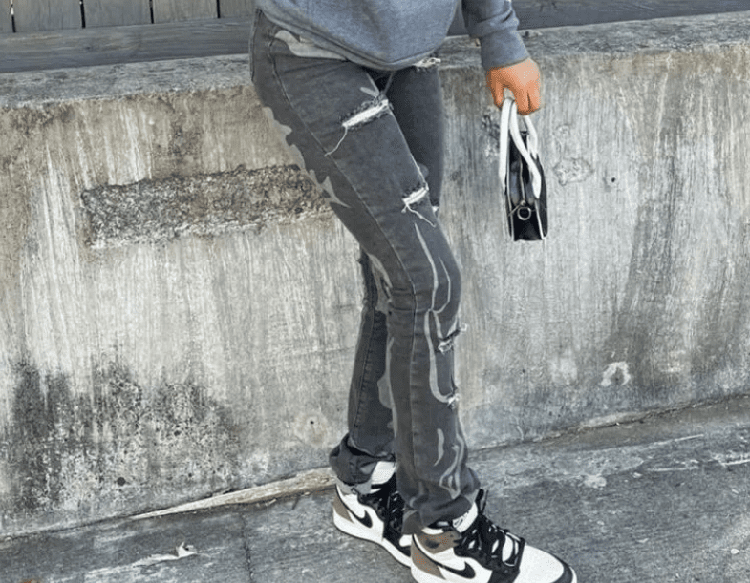 Now, I actually have never heard of Jurllyshe before, so don't know much about the company. However, this pair of stacked jeans are getting rave reviews, so I reckon I needed to put them on the list!
The distressed look seems to always be in fashion when it comes to jeans, with so many fashionistas sporting ripped trousers. Add in some graffiti prints, and you have a pretty interesting pair of stacked jeans!
The distressed look isn't really my style, but I can respect a good pair of distressed jeans! I know loads of people are big fans, and like a few rips in their jeans. This pair of distressed stacked jeans from Jurllyshe are made out of a cotton-spandex blend meaning that they are comfortable and wearable. They have a good stretch and fit around your curves perfectly.
However, at 50 dollars I am hesitant to fully endorse these jeans. As the brand is pretty unknown, I am not too sure of the quality of the jeans. Will they be worth buying?
Pros
Comfortable
Distressed Look
Cotton-Spandex blend
Soft Material
Cons
A bit expensive for fast fashion
Only available in one color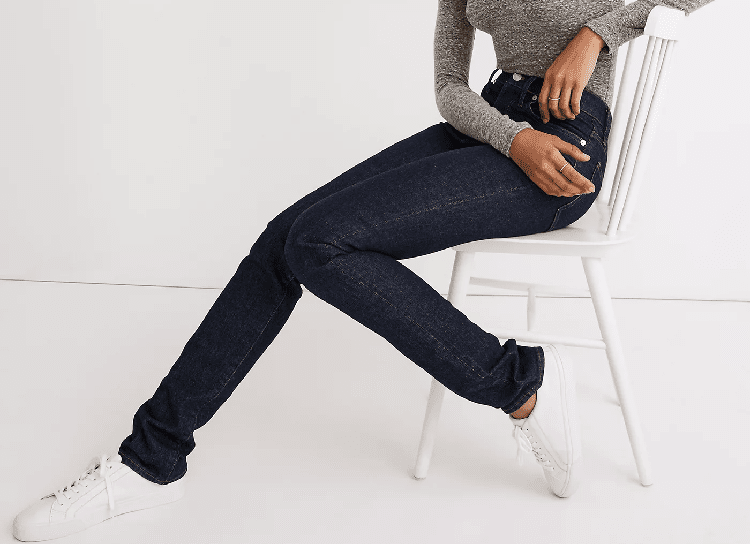 If you are looking for a pair of basic, long-lasting stacked jeans, I recommend checking out this pair by Madewell. They are made out of premium cotton and built to last, with a high-waist that really accentuates your curves.
They are a classic pair of stacked jeans, with a slim fit and long, tapered legs. This pair is a bit more expensive than others on the list, however, buying well-made clothing (especially jeans) is well worth it in the long run!
Pros
Well-made
Crafted with Premium Cotton
Classic Cut and Fit
High-Waisted
On Sale
Cons
Expensive
Too Long for Shorter People
Runs a Little Small
Only Available in One Color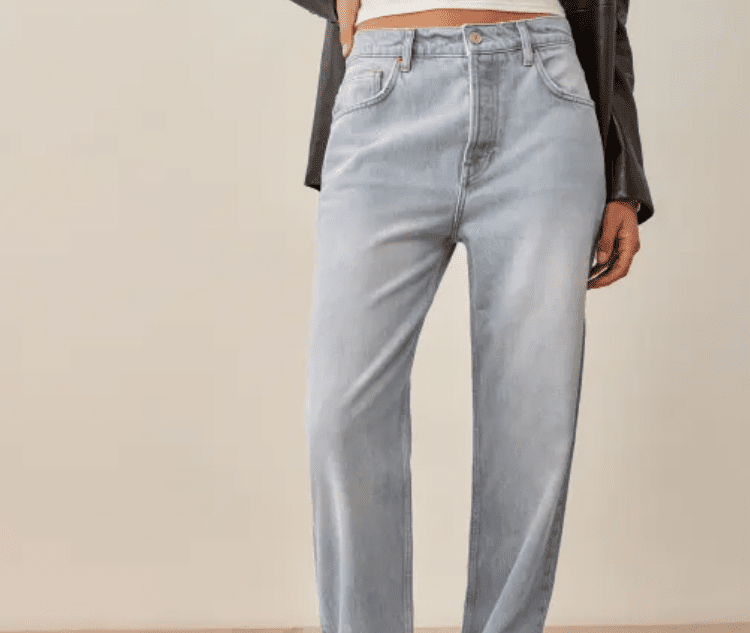 Now, I am a big fan of eco-living and will always check out the sustainability of an item of clothing before I buy it. If you are the same, you will love these stacked jeans by Reformation.
A fairly new company that is based in Los Angeles, Reformation strives to create sustainable clothing for everybody. They will make sure those who create the clothing as treated safely and with respect. They will also make their clothing out of deadstock and low-impact fabrics. Sounds good, right?
Now, onto the jeans! These stacked jeans have a long-leg that can be bunched up or left to fall. They are pretty baggy compared to most stacked jeans, with a relaxed and comfortable fit. They are made with organic cotton and Tencel Lyocel, which is made from sustainably sourced wood.
I love both the colors available and the slouchy fit.
Pros
Sustainable
Comfortable
Two Colors Available
Relaxed Fit
Cons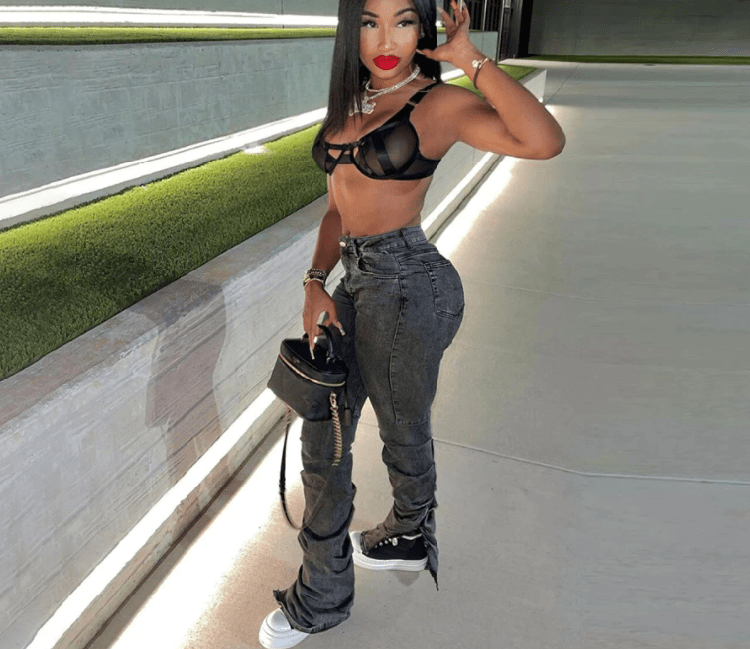 These stacked jeans are pretty OTT, and I am here for it! This bold and dramatic pair is super cool and perfect if you are looking to take the stacked look to the extreme. I really like the splits at the back and the amount of stacking on the jeans.
They are a properly unique pair of jeans, and really incorporate the noughties vibes in the look. They are on sale, too! However, they are only for sale in three sizes, so that limits who can buy the jeans.
Pros
Affordable
On Sale
Dramatic Stacking
Noughties Vibes
Cons
Only Three Sizes Available
Only One Color Available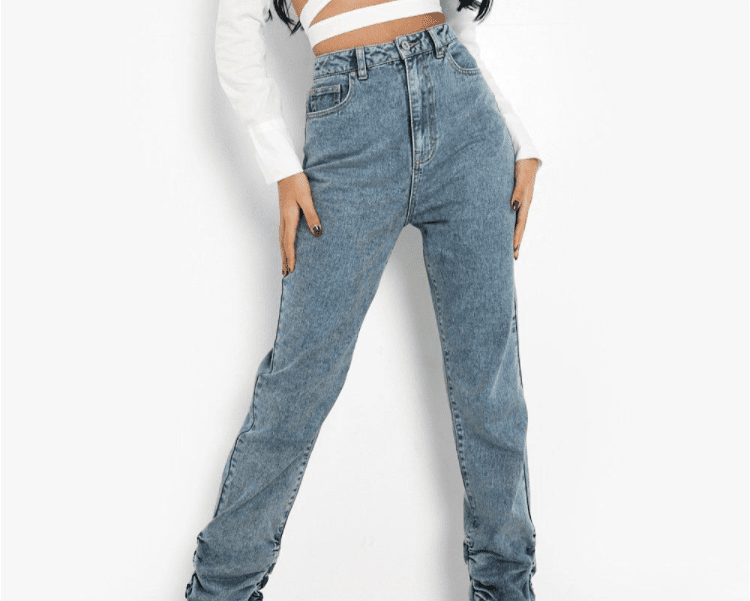 I love the look of these stacked jeans and their simplicity. The denim really gives me eighties and nineties vibes, and I like their laid-back look!
They are made out of 100 percent cotton, so will be sturdy and long-lasting. They are on sale right now, but this means that there is limited sizing! If you are wanting a pair, you best grab them quickly.
Pros
Affordable
On Sale
Laid-back Look
100 Percent Cotton
Cons

These extra-long, extra skinny stacked jeans are perfect if you love to show off your legs. They are made out of a cotton blend which means they are soft and flexible, but won't stretch out.
They are a really cute pair of stacked jeans, and I love the little scuffed details on them. They are a pair of jeans that you can dress up, or dress down, depending on what you are feeling!
When looking at the reviews, I did notice a few people say that they run small, so you may want to size up when buying these jeans.
Pros
High Quality
Soft
Flexible
Versatile
Cons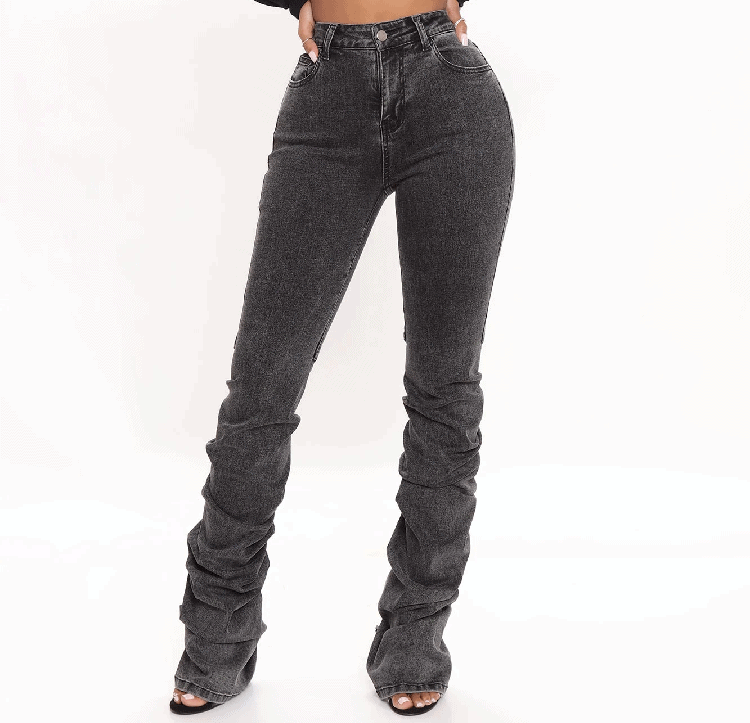 Another pair from Fashion Nova, these stacked jeans are the pair perfect for parties and special occasions. They are super cool and relaxed, but with a little bit of edge. The stacked legs are amplified by ruching, and this means the stacking will keep in place and always look good!
They are made with stretch denim designed for comfort and wearability.
Pros
Comfortable
Stylish
Affordable
Cons
Only Available in One Color
Only Available in Limited Sizes
FAQs
Let's look at some FAQs you may have about stacked jeans.
Question: What Are Stacked Jeans?
Answer: Stacked jeans are jeans with extra long legs and tapering from the knee down.
Question: How Can I Make Stacked Jeans?
Answer: If your jeans are long, you can easily stack them by allowing them to bunch evenly under the knee.
Question: Where Can I Buy Stacked Jeans?
Answer: A lot of fashion retailers online and in store will have stacked jeans available for you to buy.
Find Your Perfect Pair of Stacked Jeans Today!
I hope you have enjoyed this article and found some inspiration for styling and buying stacked jeans. This simple twist on jeans is in trend right now, with so many options available for you!
My favorite pair of stacked jeans on this list has to be the straight-legged pair from Boohoo. I really like the color and wash of the jeans and the loose fit matched with the high waist. What do you think about this selection of stacked jeans? Which is your favorite?
Recommended Reads: