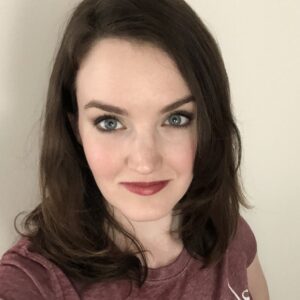 Latest posts by Crystal Schwanke
(see all)
The best denim dress ideas are the ones that allow you to express your personality through fashion. Denim dresses are uniquely positioned to be dressed up or down and accessorized and layered in ways that make them suitable to wear all year. Each silhouette gives off a different vibe, whether it's a sophisticated sheath with buttons up the front or an oversized dress that can double as a shirt.
I found the best denim dresses across a range of styles so you can decide on the best one for your vibe and body type. I've also included some ideas and inspiration for styling different types of denim dresses. Pull from those and create the perfect outfit around your own "blue jean dress."
The Best Denim Dress Ideas Online
Who knew there were so many different types of denim dresses? They can be dressed up or down, they're structured or relaxed, they come in all types of denim washes, and they make the perfect starting point for all types of ensembles, year-round. Here's a roundup of some of the best denim dress ideas I found.
J.Crew Factory Chambray Utility Shirtdress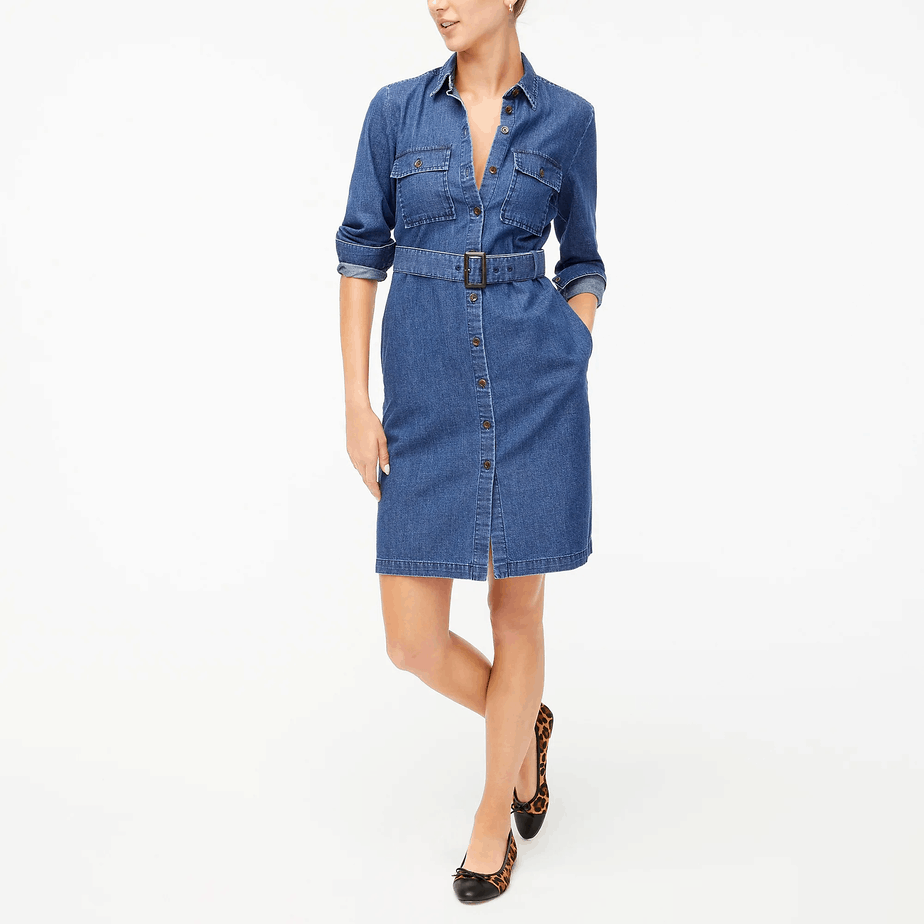 This Chambray Utility Shirtdress is a timeless style, as far as denim dresses go. Shirtdresses are usually about knee-length, long-sleeved, button-up, and belted.
Pros
Comes in sizes 0 to 20
Classic style, so you won't be throwing it out after a season or two
Belt helps the dress show off your shape
Knee-length, so it's versatile
Sleeves can be worn long or rolled up, another point for versatility
Cons
If the belt hits in an awkward place on your body, there's no way around it (adding your own belt to a dress gives you more control)
Expensive
ASOS Design Soft Denim Tiered Midi Dress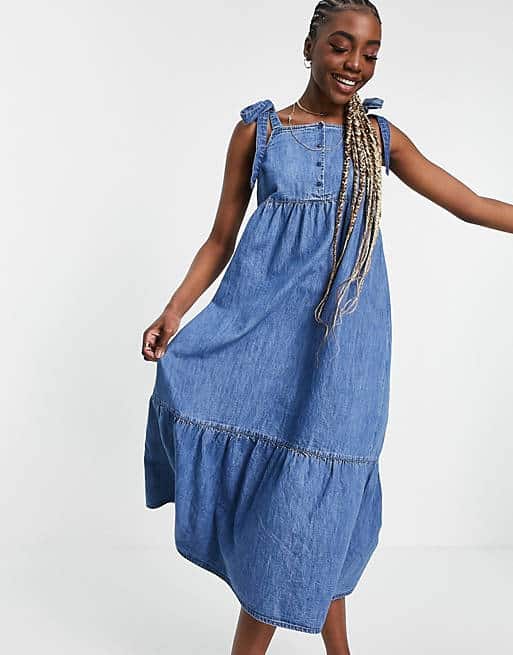 This tiered option from ASOS takes a spin on the denim dress that we don't see all that often, so if you love trends (the retro/prairie dress trend, in particular), you may love this one.
Pros
It's available in regular, tall, petite, and curve sizing.
This dress, in some ways, is the epitome of lazy summer days because it's so relaxed, but it also lends itself to fall fashion when it's paired up with the right accessories.
Looser fit and longer length will accommodate more body shapes with ease
Not especially expensive
Cons
Harder to style than some other dress shapes and designs
May be a one-season dress, since it leans more toward trendy than classic
H&M Oversized Denim Dress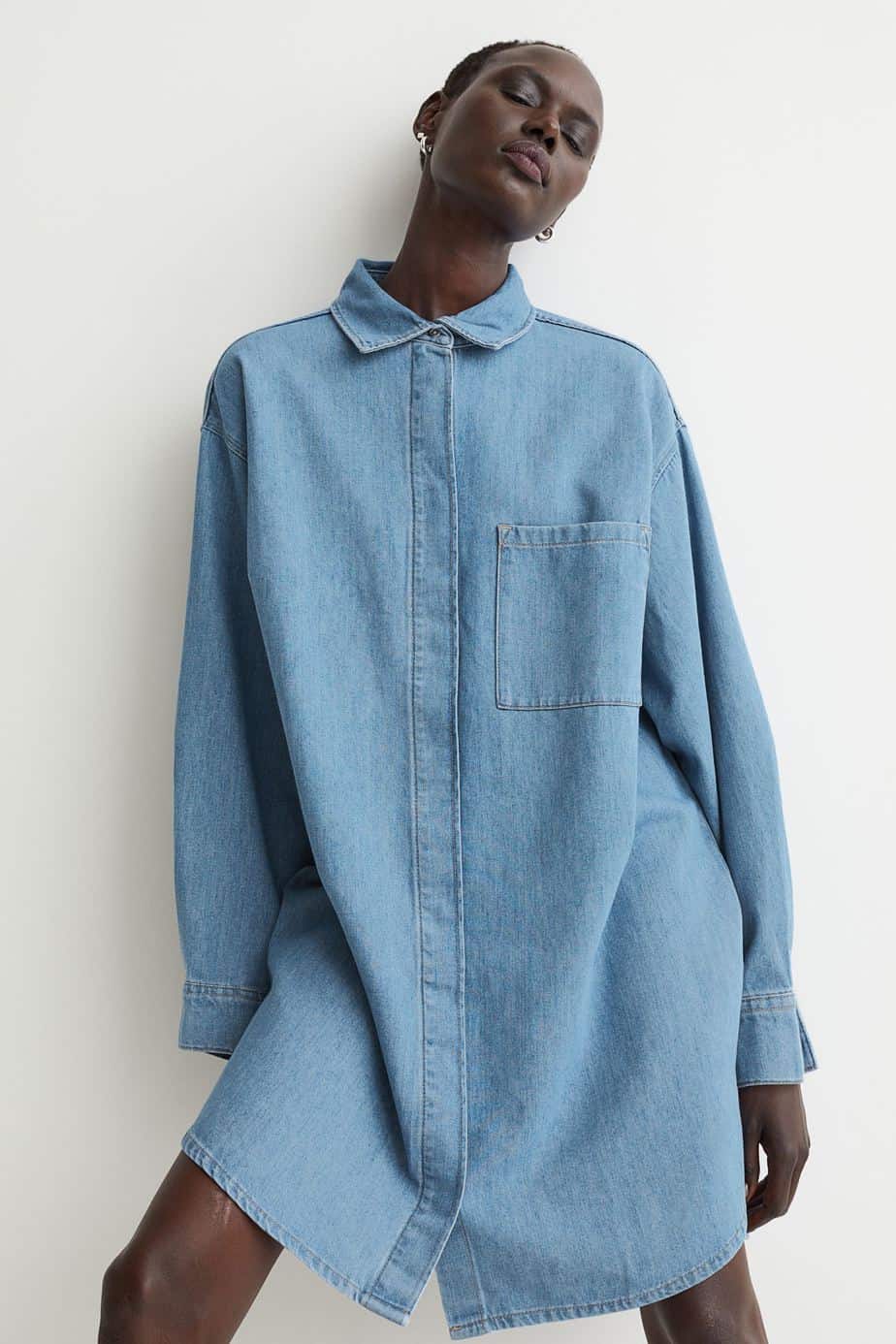 The H&M oversized denim dress looks like a long-sleeved button-up shirt, but it's long enough to be worn as a dress. You can also wear it over pants for a warmer, relaxed look.
Pros
Versatile enough to even be worn with pants
Inexpensive at around $30.00
Comes in three washes (dark denim blue, denim blue, and black)
Can be used as another layer on top of a short dress, taking the place of a cardigan
Cons
The baggy, loose fit may not be for everyone or every body type
Because of the style, you may feel that you need to wear pants/leggings and/or a belt with it
H&M Short Denim Dress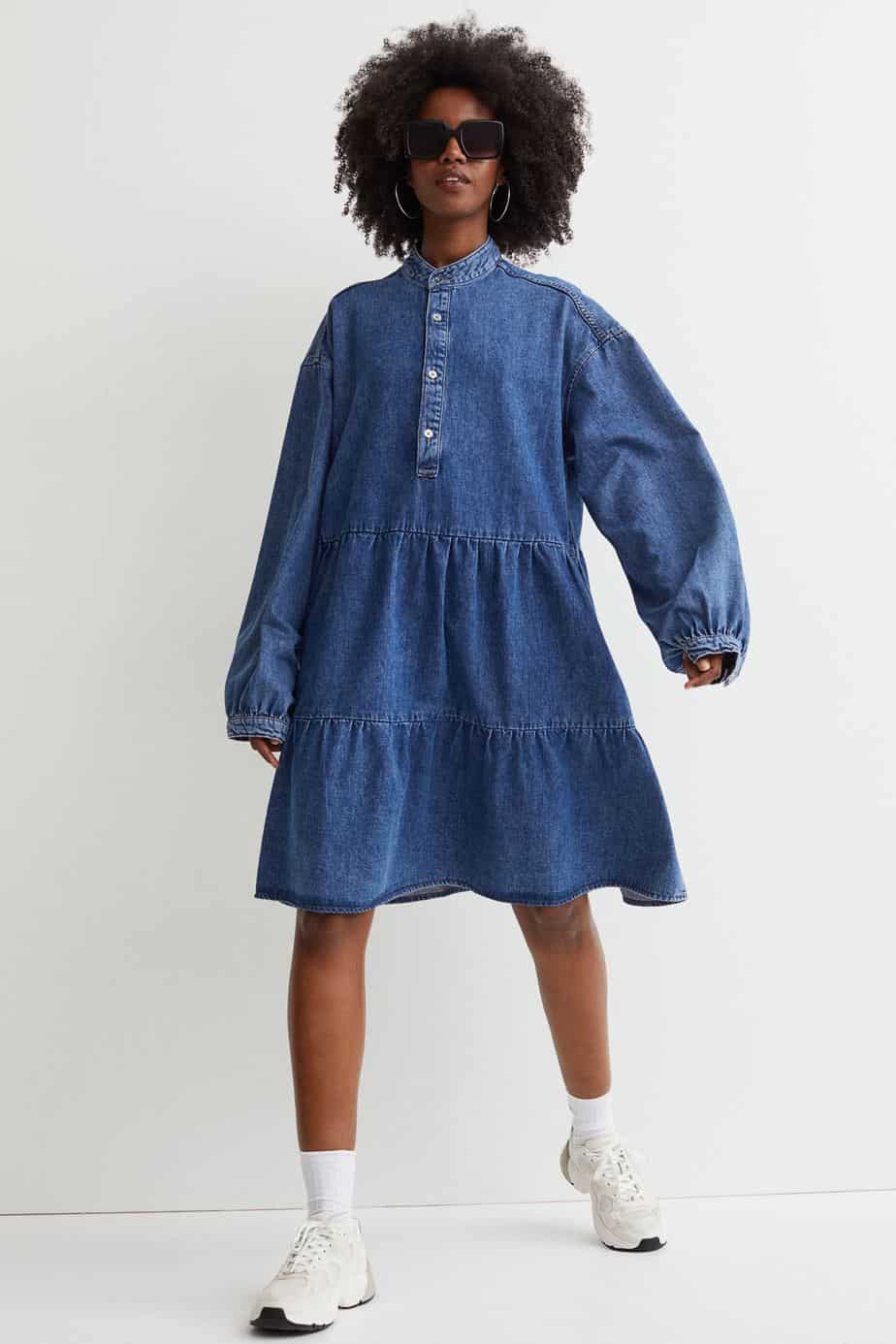 If you like the oversized look but want something that has a tiered skirt and a bit of flare, the short denim dress might be your perfect match. It has a low collar that stands up, long sleeves, and a few buttons at the top (it doesn't button all the way up like the oversized dress above).
Pros
Not a style you'll see everywhere, but a fun take on the denim dress
Inexpensive
Lower collar may make this one more comfortable for some people
Loose, relaxed fit
Cons
Only available in one color
Will probably take more effort to style than more classic dress shapes
Venus Belted A-Line Denim Dress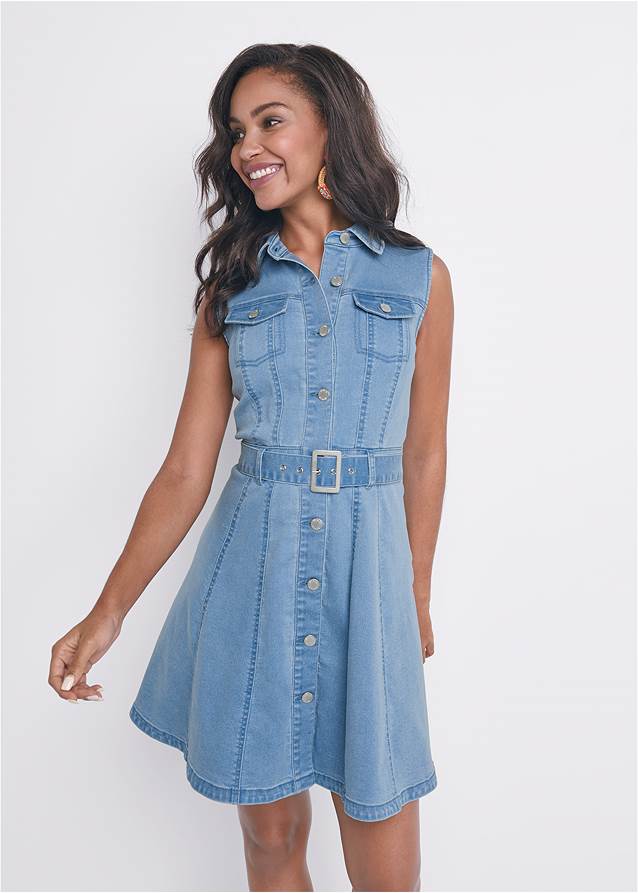 This belted A-line denim dress takes the classic button-up look with a collar and makes it sleeveless and flared for a gorgeous take on the traditional denim dress.
Pros
The fit-and-flare style will flatter most body types
Not as expensive as some options (not the least expensive, either, though)
Even though it's not the classic, straighter silhouette, it'll be a breeze to style
Cons
Only comes in one color
May feel too short on some taller ladies
White House Black Market Sleeveless Denim Sheath Dress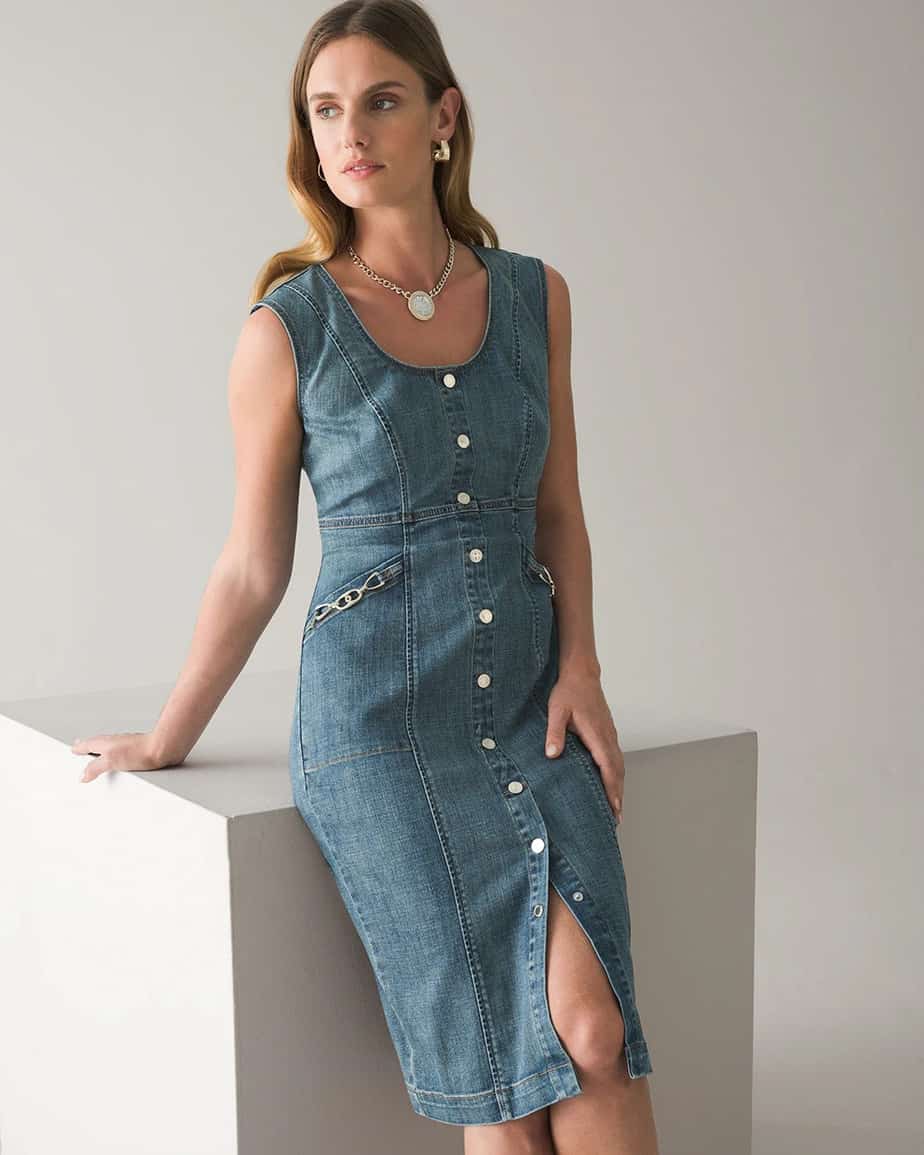 At first glance, this dress may look like your average sleeveless denim dress, but there are a few things that make it stand out, like the goldtone buttons and chains (yep, chains), pockets, and the exposed zipper in the back.
Pros
Available in sizes 00 to 22 (plus there's a petite version)
Traditional enough to style during any season, without much trouble, but interesting enough to stand alone, thanks to all of the additional details
Can be layered over a shirt or under a cardigan or jacket without too much second-guessing
One of the easiest to "dress up" though many denim dress options can be dressed up or down
Cons
Expensive
Only one color available
Style & Co Denim Overalls Dress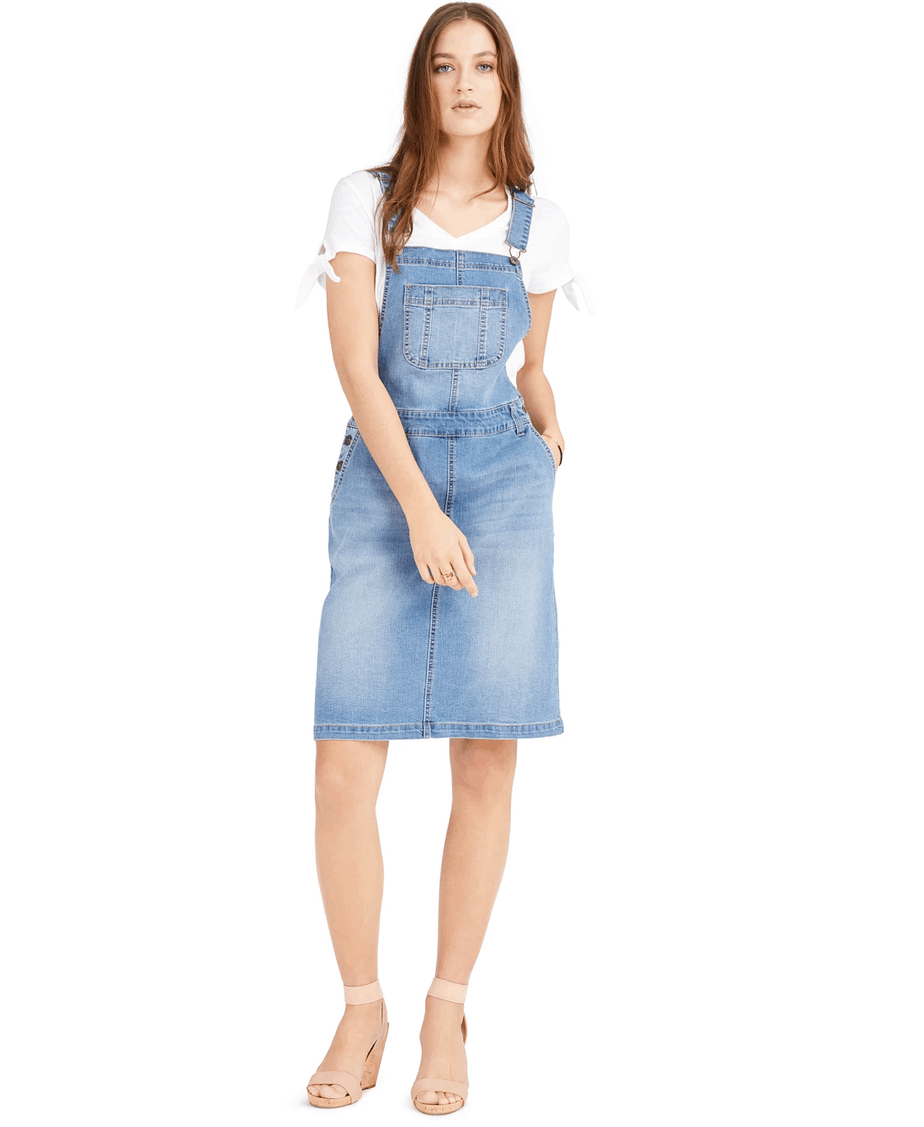 The denim overall dress is a neat, laidback take. It's one of the most casual of the bunch, and it's perfect for layering with fitted tops, whether they're long-sleeved, short-sleeved, or somewhere in-between.
Pros
Cute and different from the "classic" styles one might expect, but could still probably be worn for several years without looking out of style
Can be dressed up more than you might think at first glance
Pockets
Inexpensive
Cons
Only goes from size small to XL
Style & Co Belted Denim Dress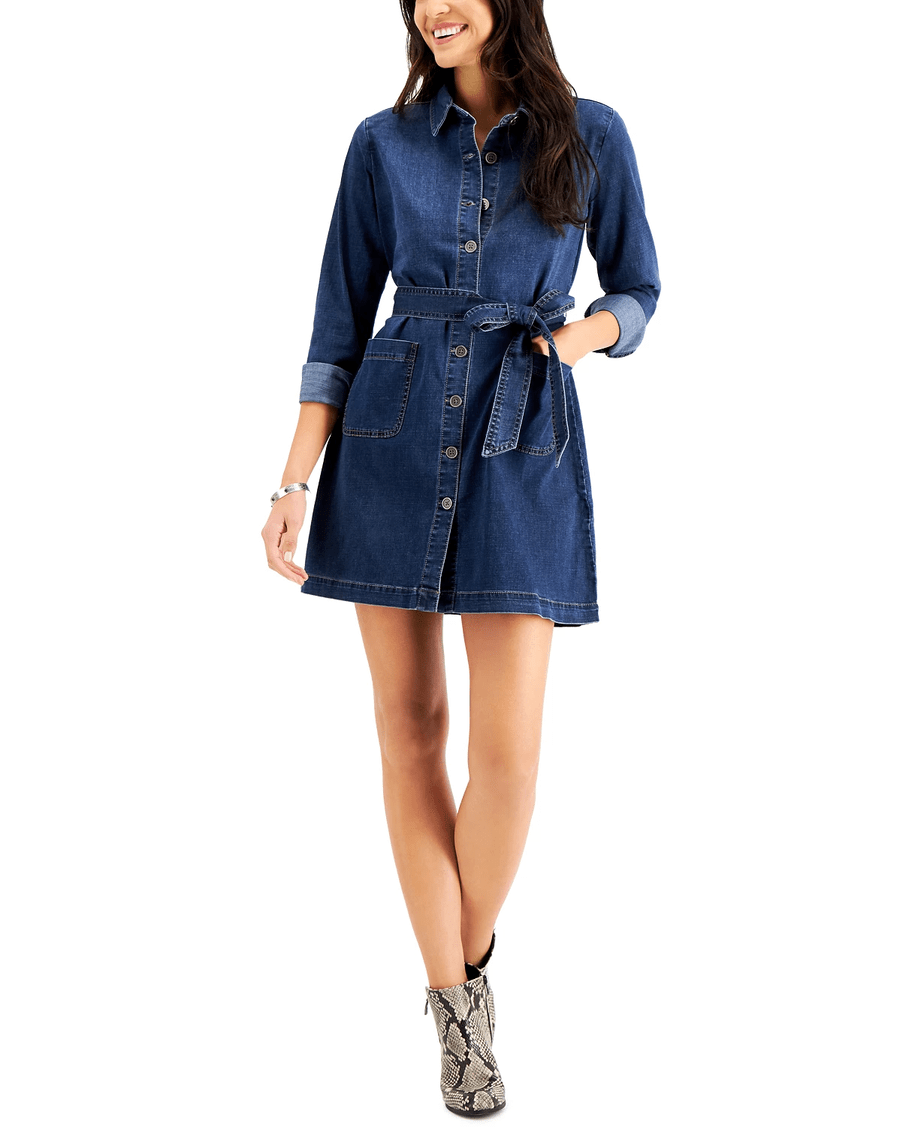 This belted option with long sleeves is one of the most classic denim dress styles, with its collar, button-up front, and pockets in the front.
Pros
Flattering on most body types
Available in sizes small to 2XL
Can be worn and styled well in any season
May never go out of style
Cons
May be too short
Layering with tops or cardigans isn't much of an option (not to say that it can't be done, but other dresses are easier to style in this way)
Tips for Styling a Denim Dress
Denim dresses are incredibly versatile. They're like the chameleons of the fashion world, able to look casual and cool with sneakers, sassy with a pair of wedges and eye-catching jewelry, or elegant with a scarf and the right pair of boots. Here are some styling ideas to use as inspiration for your own denim dress.
Wear It Over Pants
The trend of wearing a dress and jeans together is back, and you can do it with denim. Check out thevintagecircus_'s take on it, which combines two washes:
Add Your Own Belt
If your dress didn't come with its own belt (and maybe even if it did, as long as it's removable), you can really make a look your own and show off your style and personality by adding one from your closet. Take it a step further and play with the lengths of your layers while you're at it, like lil_bees_bohemian

Make It Casual with Sneakers
You can take a denim dress, add a pair of sneakers, and immediately take your look from all dressed up to casual and ready to explore a new area of the city. Take a look at how gigibooya pairs her sneakers with a denim tank dress and structured designer purse:

Layer It with a Tank or Turtleneck
If you have a denim tank dress you really don't want to say goodbye to at the end of summer, start layering it up! You can wear it over a t-shirt or turtleneck to wear it year-round. This simple white tee and denim dress gives off classic 90s fashion vibes.
Experiment with Heels
A nice pair of heels with a denim dress isn't the first shoe pairing that comes to mind, but robin_winston_tv rocks the combination and now it's a must-try. The key is to find a classic, curve-hugging (not necessarily tight) dress.
Advantages of Denim Dresses
Why do you need a denim dress? You're probably already convinced you want one if you're reading here, but let's look at some of the reasons to love them:
They are one of the ways you can perfectly combine "casual" and "dressed up."
They go with almost everything, so it's easy to layer and accessorize them.
They're good for any season, as long as you choose the right sleeve length.
There are so many shades and shapes, there's something for everyone.
You can wear them to school, on a date, out to run errands, and maybe even work.
Denim is generally easy to care for and won't bump up your expenses with drycleaning fees, etc., or need to be hand-washed.
Disadvantages of Denim Dresses
May be too casual for some settings, even though it's technically a dress, not jeans.
Sometimes, the dye can rub off on fabrics, light-colored leather, etc.
When it's chilly, you won't necessarily be able to toss your favorite denim jacket on top, the way you might with other casual dresses.
Can be expensive (but they don't have to be)
Where to Buy Denim Dresses
Denim dresses are everywhere, so it shouldn't be too difficult to find one or more that you love. Try:
ASOS
Old Navy
GAP
H&M
Macy's
Kohl's
SHEIN
Nordstrom
Forever21
Amazon
Nordstrom
Venus
White House Black Market
FAQs
Wondering how to wear a denim dress and need a little extra guidance? No problem. Here are some of most frequently asked questions about how to take the best denim dress ideas and incorporate them into your own style:
Question: What do I wear with a denim dress?
Answer: The better question might be what shouldn't you wear with a denim dress, thanks to their versatility. Denim dresses are available in so many styles and lengths, there's no one-size-fits-all pairing of wardrobe items. You can layer them over fitted tops, wear them under cardigans or blazers, pair them up with any type of shoe that isn't too dressy, wrap a blanket scarf around your neck, and enjoy accessorizing with a belt, layered jewelry, or a floppy hat. You can wear them over leggings, tights, or even pants.
Question: Are denim dresses in style in 2022?
Answer: Denim dresses are usually in style at any given time, but the shape and details might change a little from year to year. Right now, dresses with buttons down the front (belted or not) are having another moment.
Question: How do you style a plain denim dress?
Answer: If it's fall, my favorite way to style a plain denim dress is with a blanket scarf, leggings, and ankle boots. Knee-high boots are another cute option. In the summer and spring, make it all about the simple metal jewelry and a cute pair of casual sandals (flat's fine, but a short heel or wedge is even better). On cool nights and mornings, you can throw on a bold-colored lightweight cardigan. Depending on the style of the dress, you could add a belt to cinch in the waist.
Question: Can you wear black tights with a denim dress?
Answer: Yes, they're especially cute with knee-high boots in the fall.
Question: How do you style an oversized denim dress?
Answer: You can enjoy the comfort of wearing an oversized dress without anything tying it close to your body or opt for a belt to give it some shape. Leggings or tights underneath will provide extra warmth and coverage. If you go that route, you can go extra-casual with a pair of sneakers (try Converse) or dress it up a bit with boots. If it's too warm for leggings and boots, slip your feet into a pair of casual flat sandals and enjoy one of the most relaxed outfits you've ever experienced. One more option: Treat the oversized dress like a shirt and wear it with jeans (especially if your dress is a button-up style).
Question: How do you style a denim tank dress?
Answer: Depending on the dress, you could layer it over a fitted tee or turtleneck. Leggings or tights are optional. So is a scarf (lightweight and sheer for spring and summer or heavier for fall and winter). In cooler weather, boots or sneakers are perfect. In warmer weather, sandals or canvas sneakers work well. A floppy hat and small, structured purse finish the look.
Question: What shoes should I wear with a denim dress?
Answer: Boots, booties, lifestyle sneakers, simple flats, sandals, and even heels can all be worn with denim dresses. I love light brown leather/pleather shoes with denim dresses, but anything goes, really.
Conclusion: Finding the Best Denim Dress
When you're looking for the best denim dress, start with the overall vision for your look, taking into consideration when and where you'd like to wear it most (since they're versatile, you won't be limited to that idea, but it's a good starting point).
From there, choose a shape that is most flattering to your body type. As you'll see by a lot of the best denim dress ideas out there, they come in any shape you'd like, in most lengths and washes.
Decide whether you want a classic you can wear for years or something trendy. Decide how/if you'd like to layer it, and which season you'd. prefer to get the most use out of it. Let those things drive not only your search, but your budget (if flexible) and additional styling ideas you may want to plan for the future.
If I had to choose one denim dress idea that would suit the most people, I would go with a tank button-up style with a sheath or fit-and-flare silhouette (and pockets, if possible). It's the most versatile of them all because of the layering options, from t-shirts and turtlenecks to leggings and tights. You could wear a scarf or skip it, hit the town in just about any type of shoes (from sneakers to heels), and accessorize with jewelry, sunglasses, and hats without those pieces competing with the dress for attention.
Further Read:
7 Best A Line Dress Ideas and Picks
8 Best Shirt Dress Ideas and Options