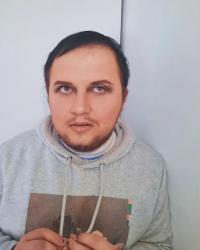 Latest posts by Jamie Tugayeva
(see all)
Facts are facts: cropped cardigans are trendy, even when Vogue is not pushing them down people's throats. Fashion branches into two worlds: high-street (or street) fashion and runway fashion. Sometimes these two are complete opposites, but other times, they meet. Cropped cardigans are being sold left and right through fast fashion stores but remain extremely popular on the runway, despite not being the top priority in designers' minds. These pieces are staples, with all the nostalgic twists and turns of clothing.
Cardigans have always been synonymous with fall's chilly weather and coziness. They come in all shapes, colors, and cuts. Good cardigans can be tight-fitting, loose, or highlight your body shape. Today, cropped cardigans are in the highest demand. They can be as short as barely covering the chest to being only slightly above the waist.
The cropped clothing trend has made its way into many garments: pants, jeans, shorts, sweaters of all types, tops, jackets, and even suits! If designers can crop something, they surely have, giving a new spin on classic shapes. A cardigan is easy to pair with other items, and a cropped cardigan gives you an option to show off high-waisted bottoms, showcase belts, and your belly if you're up for it.
Why buy a cropped cardigan?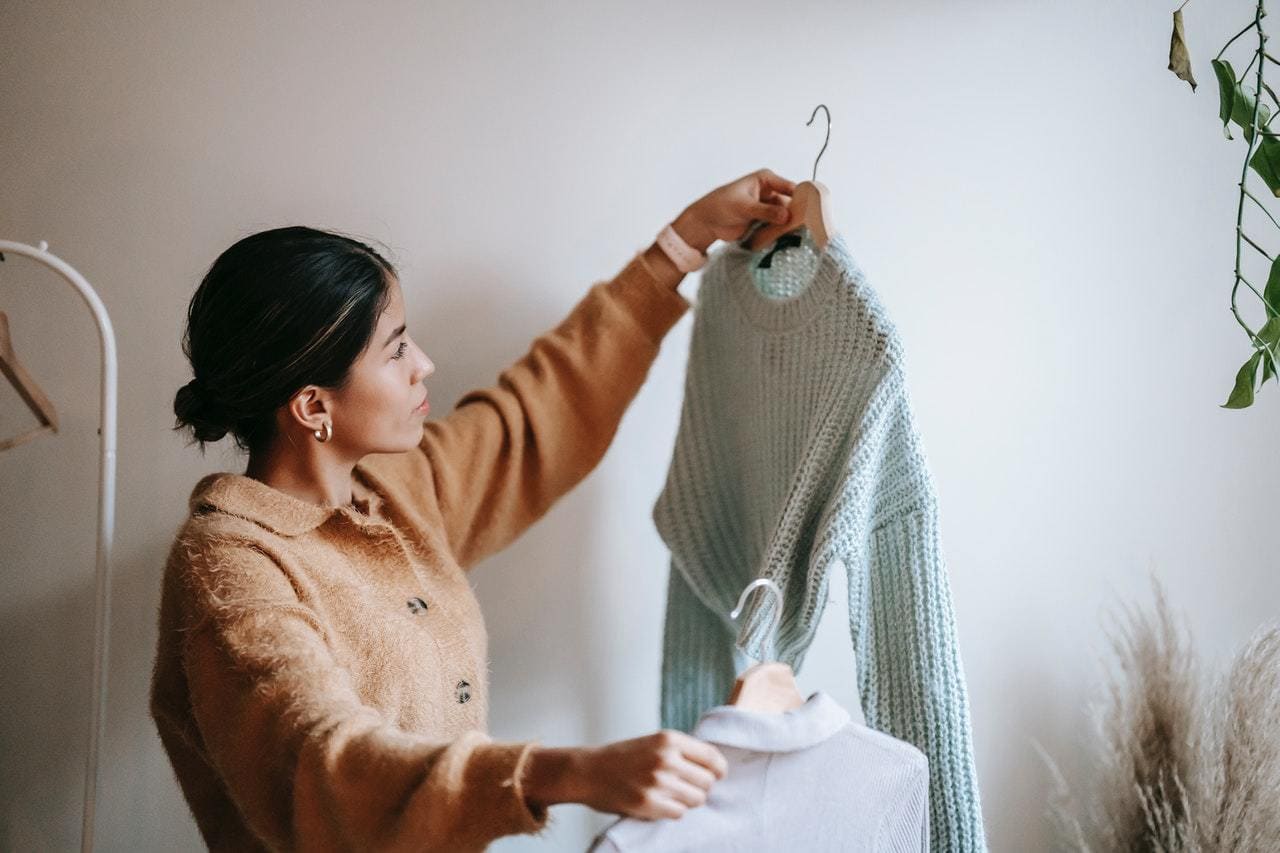 We all love to give into new trends, enjoying the appeal of what's new and shiny in the fashion magazines we read. Fashion statements and being unique drive us every day. We want to be seen; we want to look like we should, and clothes remain one of the best mediums of self-expression. That brings us to trends, such as the cropped cardigan. You've seen it in all your favorite stores and your friends have worn their takes on it. Why not try it yourself as well? If you want to show off your high-waisted skirt and need a piece to complement it, what's better than a cropped cardigan? It's also versatile for many seasons and will add a bright take on older items. Nothing wrong with being trendy, after all.
How to style a cropped cardigan?
There are many ways to style a cardigan, and everyone has their unique take on it. People go for pairings with high-waisted items like skirts, pants, jeans, or dresses underneath to make the outfit pop and chic. Having a longer t-shirt under a cropped cardigan is a great way to make it cute and fitting.
Then come boots, sneakers, trainers, flats, and shoes. Feeling comfortable matters, but it must look good next to the beautiful cardigan you have. All footwear will normally look good in this case, as a cardigan is still a straightforward piece of clothing to style. Just because it's cropped doesn't make it harder to pair up, which is a significant advantage for this modern twist on an old favorite.
Who can wear a cropped cardigan?
Anyone can! If you want to wear a cropped cardigan, don't hold back. To pick what suits you, it is important to understand which fits might be better, which colors are more flattering, and which material is the one you like best. Also, if you are in a warmer country, then you can opt for a short sleeve cropped cardigan.
Where to buy a cropped cardigan?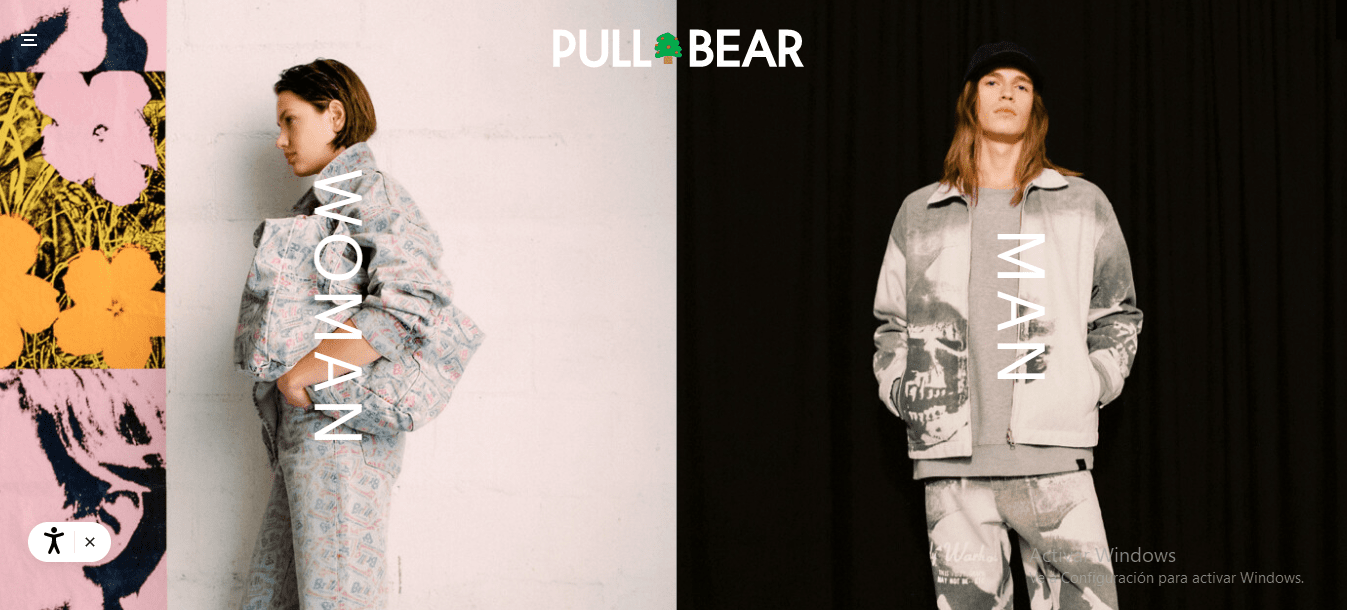 ASOS
Farfetch
Dollskill
Pull & Bear
H&M
The best-cropped cardigans on the market right now
There are many great cropped cardigans on the market, but we have chosen 10 to give some ideas on how to style them and where to buy them. Finding the right cropped cardigan for you is a journey, but the good news is that there are plenty of options between different fabrics, brands, price ranges, and lengths.
We have carefully chosen the cropped cardigans on this list with these variations in mind while also covering for many occasions. Some of them help you stand out while still being fit for the office, others are multipurpose cardigans that go with every outfit, and a few belong in the happiest of parties. The budget range also played a role in our decision-making because we know it can affect yours too. If you fall in love with something here beyond what you want to spend, don't get discouraged: use it as inspiration when looking for something that meets your needs!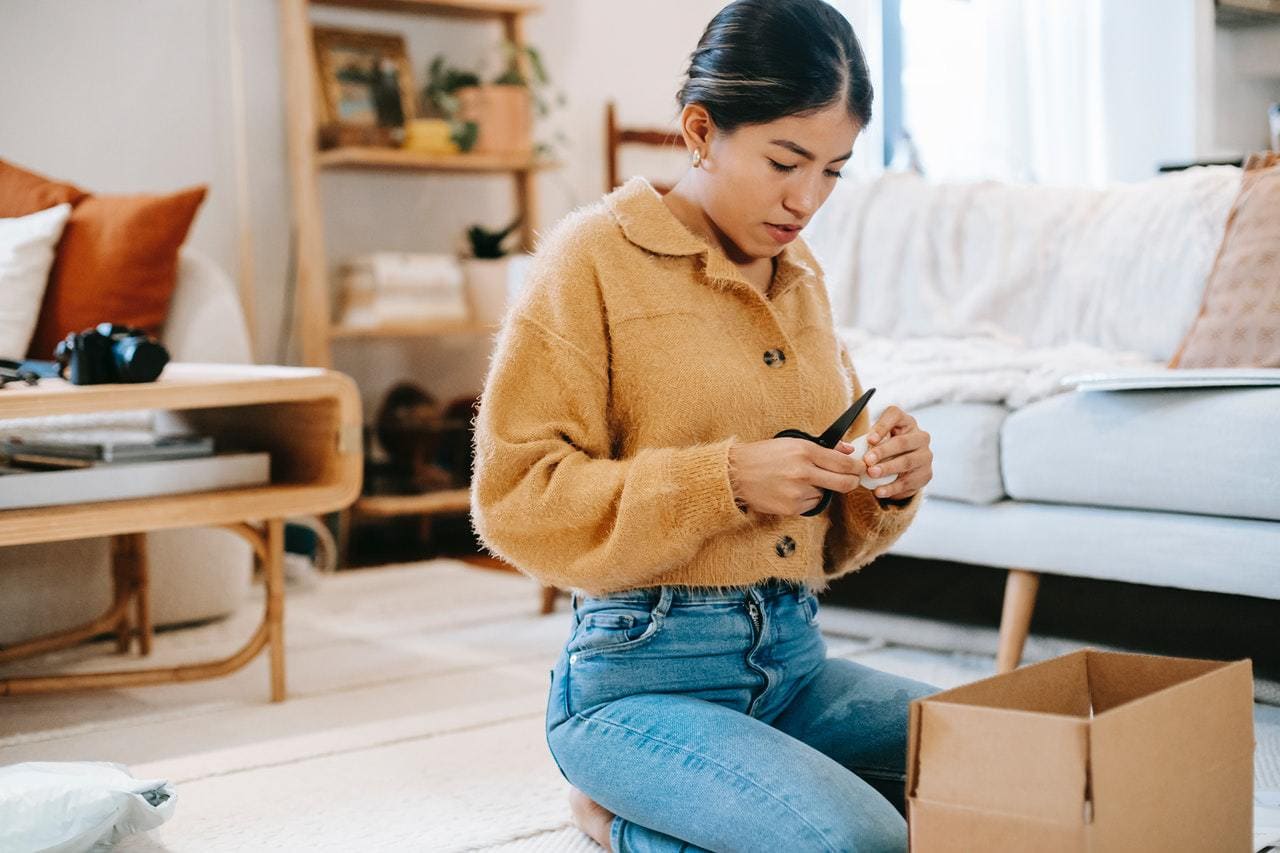 Miss Selfridge has been on ASOS for years now, but even from the times of being a high-street classic, the brand had a reputation for its affordable and cute designs. They may have 'borrowed' more famous designs by designers such as Alexander McQueen, like his skull motifs, but Miss Selfridge still made a powerful statement by taking high-fashion designs and blending them with more affordable clothing. Their quality and cute aesthetics are still here after all these years. This cropped cardigan in oatmeal comes with silver heart buttons to energize the plain garment and give it a chic look.
What to pair it with
You can pair this cardigan with flashy pattern pants or a long skirt. It doesn't have to be high-waisted every time. Maybe the time to show some skin has come, embrace body positivity (if you feel comfortable and the situation is appropriate, naturally). You can also go for a brown color block pair of pants to match, which will bring the oatmeal out and highlight the contrasts.
Earrings worn with this cropped piece don't have to be silver, as we have all started mixing gold with silver for a while. There are no strict rules for accessorizing here, but I would suggest avoiding longer necklaces as they do not match very well with this piece. A clutch or a smaller bag is the best option here.
As far as shoes go, it depends on what your lower half is wearing and what effect you want from it. The casual-chic look would match with some soft trainers, shoes, flats, or a small heel.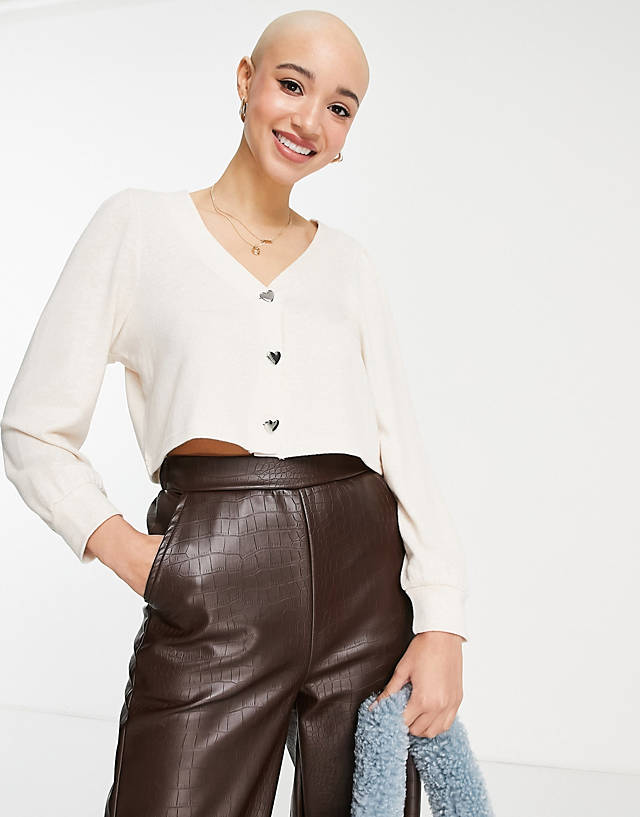 Pros
Affordable
Cute standout buttons
Easy shipping
Great mix and match top
Cons
Slightly too plain by itself
Too tame for certain occasions
We couldn't omit this purple delight of a cropped cardigan with pearl buttons on this list. This top sports a rather fitted cut, but it doesn't make it any less cute or desirable. It also comes with a collar, giving it a slight edge and making it less formal. This cardigan is the perfect choice for someone who likes bright colors and feels drawn to eggplant shades of purple. Its ribbed texture gives it a more appealing look and wraps it all together.
What to pair it with
Shorter necklaces would benefit this cropped cardigan as they would highlight the neck. A hat, as suggested on the ASOS promotional photos, would look great as well. It doesn't have to be a bucket hat (even if they are in fashion today). Alternatively, a headpiece or hairpins would look great and elevate the whole attire. Pearls might be a bit too obvious as a combination, as they would feel too forcefully matched with the buttons.
Because of its casual nature, it's best to pair it with less formal bottoms as well. This cropped cardigan is not great for a fancy event, so keep your smart and fancy skirts for another occasion. What you want here is your favorite pair of jeans, lax shoes, trainers, or even flats.
A bigger bag might take the focus away from the cardigan, but if you want something else to shine, this cardigan can also take the backseat and help put the spotlight on other items.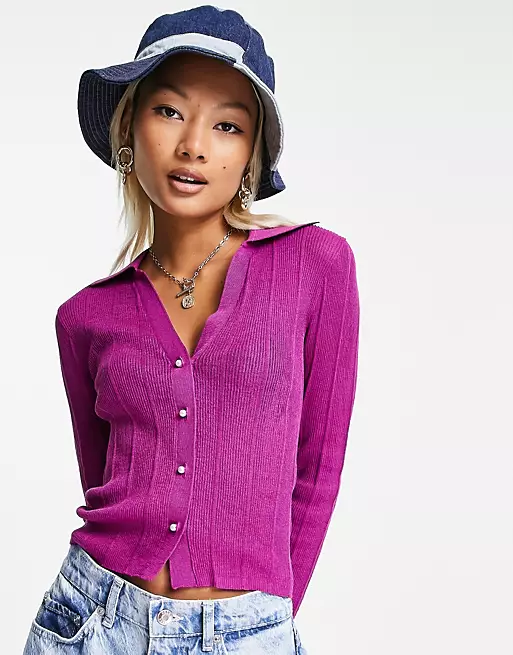 Pros
Loud color
Casual
Affordable
Machine wash
Cons
Hard to combine
Potentially too bold
You've surely noticed the rise in retro trends by now, right? We may all claim to be y2k savvy, but everyone loves a groovy throwback moment—outfits with a myriad of patterns, colorful ideas which our parents recognize with either an eye roll or nostalgia. The bright colors in retro patterns still lure us in, and that's the appeal of this cropped cardigan with a white-collar. It has a heart motif in the middle, radiating love to those around it. It's extremely hard to find something this cute and retro without being tacky.
What to pair it with
Just because the cropped cardigan is rather retro doesn't mean in any way that we can only pair it with flared or bell-bottom jeans. This item also goes well with a skirt or even a darker miniskirt. Boots will make it far more appealing than casual trainers, especially knee-high or slightly lower ones. Jeans can work as well if styled fashionably. This is a rather versatile casual cardigan with many options to play with.
For accessories, it's better to go big and bold with earrings or a headband. Stay clear of the necklaces and pendants as it would take away with the focus on the white details and likely not look that appealing unless you have a specific idea from your wardrobe.
You can keep it vintage with a bigger shoulder bag rather than a small sling one. Not that bigger bags are vintage, but your cardigan will shine over everything in a tasteful retro twist.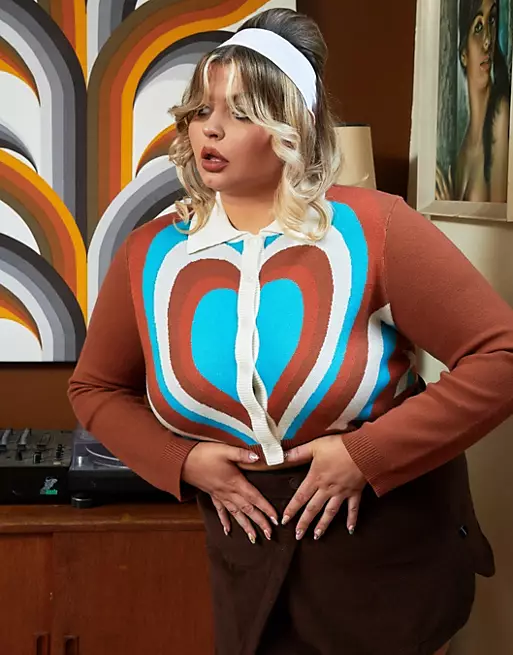 Pros
Statement piece
It plays well with retro style
Plus-size
Affordable
Cons
Only plus-size available
Casual only
This is a rather plain but bright cropped cardigan for daily wear. It has three buttons, as a short crop top would. The floral motif harks back to classic feminine ideas but gives it a more cute, cartoonish, and naïve spin. The pink flatters the overall shape and flower design, helping keep it simple and chic. It may not be something you'd wear to the office, but this is a cute piece to wear on a date or a hangout with your friends. It is also a bit on the youthful side, but that's the target audience the brand Pull & Bear claims to be for.
What to pair it with
If you like combinations, this cropped cardigan also has matching pants from the same brand. Taking inspiration from their cut, you can go for bell-bottom jeans to keep it cute and add a more retro nod. Any jeans will look good here, as this cropped cardigan is casual enough as is.
Smaller necklaces and pendants would favor it more, while earrings, on the opposite, would look better when on the chunky side. If you've got large rings from the 1990s or new ones inspired by the style, now's the time to make them shine!
Many shoe styles will look good with this top, but since it leans heavily on casual aesthetics, it may best be to go with the vibe and add trainers or some simple shoes. Nothing too fancy unless you intend to go very y2k Paris Hilton, which to be fair, is both bold and in fashion today.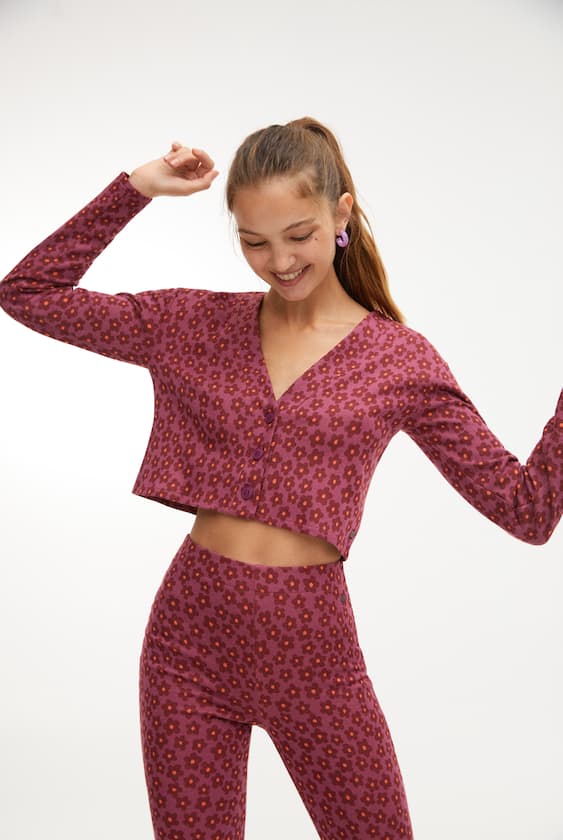 Pros
Casual
Matching pants are available
Affordable
Friendly to high-street fashion
Cons
Not very easy to mix and match
It could get tiring on the eye
This cropped cardigan comes with a matching top, which could make styling easier or tougher if you're one to not repeat combinations in your wardrobe. The cardigan and the top have the same knit groovy mushroom pattern, an ode to different, hippier times, but also a way to signal that you're down to have fun, or maybe you're just a fashionista who likes the vibes the combination gives. Retailer DollsKill, with many brands on offer, caters more towards a young audience, which means there are plenty of fun items to choose from. The selection on the website always follows the latest high-fashion and high-street trends.
What to pair it with
You don't always need to have the same top underneath, but you could opt for a plain black top or a blue tube one to match the dreamy mushrooms. As for the bottoms, try out jeans or a statement skirt, which should be just as casual for you to enjoy and step out to wow everyone.
In the promotional photoshoot, DollsKill recommends black knee socks to stay warm and stylish. Mary Jane's shoes are a great addition to many outfits, and this is no exception. Boots are also a great option for colder months, while trainers can keep it interesting when you want to shake things up.
With accessorizing, it depends on whether you want to wear this cropped cardigan open or closed and which top is underneath. You can play it cheeky by adding some more mushroom-themed necklaces or hanging earrings. The bag would probably be the most versatile item in the outfit, as you can pair this cardigan with almost any style. Just choose your favorite and go to town!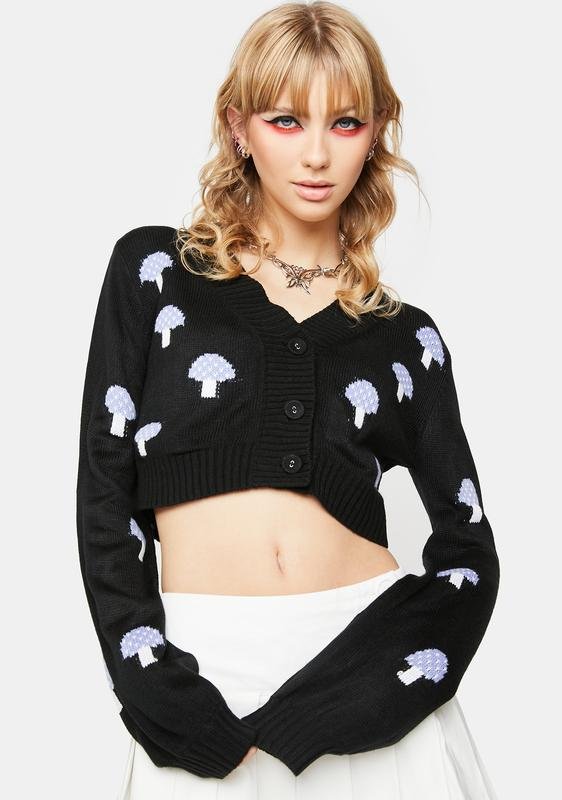 Pros
It comes with a matching top
Easy on the wallet
Youthful, fun take
Straightforward shipping worldwide
Cons
Polyester blend
It could get boring after a few wears
With this statement piece, it's hard not to notice that it's much shorter than its competitors. It takes a very bold person to pull off this cropped cardigan and rock this look. The Hide and Seek is a weird piece in the sense that you really must plan according to the weather. It may not be the most practical, but fashion requires sacrifices, and this is a great cropped cardigan to make those in.
What to pair it with
This cropped cardigan has a grunge, but chic feel to it as it exposes a lot, and it is better worn with some sort of tank top underneath. It can be worn buttoned or unbuttoned. Ideally, choose a beige, white, or similarly light tank top to keep the focus on the cropped cardigan as the statement piece. With dresses, you could opt for a skater dress or any other variation. Get your sneakers out for this outfit. Pants will also look great, particularly a khaki color or a deep brown to keep up with the grunge style.
As far as accessories go, this outfit does not require a lot beyond some chunky hoops or rings. But hey, we all have different tastes in jewelry, so have fun and mix some silver and gold if you want to!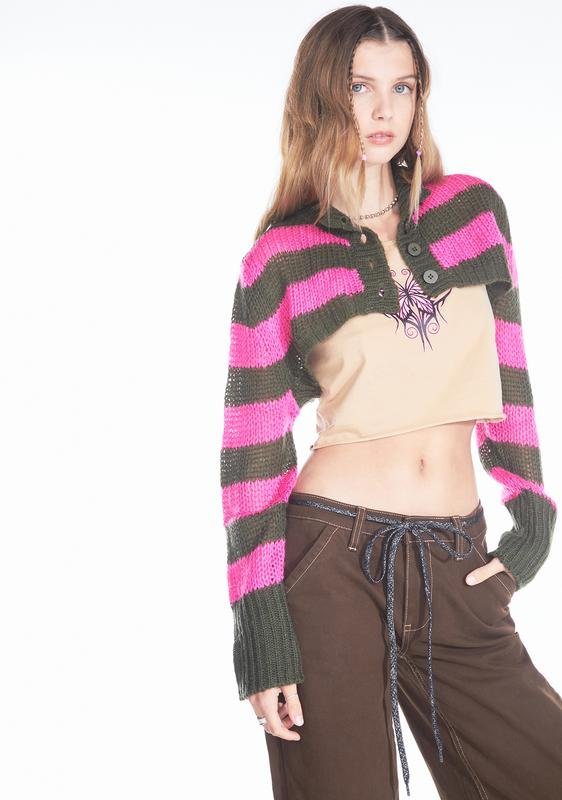 Pros
Cute &chic
Bold
Youthful
Throwback
Cons
Maybe too youthful for some
Not practical, depending on the weather
This is quite an extravagant take on the cropped top trend, not to mention it is rather high fashion, and the price tag is set accordingly. This is a unique piece with textured spikes and only one button at the very top of the cropped cardigan. To put it simply, this is a work of art that would turn heads wherever you go while bringing a smile to your face.
What to pair it with
It's hard to go wrong with how the stylists of Farfetch promote their clothing online, so a tubed top would be beneficial and would look great. It doesn't have to be red or made from the same material. When picking a skirt, choose monochrome colors, shades of brown and gray, as the only red should be the cardigan or the top if you also add it to the outfit. You can forego a bag if you wish, but a clutch also works well.
Unlike Farfetch's recommendations, I would recommend closed boots with a smaller heel rather than open-toed sandals. The accessorizing part is where it can get tricky. How do you even accessorize such a fantastic cardigan? Get some big statement golden, silver, or pearl earrings, and you'll be ready!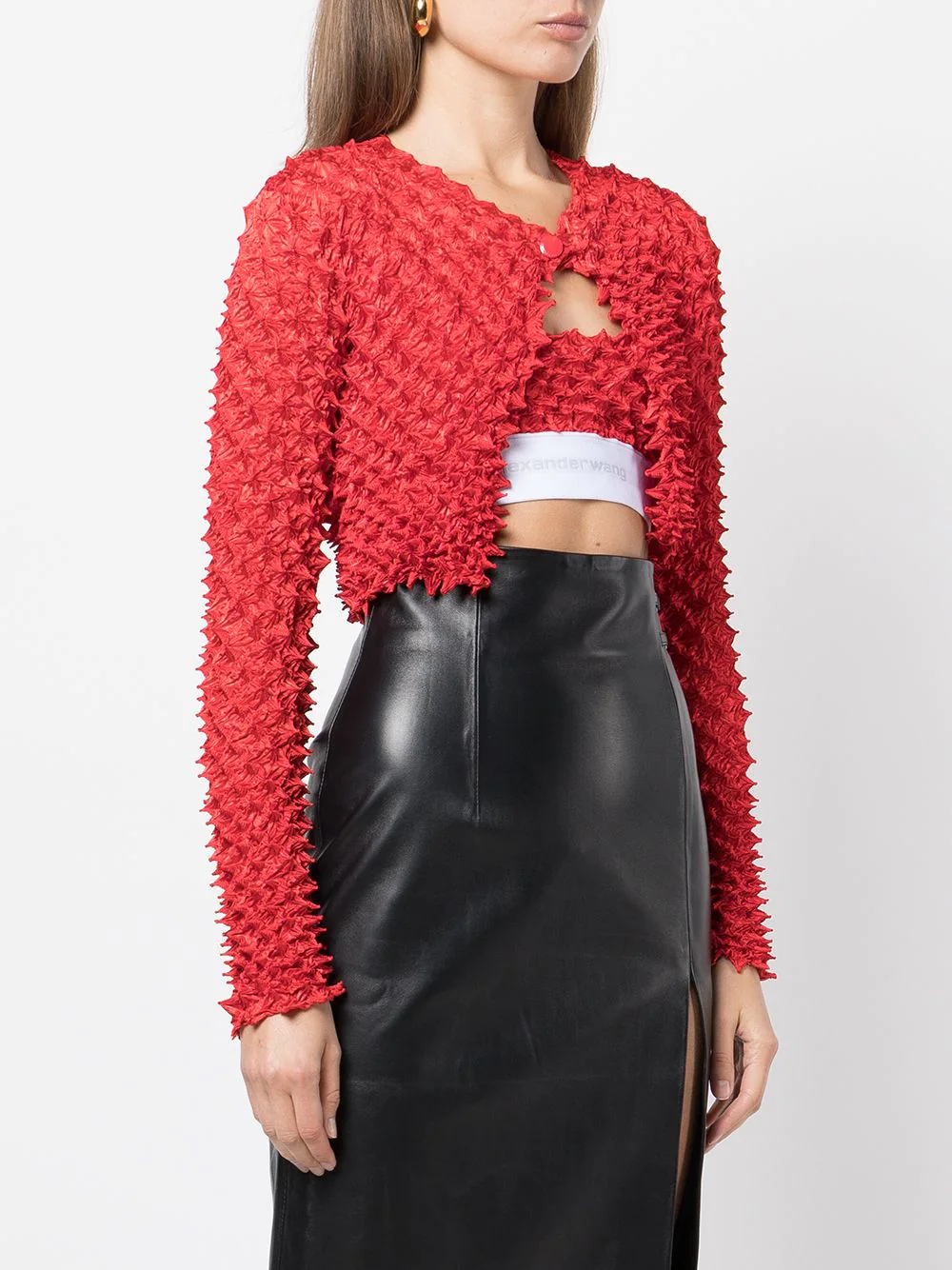 Pros
Statement piece
Fashion-forward
Unique
Stylish
Cons
More to the runway than to the office
Quite expensive
What could be a cuter take on stars with a blue background? This cropped cardigan came to deliver and make a statement. Its design might make you think of the American flag, but it's a very cute, solid piece. This cropped cardigan is a bit more strict than previous entries on this list, but it's nice to very with something simple yet cute and easy to wear.
What to pair it with
I would not trust the stylist's picture in this case, as the patterned wool trousers feel out of place. Go instead for a different pattern and boots style. As far as bottoms go, you surely can't go with monochromatic pants, even if the current fashion trend is to make patterns clash. A skirt might not be the obvious choice, but a stricter yet still casual one would go great with this outfit.
Please do not tuck baggy pants into boots unless they do match. If you pick from the classics, some Dr. Martens boots or similar are the gold standard here, but any other model would be hard to pair up this top unless you have a specific vision. If you feel that this cardigan needs some more bling, add some pendant of your choice, plus any charms or a pearl necklace to keep up with the craze.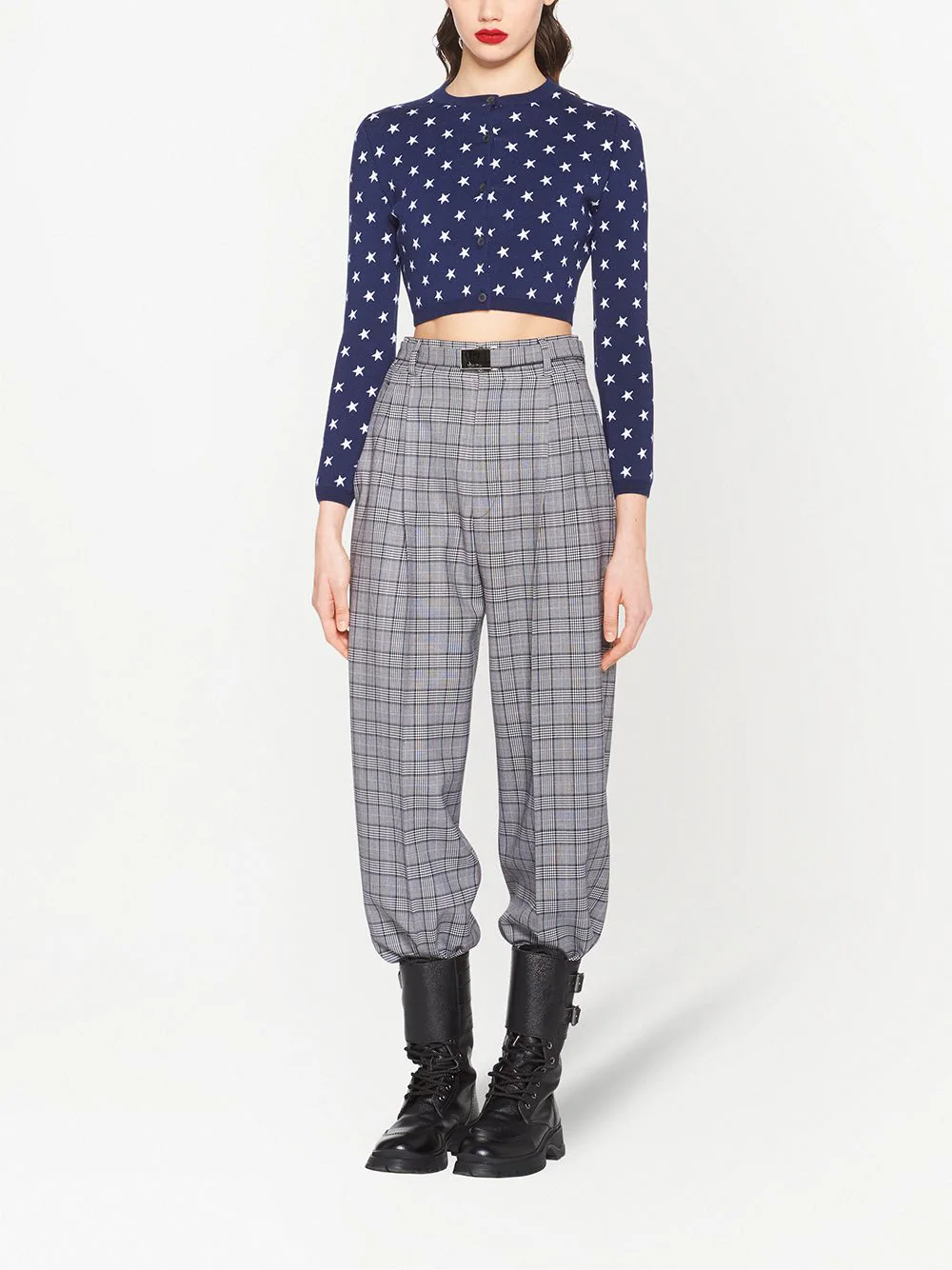 Pros
Casually cute
It can be overly modest
By a great brand
Made of 100% wool
Cons
Costly
Some people don't like wool
Jeremy Scott has been one of the fashion world's darlings for many seasons, and with good reason. The designer started with his own label and took the world by storm with his comedic take on pop culture, a nod to Andy Warhol's pop art movement. This sweater is no exception, adding a cheeky Escher-like optical illusion that goes up and down without being vulgar. This is the epitome of blending classy and playful.
What to pair it with
There is a matching skirt also made by Moschino, which we can see in the Farfetch photo, but when building an outfit for this cheeky cropped cardigan, we might want to avoid jeans and combinations of denim and vintage shoes. A darker skirt would be the best option here, as a bright one might just make the look a bit messy. On the other hand, going full opposite could work too – a plain white skirt to make it pop and bring the outfit all together at the same time.
A small clutch or bag with a golden or silver handle is a match made in heaven here, so find one in your closet or get one at some point to get the most out of this cardigan. It is better to avoid chunky jewelry to focus on the cardigan and stick with thinner pendants or bracelets or rings. Shoes can be quite versatile here, but heels are overall the best option in this case.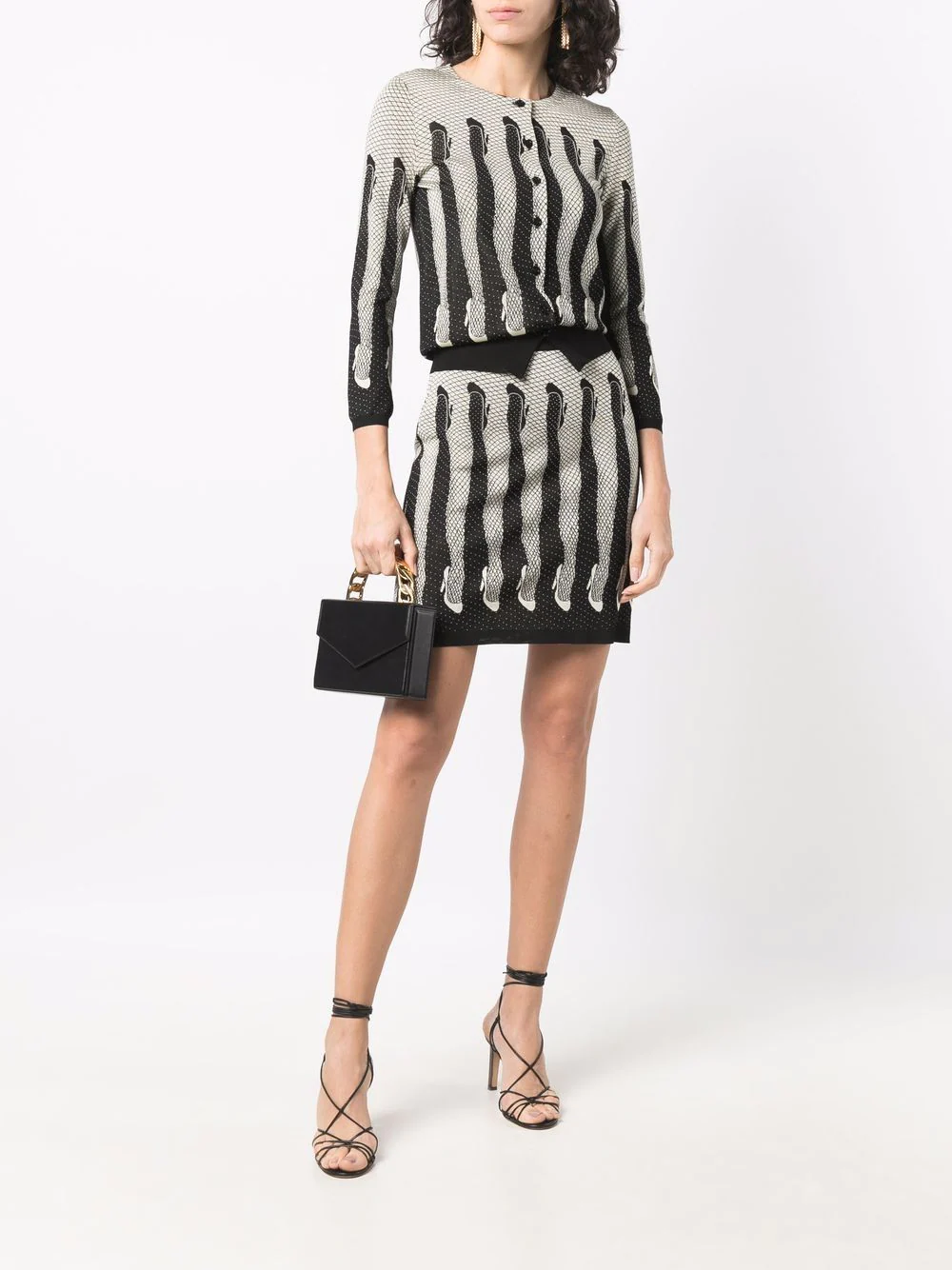 Pros
Interesting, unique design
Optical illusion
Stretch-design
Comfy material
Cons
Dry cleaning only
Rather costly
Last but certainly not least, we close this list with this strict yet playful cardigan with lightning and jewel-stoned buttons by Pinko. It may not be the most luxurious brand on Farfetch, but they sure deliver high fashion designs, and you can snag them for a fair price on the store's periodic sales. This cropped cardigan is friendly to office wear and more strict events but also goes great if you simply wish to add a nice rock flair to a casual day. This is a rather versatile piece that lets everyone know that you're a fashionista.
What to pair it with
This is a very versatile cropped cardigan, meaning that jeans, skirts, dresses, and pants would fit well with it. If you want a patterned bottom, go for it, as it will keep a classy balance and gladly shift the attention to where you want it to be. Any bag will work here, whether it's a small silver clutch, a larger black bag, or even a backpack. This cropped cardigan is truly ready for anything.
When choosing jewelry, you might opt for something which will not end up banging against the buttons, so less is more in this case. Chunky necklaces will look good if that's your take on this, and the same goes for long earrings. You can go wild with the shoes here—from anything casual, like flats and trainers, to full-blown heels.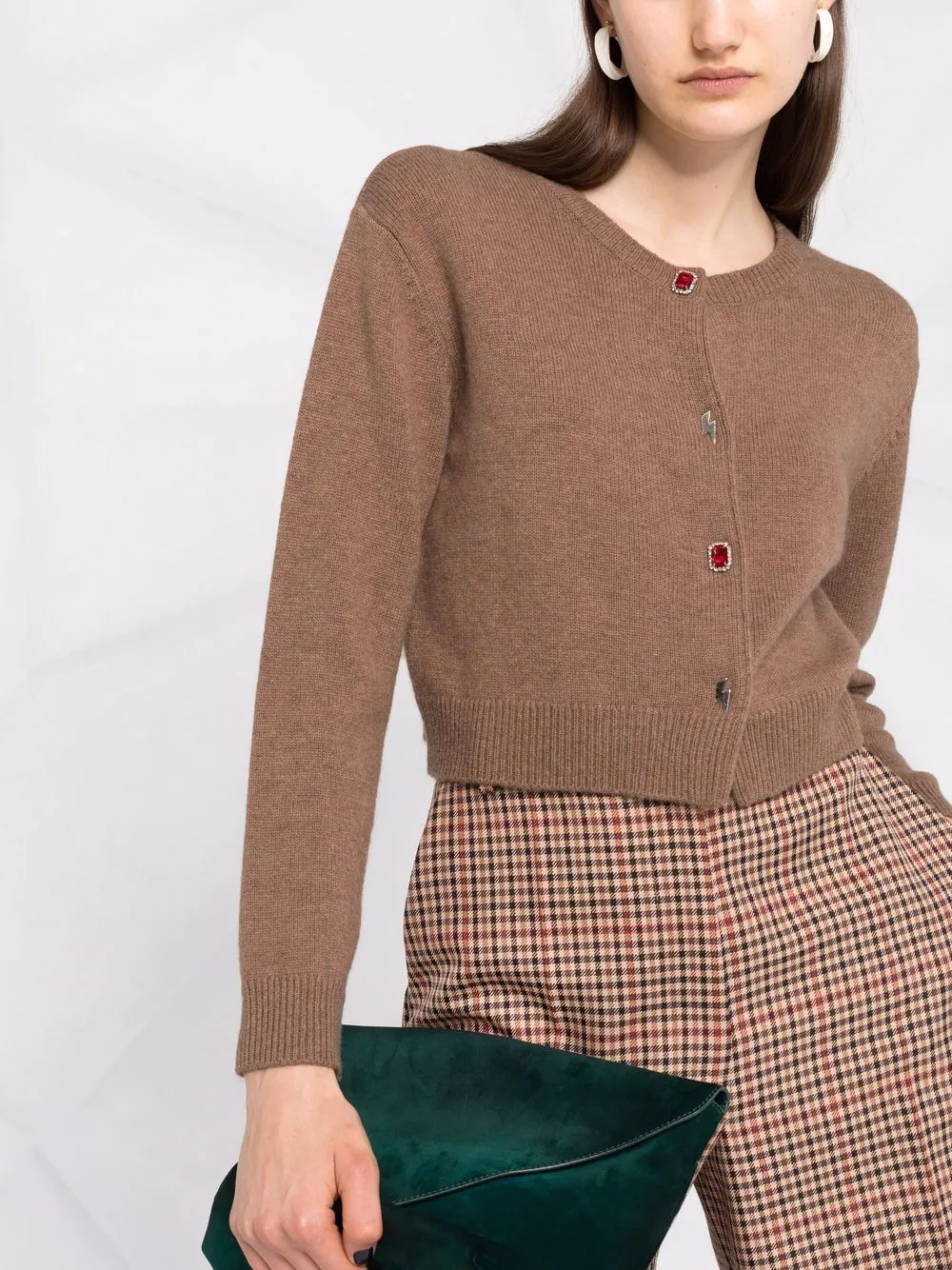 Pros
Very versatile
Office friendly
With a touch of rock-and-roll
Wool-cashmere blend
Cons
On the costly side
Can be too plain or safe
FAQs
Question: How do you wear a chunky cropped cardigan?
Answer: Wear it without a jacket over, or make sure that your coat or jacket has space enough so that you don't look silly with a tight-fit coat and a chunky cropped cardigan underneath. Other than that, you're ready! Pair it with items that match. Avoid small pendants and other small jewelry around the neck.
Question: Will cropped cardigans be trending this winter?
Answer: Yes! Aren't they already?
Question: Are cropped cardigans flattering?
Answer: Of course, they are! Well, of course, not everything is universally flattering as jeans, sadly, but it all depends on the fabric, the fit, the color. Hopefully, you'll see the right style cropped cardigan for you on this list!
Question: How to wear a cropped cardigan without showing my stomach?
Answer: Wear a high-waisted skirt, dress, or pants that will hide it. You can also choose a longer cropped cardigan while matching with these items. You should never feel you must show skin when you don't want to, and don't be scared to show either. We all have different bodies, and insecurity comes to everyone, but ultimately, we dress for ourselves, our comfort, and our style.
Question: Are cardigans old-fashioned?
Answer: No, of course not. But it depends on the fabric, the cut, and the pattern. Some combinations can make a cardigan look outdated, but don't forget that vintage fashion is going back in style, with even A-list celebrities opting for vintage items rather than new ones.
Final Thoughts On Cropped Cardigans:
There are as many cropped cardigans as there are sweaters on the market. Today, a cropped cardigan is a must-have item for all seasons. It has become a staple of the fashion world, as proven by many designers and fashion brands. The different spins on this trend have left us in awe time and again, and the versatility allows it to make office lives brighter while also bringing the groove in casual occasions.
In terms of the stars of the cropped cardigan trend, it's hard not to think of the Moschino Leg Print Cropped Cardigan or the Pinko Cropped Wool blend one. One is very outgoing, while the other is smart and sophisticated. For a more budget-friendly version, the Miss Selfridge Long Sleeve Heart Button Detail Cardigan in Oatmeal was way too cute to miss and would fit most occasions while cashing in on the cropped cardigan trend. Clothing is always there to make us unique and happy, after all, so why not do it with a cropped cardigan?
Recommended Reads: