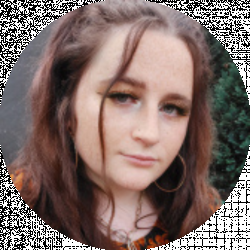 Latest posts by Lou Siday
(see all)
There is something cute but classy about the tweed dress. It is a pretty vintage look with a whole load of history. From classic 60s Chanel suits to the recent Gossip girl reboot, tweed has long been associated with style and sophistication.
Oh, and the tweed dress is perfect for the winter months. Originating in Scotland, it is designed to be warm. So, what are the best tweed dresses on the market right now that are perfect for Winter 2022?
What Is Tweed?
Before we look at our pick of tweed dresses and our top tips on how to style them, let's have a little history lesson, shall we? (I promise it will be fun!)
Tweed originated in Scotland in the 18th Century and was designed to be a coarser, thicker fabric. It was traditionally made out of tightly-woven wool and developed by Scottish farmers to withstand the cold.
Its name is derived from the Scottish word for twill, which is the weaving technique used to make tweed. Twill is when the fabric is woven diagonally in order to make it strong and weather-resistant.
Because tweed was so good for keeping people cozy and warm, the English aristocracy then began to use it on their country estates. The tweed suit is still popular with the English upper-class today and is heavily linked to class and money.
When Did Tweed Become Fashionable?
Coco Chanel took tweed to the next level in 1920 after seeing the qualities of tweed on menswear; she decided to make women's suits out of it. The Chanel tweed suit soon became a staple of upper-class style and a symbol of wealth and aristocracy, with many women in the spotlight famously donning the outfit.
For a lot of people, the Chanel tweed suit is heavily linked to Jackie Kennedy and the 60s. This iconic era of fashion will forever be stylish, with tweed looks feeling vintage yet still fresh.
How To Choose a Tweed Dress
When it comes to buying a tweed dress, there are a few things that you should consider. Here is our guide to buying the tweed dress that is right for you!
Color
Tweed is traditionally made from neutral colors, with whites, beiges, and browns being prominent. However, you can get tweed dresses in loads of different colors. Think about what color suits you and what you like in a dress.
I really like the baby pink tweed dress look, which is obviously reminiscent of Jackie Kennedy. It can be so easily styled, too!
Style
You can get tweed dresses in a range of different cuts and styles, and this means that you can find the perfect one for your shape and fashion sense!
From overall tweed dresses to tweed dress coats, there is a lot to pick from when it comes to tweed dresses.
Material
Tweed is traditionally made out of wool, but it is often made out of a blend of different materials. It is really useful to check out what the tweed dress is made out of before purchasing, as this will help you know if it is right for you.
The material that the dress is made out of will inform you of how warm the tweed dress is and how long-lasting it is. Knowing the material of the dress will also inform you of its sustainably and fabric background.
How To Style a Tweed Dress
There are loads of beautiful tweed dresses to pick from right now, but what are some of the best ways to style a tweed dress?
Shoes
A tweed dress is a pretty sophisticated look, so keep it safe with a pair of heels or pumps. This elegant look is perfect for parties and events around the winter months.
A tweed dress can also look pretty cute with a pair of white trainers! This creates a more relaxed look but still feels retro.
Accessories
When it comes to accessorizing a tweed dress, I suggest that you keep it pretty subtle and simple. A small silver necklace and a few rings keep the look sophisticated and classy and don't take the tweed dress's attention.
Adding a little black or beige bag will perfect the look and make you ready for a night out!
The Best Tweed Dresses You Can Buy Right Now
Okay, let's look our my picks of the best tweed dresses available right now. When picking these dresses, I made sure they were both affordable and fashionable. I also looked at each review of the dresses and checked out what materials were used.
I hope this list inspires you!
The Blazer-Dress One: Jeannie Mai X INC Olivia Tweed Blazer Dress by INC International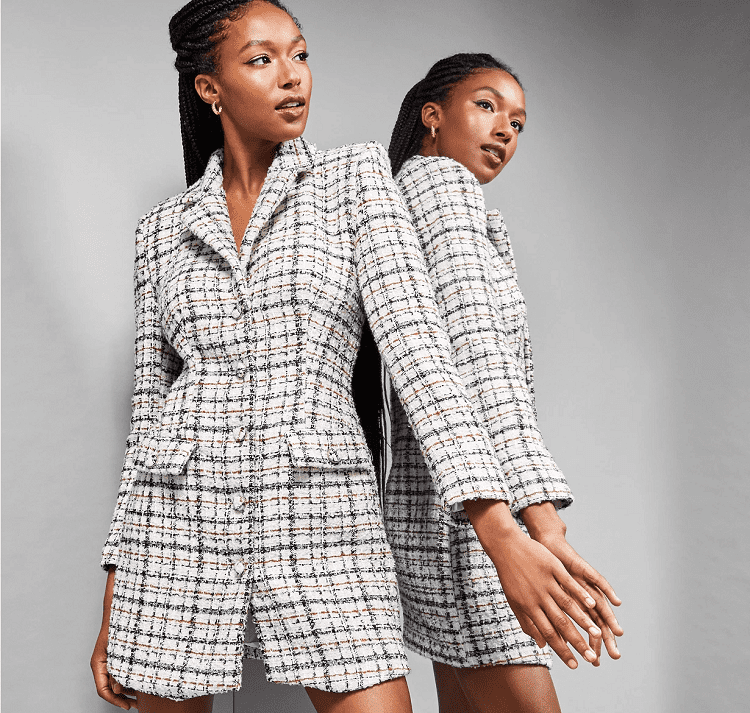 Tweed is inherently sophisticated, so there is something really special about a tweed blazer dress. This dress is effortlessly stylish and can be worn buttoned up, open, or with a belt. I really like the different looks available with this dress and think it keeps to the tweed dress traditions in a fantastic way. It is on sale right now, too!
However, it is made out of synthetic fabrics, which means that it isn't that sustainable. Plus, it means it might not be as warm as it looks.
Pros
Affordable
On sale
A classic look
It can be worn in different ways
Cons
Not sustainable
Limited sizes
Only available in one color
The Bodycon One: Hold Up Tweed Bodycon Dress by Tobi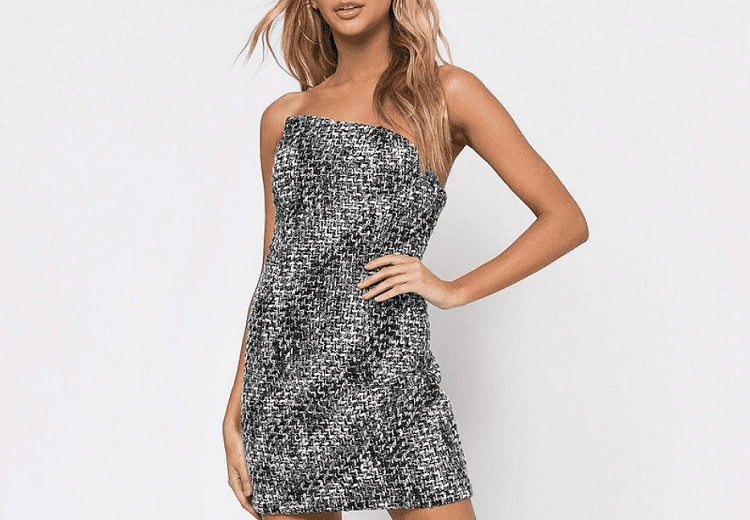 I love this fresh take on the tweed dress look. Its asymmetrical design is super flattering and its cut really hugs the body. This tweed dress is perfect for winter parties and can be matched with a fur coat to really go for the retro vibes.
It is made of a polyester woven blend, so it will probably feel pretty warm as it emulates the classic tweed material. It is on sale for a ridiculously low price right now, so snap it up while you can!
Pros
Modern look
Flattering
Woven blend
On sale
Lined
Cons
Only available in a few sizes
The Cutesy One: Tweed Mini Dress by Sister Jane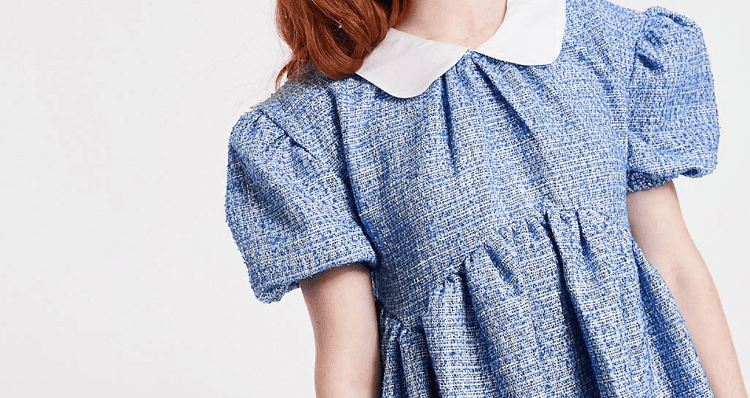 This tweed dress is so cute! It is very feminine with subtle vintage vibes and I love the peter pan collar. It is made out of a thick blend of polyester that means it is cozy and winter-appropriate.
I am not going to lie, though; I feel the smock cut won't be flattering on mid-sized to bigger girls like me! I wish I could buy this and wear it, but I think I would just feel drowned and flabby if I did. Plus, the wavy waistline thing below the bust kind of looks a bit stupid and un-flattering. If you had a larger chest, it might not fit well.
It is super cute, but I don't know how it would look on different-sized people. I am just pretty hesitant when it comes to smock dresses. It definitely feels like a dress that is designed with one size in mind!
Pros
Affordable
Warm and cozy
Vintage look
Cons
Not sure how flattering it will be on other body shapes
Dry clean only
The Glamorous One: Dress 691 by LPA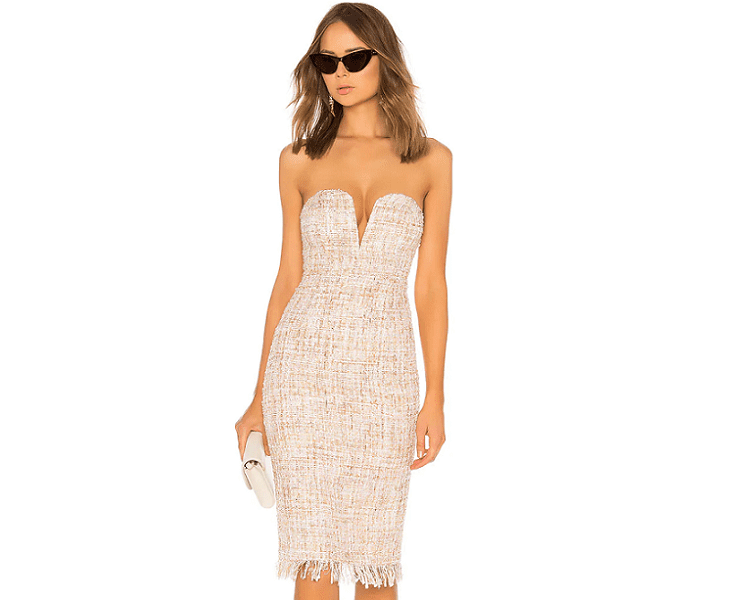 The dress is a bestseller and has so many rave reviews. I can definitely see why, as I love its take on the tweed dress. It is an incredibly flattering dress with a boned bodice and inner lining. It is sleek and sophisticated, perfect for events and parties. I really like the frayed hem at the bottom, too!
It can be styled easily with a coat and a pair of nude heels.
Pros
Flattering
Sophisticated
Fully lined
A range of sizes available
Cons
Expensive
Only available in one color
The Simple One: Tweed Pocket Dress by Karl Lagerfeld Paris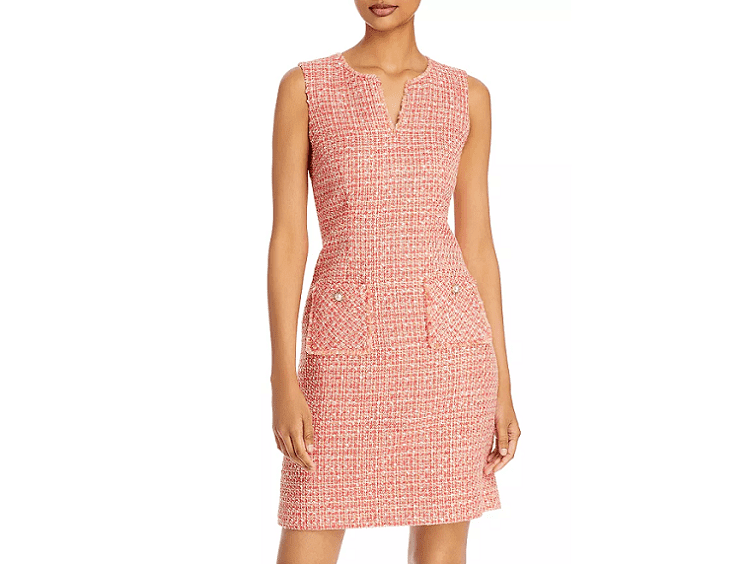 This tweed dress by Karl Lagerfeld Paris is a simple and timeless piece. It is really beautiful and I love its cut and design. It is reminiscent of 60s tweed looks and would be a dress that you could wear again and again.
I love the cut neckline and the frayed hems. It looks delicate and well made, with a lot of thought going into the dress.
However, I was surprised to see that it is described as a 'tweed print'. This suggests that it is not made in the tweed woven tradition, and therefore will not be as warm as other tweed dress options.
Pros
A timeless piece
Flattering cut
Vintage look
Cons
Expensive
Limited Sizes
Not woven like tweed
The Affordable One: Puff Sleeve Tweed Dress by Shein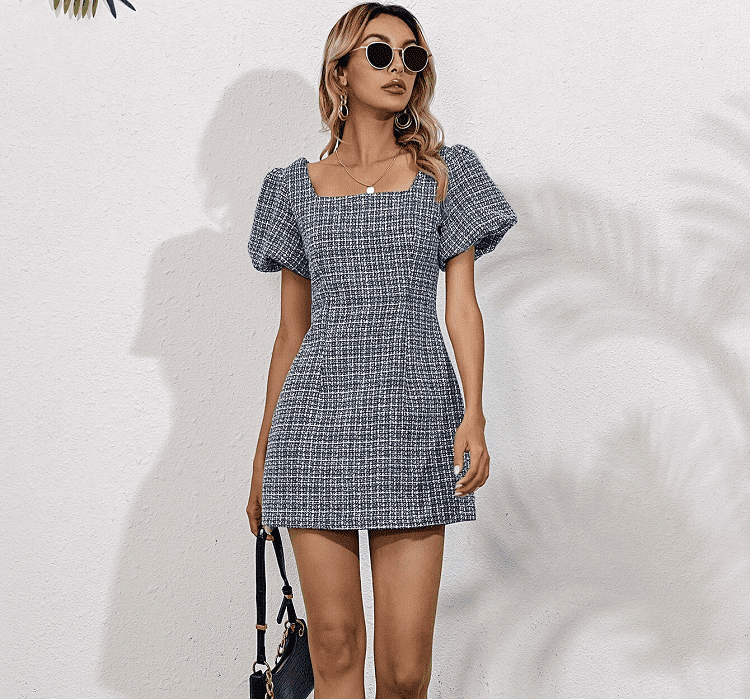 This tweed dress by Shein is affordable and really cute! It has the vintage look of a tweed dress, with a modern cut and shape. I really like the puff sleeves and the high waist and think it would look flattering on a whole load of different body shapes.
It comes in four different colors, and all look fabulous! There are so many good reviews about this dress, which is one reason I put it on the list. I have always been a bit suspicious of fast fashion internet stores, but buyers of this dress are raving about its quality. They are saying that the material is good and feels great.
The only issue you may have with this dress is that it is pretty short! If you are tall, it might be a bit too short for you.
Pros
Affordable
Flattering
Four different colors are available
Good quality for the price
Cons
Not available in plus sizes
It might be too short on taller people
The Casual One: Pocket Tweed Dress by Mango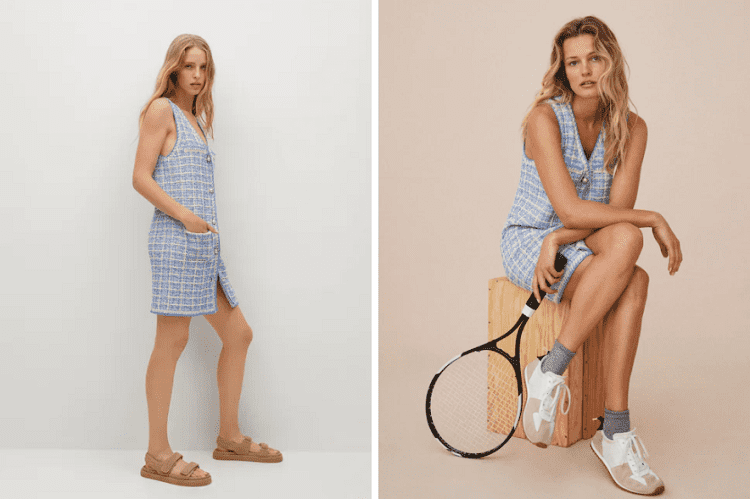 Okay, I am slightly obsessed with this dress! There is something really playful about it, and I love its relaxed and casual style. This is the perfect tweed dress if you are kind of hesitant about going full-on vintage. Its modern cut and V-neck style feels pretty fresh, with the pros of being a knitted tweed fabric. It is warm, stylish, and very flattering!
Pros
Knitted tweed fabric
Modern and playful
Casual
Long-lasting and warm
Cons
Limited sizes
Only available in one color
The Patchwork One: Mixed Tweed Dress by GB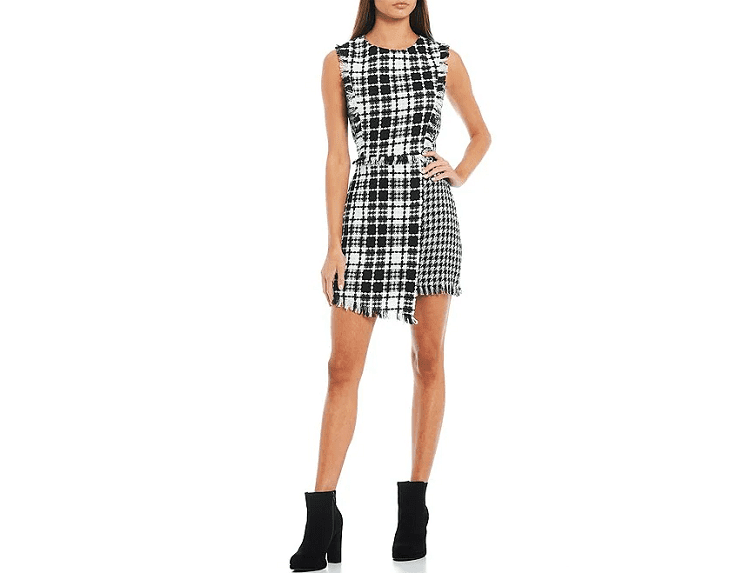 This tweed dress mixes vintage with patchwork and I love it! It feels stylish and perfect for both parties and days out. The frayed edges really work well with this dress and enhance the patchwork vibes.
I like the asymmetry of the skirt and the flattering details on the top half of the dress. It is also available in a range of sizes, so it will fit loads of different people!
Pros
Tweed fabrication
Versatile
Flattering
A modern take on tweed
Available in a range of sizes
Cons
Made out of synthetic materials
Only available in one color
The Classic One: Textured Tweed Midi Dress by Chicwish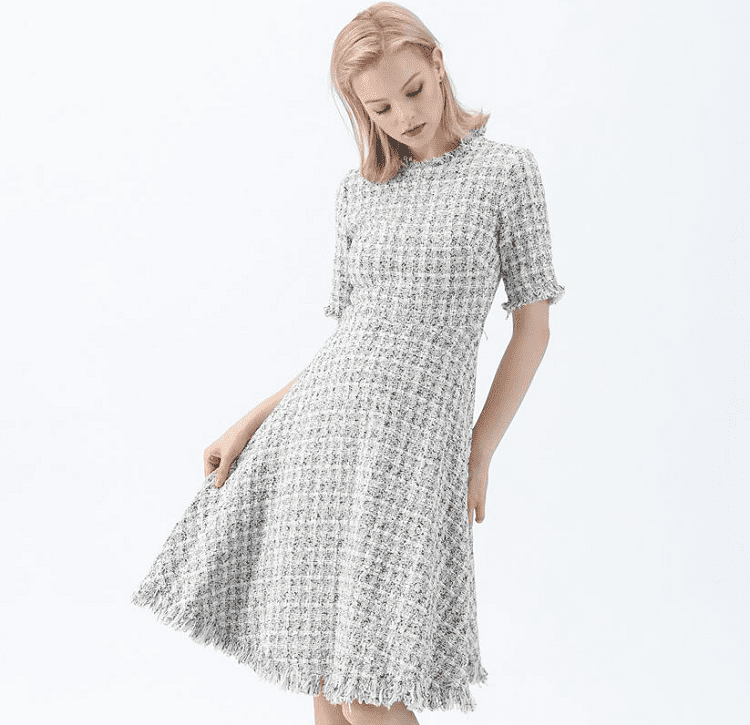 This tweed dress fully embraces the 50s look and I am here for it! It is simple and classic, with a below-the-knee-length cut and sleeves. It is made out of a heavy, textured material that is high-quality and long-lasting. It also means that it is perfect for the winter months.
It fits beautifully with a high waist and loose skirt. I like the high neckline with the rough edges; it looks so high-end and well made.
Pros
Vintage cut and style
High-quality
Well made
Lined
Warm and heavy material
Cons
Only available in a few sizes
FAQs
Let's look at some FAQs you might have about tweed dresses.
Question: Can You Wear a Tweed Dress to a Wedding?
Answer: Of course, you can! The tweed dress is a fantastic look for a winter wedding. It is sophisticated but will still keep you warm.
Question: What Can I Wear With a Tweed Dress?
Answer: When it comes to styling a tweed dress, I recommend keeping it simple. A fluffy or furred coat in neutral tones is a perfect way to style a tweed dress. When it comes to shoes, simple heels or trainers are the way to go.
Question: Can You Wear a Tweed Dress in Summer?
Answer: A tweed dress is often made out of heavy fabric, but some options are perfect for the summer months. You can find a lighter tweed dress that you will feel comfortable in during the summer months.
Question: Where Can I Buy Tweed Dresses?
Answer: There are loads of online stores that are currently selling tweed dresses. You should also check out department stores near you. Because tweed dresses are vintage and timeless, there will always be places to buy them from!
Embrace Your Vintage Side With a Tweed Dress
I hope you have enjoyed this article, and it has inspired you to find the perfect tweed dress! There are so many different cuts and styles of tweed dresses available, so there is one for everyone.
My personal favorite is the casual, blue pocket tweed dress by Mango. I love its modern twist on the vintage look, and it looks comfortable, too!
Recommended reads: