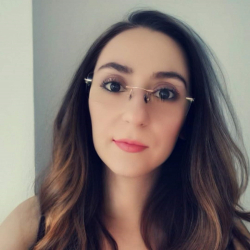 Latest posts by Alexandra Gavrilescu
(see all)
Fashion trends keep changing as time goes by. Therefore, it isn't easy at all to keep yourself updated and wear amazing clothing pieces that complement your body shape. In my opinion, fashion isn't about wearing the most expensive items but more about feeling excellent and confident with the outfit we choose to display.
To help you find the right dress for your body type, I've written this guide that I hope will come in handy whenever you have doubts about a certain dress that you like and would want to wear.
Know Your Body Type
First, we must talk about body types. Once you discover your unique body features, you will know your body type and will become able to choose your clothes a lot easier and much wiser. Identifying your body shape and type is the first thing you must do.
To determine the type of your body, you must measure the circumference of your waist, bust, and hips. Using a tape made of cloth or soft fabric is the best way to discover your silhouette. When you're doing the measurements, make sure the tape isn't loose neither tight.
If you have someone next to you who can help, you should also measure your shoulders. Before measuring your bust, stand upright and keep your back straight. Using a full mirror could help. The tape shouldn't squish your breasts. When measuring the waist, avoid pulling your tummy in.
The hips are best measured when you wrap the tape around the fullest area of your buttocks. Like I said, doing this in front of a mirror can save you a lot of time and effort.
What's the Shape of Your Body? – 5 Main Body Types
Here are the detailed body shapes and types.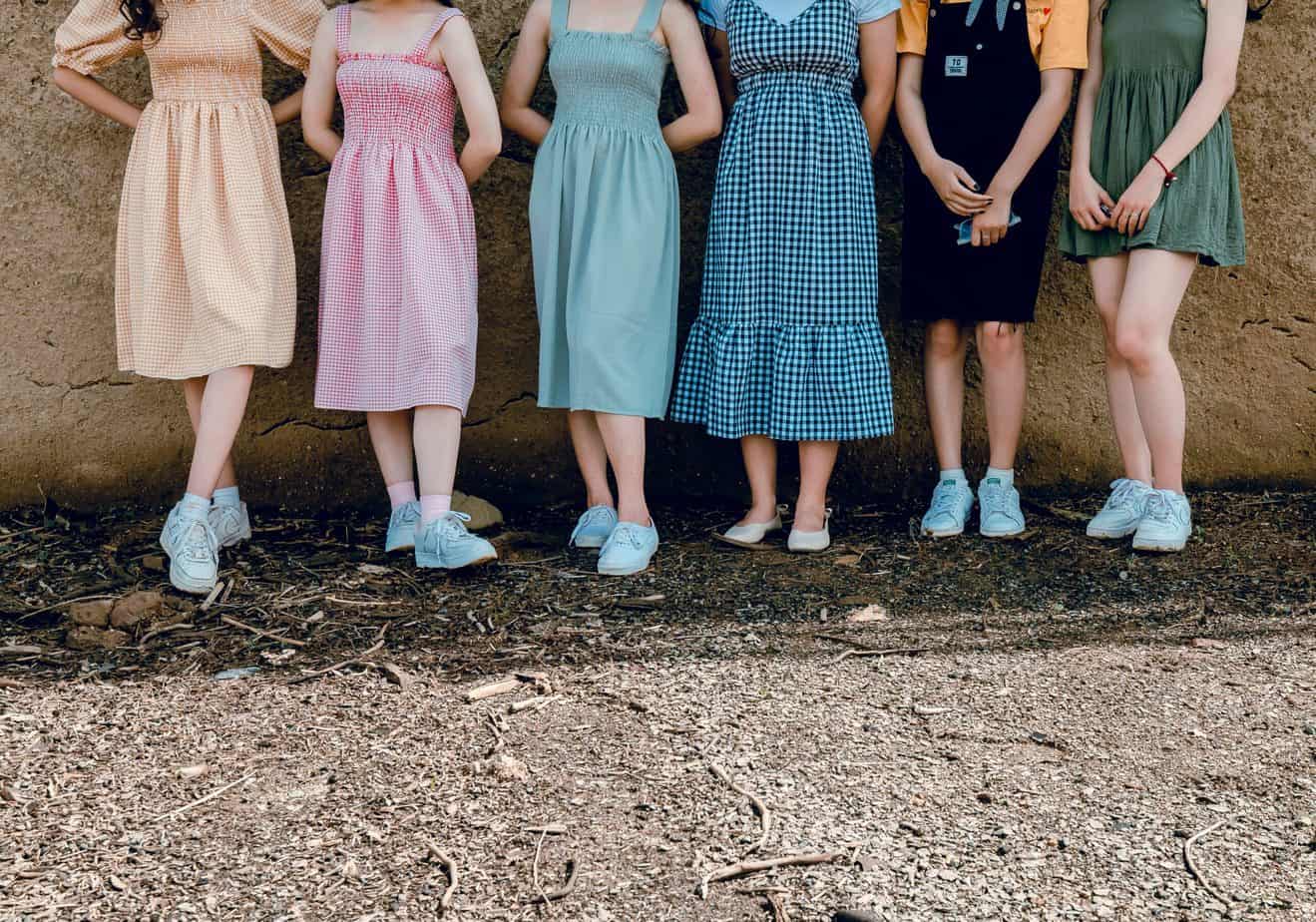 Apple Body Shape
You have an apple-shaped figure if your upper body is wider than your lower body. Women with this body shape usually have a bigger bust line and broader shoulders. These women might also have an undefined waist, slim legs, and flatter bottoms.
So, if your body is shaped like that, try to avoid wearing dresses that might draw others' attention to the upper body part. Your major asset is represented by your legs, so wear a dress that's shorter so you can flaunt those gorgeous legs of yours.
Stay away from dresses with horizontal lines and a fitted top part. Also, a dress that comes with a belt is better than one with a natural waistline. Dresses with a V-shaped neckline are also a good choice for you because they create the illusion of an elongated torso.
Choose materials that don't cling but sit pretty close to your body. Silk and soft cotton are great choices. A-line dresses or those with empire waistlines will reduce your upper body part's roundness. If you like, you could wear high heels to accentuate your legs.
For inspiration and ideas, you could follow celebrities like Kate Winslet, Drew Barrymore, or Catherine Zeta-Jones, who are all apple-shaped.
Pear Body Shape
Women with pear-shaped bodies have wider hips and narrower shoulders. I have this body type, and I spent years hating my hips, but now I am learning to perceive them as strong and beautiful. After all, they take me places. Pear-shaped bodies have bigger bottoms and thicker thighs.
This body type is very popular these days, thanks to celebrities like Kim Kardashian. Pear-shaped bodies are also known as triangle bodies. They appear well-balanced and more proportional with dresses that add volume to the upper half part.
A-line skirts will conceal wider hips, while fitted open necks and tops with ruffles around the shoulders can also create a more proportional look. Details and intricate patterns around the bust area are also good choices. Long story short, flare and fit garments are great because they have enough room for your strong hips, but they also add enough volume to the upper body while also emphasizing your tiny waist.
Pear-shaped women should avoid shapeless styles and oversized dresses. Full poofy skirts are also a no-no. Dresses made from curve-hugging materials and those with short hemlines must also be avoided. When styles correctly, this body shape can easily become a gorgeous hourglass figure.
Rihanna, J Lo, and Beyonce all have and are proud of their pear-shaped figure.
Rectangle Body Shape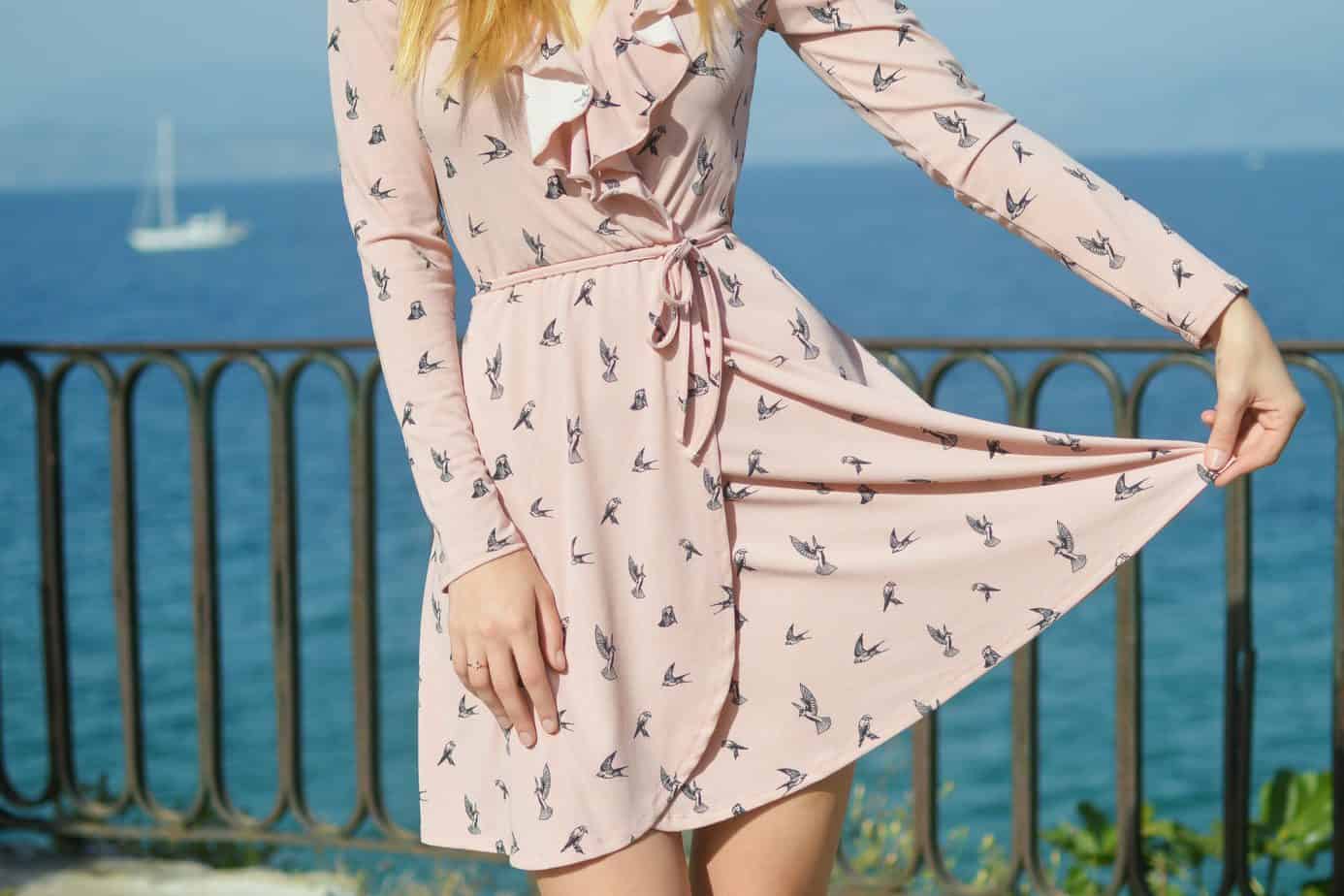 Women who have similar measurements around their bust and hips have the so-called rectangle body shape. It is a well-balanced figure from the hips all the way up to the shoulders. However, this kind of silhouette doesn't have a lot of definition because it is quite straightforward.
In this case, what you must do is find a way to define your waistline to create the illusion of a tiny waist. To achieve that, you should use cinched dresses, color blocking pieces, or a waist belt. The assets of a rectangle body are the legs and arms. So, you should focus on those areas.
A-line dresses and those that feature either layered tops or ruffles around the shoulders are all great choices for a rectangle-shaped body. In other words, you should purchase and wear those dresses and clothing items that add more definition to the bottom part. Choose necklines that feature intricate patterns or styles to add structure to your upper body.
Your go-to styles are strapless gowns, sweetheart bust lines, and sleeveless dresses. Go ahead and have fun with fashion styles by wearing shoulder-building details such as oversized one-shoulder tops or puff sleeves. Flared skirts will also accentuate your curves.
Avoid wearing dresses that have straight or square necklines. Instead, wear round necklines with some embellishments. Avoid fitted sleeves and try wider ones instead. Opt for gowns that provide high waist definition. Fitted and flare is always better than a boxy straight style.
Celebrities such as Meghan Markle, Cameron Diaz, Kate Moss, and Sheryl Crow all have rectangle-shaped bodies.
Hourglass Body Shape
Women who have an hourglass body shape are considered sexy and attractive due to their curvy and well-proportioned figure. The waistline is thin, whereas the shoulders and hips are evenly proportioned. If you have an hourglass body shape, consider yourself lucky and embrace those curves.
The best dresses you can wear if you have this body type are those that feature open or v-shaped necklines. Cinched-in waistlines, as well as form-fitting tops, are also great alternatives. Your hourglass figure will glow in a wrap dress that has a belted waist.
It appears that this figure is the most balanced body type of all. So, flaunt your assets and be proud of them. Make sure your dresses follow your curves and the overall outline of your body. There are many clothing styles that look gorgeous on a body like this, but there are also a few things you should avoid.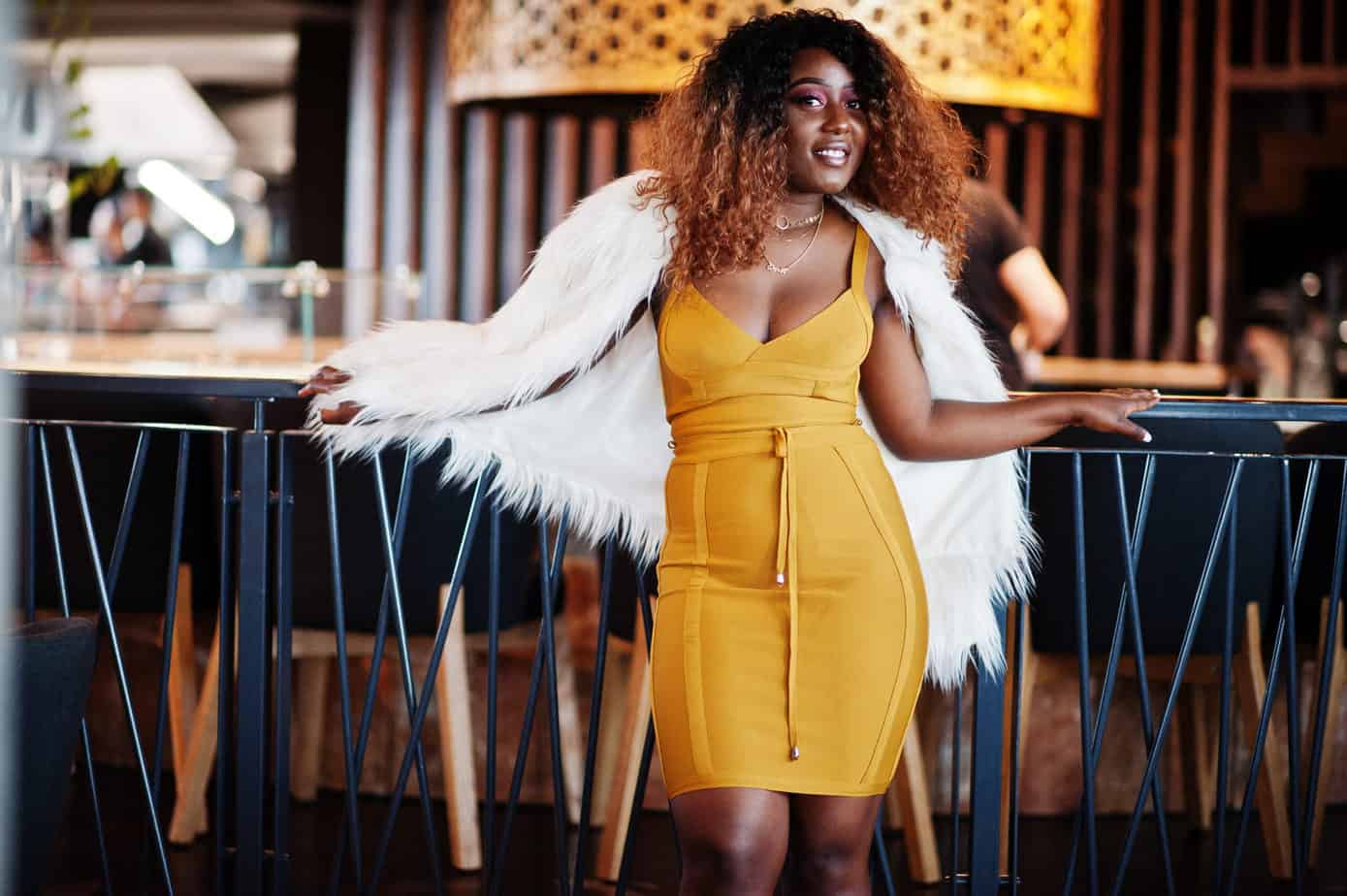 Try not to wear shapeless dresses, baby doll gowns, oversized styles, and dresses that have an empire waistline. Dresses with pencil skirts should be the staple clothing item of your wardrobe. Mermaid gowns are also perfect for your body type.
Marilyn Monroe and Elizabeth Taylor both have beautiful hourglass body shapes.
Inverted Triangle or the Athletic Body Shape
This is the most athletic body type of all. Women with this figure have broader shoulders and thinner hips. Although you must enhance your arms and shoulders, you should also try to add more definition to your lower body part, especially your hips.
However, athletic women don't have very wide shoulders. In fact, the inverted triangle is a body type characterized by slightly wider shoulders in comparison to the hip area. The waist isn't well defined. So, your goal should be to create the illusion of an hourglass shape.
The athletic body type is also known as the wedge body shape. You can balance this look by wearing well-defined décolletages. Mini-length dresses will also do the trick by elongating your beautiful legs. The main focus should be your hip area, where you must add some definition.
Avoid clothing items with a lot of layering or many embellishments around your upper body part. V-shaped necklines will complement your figure very well. The bottom part should have ruffles or any other fabric that increases the volume around your hips and thighs.
Short hemlines will only make your bust look heavier, so stay away from those. You should also avoid wearing strapless dresses because they don't have enough support. Angelina Jolie, Renee Zellweger, and Naomi Campbell are all famous women with an inverted triangle body shape.
One Extra Body Shape
There's also a sixth body type, specially created for petite women who have a height of a maximum of 5 feet and 3 inches. Some stylists take into consideration the petite body shape when talking about all the figure types that exist out there. Petite women with slender figures should wear fitted dresses because those will emphasize their lean physique.
Also, you may want to add a belt to your dress and place it around your waist to achieve a flattering shape. If you want to look taller, you should opt for dresses with asymmetrical hemlines. Other things that would make you look good are V necklines and vertical prints.
Finding the Perfect Dress that Suits Your Body Shape – Things to Consider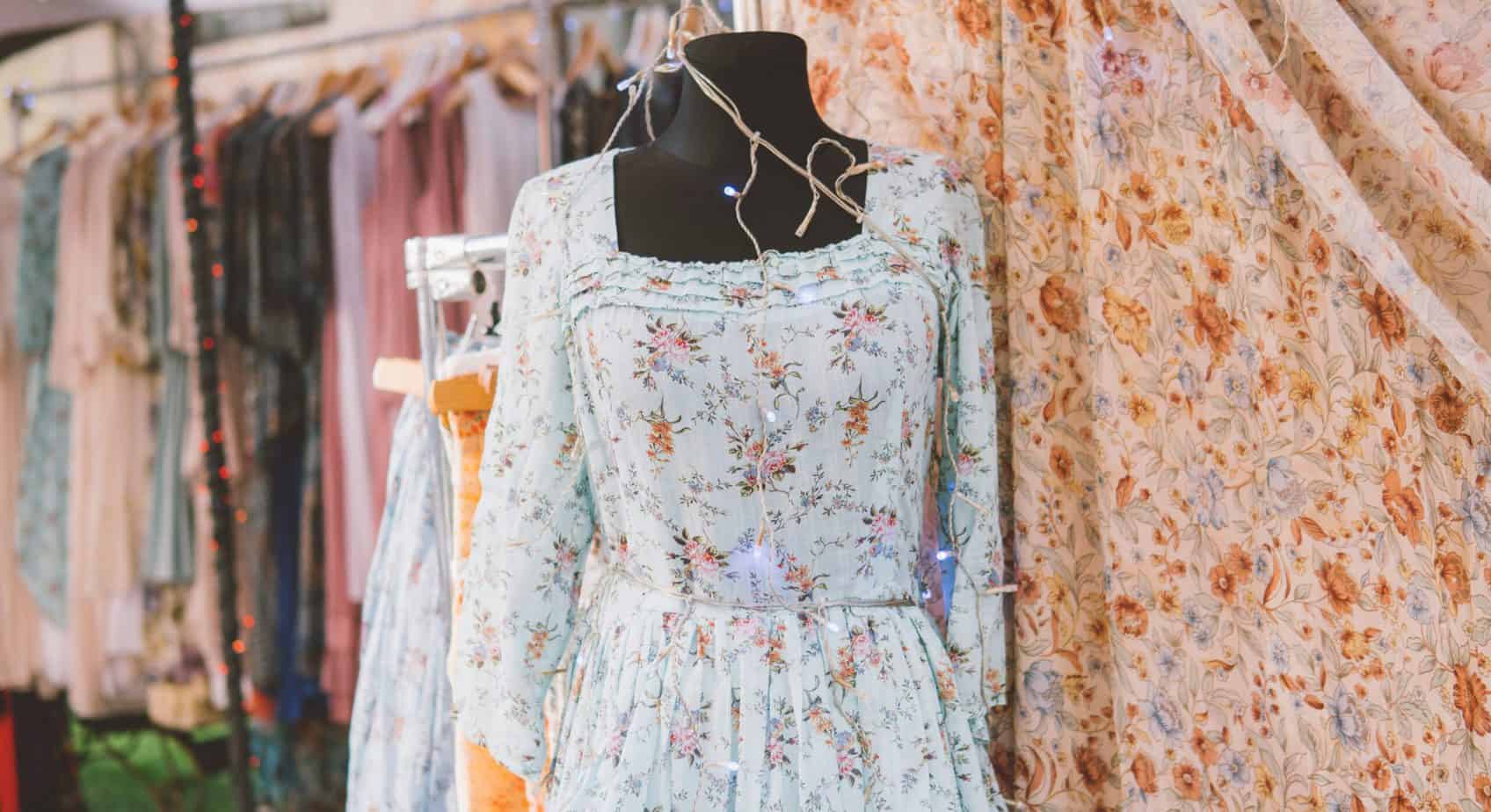 Here are some simple guidelines you must know and follow to find the right type of dress for your particular body type.
1. Choose the Right Waistline
If you want the perfect dress style that highlights all your great features, you must first think about the waistline. So, let's meet in the middle! The place of the waistline and the way it is made will make a huge difference in the way you will look.
There are three types of waistlines.
Empire Waist
The empire waist comes right under the bust area. It looks similar to an A-line style because it is fitted around the bust. The difference comes from the bottom part. A dress with an empire waistline will flow from under your bust all the way down without making a very distinct angular shape.
Almost everyone can wear this type of dress because it is flattering on many body types, especially curvy ladies and women who have apple-shaped bodies. Petite women should opt for this style of waistline but on a maxi dress to elongate their legs.
A-Line Natural Waist
These dresses are fitted around your natural waist. The bottom skirt flares out gradually. The style will help you achieve a tiny midsection while also minimizing your thighs and hips. Based on what kind of neckline you choose, all the attention will be drawn to your upper body.
For all these reasons, many brides and bridesmaids prefer to wear A-line gowns because it is a very flattering style, regardless of your body type.
Drop Waist
This waistline became popular in the 1920s. It was worn by the well-known flapper girls with their bobbed hair and short dresses. If your body type allows it and you want to wear such a dress while looking modern at the same time, you should opt for a mini length.
The style is quite tricky to wear, and it looks good on slim gals. But that doesn't mean that curvy ladies cannot wear it as long as they make sure to pick the proper fabric that doesn't hug their body anywhere. It is best to hang freely around your body outline.
As I said, drop-waist dresses look fabulous on boxy shapes and lean athletic bodies.
I know that this can be a bit overwhelming with all the various options out there. Therefore, you should purchase a minimum of two or three different styles to create your wardrobe. There are five main dress shapes.
Fit and Flare

This is a highly versatile style because it flatters almost anybody. Also, this dress style will always be fashionable. It's actually an iconic look that has a fitted bodice and flares out right under the hip area. Your silhouette becomes slimmer and more balanced when you're wearing this type of dress.
Due to this dress' balanced proportions, many different body types can wear it because it defines the waistline. Athletic bodies will achieve that curvy outline, whereas hourglass shapes are the ideal body type for this dress style.
Shift Dresses
This is also known as a column dress because of its rectangular shape. It isn't a fitted style, but it is very comfortable. It works well as an office outfit. Shift dresses will complement long and lean body shapes as well as athletic and apple shapes. To create an elongated figure, you should pair this dress with high heels.
This dress isn't worn with a belt, so it might not be a great choice for those of you who have an hourglass body type.
Sheath Dresses
Unlike the shift dress, the sheath style is more form-fitting. Around the bust area, this dress is shaped by darts. These types of dresses are excellent options for cocktail parties, date nights, and other similar events. It offers you a balancing effect that's eye-pleasing.
Women with an hourglass body shape will simply love this dress style due to how well it will emphasize their greatest features. Long and lean body shapes will also look amazing in this kind of dress due to how the style creates the illusion of a curvy body.
Trapeze Dresses
This dress style is the more exaggerated version of the A-line dress. The standard A-line dresses are more fitted around the waist, whereas trapeze gowns aren't fitted anywhere. If you wear this type of dress as it is, it will look like a regular triangle. It's a dress that flows and moves easily and looks best on athletic bodies.
Curvier women can also pull off this look if they know how to accessorize the dress in such a way that they highlight their best assets.
Wrap Dresses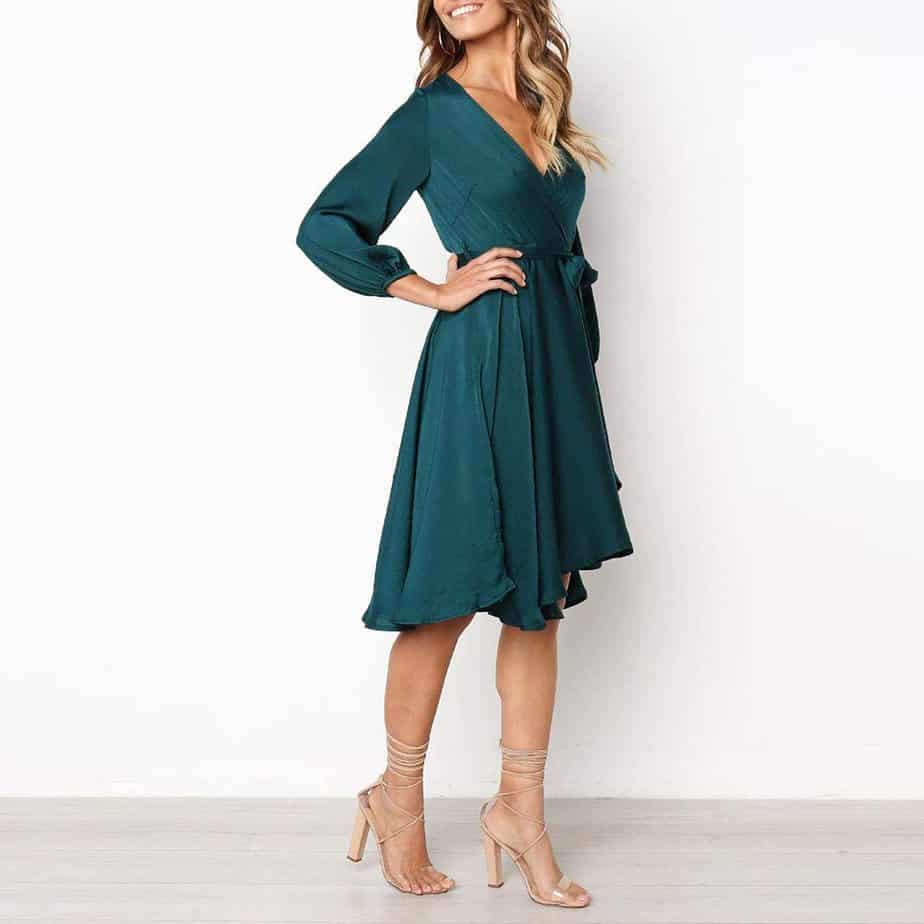 The wrap dress represents a very flattering style. It is quite hard to go wrong if you choose to wear this kind of dress. It is another iconic outfit, and it has a body-shape-friendly fit. All curvy gals out there, including those with hourglass and apple body shapes, can easily wear wrap dresses if they want to highlight their bust while also creating a well-defined waistline.
Choose a knee-length wrap dress so that you can wear it at both day and night events; all you will have to do is change the accessories.
3. Opt for the Correct Length for Your Body Type
There are several different lengths when it comes to dresses, but the most common ones are mini, maxi, and knee-length gowns.
Mini Dresses
Mini dresses are super fun and flirty and can be worn by many body types. If you want to avoid any wardrobe malfunctions, you should measure the skirt part of the dress. It should be at least what's called a fingertip length – you must place your hand wide open while keeping your arms straight down to see where the shortest mini dress should end.
To wear a mini dress the proper way and to feel comfortable in it as well, you should consider two things: your body confidence and the shape of the clothing item. Do you like your legs and think they're one of your assets? Are you a more adventurous person who loves and dares to try new things out of their comfort zone?
What not many people know is that mini dresses and skirts can actually make your legs look longer if you pair the dress with high heels.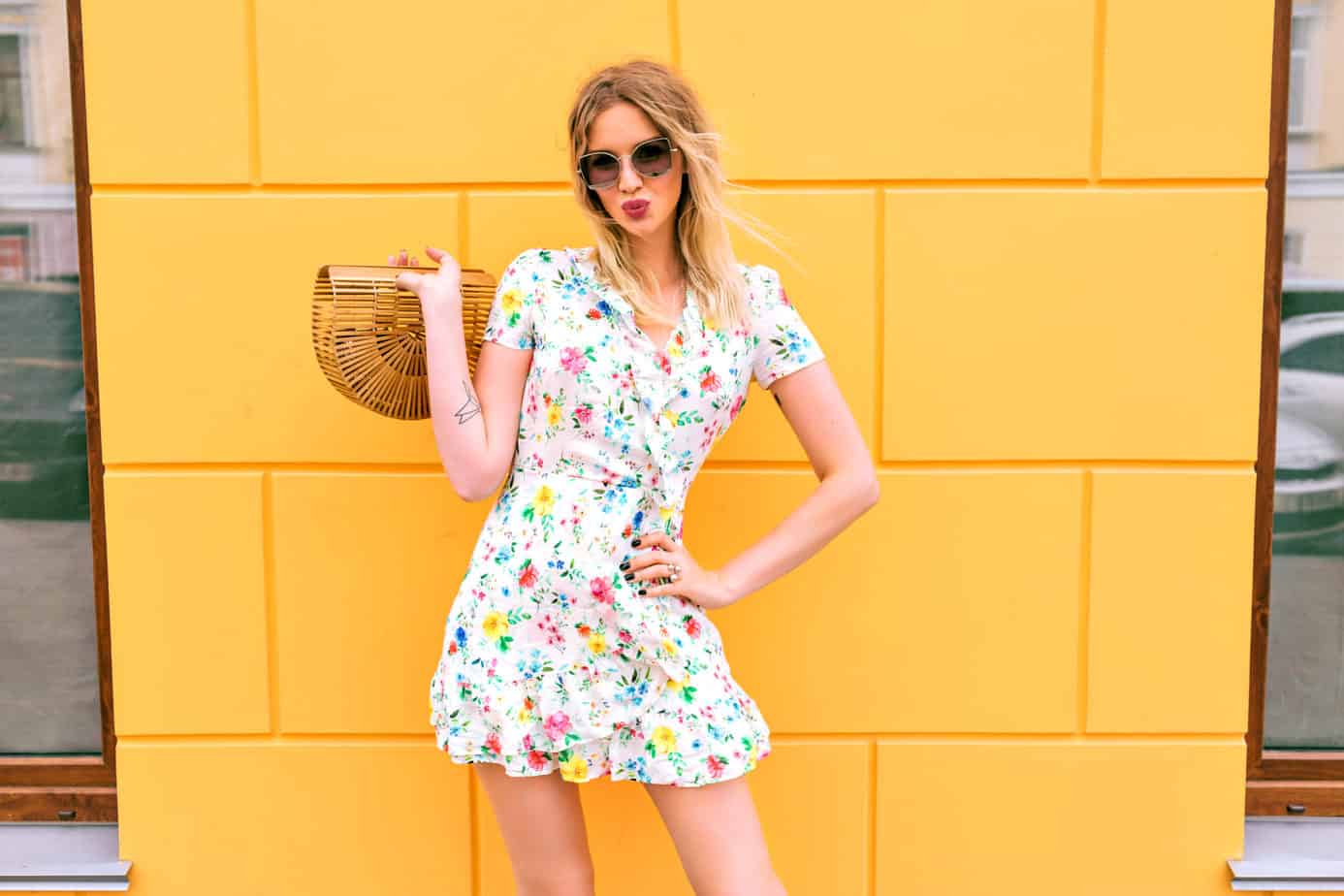 Maxi Dresses
All body types can easily wear maxi dresses. This style is very comfy as well. Shapeless styles work well on athletic figures, whereas petite women might need to accessorize the dress with a belt. Another way is to choose a form-fitting maxi dress.
Curvy gals could wear the dress with a belt placed under their bust area to highlight their shape and lengthen their figure.
Knee-Length Dresses
I love knee-length dresses, especially those with a vintage cut. They are certainly great to wear at the office. But these types of dresses can also be sexy. A knee-length dress has many benefits: it is lengthening and slimming; it also balances your entire silhouette.
Curvy women should choose a knee-length dress that features a hem right below the knee and pair the dress with killer heels.
4. Find the Right Fit Formula for You
You must think about the style of the dress and the hemline if you want to find the perfect combination for your body type. For instance, those of you who are courageous and have a straight body shape could opt for sheath dresses, miniskirts, and drop-waist styles.
Women with the classic hourglass body shape will definitely rock three types of dress styles: wrap dresses, sheath dresses, and empire waistline dresses. If you're an apple-shaped body type, you will never go wrong with an A-line dress.
How to Find the Best Dress – Frequently Asked Questions
Question: Which Is the Most Attractive Female Body Shape?
Answer: Don't get me wrong! All bodies are beautiful and unique. All women are gorgeous, and we should repeat that and empower gals as often as possible. There's no such thing as an ugly body, only wrong clothing styles.

Now, if I am to listen to the media and to the female celebrities they promote as being the most beautiful and attractive ones, I could say that the hourglass body shape is seen as very appealing.
Question: What Dress Styles Should You Wear If You Want to Hide Your Tummy?
Answer: First, I must say that no matter how your abdominal area looks, you should celebrate that amazing body of yours because it has gone through so many things and changes, and it works wonders for you. When I was a teenager, I was slimmer. My childhood was pretty rough though because my school peers called me fat all the time.

That kind of damaged me for life. I am now learning how to love myself more and treat myself better, with more empathy, understanding, and acceptance. But even when I was very skinny, I have never had defined abs, and that was one of my frustrations.

Although I am a little bit more understanding with the way I look, I still feel the need to hide my tummy most of the time. I do that by wearing trapezoidal dresses and those that have high waistlines. I also avoid wearing dresses that are too tight.

But, above everything else, you should do your best to accept and love yourself the way you are!
Question: Which Is the Most Difficult Body Shape to Dress?
Answer: Hmmm! That's a tricky question. Well, I believe that the hardest body type to dress is the triangle or pear-shaped figure. I am a pear-shaped female, and I must admit that it's pretty difficult for me to find the right kind of dresses that flatter my body without emphasizing my wide hips.
How to Find the Best Dress – Bottom Line
To avoid a shopping nightmare and feel good in your own skin, you should first become more self-aware and well-informed and, secondly, you should follow all the tips and tricks I've recommended in this guide.
Don't worry about it so much; if a dress doesn't sit properly on you, all you have to do is look for a proper style that suits your unique body features. It doesn't mean you're disproportionate or out of shape. There are clothing styles meant for us and items that don't really suit our figure, and that's perfectly fine.
It's important to know what our needs are and where to look for things that can meet those needs. I hope that now you know what kind of dresses match your body type.