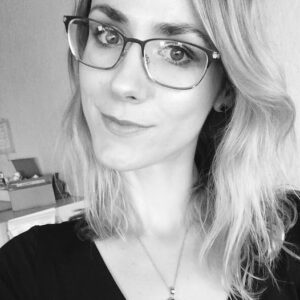 Latest posts by Karyl Trejo
(see all)
A fresh spin on the classic wardrobe staple, the off-the-shoulder sweater is both a cozy and a fashionable way to keep warm. Having one or two of these sweaters in your wardrobe can be an excellent way to spice up your wardrobe. 
No doubt, they can quickly become an all-season staple as they're so easy to style. From pairing them with skinny jeans to throwing one on over a pencil skirt, this is a versatile and season-transcending article of clothing.
Like the off-the-shoulder sweater, off-shoulder clothing pieces in general always have a mystery to them that makes the wearer alluring and attractive. Something in the way that the slope of the shoulders, the sharp lines of the collarbone, and the cut of the sweater reveals the chest area, making this clothing item incredibly sexy. 
This article will help you learn all you need to know about the off-the-shoulder sweater and how you can confidently integrate it with your fashion style. Get clues from us as we discuss the top off-the-shoulder sweater Ideas. 
The Off-Shoulder Sweater, Analyzed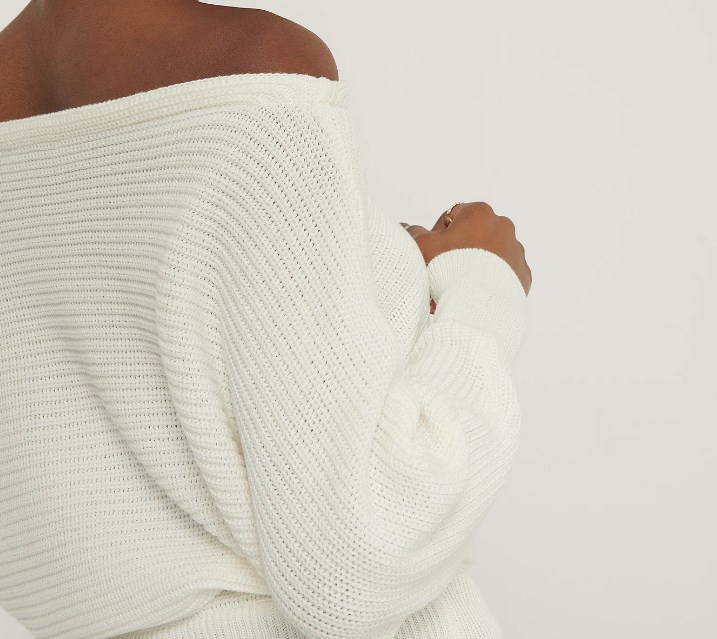 What sets an off-the-shoulder from a regular sweater top? Obviously, it's the shoulder-baring quality that makes it a wardrobe standout.
The off the shoulder sweater top is a chic way to upgrade your usual sweater game. Bare shoulders look dainty and subtly sexy at the same time.
Women first wore off-shoulder dresses during the Regency and Victorian eras, mainly with their upper bosoms boldly bared. In the 1960s, the French actress Bridget Bardot favoured off-the-shoulder clothing so much that she wore it everywhere. In honour of her, the off-the-shoulder neckline is referred to as the Bardot.
Today, the off-the-shoulder top remains a fashion staple and is making a comeback. You can choose the coverage you prefer, too — whether you prefer showing off some cleavage or just have one that lets your collarbone be the star of the show.
It's not surprising that the off-the-shoulder trend has extended to our favourite warm top-the sweater. It's great for layering and can be paired with a knitted scarf if the wind gets chilly. Yet, it also gives you a classy, feminine appeal that elevates your wardrobe.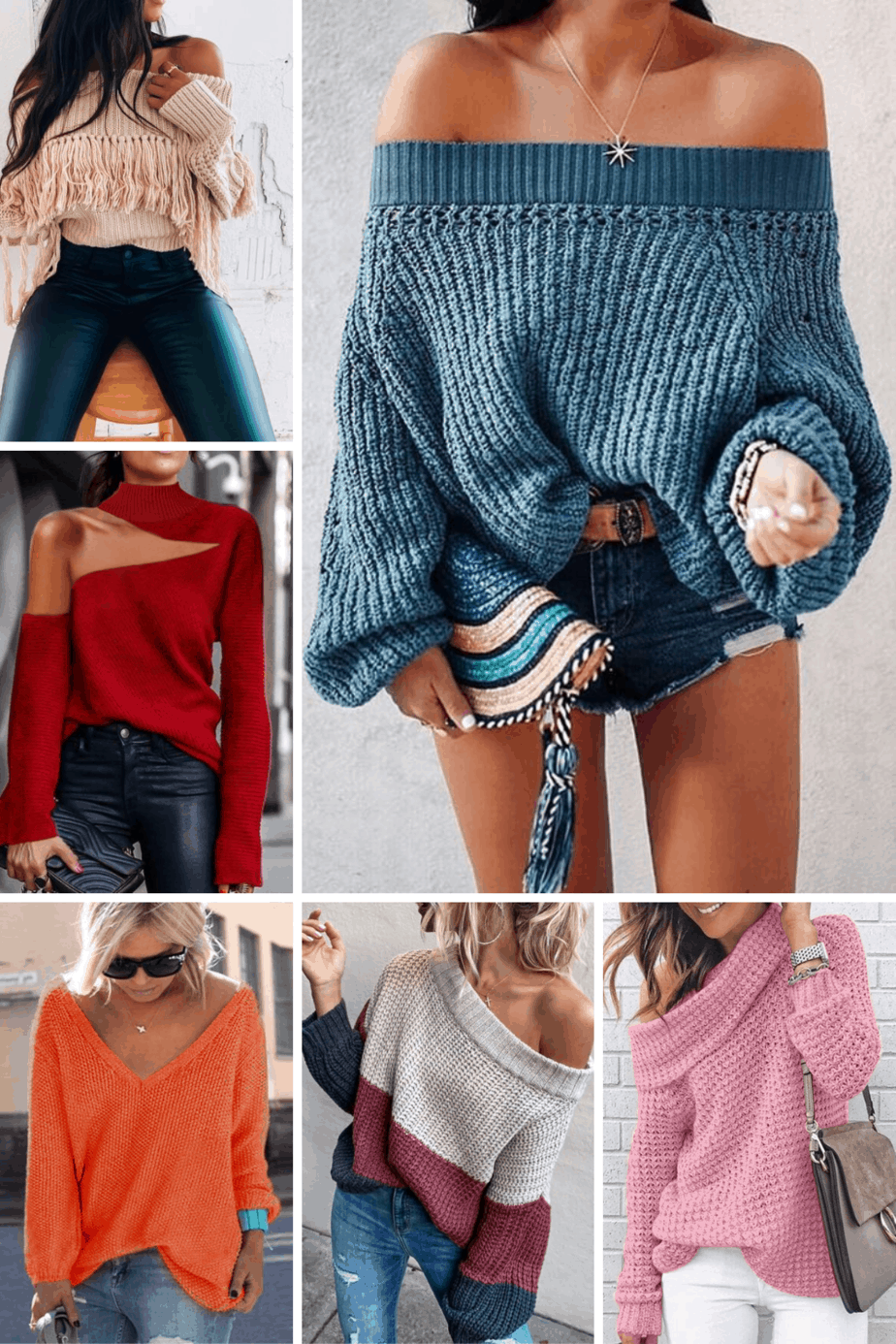 Upsides and Downsides of Off-shoulder Sweaters
As much as we find off-the-shoulder sweaters amazing, they do come with a few downsides. For example, if you wear them without a tank top underneath, they can be pretty revealing. However, this all depends on how you style the sweater and where you wear it. 
 Now that we have the basics down, it's time to figure out where else you should be wearing off-the-shoulder sweaters. Read on so that you're less likely to commit a fashion faux pas. 
The Upsides of Off-Shoulder Sweaters
There are numerous benefits of wearing an off-the-shoulder sweater, including:
It's a chic way to show off colourful

bra straps

. (Or, if you're feeling more daring, don

silicone pasties

instead!)

You can let the shoulder hang free without feeling too revealing.

They look great worn over a dress and can be styled in many ways.

Most off-the-shoulder sweaters have the extra length that makes them great to pair with leggings. 

They look good worn with fitted bottoms. Got a long, off-the-shoulder sweater that toes the line between top and dress? Sass it up by wearing

tights

underneath. Take a pick between sheer black ones for an extra alluring look or colourful ones for a fun, fresh style. 

They make great layering pieces on top of other clothing like thin-strapped tank tops,

bralettes,

tube tops

,

racerbacks

, or

lacy sleeveless tops

. 

They're great for hiding love handles or a postpartum belly when oversized. The bared neck, collarbone, and shoulders also focus away from a fuller midsection (perfect for postpartum ladies who still want to look fashionable!).
The Downsides of Off-Shoulder Sweaters
But, of course, there are also a few downsides to them, too:
Oversized off-the-shoulder tops tend to slide down more often. You should have the patience to adjust it constantly!

Some off-the-shoulder sweaters are tricky to wear for ample-bosomed women. A good inner top, like a

bandeau,

is the key to making this look work for ladies 

They can be heavy and make you look larger than you are. This characteristic applies to most sweaters, not only this style. 

Too much fabric can make you look wide and bulky. Some off-the-shoulder styles have a cowl neck, and while it is flattering for women with smaller to medium-sized chests, it can make well-endowed women look top-heavy.
What to Consider When Getting an Off-Shoulder Sweater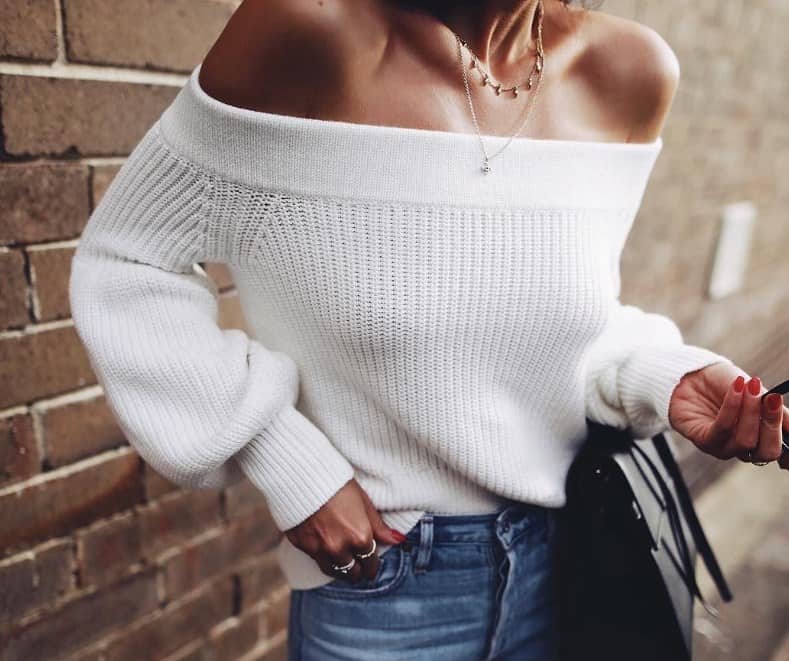 Before investing in an off-the-shoulder sweater, there are a few things you must consider first. These are:
The fibre used in making the sweater

The knit of the sweater

The size and fit of the sweater

What season you plan on wearing the sweater in

What other clothes you have in your wardrobe
Let's go ahead and take a closer look at these important considerations.
The Fibre
One must consider what kind of fibre the sweater is made of before buying one. Sweaters are usually knitted or crocheted either by machine or by hand, which influences the garment's price, along with the fibre type. 
Wool is a common fibre used for sweaters because of its good quality, and it follows that it has a higher price. It has a more luxurious feel than other fibres. While it is a good choice, people allergic to wool must look for different materials for their seats. 
On the other hand, cotton is the choice for sweaters for slightly warmer weather. It is ideal for days when you want extra warmth when the wind nips at you but don't want the extra bulk. 
Synthetic fibres such as polyester and acrylic are popular choices for their warmth and affordability. Polyester is soft and warm and used for machine knitted sweaters, while acrylic is a strong fibre used in activewear. These synthetic fibres are easier to wash but tend to be less breathable than natural fibres.
Sometimes, a mix of both natural and synthetic fibres is used to make the yarn used to knit sweaters. Of course, mass-produced pieces are more affordable than hand-knit/crocheted ones.
The Knit
Choosing the right kind of knit for your sweater is a matter of preference-although if you want to delve deeper into the various types of knits and knit fabric, this guide will help you out a lot. 
As with prints, bigger-looking knits tend to make you look bulky, while smaller knit patterns don't overwhelm you. Choose the one suited to your body type to maximize this quality of knits and knit fabrics. 
The Size/Fit
Do you prefer oversized sweaters? Or do you like body-hugging ones more? Either way, choosing the right fit, especially along the shoulders, is essential. 
If you want a slouchy, relaxed look, you can choose oversized off-the-shoulder sweaters that you can wear with an inner top. Just make sure they won't slide down!
Fitted sweaters accentuate your curves, and the off-the-shoulder neckline adds to the sexiness of the garment. You can choose a fitted one with a more demure off-the-shoulder neckline or one that shows off your cleavage along with your lovely curves. 
Some off-the-shoulder sweaters allow you to bare both of your shoulders. Others allow you to have a one-shoulder look, a more casual take on the trend. 
The Season
Of course, it matters when you want to wear your off-the-shoulder sweater. For freezing winters, it's best to stay warm in a classic sweater neckline. 
When winter gives way to spring, though, an off-the-shoulder sweater is warm enough to let you show some skin without getting too cold. No matter what you do, though, the weather is a part of making wardrobe decisions. 
Some days, you can be warm enough to get away with an off-the-shoulder sweater (like when paired with some skinny jeans and some wedges). Other times, though, you'll have to dress more conservatively (like on a cold day that later rains). 
For these cases, keep in mind that off-the-shoulder sweaters are best when paired with other layers (like a chic moto jacket or blazer) than just your inner shirt. As for what season exactly would be the best time to wear an off-the-shoulder sweater? We'd say the answer depends on where you live.
The Items in Your Wardrobe
Another thing to consider when getting an off-the-shoulder sweater: Does it go along with your wardrobe staples and favourites? Or do you have to buy clothing and accessories to match it? 
If you brought it along during a complete wardrobe makeover, it's more likely that lots of items in your closet would look great with it. However, if you're updating your wardrobe by buying an item or two, keep in mind if other things will look great to wear with your new oversized sweater. 
Not everyone can afford a wardrobe overhaul, though, so it's a must to plan how to wear your oversized sweater before shopping for one. Good thing off the shoulder sweaters are versatile and look good with most body types. You are likely to get several matches with your current clothes. 
Our Style Tips for Off-Shoulder Sweaters
Sweaters are no longer confined to cold-weather loungewear. With a fashionable neckline, off-the-shoulder sweaters can even make it part of a business casual outfit. Loose-fit sweaters paired with shorts and accessories are easy to look boho-fab while pairing them with skinny jeans and sneakers gives off a subtle athleisure vibe. 
We outline below our favorite ways to wear off-the-shoulder sweaters and some novel ones to help you keep your wardrobe choices updated!
Off-shoulder Sweaters and Scarves
A knit scarf is perfect when you want to bare a bit of skin with your sweater but don't want a more bulky cover-up. Wrap it around your neck in several ways and stay fashionably warm.
When summertime comes, you can opt for lighter silk or satin scarves to add pops of color and contrast to your off-the-shoulder sweater. 
Pro Styling Hint: See more on how you can wrap your knit scarf here. 
Off-shoulder Sweaters and Other Outerwear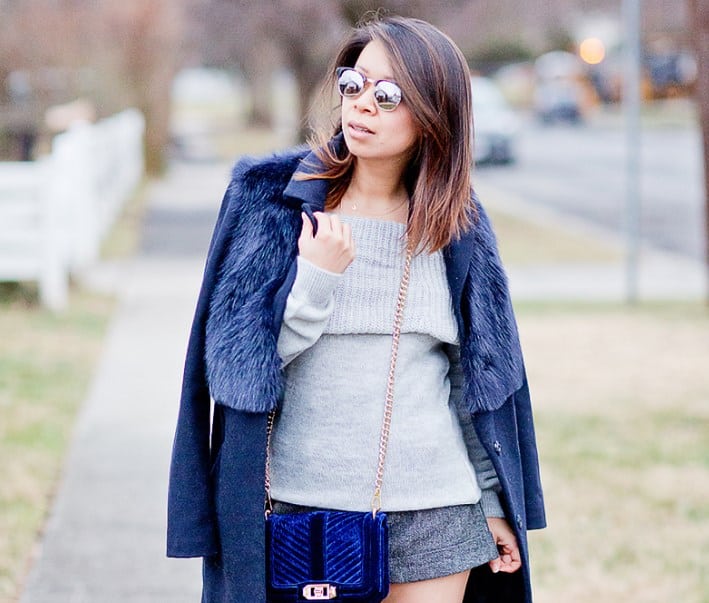 It may seem counterproductive that we layer outerwear over our off-the-shoulder sweaters. For unpredictable weather, carry a jacket or a blazer to give you additional warmth just in case.
Style Tips: 
Uncertain of your office dress code? A

lightweight sweater

under an

oversized blazer

keeps you within office dynamics. When you find out that off-the-shoulder tops are allowed in your dress code, go ahead and take the blazer off!

A

cropped jacket

works well too. Make sure your sweater is not bulky so you won't end up looking larger than you are. 

A

long structured jacket

is a good backup plan in case your off-the-shoulder sweater is not warm enough. Wear it with your sweater outdoors and take off the jacket indoors.
Pros:
It keeps you warm enough by layering

Allows you to follow your office dress code

Lets you change your look from all covered up to showing a little skin 
Cons:
Your shoulders are no longer the center of attention.
Off-Shoulder Sweater With Leather Pants/Leggings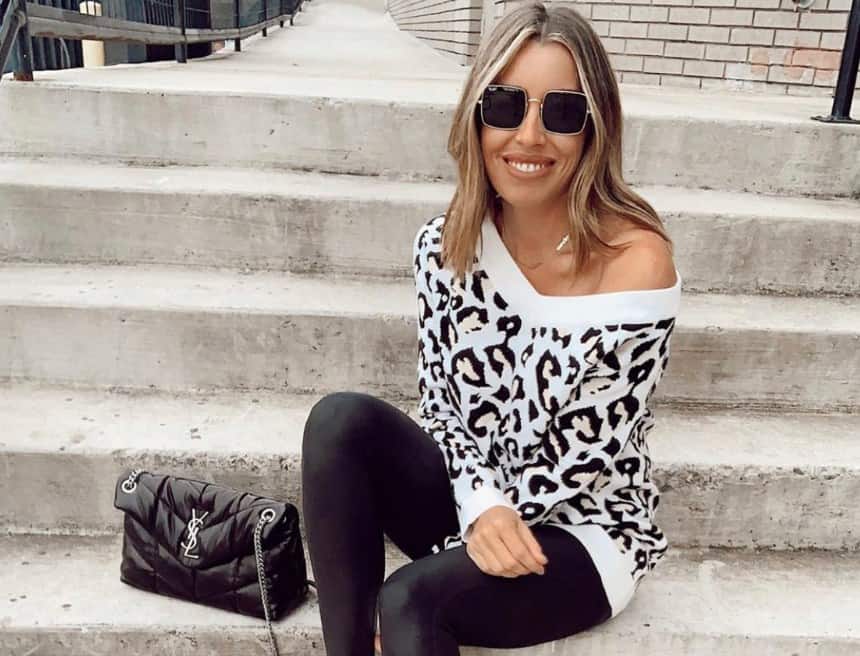 Anything leather is automatically sexy, but throw in an off-the-shoulder, preferably oversized sweater, and your appeal will double, if not triple. This combo works well since the bottom is fitted and the top is loose, creating a positive balance. 
Style Tips:
Streamline your outfit by going monochrome. Brown

leather pants

look sleek with a brown off-the-shoulder sweater. Pair with

gold

or

nude

pumps to further elongate your legs. 

Play with patterns.

Patterns

in sweaters are an interesting detail that adds value to your outfit. The most common ones are the alternating colors, either in contrast or from the same color family.
Pros: 
It makes you look long and lean

It is a warm combo perfect for the winter to summer transition

It is a sleek, no-fail combination
Cons: 
Leather might be too hot to wear in summer

It tends to make plus-size women look more chunky

It may look tacky if not paired with the right accessories
Off-Shoulder Sweaters and Loose Pants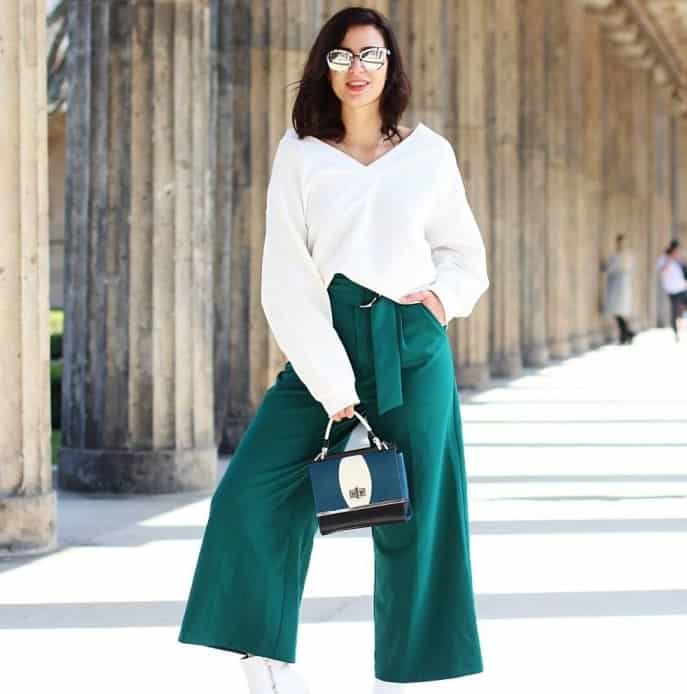 Fitted pants and an off-the-shoulder sweater, whether a bit fitted or loose, are fail-safe top and pants combinations. However, they are not your only options when it comes to pants. 
Gaucho pants, culottes, bootcut jeans, and even palazzo pants can help you get the look you want with your shoulder-baring sweater. 
Gaucho Pants/Culottes
Want more legroom? These options are comfortable and fashionable. 
Style Tips: 
Achieve the business casual look quickly by tucking an off-the-shoulder sweater into

gaucho pants

or

culottes

.

Strappy heeled sandals

mean business but inject style into your outfit. Pairing it with

flat sandals

can take you from a weekend stroll in the park or an off-duty visit to the countryside. 
Pros:
Off-shoulder pants and culottes can be dressed up with

statement jewelry

and heels or dressed down with sneakers and a baseball cap.

It is a comfortable outfit with plenty of room for leg movement.

It's an excellent option to break fashion monotony. 
Cons:
Culottes, when not correctly fitted to the wearer, might come across as unflattering. 

They are tricky to wear for petite ladies. 

Not having the right accessories can make your sweater and culottes outfit a bit dated. 
Off The Shoulder Sweater and Bootcut Jeans
Skinny jean wearers might have outnumbered the ones who favour this style, but it does not mean it won't look good with your shoulder-baring sweater.
Style Tips:
Try boot-cut or swing-style pants with a fitted or loose off-the-shoulder sweater. 

What better footwear fits your top? Wear it with boots, of course. Ballet flats also look good with these choices. 
Pros: 
This outfit pairing is easy to style-wearing it with chunky sneakers lends it a sporty feel, wedges a relaxed summery vibe, and with pumps, a no-nonsense fashion attitude. 

Bootcut jeans

make a comeback, and wearing them with an off-the-shoulder sweater comes off as classy and trendy. 

The extra length of off-the-shoulder sweaters prevents too much skin from showing at the waist and hip areas.
Cons: 
This combination might overwhelm a petite person's frame easily.

Not ideal for cropped off the shoulder sweaters
Off-Shoulder Sweater With Trousers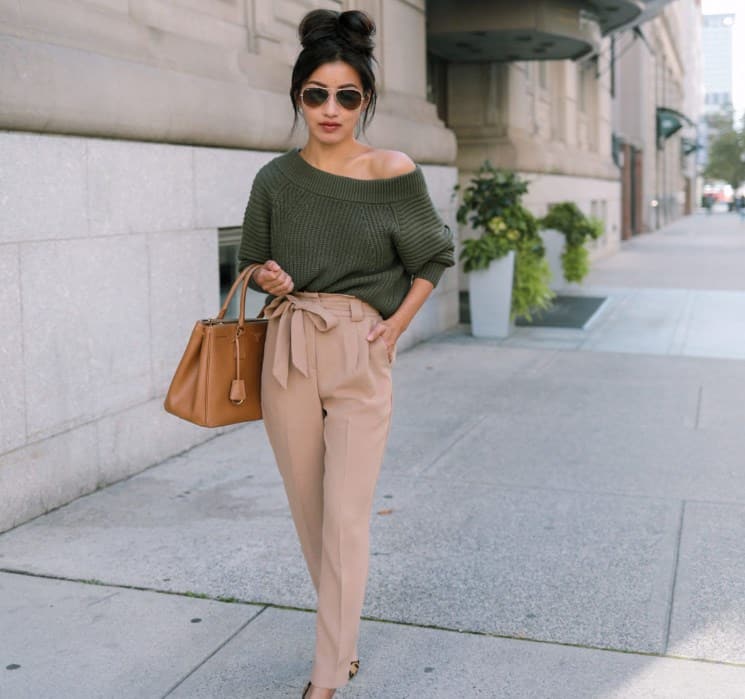 Women's trousers are no longer limited to the office. They are now worn in more informal ways, and wearing an off-the-shoulder sweater is one of them. Still, you can look classy with this pairing, with a few well-chosen accessories. Here are some of our suggestions.
Style Tips:
Don a fitted, pale pastel off-the-shoulder sweater tucked into your high waist trousers of a similar hue. For example, a pale peach sweater will look great paired with light beige trousers. Finish the look with gold and coral accessories and white pointed pumps.

Tucking in a fitted off-the-shoulder sweater into

paper bag trousers

keeps you cozy and fashionable. White sneakers are our favourite footwear for this combination. 

You can achieve a vacation vibe with an oversized off-the-shoulder sweater half-tucked into slim, cropped high-waist trousers paired with flat leather sandals. 
Pros:
Trousers are getting back in style, so you can be sure of an updated look, especially when worn with a timeless off-the-shoulder sweater.

The style combination is both feminine and tailored, giving a balanced look.
Cons:
This style combo can quickly add bulk to ladies on the plus side. 
Palazzo Pants/Square Pants/Wide-Legged Jeans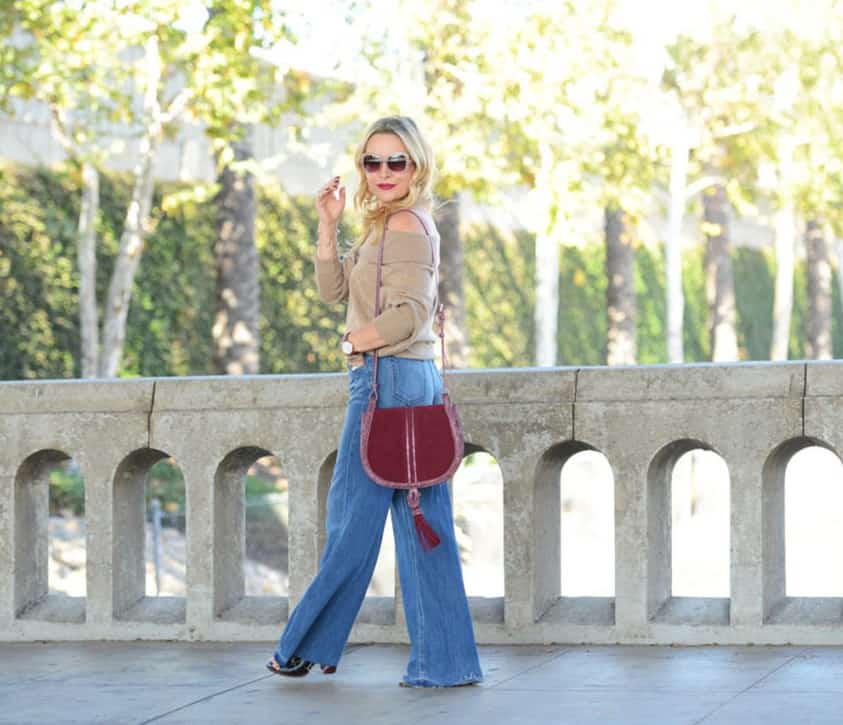 This pairing makes for good loungewear in chilly weather. However, a few accessories here and there will have you ready to hit the fashion scene!
Style Tips:
Wear this combo with platforms or heels to maximize the sweeping effect of the pants.

A scarf added to the ensemble will make it look more high-fashion.

Cinch your waist with a belt to tuck in your sweater and get a better fit.
Pros:
Instantly elevates your usual sweater and pants outfit.

It is comfortable and fashionable at the same time.

It's perfect for spring and chilly summer days. 
Cons:
Palazzo pants

may not be forgiving on petite women. 

With the wrong fabric, they can be mistaken for fashionable pajamas. 
Shorts With Off the Shoulder Sweaters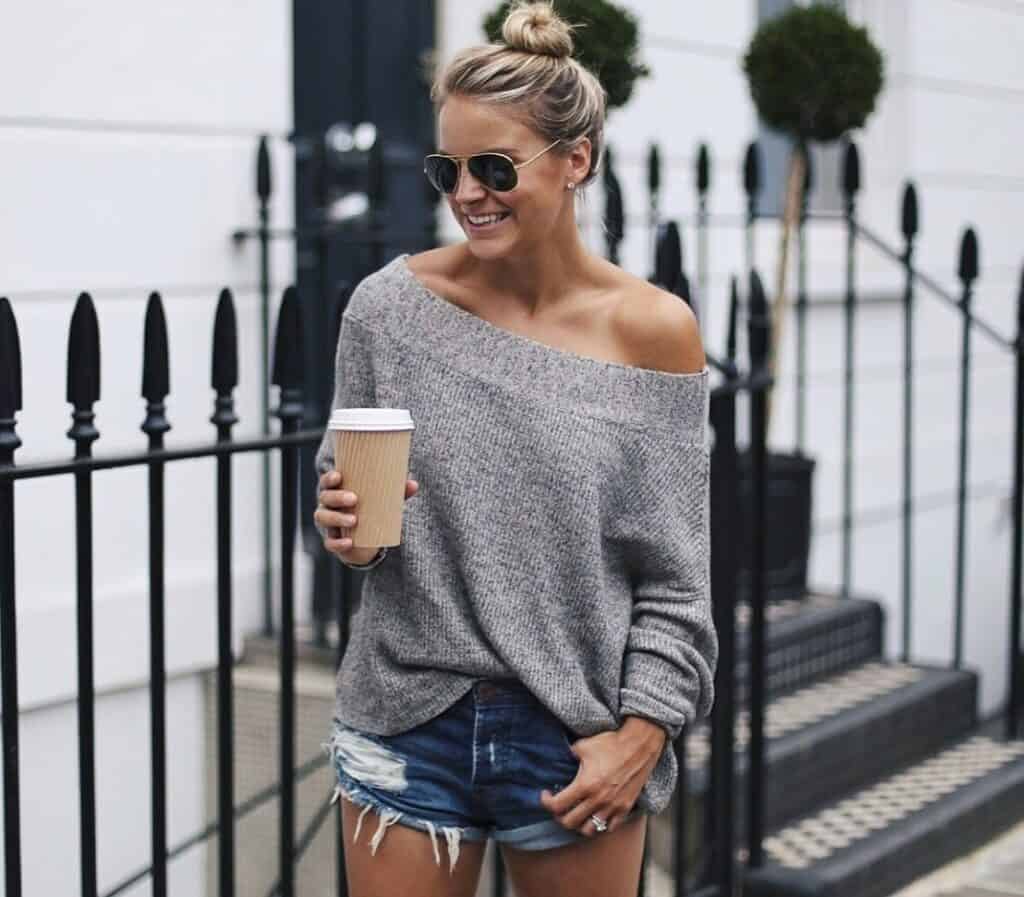 This pairing is a versatile pairing-lots of shorts styles make it fun to mix and match your off-the-shoulder sweater! You can go sporty, dainty, or sexy with our recommended shorts styles.
Style Tips:
Give your off-the-shoulder sweater an update with

paper bag shorts

. 

Tuck in your sweater to show off your waist. 

Finish your outfit with low-cut white sneakers or sandals with strings that reach up to your legs. 
Pro Styling Hint: Want to learn how to tuck tops better into pants? Learn more here.
Denim shorts, especially

daisy dukes

and

short-shorts

, are perfect to pair with a lightweight off-the-shoulder sweater. The summery vibe is sure to keep you looking fresh and fab!

Wearing your off-the-shoulder sweater with a

skort

is also a cute way to welcome spring.

Dainty ballet flats

complete the look or pair it off with

wedges

for some height. For an edgier look, grab some black ankle boots to toughen up an otherwise sweet OOTD. 

Look chill and sporty by pairing your sweater with cargo shorts and running shoes. The shorts' fit depends on your preference. You can tuck it in for a more updated look or let it hang freely. To dress it up, add statement jewelry and heels.
Pros:
It is an easy, casual way to dress up (or down) for spring or windy days.

You can practically wear this combo anywhere except for formal events. Wear this to the grocery, for a stroll on the beach, or for a night out with the girls and look laid back yet fab.

You can wear it with many kinds of footwear- boots,

ankle boots,

flat sandals, pumps, even

flip-flops.
Cons:
The off the shoulder sweater and shorts combo is not recommended for cold weather. However, if you miss springtime dressing so much at the end of the winter, you can opt for tights under your shorts and add some chunky booties.

Other women who prefer to show less skin might not be comfortable with this combination. 

This combo might not be appropriate in more conservative office environments. Go for pants instead, and make sure there is not much cleavage that shows when the top is worn. 
Off-shoulder Sweaters and Pencil Skirts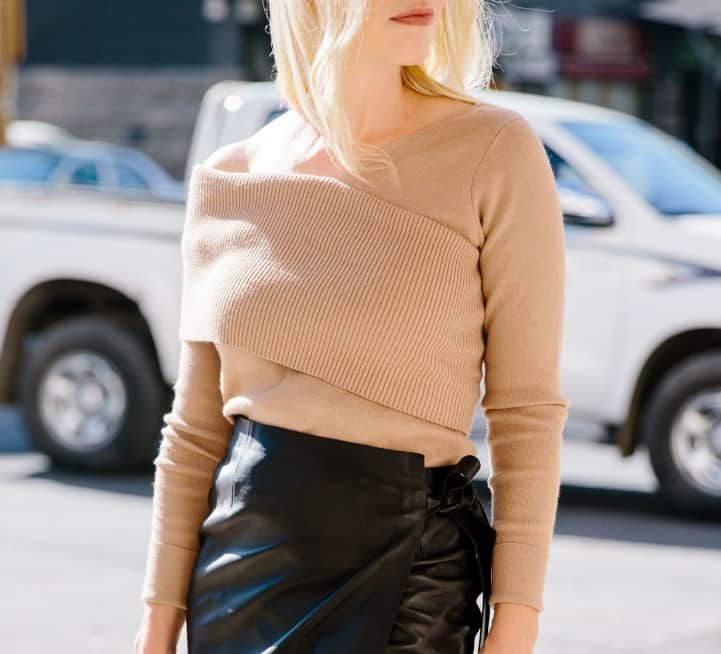 Sexy and streamlined, this pairing is the way to go if you want sophistication. Go for this if you're going to update your conservative look to an alluring one while maintaining the prim and proper appearance. 
Or copy street-style and mix classic elements with tough ones, like military boots, or leather accessories. There's no wrong way to rock this look!
Style Tips:
Layer an oversized sweater over a crop top and high-waisted denim

pencil skirt

for a street style ready look. Add some

ankle boots

to add flair to this outfit.

A strappy white tank top peeking under a neutral off-the-shoulder sweater and

pencil skirt

look versatile enough to be paired with long boots, booties, or cute flats. Add a belt to accentuate the waistline. 

Channel the boss girl look by layering a

trench coat

over your fitted off-the-shoulder sweater and a knee-length pencil skirt. Make sure your heels are ready to complete this look!
Pros: 
A tried and tested combination that is sleek and sexy

You can wear it on casual days at the office or a night out at the club

It can be demure or seductive depending on how much skin the sweater and the skirt shows
Cons:
It may not be flattering on all body types.
A-Line Skirts and Off-Shoulder Sweaters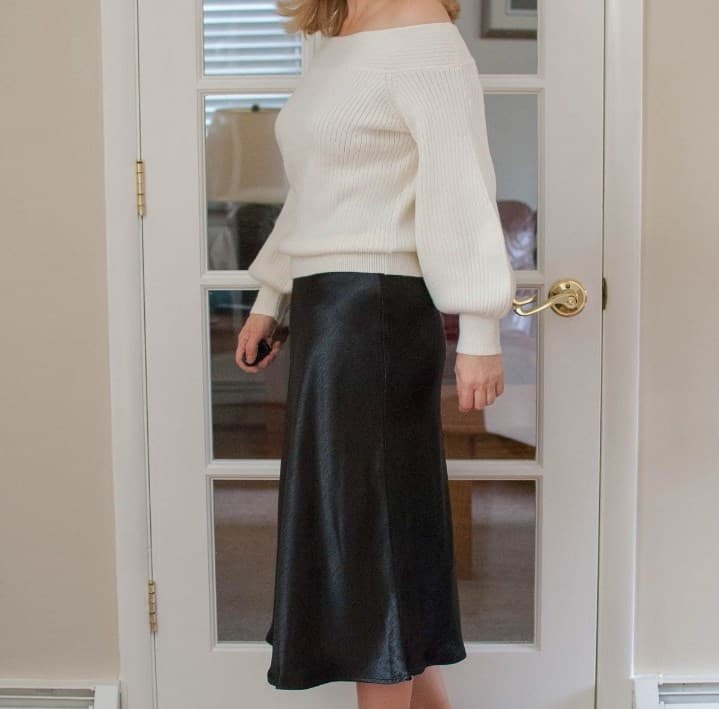 A-line skirts are fashionable and popular. It has a smooth line and is shaped like an "A." Paired with an off-the-shoulder sweater, these two pieces of clothing will make you feel feminine, subtly sexy, and confident. 
Style Tips:
Half-tuck an off-the-shoulder sweater into a

buttoned-up A-line skirt.

This fashion trick is a cute way to dress up, especially in pastel colours.

Are you feeling edgy? Wear both pieces in black and channel your inner rock chick. Accessorize with silver jewelry or red shoes and bags for a more dangerous appeal. 

A

cowl neck off-shoulder sweater

in light gray paired with an a-line midi skirt in blue or blue-black looks mysterious enough for a semi-formal party. Pair with stilettos to maximize the look. 
Pros:
This combination looks youthful and fresh.

It is perfect as a spring or late summer outfit. 
Cons: 
It may look too revealing if the skirt is short and the top shows quite some cleavage. 

It may not be appropriate in some places, like in a church gathering or for formal events.
Off-shoulder Sweater and Dresses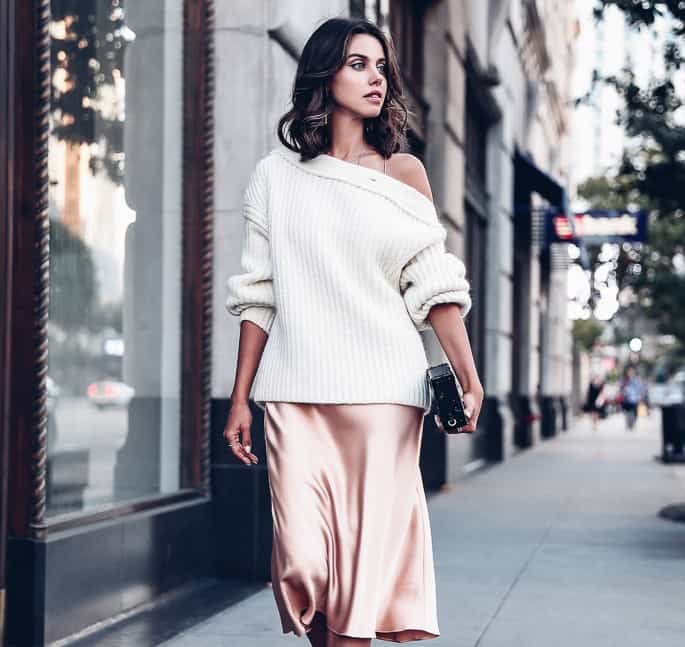 Off-shoulder sweaters with dresses? Yes! We give you ways on how to rock this outfit combination. Read on for our ideas and advice.
Style Tips: 
Wear a

sleeveless bodycon dress

with a lightweight off-the-shoulder sweater for warmth without the unnecessary bulk. 

Got a

sleeveless skater dress

on? Get some cozy warmth with a loose off the shoulder sweater worn over your clothing. The top balances the skirt's flare and still keeps you protected against the cold. You'll look fab with this!

Want to wear an off-the-shoulder sweater that's oversized with a dress? Get a belt of a matching colour and tuck it in until you can't see the belt anymore.
Pros: 
A great, inexpensive way to layer your existing clothes

An excellent alternative to a coat or a jacket
Cons: 
Not all sleeveless dresses look great worn with an off the shoulder sweater on top

May add bulk to ladies on the heavier side
Other Ways to Wear your Oversized Sweater
Tuck in a lightweight off-the-shoulder sweater into a denim jumper. It's a youthful way to wear your off-the-shoulder sweater. White sneakers perfect this outfit choice and throw in a

crossbody bag

for some street sass. 

Cop the off-duty ballerina look by layering an oversized off-shoulder sweater over your sports bra or

yoga outfit

.

Athletic shoes

seal in the look. 

Flaunt a festival-inspired look by wearing your off-the-shoulder sweater with ripped jeans, platform sandals, and a long necklace. 

Long flowy skirts are also best paired with light sweaters. Perfect for summer trips!

Slim, plain

jumpsuits

can get a warm upgrade with oversized off-the-shoulder sweaters. 

An off-the-shoulder sweater on the beach or a yacht? We say yes to that.
Frequently Asked Questions
Question: Can I wear my off-the-shoulder sweater to the office or school?
Answer: Check your school or office dress code if it is allowed. If not, scroll up and note our suggestions on how to layer it with other outerwear. 
Question: What's the best material for off-the-shoulder sweaters?
Answer: It depends on the wearers' needs and preferences. Wool is the common choice for natural materials, but other alternatives come from natural resources, such as bamboo and other natural fibres. Synthetic fibres are an option for those who find natural fibre material too expensive or have allergies to wool. 
Question: Can I wear an off-the-shoulder sweater in the winter? 
Answer: Depending on the severity of the winter cold, you can wear your off-the-shoulder sweater under several layers of clothing and, most likely, only indoors.
Question: I'm heading to a tropical country for a vacation. Is an off-the-shoulder sweater too warm for my journey?
Answer: It depends on where you're heading. Not all tropical countries have hot sunny days all year long, so you'll probably have a chance to wear that off-the-shoulder sweater. Take it along with you, anyway!
Question: I'm not a fan of sweaters, especially ones with oversized knits. How do I wear it without looking dated?
Answer: Take a clue from the newest fashion trends (along with our suggestions) so that you'll have a fresh spin on your off-the-shoulder sweater. Also, choose smaller knits that don't grab a lot of attention.
Question: What's the best way to dress up an off-the-shoulder sweater for a semi-formal party?
Answer: There are several options for this. Either wear it with an asymmetrical flowy skirt belted at the waist and fancy heels or go with a pencil skirt and some gold accessories. 
Question: How do I style my off-the-shoulder sweater for a pool party?
Answer: Wear your swimsuit of choice underneath and pair it with denim shorts and flip-flops. A floppy hat and sunglasses to keep the sun out, and you're all set and done! To avoid looking out of place, it is better to pick a sweater in smaller knits. This serves as your unique coverup.
Our Final Thoughts
There are many ways to wear an off-the-shoulder sweater that is chic as well as comfortable. Off-shoulder sweaters are snug enough to give you a sexy silhouette but not so tight that you need to worry about covering too much skin. 
They're also cozy and snuggly, perfect for those chilly fall nights or early spring mornings when the last thing we need is a bulky coat. With so much versatility, why wouldn't you add one to your wardrobe?
We hope our style tips and other information will help you make the most of this multi-tasking wardrobe piece and rock on your next off-the-shoulder outfit!