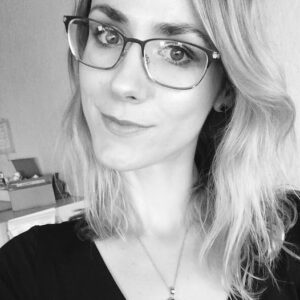 Latest posts by Karyl Trejo
(see all)
Dresses have always been an all-time favorite garment to wear. If you look back in time, people created them more as a necessity than a fashion statement. That way, cavewomen (and cavemen!) could do all their daily activities without being uncomfortable. 
It's amazing how that changed over the years. After that, and as time passed, dresses were a synonym of femininity, used principally by women.
Dresses show the best of a woman's attributes, and in all humanity's history, they have been a woman's favorite garment. As with any other type of clothing, the style, design, and fit of a dress had changed depending on society's standards. Yes, society changes, and fashion changes with it. The clothes people wear at any time in history depend on whatever is trending at a particular time. That includes the type of fabric used.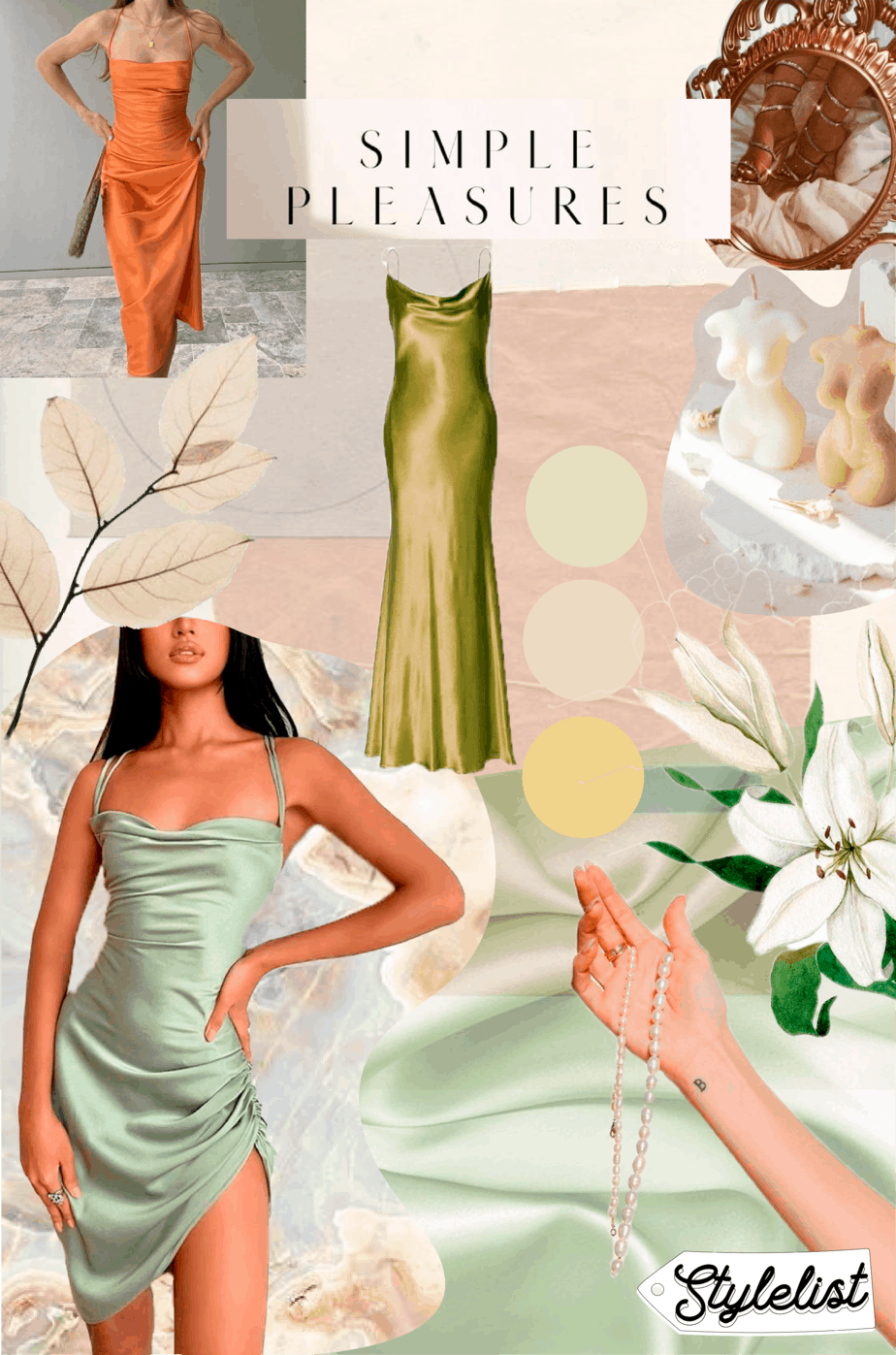 Some centuries ago, designers started to use silk for a woman's attire, and its fashionability has always prevailed for a long list of reasons. Silk it's one of the most breathable fabrics while also maintaining fresh skin. 
It's a fabric that does not lose its form, keeping a smooth and slightly bulky surface even after using it for a while and after several washes. Silk is strong, resistant, and elastic by nature. All of that, plus its texture that makes us look elegant and classy, makes the silk a timeless fabric classic.
However, a poor choice of a dress can turn a silk garment into a fatal slip. Maybe you didn't know it, but there are some things you need to know before going on the search for a new silk dress.
That is why today, we will talk about the best silk dress ideas, including which ones are the best, and why picked them. We will also tell you everything you need to know about this ageless type of fabric. Now, let's go ahead and get started!
The Fabric Itself: Who Invented Silk?
If you want to know about something, even if we're talking about silk and silk dresses, we need to get to the bottom of it. We need to know who created it. Before someone saw silk and thought how pretty a dress made of it would look, someone had the idea of making silk. So, how did it start?
Silk is a thin all-natural fiber that we can get from nature by some arachnids and insects. However, if we talk about commercial purposes, most of the silk filaments of fabric are made from silkworms. Those silkworms make cocoons (after all, it's on their biological cycle), and people can use them for textile manufacturing. The people who have to domesticate silkworms as a job call it silk farming or sericulture.
It All Started In Ancient China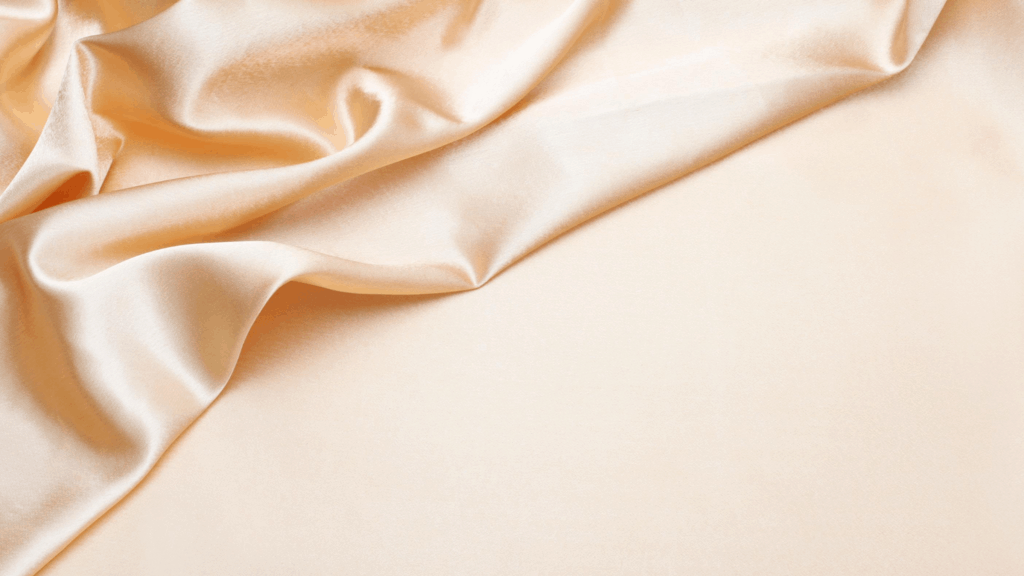 If we have to thank someone for silk creation, it's the people of Ancient China. Most records agree that Chinese people discovered the power of using silk somewhere along 3000 BC. Nevertheless, there's still a lot of mystery behind this discovering.
As simple as it sounds, one day, somebody saw a cocoon and noticed that you could unravel the silk into roughly one kilometer of fiber. Some records even put a name on this someone, and they assure it was the wife of the Yellow Emperor, Empress His Ling Shi (also known as Leizu). 
The empress was captivated by these shiny, pretty threads. Soon she discovered that it was the Bombyx mori worm that made the silk to form their cocoons. Through all of China's history — even if she's only a legend — Chinese people still consider her the goddess of silk and a sericulture symbol.
According to the legend, His Ling Shi taught people how to make silk and convert silk fibers into threads. The story also says she had a mulberry forest solely for her silkworms.
Even then, silk was almost exclusively for rich people, especially the royal family. Later on, noble families could use them, but peasants and regular people had to wait for much longer to use silk.
All of this only made silk increasingly popular. Some of its characteristics, like the texture, made silk an elegant and sophisticated fiber everyone wanted. By some time, the silk was like a secret recipe only the Chinese people could have (and they were good at hiding it!) at least for 2500 years approximately.
At that time, only China had access to this secret technique, but inside China, the exclusivity of silk changed. People started to use silk not only for clothes but also for instruments and decorative purposes.
As the years went by, other countries were interested in silk. At first, it was only with the circumvent countries like Korea and Japan. China sold the silk to them at high prices or traded it for other goods. Then, it gained even more fame in countries like India, where sericulture had a peak, and it kept that way during the years that followed.
The combination of the exclusivity and secrecy about this delicate fabric from the other end of the world also seduced the upper reaches of the West. 
We don't precisely know when everyone already knew about silk. Historians estimate that by 200 BC, some other countries practiced sericulture but not with the same techniques the Chinese people had.
Historians also say that the enigma finally came out in approximately 550 CM, when two monks from the Byzantine Empire got silkworm eggs out of the country. They had to do it in secret because otherwise, the Emperors would sentence them to death. This step was one of the firsts to take the silk into Europe and the rest of the world.
Another fun fact about silk! The trade between silk and other goods was so popular that it had its own route. The Silk Route was a commercial, cultural, and technological exchange network that radiated from Central Asia. During 1500 years, it connected China with the Mediterranean. 
One of the most famous products that were commercialized in this route was, as the name suggests, silk. And if that by itself wasn't impressive enough, in 2014, UNESCO declared the Silk Road a World Heritage Site.
What Are The Best Silk Dress Ideas and Their Options?
Silk has come a long way until it became mainstream. Now, everyone is free to wear it if they want, and that includes all types of dresses. Today, we made a selection of our favorite silk dresses. 
But first, we'll tell you the exact criteria we used to choose them. After that, we can proceed to see the best silk dress ideas.
Our Selection Criteria
When searching for the best silk dress ideas, we selected different criteria such as:
Fabric.

If the dress was made of silk, it could make it to the list. However, we also considered some specific silk types (such as

Mulberry silk

, which is one of the best types of silk). We also evaluated some dresses with other fabrics on them, like

Spandex

, Elastine, and others. Either way, we gave priority to the ones that were made of 100% silk.

Color.

Not every woman has the same

skin tone

or the same favorite color. That is why one of our most important considerations was the variety of colors. Most of the dresses on this list come in different colors for you to choose from.

Sizes.

The same as above. Not every woman has the same

body type

, and we decided to include dresses and brands with a wide range of sizes. That included dresses that went from S to XL or more.

Affordability.

We also took this into consideration. Most of the dresses in this list don't go above $100, while still being of good quality.

Versatility.

You can wear most silk dresses on this list as daywear or as a nightdress. Everyone has their own style, so we made sure these dresses could go well with the best use tips later on in this article.
You have to keep in mind that most silk dresses need hand wash or at least a super gentle cycle on the machine. Otherwise, the fabric gets damaged. That's a disadvantage we considered through all the dresses.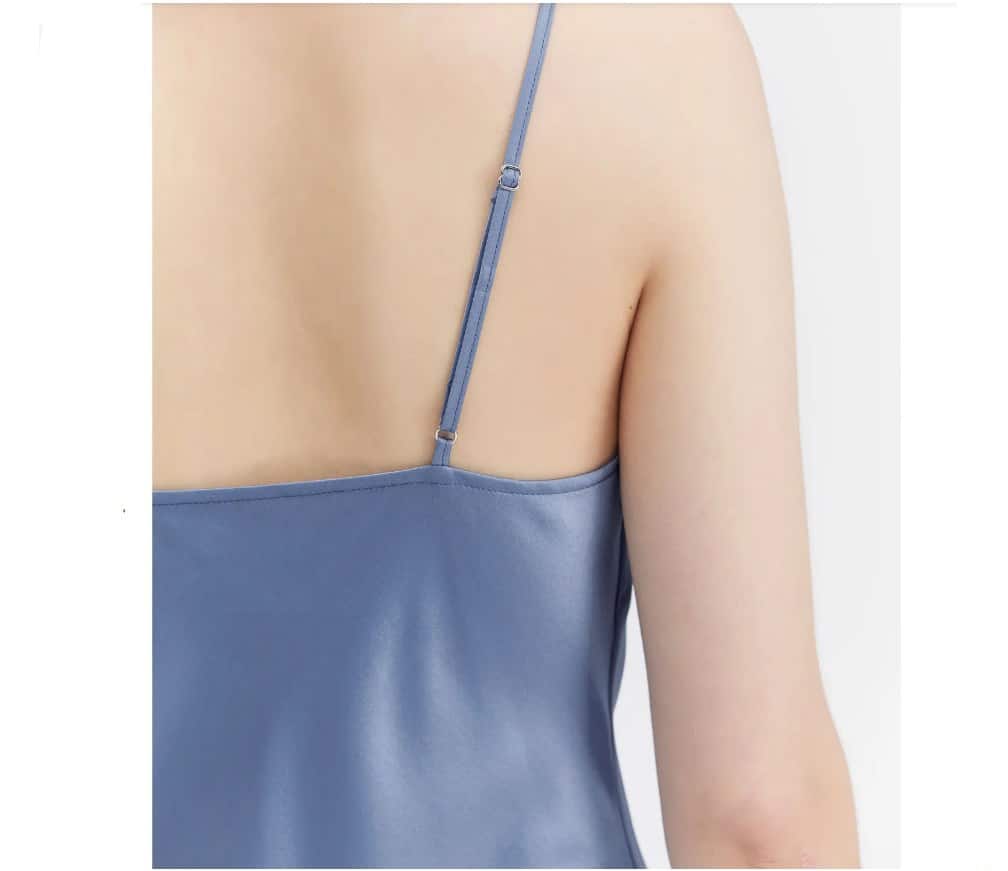 We start this list with this Lily Silk slip dress. It's more of a nightdress, and it has the design of a classic slip dress that reminds us of what a girl would wear on a night in Las Vegas. It comes in four colors: black, azure, navy blue, and claret, so you have room to pick your favorite one.
Pros:
It comes in a variety of colors.

It has 90% Mulberry Silk and 10% Spandex. (The spandex makes it stretchable and even more comfortable than it would be with 100% Silk.)

It comes in a variety of sizes. It comes in XS, S, M, L, XL, and XXL.

It has adjustable straps.

The cowl neck gives the dress a vintage look.

Most user reviews were satisfied with their buy.
Cons:
You'll have to hand wash it because washing it in the machine damages the fabric.

You can't use bleach.

You'll have to be careful when hanging it, and you should avoid direct sun exposure.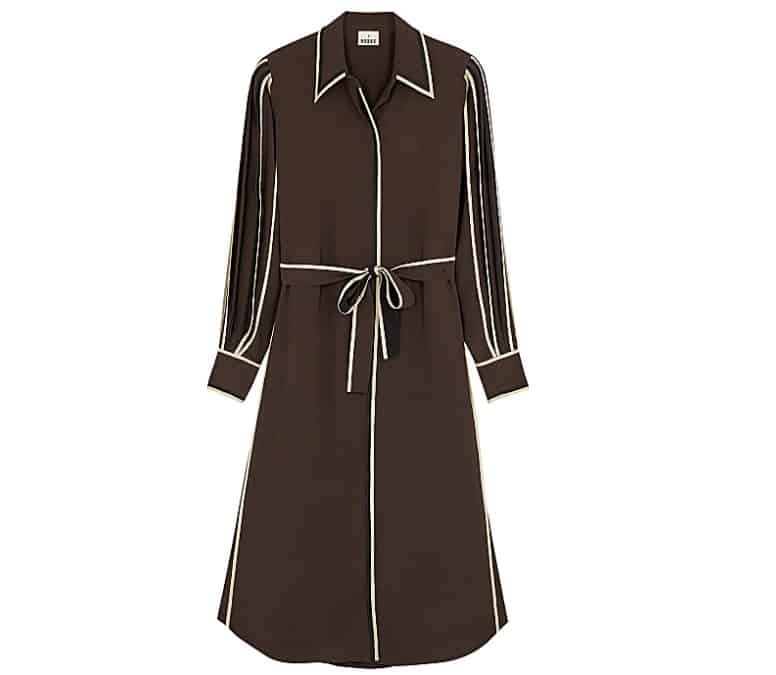 What we love about this dress is how original it is. It has some pajama style that's trending right now, and it's 100% silk. Maybe it's not what you'll expect, but it was a definitive surprise, and that's one of the few reasons this dress made it to this list.
Pros:
It has a subtle minimalist design.

The fabric is 100% Silk.

It comes with a fastening belt at the waist.

It comes with side pockets.
Cons:
This dress is on the pricier side.

It comes in only black color.

There's not much variety in size.

It's not tight. It has a more loose fit, and some women in the user reviews dislike this.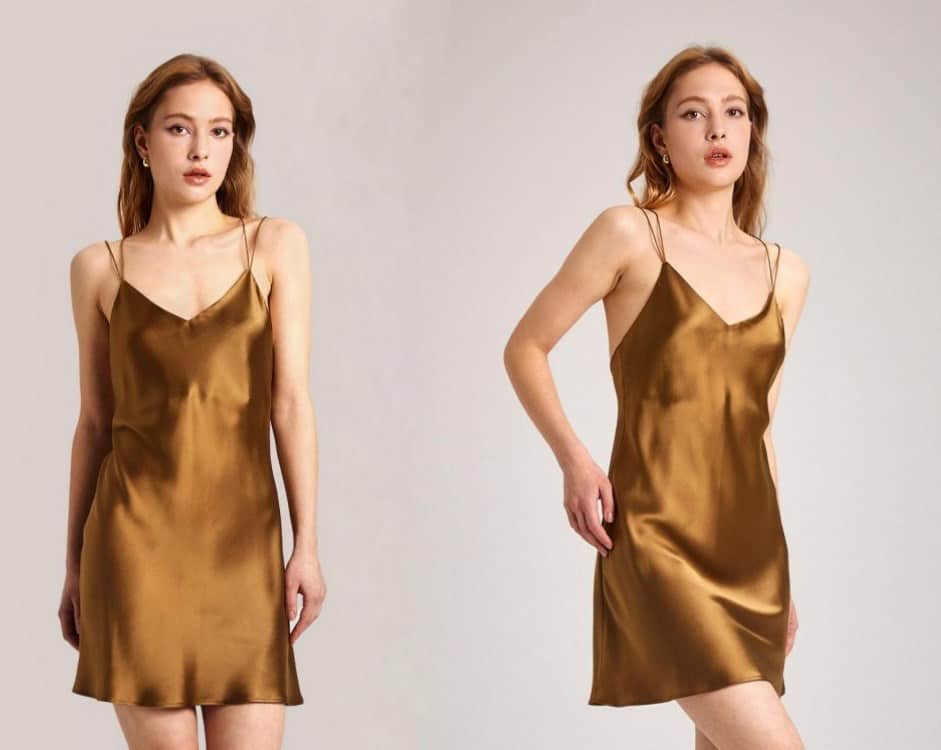 Sometimes less is better, and this dress it's the perfect epitome of it. It comes in three beautiful colors: golden brown, sky blue, and yellow gold. This dress is a way to guarantee you a simple but modern and chic outfit.
Pros:
The fabric is made of 100% Mulberry Silk.

It comes in three colors, so there's room for you to choose.

It has a nice low back that gives the dress a more sophisticated look.

User reviews say it has the right price for a dress made of pure silk.
Cons:
User reviews recommend buying it in a bigger size since the fabric doesn't stretch that much.

It comes only in sizes S, M, and L.

It's more of a nightgown dress, not necessarily for going out at night.

You'll have to hand wash it.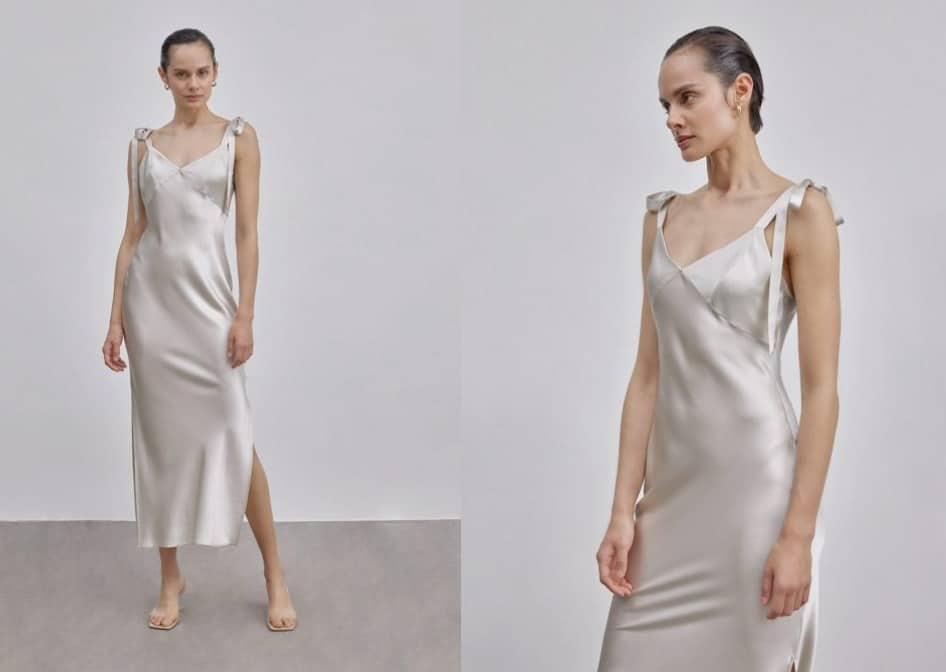 This Silk Maison Dress is classic and chic. It has an empire line strap that will make you look more elegant for going out at night. Even if it's a maxi dress, it also comes with a leg slit that makes the dress sensual but at the same time keeps it discreet.
Pros:
The dress is made of 100% Mulberry Silk.

The empire line strap plus the leg slit make the dress an original and appealing option.

It has adjustable ties at the shoulder and a V neck.

It comes in two classic colors: Midnight Black and Silver White.

It comes in a variety of sizes.
Cons:
It only comes in two colors, and some women like their silk dresses to be more colorful. It's a pro as well as a con. 

You'll have to hand wash it.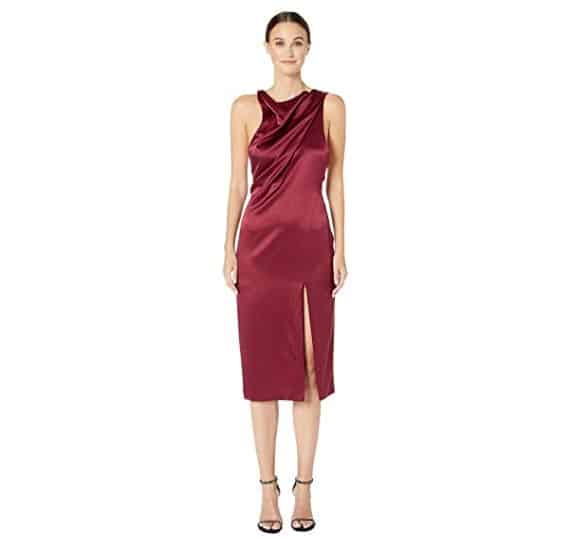 This is a high-neck sleeveless dress. Other characteristics include its knee-length and a front slit that makes the dress look elegant. The fabric also has a smooth burgundy color that goes well with every skin tone. If you want your new silk dress to be more formal, this can be your most suitable choice.
Pros:
The dress is made of 100% silk with a lining of 95% silk and 5% elastane.

It has an almost invisible zip in the back.

Its design makes it perfect for daywear, but you can also use it as a nightdress.

The dress has a front slit.

It comes in a variety of sizes.
Cons:
It only comes in one color.

This dress is a little higher in price than others on this list.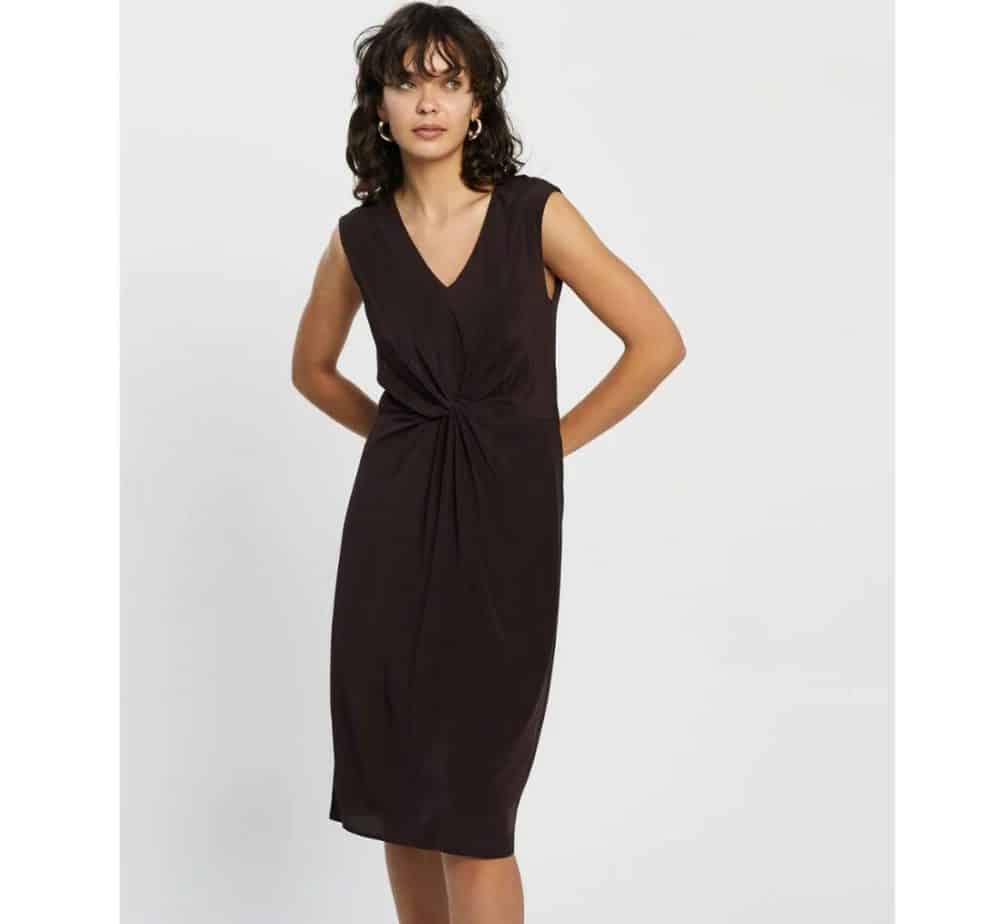 This satin silk dress comes in a beautiful Chocolate color, perfect for looking formal at a work meeting. Other features include a V neck and a twitch detail at the waist. This one is another choice that serves more for a work meeting than a nightdress, though it can work both ways.
Pros:
Most of the dress it's made of 100% Silk. (The contrast and the lining are made of viscose.)

It comes in all sizes.

The details make the dress look formal while still being made of silk.

It has a stretch panel at the back.
Cons:
You'll have to hand wash it.

It only comes in one color.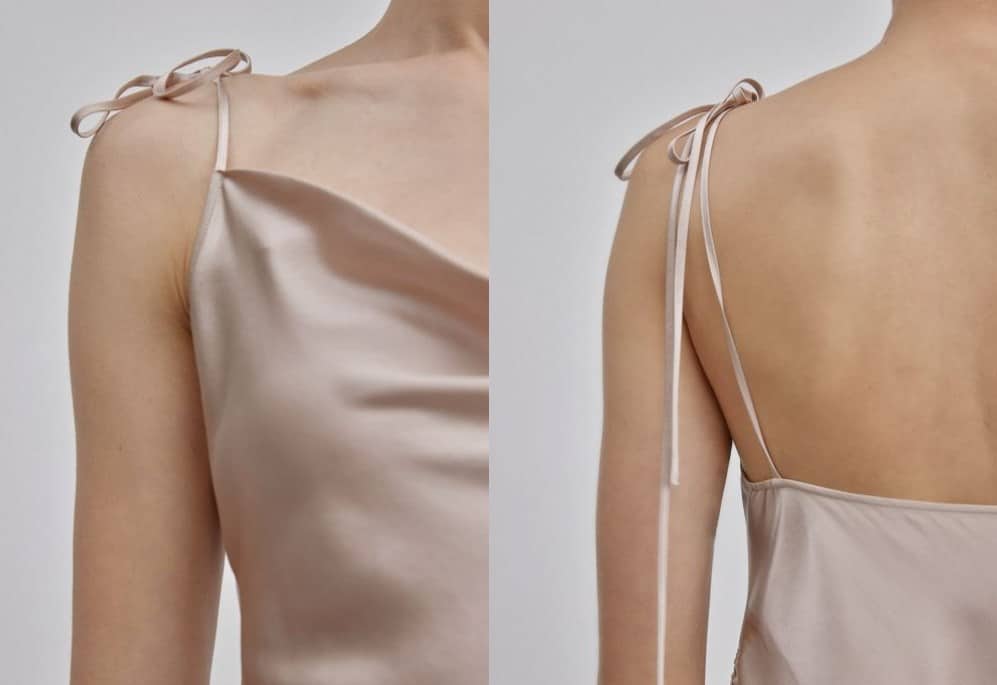 Another Silk Maison dress! This dress is a slip silk dress with adjustable strings and a drawstring on the side that allows you to make a crease with the fabric. Above all of that, it has a cowl neck that makes it look even more elegant.
Pros:
It has adjustable strings.

The dress is made of 100% Mulberry Silk.

It comes in three colors: Midnight Black, Desert Rose, and Champagne.

It comes in four sizes: S, M, L, and XL.

User reviews say the ruched drawstring gives a classy and luxurious look.
Cons:
You'll have to hand wash it.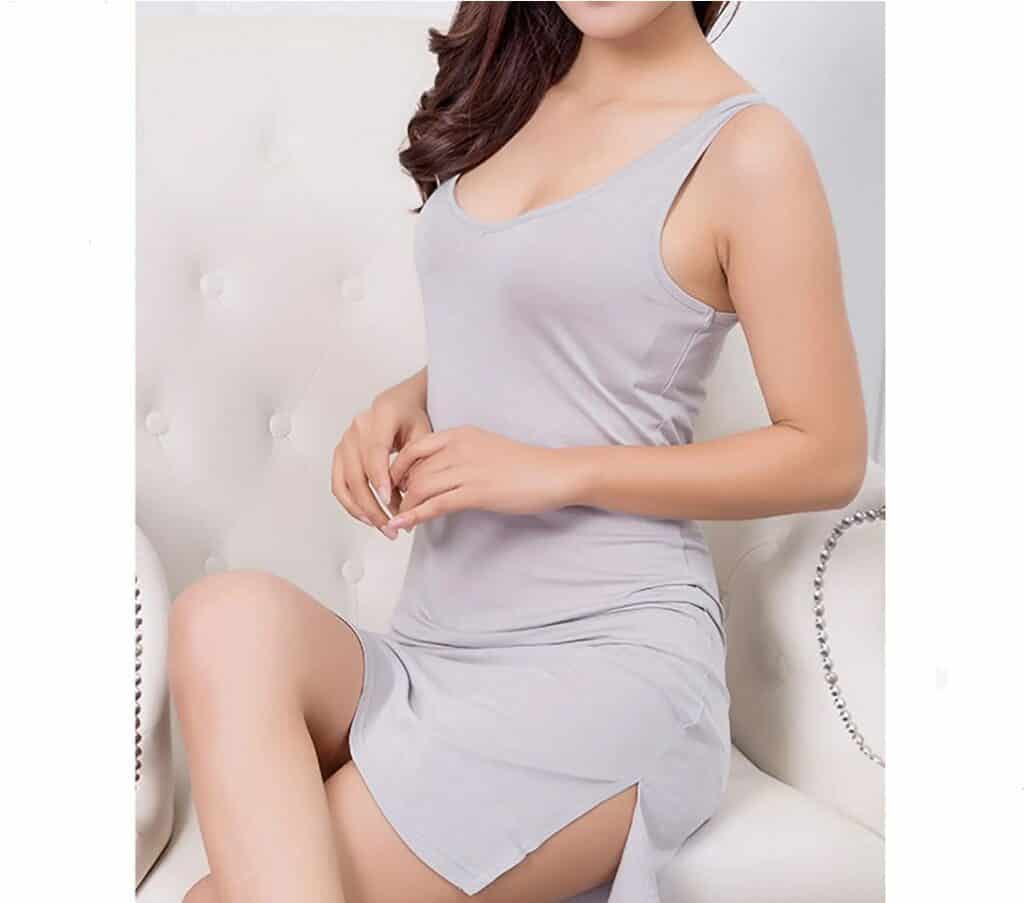 This Lily Silk dress is a bit different. It keeps the premise of being made of silk while also having a mix of other fabrics like rayon. This dress is way more formal than others on this list, so if you're looking for a work meeting or reunion dress, this might be the one.
Pros:
It's made of 30% Silk and 70% Rayon.

The rayon and silk mix makes the fabric more comfortable.

It has a V neck.

The dress comes in two colors: black and white.

It's more affordable than other dresses with the same characteristics.

It has a split on the hemline at thigh length.
Cons:
It only comes in black and white color. (It's a pro because of the variety, but it's also a con because some women prefer their dresses to have more color.)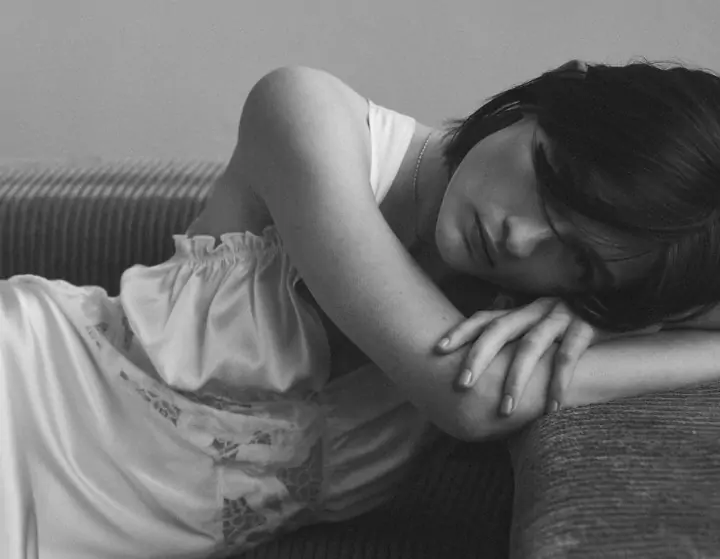 This Zara dress gives us everything we should expect from a silk dress. It's long, and it comes in a beautiful cream color. It also has delicate lace details at the front that make this a feminine and adorable option.
Pros:
It comes in four sizes: XS, S, M, and L.

The body of this dress is made of 92% Mulberry Silk and 8% Elastane. On the other hand, the lace is made of 100% Nylon.

It has wide silk straps with ruching details.

It comes with a V neck.
Cons:
This dress is higher in price than others on the list.

You'll have to hand wash it.

It comes in only one color.

It's more a nightgown than a nightdress.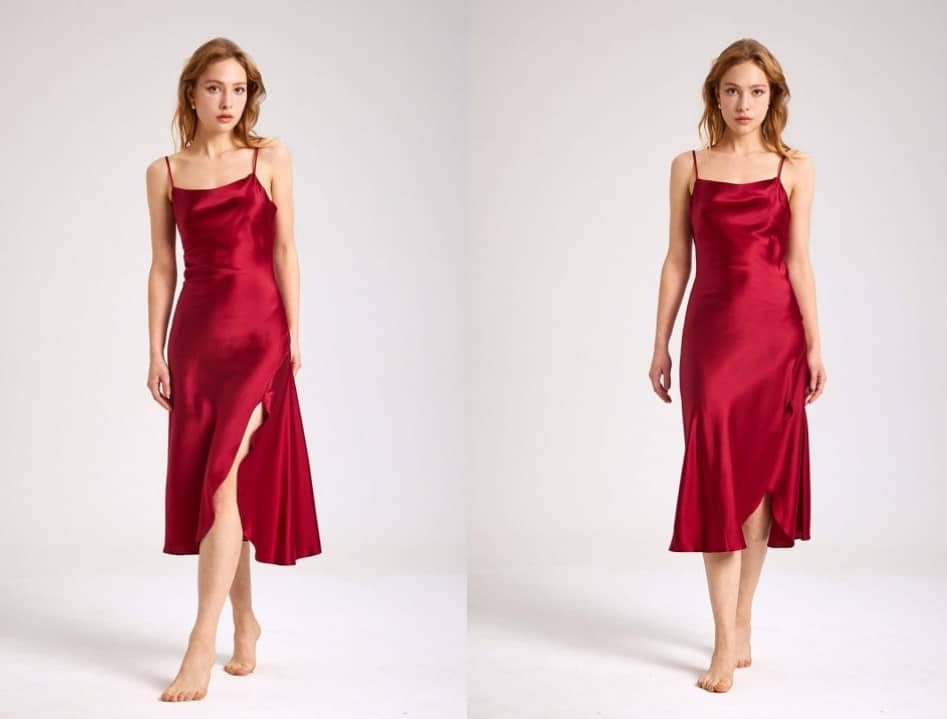 This Silk Maison red dress left us astonished. With its cutout split and the cowl neck, it's everything you imagine when picturing a silk slip dress. The burgundy color is trending right now, and besides, the shade on this silk dress makes the fabric stand out. 
Pros:
It comes in a variety of sizes! S, M, L, XL, XXL, and 3XL.

The dress is made of 90% Mulberry Silk and 10% Spandex.

It has adjustable shoulder strings.

It comes with a cowl neck and a split on the side.

The dress has an affordable price.

It's a Silk Maison client favorite.
Cons:
It comes in only one color.

You'll have to handwash it.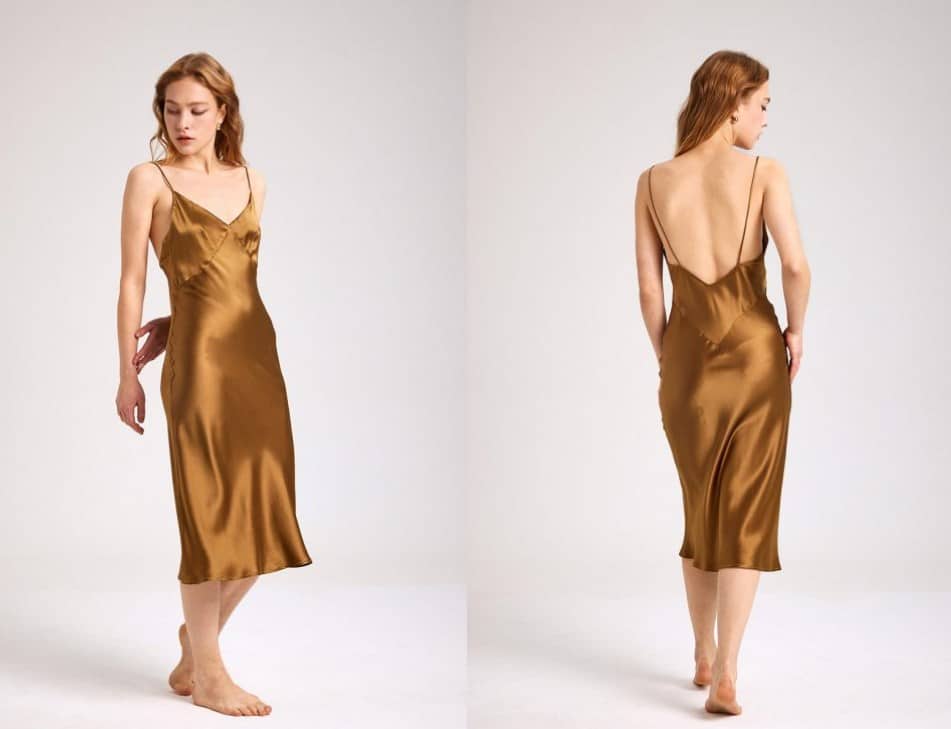 This Midi dress will make the wearer look chic and classic. The colors are vibrant, and the V neck plus the low back give the dress bonus points. It has a posh and stylish vibe we didn't miss out on.
Pros:
It comes in four colors: Teal, Mint, Golden Brown, and Dove Grey.

The dress is made of 100% Mulberry Silk.

It's another client favorite.

User reviews recommend it and describe it as "soft and pleasant."

It's an affordable dress that goes along with the quality.
Cons:
You'll have to hand wash it.
Best Use Tips
Now you have chosen your dress. The cut is marvelous, it fits you well, and the color is beautiful… But you have no idea how to style the dress. How are you going to wear it? Is there any specific advice when wearing a silk dress? 
Here are some pretty essential tips so you can get the best out of your new dress:
Don't shy away from jewelry.

Silk on silk is totally fine.

Layer with a long-sleeve shirt.

Experiment with contrasting fabrics.

Pair it with an oversized sweater.

Stay warm (and casual!) with the right jacket.

Be unexpected with pajama material.
Let's explore these tips further.
The Jewelry Is Essential
Let's face it, most silk dresses are simple. They can have a V neck or a slip cut, but it doesn't matter because what makes these dresses stand out is the fabric. That is why the selection of your jewelry is the key. Professional stylists recommend using simple jewelry since too much can opaque the silk, and you'll look extravagant.
Don't Be Afraid of Silk on Silk
Silk on silk can make the outfit look even more luxurious than it would be with only a silk dress. Some ideas include a silk cardigan, which can work well most of the time.
Consider Wearing a Long Sleeve Shirt
Pairing a long sleeve shirt with a silk dress can look exceptionally good in winter. You can also match the outfit with some tights if it gets too cold.
For a More Casual Look, Match Your Dress With Other Fabrics
Stylists recommend using wool or cotton. It'll make a nice contrast against the smooth silk fabric, and it can make a nightdress look more like daywear. If you're all about the grunge aesthetic, you can wear a t-shirt under the dress. If you add a pair of boots and the correct accessories, it'll make you look like a rock star. However, this look is not for everyone, and it's only one of the many ways you can style your silk dress.
If You're Confident, You Can Also Wear an Oversized Sweater
The secret is to wear the sweater above the dress. The silk dress would look more like a skirt, and it's a really informal outfit, but it's an available option.
Jean, Bomber, and Trench Coat Jackets Are Always an Option
This way, your look will be more casual. If you're feeling confident, you can wear an oversized jean jacket. You can also wear some lace-up boots that will go nicely with the outfit. It's all up to you and what you feel more comfortable wearing. 
Bomber jackets are another option. There are lots of ways you can style them with your silk dress. Both can be the same color, or if you want to be bolder, the jacket can be a different color. It will look sportier, but it looks nice if you know how to pull it off. If you want to look even more sporty, sneakers are the right choice.
And finally, try a trenchcoat. Especially during winter, you can throw a long trenchcoat on top of your silk dress. It will look classy, and you can add some heels or boots to complete the look.
If Nothing Else Seems To Work, You Can Always Jump Into the Pajamas Bandwagon
Well, kind of, but not quite. Loungewears like kimonos are trending. You can always throw a kimono above your silk dress for a playful look.
Frequently Asked Questions
Question: What goes best with silk?
Answer: The short answer: it depends. Silk has been associated with glamour and feminine clothes. So, of course, most of the time, the silk type of clothing will go well with something with the same style. 

Silk blouses are sophisticated, and you can pair them with jeans and heels. If we are talking about dresses, they were usually used with high heels, but fashion has adapted to a more casual usage in those last few years. Women now wear dresses with sneakers, and it looks nice. 

However, if high heels are too much and you think sneakers are too casual, sandals are also a good option. And remember; don't let this advice discourage you. You can always try and improvise whatever you think will look best in the end.
Question: What do you wear with a silk dress?
Answer: That's an excellent question! You see, it depends on the place you're going to go. If we're talking about shoes and for more casual wear, sandals and sneakers are a great choice. For other types of clothing, you can also use a jacket above the dress because it adds texture and makes the outfit look effortless and chic. 

The main problem with pulling off a silk dress is to make it look elegant instead of looking like you just got out of bed. So if you can overcome that barrier, you're almost all the way done. (Either way, the pajama clothes are still a trend, so maybe you shouldn't worry that much about that).
Question: Are silk dresses comfortable?
Answer: Short answer, yes! Silk garments outperform other fabrics by far if we talk about comfortability. Silk has a smooth surface that makes it very comfortable.

Silk is also lightweight and gives the skin a soothing sensation, long-lasting transience, and comfort. Besides, its natural temperature-regulating properties provide the silk a paradoxical ability to cool and heat simultaneously.
Question: What do you wear under a silk dress?
Answer: Whatever you are wearing, you always have to pay attention to the underwear. Still, when wearing tight dresses, there are specific rules you have to pay attention to. 

Some of these include using a strapless bra and a seamless bottom. About the color, black and nude colors usually work best. 
Question: Are silk dresses flattering?
Answer: Yes, they can be flattering for any woman regardless of her size and body type. Don't get intimidated if someone tells you otherwise! Remember you have to wear the dress with attitude for it to work. 

One of the first steps is to know which colors are better for your skin tone and which cuts fit you better. For example, designers recommend pink colors on tan-skinned women and red colors on fair-skinned women. It all depends.

Neutral colors like beige and black work well for everyone. After you've known all of this, it's easier to go on the look for the perfect silk dress.
Question: What is the difference between silk and satin?
Answer: Satin and silk are entirely different, although they may look similar at first glance. 
Silk is a natural fiber, and we've already explained how it is obtained. Contrarily, satin it's not. It is obtained from synthetic fibers, and it can also contain a percentage of silk combined with other fibers such as nylon or polyester. That's the main difference.

What makes silk so extraordinary? Original silk fabric has a triangular structure that allows the light received to be reflected at different angles, thus producing different colors. Therefore, silk will have a brighter appearance if you compare it with satin.

Some satins are well-made, and their appearance and texture could be almost the same as silk. Certainly, satin is warm and synthetic, while silk is 100% natural and breathable, so garments made with the latter provide freshness on hot days and warmth on cold days.
Conclusion: Best Silk Dress Ideas and Options
There are a lot of silk dresses from where to choose from. There are nightgowns, nightdresses, and day dresses. Fashion is evolving. We have them in all types of colors and sizes, and that's a grand achievement too. 
If we had to choose one, we would go with the Burgundy Silk Maison dress. Burgundy is a recent color trend. It has that purple and red combination that's impossible to not notice, and that's one of the reasons we choose it. The other one is the style and fit. It's classic and beautiful, and on top of all that, it's available in sizes from S to 3XL. Amazing!
Either way, we hope this article has been helpful in your way of choosing your new silk dress.