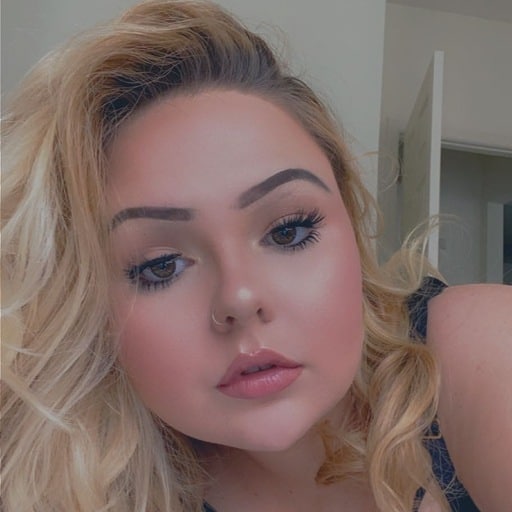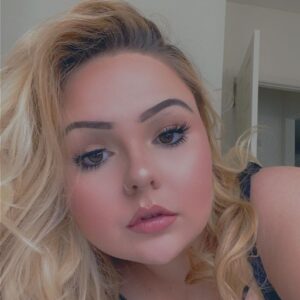 Latest posts by Annalise Swain
(see all)
Yellow is unquestionably the season's hue. The vibrant color has been seen on everyone from Rihanna to Billie Eilish. Although pink will always have a particular place in our hearts, the change in weather has us thinking it's time to update our wardrobe. A yellow dress will certainly add a splash of color to your wardrobe. 
We went through and found the best yellow dress ideas to help brighten up your wardrobe. Where to buy a yellow dress, the different types of yellow dresses, and how to style them. We are here to help you find the perfect yellow dress for you.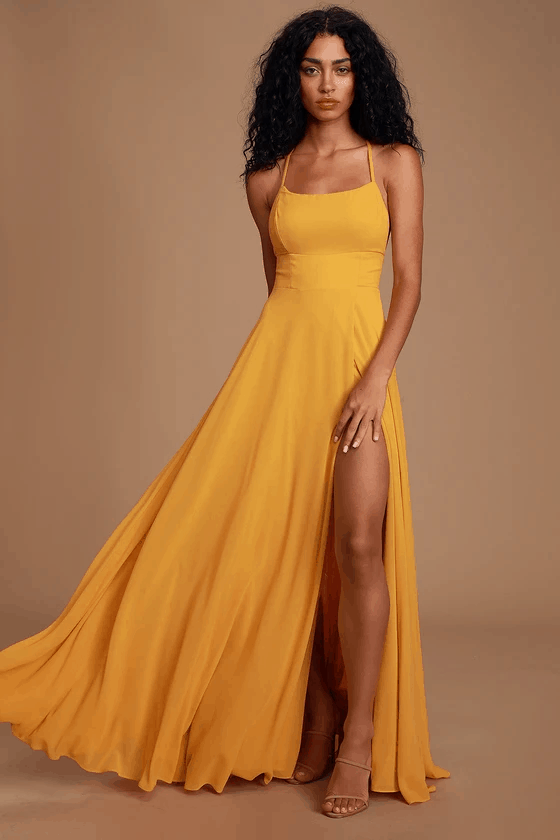 What to know before buying a yellow dress 
When it comes to buying a dress, you want the perfect one. We have compiled a list of things you need to look for a remember when you're out buying a dress. 
The cut 
You don't want to buy something with complicated sleeves, this way you can dress it up or down when you go out. A simple cut provides for layering. If it happens to be a cold day you can throw on a jean jacket or a blazer. 
Solid color 
When you have a solid color it is a lot easier to match accessories and shoes compared to a patterned dress. You can also add a patterned jacket, shoes, or purse to add a little flavor to your outfit. 
Shape 
Make sure to buy a dress that fits your figure. Buying a dress and trying it on at home and finding that it doesn't accent the right parts of your body can be a downer. 
Fabric 
Silk is the ultimate luxury fabric, and it may be a fantastic choice for wedding attire. It's a breathable and lightweight material. Silk, on the other hand, is poor at wicking moisture and tends to retain smells.
Cotton is very breathable and soft, but it takes a long time to dry and might cause you to feel stinky. If you're like me and get sweaty easily, a dress with a low cotton content is a good choice.
Rayon drapes nicely and feels silky, which is frequently used in dresses. Aside from having a smooth appearance, it also dries rapidly and can be extremely breathable depending on the blend.
Color and skin tone 
Everyone's skin has various undertones, so it's crucial to figure out if your coloring is cold, neutral, or warm. Is your skin light with pink undertones, olive with warm bronze undertones, or dark with dark undertones? 
If you're having trouble figuring out your skin tone, try wearing silver jewelry, which flatters cold skin with pink undertones, and gold jewelry, which flatters warmer tones. Once you've determined your skin tone, you'll be able to make more informed decisions when it comes to dressing to impress. 
If you have a lighter skin tone, it is best to wear a darker yellow so it doesn't wash out your complexion. 
If you have a medium skin tone, you are able to pull off any variation of yellow that you want and/or prefer. 
If you have a dark skin tone, it is best to wear a bright yellow to compliment your skin by pulling out the golden hues in your skin. 
Color and hair color 
A lot of people love to wear yellow, but sometimes wearing the wrong shade of yellow with your hair can wash you out. 
Red hair is complemented by the color yellow. My advice is to break up the yellow with accessories and to wear more of a mustard yellow. 
Black and brown hair goes well with light yellows. Your hair color will allow the yellow to pop without it being too vibrant for everyday wear. 
Blonde hair should match the yellow you want to wear. If you are a warm tone blonde (gold, champagne, or honey) match with warm tone yellows (mustard or golden yellows). If you are a cool tone blonde (beige, ash, or platinum) match with cool tone yellows (pastel, poppy, or pale yellows).
The Different Styles For Your Shape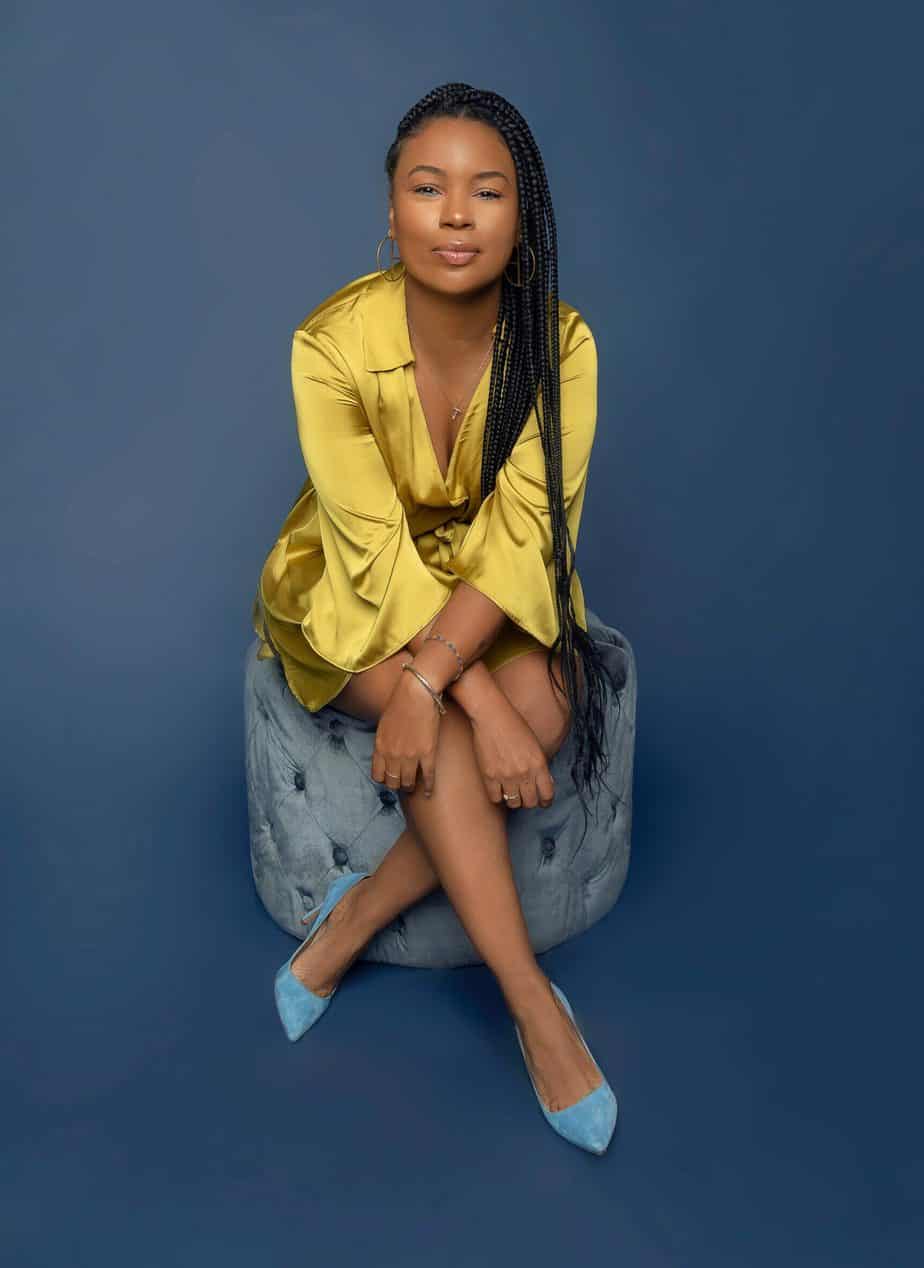 Every person has their own shape when it comes down to it. Some cuts of clothing look better on others. When it comes to finding the better dress for your shape, we've got you covered. 
Triangle (or pear) figure
Dresses with breast detailing will assist to produce a balanced impression. Keep in mind that if you choose a dress with a fitting waist, you'll most likely need to size larger and have the waist altered by a seamstress. 
In brief, flare and fit dresses will look great on you since they are roomier from the waist down and provide volume to your slim upper body and tiny waist!
Hourglass figure 
Fitted dresses that compliment your waist are a great fit for you. An open or a v-neckline will accent your chest while not showing off your figure too much. Hourglass bodies might also benefit from wrap dresses with belted waists. 
Round (or apple) figure 
Any dress that emphasizes your upper body is a fantastic choice. This requirement is met by drop-waist dresses, swing dresses, belted designs, and dresses with an embellished top or an empire waist. 
Dresses with long skirts, A-line dresses, and wrap dresses are also good choices for concealing the stomach. Because the legs of apple body types are a big asset, feel free to show them off with shorter skirts! 
Athletic figure 
U-necklines, halter tops, dresses with ruching and draping, v-necklines, thick straps will all help play up the contours of your body and make your bust appear its best for athletic body types with larger busts! Choose a dress with a tight midsection if you want to give your body a more feminine contour. 
Where to Buy A Yellow Dress 
The numerous variants of yellow dresses this season demonstrate that the mood-boosting color isn't going anywhere anytime soon, so you'll be glad to hear that we've gathered a list of the finest that companies have to offer right now. Read on to find a spring-ready yellow dress for any occasion, from minis to maxis and everything in between. 
New York & Co 
V-Neck Dolman-Sleeve Frill Dress

This frill-detailed V-neck dress is flowing and charming for warm weather, with soft dolman sleeves and a smocked waistline for a balanced summer look. 
Price: $24.99
Lulus 
After-Bloom Delight Golden Yellow Floral Print Midi Dress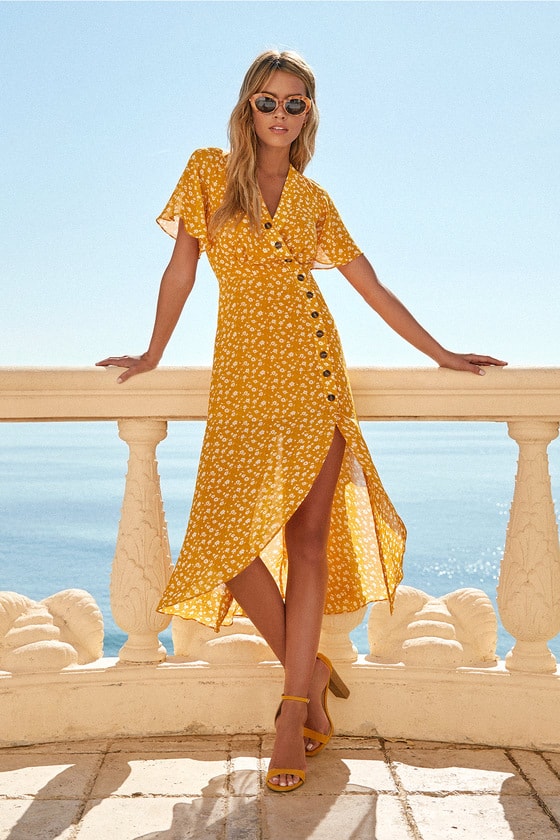 This outfit was intended for park strolls in the middle of the day! A delicately pleated surplice bodice is framed by fluttering short sleeves made of woven fabric in a bright and lively golden yellow and white flower motif. The bodice is accented with decorative brown buttons, which transition to functional buttons below the high, fitting waist and down the midi skirt with an overlapping, high-low hem. The back zipper/clasp is hidden. 
Price: $58 
Venus 
Tiered Maxi Dress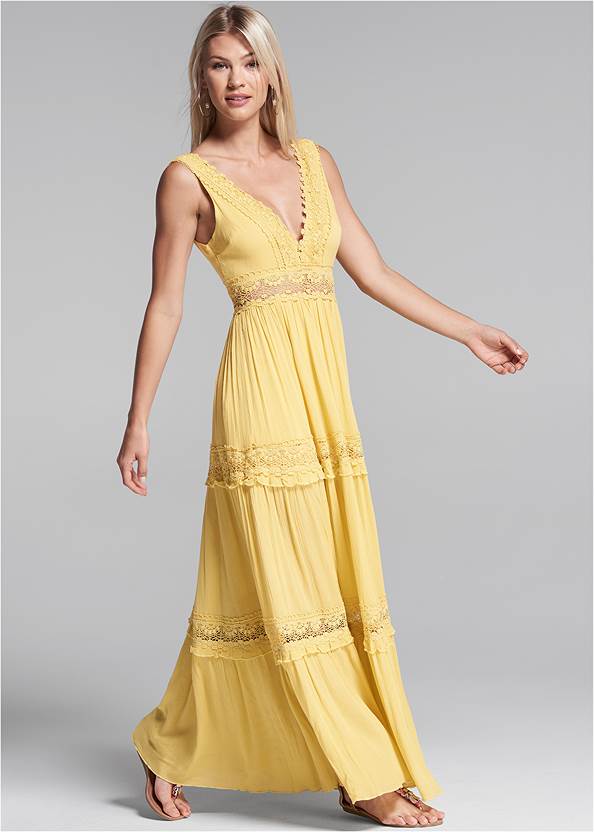 This lovely maxi dress seems like it came right out of a dream. This wonderfully beautiful style is all about flowy fashion with a delicate off-the-shoulder overlay and swingy, tiered skirt. 
Price: $44 
Express 
Printed Ruffle Sleeve Smocked Waist Maxi Dress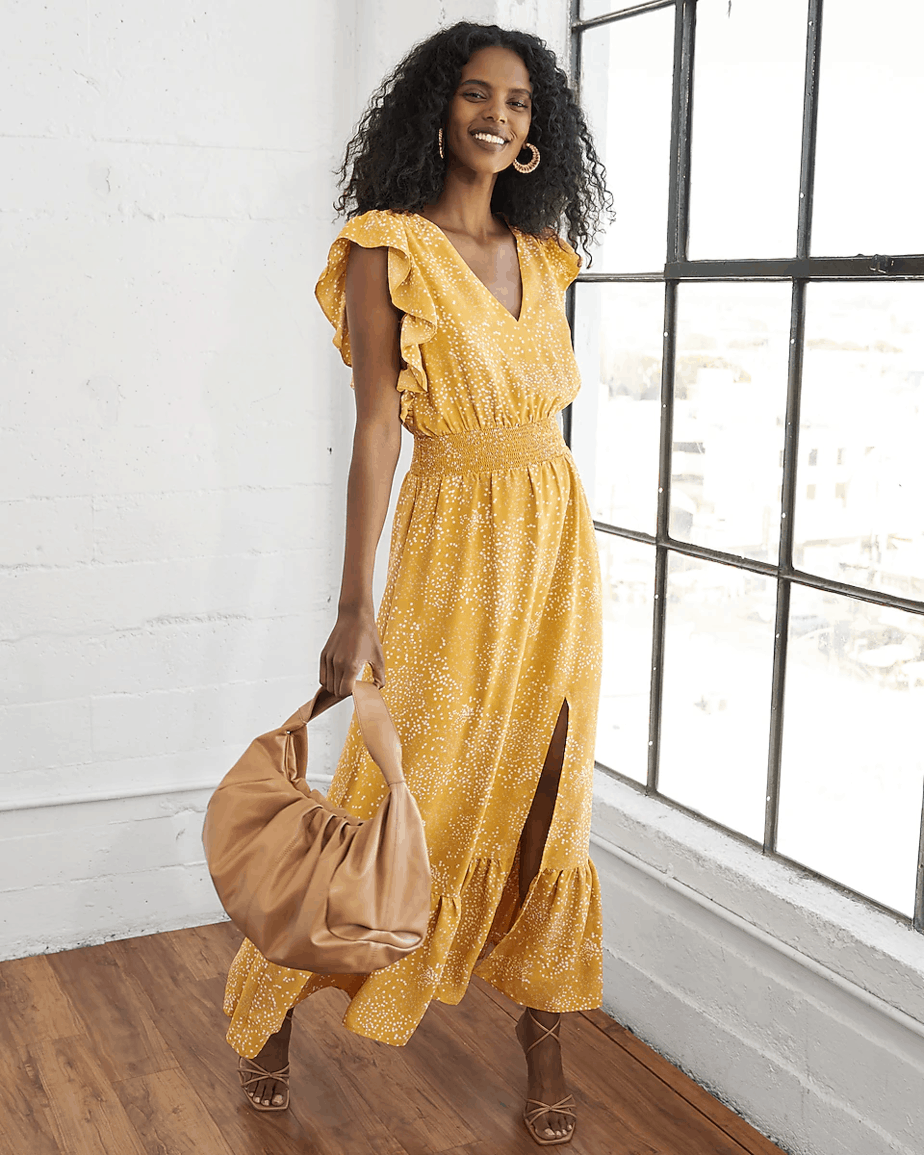 A delicate ruffle detail, a flexible silhouette, and a slimming smocked waist characterize this incredibly attractive maxi design. This season, you may wear this dress in whatever manner you desire. 
Price: $108
Lilysilk 
Silk Dress America Women Slim Fit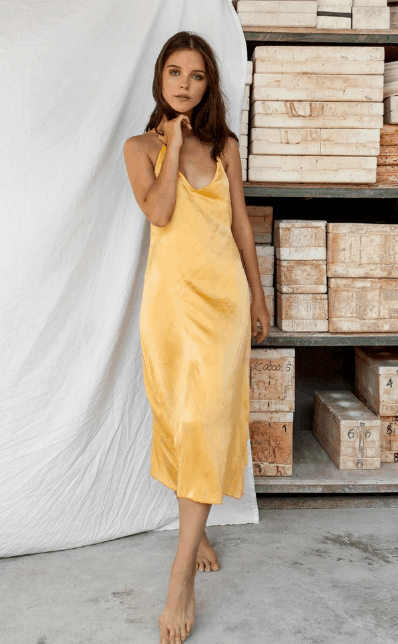 With this exquisite and adorable dress, you'll make a wonderful style statement. The V neckline, short sleeves, tying ribbon, and ruffle trim throughout this silk dress. The front piece falls just below the knees, while the rear piece reaches your calf. To complete the outfit, add a pair of stiletto shoes, oversized earrings, and a stylish purse. 
Price: $105 
Madeleine 
Curcuma Yellow Dress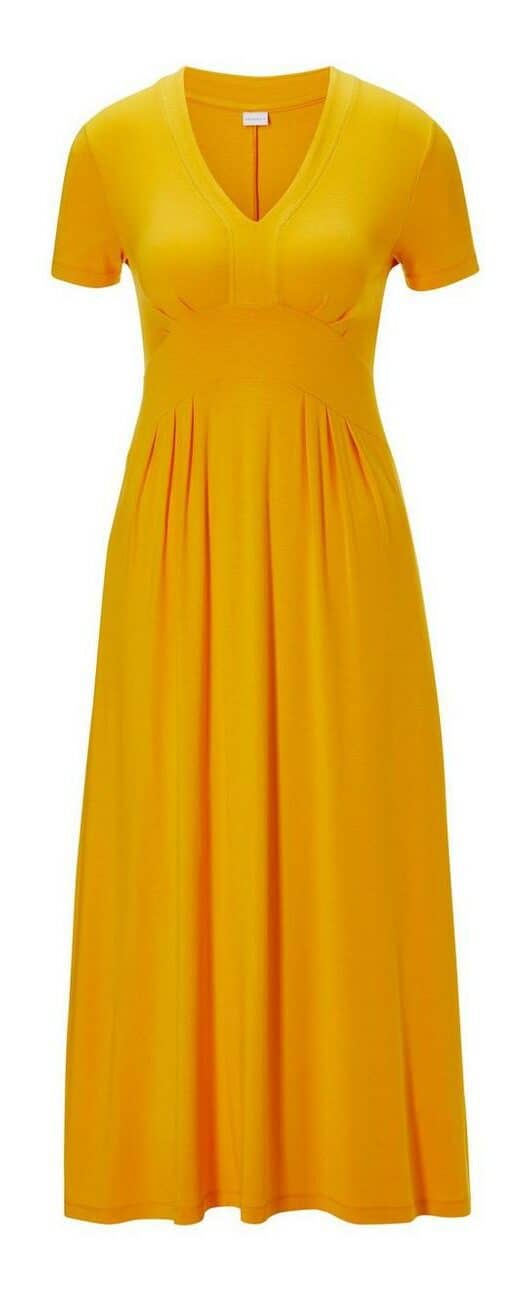 The waist yoke enhances the shape, while tiny pleats on the skirt provide a bouncy hem breadth. Short sleeves and a V-neckline. 
Price: $99.95 
How to Style Yellow Dresses
Laughter, happiness, optimism, and good times are all linked with the color yellow. In this section, you'll learn how to wear yellow, as well as the colors that combine best with it.
Different yellows 
Choose a patterned yellow if plain yellow is too bright for you. Combine your yellow dress with a jacket in a more neutral hue to reduce the impact of the yellow. 

Yellow, on the other hand, does not have to be a brilliant color. With mustard, lemony, or pastel yellows, you may go for a much more subtle look. 

There are numerous summer dresses with lovely yellow patterns that will give your appearance a bright, joyful vibe without being too much. Choose a print that flatters you and complements the rest of your clothing.
Accessories
I'd go with neutrals like blacks, whites, metallics, and browns to keep things basic while wearing accessories with your dress. However, you may choose for a contrast and wear a color like blue or a pattern like a leopard print to add an element of surprise to your ensemble.
Shoes
Black shoes are usually a winner with lighter-colored outfits. Black shoes are a dramatic contrast to yellow, allowing your sunny dress to shine to its full potential! 

Metallic shoes, whether bronze, gold, or silver never fail to add a touch of class to any ensemble. My favorite metallic-tone shoes to wear with yellow dresses are silver, but the other colors look great as well. It's a matter of personal preference here.

When in doubt, go for a beige, nude, or any hue that complements your skin tone to keep your yellow dress the focal point of your ensemble. Regardless of the dress color, I feel that beige tones contrast well with darker complexions. 

You might be wondering what color shoes to go with a yellow dress. If you're feeling brave, use a lot of colors! You can never go wrong with a contrasting shoe color if you want to add a little of a surprise aspect to your yellow dress attire! 
FAQs
Do you have more questions about yellow dresses and how to style them? We're here to help you figure out what will work perfectly for you. 
Question: What colors go best with yellow dresses? 
Answer: While a brilliant yellow looks fantastic with bright colors like electric blue, a neutral palette is a much easier approach to design yellow. Yellow looks excellent with black, navy, tan, and white, making the experience of wearing such a bright color, less daunting. 
Question: What jewelry goes well with a yellow dress? 
Answer: Earring in a variety of hues goes well with mustard yellow outfits. You may choose standout pieces in neutral colors like black, ivory, beige, or white, for example. Blue, especially deeper colors of blue, provides a brilliant effect when combined with mustard yellow. 
Question: When do you wear a yellow dress? 
Answer: In the fall and winter, it will brighten any dreary days, and in the summer, it will bring a beam of brightness. Yellow looks well with black and white and adds to the overall appearance of the outfit. If you're going to a summer wedding or celebration, wear a monochromatic dress with a yellow coat. 
Question: What color lipstick goes with yellow?
Answer: Brilliant red, warm and mauve-brown, bright and berry pink, and peachy browns are a few lipsticks that look well with a yellow dress. If you're looking for different makeup looks that go with a yellow dress, stick with neutral colors so the highlight of your look is your dress. 
Have Fun Styling Your Yellow Dresses!
When you're buying a dress you want to feel as confident as possible, so make sure you buy something you feel gorgeous in. Finding a dress can be fairly difficult if you're not sure what you want. When buying a yellow dress, make sure you buy a simple cut, no pattern, or a very simple pattern like stripes or polka dots. Consider the figure of your body to buying the right dress that compliments the right parts. 
Buy the fabric that you're most comfortable wearing so you can feel your best in your dress. Your hair color and skin tone should help you figure out which yellow looks best on you. There are several different colors you can wear that allow for a pop of color or for your yellow dress to pop out. What do you think?