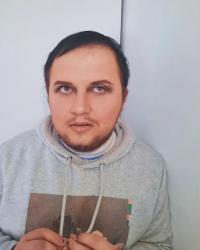 Latest posts by Jamie Tugayeva
(see all)
It used to be that the devil wears Prada, but now it's the fashionista's turn to wear Prada boots. This brand is synonymous with luxury, as it is high-end and costly. You can dress yourself up from head to toe in their cult bags, shoes, clothes, and accessories.
It doesn't mean you have to own everything by Prada to be stylish, but their clothing lines by Raf Simons and Miuccia Prada are sure to catch a fashionista's eye. No matter what's going on in the fashion world, Prada is always a staple of what expensive is and luxurious and timeless fashion.
Raf Simons' direction has always been rather minimalistic, and he has carried this style over to Prada. His musical influences are very present in his design choices, but Simons still prefers a tamer approach to fashion.
In this article, we will explore the best Prada boots in the market!
Bottom Line Up Front
Prada boots are a fantastic investment if you like luxury fashion, even though their range of styles is limited. My two favorite pairs are the Jacquard over-the-knee and ankle boots. They bring the high level expected from Prada while presenting a take outside the box. If you prefer more discreet fashion statements, you can't go wrong with any other item in this list.
Why Buy Prada Boots?
If you've been thinking of upgrading your wardrobe to more luxury, high-fashion items, then you've thought of Prada boots. Prada boots are famous for their longevity. Because of their minimalistic approach, they are easy to blend with the rest of your wardrobe and stay fashionable for much longer.
How to Style Prada Boots?
We often leave shoes as the last step of an outfit. We think about what won't clash with the clothes, and what we can wear multiple times as the number of clothes owned vastly outnumbers the shoes. Putting shoes last is not a rule, however. Some people prefer to start with them and work their way up. If you're one to repeat shoes, this may get tiring after a while, but it is a way to shake things up.
Many people enjoy wearing the same designer from head to toe, like having a Prada-only day now and then, but you don't have to follow any rules. Wear and style a nice pair of Prada boots however you feel confident and comfortable. 
Who
Can Wear Prada Boots?
If the weather is boot-friendly, you can! The only thing stopping anyone from wearing Prada boots is whether they are comfortable with them.
Where to Buy Prada Boots?
You can buy Prada boots at their flagship stores, online store, and other retailers, including:
Prada's website

Net-a-Porter

Farfetch

Selfridges

Nordstrom
The Best Prada Boots on the Market Right Now
With so many Prada boots available, we looked at all the current offerings and narrowed it down to a handy list for you. Following Prada tradition, these designs trend towards monochromatic colors, yet they have some fascinating boots with bold patterns if you feel daring. Whatever your preference, here's is a collection of the best Prada boots. We picked them based on versatility, elegance, and styles.
Below you will find the best choices on the market right now:
Monolith Leather and Nylon Fabric Combat Boots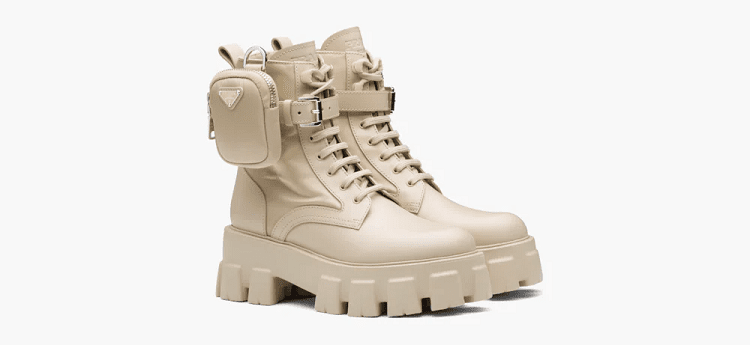 One of this season's most recognizable Prada boots would probably be this, but not because of logomania. The small pouch tied up to the boots has the Prada logo seen in their entire collection. This desert boot is made from Prada's characteristic leather and nylon and stays classic with the chunky sole. 
What to Pair Up With
We often pair up combat boots with more army-oriented clothing or subculture fashion. Combat boots are associated with punk, goth, and other musical scenes. In the fashion world, garments make statements louder than music.
You can pair them up with some cropped jeans or tuck your pants into the combat boots. Because of the bulky profile of the pouch, you'd do well to show it off as a unique boot accessory. As for the tops, you can go for a predictable yet playful army jacket to keep you stylish. Puffy jackets are in this season in all shapes and forms and go great with these boots. 
Pros
Small logomania

A creative take on combat boots

Classic Prada

Comfortable
Cons
Too minimalistic

Color can stain easily
Jacquard Knit Over-The-Knee Platform Boots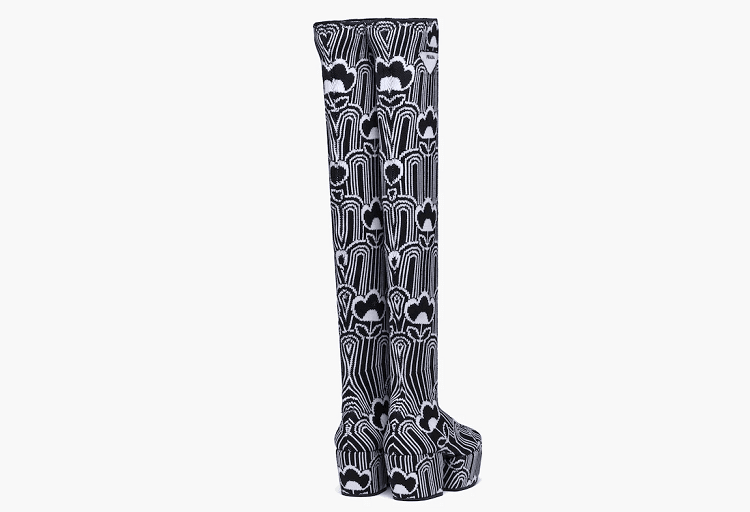 These beauties by Prada are one of the few out-of-the-box entries, but they deserve the spot. They may contain a classic motif called the Jacquard, which will make any modernist soul happy.
The boots and the motif are a great way to infuse the 70s into today's wardrobe. The classic triangle logo decorates the top. These are over-the-knee boots, meaning that sometimes the sizing can run small for people with thicker thighs. 
What to Pair it Up With
Such unique statement pieces can be hard to fit into some outfits, and it is often easier to build a look around them than the other way around.
Dresses are a good choice with these boots. You can go for loud designs or more minimalistic and monochrome options to keep the spotlight on the tall boots. They will make everyone envious of how fashionable you look. Both long and short coats work well, particularly in darker colors.
Pros
Unique compared to most minimalistic Prada designs

Statement piece

1970s vibe with today's attitude

Interesting motif
Cons
Over-the-knee size can be tricky to get right

Cumbersome to put on
Jacquard Knit Platform Boots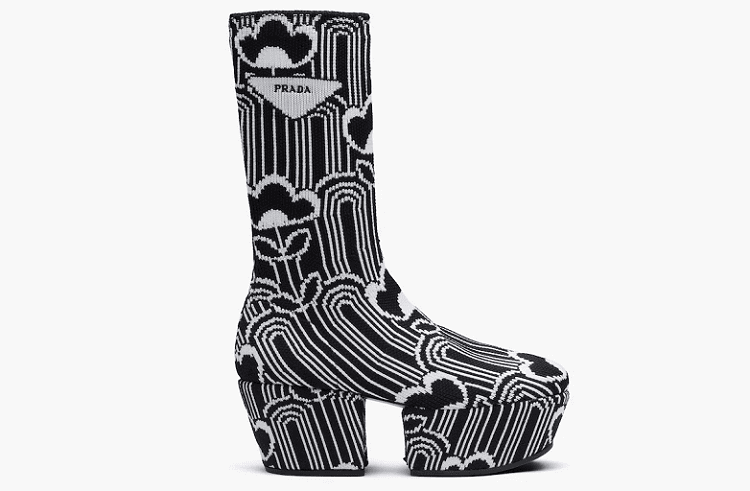 Another flashy Prada boot entry. This pattern also references the 1970s motif and feel, with a tasteful nostalgia that keeps these Prada boots timeless. It also has the small triangle Prada logo for the luxury feel. This fabric-covered boot is truly a statement and a collector's favorite, guaranteed to stay in fashion for many years to come. 
What to Pair it With
Because of its bright colors, it is tough to decide what to wear it with, especially during seasons where strictly monochrome designs are in fashion. On the plus side, trends and tendencies are perpetually changing, and thanks to the durable nature of Prada boots, these are future-proof.
If you want to tuck your skinny jeans in them, opt for a more classic jeans tone or darker. It would be cute to choose a plain top, such as a white button-up and a brighter blazer to match up the boots. If you are in tune with your inner Vogue editor, go bold and mix prints for a glorious explosion of fashion.
Pros
A modern take on a 1970s pattern

Fashion statement

Discreet logomania

Comfortable platform and heel
Cons
They could be hard to clean

Bright nature could make it repetitive 
Nappa Tech Platform Boots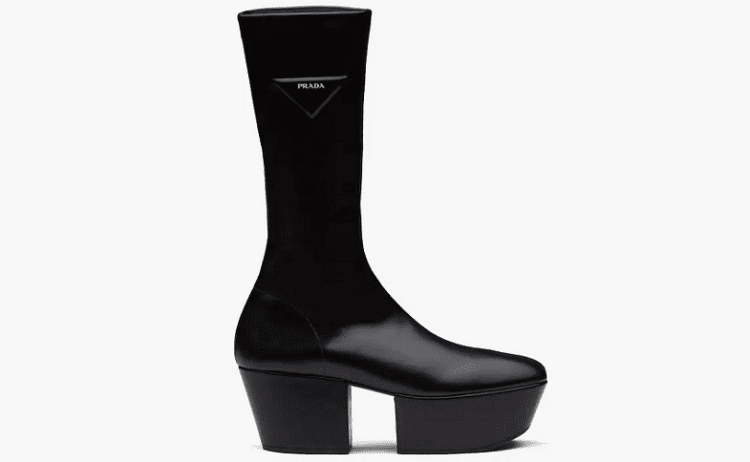 This pair uses an innovative blend of leather processing techniques to make the boots easy to slide into, turning these Pradas into a comfortable accessory. It also has the characteristic triangle Prada logo on the side.
While present in most items in this collection, they have added this logo in a small and tasteful manner compared to other brands that take logomania to an extreme. Prada is all about style and making a statement without the flashy name.
What to Pair Up With
The 1970s were a massive in boot design this Prada season, and rightfully so. These boots show that even the chunkiest platforms work today and stay beyond stylish. Black leather boots are not as conservative an option as they may seem. They are a chic and fashionable piece with the bonus of being extremely easy to style.
You can opt for more 1970s cuts to pair up with the boots but keep them in the same color range for the best results. You could use these to have an all-black clothing moment: a black t-shirt, black pants, and a black overcoat if it's cold outside. The beauty of black platform boots is that they're always in style and ready for a stroll. 
Pros
Easy to put on due to innovative leather technology

The classic black color makes it easy to pair outfits with

Comfortable to walk in

Chic
Cons
Leather might not be suitable for every person

High platforms
Brushed Leather and Re-Nylon Booties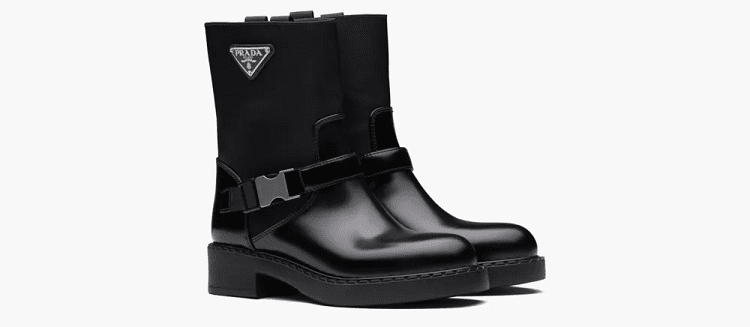 Despite what the Prada website says, these boots do not bear more than a vague resemblance to biker boots. They are a soft but fashionable take on them. These nylon boots are chic and can make a statement. As far as the design goes, it is not the most daring or innovative in Prada's portfolio, but they are very versatile and easy to pair things with because of their nature.
Unlike the previous shoes in our list, these have a smaller sole and no tall platform or heel, making adapting to them a lot easier. These boots are ready to put on so you can take the world by storm. 
What to Pair it Up With
These boots may be boring to some as they play safe even by Prada standards, but they perfectly highlight other fashion-forward garments in the outfit. If you are working in a strict office or about to attend an important meeting, these boots will help you feel confident but within the dress code.
They match suits, dresses, skirts, or anything you wear with them. I recommend saving these for stricter occasions unless you prefer more monochrome and tame looks. If this is your first time Prada boot buy, these boots are perfect to see how you get on with the brand's aesthetics.
Pros
Versatile

Easy to pair up

Comfortable sole

Hybrid fabric and fibers
Cons
Somewhat repetitive small logomania triangle

Similar but cheaper designs are available elsewhere
Leather Booties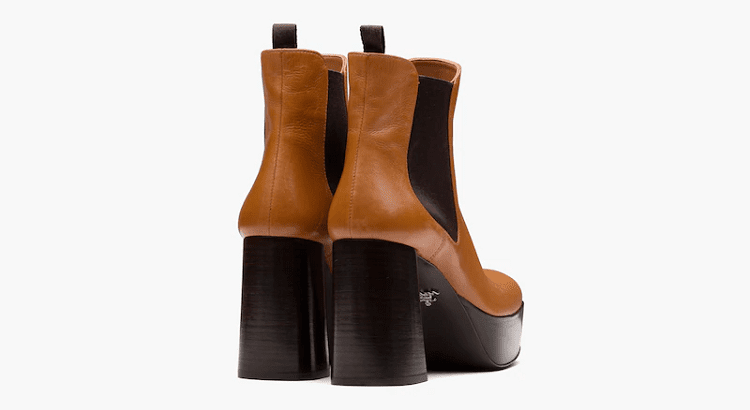 These beauties sure shine in the cognac color and give it a sophisticated drink suggestion for night outings. These are a bit too classic, but that's what Prada is all about. Unlike many of the boots in their collections, these cuties come with no visible logo, letting fashion speak for them instead.
They come with a medium-high chunky heel that may take some time to adjust if you don't sport heels too often but worry not. With practice in these boots, the world will be a runway. 
What to Pair With
The good news is that you've probably had brown heeled boots in the past, so styling these Prada boots will feel familiar. This classic choice goes with most outfits. Need shoes for a formal event or a strict setting? Pair them up with some suit and pants, a smart shirt, and a button-up.
You don't have to wait for winter to wear these boots for what it's worth, as they are comfortable enough to wear all year long. If you prefer a statement piece to go along with them, why not? The classic but tame nature of the boots will shed light on the item you want the focus on while keeping it cool in the back. 
Pros
Cognac color makes it sophisticated and classy

Easy to coordinate outfits

Classic fit

No logomania 
Cons
They could be too safe

High heels
Suede Booties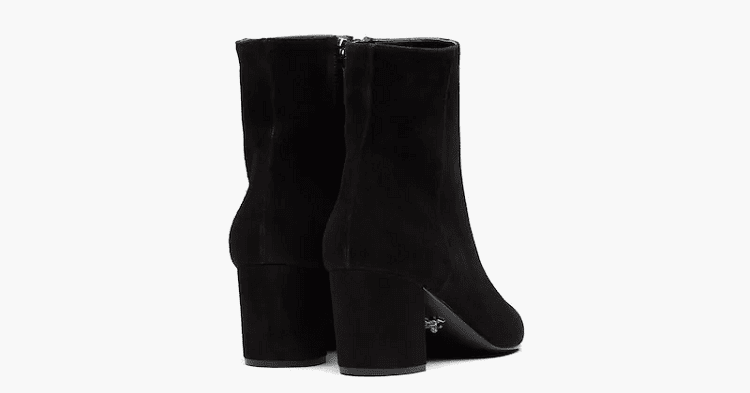 A timeless design by Prada. These suede shoes will serve you many years to come. They may look plain but have the potential to become your tried-and-true boots. Suede goes in and out of fashion, but suede heels are a must-have in any fashionista's wardrobe, so why not Prada it up? 
What to Pair up With
Because they're a solid black color, they should be a breeze to work. It may be more suitable for casual settings like a night out with your friends, a brunch, or maybe a date. If you want to show your rocker side, pair these boots with jeans or a denim vest. Another cute way to wear these is with a short dress that leaves plenty of room for them to shine.
Pros
Easy to pair clothing with

Unisex look

Classic
Cons
Suede is a tricky material to look after

Minimalistic
Monolith Brushed Leather Boots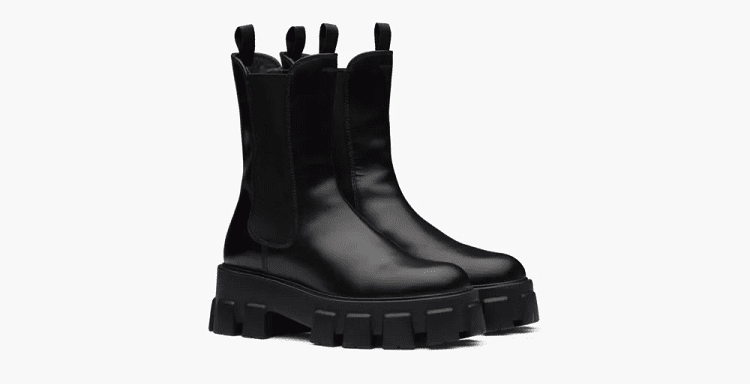 Unique, bold, and with such a chunky sole, these Prada boots are a sight to behold. They may not be for the most feminine or faint of heart, but they are a heavyweight tool for the fashionista, as chunky boot soles have been trending for a while and are not losing the grip of the fashion world.
A chunky sole has become nearly the jeans of the shoe world. Stomp your way in with these beauties through the coldest seasons. Its Chelsea boot style means that putting these on or taking them off is a painless affair. Old and new trends mix left and right at Prada, and this item is no exception.
What to Pair Them Up With
These boots can be a little tricky to work into an outfit. The chunky sole is an imposing feature, setting a tone that rarely matches well with frilly or softer items.
Getting the best out of these Prada boots requires a rough army jacket or a classic bucket hat to match the brand motifs. A baggy skirt would look right here, but tight jeans or pants are also welcome. A more minimalistic approach to the colors with bold statement accessories is the way to go.
Pros
Chunky and fashionable sole

Easy to put on

Stylish and with an edge
Cons
Not for the feminine and frilly

Not for a lighter take
Leather Boots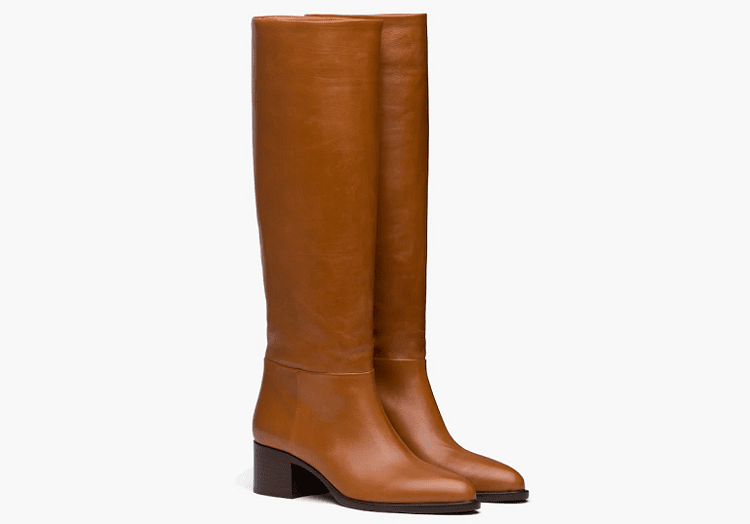 These plain high-heeled tall boots may not be for the faint of heart. They are minimalistic in their design but put on a fashion statement. Nothing is outstanding about them, but they are comfortable and follow the trend of tall boots that have rocked the catwalks and high streets for years.
If you want to own some, why not take it from Prada? There are plenty of cheaper options on the market, but few will live up to the craftsmanship or longevity.
What to Pair With
Skintight jeans, shorts, skirts, and dresses can work well with these boots. Rock a 'naughty kitty' look straight out of Halloween season. There are many ways to pair these boots while looking great!
Pros
For the tall boot trend lover

Bordering on cheeky

Statement piece

Chunky high heel
Cons
The boring choice for a high price

Hard to style because of length
Suede Boots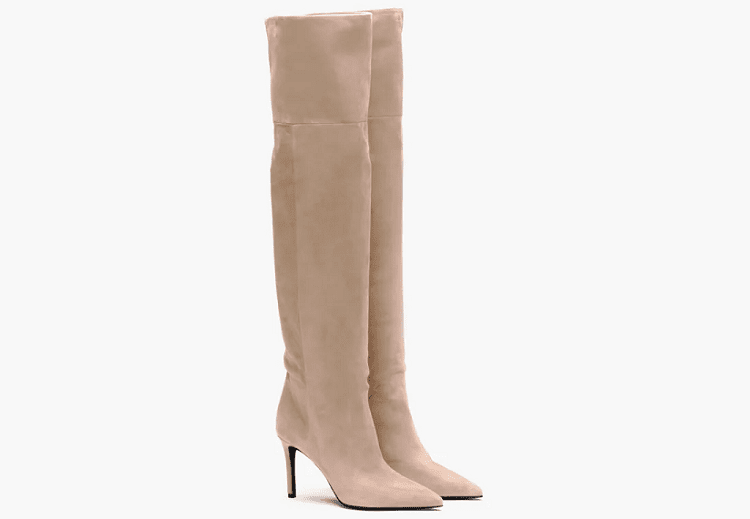 Unlike the previous pair, these suede boots with a smaller heel are such an eye-catcher! The gorgeous suede and the heel make it a beautiful tall boot that is guaranteed to turn heads wherever you go. It contains no triangle logo on the sides. You can keep it classy with no branding cluttering.
What to Pair With
Tall boots are a challenging item to style. These would look great with a softer dress, regardless of the pattern. If in doubt, leaning towards fairer colors is a good idea as these boots don't have the dark edge as some of the previous entries.
You need soft and frilly pieces to match these gorgeous stone-tall suede boots. Keep the chunky accessories in the ears but avoid them anywhere else. Pendants would complement these boots like a charm. 
Pros
Easy to pair with lighter colors

Classic, chic choice of boots

Great for a date night

Statement piece
Cons
Hard heel to walk in

Suede may be tough to clean and look after
FAQs
Question: Are Prada Boots Vegan?
Answer: No. There are many examples of Prada choosing leather instead of faux leather. If this is important to you, it is better to opt for a brand that fully commits to the vegan cause instead. 
Question: How Much do Prada Boots Cost?
Answer: Prices start at 800 dollars and can reach almost 2000 dollars depending on the model, rarity, design, and materials used. You may also get a great deal during a sale, but this makes planning harder.
Question: Are Prada Boots Made in China?
Answer: No, Prada doesn't have all their boots made in China. Prada boots are made in Italy.
Question: Are Prada Boots Comfortable?
Answer: That's a tricky question because no two feet are ever identical. For some, Prada boots have the softest soles. Others find the tip is too rough. The only way is to try them on and see, or buy them, see how they fit, and use their free return policy if needed to find the appropriate boots.
Question: Are Prada Boots Worth It?
Answer: It depends on who you ask. Are you into Prada? Are you into luxury? This almost philosophical question permeates the highly materialistic society of today. Prada boots are works of art. There is extensive craftsmanship behind them, but some designs don't feel as unique. If you like quality footwear and Prada designs, they will be worth it.
Final Thoughts
Prada may not be everyone's cup of tea, as they offer more minimalistic ideas to modern solutions, but they still offer outstanding shoes. Would you buy something plain with a hefty price tag? Some boots deserve the world's attention and grab mine, like the Jacquard motif or the chunky sole ones.
There are certainly a lot of black boots this season, which is nothing new, but I'd want a fashion house to be more fashion-forward rather than conservative. If you're aiming to buy Prada and love their style, you'll find your right boot.
But if it weren't Prada, would you still buy it? That's a personal question to answer, but I'd get the combat boots with the pouch and highly recommend you do too!
Recommended Reads: