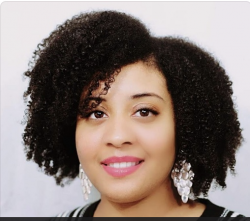 Latest posts by Candis Pope
(see all)
Steve Madden is a brand that's been around for so many years. Over the decades, the company has continued to make clothing and shoes that are stylish and trendy. Somehow, they have to ability to stay on-trend no matter how much the fashion industry changes.
With that said, I've got a list of some of the most adorable Steve Madden boots that you need in your wardrobe. Continue reading to find out my top picks and a few ways that you can style Steve Madden boots. 
My Favorite Steve Madden Boots
Check out this incredible list of cute Steve Madden boots:
Lynden Bone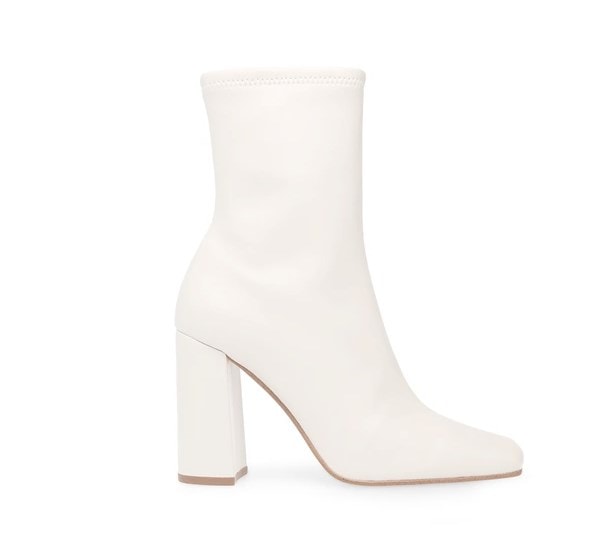 Lynden Bone boots offer such a retro vibe. They're thick-heeled ankle boots that will make you feel like a go-go dancer. These cute shoes come in a variety of colors and go up to a size 11. Although they have a vintage flair, you can definitely give them a modern style. They look amazing with skirts, capris, and dresses.
Pros
Versatile

Manageable heel size

Easy to walk in

Stretch material around the ankle
Cons
Narrow around the toes

It might feel tight on wide ankles and legs
Banddit Black Leather Boots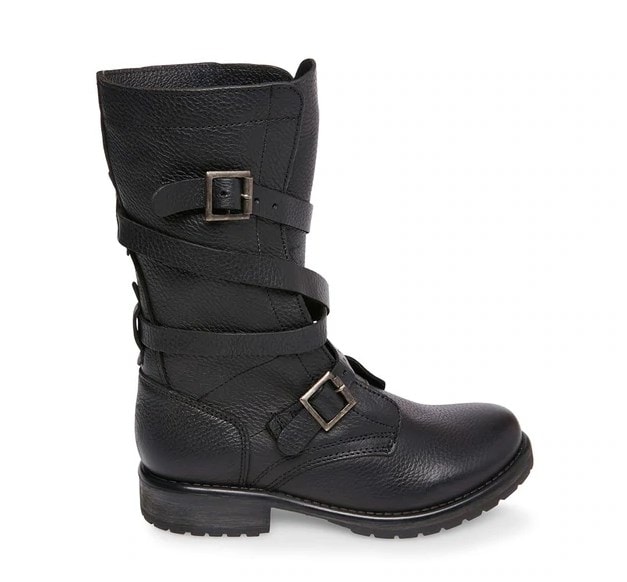 These boots will make you feel like Lara Croft. They're chic but tough at the same time. Banddit leather boots consist of upper leather material, and the wrap-around straps create a unique design. You look great in these boots and feel comfortable because they're flat. And not only that, but they pair well with jeans, leggings, and even shorts.
Pros
Comfortable

Edgy design

Man-made sole
Cons
Only suitable for certain outfits

It might feel tight on wide ankles and legs
Velina Black Leather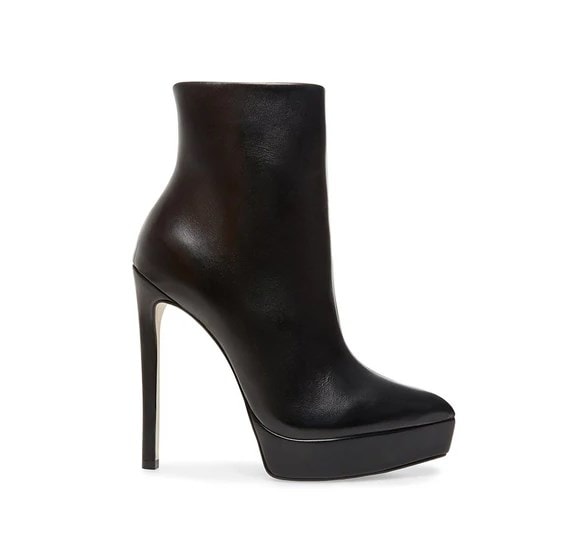 Okay, these boots are sexy! When you are in the mood to feel confident and strong, pull these out of the closet. They are skinny-heeled ankle boots that provide a chic look. You'll definitely have to know how to walk in heels to make it in these. It comes with a synthetic sole and includes an interior zipper for easy entry. Pair these with liquid leggings, dresses, jeans, or any outfit you like.
Pros
Beautiful design

More inches for individuals who want to feel taller

Made with luxe leather
Cons
Difficult to walk in for inexperienced individuals

It might feel tight for individuals with white ankles and legs
Thora-P White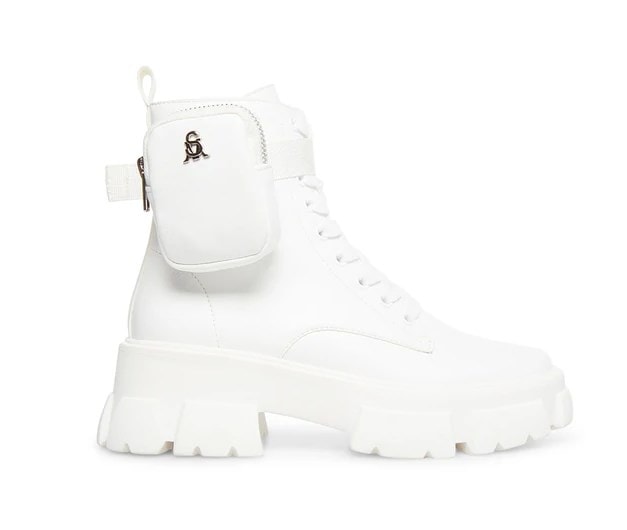 So, these boots are not your average boots! It takes a real fashionista to pull these off. The ankle area is equipped with a strap that includes a mini pocket. It's like having a miniature purse around your ankles, which can certainly come in handy. These boots look best with jeans, but you can wear them with biker shorts and skirts. The soles on these boots are quite thick, but they're comfortable.
Pros
Removable ankle pouch

Made with vegan leather
Cons
It might feel tight on wider ankles and legs
Shaniya Brown Suede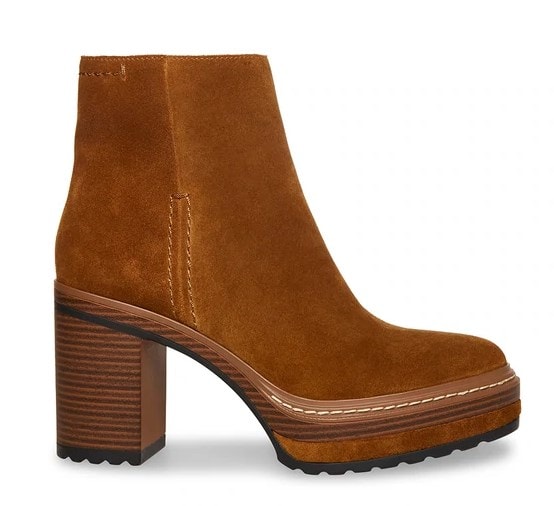 You'll look stunning in these ankle boots. They combine high fashion and casual looks effortlessly. The brown suede color offers a shade that goes well with numerous pigments. They look good with bell-bottoms and offer an incredible '70s style. Not only that, but they're super comfortable.
Pros
Comfortable

Suede material

Man-made sole
Cons
Narrow around the toes

It might feel tight on water ankles and legs
Get Deals on Steve Madden Boots
You might have noticed that Steve Madden's boots are a bit pricey. However, don't let that stop you from buying from this brand. There are several ways that you can receive discounts on their footwear and other apparel. One of the primary ways to do so is by joining the Steve Madden Pass email list. When you sign up, you'll receive 20% off and free shipping on orders over 50 dollars. But there is also a Steve Madden Pass+ mailing list that allows you to get 30% off and free shipping. 
Not to mention, the brand sometimes runs end-of-the-season sales, and they'll offer up to 50% off for select styles! It's a great way to get deeply discounted footwear from Steve Madden. Also, this brand is sold in Macy's. Sometimes the retail store will run sales and send out coupons for purchases. So, if you buy Steve Madden boots from Macy's and use a coupon, you'll save some cash.
Trust me, there are plenty of ways that you can indulge in the experience of wearing Steve Madden without breaking the bank.
How to Style Your Clothes With Boots
Boots might feel a bit tricky to style, but they're not. In fact, they're just as simple as any other shoe. Below are some of my style ideas:
Knee-length Boots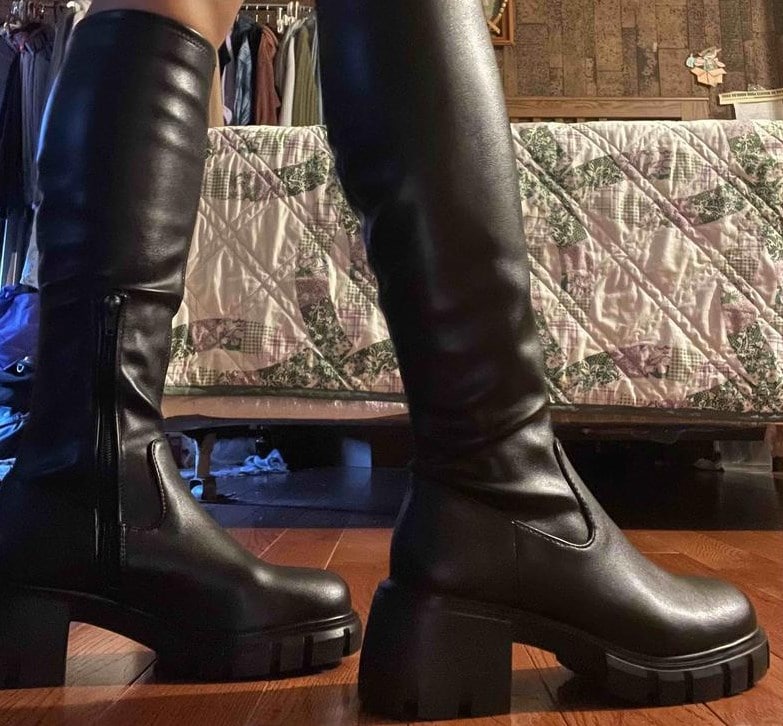 When it comes to knee-length boots, there are quite a few ensembles you can put together with them. Of course, the most standard wardrobe pieces to pair with knee-length boots are jeans and leggings. However, they also look fabulous with dresses, whether they're flat or high-heeled. 
Flat knee-length boots go well with sweater dresses and skirts. Consider pairing your flat boots and skirts together with stockings. The same goes for high-heeled boots. They look stunning with long-sleeved bodycon dresses.
Ankle Boots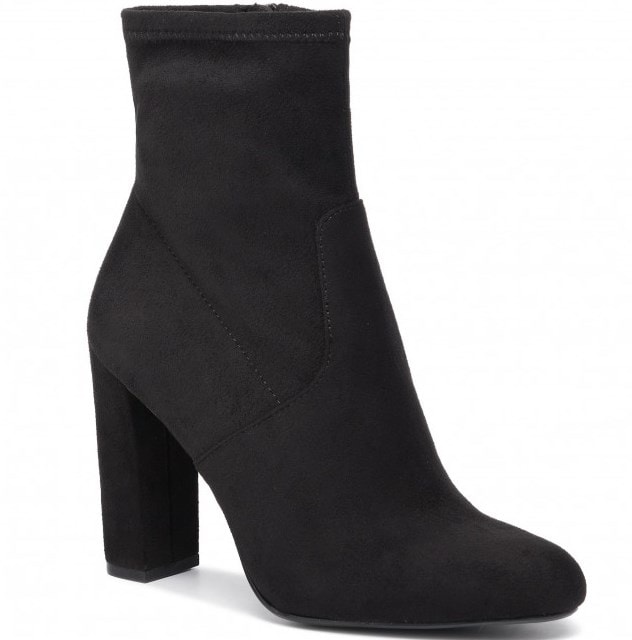 So, ankle boots may seem weird, but they're not. Just like any other style of boot, you can pair them with virtually any ensemble. However, they look incredible with leggings. They offer such a chic style to cotton and liquid leggings. But of course, they look good with skinny jeans as well. Also, if you think you can't wear ankle boots with skirts, think again. They look fabulous with short skirts and even shorts.
Casual Ankle Boots
You will probably look best wearing casual ankle boots with jeans, but if you want to dress them up, you can. Imagine a flowy skirt, shirt, and denim jacket. Combine that ensemble with your casual ankle boots, and you've got an astounding look!
Skinny High-Heeled Boots
Skinny high-heeled boots are for experienced "models". You have to know how to work a pair of high heels like no other. However, high-heeled boots can take your ensemble up a notch. They look stunning with all types of dresses and skirts. Essentially, when you're going for a glam look, high-heeled boots can make it happen.
Combat Boots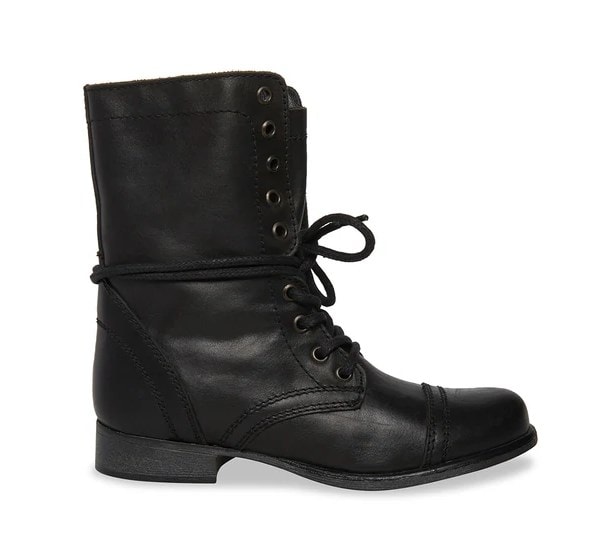 If you feel intimidated by combat boots, don't. I promise, if you understand how to coordinate them with your outfit, you'll look great— even if they're not your style. The objective is to look and feel confident. You may assume that these shoes only look right with jeans, but that's not true. You can wear combat boots with bikers shorts or dresses. Imagine wearing an oversized sweatshirt, biker shorts, and combat boots. Trust me, it's a look. This type of ensemble allows you to soften the details of the boots so they don't seem so masculine. Wearing them with a dress is cute too. Combining an overall dress with your combat boots is a great idea.
Why Is There So Much Hype About the Steve Madden Brand?
You may be wondering why there's so much hype around Steve Madden boots. Well, this is a company that's been around for decades. It first started when Steve made a $1,100 investment back in 1990. Since then, the company has made a huge impact on the shoe industry.
 Madden always had a passion for rock and roll. So, he merged that passion with his desire to create on-trend apparel that would spark inspiration and individuality. Because of his keen eye for fashion and trends, the company now has millions of customers around the globe. Steve's designs are at the forefront of the fashion and shoe industry. The Steve Madden brand has expanded into handbags and accessories and is sold in more than 80 countries around the world!
Frequently Asked Questions About Steve Madden Boots
Below are some of the FAQs regarding Steve Madden boots:
Question: Can I Wear Boots in the Summer?
Answer: You can wear boots whenever you'd like. Just keep in mind that boots feel better during cold months. Your feet might feel hot during the summer months. However, with the way that ankle boots are designed nowadays, they look good in the spring and summer as well. It's all about the outfit that you choose to wear and the way you pull the boots off.
Question: Are Steve Madden Boots Expensive?
Answer: Well, that depends on your idea of expensive. For the most part, you can expect to spend between $50 to $150. But there are moments when their footwear goes on sale. Not to mention, there are other retailers that may sell Steve Madden booths for a reduced price.
Question: When Should I Choose to Wear High-Heeled Boots Versus Regular High Heels?
Answer: Well, for the most part, you should do so whenever a boot style suits you best. But of course, boots look better during the cold months. When you're wearing jackets and other clothes that have a warm look, boots go really well with them. Also, as you're wearing clothes like this, regular heels don't look right. You should also opt for heeled boots when you have on stockings. 

Open-toe heels with stockings aren't a good look. So, if you don't have any closed-toe heels, opt for boots. Let's not forget that there are times when you want to look cute, but you don't feel like wearing heels. In that case, boots are the perfect alternative. You can wear cute knee-length with your dress or skirt. However, even long boots sometimes have flat soles. In that case, you can still look fashionable without having to put on regular heels.
Question: When Should I Avoid Wearing Boots?
Answer: There really isn't a time when you should avoid boots altogether. However, sometimes they're not the most ideal footwear. Some individuals have a difficult time wearing boots. The reason is that certain boot designers don't make the structure of the shoe wide enough for individuals with wide ankles and legs. In that case, you'll have to be a little more intentional with the boots that you buy. Look for designs that are specifically made for larger ankles and legs.  

And, of course, if your feet are in pain or swelling, you might want to steer clear of boots. Generally, they're tight and encapsulate the feet and legs. If you're having trouble with your feet or legs, try to find footwear that's soft and breathable.
Question: Do Steve Madden Boots Run Small?
Answer: Yes, they run about a half to full size small. You may have to go up an entire foot size in order to fit Steve Madden boots. If you've never worn their footwear before, I advise you to try on some Steve Madden boots in the store. This will help you gauge which size you are in their brand. You don't want to order Steve Madden boots from their website for the first time without doing this step.
Question: Are Steve Madden Boots Comfortable?
Answer: Actually, they are. Since they are high-quality boots, they're very comfortable. As long as you're wearing the right size and comfortable socks, they'll feel fine.
Final Thoughts on Steve Madden Boots
Overall, Steve Madden's boots are top-tier. The company has some of the best designs, and their boots are high quality. You don't have to worry about their footwear giving out on you too easily. If you want a good pair of boots in your wardrobe, I highly suggest Steve Madden!
 Recommended Reads: