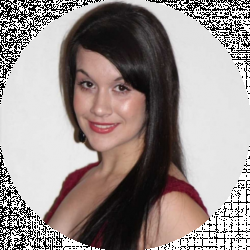 Latest posts by Christine Kent
(see all)
Consider getting a couple of white sweaters if you're wondering what to wear to your new job as we fast approach the cold season. Not only are white sweaters versatile enough to wear to any occasion, from bulky knit sweaters to thin turtlenecks, whatever type of sweater you're searching for, finding it in white is easy. Read on for white sweater ideas and inspiration.
A lot like a bear hug that calms you down on a lonely night, or a mug of hot chocolate that warms you up in the morning, or that fulfilling feeling you get when you sit on your favorite sofa after a long working day, a white sweater in this winter season can magically warm you up and make you stand out in a crowd at the same time. 
There are different designs, styles, lengths, and silhouettes to choose from when buying a white sweater, so whether the dress code of where you work is strict or the sewing rules are a bit liberal, white sweaters are approved consistently by HR. 
History of the White Sweaters
Popularly known as Aran Sweaters or Fisherman's Sweaters, the origin of these white sweaters is Aran Island in Ireland in the early 1900s. The story that revolves around their origin is as unique as their name. These Irish sweaters have been described as authentic, woolen, warm, elegant, knitted, comfy, cozy, luxuriously warm, intricate, stylish, and textured.
These traditional white sweaters were knitted in the natural sheep's wool, making them white or cream in color. The sheep's natural wool could retain its oils. Hence they were waterproof and ideal for the extreme Irish climate. Women originally handcrafted these sweaters for island men who were fishermen and farmers, but today it's a trend and Irish people's global symbol.
A well-known export, Aran sweaters were more fashionable when the Tommy Makem and Clancy Brothers made an appearance on American television and in President John F. Kennedy's television special at the beginning of the 60s; this folk music group from Ireland had Aran sweaters on stage, which makes it their distinctive look.
White Sweaters Today
A white sweater is a must-have item in many people's closets because it looks good and can be worn with almost everything. Additionally, it symbolizes purity, optimism, innocence, freedom, and simplicity.
One of the outstanding features of white is that it reflects when you put it on and brightens you up in a very subtle and flattering way. Everything looks good with white – it's a thoughtful and well-bred color, and you can never go wrong with white. 
Today, the Aran sweaters are a casual and elegant model that can be combined with numerous styles and distinctive looks focused on comfort and ease. They are wonderfully textured sweaters and come in various knitting styles.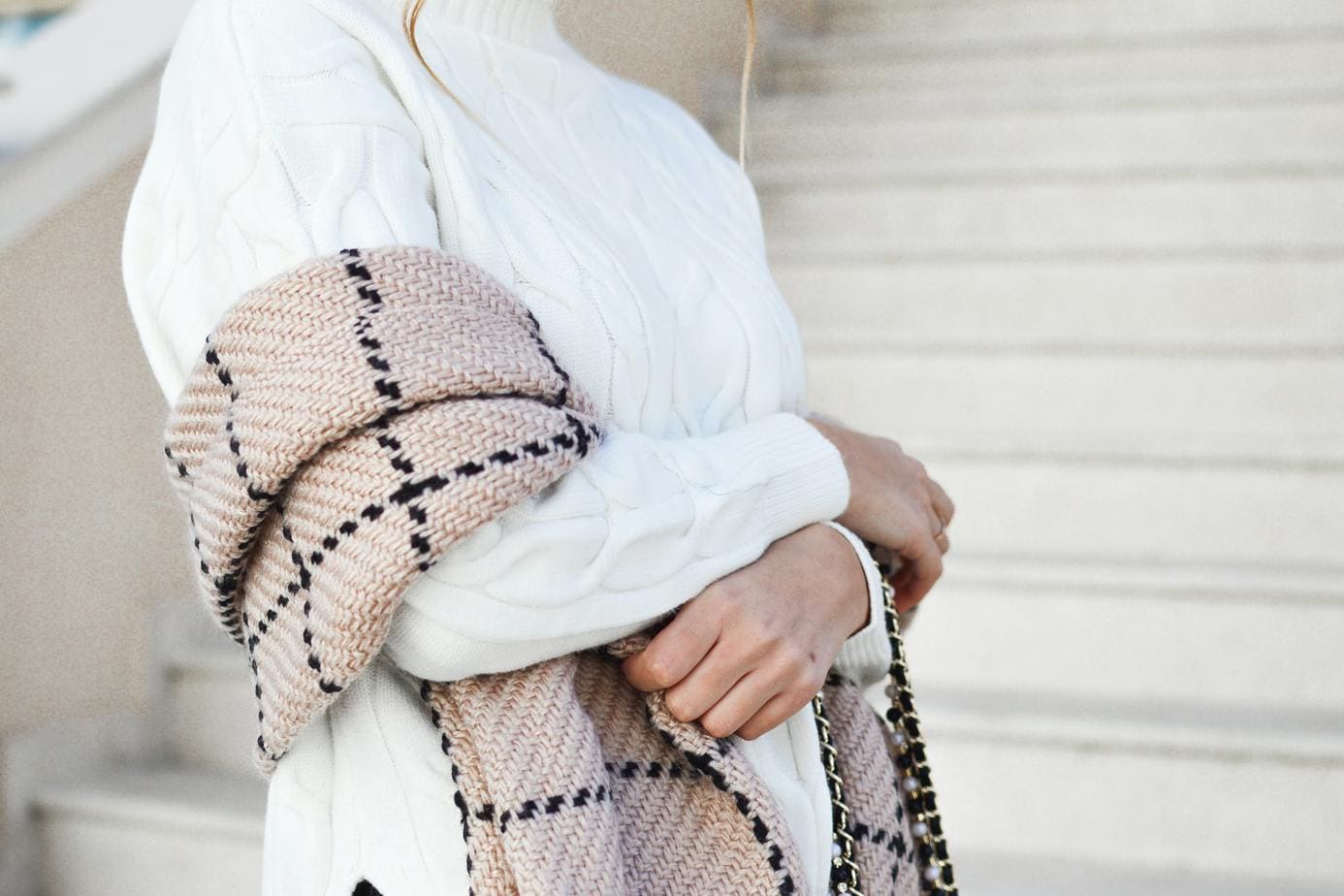 Pros and Cons of Buying White Sweaters
Pros:
They cool off your body when it gets hot since they don't absorb heat and sunlight

White gives you a powerful aura leading to radiance, power, and health.

It indicates a lot about one's personality; patience, purity, kindness, innocence, hope, and peace

A white Sweater in a professional setting denotes efficiency and conveys cleanliness

A white-colored Sweater is timeless and can be worn with anything else
Cons:
White sweaters can easily get stained

Not suitable for extremely cold seasons since they don't retain heat but rather reflect
Different White Sweaters  
The major categories are cardigans, tunics, sweaters, and turtlenecks. All the distinctive names and designs of sweaters can fall into these categories. Read on to find out the unique features of each Sweater.
Pullover white sweaters
Pullovers are a vast category. Any sweater without buttons or not open at the front is considered a sweater. You must wear a white sweater by pulling it over the head in possible terms. There are two main points of difference among these sweaters without a high collar and a tunic: round neck or V neck.
White V-Neck Sweater 
The V shape of your V-neck white Sweater makes it more formal compared to the crew-neck sweater. You can easily layer it over your collared blouse or fitted shirt. For a professional event, you can pair it up with a tie or a coat, and for a refined but informal look, leave the collar out.
Cardigan Sweaters 
The simple, long-sleeved, button-down white cardigan that you can slip on over a shirt or fitted blouse. And also the cardigans with completely ditched buttons. Open cardigans, also known as open sweaters, are more expansive and are cut longer, and are designed to be worn over your layer of clothing for a soft, relaxed look. Wrap cardigans are similar to open cardigans but have a waistband in a dress to tighten the garment. 
Another distinctive attribute among white cardigans is the shawl collar that appears on the front with buttons and is similar to open cardigans. The shawl collar offers an additional layer of folded fabric around your neck, giving you additional warmth and a rustic look.
Tunic white sweaters 
The shape of a tunic is its main defining point from other sweaters. Tunics are looser, hang a bit lower on your body, and open at the hem instead of narrowing. Numerous sweater types can be called tunics, based on the fit and drape of the Sweater. A lot of tunics are pullover sweaters; some tunics have a V-neck or sometimes a false collar. 
Boyfriend white Sweaters
The extra fabric on the boyfriend sweater makes the outfit too comfy while adding an informal chic touch to your overall look. 
Boys' sweaters can be used when going from hot sun to cold evenings or air-conditioned homes, as it's easy to layer them over a shirt or tank top when necessary. 
Sleeveless white Sweaters
Sleeveless sweaters are a must. For a professional look, pair with your favorite button-down shirt, then roll it up to your elbows when the weather is favorable, or a stylish sports jacket and tie for colder days. 
Turtlenecks 
The white turtleneck is probably the simplest to identify and describe of all these sweater designs. For a sweater to be considered a turtleneck sweater, it has to meet the following criteria:
The Sweater has a turtleneck that folds upon itself and covers your neck entirely. The turtleneck has many other names, such as the polo neck or roll-neck. Turtlenecks can easily be confused with mock neck white sweaters, yet they're different.
Crew Neck white Sweater 
For skin irritation prevention, Crewneck white sweaters worn by athletics originated at the beginning of the early 20th century. They are popular among both genders for their informal and sporty look. Crew neck sweaters have a round neckline without a collar, which gives it a more casual look without being completely casual. They are an ideal choice for cases you can dress without worrying about overdressing.
Ideas on How to Style These White Sweaters
White V-neck sweater, skirt, tights, and ankle boots
This is another trendy outfit to put on every day. Choose a large black knit beret, a cable white V-neck sweater, a black mini skirt with knife pleats, black skin tights, and black suede ankle boots.
White boyfriend sweater, skinny pants, and espadrilles
A creamy white loose fit boyfriend white Sweater looks lovely with a pair of cream beige skinny pants and a black animal printed espadrilles.
A white cardigan sweater, a t-shirt, and skinny jeans
A crisp, light white cardigan sweater is perfect with a white t-shirt, a pair of faded skinny jeans, and a black leather shoulder bag.
White tunic sweater and skinny pants
This is an ideal look for cold summer days. Choose a loose white tunic sweater with dropped shoulders and skinny black pants, a camel-colored brimmed hat, and a shoulder bag with prints.
White sleeveless Sweater, mini skirt, and sandals
A long sheer white sleeveless sweater paired with a brown mini skirt and sandals. Complete your outfit accessorizing with a fringed crossbody bag and an elegant bracelet.
How to Care for Your White Sweater 
Check the Sweater's label.
The first thing to do is check the sweater's label. For instance, while cashmere material goes well in the washing machine, merino wool material works best when it's dry cleaned. 
Decide whether to hand wash or dry clean. 
Modern woolen products are easy to wash and can be washed in a washing machine set on delicate items. If you decide to dry clean your Sweater, you will only need to do so a few times a year. Again, this option works well for merino wool sweaters. 
Use lukewarm water, not hot. 
If you decide to hand wash, use lukewarm water, not hot. Direct heat leads to shrinkage. It's crucial to avoid wringing and stretching the wool when it is wet to avoid permanently destroying the original texture. When it dries, lay it flat. And when possible, you can spray on a hanger to remove wrinkles if the mixture is more delicate. 
Test the Sweater's dye 
Before washing, don't forget to do a test to ensure that the dye of a sweater does not fade.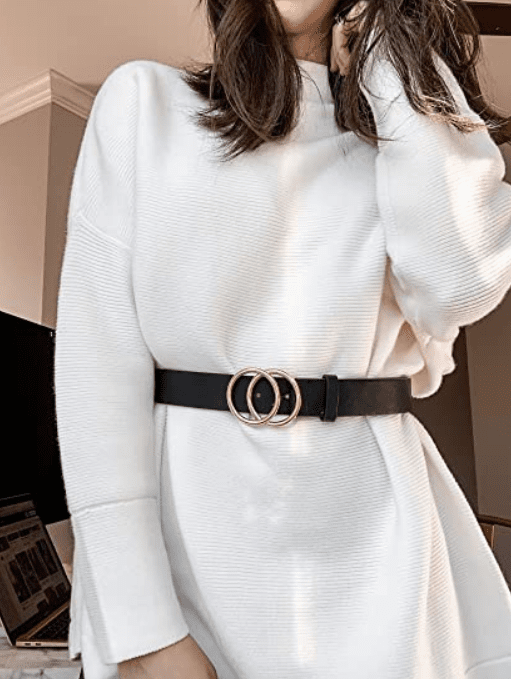 Where to Buy White Sweaters
Amazon
For a wide selection, a free and one-day delivery to your home, you can purchase quality and stylish white sweaters from Amazon.
Target
You can order online, or you can visit. The shops are bright and colorful, the corridors are vast and spacious, and the merchandise is well organized. This is why Target stores are so much fun to shop a white sweater at, and you might end up getting more than you expected.
White Sweater Recommendations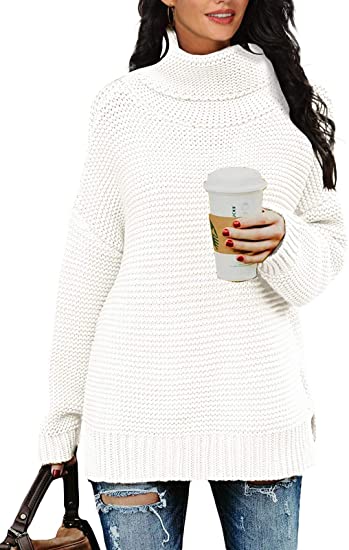 This white sweater is stylish and elegant and can be worn to many different occasions.
Pros:
It is stylish
It will keep you warm
You can wear it to formal or casual events
It goes perfectly with jeans or leggings
Cons
It is difficult to keep clean
You need to follow specific instructions when washing this white sweater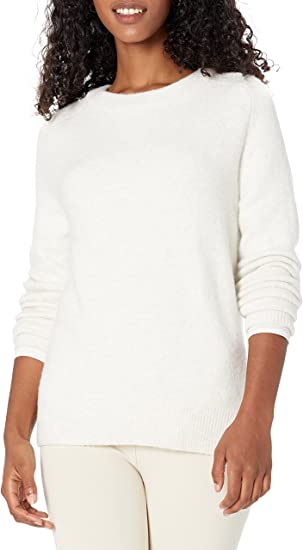 This pullover white sweater will look amazing with some black skinny jeans and some nude or white sandals.
Pros:
It is stylish
It is comfortable
It will keep you warm
Cons:
Hard to keep clean
Have to follow specific washing instructions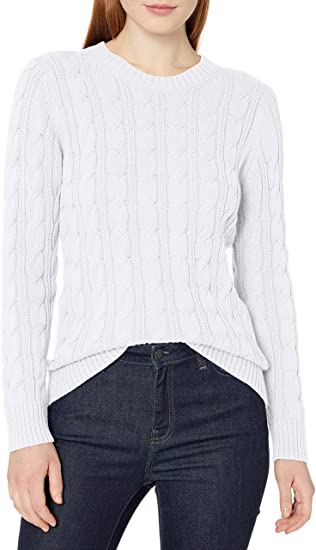 This white sweater is perfect for the winter season. You can wear it on its own or under a jacket.
Pros:
It is super comfortable
It can be washed in the wash machine
It is stylish
Cons
A white sweater is hard to keep clean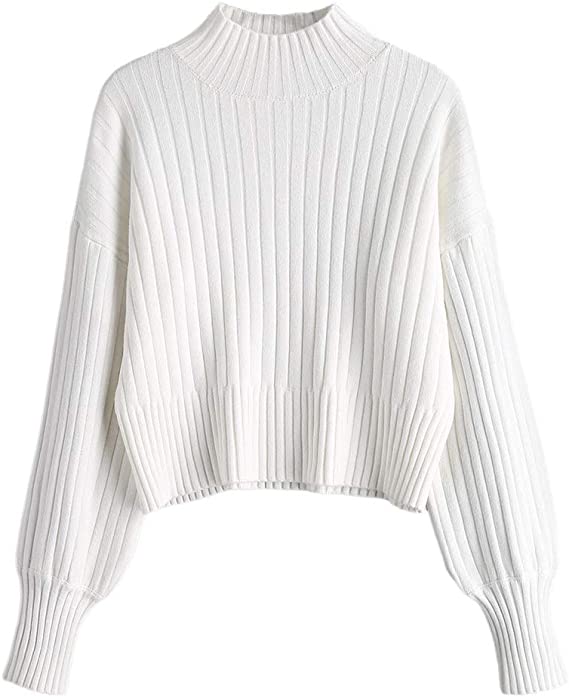 This white sweater will look super cute with some blue or black high waisted jeans or a mini skirt.
Pros:
It is super soft and comfortable
It is stylish
Makes any outfit look cute and put together
Cons
A bit short on the torso
Hard to keep clean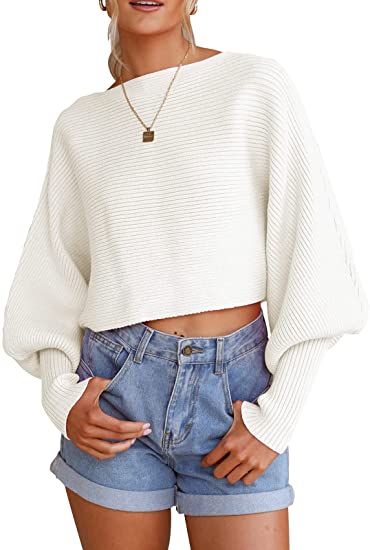 These sweaters are super cute for work, school, going to the mall or hanging out with friends.
Pros:
Perfect length if you want to show off your waist
It will make you look very fashionable and put together
The fabric is super soft
It flatters your arms
Cons:
It is not everyone's style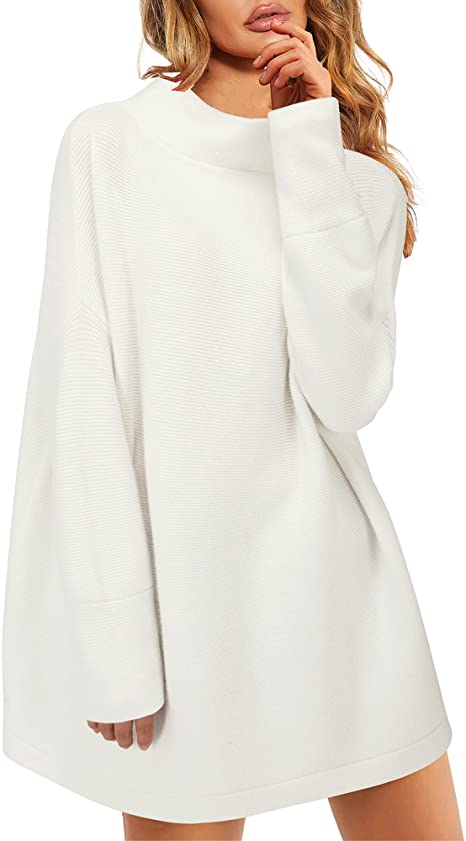 I absolutely love oversized sweaters! They are so comfortable and they make you feel safe because you think that you are wearing one of your boyfriend's sweaters.
Pros:
Super comfortable
Affordable
It has a unique design
You can easily dress it up or down
Cons:
Hard to keep clean
needs to be washed by hand
FAQS
Question: Why are white sweaters a perfect choice? 
Answer: You can wear white sweaters on all occasions and in all weathers. When it is hot, they cool your body as they do not absorb heat, and when it is cold, they will keep you warm. You can wear it in a professional setting and an informal environment.
Question: Which is the simplest way to style your white sweater?
Answer: A white sweater goes well with everything, even a checkered mini skirt for that simple and chic look. When it's too chilly to wear alone, put on tights to stay warm. A pair of light-colored ankle boots will warm you up.
Question: Can you wear a white sweater in winter?
Answer: Wearing a white sweater was not only trendy during spring and summer, but you can also get away with putting on white head-to-toe all year round. White color is ideal for all seasons, and it goes with absolutely every outfit and can add color to even the dullest February.
Conclusion
Now that you have gone through the white sweaters ideas and inspirations article, you now understand why you need a couple of white sweaters in your closet. Most people associate the White color with nature. It's also a tried and true outfit that can make you look incredibly chic on all occasions.
You can pair it with other natural known fabrics like fur, suede, felt, leather, and denim. Considering that white is gorgeous, you can easily style it with any of your outfits. There are numerous possibilities and fun ways to style a white sweater. Do you own a white sweater, or are you busy ordering yours at this very moment? Let us know in the comments below!