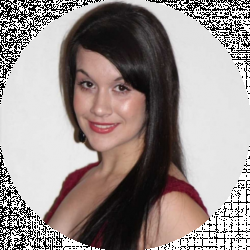 Latest posts by Christine Kent
(see all)
Conceivably, one of the liveliest colors – or THE most vibrant – color out there is undoubtedly yellow. It's the color of happiness, sunshine, and pure joy! There's nothing quite like a bright yellow sunflower to lift your spirits. 
The color yellow has been historically associated with positive emotions, optimism and is a great mood booster to overcome your emotions when you're having one of those dull depressive days.
According to studies, the color yellow is associated, more than any other color, with joy, by somehow influencing the left side of the brain; the color can't help but lift your spirits, as well as enhance your analytical skills.
So, are you having one of those dull days where you just can't seem to pluck up the energy to get yourself out of your pajamas and get going? Dress in a bright yellow sweater and see how it miraculously brightens up your day!
History of Yellow Sweaters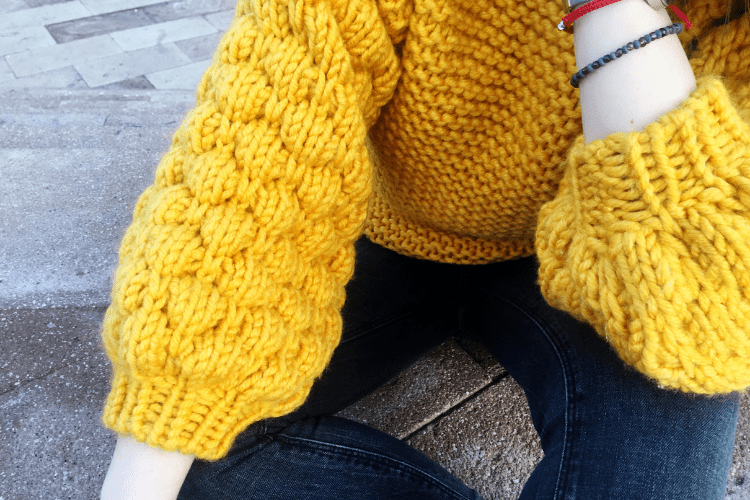 Amedeo Clemente Modigliani was an Italian sculptor and painter known for his unconventional work. One of his most iconic pieces of art is a portrait of his partner Jeanne Hebuterne in a Yellow sweater.
This has undoubtedly played a major part in the significance of yellow sweaters in the world of fashion, with various fashionistas taking inspiration from classic pieces of art.
Yellow sweaters have gone through a fashion revolution of their own from vintage cable knit sweaters, loosely knit sweaters ribbed at the front, sleeveless V-neck sweaters, casual button-downs, to high necks – the list goes on – in a multitude of shades of the color.
Yellow Sweaters Today
Bright colors have, with time, slowly evolved to be a tiny niche of the fashion industry, with an increasing preference for light beige, nudes, and a subtle matte look. 
As with any bright color, it's hard to pull off yellow and look elegant. It happens only once in a blue moon these days that you see someone adorning this vibrant color – and if you do, it's sure to draw a lot of stares and scrutiny. 
On the other hand, the color can be a pretty distinct way to set yourself apart from the crowd and make a fashion statement while you're at it – if you know how to style it properly. 
Different Types of Yellow Sweaters You Can Find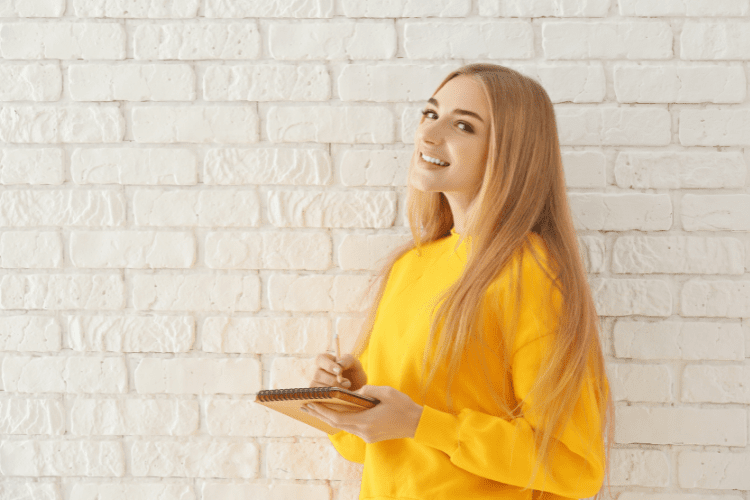 High Neck Lantern Sleeves Knit Pullover Sweater Jumper
Lantern sleeves are full sleeves attached to a drop-shoulder top that gathers at the forearms. They can be a very stylish option, especially if attached to a crop top.
This high-neck sweater can give 80s nostalgia with a modern chic touch. Although the shade of yellow you go for is also an important factor, this look is better pulled off with darker shades of yellow – more towards mustard. 
V-Neck Sweater
Another great option; there is something about V-necks that somehow singularly resonates with being both effortlessly stylish and modern – no matter which decade you wear it in. As with all the clothing options, V-neck – you can't go wrong with a V-neck sweater and skirt or jeans ensemble. A simple – yet ridiculously sexy choice.
Long-Sleeve Cable Crewneck Sweater
This round neckline is excellent wear to a semi-formal event. Making you look casual yet not in a "tacky to wear at a formal gathering" way. Get this fitted pullover sweater to emphasize a slim slender figure in a classy way. 
Crewneck Cardigan Sweater
Another viable option you can consider while mulling over crewnecks is a button-down cardigan that is similarly fitted to your figure, with a dull contrast undershirt, preferably white, to pair with your yellow sweater to stand out yet not in a tawdry way. 
Long-Sleeve Fleece Zip Top
What says 'cool' better than a zip-top jumper? Go with a yellow zip-top fleece jumper and stay comfortably warm while making a positively cool, youthful fashion statement – make the choice a distinguished yellow color and watch a commonplace garment, somehow transforming into the height of fashion. 
Oversized Chunky Knitted Pullover Sweater
This look – very fashionable – is a definite vintage treasure for people who dig this old style. Stay warm while feeling a sense of comfort in all the old memories the style brings to mind. Clothing fashion is a vicious circle of the old coming back as new and the new appearing old, and so on.
So, there is no need to feel out of place while wearing this sweater style because apparently "old is the new, new" when it comes to fashion.
Long-Sleeve Turtleneck Sweater
Another excellent pick for people on par with this fashion style. Stay warm and comfy – up to your neck! – while still appearing fashionably chic – a tall order to nail in the winters.
Long Button-Down Cardigans
Do you hate how pullovers mess up your hairdo and smear that perfectly made-up face it took you so long to accomplish? You're not the only one! Go for a long button-down cardigan – a much more stylish spin to your regular cardigan – and leave your look that you woke up so early to achieve, be!
Below we present some great ideas to make you feel distinguished while wearing an eye-catching yellow sweater.
How to Style your Yellow Sweater
Before we begin with specific styling options, let's go over a few rules of thumb when it comes to fashion. 
Always pair a loose-fitted top with a fitted pair of pants or skirt – loose on loose is pure tacky and can ruin the most expensive, gorgeous item of clothing you own. 

 If one item of clothing is bright, try to blend it out by pairing it with dull-colored choices, whether in terms of other clothing options, jewelry, accessories, handbags, or shoes.
And now for some specific stylish ensembles:
Pair your bright Yellow sweater with a pair of light blue jeans and grey suede shoes – a flawless look, making you stand out yet looking very casually stylish – and an added tip? Choose a bright red lipstick to go with your Yellow sweater!

Pair your Yellow sweater with black leather pants and boots! Stun in pants and sweater overdo in this chic ensemble at parties or the club.
Pair your long yellow cardigan sweater with a wide belt at the waist and a fitted skirt and allow your inner goddess a day out to flaunt herself. You'd be a vision all wrapped up in a classy yet distinguished yellow sweater and a long sleek skirt get-up.
If you've opted for a loosely fitted sweater, pair that with a pair of jeans or white pants with the front of the sweater tucked into your pants to give the loose-fitted baggy look a stylish spin.
Want to go all-out sexy in an ordinary, boring button-down cardigan? No problem! Wear a striking yellow cardigan with only a bra underneath – button a pair of buttons in the middle to hide the bra – and leave the rest undone. Match this up with a pair of fitted pants and get your name down in the hall of fame as the hottest fashionista there ever was!
Wear a long yellow fitted pullover sweater to double as a dress, and pair it with long brown boots and a red or leopard print handbag.
Pros of Choosing to Wear a Yellow Sweater 
A very distinguished color that sets you apart from the crowd.

It can compliment some skin tones very beautifully.

It can make things light up on a dull grey, wintery day.

It can lift your mood with its brightness. 
Cons of Choosing to Wear a Yellow Sweater
It can be a little out there, strictly formal or simple day-to-day settings.

Too memorable to wear more frequently.

It can be a waste of money to buy an expensive yellow sweater as they're impractical to wear more than a couple of times in a season.

A much too bright shade of yellow can make onlookers' eyes stream and their heads ache.

It isn't easy to pair it with other items.

It can come off a bit tacky.
My Opinion
I really like both the color yellow and setting myself apart from the crowd. Furthermore, in today's pandemic-ridden world, you could always do with some cheering up, and the color yellow does just that. It lightens up the whole room with its presence, along with offering you a much-needed pick-me-up.
However, a very major drawback of this color is that it stands out so much that you're unlikely to get more than a couple of wears out of it. It's even memorable if you wear it again after waiting a whole season to do so.
My favorite ensemble would be a lime yellow sweater with a pair of dull blue, folded jeans, paired with bright red lipstick on an otherwise no-makeup look and long loose straightened or wavy strands with white sneakers. Stylish, unique, simple yet jaw-dropping!
Some Yellow Sweater Recommendations
I'm sure you are dying to get yourself a yellow sweater! Don't worry me too! And I have some recommendations for you that I'm sure you will be crazy about!
Amazon Essentials Women's Lightweight Crewneck Cardigan Sweater
This little yellow sweater is perfect for those days where it's just a little bit chilly but not enough to wear your warm puffy jacket. It also looks super cute paired with some blue jeans and a white tank top or even over a white summer's dress.
Pros
It is soft and a lightweight
It is comfortable but stylish at the same time
It can be washed by a wash machine
Cons
The color might not be for everyone
Amazon Essentials Women's Lightweight Long-Sleeve Cable Crewneck Sweater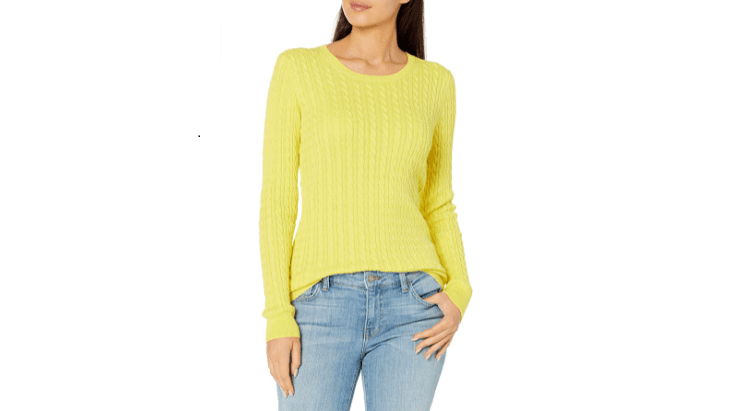 This yellow sweater paired with some blue ripped jeans and some brown ankle boots will be a super cute outfit. This outfit will be great for a day at the office or even going to the mall with some friends.
Pros
It is comfortable
Can be washed with a wash machine
Looks amazing with light blue jeans
It will keep you warm
Great quality
Cons
It can't be worn multiple times a week like other color sweaters, because the color makes it more noticeable.
Amazon Essentials Men's Long-Sleeve Soft Touch V-Neck Sweater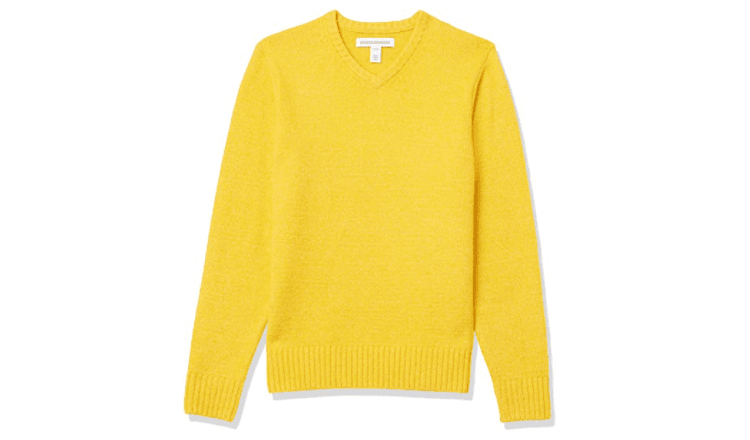 Yes, Gents, I did not forget about you! Here is a super cute and stylish yellow sweater that you can wear to match your bae. Or girls get this sweater for your man, so that you can steal it from him later!
Pros
Very comfortable
stylish
It will keep you warm
Can be washed by a wash machine
It is very affordable
Cons
The color isn't for everyone
SheIn Women's Mock Neck Drop Shoulder Oversized Batwing Sleeve Crop Top Sweater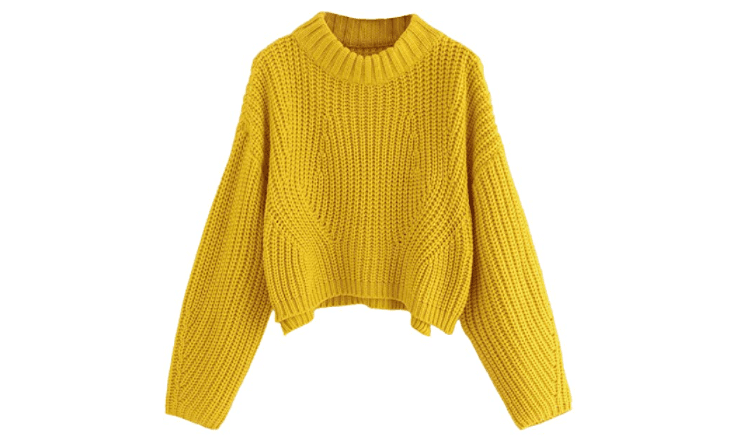 I just love oversized sweaters! They are super comfy and styling them are super easy.
Pros
Super comfortable
Perfect size to snuggle up in on those cold days
Looks great with jeans or a skirt
Perfect for any occasion
Its puffy sleeves makes it cute and stylish
Cons
If you don't like puffy sleeves, you are not going to like this sweater
Have to follow specific washing instructions
Urban CoCo Women's Long Sleeve Open Front Knit Cardigan Sweater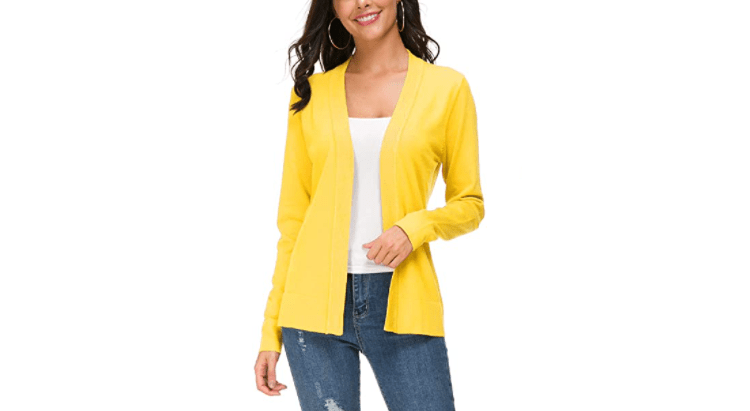 This cute yellow sweater is easy to just throw on and go. It looks amazing with a pair of jeans or a cute little summer's dress.
Pros
It is lightweight and soft
It is comfortable
Creates a stylish and elegant look effortlessly
Cons
Doesn't have a zip or buttons to close
Frequently Asked Questions
Question: Is a Yellow Colored Sweater Versatile?
Answer: It depends on what you are referring to specifically. If you're talking about seasons; Yellow can blend in splendidly with the fallen autumn leaves, the beautiful blooming flowers of spring, the bright sunshine of summer, and it can brighten up a dark winter day.

Although it's best to avoid it in a strict office environment, it is more suited for special occasions and casual wear.
Question: Can I Pair My Yellow Sweater With Purple Boots?
Answer: Bright colors are usually best paired with dull colors, although there might be some exceptions to this rule. Though pairing Yellow and purple doesn't seem to be one of them. It's best to go with light brown, grey, white, or black pants or boots when wearing a Yellow sweater to appear elegant yet stylish.
Question: Where Can I Find a Yellow Sweater?
Answer: In today's era of globalization and a complete tech takeover, you can get almost anything, almost anywhere. If your heart is dead set on a beautiful yellow sweater that draws eyes and you can't seem to find it anywhere in your go-to retail stores – browse the unlimited collection of yellow sweaters online.

No matter what specific style you're looking to get, you're guaranteed to find it someplace or other via the internet and an endless number of businesses selling online.
Question: Which Sweater Design Looks Best in the Color Yellow?
Answer: What design you like varies with your taste rather than what someone else tells you looks good. That being said, bulky loose-fitting sweaters seem to compliment the figures of only a fair few, and there is a very small niche that can pull of this look and appear fancy while at it.

A guaranteed safe choice is a slightly fitted, V-neck sweater that somehow looks good on everyone. Other options depend on your body build. However, a simple button-down cardigan, although tedious, can go with almost any ensemble – but perhaps choosing one in a yellow color will perk up the look?
Question: Can Guys Wear Yellow Sweaters?
Answer: Yellow color is not gender-specific; no color is. It all depends on what looks good on you according to your skin tone, age, and build.

Nevertheless, it is true that bright colors are generally considered best for feminine wear. But you can see some perfectly "manly" men – according to the societal standards – rock a yellow or even a pink top or sweater. 
Conclusion
Fashion is highly subjective – the options most suited to you depend on a lot of factors ranging from your skin tone, height, how slim or plus size you are, your personal preferences, the climate you live in, and – of course – the occasion you want to dress up for.
Yellow is perfect for special occasions like weddings and every season, whether it's the dead of winter or a hot summer's day. It might be too frivolous for official meetings, except perhaps if you choose a really dark shade? Get yourself a yellow sweater today, and be the life of the party!
Recommended reads: