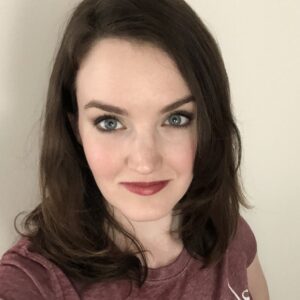 Latest posts by Crystal Schwanke
(see all)
We all love a cute skirt (or dress) with pockets, and the best cargo skirt ideas we've seen pair these casual, functional skirts with flattering tops and accessories that let you make the most of the design.
I've considered different lengths, how easy they are to style, pocket placement and functionality, their overall style (because some are more casual than others), and more to find the best cargo skirts you can buy.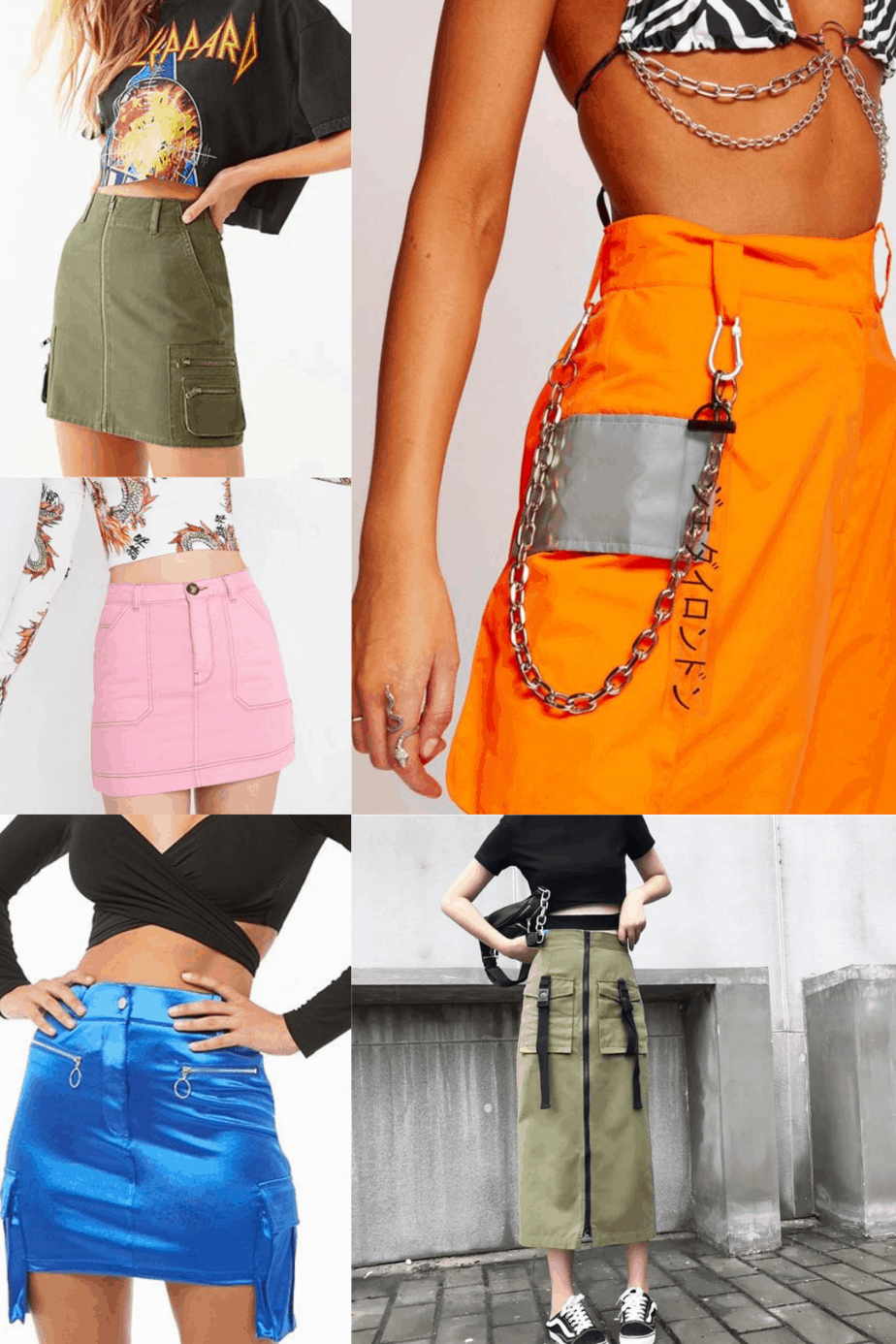 The Best Cargo Skirt Ideas I've Seen
Cargo skirts were popular in the 90s, but they are back again. Here are some of the best I've seen so far:
Forever 21 Belted Cargo Mini Skirt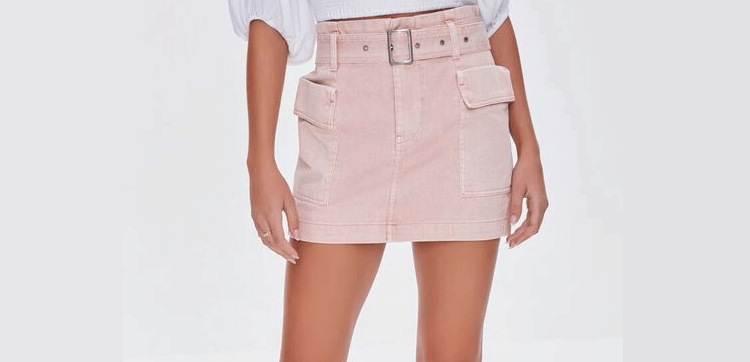 This cargo skirt from Forever 21 takes some of the accessorizing pressure off of you because it already comes with a matching belt. Get it in sage or light pink. It's perfect for showing off your legs.
Pros
Inexpensive
Comes in two colors for two totally different vibes
Available in sizes XS to XL
Even though there's a belt and the pockets are large, no detail is overwhelming, so this can be styled in a variety of ways
Cons
May be too short for certain occasions or environments
Only two colors (even though they're great)
100 percent cotton means it may shrink even more (and get too short for comfort)
ASOS Superdry Alchemy Cargo Mini Skirt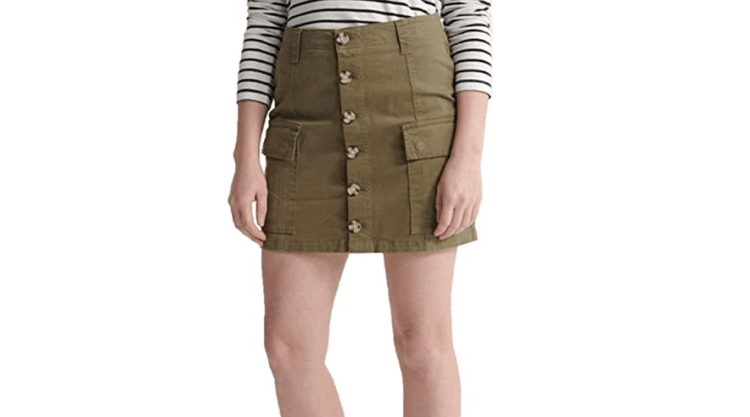 This ASOS cargo skirt only comes in one color, olive. The buttons down the front add one more 90s trend to the package, though. It's fun, a little unusual, but can still be paired with just about any kind of top and accessories.
Pros
Versatile
Buttons add visual interest
Large belt loops
The color it comes in acts as a neutral and pairs with almost anything
Cons
Only comes in one color
Style may be too "busy" for some, between the pockets, seams, and buttons
Calvin Klein Cotton Belted Cargo Skirt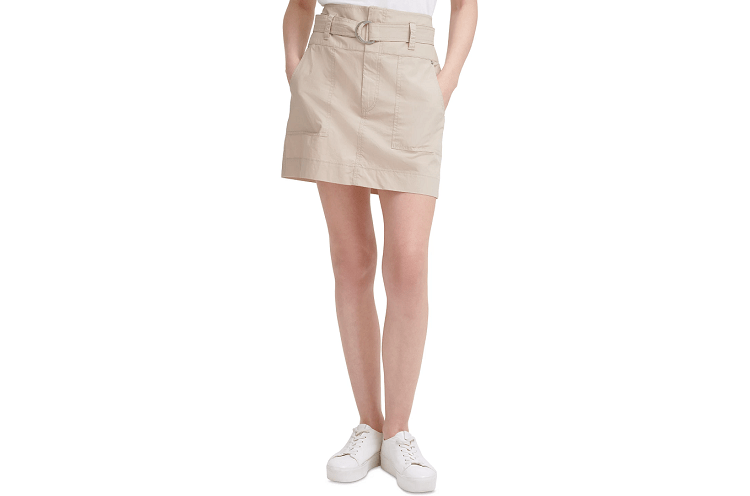 The Calvin Klein Cotton Belted Cargo Skirt has an especially classic style about it, and it's available in khaki and black. It'll go with anything, and it's not the olive green that's so ubiquitous in the cargo skirt world, so that's refreshing.
Pros
Not especially expensive
Available in black and khaki
Pockets lie flat, rather than being the bulkier pouch style, which gives this a cleaner, smoother silhouette
Cons
Only available in sizes up to XL
More color choices would be nice
Aerie Satin Cargo Slip Skirt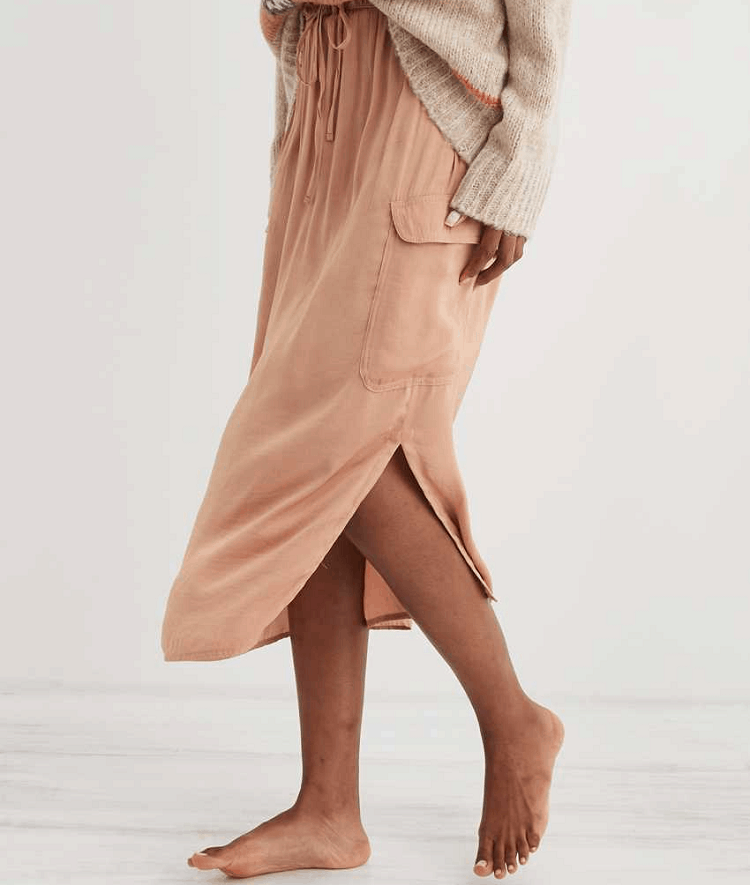 The Aerie Satin Cargo Slip Skirt is a fun and interesting take on the typically more structured cargo style. It still sticks to the neutral color palette, but it's flowy and a longer length than what you normally see in cargo styles.
Pros
Tan shade goes with almost anything (plus it's not the usual olive green)
Longer length may make some people feel more comfortable
Comfortable
Cons
Some reviewers say it's too see-through
Some feel that the material is too thin overall (regardless of whether it's see-through or not)
Women's High-Rise Paperbag Denim Skirt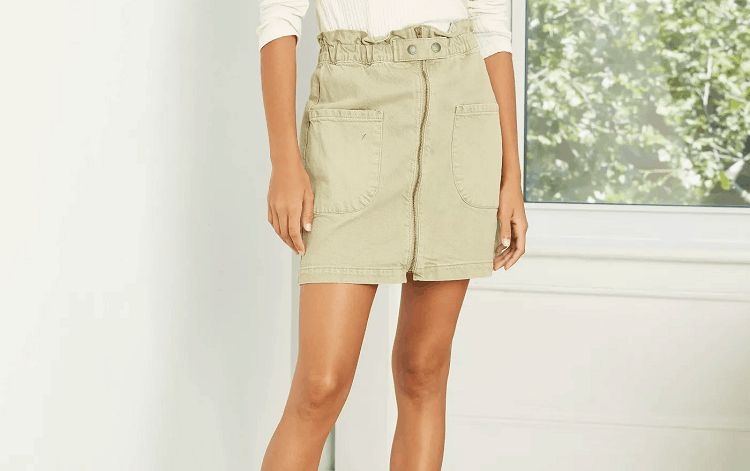 This High-Rise Paperbag Denim Skirt from Target comes in your choice of green or light blue (which is more like acid wash). The pockets are different, as there's no closure at the top, and the zipper down the front adds a little something extra that won't cut down on your styling options.
Pros
Inexpensive, at around $25.00
Hits just above the knee, so it's flattering on many different body types
Color choices are unusual, compared to other options on the market
Has a belted look, without the need to choose a belt or fuss with one that comes with it
Cons
The acid wash look may not appeal to everyone
No flap closure on the pockets
Dial Tone Cargo Maxi Skirt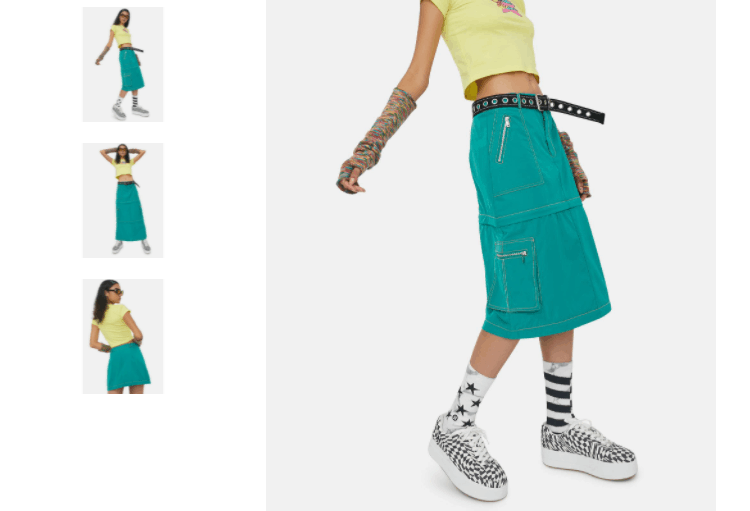 The Dial Tone Cargo Maxi Skirt is really three skirts in one, and it comes in a fun bright teal shade. Panels zip on and off to transform the skirt into a mini, midi, or maxi, depending on what the mood and situation require.
Pros
Bright, fun color
Three skirt lengths in one
Not too expensive for what it is at around $60.00
Deep pockets that lay flat are positioned on hips of the "mini" portion of the skirt, so they'll be there no matter which length you choose
You get more pockets with zip closures on the "midi" section
Cons
High Skort from G-Star Raw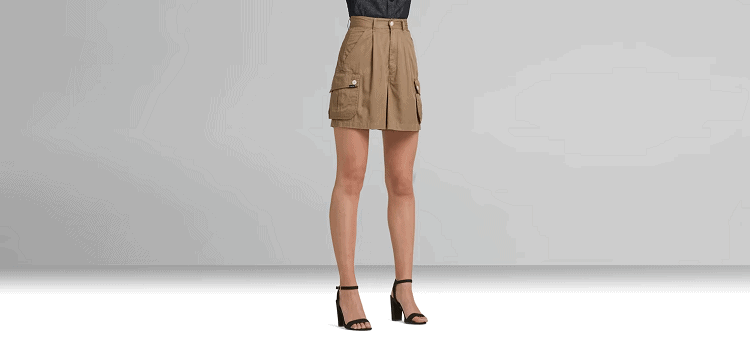 The High Skort takes the cargo skirt and gives it an interesting spin: it's actually a skort. It's available in a khaki shade (Berge) and dark denim (Rinsed).
Pros
A little more modesty because there are shorts involved, perfect for people who don't like wearing short skirts for fear they'll fly up
Both colors go with almost anything
Cons
May not be as versatile as an actual skirt, depending on where you're going
Expensive
Juicy Couture Cargo Pocket Miniskirt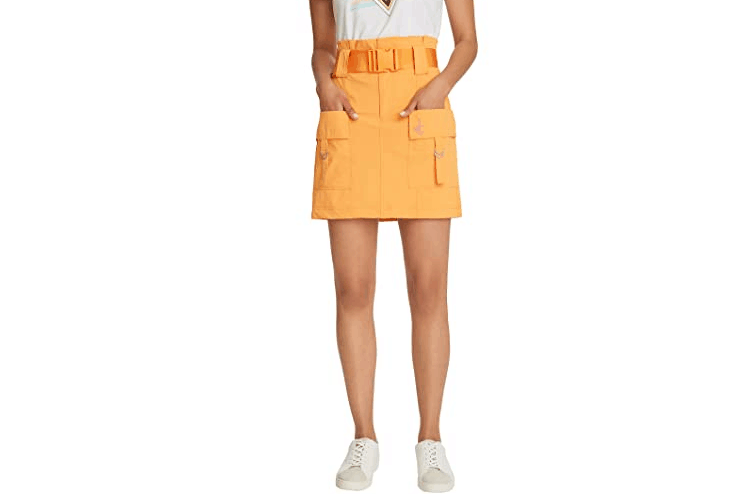 This Juicy Couture Cargo Pocket Miniskirt is a bright tangerine that's attention-grabbing and fun to style and wear.
Pros
It's an unusual, exciting color
Comes with a matching belt
Cons
May look out of place outside of spring and summer, so it's probably not as versatile as other options
Only comes in one shade, and it's kind of a love- it- or- hate-it kind of color
Tips for Choosing a Cargo Skirt
There are a few things to keep in mind when you shop for a cargo skirt:
Length
Where do you want to wear your cargo skirt, and which length is most appropriate for that? Cargo skirts come in all lengths now, so you'll have plenty to choose from.
Knee-length (or just above) and midi-length cargo skirts tend to be the most versatile in where they can be worn and what you wear with them.
Mini cargo skirts are fairly versatile in styling options, but maxi cargo skirts tend to lean more toward the 90s grunge styles with boots and baby tees. Of course, you can always be creative and try something completely unexpected to express yourself.
Color/Pattern
Want a classic neutral (usually olive or khaki, though you can get them in navy blue, charcoal gray, and tan, too), or the most classic cargo skirt pattern of all, camo? Or would you prefer to take an unexpected spin on a classic style to make it feel more modern?
Pocket Placement
Ideally, the large pockets will be around mid-thigh or just a bit higher than that, not too far to the sides. If they're higher, near the hips, or too far on either side, they can add width where you may not want it and throw off the balanced appearance of your body.
With the added width and bulk in those places, it can be difficult to pair the skirts with flattering tops.
General Vibe You're Looking For (How Do You Plan to Style It?)
Are you planning to go as 90s as possible? Do you prefer classic looks or a little grungy/edgy? Either one is a throwback to the 90s style, but which one do you love the most?
That will affect the length, color/pattern, and how you'll accessorize it. Will you need to buy several other items to pull the outfit in your mind together, or do you already have a handful of things that would pair more easily with one cargo skirt over another?
Did you wear cargo skirts the first time around, and now you're looking for something classic, a little more grown-up, and possibly more versatile within your current wardrobe? You might want to skip the minis and maxis and go for a structured midi length cargo skirt in a neutral color.
Styling a Cargo Skirt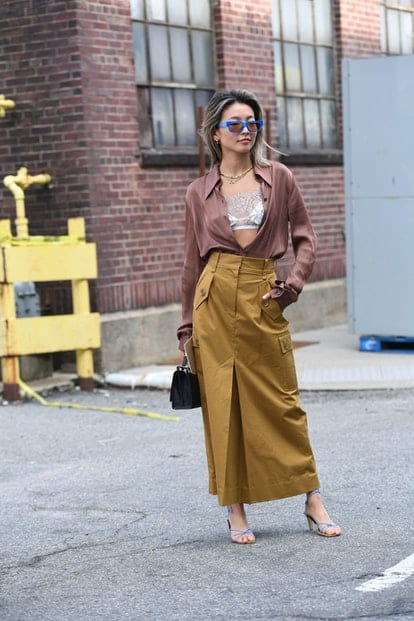 No matter how hard you try, you probably won't get a cargo skirt to look anything but casual. That doesn't mean it's only available for slouchy t-shirts and sneakers, though.
Cargo skirts are that wonderful middle-ground within casual clothing. You can dress them up just enough to elevate your look to "chic" casual, or you can dress them down for a sporty casual, completely laidback vibe.
Tops
Because of the bulk of the pockets and (usual) bulkiness of the material the cargo skirt is made from, it's best to have a somewhat fitted top to go with it. That doesn't mean it has to be tight, but some shape will help show off your shape instead of adding bulk to your frame from top to bottom. Consider:
Shoes
You have so many options when it comes to your feet if you decide to wear a cargo skirt. Most heels are out unless you want to do something genius like the styling here: https://www.instagram.com/p/CSu-INPA5-Q/, but even some of those will work, as long as they're low-key. Other shoes to consider:
Sandals (any, really)
Flip-flops (the ultimate casual shoes)
Ballet flats
Combat boots (for another nod to the 90s)
Sneakers, like Converse (choose a fun color to mix things up, if you'd like)
Ankle boots
Accessories
Accessorizing a cargo skirt is fun because it's almost like having an empty canvas. Despite the serious vibe it may give on the hanger, you can add neutral accessories to continue with the sophisticated style or add pops of color to lighten it up. Try:
A wide belt (leather, pleather, or even canvas) in black or any other shade you like
A bright, small- to- medium-size purse in a bright or pale, fun color, to balance the structure (and probably understated color) of the skirt
If wearing boots or sneakers, use the opportunity to accessorize with unexpected shoelaces.
The Main Differences Between a Cargo Skirt and a Regular Skirt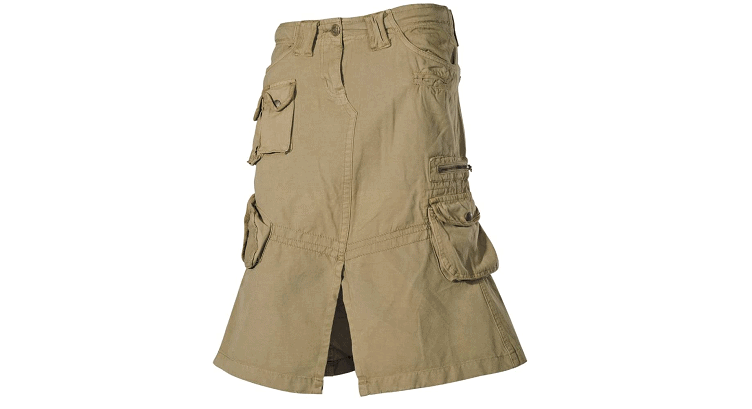 A cargo skirt is just one type of skirt on the market, so there are some differences to keep in mind while you comb through the racks, looking for the perfect skirt to add to your wardrobe.
A cargo skirt has large, rectangular pockets on the front/sides, whereas a regular skirt does not necessarily even have pockets.
A cargo skirt from today is a throwback to 90s style, whereas skirts have been around for much longer than that.
A cargo skirt is almost always a casual item of clothing, whereas a regular skirt has a wider range of situations for which it's appropriate.
A cargo skirt is usually a neutral or earth tone shade (though not always) and is made from fairly structured fabric, whereas a regular skirt can be any color, pattern, or type of material.
A cargo skirt usually has wide belt loops, whereas regular skirts may not have any belt loops at all.
Frequently Asked Questions Regarding Cargo Skirts
If you have questions about cargo skirts, this section may be of use. These are some of the most frequently asked questions about them. There aren't many, but they'll set the framework in your mind for identifying and styling a cargo skirt:
Question: What is a cargo skirt?
Answer: A cargo skirt can be any length, from mini to maxi, but they're most often seen hitting around the knee or at midi length. They have two large, pouchlike pockets in the front/side areas, that sit lower than the hips, at thigh level.

Generally, they have larger-than-average belt loops and are most often seen in neutrals or denim (or camo, since they take some inspiration from military uniforms), though they can really be any color or pattern and still be considered cargo skirts (because it's all about the pockets, remember?).

The waistline can hit at the natural waist or lower, and flare or not—there's no requirement for any specific rise or width to the skirt. These are casual skirts that are versatile in the types of shirts, shoes, and other accessories that can be worn with them.
Question: How do you wear and style a cargo skirt?
Answer: Keep it casual, but don't think that means you have to make it boring. You can go sophisticated, classic, and sleek with a fitted tee in a neutral color, some flats or sneakers, and a small purse, or you can dress it up just a bit with a button-up, flowy top (tucked in), blazer, or sweater.

If you choose to go the sweater route, you can go with something fitted, cropped, or a even a little slouchy as long as it's tucked in in front (check this one out: https://www.instagram.com/p/CMaphemp3Y7/ ). As long as your top has some shape and isn't too fancy, it's probably safe to pair it with your cargo skirt.

The same thing goes for shoes. Go no fancier than a simple pair of pumps (and go as casual as a pair of flip-flops), and you're good.
Conclusion: The Best Cargo Skirt Ideas for You
Whether your style is classic or trendy, sophisticated or a little edgy,  a cargo skirt can fit in with your wardrobe.
If your style is eclectic and hits all of those points on different days, you'll probably get the most wear out of one of the neutral-toned knee-length (roughly) styles with minimal extra details. For that, I recommend the ASOS option above.
For something in the same vein but slightly more professional, the Calvin Klein option is a winner.
If you do enjoy wearing bright colors and more unusual styles, the Dial Tone option above is absolutely the way to go. Not only is the color beautiful, but you'll have length options and the ability to add extra pockets simply by adding another panel.