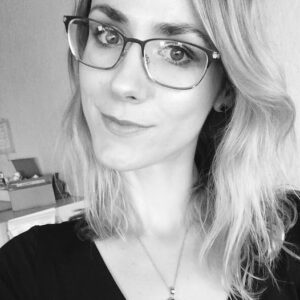 Latest posts by Karyl Trejo
(see all)
A skirt is a garment that's tight on the waist and falls downwards, covering the thighs and part of the leg, though this largely depends on its length. People also sometimes use the term to define the lower section of a dress.
Going back to the length, though, the hemline on skirts can vary widely. There are mini skirts, sure, but there are also skirts that even touch the floor. This characteristic makes it a versatile type of clothing, and people from different cultures can wear it.
The more basic skirt is when it is a draped type of clothing. How do you achieve this? You grab a piece of fabric, and you wrap it around your body. Voilà! There you have it: a skirt in its simplest form.
Even so, we know you won't find this too fashionable. Most skirts fit in the actual definition of a skirt: they fit perfectly in the waist or hips, depending on the type of skirt.
If we talk about the fabric used for making them, this has also changed over the years. The fibers used to make skirts can't be too heavy or light, so they are usually mid-weight fabrics. It can be materials like:
Cotton

Poplin

Denim

Jersey
Traditionally, only women wore skirts. However, there are exceptions, like skirts (kilts) used by men in Irish and Scottish culture. Still, in the last few years, there has been a boom in the way people view gender roles. 
Because of this, it's also common for some men to wear skirts, especially if they are in the public eye. (Billy Porter and Harry Styles, we're looking at you!) Last but not least, most skirts are used as a standalone bottom garment, but people can also wear them with leggings or shorts.
You might also ask yourself, are there different types of skirts? Well, yes! A-line skirt, circle skirt, and gored skirt are some common types. Talking about them would take us too much time, and we don't want to bore you. So today, we will focus on pleated skirts.
What Exactly is a Pleated Skirt?
Let's start with the definition of pleated. Pleated means fold. In this case, it is when a fabric or a material has several parallel folds. These folds are made by pressing the fabric together and making it stay that way.
It sounds confusing, but we are sure you have seen this type of fold before. Pleats are attractive, as the folds give the skirt a feminine look. At the same time, the folds provide shape instead of making it look plain and simple.
The pleats also create volume. So if you want to accentuate your waist while giving your body a full shape, a pleated skirt can be a perfect choice.
A Little Bit About the History of Skirts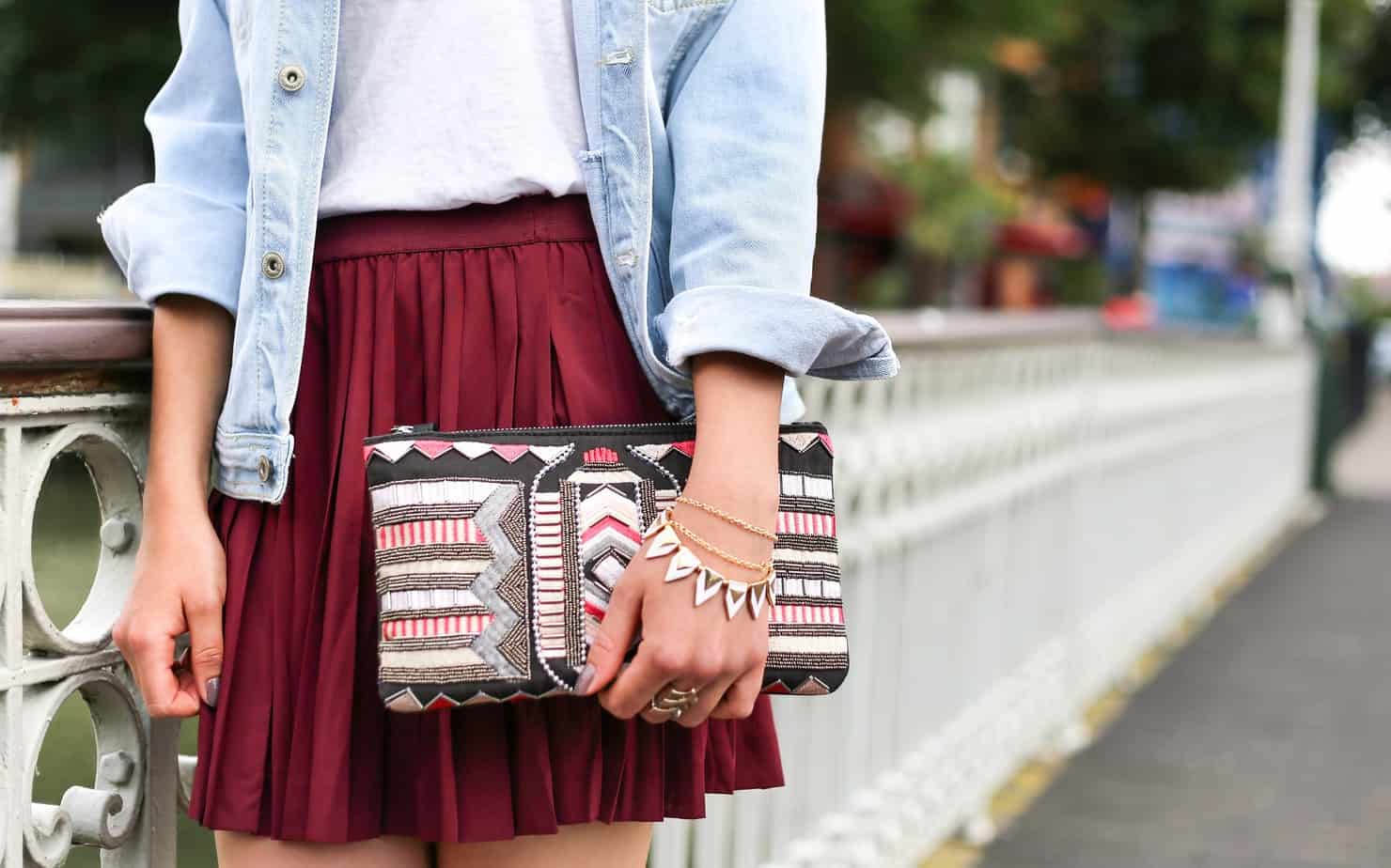 Skirts represent one of the few earliest examples of clothing that have ever existed. It was the more simplistic way of covering the lower part of the body, and people could make them of animal skin or any other material obtained at the time.
One of the most curious things about skirts is that women but also men wore them. It was later that skirts became a feminine symbol and almost always related to the feminine gender.
The moment of most changes for skirts and their design occurred in the 19th Century. Before that, they were long and voluminous to express influence and power since the fabric was high-priced, and a long one required a lot of that. Mid-19th Century, the skirts were becoming more and more close-fitting.
When the 20th Century came in, the war led women to wear more appropriate clothing for work. That way, the length of the skirt begins a journey where year after year gets shorter.
By 1960, knee-length was the norm, at least until in the middle of the same decade. A new type of skirt appeared to change the industry. If you haven't guessed by now, don't worry, we'll tell you anyway: it was the mini skirt.
Now, you can find people wearing skirts of different lengths, and there's no specific norm. But since we're talking about pleated skirts, you might be asking where they originated from. Since the 20th Century, this type of skirt has been used as a part of girls' uniforms. Then, it gradually became a type of clothing anyone could wear as casual attire.
What are the Top Pleated Skirt Ideas and Inspiration?
Now you know all the basic things you have to know about skirts. What's a skirt, and what is considered a pleated skirt. You also know part of the history behind it. We are finally in the thing we all were expecting: the top pleated skirt ideas.
But First, Our Selection Criteria
Before showing you the best pleated skirts ideas, you need to know something else. We picked the pleated skirts based on some criteria like user reviews, affordability, and available sizes. We will define each of these briefly to you and then continue with the top skirts ideas.
Size range.

Since not every woman has the same body type, we looked for skirts that had a variety of sizes. Because of that, all the ones that came in only one size were immediately discarded. The more diversity they had concerning the sizes available, the more opportunities they had for making it to the list. You will see that most of the skirts on the list have plenty of those from which to choose.

Originality.

In the last few years, when we talk about pleated skirts, we're used to seeing the

tennis skirt

that has become very fashionable in recent years. Don't worry, we will show you some of those, but we tried to have as much variety as possible. You will see long skirts and short skirts, and you will also see them made of different materials. All so you can choose the one that best suits your style.

Affordability.

High-price clothing doesn't always mean good quality. We know this, so we strived to make a list full of good quality clothing but at a reasonable price. On this list, most of them are ones below the $100 mark. That way, you can choose a skirt you like and fit your budget at the same time.

User reviews.

We care about what the users have to say. We read the reviews, and depending on that, we decide to add the skirt to the list or not. If there's anything too good or too bad, we make sure to put it on the pros or cons. We think it is worth mentioning something if a lot of people agree on it.

Versatility.

We believe in the power of changing an entire outfit just by changing the shoes or the accessories you're wearing. Because of that, we added any skirt that we thought could be worn in different ways. If someone can be casual or elegant with it, then it could make it to the list.
Now, let's show you the top pleated skirt ideas!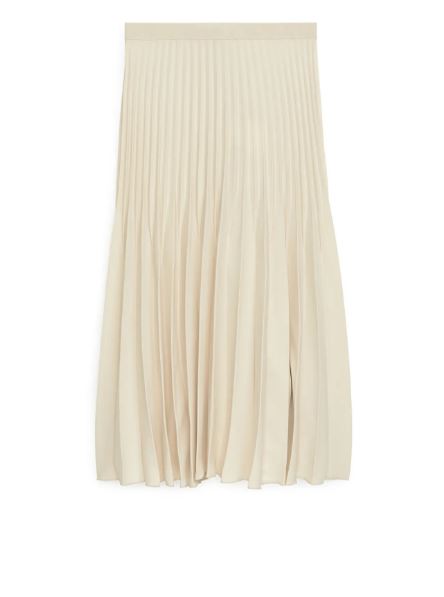 We loved the color of this skirt! It looks casual, and it makes the shape of it stand out. The pleats are narrow at the top, and as the fabric falls, they get bigger. Another thing we loved about it: it's made of recycled polyester. It's always nice to help the environment while wearing nice clothes.
Pros:
Fabric is 100% polyester

Is available in two colors: black and light beige

Has a subtle zip closure at the back

A long skirt, perfect to wear in a fall outfit

Available in different sizes (but it's always good to check their size guide!)

Has a waistband and a babylock stitch at the hem
Cons:
Not easy to maintain (i.e., can't use chlorine bleach or iron it)

Only comes in two colors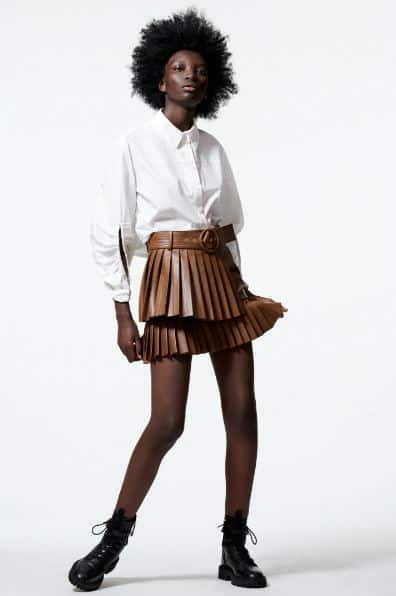 Here is the variety that we talked about! We're used to linking skirts with being feminine, with pastel colors and soft fabrics. However, this skirt goes away from that concept and brings us a more rockstar look that we loved. Plus, the brand is determined to help the environment while making their clothing, so that's also a good point we considered.
Pros:
Available in sizes XS-XL

Comes in a beautiful maroon color

Fabric made of 100% polyester and coated in 100% polyurethane

Can machine wash on a gentle cycle

Comes with a belt at the front
Cons: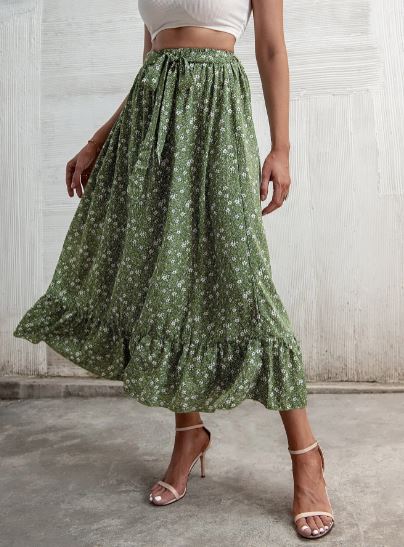 From a rockstar to a more floral vibe, this specific skirt gives us a cottagecore aesthetic vibe we couldn't ignore. The color is lovely, and the materials look dreamy. You can pair this skirt with sandals or with boots if you want to make a nice contrast.
Pros:
Fabric is 100% polyester

Comes in an amazing green floral color

Can machine wash it

Users approve of this skirt (and most love its color!)

Available in several sizes

Very affordable
Cons:
Limited color options

Vintage style isn't for everyone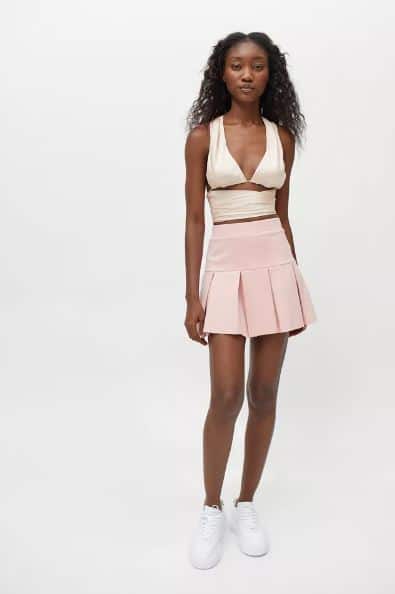 Since tennis skirts have been trending in the last few years, we couldn't just pick any random one in question. This mini skirt is high-waisted while having a pleated hem. The color is lovely, and we think it is very fashionable and feminine.
Pros:
100% polyester fabric

Is machine washable

Available in sizes from XXS-XL

Pink color is subtle and delicate, goes well with many skin tones

Reviews agree the skirt fits true to size
Cons: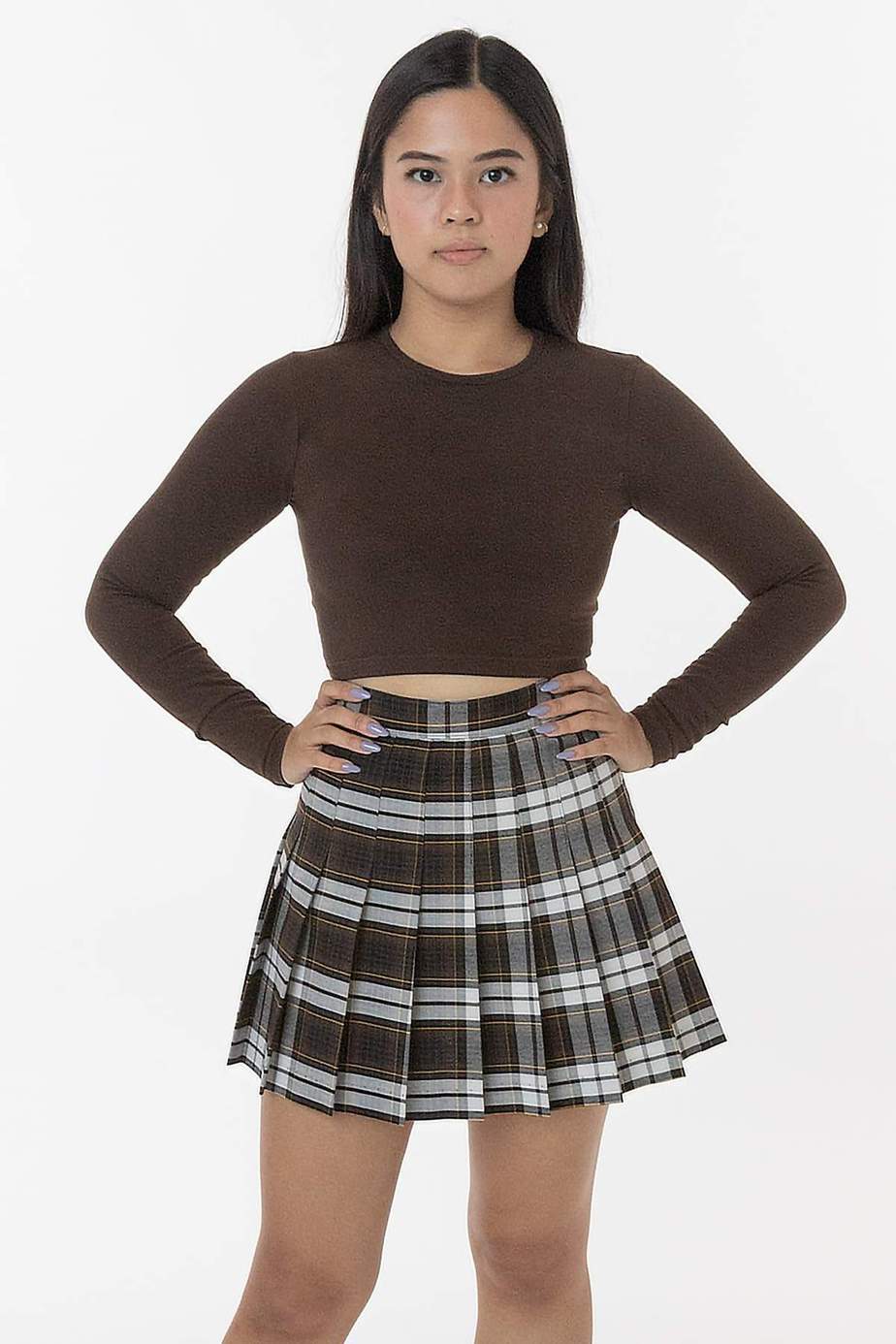 The classic tennis skirt is back! You can wear this one as casual wear or pair it with heels for a more stylish look. What we loved about this one was the different types of colors they have available. They aren't plain solid colors, but more of different patterns of different shades. You should check which one you like more!
Pros:
100% polyester material

Available in XS-XXL

High-waisted style

Fourteen different colors available

User reviews love this skirt!
Cons:
Patterned styles aren't for everyone

Cut of skirt can be polarizing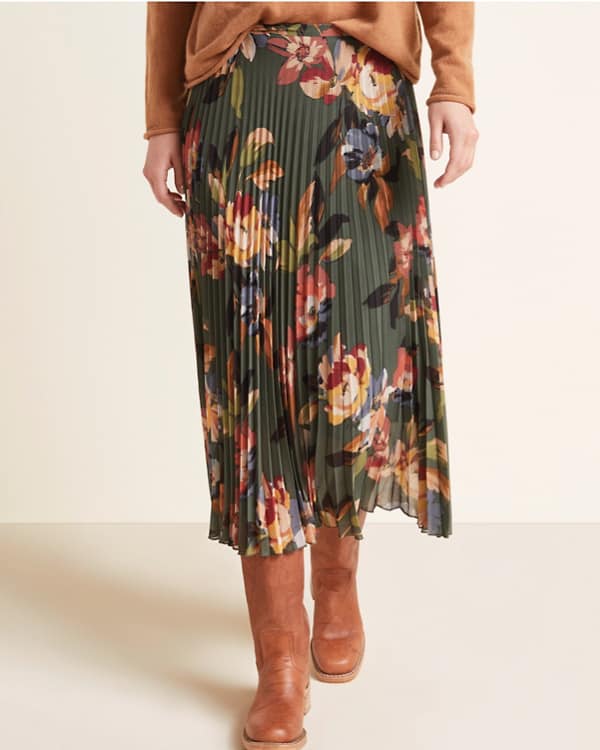 We also needed something more classic on the list, and we thought that this skirt could do the trick. We have to give it extra points for the different colors. This skirt is available not only in black but also in colorful prints. It's a midi skirt that could not be ignored.
Pros:
Available in neutrals (black and gray) and fun styles (floral and leopard)

100% polyester

Lined to the knee

Available in sizes from 0 to 18

Can wash in the machine

User reviews love it
Cons:
Some reviews recommend sizing up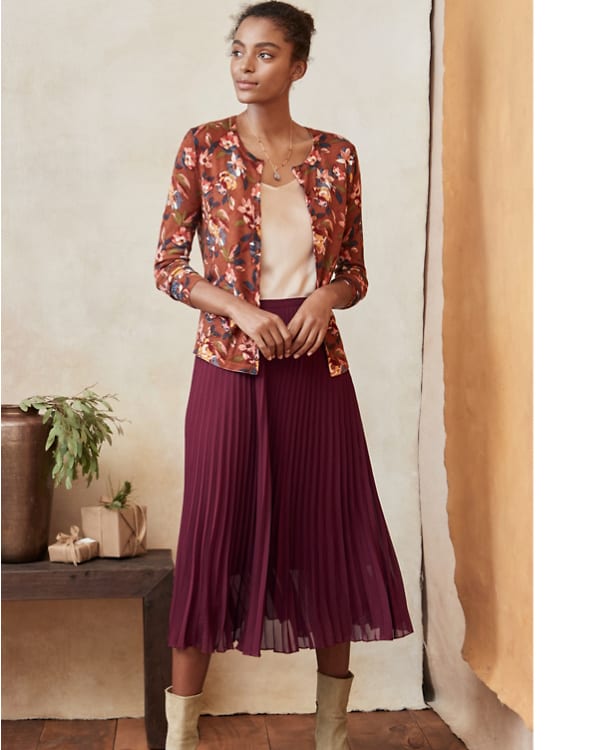 This midi skirt caught our attention mainly because of the colors. It's high-waisted, and the waist is nice and stretchy. We thought the design was both elegant and comfortable, and it can easily be dressed up or down.
Pros:
Completely machine washable

Polyester elastane mix

Satin gives the skirt a chic appearance

User reviews agree that it's comfortable and classy
Cons:
Sizing is inconsistent (from too big to too small)

Only comes in black and blue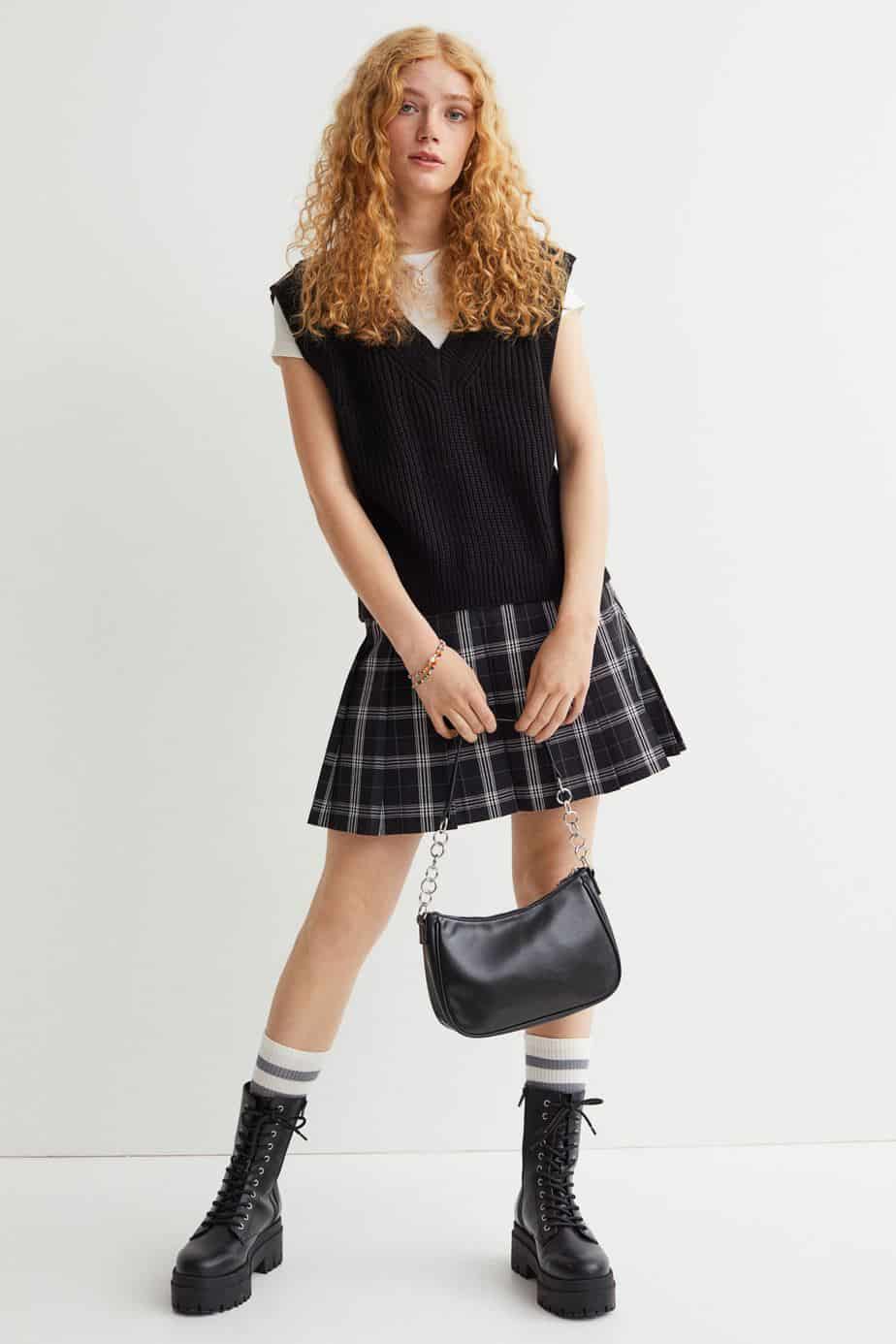 We love high-waisted miniskirts! This one had a tartan pattern that we needed to include on this list. This exact type of design made the pleated skirt more known in the last decades. Even better, this brand uses sustainable materials, which is always a good thing.
Pros:
Fabric is polyester and spandex

Comes in three colors: gray, blue, and black

User reviews agree that it fits true to size

Available in sizes from 0 to 18

Can wash it in the machine

Is pretty affordable

compared to other skirts on the list
Cons:
Not everyone likes the tartan pattern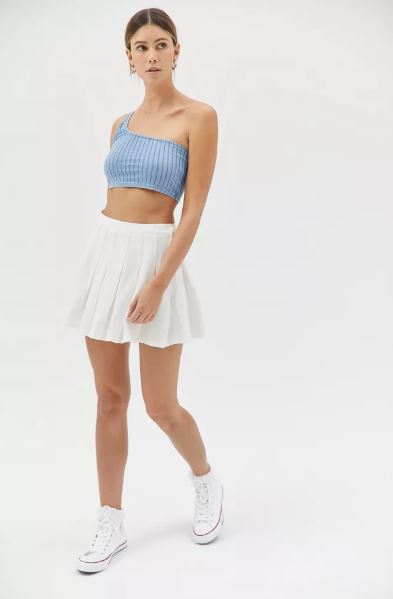 To finish this list, a classic one: the white tennis skirt. It's the exact design you expect when thinking about a tennis skirt. It's high-waisted, with button closure and pleats. Sometimes less is more, and this skirt is the perfect example of it.
Pros:
Available in XS-XL

Made of 100% breathable cotton

User reviews love it!

Fabric is soft and not transparent

Can be machine washed
Cons:
Some user reviews say it fits large

Only comes in white
Our Favorite Style Recommendations
We haven't finished yet! Did you think that we would throw you out on the street just like that? Right, we showed you pretty skirts, but here are the important questions:
How do you style them? 

How do people wear them right now?

Are they versatile pieces?

Can you dress them up or down?
All of those are valid questions! Now, we will show you different ways you can style these skirts. That way, you can pick the style that most resembles yours — or dare to use a new one altogether!
From the colors to the other pieces of this outfit, we loved it. We think it is stunning for an autumn look. You can pair this type of pleated mini skirt with a jersey top, some comfy socks, and a pair of flats. If you want to make the look a little warmer, you can add stockings.
For a more minimalist look, you can also choose to overlook the use of accessories, but simple earrings or a chain would look great, too. Either way, it's still a casual outfit that's worth trying.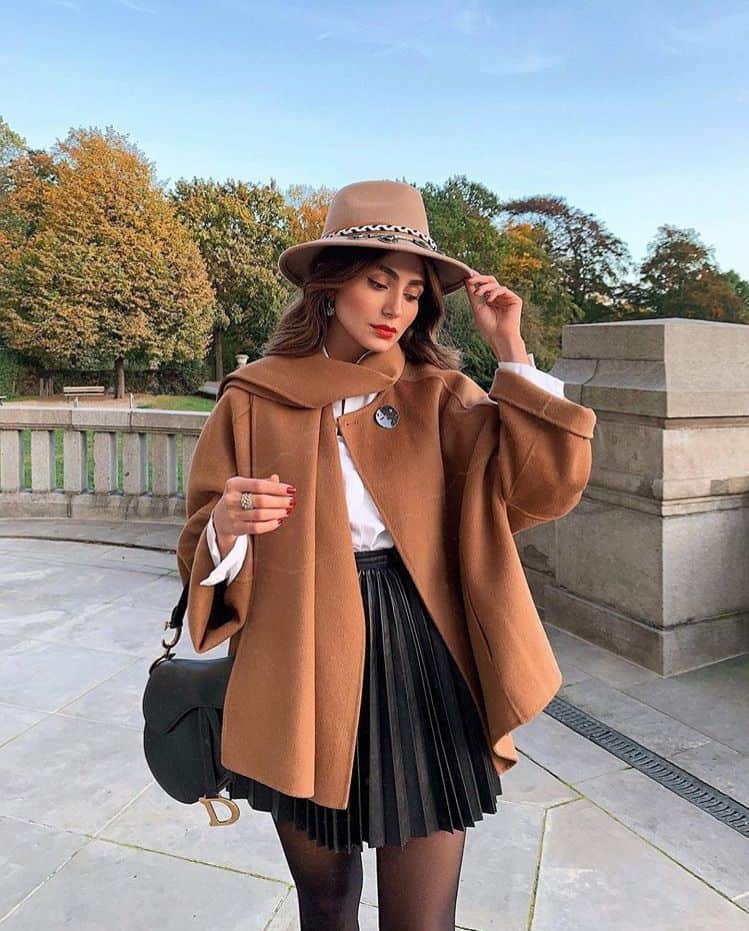 In the autumn, sometimes we just want to wear the most layers of clothing possible to stay warm, but we also want to look chic while doing it, don't we? We think this outfit made it work.
First, you can wear a neutral blouse underneath everything. It can be white or a color that does not stand out too much since you're adding in the key pieces over it. This specific outfit added an oversized jacket and a hat in matching colors. To give the final touch to the look, you can wear stockings. It'll make a charming look!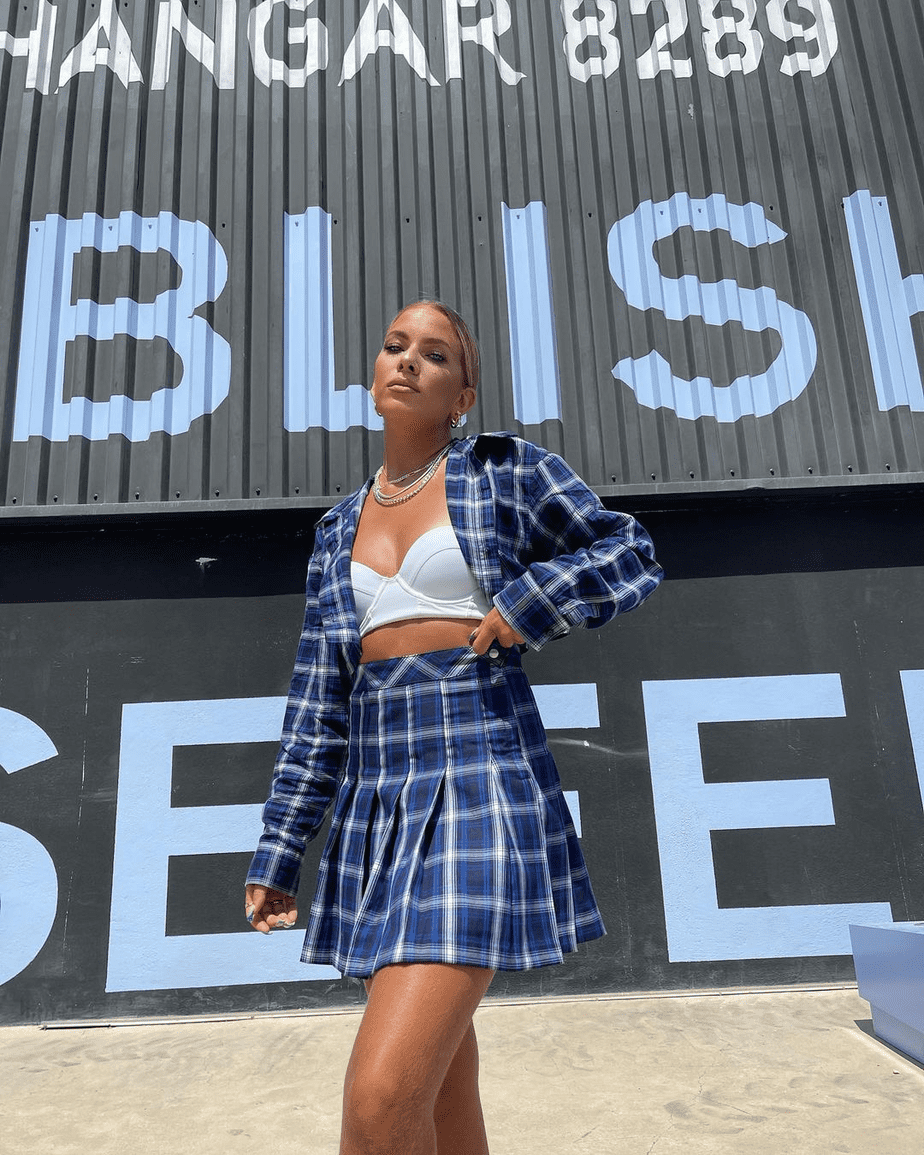 A total look is when the same fabric or design is used in different pieces of an outfit. This one could classify as one, even if the top is made of other material. It's still an original outfit.
In this case, the design of the skirt it's also found in a long sleeve shirt. To give it a more feminine look, you can wear it without fastening the buttons. It's a more bold and risqué look, but you can make it work with the right accessories.
Something that never fails is combining a piece of your outfit with another one, whether because they have the same fabric or color. This time, it was a good idea to combine the jacket with the skirt. This is called leather on leather, and it can go incredibly wrong or look like it's too much if you're not careful. 
Still, this outfit made it look elegant by adding some boots and more simple details to the rest of the fit. For example, the blouse underneath is black, making it a great contrast with the brown of the leather.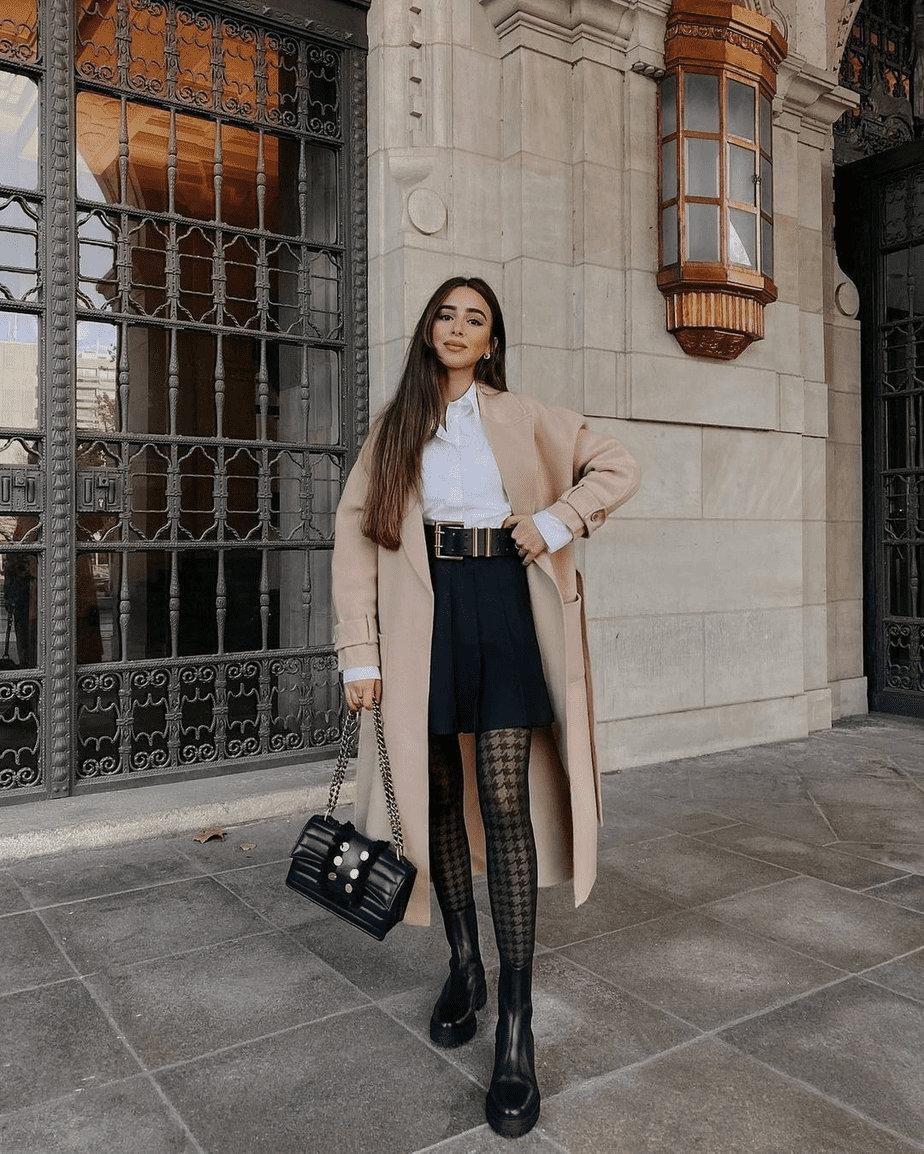 This option plays with the layers around but without going too far. You can pair a black pleated skirt with stockings and boots to make it look elegant. Wearing a belt with a skirt also gives it a nice touch.
For the top, if you're wearing a jacket or a coat over it, the best is to keep it neutral with colors like black, white, or camel. Then, you can throw your coat to finish the look. You can also add some earrings or rings to make it look classy, as well.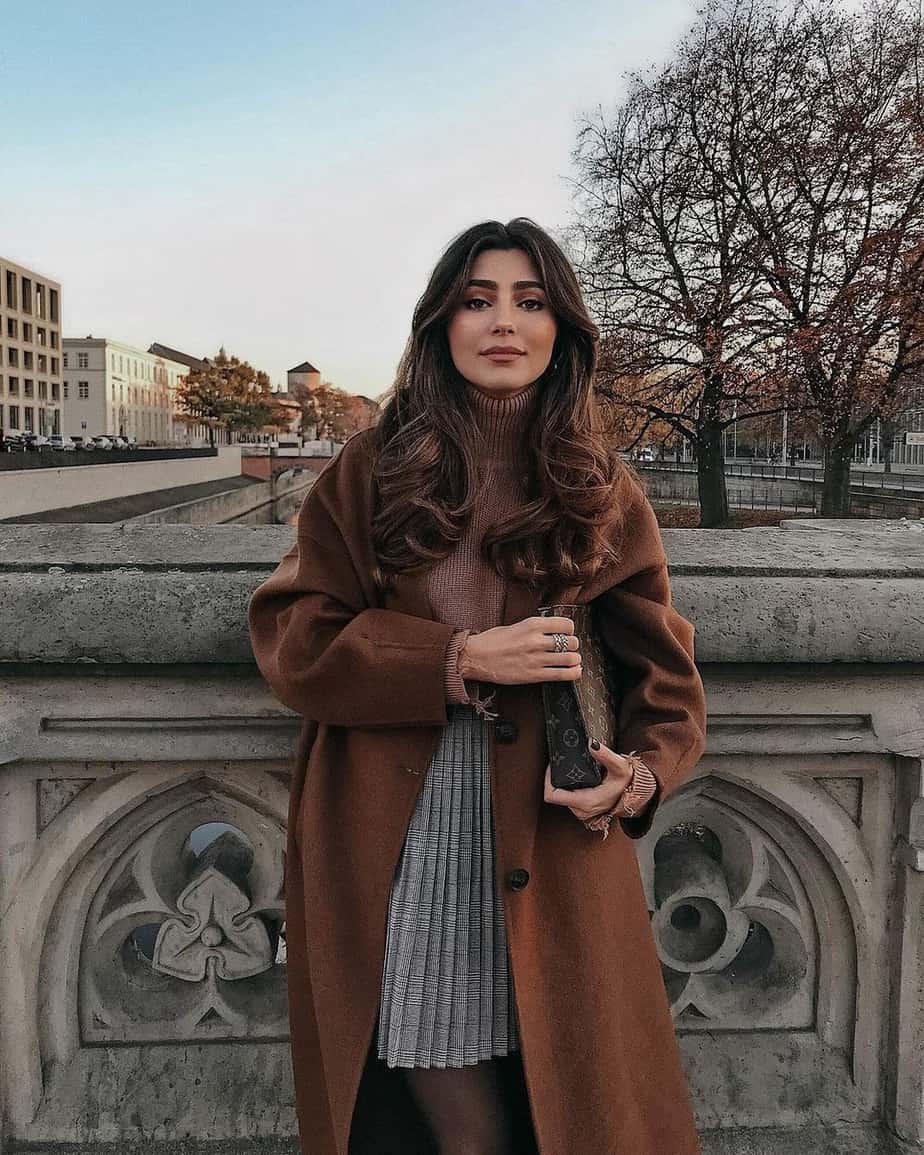 What is the best way to stay warm while wearing a skirt? A turtleneck sweater never disappoints, and it'll give you the warmth you may need. Even if that alone is a good option, you can add some other things. For example, if you want to make it more sophisticated, you can wear a coat on top of the sweater. 
Some socks or stockings are also good to maintain the autumn look. However, you won't have to worry much about the accessories on this one since the turtleneck sweater will get the most attention.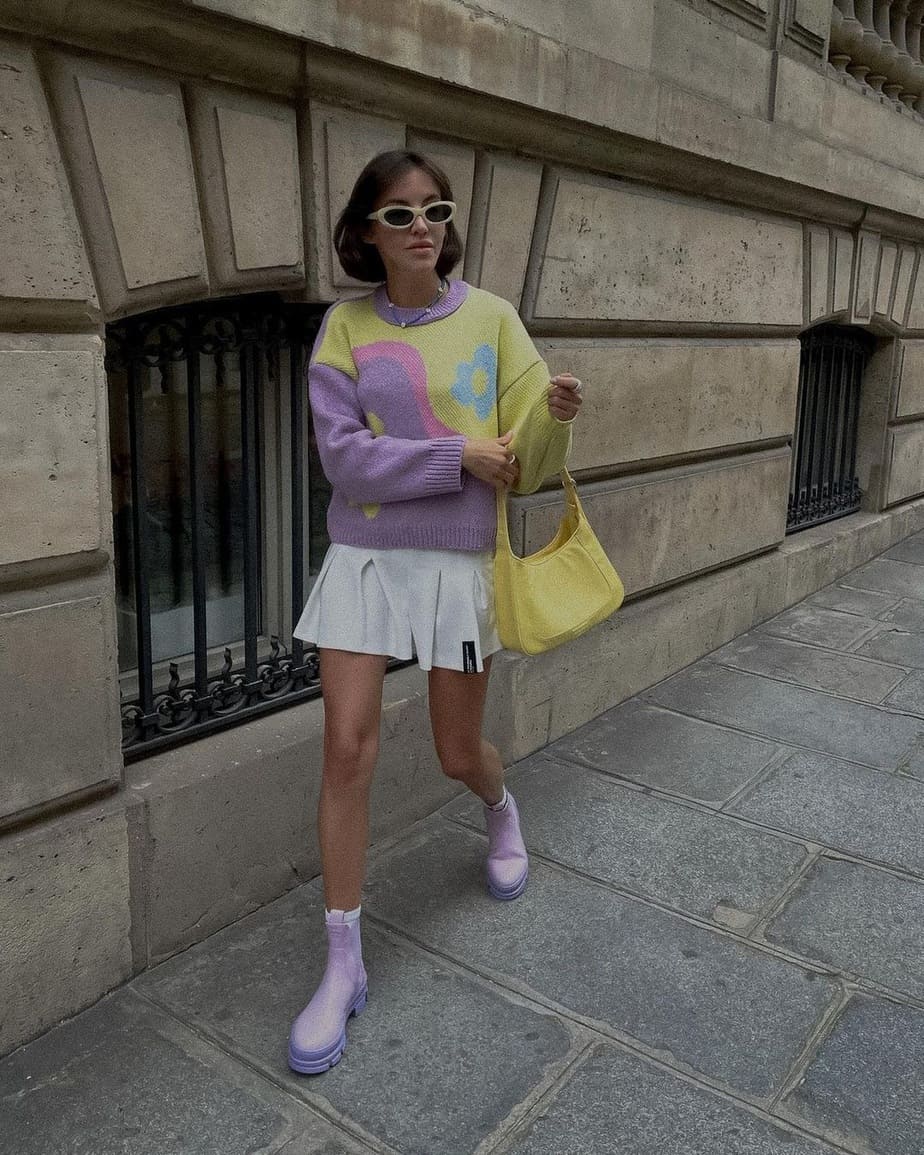 Not everything related to pleated skirts is about autumn! You can wear them in any season, but of course, the style may need to be different. Feeling colorful? You can try an oversized sweater of the color you like (but steer away from neutral colors). Choose pink, lavender, blue, or even stripes.
Then, you can match the color of the sweater with the boots. You'll definitely attract attention, that's for sure! If you want to add something else, it can be some sunglasses or a small purse.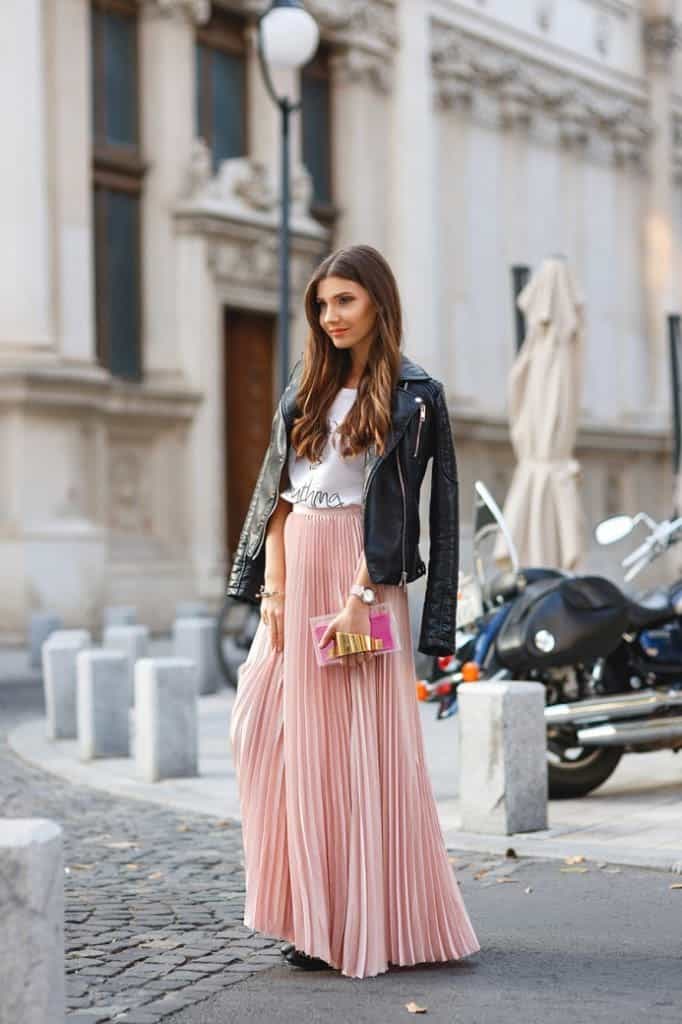 Adding a leather moto jacket to an outfit with this type of skirt will make it look more casual. You don't necessarily have to wear it, but only throw it on top of your shoulders without using the sleeves. To give better contrast, consider a soft pastel color for the skirt and keep the dark color for the jacket. It'll look feminine while not being too elegant.
You can wear this outfit with heels or even sneakers, depending on what look you're trying to achieve. Either way, it's a very versatile combination and goop option for wearing a long pleated skirt.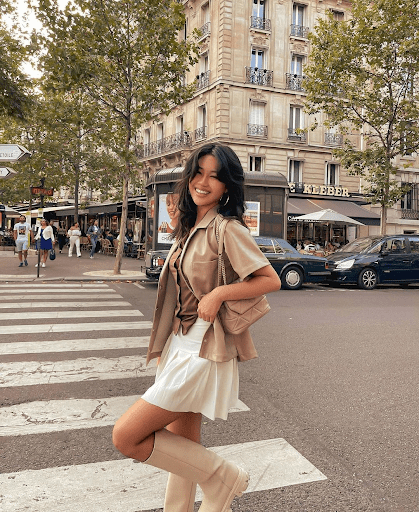 What if you wore two shirts, with one on top of another? While that may not initially sound as fashionable, it can definitely work, especially if they're of similar material and similar colors. And of course, you'll want to wear the top one unbuttoned. That way, one of the shirts will look like a jacket, flowing above the mini skirt.
Another reason why this outfit works well is that when almost all of the clothing is different shades of beige, the skirt remains in a neutral white. Even the boots are a light beige color! We definitely think it is a good take.

Most pleated skirts come in neutral colors like black, white, or grey. At best, they have a tartan design or stripes. It's weird for this type of skirt to come in other colors, not to mention colors as vibrant as orange or hot pink.
Even so, you can always make colorful skirts work while adding the neutral color that's otherwise missing. You can wear a white blouse or white heels, like this one outfit. Since the vibrant color will be the one that highlights the most, the other parts of the outfit need to be calmer to help avoid overwhelming the outfit itself.
Frequently Asked Questions
Question: What tops go best with pleated skirts?
Answer: We talked a bit about this in the style recommendations, but this is always a good question to make. After all, we wear skirts with tops.

So, what's the best bet? It depends on the look you're trying to create. If you're trying to be casual, a white crop top can be a good choice. It looks chic and informal, and you don't run the risk of looking too dressed up.

This risk can be especially present if the pleated skirt is long since it would look like a dress, but there's no way to go wrong with a plain crop top or a t-shirt. It doesn't necessarily have to be white, but remember that white goes with everything. 
Question: Are pleated skirts in style?
Answer: Yes, they are! You may find it surprising, but pleats made a comeback a couple of years ago. The long skirt is more formal, but mini pleated skirts are also trending. Which one you'll wear will depend on your own style and what you prefer.

Since sometimes it's hard to know how to style a specific type of clothing you're not used to wearing, we made that easy for you in the style recommendations. You can match them with oversized sweaters, or crop tops, and heels or sneakers. We talk more of that in the style recommendations section! 
Question: Are pleated skirts flattering?
Answer: You may be considering buying a pleated skirt, but something is holding you back: you're not sure if your body type goes well with one. But, you don't have to worry about that. According to the experts, pleated skirts go well with everyone, but you just need to find which one suits you best.

For example, if you have a pear shape, a skirt with narrow pleats will be perfect. On the other hand, if you have an apple shape, a knee-length pleated one will suit you best.
Question: How do I look slimmer in a pleated skirt?
Answer: The best way to look slimmer is to highlight your figure. You can achieve this by wearing a high-waisted skirt and using a belt around your waist. This can slim your figure a lot, and it gives the effect that you have an hourglass shape.

Don't get discouraged if you have a belly since the same tips apply to that. Make sure to wear your skirt with a belt and not wear a too oversized top.
Question: What length should a pleated skirt be?
Answer: They can be as long or as short as you want them to be, but there are some general rules you can follow so the skirt suits you better:

If you're shorter in height, try not to wear the skirt too long.
If you're taller, try to wear one with knee-length or above.
If you want to look formal, a long skirt is better.
You can allow yourself to wear a bit of a shorter skirt if you want to look casual.

Those are the main rules. Still, rules are made to be broken, so you don't have to follow all of them if you don't want to!
Our Final Thoughts: Top Pleated Skirt Ideas and Inspiration
Did you pick your favorite one? For instance, do you prefer them long or mini, or do you like them better when they're white or the tartan design? Lucky for you, we compiled a lot of skirts and styles and how to wear them. 
If we were to choose just one, though, we would pick the Los Angeles Apparel Plaid Tennis Skirt. It comes in different sizes, and the variety of designs left us astonished.
That's everything for today! We hope you have liked the skirts we chose and the different styles recommendations we gave you. And remember — there's no right or wrong way to wear a skirt, so just be sure to have a little bit of fun with it the next time you reach for one in your closet!
Recommended Reads: