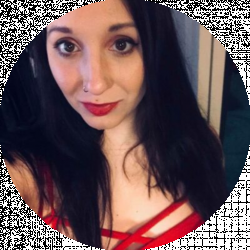 Latest posts by Stephanie Jensen
(see all)
When we see leather clothing, we're often not looking at real leather. We're looking at faux leather, which is a material that looks similar to real leather but isn't. Why people choose faux leather depends on the person, though affordability and animal welfare are common reasons to ditch traditional leather clothes and opt for fake alternatives.
Is faux leather popular? You would be shocked about how often people buy faux leather. Last year alone, the synthetic leather market generated over $31 billion. And out of all of the faux leather clothes that are trending, you'll see faux leather skirts around for a while.
Here are some of our favorite faux leather skirts on the market.
What Is Faux Leather?
Faux leather (also known as artificial and synthetic leather) is a material designed to look like leather but is made of materials that don't originate from animals. While we see faux leather mainly on clothing, faux leather can be used on furniture and auto goods.
Different Types of Faux Leather
Faux leather can be broken down into two categories: polyurethane and vinyl.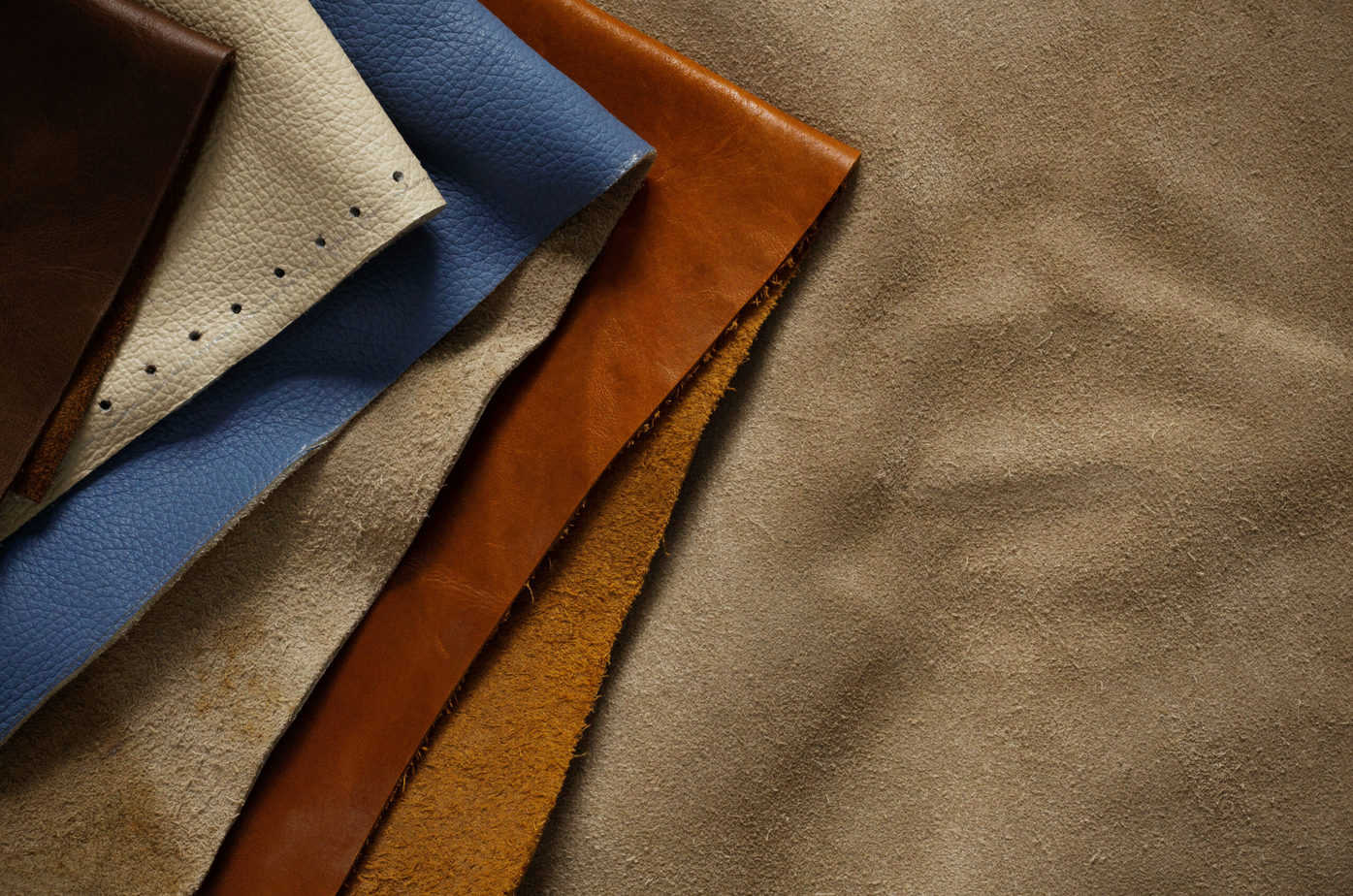 Polyurethane
Polyurethane (PU) is a type of coating that's applied over a specific material, usually polyester or cotton. The PU is attached using a flexible polymer that works as an animal hide.
Most of the premium and luxury brands use PU, and that's because this material looks and feels like genuine leather. Unlike vinyl (which we will cover next), this fabric wrinkles in a similar way as leather. No plasticizers are used in PU fabric, so it won't peel the same way that vinyl does. They're also extremely soft and comfortable.
You can find PU faux leather skirts in a variety of different colors, designs, and more. Plus, the PU fabric and the manufacturing process are pretty eco-friendly. Unfortunately, PU is more expensive than vinyl but is still cheaper than real leather.
Vinyl
Vinyl is made of a combination of synthetic materials: polyester, polyvinyl chloride, and plasticizers. This combination produces the vinyl that's melted on the fiber. This makes the fabric tough and also flexible.
Vinyl comes with many benefits. Beyond the fact that it's affordable, it's also waterproof. They're also easy to clean, though you do want to be careful about machine washing a vinyl leather skirt. Otherwise, they don't require dry cleaning.
But there are drawbacks to this fabric. For example, a vinyl skirt isn't ideal for a hot summer day since this fabric sticks to your skin when hot. As time goes on, the material will peel and crack. There's not much you can do to stop this from happening.
Benefits of Faux Leather
You may want to buy faux leather because of animal concerns and affordability. In reality, faux leather comes with additional benefits you may not know about.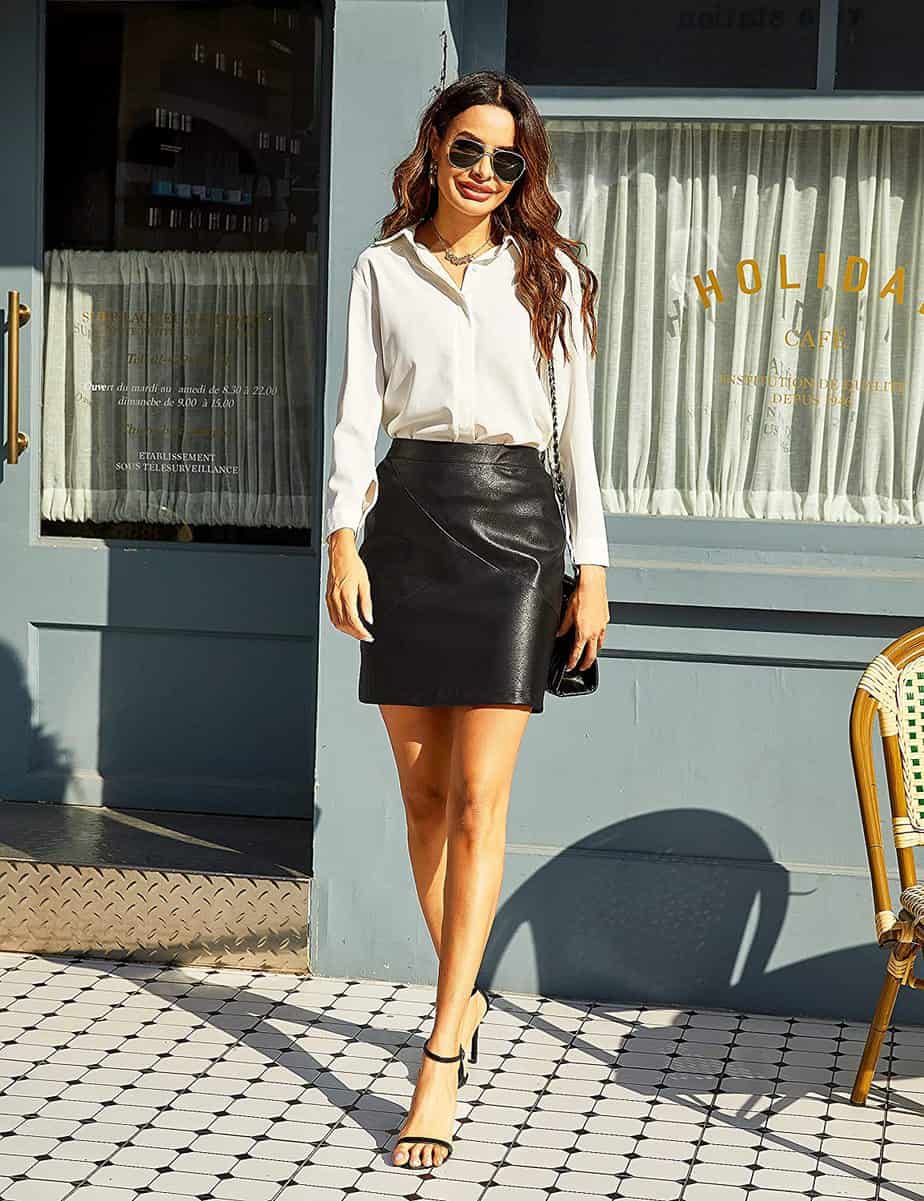 Durable
Most faux leather, even vinyl, is extremely durable. Because of this, that leather skirt will likely last you a long time. Genuine leather is susceptible to scratches that ruin the fabric. You don't have to worry about this with faux leather. It's also stain-resistant and UV rays won't fade the color (though wearing faux leather during a hot day can be uncomfortable).
Affordable
As stated previously, both types of faux leather are very affordable. They're both lower priced than real leather, though some people may still find PU leather to be too expensive.
Great Quality
If you buy faux leather, don't worry the product will be of bad quality. Even vinyl has great quality. That's because we've been making faux leather for a long time. At this point, we know how to imitate the texture and color of leather while still creating a great product.
Low Maintenance
Faux leather is easy to clean and usually doesn't require dry cleaning. However, I don't suggest putting your faux leather skirt in the washing machine unless the directions say you can.
I have many faux leather items and always clean them with a rag, warm weather, and a little bit of soap. Wipe the inside and outside of the skirt with water and let it air dry. The material doesn't retain water, so you don't have to worry about the water damaging the skirt, though you can also dry it with a dry rag.
Fashionable
I would argue that faux leather is more fashionable than real leather. With the flexibility of the fabrics, the skirt can have a variety of patterns and even textures. It can also be dyed in a bunch of colors other than brown. Black faux leather is one of my favorite looks ever! Faux leather also has a consistent appearance, since it's made artificially.
When Should You Not Choose Faux Leather?
If you truly want a fabric that breathes and stretches, then choose leather. That's the one quality that faux leather doesn't have. Real leather does last longer than faux leather, though I've had faux leather clothing for years. That's because faux leather isn't as durable as real leather, though the main difference is real leather is tear and puncture-resistant.
Faux Leather Skirts You Should Buy Now
Are you ready to look for your next faux leather skirt? Here are some of our favorite faux leather skirts!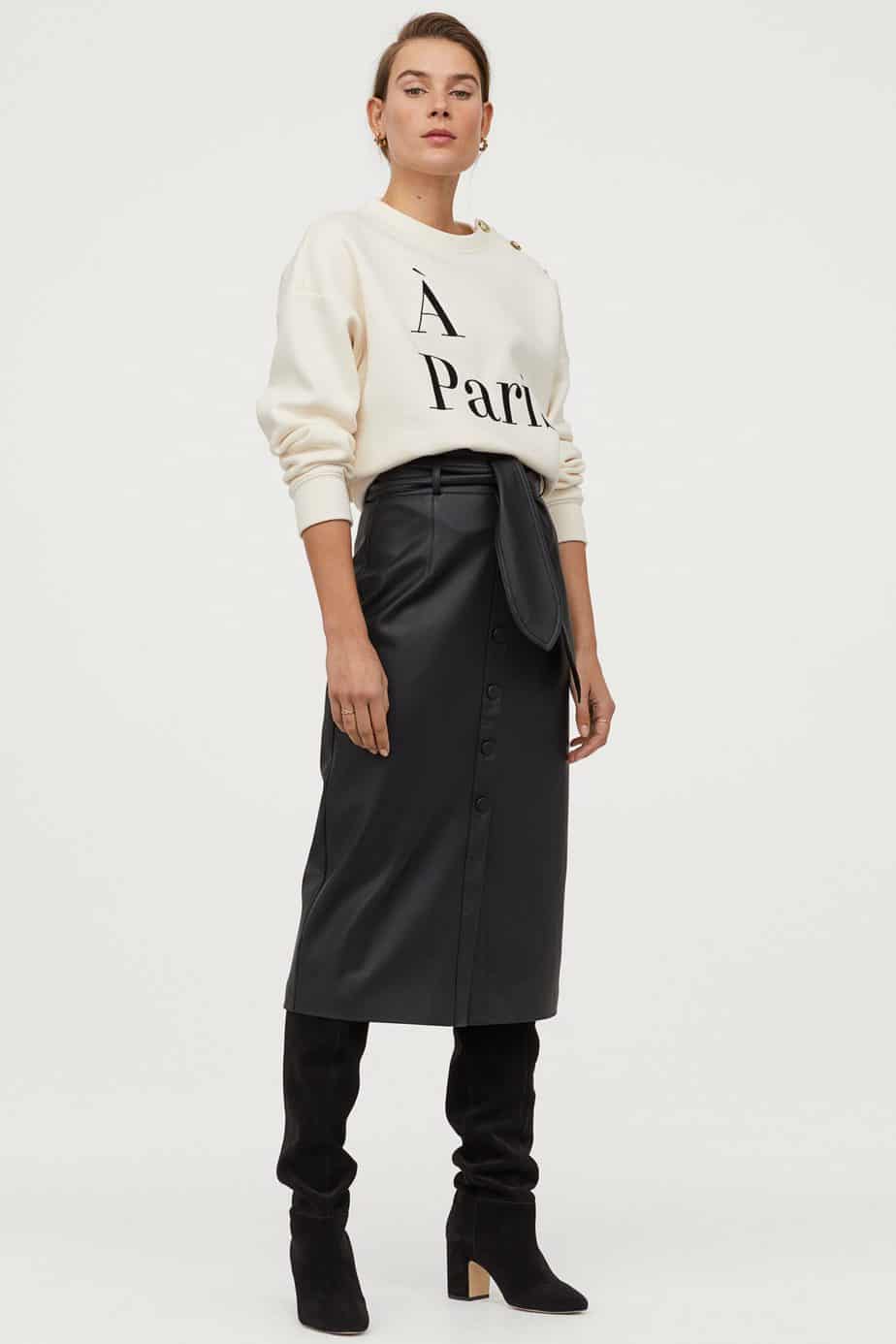 This knee-length skirt is made from recycled polyester. It's styled with visible seams and is black. This skirt is high-waisted with a slit in the back and a concealed zipper. Woven fabric lines this skirt, making it super comfortable. Keep in mind, this skirt is on sale for $30 and it's a final sale.
Pros
True to size
Great length
Chic
Affordable
Cons
If you truly want a high-quality leather skirt (and don't mind spending the money) then choose this Nanushka skirt. It's made with the brand's signature vegan leather, which is 65% polyester, 35% polyurethane; lining: 100% polyester. As a wrap skirt, it's secured at the side with a hidden button. It has an elastic waistband and is extremely comfortable.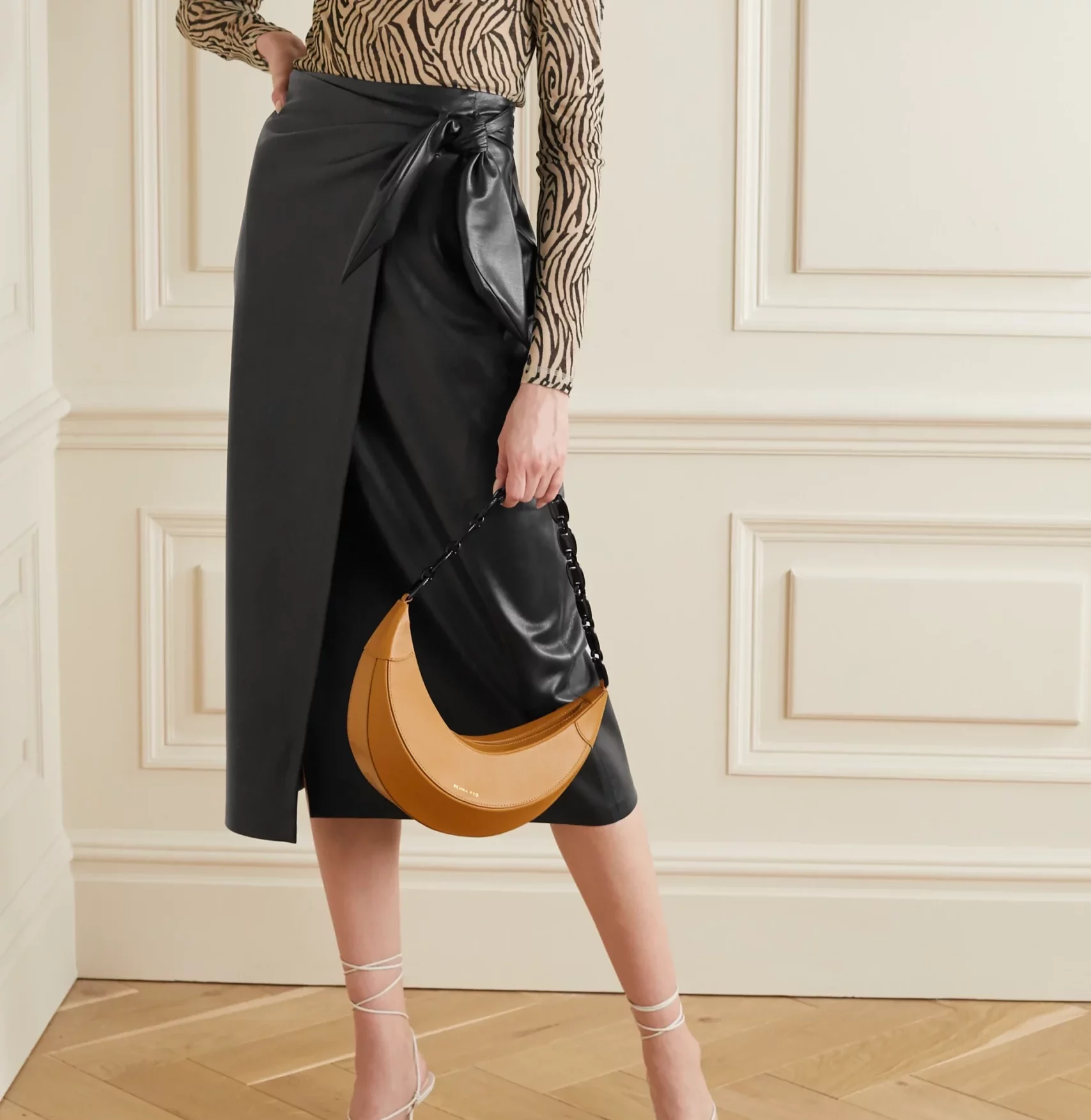 Pros
Probably the most luxurious brand and item on this list
Worth the investment, if you truly want a quality clothing item
Cons
I typically don't like brown leather, but I can't resist this super cute skirt! This brown faux leather skirt is a high-rise with side pockets (Woah! pockets!). It's true to size and has a regular fit. And at $54, it's not expensive.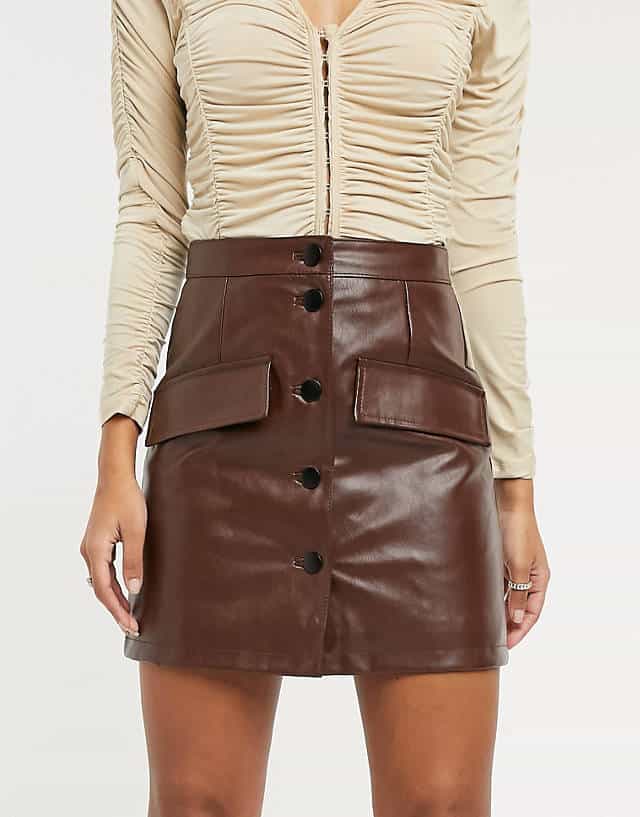 Pros
Brown color is very stylish
Cons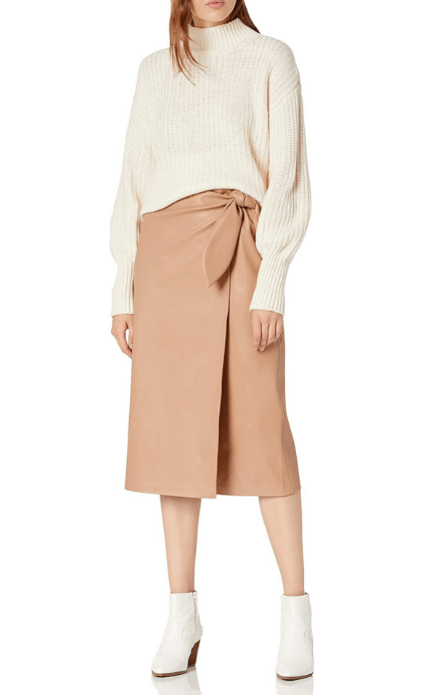 I love the wrap style of this skirt and the unique tan color (called camel). If you want to add a bit more edge to the design, choose the black color. The fabric is also very soft that's comfortable. It has a regular fit and extends just below the knee. This skirt is machine washable.
Pros
Faux leather material is very similar to real leather
Extremely affordable
Cons
The button placement is awkward, which causes the skirt to pucker out
This super trendy mini skirt is a high-rise with super cute wrap detail that will accentuate your hips, especially if you have an hourglass figure. It's made of vegan leather (80% Viscose and 20% Polyester) and has a zipper closure for convenience. It's currently on sale for $33. While it's available in both tan and black, the tan is all sold out.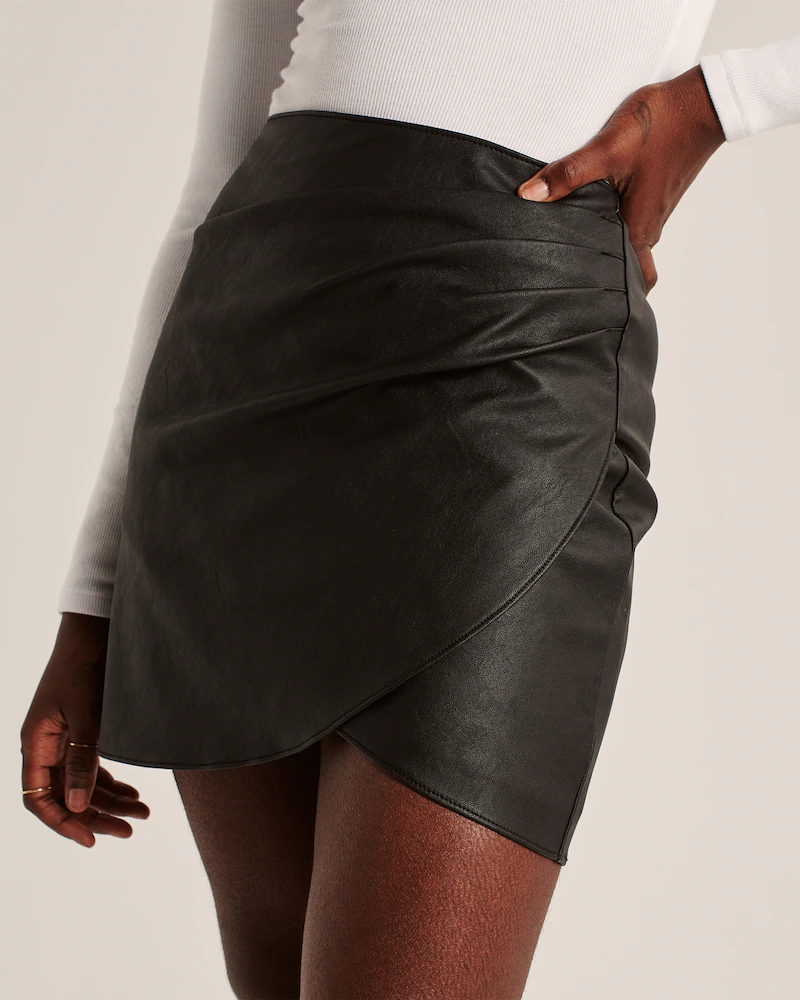 Pros
Cons
Very short
If you're more on the bootylicious side, expect the skirt to be a little cheeky
Light fabric
Not gonna lie, I saw this on the sale section of the Nordstrom website and added it to this list. At $24, you can't beat that price! It looks comfortable, with an elastic waist. While it's a little short for my liking, at worst you can wear some leggings under it. Oh, and I can't forget — it has pockets! It's made of polyurethane and while it can go in the washing machine, you have to air dry it.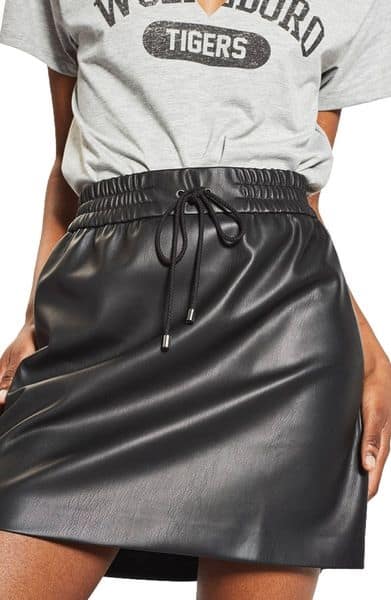 Pros
Cheap
Pockets
High-quality PU material
Cons
Short
Can't put it in the washing machine
I'm almost glad this isn't available in my size because I was just about to buy it. I love this quilted design! It's a black polyurethane mini skirt with fabric lining. And as a mini skirt, it's not that short.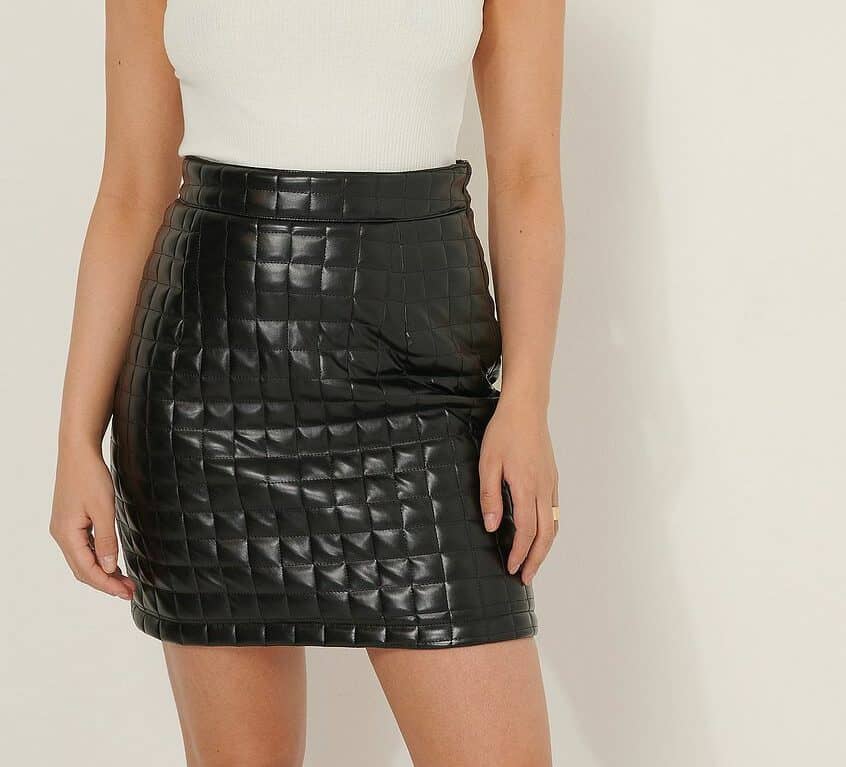 Pros
Extremely cute design
Affordable
Cons
Only available in one size
If you want a simple smokin' hot mini skirt to wear to the club or out on a date, this is a great skirt to wear. The skirt is made of polyester and elastane, so it has a wet look. The skirt is classic black, which I love. This skirt is very short. As an alternative, you can wear some leggings with this skirt. Plus, this skirt is on sale for $11!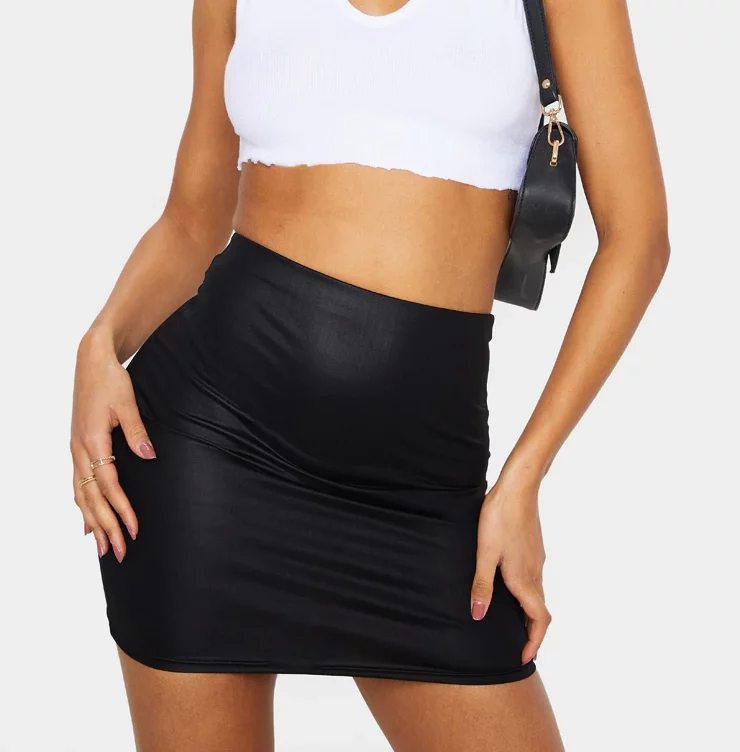 Pros
Affordable skirt and it's on sale
Cons
Color transfer may occur
The skirt is very short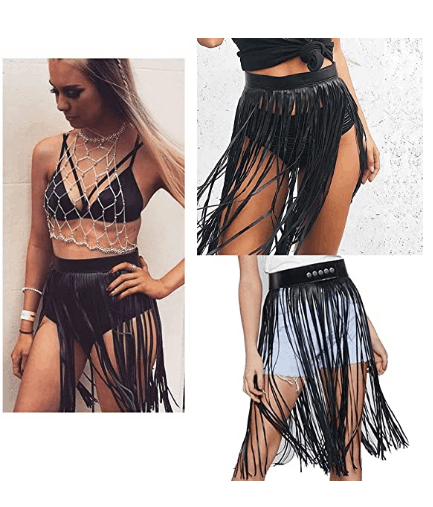 This skirt is so unique, I had to include it. Made of PU faux leather, this skirt has a secure waist with tassels running down. The skirt is high-waist, wrapping around the belly. It's a multi-purpose skirt and works well as a fashion skirt and one for costumes. I love this skirt in black, but it's also available in the colors gold and orange.
Pros
Unique style
High-quality PU faux leather
High-waisted
Different colors
Affordable
Cons
One-size-fits-all skirt, I personally don't like that
I don't have too many midi skirts on this list. I came across this one on sale and love it! Especially with fall here, this skirt is a perfect one for the season. This black midi skirt goes down to the ankles. It's jet black with a relaxed fit. The stretchy fabric is made of polyurethane.
What I love about this skirt is the front slit. I'm short so I typically avoid long skirts. But I can see myself wearing a skirt like this! And at $21, you can't beat that price.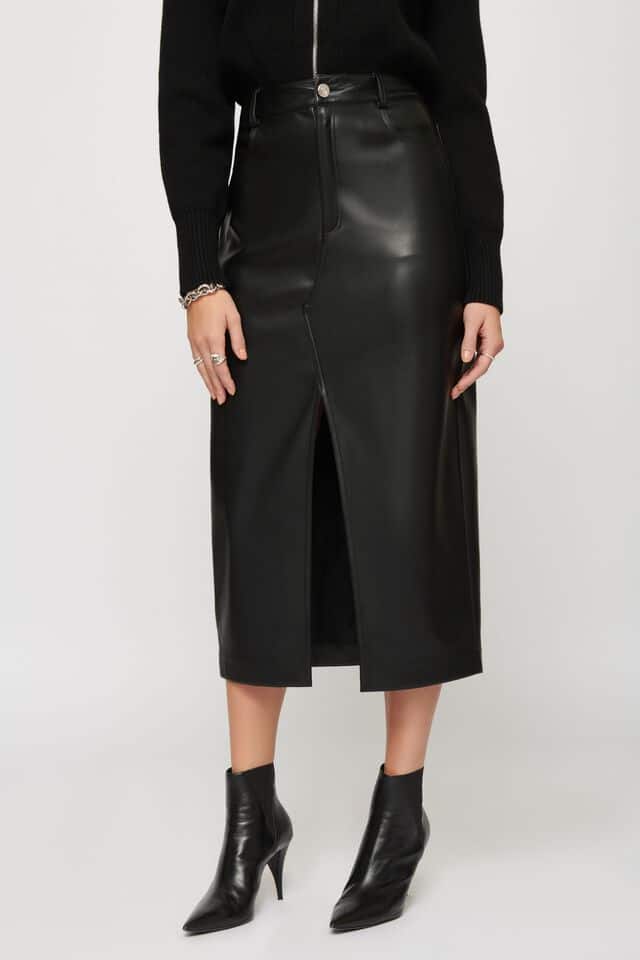 Pros
High-quality faux leather
Skirt is long and warm enough for the fall
The slit is cute and sexy
True to size
Cons
Hand wash only
The largest size available is a small
FAQs
Question: How Many Years Can Your Faux Leather Skirt Last?
Answer: While all faux leather skirts vary in quality, a well-made faux leather skirt can last you as long as five years. I've had faux leather clothing that lasted several years. Keep in mind, if your machine washes your faux leather clothes, it can reduce their quality. If you want to be safe, hand wash all faux leather items.
Question: Why Does Vinyl Crack and Peel?
Answer: Since vinyl is made of a plasticizer, the plastics will become brittle over time. As a result, they will crack. But the better quality vinyl you buy, the longer it will refrain from cracking.
Question: Can You Stop Vinyl From Peeling?
Answer: I thought vinyl peeling was inevitable. There are ways to prevent your vinyl from peeling. Apply oil to the fabric after you're done cleaning it. You can use olive, coconut, or baby oil.
Question: What If My Vinyl Skirt Already Cracked? Can I Fix It?
Answer: You can repair vinyl the way you can repair any cracked leather — by using adhesive on the peeled or cracked area. But I don't care to do this. I'll just give the damaged skirt away or will donate it, then I'll buy a new skirt.
Bottomline
Faux leather clothing is becoming more popular. Faux leather is a synthetic material made to look like real leather. The materials used for faux leather vary, but you'll find them in either polyurethane or vinyl. While we mainly see faux leather in clothing, you can also find this material used in furniture and auto goods. If you love the leather skirt look, try and find a faux leather skirt first.
While faux leather doesn't require dry-cleaning, you shouldn't put your faux leather skirt in the washing machine unless recommended by the manufacturer.
Washing the skirt by hand will ensure it won't be damaged. I recommend washing them with a damp rag and a little bit of soap. Wipe the skirt on the inside and out and let it air dry, though you can dry it with a separate rag as an alternative.
These are some of our favorite faux leather skirts right now. Check them out!
Further Read: