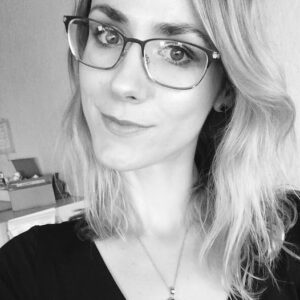 Latest posts by Karyl Trejo
(see all)
Blazers are another one of those timeless wardrobe classics that blur the lines between casual and formal, making them perfect for literally any event in the book. They're classy, sophisticated, comfy, and — most importantly — versatile enough to be worn to a meeting and then to wild Friday night tight after.
But you know what's even better than a blazer?
Oh, who are we even kidding, you've already read the title. Ready to geek out with us about the cuter, shooter, and upgraded versions of blazers that have taken the fashion world by storm? Here are some cropped blazer ideas to keep you on top of your fashion game!
What Are Cropped Blazers? 
Cropped blazers are coats with a twist. Much like their name, these are blazers that are usually waist-length or even higher. Don't let the length turn you off, though, as it doesn't take away from how chic and professional these coats look.
Although not as warm and comfy as their longer counterparts, cropped blazers have their own distinctive charm to them. They're the statement piece of an office woman who knows how to look great, regardless of the setting.
What sets cropped blazers apart is the fact that they're perfect for casual outings, too. If you've ever worn a blazer to a casual event and felt a little stiff, the cropped blazer totally takes away from that.
Styling these is a breeze, too, especially if you're trying to get dressed for work. Throwing a cropped blazer over any outfit can make it look professional. Overall, these beauties deserve a section in your wardrobe regardless of the style you follow. They're just that versatile.
And talking about versatility, you do know that cropped blazers aren't just one dainty style, right? No? Well then, let's jump into the different kinds of cropped blazers available out there, so that you can pick the styles that you think would be perfect for you.
The Different Kinds of Cropped Blazers 
Blazers come in lots of different sizes, so you'd be glad to know that cropped blazers aren't too far behind in that department. Different styles are perfect for different sorts of occasions, so keeping up with them could help you put together the ideal cropped blazer outfit to help you stand out during any occasion.
Here are some basic categories of cropped blazer styles we think you should be aware of:
The boyfriend blazer
The fitted blazer
The draped blazer
The cape blazer
The lace blazer
The sailor blazer
The fuzzy blazer
The denim blazer
Curious to learn more about these different types of blazers?  Let's go ahead and explore them further.
The Boyfriend Blazer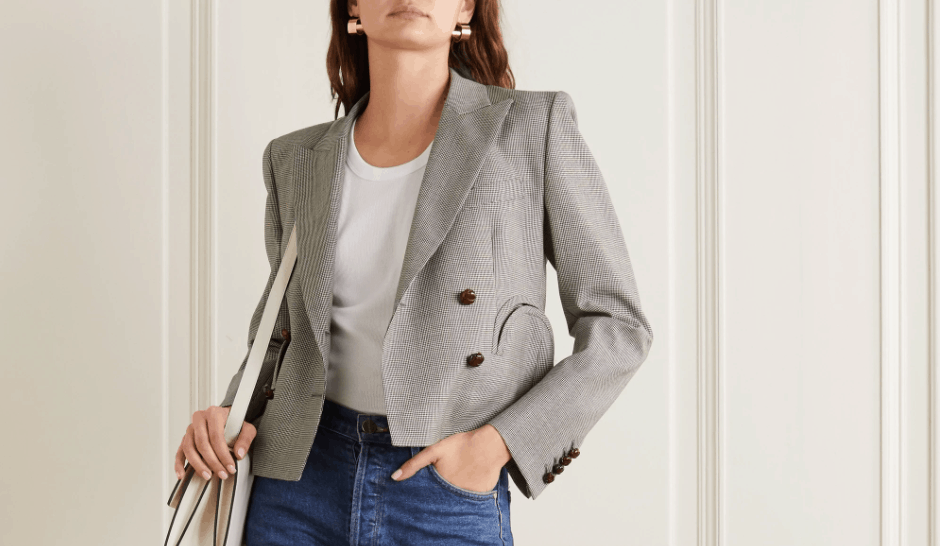 Probably the most iconic cropped blazer style out there, the typical boyfriend blazer is more loosely fitted and doesn't really show off much of a curve. That said, it is cropped blazers that we're talking about here.
Most cropped boyfriend blazers are on the shorter end and allow your shirt or high-waisted bottoms to accentuate your waist and hips.
The fitted blazer, as its name suggests, is one that's designed to accentuate your shape. Basically, it's got the right proportions to make your waist look thinner and your hips and bust look thicker.
This style's the most flattering, especially if you're on the curvy side. While you won't be able to find a lot of cropped blazers of this style, the longer cropped blazers will definitely be able to give you this signature look.
The Draped Blazer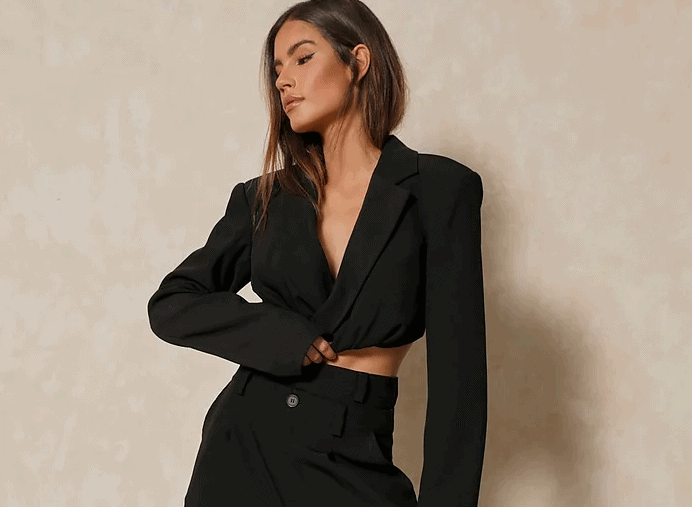 Draped blazers are probably the most feminine style in the bunch and are better suited for a casual outfit, rather than a business setting. These don't have the crisp straight-edge shape that most blazers have, but are rather made from a flowy fabric that creates soft edges as it drapes over your body.
There can be nothing more powerful yet sophisticated than a cape blazer. A cape blazer literally follows the cape silhouette by having large slits along the arms, giving you a regal and ethereal professional look.
The Lace Blazer
Lace blazers are literally made of lace. Yep, that's it! Although the lace does make for a feminine and dainty look, you could always customize the overall shape, lace material, and style of the blazer to give it any look you could imagine.
Although it's been made to look either ultra-serious or ultra-silly by mainstream media, the fact remains that sailor blazers can create an iconic look that's more classy and fashionable than we'd generally expect.
Sailor blazers are mainly distinguishable by their straight, formal-ish, and loosely fitted rectangular shape, and the large round metallic buttons running along either side. Some sailor blazers even have details running along with the cuffs, and this totally brings together a full-fledged sailor look that could be spotted from a mile away.
The Fuzzy Blazer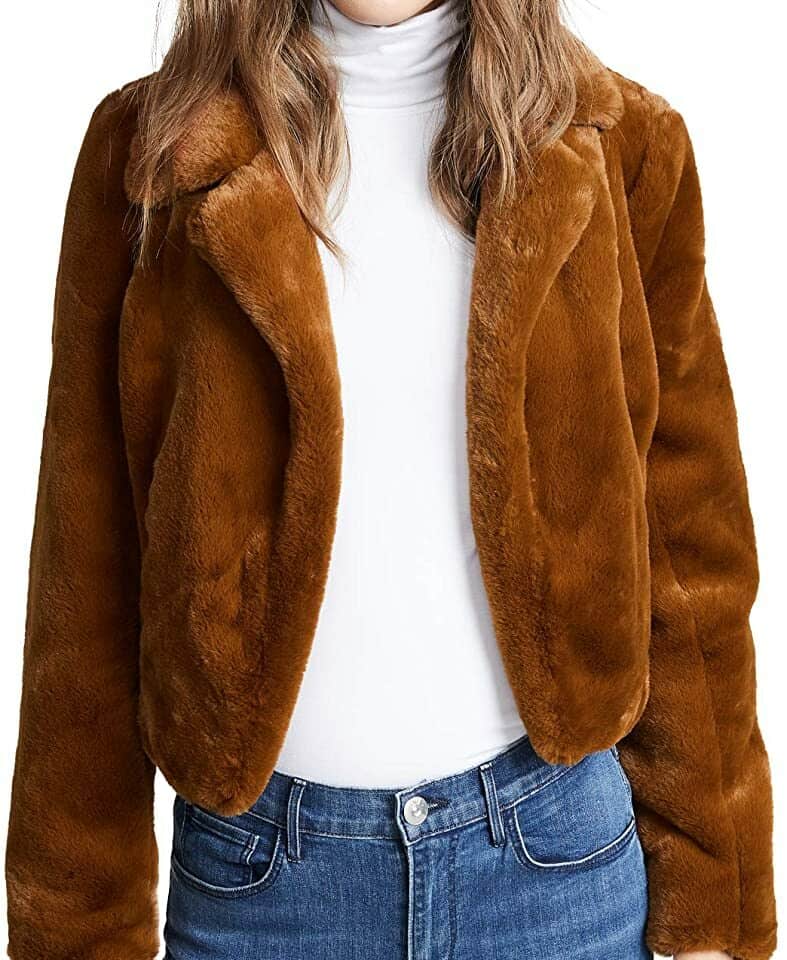 No matter how hard you try to deny it, there's no way you've never once admired Cruella De Vil's iconic cream fur coat. There's just something about fuzzy clothing that's magnetic.
You'd be able to spot and even spend a minute admiring a fuzzy clothing item during a Black Friday Sale even if you've got no intentions of buying it. But, why not actually buy it this time around?
Although fuzzy blazers aren't the ideal look for a regular day at the office, they're perfect for literally any other occasion and are guaranteed to make you stand out in a crowd. So, don't hesitate to save it a spot inside your wardrobe!
The Military Blazer 
Military blazers have got this distinctive look to them, much like the aforementioned sailor blazers. What differentiates military blazers from sailor blazers is that their shoulders are padded and they come with fewer buttons.
At times, you'd even find buttons on the cuffs, epaulets on the shoulders, and vertical embellishments in front to compliment the buttons.
We do know that nobody wants a straight-cut army look though, so don't you worry. Modernized versions of these jackets don't have the same details, but they do have a similar vibe and silhouette to them — and are completely dominating the stores!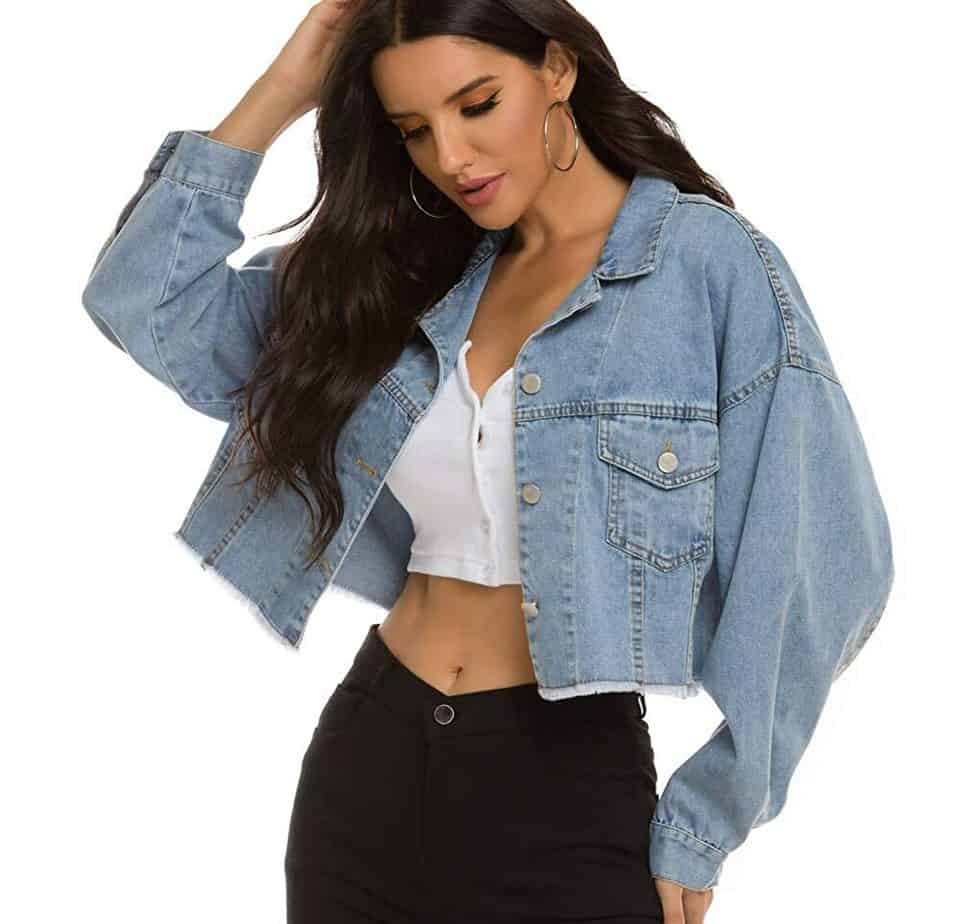 Although denim isn't seen as a business-casual material, you'd be surprised to see what wonders the style of the blazer would do to a regular denim coat.
A denim blazer is perfect for all sorts of occasions as long as you choose the right style. It could easily pass off as a regular office blazer, and nobody would bat an eye if you wore it outside for a coffee date.
The Best Cropped Blazer Style Ideas
Now that you've familiarised yourself with the different styles and silhouettes that you could go for, it's time to bring the whole outfit together! We've compiled some of our favorite blazers' looks so far to help you start your cropped blazer frenzy with a bang.
Our Selection Criteria 
Although this ranking is purely based on our personal style and bias, it's nice to remember that fashion means different things for different people. And what's #1 in our eyes might not even come close to the top 10 on your list.
However, we've tried to keep this list to more of a loose blueprint that you could follow and customize to create your unique look. Hence, we're only going to consider some tried and tested looks that aren't too whacky, so that everyone gets a safe yet fashionable start with cropped blazers.
The item's overall cost was another factor that we considered because everyone can't spend their whole paycheck on a single suit, you know?
Here are our evaluation criteria at a glance!
Aesthetics. What matters the most in any look is how all of it comes together and makes you look at the end of the day. And thus, we've only stuck to the looks that look fashionista-approved at first sight.
Practicality. Let's face it, blazers are mostly business-casual. Although they're taking over the more smart-casual to even casual dressing styles, you'd want to have a blazer outfit you could throw on before catching the bus and not look like a debacle at work. So, we've tried to stick to those outfits that don't scream a certain style, so that you can throw them on regardless of the occasion.
Cost. We've made sure to include outfits that don't surpass a reasonable budget because everyone deserves to look good without having to spend an outrageous sum of money.
Customizability. We want you to govern your own style instead of following some advice blindly off the internet. We've tried to stick to some barebones looks so that you can add a personal touch to them.
Want to experiment with a different print or material? Go ahead! Throw in an extra accessory? Why not? Switch this item out for another one? Heck yeah, go for it!
With that out of the way, here are the style ideas we promised!
Perfect For All Occasions
Cropped Blazer With Wide-Leg Jeans and a White Tube Top
This outfit's just stylish in every way. It's also one of the more classic cropped-blazer silhouettes at this point, so there's no way you could go wrong with this one. Pairing it up with a handbag and sneakers will take this outfit to the next level.
Cropped Camel Suit Blazer with Matching High-Waisted Trousers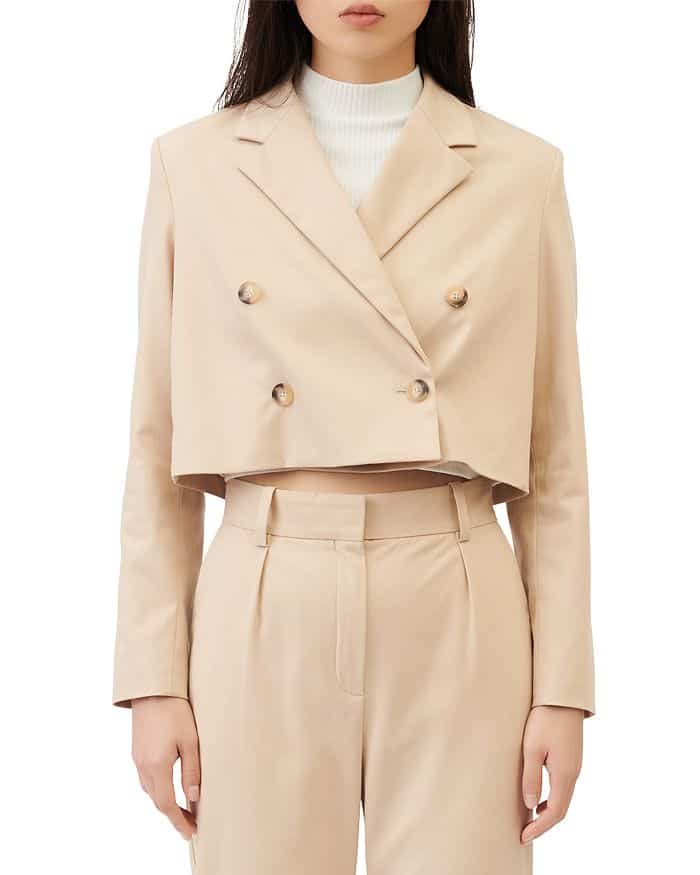 Cropped blazers and high-waisted trousers go hand-in-hand, but this outfit brings back the trendy 80's unicolor suit look with a twist to help you stand out.
As long as you make sure that your blazer and trousers are pretty much the same color and you can even add some accessories, like a wide belt, to offer a nice and visible contrast to the rest of your outfit, you're good to go.
Cropped Blazer With Top And Same-Color Skinny Jeans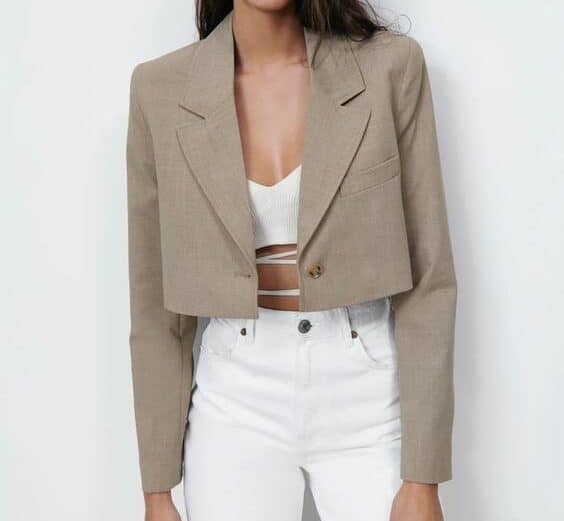 Although falling on the more casual side, this is another cropped blazer ensemble that you simply cannot mess up. The white top offers a great contrast to the beige blazer, and the same-color jeans combo makes the outfit not look out-of-place in a work setting, but not too rigid and formal for a casual setting.
Business-Casual At Its Finest 
This one's a classic business look. Swap out your graphic t-shirts with a slim a-line dress for a more versatile look in a work setting, but feel free to experiment with this look!
Cropped Pinstriped Blazer with a Turtleneck and Mom Jeans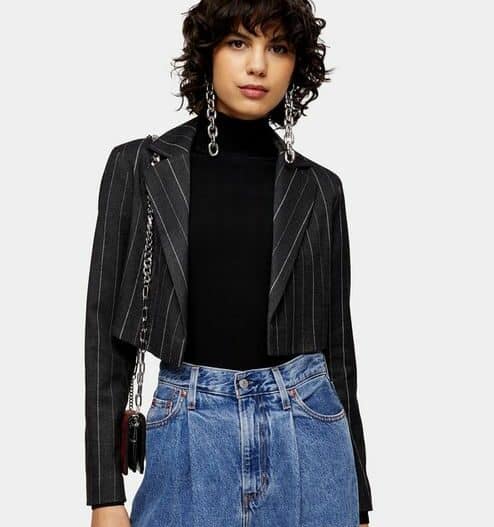 We can't stop geeking out about how elegant cropped blazers are, but this is one way to make them look casual. The outfit's easy to throw together on a busy Monday morning, but still makes you look like you've got your life together.
Cropped Puppytooth Blazer with a Matching Pencil Skirt
Matching cropped blazers combos are the ideal work outfit. You could pair them with anything underneath and they'd still look professional. This look's perfect with a cute messy bun, boots, and a scarf (don't forget the fancy coffee clasped between your hands, too!).
Casual Outfits For Fitting In (Yet Standing Out!) 
Cropped Blazer with a Bandeau Shirt and 90s-Cut Dark Jeans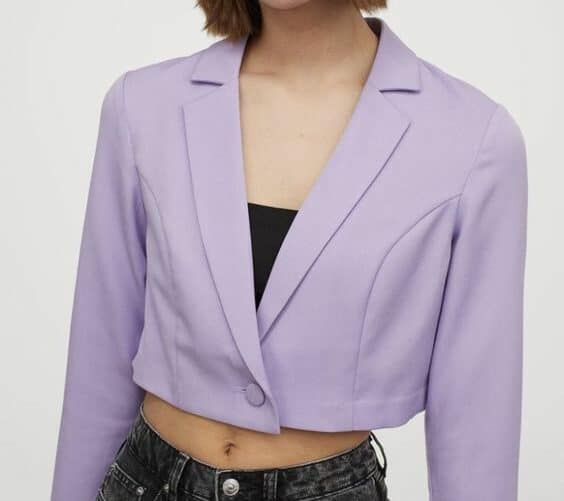 Colorful blazers are more casual blazers, although they do fit perfectly in a laid-back work setting too. Dark-wash 90s-cut jeans complement the simple look and give the whole outfit an approachable vibe, yet still make you look eye-catching.
Boyfriend Cropped Blazer with a Matching Miniskirt
Boyfriend blazers tend to make you look a little bit like a box unless you've layered them just right. Shirts can be the perfect casual outfit to pair with these stiff blazers to give you a defined yet effortless look.
You could pair literally any sort of bottom with this one, but a pencil skirt would look fashionable, especially if it's matching.
Matching Cropped Blazer Combo with a Strappy Crop Top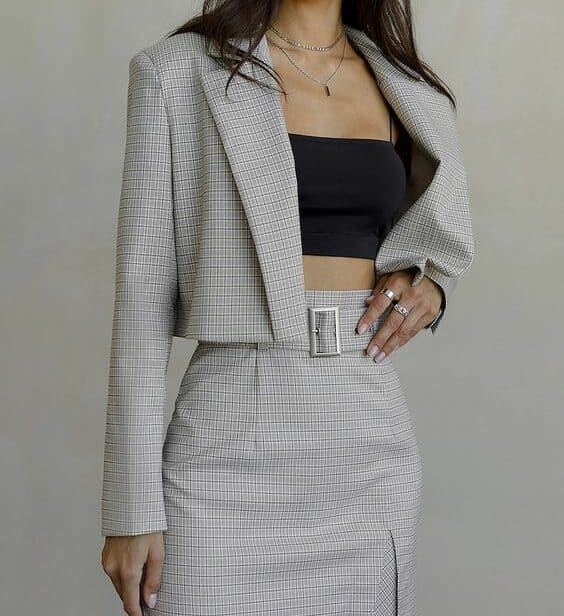 Yet another matching blazer look, but we've paired this one with a casual strap crop top this time. Tops go especially well with cropped blazers if you choose the right style, so feel free to experiment!
Glam All The Way, Baby
Printed Houndstooth Cropped Blazer Combo with a Black Top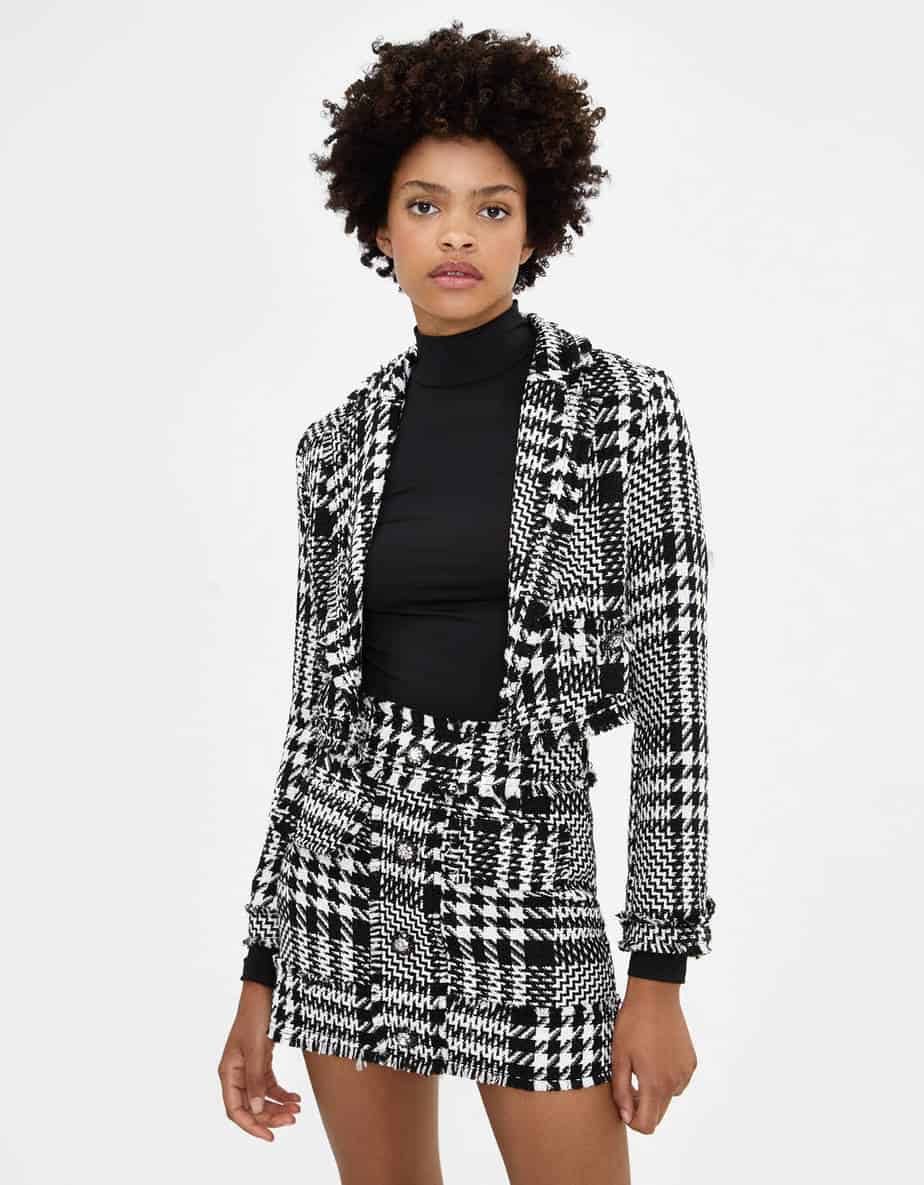 A nice cropped blazer alone can elevate any look and make it worthy of a formal event, but pair this beauty up with an elegant matching knee-length buttoned-up pencil skirt and an elegant-looking top? Well, then you are posh!
Cropped blazers combos can always be a good option to stand out without looking too dressed up. You can use an informal top to give a more relaxed touch to the outfit without losing its boom Factor. Also, if paired with the right shoes that create a good contrast (we're digging the alligator print on these shoes!), it's definitely a head-turning look.
The right shoes can make everything look more luxurious, and some knee-high boots definitely can do that. This minimalist formal look is definitely going to catch some stares, and you're still going to look like a girl boss the entire time!
Our Top Cropped Blazer Recommendations
There are a couple of brands out there that have made a name for themselves in blazer-land. We've managed to cherry-pick some of the best blazer brands out there that offer the perfect blend of style, quality, variety, and sizing. And all of that at a very reasonable price, too.
We've ranked the brands based on the following:
Quality: In terms of both materials and craftsmanship.
Price: Although you can't expect a good blazer to come at a cheap price, the prices of our picks are certainly on the reasonable side.
Styles: We've given more weightage to those brands that offer a variety of styles and cuts and cater to a wider demographic.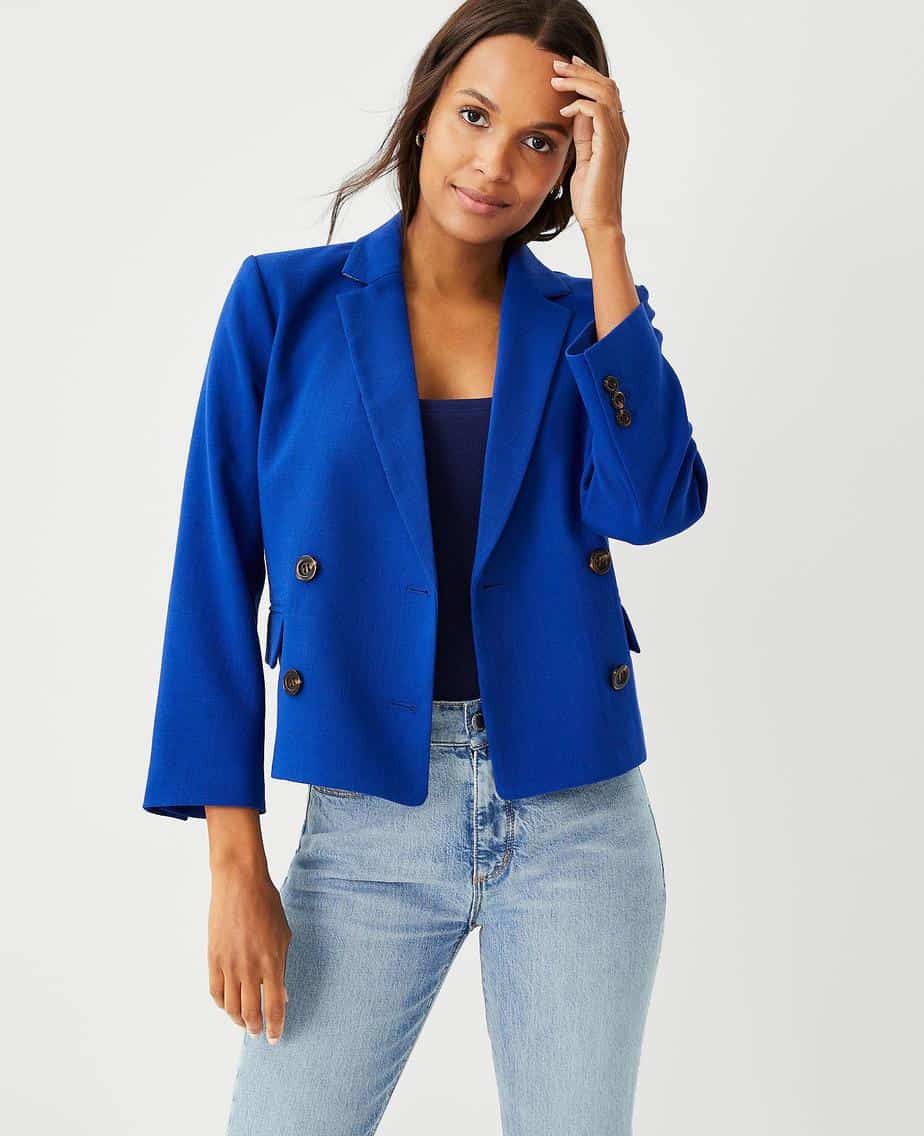 Ann Taylor has been dominating the mall-brand blazer scene with its affordable but well-made blazers and a diverse range of cuts. This is the place to go to if you want to stock up on cute and stylish office wear at a fraction of the regular price.
Ann Taylor also makes changes to its styling range and cuts every season, so you can always find new and updated clothes to refresh your wardrobe. Despite being a mall brand, their blazers have been highly regarded for the level of comfort they provide and how durable the actual products are.
Their blazers start at a comfortable price range of less than $100, and their most expensive blazers only cost around $250-300. What's even better is that their clothes are almost always on sale at 15-20% off, so you're bound to score a great bargain!
Quality: 7/10
Price: 9/10
Styles: 7/10
(Their range consists mostly of classics and wardrobe essentials i.e., "safe" picks, but you're bound to find an occasional cutie that's a little whimsical.)
Pros of Ann Taylor Blazers:
High-quality blazers at a very affordable price + sales of up to 20% off ever so often
A variety of styles and cuts to choose from
Fun, bold colors that are still workplace appropriate
Cons of Ann Taylor Blazers:
Some customers have complained that their blazers might be too small for people with wider shoulders
Somewhat expensive if not purchased on sale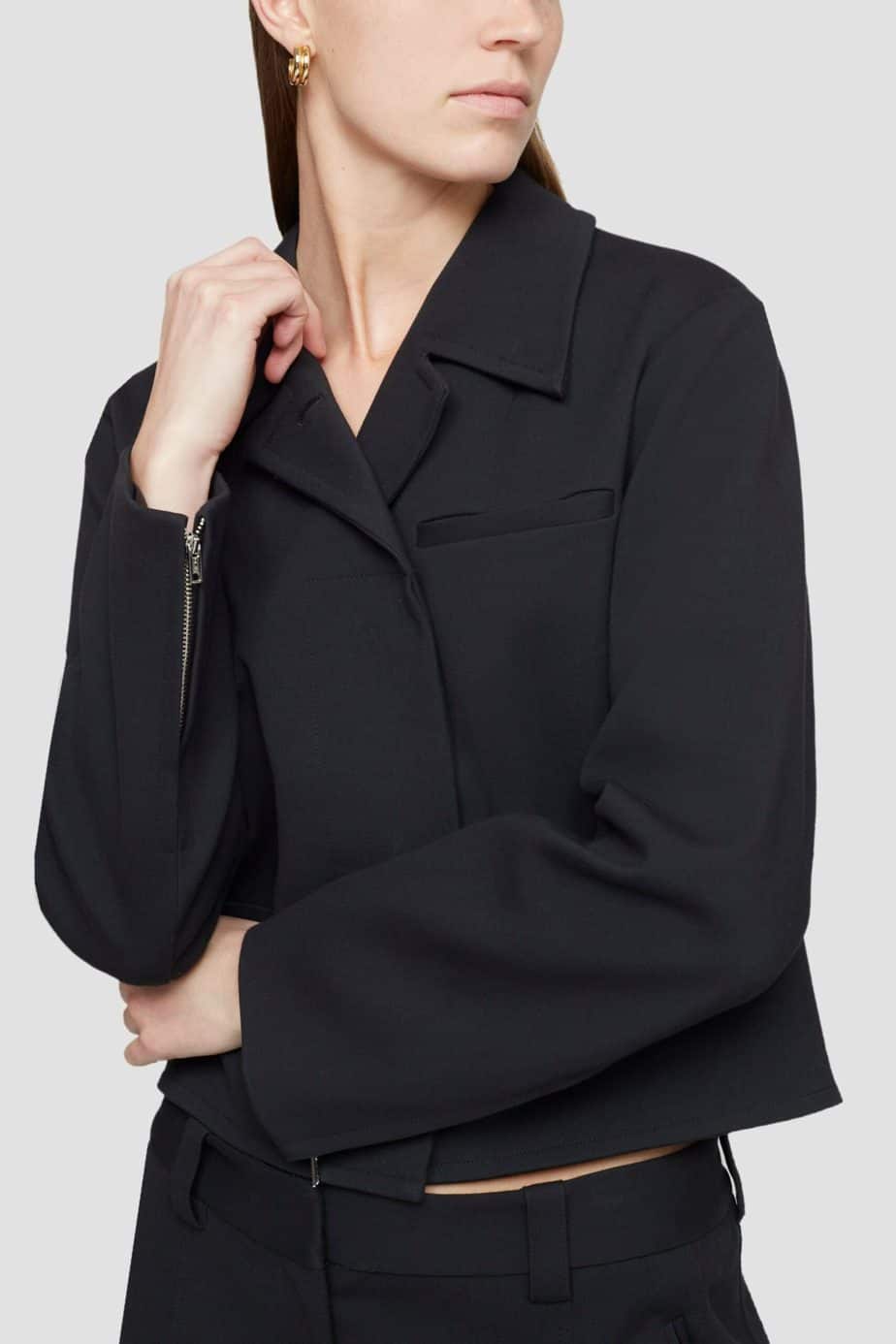 Phillip Lim is often regarded as a high-end blazer brand, and while they've certainly gotten a higher price range, their quality and craftsmanship certainly explain why they are priced like that.
What sets 3.1, Phillip Lim, apart from in terms of quality is the attention to detail they provide to each product crafted, which is often regarded as the standard for high-end products. You're in good hands here!
What's also nice is the fact that the brand has a diverse range of sizes to offer everyone a blazer that feels as though it was made just for them.
The high-quality materials and meticulous craftsmanship just make that much of a difference, both in terms of comfort and the overall look and silhouette of the blazer. Their blazers are simply designed to make you look casually expensive.
Quality: 10/10
Price: 6/10
Styles: 6/10 (Their collections seem to have a muted, sleek look to them rather than more of experimental styles.)
Pros of Phillip Lim Blazers:
Meticulous craftsmanship and high-quality materials are the backbones of their high-end products
The right size is guaranteed to give you a feeling as though the blazer was tailor-made to fit you
Free US shipping, and a neat 14-day return policy
Cons of Phillip Lim Blazers:
The brand's visibly on the more expensive end of the spectrum, with prices starting at $350 and going up to $800 and even higher depending on the season
Some customers find the sizes to be a bit off, so if you're on the larger side, consider sizing up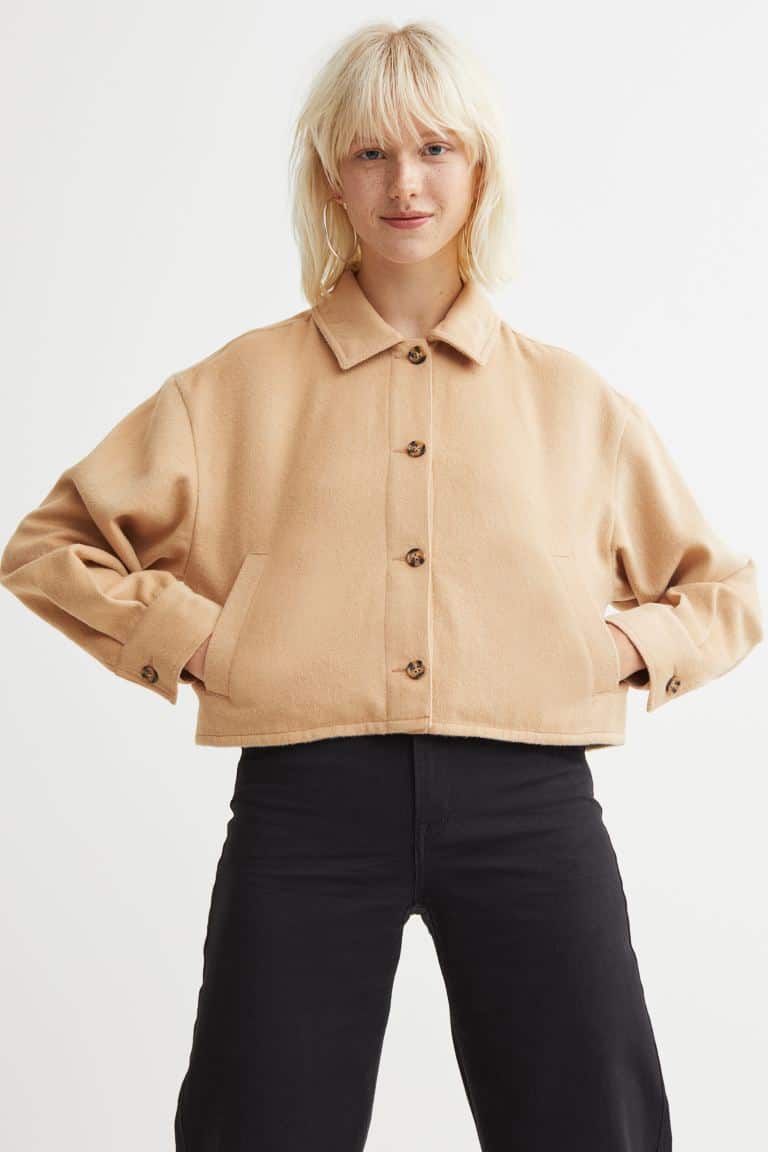 If you're looking for an affordable and stylish blazer, look no further than H&M. Although the brand doesn't exactly promise premium quality products, you'd be surprised by the number of gems you'd be able to find in their collection.
The major catch that comes with H&M is the obvious quality, so you'd have to be careful with your blazer lest you end up damaging it whilst being mildly rash. Yep. they're pretty delicate.
Quality: 4/10
Price: 10/10
Styles: 7/10
Pros of H&M Blazers:
H&M provides what you could probably regard as the best quality blazers at a very modest price range
Their blazers start at only $30 and mostly average at $50. Beyond that, they're always offering discounts and coupons
Cons of H&M Blazers:
A limited range of products and sizes
The color of the blazers tend to faze if exposed to sunlight for too long
Their larger blazers don't offer a flattering silhouette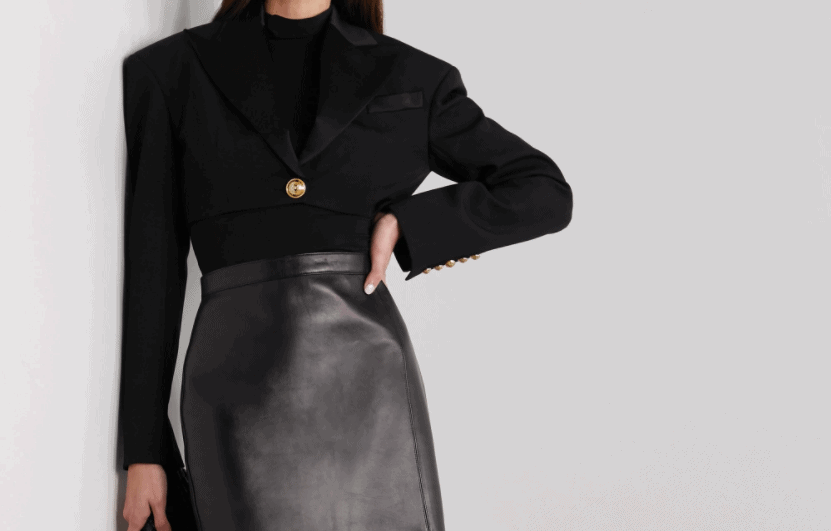 Balmain is another high-end blazer brand that you totally need to keep an eye out for if you've got the budget. Their blazers are not only the ultimate standard in terms of quality, but they're also the perfect brand to look into if you're trying to find styles that don't blend into the vast array of regular blazers.
Quality: 10/10
Price: 5/10
Styles: 9/10
Pros of Balmain Blazers:
Balmain is the standard in terms of quality and craftsmanship
Balmain started as a women's blazer brand, so you can rest assured that you're in good hands if you purchase a Balmain product
Their variety and aesthetics in terms of design is insanely better than any of the aforementioned brands
Cons of Smythe Blazers:
Smythe is the second priciest brand on our list. Their cheapest blazers start out at $595 (on sale!) and go up to $5,000 or more
They don't offer a "Free Shipping" option
Some of their blazers can have questionable design choices, such as random and weird epaulets. You could always get them removed if you really like the rest of the blazer, though.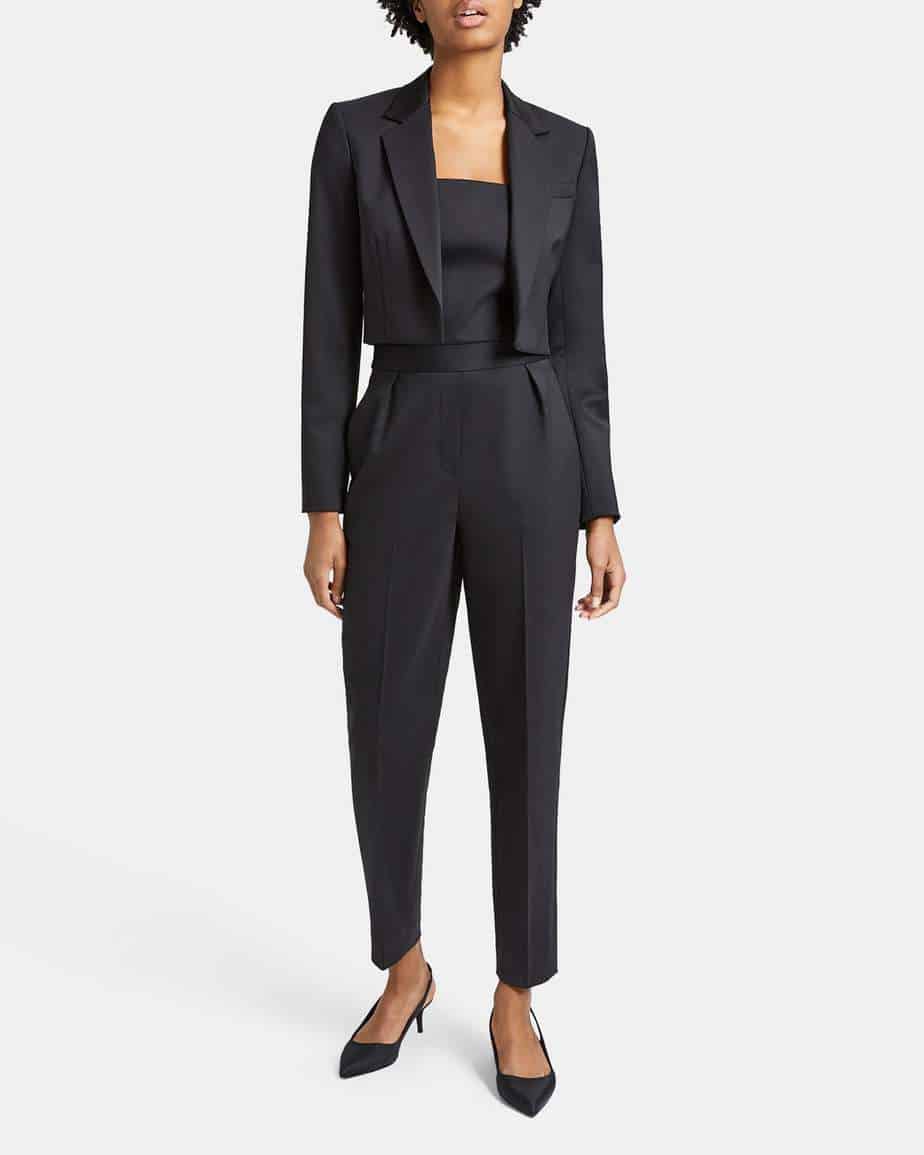 If you're all about the finer things in life at affordable prices, Theory Outlet's blazers are sure to turn into your saving grace when it comes to choosing blazers, especially cropped ones. Each blazer that you'd see on their website is made to suit you and your unique look, and their fashion tastes are to die for.
Their unique garments revolutionized the way American women dressed twenty years ago, as Theory created a unique stretch fabric that would substantially increase the performance of a pant after seeing the demand for clothing that felt wonderful and fit properly.
Those pants had the ability to make ladies feel confident, intelligent, and fashionable. Never before had American clothing been so comfortable to wear to work and elsewhere.
Theory Outlet offers something different and elegant, a blazer that turns heads and captures envious looks. Crafted by talented designers, you're carrying a little piece of art when you're walking around with one of the blazers, and it's certainly going to show.
Quality: 8/10
Price: 6/10
Styles: 9/10
Pros of Theory Outlet Blazers:
Amazing quality with affordable products
Little can surpass Theory Outlet in terms of style, their designs come from very talented designers
The more you buy, the more discount you receive on their products
Cons of Theory Outlet Blazers:
Some of the materials used in their clothing might not look as elegant and luxurious as expected
Cannot be machine washed (dry clean only)
ASOS DESIGN – Crop Suit Blazer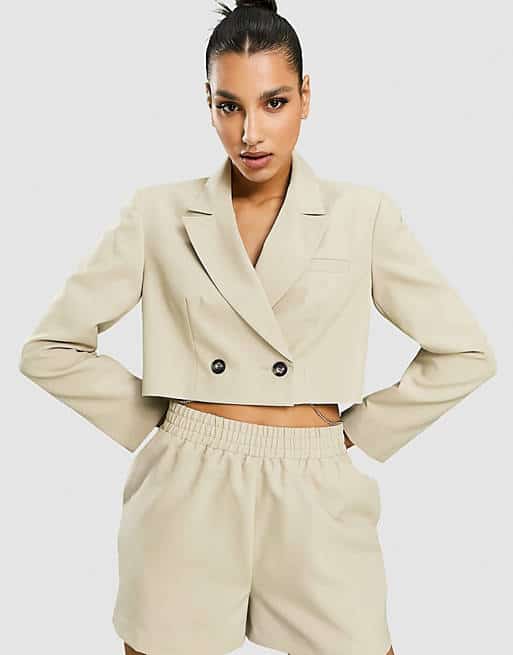 ASOS is the perfect brand to look into if you're a girl with taste and a limited budget. Although the brand's been regarded as a great mixture between feminine aesthetics and delicate, precise craftsmanship, their clothes still emit a powerful professional vibe that you can adorn at your workplace whilst expressing yourself through your fashion tastes.
Quality: 5/10
Price: 9/10
Styles: 8/10
Pros of ASOS:
A well-respected brand specializing in elegant female clothing, ASOS fashion tastes are on point
Their prices make their clothes an absolute steal – their cheapest blazers only cost a little above $40, and the most expensive items range up to $400
They're also often holding sales and offering discounts, so their cheap items come in even cheaper!
Cons of ASOS: 
Customers who have owned ASOS clothes for over 3-5 years have reported that the garments start fraying and losing shape over the years
You might have to be careful when washing the clothes since they can get ruined if done wrong
Frequently Asked Questions 
Question: Are cropped blazers in style? 
Answer: Absolutely! While they've never really exited the fashion scene entirely, 2022 seems to have brought the chic formal looks back in style, and cropped blazers are the poster kids of this trend. With the style-setters claiming that cropped blazers are going to be the next big thing and literal celebrities like Gigi Hadid rocking 'em on, you simply can't go wrong here.
Question: What looks good with a cropped blazer?
Answer: Your bottoms have a deciding vote on whether your blazer outfit is right for the occasion, so choose them wisely. You can't go wrong with a pair of utility pants here, but a nice pair of jeggings or wide-leg trousers could make up for a powerful look too.

Accessorize with minimalist hoops, stilettos and a shoulder bag for a formal/office look, or ditch everything and walk out sporting converse shoes for a casual girl boss look.
Question: What do you wear under a cropped blazer?
Answer: Cropped blazers with simply a sports bra underneath are one of the trendiest looks at the moment, but if you want to go conservative, any simple shirt that complements the color of your trousers or matches the color or pattern of your top or bottom would look amazing.

Do bear in mind though, that a crop top with a cropped blazer won't look particularly great, so choose your crop top wisely if you're trying to be experimental.
Question:
How do you style a cropped blazer?
Answer: A go-to cropped blazer look is throwing on your favorite pair of high-waisted jeans – this combo is an unmatched casual look. You could switch the denim with literally any other kind of high-waisted bottoms — even a dainty skirt would look good with a cropped blazer, and that look's actually been trending lately.
Question:
Do cropped blazers look good?
Answer: You're questioning a chic and timeless look that's been around for decades and is an office staple, so you bet the answer is of course!
Cropped blazers make you look different even in an office setting, and depending on how you choose to pick the styles and colors that suit (no pun intended) you and the occasion best, you've got a front-page look in the making already.
Our Final Thoughts
Cropped blazers are set to be the next trendy thing, so you should definitely start stocking up. When it comes to making a clear buying decision, we were actually pretty conflicted since each brand we chose stands for something different.
However, if you'd like to go by our opinion, our absolute top pick would be the J. Crew – Camille Shrunken Sweater-Blazer, which has set itself apart in the industry of women's work outfits despite being a "mall brand." If you're looking to start your blazer collection from scratch, you certainly can't miss out on this brand.
Once you've recognized your style and preferences, though, feel free to branch out! There's a world of blazers out there waiting to be explored, so feel free to go crazy.
We certainly hoped that helped you take your pick! Don't forget to venture into unknown territory once you've mastered basic blazers to find what suits your personal style the best. Make your work life more fashionable than ever, because after all, there are no limitations to when and where you could look your best.